Cinderella and the Four Knights: Episode 2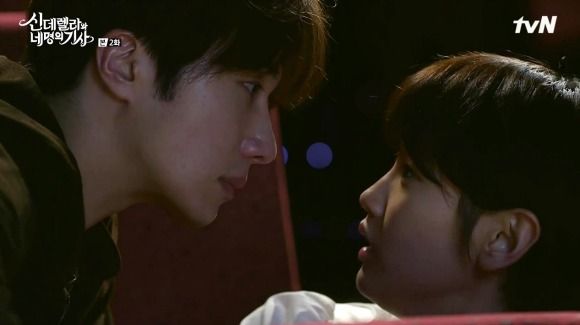 Now that we've met the main characters and covered all the typical drama trope bases, it's time to dig deeper. Our Candy Cinderella and her pretty princes are determined to follow their own paths, but money and power have a magic all of their own, and we've got a long way to go before midnight. This story may have the framework of a typical Cinderella tale, but it looks like there might be a few twists to the classic fable.

EPISODE 2 RECAP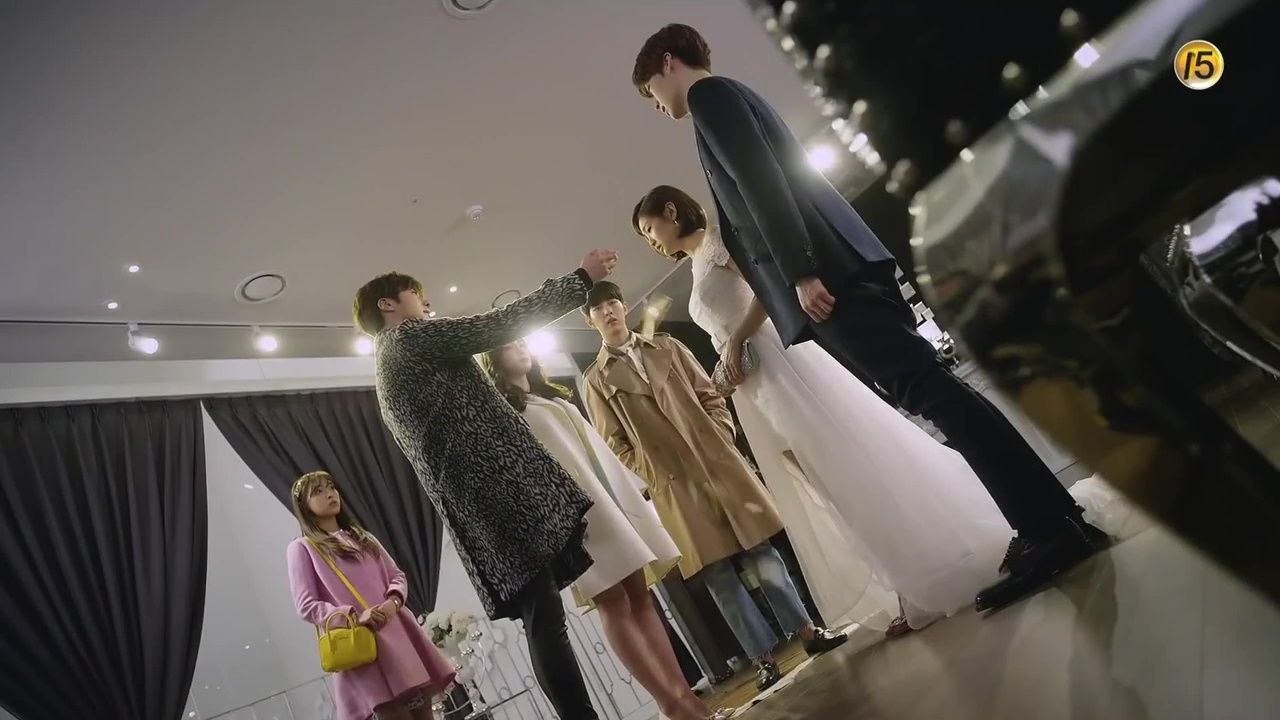 Bad boy Ji-woon drops the wad of cash at Ha-won's feet, asking if she's really so desperate for money. As Ha-won stares, Hyun-min picks up a single bill of the fallen cash and shoves it into Ji-woon's pocket, telling him not to mess with "his woman." Ji-woon takes offense at the title and squares off against his cousin, but Hye-ji yells at both of them to knock it off and storms out.
Ji-woon chases after Hye-ji, but Ha-won is hot on his heels. She catches up to him outside, scolding him for treating money so lightly. Ji-woon tries to brush past her, but when she persists, he grabs her and pushes her up against a wall. Caging her in, Ji-woon flatly tells her that he has no interest in anything she has to say, and warns her to stay away from his cousin.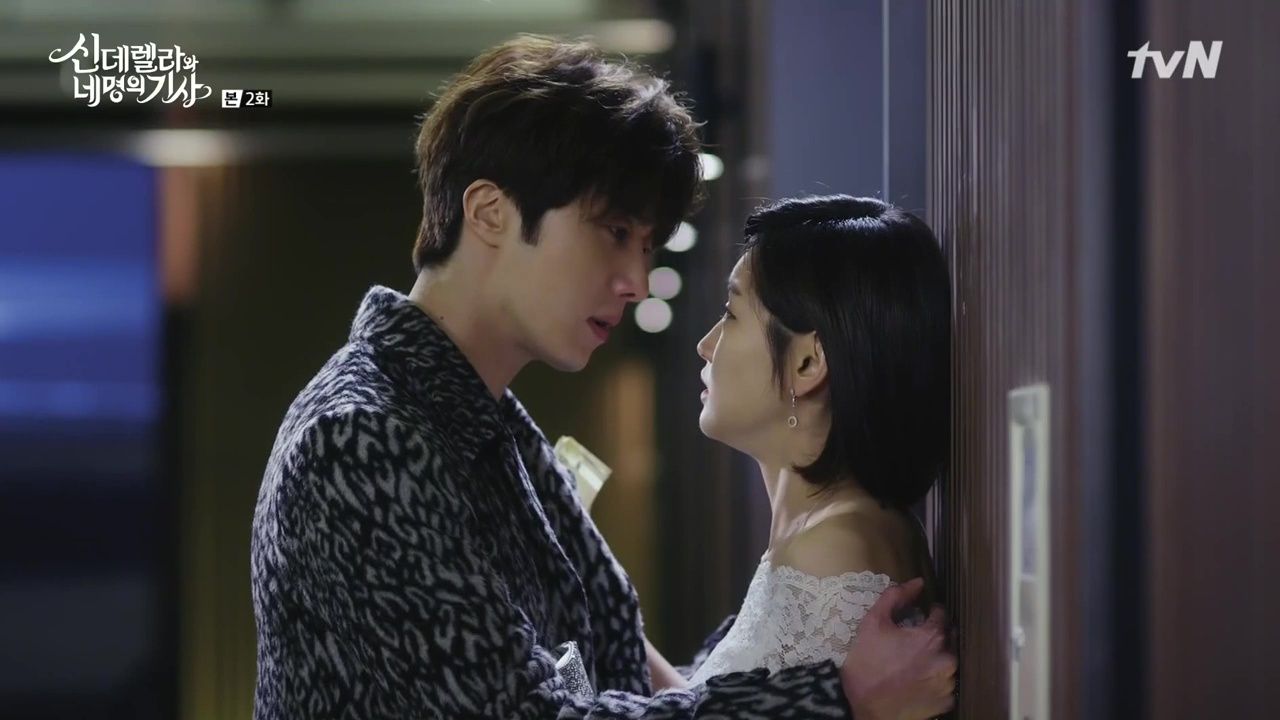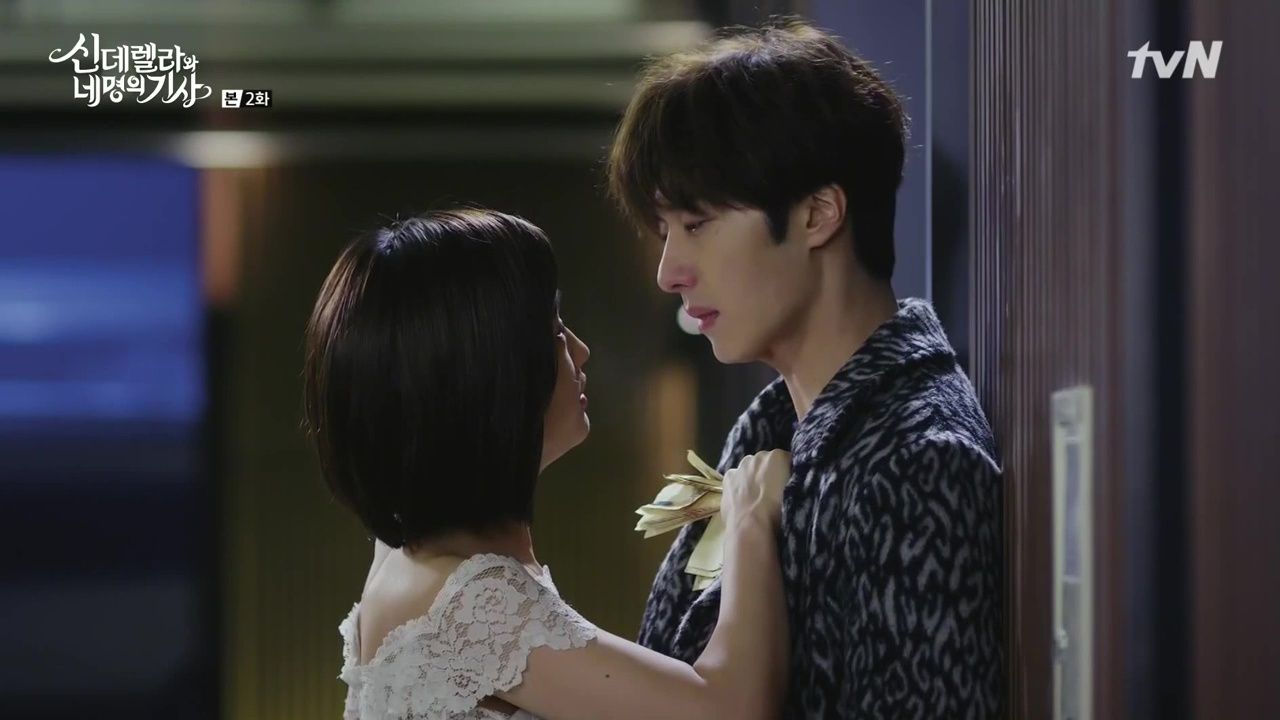 His message delivered, Ji-woon moves to leave when all of a sudden Ha-won yanks his arm and flips him around so that this time she's the one pinning him to the wall. Inches away from his face, she delivers her own threat. "You're name is Kang Ji-woon, right? Stop mouthing off about stuff you don't understand. This is my last warning to you. If you ever touch me again, that will be the day you die."
The two stare at each other for a few charged moments before Ji-woon pries her off him and stalks away to find Hye-ji. Well, damn, I think these two might have some chemistry.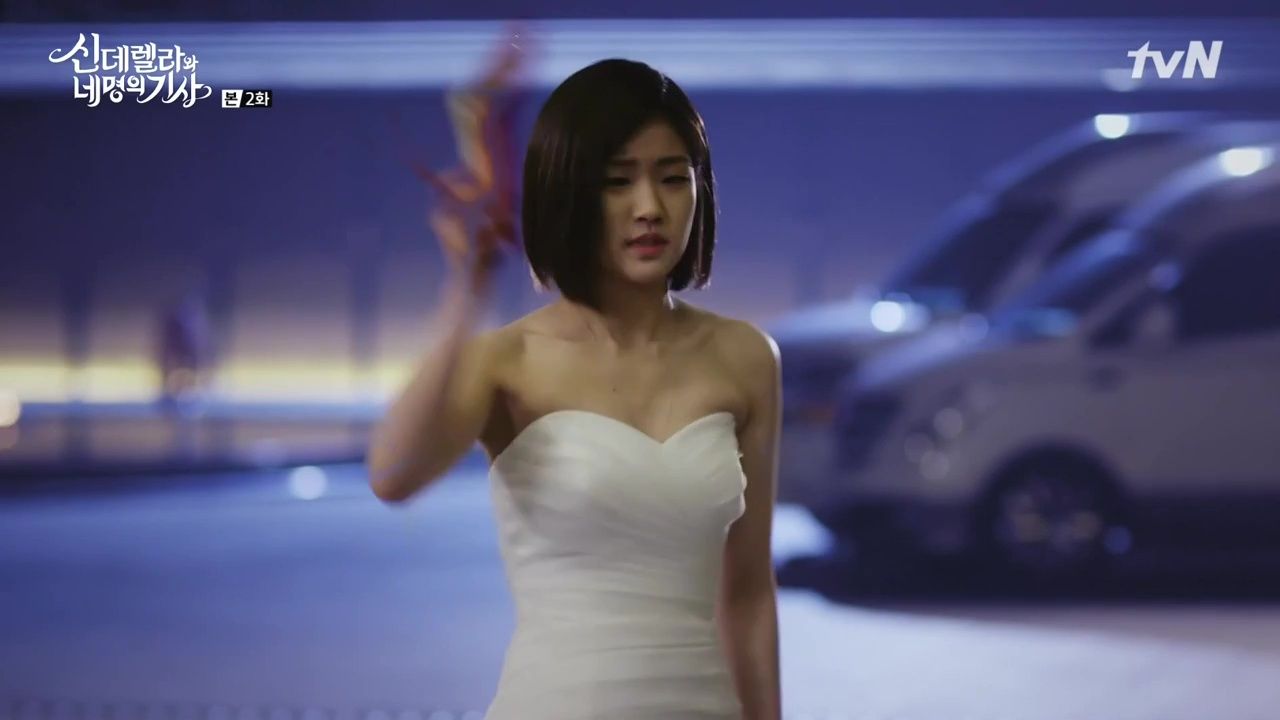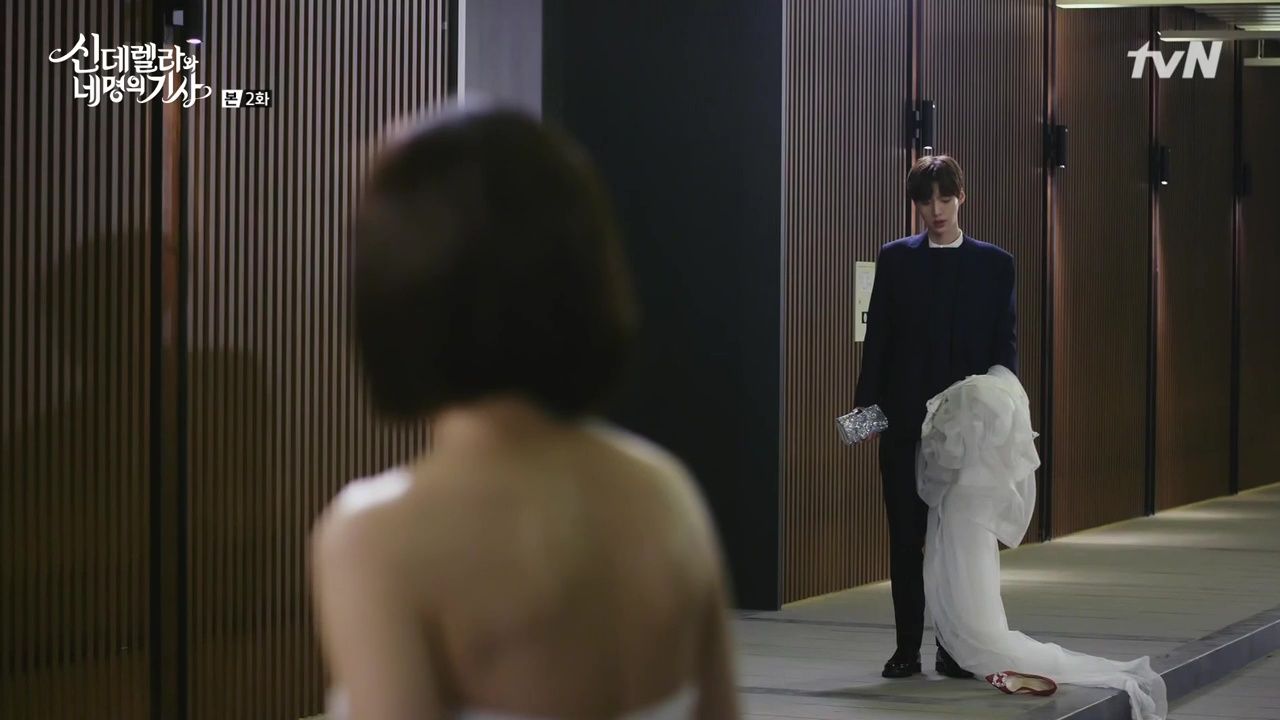 As Ha-won leaves, she's stopped by Hyun-min, who can't seem to understand why she's upset. Cutting through his protests, Ha-won pushes Ji-woon's wad of cash into his hands. She then strips off all her borrowed glam and drops all of it into to arms of a stunned Hyun-min.
Ha-won walks off in nothing but her slip and sparkly shoes, but stops when she rolls her ankle in the high heels. Yanking off the offending footwear, she chucks one of them back at Hyun-min and continues on. Looking a bit guilty, Hyun-min bends down to pick up the shoe, remarking that it looks like the magic has worn off.
On his bike with Hye-ji sitting behind him, Ji-woon drives by Ha-won as she limps away, sparing the barefoot Cinderella a glance before roaring past.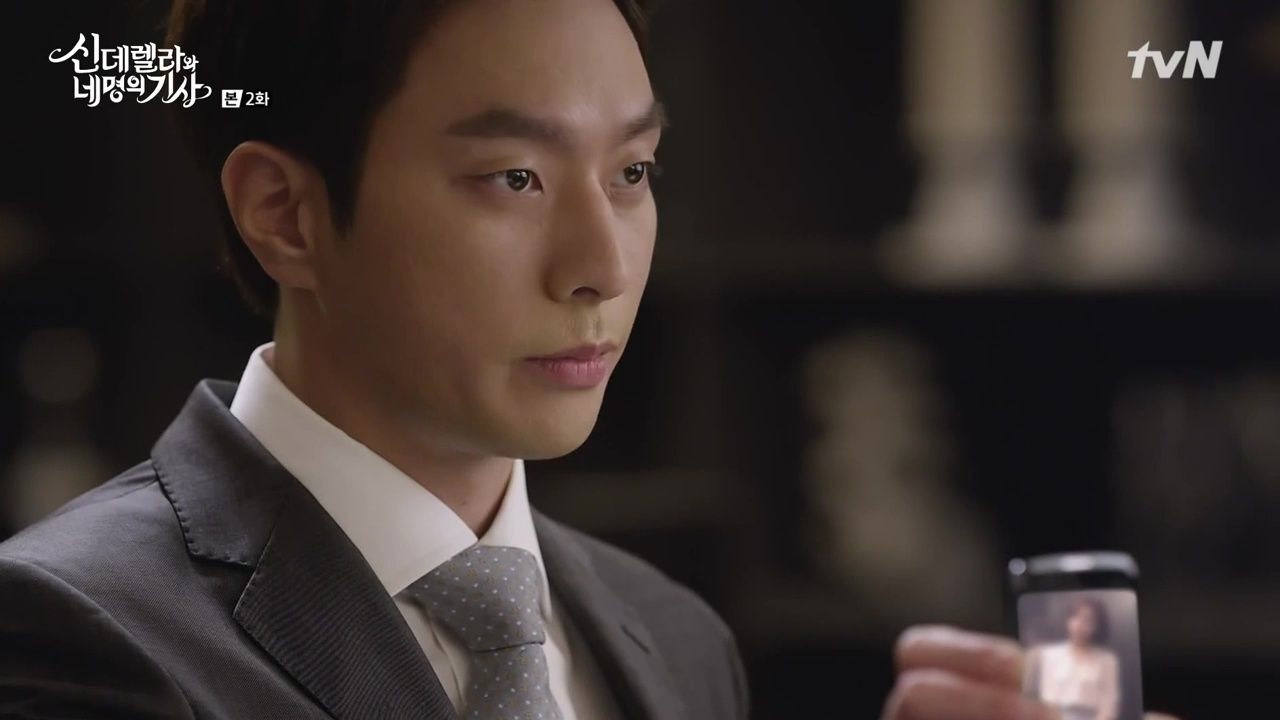 That night, Hyun-min's bodyguard asks him if he understands that he ruined Grandpa Kang's wedding. Hyun-min smirks, and innocently says that he merely wanted to give his grandfather a present.
Bodyguard Lee responds that Grandpa Kang has prepared a present in return: He's arranged a mat-seon (a date with the intent of marriage) for Hyun-min with the granddaughter of a prominent family. And if Hyun-min wishes to remain heir to Haneul Group, he had better attend.
In the morning, Grandpa Kang smiles as he remembers the moment Ha-won knocked Hyun-min to his knees and forced him to apologize. Turns out he also saw the confrontation between Ha-won and Ji-woon when she yelled at him for treating money so carelessly. Grandpa Kang decides that she is no ordinary girl, and instructs Bodyguard Lee to find out more about her.
Ha-won is already hard at work washing dishes when her Stepmom yawns her way into the kitchen, whining that there's no breakfast ready. Ha-won gathers up her nerve and asks Stepmom for help with paying for her first year of college.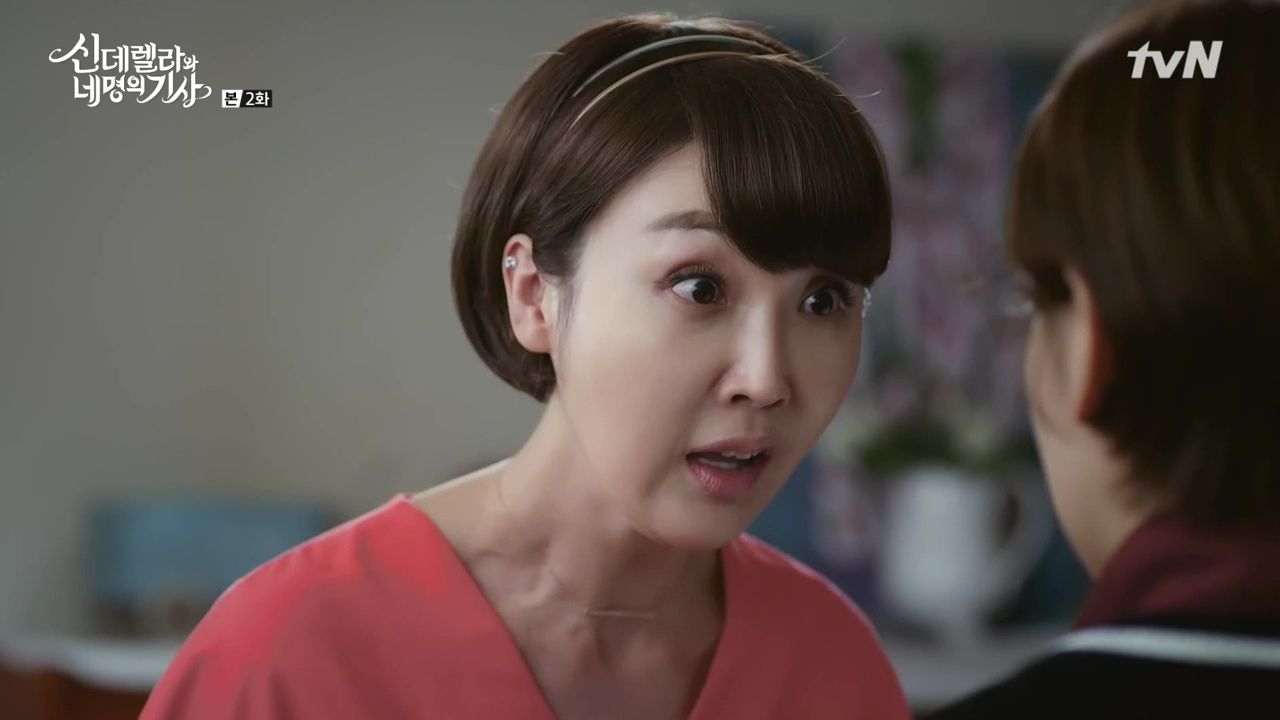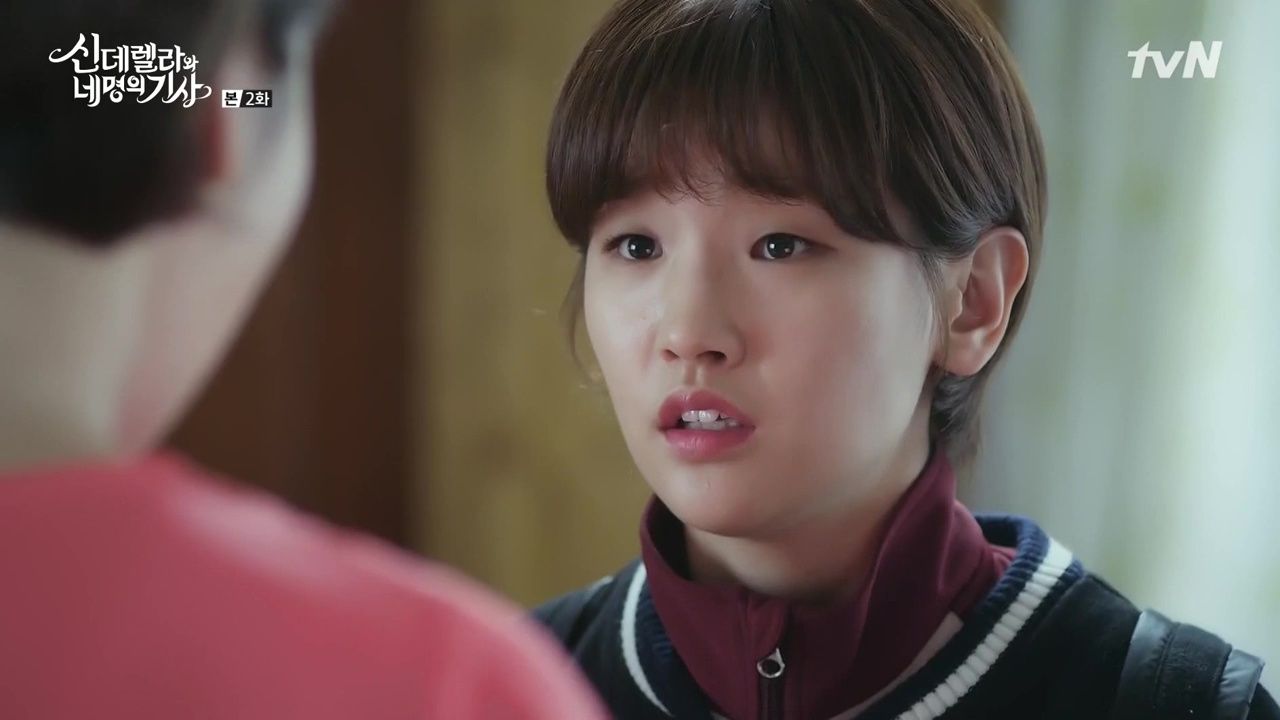 Stepmom pretty much flips out, raging at Ha-won's nerve, asking for the tuition that belongs to her daughter. She accuses Ha-won of hoping that her stepsister, Yoo-na, wouldn't get into college so that she could take the tuition for herself. Ha-won stutters that that isn't the case and she promises the pay the money back through part-time jobs, but Stepmom just tells her to get out.
News stations across the country are busy speculating who Kang Hyun-min's fiancée is, calling her the National Jackpot Girl for landing such a successful man. Even Stepmom and Stepsister are watching it, though they're distracted when Stepmom gets a call from Ha-won's dad. Their faces fall when they hear that he'll be coming back home tomorrow.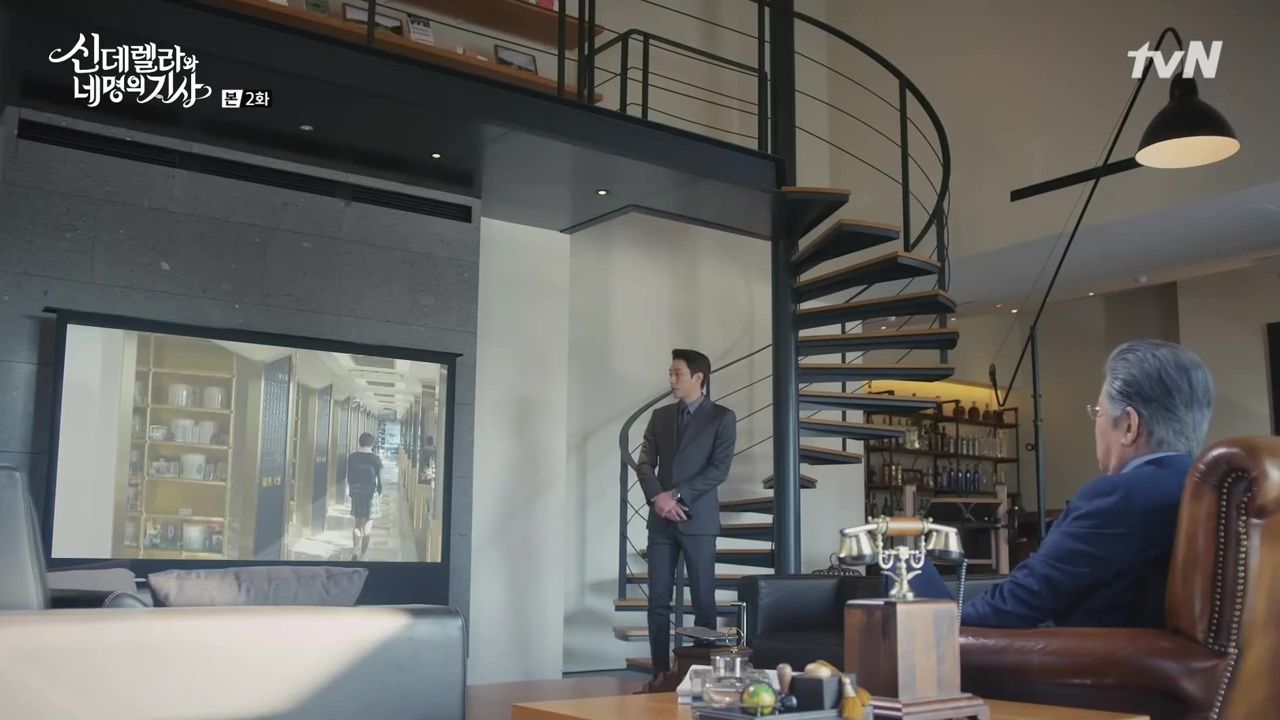 Busy at the convenience store with one of her many part-time jobs, Ha-won timidly asks her boss if he could give her an advance on next month's paycheck, which goes as poorly as it did with Stepmom. As Ha-won goes back to her floor mopping, we fade into Bodyguard Lee's report to Grandpa Kang, detailing the life of one Eun Ha-won.
Complete with a video presentation (which includes some frankly stalker-level footage), Bodyguard Lee narrates that Ha-won currently works ten part-time jobs, and while she isn't on her own, she is responsible for herself. Her father is a truck driver who's away working for months at a time and can only afford to send one daughter to college. Ha-won's been working to try and save up for her own tuition.
Grandpa Kang decides that it'll be better to replace his grandsons' butler with a girl like Ha-won, who is mature and closer to their own age, rather than someone who will cater to the boy's every whim.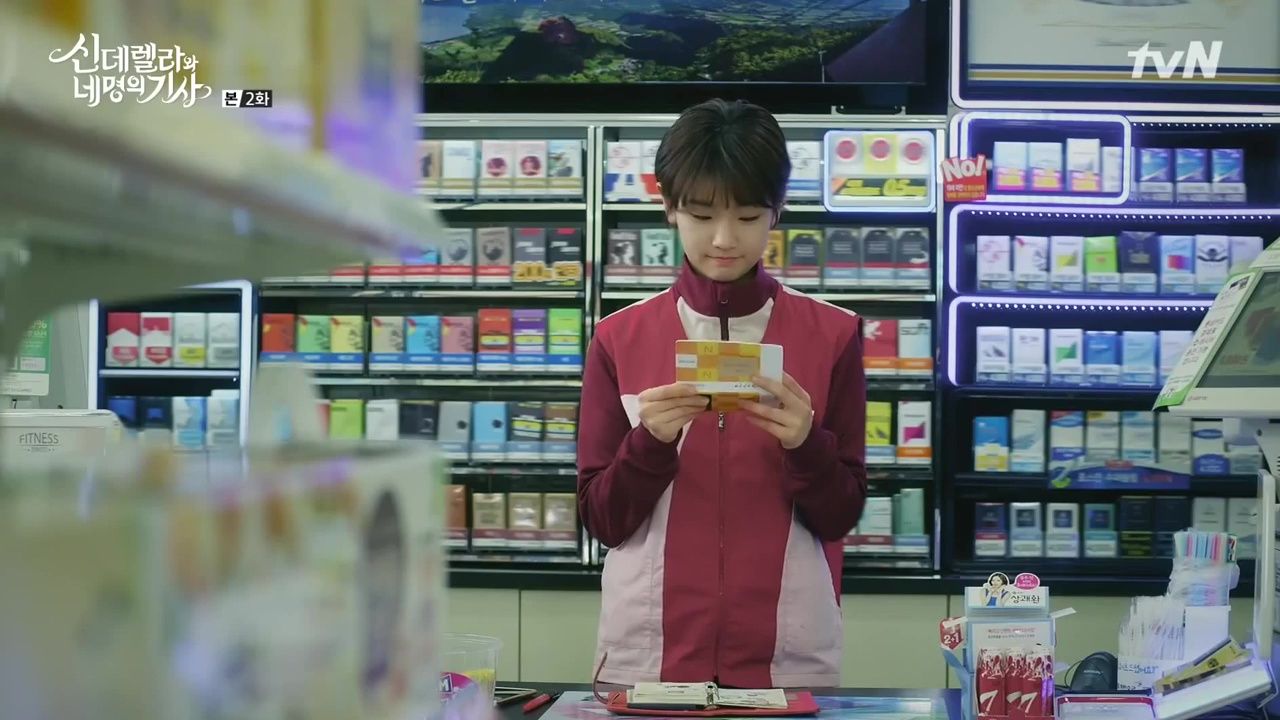 Ha-won looks over her bank account, sighing about the amount she'd saved for her tuition. With a forced smile, she reassures herself that she can always attend college next fall — she'll just have to work hard for a year to earn another $4,000. Making the decision to use her savings to make sure her mom can rest in peace, she writes an encouraging note on her bankbook, "Let's start again!"
Trying to check her phone for messages from her dad, Ha-won realizes that it's not her phone, which must have been switched at the hotel. Heading over to the hotel, she's stopped by Bodyguard Lee, who informs Ha-won that Grandpa Kang would like to meet her.
Brought before Grandpa Kang, Ha-won apologizes again for her part in disrupting his wedding. He waves it aside but declares that he did do a bit of snooping on her, showing her the book that he knows she reads: a collection of Sun Tzu's teachings (a Chinese general and military strategist). Ha-won admits that her mother had given her the book, telling her that the teachings would help throughout her life.
Grandpa smiles at that and asks if he can borrow some of her wisdom. Bodyguard Lee steps in then with yet another video presentation, this one detailing a place called Sky House, the architectural marvel where the Kang cousins all live. Lee gives the PC descriptions of each of the boys, referring to Hyun-min as a lover of people, Ji-woon as fierce and untamable, and Seo-woo as the artistic genius. Heh, Grandpa cuts off each flowery portrayal and instead labels his grandsons quite plainly: the player, the thug, and the good-for-nothing.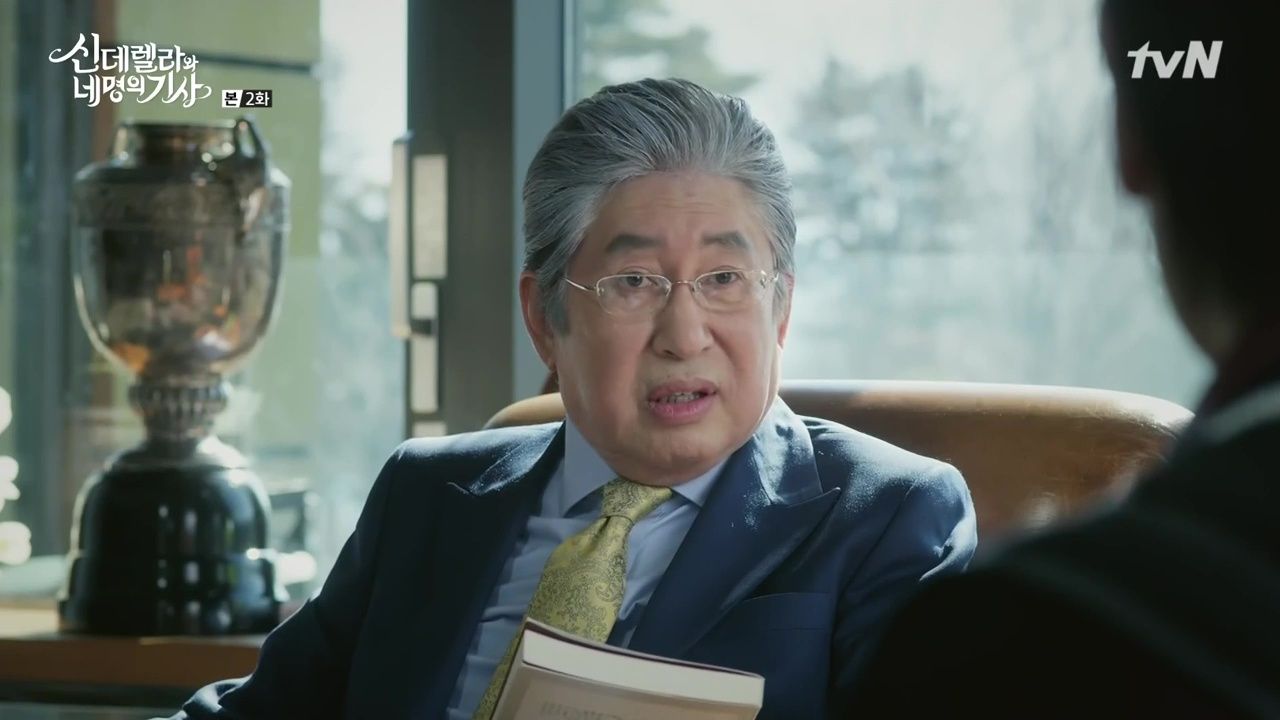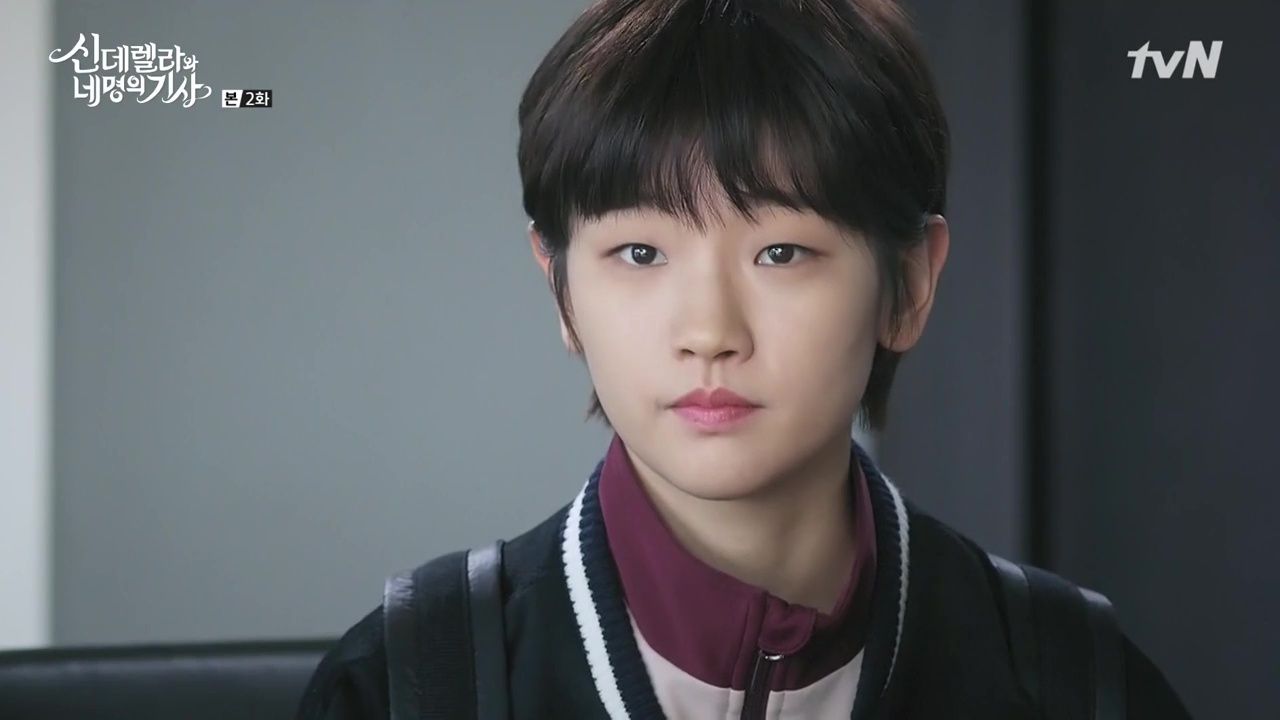 Grandpa Kang makes his request of Ha-won: He wants her to turn his grandsons into decent human beings. He's vague on the details, but he claims that he's already created a program to reform the boys and all Ha-won has to do is carry it out while living at Sky House for three months. As incentive, he promises to pay for her college tuition, even offering to send her abroad, saying that he has the power to change her life.
Ha-won is tempted, but she decides to turn down his offer, saying that she's not the right person for this job. The two engage in a brief but awesome verbal battle of Sun Tzu's philosophies. Ha-won gets in the last word and, thanking him for the offer, departs. Bodyguard Lee asks if they really need to go to this much effort for her, but Grandpa says that for him, it takes almost no effort to change one person's life.
As ordered, Hyun-min meets his potential fiancée, and turns the charm on high to make her uncomfortable. His tactics don't seem to work as the heiress just looks at the relationship as a business partnership, and isn't backing down.
Hyun-min spies Hye-ji entering the room and, getting an idea, grabs her arm as she passes, pulling the startled Hye-ji in for a hug. He looks regretful for a moment but swoops in to kiss her while his date looks on. The would-be fiancée scoffs, and leaves.
After the heiress exits, Hyun-min breaks off the kiss, literally stepping back with his hands up. He gives a quick, "Sorry," and splits while Hye-ji is still in her post-kiss haze, but she quickly catches up to him outside. With his back to her, Hyun-min looks almost remorseful about his actions, but then slips his carefree mask back on when she calls his name.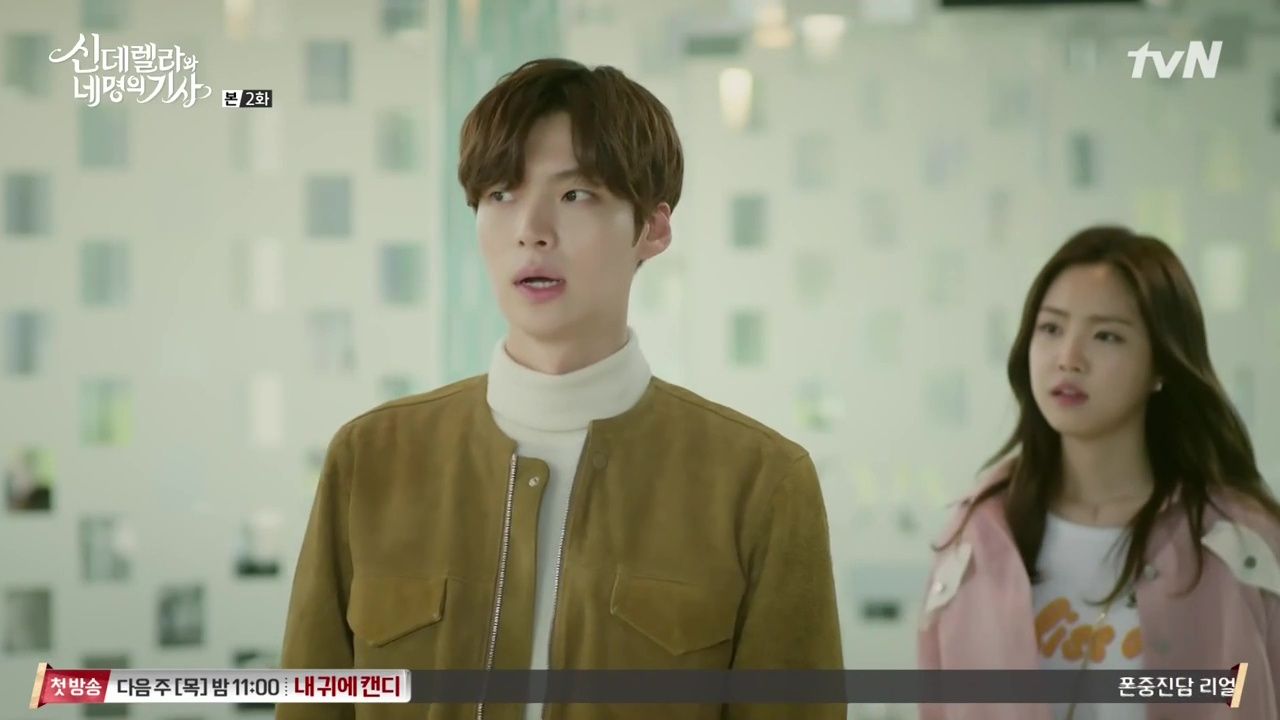 Turning to face her, Hyun-min cavalierly apologizes to her accusation that he used her, and when she asks what she is to him, he just says she's a childhood friend from long ago. Hye-ji says he's changed so much since that day ten years ago, but this is the most repulsive that she's seen him act. The barb hits its mark and Hyun-min's face noticeably falls, his mask cracking.
Hye-ji says that in spite of that, she chooses to believe that there's still some shred of his former self hidden within, buried deep. He can only stare after her as she goes.
A hotel staff member snaps Hyun-min out of his daze when he brings him Ha-won's school outfit that she'd left behind. A hidden photographer snaps a few quick pictures of him holding the clothes.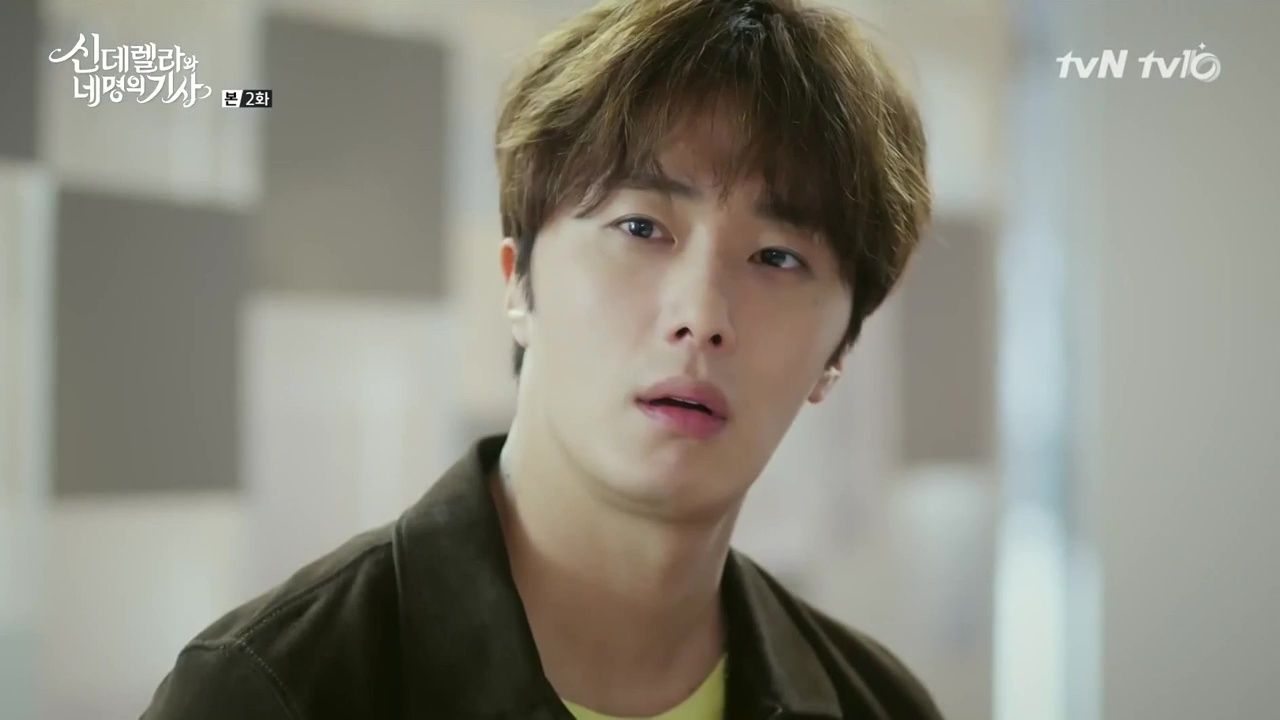 Stuck in only her school sweats, Ha-won arrives as the hotel looking for her cell phone and clothes. Unfortunately, she's met with a very different reception from the hotel staff now that she doesn't have her chaebol escort, and is called a gold digger.
Unbeknownst to Ha-won, Ji-woon has also arrived at the hotel and overheard the whole exchange. Unable to turn away from the sight of her begging for just a few minutes upstairs, Ji-woon calls out, "Hey, Sweats. Let's go," taking her past the now bowing concierge. Awww, did the bad boy do a nice thing?
With Ji-woon standing guard, Ha-won questions the cleaning staff, but sadly they don't know anything about her missing items, and she has to leave empty-handed.
She thanks Ji-woon for helping her, promising to repay the debt. Ugh, Ji-woon puts his ass-hat back on and snipes that she should just ask Hyun-min for new clothes and a phone. After all, that's why girls like her date him, right? Big words from a guy riding around on a bike his granddaddy bought him.
Ha-won just smiles and asks if he's done… then whacks him upside the head. Good girl! She asks if he's much better when he acts like he's hot stuff despite treating girls like trash. "That's really asshole-ish of you, you know?" She strides away, and Ji-woon glares after her.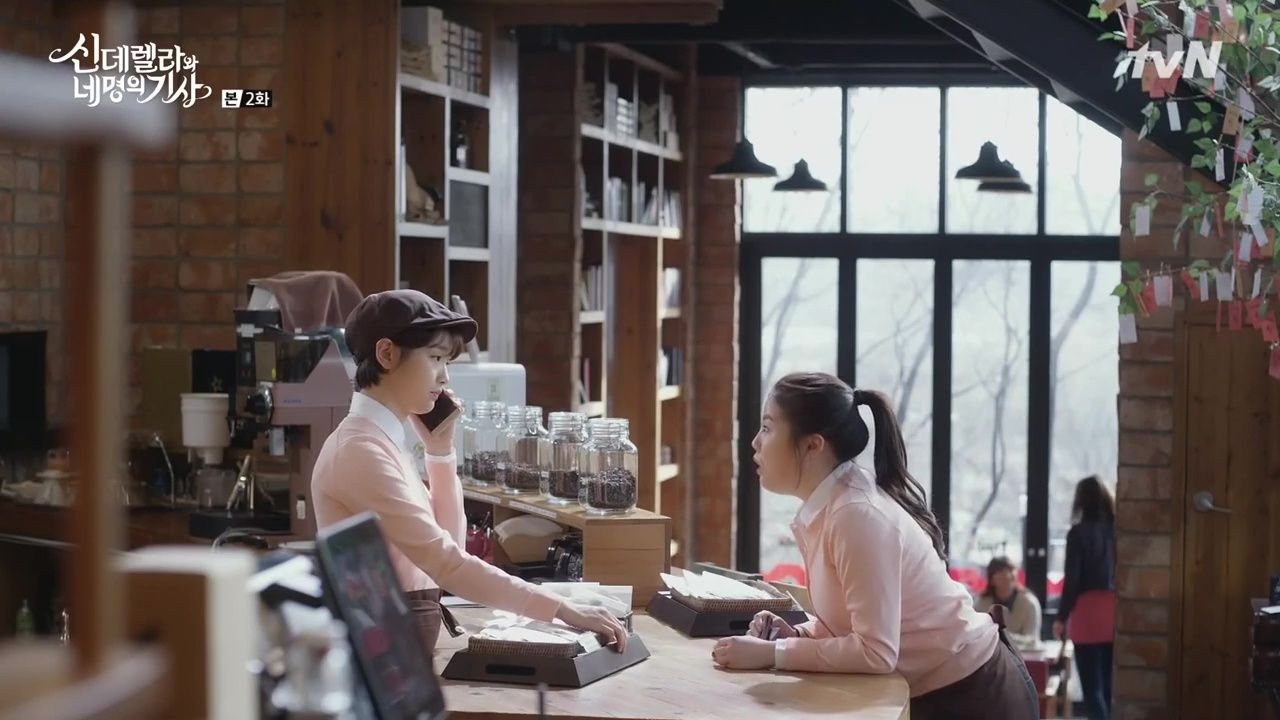 Back at part-time job #3492 (just a rough guess), Ha-won uses her friend's phone to call her own, still looking for her lost cell phone. Her friend is beside herself, amazed that Ha-won is the National Jackpot Girl.
Ha-won's friend berates her for refusing to work at Sky House, but Ha-won maintains that she prefers her part-time jobs. She'd rather keep her pride than be looked down upon in such a high-class household.
After finishing up a successful concert, the "good-for-nothing" cousin, Seo-woo, climbs into his tour van and realizes for the first time that his phone has been switched. He tries to call his cell from his manager's phone, but we cut back to Ha-won to learn that not only has her switched phone died, but her friends' phone just went kaput as well.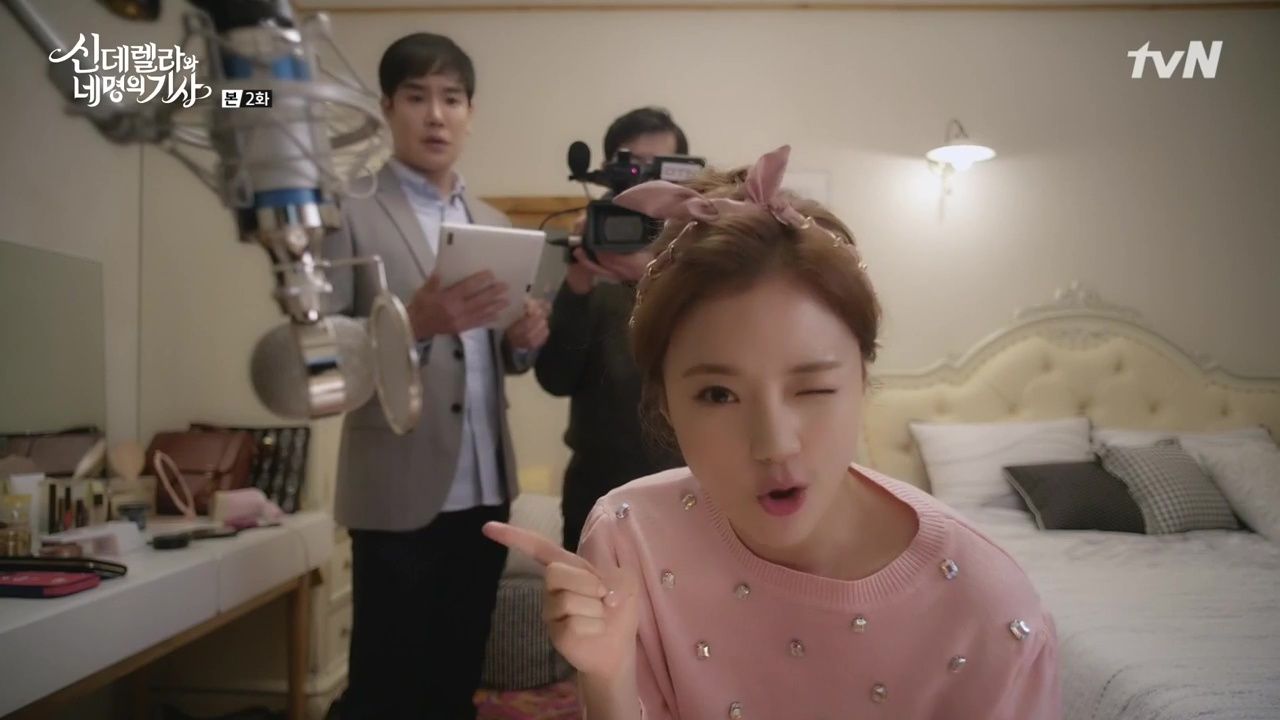 Back at home, Yoo-na – who apparently hosts an amateur online beauty tutorial – is currently recording her show with a two-man film crew watching. It looks like the reporters had used this as an excuse to get into the house, because as soon as Ha-won comes home they abandon Yoo-na to start interviewing her. Stepmom and Stepsister stare as the reporter asks what it's like to be Kang Hyun-min's fiancée.
Stepmom shoos the men out while Yoo-na confronts Ha-won, demanding how the hell someone like Ha-won could be the National Jackpot Girl. Ha-won stutters that she never intended it, it just happened. Yoo-na sneers and tells Ha-won to stop acting high and mighty, accusing her of wanting to escape her shitty life by seducing some rich boy.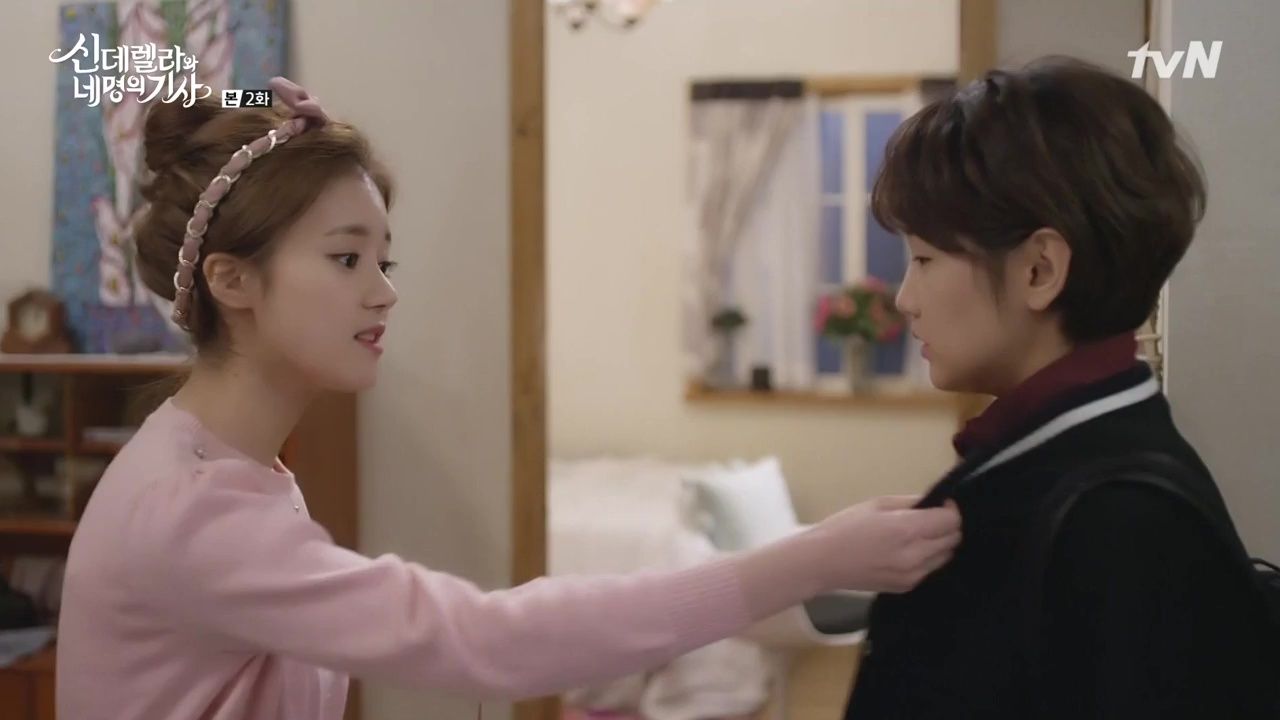 Ha-won denies it, saying that she never wanted to freeload off of anybody. Yoo-na throws a tantrum, and blames Ha-won for leeching off them for years, and Ha-won whispers plaintively, "But… we're… family." Oof, poor thing.
Yoo-na sneers that she's never once thought of Ha-won as her family and pushes the girl out the door. After she slams the door shut, Stepmom finally speaks up to point out that since Ha-won's dad is coming tomorrow, what are they going to tell him? But the spoiled princess can't be bothered and storms off to her room with a "Whatever!"
Hyun-min returns to his room with Ha-won's missing clothes. Collapsing on his bed, he flashes back to Hye-ji's comment that she believes there's still some good left in him. He stares at a picture of a three small children, two boys and a girl, all grinning together at the camera.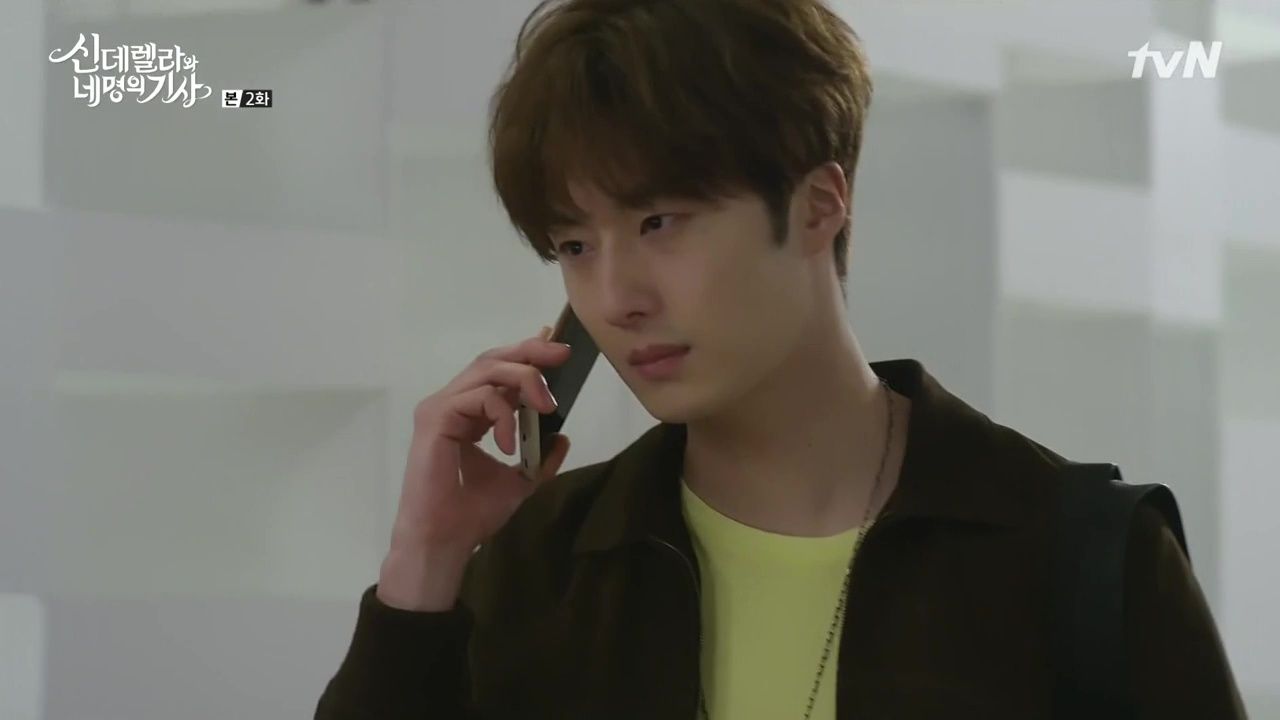 Ji-woon finds himself booted out of the hotel room he'd been staying in, and his credit card has been cut off as well, all courtesy of Grandpa Kang. Bodyguard Lee calls Ji-woon to tell him that Grandpa wants him to return to Sky House or else he'll be deprived of all Haneul Group benefits. Ji-woon fires back he can get by just fine without all that stuff.
At yet another part-time job, Ha-won works collecting tickets at a movie theater. Her work friend comes up at the end of her shift with popcorn and tells her there's an empty theater available. The two girls sneak over to watch the movie, but as soon as they sit down, Ha-won's friend gets a phone call, so she's left there by herself.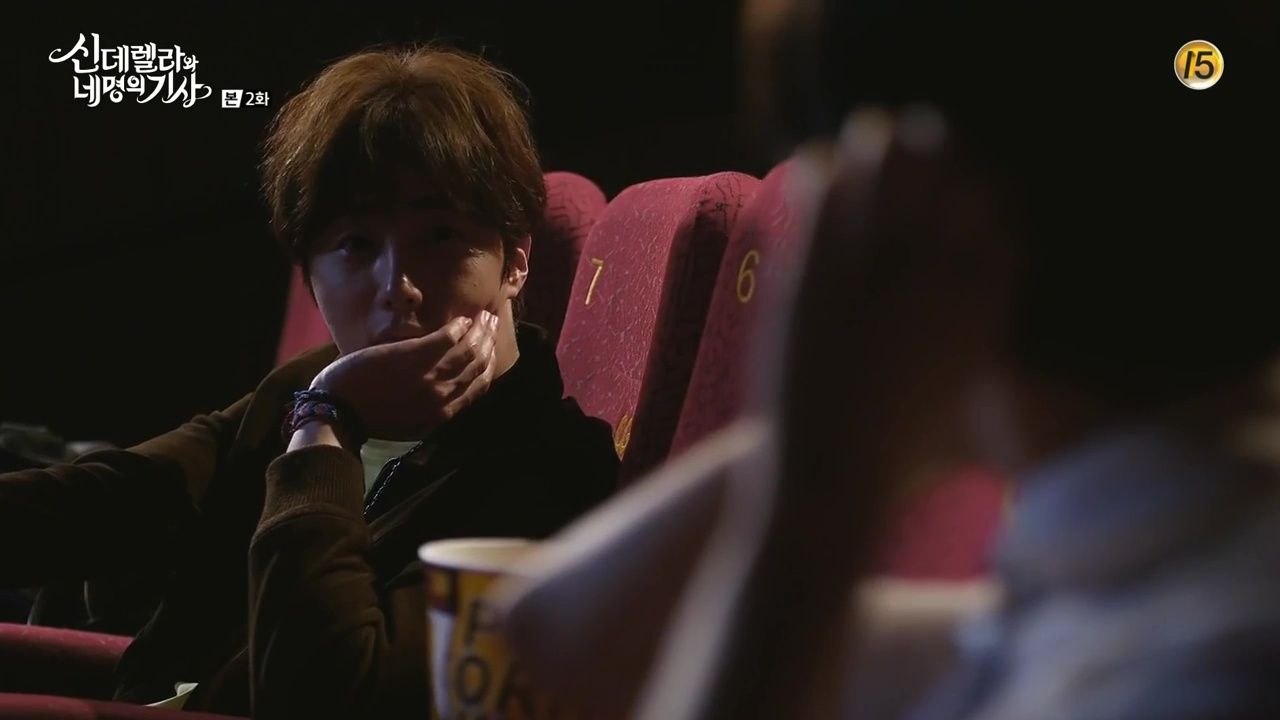 She's not alone for long, as she's soon joined by Ji-woon, having wandered around without a place to go for the night. Neither notices the other until Ha-won starts drifting off to sleep, and her head bobbing catches Ji-woon's attention.
Recognizing her, Ji-woon stares bemusedly until an extra forceful head bob causes Ha-won to jolt awake… and see Ji-woon looking at her. She sloooowly slides down to the ground to try and sneak away, but stops when she realizes she's done nothing wrong.
Ha-won turns back from her spot on the floor, and comes face-to-face with Ji-woon, who's hovering above her. Looking awkward, Ji-woon haltingly asks Ha-won if she has any money. PAH! How'd that pride taste, buddy? Get stuck in your throat much?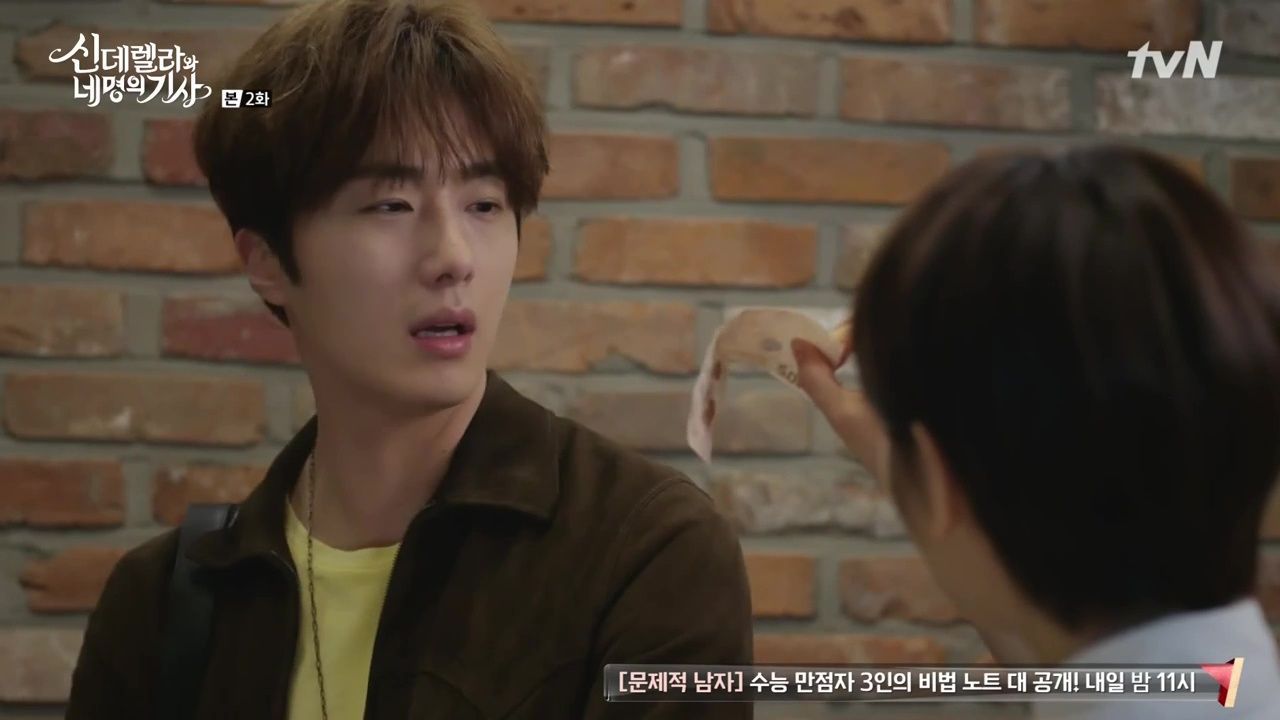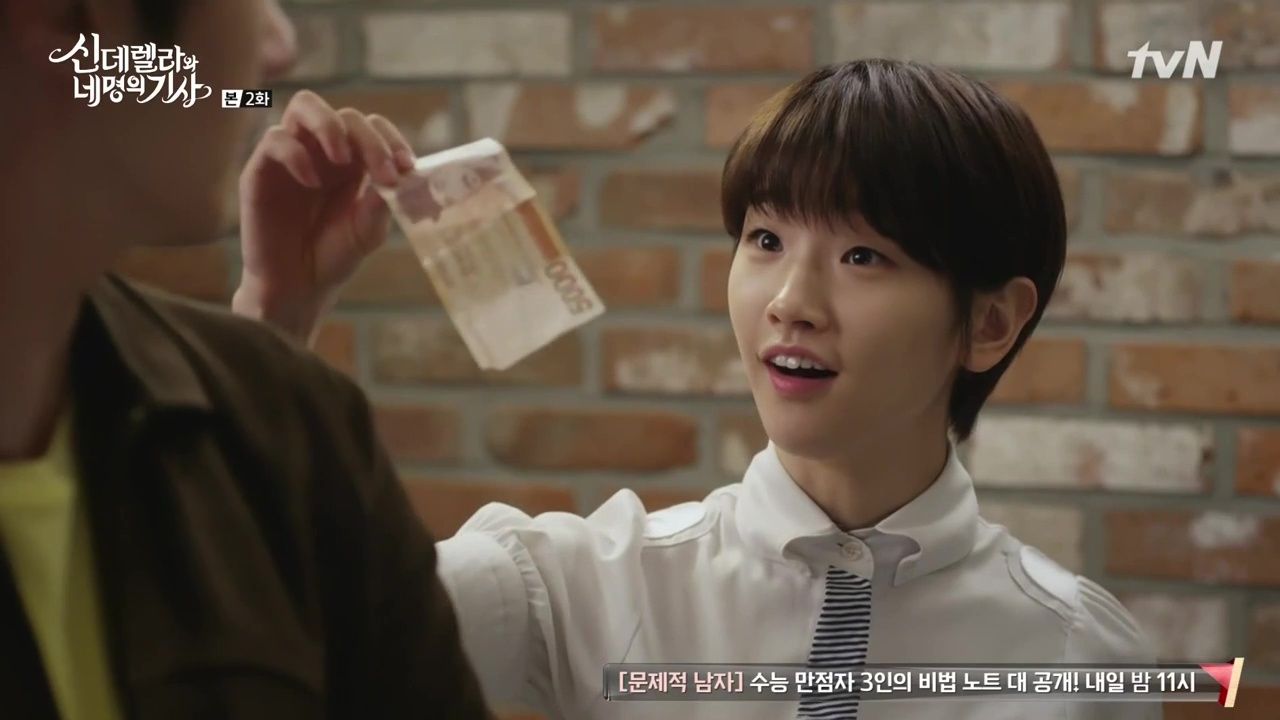 Ha-won and Ji-woon exit the theater and Ji-woon interrupts her teasing to ask if she has money or not, to which Ha-won pulls out approximately five dollars and waves it in front of his face. Ji-woon mocks her "fortune" and strides off, but gets pulled up short by his loudly growling stomach.
The two return to the convenience store and Ha-won buys them both instant ramyun. The two are slurping happily as Ha-won tells Ji-woon that her debt to him is settled now. Ji-woon incredulously demands if his help to her was only worth $1.50, but Ha-won pipes up that it actually cost $2.00. The two bicker adorably until Ji-woon spies Grandpa Kang's car just outside the store window.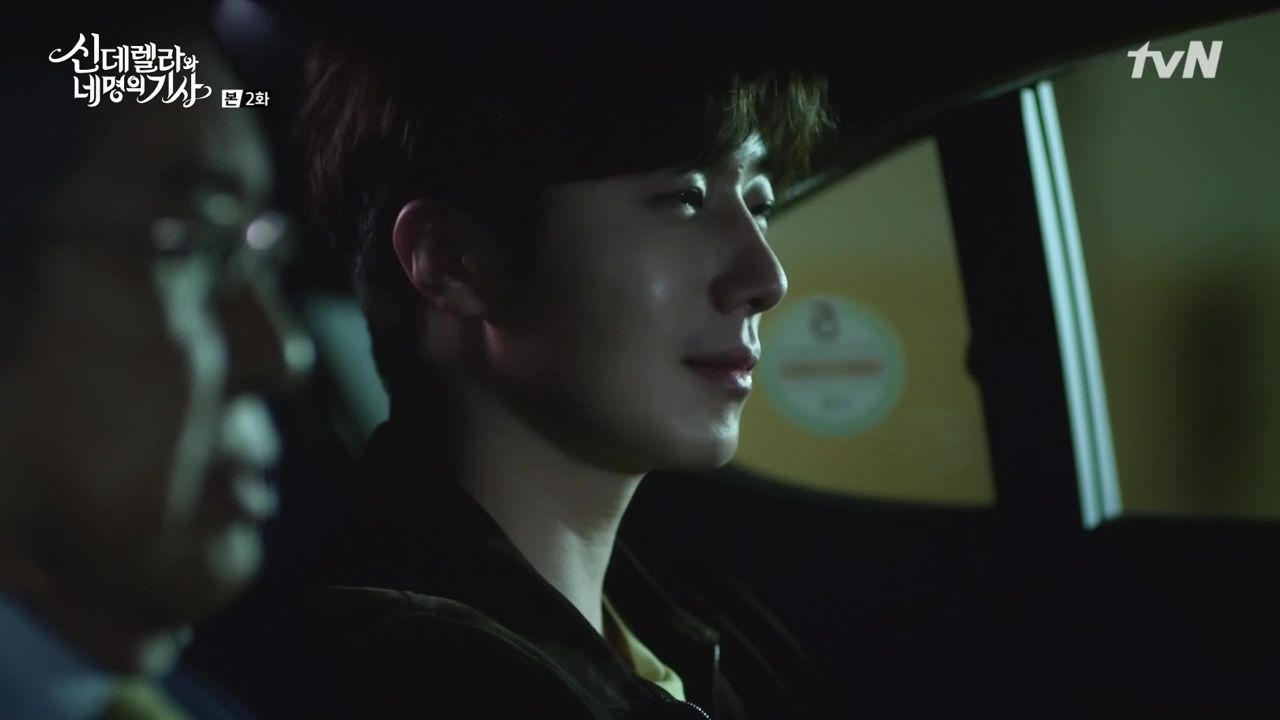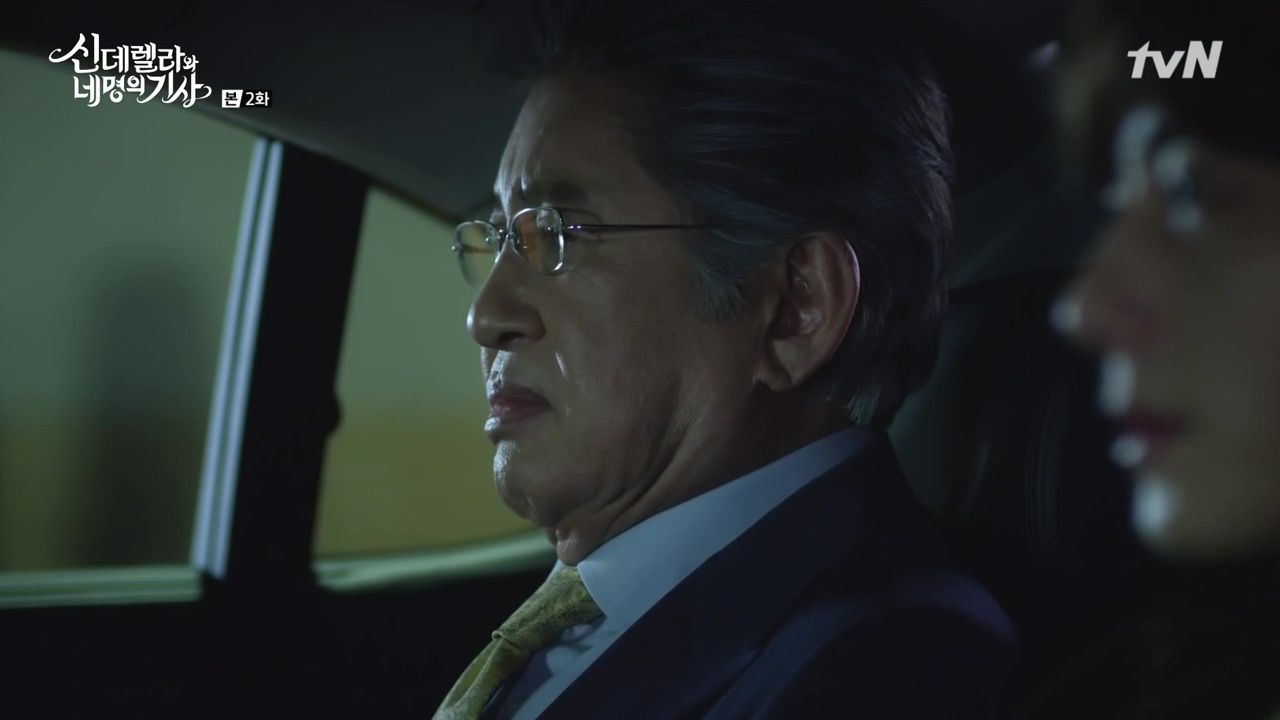 Ji-woon and Grandpa Kang have a tête-à-tête in his car. Ji-woon refuses to go back to Sky House and says that being cut off won't change his mind. Grandpa warns that with his power, he can do much worse if it will get him back home. Ji-woon still refuses to budge, maintaining that he just wants things to return to the way they were. He leaves saying that he's going to live as Han Ji-woon now.
Borrowing a phone from yet another work friend, Ha-won finally reaches Seo-woo on her missing phone. Not knowing who he is, Ha-won grumps that she wasn't able to check her messages today, but she perks up when Seo-woo says she's been getting a bunch of texts. Unable to wait to read them, she walks him through her ridiculously complicated password so he's able access her phone.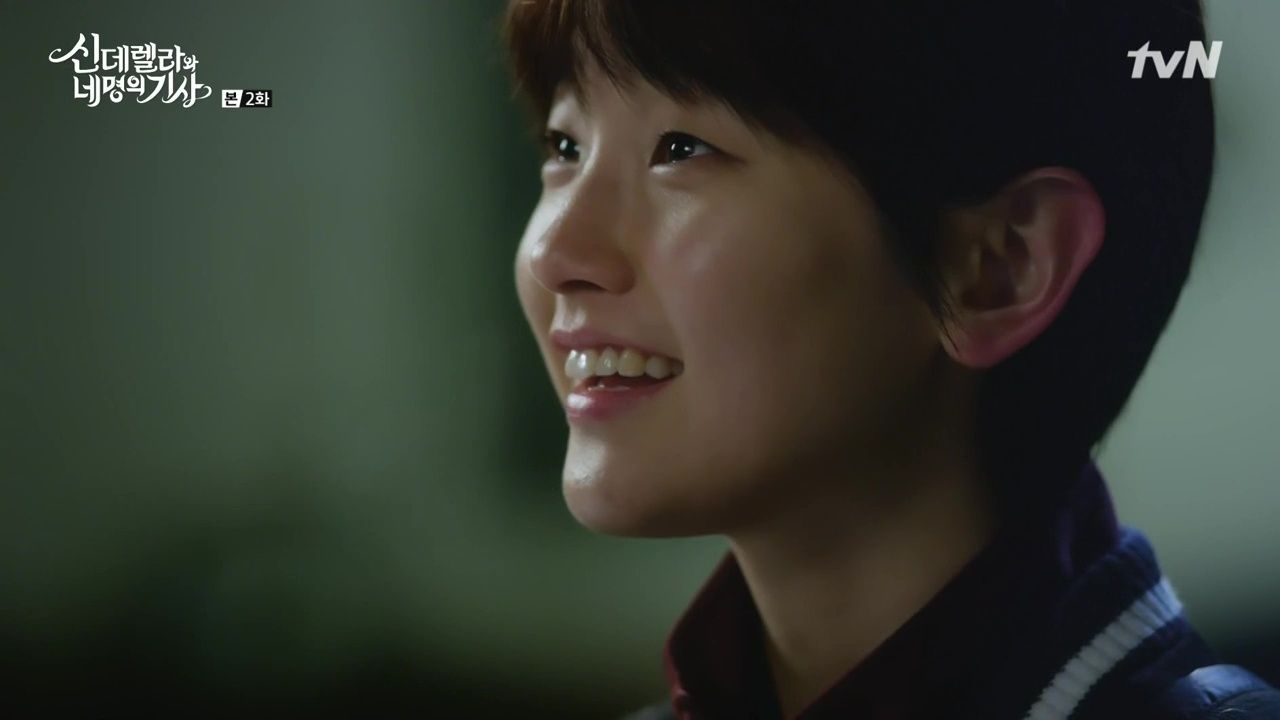 Seo-woo's face falls as he reads the nasty texts that Ha-won has received from her stepsister snarking at her to come to dinner and play nice in front of her dad, then get lost after he leaves. Unable to break the news to her, Seo-woo fudges the truth, saying that her stepsister invited her home for dinner with dad — making it sound downright friendly.
Seo-woo and Ha-won meet up to exchange phones and Seo-woo recognizes her as his cousin's (supposed) fiancée. He quickly erases the nasty texts from Yoo-na, fibbing that he accidentally deleted them. He promises that her family wants her to come home for dinner tomorrow night, and Ha-won smiles happily.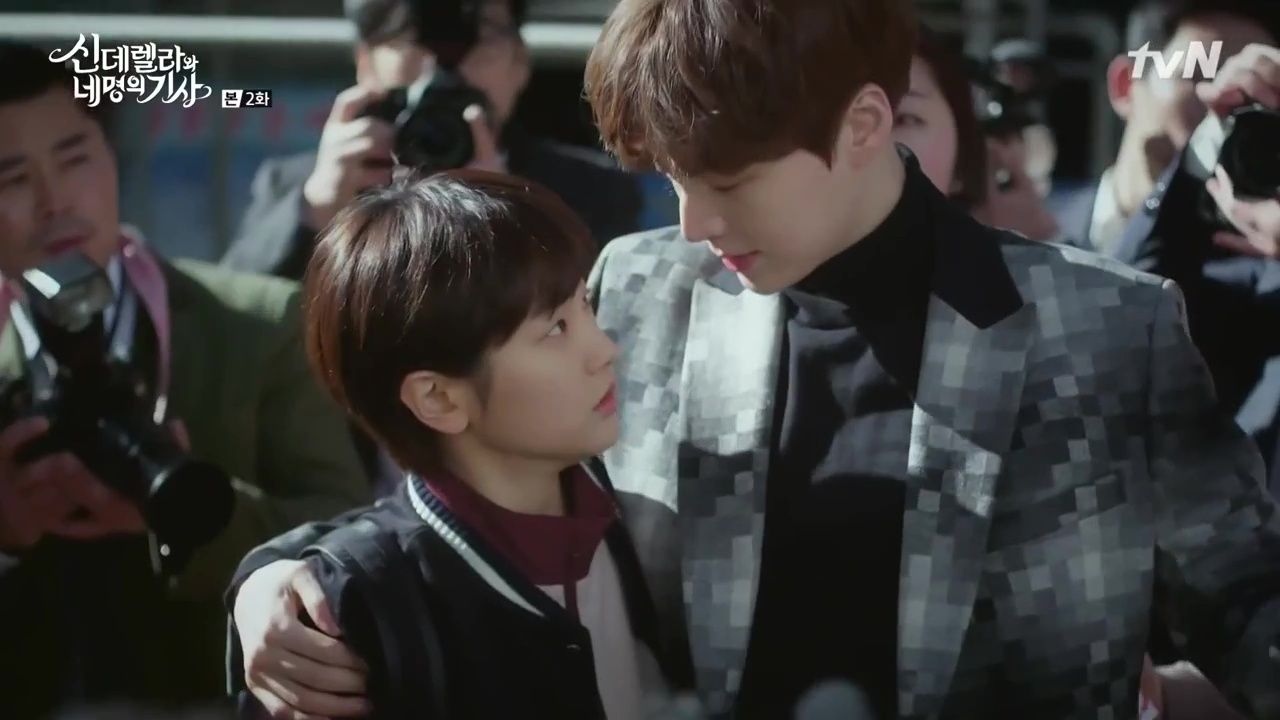 Ha-won spends the night at a jjimjilbang and heads to work the next day, only to find a giant crowd of reporters waiting outside the convenience store. Suddenly, in swoops Hyun-min, who tucks Ha-won securely under his arm. Smiling down at her, he smoothly escorts her through the mob and into his waiting sports car. Wow, pretend or not, I may have swooned a tiiiny bit.
Safely away from the throng of reporters, Hyun-min pulls over and immediately launches into an ode to himself, "I'm totally awesome, right? You got the nickname National Jackpot Girl after you met me. You even got yourself a man who'd save you under such circumstances." Okay, swoony moment gone now.
Ha-won reminds him that this all happened because of his lying about her being his fiancée. Hyun-min asks if it bothers her that much and whips out his phone, calling the top internet news site to throw some muscle around and have all the fiancée-related articles removed.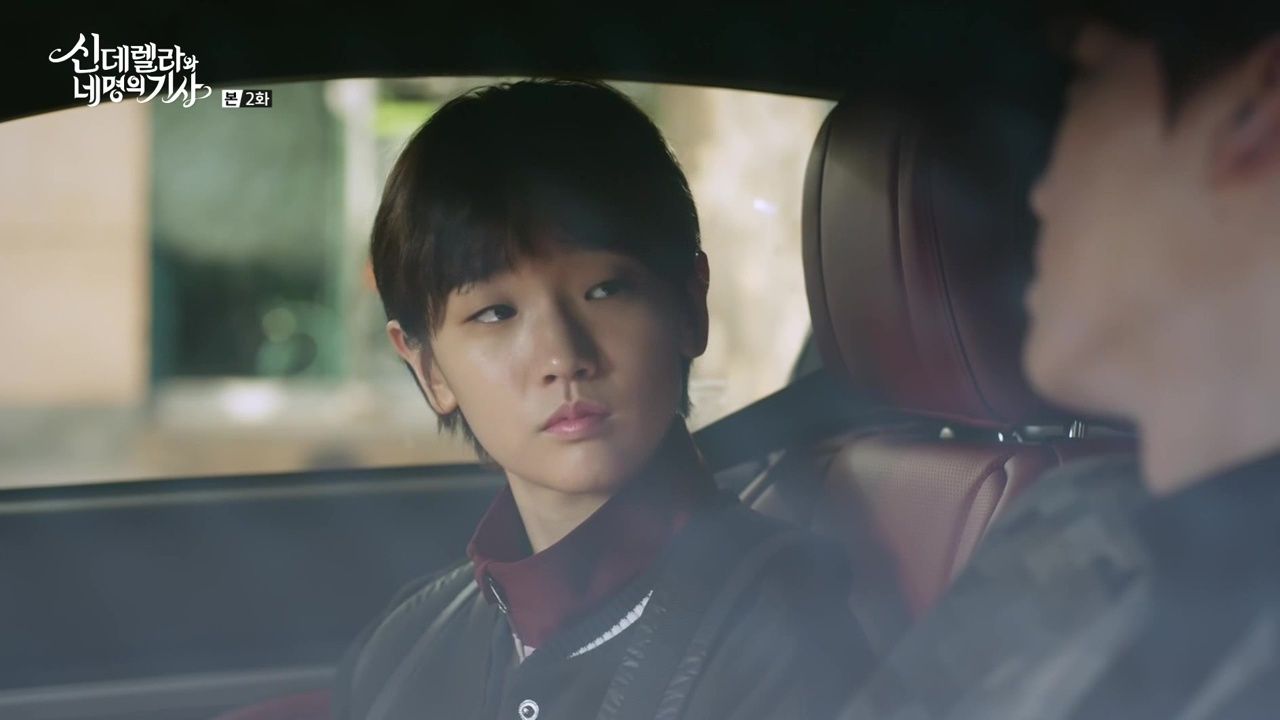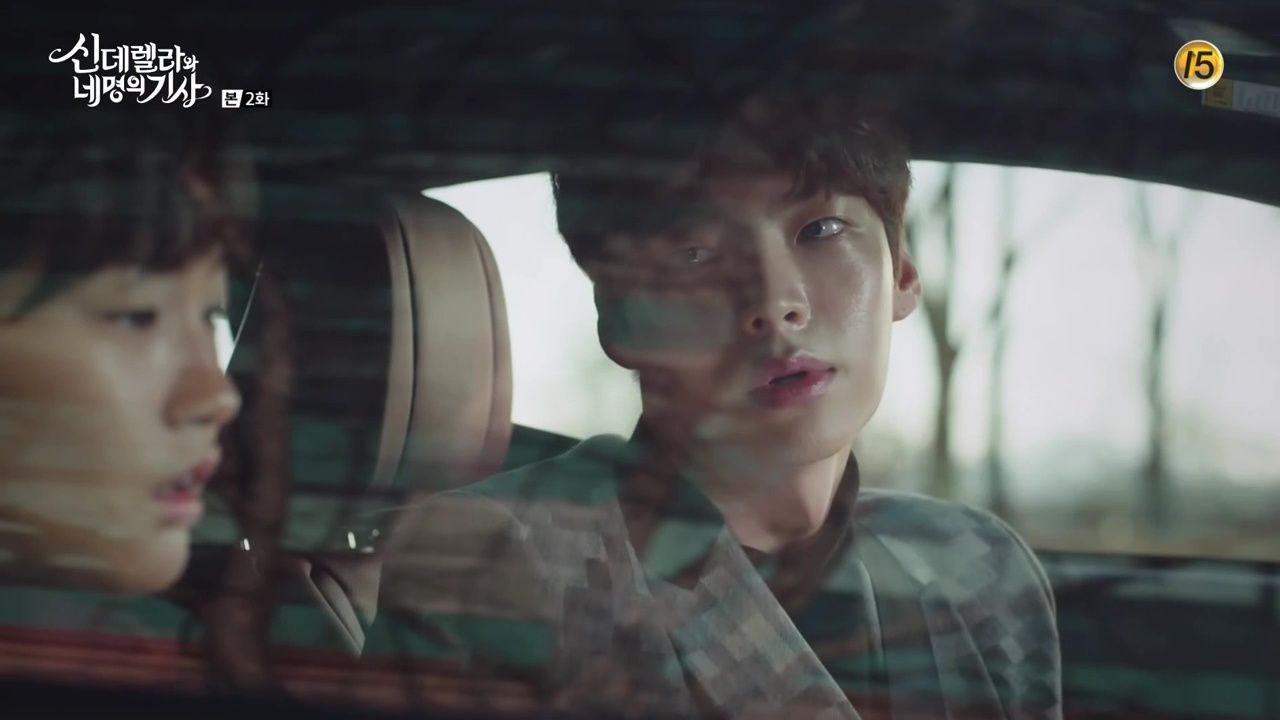 Afterward, Hyun-min turns to Ha-won, "You totally fell for me just now, right? You did, right? You wouldn't be human if you didn't fall for me after that." Hyun-min continues to go on a rant about his utter coolness, but Ha-won is just stunned that the rumors were true about internet sites being controlled by those with money. Hyun-min stares at her while she laments all the trust she put in those sites.
Ha-won thanks him for taking down the articles, even if his methods were questionable. She jumps out of the car and gets a call from the crematorium saying that her father retrieved her mother's urn.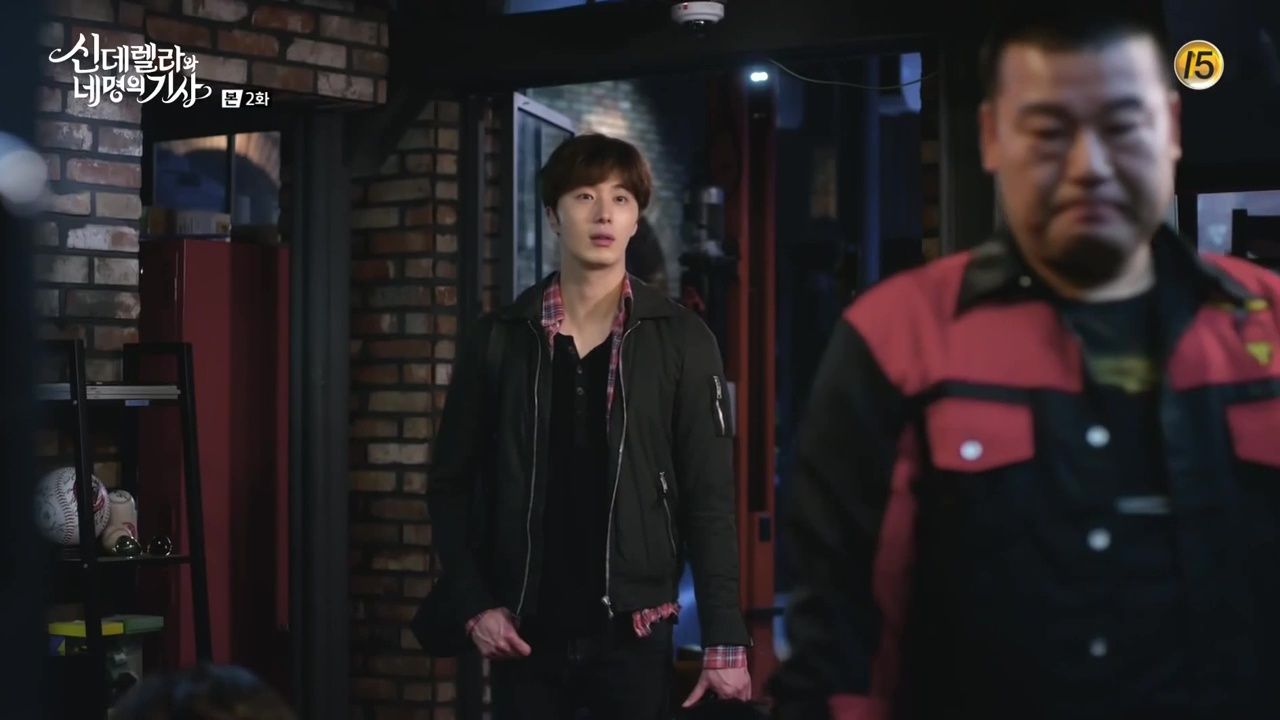 Ji-woon shows up at his old garage, but his friends immediately give him the cold shoulder. Ji-woon calls his manager hyung, but he tells him not to ask any questions and just leave. With a heartbroken smile, Ji-woon forces out that he'll come back some other time.
Ji-woon's friend chases him out, revealing that Grandpa Kang paid off all the garage's debt in return for them never meeting with Ji-woon again. He sighs that for people like Ji-woon's grandpa, changing a person's life really is nothing.
Ji-woon mulls things over at the Han River, where he's joined by Bodyguard Lee. He asks Lee if this is the power Grandpa Kang was talking about, the power to buy people. Bodyguard Lee tells him that Han Ji-woon is gone, only Kang Ji-woon remains, and he'll no longer be able to live as he pleases. Ji-woon stares back at him, asserting that he's still Han Ji-woon.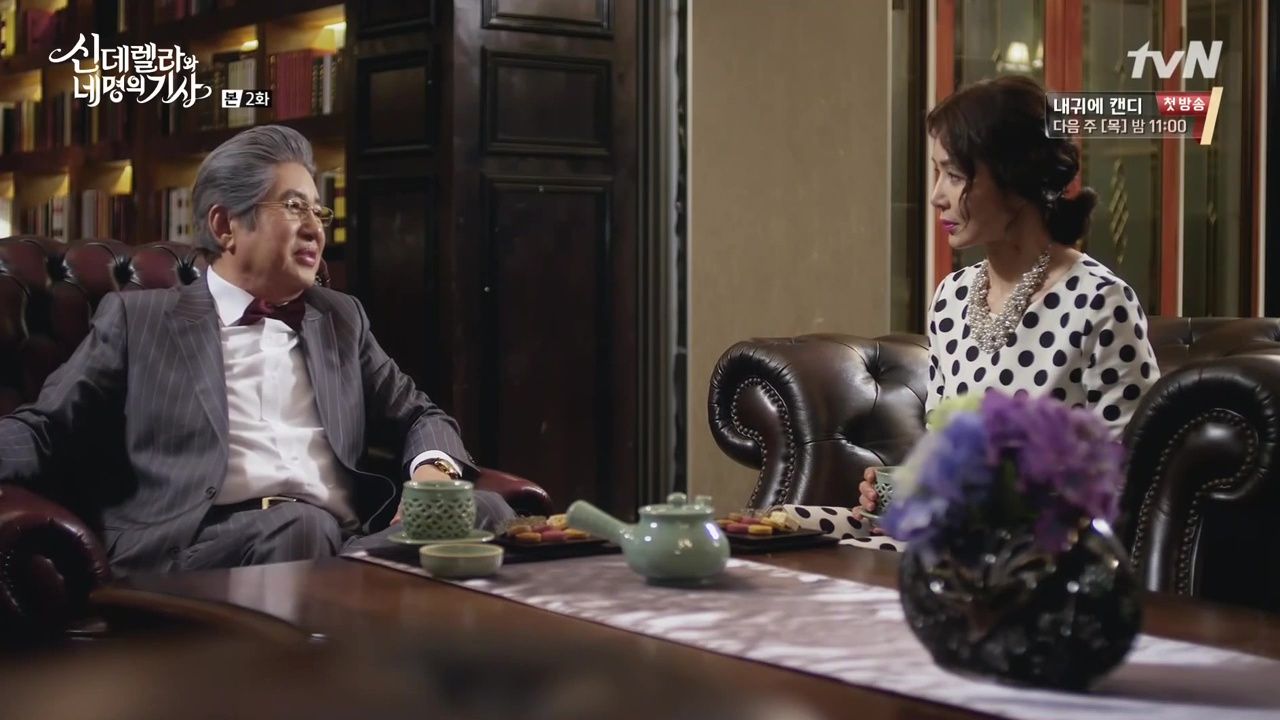 Grandpa Kang informs his new wife, Ji Hwa-ja, of his plans to bring Ha-won into Sky House to help tame his grandsons. Hwa-ja delicately asks what it is about that girl that he likes so much. Grandpa answers that he often wonders who's more in charge: him, or his money. But Ha-won turned down his money without blinking, which makes him think that she'll be the one to sort the boys out.
Bodyguard Lee reports to Grandpa Kang that he's solved the issue of Ji-woon, but Ha-won is still a problem. He doesn't think she's going to change her mind. This only serves to further Grandpa's resolve not to lose her.
Ha-won arrives home to find her dad and stepfamily having dinner. Stepmom and Stepsister are sickeningly sweet to her, but Ha-won ignores them to ask her father what happened to her mother's urn. Dad snaps that her mother is right here (meaning Stepmom). Ha-won goes to her closet room to find that all of her things have been moved out, and her mother's urn shoved into a corner.
Ha-won brings the urn out and asks her father why he couldn't pay the fees so that her mother could rest in peace. Dad says that there's no need to waste money on a dead person, and accuses her of insulting Stepmom, who raised her with such care. Stepmom fakes some tears and offers to help pay the fees, since she has some money saved up for both Yoo-na's and Ha-won's tuition. Say what, crazy lady?
Ha-won reminds her Stepmom that she'd told her they could only afford to send Yoo-na to college, but Stepmom sweetly answers that that's not true, and even if Ha-won is upset, she shouldn't tell such lies. Ha-won then asks about her belongings that were in the closet and Stepmom answers that her things are in the room that Ha-won shares with Yoo-na, where they've always been. Damn. That's some serious chutzpah.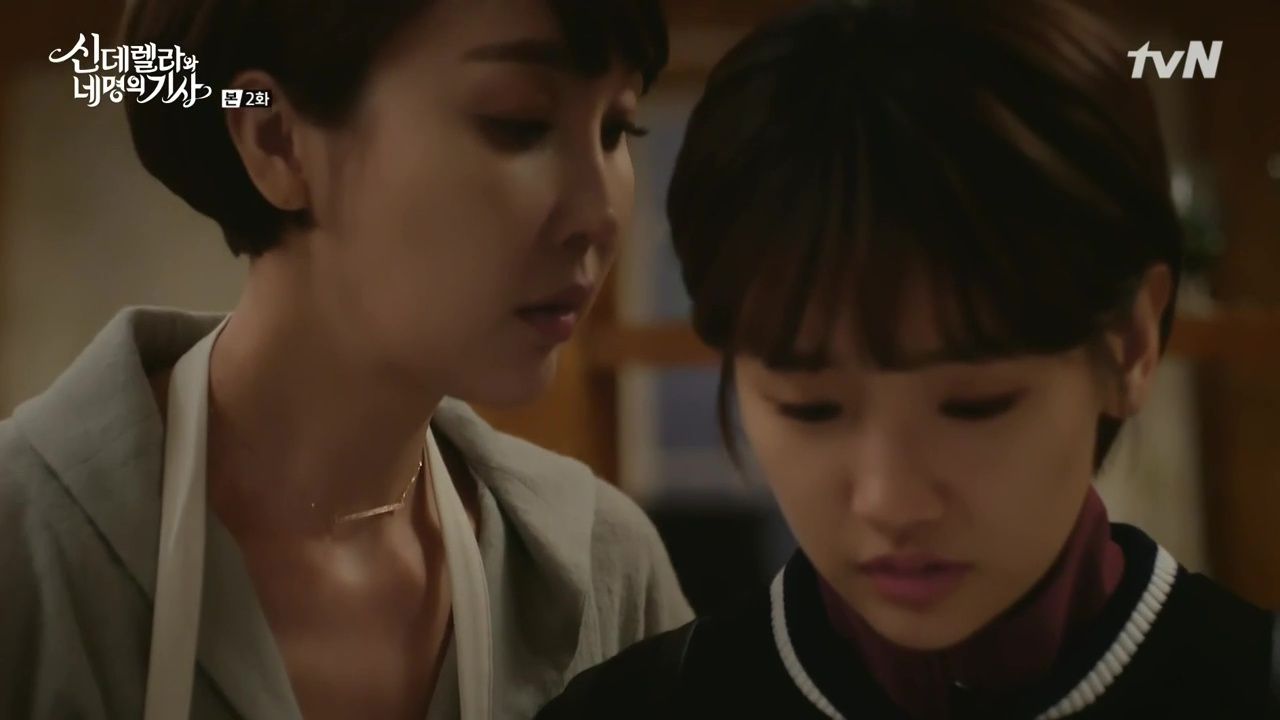 Stepmom fake blubbers as she asks if Ha-won is trying to make her look bad in in front of Dad, but when Ha-won raises her voice that she's just stating the facts, Dad loses his temper. He slams his hands on the table and yells at Ha-won for not appreciating the kindness that Stepmom has given all these years. Ha-won asks if he won't believe anything she says, and her Dad slaps her hard across the face.
The whole room is silent, and Dad mutters that he should never have tried to raise another's child as his own, revealing that Ha-won's mother had Ha-won with another man. He sits back down and both Stepmom and Stepsister ask if she's really not related to Dad. Yoo-na smirks that Ha-won isn't really family after all.
Ha-won just stands there, looking at the man she thought was her father. She finally starts to walk out and Stepmom chases after her, saying that she can't leave like this. As soon as she gets close to her though, she whispers in Ha-won's ear, "That's right, everything will be fine once you're gone."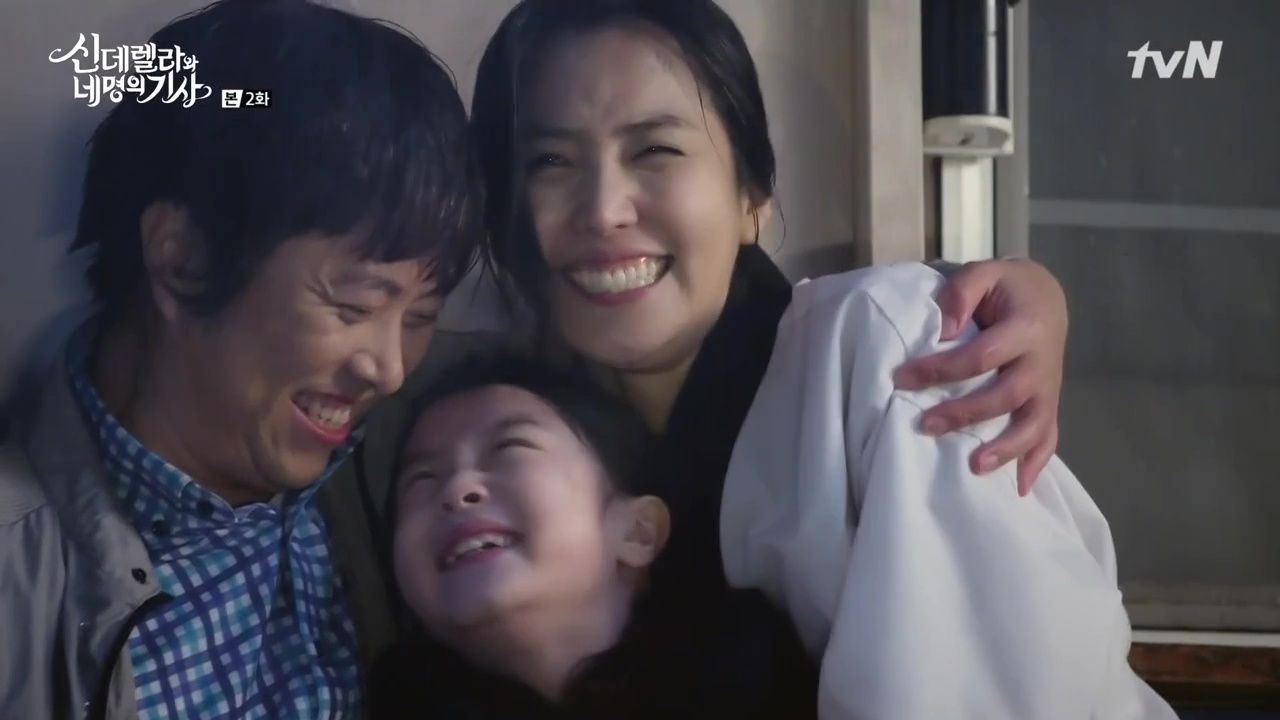 Trying to hold in her tears, Ha-won walks out into the pouring rain. As she stands in front of her house, she remembers a happier time from when she was little and she and her mom and dad had run home in the rain as a happy family.
Carrying her mother's urn through the pouring rain, Ha-won wanders as she tries to call her friends, having no luck looking for a place to stay. Just then, she gets a call from Grandpa Kang who asks if she's thought about his offer. He says that Sky House is still open to her.
Elsewhere, the Kang cousins all receive the same text, "Everything will change at Sky House. Come and see for yourself." It's enough to get them to drop everything and head over, even Ji-woon.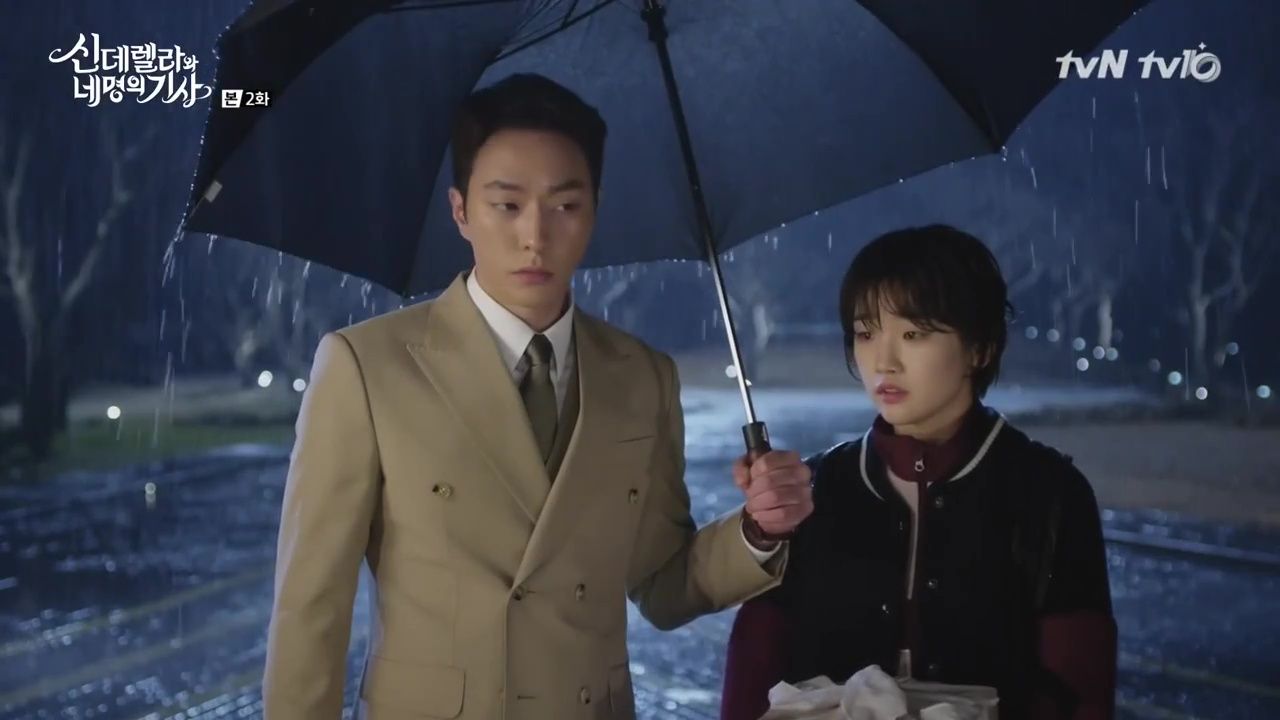 Ha-won stands in the rain in front of Sky House. In her mind, she asks her mom if it's really ok for her to live here. Bodyguard Lee appears beside her with an umbrella. As he invites her to come in, the Kang boys arrive simultaneously.
All three slo-mo walk through the rain towards Ha-won. As the three princes approach and our Cinderella is fully surrounded by her four knights, Bodyguard Lee informs Ha-won that Grandpa Kang has one rule for her while living at Sky House: No dating.

COMMENTS
Way to be a buzzkill, Gramps. So much pretty and no touching? That's just mean.
I have to say (in the interest of full disclosure), I didn't care for this series throughout the first episode. The characters seemed shallow and the plot was ripe with tropes that lacked any original twists. I couldn't see the hook and, to be honest, I'm not sure that I would have kept watching the series if I wasn't recapping it. That being said, I'm REALLY glad that I did indeed watch the second episode! Looking back at it now, the first episode set everything up, pretty much so it could get knocked down one episode later. We've got the hard working Candy girl, yet she constantly relies on herself instead of a benefactor, the rebel chaebol who sees himself as "one of the people," yet acts like a snob, and the ice prince playboy, who can't seem to keep his mask from slipping. They all started out as stereotypes, but they're each breaking the mold in some way.
I'm looking forward to the main characters living together, though mostly because I want to smash through all these walls that they've built and find out what really makes them tick (please ignore the slightly psychopathic vibe that accompanied that statement). I feel like as soon as they start butting heads, a lot is going to be revealed, especially with Hyun-min, who really needs to come out of his icy shell. I know there are already people rooting for Hyun-min and Ha-won, but right now, I'm not feeling it. Thus far, the only times I felt any sincerity from him was with Hye-ji. Admittedly, he did get a little starry-eyed when Ha-won beat up the pizza creeps and when she left him after the wedding, but his heart isn't in it yet. I get the sense that she's still just a puzzle to him, one he fully intends to walk away from once he's solved it. However, once those walls start breaking down, and if he truly falls for Ha-won, then that will be something. I might need to invest in some smelling salts… On the flip side, I really like the interaction between Ha-won and Ji-woon. The first episode didn't give them much time together, but damn, that scene where they took turns smashing each other against the wall? I felt more there than anything with Ha-won and Hyun-min. Also, I'm a sucker for banter, and that convenience store scene was just adorable.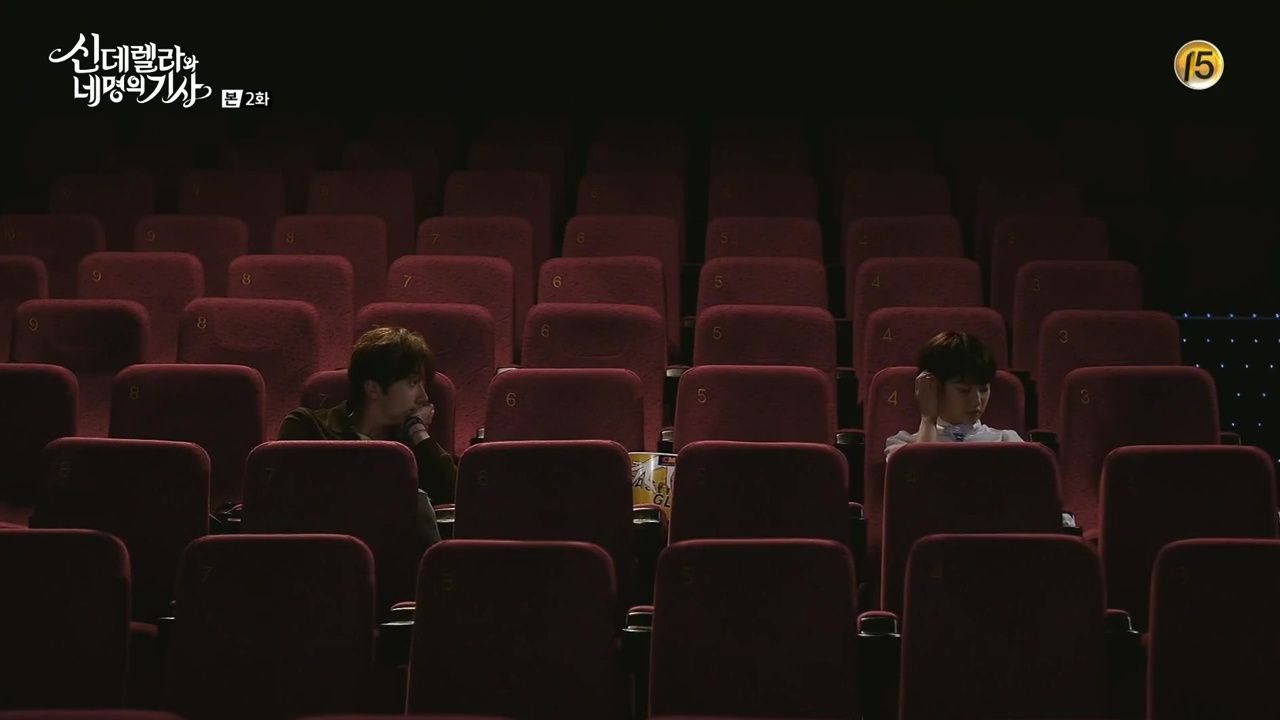 It seemed a lot of this episode focused on Grandpa Kang and the power he has to change someone's life. It was mentioned so many times with such awe that it seemed to border on magical. I'm starting to wonder, is Grandpa the fairy godmother of this tale? I have to say I'd really love that, especially since the whole idea of the classic Cinderella tale was that she got her life changed for the better through magic. Yet, surprisingly, Ha-won threw away that chance, wanting to change her life herself instead of relying on Grandpa's power. It's kind've like the fairy Godmother showing up and Cinderella saying, "No thanks, I got this."
It seems that there are already a few twists to the fairytale thus far, like how Cinderella's dad is not actually her dad – something I really was not expecting. My favorite twist though, was that this Cinderella didn't just lose her shoe, she threw it away… or rather chucked it at Prince Charming's head (which he totally deserved). It wasn't some accident, but rather a deliberate choice to leave it behind and go her own way. In spite of princes giving her pretty dresses and fairy grandfathers inviting her into beautiful palaces, she still strives to manage her life herself, trusting her own instincts over what is easy. Now that is a Cinderella I'd be willing to watch. Keep it coming with the twists, character layers, and steady stream of pretty, and I'll keep watching till the clock strikes twelve.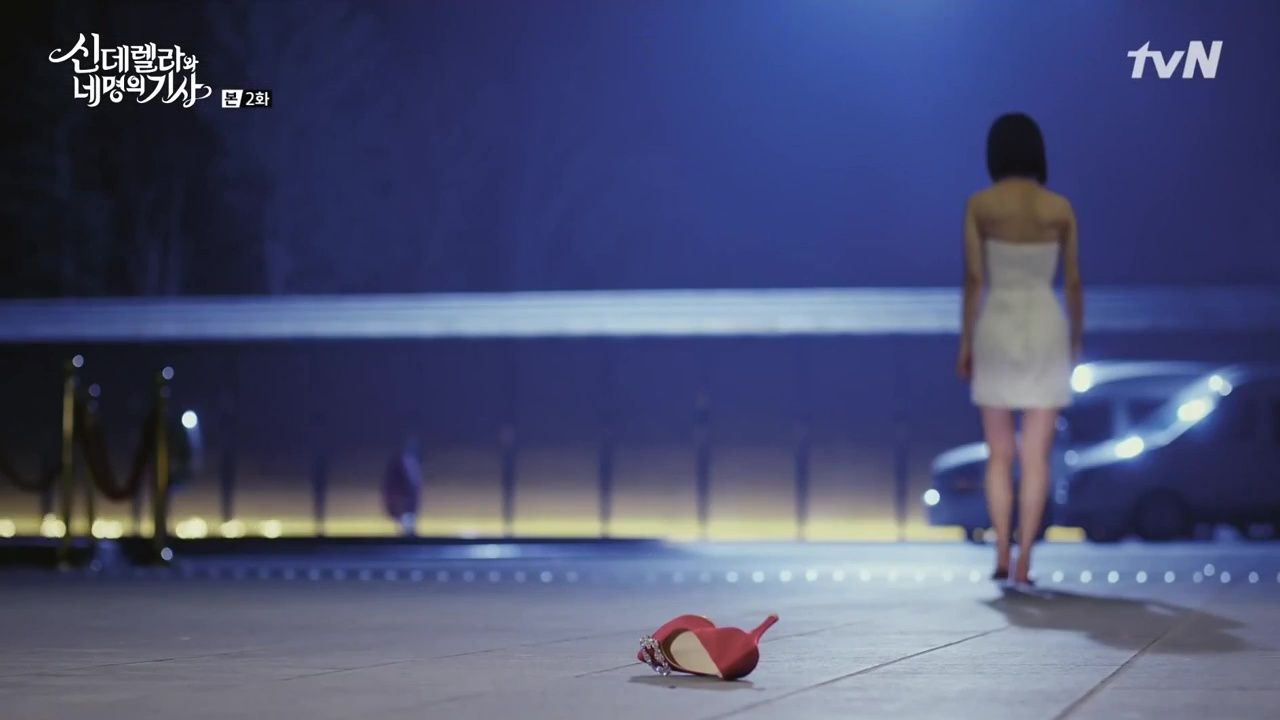 RELATED POSTS
Tags: Ahn Jae-hyun, Cinderella and the Four Knights, featured, Jung Il-woo, Lee Jung-shin, Park So-dam