Doctors: Episode 14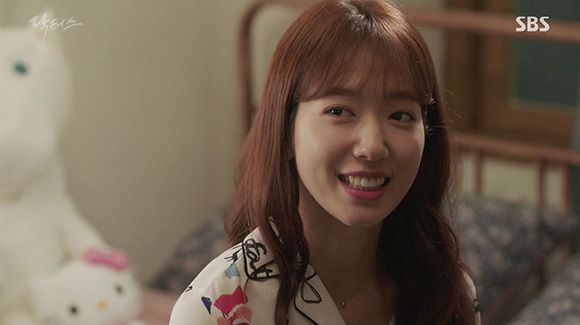 Two sick children + hardworking father – money = heartbreaking story. While the plot doesn't move forward much, it was, nonetheless, a sad episode. The show depicts the struggles of being poor while having sick family members, and despite the tender moments shared between father and sons, sometimes it is not enough to combat the burdens of reality.

EPISODE 14 RECAP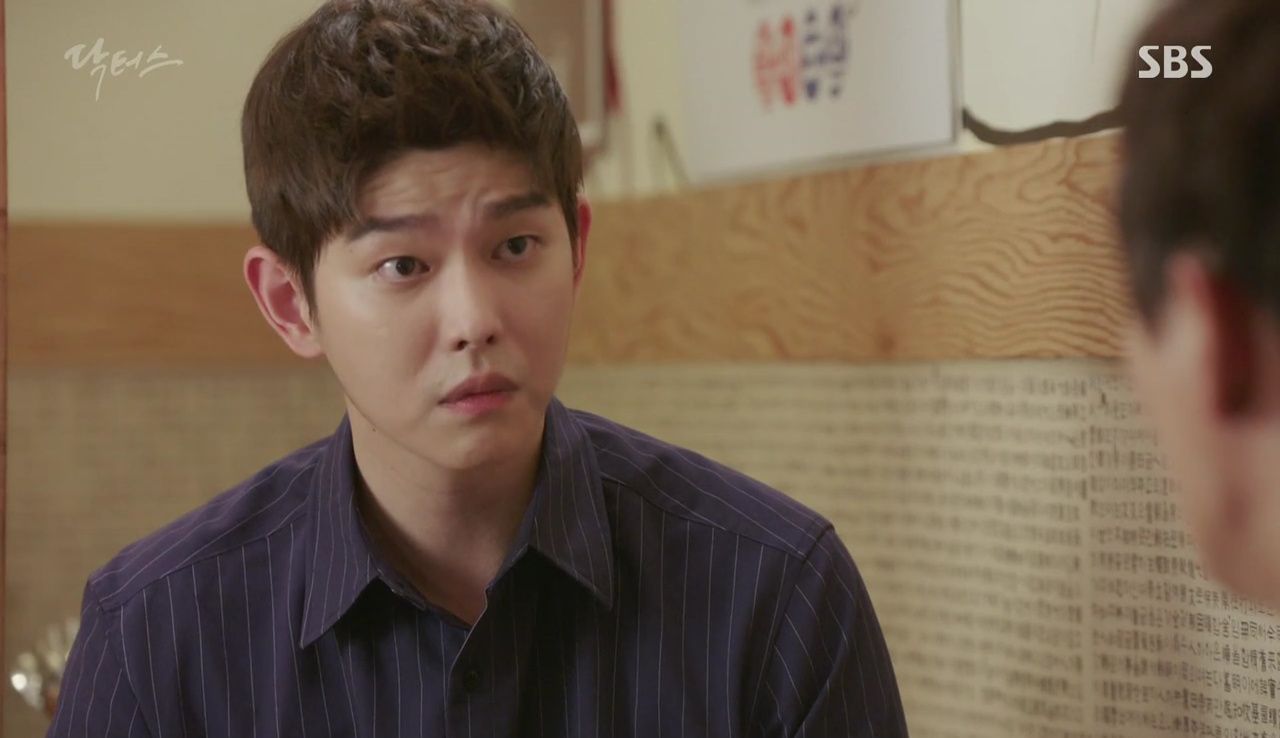 Going back a few hours, Ji-hong stands in front of Hye-jung's father's restaurant and narrates, "Entering someone's life means not asking about the scars they don't tell me or can't tell me about. Not asking and being by their side. First, I have to find out what the scar is."
Ji-hong enters the restaurant, and Hye-jung's father greets him warmly. He mentions that Yoon-do is here, too, and Ji-hong joins Yoon-do at his table. Pouring him a drink, Ji-hong asks if Yoon-do was the operating surgeon for Hye-jung's stepmother, and Yoon-do says that he earned a lot of points then.
Surprised, Ji-hong asks if Yoon-do still hasn't given up on wooing Hye-jung. Yoon-do sighs, wishing that he had a zipper on his heart to close and open it freely. Rather than humor his emotional musings, Ji-hong says, "I figured out the reason you were rejected."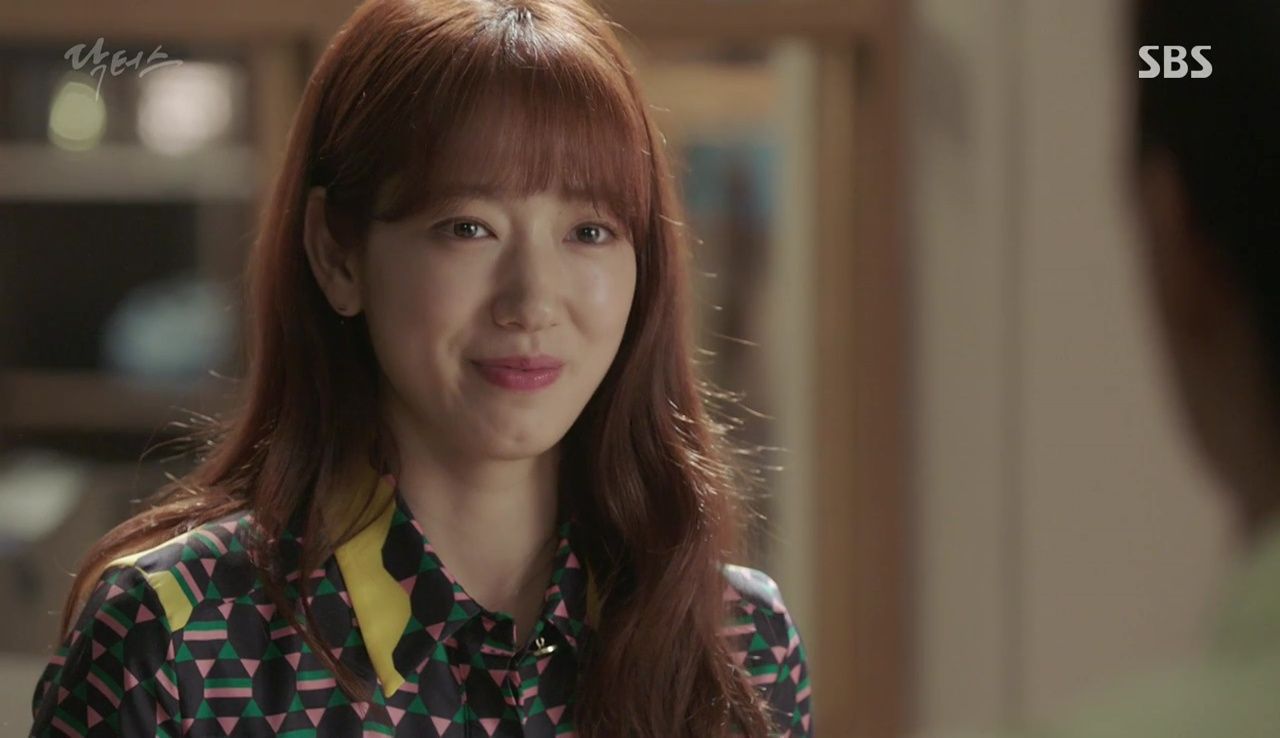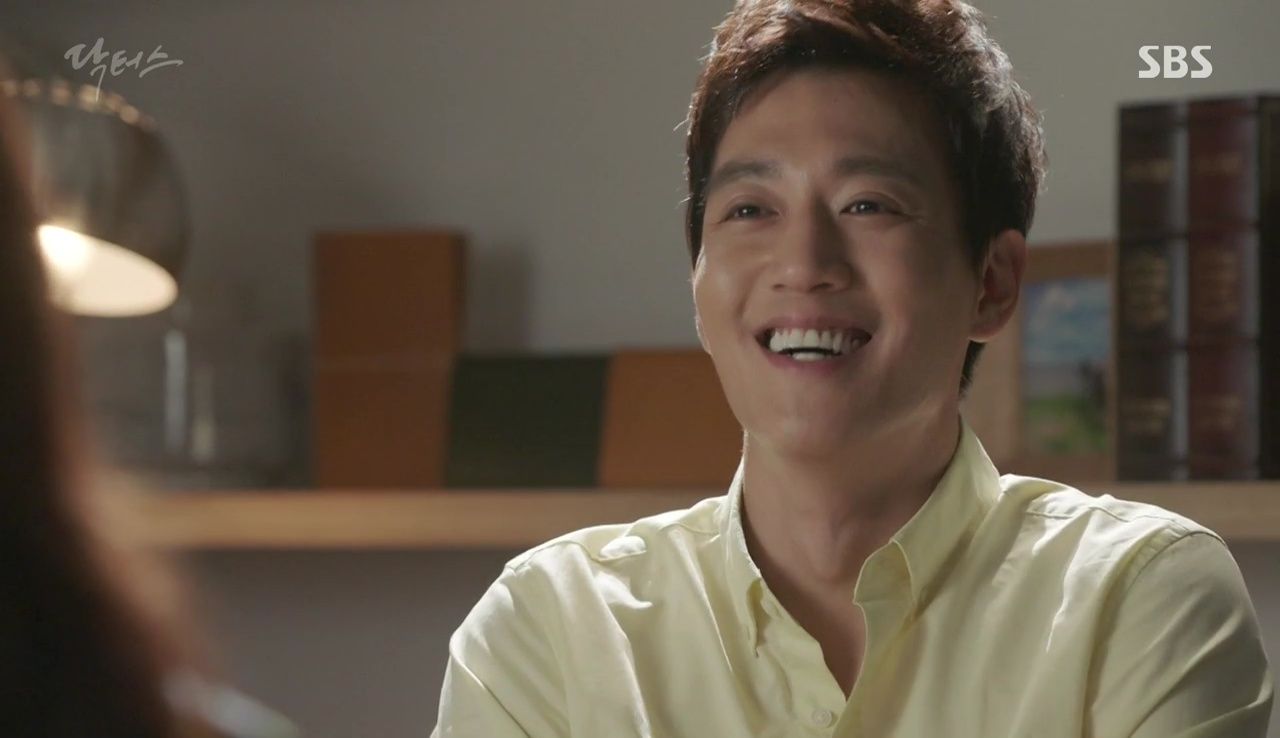 Returning to the closing scene from the last episode, Hye-jung questions Ji-hong about seeing her father. Ji-hong clarifies that he went to buy food, not to see her father. However, the mere thought of Ji-hong meeting her father displeases Hye-jung, and the two verbally spar back and forth. For now, their small argument ends in laughter, and Hye-jung pushes aside the soup, which Ji-hong notices.
At the hospital, Yoon-do asks Kyung-joon about one of the patients, and Kyung-joon starts to explain that he meant to order Kang-soo to do the work. Yoon-do admonishes the fourth-year for not completing the work and getting used to bossing around others. Seo-woo intervenes and tells Kyung-joon to at least call Joong-dae, or make the department run smoothly without Joong-dae's help.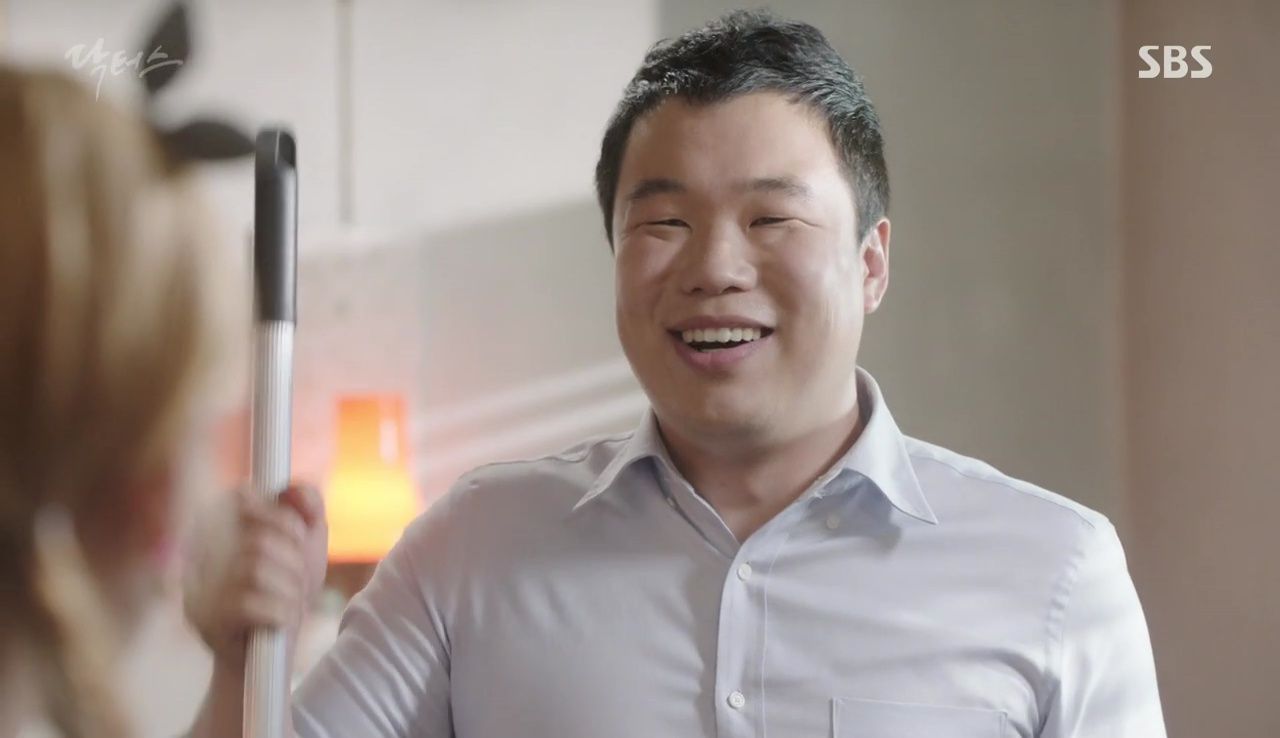 Meanwhile, Joong-dae is hiding out at Soon-hee's café, and Soon-hee mentions that it's already been two days since he's been here. Joong-dae promises to only stay for a week, and feeling pity, Soon-hee asks if he ate food. Joong-dae happily declares that he found food in her fridge, and all of Soon-hee's sympathies disappear in a flash.
She yells at him for digging through her fridge without permission, and says that he should have called her beforehand like a normal person. Joong-dae didn't want to risk getting caught by Hye-jung, and pleads with Soon-hee to keep everything a secret.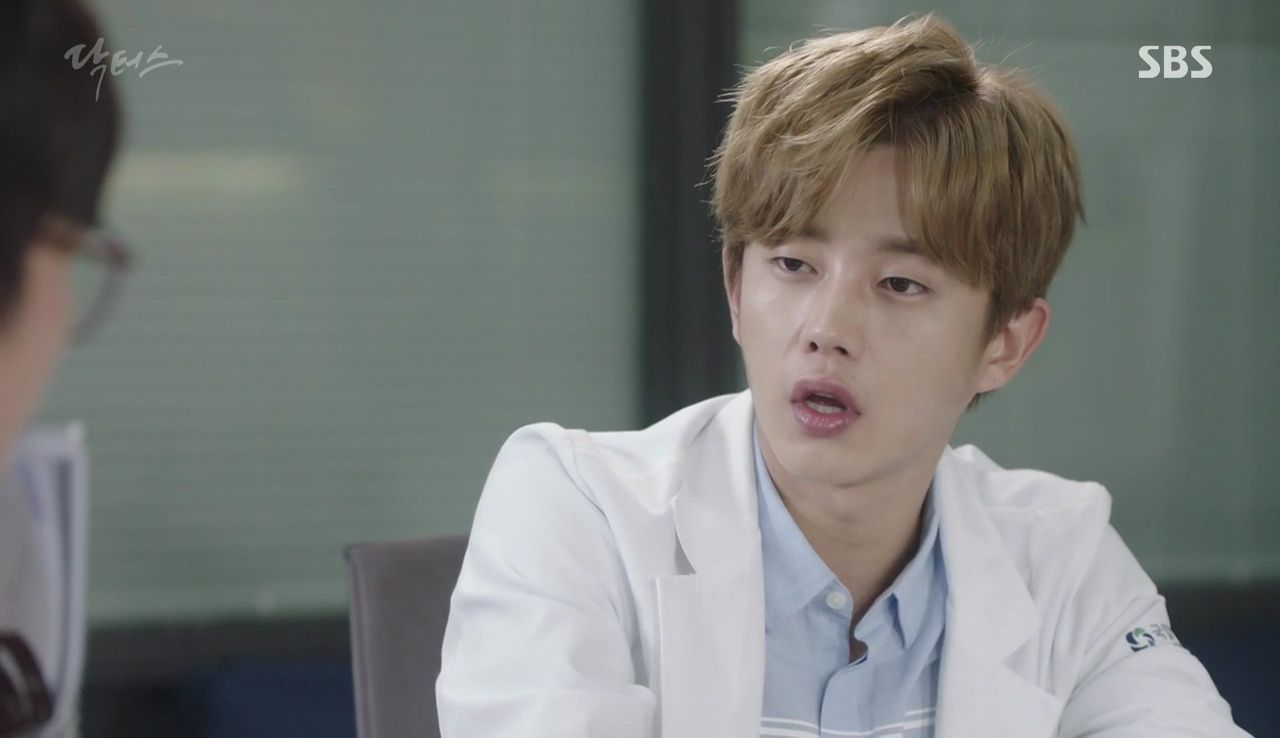 In the residents' office, Kang-soo says that life is difficult without Joong-dae, and Kyung-joon comes into the room, complaining about the missing second-year. Young-kook tells him that Joong-dae sent a text, in which Joong-dae declares that he can't tolerate the "defamation of character" and won't be returning to the hospital.
Kyung-joon asks who bullied Joong-dae, and the other residents stare at him in disbelief. Kyung-joon defends his actions, stating that everything is for their sake. Kang-soo disagrees since he thinks a good person is someone who doesn't hit and buys them food like Young-kook. For that, Kyung-joon whacks Kang-soo in the arm and leaves the office in a fit.
Yoon-do and Seo-woo visit their sick, young patients, brothers Hae and Dal. Yoon-do presents them with Rubik's Cubes, and asks Hae if everything is all right since he's starting radiation therapy today. Seo-woo explains the procedure as wearing a helmet like a robot so Hae won't be nervous.
An administration staff member asks Nurse Su-jin about Hae and Dal's father, but he's usually not here until the evenings. Nurse Su-jin sighs and tells Hye-jung that the children's mother died from cancer and her hospital bills left the family in debt.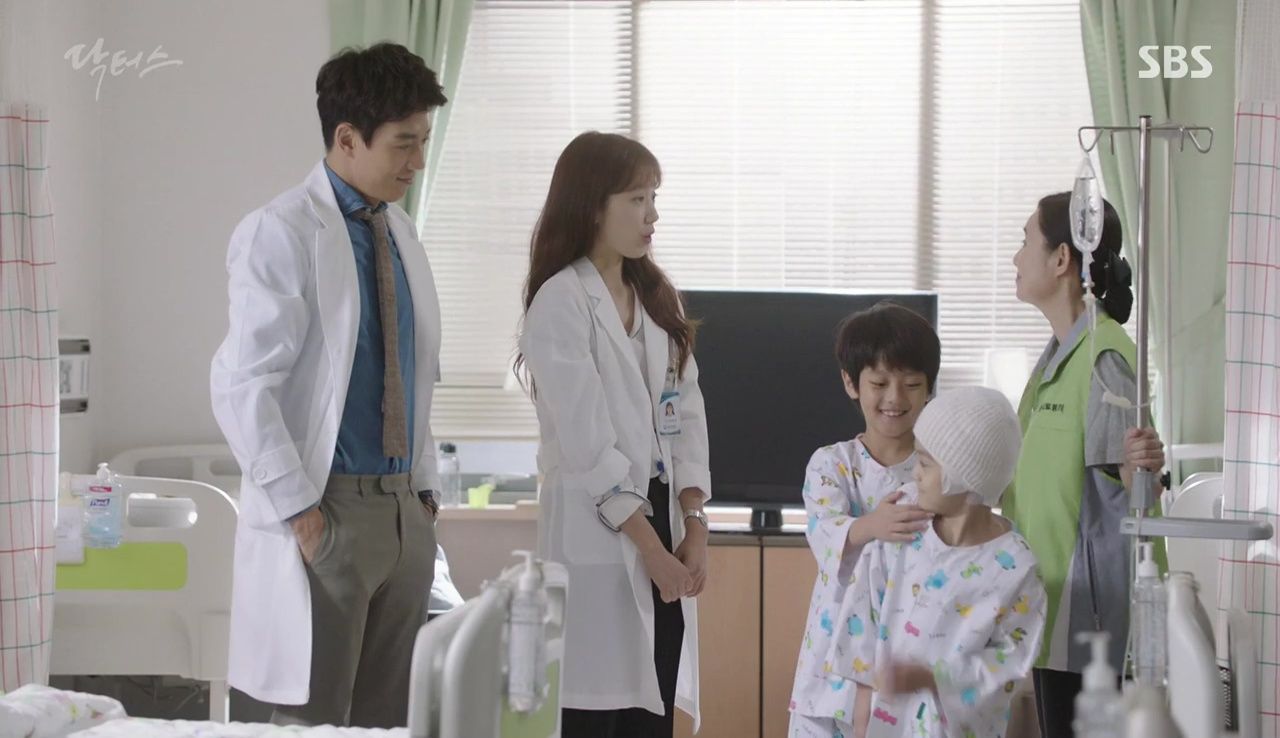 Ji-hong arrives, and Hye-jung accompanies him to check on Dal. She informs him about Dal's condition post-surgery, and then asks what he's doing later. Ji-hong explains that he's meeting Tae-ho to talk about a project they're working on, and if it goes well, it can change who's in charge of the hospital.
They visit Hae and Dal who are waiting diligently for their father. Ji-hong asks how Dal feels, and the younger brother complains of pain. Hae reassures Ji-hong that Dal's not in a lot of pain, and when Ji-hong asks how he knows, Hae says that he takes care of Dal while their father is away.
Hae and Dal's father is busy parking cars as a valet and receives a call from the hospital administration office telling him the surgery fee is currently 20 million won (roughly 18,000 USD). He hangs up and sighs since the bills will only increase.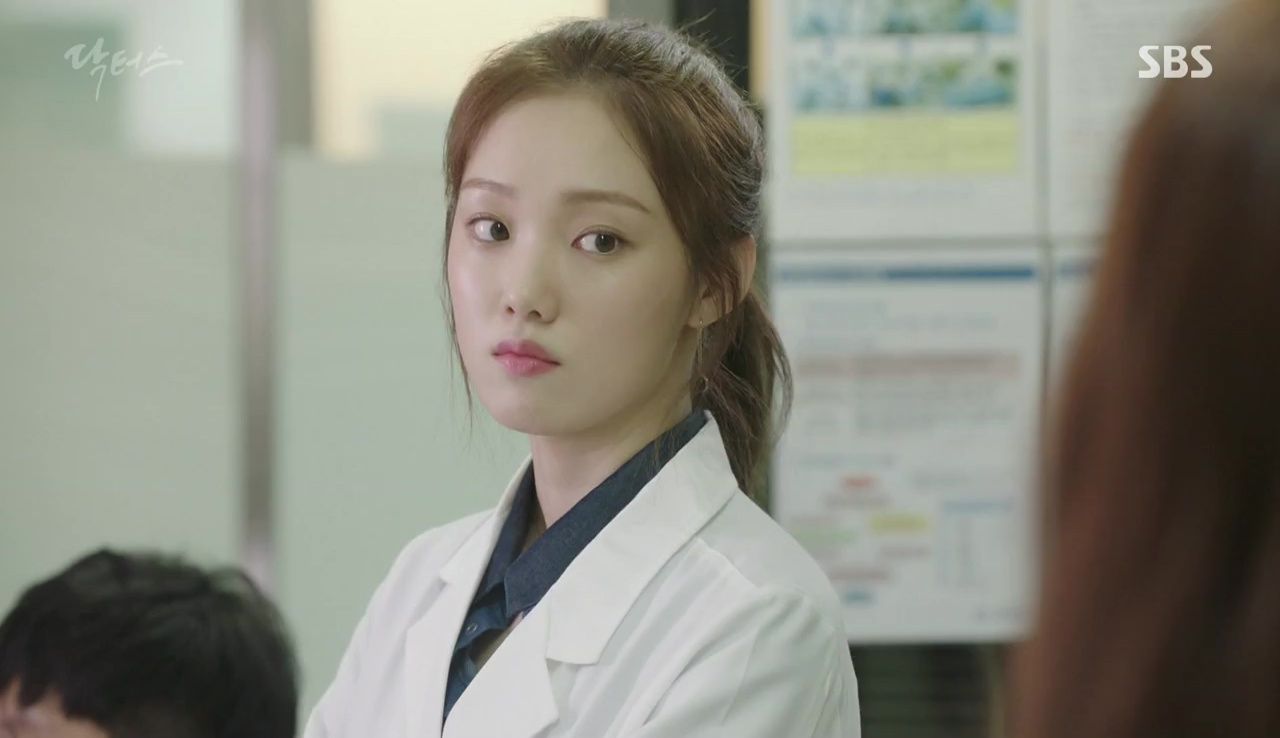 Hye-jung drops in during Hae's treatment, and Seo-woo calls Hye-jung nosy. Yoon-do comments that doctors need to be nosy, and Seo-woo whispers under her breath that Yoon-do is tactless. Hye-jung hears her and agrees that Yoon-do is tactless, and Seo-woo seems to smile for a brief second, and Yoon-do notes Hye-jung's tendency to throw him under the bus.
Hye-jung receives a text from Kang-soo, informing her that the people from the broadcasting station are here to interview her. She leaves to meet them, and greets the main producer of the documentary show.
In his office, Tae-ho tells Ji-hong about the new investor they secured and the 60 billion won (over 5 million USD) they offered. Ji-hong is glad to hear the news and tells Tae-ho to use it as leverage in the upcoming board meeting.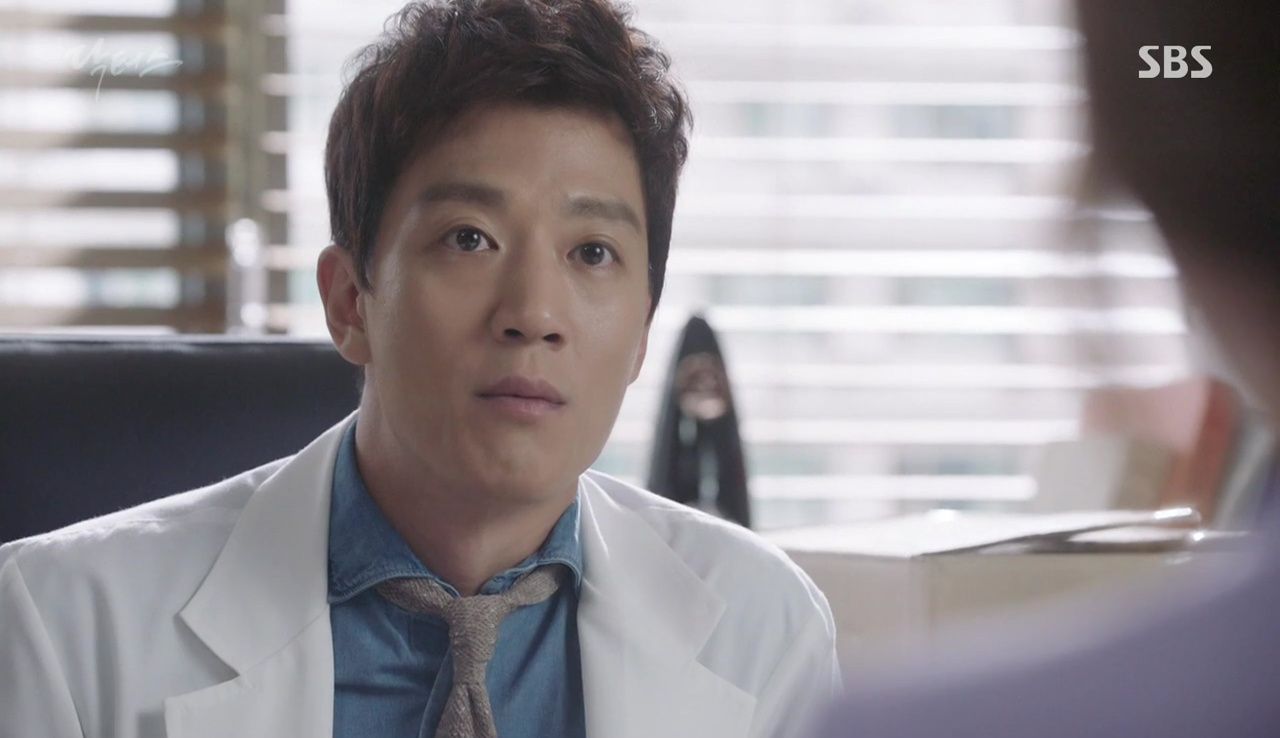 In his own office, Ji-hong opens a package filled with his father's photos. Someone knocks on his door and the other nurse (Nurse Yoo) enters. Ji-hong has been waiting for her to visit him, and she apologizes for taking so long. He asks why she left her post the night his father died, and Nurse Yoo explains that Director Jin wanted a private word with Director Hong.
Thus, Ji-hong visits Director Jin, and asks if he noticed anything unusual about Director Hong during his last moments. Director Jin says that nothing happened, but Ji-hong remains curious as to why Director Jin wanted a private word. All Ji-hong wants is for his father to have been happy during his final moments, but he says if it's revealed that Director Hong wasn't happy before his death, then Ji-hong won't forgive that person. Director Jin says that they always fought and made up, and lies that this time was no different.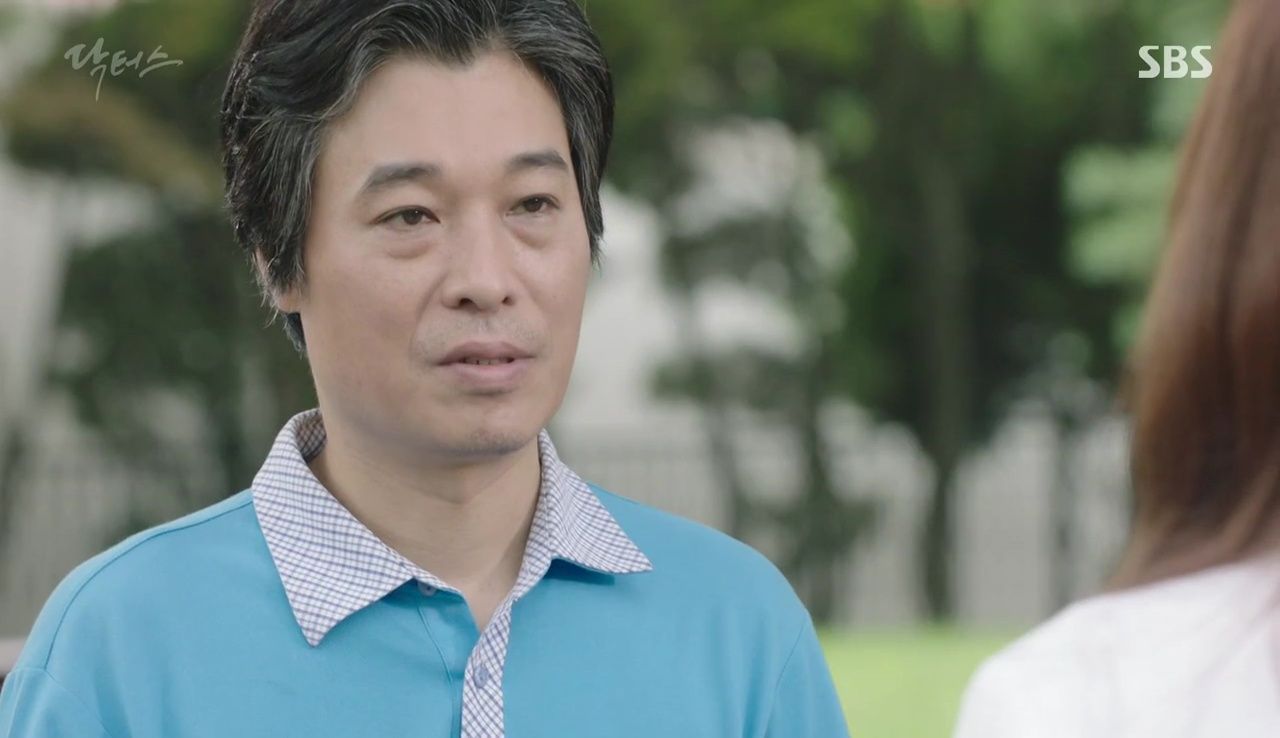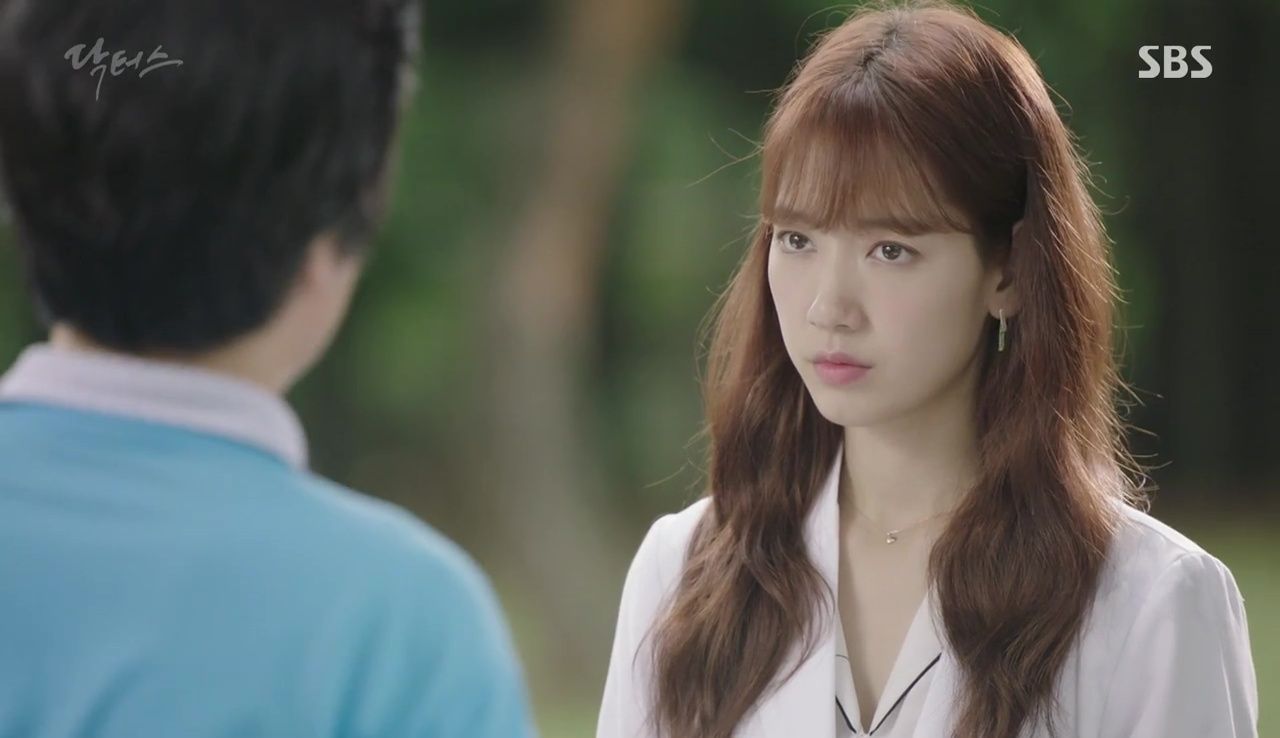 Hye-jung receives a call from her father, who asks to see her since he has something to give her. Reluctantly, Hye-jung meets with him outside, and he hands her an envelope containing the only picture left of her late mother.
He tells Hye-jung that he ruined the relationship because of his inferiority complex. She doesn't want to hear his excuses, and asks if he's acting friendly towards her because she's a doctor now. Her father argues that he's not that terrible, and hands her a bag of food before leaving.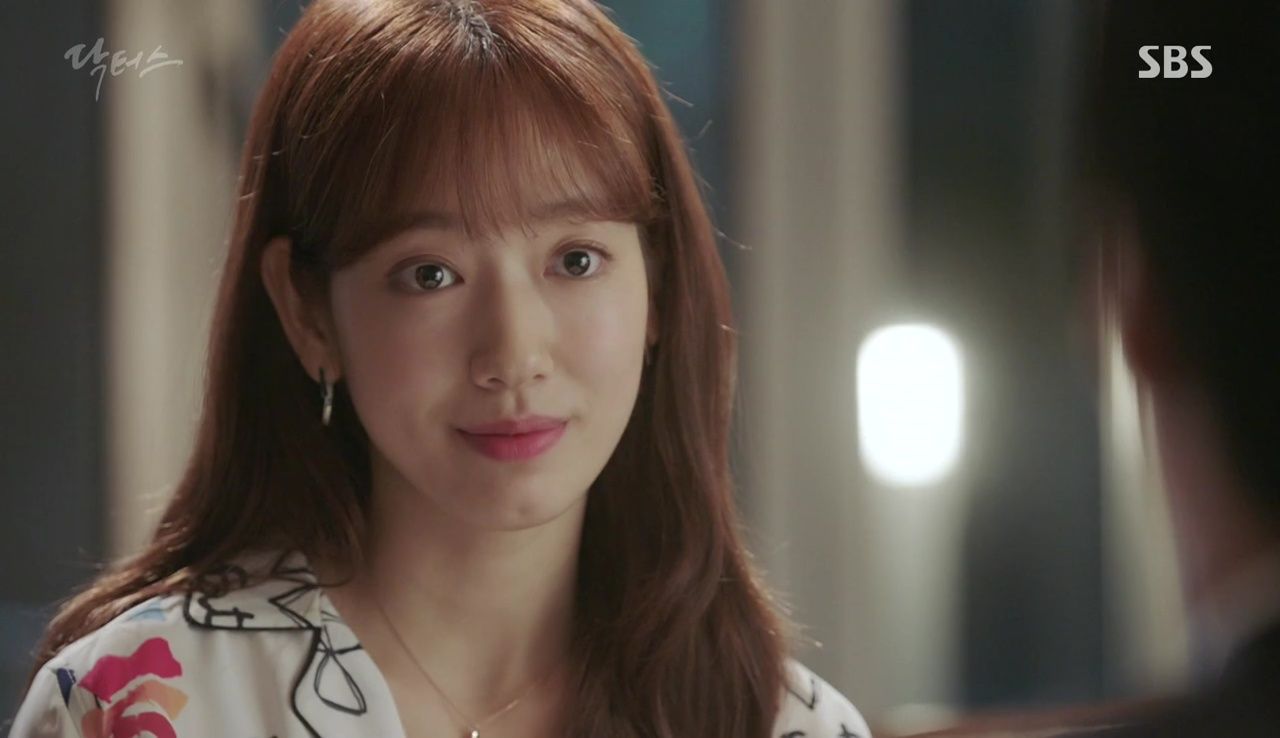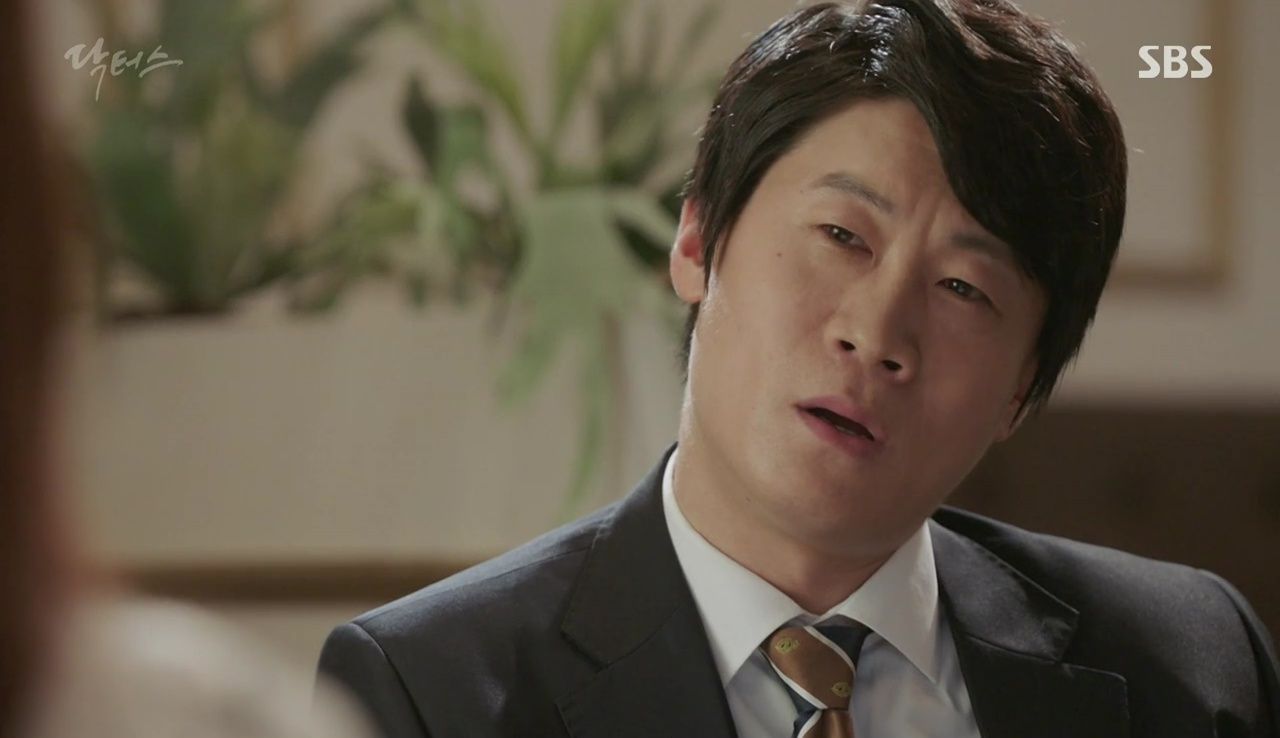 Hye-jung visits Ji-hong in his office and asks for a ride home. She also hands the food over to him, and Ji-hong tells her that she should differentiate between food and her father, but she's not ready for that. Before going home, Hye-jung wants to do some "homework," which piques Ji-hong's interest.
Homework turns out to be meeting Chief Kim about Grandma's surgery, and Hye-jung tells Ji-hong to stay in the car because she can't reveal her entire hand yet. Inside the café, Chief Kim asks for more information about her identity, and Hye-jung admits that she's a fellow at Gukil Hospital.
Chief Kim can't believe she's acting like this even though she's a doctor, and tells her that Myung-hoon tried his best during that surgery. He adds that the bags of blood Hye-jung saw the nurses carry that day were for another surgery. Hye-jung mentions that there were no other surgeries that day, and when Chief Kim asks how she knew that, Hye-jung admits that she was bluffing.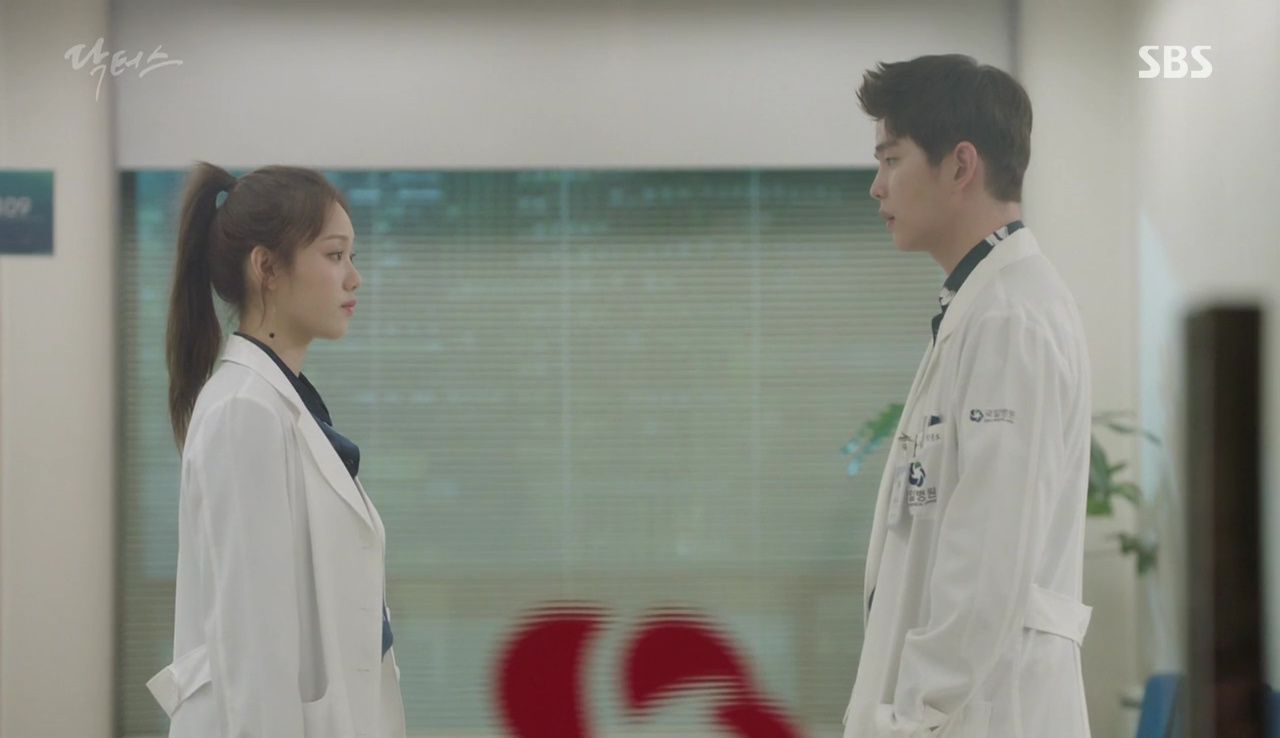 Seo-woo visits Hae who starts to puke, and Yoon-do drops by to check on him, too. Dal is next to his brother's bed, and Seo-woo asks him where his father is. Dal tells her that he's working and will probably come later.
In the hallway, Yoon-do turns towards Seo-woo and says that he realized why he's never fallen in love with her. Yoon-do confesses that his heart sank when she questioned Dal about his father. He understands how Dal must feel because when he was little, he always dreaded people asking him about his mother.
Seo-woo doesn't see the connection nor the harm in her question, so Yoon-do explains that Dal is the one who misses his father the most right now, so her questioning him about it will only make him feel worse. This is why he likes women with pasts, Yoon-do point out, because having scars fosters compassion.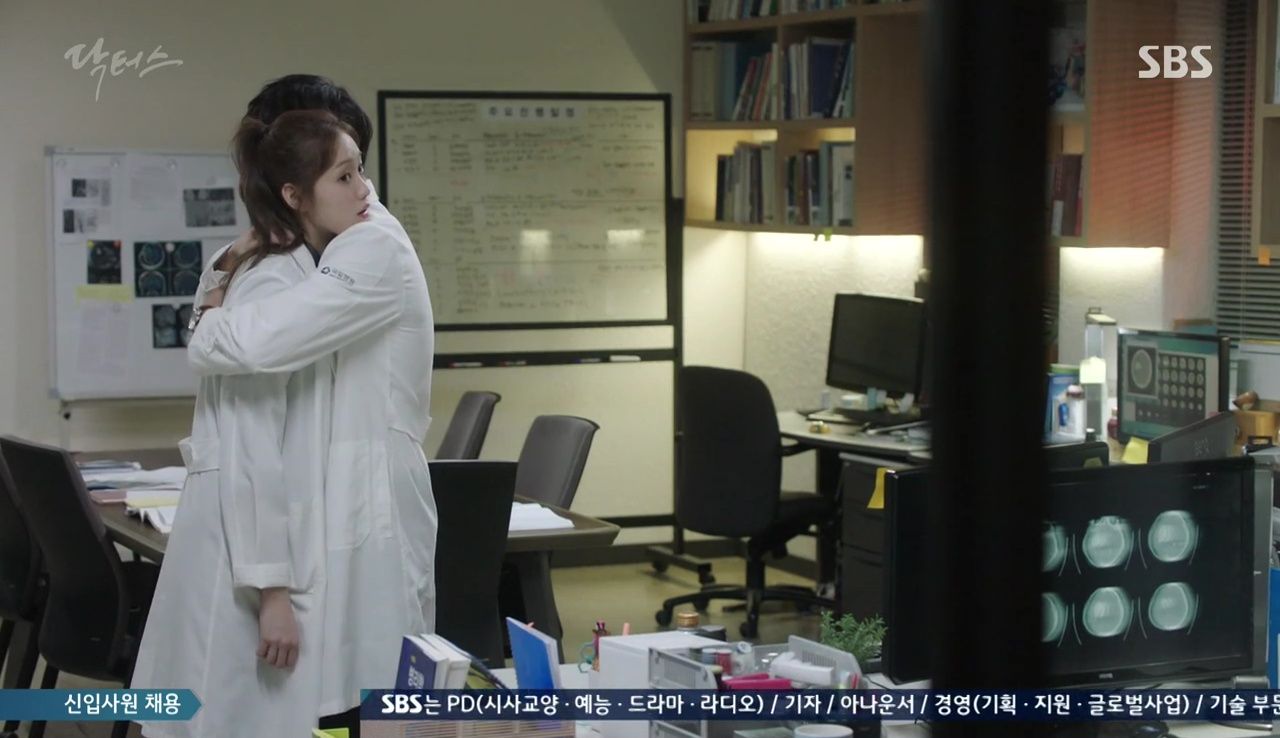 Seo-woo visits Young-kook in the residents' office, and asks if she can do something bad to him. He permits it, but she changes her mind because he's too kind. Young-kook asks if he can do something bad instead. Seo-woo agrees, and Young-kook hugs her. Stunned, Seo-woo stands there and allows him to hold her.
At Soon-hee's café, Joong-dae wipes down a table with extra vigor as Soon-hee enters. She doesn't understand why he'd quit his job when it's so difficult to become a doctor, but Joong-dae won't return. She tells him to at least go home, but Joong-dae is afraid of his father. Soon-hee sympathizes with him since she's afraid of hers, too.
Ji-hong drops Hye-jung off at home, and she asks Ji-hong if he wants tea at her house. He smiles, and admits that he was going to be disappointed if she didn't invite him today. However, Soon-hee has also invited Joong-dae to stay the night, and once they hear Hye-jung's voice outside, they quickly hide in Soon-hee's room.
Hye-jung leads Ji-hong inside, and they notice Soon-hee's shoes as well as a pair of male shoes in front of the door. Hye-jung calls for Soon-hee, and Soon-hee yells that she's coming out. Once she's out, Hye-jung asks her about the male shoes, and Soon-hee unconvincingly lies that they're hers.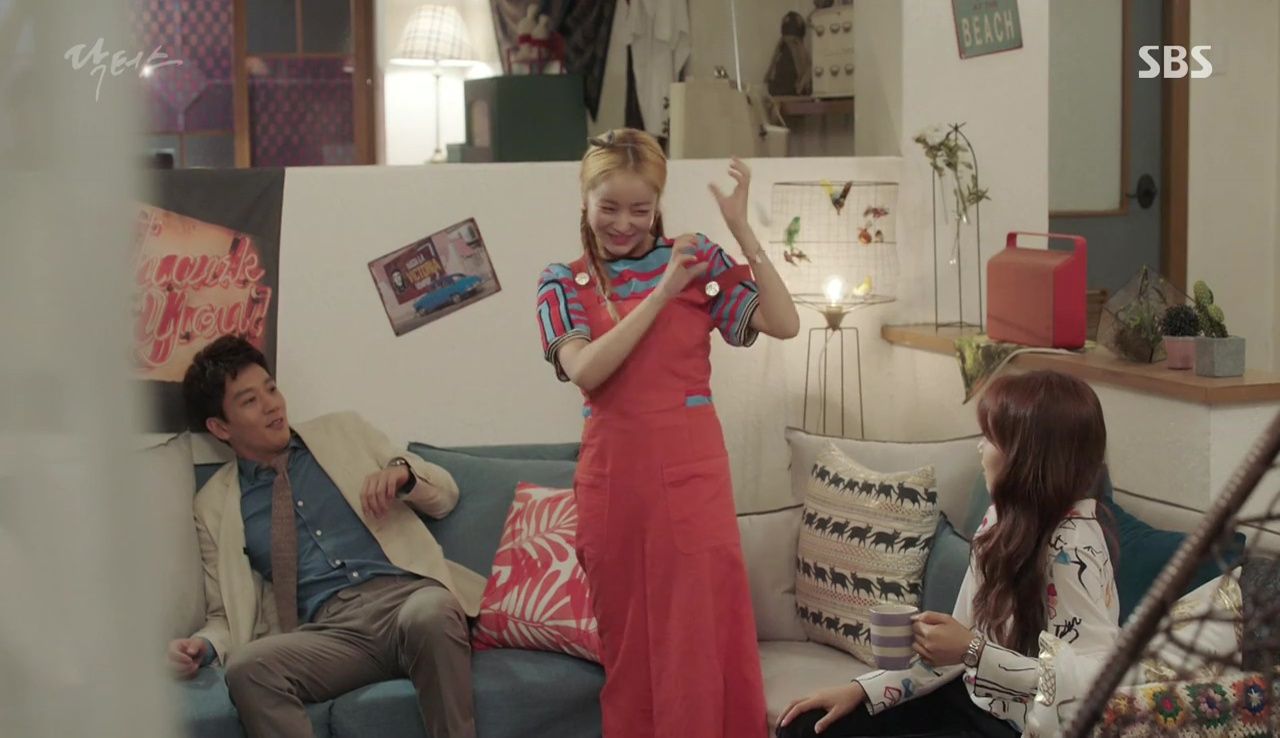 Ji-hong asks if there's anything he can help with around the house, and Hye-jung suggests changing the light bulb in Soon-hee's room. At that, Soon-hee shoves Ji-hong back onto the couch, and declares that she can do it by herself. Her strange behavior confuses Hye-jung, especially when Soon-hee yells at Hye-jung for liking Ji-hong more than her. Soon-hee pouts and tells Hye-jung that's she's not allowed in her room before shuffling away.
Ji-hong visits Hye-jung's room and notices that she kept all the stuffed animals he gave her. Looking around, he discovers his old textbook, and inside, Hye-jung wrote a message underneath his own, stating her determination not to let his encouragement go to waste. Hye-jung enters, and Ji-hong mentions that it's the first time he's ever been in her room.
Ji-hong doesn't stay for long, though, and excuses himself because it's too risqué for them to be alone in her room. Hye-jung teases him—saying they should be risqué—so Ji-hong reciprocates by pushing her onto the bed, their faces inches apart. He teases her back, saying that he knows how to do more than this.
Ji-hong gets up, and tells Hye-jung to escort him home and give him a back-hug, because he likes those. Immediately, Hye-jung runs up behind him and hugs him. Smiling, Ji-hong asks if they should return to the bed, and Hye-jung replies that they should leave.
Hae and Dal's father arrives at the hospital after working all day and night, and washes in the bathroom before seeing his sons. He gets a call from a lender, and they badger him to pay back his loans. He finally sees his two sons, and Dal wakes up to greet his father. Their father then wakes up Hae, and they exchange kisses before the boys fall back asleep.
In the morning, Hye-jung is on the television in the hospital lobby, and Myung-hoon beams at the free publicity. At the neurosurgery front desk, Nurse Su-jin compliments Hye-jung's television appearance, but Kyung-joon pops up and intercepts the compliment.
Just then, Hae runs up to Hye-jung, and frantically tells her that Dal is sick. Hye-jung goes to check on Dal, who's holding his head and crying. She calls Kang-soo to prepare for scans, and later, Hye-jung examines the new scans with Ji-hong. He states that it's hydrocephalus, and tells Hye-jung to perform the operation since it's relatively easy. Hye-jung calls the boys' father to inform him, and he rushes over to the hospital. However, he's spotted by the administration worker who's been searching for him.
Hye-jung explains that Dal needs surgery, but when the boys' father hesitates to sign, she assumes that he's nervous about the operation. She reassures him that it's a common side-effect, and he signs. Outside, the administration worker confronts the boys' father and berates him for avoiding him. He tells the boys' father to pay his bills, and Hye-jung interrupts their conversation to ask what social services can do.
The boys' father explains that he's not "poor enough" to qualify for financial aid. The administration worker refuses to allow further surgeries before the bills are paid, so Hye-jung agrees to sign as a guarantor. In the back, Ji-hong watches the entire exchange with a thoughtful expression.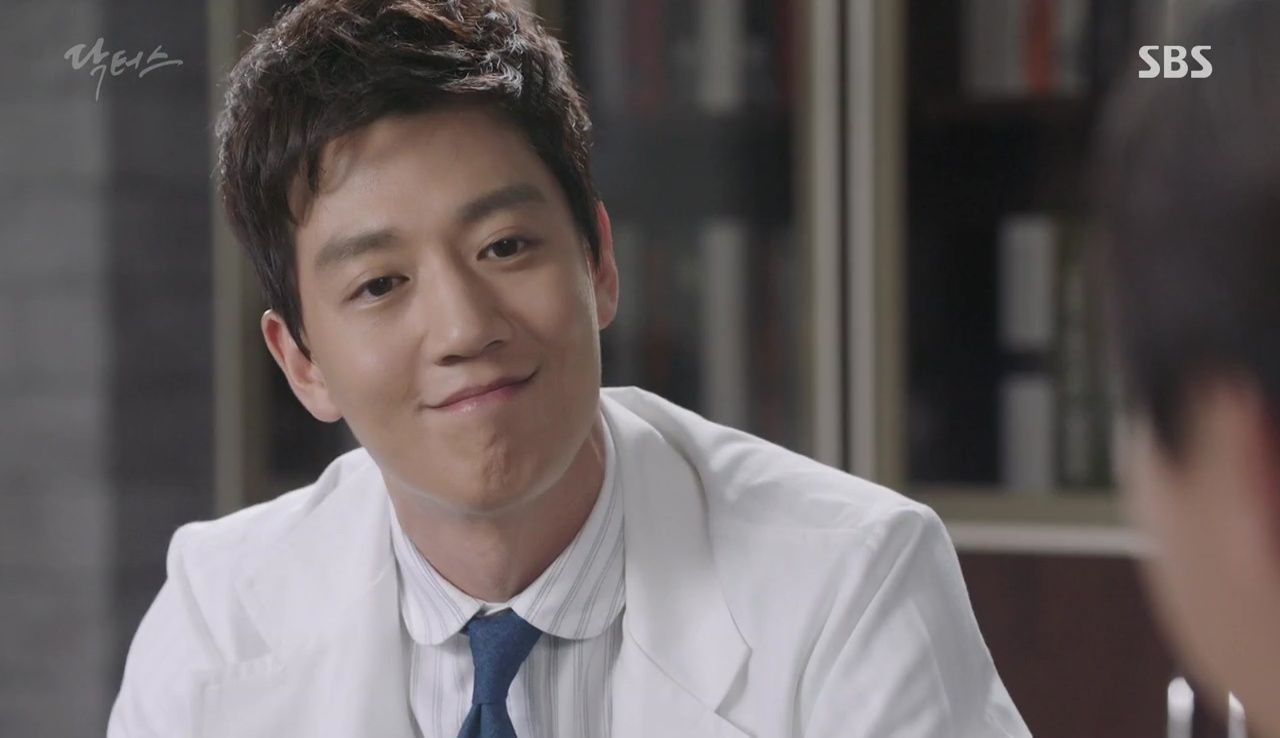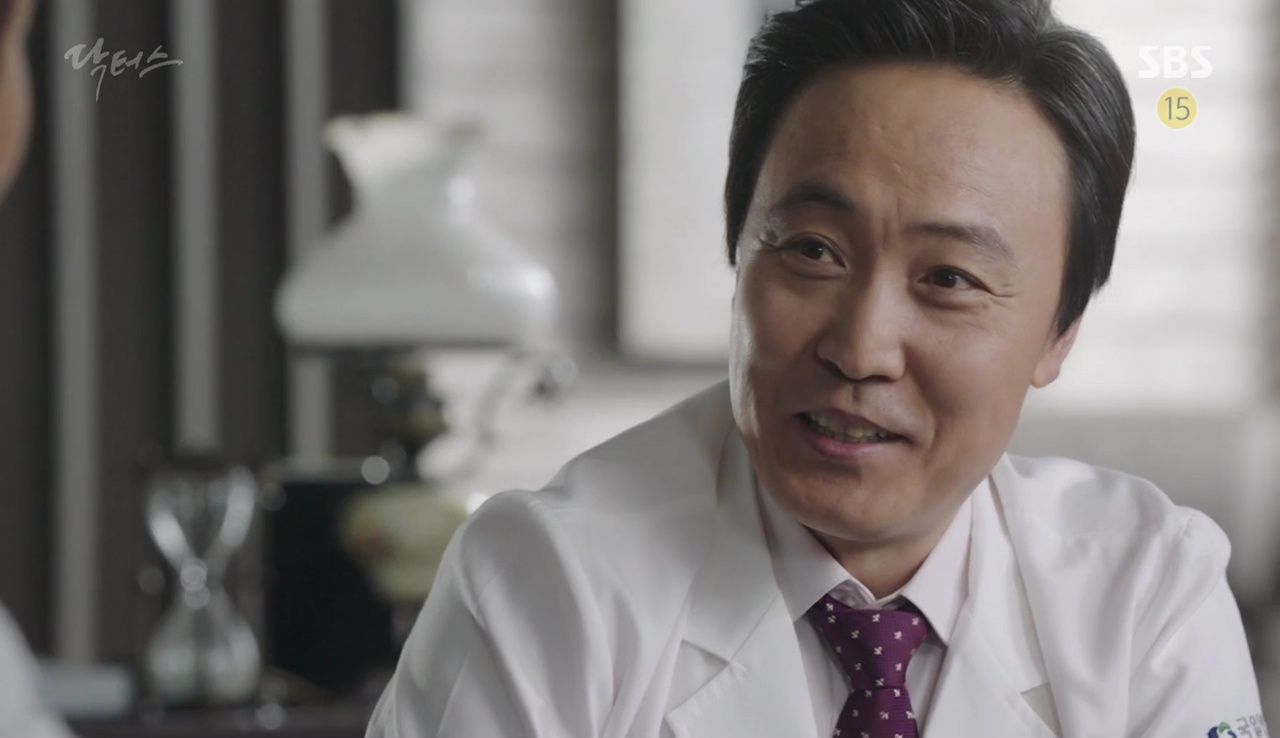 Ji-hong visits Myung-hoon and tells the latter his thoughts about changing the weekly payment method in hospital billing. Myung-hoon is against the idea, citing that a lump payment would be even crueler, so then Ji-hong suggests extending financial support.
Myung-hoon reproaches Ji-hong for asking for money when he makes none for the hospital, and Ji-hong informs him that he's working on a project that will bring in 60 billion won. Ji-hong advises him to at least expand the welfare foundation system, and when Myung-hoon fails to comply, Ji-hong reminds him that over half the board is the late Director Hong's connections. Thus, the vote will be in Ji-hong's favor if Myung-hoon refuses to support him.
Myung-hoon calls Chief Kim, and asks if he's met Ji-hong again. Chief Kim tells him that he hasn't, and then shares some interesting news: Grandma's guardian is actually a doctor at his hospital.
The boys' father visits the social services office, but the employee there can't help him. As he gets up to leave, he notices a pamphlet advertising full medical support. The employee tells him that the organization only supports orphans, thus Hae and Dal don't qualify.
In the hallway, the boys' father stares at the pamphlet and wonders how not having a father is better than having one. Hae comes out to see his dad and gives him a hug. The boys' father cries as he hugs his eldest son, making sure to keep his tears hidden.
Hye-jung operates on Dal, and Kyung-joon assists her. The surgery is going well, but Kyung-joon sighs, pitying Dal's situation: Not only is he sick and poor, but his brother is sick, too. Hye-jung reproaches Kyung-joon, and reminds him that they'll still in surgery.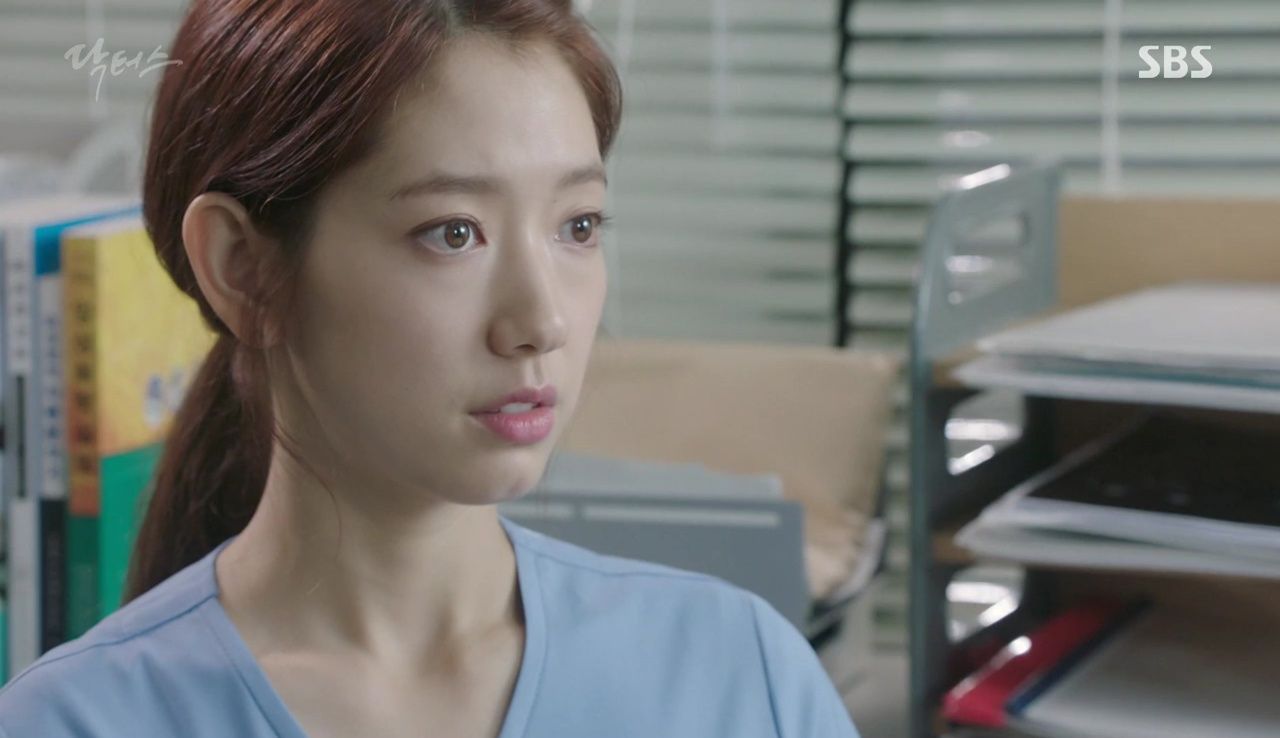 In the waiting room, Hae tells his father that Dal is good since he listens to Hae when their father is absent. The father praises Hae, and then tells his son to watch over his younger brother.
Hye-jung finishes the operation, and in a private room, the father thanks her. She says that it must be very hard for him, and he tells her that it's the kids who are suffering. A call from his boss cuts their meeting short, but before he leaves, Hye-jung asks if he's never wanted to give up his children. The boys' father stares at Hye-jung, the warmth from his eyes gone: "I thought you were a good person, but I guess you're not."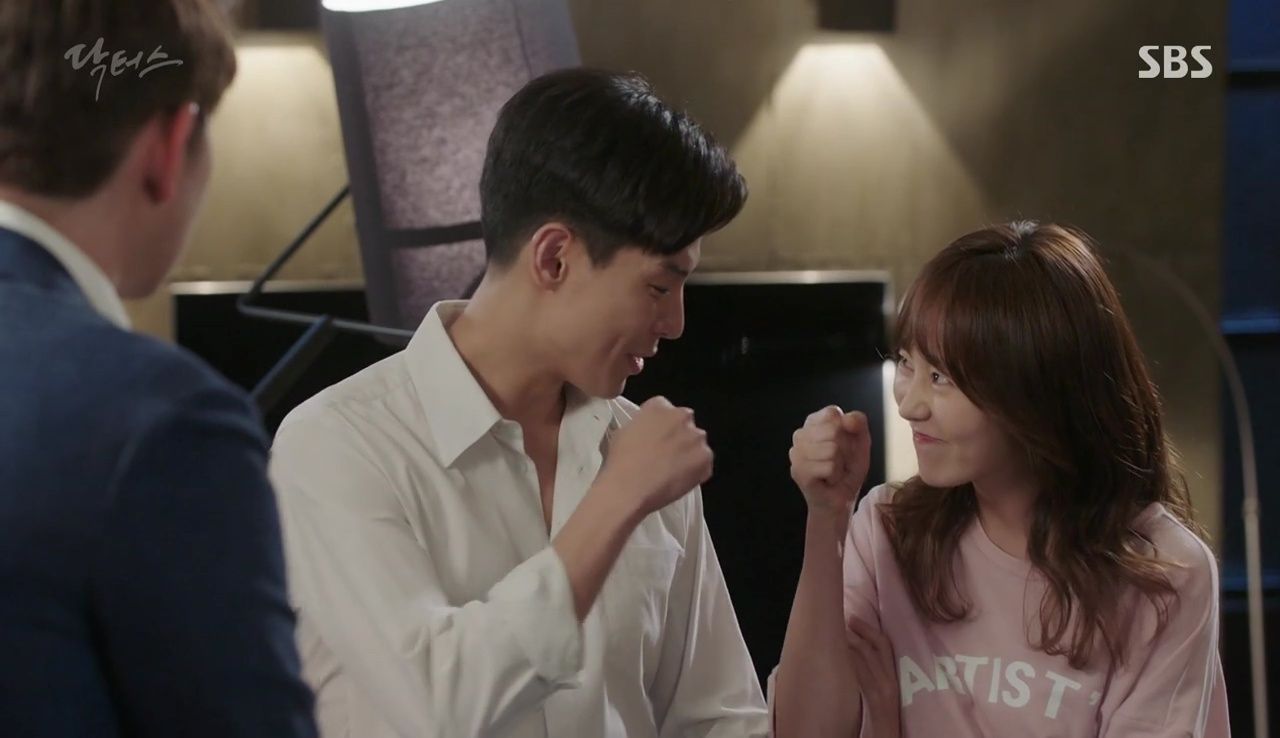 Yoon-do arrives home to find In-joo on his couch. He bought cup ramyun like she asked, and she asks if they're for her. Yoon-do says that he bought them for himself, and Pa-ran shows up to tease Yoon-do. Pa-ran says that he approves of Yoon-do marrying In-joo, and Yoon-do finally yells out that he's leaving. In-joo worries that they went too far, but Pa-ran deduces that Yoon-do will be back in an hour.
Hilariously, Yoon-do has run away from home to crash at Ji-hong's apartment. He spots the claw machine and asks if he can play. Ji-hong shoos him away because he has a guest, and Yoon-do jokingly asks if it's Hye-jung.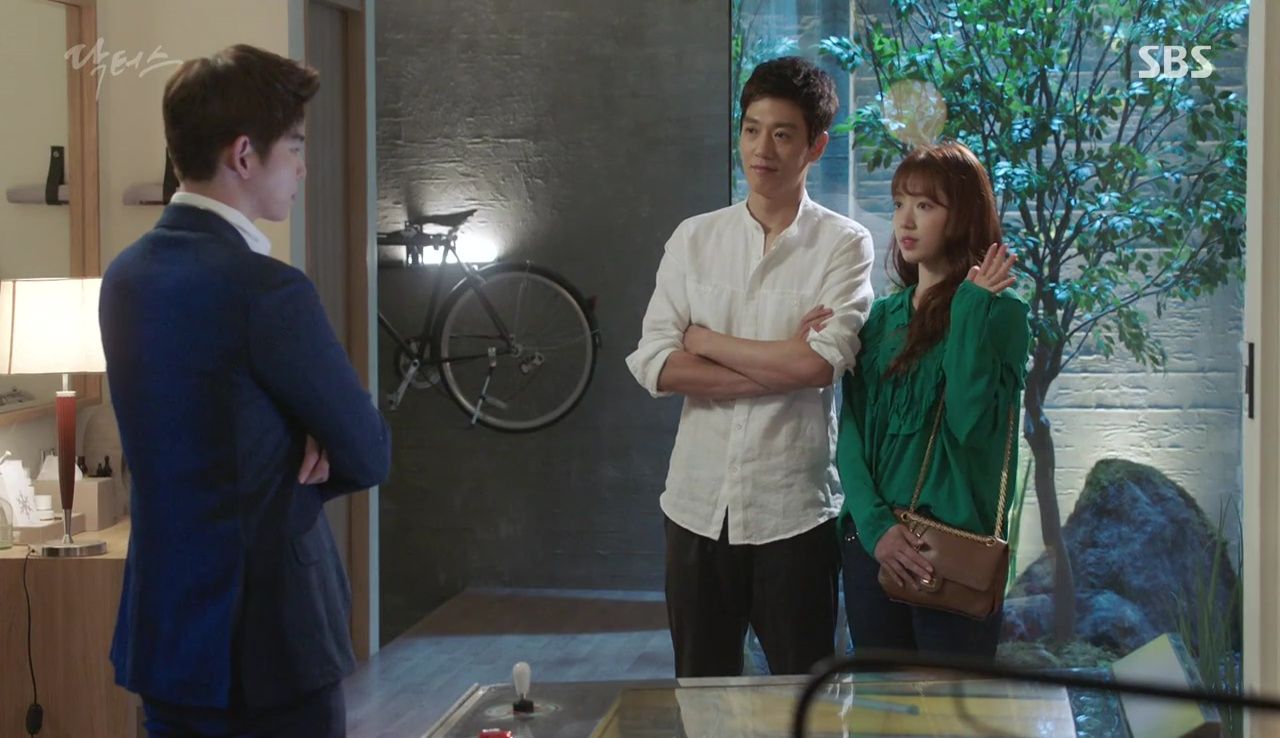 To his surprise and dismay, it is Hye-jung, and Ji-hong informs him of their new dating status. Yoon-do debates staying here to his misery or returning home to the two beagles, but Hye-jung is the one heading home. Yoon-do watches slack-jawed as Ji-hong leaves to escort her.
At the hospital, Hye-jung and Yoon-do go to check on their respective young patients, Dal and Hae, and in the hallway, Yoon-do finally meets the boys' father. Just then, the administration worker appears and yells at the father for not paying. Hae and Dal rush to their father's defense, and they yell at the administration worker for harassing their father.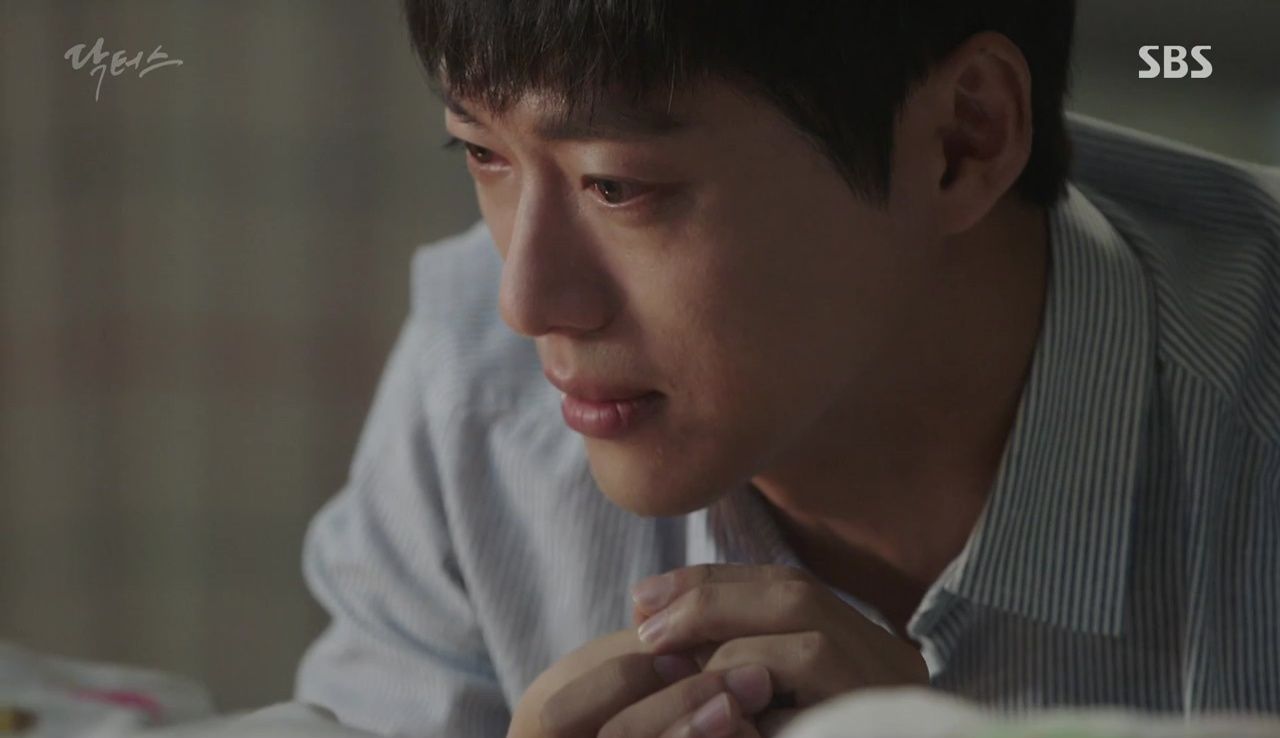 Hye-jung gets an idea and calls the director of the documentary show she was on, and tells him that she has a potential subject for their show. Afterwards, Hye-jung calls the boys' father, and leaves a voice message telling him that she's found a way to help him pay the bills.
The boys' father is in the hospital, and looks at all the text messages from his debt collectors. He watches his sleeping sons and whispers, "I love you." He tells them he'll protect them, and even if they're not together, he's always be by their side. NOOOOO!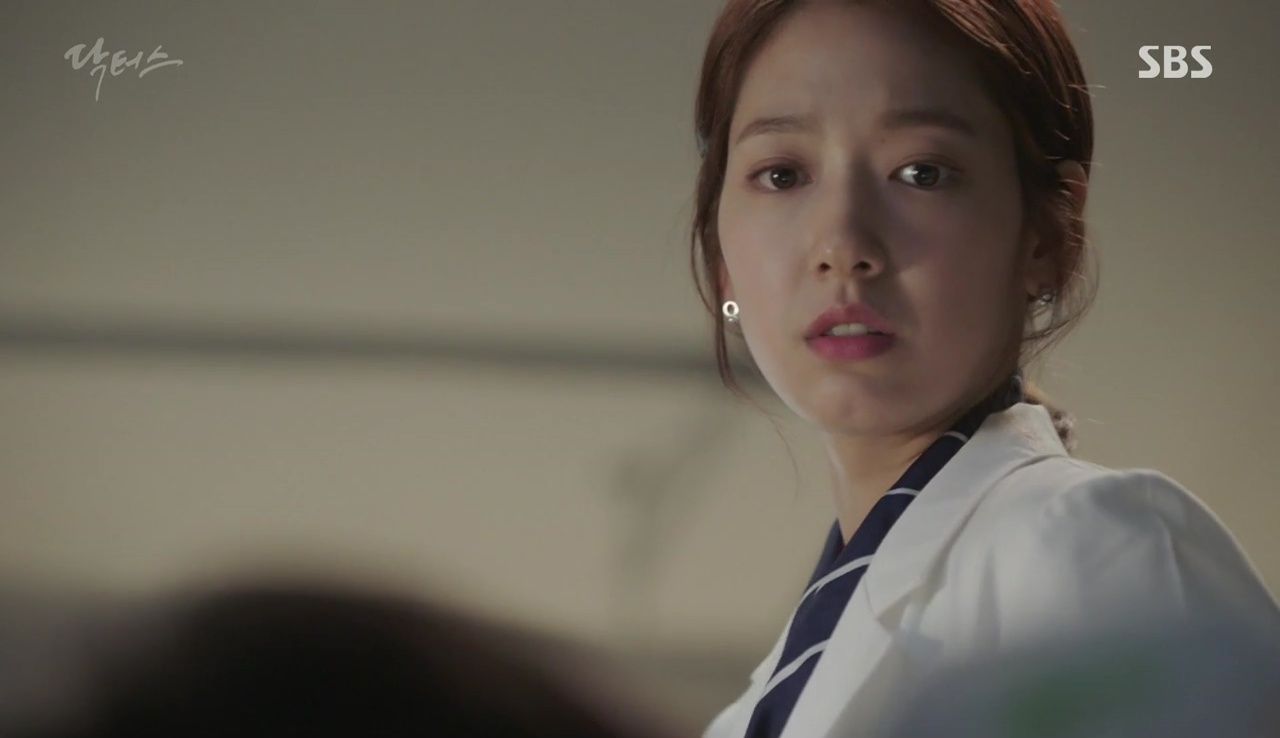 Leaving behind his phone and the pamphlet of the organization supporting orphans, he walks down the empty halls of the hospital and presses the button to go up the elevators. Hye-jung spots the boys' father as he enters the elevator, and is puzzled as to why he's going up.
While visiting Hae and Dal, Hye-jung notices the pamphlet on the nightstand and puts the pieces together. Meanwhile, the boys' father stands precariously on the edge of the roof, and declares that he's not giving up. He whispers, "It's because I love you."
He takes a tentative step forward, but Hye-jung makes it in time to stop him. She holds up the pamphlet, asking if this is why he's doing this, and crumples it up. She asks what will happen if he's not there when the kids wake up, but he thinks that his sons will be better off without him. Hye-jung informs him about the documentary show and finding help. However, he meekly says that he doesn't want to live anymore. He's tired, and now he has the perfect excuse to throw it all away.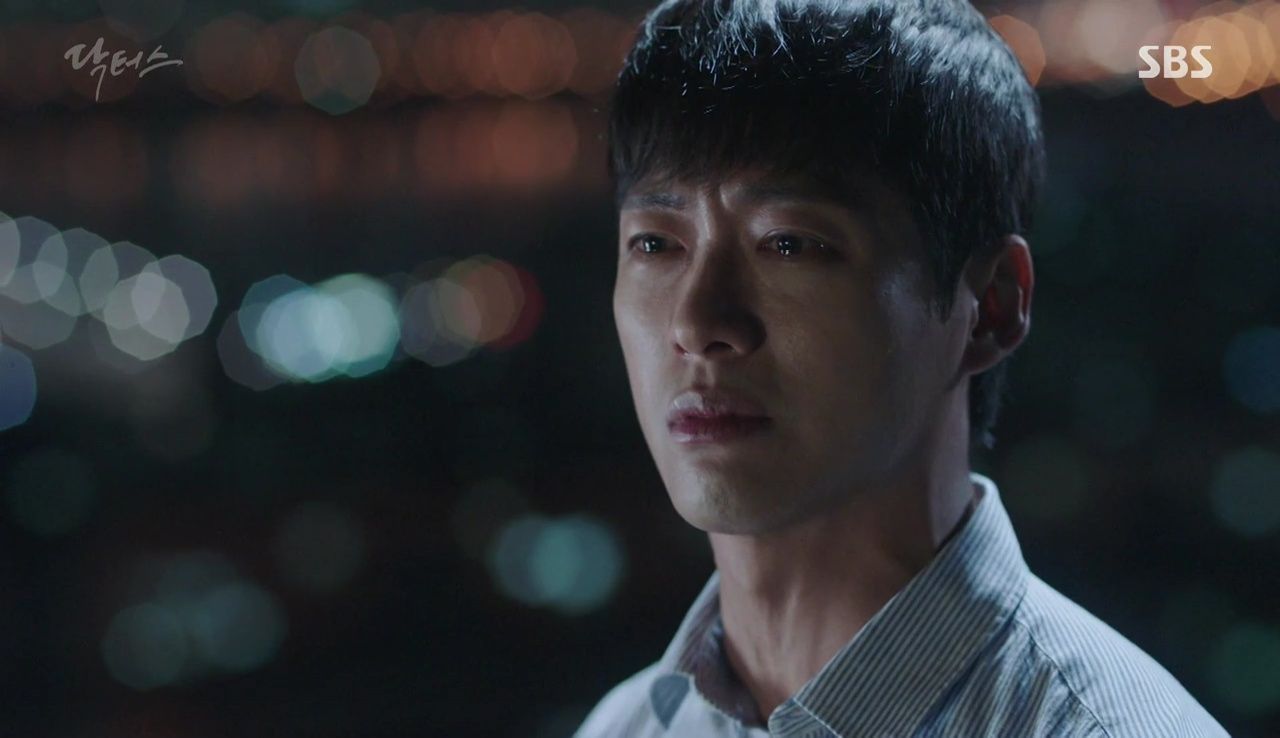 As the boys' father takes a step forward, Hye-jung screams, "Don't!" Her outburst momentarily stuns him, and Hye-jung asks how his kids will feel after knowing their father died because of them. The father is shocked and stares numbly at Hye-jung.
As the two face each other on the rooftop, Ji-hong narrates, "At a single word said thoughtlessly by a stranger, we are healed of our scars, and the direction of our life changes. Scars are not only treated by the ones we love. Among the people we meet, there is that person."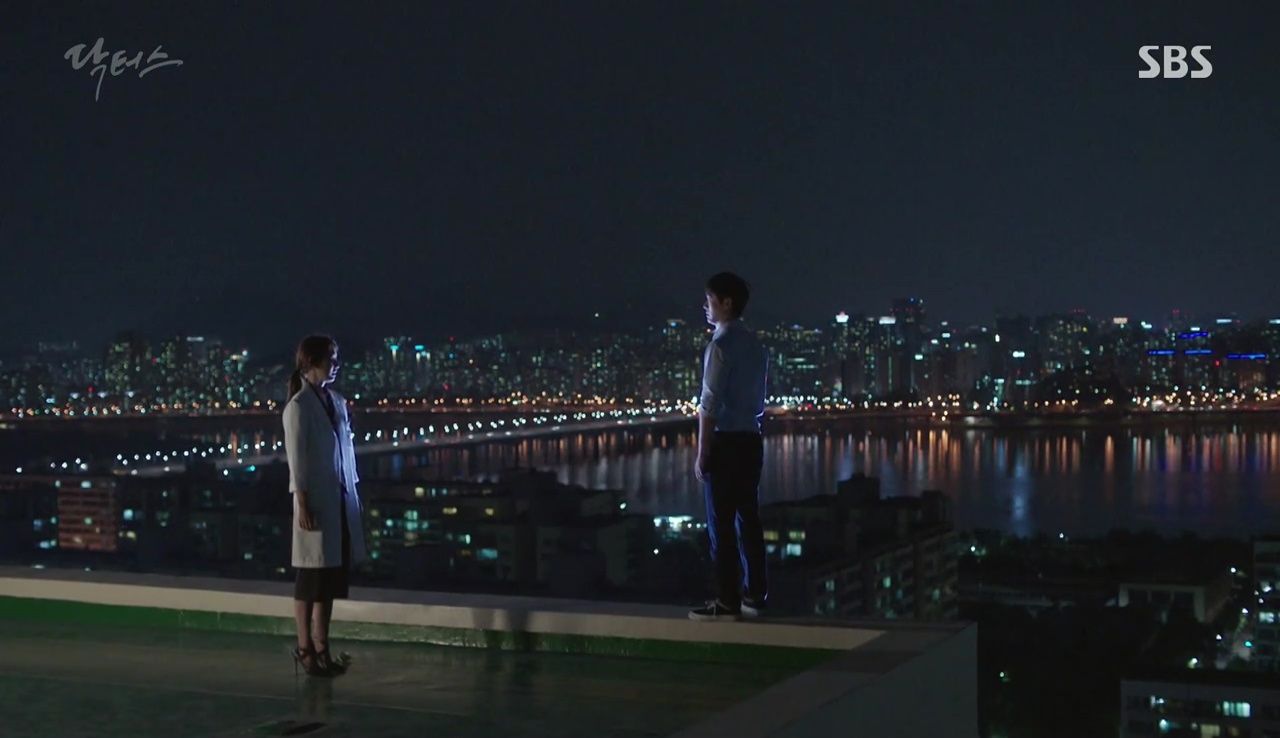 COMMENTS
This arc was a tearjerker, and Namgoong Min put in a strong performance. It's sad that there were no birth secrets or rich grandmothers to suddenly appear and make all the financial problems disappear. The show hasn't been the most realistic, so I wouldn't have minded some ridiculous plot twists to save Hae and Dal's family. I'm joking, but in all seriousness, it was a good episode reminding the viewers of how society often fails the working class. The administration worker definitely won't be winning the "friendliest employee of the year" award anytime soon, but I didn't think he was heartless. It's true that if the boys' father ignored the bills, then even worse repercussions could arise (i.e., getting kicked out of the hospital without treatment).
The systems put in place to help the poor are broken, as clearly evident in Hae and Dal's situation. Their father is able-bodied and hard-working. However, almost ironically, because he works hard, he can't receive help. The idea that some people aren't "poor enough" is disheartening because it reveals the systematic inequalities working class people face every day. There's a false rhetoric concerning poor people, and it often blames the individual for their predicament. However, unforeseen circumstances, like your wife dying from cancer and both your sons needing brain surgeries, can plummet families into debt. Unfortunately, the most depressing thing about this situation is that the problem is multi-faceted, meaning there is no easy solution. While I'm sure the drama will come up with a happy ending either through the documentary show or with Ji-hong's influence, in reality, the future looks grim for Hae, Dal, and their father. Luckily, this is a drama, but sometimes watching a show doesn't have to be a passive pastime.
It seems official that Young-kook likes Seo-woo as a woman, though Seo-woo's feelings are more shrouded than his. I like this pairing because Young-kook understands Seo-woo, and she appears to be open with him. Regardless of her relationship with Young-kook, Seo-woo still needs to work on empathy and tact (though I think many of the doctors in the department need to learn tact, too). I cringed when Seo-woo criticized the single father for seemingly prioritizing work over watching his kids, and it was telling how Seo-woo couldn't empathize with how Dal would feel at her questioning. I do believe Seo-woo was trying to be kind in that scene, and she did seem to contemplate Yoon-do's words afterwards. In a sense, she's ignorant and doesn't understand the privileges she has. She only sees her own hardship and can't empathize with others. It's possible that, to Seo-woo, an absent father means he puts money over his kids because that's her only conception of a father. She can't fathom a reality where a father is forced to work even if he wants to be with his kids. I think Seo-woo has the potential to change, and if there's anything good about this show being twenty episodes, it's that they can devote some time to developing her character outside of Hye-jung.
Besides Seo-woo, Hye-jung was rather tactless this episode with the boys' father. I'm not sure what possessed her to ask him about abandoning his children, but I'm guessing she was thinking of her own father and making assumptions. At least it appears that she doesn't believe he should abandon them since the ending scene shows her adamantly against the father leaving his children (albeit, he's trying to commit suicide). That ending scene was a bundle of emotions, and it was sad to hear the father give up after watching him struggle. I also enjoyed Ji-hong's final narration because sometimes the thoughtless words thrown by a stranger can leave scars, but as Ji-hong said, a stranger's words can also heal. It's a good reminder since people can now communicate facelessly through a screen and often forget the power of their words.
I'm still not convinced by Hye-jung's father, and I understand Hye-jung's reluctance to make amends. If she ever chooses to forgive him, I hope it's because she wants it since she's the only person I care about in that relationship. From what we've seen, her father hit her and essentially abandoned her when she was in high school. Then when Grandma died, he failed to comfort and support his daughter. It's completely normal for Hye-jung to be resentful especially since he appeared after she struggled by herself and found success. Her father can claim he was looking for her and loves her regardless of her social status, but his actions don't convey his feelings. He hasn't really done anything to warrant forgiveness, and in my opinion, if the father really wants to be forgiven, then he must learn to be patient and wait for Hye-jung's decision. She doesn't owe him anything, and she has the right to decide to forgive him for the hurt he caused.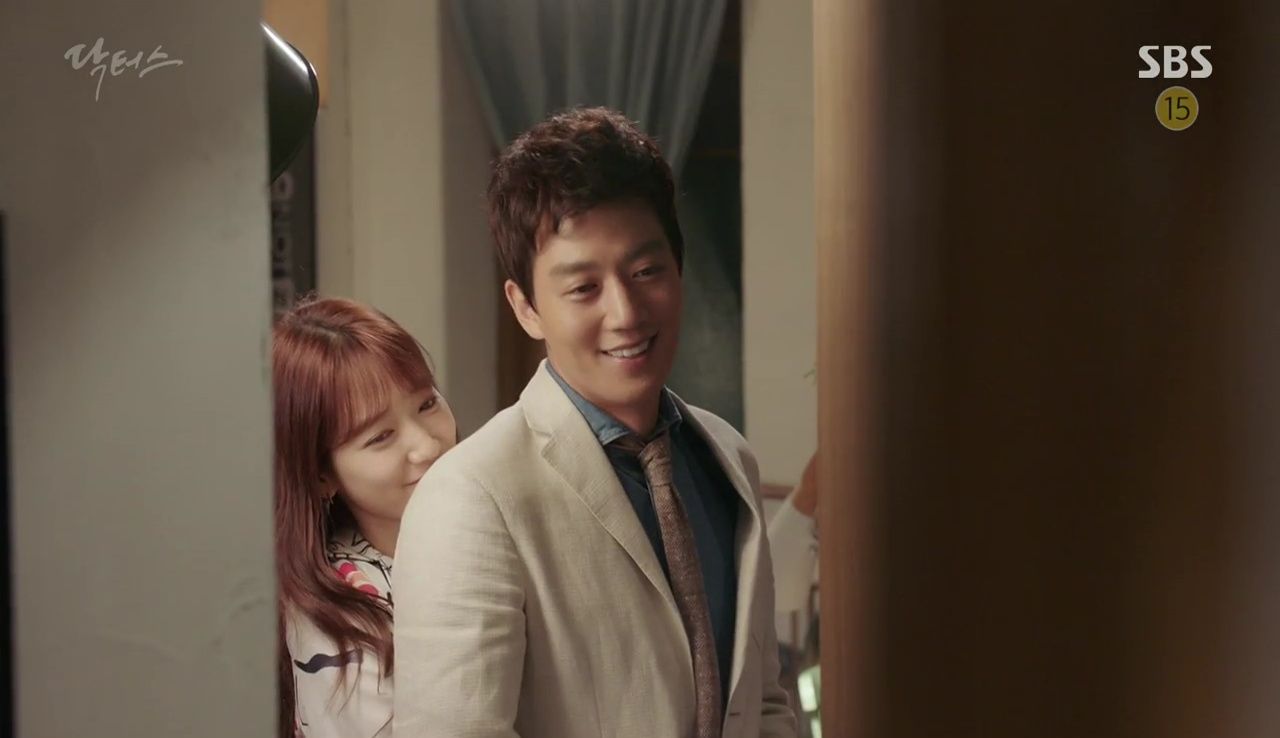 RELATED POSTS
Tags: Doctors, Episode 14, featured, Kim Rae-won, Lee Sung-kyung, Park Shin-hye, Yoon Kyun-sang