Doctors: Episode 15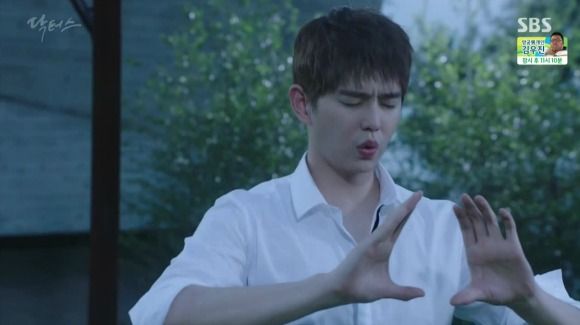 Brace yourselves — there's a lot to handle in this episode, in a good way. Our doctors grow closer, each relationship with their nuances, as they figure out where they stand with each other and their patients. While we're taking a break from Hye-jung's "homework" to find the real reason for Grandma's death, the story and interactions remain deeply personal. Empathy through personal experience starts to blur the line between doctor and patient, revealing that our doctors are also vulnerably human.

EPISODE 15 RECAP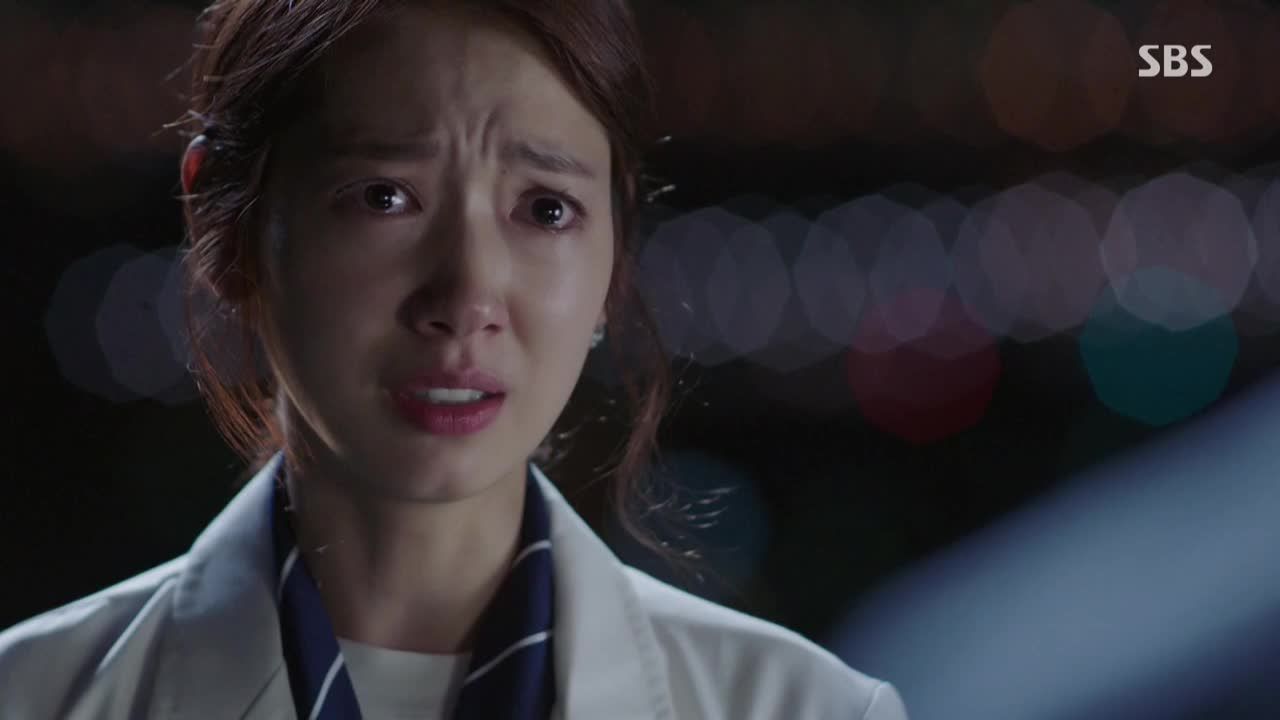 Hye-jung yells at the boys' father to stop and think about his children living in the shadow of guilt that their father died for them. She says that she won't stop him from dying, but she demands that he explain to his boys that he's not dying because of them. The father turns to Hye-jung and listens to her as he cries.
Hye-jung explains that a father's absence cannot be compensated for, no matter how much people try to help — it was like that for her. She says that sometimes, she wants to die because of how her mother chose to die. Hye-jung asks if he wants to make Hae and Dal lead that sort of life. The boys' father trembles and steps down from the ledge. He breaks down in tears, and Hye-jung looks at him with relief.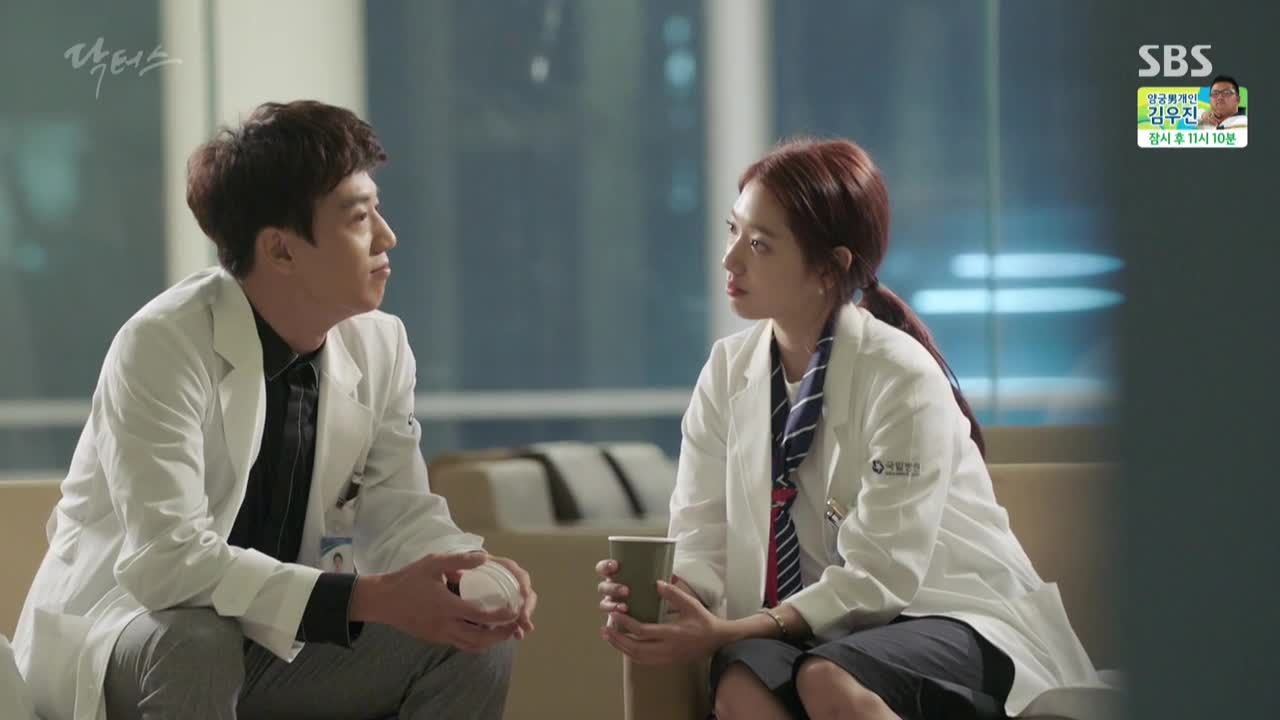 Ji-hong brings Hye-jung a warm drink and tells her she did well. He says that it's ironic that her scars could be a source of healing for the father. Hye-jung says that the healing was mutual because her burdens about her own father became inexplicably lighter after convincing the boys' father not to die. Ji-hong nods and says that he understands that feeling — it can't be explained logically, but it's mentally calming.
Hye-jung asks Ji-hong about his parents, and he tells her: They were both working teachers, so he was often at home alone on weekdays. He adds that he would come home alone even though his mother worked at his school, and that became a source of guilt after his parents passed. While they appreciate each other's company and conversation, Myung-hoon accusingly looks at Hye-jung from afar. He tells his assistant to call her to his office the next day. Dun dun duuun…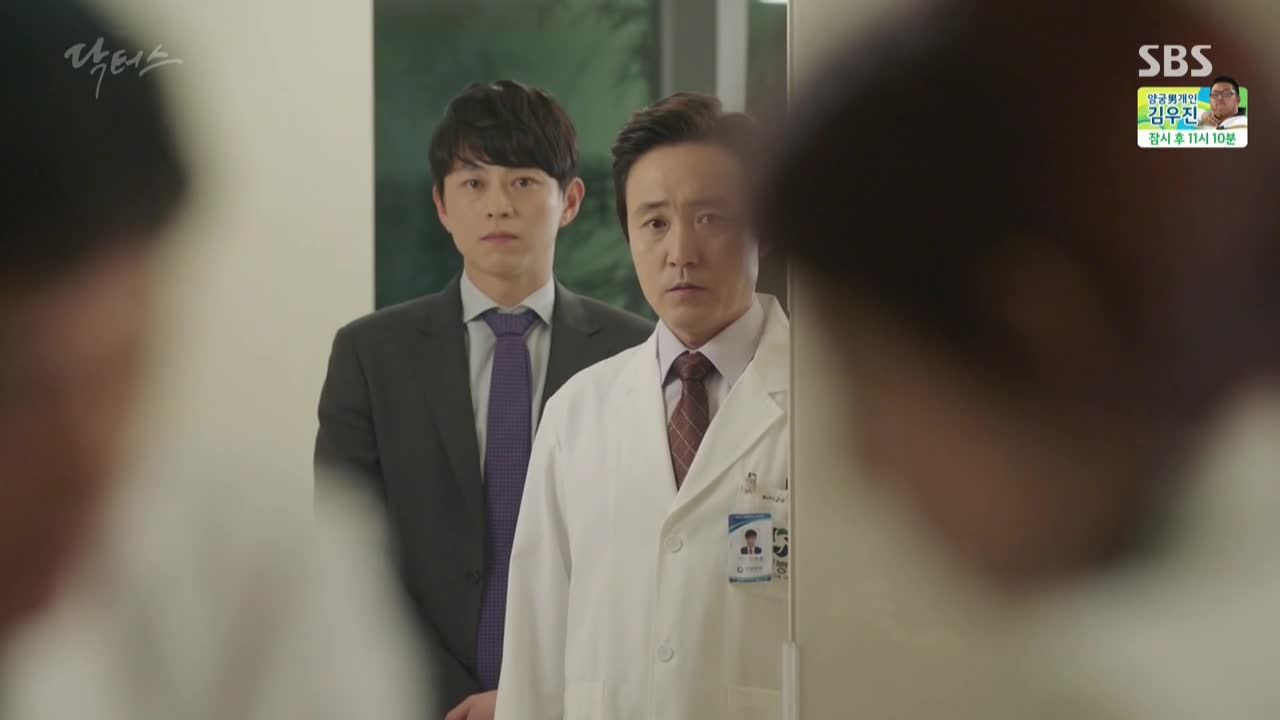 As we watch a montage of surgeries, Hye-jung narrates: "Neurosurgeons are sensitive. Surgeries involve minute details and intense pressure to perform on regions thinner than paper. Our sensitivity is the principle that protects us."
Hye-jung's alarm wakes her up at 5:00 AM, and she covers Soon-hee with her blanket before leaving her room. Joong-dae opens Soon-hee's bedroom door and then quickly slips back inside when he sees Hye-jung. She notices the noise and goes into Soon-hee's bedroom while Joong-dae holds his breath behind the door. Hye-jung leaves, but Joong-dae's relief is short-lived since Hye-jung returns to the room immediately to catch a poorly-hidden Joong-dae.
Myung-hoon tries to call Seo-woo, but she's either too busy applying PPL makeup or doesn't want to talk to her father. We know it's the latter, and her mother knows as well. Her mother tells Myung-hoon that ambition isn't for Seo-woo, so he should stop imposing it on her. She says that Seo-woo's done enough trying to meet her father's expectations.
At the hospital, Joong-dae insists on returning of his own accord, but Hye-jung says that it'll look better if he gets dragged back. In the breakroom, Young-kook updates Kyung-joon on Dal's improved condition and settled hospital payments, thanks to the documentary broadcast. Kyung-joon looks to Kang-soo for updates, but the first-year is too exhausted to respond. They desperately need Joong-dae to return, and just as they discuss plans to hunt him down, Hye-jung enters with Joong-dae trailing behind.
She gives them a stern order to work Joong-dae hard to scare him from ever running away again, and Kyung-joon delightfully agrees. She leaves them to their reunion, and Kyung-joon gives Joong-dae his white coat and badge, like he's been waiting to return it all this time. He gives the prodigal resident a hug, and they all come in for a group hug. Aww.
Ji-hong and Seo-woo share their updates on Hae and Dal, and fortunately, they're both healthy enough to be released from the hospital soon. Ji-hong leaves with Hye-jung, and Myung-hoon's assistant approaches Seo-woo to bring her to her father's office. But she refuses to follow orders.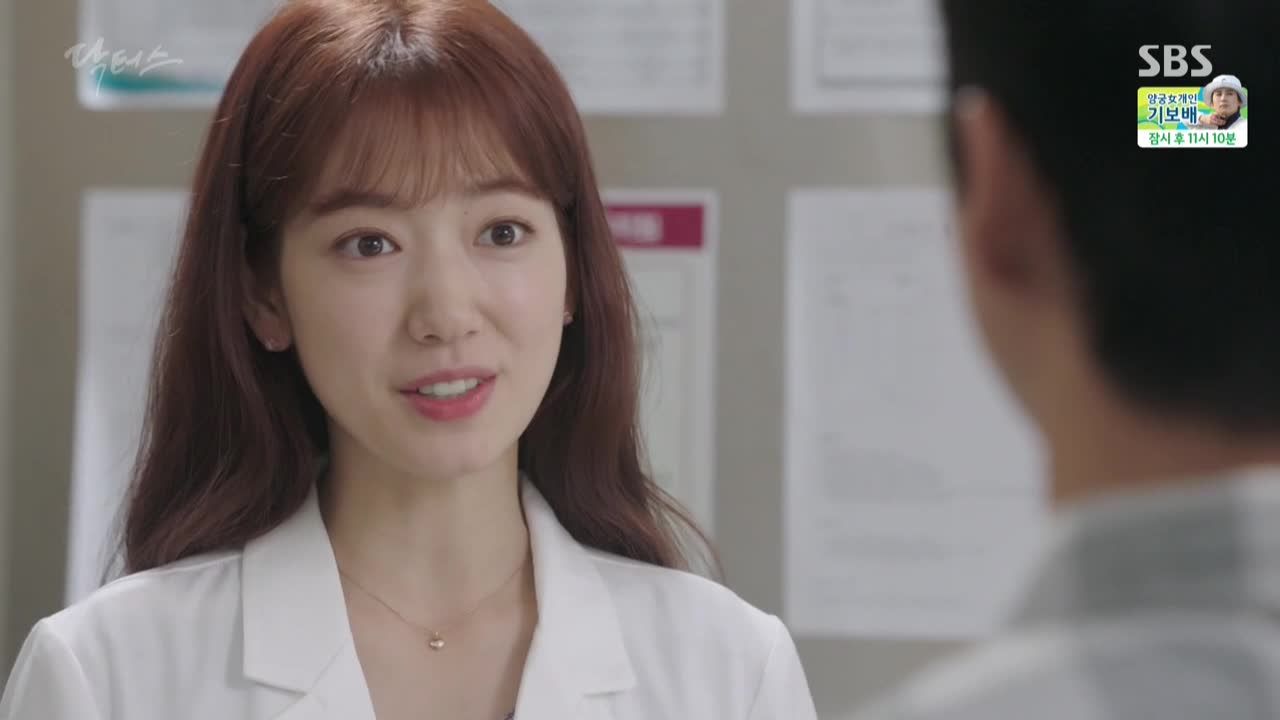 Ji-hong and Hye-jung meet with the boys' father to discuss post-operative care, and the father thanks them for helping him with the expenses through the broadcast. Ji-hong enters the hospital room, and the boys' father stops Hye-jung to thank her personally. He's gotten financial and moral support through the broadcast, and he says that he won't ever forget this blessing and reminder that the world is still a warm place. Hye-jung says that his sons are lucky to have such a loving father, and he responds that all fathers are like this. She looks conflicted by his certainty but smiles back.
Myung-hoon watches the broadcast following Hye-jung at the hospital, where she speaks about her grandmother's influence on her motivation to become a doctor. That clip reminds Myung-hoon of Hye-jung in her youth, and he seems to have finally realized who she is. He closes the browser as Hye-jung enters his office, and she asks why she was called in. He has no particular reason and says that he just wanted to have a quick chat over tea. Clearly, she's too busy for such leisure and excuses herself as she answers a call from Kang-soo.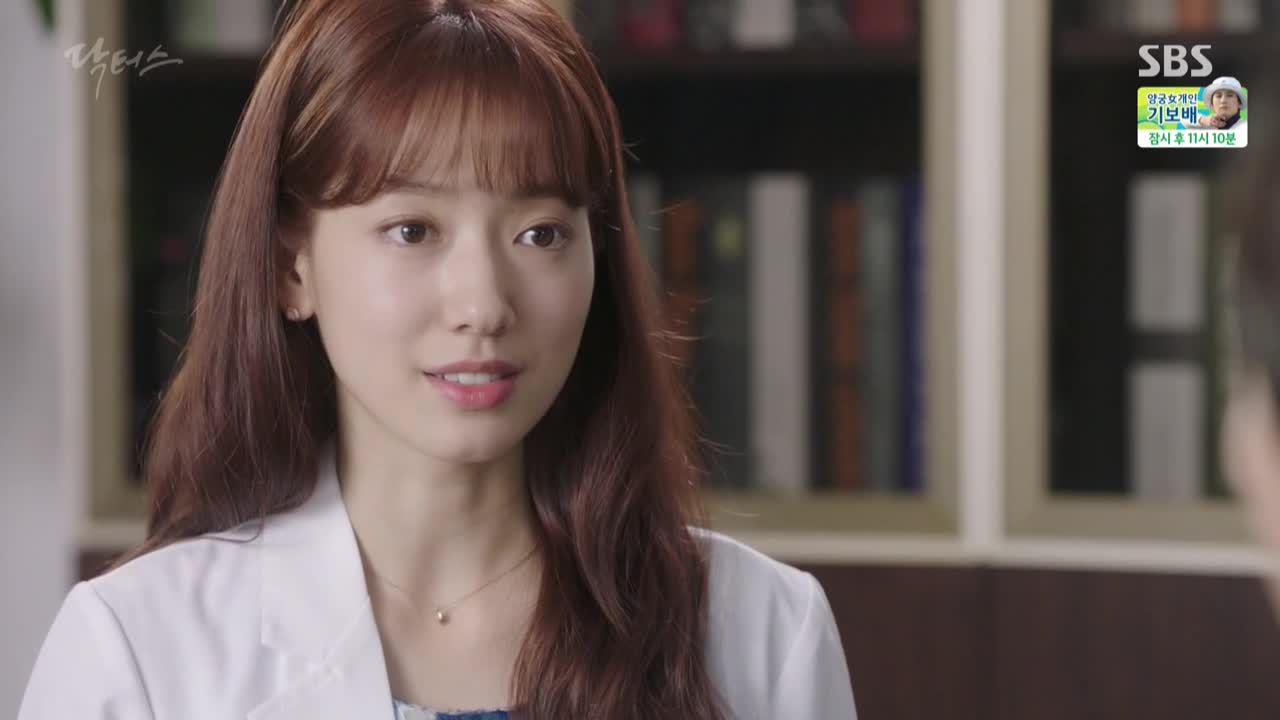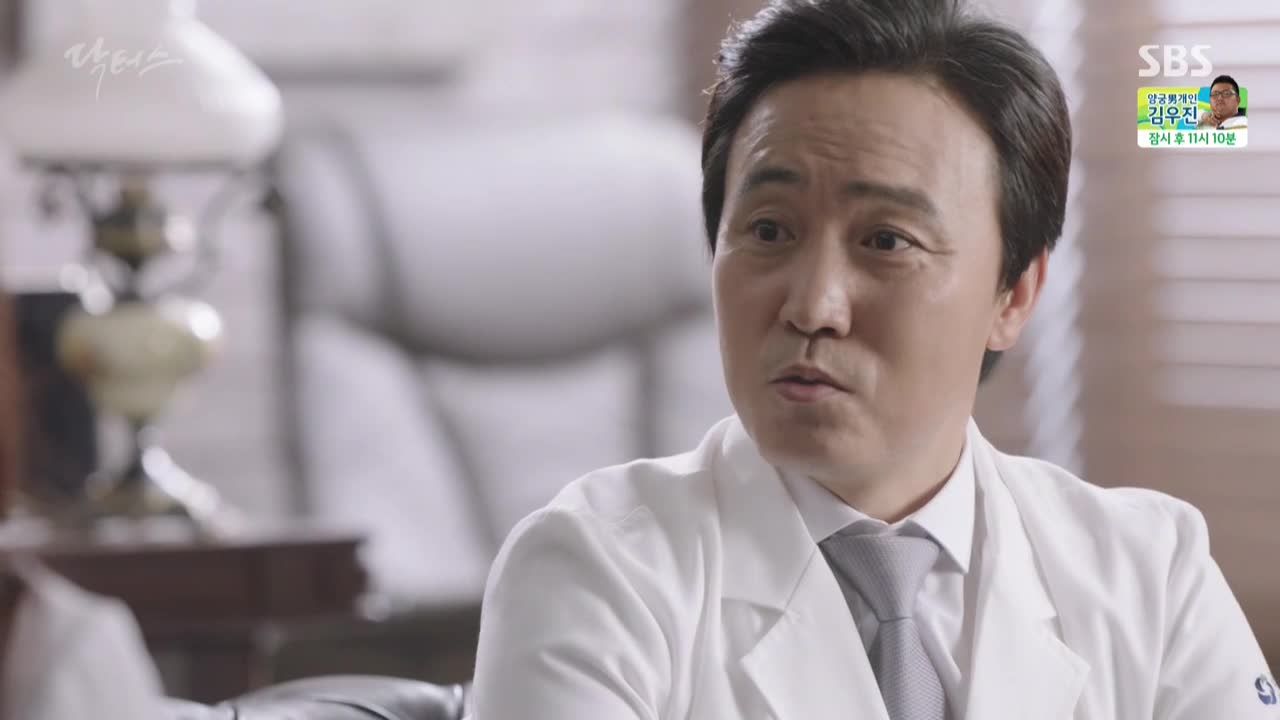 Before she leaves, Myung-hoon asks her how Seo-woo is doing, and Hye-jung responds that he should ask her himself. Director Jin enters the office just as she leaves and greets her with a wide smile, recognizing her from the broadcast. After she leaves, Director Jin further compliments Hye-jung for helping restore the hospital's image, but Myung-hoon complains that he can't fire her because of that. He doesn't explain any further to his father, and they discuss Ji-hong's upcoming investment proposal with smug grins.
Kang-soo briefs Hye-jung on an ER patient, a man brought from a gas explosion with a battery shard in his eye. She goes to check on the patient, and it's not just a little irritation in the eye but (holy smokes) a battery driven into his eyelid. The patient squirms and screams in pain, and Hye-jung does a quick motor check before ordering a surgery room for Ji-hong. But according to Kyung-joon, Ji-hong isn't taking patients until the afternoon.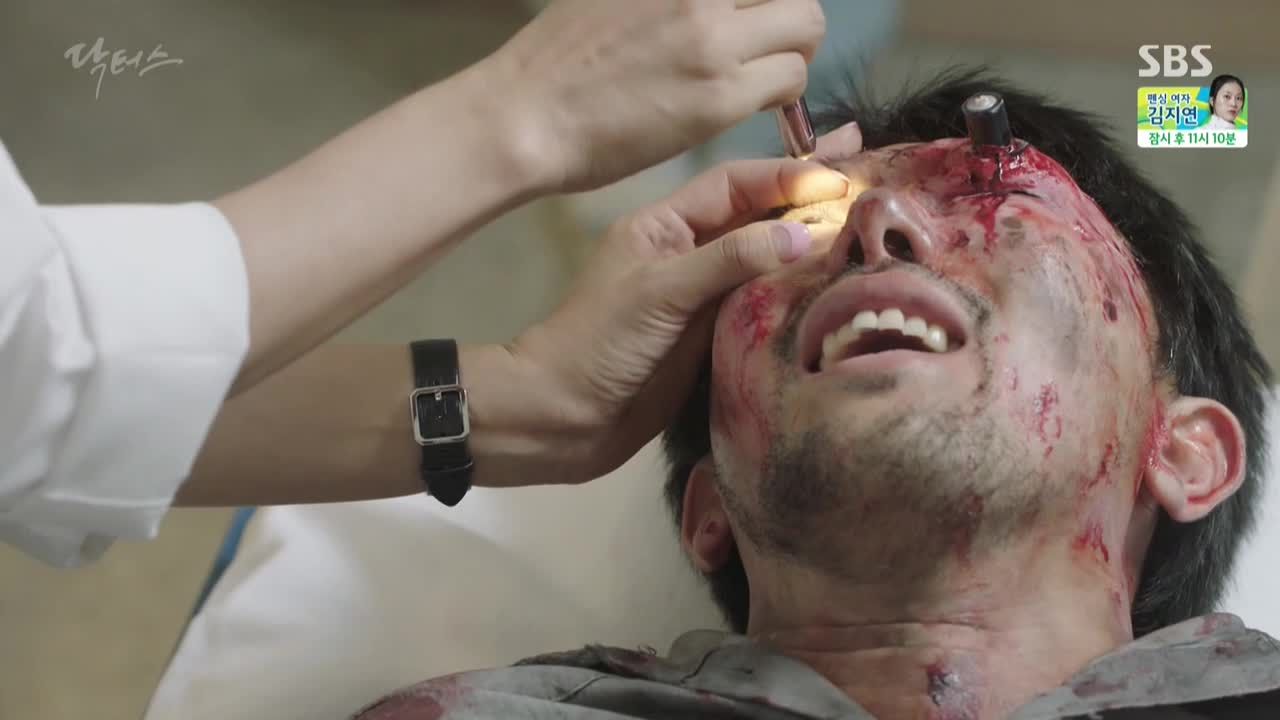 Ji-hong and Tae-ho are busy getting their footing in this hospital power struggle. They meet with their investors and sign the contract for their new deep-brain-stimulation project.
Hye-jung looks over the scans and discusses the surgery plan with Yoon-do. They'll need to collaborate with the ophthalmology department because of the battery location, and thankfully, there doesn't seem to be too much bleeding. They wake a dozing Kang-soo to set up the surgery room, and Yoon-do asks Hye-jung why she called him and not Ji-hong. He assumed that she was exclusively Ji-hong's fellow, but she refutes that she's not exclusive at work. He jokingly asks what she's exclusive in (implying that she is in dating), and Hye-jung apologizes.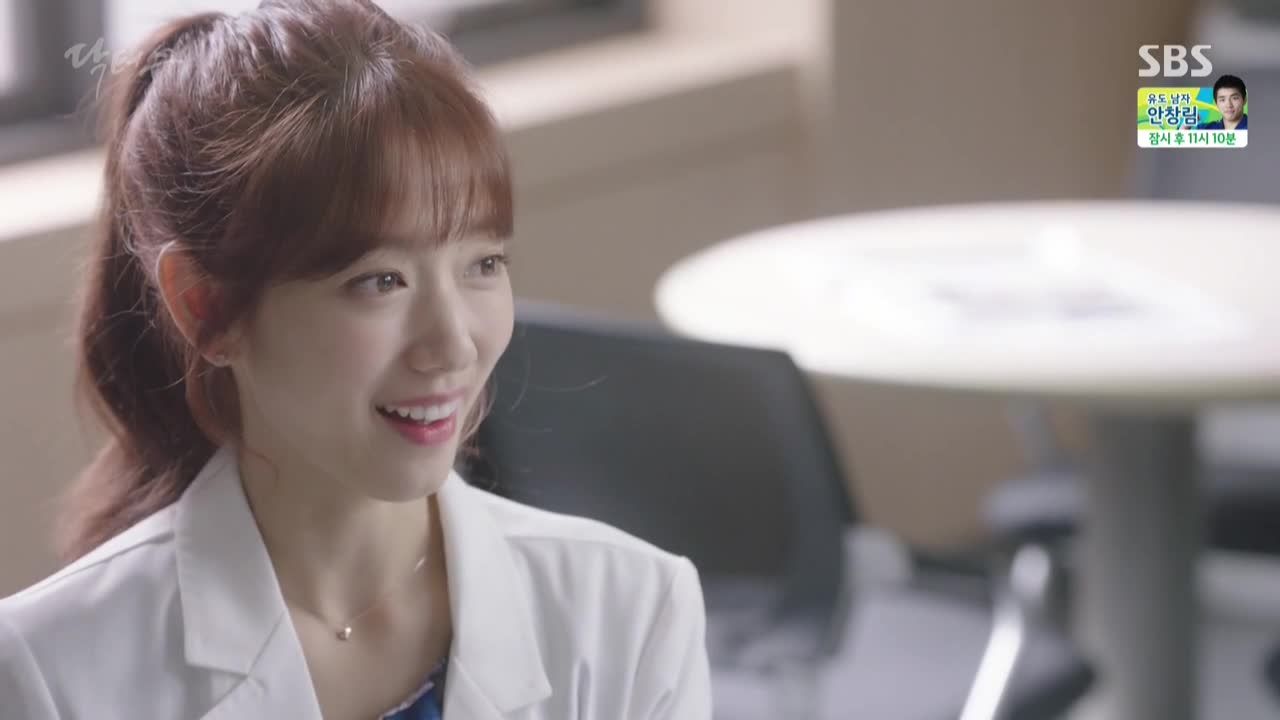 She tells Yoon-do that Ji-hong is attending the board meeting, and he finds that unusual. She says you can't always do everything you want in life, and he lightly teases her for taking Ji-hong's side. Yoon-do receives a call from Myung-hoon but doesn't pick up. He explains to Hye-jung that this is one of the moments that he's happy to be his father's son — even if he doesn't pick up, Myung-hoon can't do anything.
Hye-jung esteems his status and insists that she's not teasing him. She understands that people don't choose their backgrounds and says that a good circumstance is a good thing. Yoon-do figures that she's the one who's got it good right now, to which Hye-jung smiles and nods. He teases her some more by saying that he's hurt by her honesty, but he says that he's slightly comforted because his competition is as competent as Ji-hong. Aw, what a good guy.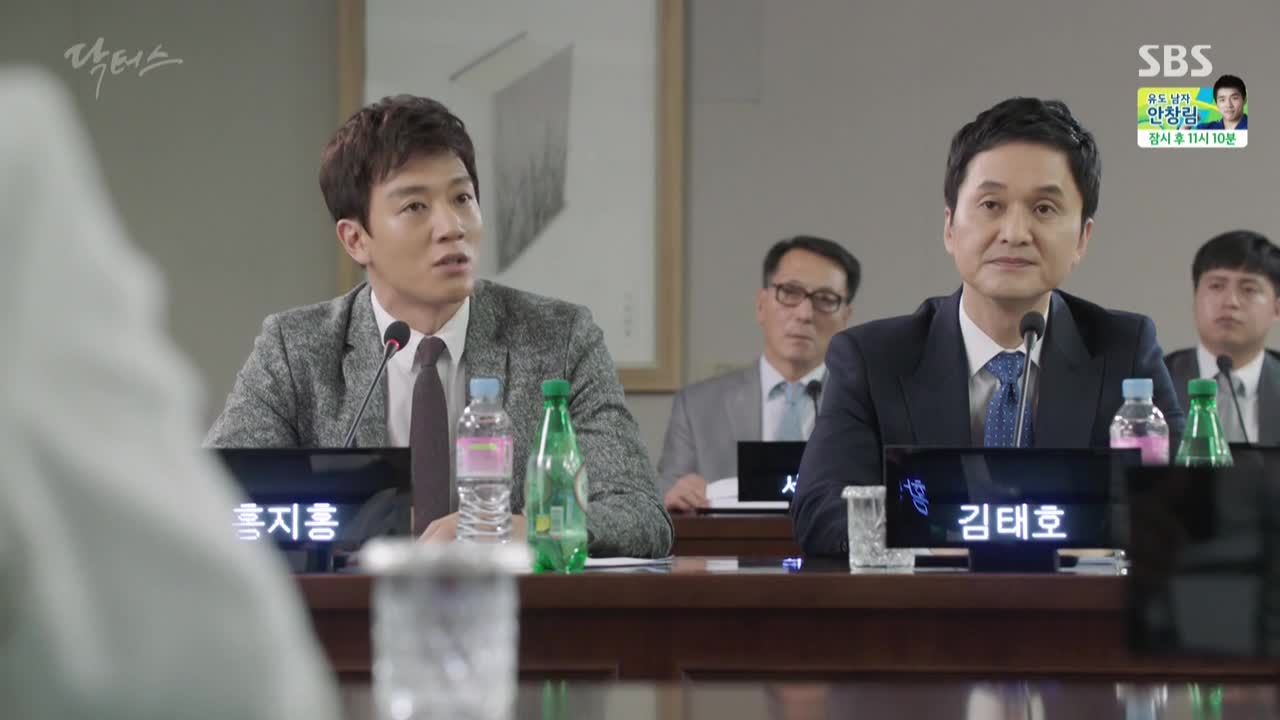 At the board meeting, Myung-hoon continues to push for the geriatric center and insists that the hospital needs change. Ji-hong and Tae-ho agree that they need change, but they propose change in a different direction: reforming their welfare system and elevating their brand.
They show off their deep-brain-stimulation surgery grant, which will help their hospital gain recognition for research and give them capital to reform their welfare system. Ji-hong argues that a hospital is a place where doctors and patients coexist, so this reform is necessary. The members of the board nod in agreement, but Myung-hoon and Director Jin look threatened.
After the meeting, Myung-hoon compliments Ji-hong on his proposal, saying he's learned a few things. They shake hands, acting like friendly competitors.
Seo-woo cautiously approaches Young-kook and asks for patient updates. She asks if he's avoiding her and says that their relationship isn't what it used to be. He finds that normal, since emotions are prone to change, and he asks if she's afraid that he'll confess his feelings to her. She denies it, and he pretends that Yoon-do is coming. Seo-woo thinks that he's teasing her, but he says that he's teasing himself.
After he leaves, Myung-hoon approaches Seo-woo and yells at her for not answering his calls. He leads her to his office and scolds her for not following his orders to give him the insider details on Ji-hong's plans. Seo-woo says that she didn't become a doctor to be her father's spy and asserts that she has dreams to be a neurosurgeon. Myung-hoon insists he does everything out of love, and Seo-woo says that she's tolerated her father up to this point out of love.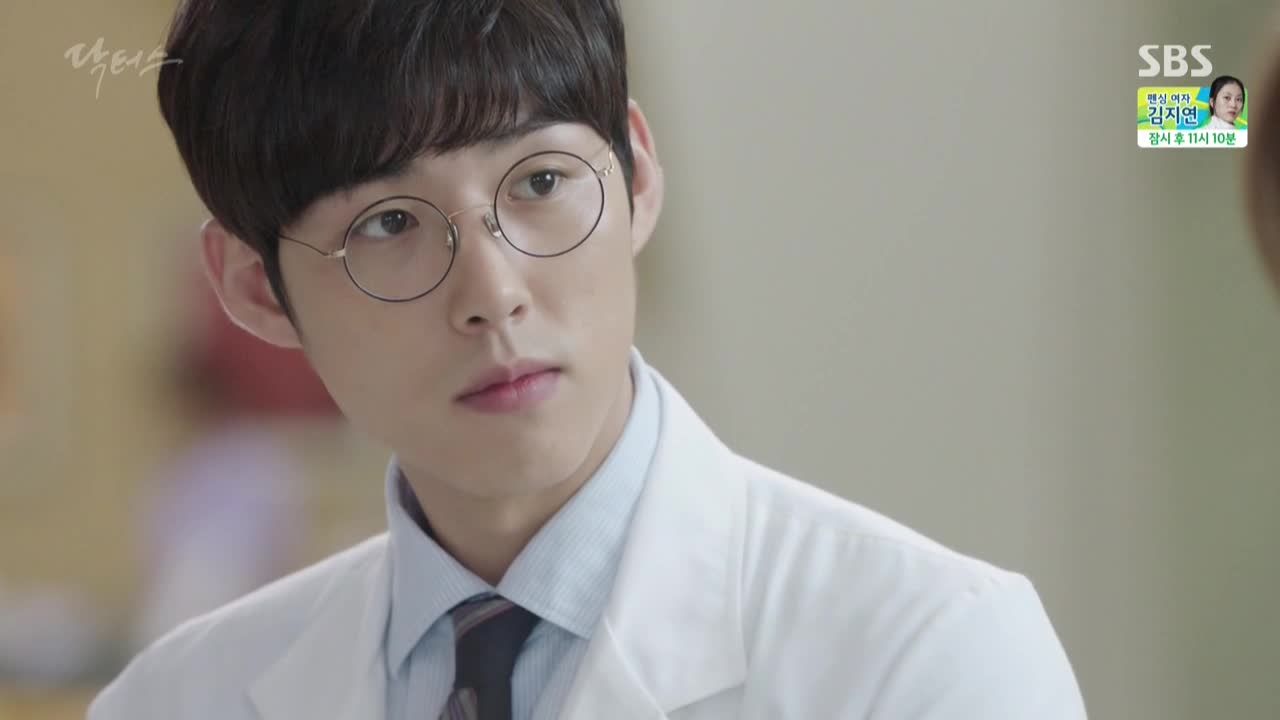 She gives the example of tolerating him when he dissed her in front of Hye-jung, but clearly not getting the point, he claims that everything he said was true. In return, Seo-woo starts to spill the truth about him: She went to the school he never got into, and she has the looks her father never had. Myung-hoon argues that everything she has now is because of him, and she wouldn't have achieved her status if she had grown up in the same environment as Hye-jung. Giving it right back to him, Seo-woo says that he gained everything thanks to his father and adds, "At least I did well in school."
That's Myung-hoon's tipping point to his inferiority complex, and he slaps Seo-woo. He freezes and immediately apologizes, but Seo-woo just storms out.
Hye-jung surprises Ji-hong in his office with vitamins and supplements for his health, and she nags him about not telling her about the board meeting. She asks him to take her home, but he says he can't because of other plans. She eyes him for more details, and he explains that it's just dinner with Tae-ho about their investment deal. Hye-jung realizes that her nagging could become annoying, but Ji-hong insists that he enjoys it.
Seo-woo visits Soon-hee's cafe alone this time, and Soon-hee asks about Joong-dae's return. Hye-jung didn't reveal where he was caught, so Soon-hee's secret is safe. Seo-woo asks Soon-hee why Hye-jung decided to come to Gukil hospital, since Soon-hee claimed that she and Hye-jung don't have any secrets. Soon-hee gives the obvious answer that Gukil hospital is bigger and has a great cafeteria, but she mutters under her breath wondering what Seo-woo is asking about.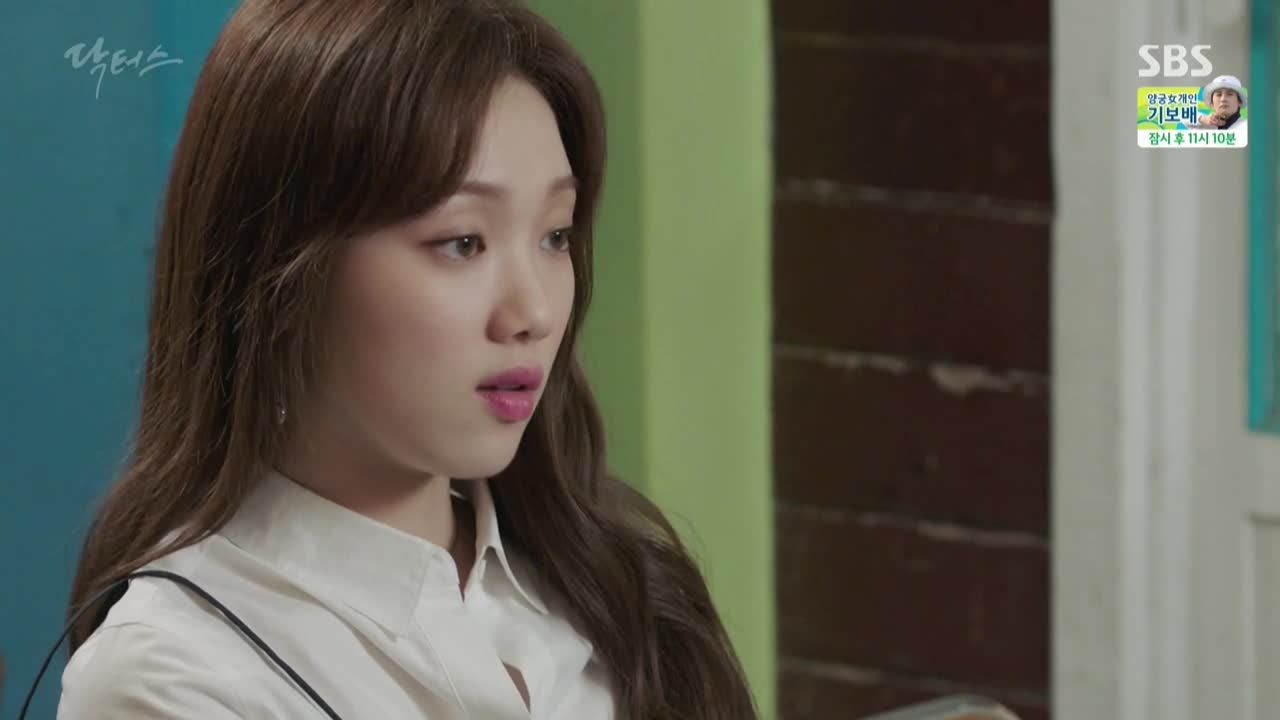 Tae-ho finds Ji-hong grinning at his phone in the lobby and says that he's happy to see Ji-hong happy and dating. As they eat dinner, Tae-ho admits that he's thought a lot about Director Hong lately, and Ji-hong says that Tae-ho was his father's favorite student. Tae-ho says that Ji-hong understands a part of him better than his wife and friends — it's the hard neurosurgeon life that he understands. Tae-ho jokingly tells Ji-hong to treat him well, since he's older and will die sooner.
Ji-hong apologetically thanks Tae-ho for letting him act against his father's last wish (since Director Hong had signed a DNR, but Ji-hong tried to resuscitate him anyway). Tae-ho says that he'll apologize to Director Hong when they meet again, and Ji-hong jokes that his father will probably find it typical that they didn't listen to him.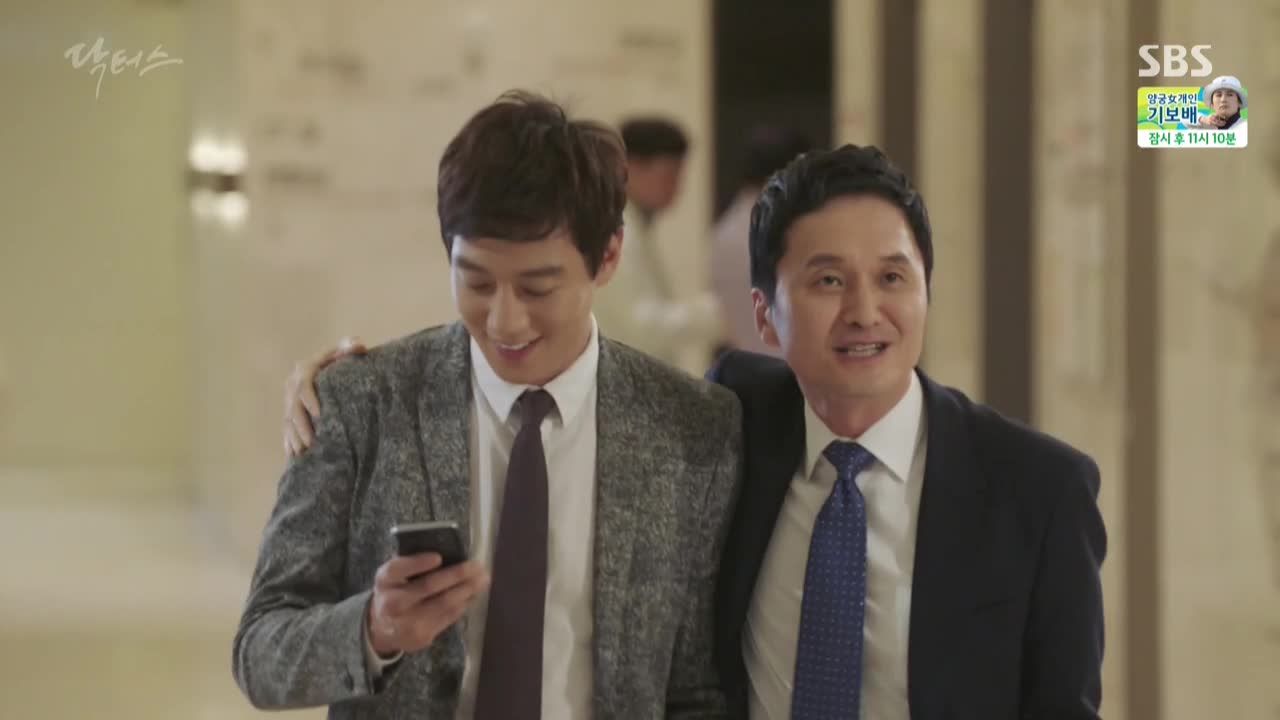 Yoon-do pulls into his apartment complex and sighs in anticipation of his two resident trespassers. He braces himself and gives himself a pep talk before entering his apartment, but it's surprisingly quiet and dark. He cautiously walks around, and they're nowhere to be seen. He does a little cheer but then, the doorbell rings, but it can't be In-joo or Pa-ran since they both know his password.
He opens the door, and it's tipsy Seo-woo ready to take residence at his place for the night. Yoon-do complains that his place already doesn't feel like his home, which cues In-joo and Pa-ran to enter. They greet Seo-woo and welcome her to "homeless heaven" as they join her on the couch. Yoon-do demands that the three leave his home, but they somehow convince him to leave. To make matters more interesting, Pa-ran tips him with Ji-hong's apartment password.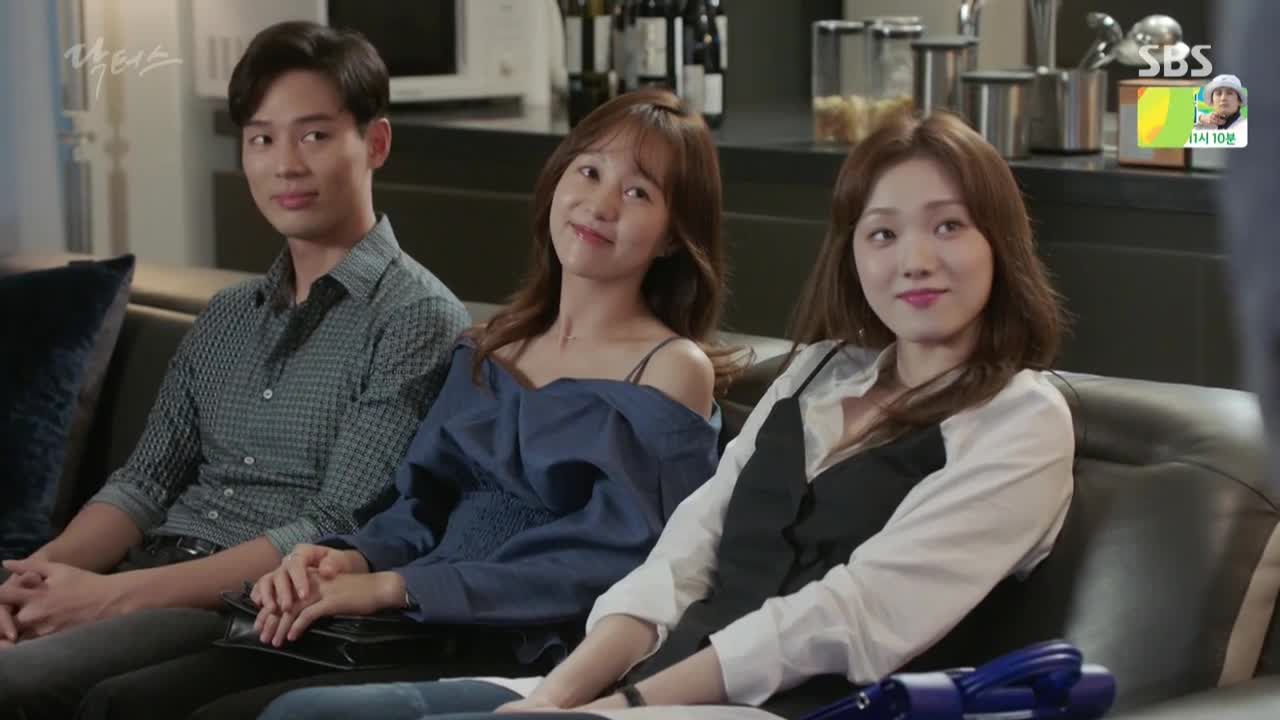 Ji-hong returns home and finds an unfamiliar pair of shoes by his door. Yoon-do pops out of the bathroom and explains to a surprised Ji-hong that he got kicked out of his home. And he's here to stay because he'd rather get beaten up here than deal with the three beagles in his apartment.
Yoon-do says that he didn't open Ji-hong's refrigerator since they're not that close, even though they're supposedly close enough for Yoon-do to sleep over (ha). As the only humans in the building, Yoon-do says that they'll get closer now and mimics a surgery procedure as he goes to open the refrigerator.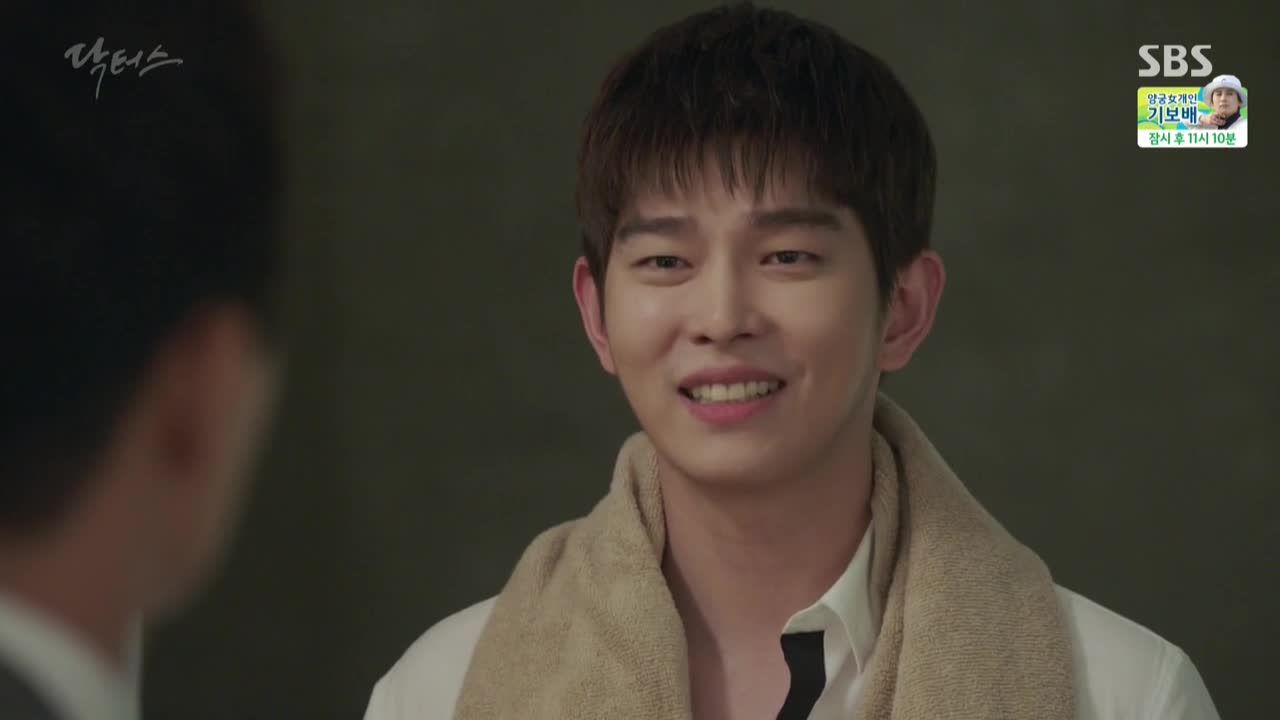 In-joo asks Seo-woo if she's going through adolescent rebellion, and Seo-woo just asks how In-joo's life is. In-joo responds matter-of-factly, "You don't live asking how to live. You just live because you're alive." Seo-woo says that life's getting worse for her, and In-joo comforts her saying that at least she knows it.
Pa-ran snores in his slumber, and as In-joo settles on the couch, she admits to Seo-woo, "When I was at my worst, I didn't know it. I only realized it after the fact." With that, she turns to sleep while Seo-woo takes another swig of her beer. She gets a call from Young-kook but doesn't answer. She responds with a text clarifying that they're friends and that she won't risk losing him. In the hospital dorm, Young-kook looks dejected by her response while Joong-dae sleep-talks about Soon-hee Hawaii.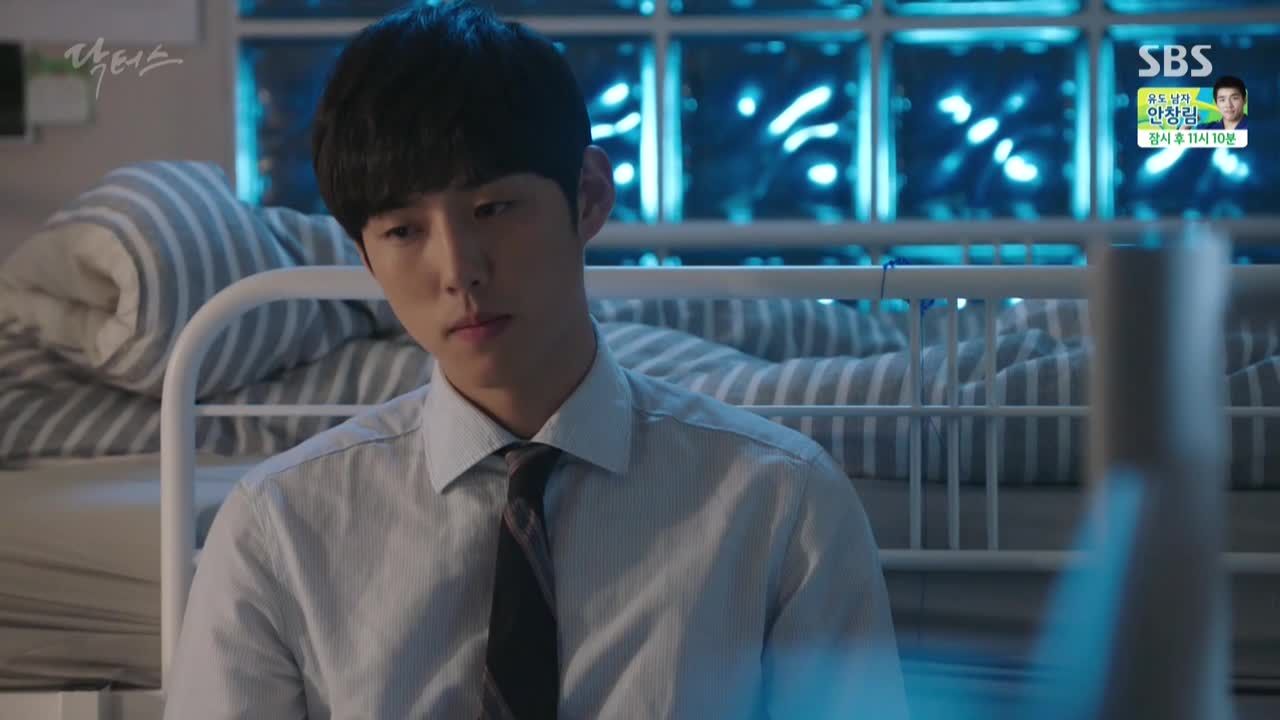 Yoon-do starts off the next morning with outdoor tai chi, and when he returns to Ji-hong's apartment, he finds Ji-hong packing sandwiches. Yoon-do looks at him with disbelief and almost pleads that they eat breakfast together and go to work together. But Ji-hong doesn't want to and leaves Yoon-do with the leftovers. Yoon-do asks to borrow a pair of Ji-hong's underwear, and though Ji-hong doesn't allow for it, he goes on a search as soon as Ji-hong leaves. Hee.
As they set up their breakfast, Ji-hong tells Hye-jung that he wants to eat a meal cooked by her. Though she's hesitant about cooking, she admits that she's been wanting to cook recently because she wants to make a meal for him. They talk about their plans for the day, and Hye-jung says she'll work on her thesis as long as the ER isn't busy, though Ji-hong predicts she won't make any progress on her thesis.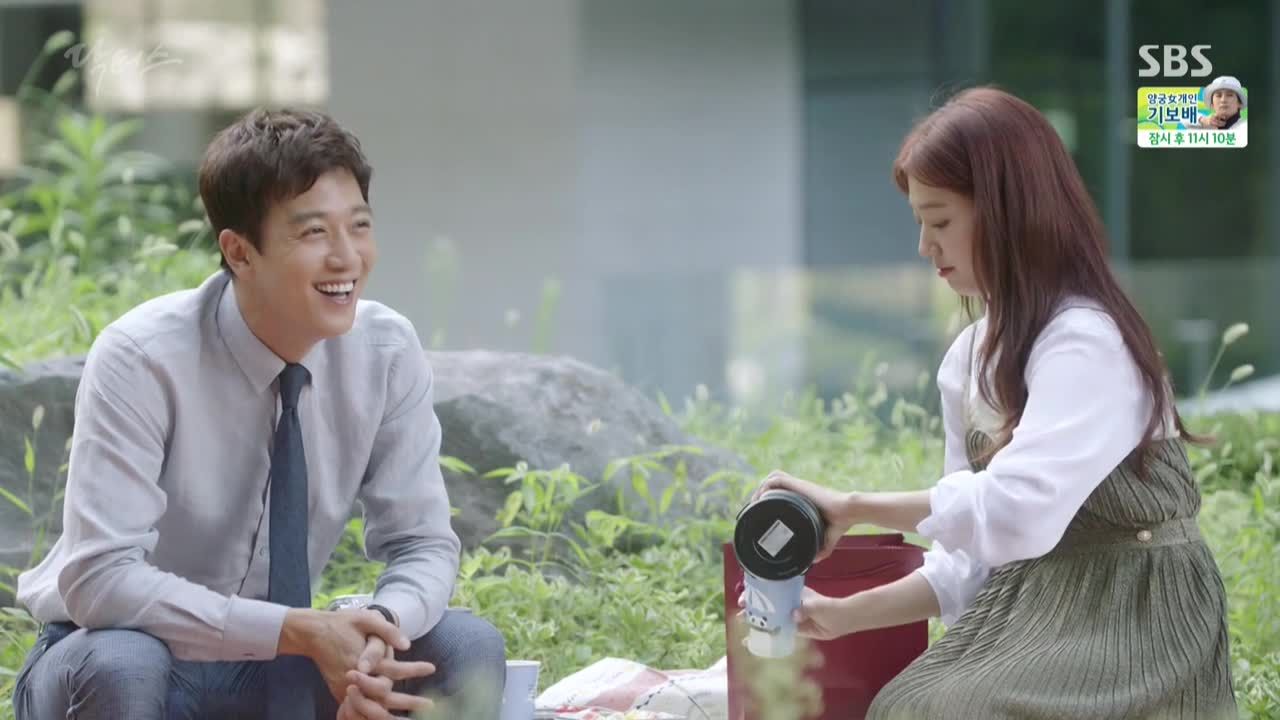 As expected, the ER is bustling, and an injured groom helps wheel in his bride, who looks unconscious. Husband (cameo by Lee Sang-yub) explains that a car hit them on their way to their wedding and begs the doctors to save his wife, who's also pregnant.
Hye-jung runs into the treatment room and checks on the patient's consciousness. The patient isn't responding, and her face falls when Kang-soo tells her that the patient is pregnant. Husband desperately watches outside the treatment room and cries as he thinks back to his loving interaction with his wife in her wedding dress.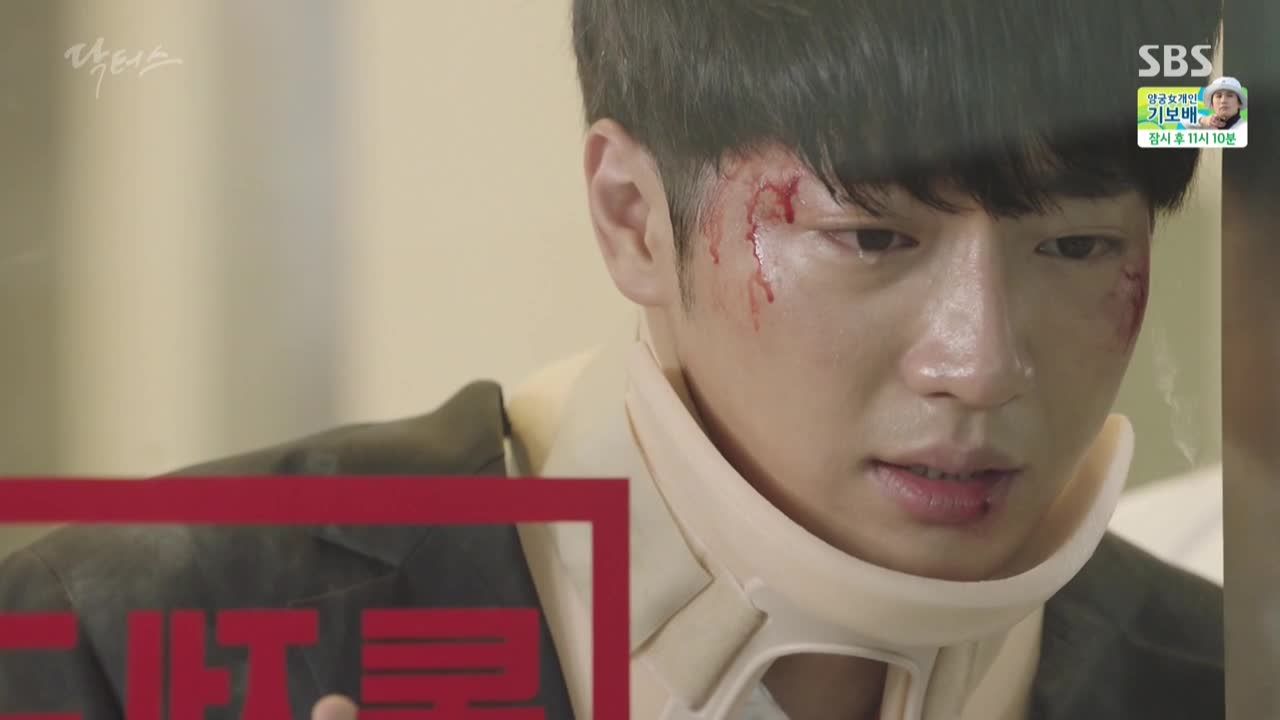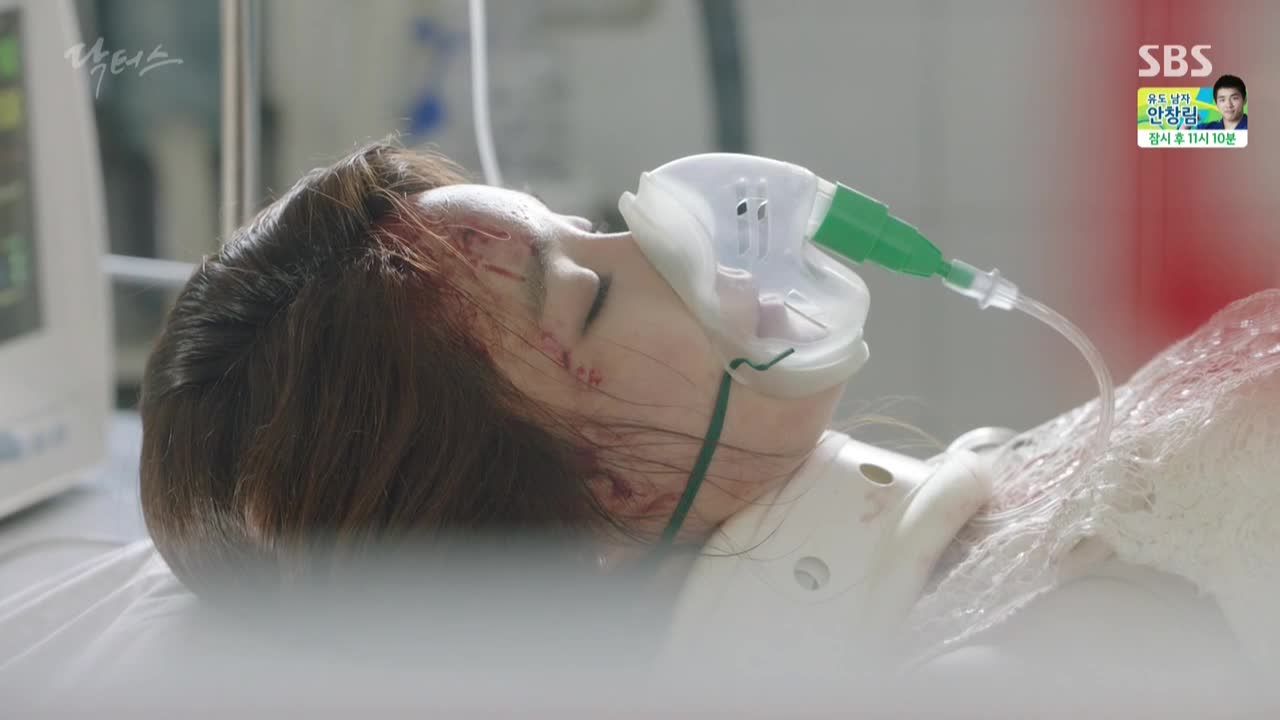 Hye-jung calls Ji-hong about the patient, who seems to be suffering from a semi-coma. Though the OB/GYN confirmed that the fetus is healthy, it seems that the injuries sustained by the mother are too severe. Ji-hong asks his residents and fellow about their decision to operate, and they all seem hesitant and discouraged about the outcome. Hye-jung argues that the patient's guardian should also have a say in the decision, but Ji-hong calls her an amateur for including that input in her decision. He decides that they will not operate on the patient because the chances of recovery are too low.
Ji-hong delivers the news to the husband and explains his informed decision. The husband pleads for them to try, since he and his wife have waited three years for their wedding — their wedding day can't be her death date. Hye-jung and Kang-soo struggle to keep their composure while Ji-hong solemnly sticks to his decision.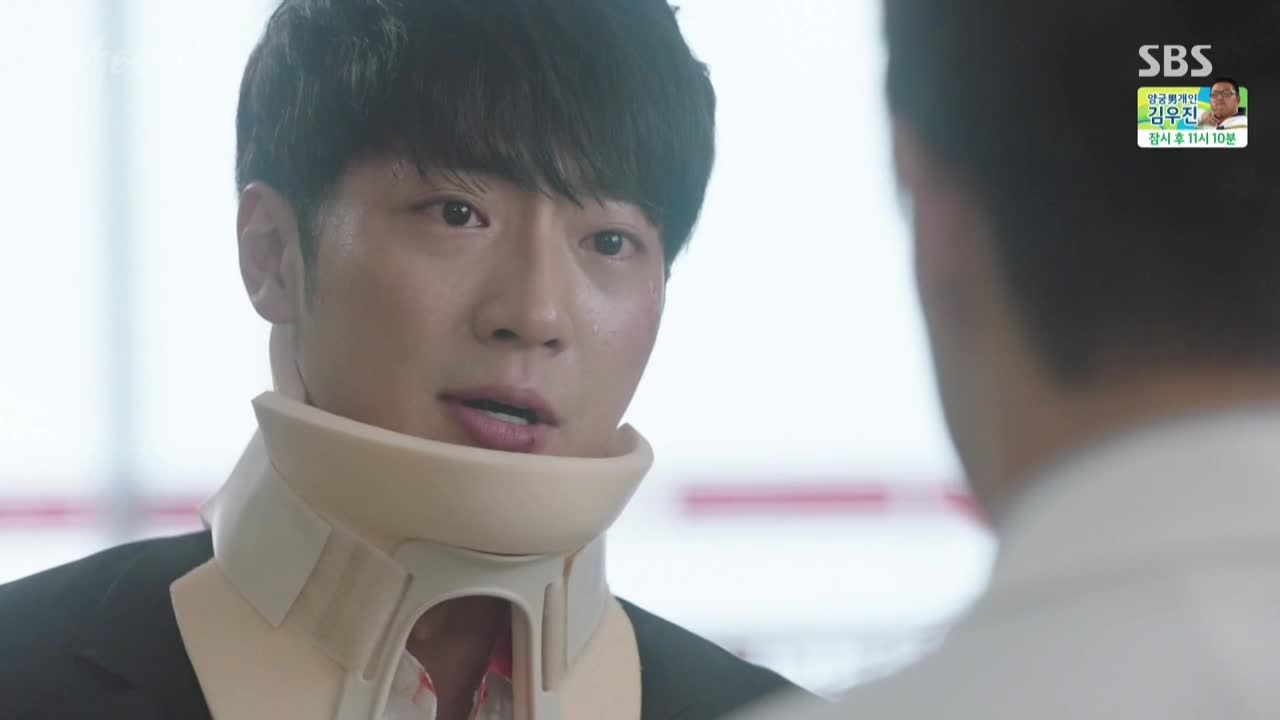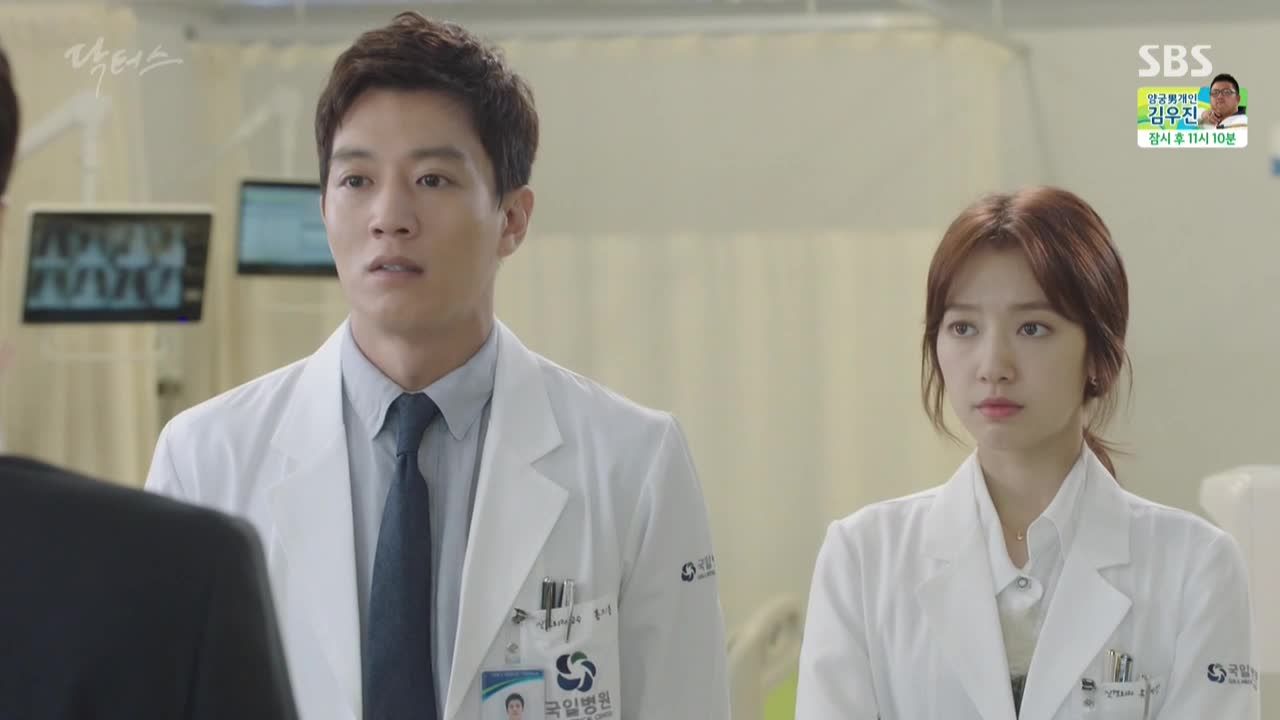 As they leave the ER, Hye-jung says that she must be an amateur because she's even more convinced that they should operate on the patient after meeting her guardian. Ji-hong insists that surgeons need to separate themselves from unclear emotions, but Hye-jung makes a sound argument that the guardian is the advocate for the patient, since she's unconscious. Without a surgery, there's no chance for a miracle, and Hye-jung asks him to give the guardian more time to decide.
Hye-jung offers to perform the surgery if Ji-hong won't, and he warns her that she's crossing the line between staff and a fellow. He asks if she's leveraging their personal relationship to take this defiant stance, but she argues that she's speaking as a doctor. He tells her to solidify her opinion before convincing him and walks away. Hye-jung then asks what he would do if that patient were her — would he give up on her? He turns around and calls that cheating, since she wasn't persuading him as a doctor.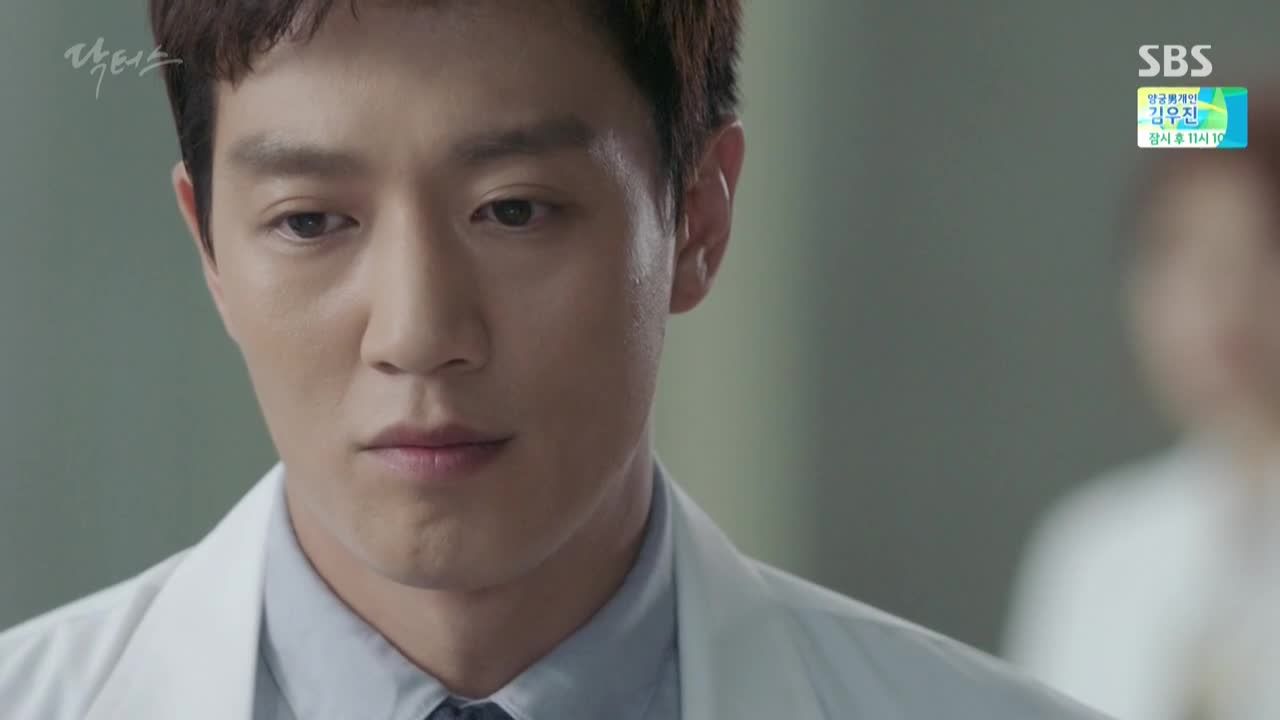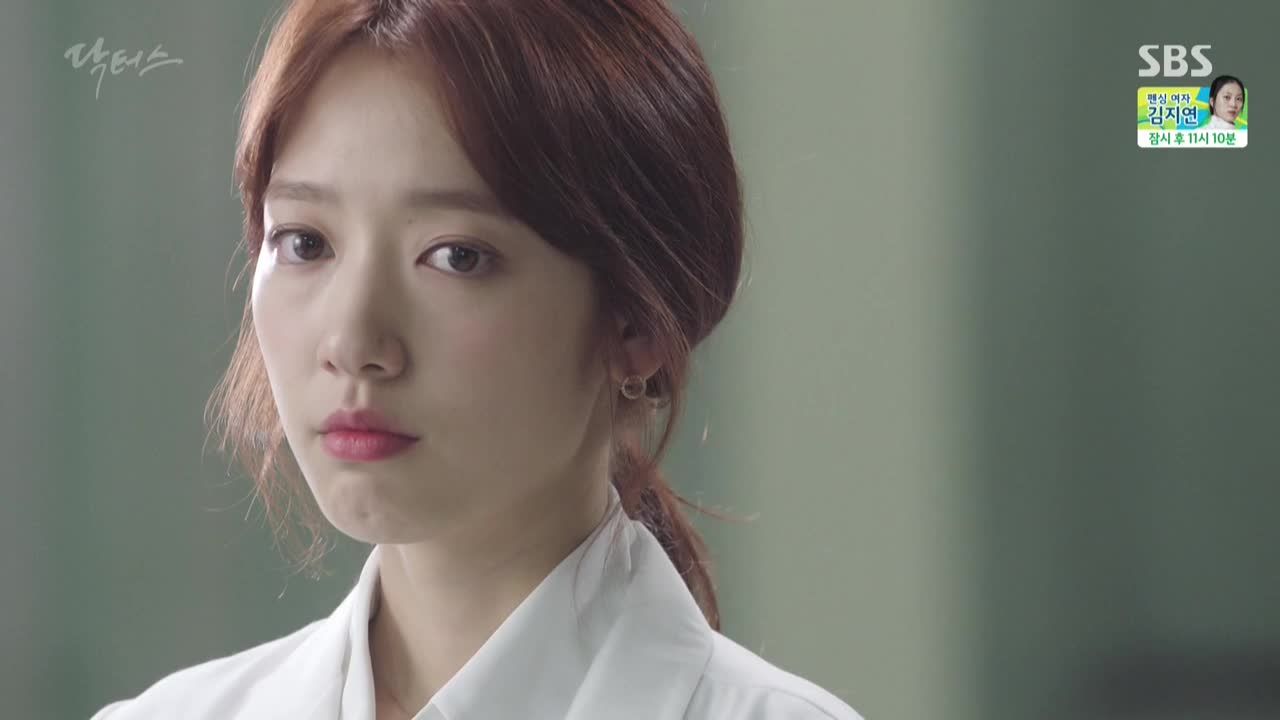 Myung-hoon's politician buddy pulls up to the hospital with a sprained back from golfing, so Myung-hoon escorts him to the VIP room for treatment. The politician requests Ji-hong to treat him and also requests to meet Hye-jung after seeing her on TV. They stand awkwardly next to each other, coldly engaging as colleagues.
As they head down in the elevator together, Ji-hong asks Hye-jung if she's sticking to her opinion. She says that she is and asks him the same question. He's also sticking to his decision, and the stubborn lovebirds don't exchange any more words.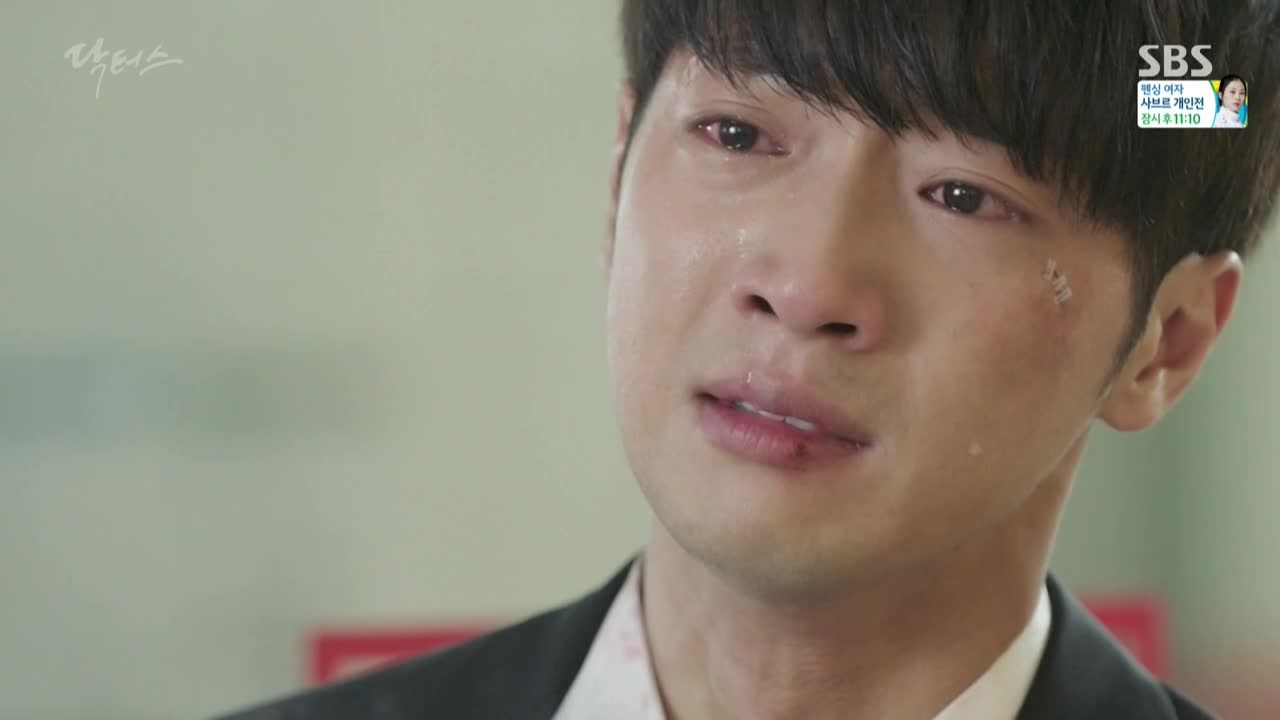 The husband tearfully watches his unconscious wife in the treatment room, and Ji-hong arrives to check on the patient. Husband tells Ji-hong that he can't live with himself if he doesn't do anything. Even if he could only extend his wife's life for ten minutes, he would do anything to give her those ten minutes with her child. Ji-hong enters the treatment room and thinks back to his desperation to save his father.
Ji-hong exits the treatment room and changes into his scrubs. After some thought, he enters the OR to operate on the pregnant patient with the OB/GYN on standby. As he carefully manipulates the minute movements in the operation, the fetus's heart rate begins to drop. He needs to close up as soon as he can.
We jump to the neurosurgery department for a quick commercial break check-in, where Kyung-joon asks Joong-dae for updates on patient check-ups. He's more lenient with Joong-dae this time, but they're caught chatting by stern Yoon-do. They each get scolded — Joong-dae for running away and Kyung-joon for being so harsh to make Joong-dae run away — but the two team up against Yoon-do by comparing him to Ji-hong, who bought them a meal last time. They both ignore Yoon-do's authority and walk off together to check on a patient.
In the OR, the fetus's heart rate continues to drop, and Ji-hong sneaks in his last few movements before announcing his completion. The heart rate rises again, and Ji-hong works with Hye-jung to quickly close up the brain region.
Ji-hong and Hye-jung exit the OR, and the husband rushes to ask them the results. Ji-hong doesn't let him keep his hopes up, saying that he can't make any promises about recovery. The fetus is healthy, but the patient's condition is still very poor. Even with very little good news, the husband expresses relief that he's done everything he can and thanks Ji-hong.
As they walk, Hye-jung asks Ji-hong why he changed his mind. He says that he realized that he could be blocking the possibility of a miracle. She says that Ji-hong believes that doctors and miracles are incompatible, and he responds that it's what he used to think.
Hye-jung watches him walk on and narrates: "Neurosurgeons and miracles are incompatible. We doubt and doubt again. But we hope for miracles regardless because we're unstable."
We jump forward a week, to where Ji-hong checks on the patient in the ICU. She shows no signs of improvement of consciousness, and Ji-hong heads out to meet the husband.
Ji-hong tells him that his wife is close to cerebral death, at which point she will gradually lose all organ function. He asks the husband to choose what to do. The chances of her survival are slim, and he may need to give up on her and their child. Hye-jung adds that the twenty-week-old fetus cannot survive outside the mother, and their only hope would be that the mother lives long enough to let the fetus mature. Ji-hong says that they'll leave her on the ventilator for as long as possible, and the husband cries that his wife will hang in there, because she wouldn't take their child and leave him in the world alone.
Hye-jung begins to cry and narrates: "A miracle didn't happen. It's normal for miracles not to happen. That's why they're miracles."

COMMENTS
Hold up as I mop up my pool of tears. That has got to the saddest ending to an episode, but I'm impressed by the show's execution of this depressing message. The emptiness I felt from the ending was purposeful, and I can appreciate that hopelessness through my tears. Miracles are rare, and Hye-jung's point about the incompatibility of doctors and miracles was well made. Doctors can't heal everyone no matter how skilled they are, and it's definitely a defense mechanism to hold a strong disbelief in miracles. While miracles do happen, believing in them can be exhausting for a person whose job depends on them to save lives. And miracles require a heavy emotional investment — something doctors can't do for every patient that enters the hospital.
I liked the gray moral ground that was explored through the wife patient, since it humanized our doctors more as emotional beings. Though I agreed with Ji-hong's initial decision professionally, his change of heart didn't make me trust him any less as a doctor or as a character. We already know that Ji-hong is crazy skilled as a doctor, and I actually thought it was interesting to see him doubt and question his emotional detachment. In fact, his questioning felt very cohesive in this episode, with the earlier discussion of his violation of his father's DNR. It's that personal investment that intrigued me more about his character, making me wonder where he draws the line before going down the slippery slope of too much emotional attachment.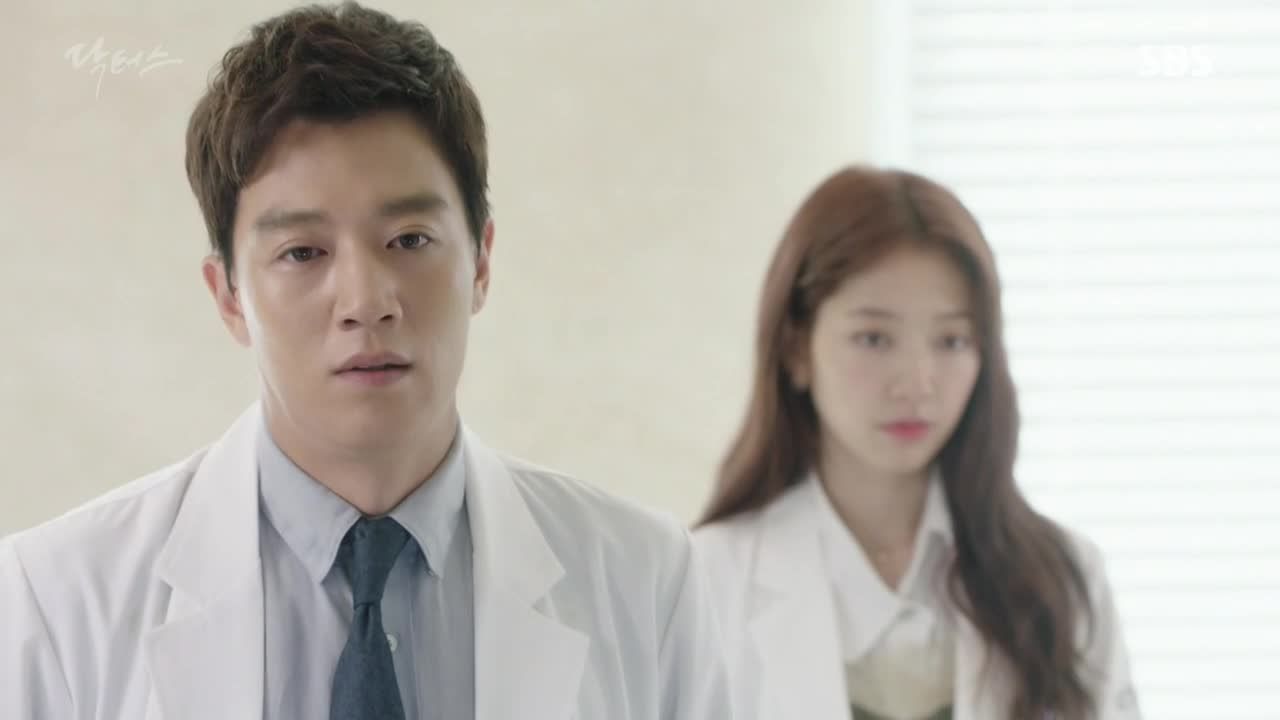 Hye-jung also had her moment of personal connection in that powerful opening scene. She expertly pointed out the real reasons for the father's attempt at suicide and cathartically shared her own scars in the process. The implications of his death might've painted him as a hardworking father who sacrificed everything for his sons, but his sons would live in the shadows of guilt and pity. While he has every reason to feel tired and hopeless, I completely agreed with Hye-jung that he needed to be honest with himself and to his sons about why he wanted to end his life. It's not a simple answer, but she navigated the situation with fierce pathos, enough to make him realize the importance of his existence.
The mutual healing between Hye-jung and the father was something that worked well thematically, and it touched on a point made about doctors and patients relying on each other for their existence. Although Ji-hong made this point as more of a business argument, it definitely makes sense as a bigger existential concept. While doctors are easily more respected because of their vast knowledge and skill, their existence is inextricably linked to patients. It's an interesting symbiosis to consider, if you ever need something to keep you up at night.
In-joo only made a brief appearance as resident intruder in "homeless heaven," aka the Yoon-do dog pound, but she gave Seo-woo the right words of encouragement, something that Seo-woo severely lacks in her life. In-joo is delightfully simple, which is such a nice contrast from how complicated Seo-woo's life is right now. I'm relieved and proud to see Seo-woo finally speaking up for herself. Even though her act of defiance resulted in a nasty slap from her father, I think it's a nice wake-up call for her (and hopefully oblivious and power-hungry Myung-hoon) to redefine her life outside of her father's expectations. Let's just hope that also comes with redefining her relationship with Young-kook because I'm a fan of the pairing.
And that leaves Yoon-do as the one lone Siberian husky but also an all-around great second lead. Friendly and self-aware, he's able to poke fun at himself while also teasing Hye-jung about her relationship with Ji-hong. A second lead that isn't pushy? A second lead that practices tai chi in the morning? A second lead that wants to borrow underwear from his romantic rival? I strongly believe that if all second leads were like Yoon-do, dramaland would be a much more civil and fun place. Of course there's also fun in intense jealousy and dramatic revenge, but it's quite lovely to have a dorky tall dude just be his dorky tall self. He's super endearing, and ugh, just look at that smitten smile. I luff you.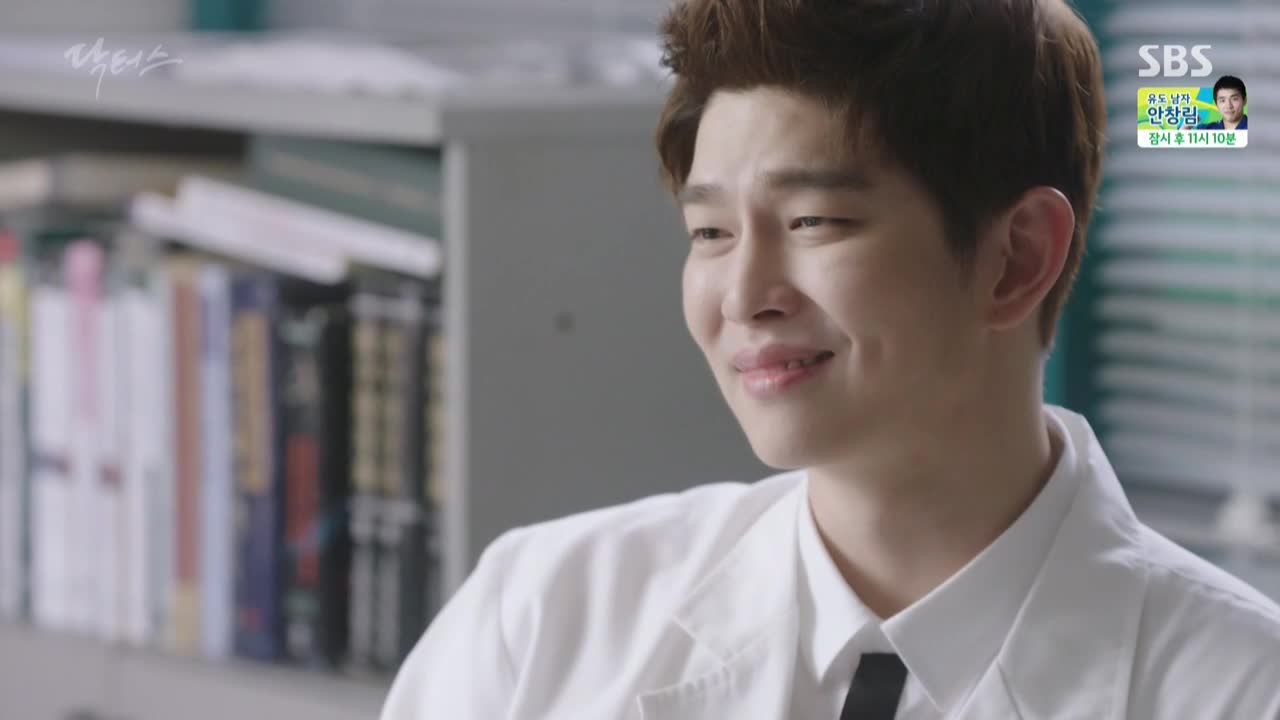 RELATED POSTS
Tags: Doctors, Episode 15, featured, Kim Rae-won, Lee Sung-kyung, Park Shin-hye, Yoon Kyun-sang