Doctors: Episode 18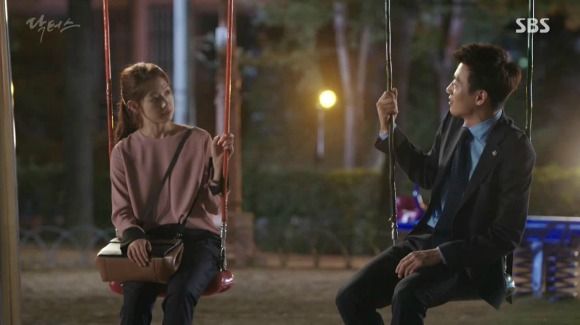 Setting up proper revenge requires a whole lot of patience and hatred. It's not easy to let go of resentment, though it is quite easy to let that resentment overwhelm your life. While Ji-hong can't instill into Hye-jung the wisdom that only time can teach, he embraces her faults and her imperative to seek fair punishment. And through his support, he's reminded of the natural course of justice and karma.

EPISODE 18 RECAP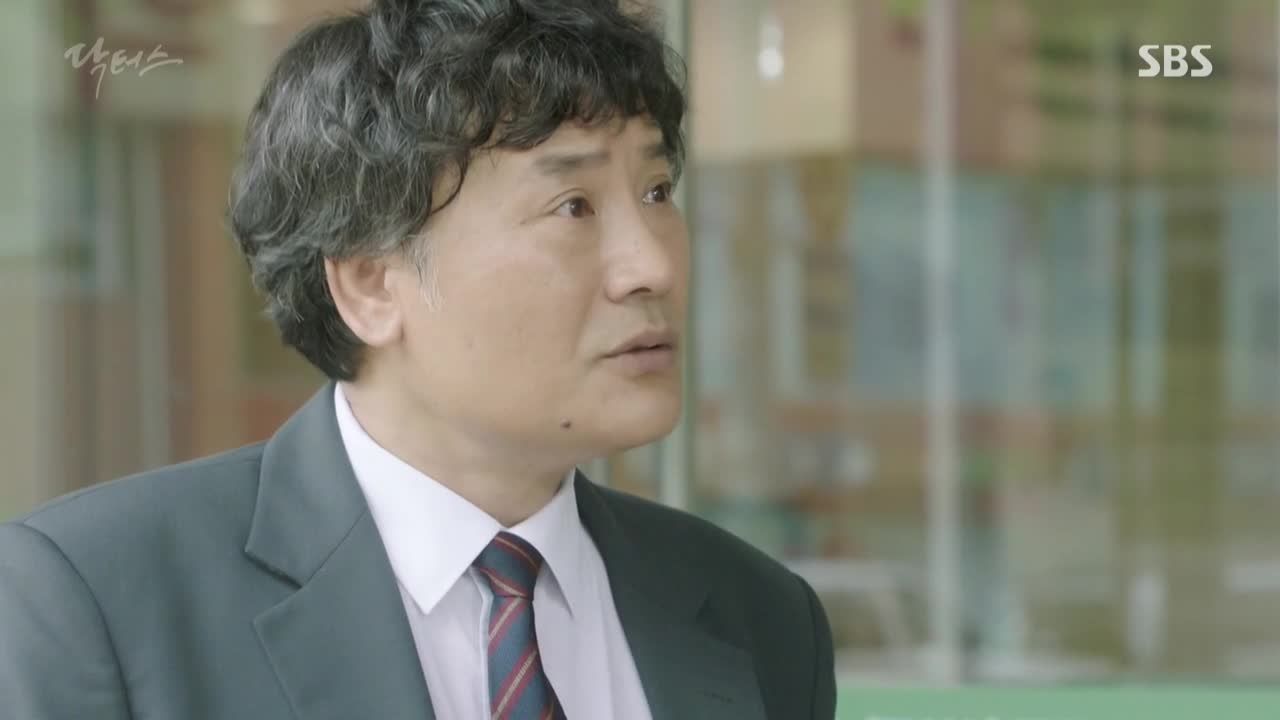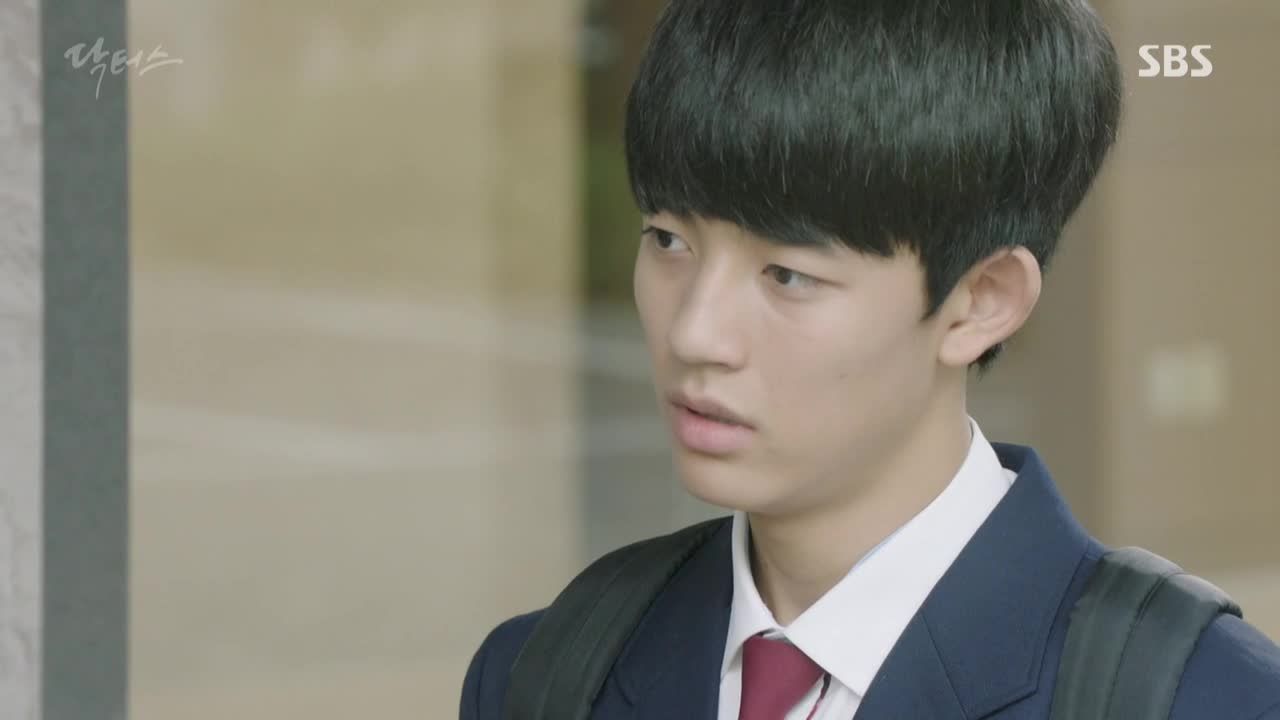 Young Ji-hong waits outside a bank to confront his uncle about selling his house. The house belonged to Ji-hong's parents, but Uncle justifies the sale by telling Ji-hong that it's just compensation for him providing as Ji-hong's guardian for the past year. Uncle has no remorse and says that he's done enough.
Years later, Uncle finds Ji-hong working in the hospital as an intern. He found Ji-hong's information through the orphanage and says that he's at the hospital for dialysis treatment. With a regretful tone in his voice, he tells Ji-hong that his father would be proud and that he knew Ji-hong would be fortunate. As Uncle walks away, Ji-hong watches him silently with tears welling up in his eyes. He narrates: "I had once dreamt of revenge — killing everyone and myself. But there is such a thing as karmic justice, and at the center of that is not me, but the world."
We return to Hye-jung and Ji-hong's tense disagreement about revenge and living in the present. They're stuck at an impasse, so they decide to stop arguing. Ji-hong notes that they're arguing about their different perspectives and leaves for the night.
At the hospital, the residents nervously wait for Kang-soo to wake up. Tae-ho joins them just as Kang-soo wakes up, so he checks his vision. At first, Kang-soo only comments on Kyung-joon's voice, but he soon follows up with a compliment about Tae-ho's tie. Everyone breathes a sigh of relief, knowing that Kang-soo's vision was not impaired from the surgery, and Tae-ho leaves their maknae with a wink.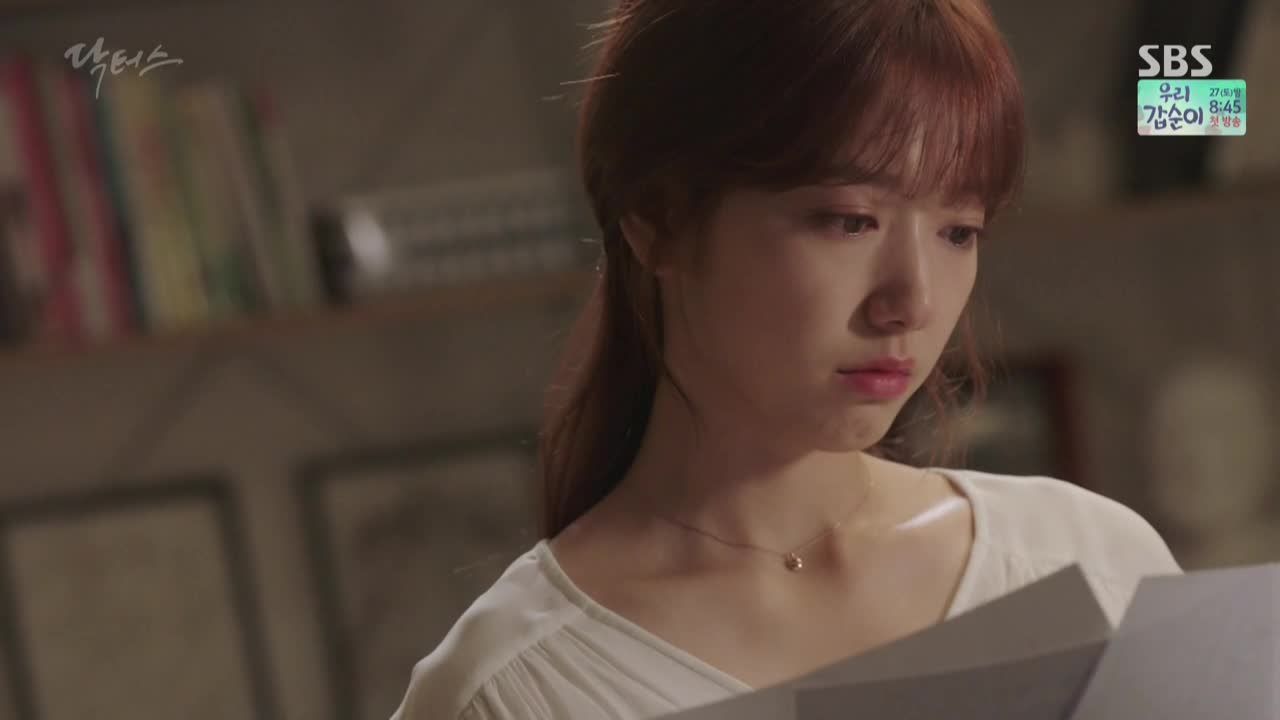 Hye-jung looks over Grandma's medical records and thinks back to her discouraging encounters with the lawyers, Myung-hoon, and Ji-hong. She rips up the records and cries with an intensity in her gaze.
The next morning, Director Jin and Myung-hoon discuss their game plan to convince enough board members to support their geriatric center project. Director Jin seems unsure of how to enfeeble Ji-hong's authority, but Myung-hoon assures him that he's got something to bring Ji-hong down. As he's plotting against his rivals, Myung-hoon receives a call from Hye-jung, who asks to meet again with new developments.
Pa-ran needs a new buddy to commute with and bothers Yoon-do because Ji-hong is busy with Hye-jung's business. He explains to Yoon-do that Hye-jung has found pivotal evidence about Grandma's table death but warns him not to get involved, since Myung-hoon was the surgeon. Neutrality is best, considering their families' close relations, Pa-ran says, but that's not stopping Yoon-do.
Yoon-do meets with Myung-hoon and asks if the board position is still available, to which Myung-hoon responds positively. He plans to add Yoon-do to the board, assuming he will vote in favor of the geriatric center. Yoon-do then calls Hye-jung, and they agree to meet at the hospital since she plans to visit Kang-soo anyway.
Ji-hong checks on Kang-soo and asks him to give a progress report on his own condition. Kang-soo seems to be responding well and seems so happy to hear that he'll be able to pursue surgery again. But his mood dips when Ji-hong tells him to take a break before returning to working. Kyung-joon later explains to Ji-hong that Kang-soo has no place to stay, since he's lived at the hospital while his brother has been serving in the military.
Ji-hong finds Tae-ho waiting outside his office with updates about the forces behind the audit. Through a reporter, Tae-ho found that Director Jin and Myung-hoon had initiated the audit, risking the hospital for their personal gain. Ji-hong suspected this, but he's still shocked that they would act so selfishly. He then shares his suspicions about Director Jin's involvement in his father's death, showing Tae-ho the security camera recordings of Director Jin entering the hospital room. He wonders what could've happened in their twenty-minute interaction.
They deduce that Director Jin and Myung-hoon must have felt threatened by Director Hong's findings, so they decide to target what they perceive as the most harmful weakness: embezzlement of hospital funds. On a different note, Ji-hong tells Tae-ho that Kang-soo has no place to stay outside the hospital. They can't leave lil' puppy homeless, can they?
After his time at the ICU, Kang-soo returns to a regular hospital room, where Younger Bro is literally waiting with open arms. Kang-soo gives his brother a faux-reluctant hug, and they bromantically reunite.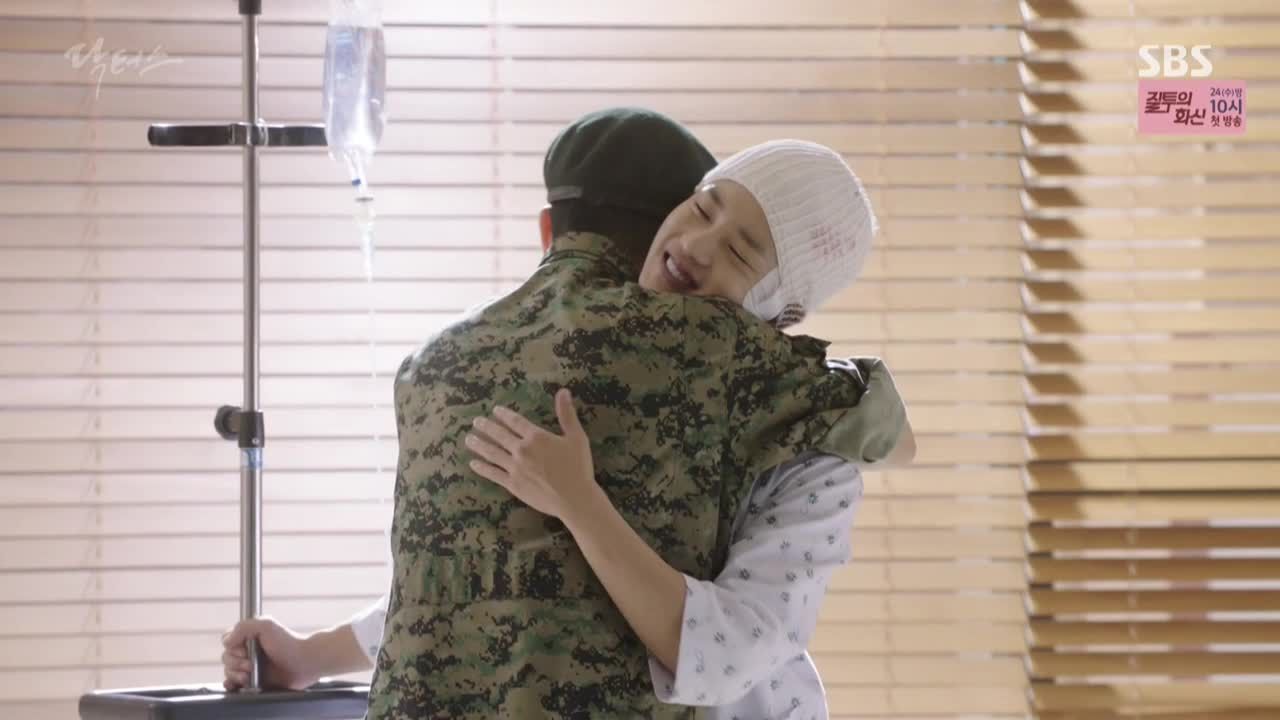 Hye-jung meets with Myung-hoon, and he starts his pen recorder as she walks in. She cuts right to the chase as she reveals her strategy: She's going to kill him. She won't kill him directly but vows to watch his every move, waiting to pounce when he slips. She promises to stay at the hospital to watch him slowly deteriorate. Myung-hoon looks unshaken by her menacing promise and asks if she's threatening him. She confirms that it's a threat and tells him to look forward to his demise.
Hye-jung leaves, and Ji-hong spots her walking down the hall. He tries to catch up to her, but the elevator doors close just as he arrives. Then, his chase is cut short by a call from a board member.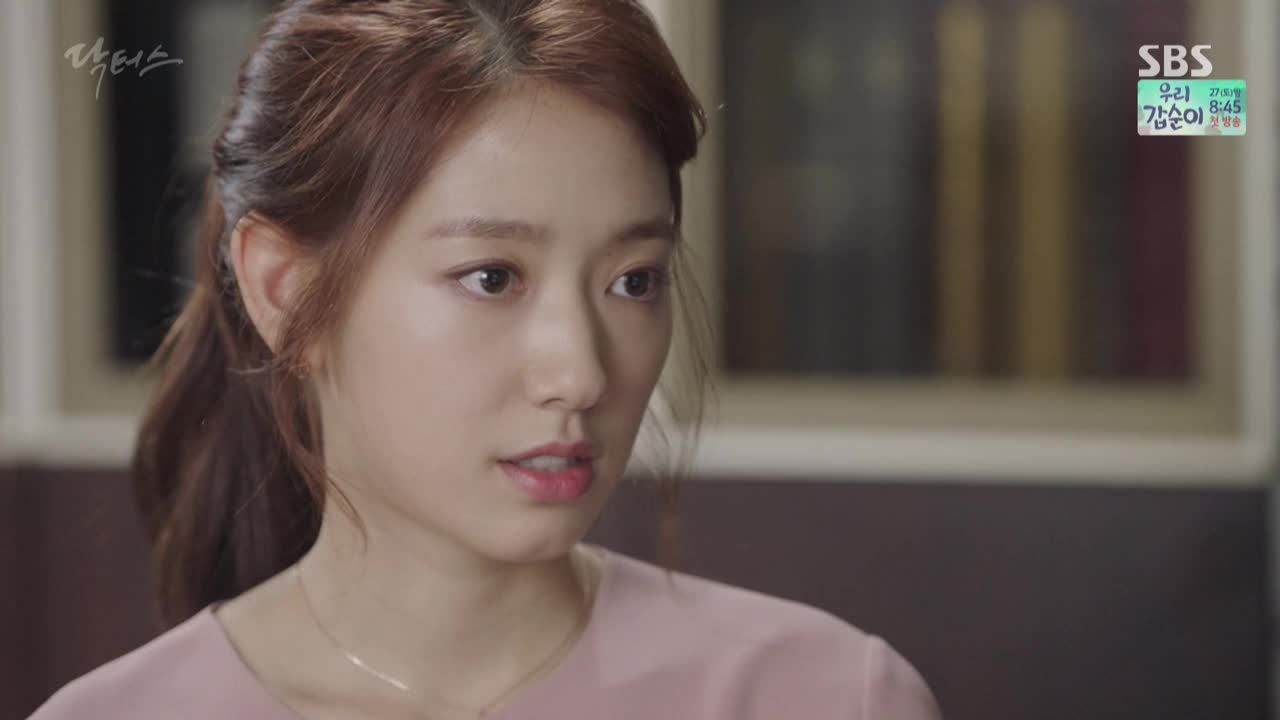 The nurses gossip about Seo-woo benefiting from her father's favoritism, since only Hye-jung suffered the consequences of the VIP patient hand-off. They walk into the bathroom, where Seo-woo finishes washing her hands and acts like she didn't hear anything. But as Seo-woo walks through the hospital, she notices the uncomfortable glances that her colleagues give her. She pulls Young-kook aside to ask if the staff doesn't like her, and he says that they're just gossiping because of unfair treatment. Young-kook then asks why Myung-hoon punished Hye-jung — didn't he like her?
Seo-woo meets with her father to ask why he ordered a disciplinary hearing for Hye-jung. He claims to have simply followed the policies, but Seo-woo knows that there's something more. He refuses to tell her the truth, but he seems happy that she's showing interest in hospital politics. Seo-woo then receives a call from her mother about a blind date, and though Seo-woo isn't interested, her mother is having her way. Parents are taking over once more.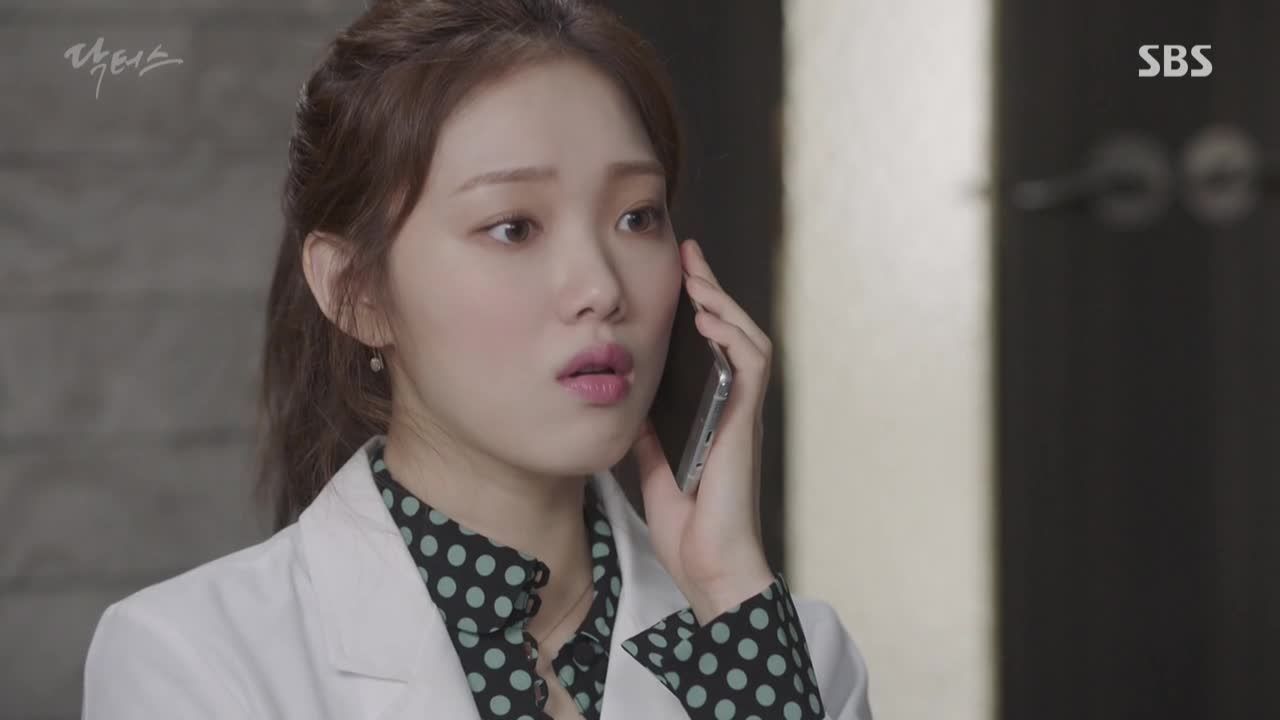 Seo-woo finds Hye-jung in the fellows' office and asks her why she dropped by. Hye-jung says that she met with Myung-hoon, but she doesn't explain any further and feels no obligation to.
Hye-jung visits a sleeping Kang-soo with Yoon-do and Kyung-joon, but Kang-soo surprises them by bursting awake in their company. The jokester maknae keeps his spirits high, saying that he hurts as much as a post-op patient would and joking about looking for a new job since he's recently unemployed. As Yoon-do and Hye-jung leave the hospital room, Yoon-do asks for some of her time to talk.
They end up at our favorite PPL location of all time, and Yoon-do tells Hye-jung that he's joining the hospital executive board to help her. He's figured out Hye-jung's reason to be at this hospital, and Hye-jung asks if he thinks she's acting too recklessly. He says that her recklessness is her charm, and Hye-jung looks encouraged.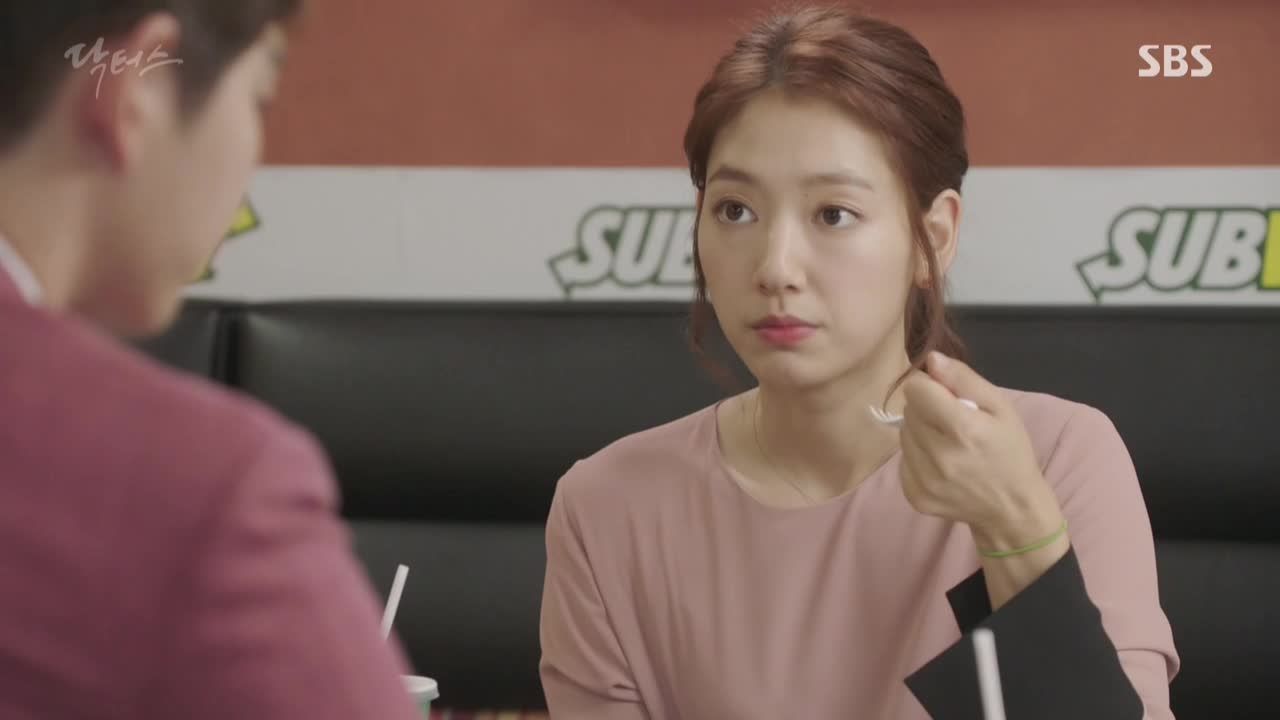 Ji-hong meets with a board member and directly asks for his support in the hospital welfare reform. They shake hands in agreement, and Myung-hoon's assistant watches this interaction.
Myung-hoon summons Ji-hong by baiting him about Hye-jung, and it works. When they meet, Myung-hoon plays the recording of Hye-jung's threat and says that he'll take legal action against her. Though mere words won't have legal consequences, he claims that Hye-jung's past will put more weight to her threat — revealing her high school expulsion history could lead to a chain of events that would ruin her career as a doctor. Myung-hoon negotiates that Ji-hong focus on his deep brain stimulation project as a researcher and take a break from being a doctor; or Hye-jung's career will be put on the line.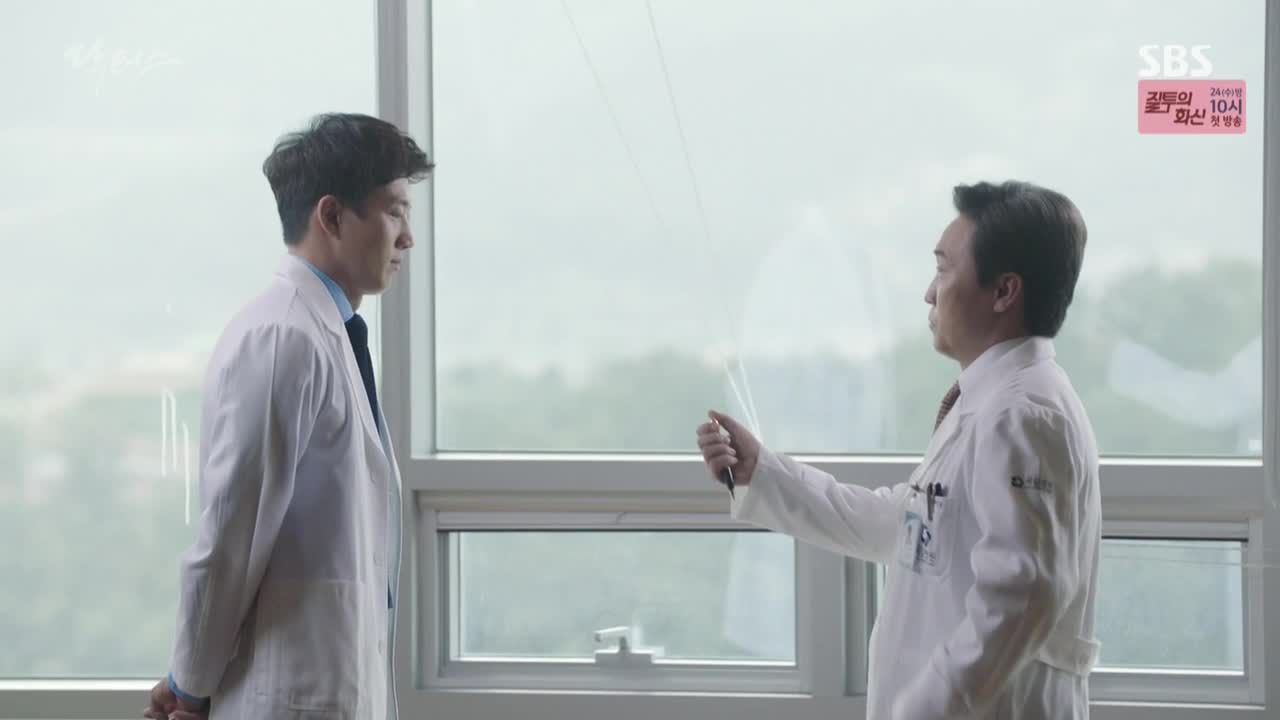 Ji-hong waits for Hye-jung at her house and seems a little disappointed at her distanced greeting. She asks if he's still mad at her because she's sure still mad at him, but he says that he's not mad anymore, "Just because," he says. Hye-jung knows the complexities behind that phrase and asks for an explanation. He says that he knows that she met with Myung-hoon earlier that day and gives her a hug, but she's still not ready to give in. To make her laugh, Ji-hong jokes about her hair smelling (good), which makes Hye-jung more suspicious about what's really going on.
Ji-hong tells her that he's focusing all his efforts on the deep brain stimulation research project, which means that he won't be able to see patients. She doesn't like that and he doesn't either, but he says that he really wants to do it. That's too complicated for straightforward Hye-jung, and she decides to head in for the night. Realizing that she hasn't softened up yet, Ji-hong follows her and pulls her into a back hug. He admits, "If I didn't come to see you by today, I thought that you wouldn't see me again."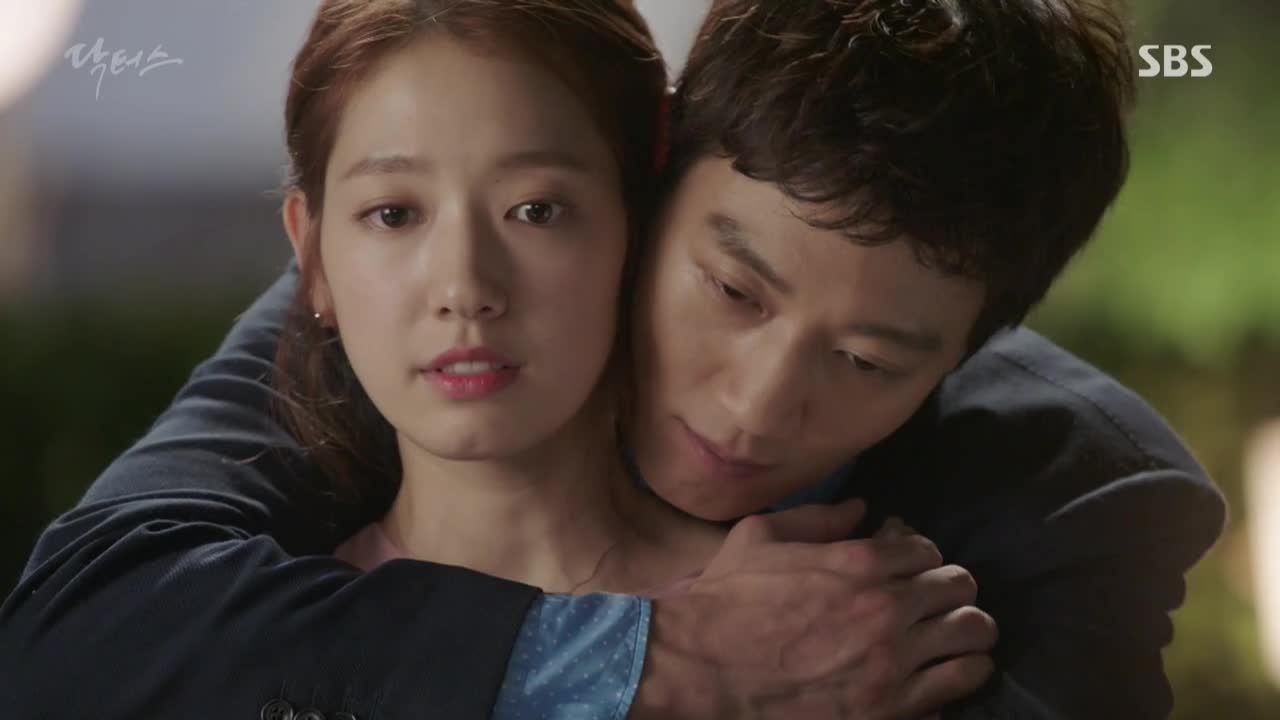 Hye-jung and Ji-hong end up on the playground swings, and she apologizes for not treating him well. Ji-hong shakes his head and reminds her of his father's words that just being by his side is enough. Hye-jung says that she misses Director Hong, and Ji-hong corrects her to call him "father-in-law." He says that's the one thing she did wrong, and Hye-jung comes right back by criticizing Ji-hong for calling Grandma "granny." He reminds her of her apology just a moment ago, which makes them laugh about her competitiveness.
Ji-hong also apologizes, saying that he can't make her happy even though he confessed his love for her. She says that it's her fault — for being unfamiliar with happiness and for her tendency to find misfortune. Ji-hong wonders how she can overcome that, and she presumes that she'll find out when she finishes her homework. He reminds her that he's by her side, and she says that she can't forget because he's the support in her life. Ji-hong reaches out to hold her hand, finally reconciled.
We check in with the dedicated husband, who watches over his unconscious pregnant wife in the ICU and notices that her body temperature has increased. He notifies the doctors, and Seo-woo orders a cooling pad to lower her temperature back to normal. Soon after, Hye-jung receives a call from Kyung-joon that Husband wants to speak with her. On the phone, Husband tells her that he wants to take his wife off of the ventilator.
Hye-jung arrives at the hospital, where Husband is in turmoil about his decision. He loves his wife more than anyone, but he says he's causing her pain by trying to keep her alive. He admits that he can't recognize his wife's face anymore and calls himself selfish for wanting to escape this turmoil. Hye-jung persuades him to endure for the sake of his wife and child, saying that his wife could only survive this long out of love. Husband decides to endure since his wife is enduring, and administers the cooling pads himself.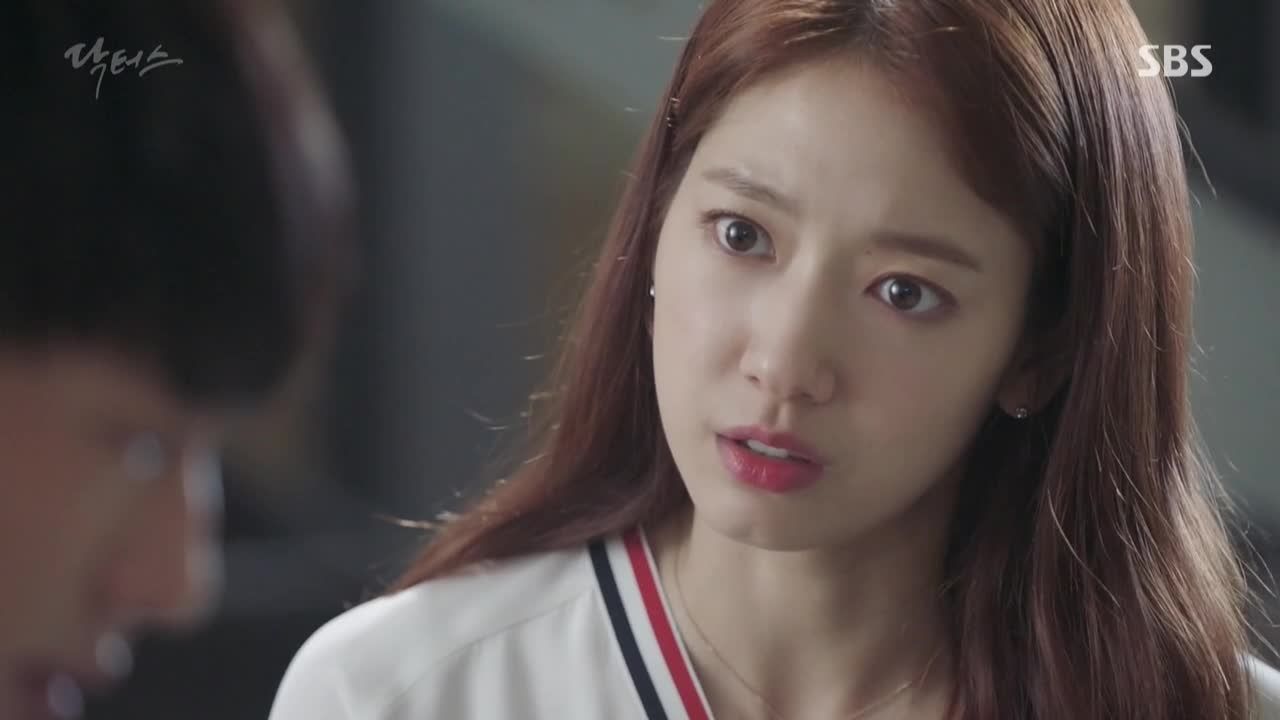 Younger Bro Kyung-soo gives his brother a bank book with his savings and tells Kang-soo that he wants to help pay for his hospital bills. He saved up his earnings from the military to do something for his brother. But Kang-soo returns it to him, telling him to use the money productively for himself. He reminds his younger brother that he's a well-off doctor — he pays only half the rate for his surgery and receives a solid salary. Kyung-soo worries about his brother's unemployment and living situation during his recovery, but Kang-soo sends him off with a salute, telling him not to worry.
When Kang-soo returns to his room, he runs into Tae-ho, who was just looking for him. Tae-ho offers Kang-soo a position in the neurosurgery department as an administrative assistant for about a year until he fully recovers and returns to his residency. Overwhelmed with gratitude, Kang-soo accepts the position and gives Tae-ho a hug. Aww, puppy is excited!
Tae-ho finds Ji-hong in his office and asks why he decided to take a break from surgery to take on the research. Tae-ho can't believe that Ji-hong could live without attending to patients, but Ji-hong says that he'll be on a very brief hiatus. Regarding Director Jin's embezzlement funds, Tae-ho has put together the pieces and presumes that evidence of over ten years of embezzlement discovered by Director Hong would have definitely threatened Director Jin. They decide to move forward with the investigation and head over to the board meeting together, eager to watch the board vote against the geriatric center proposal.
Director Jin assures Myung-hoon that he's secured enough votes, and they confidently greet the board members as they enter. Tae-ho and Ji-hong arrive, as does Yoon-do. The meeting begins, and Myung-hoon rushes the vote soon after Tae-ho's introduction. Voting commences, but we're not shown the outcome.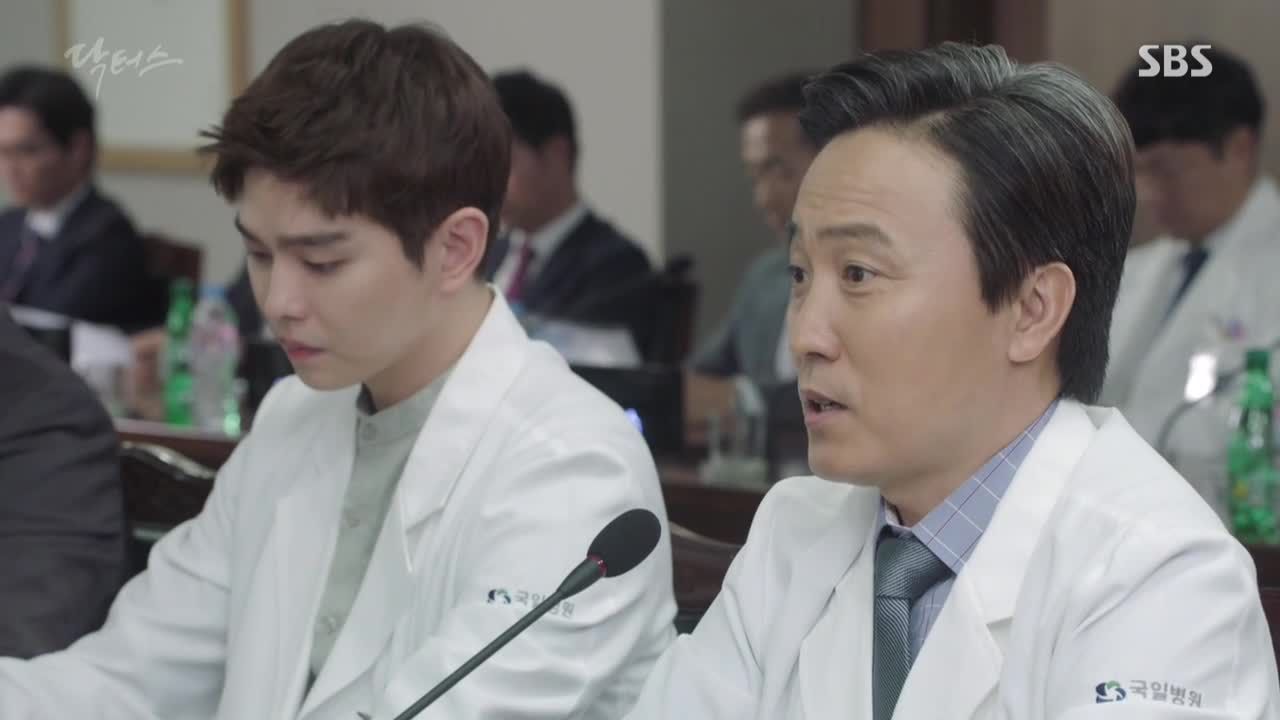 Three weeks later. Hye-jung has returned to her position after her suspension and orders a surgery for Yoon-do, since Ji-hong isn't doing surgeries for now. We jump to Ji-hong, who greets Director Jin and Myung-hoon as they enter the hospital. The board member who initially agreed to support Ji-hong stands behind Director Jin and avoids eye contact with Ji-hong.
Ji-hong heads off to meet with Tae-ho after his curt greeting, and Director Jin discusses the geriatric center construction funding with Myung-hoon. Tae-ho comments on the father-son pair's confidence, and Ji-hong says that it's because they won. Tae-ho has collected the evidence against Director Jin, but the suspected embezzlement amount from the hospital trust funds of five hundred million won isn't enough to indict Director Jin.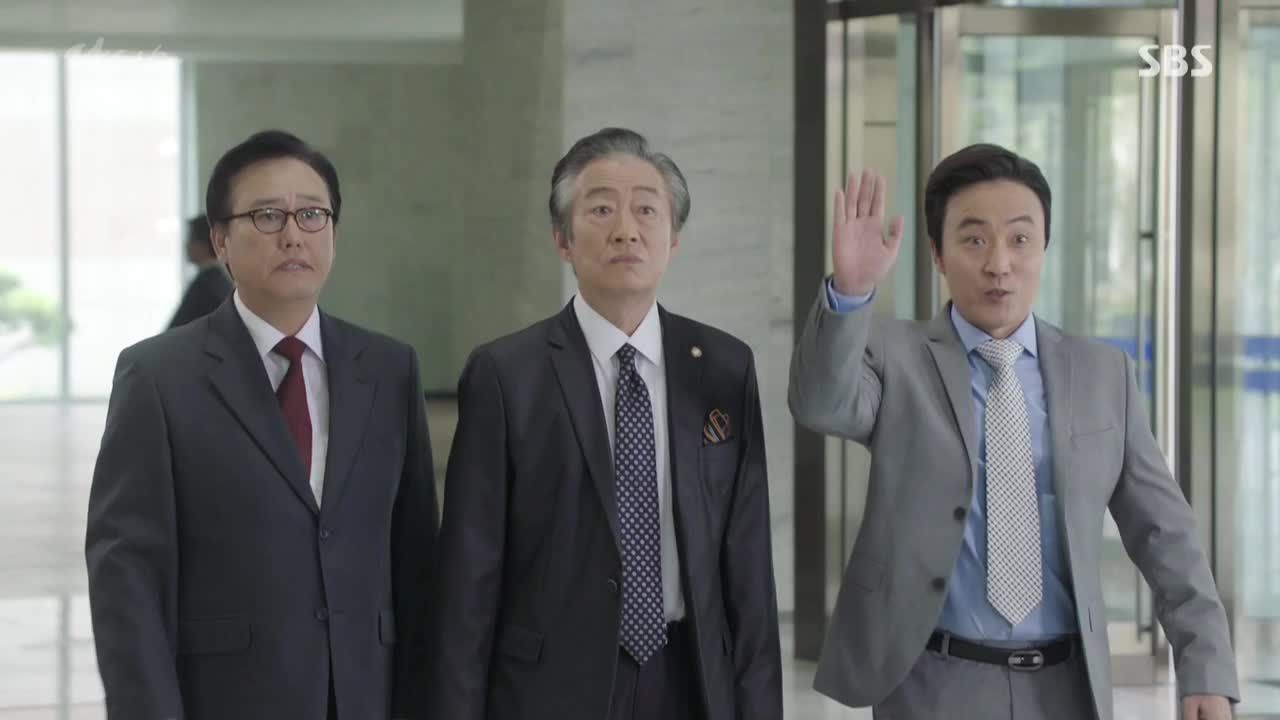 Meanwhile, Director Jin and Myung-hoon discuss the grant for Ji-hong's deep brain stimulation research. It's ten billion won, and Director Jin seems surprised at the grand scale of the research. He asks Myung-hoon why he restricted Ji-hong to research, and Myung-hoon explains that surgeons don't like management. Thus, the restriction from surgery is inconvenient for Ji-hong. Director Jin then proposes that they reallocate some of Ji-hong's research investment money for their geriatric center construction.
And that's just what Tae-ho is suspecting them of. Tae-ho and Ji-hong reconsider the timeline of events that led up Director Hong's death. They suspect that Director Jin somehow found the embezzlement evidence collected by Director Hong and then retaliated. Tae-ho reminds Ji-hong that they know Director Hong well, and they both say at the same time, "There's more." By that, they mean that Director Hong made more copies of the evidence he collected. There are probably some copies around them, and they both decide to carefully seek them out.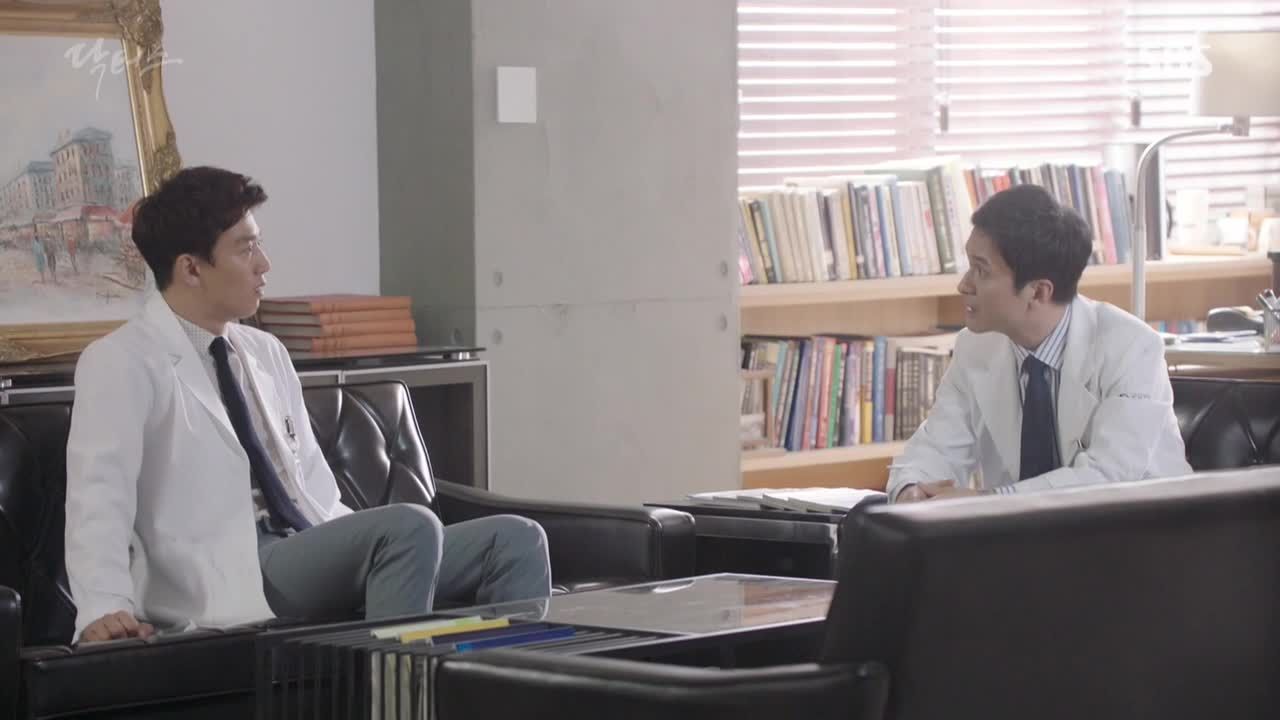 Yoon-do meets with Myung-hoon separately, and Myung-hoon reminds him that he voted on Ji-hong's side at the last meeting. Yoon-do stands his ground and says that he believes in expressing his own opinions, and Myung-hoon doesn't seem too upset because he won anyway. Then, Yoon-do presents him with documents regarding the hospital's trust funds, which don't add up correctly. He knows that these documents are not a major hindrance yet, but he figures that they're enough of a threat, and warns Myung-hoon to get off of Hye-jung's case. Myung-hoon looks infuriated by the betrayal.
Kang-soo takes on his new role as the assistant at the neurosurgery department bearing snacks, making him the popular kid at the department. Hye-jung comes to greet the staff on her first day back, and they welcome her back with excitement. Seo-woo watches the staff bond with Hye-jung with a silent tinge of jealousy.
In the fellows' office, Seo-woo greets Hye-jung, but they don't hold any conversation. Seo-woo receives a call from her father about eating lunch together with Director Jin, but she rejects the offer. Before Hye-jung leaves, Seo-woo asks about the relationship between her father and Hye-jung. Seo-woo can sense something is off and asks Hye-jung to tell her because her father won't. Hye-jung asks if hurting Seo-woo will inflict pain on her parents and considers telling Seo-woo just to cause Myung-hoon pain. Seo-woo doesn't seem to mind or care and continues to ask for the truth.
Hye-jung says that whenever she sees Seo-woo, she's reminded of the time they played together after their midterm in high school. At the time, Hye-jung couldn't even imagine herself as a doctor. With that, Hye-jung leaves the office, and Seo-woo thinks back to their high school days. While Soon-hee had dreams about marriage and kids, Seo-woo had dreams to become a doctor like her father. When they asked Hye-jung, she said that she wanted to run a restaurant with Grandma to make her happy, and the girls wanted to join the restaurant chain with her.
After the surgery, Seo-woo asks Young-kook if people at the hospital dislike her father. He acknowledges that some people don't like him but others do. It doesn't matter to her if people like him, and all she says is, "I'm going to end it now."
Yoon-do asks about Hye-jung's progress in her revenge and invites her out to lunch as friends. As they head out, they run into Director Jin and Myung-hoon. Yoon-do and Hye-jung are polite and friendly with Director Jin but share tense glances with Myung-hoon. After they leave, Director Jin compliments Hye-jung on her resilience while Myung-hoon stresses about Yoon-do's behavior. Director Jin notices Myung-hoon's anxious behavior and reminds him that the world now belongs to him.
Ji-hong looks through his father's belongings in search of any copies of the collected evidence, but he doesn't find anything. It's not going to be that easy. Seo-woo also searches for answers, but it's not easy for her either. She calls Soon-hee and asks her to tell her the truth, reminding her that they were once close friends.
Hye-jung meets with Myung-hoon in his office, and he expresses surprise at her return. She says that she keeps her word, unlike Myung-hoon, who holds different values. He asks if she wants to work under a person with different values, and she explains a story from her youth. She points out that Myung-hoon will probably know about that time in her life, since she knows he investigated her past.
She tells him of the time that Grandma forced her to eat in jail, saying that as long as you're breathing, you deserve to eat. And her point: "I work my fingers to the bone to earn my meals. I don't believe that someone earns my meals for me. My values for my work ethic are important; your values have no influence on me."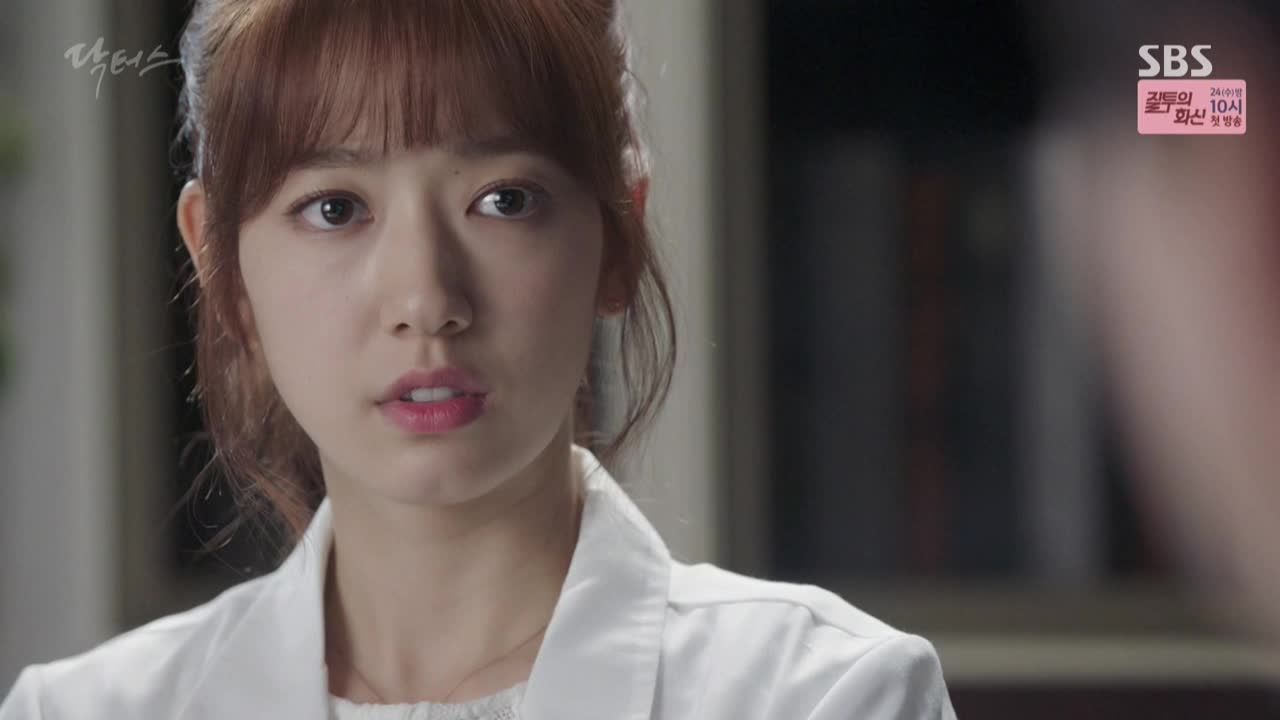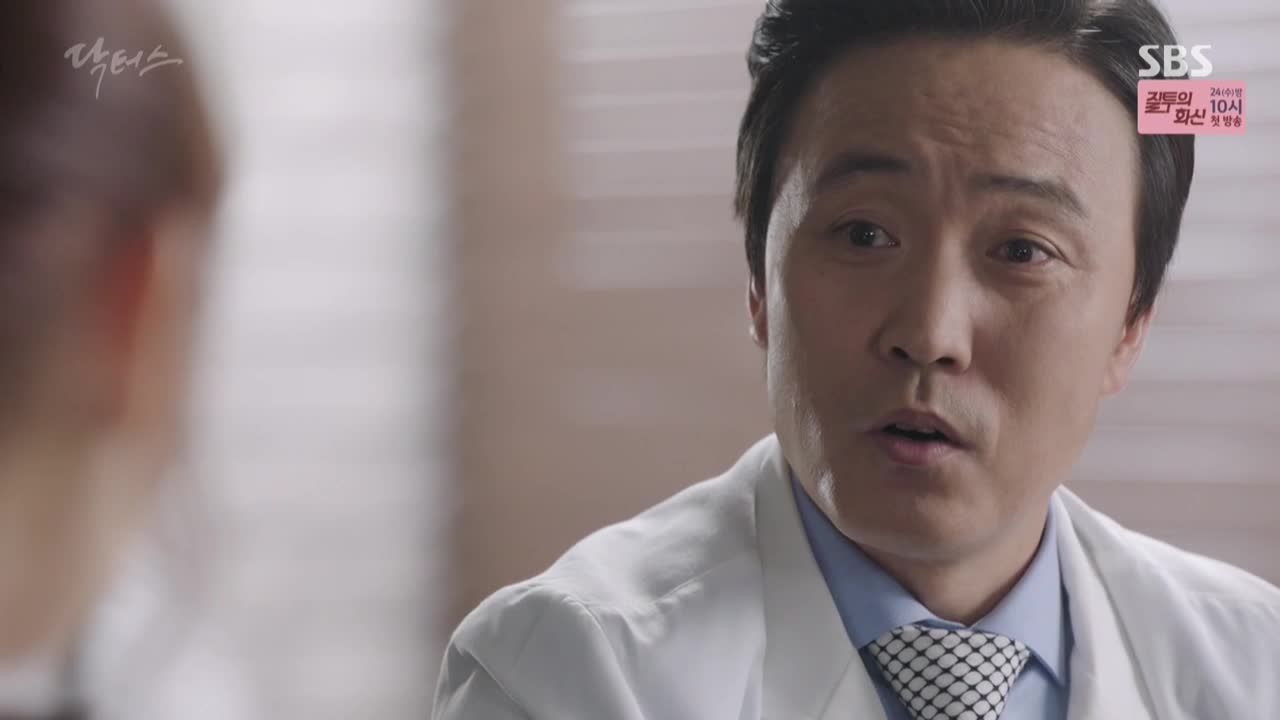 Myung-hoon acknowledges that she's not ordinary but reminds her that he's not letting her off because she's so great. He reveals that Ji-hong took on the DBS research because of her past and present actions. He says that Ji-hong took responsibility for her actions and suggests that she leave the hospital before she burdens others with her hindrances. Despite her shock, she keeps her act together and says that she won't leave the hospital because Myung-hoon wants her to leave. But as soon as she leaves Myung-hoon's office, Hye-jung looks shaken by the news.
Hye-jung drives to Ji-hong's place, and meanwhile, Ji-hong looks through all of his father's boxes in search of any copies of the collected evidence against Director Jin. He lies on the floor after a long search and mindlessly pulls up one of his father's fishing rods. And right at the end, a USB dangles from a string. He's hit the jackpot.
Ji-hong looks through the file and shows off a slight smile of victory as he reads the thorough evidence gathered by his father. Just in time to celebrate his findings, Hye-jung arrives at his apartment. She tells him that he played against the rules by not letting her be helpful. She demands to know why he was sent to the research center, but Ji-hong is all smiles. Hye-jung's disappointed and embarrassed that she's not of any help to Ji-hong, but Ji-hong doesn't acknowledge or seem to mind his sacrifices.
He reminds her that she taught him what to do in these situations and takes her arms to wrap around his waist. He strokes a strand of her hair and swoops in for the kiss. And they smooch and smooch and smooch the night away. Ji-hong narrates: "Justice flows like a river out of sight. You just can't see it."

COMMENTS
Well, that's one way to celebrate forthcoming justice. I've come to enjoy and appreciate the romance between Hye-jung and Ji-hong because of the growth that has happened on both sides. I don't think the growth happened equally, but there were definitely defining moments of growth for both of them. The relationship dynamic did change to become more appropriate, but Ji-hong is clearly the older and wiser one in the relationship. There is a level of maturity and wisdom that Ji-hong gained through time, and that's just not something that Hye-jung can absorb without personal experience. I think this was the core of my frustrations with Hye-jung in these recent episodes — she stubbornly stuck to her own rationale for revenge. She wasn't willing to give or sacrifice any part of her revenge. Frustrating… yet charming, as Yoon-do pointed out so aptly.
There's something about obstinate and reckless Hye-jung that makes her so charming and attractive as a character. She never strives for complacency and remains persistent in her fight against those who wronged her and Grandma. Her tenacity is something very characteristic of Hye-jung — something we've seen since her earlier high school days — and that quality makes her the heroine we root for despite her pitfalls.
This episode was full of set-up for the sweet retributive justice coming our way, and I'm ready to let karma do its job. Driven by greed and inferiority, Myung-hoon and Director Jin have sure dug themselves into a deep hole without any method to escape. The more I see their father-son dynamic, the more I feel for Seo-woo, who grew up watching her father as her idol. Hye-jung may have had small and humble dreams, but what she inherited from Grandma is not something Myung-hoon could ever buy. Slightly unfortunate that money can't resolve everything for him, since a bit of self-esteem and moral values would do wonders for that family.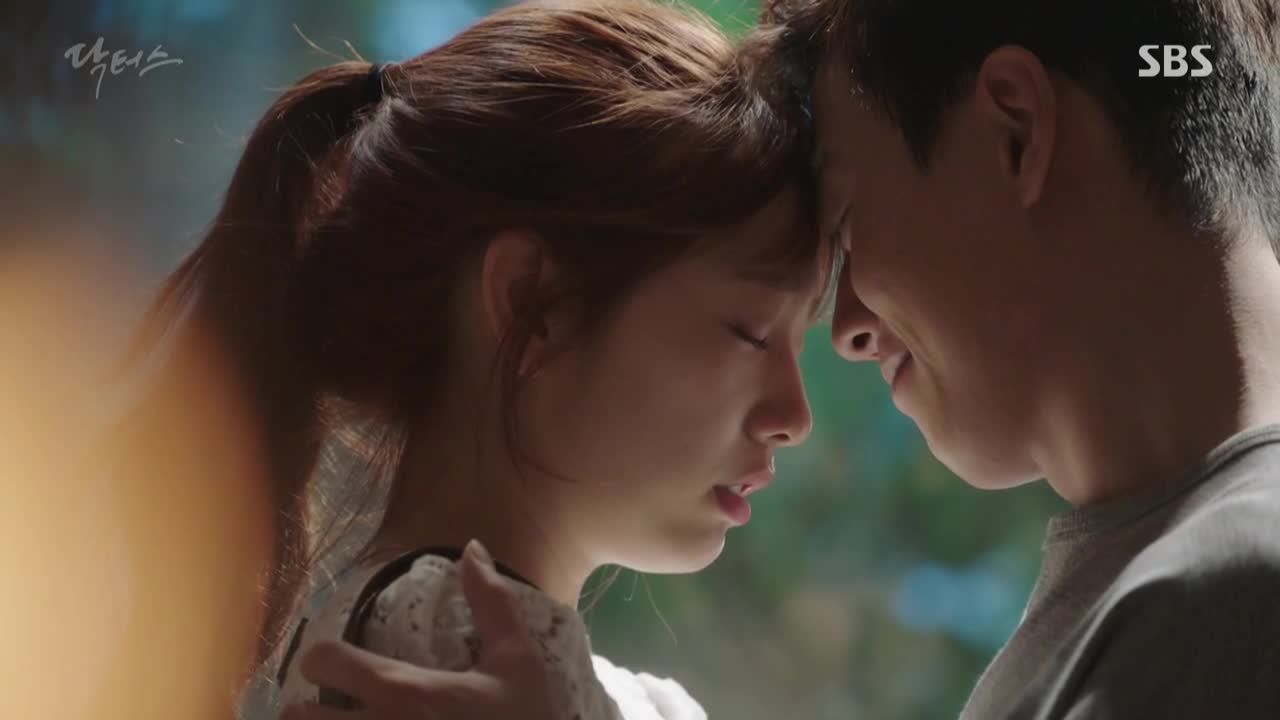 As this show is wrapping up, I can sense that it's kind of floundering to tie up all its loose ends. There are plenty more loose ends that need to be taken care of, and I'm sad that we've gotten to that point in the show where side characters are simply used as props to wrap up the story. Yoon-do would have been a great character to explore in more depth, to understand why he rejects his ties to money and power. Sure, the show characterized him as a simple guy with a clear sense of self, but it would have been more interesting to understand his motivations a bit better. He was what we needed when we needed him — stern, comedic, adorably swoony, Siberian husky, expert surgeon — and I'm sad that we won't have enough time to learn more about his character as an individual.
I have many more questions for the show regarding side characters as we approach the end. Like where the hell is In-joo? What happened to Soo-chul? You can try to distract me with puppy Kang-soo and his generous hugs, show, but I'm keeping track and watchin… oh look — Yoon-do eating Subway!
RELATED POSTS
Tags: Doctors, Episode 18, featured, Kim Rae-won, Lee Sung-kyung, Park Shin-hye, Yoon Kyun-sang