Eccentrics and noona-lovers for cheery romance Fantastic
Hot on the heels of the main leads, the second leads of JTBC's upbeat human/romance drama Fantastic have their own character posters now, bringing the total count up to five. The initial posters featured series stars Kim Hyun-joo playing a drama writer with a terminal illness and Joo Sang-wook as the terrible actor who falls in love with her.
First up, we have Park Shi-yeon (Greatest Marriage) playing Baek Seol, who married into a prominent political family. The character starts out as "cosplaying a good wife and mother," which I take to mean she's playing the part on the surface, but lacking sincerity inside. In her school days she was something of a tough girl, riding around on motorcycles and displaying a hot temper, but now she keeps that temper under wraps, hiding her true nature to appear calm and modest. However, as the drama progresses, she finds true friendship and love. Her poster reads, "I thought life was about holding back and enduring."
Kim Tae-hoon (One More Happy Ending) takes a departure from his previous roles to play eccentric "fourth-dimension" doctor Hong Joon-ki; he treats the heroine for her terminal illness, and is himself a fifth-year cancer survivor. Described as the most positive person in the universe, he's the living, breathing example of the concept of "well-dying" (the counterpart to well-being), having laughed even in the face of death when he was unable to treat his illness with chemotherapy or any other anti-cancer methods. His poster reads, "Life? We're all terminal patients anyway." With his warmth and cheerfulness, he'll form a "special love triangle" with Kim Hyun-joo and Joo Sang-wook.
Last but not least, we have Ji-soo (Moon Lovers: Scarlet Heart: Goryeo), whose poster literally reads, "Noona-sshi, what does age matter?" Well, they sure pegged their audience — it's like they know us so well! I mean, in the drama he's talking about Park Shi-yeon, but really, I'm pretty sure that line is directed at all of us. (I particularly love the noona-sshi, which pairs the formality and distance of sshi with the familiarity of noona, like he's trying to sneak past the social boundaries to inch his way closer, not that he has to try very hard at all.) Ji-soo plays a young lawyer with looks and brains who turns innocent and boyish in the face of love. He'll have a noona romance with Park Shi-yeon in the drama.
Fantastic will take up the Friday-Saturday JTBC timeslot from Age of Youth, and premieres on September 2.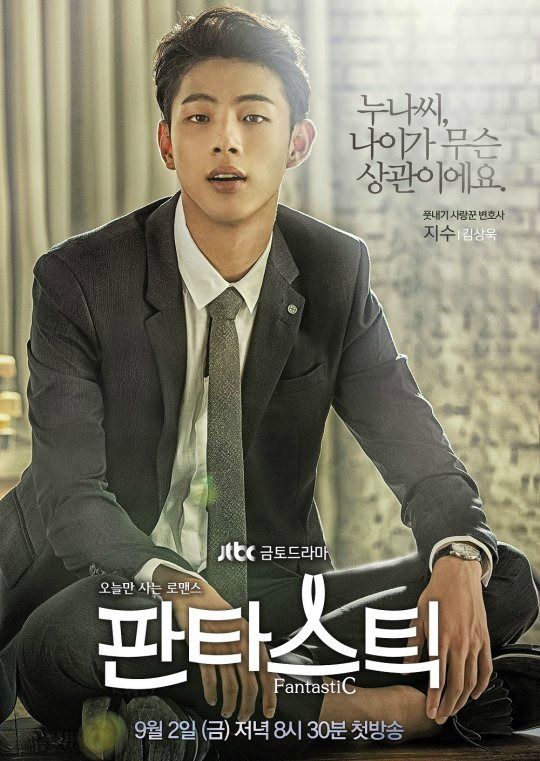 Via Sports Donga
RELATED POSTS
Tags: Fantastic, Ji-soo, Kim Tae-hoon, Park Shi-yeon