Entourage scores late-night timeslot, to premiere in November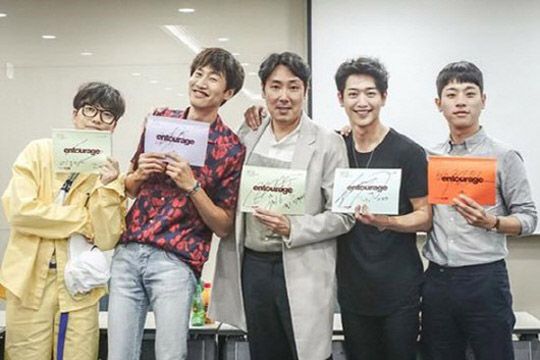 Finally, Entourage is on the schedule! The K-drama remake of HBO's hit has been in the works for seemingly ages, and was supposedly going to be on the air this year, only the year kept passing by and schedules got booked and Entourage wasn't on any of them. But now it's official, and Entourage has scored tvN's newest late-night timeslot: Fridays and Saturdays, post-Cinderella and the Four Knights.
It's a brand-new drama hour for tvN, which already had one Friday-Saturday drama spot earlier in the evening, at 8:30 p.m., which was home to hits like Signal, Misaeng, Answer Me 1988, and The Good Wife. That's followed by variety hour (currently Three Meals a Day), and then the second drama offering starts at 11 p.m.
A rep with tvN explained that this later hour would differentiate itself from the earlier one, and would allow for more experimental, fresh, edgy programming. I'm pretty sure none of those words apply to Cinderella and the Four Knights — it's cute and fun, but pretty familiar and safe — but I do expect that Entourage will feature racier content, since that was the whole slant of the HBO original: slick, edgy, sexy. As much as I love that Korean dramas have a flavor that's entirely different from Hollywood, I don't know that Entourage would be Entourage without all the posturing, swearing, sex, and the free-talking, free-wheeling feel. I'm very curious to see how the Korean industry translates that vibe.
The drama centers around a tight-knit group of four childhood friends, one of whom (Seo Kang-joon) has made it as a movie star. His buddies come along for the wild ride of fame and fortune, despite being a pack of lovable losers, each with their own set of quirks, and they navigate the world of entertainment and celebrity with a lot of comedy, swagger, and sometimes even some heart. Among the group are the level-headed manager (Park Jung-min), the has-been who's no longer recognized (Lee Kwang-soo), and the upbeat, carefree Lee Dong-hwi. Not to mention the power agent (Jo Jin-woong), who pretty much always stole the show in the original. I'm pretty sure Jo Jin-woong is up for a little scene-stealing, yes?
Entourage began filming in June, and aims to be fully pre-produced. It premieres on November 4.
Via Sports Chosun
RELATED POSTS