Jealousy Incarnate: Episode 1
The green-eyed monster rears its ugly head in SBS's new romantic comedy Jealousy Incarnate. Light, funny, with interesting characters (so many characters!) and a cute premise, the show makes a pretty good first impression. There's even a little mystery to pique your interest, and one of the prettiest love triangles you'll ever see.

EPISODE 1 RECAP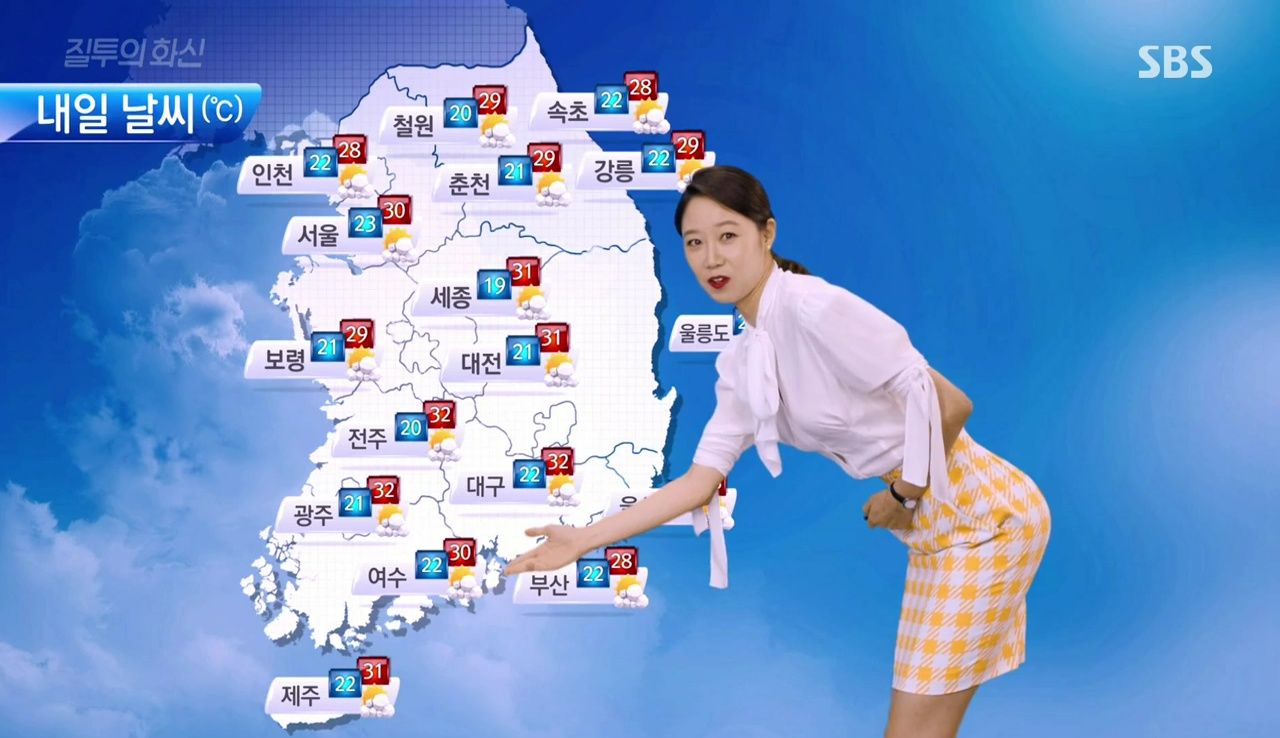 We open on four adorable cartoon creatures, controlling the Earth's weather from their spaceship in orbit. A rogue meteor knocks their ship out of the sky, and it falls to Earth, down a chimney, and into someone's living room as the weather outside goes haywire.
On the television, a pretty weathercaster for SBC News discusses the unseasonable heat, and we find ourselves in the broadcasting room with her. She seems very professional and confident, but we see that her shirt has been clamped together in the back to make it appear tighter, and in her ear the director tells her to stick out her chest and her butt more. Yuck.
The weathercaster's name is PYO NA-RI (Gong Hyo-jin), and her true dream in life is to be a news anchor. After her segment, she quietly parrots the current anchors, hoping to get her own shot one day. She's plucky and eager, and jumps in to help wherever needed once the broadcast is over. But despite her sunny nature, she doesn't seem to get much respect.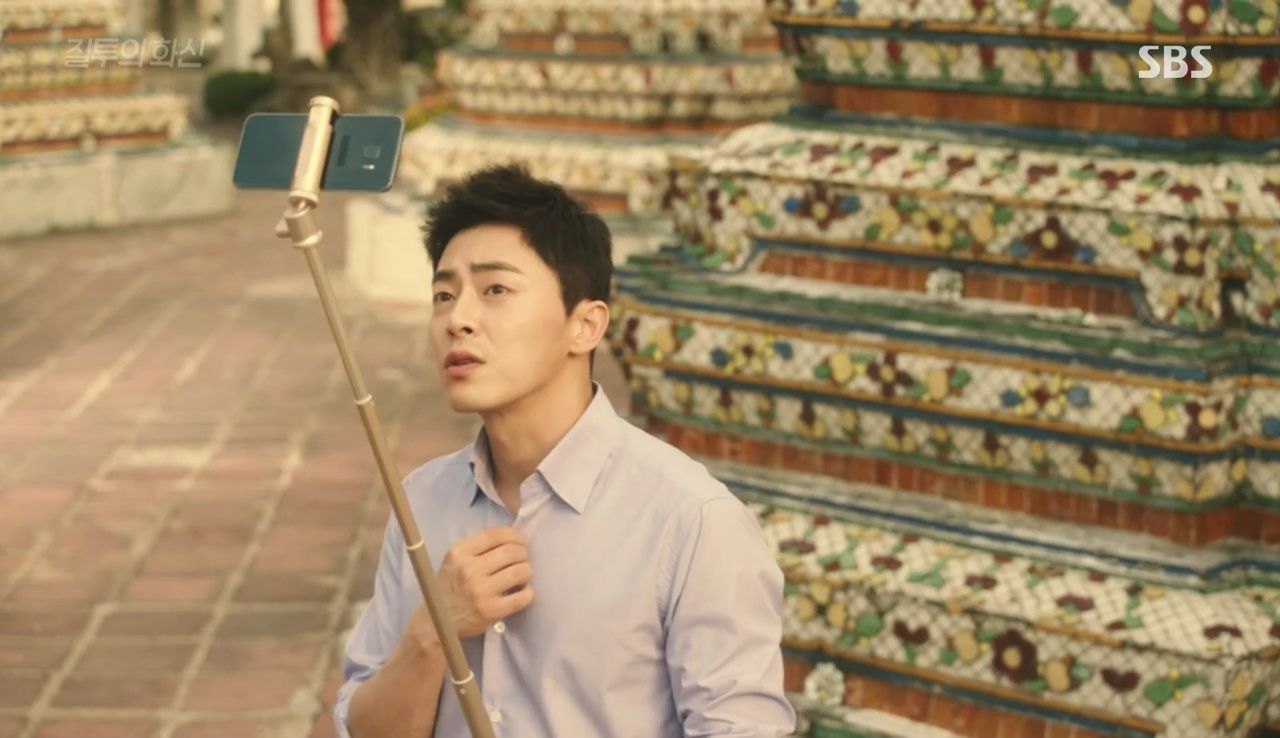 Miles away in Bangkok, a man checks his appearance in his camera, then proceeds to film several segments about the city. He's LEE HWA-SHIN (Jo Jung-seok), a former news anchor who's planning his return to Korea after a long overseas assignment. [The drama's title is a pun on his name, since hwashin means "incarnate." –girlfriday]
Once he's finished for the day, he heads to a nightclub, where he arrogantly admires a man's shirt and girlfriend in Thai. He insults the girlfriend as common but wants the shirt because it's a limited edition, and the girl slaps him across the face.
Hwa-shin ignores her completely and asks the man how much he wants for the shirt, then tells the guy that he doesn't have the right muscle build for that shirt. The guy punches him and leaves the bar with his girlfriend, with Hwa-shin calling out to the girl that she should date a rich man. What an ass.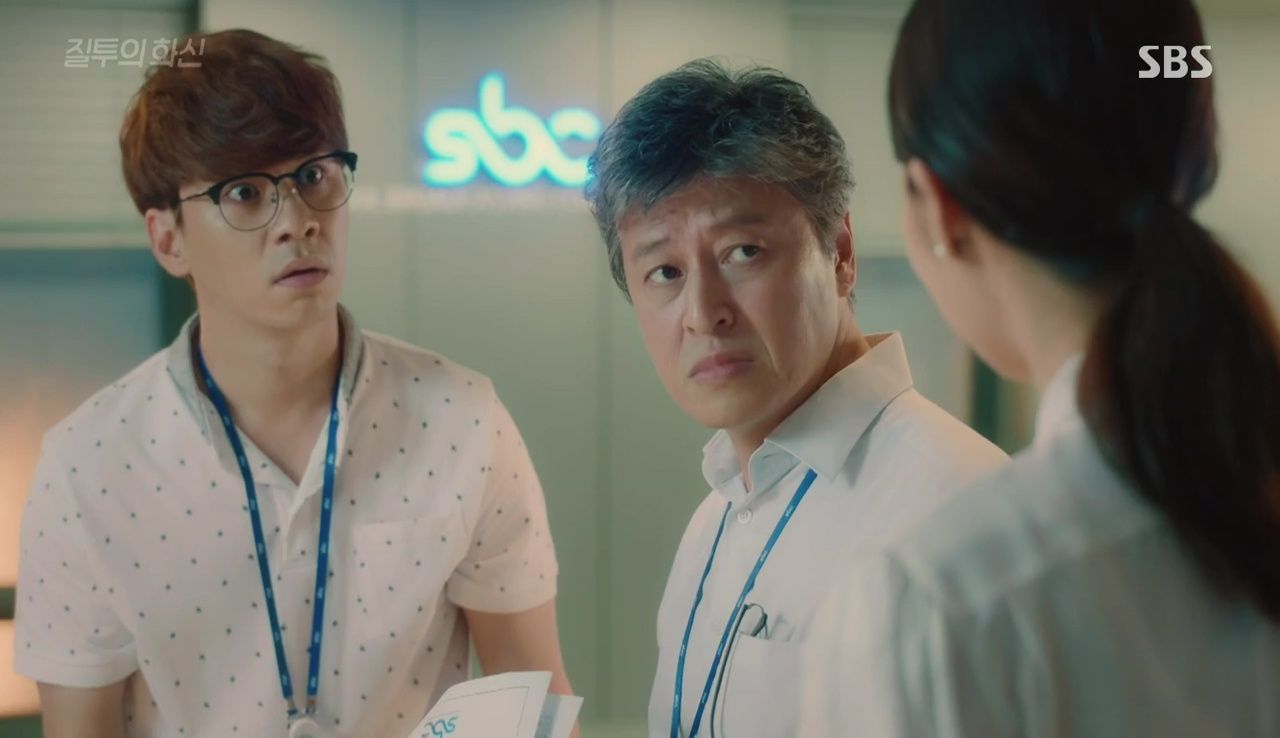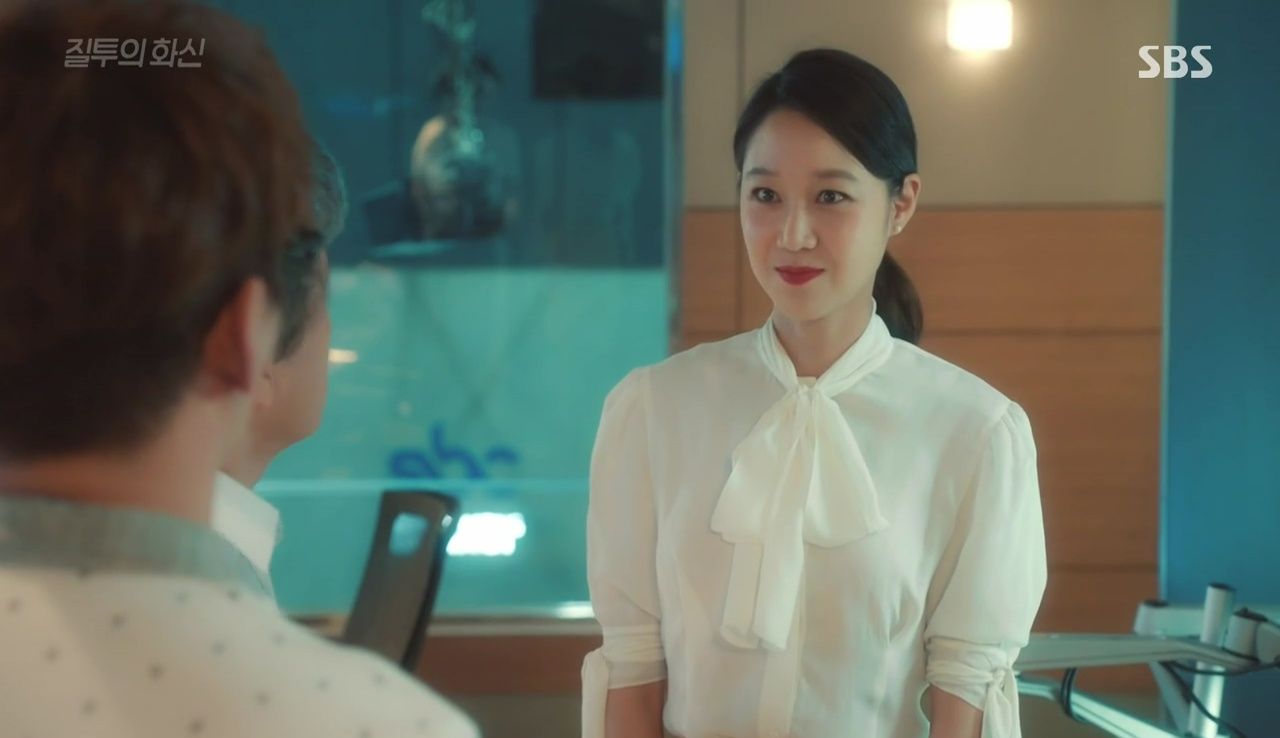 Na-ri goes back to the broadcasting room after everyone has left for the day, and sits behind the anchor desk. In her mind she broadcasts the evening news with her partner Lee Hwa-shin, but her little fantasy shatters when an irritated voice says that that's not her seat. Oops.
The voice was the news show's producer, PD OH, who's in the control room fending off the director's request to okay the budget for a segment filmed in Thailand. He tells the director, CHOI DONG-GI (Jung Sang-hoon), to just use the existing Bangkok staff.
Na-ri overhears their argument and eagerly volunteers to go to Bangkok as the support staff. The men ignore her until she offers to do it for half wages, then basically pile the entire makeup and hair responsibilities on her. Dong-gi scoffs that he can't possibly do the shoot with only one staff member, and Na-ri asks to be paid in advance. Ha.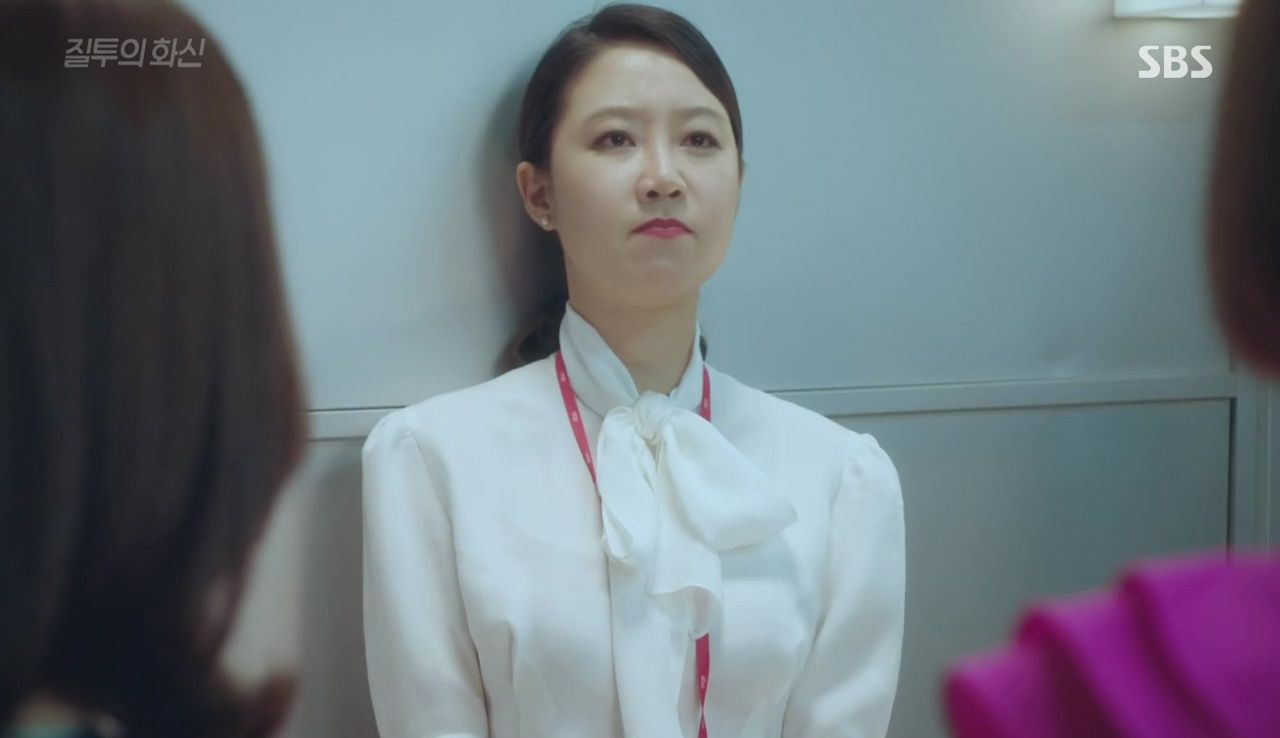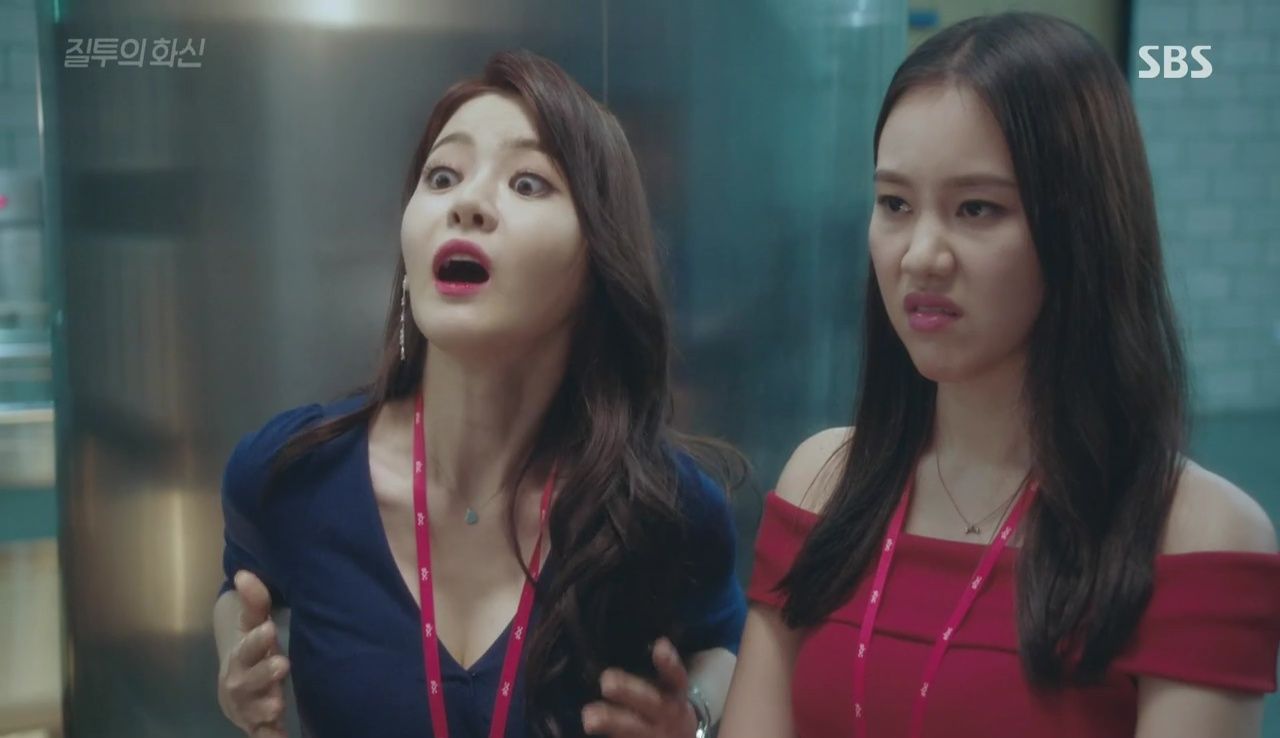 She does get her advance, and on her way out she's surrounded by the other female weather announcers. They're angry that she's volunteering to do extra work because it makes them look bad, and even blame Na-ri for their own mean treatment of her.
Na-ri argues that she'll get everything she can from this wretched job while she can, and she'll show them all later when she's a success. She's told to have a little dignity, for the sake of them all, but Na-ri softly says that they're not really announcers.
That sets off the other women, who berate Na-ri for doing as Dong-gi says when he tells her to stick out her boobs and butt on air. One woman tells her to stand up straight like a real news announcer, and Na-ri asks if that will truly make the others treat them like real announcers.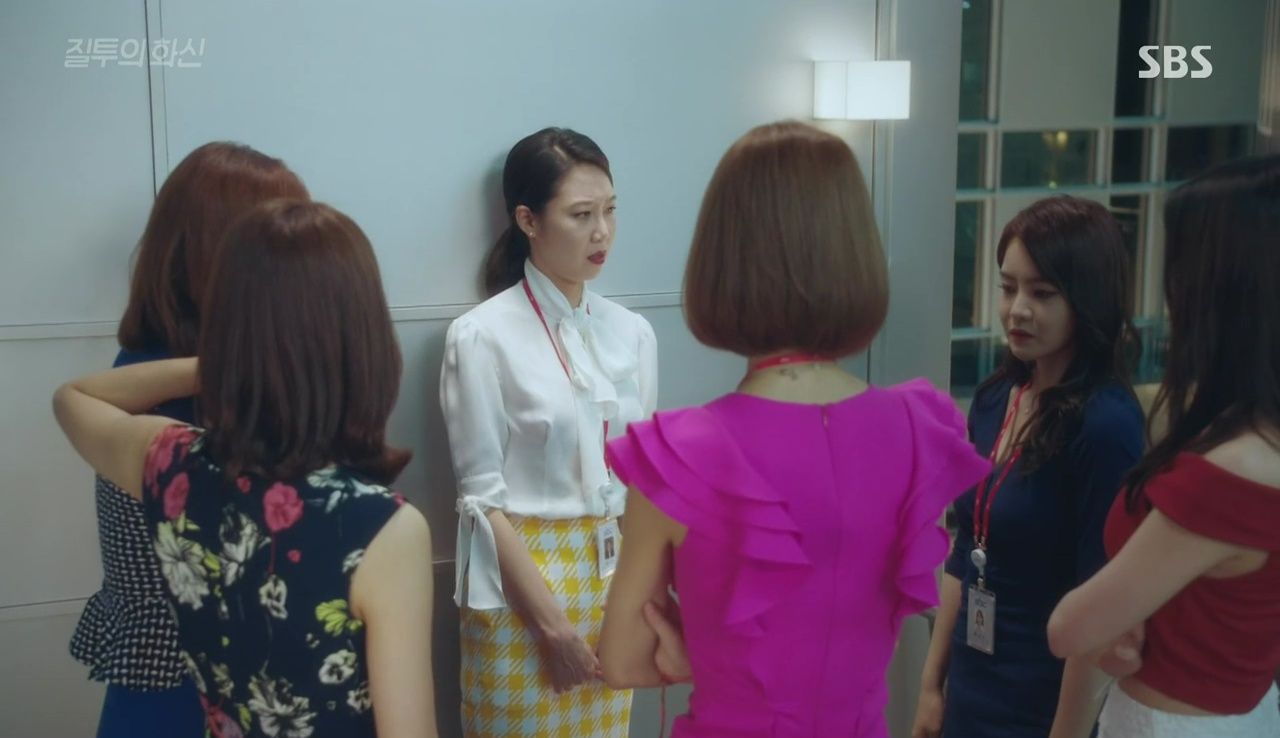 She tells them to stop picking on her — after all, they're all just weather announcers who work for peanuts. That does seem to get through to the other ladies, and they all sulk at the truth.
The female news anchors walk through the lobby just then, and the weathercasters face off with them like rival gangs about to rumble. Na-ri makes eye contact with a group of younger anchors, and she's reminded of her auditions, when she'd hoped to make anchor herself.
She'd been one of four final candidates: The two best would be made anchors, and the two who failed could chose to stay on as weather announcers. Of course Na-ri hadn't been one of the top two, and the weather job had been offered to her and the last candidate. The other girl had indignantly refused the offer, but Na-ri had taken the weather announcer position.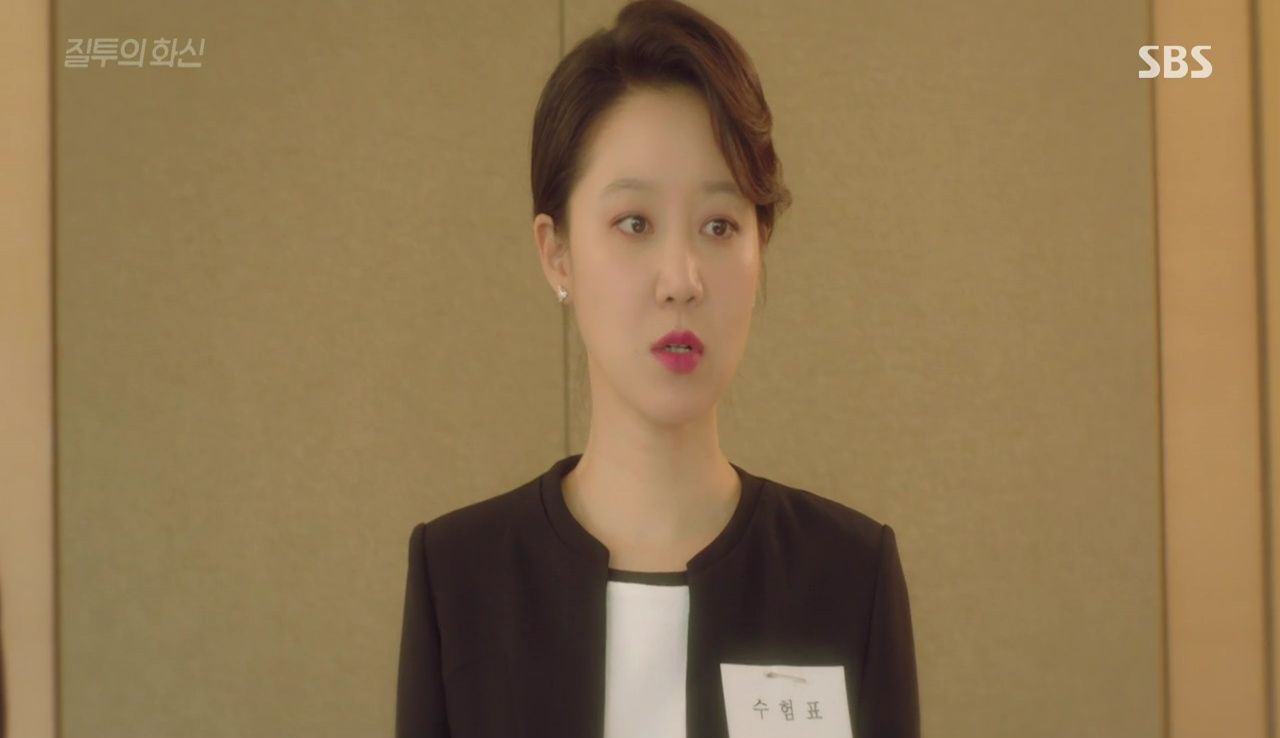 Now the group of weather announcers bow respectfully to the anchor women, and one of the anchors (one of the duo who had auditioned with Na-ri) whispers to her superior that Na-ri pads her butt. And HAHA, it's true, as we see later when Na-ri gratefully peels off her padded underwear.
At the end of the day, a teenager is accused of "stealing" cram school classes by not paying for the course. The attendant calls him a thief, but the student calmly argues that there were empty seats, so there's no reason why he shouldn't sit there. The boy starts to strip his clothes off, angrily inviting the attendant to search him for stolen goods if he's going to call him a thief.
In the doorway, Na-ri comes upon the scene just as the student is dropping his pants, and she yells out his name, PYO CHI-YEOL (Kim Jung-hyun). She asks what he'll do if all these girls see his body and fall in love with him, ha, and Chi-yeol looks abashed. Na-ri apologizes to the attendant, and pays for his classes while Chi-yeol dresses.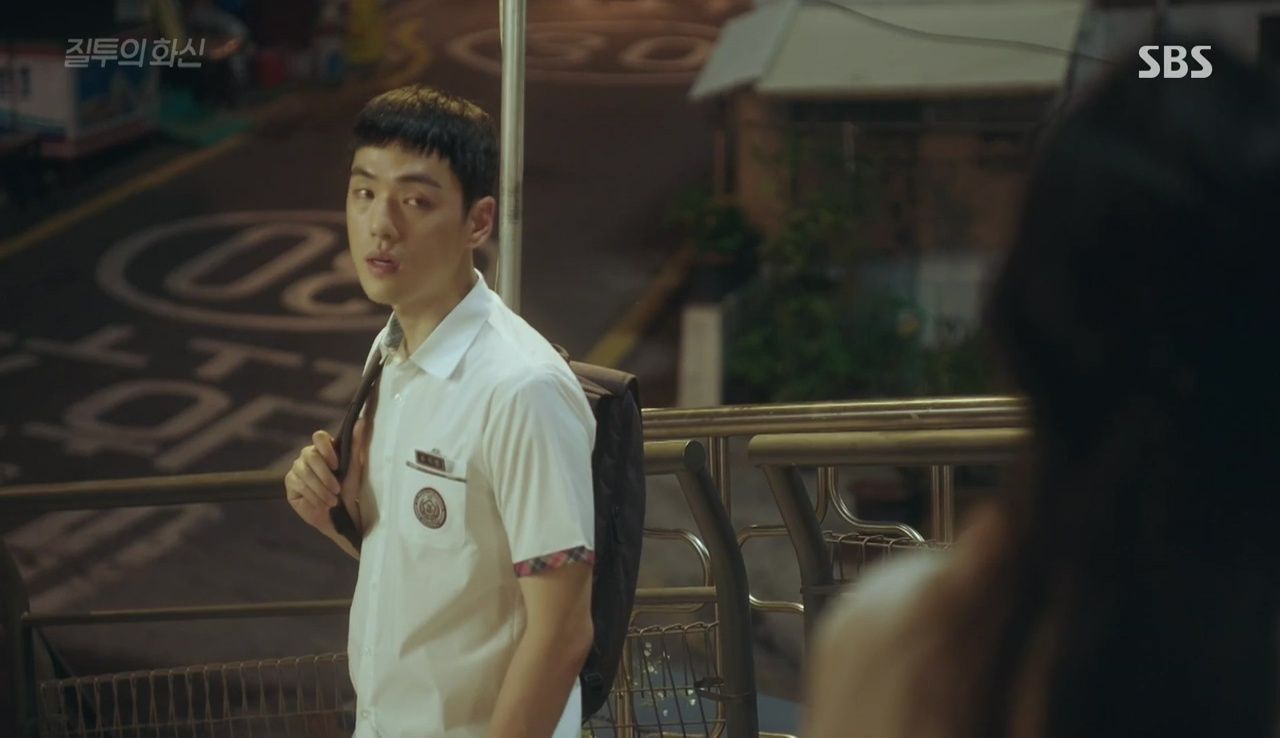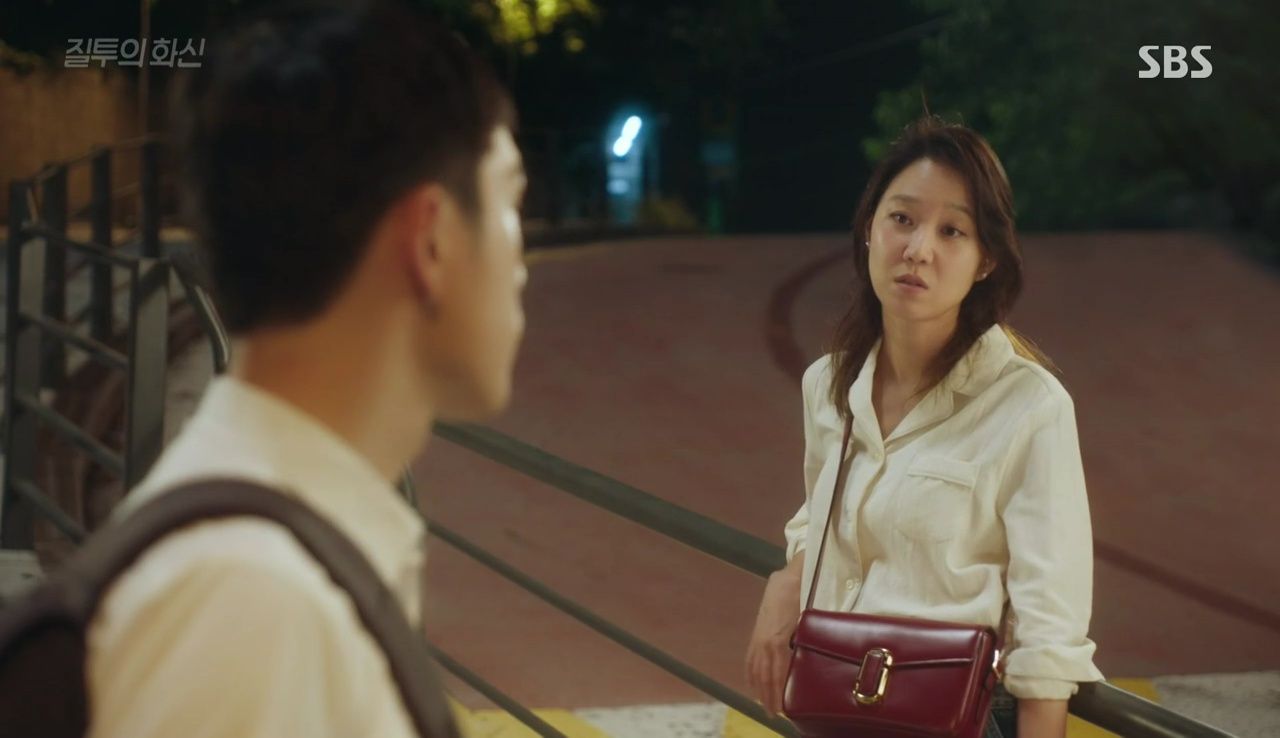 Ah, he's Na-ri's younger brother, and the two walk home companionably. Na-ri jokes that paying his tuition feels like finishing her homework, and Chi-yeol tells his big sister to just work hard, when she apologizes for not having a better job.
They stop to enjoy the beautiful evening, and Na-ri wonders how far it is to Bangkok. She says that when "he" left three years ago she'd vowed to go there one day and make him fall in love with her. She'd even thought about taking her clothes off like Chi-yeol. But life happened, and she never found the time.
Later that night, Chi-yeol goes outside to find Na-ri asleep on their little rooftop patio. He sweetly tells her sleeping form not to take her clothes off for a man, and carries her inside.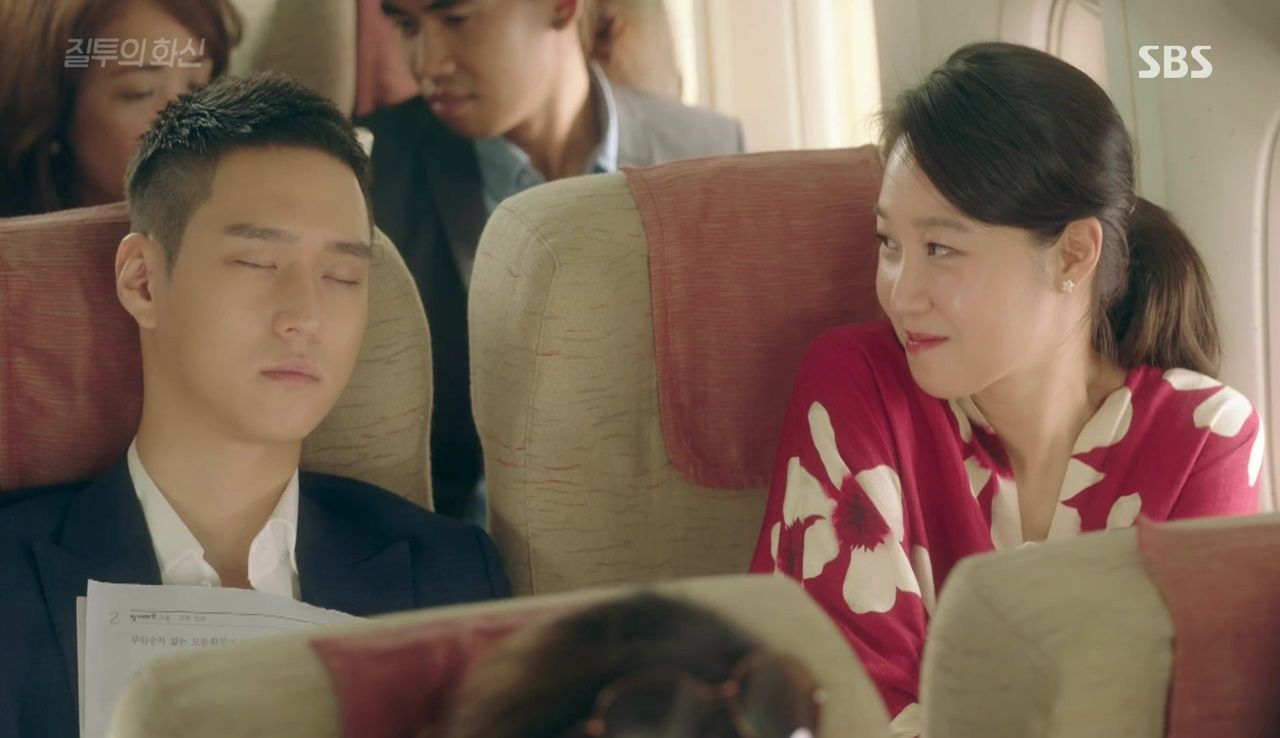 Over in Bangkok, Hwa-shin enjoys a gorgeous morning with exercise and breakfast, and takes a call from someone asking him to coffee. The caller is an old colleague, GO JUNG-WON (Go Kyung-pyo), who seems to handle every encounter with an offer to go for coffee. He's heading to Bangkok on business, coincidentally taking the same flight as Na-ri and director Dong-gi.
Na-ri is so excited to be flying first class, probably for the first time ever, until Dong-gi informs her that her seat is back in coach. Ouch. Her luck improves when handsome Jung-won sits next to her, and promptly falls asleep. Na-ri stares at him as he naps, mesmerized by his good looks.
She follows Jung-won through the airport after they land, and she's so distracted that she bumps into a man accidentally. He turns and Na-ri realizes that it's Lee Hwa-shin, whom she's worked with before. He recognizes her as well, and tells her to be more focused when she works with him. Ah, so they're here to film him.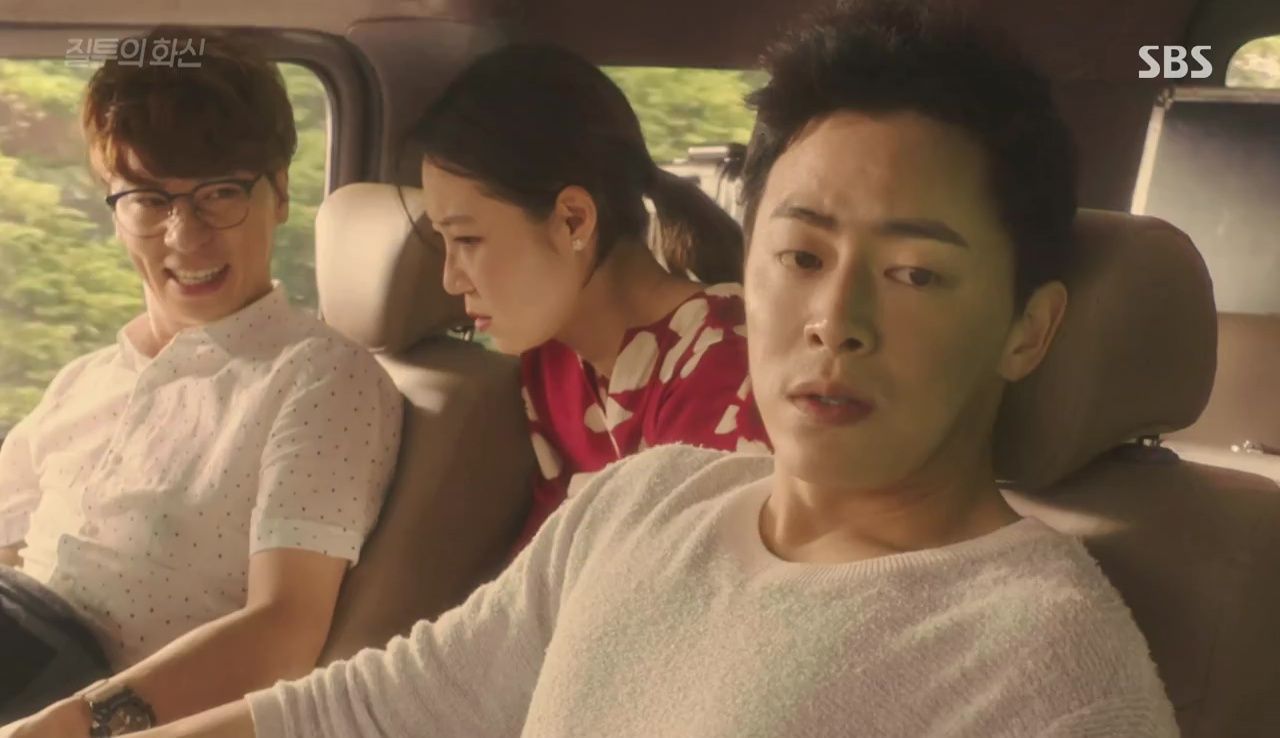 Hwa-shin is already grumpy on the way to the shooting location, unhappy that it's not going to be in the place he planned. Dong-gi avoids his questions about the rest of the crew (since it's just Na-ri), and to deflect, he reminds Hwa-shin of how Na-ri used to have a huge crush on him. Well that's just awkward, not that Hwa-shin gives a damn.
As the director sets up the location, he sends Na-ri to Hwa-shin's hotel room to help him with clothes and makeup. Hwa-shin tells her to send in the makeup artist so she leaves, but comes right back in with her makeup case. He huffs in annoyance, but allows Na-ri to do her work.
Heh, she's a little rough at this, and basically smacks his face with the powder puff until he begs her to stop. While she's doing his eyebrows, Hwa-shin opens his eyes, and the close eye contact throws Na-ri for a bit of a loop. He tells her to send in the hair stylist so she leaves again, then back in with the comb. Pfft.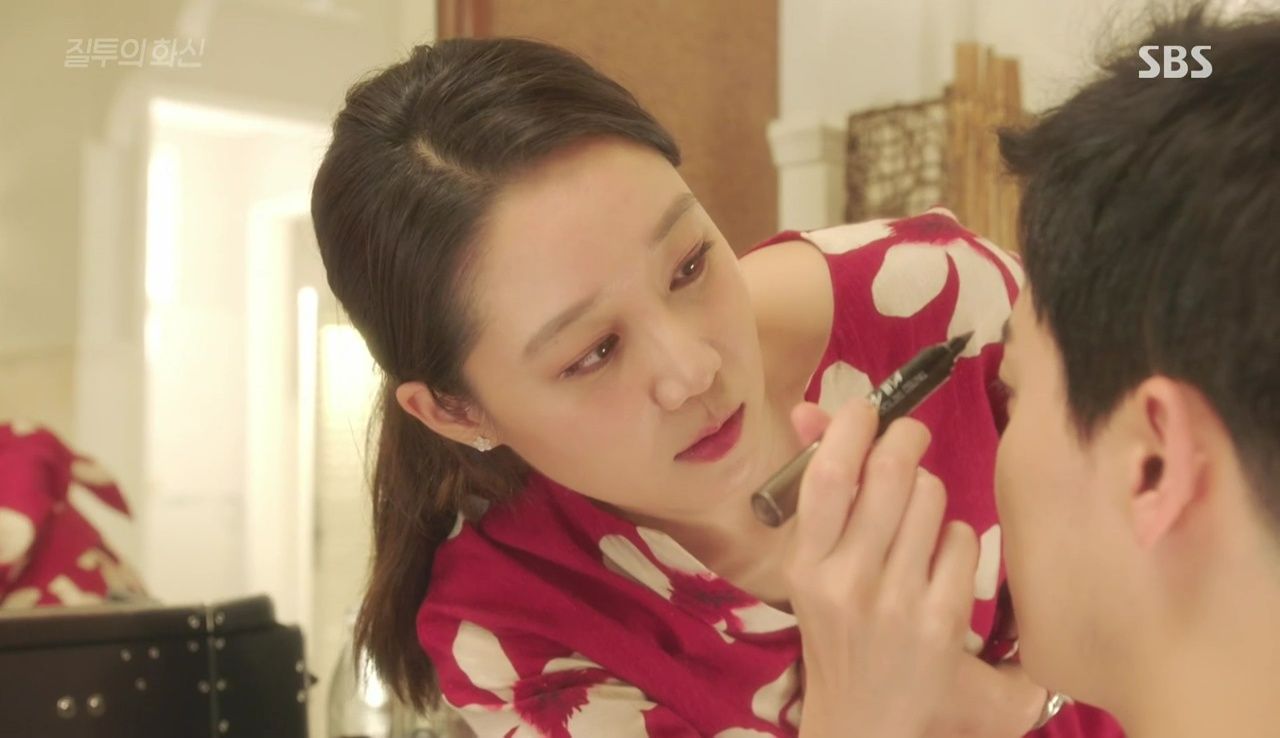 She gives Hwa-shin the standard Newscaster Side Part, which he gives the stink-eye, but doesn't protest much. He asks for the wardrobe master, and this time he actually laughs when Na-ri leaves and sheepishly comes back in with a hideous suit.
Oh no, this is hilarious – the suit is actually purple and covered in sequins, with a polka-dotted shirt. At least Hwa-shin is amused at this point and doesn't blame Na-ri, but he insists on wearing his own plain white shirt. Na-ri grows anxious and tries to take it off him, getting all grabby with him.
He fights back, and Na-ri ends up accidentally slicing his chest open with her fingernail, and getting blood on his shirt. She blots the wound with tissue, but something alarms her and she starts feeling up his pecs. Rawr?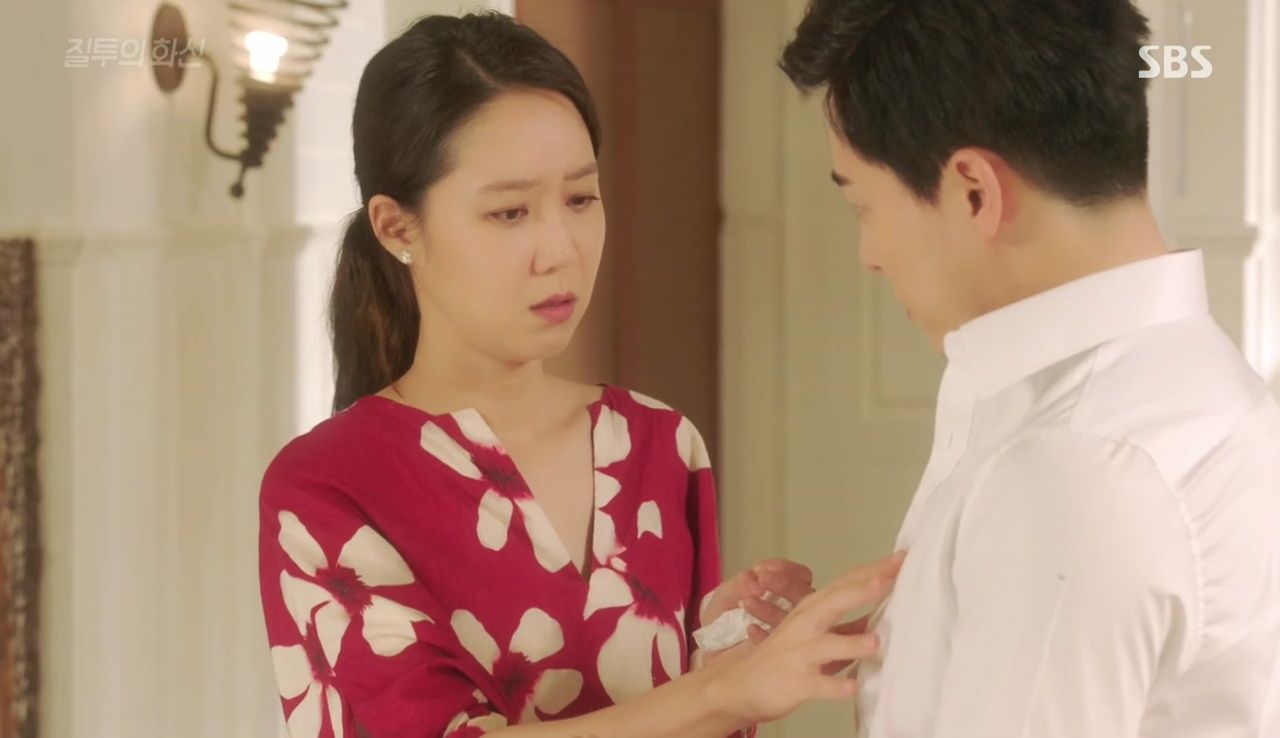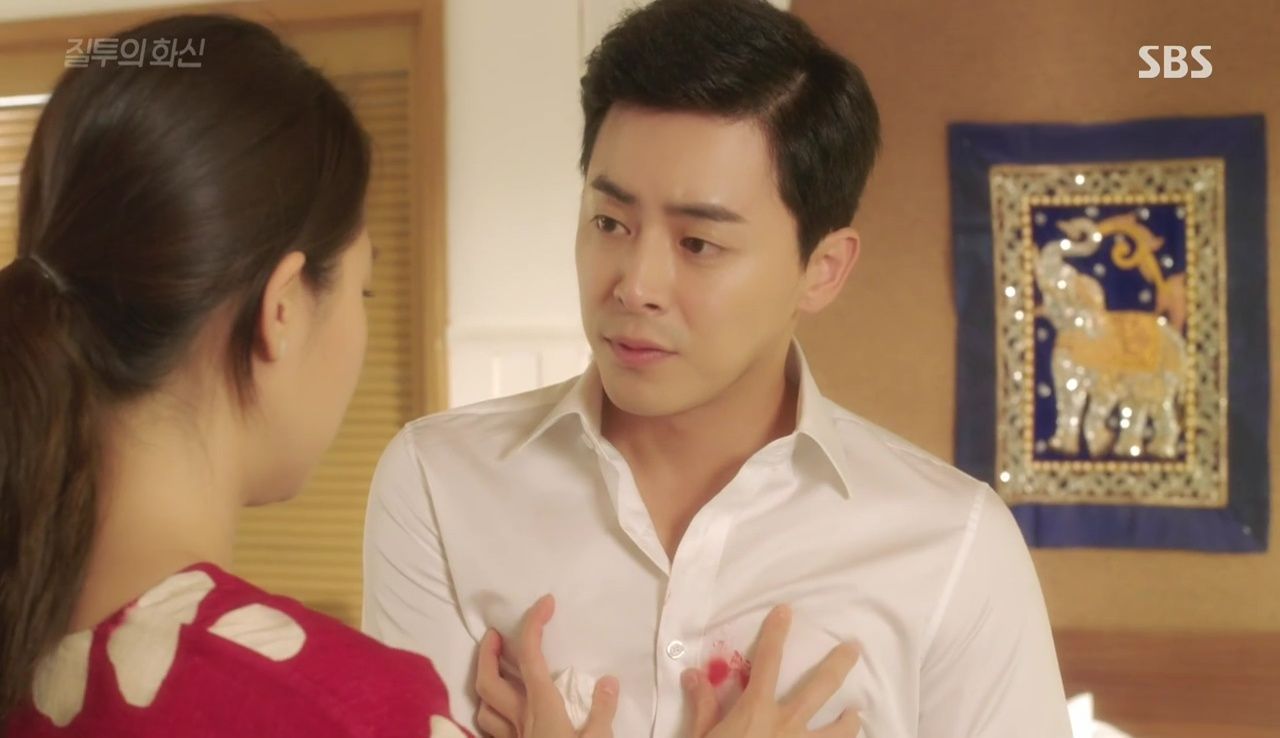 Hwa-shin jokes that his chest is pretty nice, but she doesn't stop, so he grows uncomfortable and tries to back away. He falls on the bed and Na-ri finally stops, and Hwa-shin jumps up to accuse her of sexually harassing him.
But Na-ri looks genuinely concerned, and she says that his chest reminds her of her mother's. She asks if Hwa-shin is okay, looking so upset that Hwa-shin calms and lets her off the hook. But when she goes in to touch his chest again, he yells at her to get out.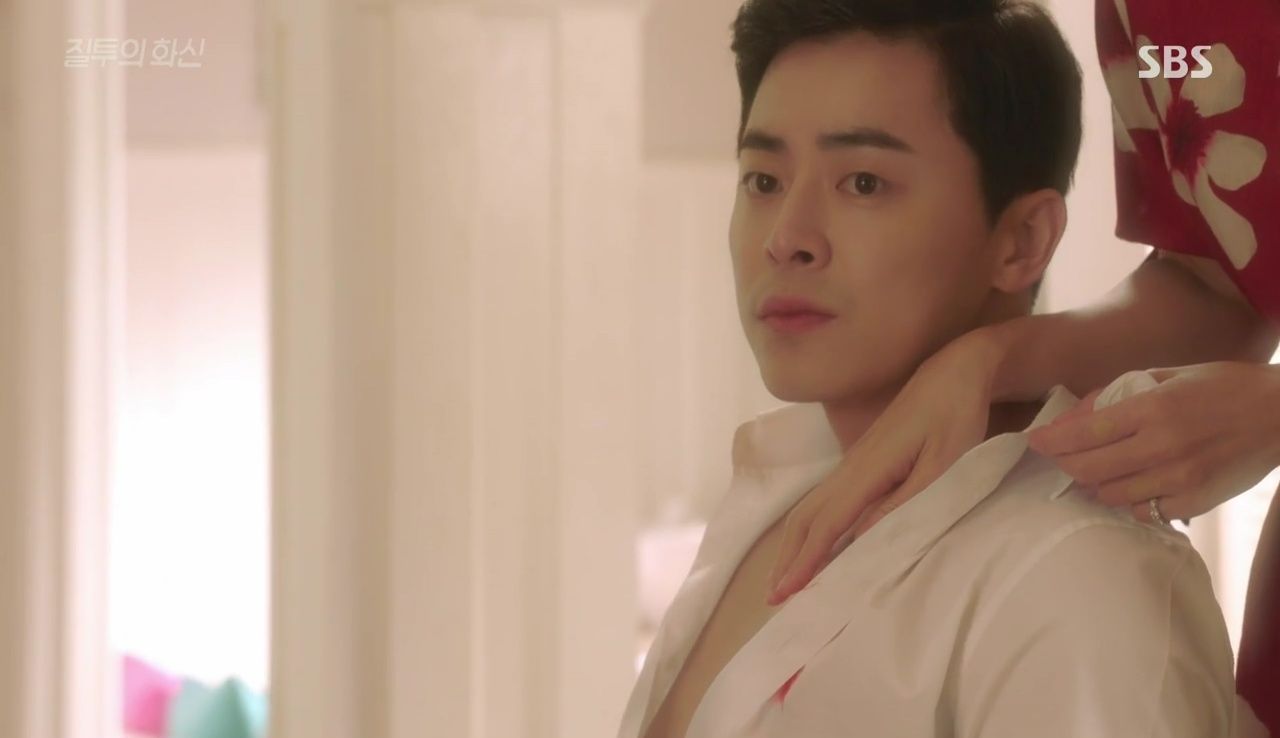 Jung-won arrives at the set at the same time that Hwa-shin comes down, wearing the awful suit and shirt. Dong-gi is oddly reluctant to give Hwa-shin the script, but Hwa-shin snatches it and reads it, then groans. He spots Jung-won, waves, and good-naturedly complains that he's entirely too good-looking.
Hwa-shin steps off the stage to greet his friend, with Dong-gi chasing after him and begging him not to be mad about the script. Hwa-shin snaps at Dong-gi, saying that he's never liked him — in fact he hates him so much he's thinking about changing jobs.
He even mentions how Dong-gi tells the weathercasters to stick out their "assets," calling it distracting and unprofessional. He's angry that Dong-gi didn't explain to him that Na-ri was doing all the hair, makeup, and clothes, leaving poor timid Na-ri to try to explain it to him.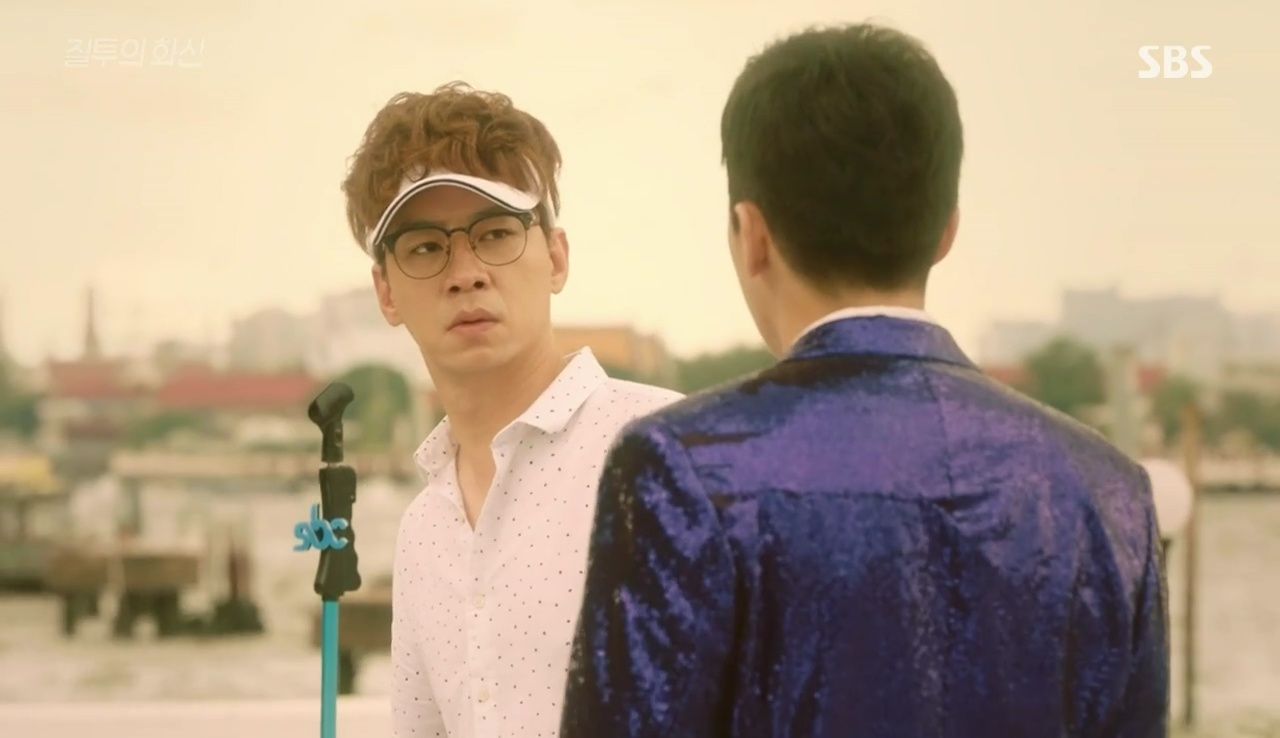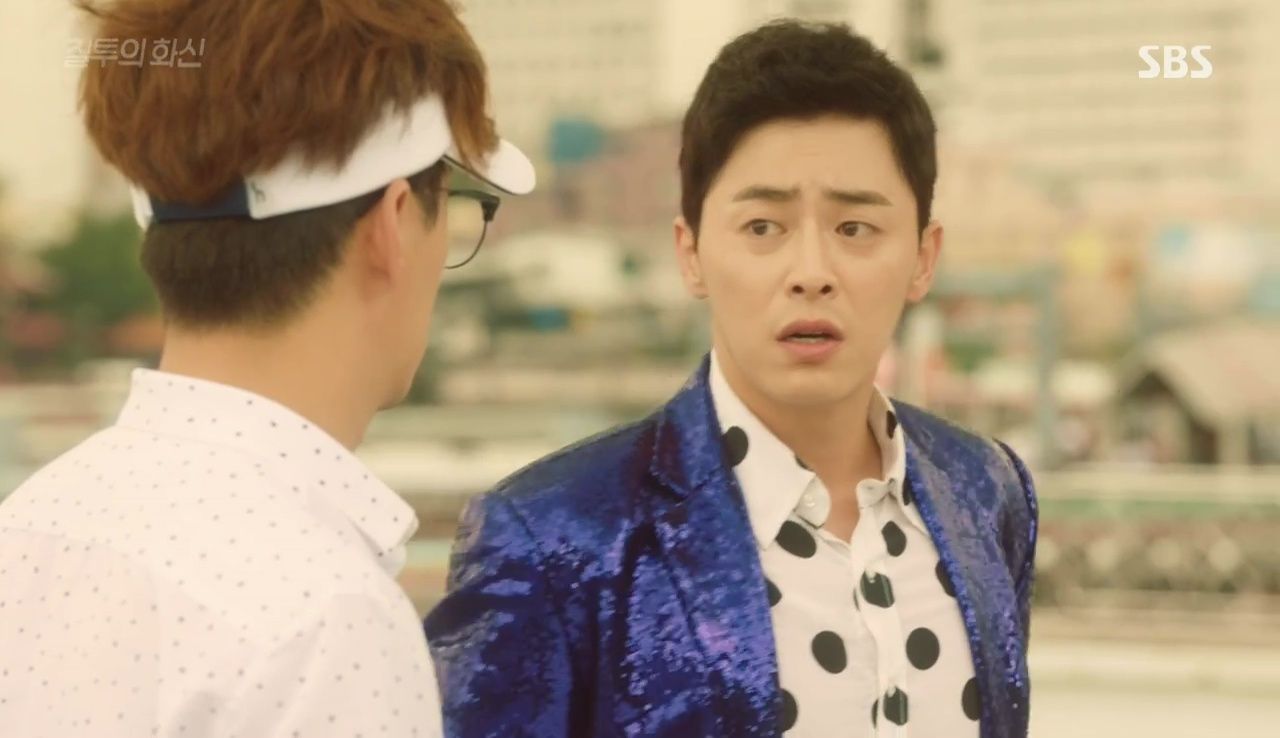 Dong-gi looks chastened, but he argues that Hwa-shin has to do this broadcast or he'll end up on the station president's bad side. Hwa-shin grumbles that he's not refusing to do it – he's just going to have coffee with his friend, and then he'll decide.
Hwa-shin and Jung-won are having coffee and catching up when Na-ri runs onto the set with a bag of medicine for Hwa-shin's cut. She grows nervous to see Jung-won there, and she shyly approaches the two men.
It's kind of hysterical how surprised Hwa-shin is when Na-ri ignores him and talks to Jung-won instead. He grouches that he told her not to get distracted while she's working with him, but Na-ri doesn't even hear him and just talks to Jung-won.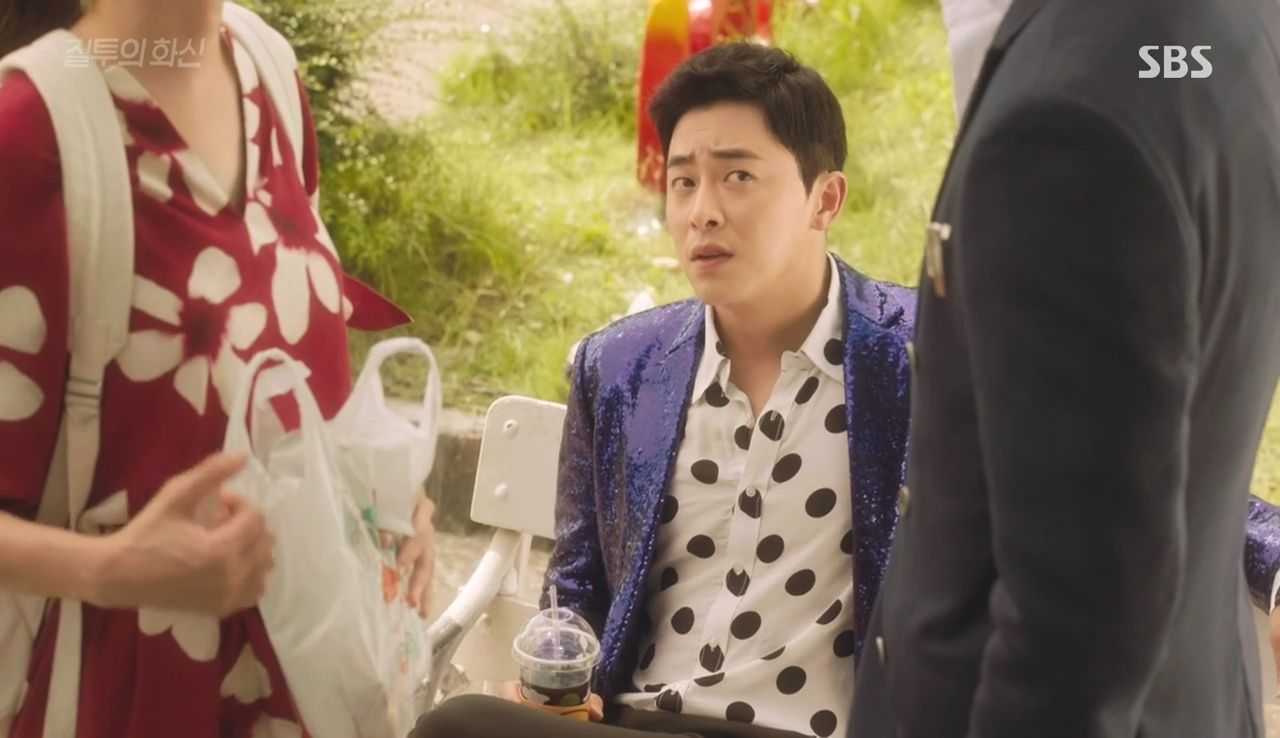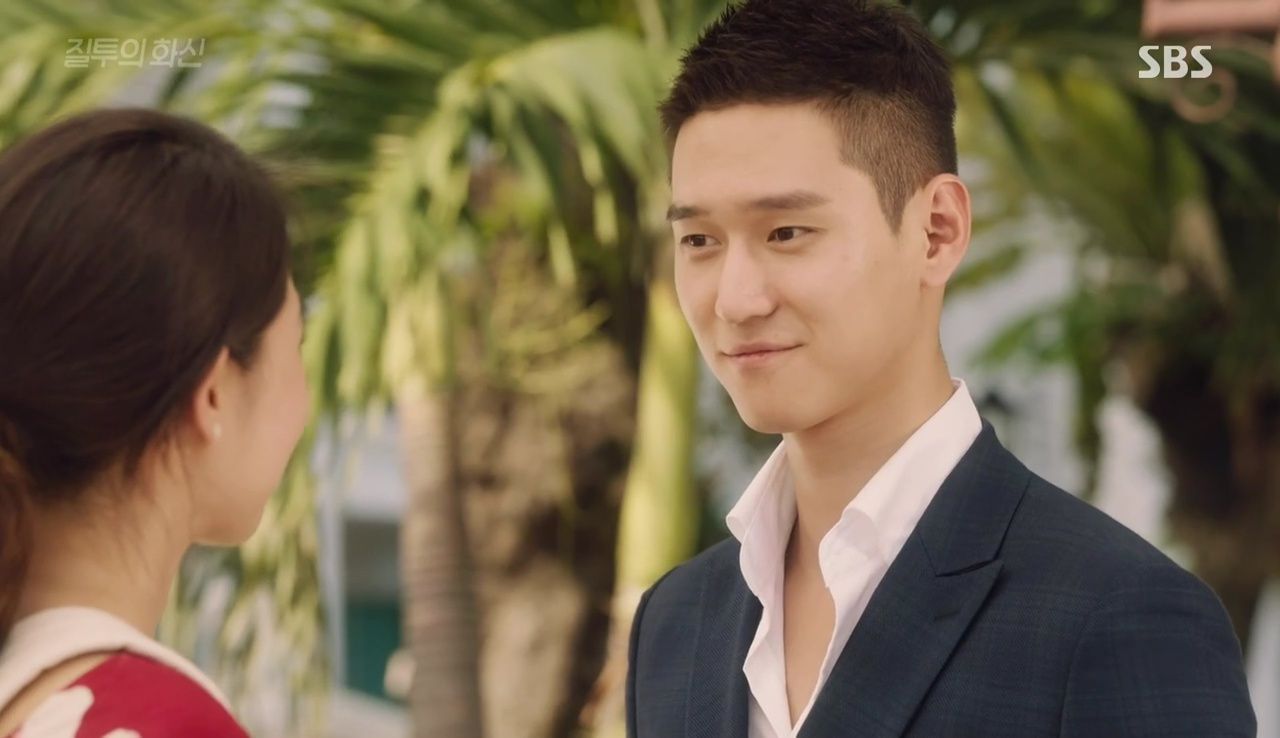 Hwa-shin can't stand being ignored, and he finally blurts that this "crew" has no discipline. He tries to pull Jung-won away, saying that he's decided not to do this segment, leaving both Dong-gi and Na-ri calling after him.
Na-ri is soon back on her rooftop balcony, but she's not worried about the project — she's still thinking about Hwa-shin's chest. Whatever she felt really has her concerned. Did she feel a lump?
Jung-won takes a flight back to Korea, and he thinks about meeting Na-ri on the first flight. After he'd woken from his nap, he'd asked her if it was going to rain in Seoul, and she'd been so excited that he recognized her that she'd blurted out, "I feel like I swallowed air and pooped a cloud!" It was her first time being recognized by anyone.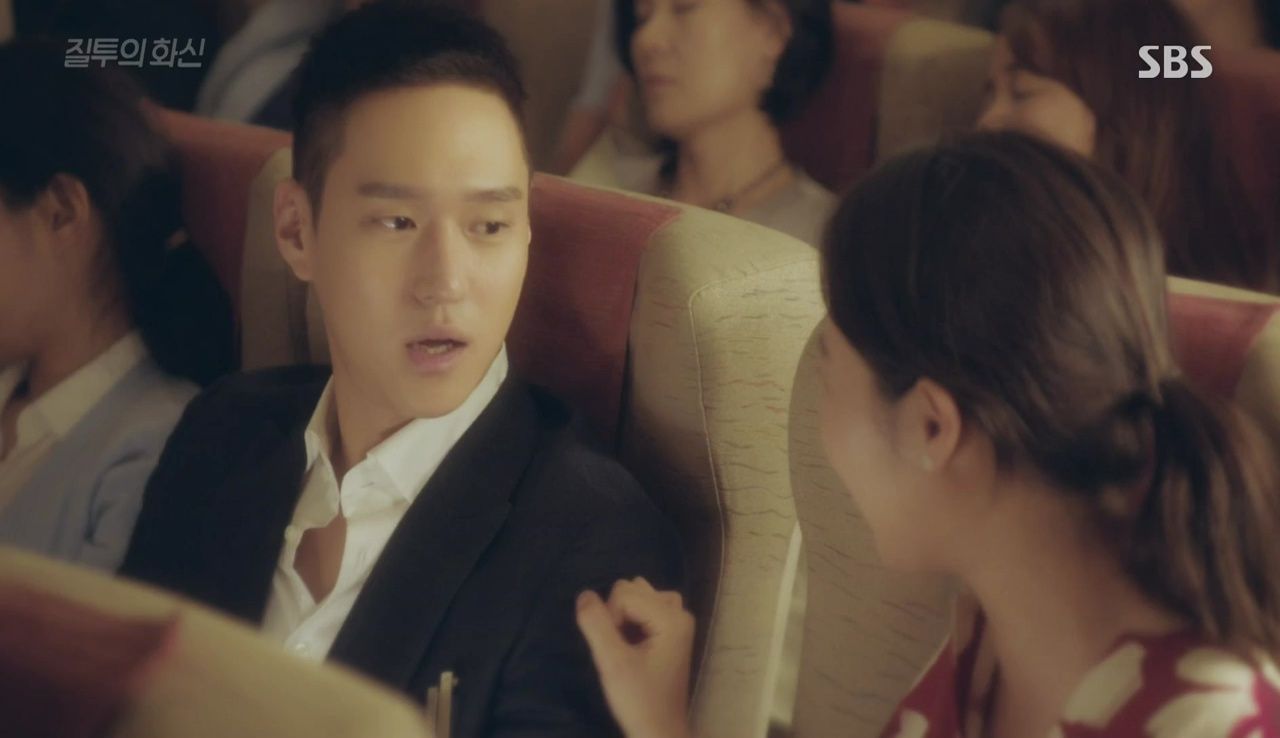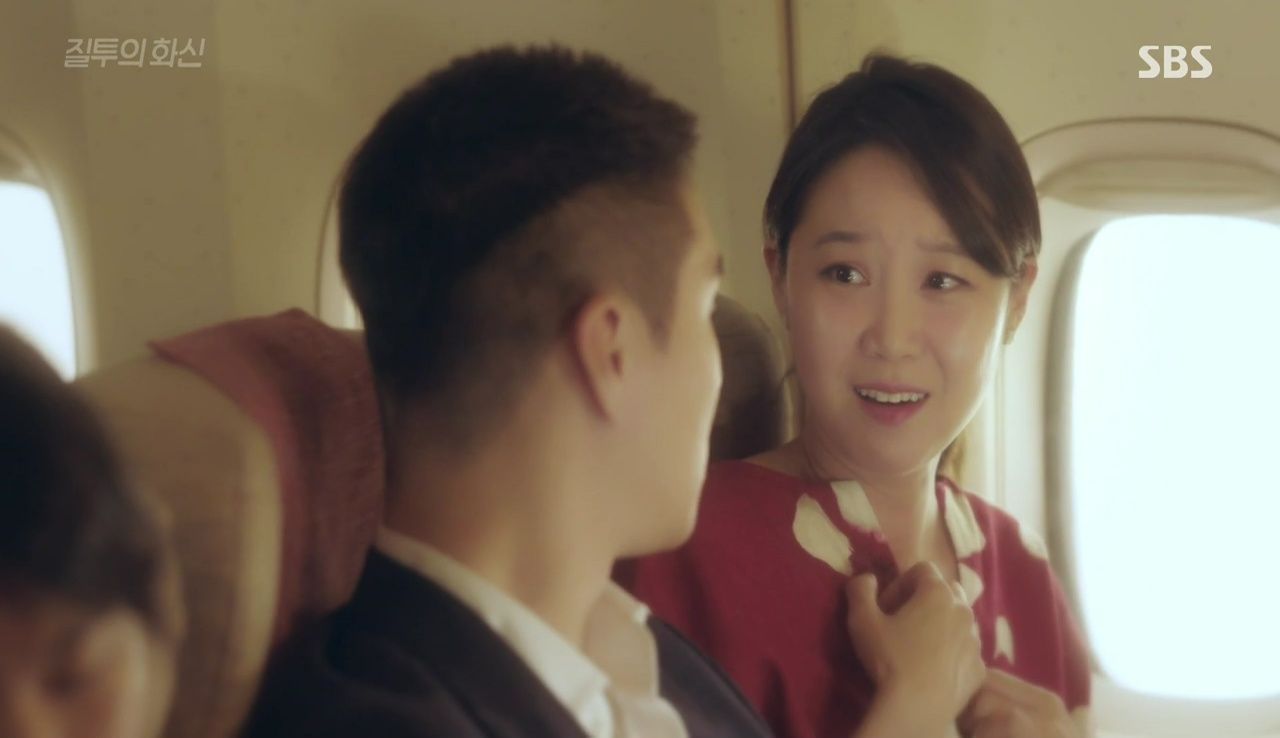 Na-ri had begged him to promise to watch her broadcasts every day. She'd said that even if he cursed her, that was okay, because anything was better than disinterest. Okay, that's so sad. Now Jung-won thinks of that conversation, and a small smile quirks the corner of his mouth.
In another part of Seoul the following morning, a young woman wakes Na-ri's entire building with her hollers, then lets herself into Na-ri and Chi-yeol's place to fill their fridge. She calls Na-ri "daughter," but Na-ri protests, and tells her that she should be living with Na-ri's dad in China. The young woman, RHEE HONG-DAN is technically Na-ri's stepmother, but the subject seems to make Hong-dan oddly uncomfortable.
Na-ri goes looking for Chi-yeol in the restroom and finds a small boy named BEOM sitting on the toilet instead, ha. She tells Beom to poop at his own house, and locates Chi-yeol washing on the balcony. She peers closely at her brother's chest, then asks to touch it, but he deadpans for her to just date a man if she wants to touch a chest.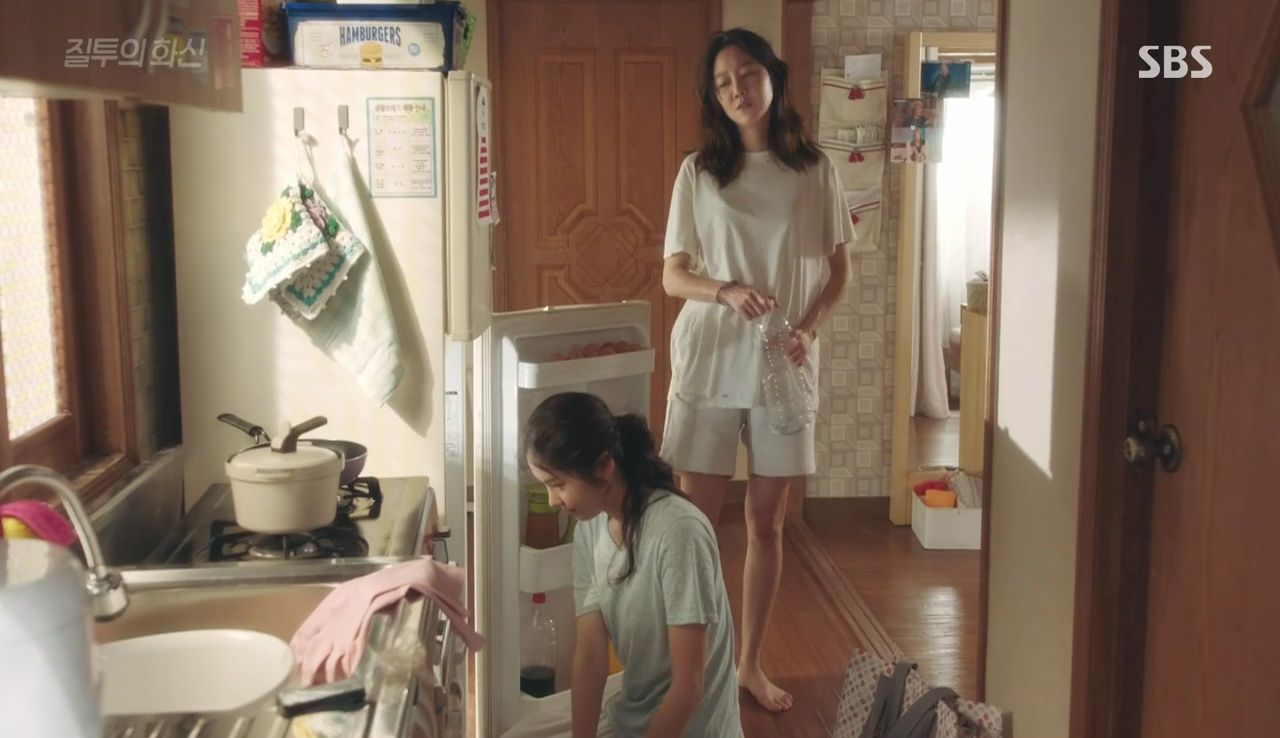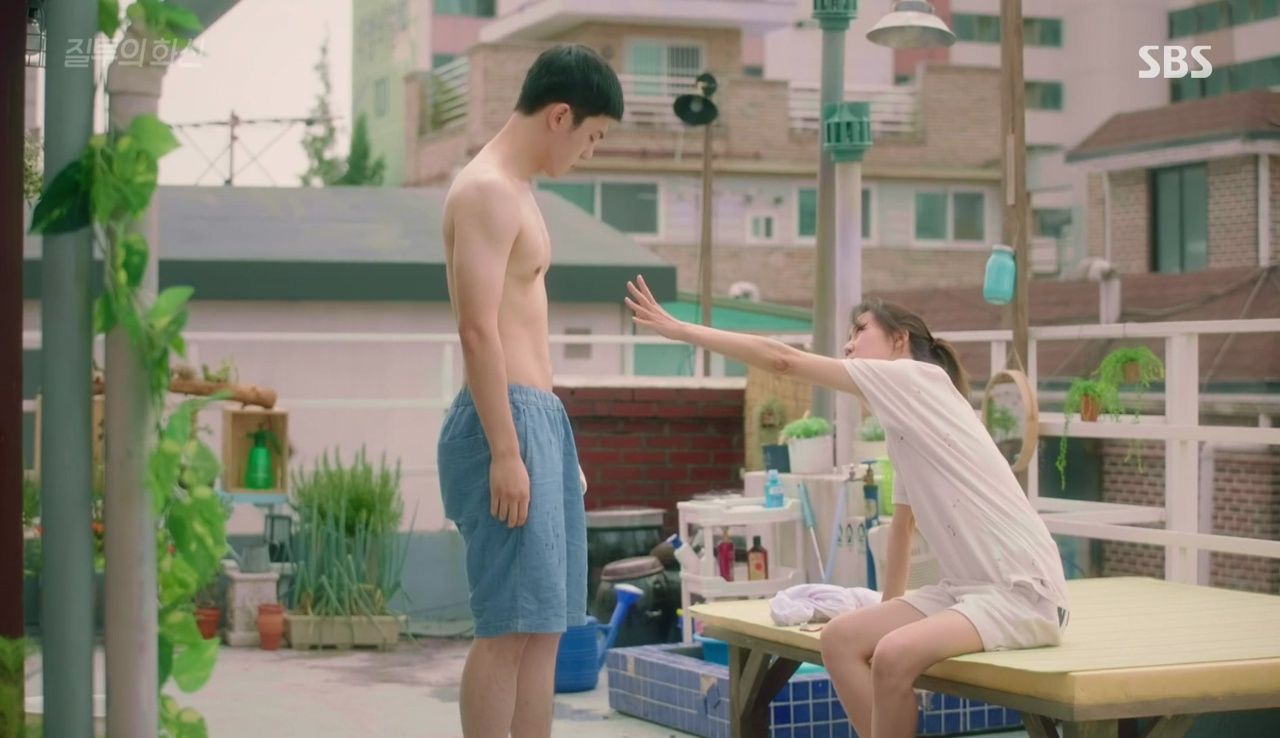 All the students in the building hop into chef/landlord KIM RAK's car (Lee Sung-jae) for a ride to school, and Hong-dan passes out breakfast. Na-ri arrives last and they head out, with a thanks to the friendly Rak for the rides every morning, calling him Chef. Na-ri notices that teens PAL-GANG, DAE-GOO, and Chi-yeol look a bit too cozy, but they loudly protest when she suggests changing the seating arrangement, hee.
In a tiny apartment, a disheveled man sighs sadly at old wedding photos, and we see Hwa-shin also in the pictures. The man seems very worried about Pal-gang — is she his daughter?
He slips into a memory of his wedding day, and we learn that he's Hwa-shin's older brother. Hwa-shin had urged Hyung to reconsider this marriage, as the bride, KYE SUNG-SOOK (Lee Mi-sook), is already married to her job and he believes she's evil. Hyung had ignored Hwa-shin, who complained that this was a mistake all the way through the wedding photos.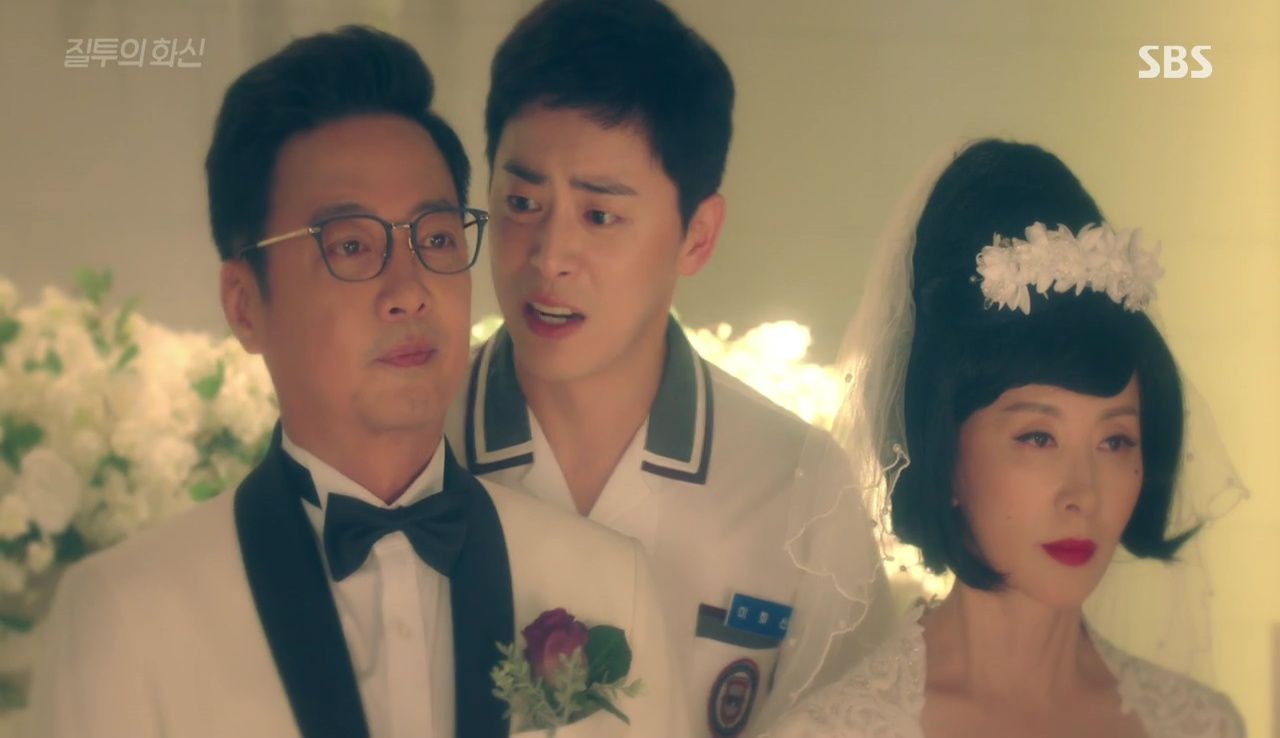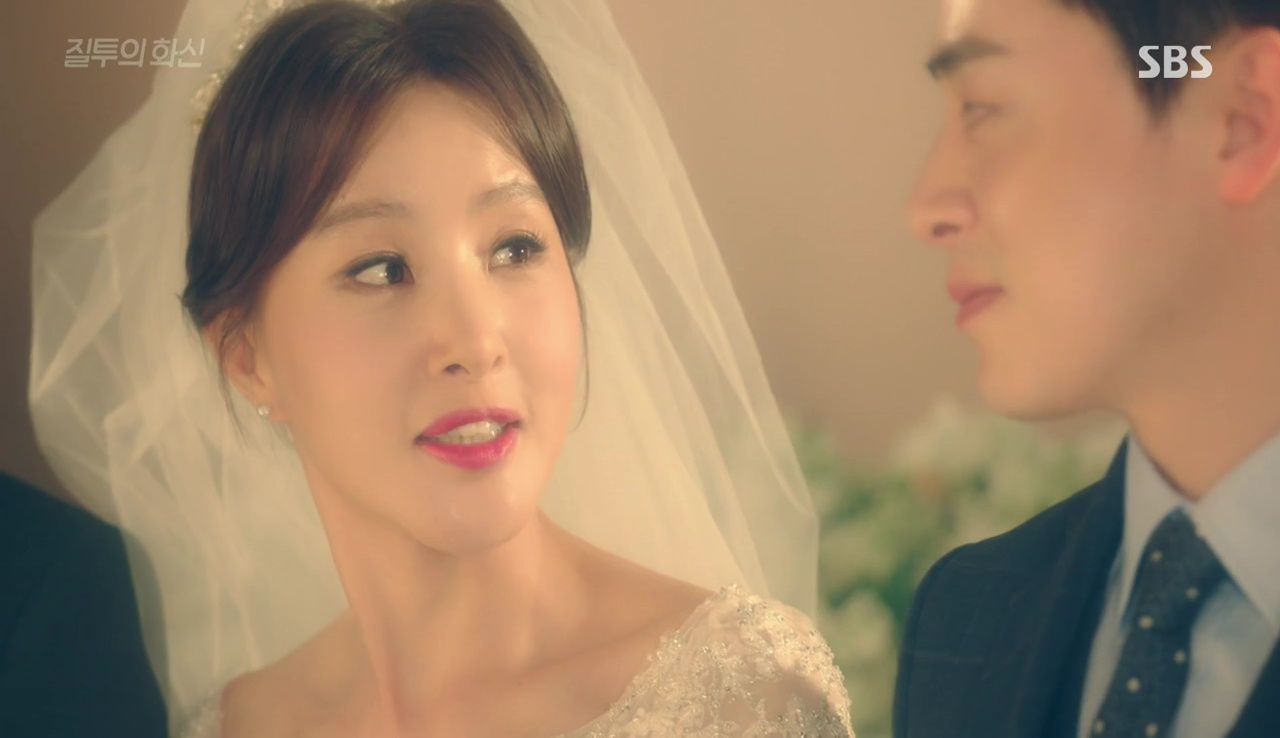 In Hyung's other hand is another wedding photo, with a different bride this time. Hwa-shin had liked the second wife, BANG JA-YOUNG (Park Ji-young), who even welcomed Hyung's daughter from his first marriage, Pal-gang, as her own child. But as they pose for the photos, Hyung's first wife had vowed from a nearby hiding place that she would get them for this.
Back in the present, Hwa-shin finally makes his way back to Seoul, and waits by the curb for a taxi. The car carrying Na-ri and the students lets Na-ri out nearby, and Pal-gang spots Hwa-shin and bolts upright. She's not sure, but she thinks that man looked like her uncle.
Na-ri recognizes him right away, though he's not all that impressed to see her again. She follows him and grabs his chest, feeling him up right there in the middle of the street. Hwa-shin is so surprised he just lets it happen for a minute, then finally screams in Na-ri's face to stop.
He wonders out loud how someone who used to be so innocent could suddenly get all grabby-hands with him like this. Na-ri insists that she's still innocent — then reaches out to squeeze his pecs again. Pfft.
She says that it's probably nothing, but she needs to have a little talk with him. She tells him not to be scared, which trips some macho switch in him, and he gets all indignant that he wouldn't be scared of anything pertaining to her.
He makes a natural assumption and asks, "Do you still like me?" He says that that's the thing he fears most.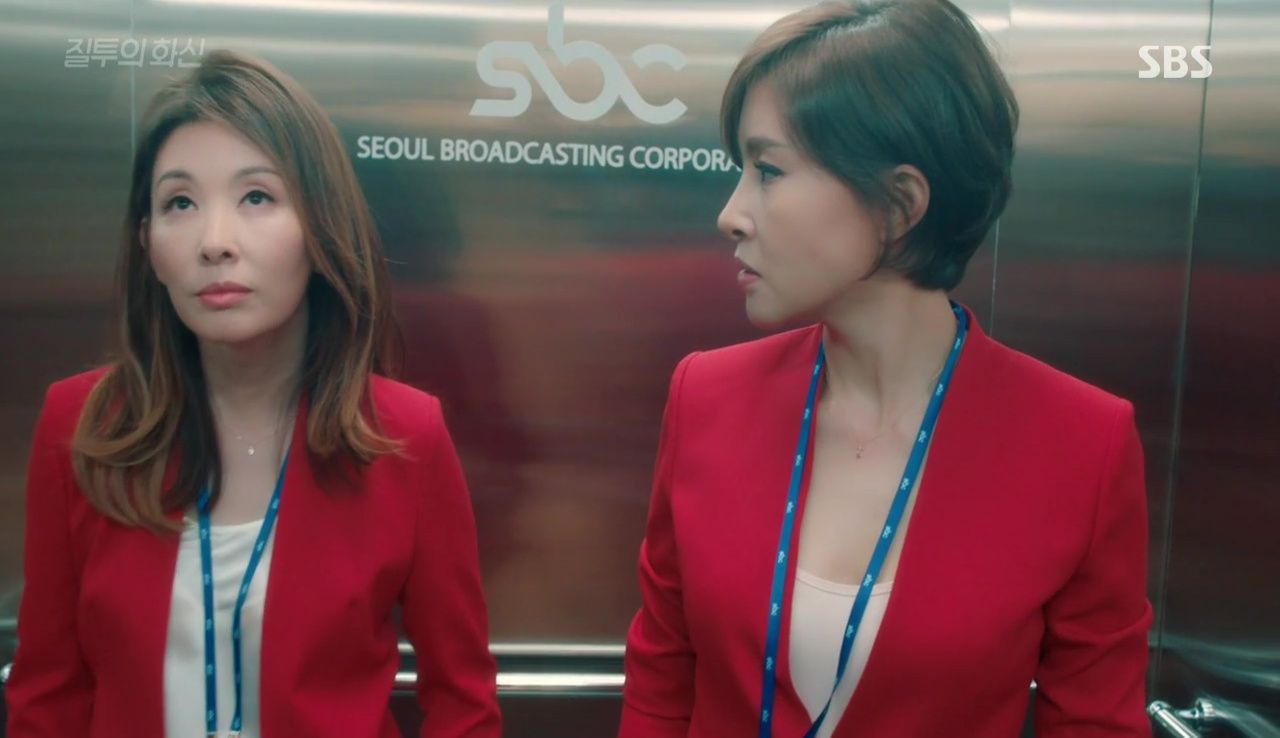 Back at the news station, Dong-gi prepares for the second round of recruitment teasers, but PD Oh is more worried about Hwa-shin's return. As it turns out, both of Hwa-shin's brother's wives work at the station, and Hwa-shin's arrival is bound to ruffle some feathers.
Though they seem capable of ruffling on their own just fine, as the two ladies in question run into each other on the elevator, and oh no, they're wearing the same suit. They squabble about the suit, then first wife Sung-sook makes a veiled insult about "hand-me-downs," and I don't think we're talking about clothes anymore.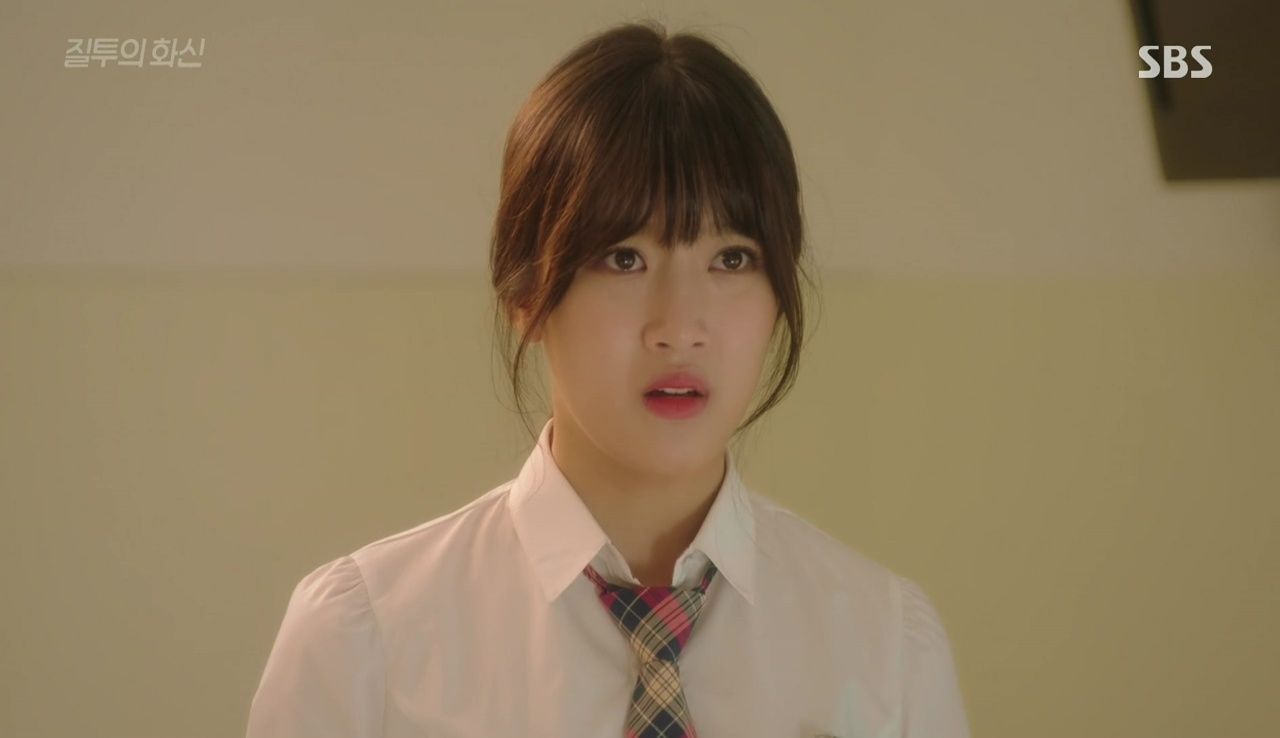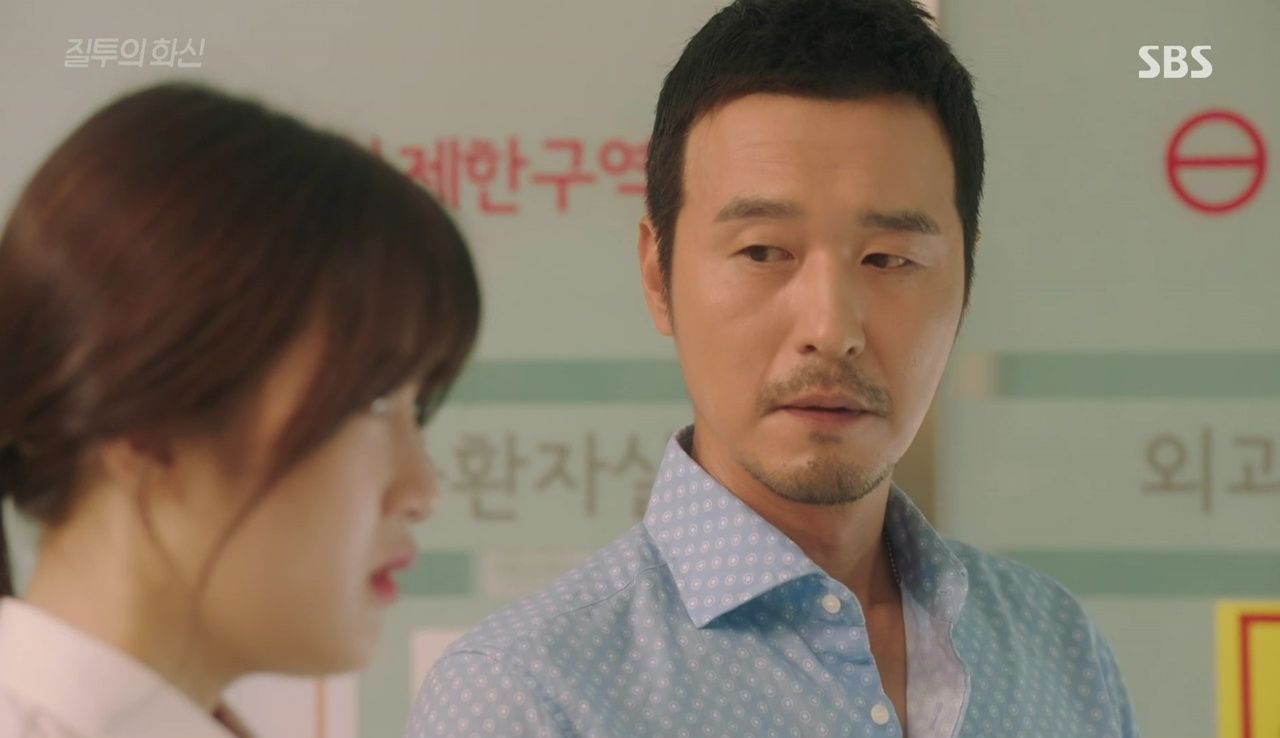 Chef Rak arrives back at the apartment building to find someone being loaded into an ambulance. It's Hwa-shin's brother, and Rak learns that he fell down the stairs. Rak jumps into the ambulance, and Pal-gang is called out of class to go to the hospital.
Her father undergoes brain surgery for a massive bleed, and the doctors say there's a chance he may be permanently brain-damaged. Rak suggests that Pal-gang call her mother, but she angrily snaps that she doesn't have a mother.
Back at school, both Chi-yeol and Dae-goo jump up simultaneously to go support Pal-gang. Their teacher warns that the whole school average will drop if their number one and two students miss an important exam, but their friend is more important, so the boys go anyway.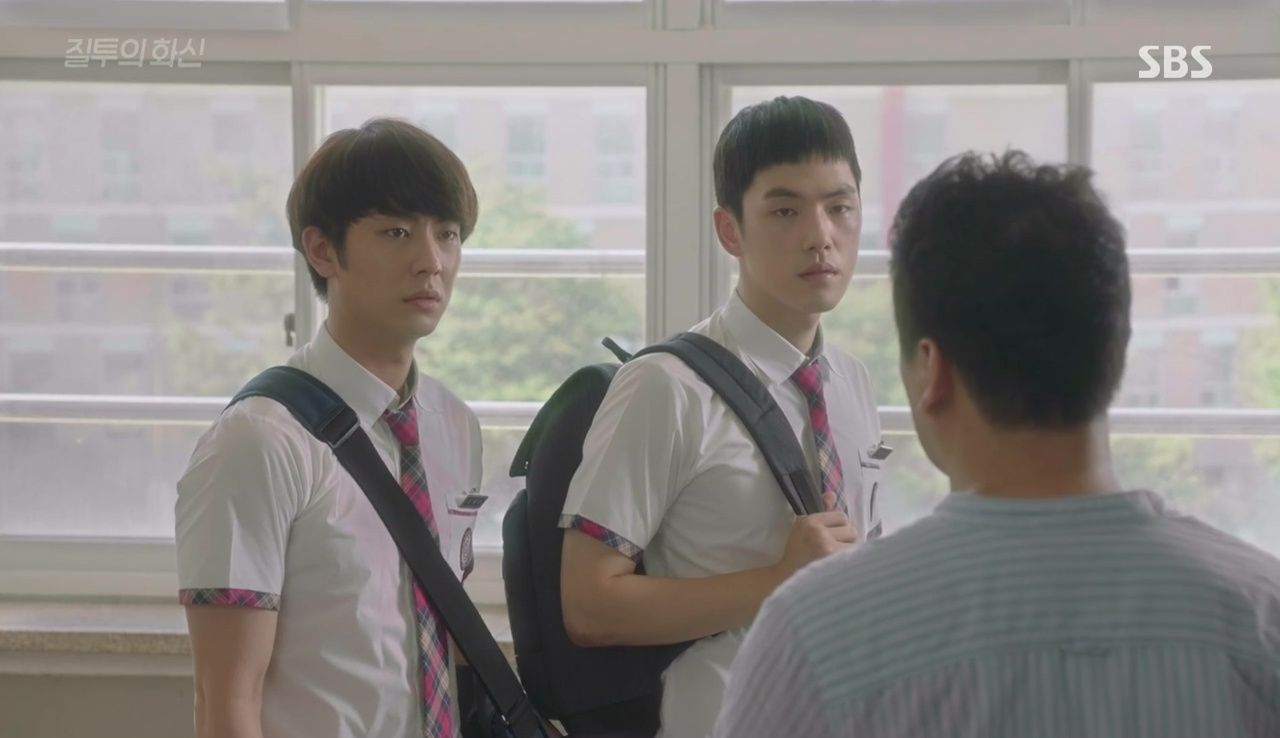 Hwa-shin gets all cleaned up and heads back to the SBC building, and he tries to scoot past Na-ri, who's waiting for him in the lobby. She calls out that the recruitment teasers will air soon, and he pauses.
Sung-sook and Ja-young go to PD Oh's office to watch the teasers, and everyone sits up straight when Hwa-shin's teaser comes on. It's pretty much just a montage of him dancing furiously in different parts of Bangkok, and really looks like a hilariously bad music video.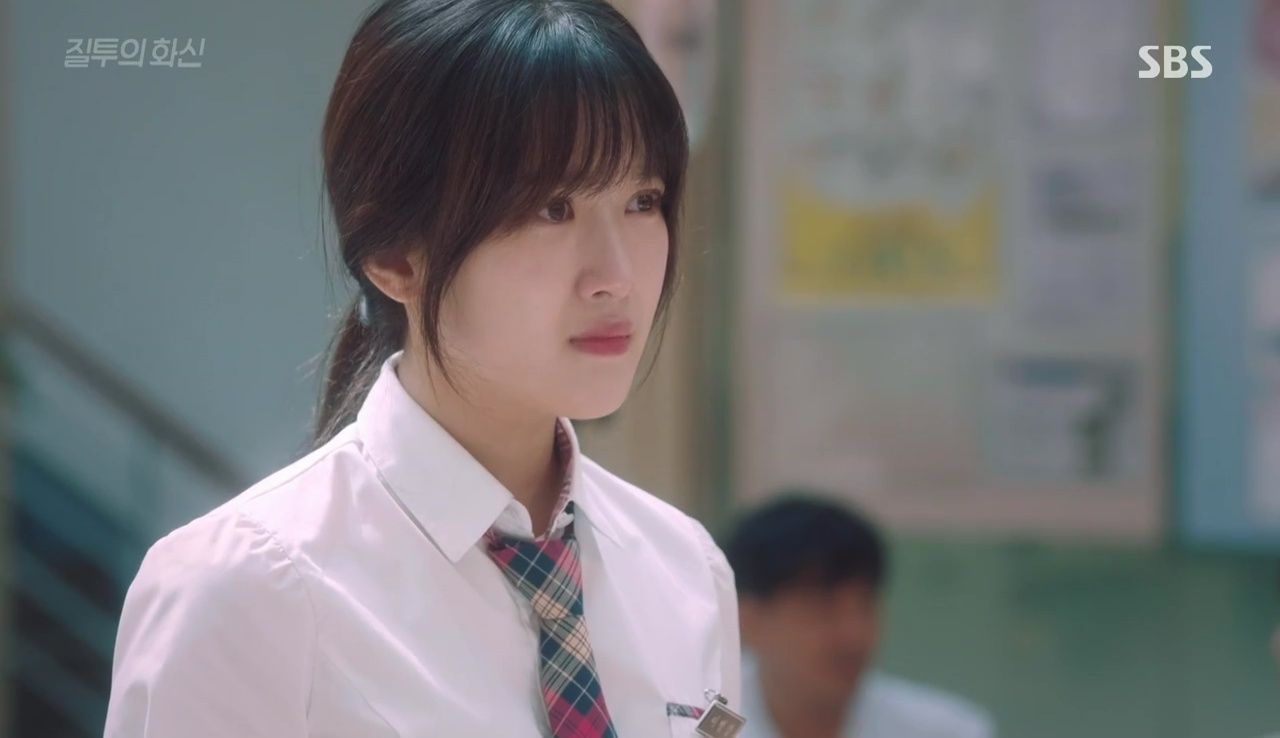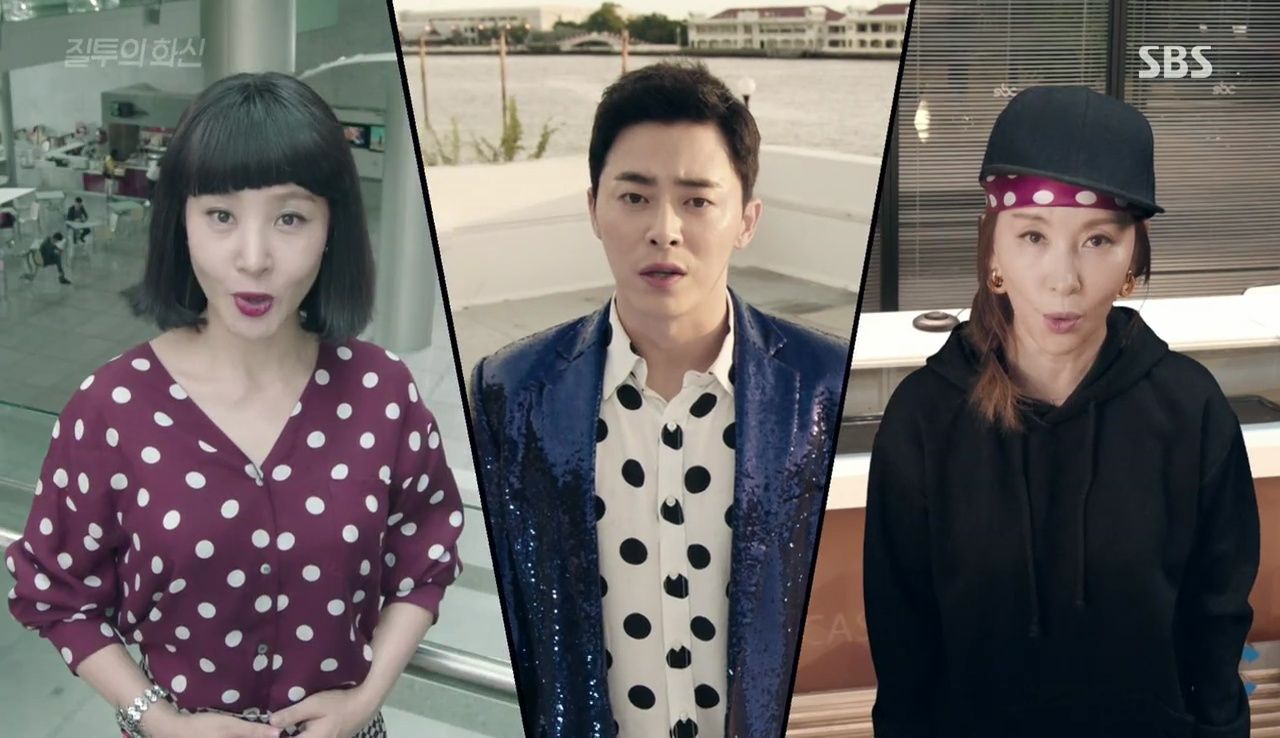 At least it seems to be the intended theme, because Sung-sook's teaser is next, and she's dressed like a rapper from the '80s, ha. Ja-young's is equally embarrassing, and at the hospital, Pal-gang watches the clips of her family members dancing for a job, and asks if they're having fun while her father might be dying. Furious, she throws her phone and cracks the television screen, screaming, "Bring my dad back!!"
Down in the lobby, even Hwa-shin admits that Dong-gi did a pretty good job with the teasers (with the exception of the purple suit, of course). He looks around but doesn't see Na-ri, then suddenly her hands creep from under his arms to cup his pecs.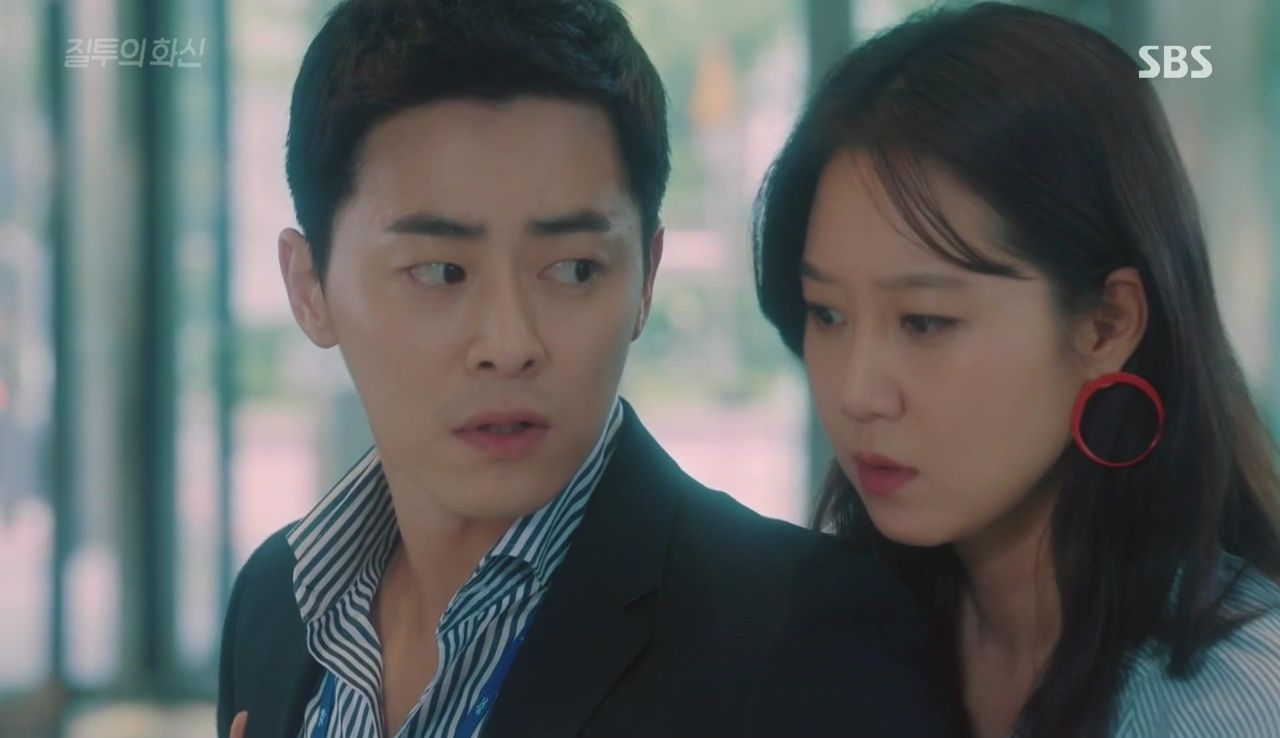 He pulls her around behind the television and asks what the hell she's doing, and Na-ri says again that his chest feels like her mother's. "You… might have breast cancer." She explains that her mother and grandmother both had breast cancer, and she gets checked frequently, so she knows what it feels like.
Hwa-shin reminds her that he's a man, getting loud and angry. He yells that her mother and grandmother were women, and adamantly pounds his chest: "I'm a MAN!!"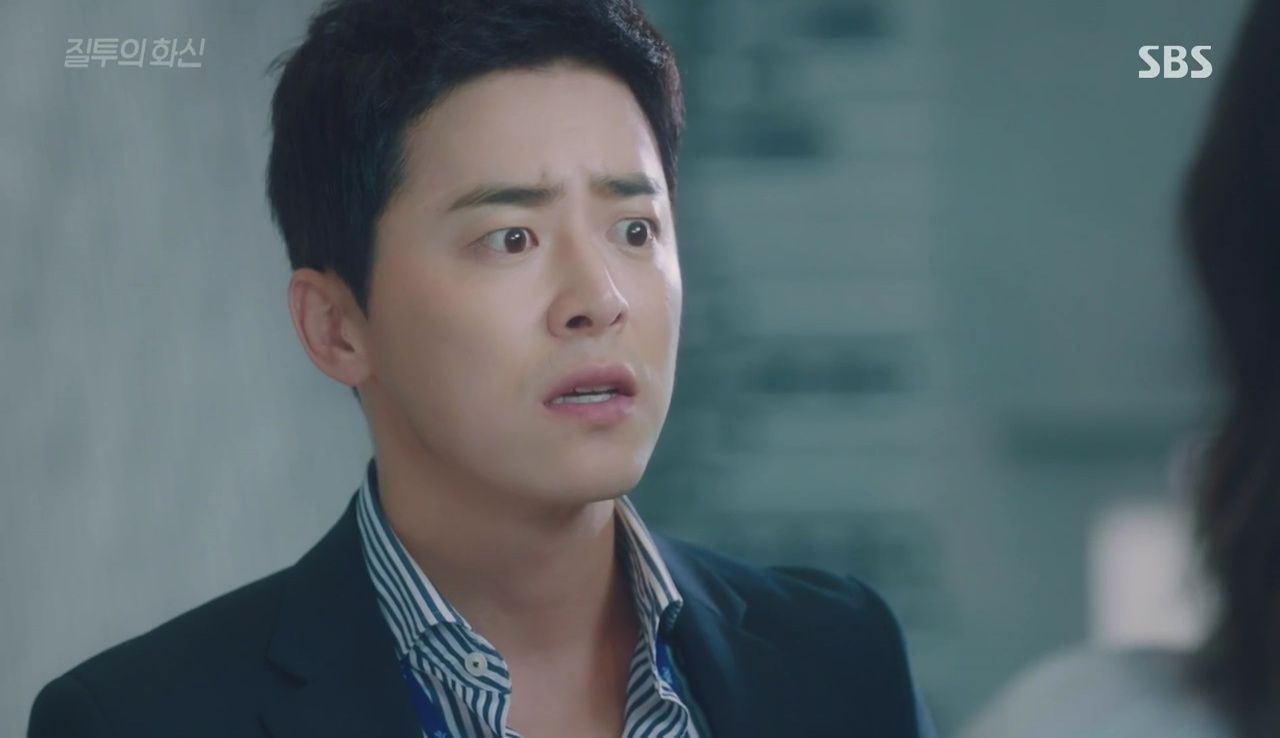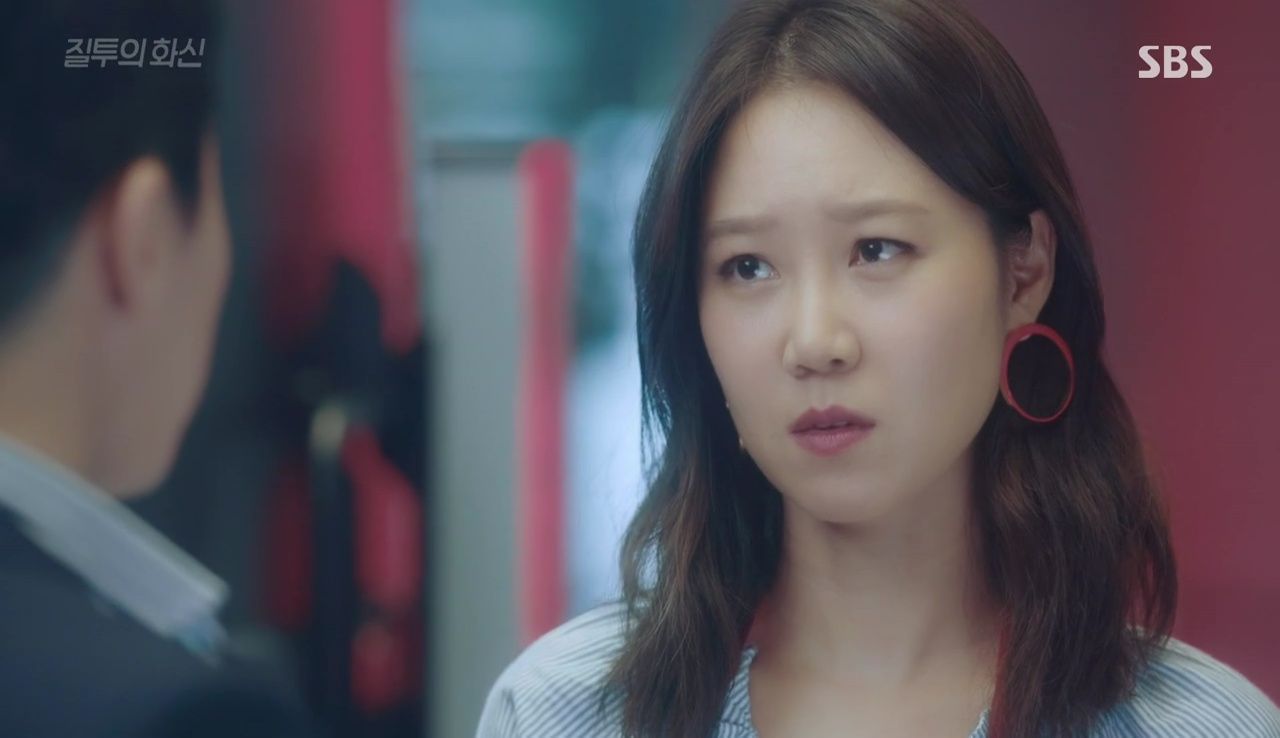 COMMENTS
My first impression of Jealousy Incarnate is very positive — it's shaping up to be a cute and quirky show with interesting, layered characters. The only problem is how very many characters there are, and how quickly we were introduced to them, because I'll admit that I'm still confused about who many of them are and how they relate to each other. I'm trusting that further episodes will help once we see people in more context, because the show didn't seem too concerned with being clear about characters' relationships and hierarchy. But aside from some befuddlement over the characters' roles in the story, I found them all pretty likable.
I particularly feel for Na-ri, who seems to be an overly eager people-pleaser who is willing to lower herself in hopes of someday making her big break. Unfortunately, that's not going to get her respect or a better job, so I'm looking forward to seeing her come into her own and learn to stand up for herself. Right now she's meek and overly solicitous to her superiors, hoping to wiggle into their good graces by being accommodating and offering to do all the grunt work. But it's backfiring on her and causing her to actually lose respect, especially when she does as she's told even when it's wrong, like sticking her chest out on air. I think that the most telling moment was when she'd said to Jung-won that nothing is scarier than disinterest — to Na-ri, even negative attention is better than nothing. That makes me profoundly sad for her, and I just want to hug her and tell her that she doesn't have to kowtow to people just so they'll like her.
Hwa-shin, on the other hand, is already a big jerk with very few redeeming qualities about him. He even seems to revel in insulting people. I'm sure we'll be given some reason for his behavior like a traumatizing past or an absent father, but it's going to have to be pretty sympathetic for me to fall for it. But then Hwa-shin also genuinely seems to like Jung-won, and he wasn't even mean to Na-ri when she was clearly fumbling with his makeup and hair, and he didn't blame her for that terrible (OMG so terrible) suit. He even stood up for the sexist way that the female weathercasters are treated, and for that alone I want to give him a chance. He's a conundrum, but Jo Jung-seok plays him with his usual deft touch so that instead of being off-putting, Hwa-shin's contradictions just make me want to dig down deep and find out what makes him tick. (And honestly, I can't even imagine how he kept a straight face every time Gong Hyo-jin was grabbing his pecs!)
As for the plot, it seems pretty simple — girl likes boy, boy ignores girl, girl meets new boy, first boy grows jealous. But sometimes simple is just fine, and I would be completely content to spend twenty-four episodes watching Hwa-shin eaten up with jealousy and Na-ri learning to stand on her own two feet. The show does seem to be tackling some meatier issues like cancer and broken families, and I do think it would be interesting to see a man like Hwa-shin deal with something "unmanly" like breast cancer. I'm just not sure the show needs it, but with so many episodes ahead of us, at least there's plenty of time for both lighthearted fun and some deeper themes.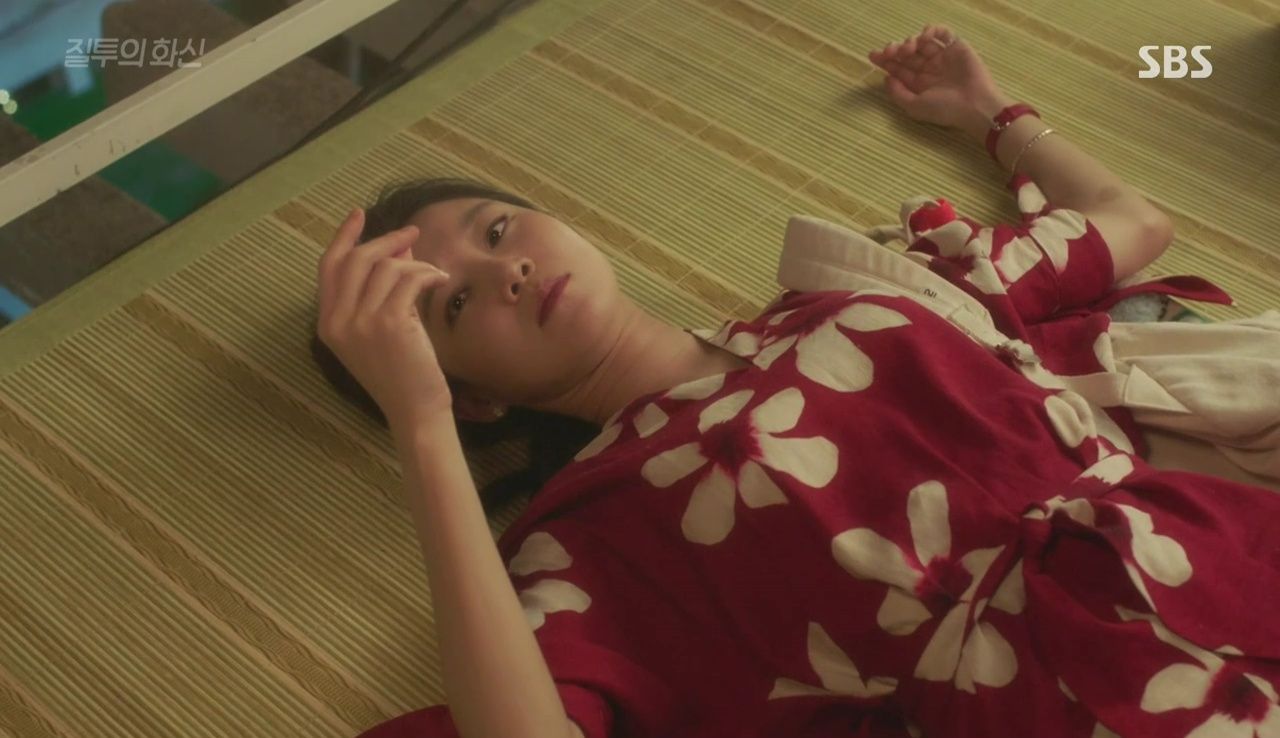 RELATED POSTS
Tags: featured, first episodes, Go Kyung-pyo, Gong Hyo-jin, Jealousy Incarnate, Jo Jung-seok, Lee Mi-sook, Lee Sung-jae, Park Ji-young, Seo Ji-hye