Jealousy Incarnate: Episode 2
Jealousy Incarnate seasons our light start with some darker turns, as we set up our driving conflicts and discover the secret of Hwa-shin's past. This hour also untangles a lot of the relationships between our many characters—connections which are sure to lead to interesting places.
Meanwhile, battle lines are drawn at the broadcast station, and it's a vicious world for a trampled weathercaster to survive in (especially when her forecasts keep turning foul). But Na-ri won't give up so easily—not while she still has dreams.

EPISODE 2 RECAP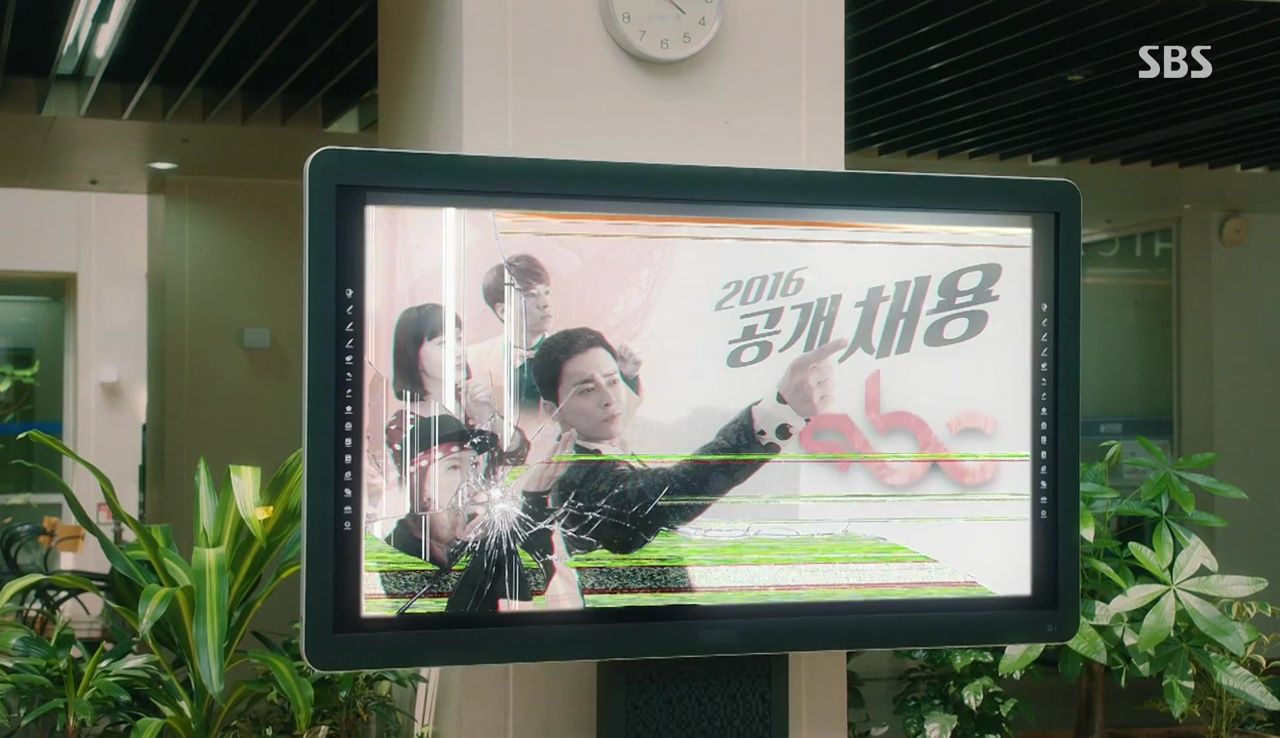 Pal-gang stares in shock as Sung-sook and her uncle Hwa-shin dance across the TV screen. When Ja-young appears, she asks, "Mom…are you that thrilled?" She screams that her dad could die while they strut around, and hurls her phone at the screen, cracking it across the image of the three of them. Distraught, she yells at Uncle (Hwa-shin) to save Dad.
Na-ri tells Hwa-shin that his chest feels like her mom's, and her mom had breast cancer—it runs in the family. "I'm a man, a male!" he yells, thumping his chest. But Na-ri points out that men are human too, and also have chests. He slowly backs away from her.
Meanwhile in PD Oh's office, Dong-gi nervously switches off the broadcast. Sung-sook pitches into them for making a numpty like Hwa-shin the star, and demands they put her at the forefront instead. They don't need announcers either, she adds, since a pretty female reporter—like her—is already the full package and can do it all.
Leaping up in indignation, Ja-young retorts that viewers live in terror of Sung-sook bursting out of their screens, and tells her to take a look at herself instead of poring over ratings. PD Oh slumps in weary resignation as they argue. At the suggestion that the announcers be demoted to contract workers to save money, Ja-young delivers a resounding slap to Sung-sook, to everyone's shock. Sung-sook swings one right back and the women glare at each other.
Hwa-shin's early return to Korea takes Dong-gi by surprise. The PD tries to head him off from going into the office, but Hwa-shin tackles his way past anyway.
Ja-young is followed by a brood of her juniors who suggest ways for her to get back at Sung-sook. One offers to get her politician dad to remove her, while another offers to get her grandad to cut off his sponsorship. She entertains the latter for a delicious moment but then sighs that the station needs its sponsors. No, they'll fight with their own strength, she says, and prove that announcers are indispensable.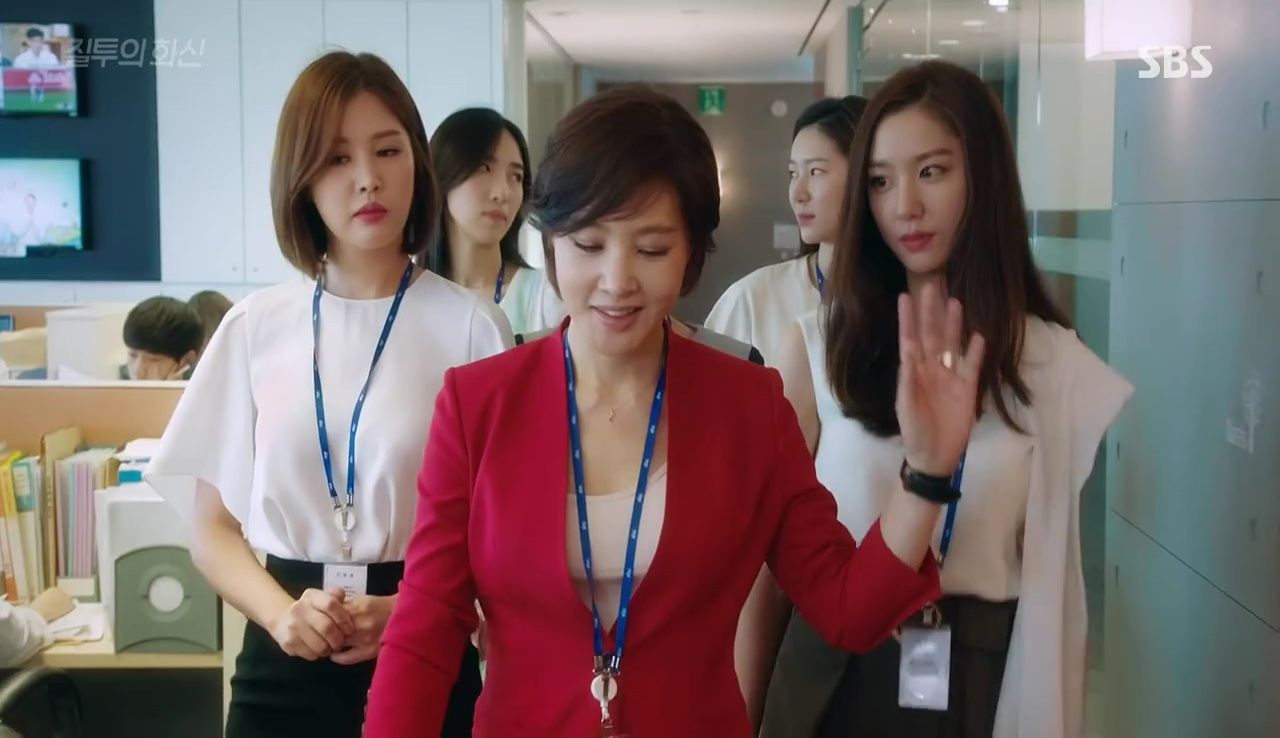 Na-ri takes Hwa-shin by surprise outside the men's toilets, and tells him again to at least get himself checked out by a gynecologist. She even offers to go with him if it's too embarrassing. Taking her arm, he spins her out of the main corridor and against the wall.
"Hey. Do you still like me?" he asks, "I don't like…girls like you." She asks what he means by girls like her, and coming in closer, he looks into her eyes. "Easy women," he replies. Okay, wow. Jerk. After a long moment, she nods a little to herself and slips beneath the cage of his arm. Walking slowly away, she turns to look back at him striding off in the opposite direction.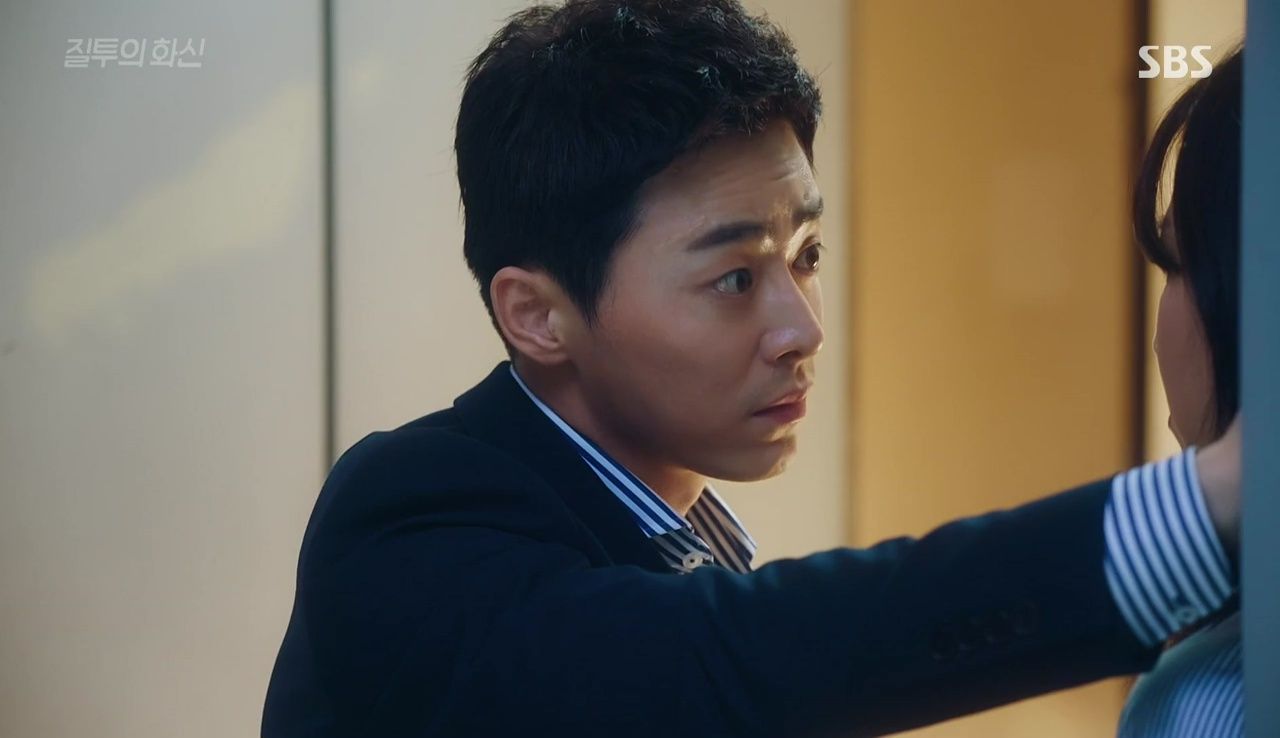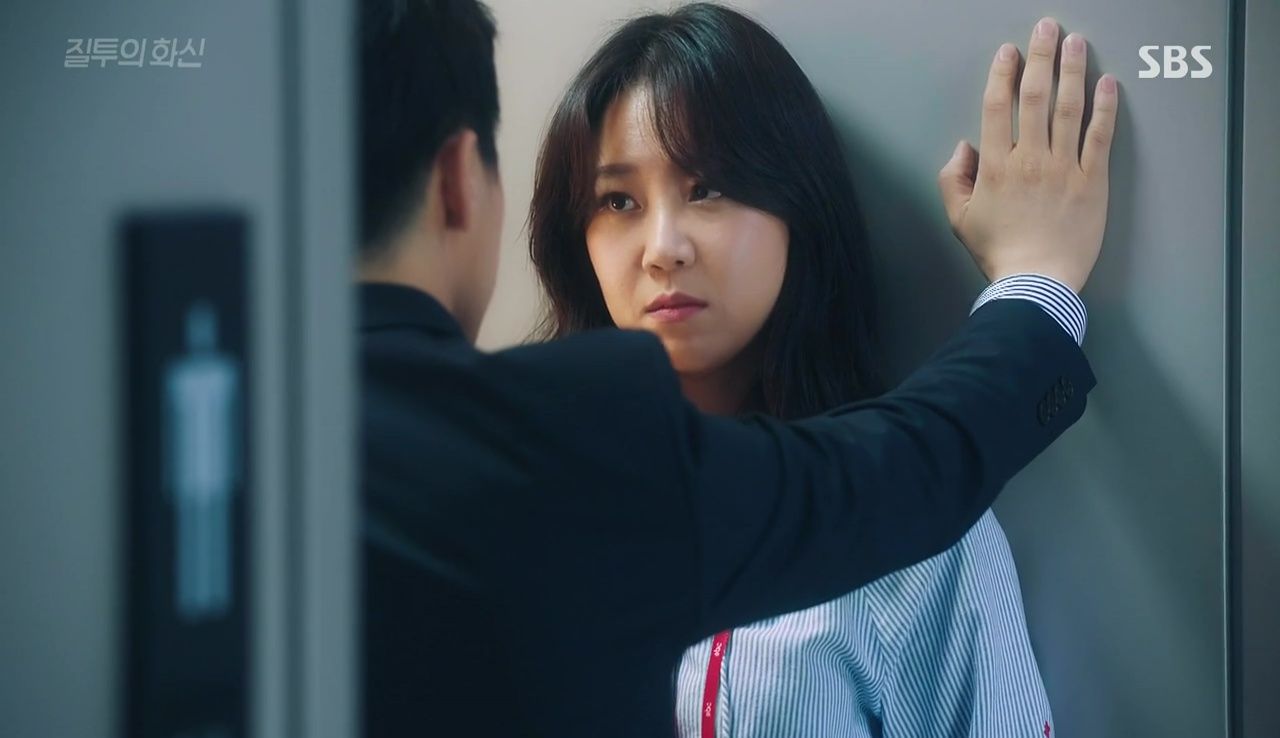 Jung-won tries on an exclusive one-of-a-kind shirt, and decides to give it to Hwa-shin. His man SECRETARY CHA argues that it should go to a popular actor instead, but Jung-won is firm—his friend gets first pick. Secretary Cha points out that all that flowery stuff Hwa-shin spouted about being more honest and upright while wearing clothes from Jung-won is just a ploy for getting luxury clothes. Jung-won knows that already, and laughs that they're friends.
While he changes, he doesn't hear his phone ring. Secretary Cha, seeing it's Hwa-shin, answers it and lies that Jung-won is back in Italy and so he can't come out for tea. After hanging up, Cha scoffs that Hwa-shin must think Thailand is so close, not realizing he's back in Korea. He deletes the call from the log before Jung-won can see it.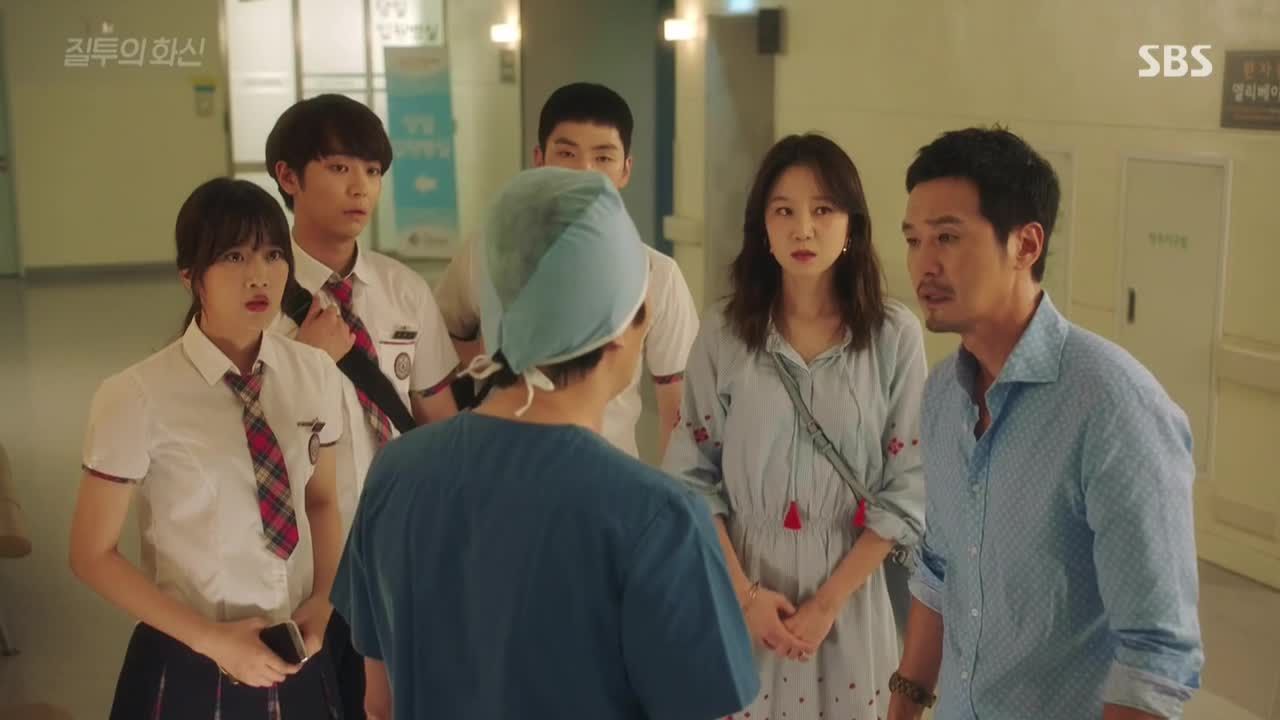 Na-ri arrives at the hospital where everyone else is already waiting with Pal-gang to hear about how Dad's surgery went. The doctor finally emerges and tells them that Dad is still at risk of stroke, but they're now waiting for him to regain consciousness. Pal-gang says nothing.
Hwa-shin lets himself into his family house, where nobody's home. He mutters to himself that only that useless Pyo Na-ri welcomed him back. Serves you right! Alone in the empty house, he tends to the cut on his chest.
The next day, Na-ri looks dolefully at the gray sky. Dong-gi condoles with her a second, before giving her a big coffee order. She indicates her full hands, but he just pops his card into her mouth. Well I guess you get points for not making her pay?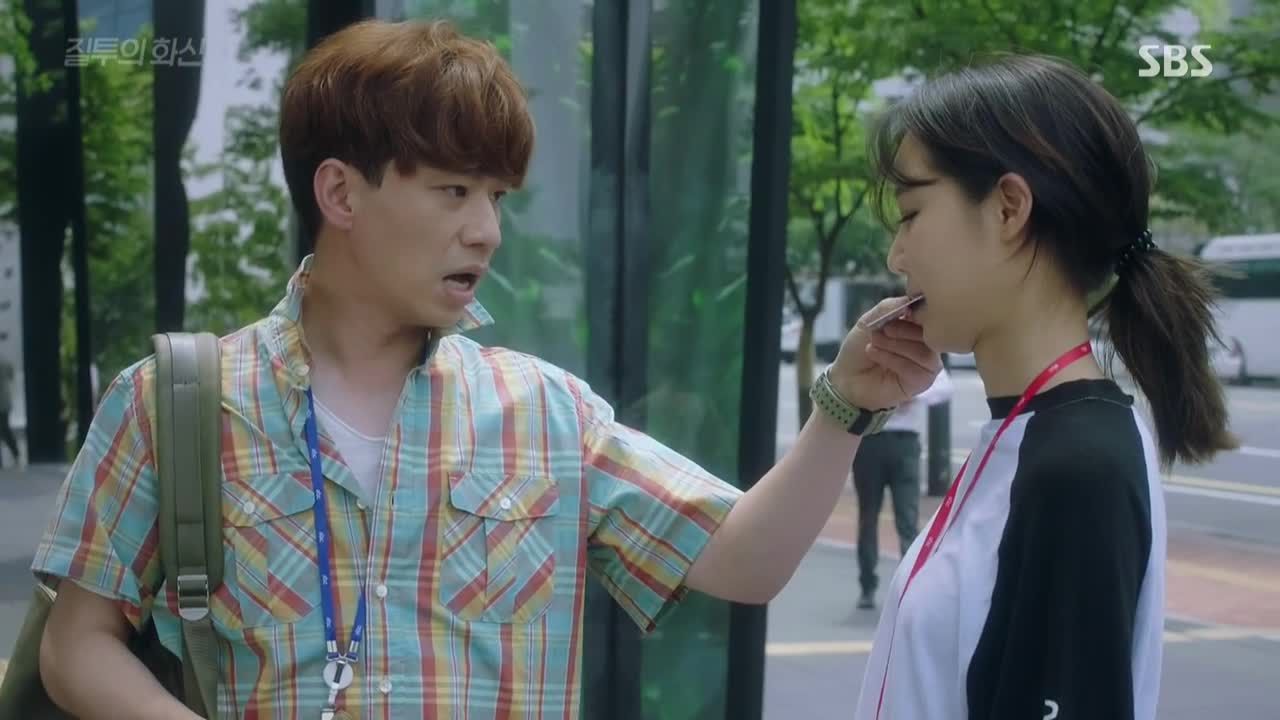 Card between her teeth, she joins the queue with a sigh, and notices a booth being set up for the new recruitment. Before you know it, she's there, trying to hide her face while asking for a form for her "friend". At her desk, she pops the form into a drawer with a smile…which fades as she hears a rumble of thunder.
The rain falls on Jung-won just as he's left his car. Secretary Cha hurries back for an umbrella and Jung-won smiles to himself as he recalls a memory of Bangkok: Hwa-shin had wrapped up filming and they were about to go eat when it started to rain. Na-ri ran after them with her umbrella but each man told her to give it to the other, passing her back and forth between them until eventually they both walked on, content to get rained on.
Out of patience, she tossed the umbrella away, which finally got their attention. Jung-won picked it up again held it over her. She snapped that she hates most to see people get rained on, because she feels somehow personally responsible. She dragged Hwa-shin into the umbrella's shelter and was satisfied at last when they were all huddled in. But a peal of thunder had her leaping into Jung-wan's arms, umbrella and all, leaving Hwa-shin out in the rain.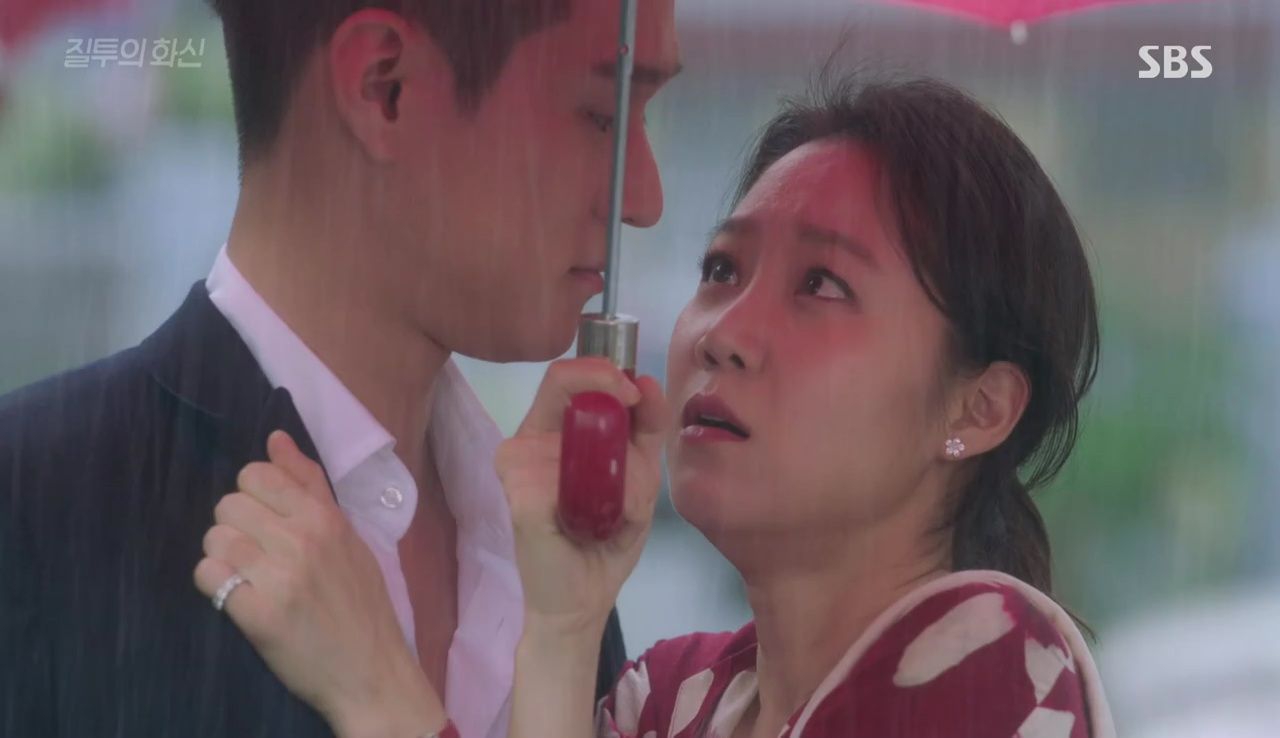 Back in the present, Hwa-shin curses Na-ri as he's forced to make the dash from his car to the station block in the downpour. She's staring dismally out at the unforeseen rain when Hwa-shin strides past. Cringing, she vows to herself to quit weathercasting even if she has to starve.
She finds herself waiting for an elevator next to Hwa-shin. She answers a phone call, and we see it's Secretary Cha on Jung-won's phone, making an angry complaint about her incorrect forecast, (under Jung-won's supervision, of course).
"So you got rained on because of me?" She asks. Surprised and pleased, she apologizes profusely. But before she finishes, Hwa-shin plucks the phone from her hand and gives confused Secretary Cha a harsh talking-to about harassing Na-ri to this extent.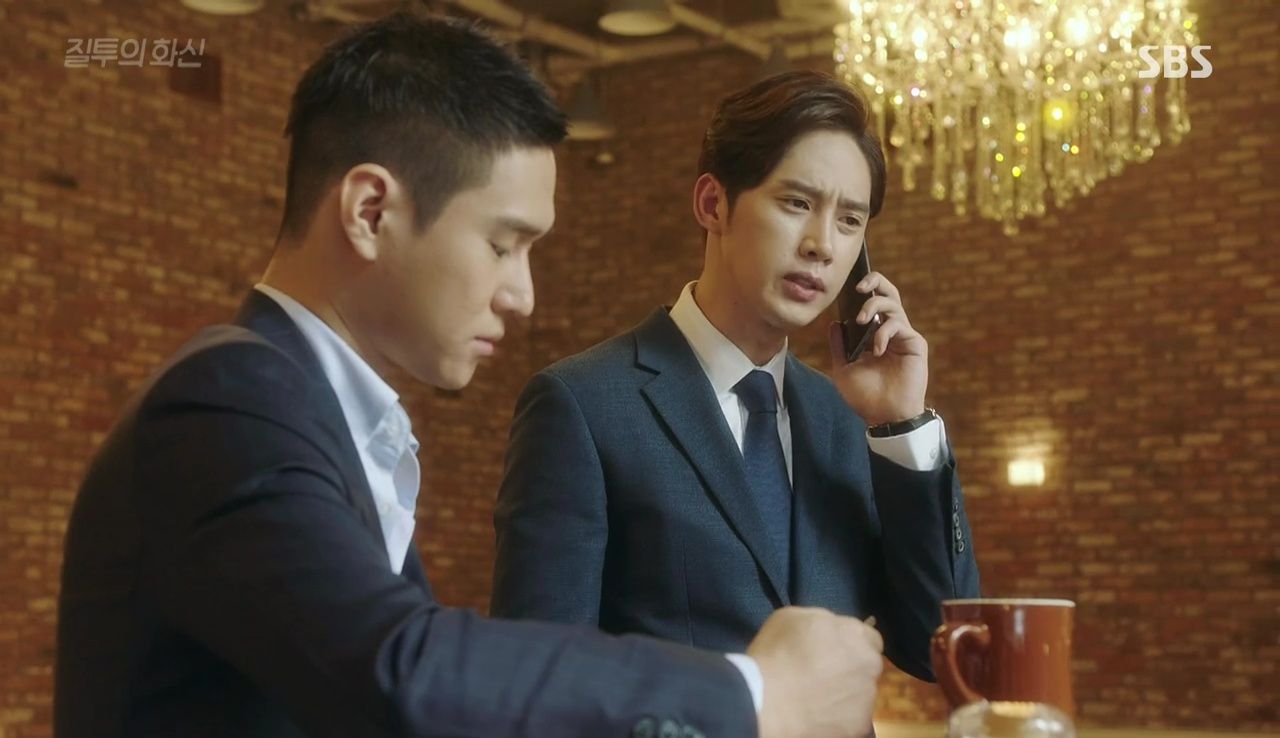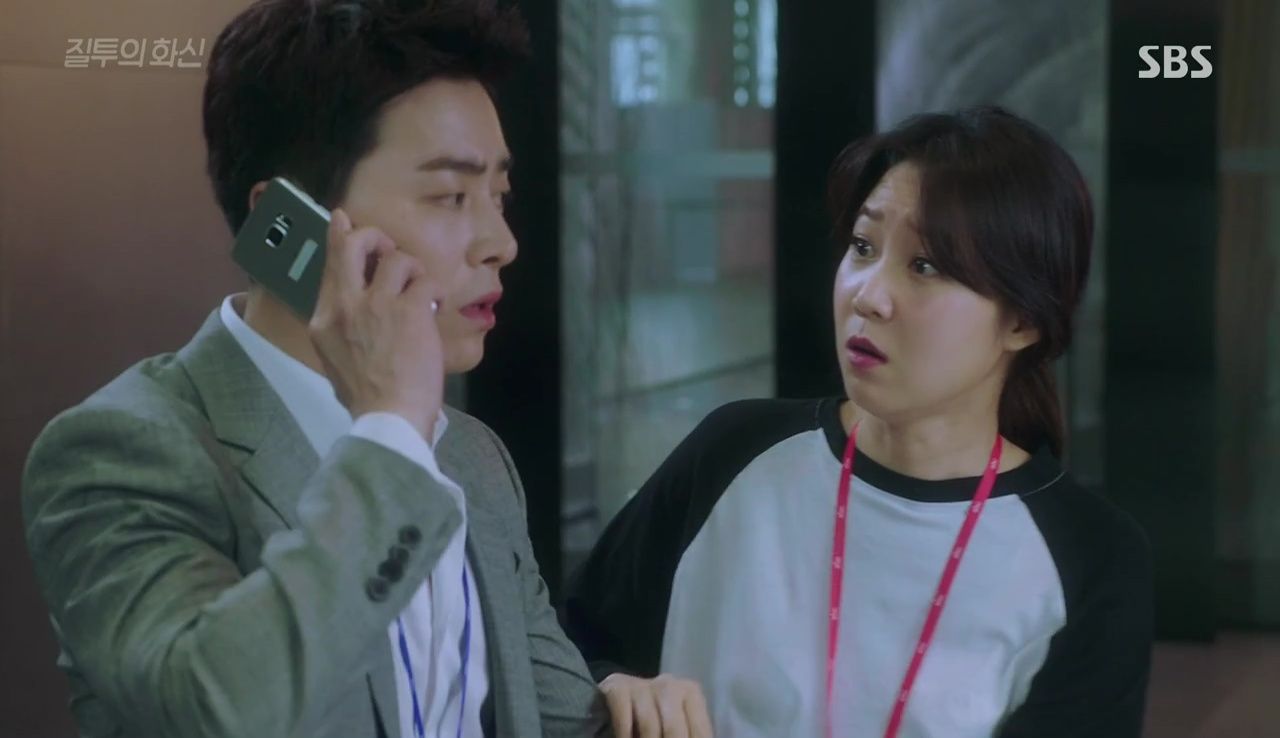 He hangs up angrily, leaving the secretary blinking at the phone, where Na-ri is saved as "Swallowed Air and Pooped out a Cloud." He wonders why Jung-won told him to make that call. "Just because," Jung-won replies, looking out at the rain with a smile.
Hwa-shin returns Na-ri's phone and advises her not to let it get to her. But to his surprise, she berates his interference and defends her caller as a precious fan. He scoffs, and she flashes in anger. Is she not allowed to be acknowledged as part of the news because she's a lowly weathercaster?
Taken aback by her hard gaze, he orders her to straighten up. She tells him not to misunderstand her: She was done liking him three years ago and she's not interested in his chest anymore, either. Muttering at his nonsense, she rides the elevator by herself, leaving him stranded outside.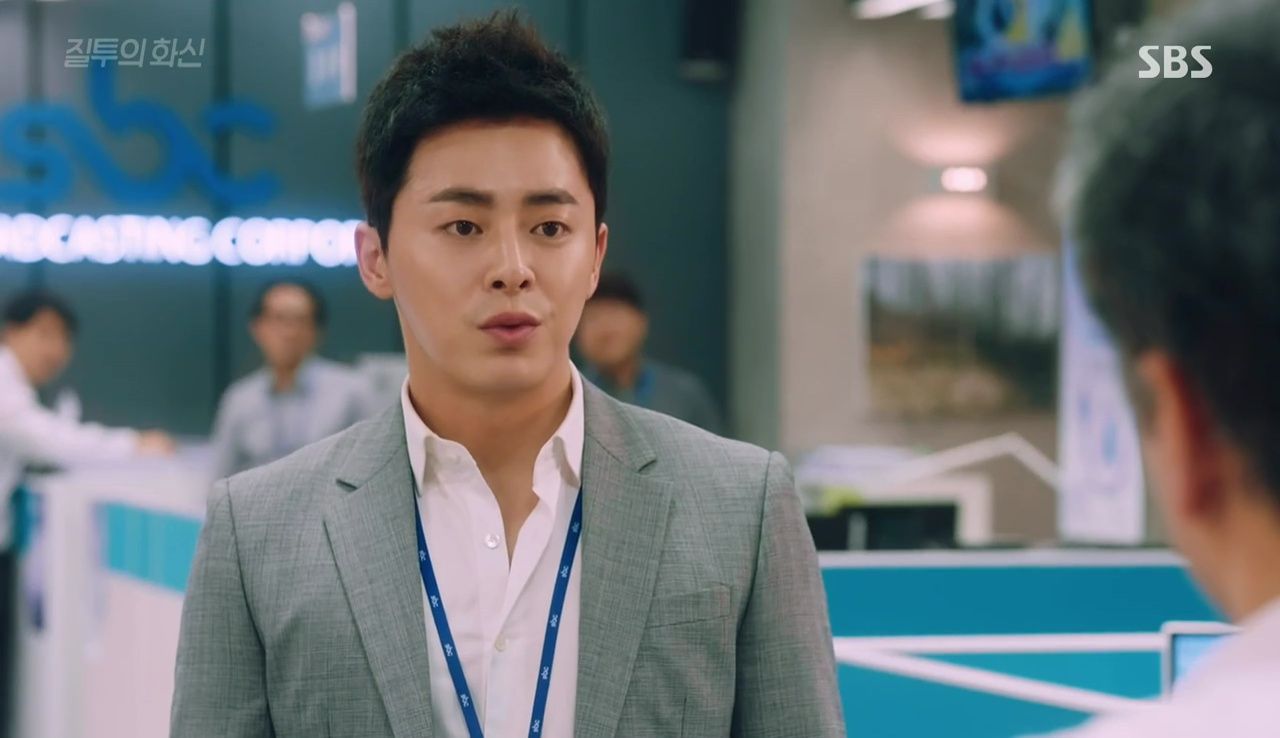 Hwa-shin marches into the newsroom for Sung-sook, and asks her where his brother and Pal-gang are. She can't tell him—she's been divorced from his brother for ten years, after all—so he heads out again.
When PD Oh takes exception to being ignored, Hwa-shin tersely points out how Oh ignored him for the whole last three years. He'll greet him when he's officially back at work, he says. Awkwardly crossing paths with Na-ri on his way out, voice low, he tells her to get lost. Et tu, Hwa-shin?
He tracks down Ja-young next to ask if she knows where Pal-gang lives, and she scoffs at him for trying to play the good uncle now. Assuming she doesn't know either, he leaves, while she yells accusingly after him that it's because of him that his brother and Pal-gang keep moving around.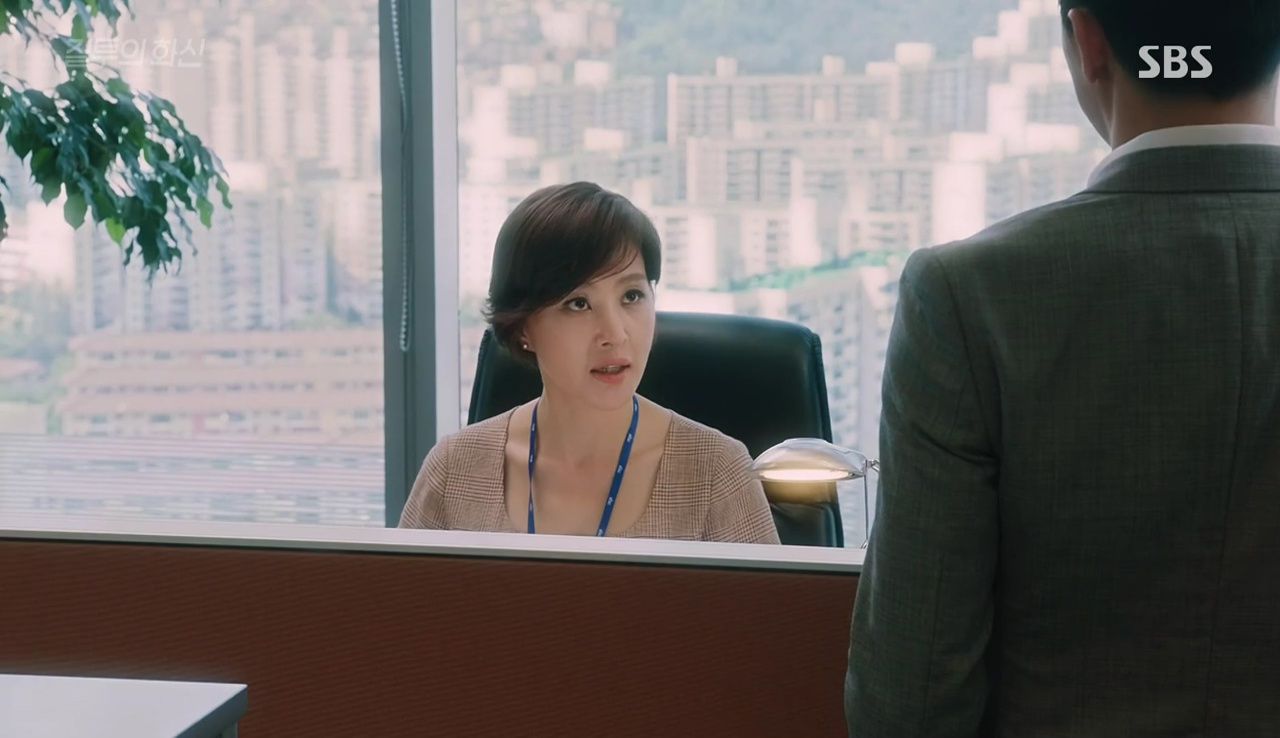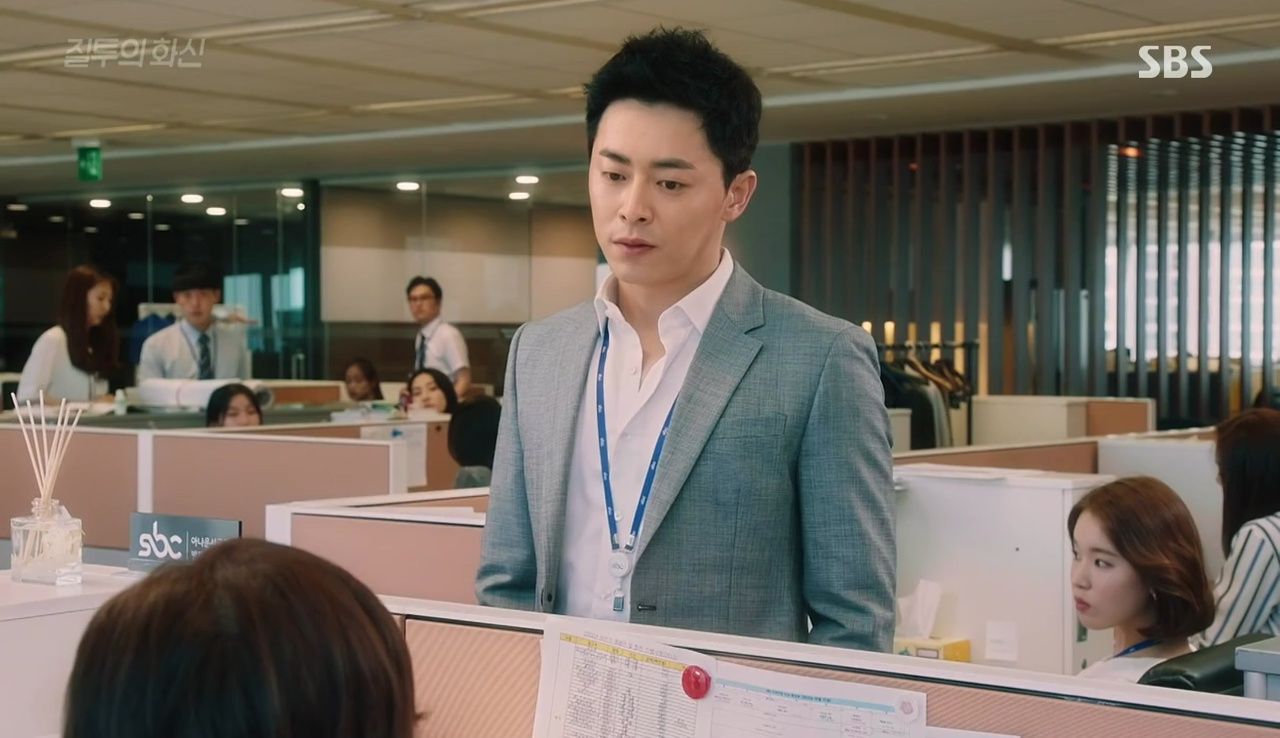 At his restaurant, Chef gets a call from Dae-goo telling him that Pal-gang's packed her bags and left. He heads home and finds her room empty save for the old wedding photos spilled across the floor. Chef looks at the two sets and wonders which is her real mom.
Sung-sook catches up to Hwa-shin and tells him to let her know when he locates Pal-gang—as her mom, she has a right to know. Ohh. Leaning close, she tells him that she's let his family do what they wanted with her daughter all this time, but that finishes as soon as Pal-gang goes off to college.
Hwa-shin tells her to continue living selfishly as she's always done, but Sung-sook gets the last word: Although Pal-gang hates her, it's surely not as much as she hates him after what he did. She asks, wasn't that why he fled to Bangkok in the first place?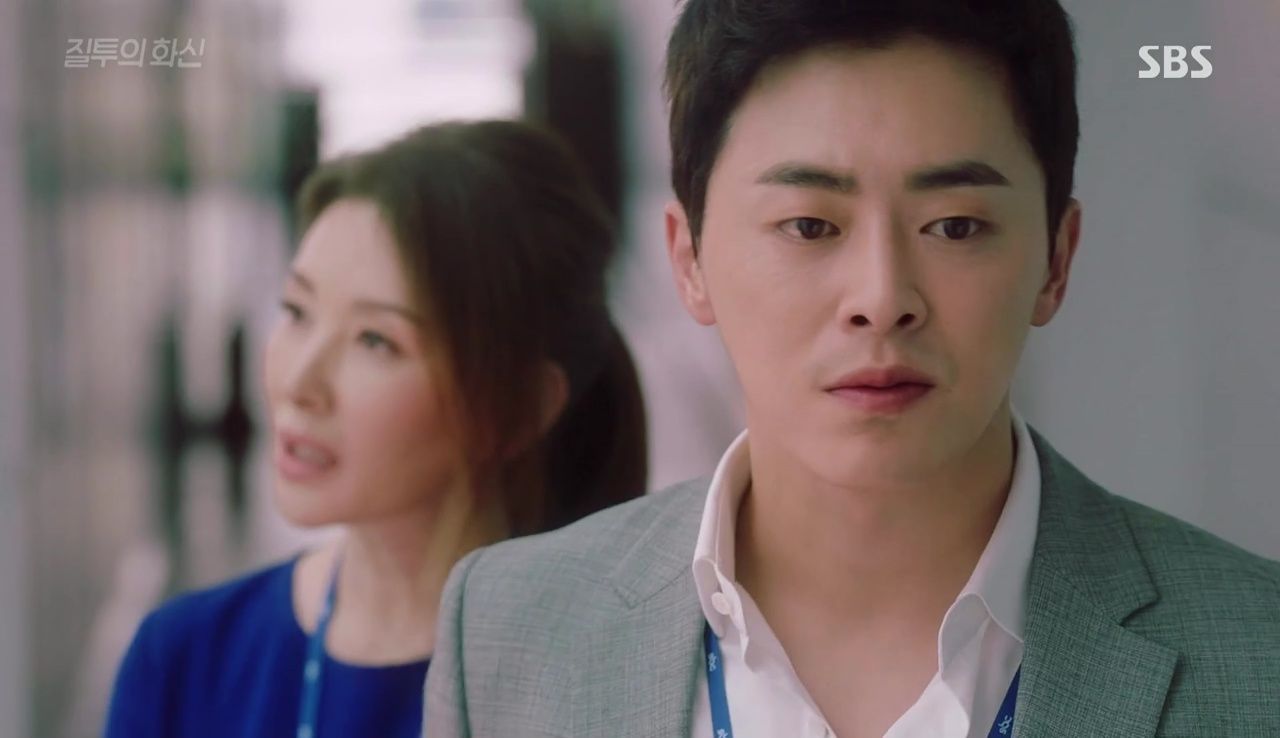 When Hwa-shin gets to his car, he's accosted by Ja-young this time. She tells him to also let her know when he finds Pal-gang, but he replies that he's not telling either of them. Upset, she reminds him that he ruined his brother and ran away, leaving Pal-gang and everyone else behind for three years. Pal-gang, who used to call her "mom" now doesn't call her at all, and her marriage ended in divorce thanks to him, too. She wants to know how he can act like nothing happened. Judging by his face, her rebukes have hit home.
Chef finds Pal-gang at the hospital, keeping a lonely vigil for her father. Her dad isn't going to die, he tells her reassuringly, and urges her to go back to school. Tears roll down her cheek and she tells him, "If Dad dies, I'll die, too."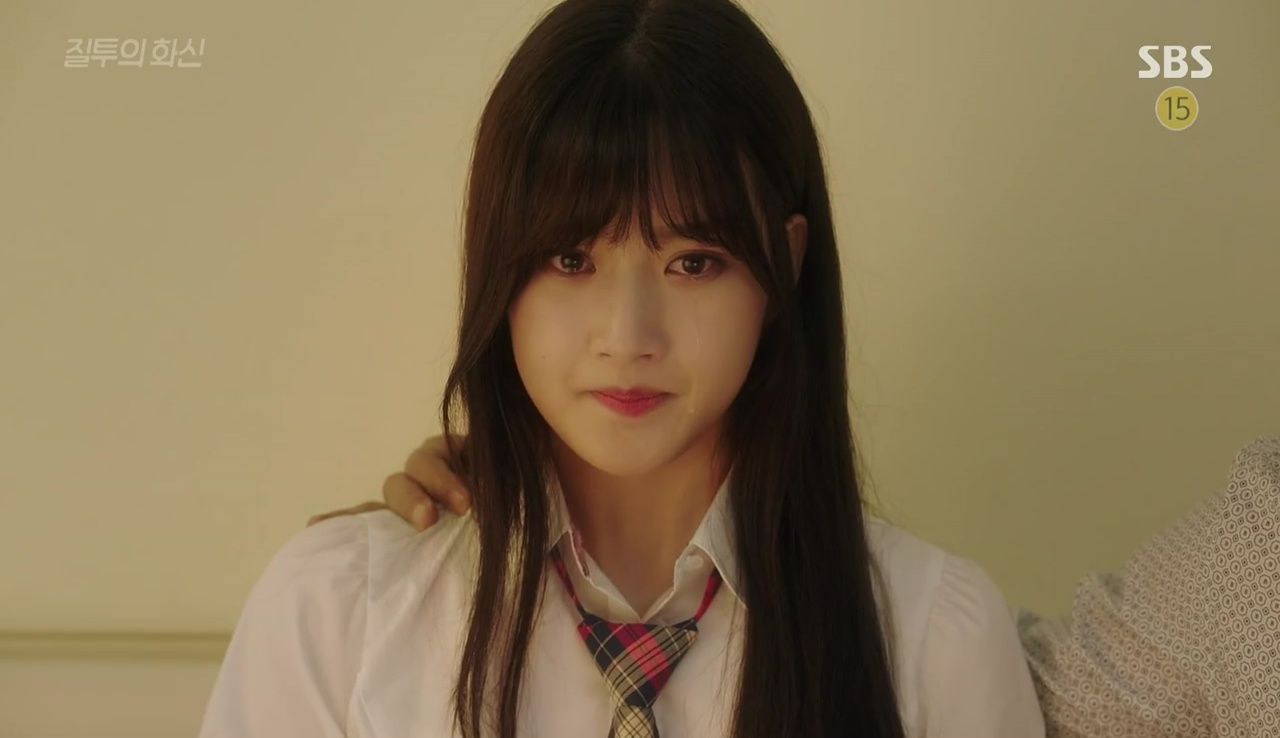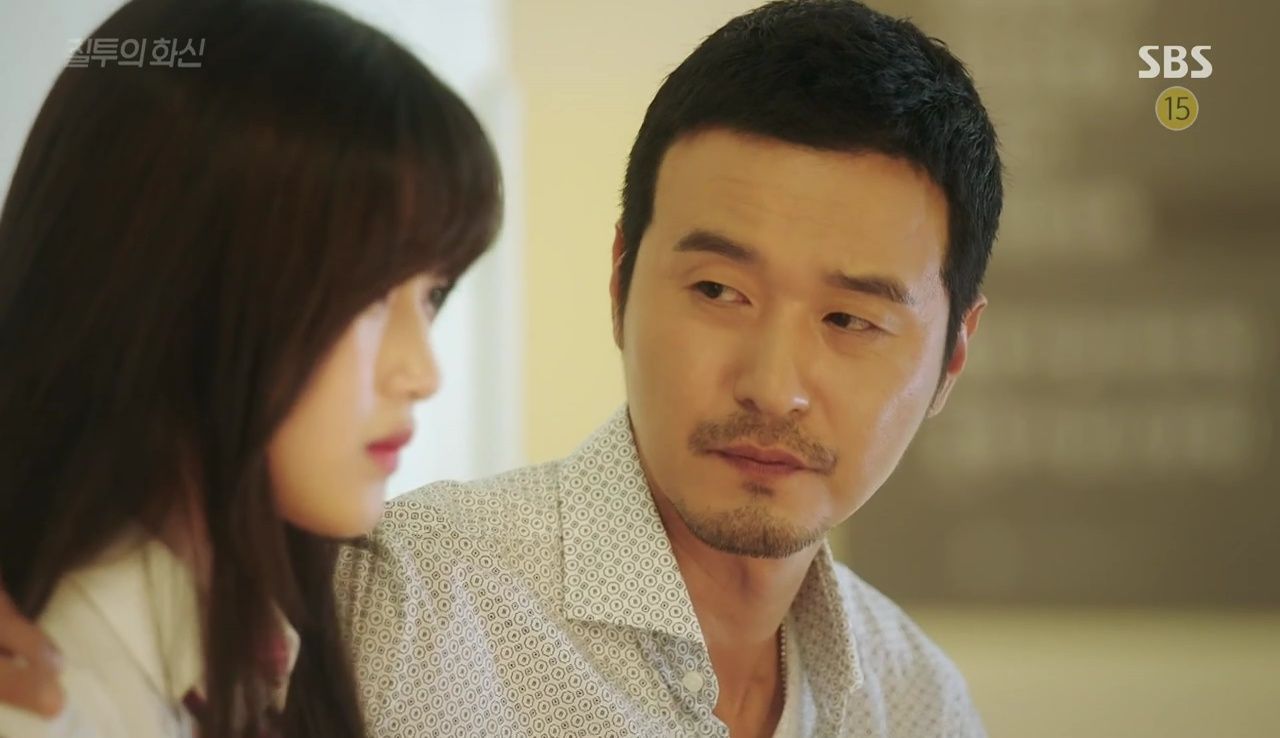 In traffic, Hwa-shin stares at the red light (ppalgang means "red") and slips into a memory. He had reported exclusively on a beef brisket franchise which had been selling cheaper cuts while passing it off as brisket.
While they were off the air, the announcer asked if that franchise wasn't owned by his own brother. Hwa-shin replied that by reporting on it himself, he was able to keep the report accurate, because other reporters would embellish it until the situation snowballed. He was evidently pained, although his expression remained fixed.
Ja-young burst onto the set and seized Hwa-shin by the lapels and asked: How can he kill his brother like this? But with seconds left to go before they were live again, she was dragged away, cursing…only for Sung-sook to fly in seconds later and land a furious slap.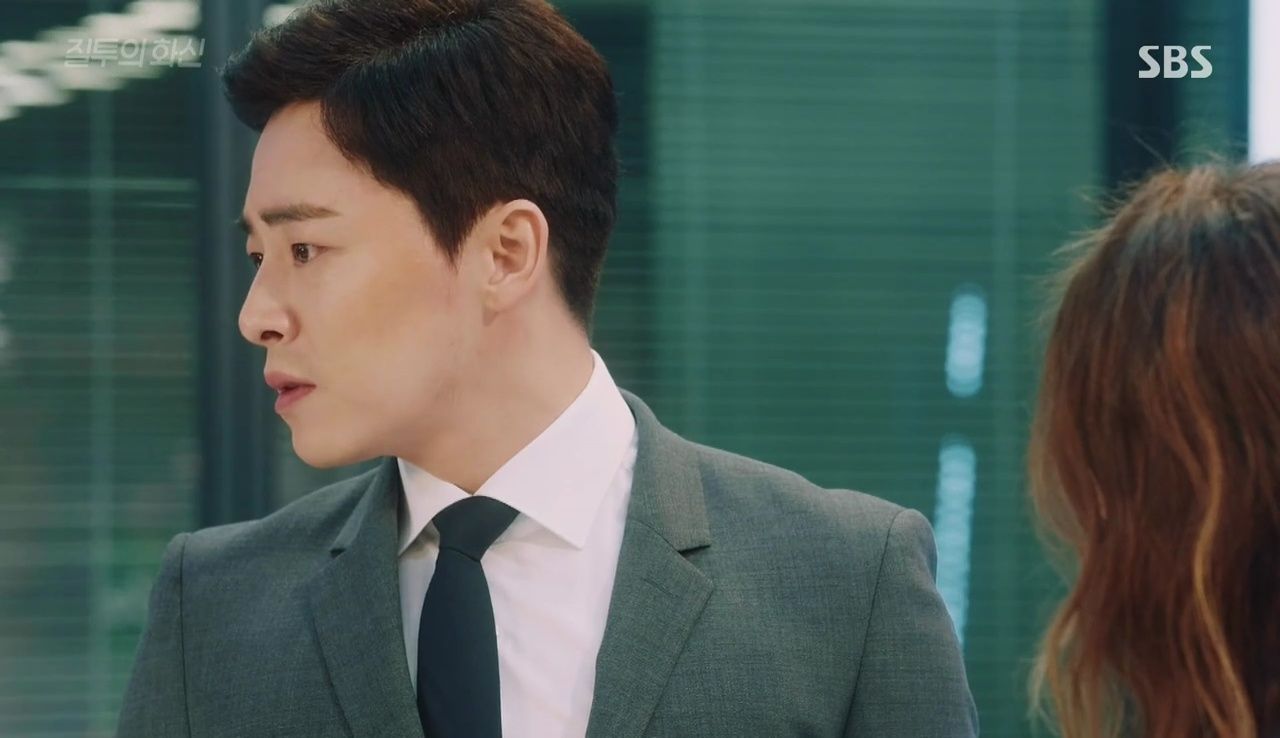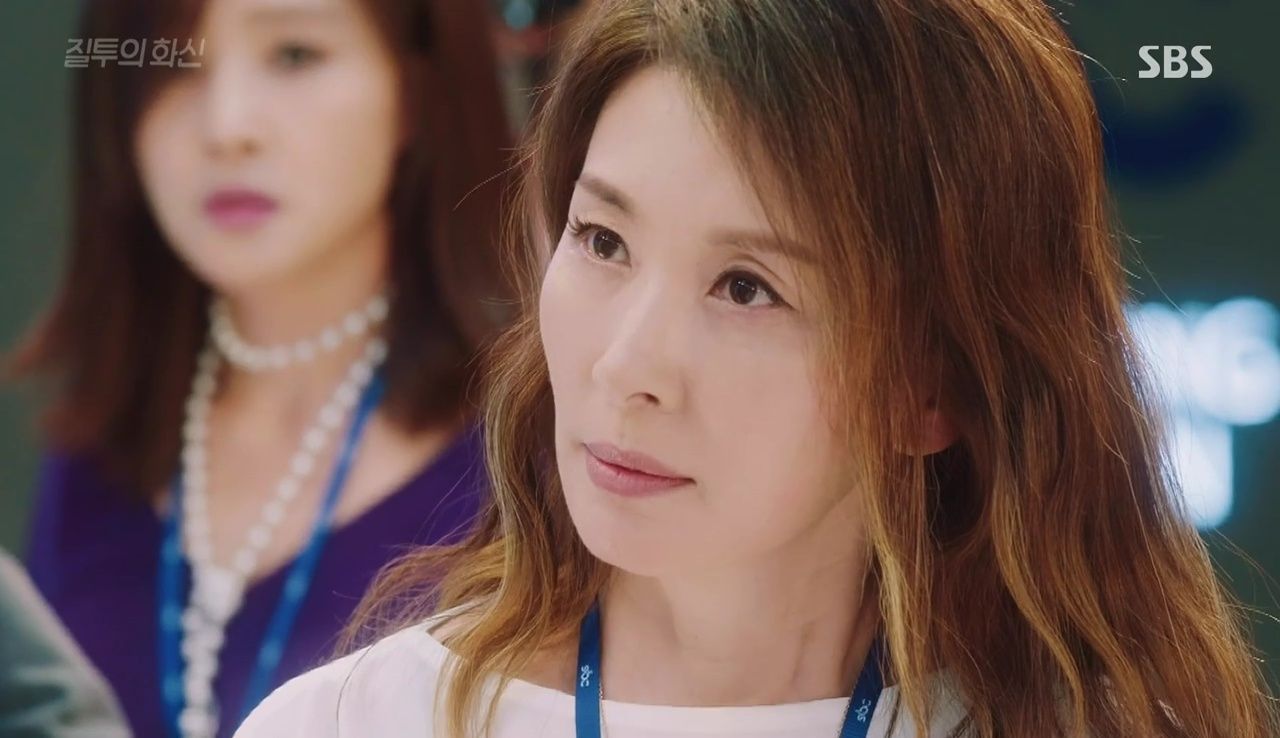 The memory fades, and cars blare their horns at him as the light's turned green already. But as soon as he moves, he crashes into another car. The impact makes him clutch his chest in pain.
In the weathercasters' lounge, Na-ri makes notes for her announcer application, but is dismayed by the girls' gossip that perhaps no announcers will be recruited this time. Maknae NA JOO-HEE pipes up in alarm and they round on her, guessing her ambition.
She complains about being a nobody, and it's not like she's getting a better weather slot either, like the seven o'clock news—which is Na-ri's. The other girls ask Na-ri if she's okay with having her slot poached like that. Na-ri comes over to Joo-hee, hands on her hips in pretend-threat, and asks if that's true. So that's why she's been sucking up to the other directors, she speculates.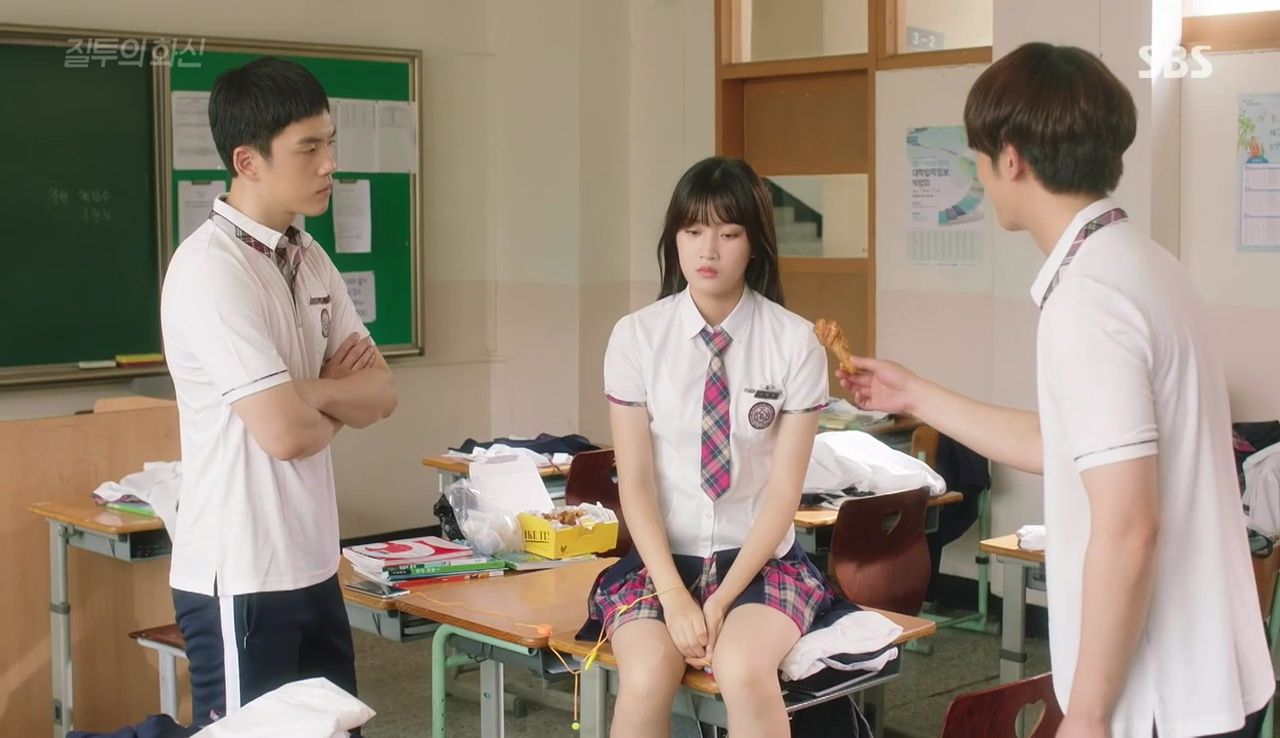 At school, Dae-goo secretly receives a fast-food delivery, which he smuggles up to the classroom in an attempt to get Pal-gang to eat. She dully asks if he has cigarettes, which makes Chi-yeol angry. Just because her dad's sick doesn't mean she gets to be a degenerate, he argues.
When Dae-goo produces a can of beer, reasoning that she might drink "barley water" if not normal water (smells like teen logic…), she pops it open eagerly. But Chi-yeol snatches it away and drinks it himself. Their teacher arrives to the scene of her body-tackling Chi-yeol while Dae-goo tries to protect her modesty with a shirt over her butt. Haha, oops.
Na-ri finds Joo-hee drinking alone and pops inside the little restaurant. Joo-hee reminds her that she's going on air soon, but Na-ri only plans to grab a bite, no drink. She apologizes for earlier, and encourages her to apply for the announcer post. She figures that Joo-hee is ashamed of her sunbaes, and admits she's embarrassed of herself these days, too. Dispirited, she ends up accepting the drink Joo-hee pours her. Oh no, this can't end well.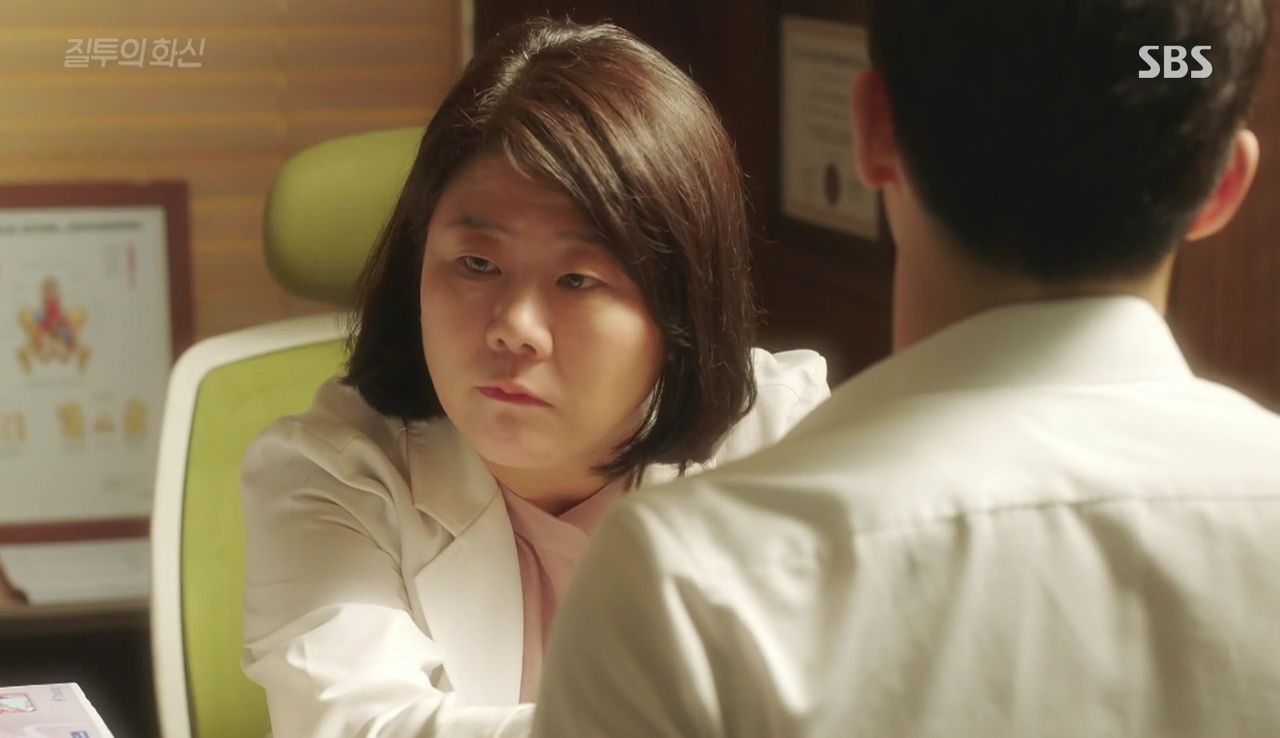 At the hospital, Hwa-shin gets a chest X-ray after his accident. The doctor tells him that his bones are fine, but takes another look at his chest, prodding and poking. He asks if she's suspecting him of breast cancer, too, and accuses her of being a quack. But she remains serious and asks him to humor her and get it checked out. And that's how he finds himself at the doors of the Breast Clinic.
It's dark out and Na-ri's still at the restaurant, alone and somewhat the worse for drink. At the studio, everyone's looking for her since they're about to go on air, but she's busy calling Jung-won to apologize for the weather, and promises to call him every day for a week with special weather updates only for him. Stooop, I'm cringing so hard for you right now…! Amused, he advises her to stop drinking, but she won't let him go until he agrees. Criiiiinge.
Oh, Joo-hee hasn't left after all. She returns to the table, and when Na-ri drops some food on her dress—which belongs to the station and she's supposed to broadcast in—she gets a dangerous glint in her eye. Loading up a lettuce leaf with fillings, she "accidentally" drops it down Na-ri's front with a secret evil giggle, and then makes even more of a mess wiping it off. Ugh.
Na-ri finally realizes the time when it strikes seven. It's a mad scramble back to the station, where she dispatches Joo-hee for a fresh dress. They can't access the elevators so she huffs and puffs her way up the stairs.
From a dark stairwell in the hospital, Hwa-shin calls her, "Just because…" but she hangs up on him at that, in too much of a rush. "…you came to mind," he finishes, a little forlorn. The camera pans out to show him clad in a pink hospital gown.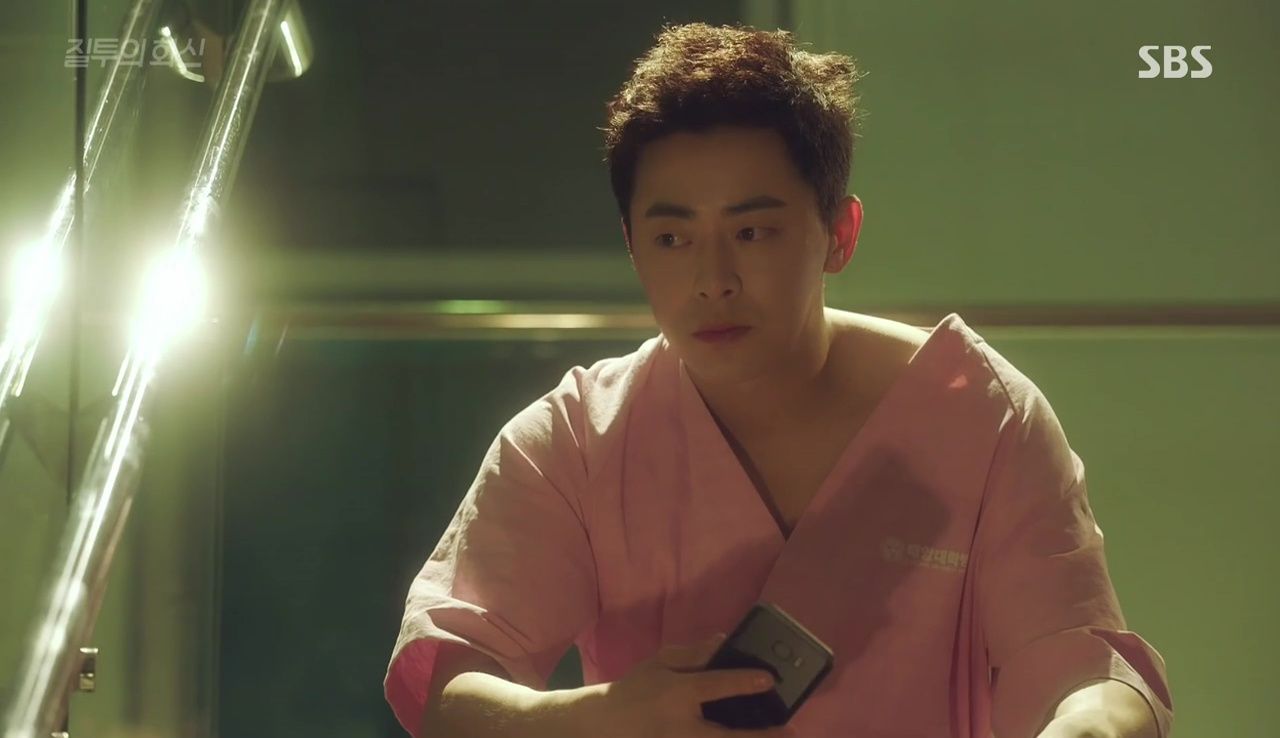 Jung-won arrives at the station with Secretary Cha, who delivers a special dress to one of the announcers in the same dressing room as Na-ri. Joo-hee (who turns out to have been loitering at the door) pretends to run in, and gives Na-ri the bad news that there's not a dress to be found. Suuure. Na-ri begs the announcer for a loan of hers, but to no avail.
Na-ri finally rushes onto set… in Joo-hee's skimpy, not-safe-for-news outfit, and reeking of alcohol. Looking at the state of her, the director wants to cancel today's weather slot, but Na-ri swears she can do this perfectly.
PD Oh fires her on the spot, but she's already cued to go, and delivers a bright performance. Jung-won watches, too, and smiles at the oblique reference she makes to his complaint. Hwa-shin, on the other hand, arriving back at the station just in time, watches it in what can only be described as thunderstruck horror. Mission accomplished, Joo-hee enjoys a private smirk before slinking away.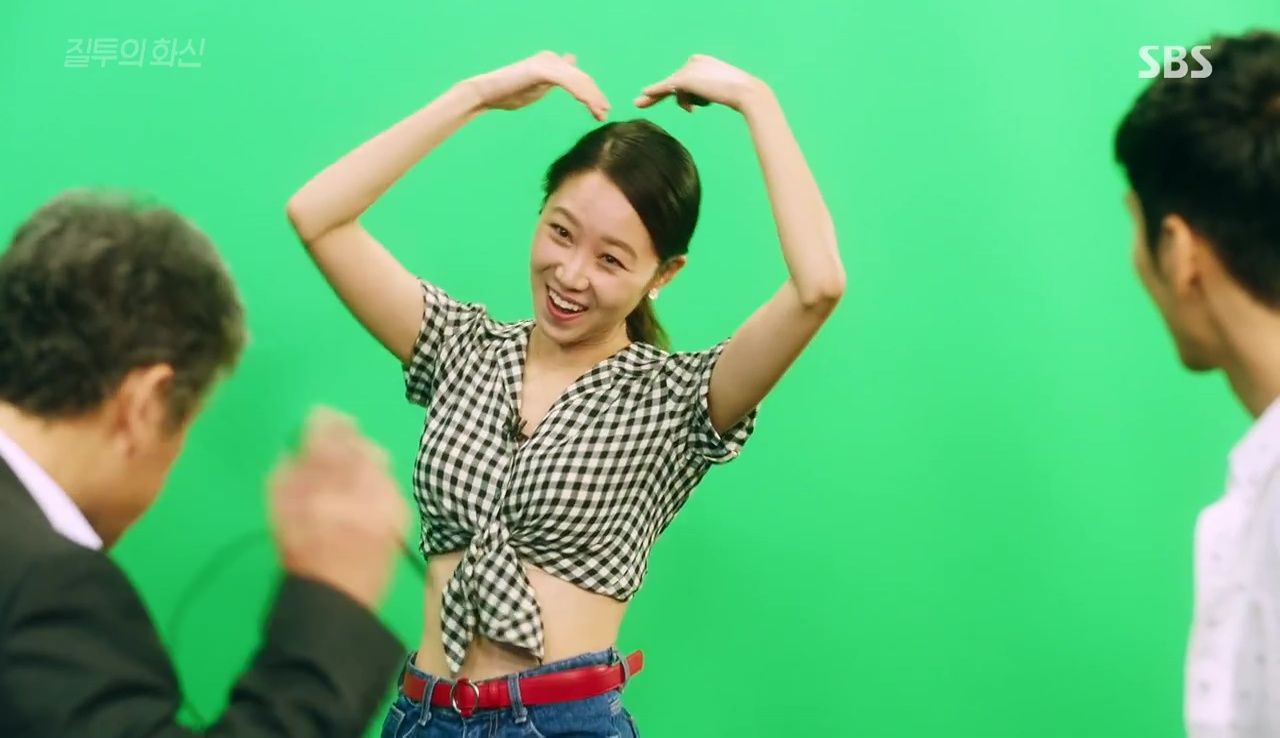 Dong-gi and the news director praise Na-ri for her best show ever, but worried, she seeks out PD Oh, who's with Sung-sook and Ja-young. He tells her to get out—her firing stands. She pleads her flawless past record, and he says that in consideration of that, he allowed her this final broadcast, so she'd have a chance elsewhere without getting blacklisted.
Sung-sook finds his firing insufficient and treats Na-ri to an overwrought litany of her sins and how she's a disgrace to the station. Ja-young joins in with remarks that amount to calling her a floozy, and the natural enemies are temporarily united in their attack of her. It's beautiful to behold. They flounce off, and Na-ri struggles to hold in her tears.
Jung-won comes out to the car, and his secretary wails about him running away. And then to Secretary Cha's despair, he runs away again.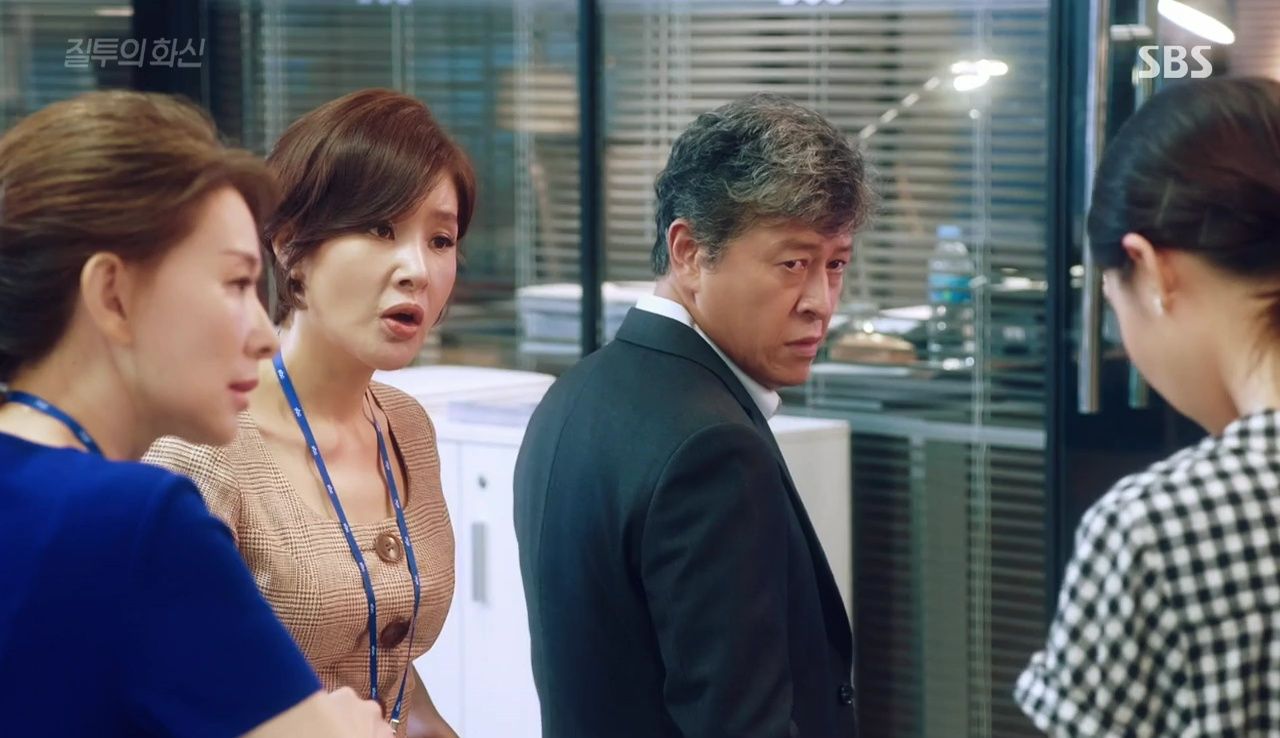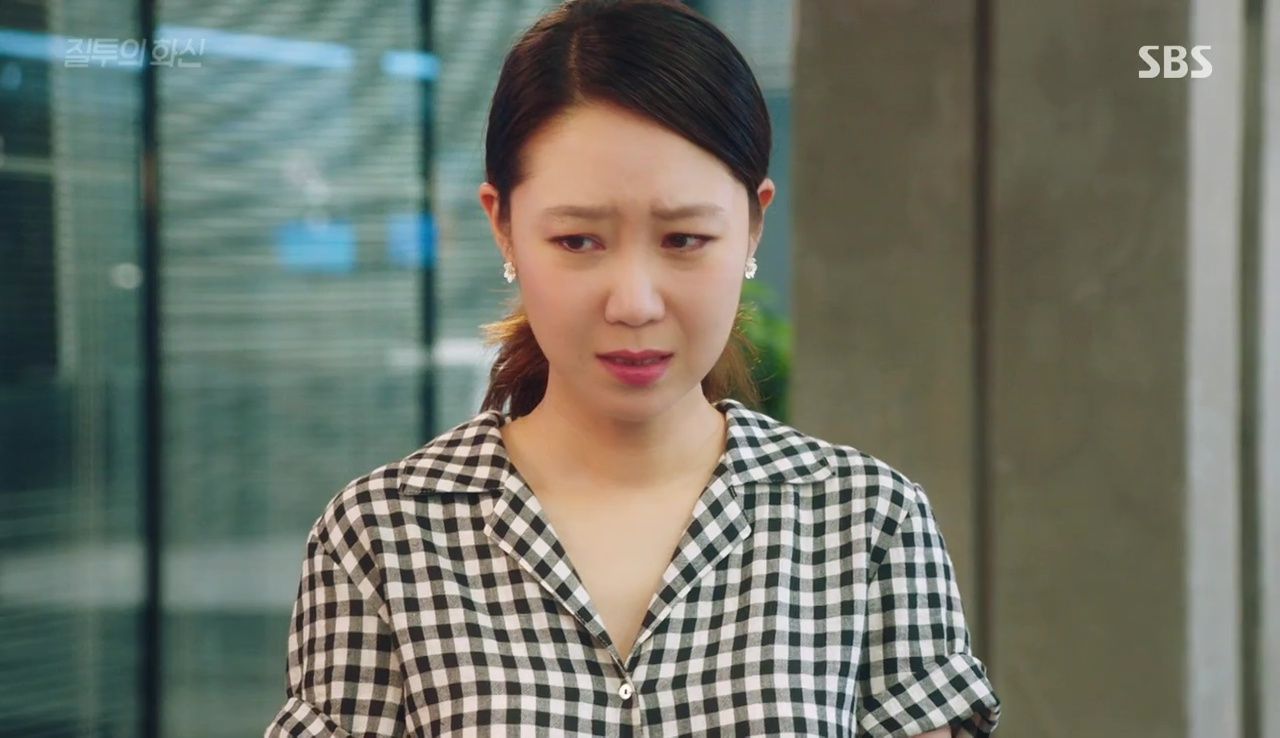 In the weathercasters' lounge, Hwa-shin drops in on Na-ri. Noticing that she's upset, he asks what PD Oh said, and when she doesn't reply, he just tells her to do better tomorrow. But he turns back at the door and blusters accusingly about how uncomfortable she made him and his chest, by giving him palpitations over her nearly wrecked broadcast today. How dare she give him chest palpitations, he says, like it's a deep offense.
She turns red-rimmed eyes on him and tells him she's really not interested in his chest anymore, and the words ring in his ears. Tearing up the announcer application form, she tells him not to worry: "Today was my last broadcast."
Walking past him, she leaves, heels clicking down the empty corridor.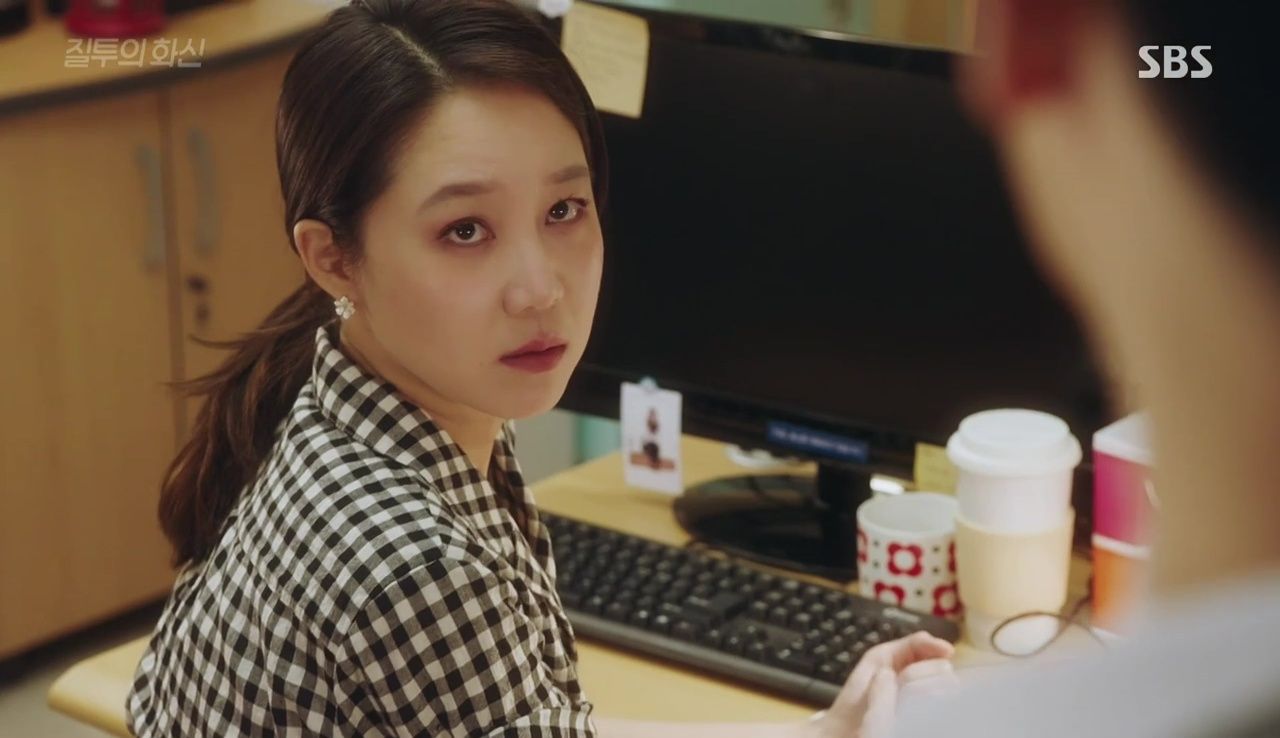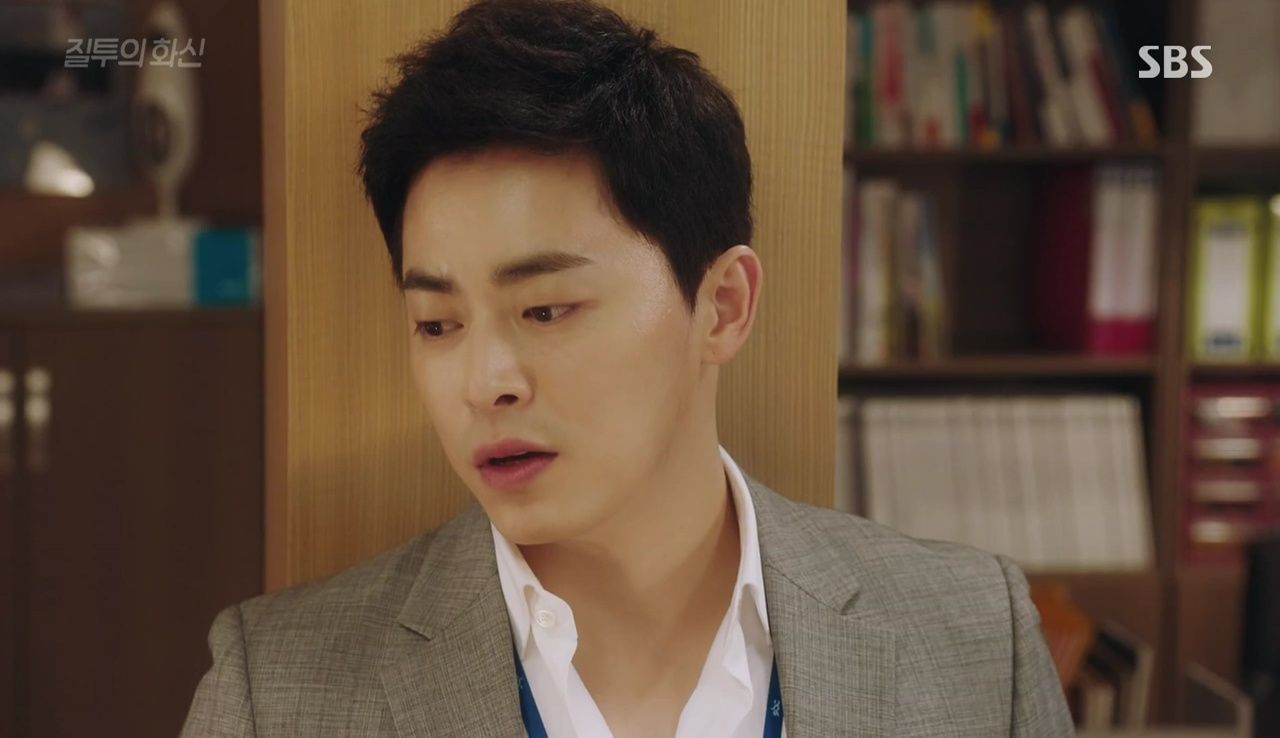 COMMENTS
I know rooting for these characters is a journey of twenty-four episodes, but we've really got our work cut out with Hwa-shin, huh? This last minute finally made him a bit more sympathetic to me, when it's so obvious he doesn't even understand what he's saying. But it would be too easy if he started liking her already; I want there to be more reasons, based on much more interaction than this. So far, there aren't really any reasons—nothing has fundamentally changed between three years ago and now, so a change of heart in Hwa-shin because she felt him up a bit on medical grounds doesn't really fly for me.
On the other hand, the tragedy of his past falls hard and he was clearly caught between a rock and a hard place. But the problem with his lesser evil was that the fallout is still really, really bad, so I don't think he can (or does) expect forgiveness from his family anytime soon, if ever. He's obviously been avoiding dealing with it at all, and he had a bit of a symbolic moment at the traffic lights, with the red light representing the way he's lived the past three years, stopped in place. But he's back home now: The light has changed and it's time to start moving.
Maybe even the crash as soon as he moves is a bit symbolic—things get worse before they can get better? It'll be interesting to see how he reacts when he finds out where Pal-gang and his brother are, not to mention the guilt he's bound to feel when he discovers hyung's condition. Now that they're part of Na-ri's little surrogate family, that's sure to be some kind of game-changer with his feelings, too, especially since he's going to have to earn his niece's trust back—something Na-ri and the others have more of right now.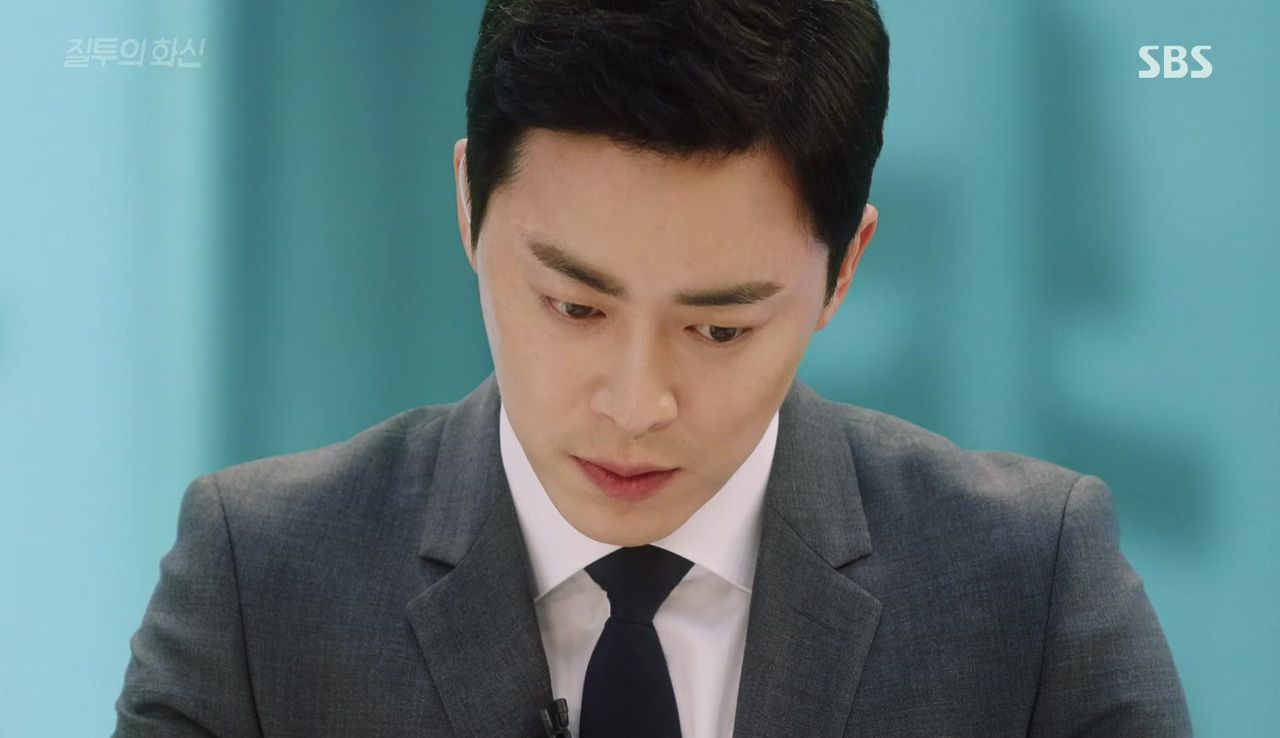 Speaking of the un-family, they're probably my favorite ring of relationships in the show at the moment. The boys are sweethearts, even if Chi-yeol has that rough, gruff exterior (wait, he's a totally typical lead alpha-male, isn't he?). Chef clearly is much more to them than a landlord; I'm curious to know where his ties to them spring from, and also how Pal-gang and her father came to live with them in the first place. But that said, apart from Chi-yeol, I'm not wholly sold on any of the characters yet, not even our leads.
For a start, it's difficult to get a good read on them yet. With Gong Hyo-jin, I feel a certain amount of déjà vu between Na-ri and her Gong-shil character in Master's Sun, which takes me out of the show every time it happens. To be fair, it's faded a lot in the second episode—it was much more prominent in the first. I do like how embarrassment just rolls off of her, if it even registers at all. Like in the Thailand flashback, the untroubled way she inserts herself between the two men is actually rather delightful. She's not at all worried about being a third wheel, and barely five minutes later, she isn't.
It's not quite shamelessness or boldness—more a pleasant matter-of-fact-ness. Much as I manically relate to flaily heroines, I also love having a steady one (tipsy phone-calling aside). However, I do feel like that seemingly core part of her nature is at odds with how she gets steamrollered by her colleagues, although that perhaps is an unavoidable consequence of her lack of status. If that's so, then it makes an interesting contrast, because clearly, this woman is not a doormat, but she has to act like a doormat at work, and that makes me furious on her behalf. In fact, there's a strong current of sexism and internalized misogyny underrunning the whole show so far, which I hope all our characters will tackle head-on.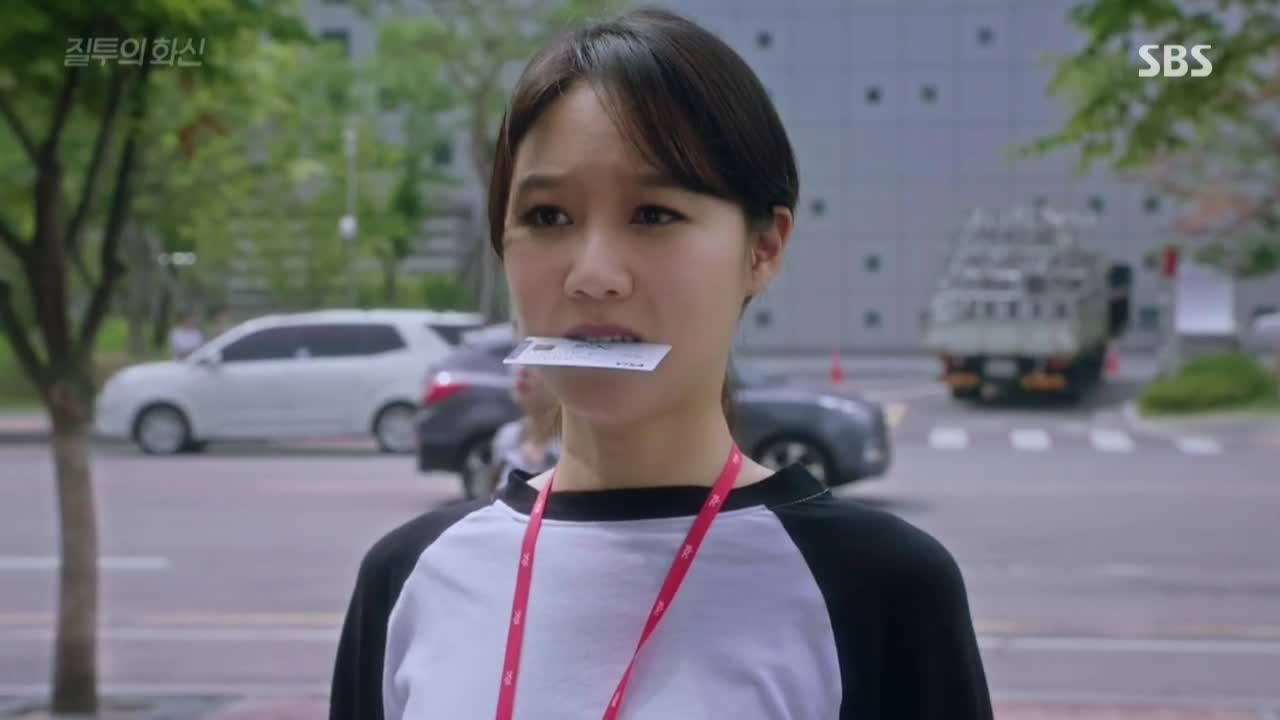 The other thing I really liked about the Thailand flashback was how much it communicated the easy nature and depth of Hwa-shin and Jung-won's relationship (which Na-ri didn't register at all, lol). Each knows the other so well, and they're both more considerate of each other than themselves. Considering that Hwa-shin's mostly been a rude, selfish ass these two episodes, this is one of the moments that I hope anchors his character. He does actually seem to be well-intended more often that not—both episodes are peppered with miniscule moments of gruff kindness—but he seems to nurture his mean side more.
As for Jung-won, while I buy his character history (although neither LollyPip nor I have any idea what he actually does), I'm much less convinced by Go Kyung-po's acting. I can see that his characteristic expression is meant to come off as enigmatic, but it comes off as bland instead. This is worrying because if he's not convincing as a love interest, it sucks the tension out of the triangle and maybe even the OTP. Put up a proper threat, friend! Emote! Emote or I will groan through all your scenes and mock your hair!
This episode also solidified our warring factions within the station-hierarchy. Ruling the roost are the announcers (who work at the newsdesk) with Ja-young as their queen. Sung-sook is the self-appointed champion of the reporters (who work in the field), and languishing at the very bottom of the pecking order are the weathercasters (aka the servant class). It's funny how it simultaneously resembles both high school cliques and courtly hierarchies, if they were imagined into a broadcast context—at once deeply petty, but also thick with hidden politics and intrigue. And to be honest, I'm looking forward to a lot of pettiness.

RELATED POSTS
Tags: featured, Go Kyung-pyo, Gong Hyo-jin, Jealousy Incarnate, Jo Jung-seok