Moonlight Drawn By Clouds: Episode 2
The cuteness continues, and these two are at it again with more bickering and adorable petty pranking. Today the tables turn with the power dynamic upturned and the advantage shifting in the opposite direction, and we waste no time getting to the central setup, forcing our heroine into this unplanned new territory. I love that the conflicts and characters are mostly good-natured, though there are also hints of a more complex conflict buried underneath the surface. But for the moment, I'm content with all the cheery interactions and the beginnings of character bonding that set most of the tone.

EPISODE 2: "A road leading to you"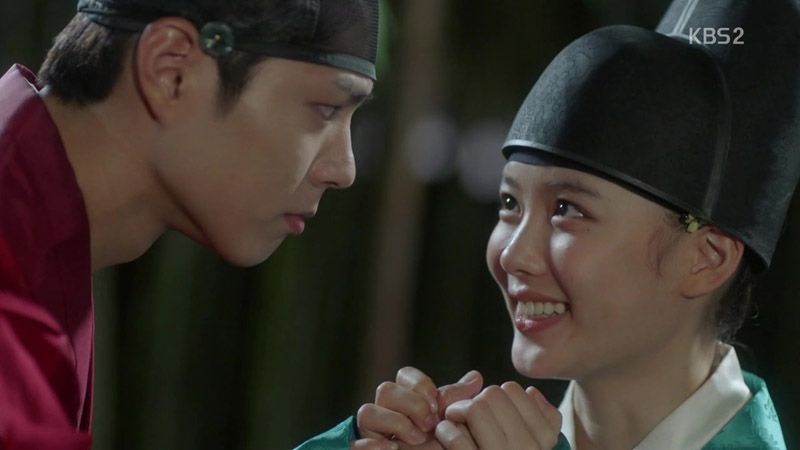 As Ra-on attempts to slip out of the palace unseen before her eunuch status is confirmed, she bumps right into Prince Yeong, and they're both startled to recognize each other from their earlier encounter. Namely, that pit of dirt she left him in.
Ra-on puts on a display of relief, flinging herself at his chest and saying how worried she'd been after their unfortunate parting. Then she piles on the flattery, noting the sword at his side and his simple clothing, assuming he's a guard employed at the palace.
Yeong isn't falling for her big show of concern, and scoffs at her revised version of events—the one where she was fraught with worry and sent help as fast as she could.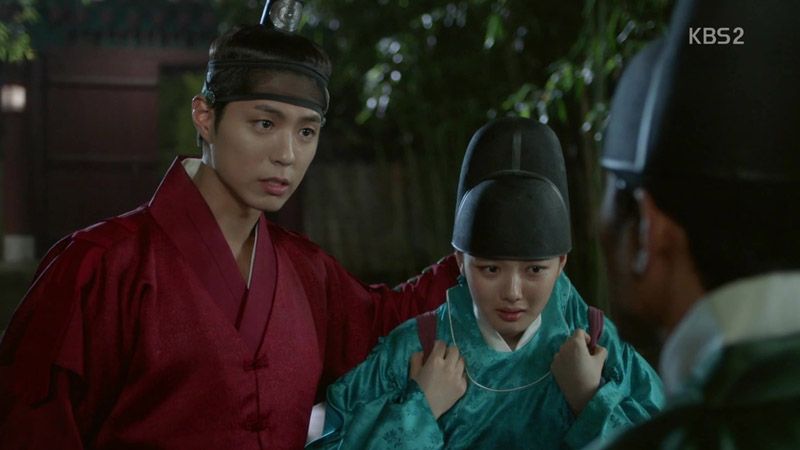 Yeong notes her eunuch's clothing, and Ra-on lies that it's been a lifelong dream of hers to become a eunuch. When he remarks on her bundle of belongings, she says that she's just heading out on an errand.
Just then, they're interrupted by a third man, Eunuch Sung, who recognizes the prince and starts to address him properly. Yeong cuts him off and refers to himself simply as Officer Yi, then scolds the eunuch for the state of his department—sending a rookie who doesn't even know the palace layout out on an errand this late at night.
Eunuch Sung orders Ra-on to follow him back, but she turns back to appeal to the prince instead. She urges Yeong to just slap her and call them even, but flinches when he raises a hand. He just gently pats her on the head like a pet, crooning, "It's not right to hit a puppy. You've got to soothe it softly and play with it." Ha, why is that more menacing than a threat?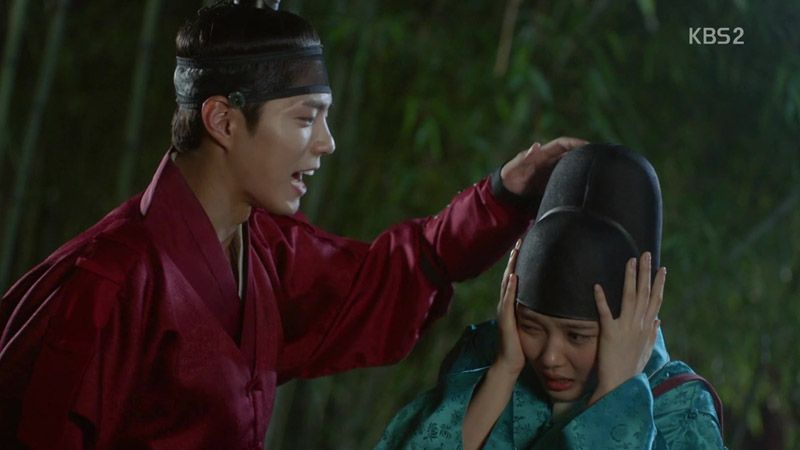 He calls her Mung-mung (the sound of a dog's bark) and sends her off with the older eunuch, ignoring her pleading eyes.
Eunuch Sung leads Ra-on back to a storeroom and charges her with three wrongdoings: trying to run away, lying, and then getting caught—of all people, by "that terrible-tempered…!" Ra-on whimpers that she just got scared, and Eunuch Sung replies that he'll fix that fear and make a good eunuch of her. To that end, she'll have to spend the night in this storeroom.
The next morning, the new recruits are informed of their duty to serve the royal family and drilled on the importance of their position. If any of them were to sully the department's name, they will have to pay with their lives. Ra-on gulps nervously.
She's not the only one spooked—a young boy wets himself—but a trio of veterans wryly comment on how the speech is too strong and will scare off the newbies. Then Eunuch Sung reminds the stern-faced Eunuch Ma about how an early freakout can turn you a target of endless teasing, haha.
The recruits will undergo a trio of tests: physical, written, and character. Failing one will result in immediate dismissal.
First is proof of castration. Recruits are called in to drop trou before the examiners, and Ra-on gets increasingly nervous as her turn draws near.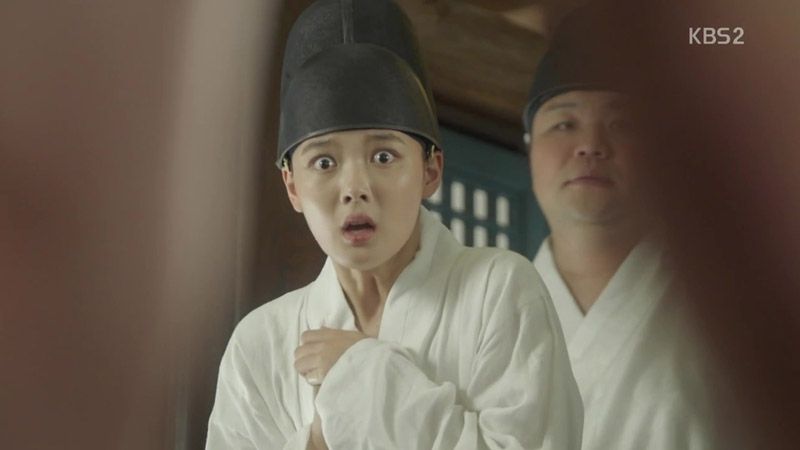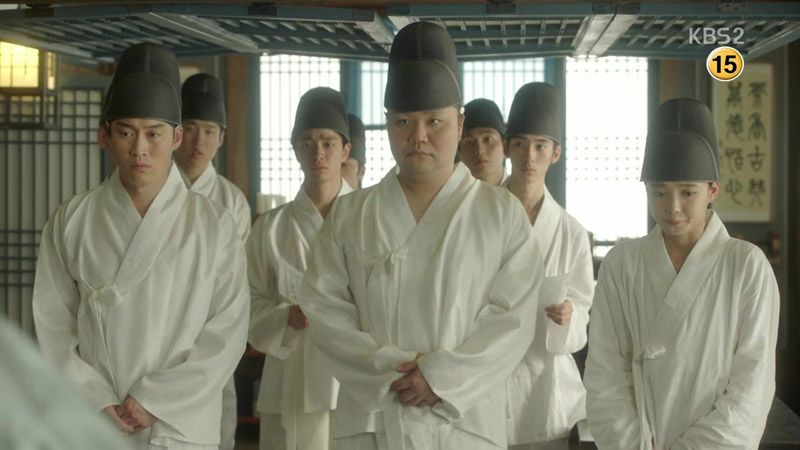 Two fellow rookies introduce themselves to her—the burly but soft-spoken Do Ki and wisecracking Park Sung-yeol—and they realize that they're all the same age (eighteen). Which, ha.
Then it's their turn. Ra-on sweats bullets while her buddies both easily pass, and freezes when she's called on to comply. At the last second, a eunuch bursts in to inform them of an emergency: The queen has collapsed.
The examiners rush out of the room, and in so doing the "pass" stamp falls on Ra-on's paper. She's through to the next round! It's a relief to be safe, but still, Ra-on wonders if this is a good or a bad thing.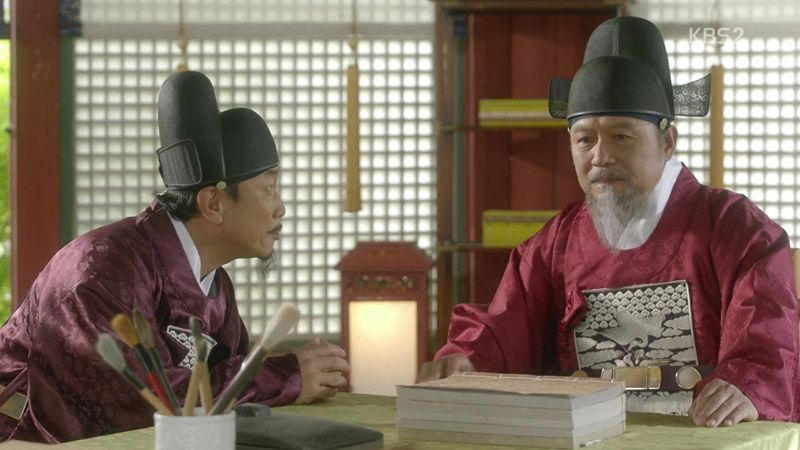 The queen turns out to be pregnant, and Prime Minister Kim, her father, is pleased at the news. He cackles with his cronies, the two Minister Kims (minister of personnel and minister of taxation), at the thought of installing a new prince as the future ruler. Yeong can be dethroned at that point. Of course, there's no guarantee the baby would be a boy, but they figure that this is their chance to tame the crown prince.
As the rookie eunuchs are given the palace tour, they arrive at the crown prince's palace just in time to see Eunuch Sung being kicked out (literally) and the prince yelling from inside. Do Ki whispers about the rumors he's heard about the prince's temper.
Faithful Eunuch Jang appeals to the angry prince, saying that Eunuch Sung had just come to deliver the message of the queen's pregnancy. He urges Yeong to give her a simple congratulations, but Yeong warns him to shut it.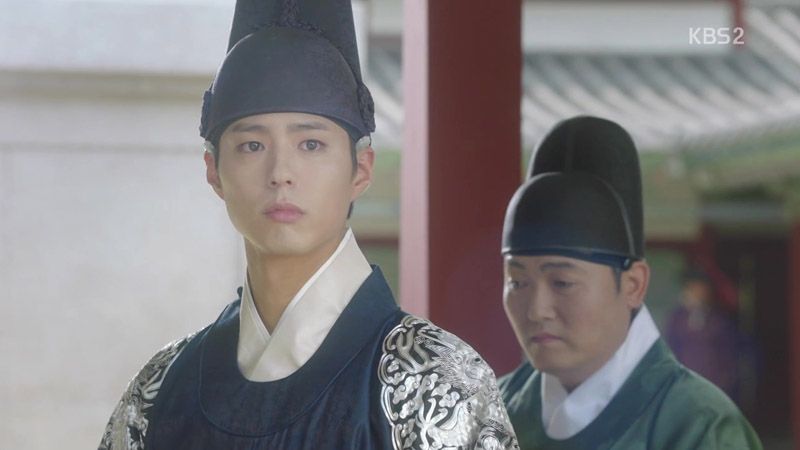 Even so, Yeong decides to pay his respects to the queen, and heads out for a visit. On the way, he passes by an empty pavilion, which brings to mind a memory of his mother from eight years ago, when they'd sat her together and she'd taught him how to play the geomungo. The happy recollection brings tears to his eyes now.
Prime Minister Kim finds him here, and Yeong puts on his friendliest face to greet him. They maintain the pleasantries, but the moment their backs are turned, their faces turn dark.
The queen receives Yeong's visit with a smiling face, but it becomes clear from their loaded exchanges that there's no love lost between them. The distracted king tells the prince to visit more often, and the queen's voice takes on an edge as she reminds Yeong that morning greetings to his parents are a fundamental courtesy he has been neglecting.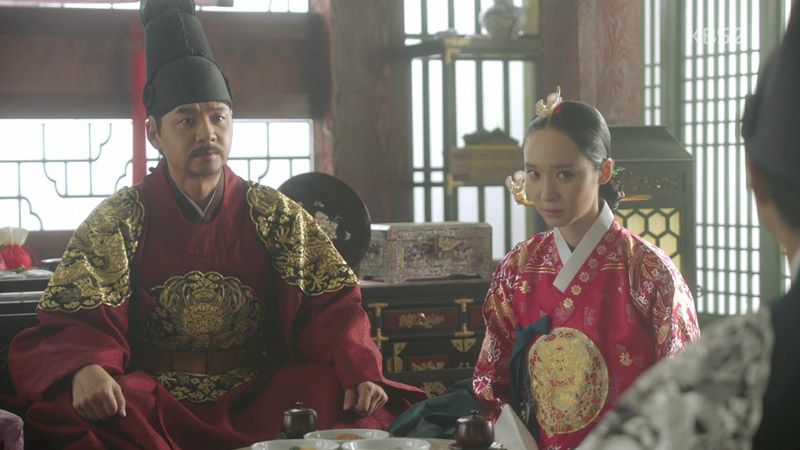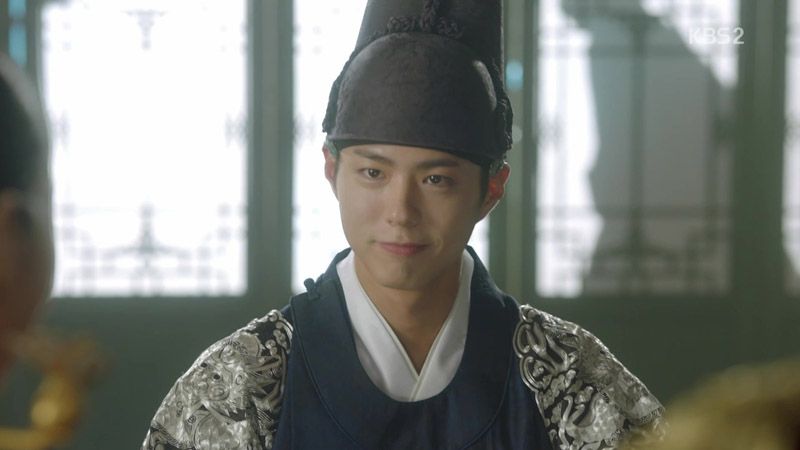 Yeong feigns innocence and says it's all out of consideration for the queen and the baby—it's better for her pregnancy not to meet him too often, lest it put her in a bad mood. He tells her they can't have another troublemaker like him running around the palace. He excuses himself and wishes them well, though none of it sounds sincere.
Out in the courtyard, Yeong observes the eunuch recruits preparing to take their written exam, and spots Ra-on among the bunch. He hears that failing the test could get a eunuch kicked out of the palace, then recalls Ra-on's attempt to flee the night before. A glint appears in his eye, and then he looks expectantly at Eunuch Jang's clothing.
He shows up dressed in those clothes as the exam papers are being handed out, and hushes the other eunuchs from giving away his identity. He waves them away, and they reluctantly comply; I love how beleaguered they are at the prince's antics, though they're powerless to prevent them.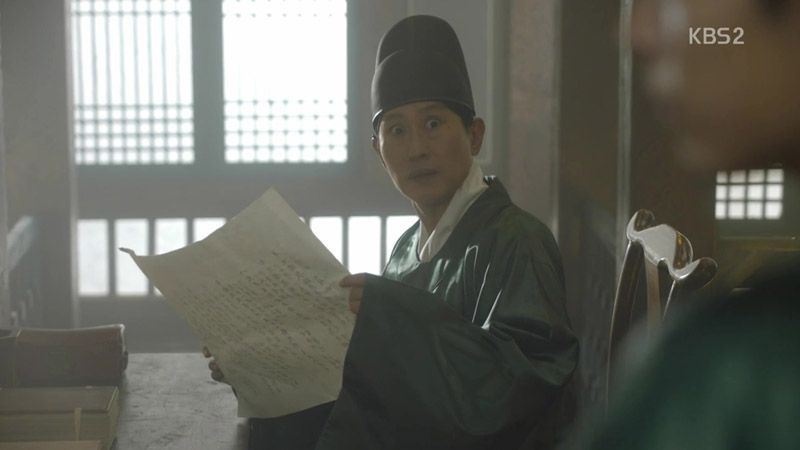 Ra-on tackles the multiple-choice questions haphazardly, rolling her brush to pick random answers. When one roll lands on Answer 4, she prepares to fill it in, only to have a eunuch appear at her side and correct her: She wants Answer 3.
It's Yeong, and Ra-on gapes to see him dressed in eunuch's robes, then tries to resist when he presses her to fill in the correct answer—he can't just ignore her lifelong wish to become a eunuch and let her fail.
Yeong proctors the rest of the exam, dropping by regularly to force Ra-on to answer questions correctly despite her best efforts to fill in the wrong bubbles. Only when she's answered to his satisfaction does he allow her to turn in her answer sheet.
Result? Another pass.
They move on to the final test, which will be personally judged by members of the royal family. Fellow recruit Do Ki stresses out to hear that a royal's judgment could fail them, but that gives Ra-on new hope. This time, the questions pose various dilemmas, and the eunuchs are to propose solutions. For instance, how do you address an illness that doesn't seem like an illness?
In a gibang in the city, young nobleman Kim Yoon-sung draws a gisaeng while telling her of his encounter with the strange woman the other night, who had been disguised as a man. The gisaeng doesn't believe it, saying that there's no woman who doesn't wish to appear beautiful, particularly to a handsome man like him.
But Yoon-sung replies, "Even if she had been wearing armor rather than robes, do you think I would not be able to recognize a woman's body?" Spoken like a true connoisseur.
That night, Ra-on is sent away to sleep in a different building as a disciplinary measure. The dilapidated old building is full of cobwebs and dust, and the moment she steps inside, a dark figure appears to fly across the room and out of sight. Hm.
She's scared enough already, but then a long-haired figure drops down in front of her, dangling upside-down from above. Ra-on screams and faints.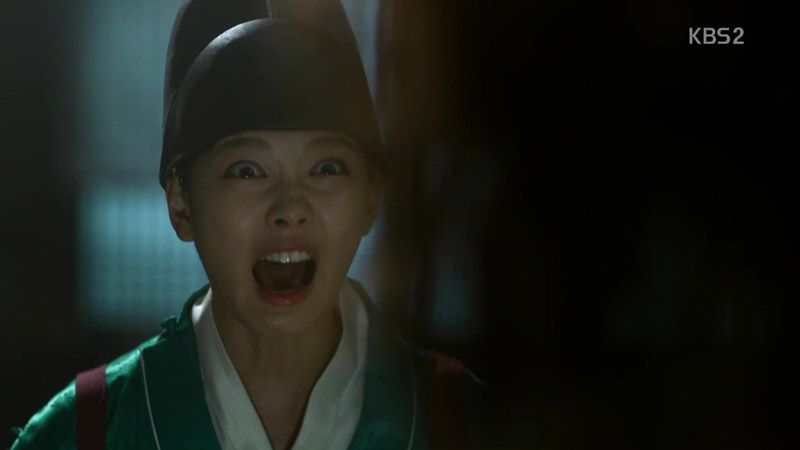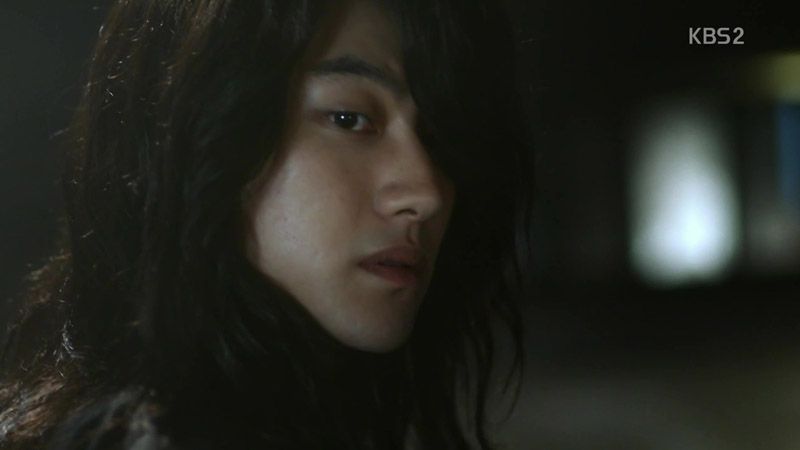 Ah, this is the swordsman in black she'd seen the other day, KIM BYUNG-YEON, and he's well acquainted with the prince, who arrives shortly. Yeong is surprised to see "Mung-mung" lying prone on the floor, wondering at her presence here.
After completing his drawing, Yoon-sung is about to dismiss the gisaeng, to her disappointment. She asks why he only draws women rather than embracing them, and Yoon-sung gets up to sit beside her, arm around her shoulder. Her smile drops when he replies that that his body doesn't go where the heart doesn't.
Yeong and Byung-yeon sit down for a friendly drink while Ra-on snores on the floor. Byung-yeon comments on the queen's pregnancy and advises the prince not to come to here for the time being.
Ra-on wakes and joins them at their table, calling Yeong "Flower Scholar." She asks for his true identity, noting his many guises and his propensity to show up everywhere. Byung-yeon looks questioningly at the prince, who shrugs it off.
Then she sees dusty cobwebs caught in Yeong's hair and reaches up to brush them away, which prompts Byung-yeon to grab her arm for daring to touch him. Yeong defuses the moment and laughs into his drink, only to have Ra-on swoop in and drink his liquor.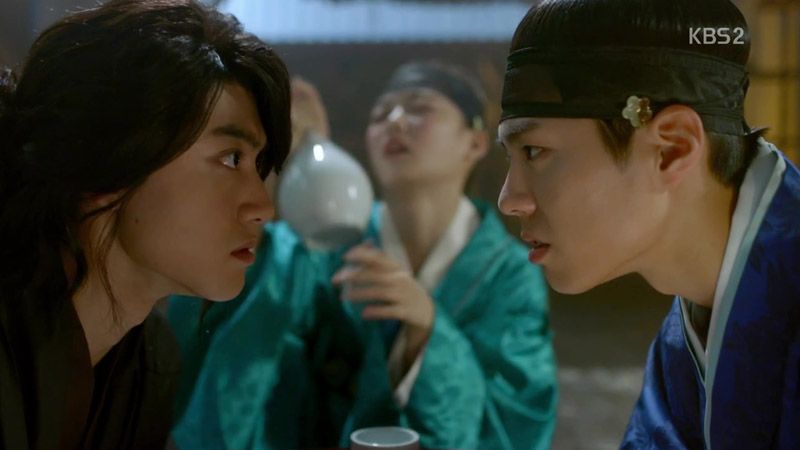 She proceeds to empty the jug and get thoroughly drunk, blubbering about how the Flower Scholar must have met a new lover (pointing at Byung-yeon, keke). The two men watch in exasperation, and Yeong asks his friend what one ought to do with a misbehaving puppy. Byung-yeon guesses firm training, and Yeong proceeds to demonstrate.
Holding out a finger, he makes Ra-on's gaze follow it left, right, up, down. Ra-on thinks of how she'll be leaving the palace as soon as she fails the next exam, and thus doesn't need to put up with Yeong anymore—and chomps down on his finger. Ha!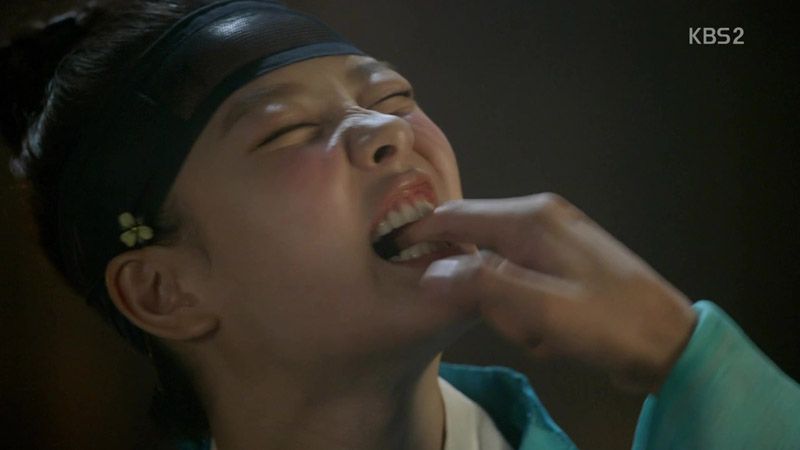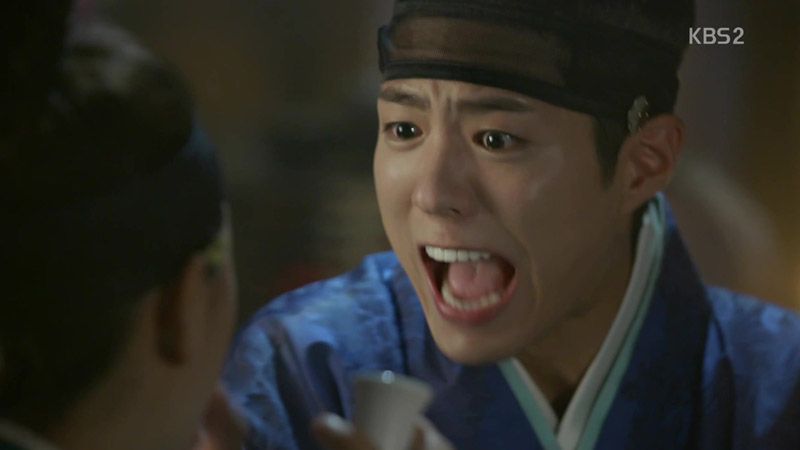 Yoon-sung returns home to find his paintings strewn about his room—half-dressed gisaengs everywhere—and tenses to see his dignified grandfather standing there looking at them. Aha, he's Prime Minister Kim, and he asks if Yoon-sung finds himself bored because the post he was given is so minor. Yoon-sung hides his ink-stained sleeve and replies that he was taught not to treat a small post as less important.
The prime minister's gentle tone turns hard as he explains that he has drawn a big picture for Yoon-sung's future, asking what Yoon-sung's pictures are for—family power, the future of Joseon? Yoon-sung answers that the drawings are only for the drawings' sake.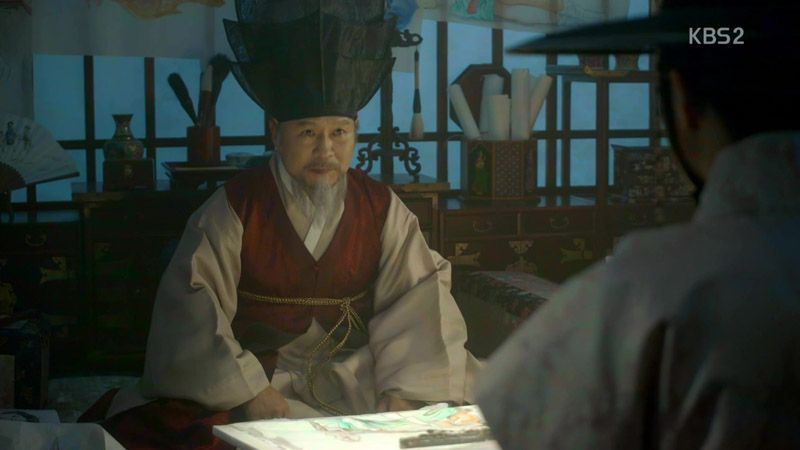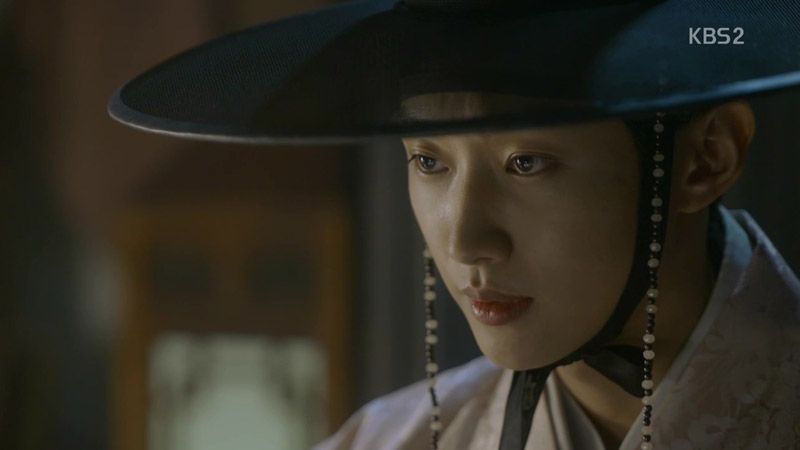 Prime Minister Kim's demeanor is stern, but he then eases off and chuckles that a declawed baby tiger can't grow up to play king. He compliments the paintings, but Yoon-sung remains quiet and tense.
That night, Yeong stares at the bite mark on his finger, telling his eunuch that he got bitten by a dog. Eunuch Jang fusses over the wound and frets about where he could have run into such a bad dog as that, and Yeong wonders the same thing, though his face breaks into a smile.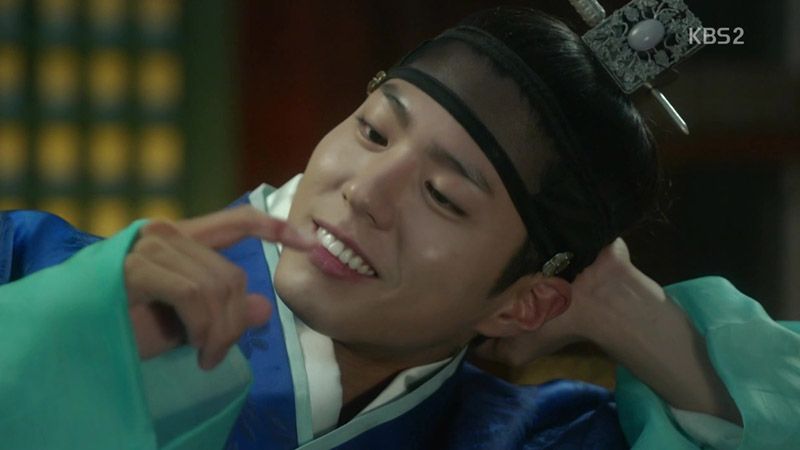 In the morning, Ra-on heads into the final exam with confidence, then shocks the others by turning in a blank paper. She pretends she couldn't figure out an answer to the dilemma presented, acting sad about it while tamping down smiles. As they're leaving, Eunuch Sung shows up to instruct Ra-on and her two buddies, Do Ki and Sung-yeol, to accompany him to the prime minister's banquet.
The king speaks with his head eunuch about the war minister's ill health; the king seems to be disappointed at his continued absence. He also instructs his eunuch to send food and liquor to the banquet to celebrate the queen's pregnancy. Why is this king so sad all the time?
Around the corner, a napping Yeong overhears the exchange. His expression looks serious, but by the time he suggests to Byung-yeon that they go "banquet-watching," his trademark jokiness is back in place.
Banquet preparations keep the prime minister's staff bustling, and the eunuch recruits are put to work. Ra-on is sent to catch twenty chickens from the coop, and when a servant wonders if they can spare so many, Eunuch Jang barks that this task is just meant to tame the rookie's bad manners. There's no way he'll manage to actually catch them.
The chickens put up a good fight, but Ra-on is determined, and pursues one all the way to the rooftop.
It happens to be just as young master Yoon-sung arrives for his grandfather's banquet. He stands under the edge of the roof wishing for a bolt of lightning to strike, just to break up the monotony.
That's when Ra-on makes a grab for the chicken, which flies out of reach and sends her flailing. She slips on the roof and goes falling over the edge… right into Yoon-sung's arms.
They stare at each other in shock, and then he says, "It really fell. A bolt of lightning."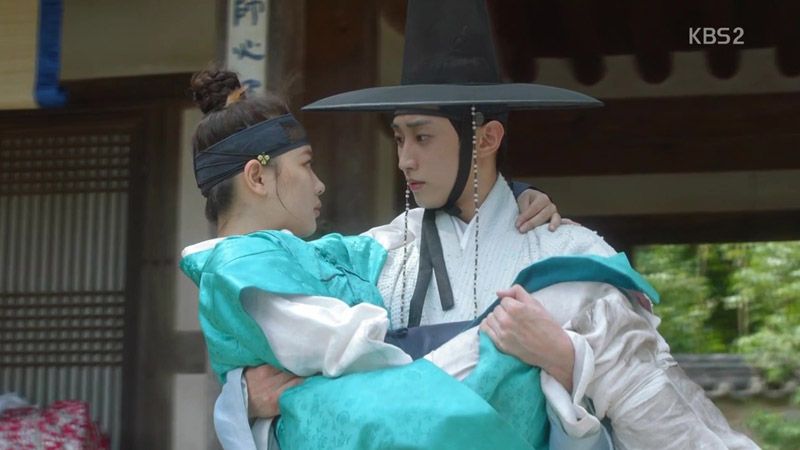 The jilted Princess Myeongeun is presented with a stack of eunuch test papers to judge, and the first one she reads happens to be Do Ki's—or rather, the answer Ra-on gave him. But the princess is immediately offended, deeming the answer beyond rude.
As they walk back with Ra-on's chicken, Yoon-sung's continued staring discomfits her, until she blurts that yes, she is the same person from that wanted poster encounter. He asks repeatedly if she's really, truly a eunuch, and Ra-on asks defensively if he's looking down on eunuchs for not being "true men," or thinking she has no right to become one.
But Yoon-sung's thinking more of the two times he's held her close now, and leans waaaay in to ask, "Isn't it against the rules for a eunuch to be so beautiful?" Then he slaps her back and says there's no rule that a man can't be beautiful. Ah, so he's letting her have her (male) disguise today, rather than calling it out.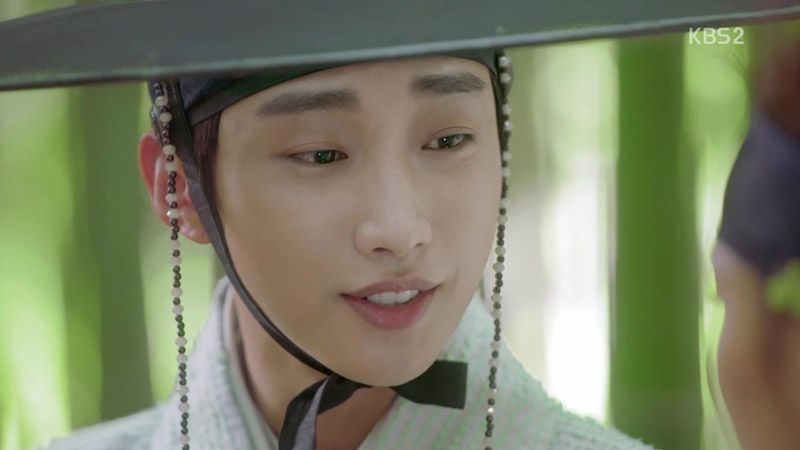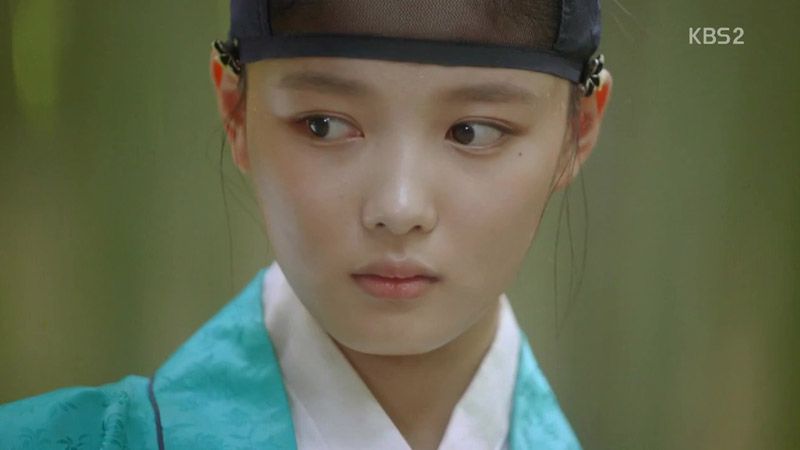 Then Eunuch Jang just about has a fit to see that Ra-on did actually succeed in catching twenty chickens.
Prime Minister Kim's banquet kicks off, and he toasts the fête. Just then, an arrow flies in, grazing his cup before embedding in the pillar.
Guests run for cover and a masked archer is spotted on a nearby roof, running away. Kim calls for his guards to follow, but they only get as far as the gate before backing away—because the crown prince is just now arriving, with Byung-yeon at his side.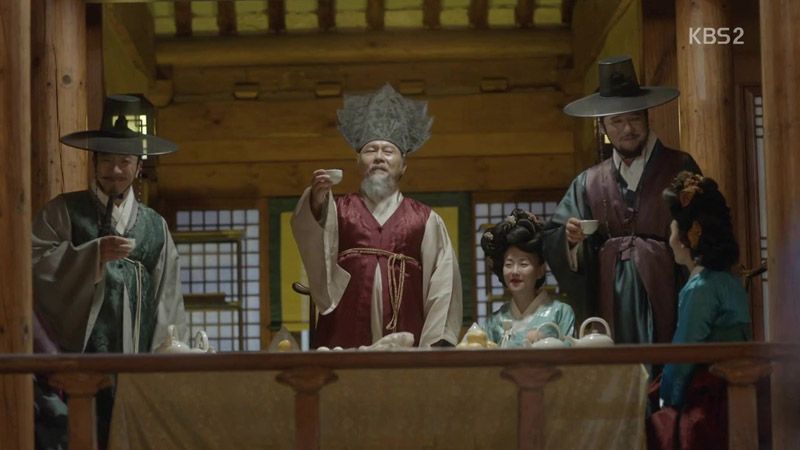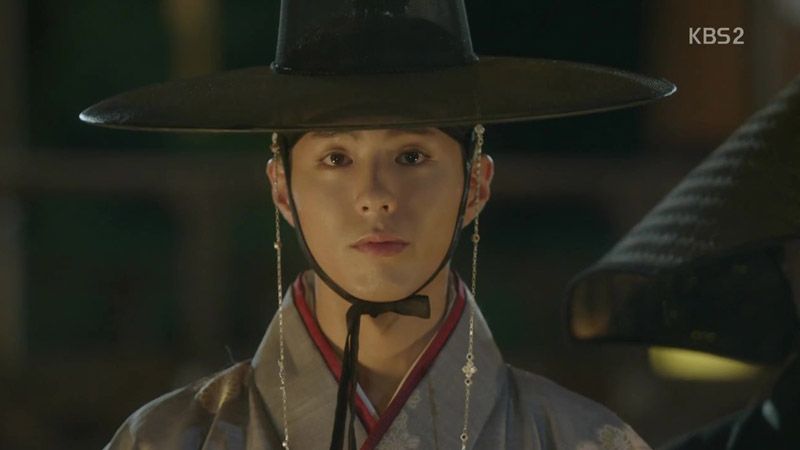 After a brief stand-off, the guards back down, then run off in the other direction after the masked intruder.
Yeong tells the prime minister that he couldn't stay away from a party, and reminds him that the queen's child would be his sibling. He hands over a pouch, identifying it as celebratory liquor.
Yeong wonders at the subdued mood, and is told of the disturbance. He plucks the arrow from the pillar and opens the note wrapped around the shaft, which states that the citizens are innocent of crime, and that poverty is the real culprit. Moreover, the poverty is the government's doing.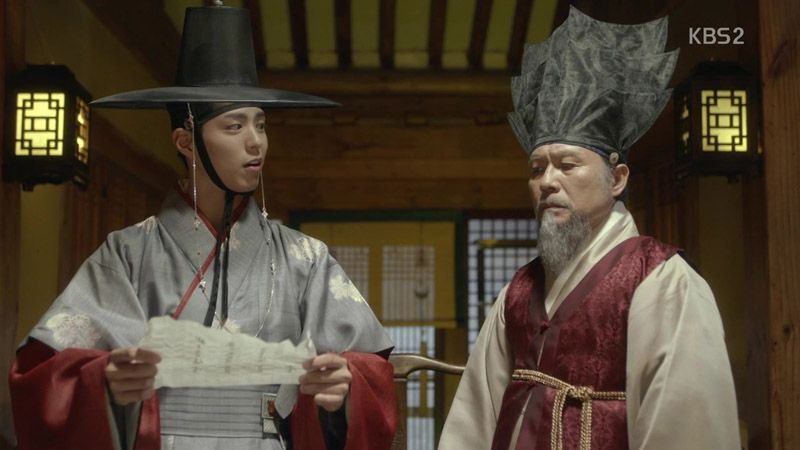 Yeong asks the gathered officials what they think of that message, then stirs the pot by saying that poverty can't be the administration's fault; it must be the fault of the ruler for governing poorly.
The ministers tense, and Yeong laughs, saying that they're taking his joke awfully seriously. Then he calls for a toast to the queen's pregnancy, offering a glass to ministers who avoid receiving it.
That's when Yoon-sung cuts in, offering to pour the prince a drink. Hm, the air just got thicker with tension.
From around the corner, Ra-on's eunuch buddies are excited to get a glimpse of the prince from a distance. Ra-on angles for a better view, but only sees part of his back before being called back to work.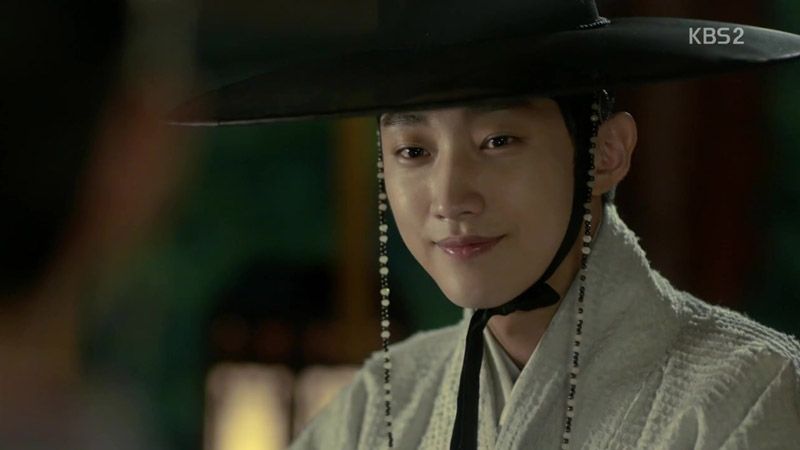 Yeong and Yoon-sung are old acquaintances; the prince speaks quite familiarly with Yoon-sung, but the words are cold. Yoon-sung points out that Yeong treats him coolly, and Yeong asks if he's disappointed about it.
"I can't say that I'm not," Yoon-sung replies. "You're my liked—"
"Friend?" Yeong finishes for him. They sit in silence a moment, then Yoon-sung offers a drink to Byung-yeon, who declines. Yoon-sung asks if it's because they're no longer friends, and Byung-yeon replies stiffly that he's on duty.
Yoon-sung notes, "As always, you're the prince's faithful subordinate and close friend." Is that wistfulness in his voice?
Watching the young men from a distance, the prime minister's crony, Minister Kim, sighs that Yoon-sung is more princely than the prince; the only thing keeping him from being prince was being born a Kim instead of a Yi.
This makes Prime Minister Kim think back eight years, when the two were boys. The prime minister had brought in a fortuneteller to read the prince's face, which told of boldness and a royal depth. However, he also had the fortune of one who would die young, and there was a strong energy from another that predicted a good king. That news was so alarming that the prime minister had sworn the face reader to secrecy.
Then Prime Minister Kim had joined the boys … and wait, was that additional fortune about Yoon-sung?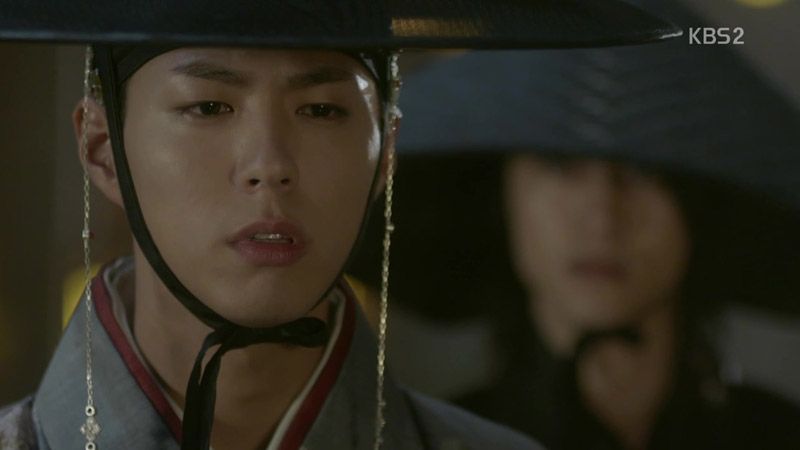 In the present, the prime minister thinks that it was quite coincidental for the prince to arrive just after the arrow was shot.
But if he's insinuating that Yeong was the archer, he's wrong, because Yeong is wondering the same thing. Who could it be?
Later that night, Yeong joins Ra-on outside her sleeping quarters, and she proudly presents him with a chicken. He shoves it aside upon hearing that it came from the prime minister, and she pouts that it's the "last gift" she'll be giving him in the palace.
She tells him to eat to lift his spirits, since an empty stomach just makes you sadder. Yeong warns her not to make assumptions based on her experiences, saying that he's never once been hungry.
She ventures, "Your stomach may never have been hungry, but it seems your heart may have been hungry often." She adds that it's easy to help someone who's physically hungry, but difficult to help someone who's emotionally hungry, because those people act like they're fine.
She's hit the mark, but he tells her to cut it out. Ra-on smiles widely and offers to share some of her own warm emotions, since she's "rich in heart." She holds up a chicken leg as an offering of emotion.
Princess Myeongeun reads over the answer that had so offended her earlier. The question was about what to do when ailing from lost appetite and sleep, feeling angry and sad despite a doctor deeming you healthy. The answer Ra-on had provided was to understand that there is no cure to the ailment; the sufferer can only endure it. Moreover, Ra-on advised her to think of the love not as an impossible feat, but something to be treasured.
The princess cries, recalling that her sweetheart had said similar words. But that prompts a thought, and she reaches for an old love letter, comparing the papers: They have the same writing and wording.
Byung-yeon joins the prince and Ra-on, and as they eat chicken, she informs them that she saw the prince earlier. They tense, until she clarifies that she only saw his back.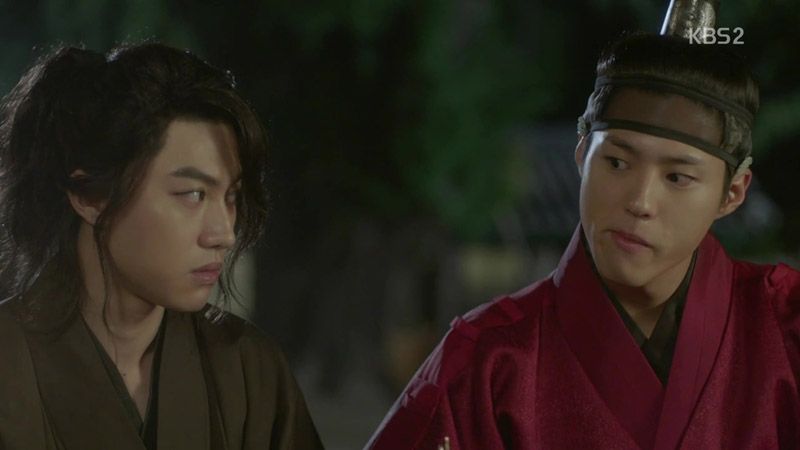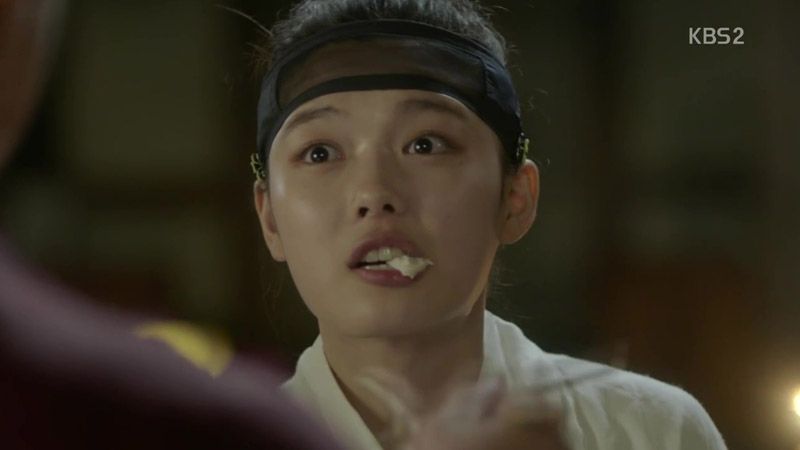 Then she asks if they know the prince's nickname, and while Yeong guesses "Flower Prince," Byung-yeon is quick to guess correctly: Palace of the Crown Poop. Ha, he's enjoying this, while Yeong fumes to hear Ra-on go on and on about the half-beastly prince with the terrible temperament.
She asks if the prince is really that awful, and Byung-yeon snorts. I love Yeong's pissy reaction, though he can't quite argue with Ra-on right there.
In the morning, Ra-on looks forward to being dismissed from service. But out of nowhere, she's grabbed by soldiers and dragged to the prisons, where she's confronted with her test paper.
Princess Myeongeun asks if Ra-on wrote this answer, and Do Ki has already confessed to it. The princess presents one of her old love letters and asks if Ra-on is also responsible for that, and Ra-on's reaction is enough to confirm it. Myeongeun is outraged that Ra-on would write false love letters and make a mockery of her, the princess—and it's only now that Ra-on realizes who she is.
She grovels and exclaims that she's committed an unforgivable sin, and the enraged princess grabs a sword and raises it threateningly.
Before she can strike, a voice calls for her to stop. It's Yeong, and he steps into view—in full royal dress today, unmistakably the crown prince. Ra-on looks up in shock.

COMMENTS
Yay, I'm glad she knows who he is and that's out of the way, because I think we've played the not-knowing scenario enough and can amp up the hijinks now that one person's identity's been outed. Now for the other one… I just hope it doesn't take the full rest of the drama to get there.
I do wonder at the source of the prince's antics, and why he acts out and furthers the rift when he could mitigate some of that by not instigating conflict all the time. Is that the only way he can handle his feelings? Is he like an errant child or pet, longing for any attention rather than none? Or is there a deeper reason behind it?
I also like this tension between Yeong and Yoon-sung (and Byung-yeon, for that matter), because they were clearly once friends who are now at odds. It seems like Yoon-sung wishes they had that friendship back, which suggests that perhaps he's the loneliest of the bunch, although Yeong does have it rougher living in a palace where he doesn't seem able to trust anyone, and his own father is distant and disapproving.
There are definitely deeper conflicts and intrigues in the backstory, and at this point in the story I'm a little confused, but mostly intrigued; I assume the confusion is intentional, since there are hints of mystery around this eight-years-ago timeline but no outright clues yet. At the forefront of that mystery is the question of the prince's fate. History does bear out the prediction of the crown prince dying young; he was only 21 at the time of his death, so that's the obvious connection. But there seems to be a reference to Yoon-sung too; how could have the fate of a good king if he's not royal? I'm hesitant to jump to an outright birth secret or swapped-identity scenario… (I suppose there could be a coup situation too.) We'll have to see how it plays out.
In any case, I'm eager for the story to continue once Ra-on is stuck in the palace for good, since that's surely where we're heading with all this. Now that we've established that the prince is lonely and difficult, I want to see Ra-on jump in as the only person who has, to date, been able to get the better of him.
And, of course, there's also the all-important question of when Yeong will find out Ra-on's really a girl, and what he'll do about it. I'm eager to have him confront that truth sooner than later (particularly since we've had a lot of dramas already explore the version of the story where he's kept in the dark), though I suppose I could stand to watch the confusion for a bit longer. Especially if this is a case where his rival has the advantage of him. Given that Yeong's hardly ever at the disadvantage, it should be fun watching him flail for once. Or twice. Or always.
RELATED POSTS
Tags: Episode 2, featured, Jinyoung, Kim Yoo-jung, Moonlight Drawn By Clouds, Park Bo-gum