Police Unit 38: Episode 13
Patience is a skill that all the best conmen need to master, and it's a virtue that is tested in our scammers repeatedly on this show. As we hurtle towards the final week of bad guys pitted against the truly evil, we try to keep up with the master swindler and his canny crew, and enjoy the ride with the sure knowledge that our own patience will be rewarded with an explosive payoff.

EPISODE 13 RECAP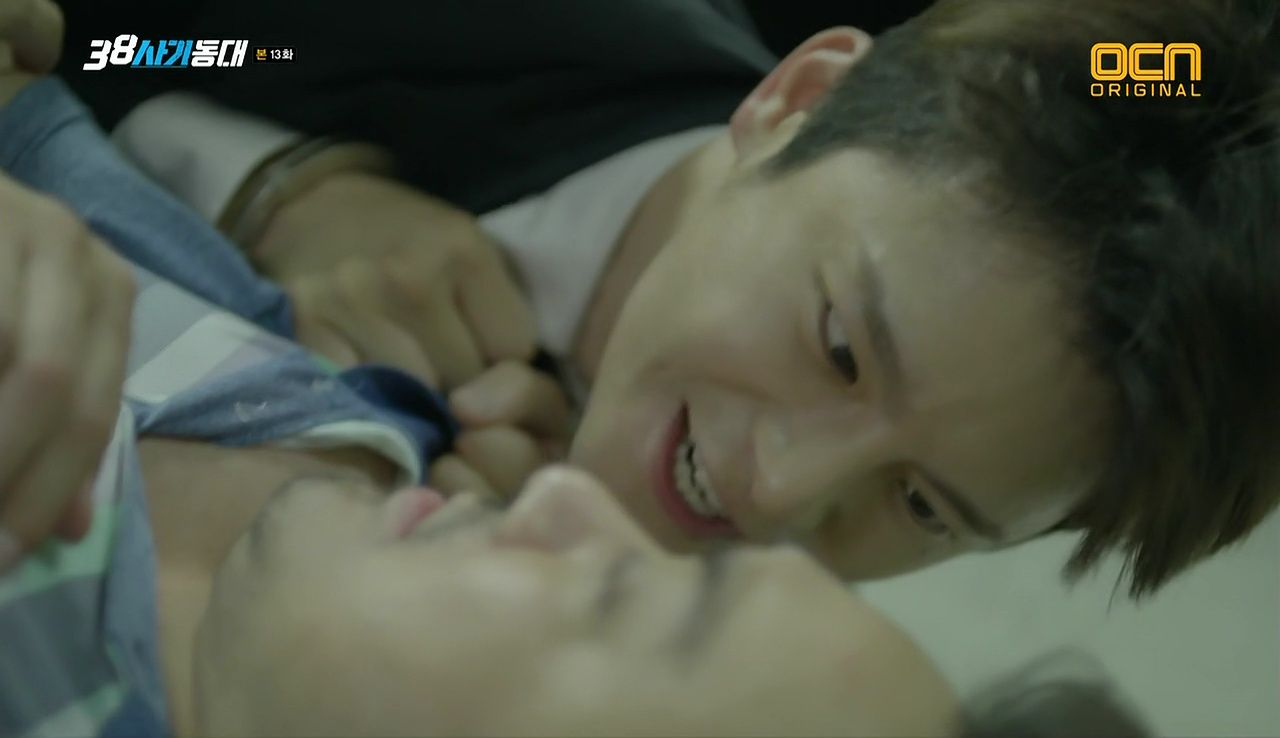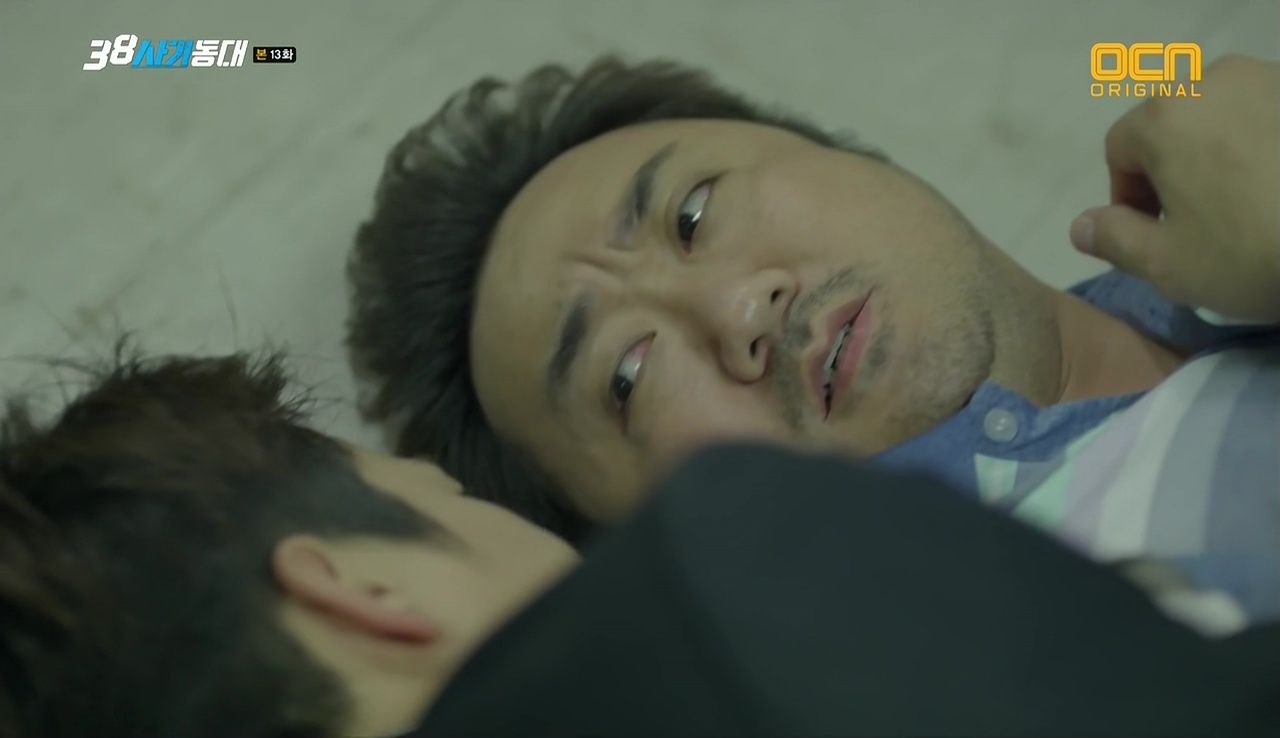 Sung-il testifies in court against Jung-do, and the judge sentences him to ten years in prison. As a betrayed Jung-do is escorted away by the guards, he looks at Sung-il, who grimly stares back. In a flashback, we see that when Jung-do assaulted Sung-il in the police station and pushed him behind a desk, he used their split second of privacy to tell him to find Chairman Choi's real stash of cash, and to survive by selling Jung-do out.
Two years later, Sung-hee visits Jung-do in the penitentiary. They smile at each other, and Sung-hee says she's there to tell him something. It's about Sung-il. Things have gotten progressively worse for him since the incident with Jung-do, she says. He's even confided in Sung-hee about what really happened between him and Jung-do, and what they planned to do once Jung-do gets out.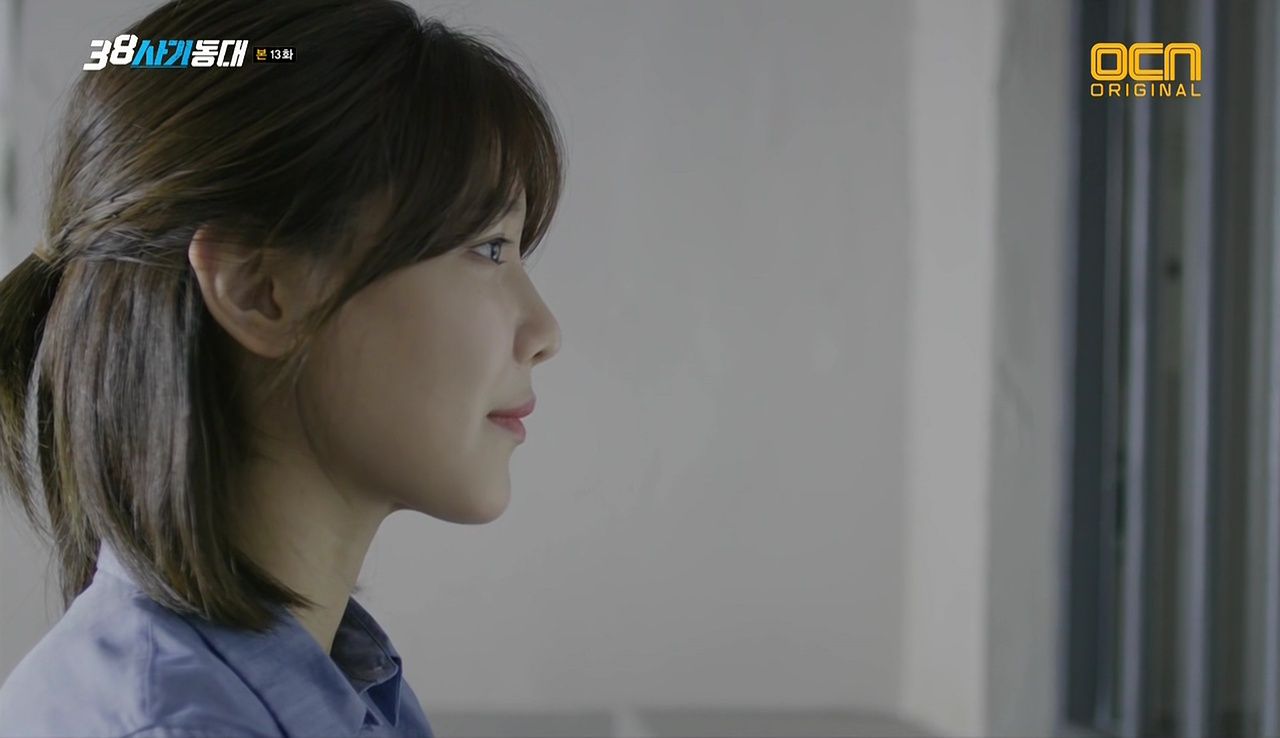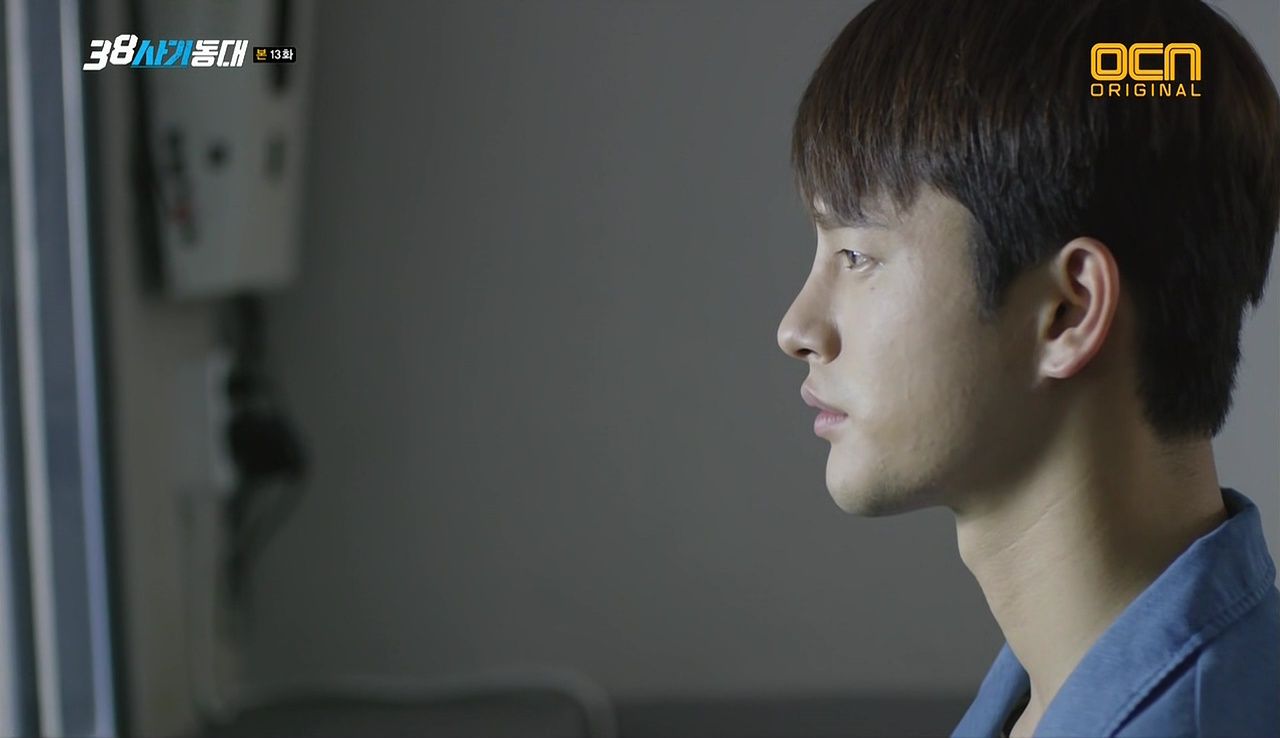 Jung-do first focuses on Sung-hee and tells her bluntly that her father, Mayor Chun, could be hurt when he carries out his plan. He knows that she has hated her father since she was a child and lived apart from him since her parents' divorce, but wonders if she would be all right watching his career be ruined.
Sung-hee tells him her mother's words about Mayor Chun, that he was the worst husband but still a great man. Sung-hee says regretfully that her father has not been a great man for some years now, and when she thinks of all the people he used his power to hurt, she feels that this is only right.
Jung-do doesn't argue and finally asks what Sung-hee meant about things being bad for Sung-il. Sung-hee explains with a heavy sigh that he's changed back to his old self. The scene cuts to the city hall tax office and we see that Sung-il has become quiet and reserved. He's been demoted to Team Leader, and just doesn't seem to care much about fixing the system anymore.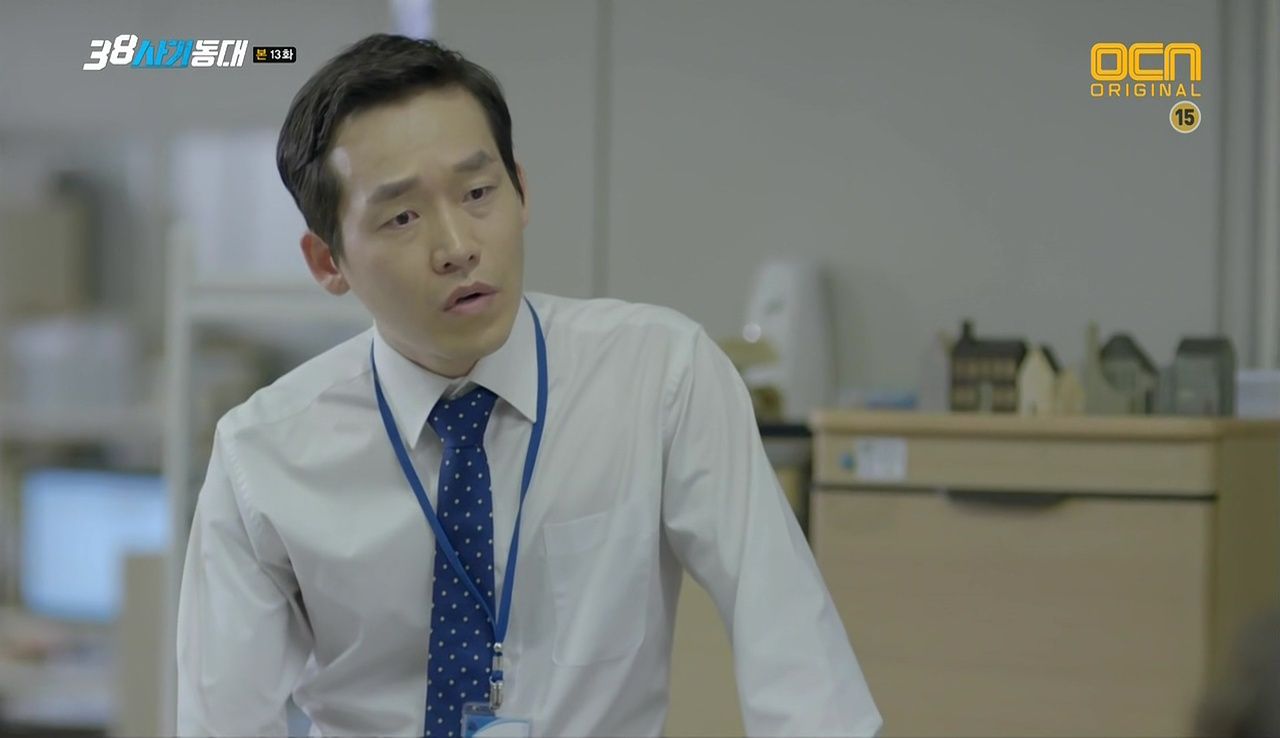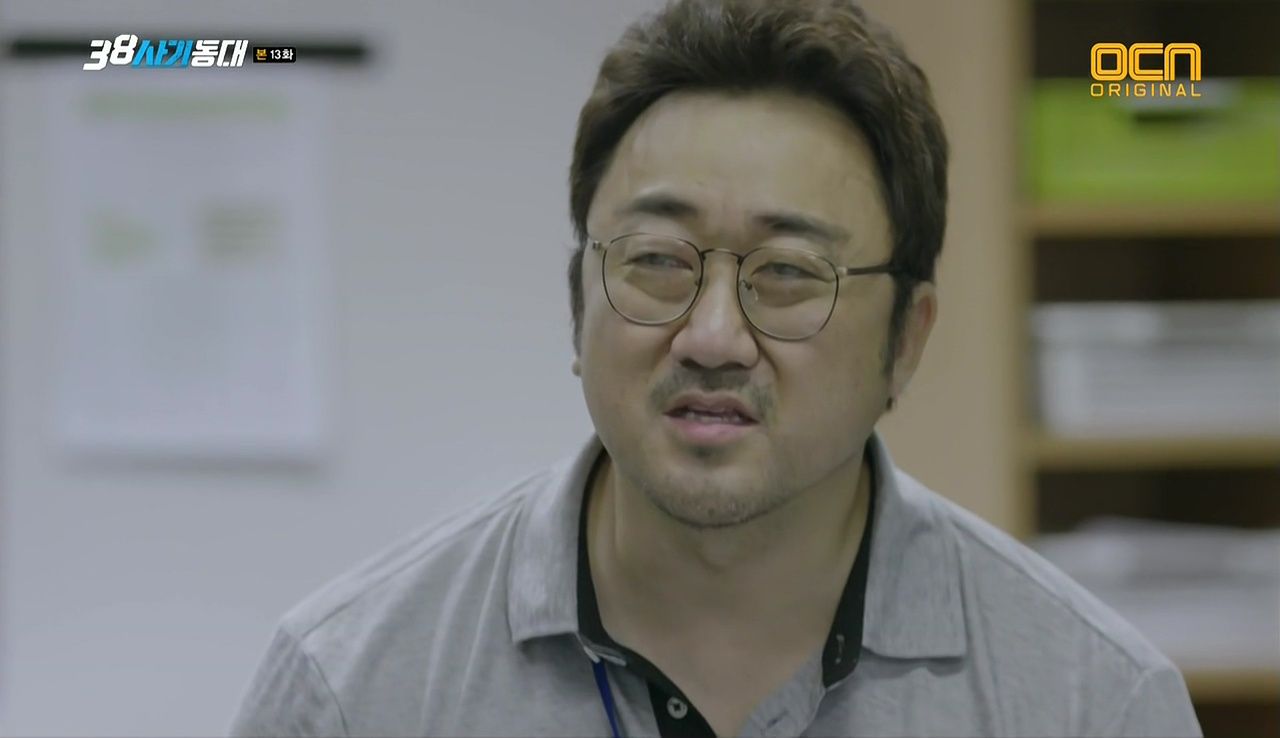 Section Chief of Division Two, Commissioner Ahn's hoobae, now spies on Sung-il for Mayor Chun and takes special joy in demeaning and talking down to him. In turn, Sung-il does as little work as possible in office, while being very apologetic for everything. One of his erstwhile juniors, Investigator Kim, who is now the Section Chief of Sung-il's old division, watches with growing despair and anger.
When an old man comes to the office, Sung-il looks annoyed to see him again. He's the elderly owner of the small neighborhood restaurant where Jung-do and the crew would hang out two years ago. It's obvious the old man comes repeatedly in the hopes that Sung-il would help him with something, but Sung-il is almost callous in how he refuses to listen to the man and escorts him out of the office.
Division Three's Section Chief Kim gently takes his old boss to task for being cold-hearted to the old man. When Sung-il protests that he doesn't have any power to help him, his old hoobae tries to explain that even if they can't help the people who seek them out, they should at least listen to them.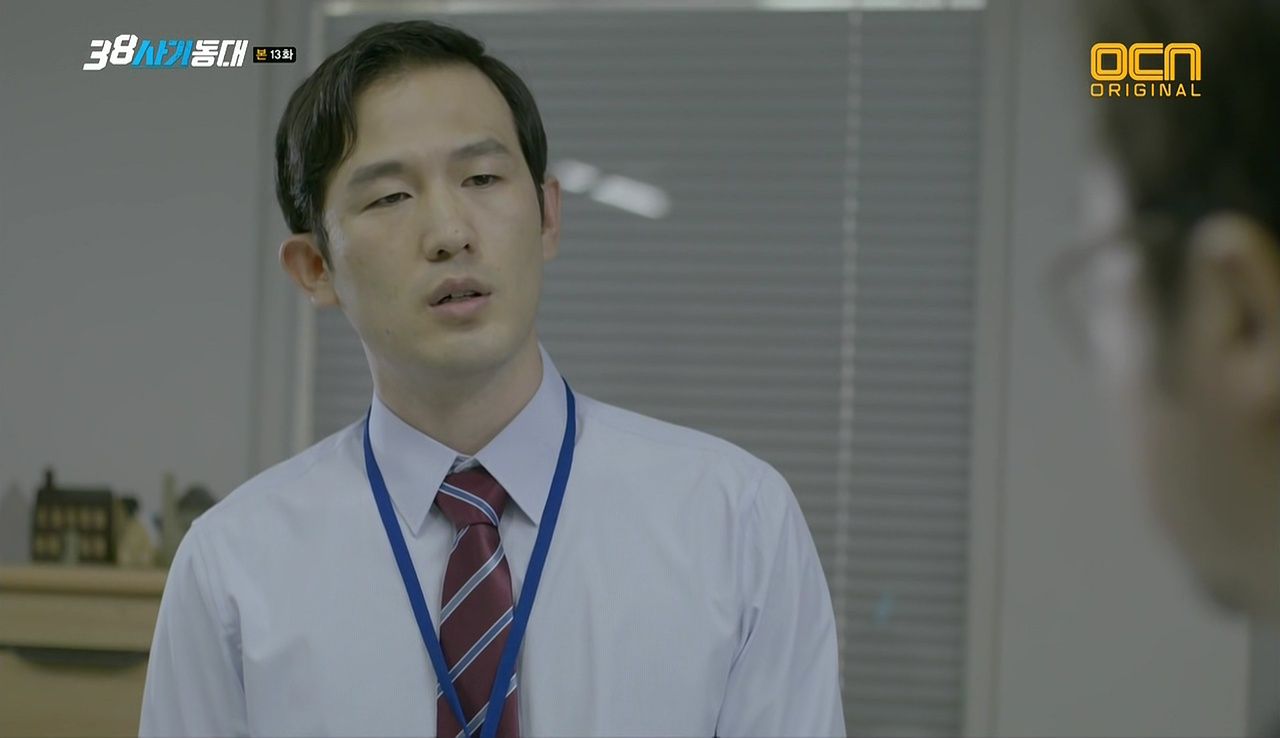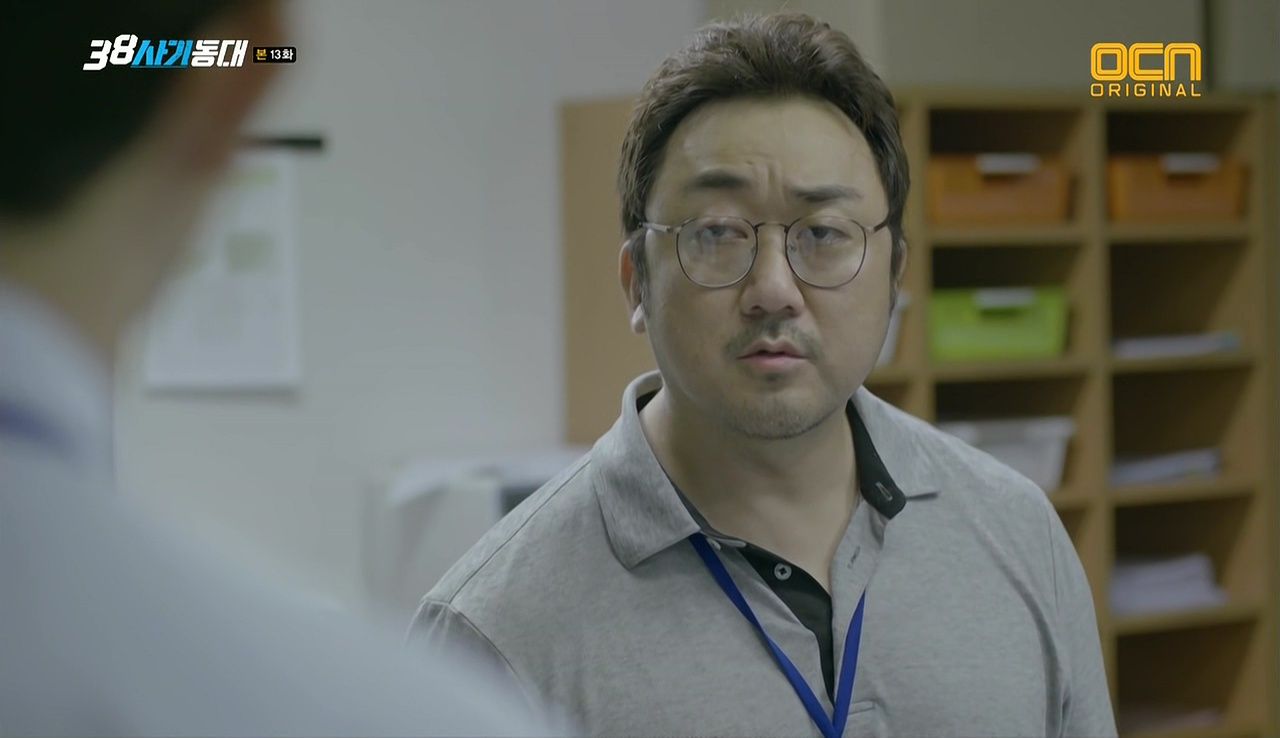 He reminds Sung-il of Park Sang-ho — the man who committed suicide in desperation two years ago — and asks him how he would feel if the same thing happened to this old man. Sung-il's mind brings up Sang-ho's death with crystal clarity, but he just says that it has nothing to do with him, so he doesn't care.
Mayor Chun meets Chairman Choi and assures him that Sung-il has been living a quiet, colorless life. They move on to discuss a poor neighborhood they're planning on redeveloping, and Mayor Chun voices his qualms about forcing out poor tenants to the streets. Chairman Choi, who has already bought all the buildings in Maseokdong, has no patience for Mayor's Chun's sudden attack of conscience.
He tells Mayor Chun that he's followed the law in acquiring the land, but the mayor says this is not about the law but about human rights. Chairman Choi reminds him of the upcoming election, and piously states that he always followed the law and will continue to do so. If Mayor Chun has any objections, the chairman challenges him to take action according to the same law.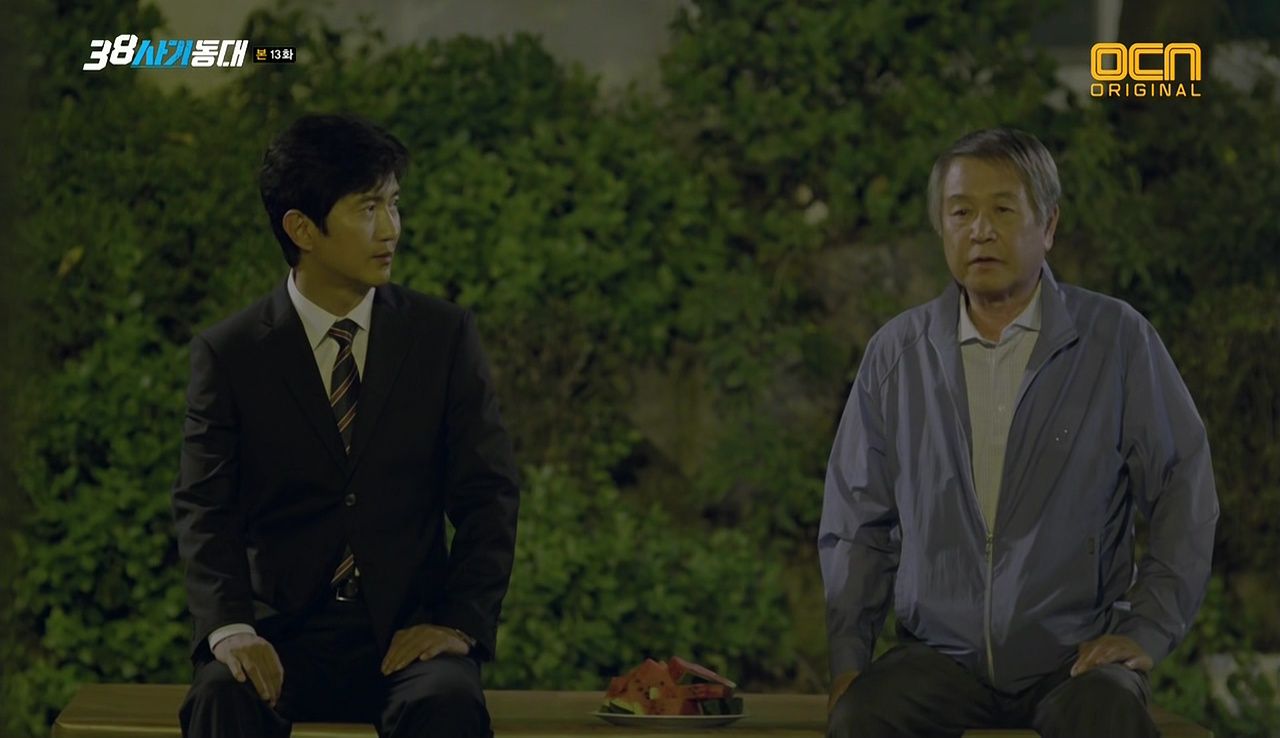 The mayor leaves and Chairman Choi gives his waiting goons the order to drag out the resisting tenants and demolish their shops and homes. We see the elderly shop owner, who had gone to Sung-il for help earlier, sit crouched in a corner with his granddaughter while goons intimidate them and trash their only source of livelihood.
Sung-hee meets Mi-joo and tells her that Jung-do is being released on parole early. Mi-joo finds the shortening of a ten-year sentence to two years bewildering, but Sung-hee doesn't know how Jung-do managed it either. When Sung-hee asks for her help in gathering the old crew, Mi-joo is skeptical about them wanting to work with Jung-do again, but agrees to try and convince to them. She asks why Sung-hee is doing this instead of Sung-il, and Sung-hee just says that it panned out this way.
Sung-il continues to be obsequious in the office. Section Chief Kim, irritated by his servile behavior, tells Sung-il peevishly to address him with honorifics now that he's in a senior position to Sung-il. Sung-il immediately addresses him in jondaemal and the new Section Chief looks more annoyed than ever.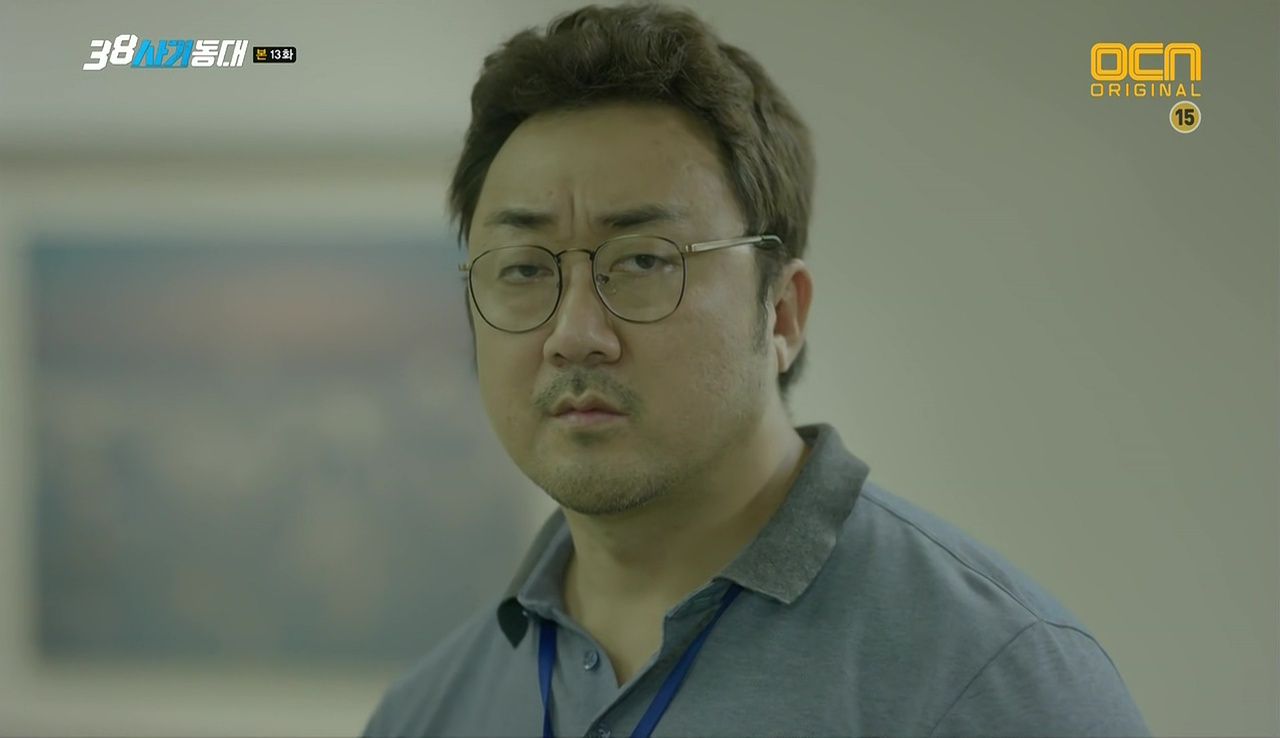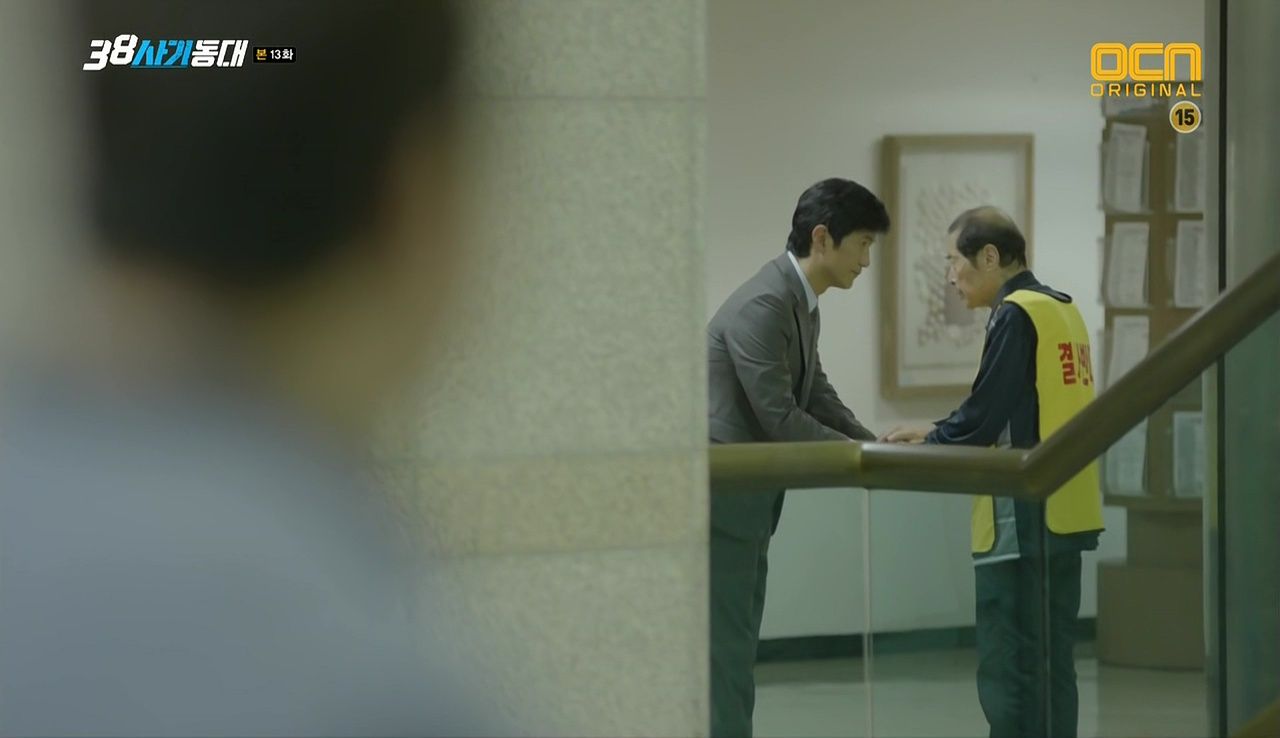 Outside the department, Sung-il walks past the old man standing in lone protest against the redevelopment of his neighborhood. Sung-il ignores the man when he calls out to him, but stops a little distance away when he notices the mayor talking to the old man. The mayor takes him by the hand and promises earnestly not to let the greedy violate his human rights.
Then the mayor walks into his office and makes a call to Chairman Choi. He tells the chairman that he'll be holding a meeting with the residents of the neighborhood under redevelopment, and hangs up. The chairman smiles to himself and says that Mayor Chun is a crocodile.
Mi-joo meets with Hak-joo, Ja-wang, and Madam Noh to convince them to work with Jung-do, but none of them are interested. She points out that though he lied to them, he also took all the blame for their crimes and went to jail. Ja-wang says he's enlisting, Madam Noh tells her that there's no profit in it for her, and Hak-joo tells Mi-joo to stop helping Jung-do just because she likes him.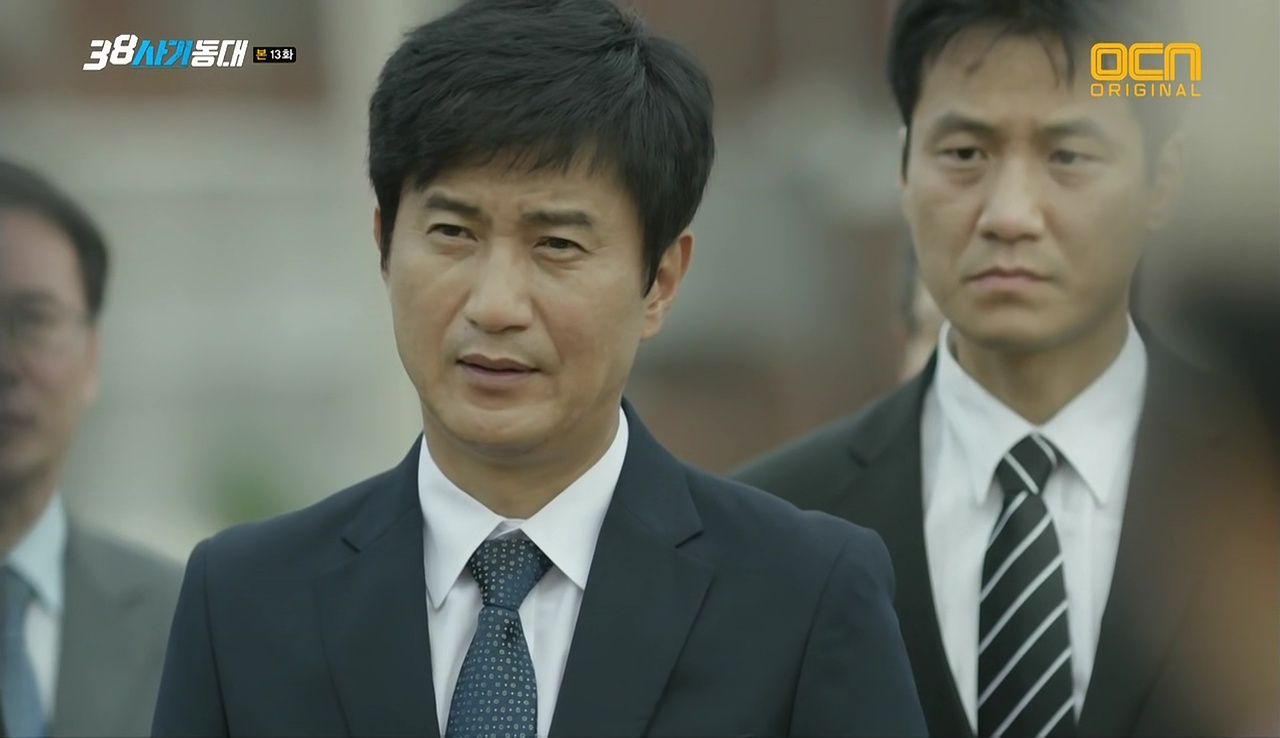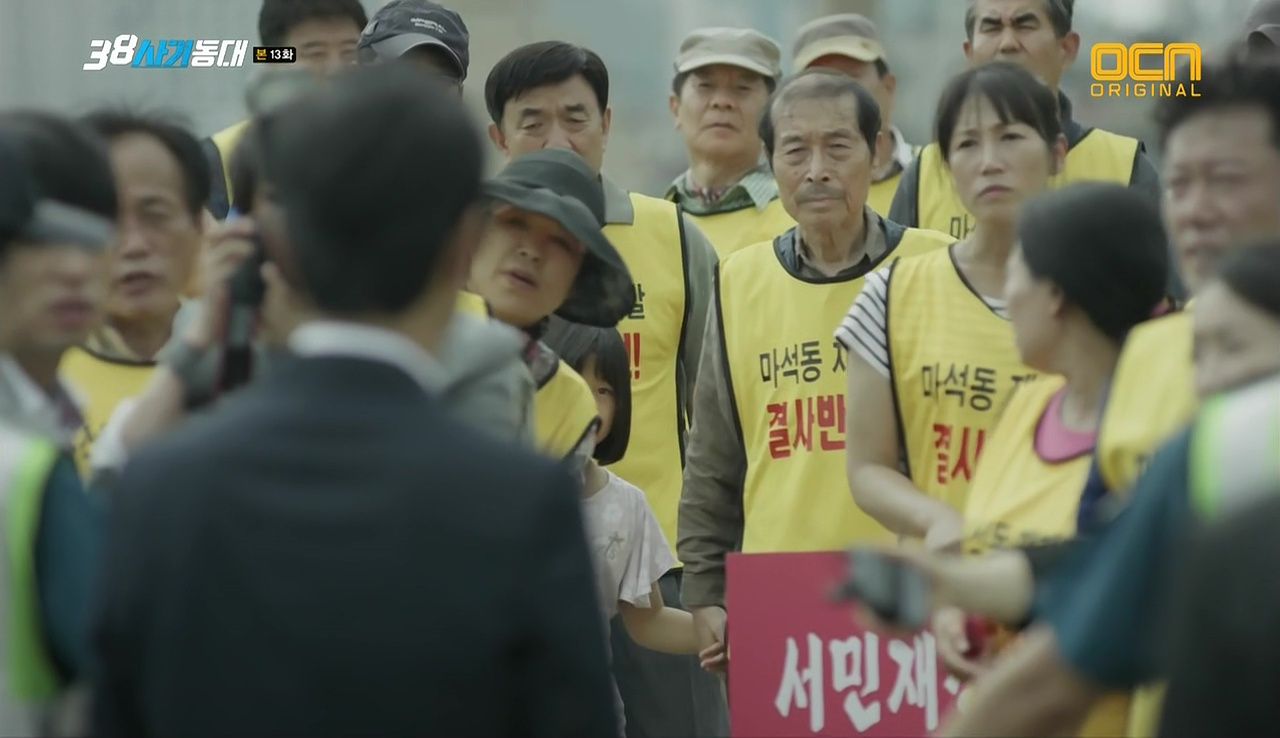 Mayor Chun arrives at the site where the residents of Maseokdong have gathered with the media to have their voices heard. As the mayor walks towards the gathered protesters lobbing questions at him, Chairman Choi sits in his lair and orders his goons to get things started. As the residents wait for Mayor Chun to say his piece, a few of the chairman's goons, dressed as protesters, take positions amongst the people.
The chairman explains to one of his minions that the mayor is a crocodile, who would never let go of his food. Even though he hunts, says Chairman Choi, there is never any blood on his own hands. At the protest site, one of goons throws an egg at the mayor, and starts a panicked stampede amongst the protestors.
Mayor Chun turns around and walks away in silence, looking disappointed by the residents' behavior. The elderly shop owner gets pushed into one of the cameramen and knocked to the ground. When the air clears, the police arrest him as one of the troublemakers.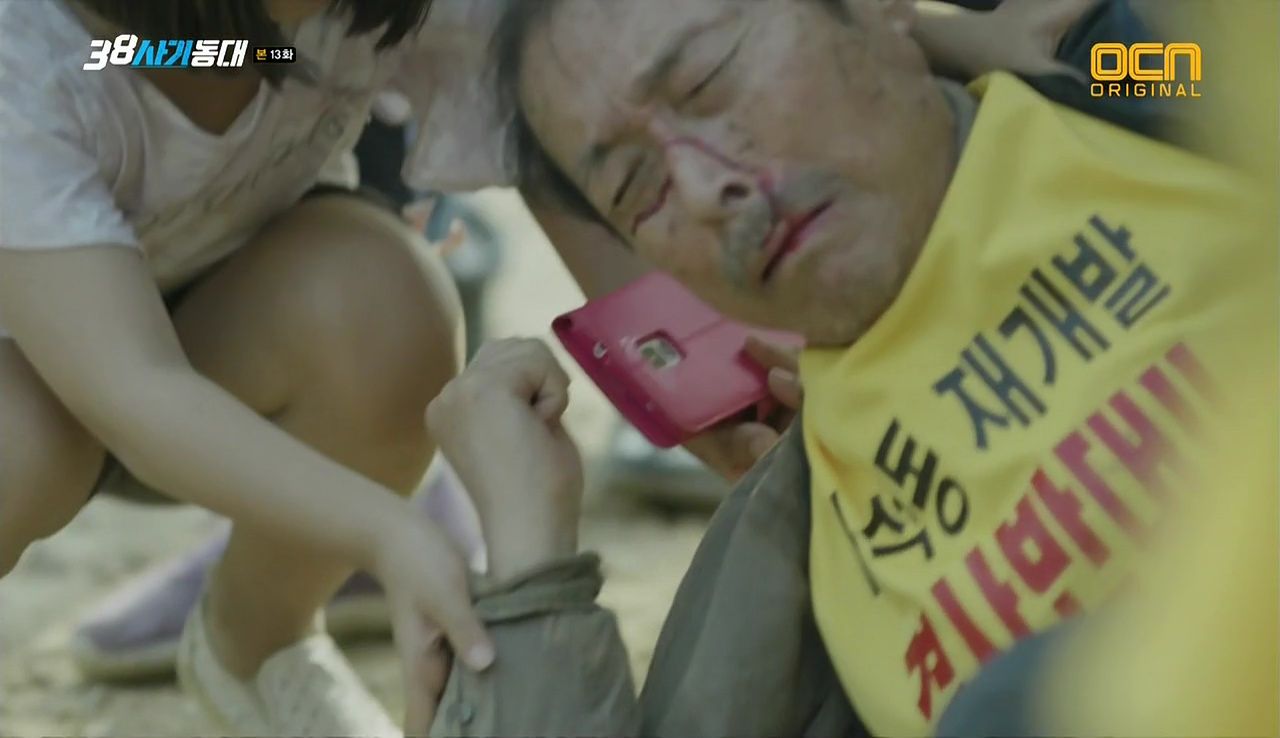 Sung-il and Madam Noh both watch the news where the mayor's egging gets exaggerated with every telling and by the final version, the anchors are narrating a tale of bodyguards fending off angry citizens from mauling the mayor. Madam Noh recognizes the elderly man and asks Ji-yeon to look into what's going on.
The mayor gets back and calls Chairman Choi. In a voice of outrage, he asks if the chairman was responsible for what happened. The chairman admits that he was, and asks if he misunderstood Mayor Chun's phone call earlier. Mayor Chun insists he went there to speak to the Maseokdong residents peacefully, but Chairman Choi cuts through his righteous indignation, and asks why the mayor informed him about the meeting unless he wanted the chairman to do something to disrupt it.
Chairman Choi tells the mayor that he'll let him pretend to be the "nice one" and take the moral high road, so long as he wins the next election, and they can keep helping each other out.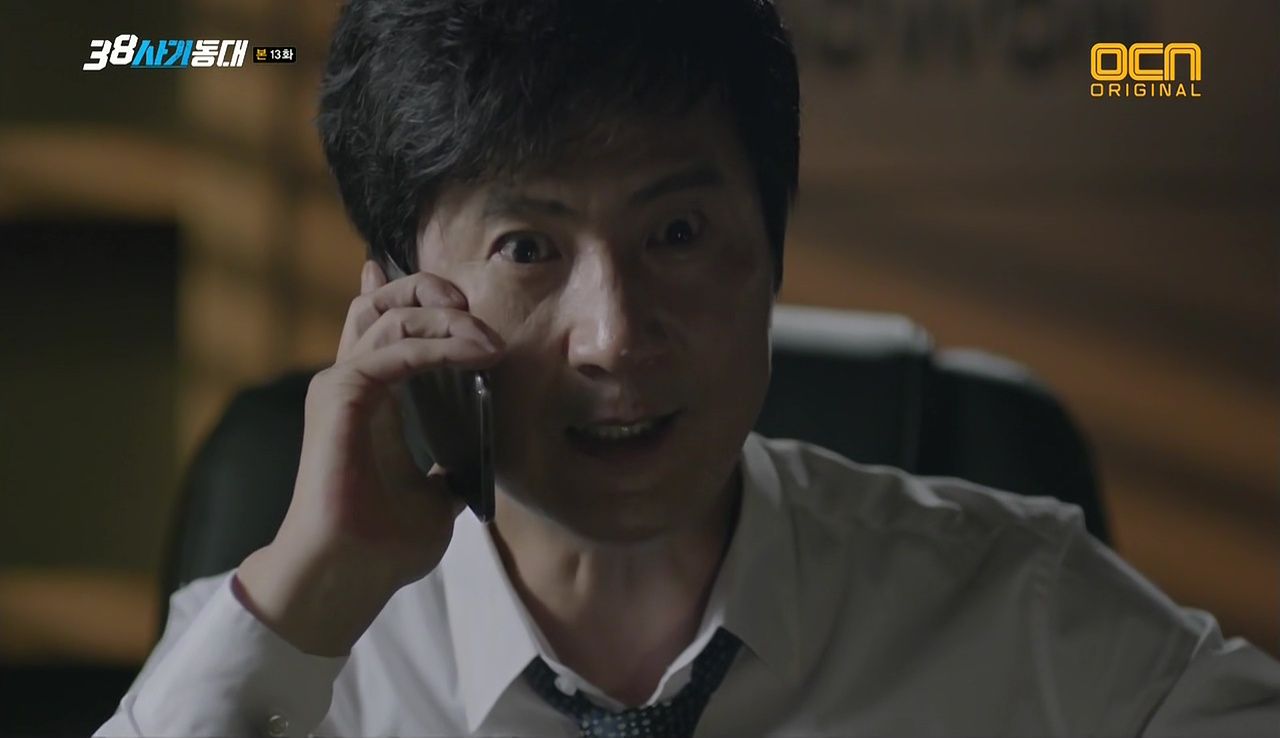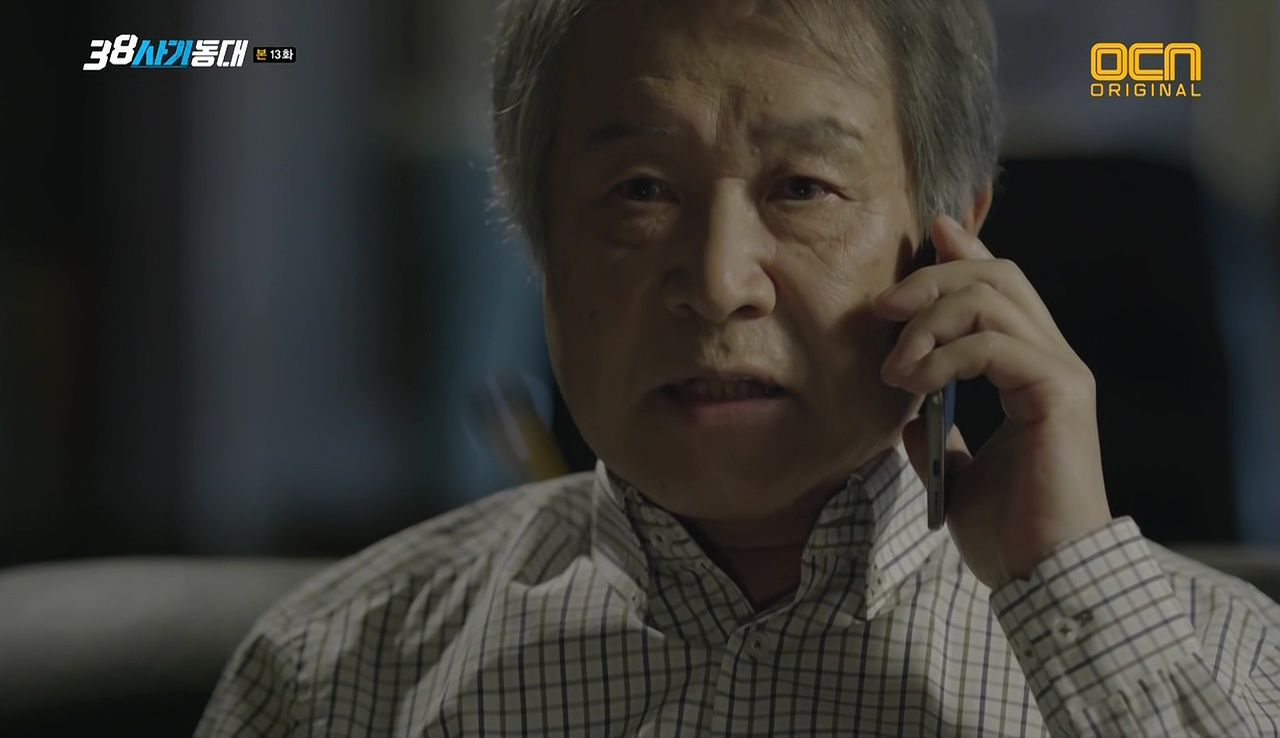 Jung-do reads about the incident in a newspaper, and decides to put things in motion. He borrows a phone from a prison guard — who looks at him like he's an adorable scamp — and makes some calls. The first is to Madam Noh, and then to Mi-joo, Hak-joo, and Ja-wang. They tell him that they have nothing to gain from joining his fight, but Jung-do says there is something: The rich and powerful, who ignore the laws of the nation and look down upon its citizens were scared, for the first time, because of them.
He points out how dire the situation at Maseokdong must have been for the protestors to react the way they did. Jung-do reminds them that while they were scammers, there were people out in the world who did real evil and prospered without facing consequences. By the end of one inspiring speech, Jung-do manages to do what Mi-joo's efforts had failed to before: He gets the crew back together.
When Jung-do gets out of prison, Mi-joo is waiting for him with a smile, and he teases her for not bringing him anything. He thinks she's joking when she doesn't even have a cigarette for him, but she swears she quit smoking and he pets her on the head like he's proud. A moment later, Hak-joo, and Ja-wang pull up and Ja-wang bear-hugs Jung-do, and even Madam Noh comes by, and almost looks pleased to see him again. Back at the Freezer, the crew assembles so Jung-do can give them the low-down on Chairman Choi's business practices.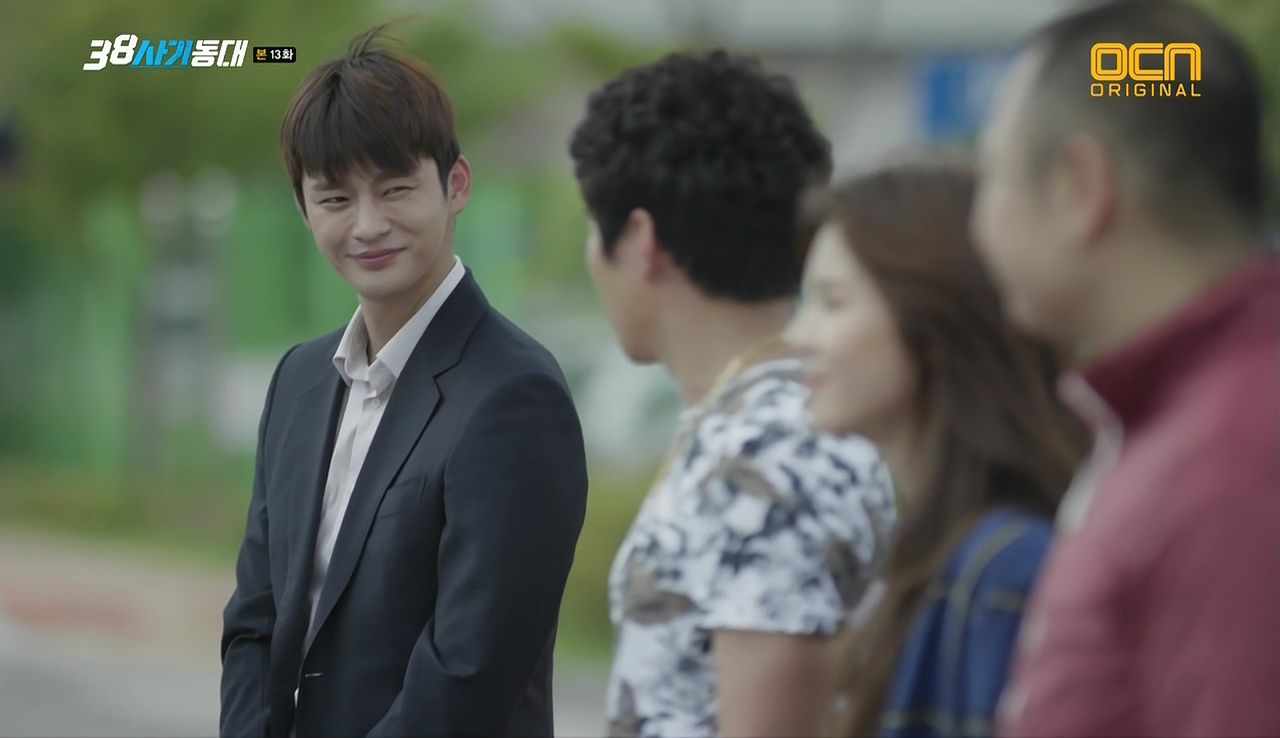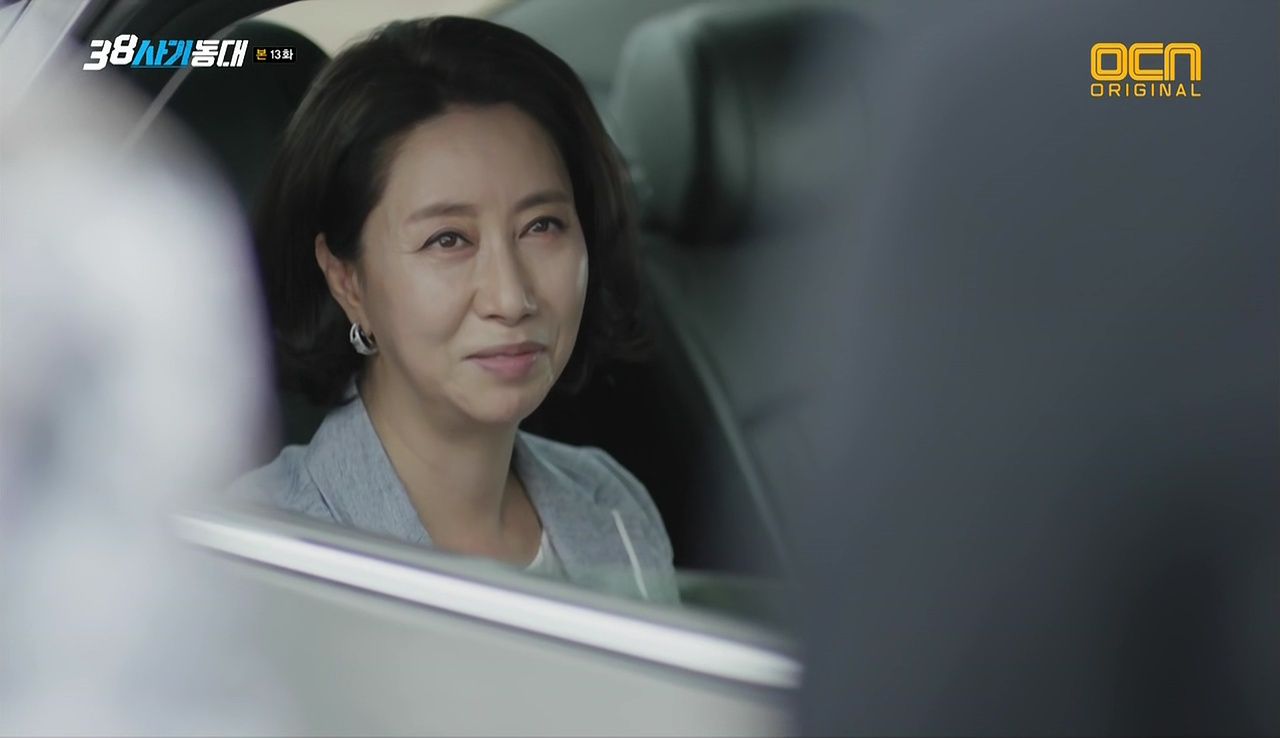 A part of his income comes from the large network of loan shark companies he owns, but Chairman Choi is careful not to invest any of his profits from there in other businesses. Our scammers can't touch his lending business, so Jung-do turns his attention to the chairman's other big source of income: Kukjin Construction. This company was originally called Woohyang Construction, Jung-do explains, and was a subsidiary of President Bang's Woohyang Group. Afterwards, that company had changed names several times and become hard to trace, he says.
The scene cuts back to Sung-hee's visits with Jung-do in the prison, where she brought him all of this information. She told him that about a year ago her team went after Woohyang Construction, when they learned that this was a previous avatar of Kukjin. Unfortunately, Woohyang had done an excellent job of getting rid of all connections with Chairman Choi.
This led Jung-do and Sung-hee to realize that while the chairman was all right with cutting off connections with other Woohyang-related companies, there was a reason he protected Kukjin Construction. It has been dormant for a while, says Jung-do, but recently woke up and acquired the development rights to Maseokdong.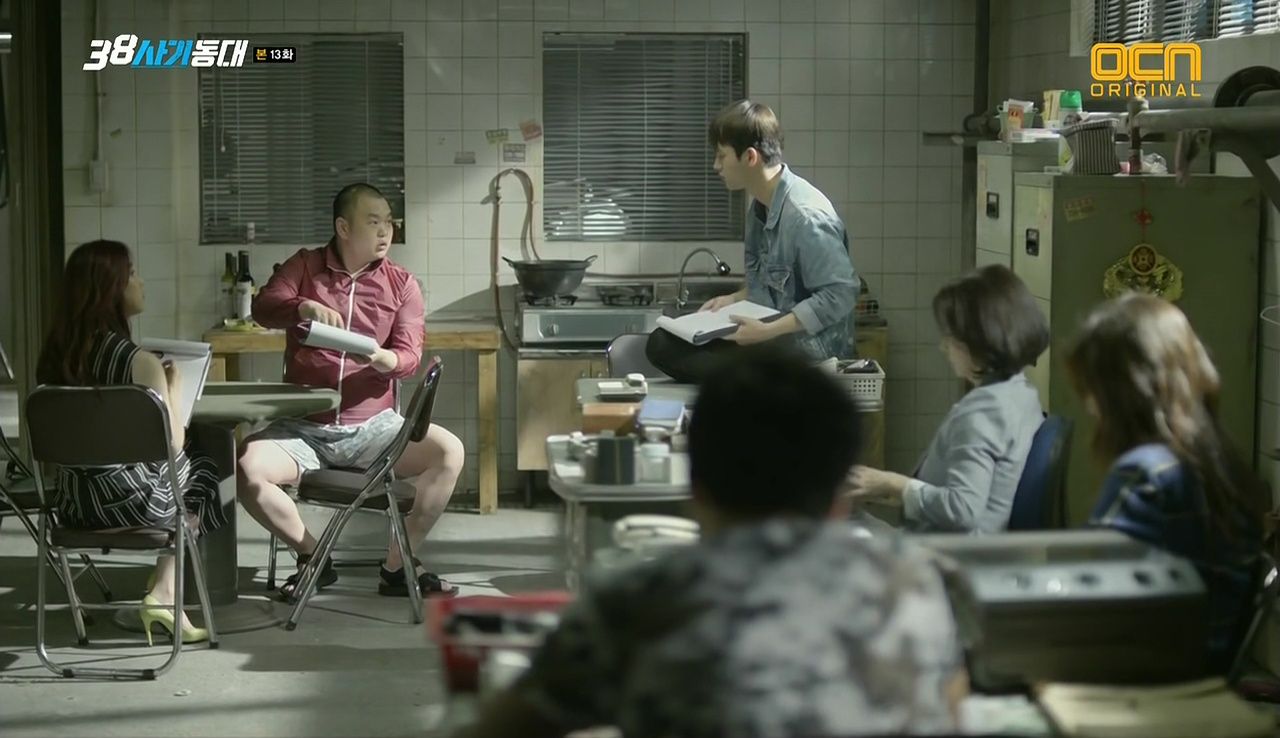 Madam Noh asks who heads this company and Jung-do says it's President CHA MYUNG-SOO, the chairman's left hand, while President Bang was the right. They analyze profit reports and realize that while President Cha had embezzled and stolen some money from the company, it wasn't very much. Mi-joo concludes that President Cha is very scared of Chairman Choi. Jung-do gauges that he must be a man with a lot of pent-up anger.
They come upon a character whom Jung-do had scammed early on. Director JO SANG-JIN was the man who had genially advised Sung-il to leave Ma Jin-seok alone and collect taxes from the "ants." Turns out that he is a school friend of President Cha's, and is now Kukjin Construction's new CFO. Jung-do speculates that Director Jo's accountancy firm must have tanked, forcing him to take a post with Kukjin.
Sung-hee put away her notes and gave Jung-do one final bit of information: Commissioner Ahn now works as a director at Kukjin Construction. She advised Jung-do to be careful of him. With that, Sung-hee said that she'd done all she could, and now it was Jung-do's turn to do what he's good at.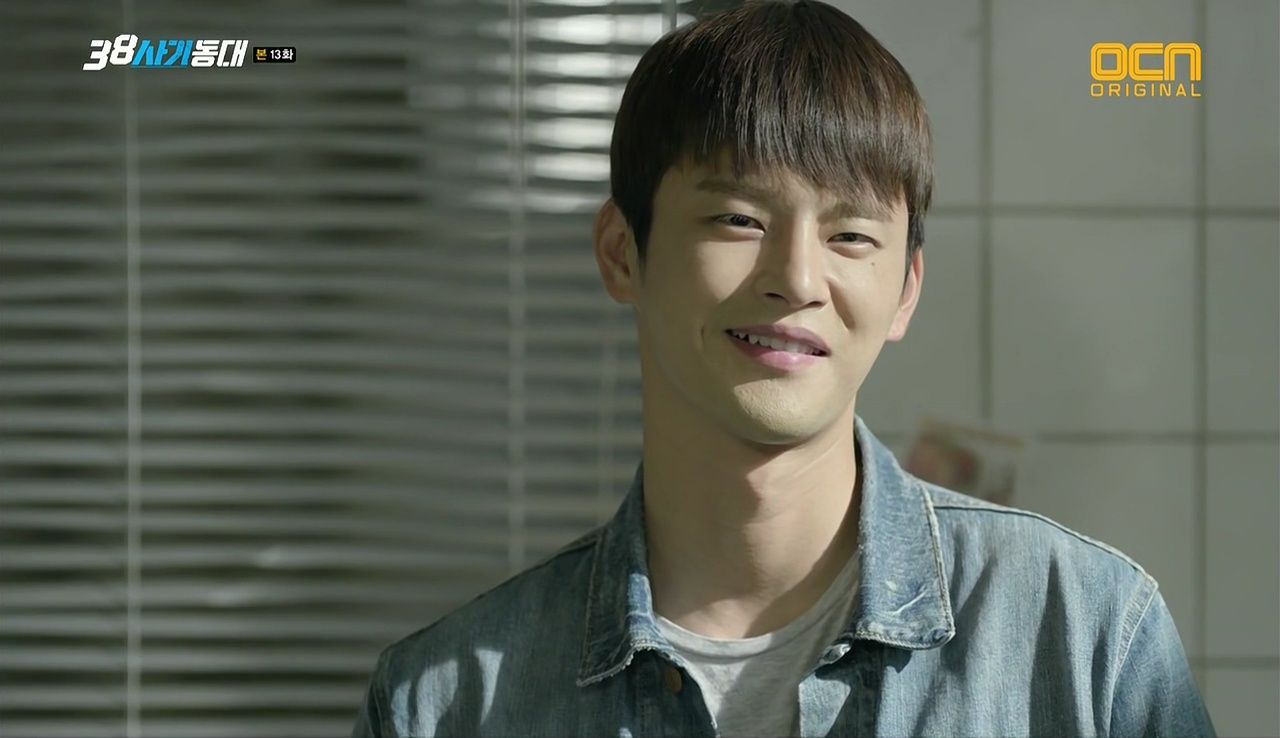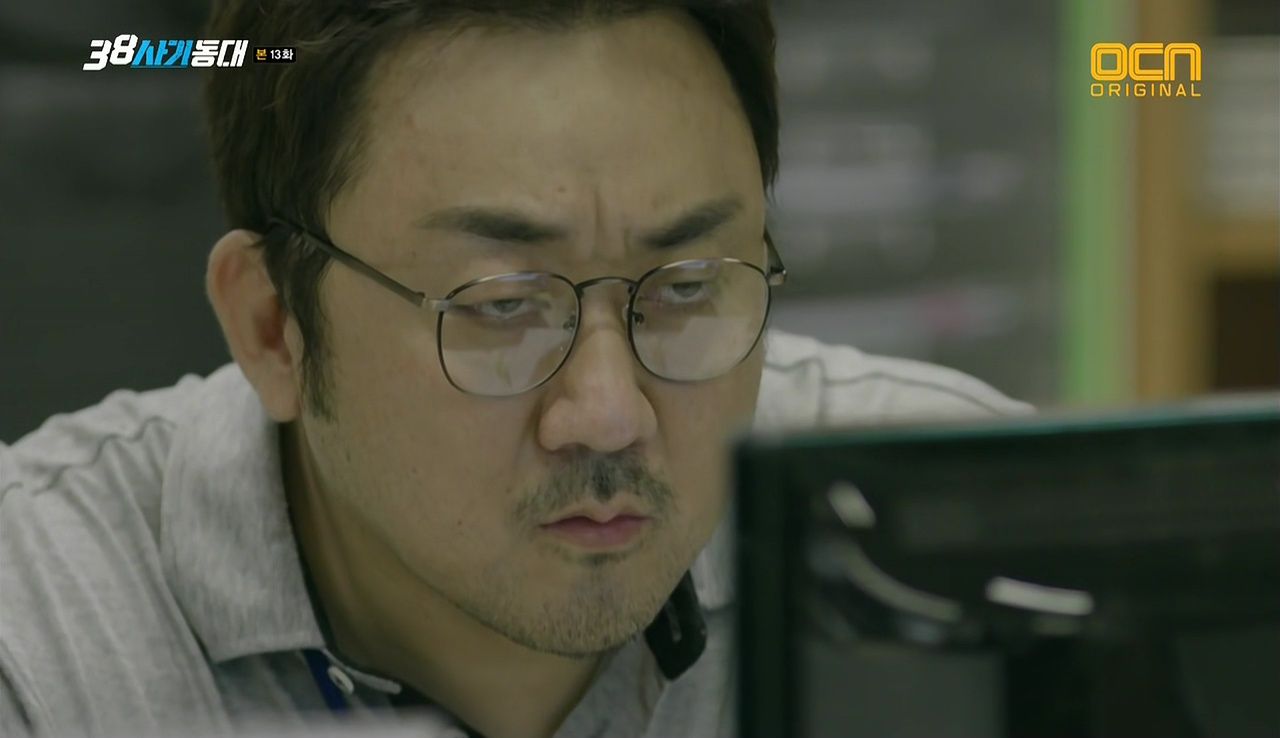 The crew absorb all the information, but then Hak-joo points out that something is missing. Mi-joo and Ja-wang pipe in that something is missing. Jung-do looks around confused and asks what could be missing. Mi-joo just says that it's someone who used to be by their side but isn't anymore.
Jung-do tells the crew that Sung-il is back to being his old bland, watered-down self again. Then Jung-do grins and adds, "I hear that's how he's living now…just to fool the City Hall people." In a flashback, we see that when Sung-hee first visited and told him about Sung-il, she explained that he had to live this way.
She told Jung-do that Sung-il ignored injustices, endured insults and the misjudgments of his coworkers, all to lull City Hall into complacency, so that when Jung-do got out, Sung-il could work with him. We see that Sung-il had been diligently working to gather the information Sung-hee brought to Jung-do, in an effort to keep the promise he made. Madam Noh observes with admiration that Sung-il has been living a con for two years.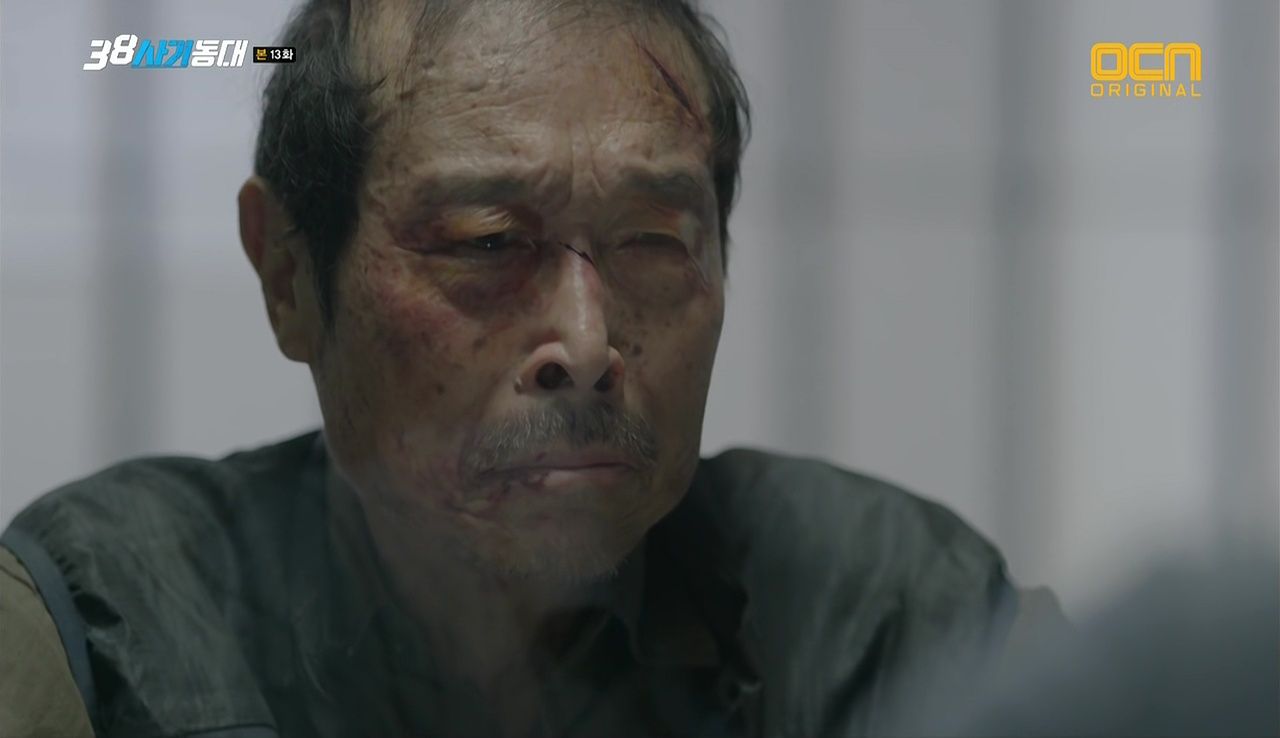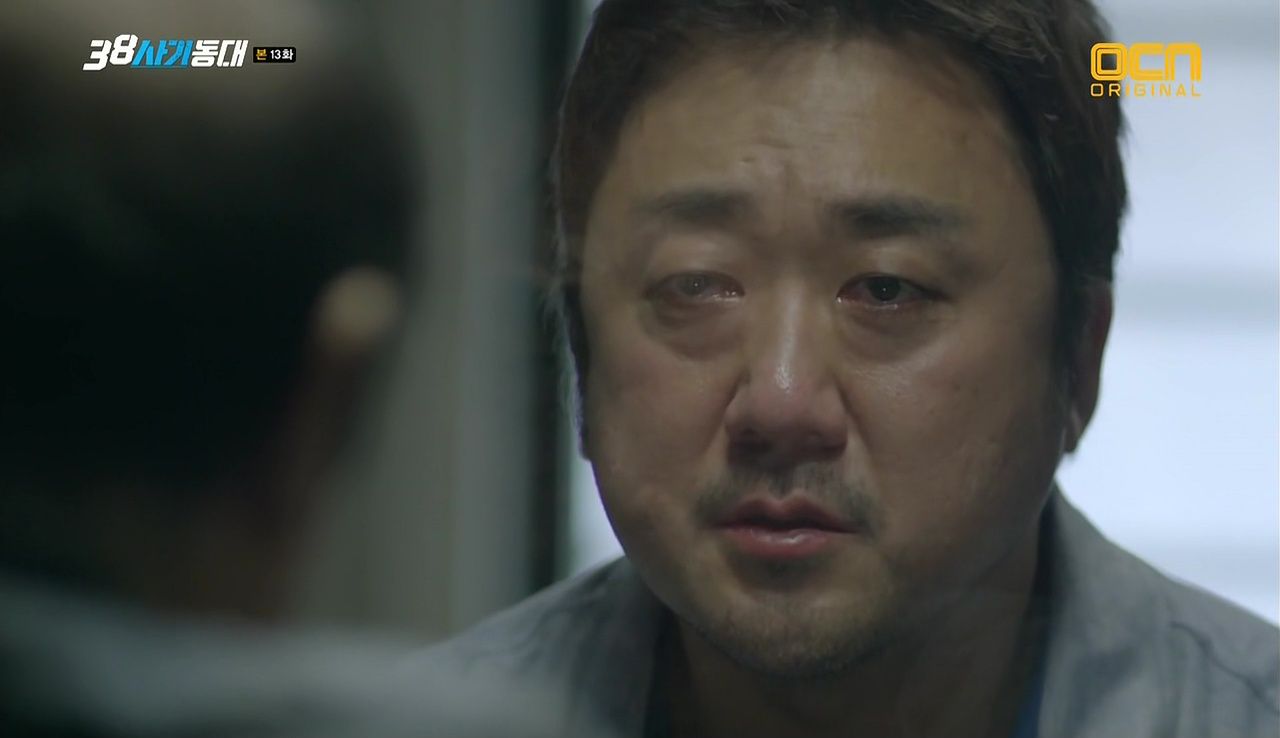 Sung-il stops by the elderly man's restaurant to find his young granddaughter crying all alone. Sung-il hugs her and is beyond upset to see what's happened to the restaurant. He then visits the old man in prison and apologizes for not helping him before. He explains that there was a reason for his silence, but that he wouldn't ignore what was happening in Maseokdong any longer. With tears in his eyes, Sung-il tells him to rest, and promises to bring justice to the people who did this to him.
Outside, Sung-il finds Jung-do waiting with a car for him. They smile at each other and Jung-do pats his shoulder affectionately before getting in the car. While driving, Jung-do tells Sung-il that they can't go after Chairman Choi directly since he'll have his guard up, and Sung-il agrees. Then, Jung-do asks Sung-il what they should do.
Sung-il looks at him in surprise, and Jung-do explains that Sung-il is doing this for justice while it's personal for Jung-do. "I got caught because I followed my emotions," he says, and asks Sung-il to "be the navigation system, while I be the driver." Aww, right in the feels. Sung-il seems to have thought this through already, and he tells Jung-do that they should focus on people instead of the taxes, which would just flow back into the pockets of the rich, so long as Mayor Chun is in power.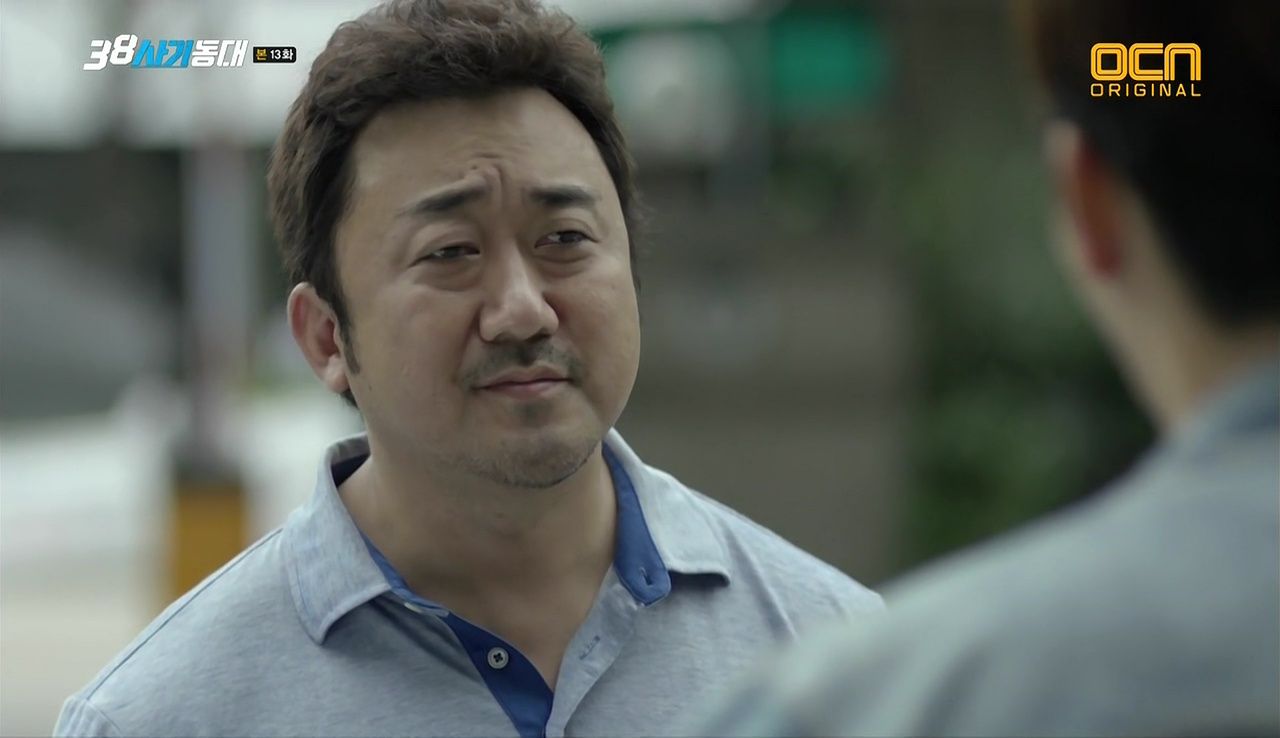 In the Kukjin Construction offices, a man turns up and Director Jo is pleasantly surprised to see him. We don't get to see his face.
Sung-il and Jung-do share a bottle of soju and discuss the Maseokdong project. Jung-do tells Sung-il not to worry too much and that he'll put a stop to it by destroying Kukjin Construction. Sung-il asks what he intends to do about Mayor Chun, and Jung-do says that they can't target him since the mayor knows them. Instead, he says with a smile, Chairman Wang will be the one conning him.
Chairman Wang and Secretary Kim come out of prison and are greeted by Madam Noh, Ji-yeon, and a battalion of bodyguards. Secretary Kim asks where the press is, and Madam Noh assures him that a conference has been scheduled. She asks where they should take Chairman Wang first, and the chairman enquires with a keen look: "Yang Jung-do. Where is he right now?"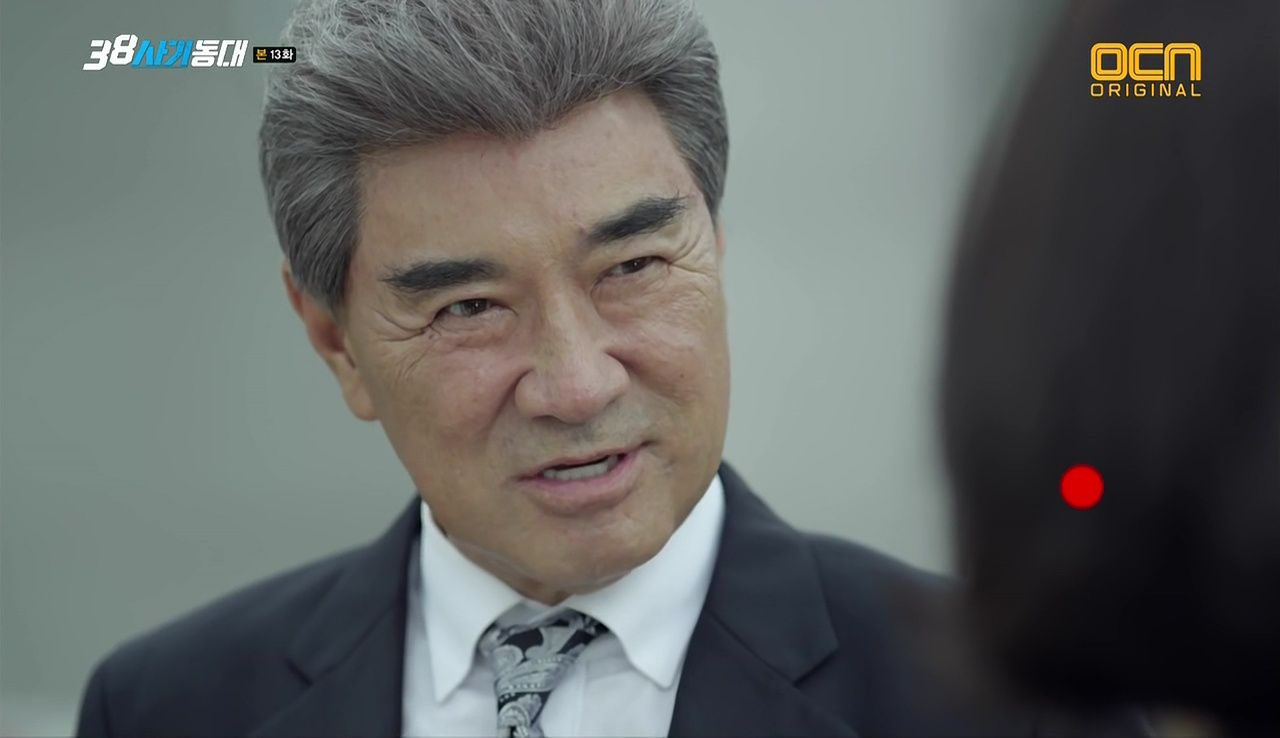 COMMENTS
So much to unwrap here. First, the long con that Sung-il pulled off over two years. I realize how impressive it is, but I feel just a little depressed for my poor ajusshi. In effect he spent two years in a prison of his own creation. After betraying Jung-do — no matter that it was pre-planned — I suppose this was only natural. Not just because he had a promise to keep, but because he felt like he had to share Jung-do's punishment.
There's also this consistent inevitability in the way he keeps getting targeted by the Commissioner Ahns and Mayor Chuns of the world. It's not enough that he's quiet and meek, he has to be properly trod upon to be acceptable to them. Something about Sung-il's innate goodness clearly rubs these hypocrites the wrong way. It's not enough that he's going about his job, causing no trouble, they have to demote him and use a spineless worm to humiliate him daily. This hurt especially in the light of how much his team respected him before. His hoobae's disappointment in him is truly heartbreaking, and I hope the man gets to realize that the Sung-il with principles is still very much alive in his old Section Chief.
I'm glad Sung-hee's parentage is clearly out in the open now. I almost got the feeling that the show got tired of hinting at it and just threw it out as an exposition bit to be done with it. It's certainly an angle rife with angst if someone like Sung-hee has been watching her father's corrupt practices for years and losing all respect for him. I fancy that the mayor knows this and is jealous of Sung-hee's relationship with Sung-il, who is as close to a father-figure as Sung-hee has likely ever had. Perhaps this is why he had "protected" Sung-il two years ago, but simultaneously ensured that every vestige of what Sung-hee admired in the man was stamped out.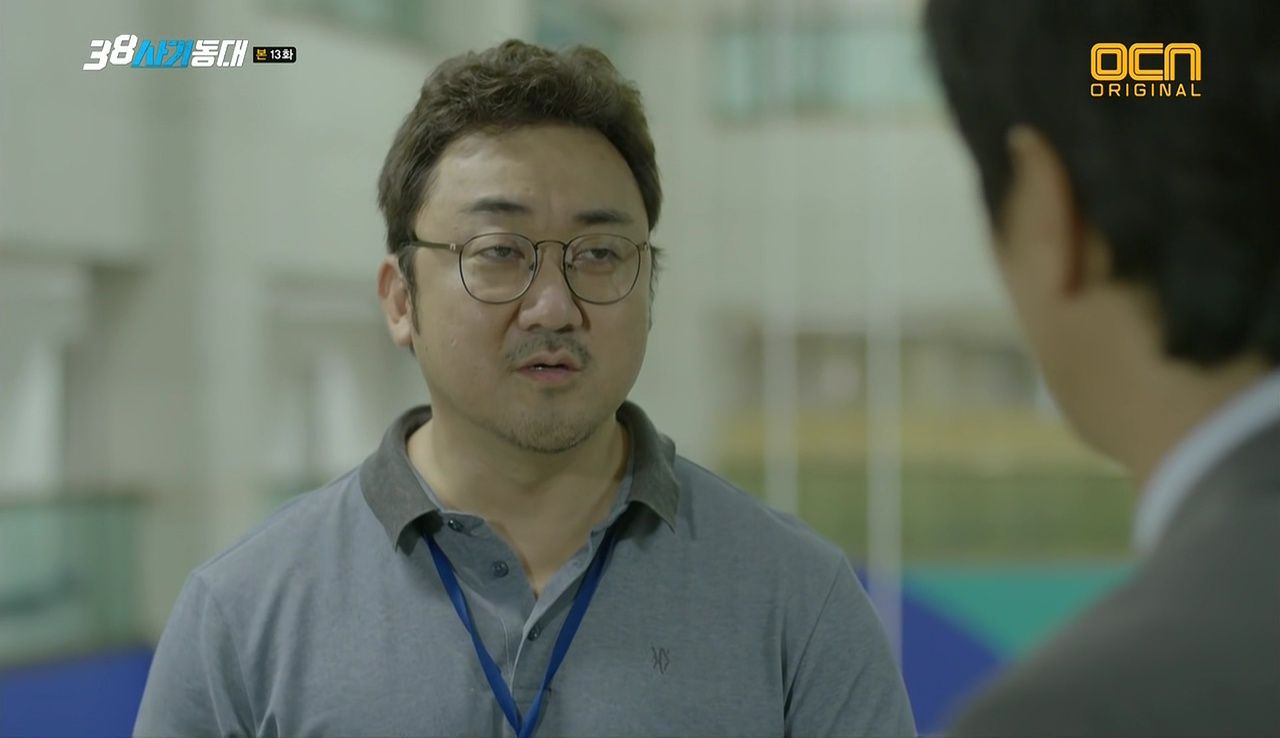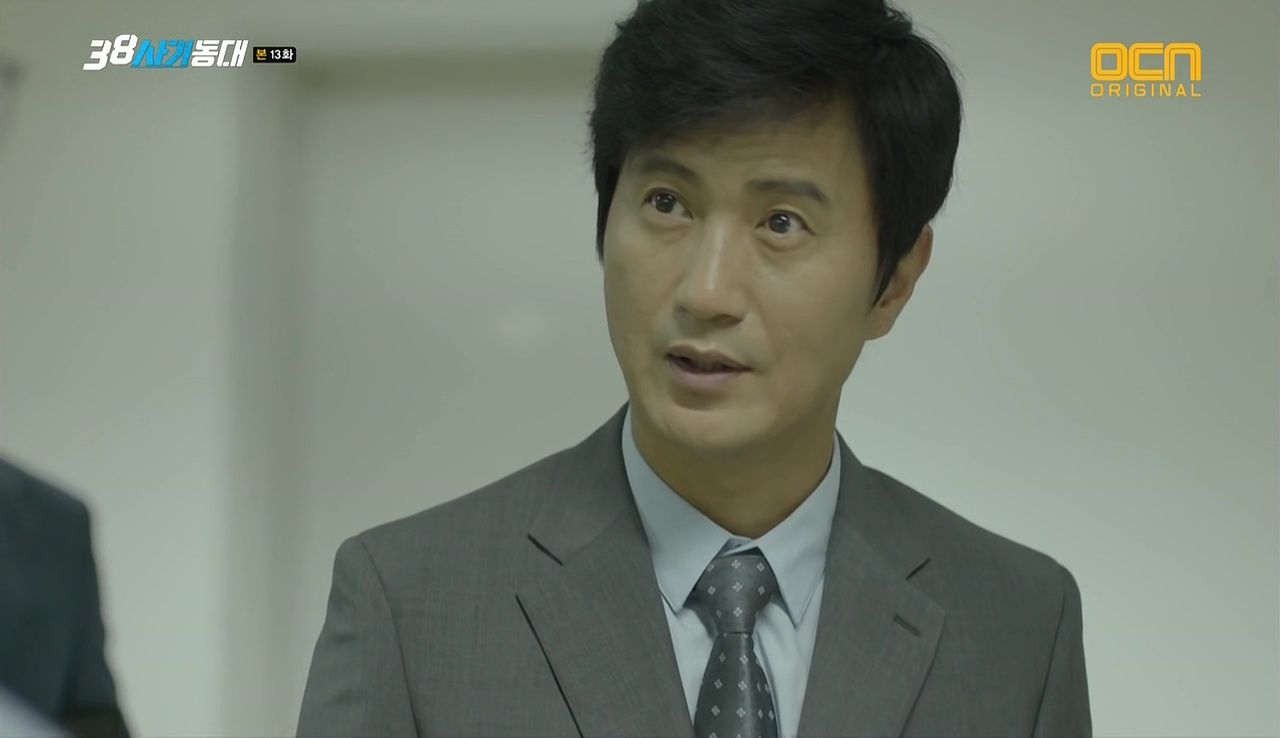 Mayor Chun has fascinated me from the very first episode. I just couldn't get a clear picture of the man. I love that the show made him opaque, because unlike President Bang or Chairman Choi, the mayor doesn't have enough self-awareness to know that he is evil. We could all see his guilt and consternation as people got hurt and he reflected on his inability to protect them. It just turns out that he never really tried, because as Chairman Choi puts it: A crocodile never gives up his food. He made excuses for his own inaction and mouthed tripe platitudes to the victims. He reasoned that he couldn't move against his rich patron, since that would result in him losing his office. In his mind, I guess, Mayor Chun has convinced himself that he has to stay mayor for the good of Seowon, ignoring the truth that he just likes to wield power.
The crew was surprisingly easy to get together again. I have to admit to a slight disappointment there. Especially with Madam Noh, since their last conversation had such a tragic lilt of finality in it. But it turns out "I won't call you till I die," just meant "I won't call you till I'm done with prison." That they all fell under Jung-do's spell is completely believable, but I just wish they'd tried harder to avoid answering his phone call. Don't they know by now that he's the swindlers' pied piper?
I really liked the subdued reunion between Jung-do and Sung-il though. They didn't have to say anything. Their happiness was writ clear on their faces. Jung-do's willingness to hand Sung-il the reins was the other thing that made my day. He admitted his mistake so simply — acknowledging that his heedless thirst for vengeance was his downfall. It takes a very clear head to analyze one's own flaws quite so deeply. Jung-do examined his actions and seemed to realize the exact point where he began to make mistakes. It was when revenge was so tantalizingly close that he lost his head, and tried to take on a big mark like Chairman Choi without adequate preparation. At that point, nothing and no one could have stopped him. But two years of reflection had sobered him enough to realize that he needs to keep his own feelings out of this, if the con is to be a success. And that Sung-il is the real heart of their team.

RELATED POSTS
Tags: featured, Ma Dong-seok, Police Unit 38, Seo In-gook, Sooyoung