Police Unit 38: Episode 14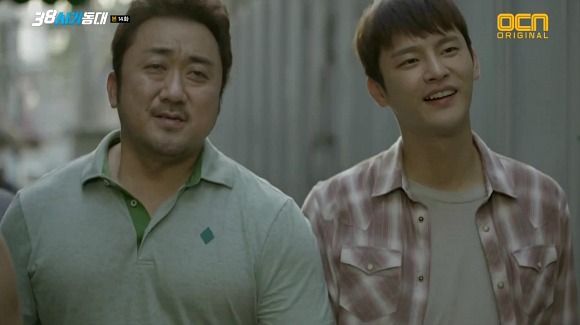 This show! It doesn't run out of twists! Every week leaves me scrabbling around for my brains, but isn't the utter assurance of the storytelling just so compelling? It plays its cards astutely and without a trace of self-satisfaction at its own cleverness, focusing instead on delivering well-timed curveballs and payoffs. But most reassuringly, it knows its win ultimately doesn't lie in its complexity, but in its ability to take us along for the ride.

EPISODE 14 RECAP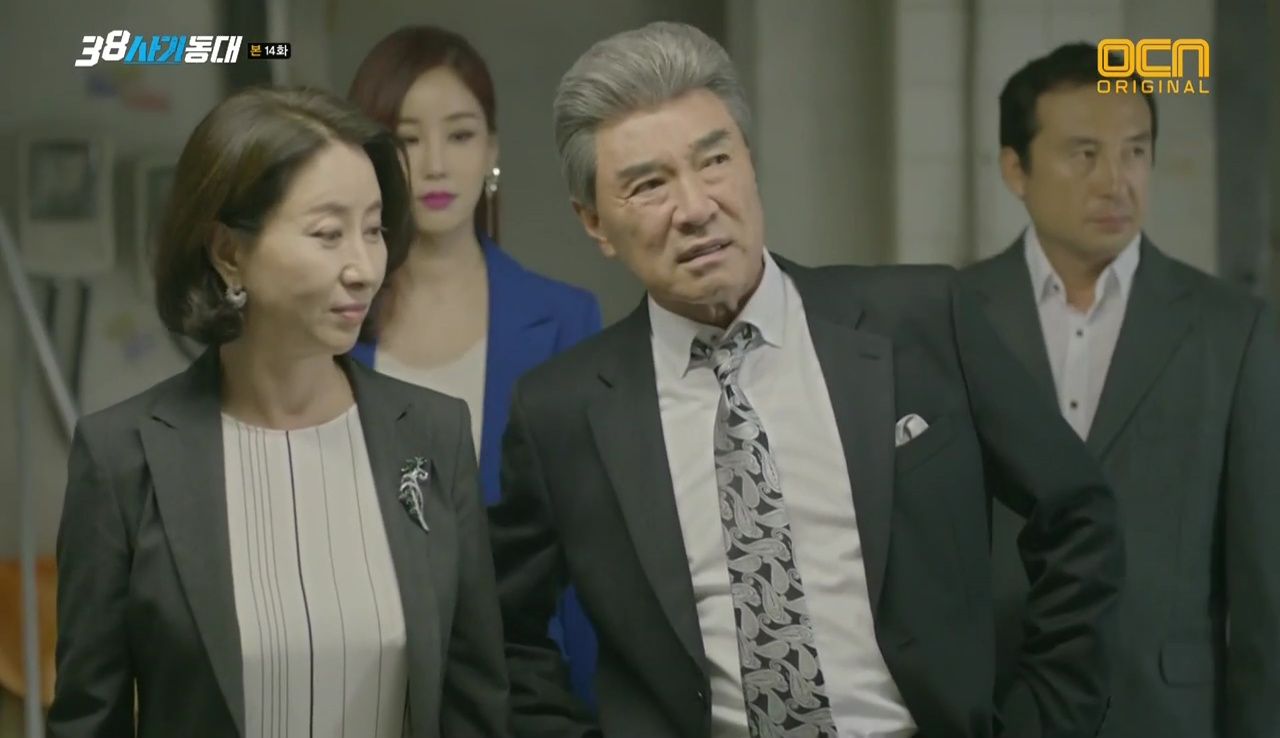 Madam Noh greets the newly-released Chairman Wang with a full retinue of henchmen, over which he's jovially dismissive. He tells Madam Noh that his first port of call is Jung-do.
In a humble neighborhood, Chairman Choi plays baduk when someone approaches him. It's Jae-sung, out of prison and unpleasant as ever. Displacing Choi's game-partner, he places a piece on the board and remarks on the irony of coming out of jail to find his old provider President Bang behind bars himself.
He offers to sell Choi information worth good money—specifically, $5 million—which will have Mayor Chun at his beck and call, but Choi doesn't bite. Jae-sung smirks and tells him to call him if he changes his mind. In a parting shot, he adds that Jung-do, that guy who nearly took him down, was also released on parole.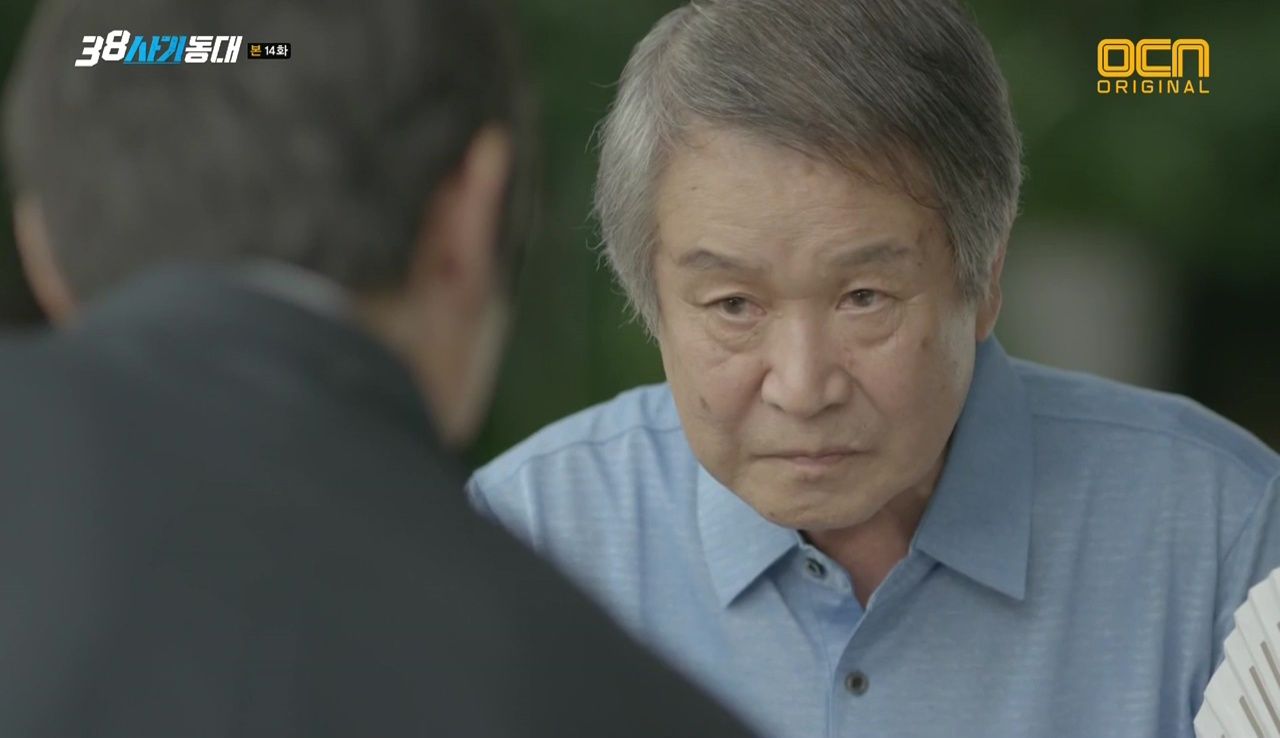 Madam Noh brings Chairman Wang to the Freezer, which he finds most unexpected, though not as much as its occupants. He finds Hak-joo enormously entertaining and jokes that he should share his luxuriant tresses with balding Ja-wang.
Jung-do finally appears, and greets the Chairman casually. Wang seizes his ear and demands to know why he didn't come to meet him, while Jung-do hops and yelps. The Chairman decries his lack of manners, and Madam Noh, Ji-yeon and Mr. Kim look on, amused at the literal and figurative (and deserved) ear-bashing. Haha.
Jung-do promises to go next time ("Next time? Are you telling me to go to jail again?"), which very nearly earns him another round, but luckily for crybaby Jung-do, Sung-il's arrival interrupts them.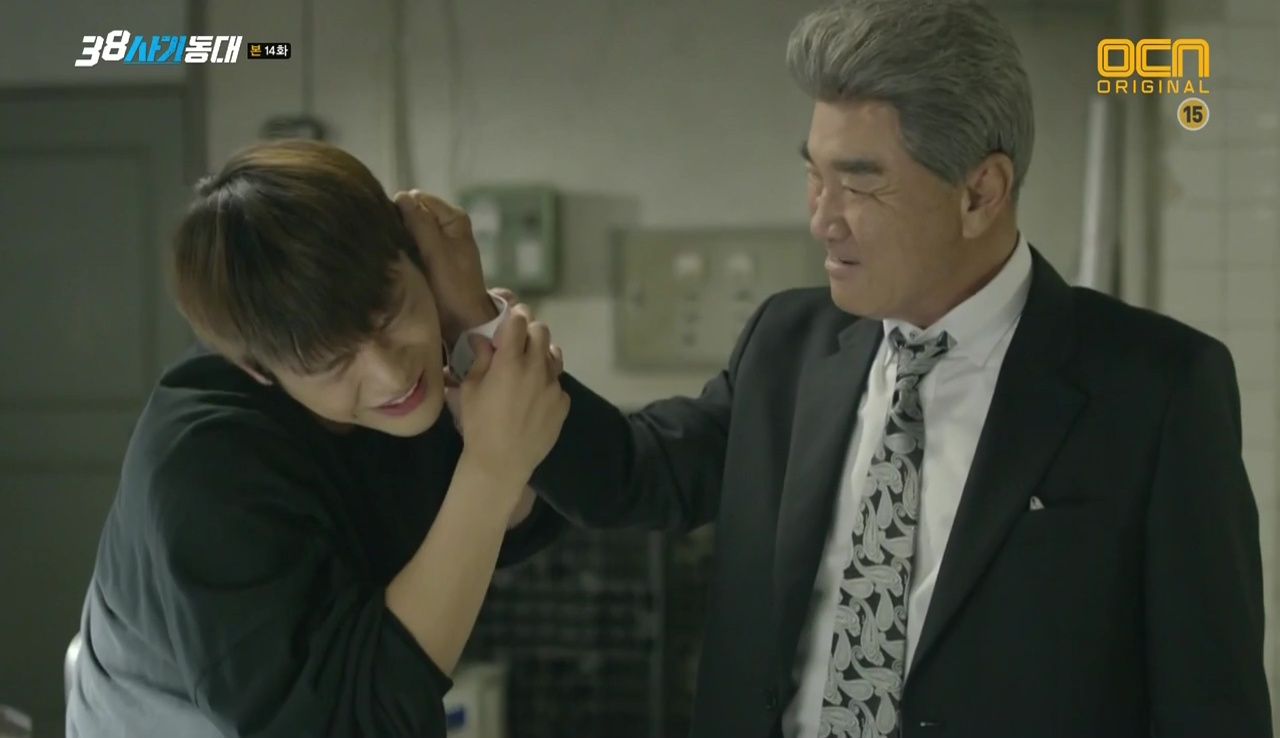 "Is that guy a professional wrestler?" Chairman Wang asks. Aww no, he's a professional BEAR. Jung-do introduces him as the person he told him about before. "He can't fight," he adds. And neither can you!
Mayor Chun arrives late for a dinner-date with Chairman Choi, but is dismayed by Choi's other guest, whom he introduces as Woo Soo-myung, a candidate for another party. Candidate Woo excuses himself, leaving Chun alone with the Chairman.
The Chairman asks him if he knows Jung-do's out of prison. He's sure to come after them again, and Choi points out that the latest indications show that Chun could well lose the mayoral election. Chun asks him if that's why he's wooing the opposition. Choi chuckles darkly that that's to keep him on his toes.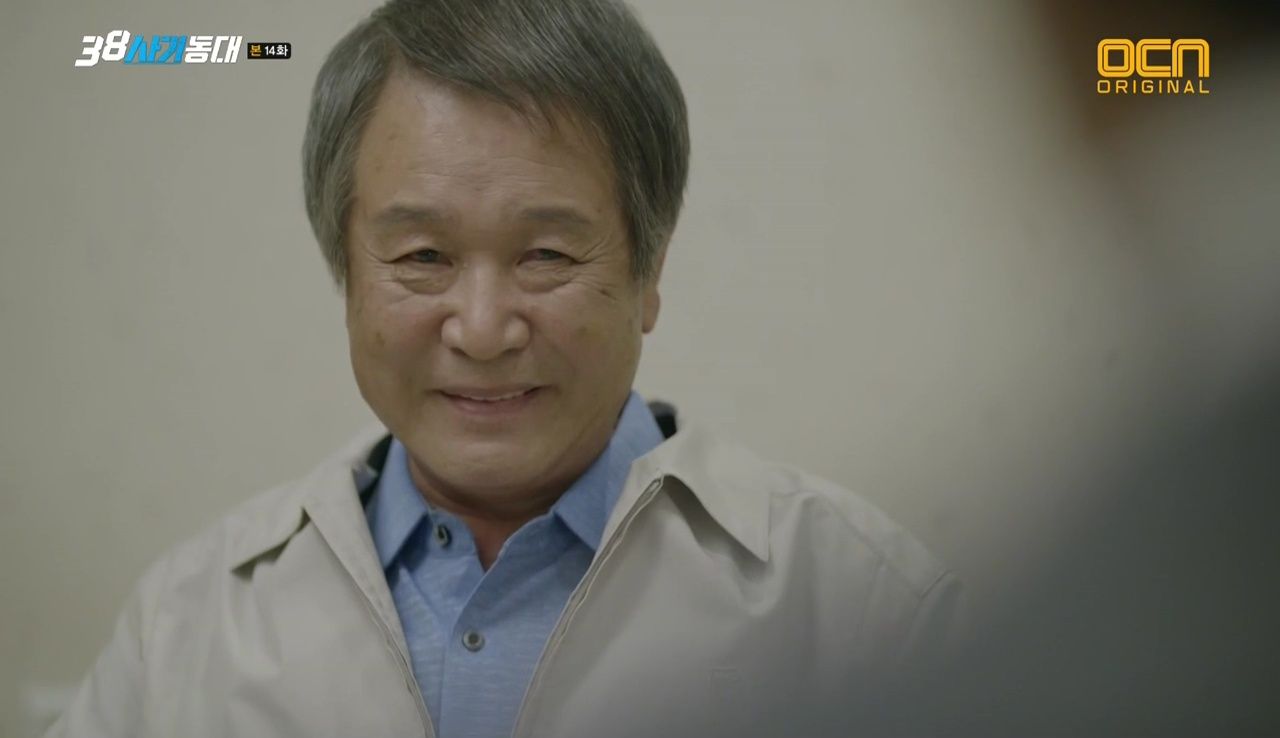 He offers to use whatever funds Chun needs to make sure he stays mayor, since he doesn't want his work all this time to go to waste. Plus, he's willing to spend a little now to rake in tenfold later. Chun stares at him with an inscrutable expression.
After Mayor Chun and Candidate Woo see Chairman Choi off, Chun stiffly asks how his rival's preparations are going. Woo laughs that it took a mere twenty minutes to mortgage the house it took him twenty years to buy. But no, he didn't come here for Choi's money, but rather to see how the man who owes $100 million in taxes lives.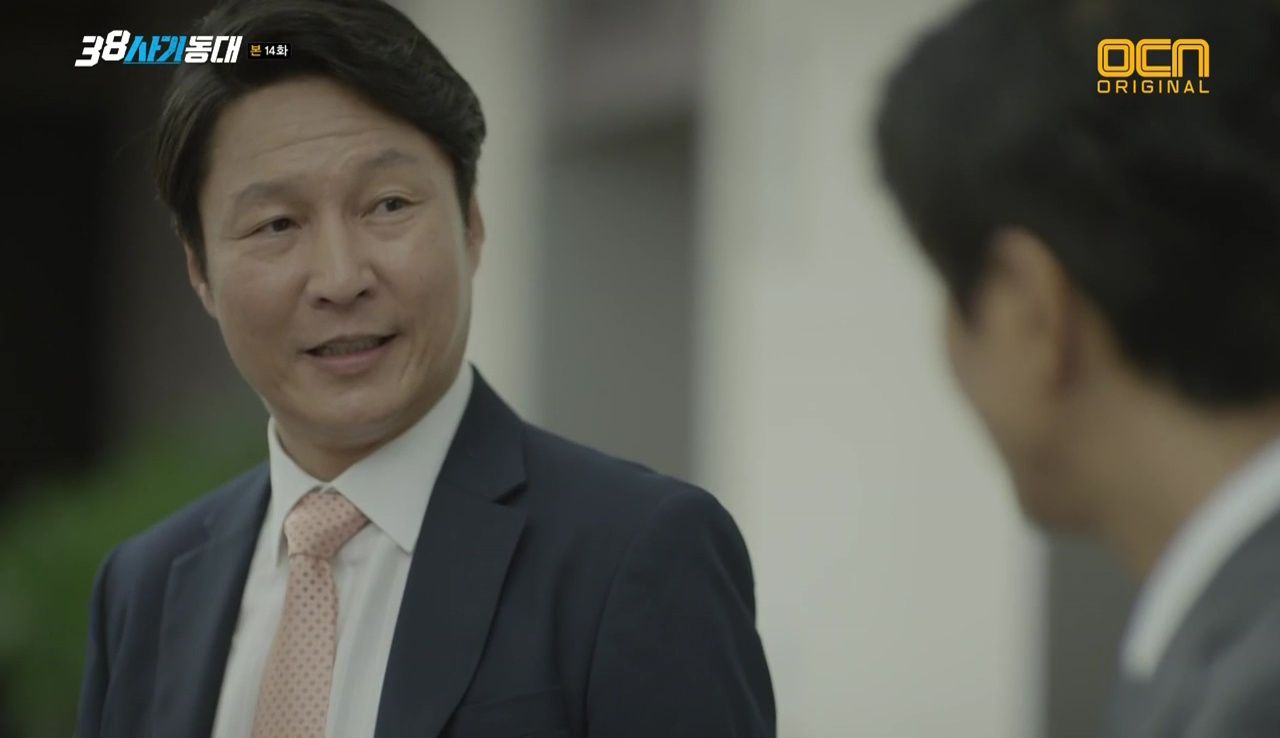 The humor leaves his face and he vows that should he become mayor, he'll start by collecting from Choi in full. Still inscrutable, Chun says it won't be easy. "Still, it must be done," Woo replies. That's how they'll erase their unfair privileges. He reminds Chun that that was why he set up the tax bureau in the first place.
Jung-do and Madam Noh join forces to instruct Sung-il on how to get Chairman Wang on his side. He mustn't presume anything, nor lie, nor smirk, nor repeat himself. Madam Noh helpfully chimes in each time that those are the things the chairman hates the most, haha.
In conclusion, they tell him to be absolutely honest, sincere, and direct. "Then Chairman Wang's heart will open up to you, ajusshi," Jung-do smiles.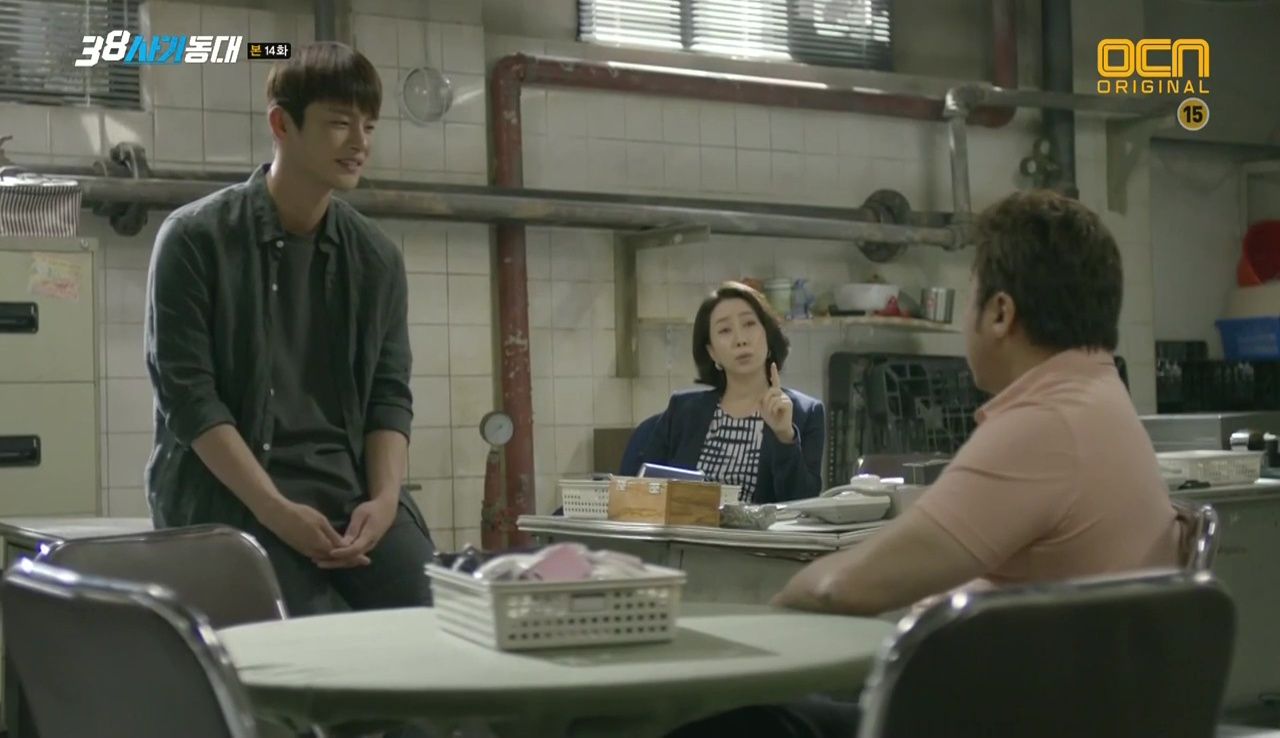 Those instructions replay in Sung-il's mind as he meets the chairman. Mr. Kim further tells him that he can't simply ask for help, but he has to convince him, and then asks Sung-il what he wants.
"For Chun Gab-soo to be defeated in the election," Sung-il replies. He explains that it's the only way he can collect Chairman Choi's unpaid taxes, a symbol of the unfair privilege he enjoys. He wants to break the system that demands only the poor pay their dues while the rich enjoy all the rights.
Interested, Wang asks what Sung-il wants of him. Sung-il's plan is that he make a generous donation to the city on behalf of his own company, Sangjin Group, and garner some media attention. We flash forward to noisy press conferences, with Wang making charismatic speeches in support of public welfare. Since welfare is Chun's special interest, he'll seek Chairman Wang out himself, Sung-il says.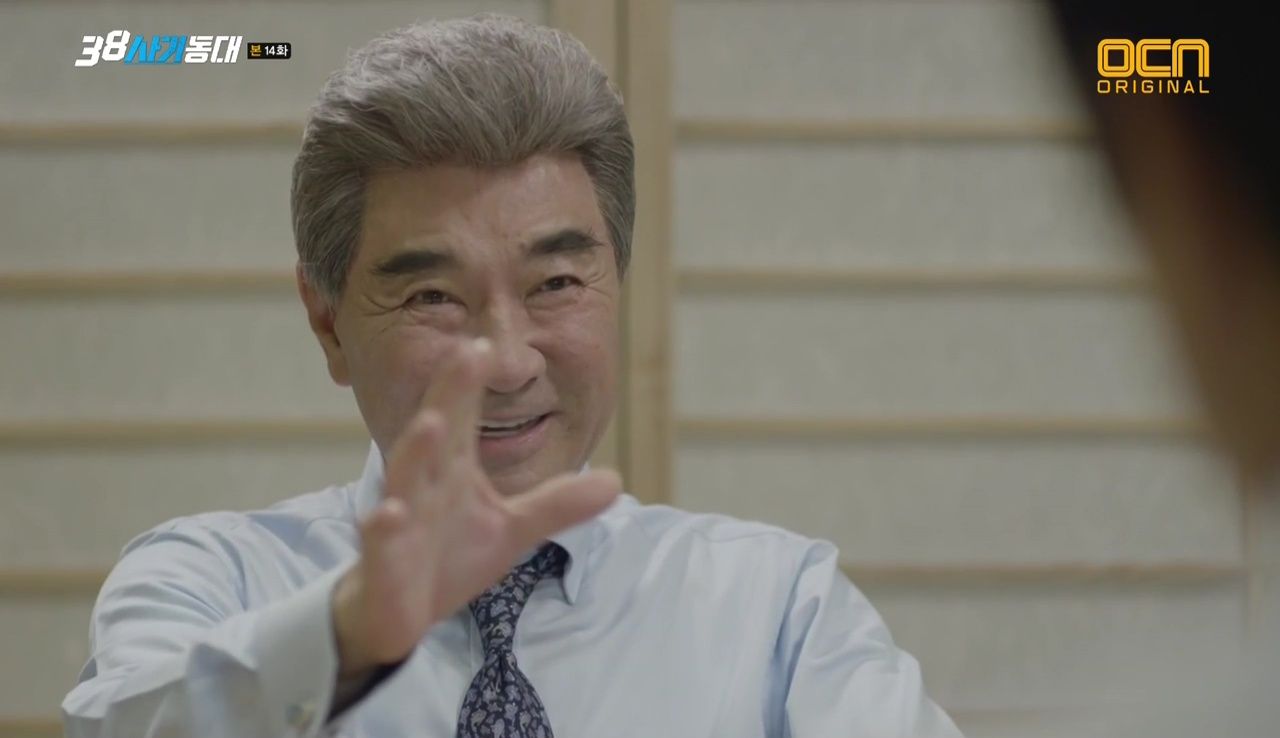 It all unfolds to plan and Chairman Wang lands a private dinner meeting with the mayor. He genially tells Chun that he voted for him, and confides that he's interested now in him, not Seowon city. He promises to vote for Chun again, and asks bluntly if he has campaign funds.
Chun is discomfited by his directness, but Wang says that he's different, and insincere wooing isn't his style. He tells the mayor that he's not seeking a hold over him—he doesn't need Chun's help when he does just fine on his own—but making friends at this age is hard, and it's friendship he wants. Chun remains noncommittal.
Chairman Wang predicts that he won't bite so easily, not when he's entangled with Choi. Sung-il tells him not to worry, because Jung-do will be visiting Chairman Choi to shake things up a bit more…
Jung-do takes a seat by Chairman Choi and introduces himself affably. Unflapped, Choi asks what brings him here. Jung-do delivers a warning that they'll be taking his $100 million of tax one way or another.
Choi smiles a little and asks if he can help. His chuckling only grows as Jung-do advises him to pay up, and his superficial cheer vanishes when he remarks on Jung-do's rude tone. Jung-do just grins that he's been rude since the day he was born.
He gets up, and looking around the rundown neighborhood, he tells Choi to stop this pretence of being poor. It's especially unsightly considering how he lives by grinding everyone else beneath his heels, "Seowon City's number one tax evader, Chairman Choi Chul-woo," he finishes.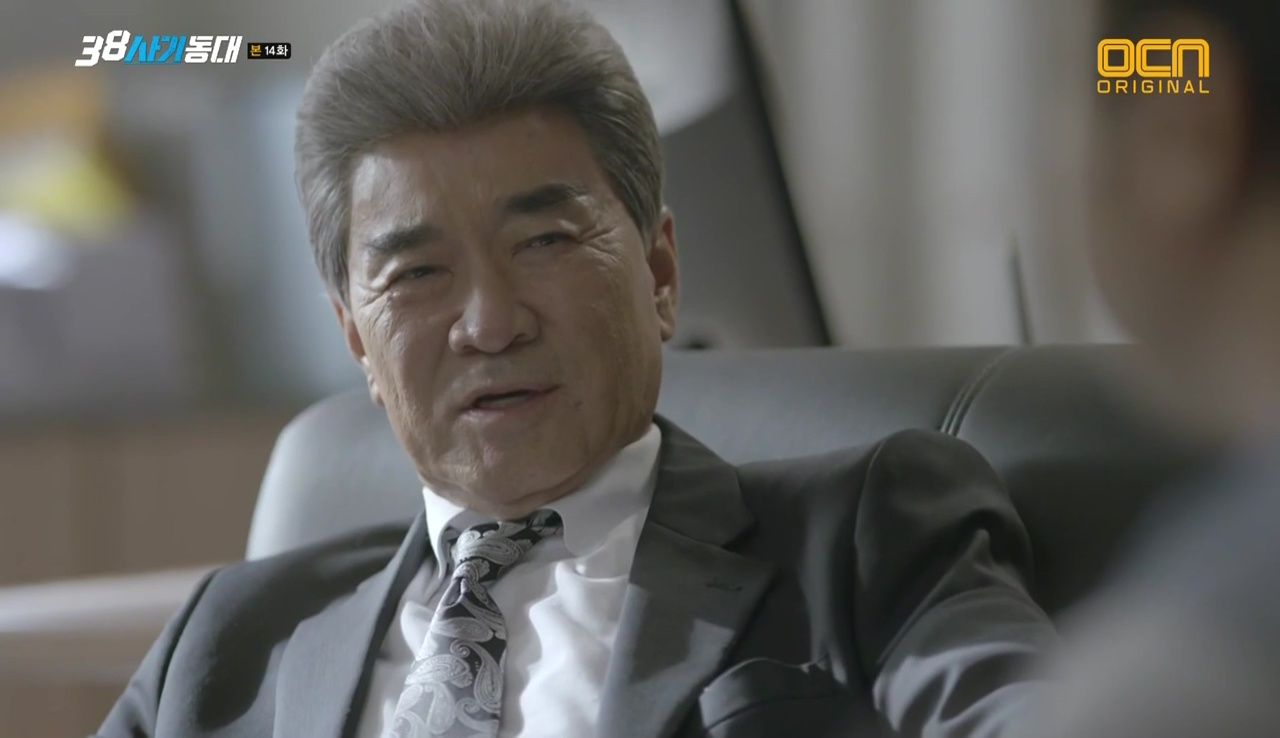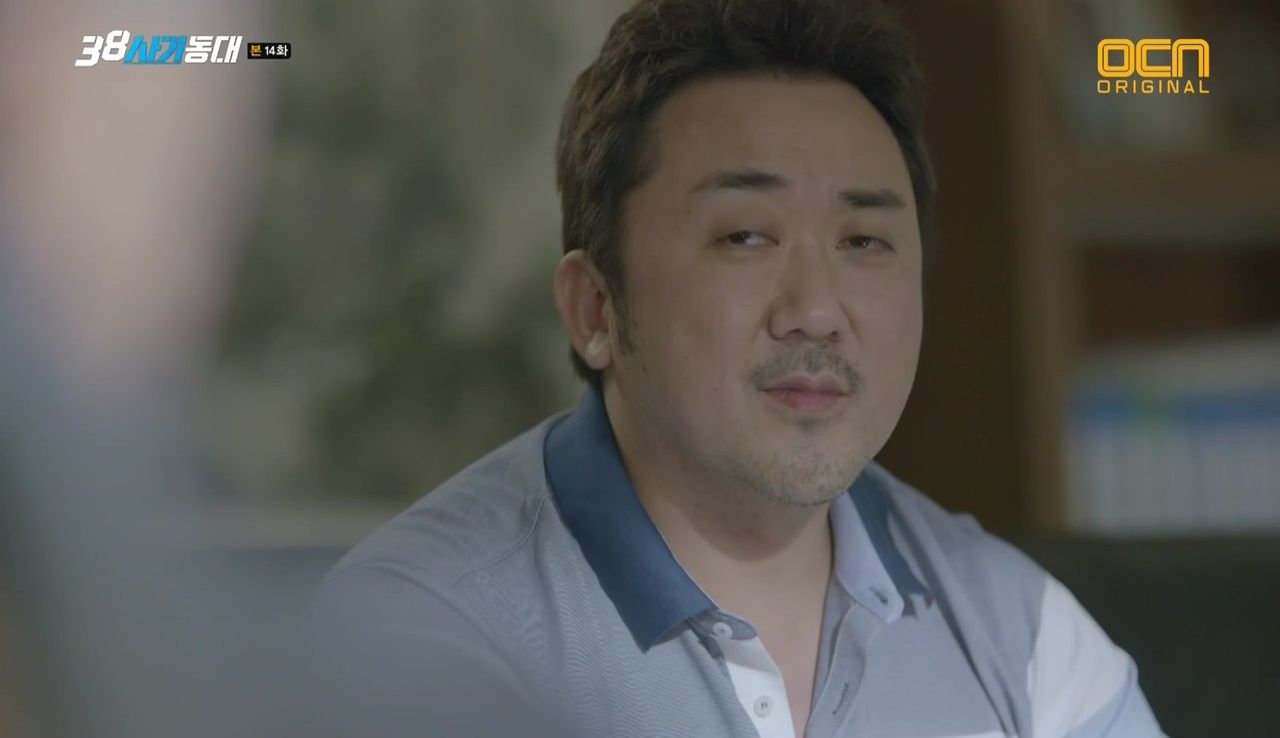 We cut back to Sung-il, who tells Chairman Wang that Jung-do's warning to Choi is merely a decoy. In a voiceover from Jung-do, he explains that their true goal is to bring down Kukjin Construction (Choi's company) and call off the Maseokdong redevelopment, which will in turn save Dami's grandpa's little diner.
Released by the police, Grandpa returns to his diner to find it full of the gang, from rumpled Ja-wang to sleek Madam Noh. Dami leaps into his arms, and they welcome him home. As they file out, each one offers an encouraging word or touch. Sung-il goes last, promising to return tomorrow.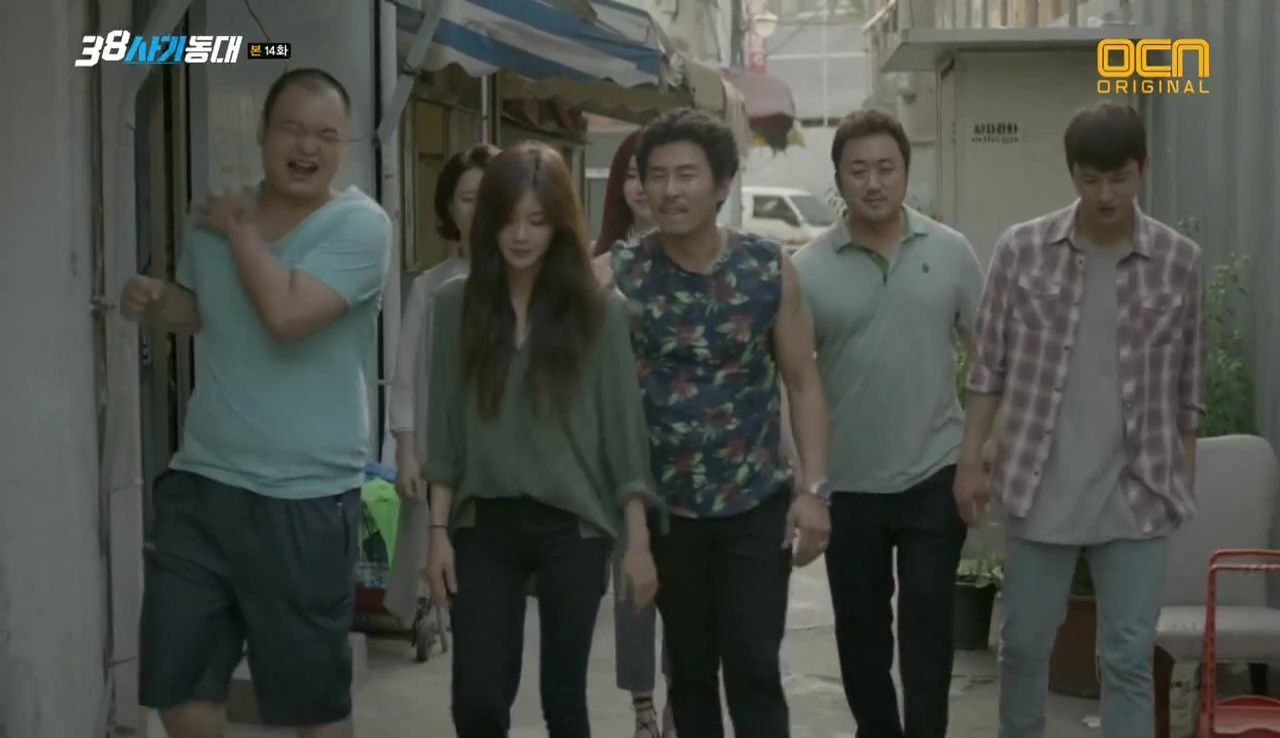 Jung-do's voice continues as the gang ambles away in good spirits: If the city won't protect that neighborhood because it doesn't bring them high tax revenues, then they at least should. "As for the people who fulfil their duties as citizens, we have to protect their rights. That…that's what's just," he finishes.
Chairman Choi dines with now-Director Ahn, and the two Kukjin heads, President Cha and Director Jo. Choi asks the latter why they haven't gone ahead with the Maseokdong demolition, when the media and protestors have all been dispatched. He frowns at their excuses and turns to Ahn to ask how long he has to listen to this drivel. Coolly efficient, Ahn replies that he'll take care of it.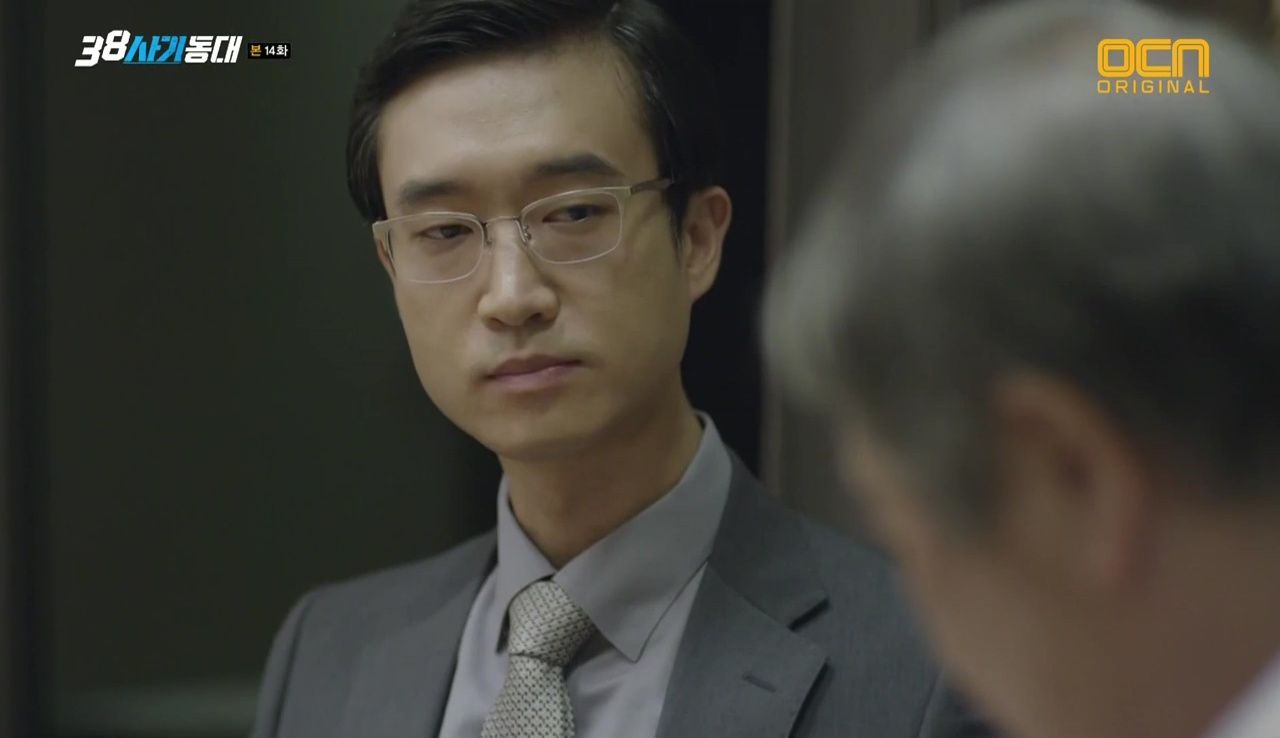 The other two try to follow Ahn's lead, but Choi dismisses them from the meal saying they don't deserve it. He then tells Ahn about Jung-do seeking him out. With a slight smile, Ahn confidently tells him he'll take care of that, too, which earns him more praise from the chairman.
At the Freezer, Jung-do presents the plan of attack he came up with while in prison, but admits it's a long game. Sung-il offers an alternative plan, one that he's been working on the past two years.
He hands it out and Madam Noh and Jung-do are both impressed. "Wow, you totally became a real conman," Jung-do says admiringly. Sung-il smiles back at them, shy and pleased with himself all at once.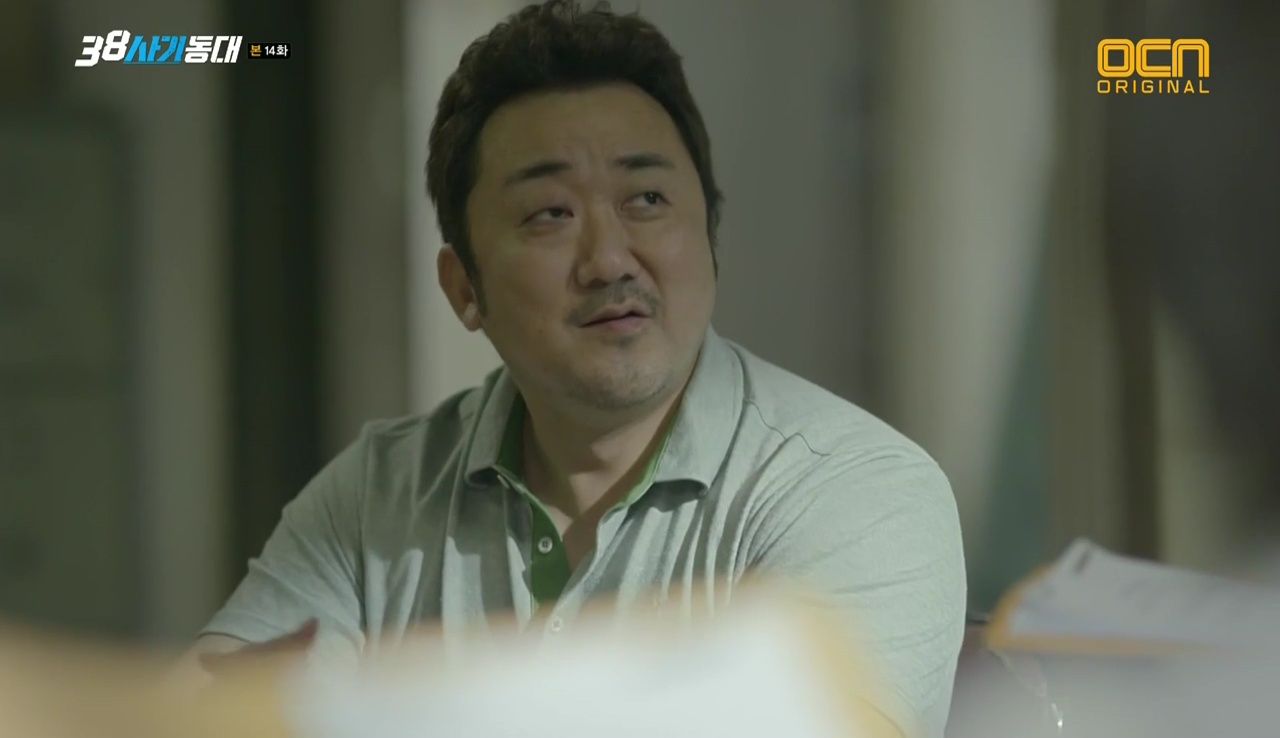 But both Madam Noh and Jung-do identify the plan's kick-off stage as problematic. Jung-do says it's too risky for Sung-il to do—for any of them, since their faces have all been exposed. Instead, he tells them that he's enlisted a mercenary.
A man walks through the warren that leads to the Freezer, while his face remains hidden from us. Sung-il reacts with curiosity, but Jung-do is all enigmatic smiles as he tells him that the guy's just a jobless joe. Not quite trustworthy, but he's got a solid grudge against Chairman Choi, President Bang, and that whole line.
Jung-do's really enjoying this build-up, and with good reason. "Long time no see, Chief Baek," comes a familiar voice behind Sung-il. Ohhh okay show, this is awesome, because who should his mercenary be but Ma Jin-seok.
Sung-il turns around with a start, and Jin-seok gives everyone a friendly greeting. He holds out a hand to Sung-il, who refuses it and turns to Jung-do. "It can't be this guy!" he complains. But Jung-do vouches for him, saying he got to know him while they were behind bars. Jin-seok avers: He went to jail for the Bangs, who are now inside themselves, while he's been reduced to nothing. He's decided to take the big guns down, and live a model life thereafter.
He puts a hand on Sung-il's arm, eager to convince him, but Sung-il shakes him off and turns back to Jung-do. Two years of hard work is at stake, Sung-il insists. But Jung-do (observing this all rather beatifically) continues to vouch for him.
But the decision is made when Madam Noh puts her funds at their disposal once again. She gives Jin-seok a pat on the shoulder as she leaves, and tells him to do well. Which makes him look pretty scared, ha.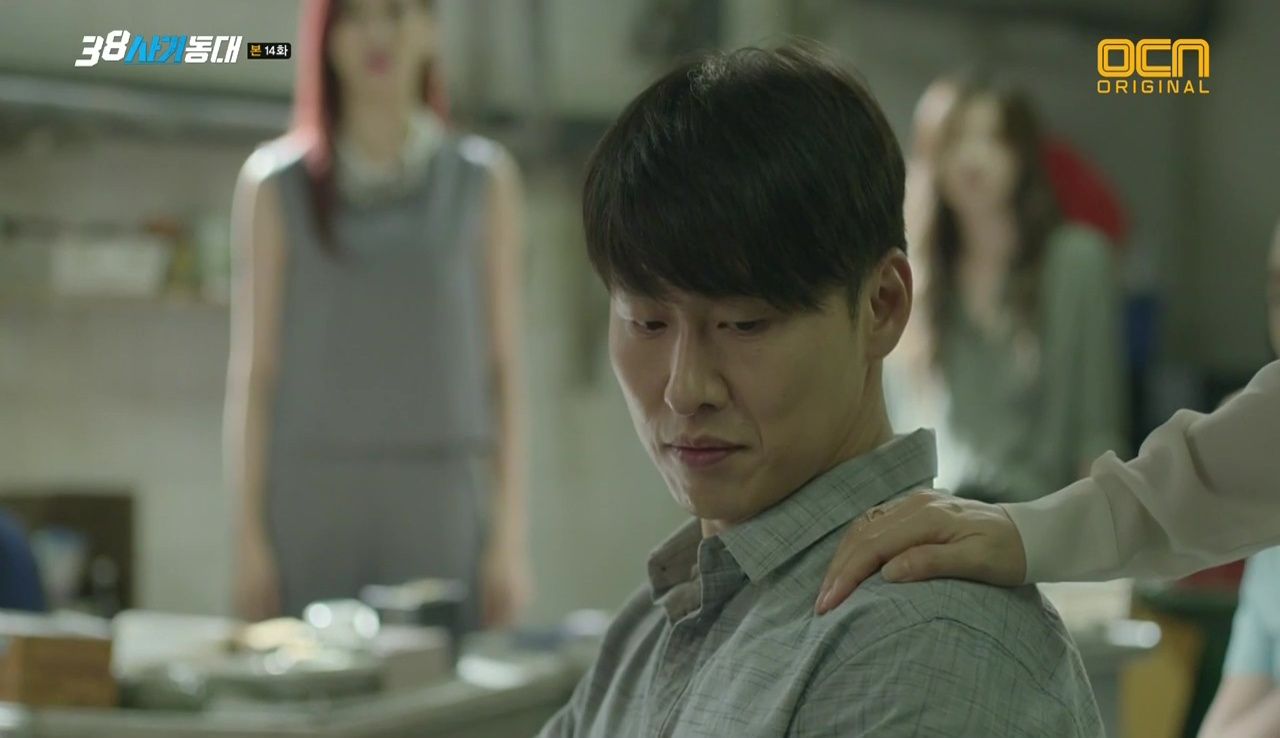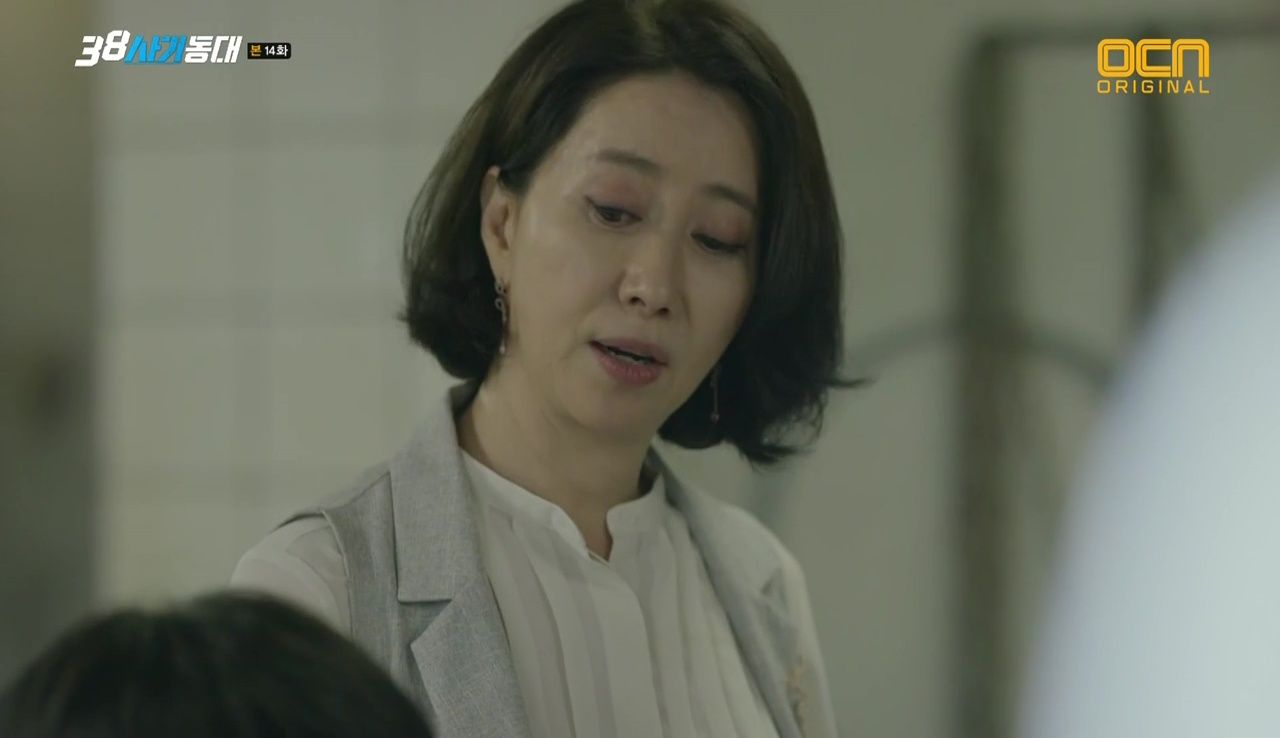 "Ajusshi, there's nothing more sure than a person who's in for the money. Besides, don't you trust me?" Jung-do asks, smile oddly sweet. Wearily, Sung-il gives in, and asks how they're using him. Jung-do plans to have him do the risky thing he didn't want Sung-il doing. Their mark is Director Jo Sang-jin, Chairman Choi's money-man.
Sung-il explains that their goal is loan fraud. They'll get President Cha and Director Jo to take out a loan illegally by giving artificially inflated sales figures. Once they take the money from the bank, Jung-do says he'll tip off the press. And that will ruin Kukjin, Jin-seok concludes happily.
"The company that began from a scam…" starts Jung-do, "…should be destroyed in one," finishes Sung-il. Aw, you're finishing each other's sentences now!
We return to the scene in the previous episode where Director Jo received a mysterious visitor—Jin-seok, of course. The idea, Jung-do explains, is to have Jin-seok reek of riches and drive Director Jo wild with curiosity about where he got it when he's a ruined man, and how he can get a piece for himself.
And so follow a string of "incidental" meetings, like Jin-seok appearing at Jo's golf club with a luxury bag, or popping up at a restaurant with an expensive watch. Director Jo's eyes really bug out when he pulls up alongside him in a lavish car. Before long, Jo snags a dinner-date with him for himself. Exactly as predicted, he wheedles Jin-seok to share his secret, and his resistance only whets Jo's appetite more.
And that, Sung-il says as we cut back to the meeting for a moment, is the moment to reel him in. Jin-seok grins good-naturedly that it's just like when they scammed him, which makes Jung-do enjoy a nostalgic moment.
We return to the dinner. Leaning close, Jin-seok confides that a hyung he knows uses his shell of a company to get loans by inflating its value. Jo's eyes widen at the "paltry" amount he claims to have acquired, but still thinks it's too risky. Sure it's illegal, Jin-seok beams, but since when did they do any differently? He plans to take the money and start over abroad, but notes that Jo and President Cha seem content to just clean up after Chairman Choi.
Jo objects to Jin-seok's words, but the discontent on his face shows they've hit home. Jin-seok brings up the Maseokdong project as the perfect opportunity to skim a bit off and do a runner himself, but Jo is outraged and fearful at the open suggestion that he should betray Chairman Choi.
And that's all part of the plan. He can't bite, Sung-il points out, since he's not the company president. They just want to plant the thought in his head. "Con artists aren't lions, they're crocodiles," Sung-il remarks mildly, meaning that that make their prey come to them. He and Jung-do exchange smiles.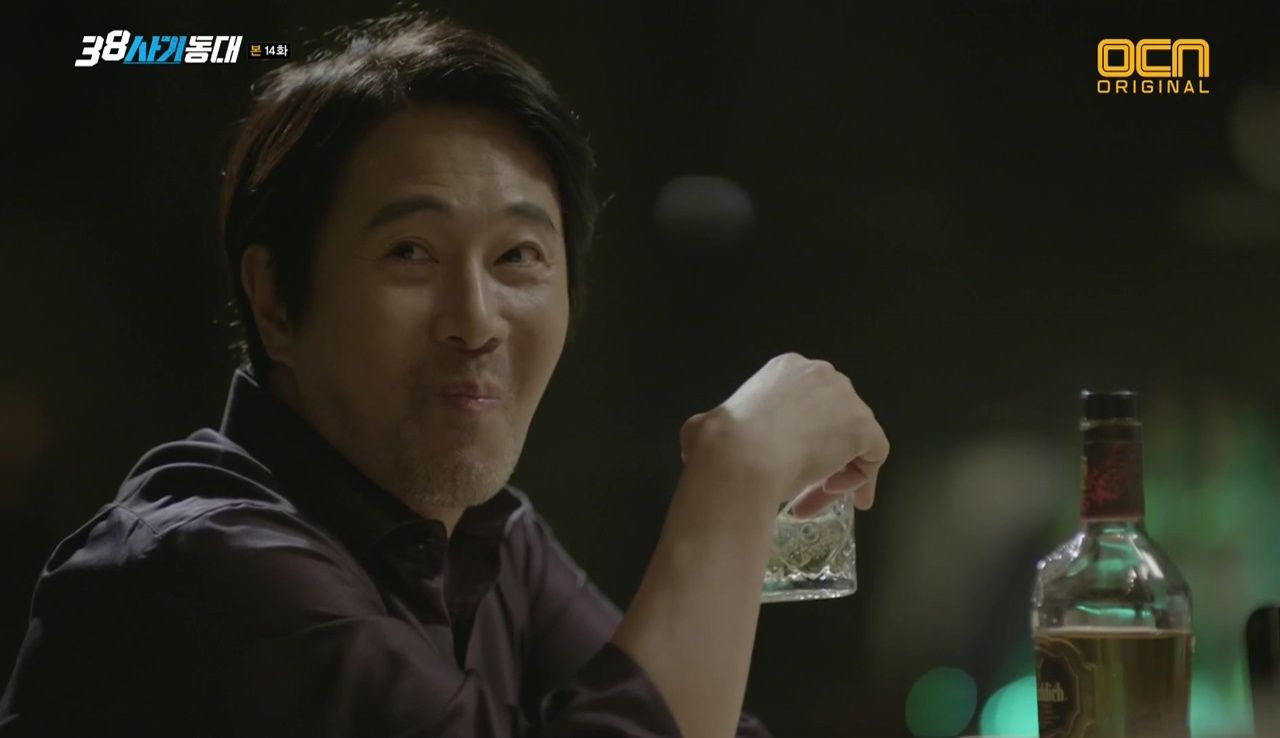 Their next target is President Cha, whom Sung-il describes as greedy, but scared since he got caught embezzling company funds by the chairman. Mi-joo works her bar routine to catch Cha's eye, and he readily agrees to her suggestion to go elsewhere. Outside, Hak-joo approaches the pair and socks him in the face, knocking him out.
When Cha comes to, he's in the Freezer, tied to a chair opposite a bloodied Ja-wang. Ha! Ja-wang warns him not to cry out unless he wants to get beaten up like him. But too late, Hak-joo returns with Mi-joo and his lackeys— HAHA! Sung-il and Jung-do look every inch the cold gangsters in their flowery shirts and showy jewelry.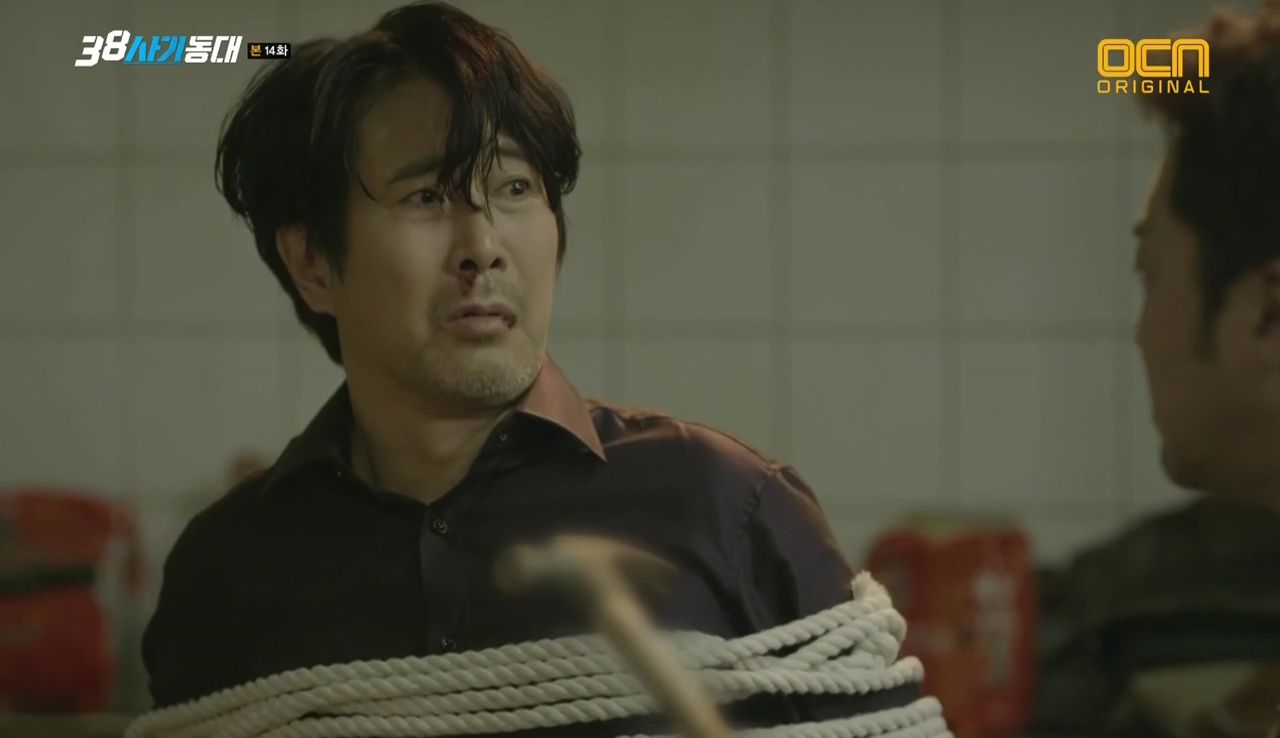 Cha's fear grows as Hak-joo tortures poor Ja-wang. Sung-il helpfully provides a running commentary on how much hair that guy's lost and how bloated he's gotten in the month he's been here, and smacks Cha when he starts sobbing noisily. He asks "Assistant Yang" (Jung-do) for the pliers to take this guy's teeth out, but Jung-do replies that he's only got a hammer, so why not take out his whole jaw at once instead?
Brandishing the hammer, Sung-il "reveals" to Cha that they're acting under Chairman Choi's orders. Of course Cha won't recognize him: No one who ever met them has lived to tell the tale, he says. In the background, Jung-do ominously sharpens a cleaver and laughs goonishly while Hak-joo leers in anticipation. They're really enjoying this far too much.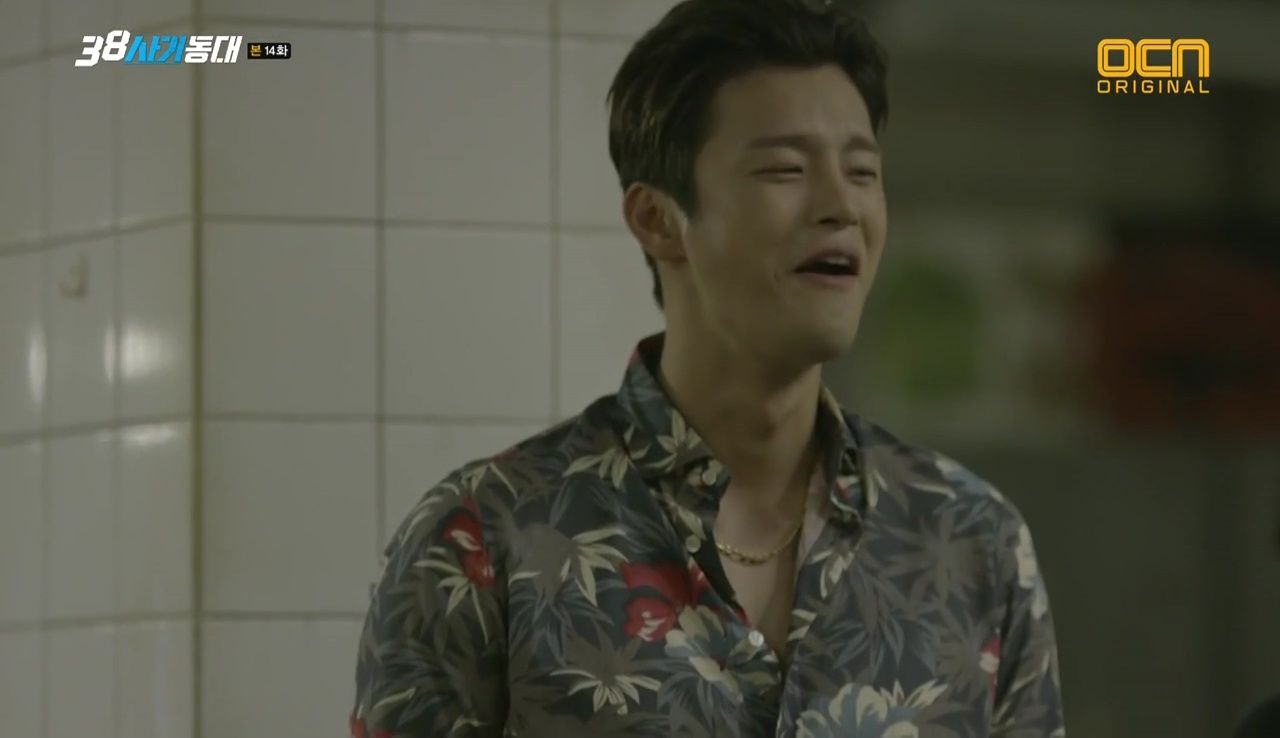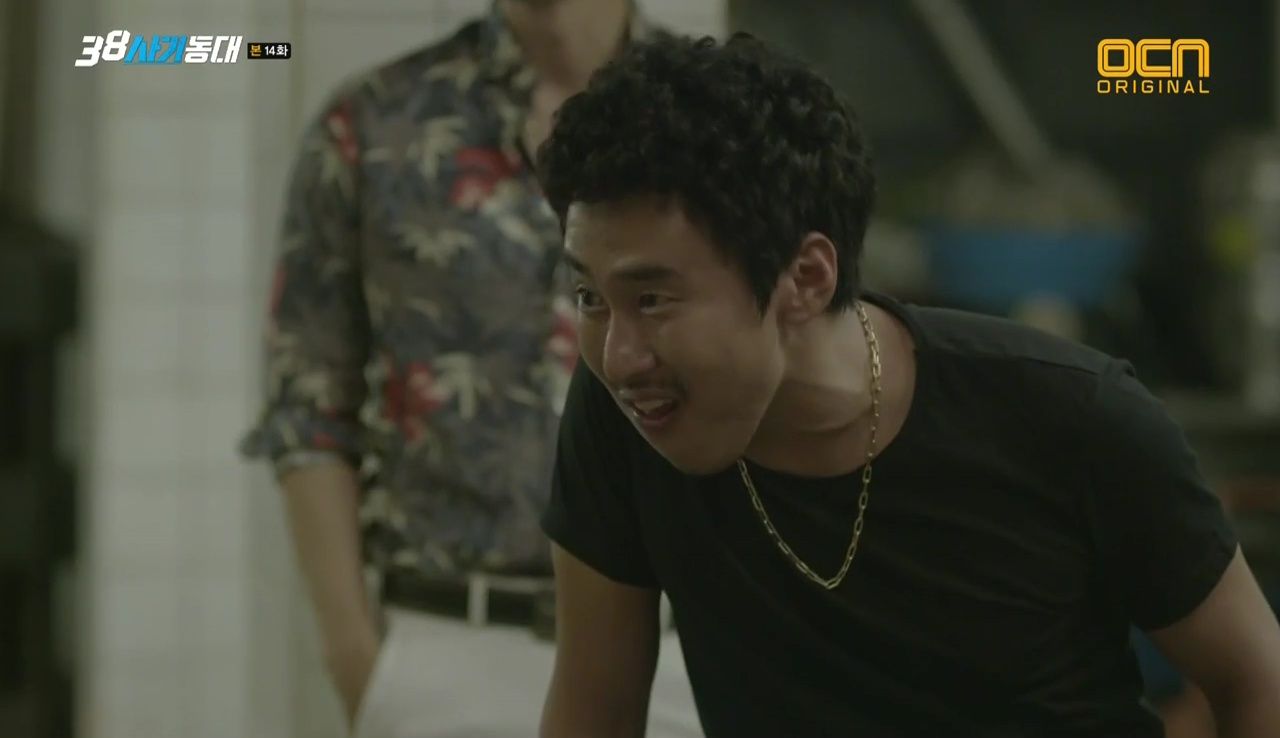 Sung-il waves a document at Cha that shows he stole fifty million won from the Chairman. But the true total was twice that, Hak-joo had pointed out in the meeting. Again, it's all part of the plan: If Cha thinks they only know about half, he's going to live in terror of the other half. Oh, I understand the plan now: Jo was given the method for taking in extra money, while Cha is now given the impetus.
Jung-do prepares to take a swing at Cha when Sung-il calls a halt because he has a call from the "chairman". It's Cha's lucky day, he says, because the chairman's decided to let him go this time, but he's dead if he steals another won.
They release him and he can't get out fast enough. But shouldn't they cover his eyes or something? But somehow the funniest part is Ja-wang saying a polite goodbye. The second he's gone, everyone rushes to poor Ja-wang, who breaks down crying while the boys do their best to comfort him. Aww.
President Cha returns to work, haunted by the fear of discovery over the other half of the money, just as Sung-il planned. Jung-do grins at him proudly, and Sung-il jokingly asks if his diligence won out over Jung-do's genius. He reflects that conning is about tapping people's insecurities and discontent with their reality.
As he speaks, we see Director Jo arguing with his son over maxed out credit cards, and he and Cha try to drink away their nerves. "They have no option but to enter the crocodile's mouth," says Sung-il, "Fun, right? That's how you do a con!" The whole crew grins back, none more pleased than Jung-do, who still looks like he just can't believe how far ajusshi's come.
Sometime later, Sung-il approaches Jung-do to ask if he really trusts Jin-seok. Jung-do asks if he remembers how they met Jin-seok, but offers no more than a cryptic little smile. Wait, what does that mean?!
At Kukjin, Director Ahn calls Chairman Choi to tell him that thanks to "the friend who helped us two years ago," he's found out what the swindlers are up to. "Loan fraud?" asks Chairman Choi, lip curling.
That night, Jung-do waits for Sung-hee and lights up when he sees her. She smiles back. She knows their plan is in motion, but holds out hope that her dad will turn honest and reject Chairman Wang's offer. But she confesses that she has no idea what he'll choose.
Sung-il's working late at the Freezer when Jin-seok calls in that their fish have bitten. Sung-il instructs him on how to proceed, but ends with the warning that he doesn't trust Jin-seok yet.
As he rounds a corner, Sung-il stops in shock at the sight that awaits him: Chairman Choi, who greets him with a nefarious chuckle.
Taking out his phone, Sung-il interrupts Jung-do's goodbye with Sung-hee to summon him back immediately. "A guest has arrived at our warehouse," he says, worried eyes on the chairman.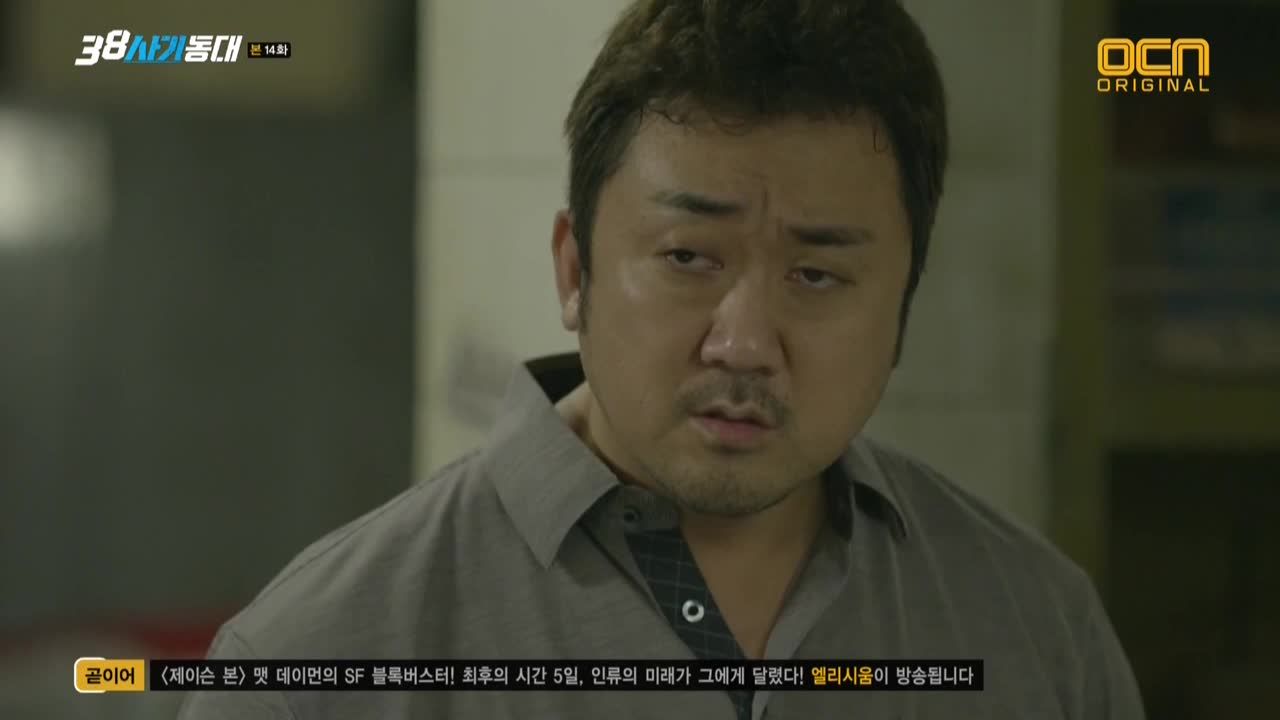 COMMENTS
There was some talk last week about whether knowing that our team will win out leaches the plot of tension, and the question occurred to me again as the gang executed their plan and everything goes as intended. But here's the thing: It's not boring. The fact that people behave exactly as expected is actually rather fascinating. Every moment, they're presented with the option and possibility to do otherwise, but they most often don't.
If there's anything our con artists have underlined, it's that people are essentially the same. As ever, it's a truism that bites harder because it holds true for human nature in general, even outside the dramaverse. If, like Jung-do, you can "read a person's heart" and know what they want most, you can predict with reasonable accuracy what they would do in any given situation. A successful manipulation relies on those expectations, but the key to these cons is to nudge their marks to act by their own will, using their own fear and greed against them.
Jin-seok's reappearance has definitely injected a new burst of energy (and fun!) into the story. That's not to say it was getting stale, but shaking things up is this show's thing. However, although Jin-seok seems to genuinely want Sung-il's approval (and is no longer obnoxious, though still a little cocky), I think Sung-il's resistance to him is realistic, considering what the man put him through.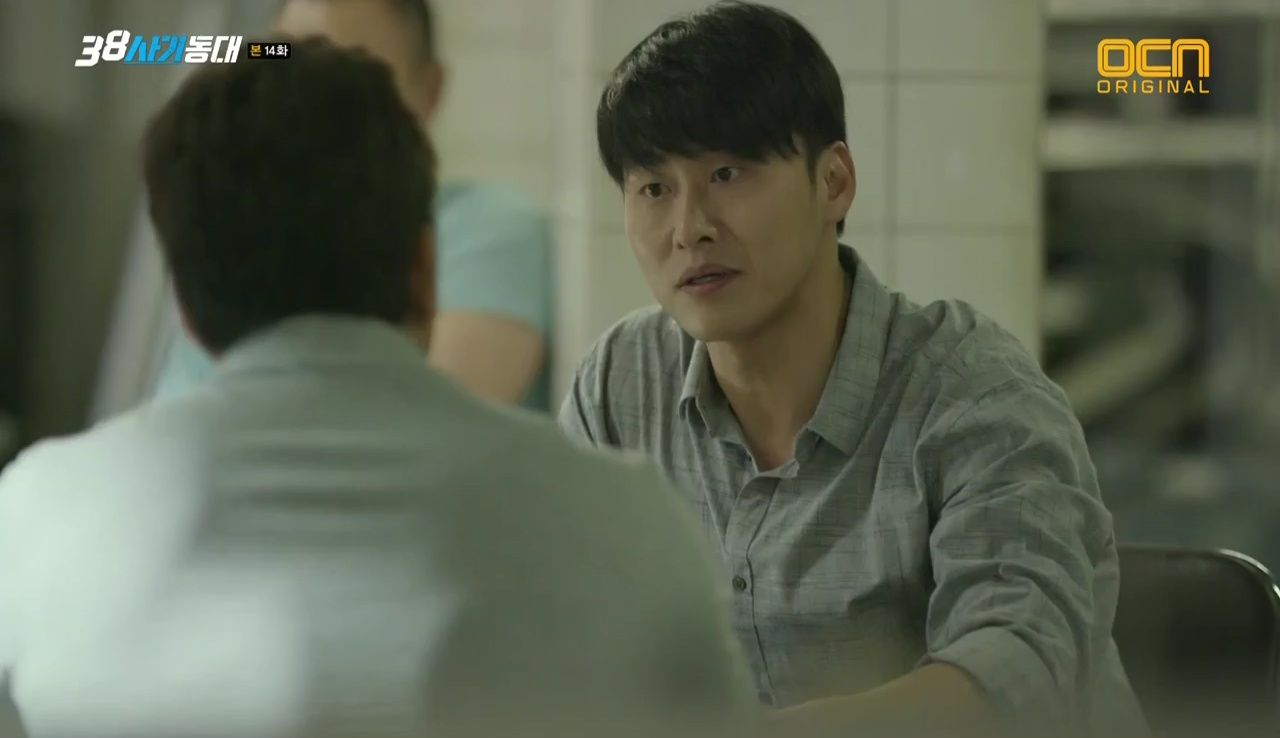 But the more interesting thing it points to is Jung-do's ability to bring out people's unlikelier sides: the "little less good" in Sung-il and the "little less bad" in Jin-seok. It's a quality that you can measure against nearly everyone he's involved with, as they find themselves doing the opposite of what they expect from themselves, (no) thanks to him. In a way that seems counterintuitive, that Jung-do seems to be properly trusting after all: He trusts people to be true to their natures, but he also recognizes their innate changeability, either to become better or worse. Since he computes it all at a basal level, statements like "I have a good feeling" actually carry weight when he says them.
However, I don't think that the band's regrouping is because of Jung-do. He mobilized them, but I believe the impulse sprang from seeing Grandpa's ordeal. They can dismiss poverty and injustice in the abstract, but here's a sweet old man they know personally, fed through a broken system that then discarded him like a used tissue. Our kids are only fraudsters, not monsters. By the very nature of their jobs, they target the rich. But Grandpa is the poorest of the poor and the weakest of the weak. What happened to him makes them burn.
As for actual monsters, beady-eyed Chairman Choi's single-mindedness is intimidating. There's something pathetic about an old man still filling his coffers and clinging to his wealth, but Choi is anything but pathetic. For a physically feeble person, he has formidable presence—notice how he uses his entire body language as a weapon. It's actually entertaining to see both Jae-sung and Jung-do pit themselves against him, because he doesn't frighten them. The opposite, in fact. And who doesn't like to see the hunter become the prey?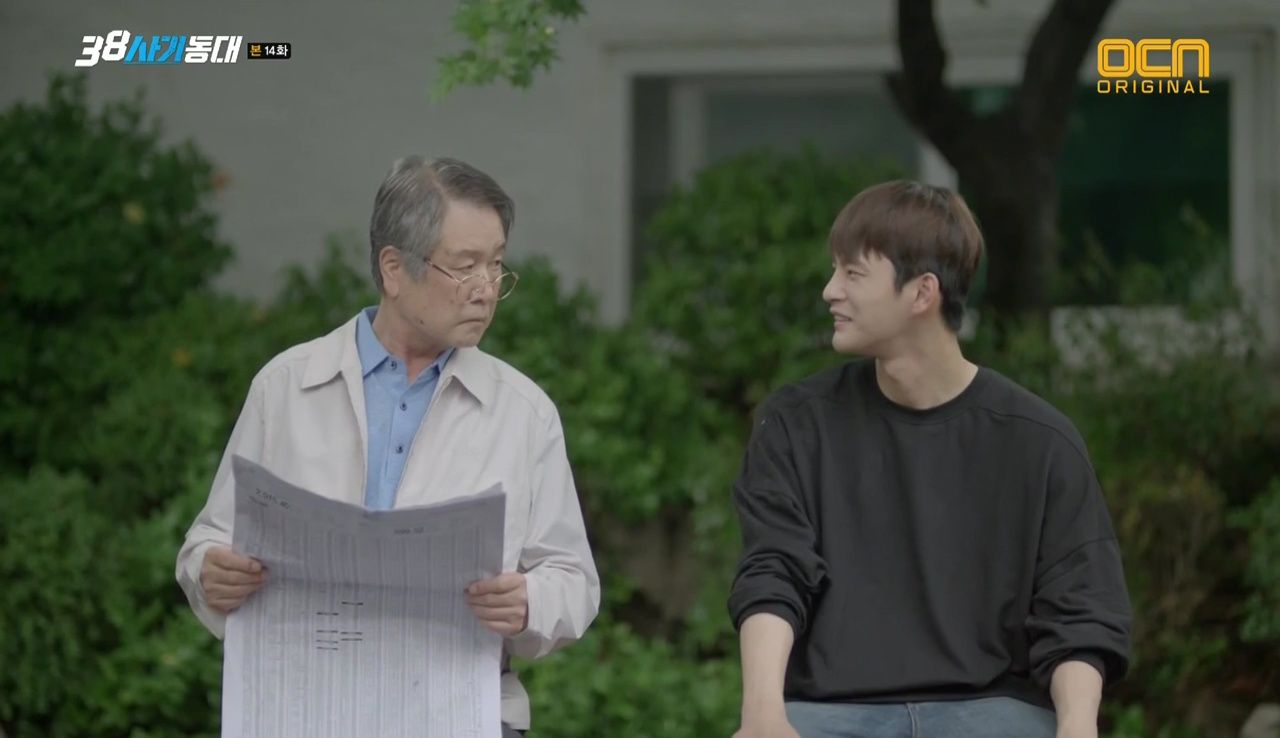 Ships, ships, let's talk about ships! I find myself lapping up every moment between Sung-il and Jung-do. I know, I know, we're all bored of what a sucker I am for bromance, but there's usually a difference between the bromance you wish for and the bromance you get. But the distance between the two here is no wider than a ribbon. Like I mentioned last week, their relationship has so many levels, but they express every level of it with such richness. I thought they would bring out the father-son aspect more strongly, but somehow the teacher-student one is far more touching. The number of times Jung-do just looks at him, all pride, admiration and affection. But their relationship is also very much that of acknowledged equals, if not in an obvious way, with each of their respective experiences and personal qualities answering the needs of the other. And—heartwarmingly, strangely, ironically—it's built on a foundation of rock-solid trust.
But as much as they become increasingly attuned to each other, I think this episode also served to show us how different they still are. Jung-do is, well, a natural criminal and a strategic thinker, as is Madam Noh, and this hour, he aligned much more with her. For example, neither of them dwell on Jin-seok's past, because his present motives outweigh his previous actions. It's interesting after all this time to see this line of similarity and contrast drawn now, although perhaps not surprising that it should come right after the moment we think, "Ah! The student has surpassed the master!" Though whether the odd-man-out is Sung-il or Jung-do, I'm not quite sure. But maybe that's the truth of it, after all—that they're both outsiders of sorts, and so of course that connects them.
I'm left this episode with two questions. One, is there something significant about how the bears met Jin-seok? And two, who on earth is "the friend who helped us two years ago?" I swear, every reveal in this show raises far more questions than it answers. It's sad to think that there's only one week left, but if there's a single thing we can be assured of from the finale, it's that at least we will have ALL the answers. And some man-hugs. Please give us some man-hugs, show. Is that too much to ask?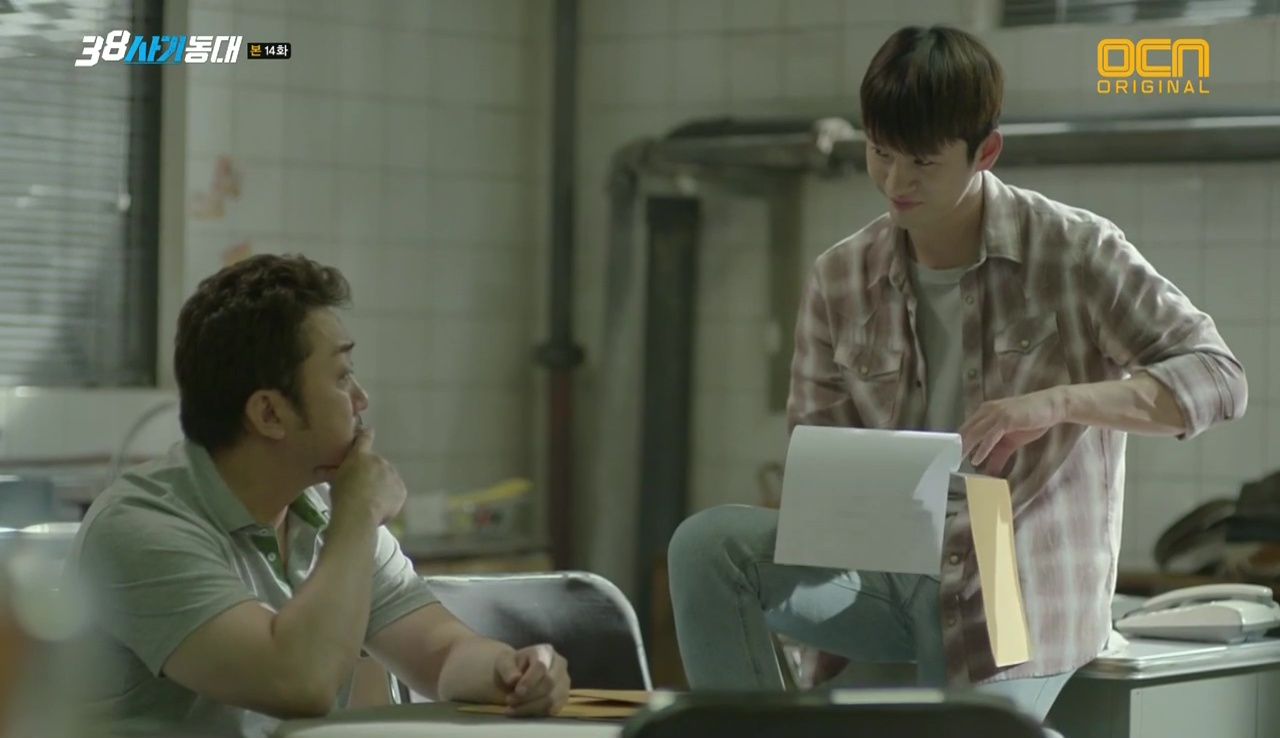 RELATED POSTS
Tags: featured, Ma Dong-seok, Police Unit 38, Seo In-gook, Sooyoung