Running Man: Episode 310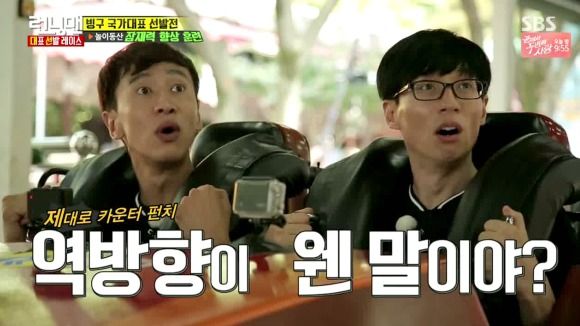 There's plenty of chills and thrills this week as our cast and guests tackle zombies, dark corners, and breakneck speeds. Summer wouldn't be complete without these missions that are sure to break the blistering heat. A jump scare or two never hurt anyone, but driving someone close to tears might lead to other kinds of consequences.
EPISODE 310. Broadcast on July 31, 2016.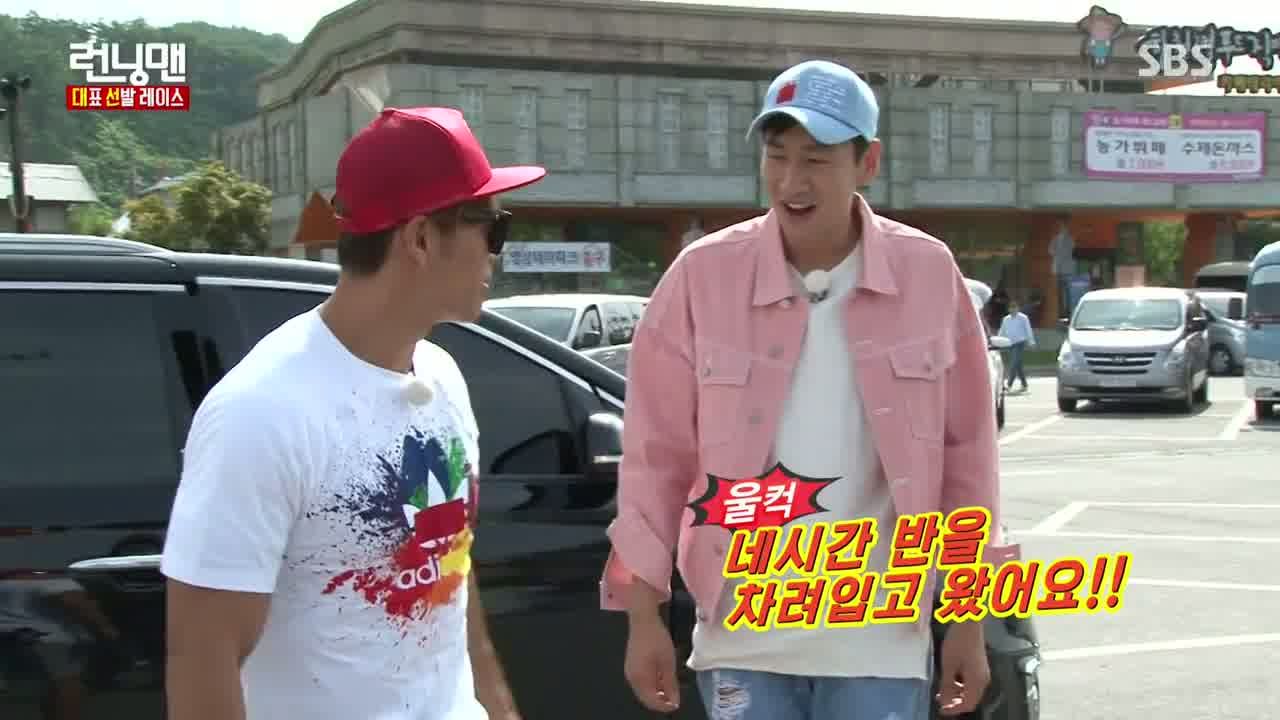 Today's episode teases some summer chills with an illuminated ghost town. But for now, we open in the daytime as our cast is instructed to change immediately upon their arrival… which is too bad for those who spent hours getting ready this morning, like Kwang-soo, who remarks, "I would've just come in my underwear if I'd known."
The t-shirt and athletic pants combo is a big step down in fashion for Jae-suk too, but the surprises don't end there: a marching band appears to give them a warm welcome. Today our cast members are national athletes in binggu, which prompts them to ask Myuk PD which meaning he's referring to—as in acting "dumb" or "silly", or from the Chinese character "ice."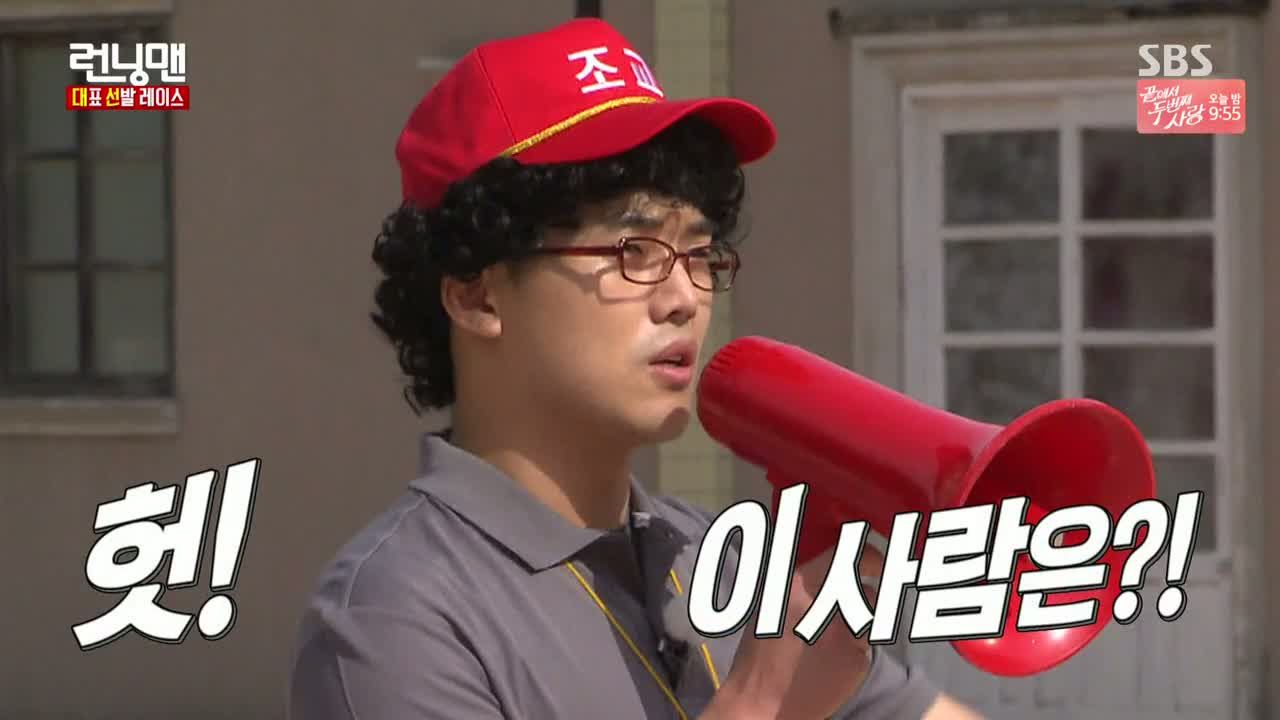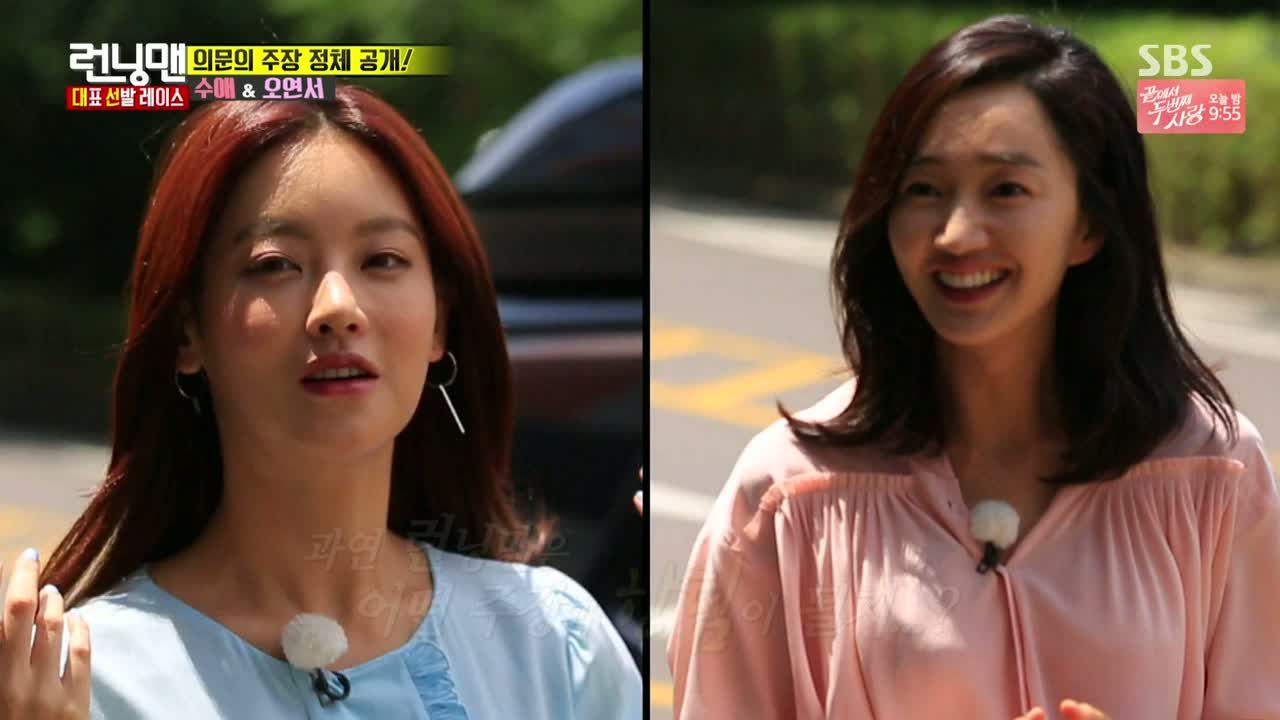 Myuk PD clarifies that it's the latter, particularly "ice hockey", and then someone else barks at them to get into formation: actor Kwon Hyuk-soo, hollering in an ajumma wig: "Pumpkin sweet potato!" (He parodied Na Moon-hee's character of 2006's Unstoppable High Kick on SNL Korea 7.)
While Hyuk-soo continues that today's missions will put their athleticism to the test, we meet our official guests in Daegu: actresses Su Ae (Mask) and Oh Yeon-seo (Come Back, Ajusshi).
Su Ae and Yeon-seo will be our team leaders and will choose their teammates based upon their test results. We then cut back to our national athletes, who enter the ghost town… and start running in the opposite direction. What the—zombies?!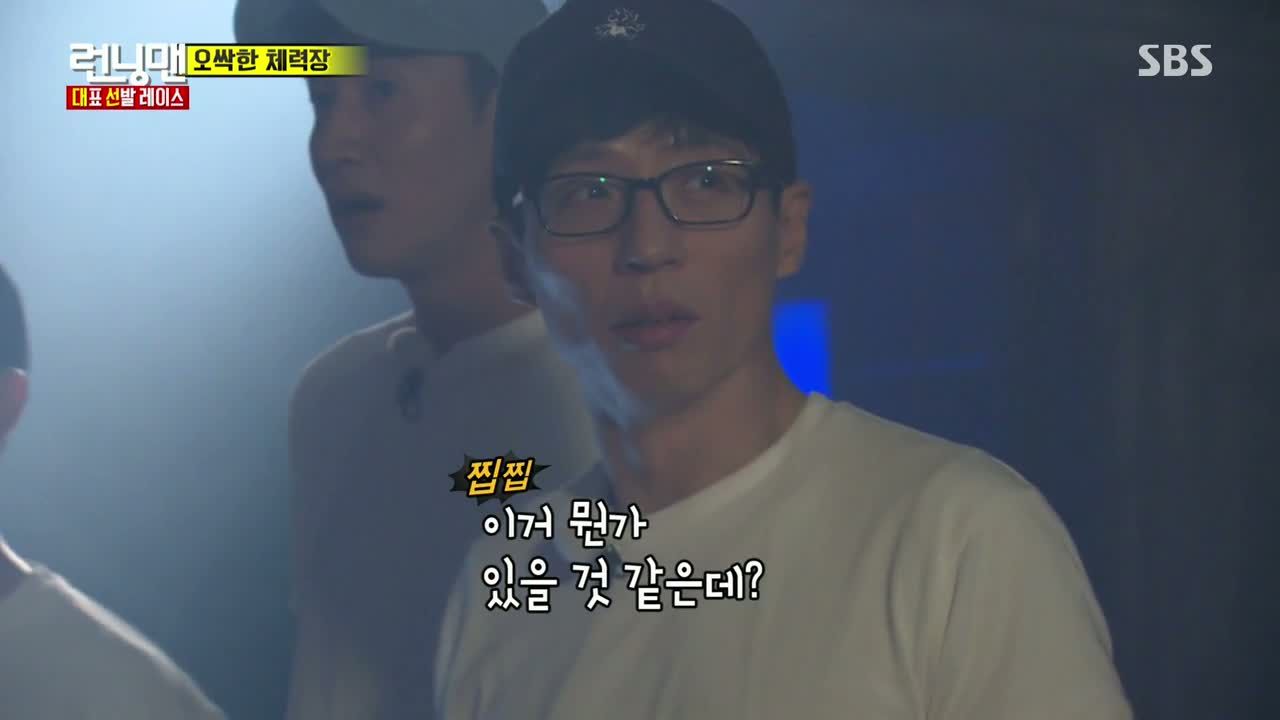 A finish line by the entrance indicates the end to their first speed test today. Myuk PD chirps that they only have three more to go. Oh great, only three.
The crew had recorded their 90m dash records: Gary came in first with 13.81 seconds, and the others (including Ji-hyo) followed within three seconds of his record.
The cast reenter the ghost town for their second test: a Dracula-themed haunted house. Both Gary and Jae-suk jump half a foot at the sound of snaps sprinkled on the staircase, but they're more surprised by Hyun-soo's booming entrance.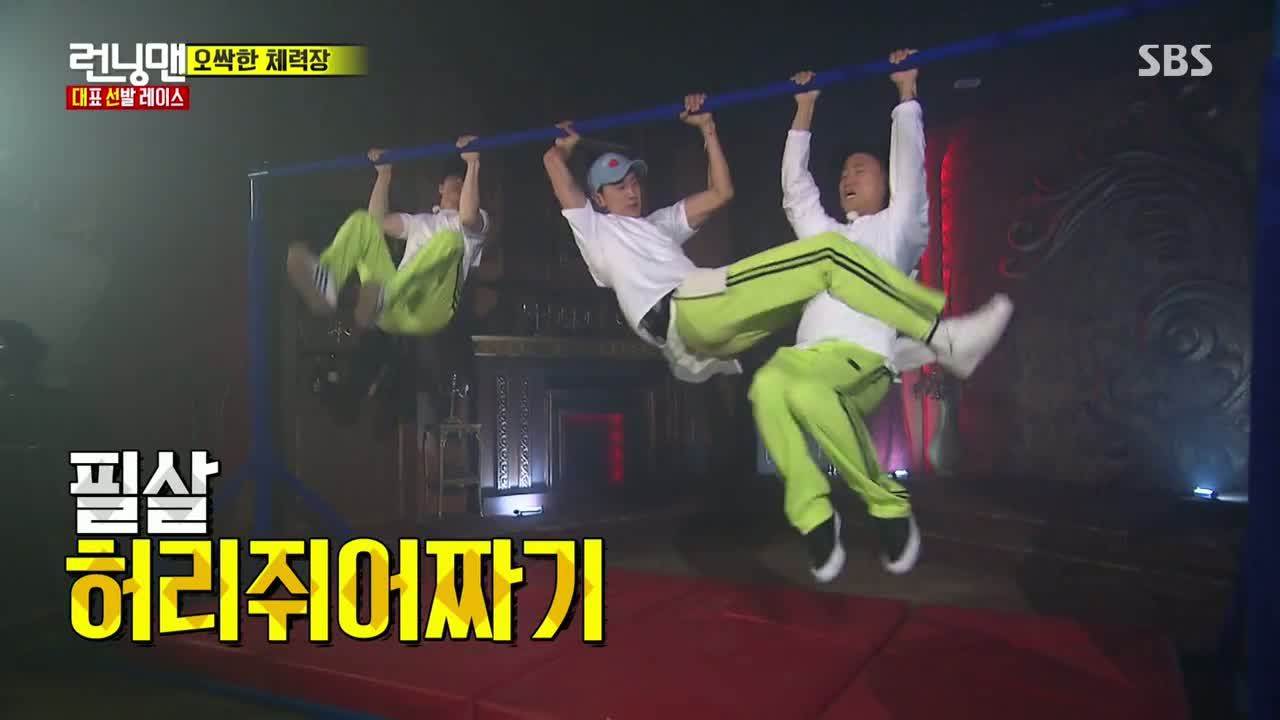 In this second task, Gary, Jae-suk, and Kwang-soo will test their grip strength by dangling on a bar the longest. Kwang-soo readily takes matters into his own hands once the whistle blows by pulling Gary down, and when Jae-suk responds by pressing his foot into Kwang-soo's groin, Hyun-soo puts a stop to it.
After giving Kwang-soo a slapping reminder of the task at hand, everyone starts over. No one flinches when several rubber snakes drops from the ceiling, but everyone reacts when a zombie emerges from underneath the table.
Jae-suk barely edges out Gary and Kwang-soo for first place, and then the other four enter the house. Jong-kook drops down after the rubber snakes because of his neck, and Ji-hyo and Suk-jin drop at the sight of the zombie.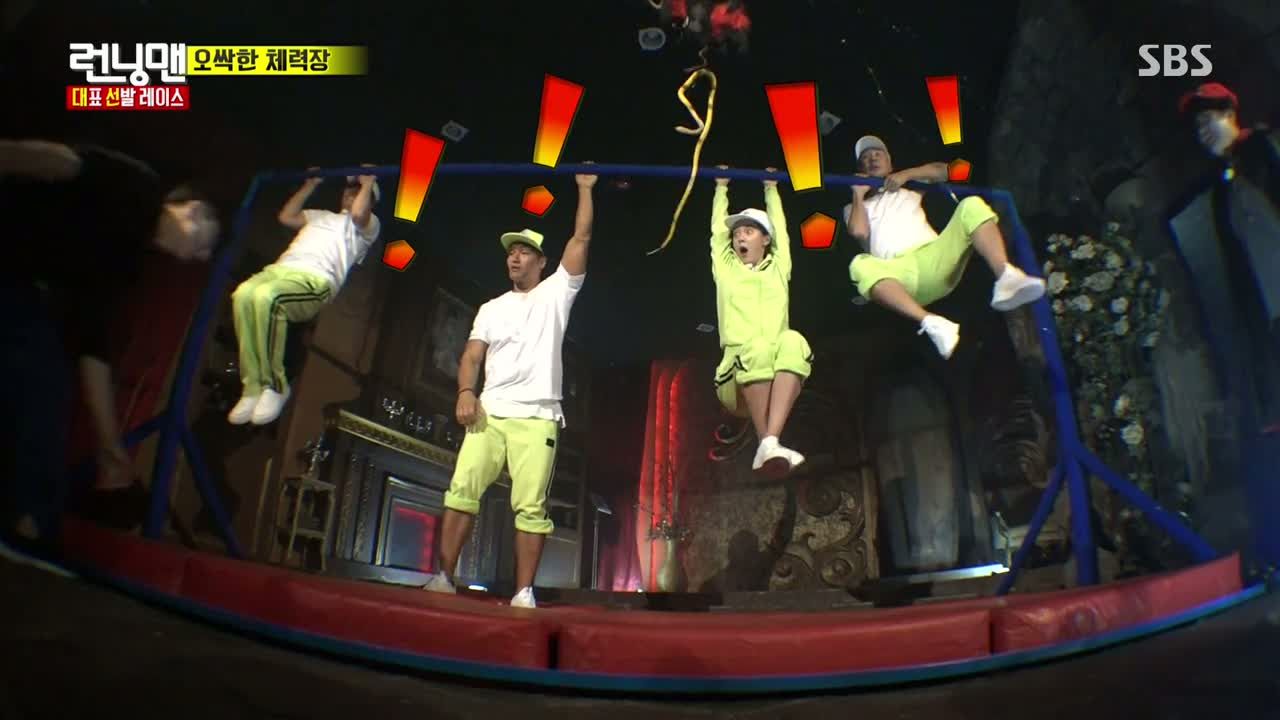 Amazingly, Haha is still hanging on, but he drops to the ground too upon Ji-hyo's screams when another zombie emerges behind them. He still comes in second to Jae-suk.
Meanwhile, Su Ae and Yeon-seo are given previews to today's qualification tests. SpartAce lead the pack with the most sit ups in the third test, while Kwang-soo is physically held down by Jae-suk.
Then it's time for the fourth task in a zombie prison; the goal here is simple: keep their wits about them and escape alive. The cast is divided into teams of twos and three, and only Kwang-soo is delighted to have Jong-kook by his side.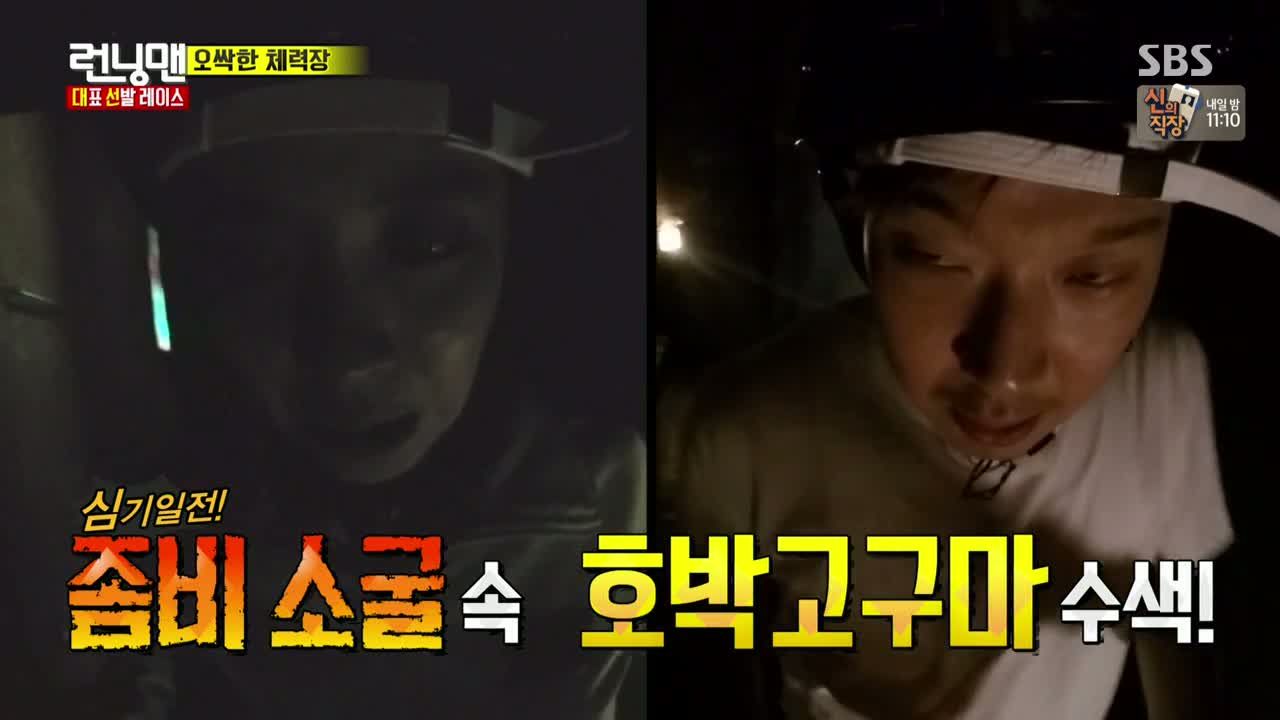 Haha and Ji-hyo are first to enter, then told their mission: Find as many pumpkin sweet potatoes as quickly as possible. Every step they take is filled with terror, and Haha screams when he sees movement in the shadows.
Ji-hyo takes off past the hallway and into the sunlight, refusing to complete the task. Haha convinces her to come back inside, then screams when outstretched arms try to reach for him.
Haha puts out his hand to Ji-hyo, who lets out a horrified cry now. He reminds her about the pumpkin sweet potatoes, but they both scream when more arms try to swipe at their legs.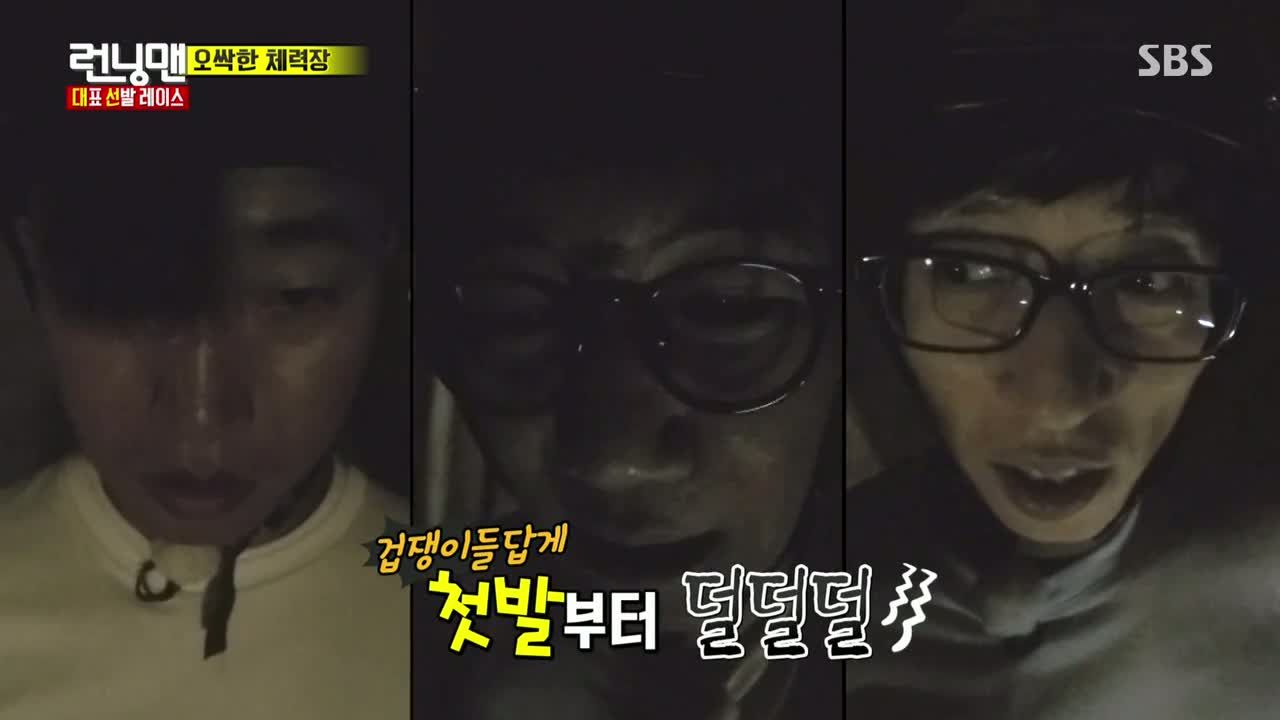 They pick up more pumpkin sweet potatoes between screams and finally make it through to the other side with 7 sweet potatoes in total. Jong-kook and Kwang-soo enter the house together, and whereas Jong-kook plucks the sweet potatoes off of the ground, Kwang-soo screams in terror.
Kwang-soo's face falls when Jong-kook suggests they turn back to do a more thorough search, and when Suk-jin and Gary are the only ones to find the sweet potatoes, Jae-suk swipes Suk-jin's sole potato at the last second.
Now the cast is told that their team leaders have chosen their teammates based on their anonymous results. Su Ae and Yeon-seo are given a warm welcome, and we learn that both ladies would've liked Jae-suk on their team.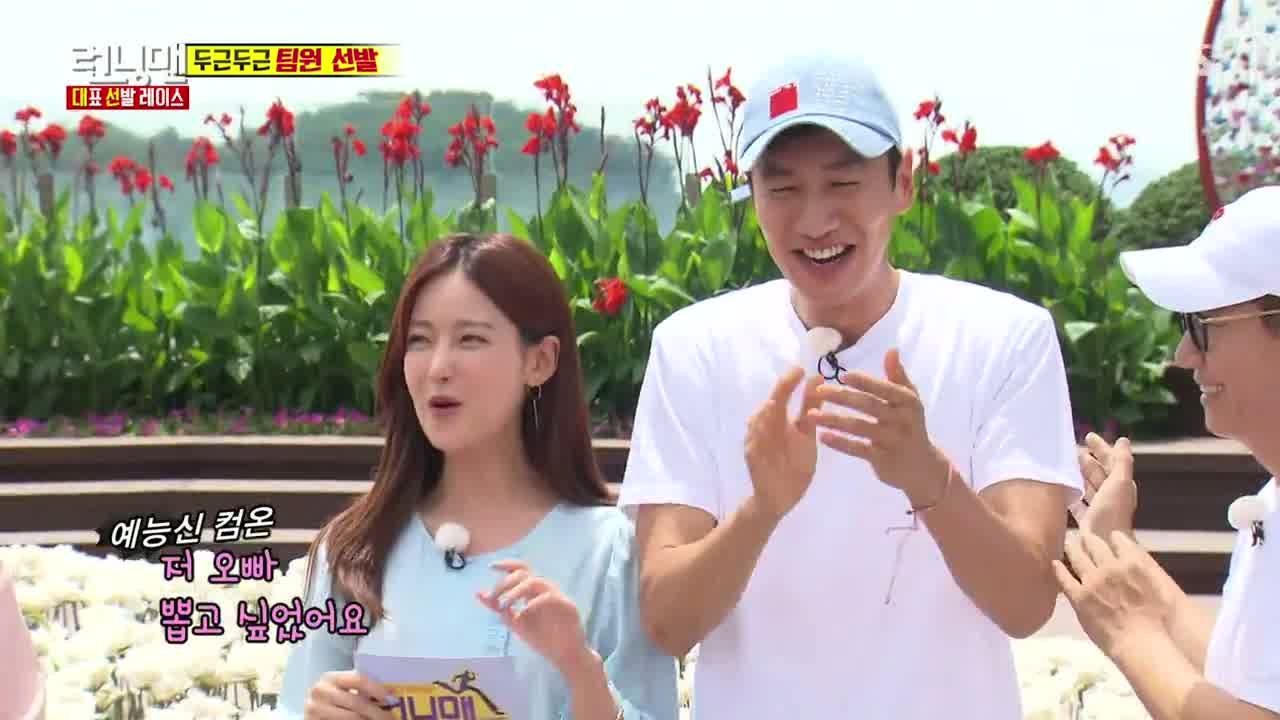 Yeon-seo had explained her preference for Kwang-soo because he's clearly blessed by the variety gods, which would mean some memorable screen time for her. She gets her wish with the happy accident of choosing Kwang-soo, Suk-jin, and Jae-suk, aka the Unlucky Trio, along with Ji-hyo.
Su Ae chooses Jong-kook, Gary, and Haha, and everyone can't help but notice how she giggles at the toilet humor jokes thrown around. But since Team Su Ae is one member short, they have one more guest: actress Ha Jae-sook (Beautiful Mind), who squeals when Jae-suk takes her hand. "Wow, it's a celebrity!"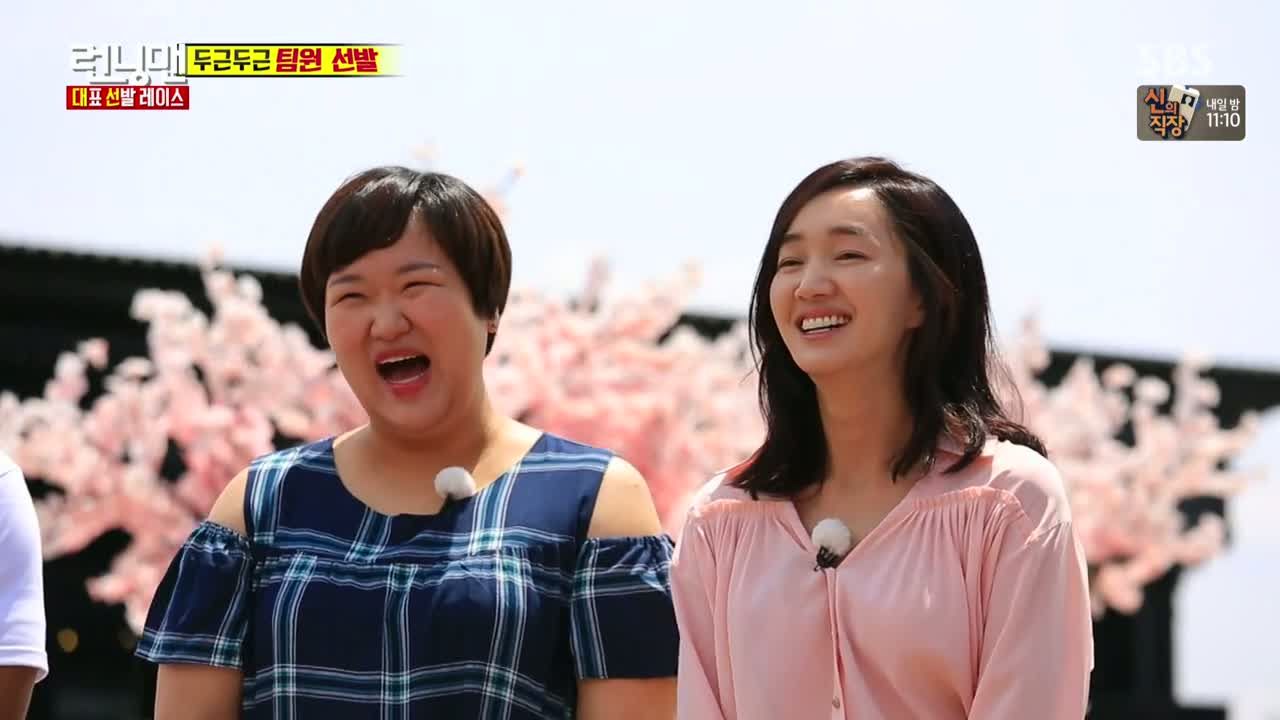 Turns out Kwang-soo and Jae-sook go way back, when she was his dance instructor in a children's play. A preview indicates that she has the moves to back up those claims, but right now she's adorably excited to be here.
Only one team will win gold medals, and right now our teams need to pick an assistant team leader. Yeon-seo chooses Ji-hyo to help keep the boys in line, and Haha is moved to be chosen by Su Ae.
These four are asked to step forward for a side mission they need to keep secret from the others. Ack, this not-so-secret hidden mission again? Everyone else seems to feel the same way, but there's nothing anyone can do about it.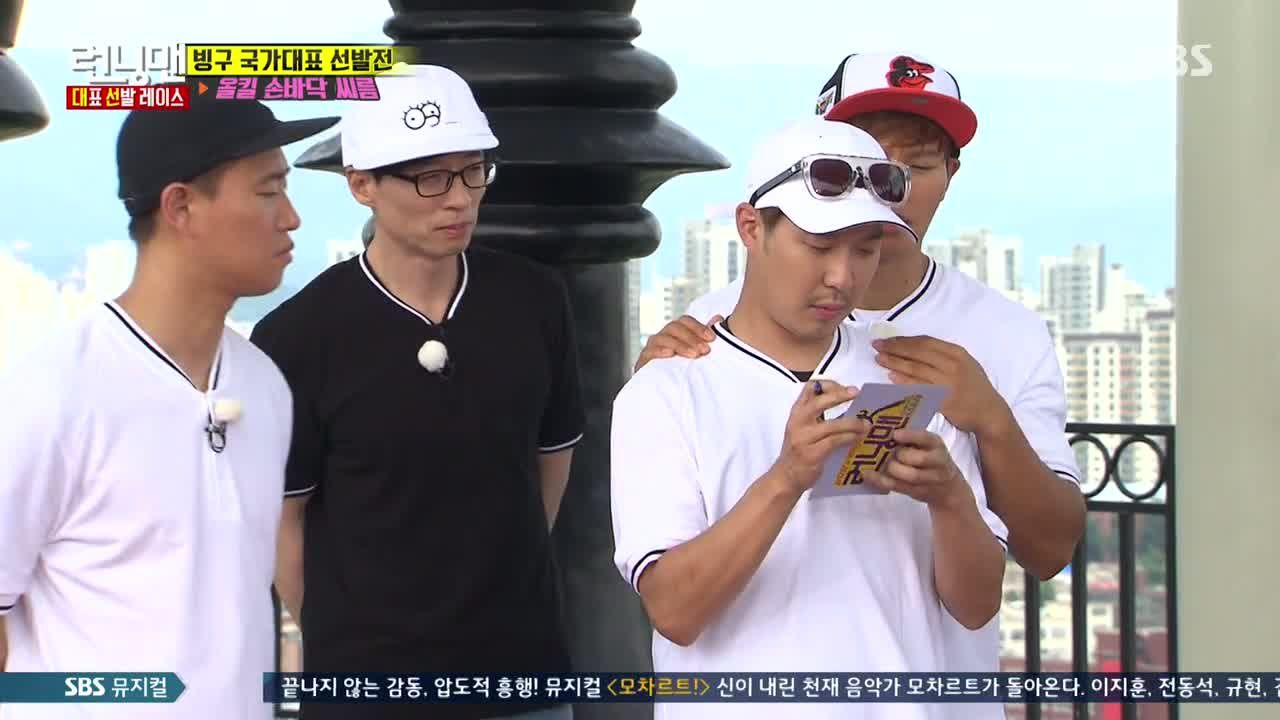 So here's the first one: In order to win, get the other team members to say "What is it?" first. And then Suk-jin says the phrase five seconds later.
Once everyone is changed into their team uniforms, Jae-suk can tell that Yeon-seo is focused on the side mission than the one in front of them. Speaking of which, they'll be playing a palm push game, and the winners will get dibs on the choice of hockey sticks.
While the teams break to determine the order, Jae-suk slyly slides over to get a peek. The team leaders and their assistants are again asked to step forward, and Haha reminds everyone that this is the main event.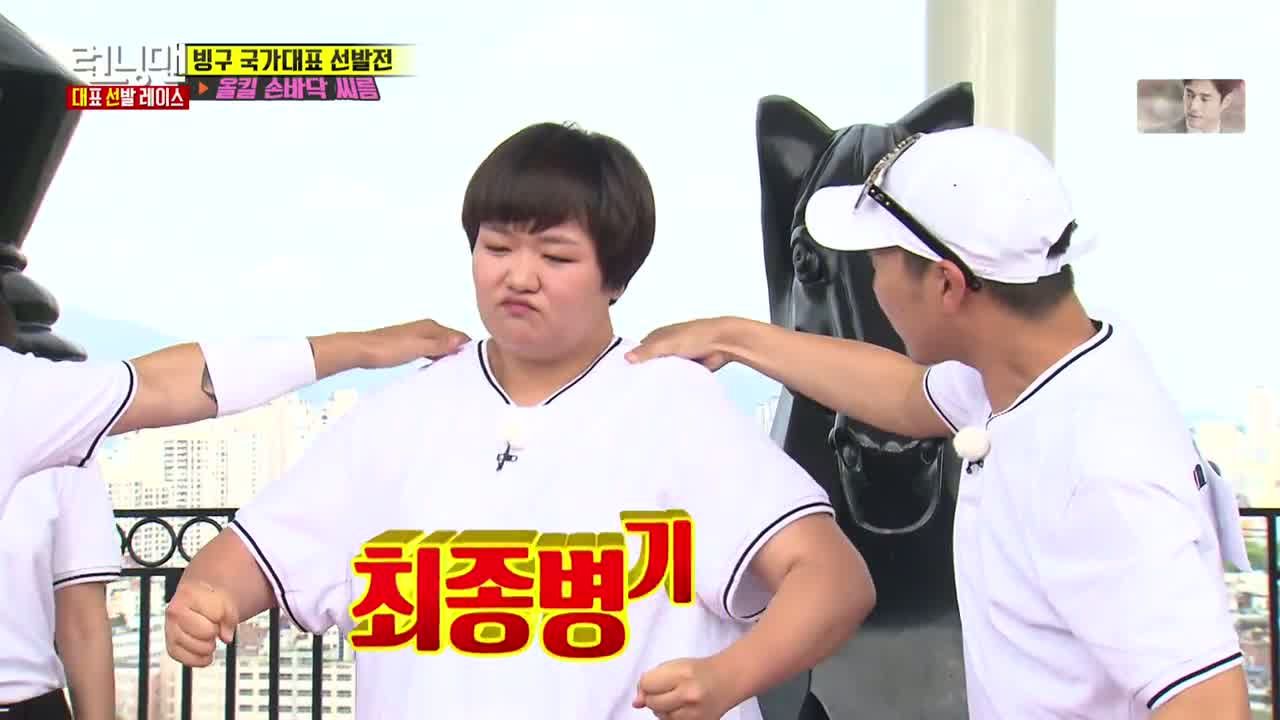 Jae-sook and Kwang-soo face off in the first round, and it quickly becomes apparent that Kwang-soo doesn't want to attack his former instructor. She nearly slips and her hands are inches to his chest, but then catches herself just in time. A little later, she pushes Kwang-soo, whose body folds before sitting on the mat.
Kwang-soo claims that he lost because Jae-sook is immovable, and one hard push sends Suk-jin to the ground. Jae-sook lets out a high-pitched excited squeal when she easily takes down Jae-suk and Ji-hyo.
When Myuk PD believes that the guys are just going easy on Jae-sook, they immediately encourage him to try then. That's how Myuk PD is placed before Jae-sook, and yes, he's taken down too.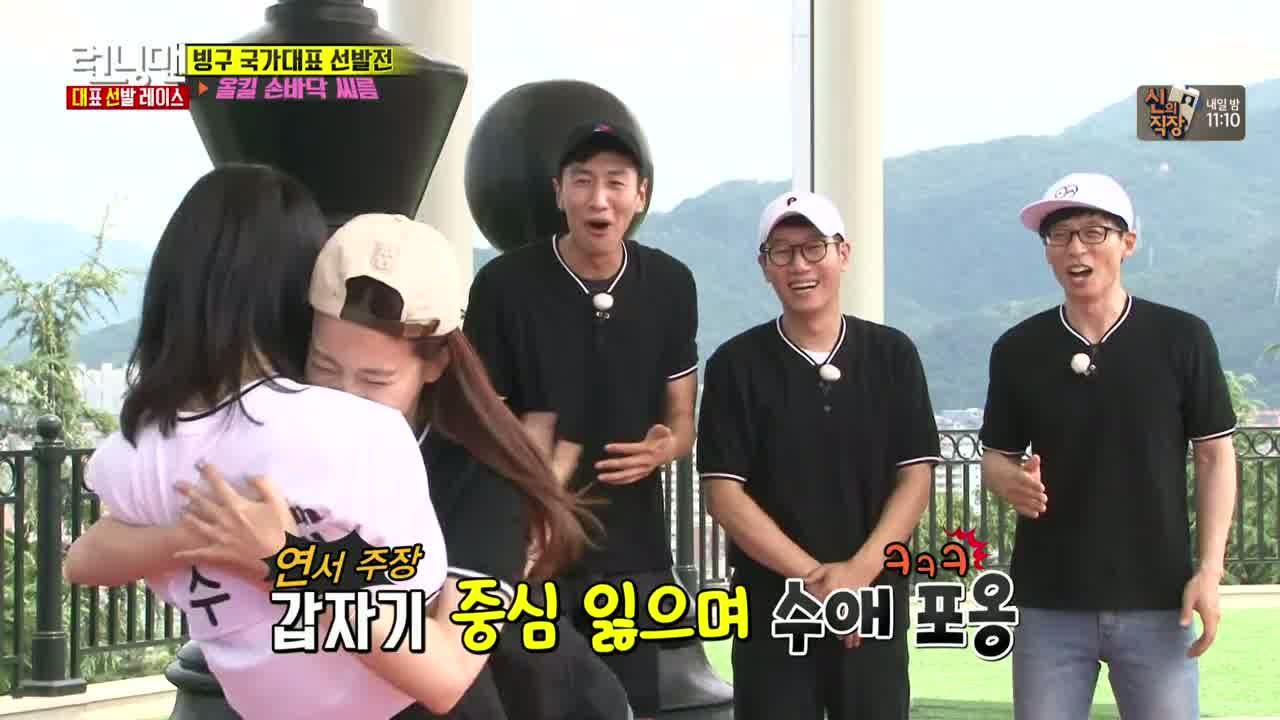 The teams decide to change things up by sending out their respective team leaders. After a few minor attacks, Yeon-seo starts tipping over and takes Su Ae down with her. That means a win for Su Ae, whose shirt now bears residue of Yeon-seo's makeup.
Both teams select their hockey sticks, then are given free rein throughout the amusement park which contains five different missions that range in difficulty. Yeon-seo treats her teammates to a refreshing drink before they arrive at the most difficult mission: the Mega Swing.
But Team Yeon-seo decides not to do that mission and move on. Much to Ji-hyo's frustration, Yeon-seo would rather enjoy the day versus trying to win the entire mission, sooooo she buys more snacks for her team. Ha.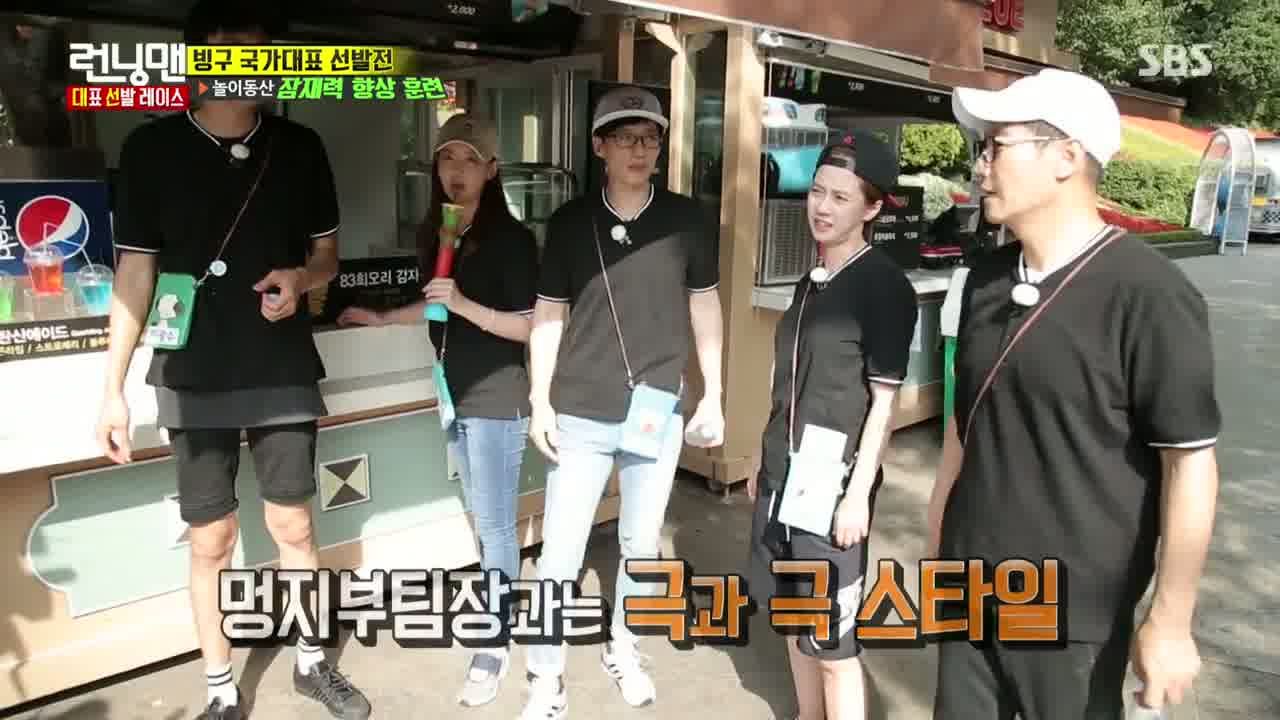 Meanwhile, Team Su Ae is told about the mission on the disco ride: Protect the buckets of balls on their heads for the duration of the ride and save at least 70 balls to win. Su Ae and Haha are asked to step forward for their own mission: link arms and form a finger heart during the ride.
Their teammates are quick on the uptake when Su Ae and Haha opt to sit together for the ride. Balls immediately go flying as soon as the ride starts, and Su Ae's basket falls off of her head.
She reaches down to pick up the rouge balls and attempts to complete their side mission. Thankfully her team completes the mission here, and are able to move on with three stamps.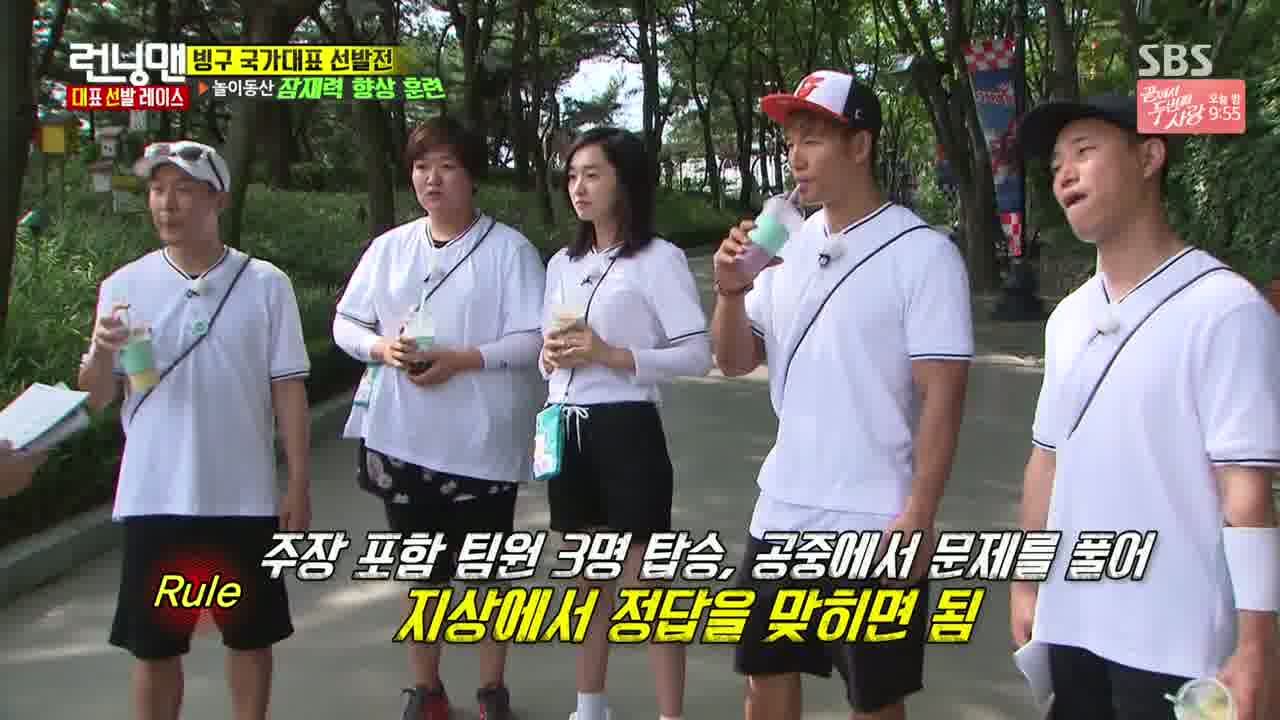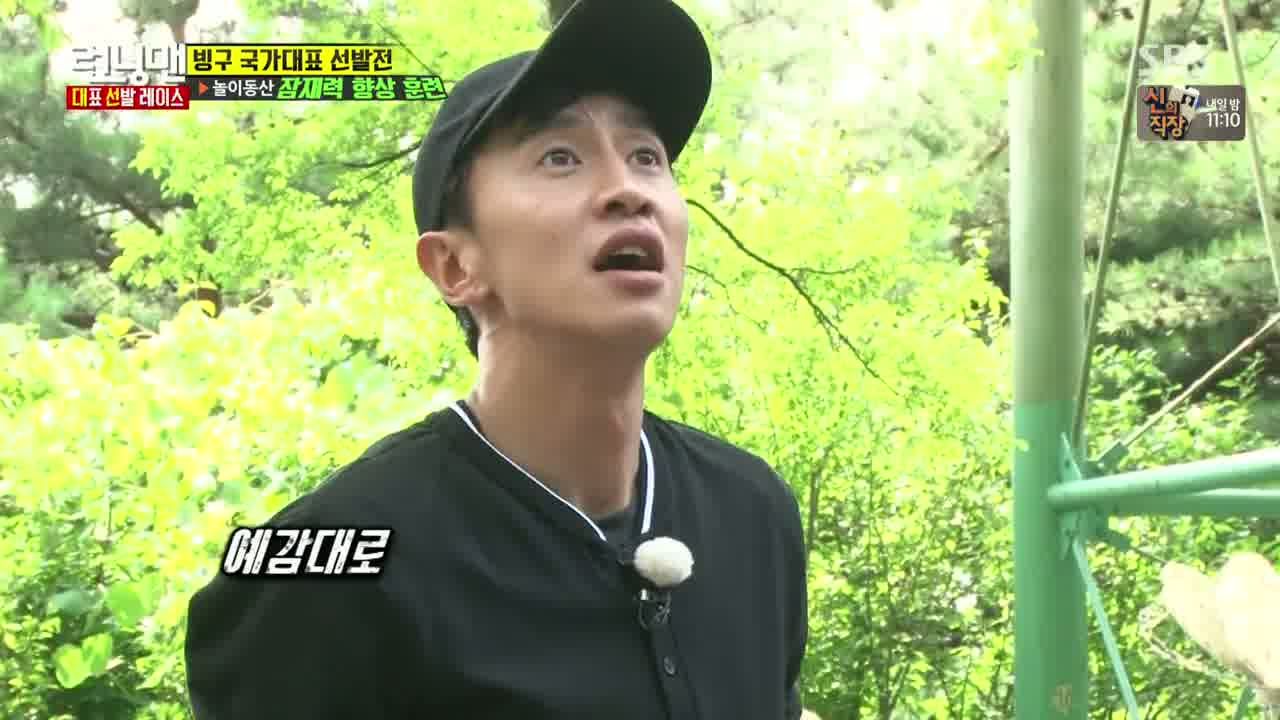 Haha is pleased to find out that Jae-sook and Su Ae are fellow 1979-ers, which means they could all speak to one another in banmal. They decide to tackle the Mega Swing next where the main mission is to answer a trivia question afterwards. The team leader mission is to holler a sentimental message to their parents at the peak of the ride.
When Haha claims he's too scared, Gary says he has to complete it anyway as the assistant team leader. Elsewhere, Team Yeon-seo stops at the arcade for their next mission: an arcade game relay. Here they have two minutes to score 850 points or higher on the strongman game, get 100 points with five darts, and 500 points in the shooting game.
Jae-suk voluntarily steps aside, to which Yeon-seo says the Unlucky Trio will go on the Mega Swing if they fail this mission. So that's how Kwang-soo starts off the first game by surpassing the 850 point mark easily.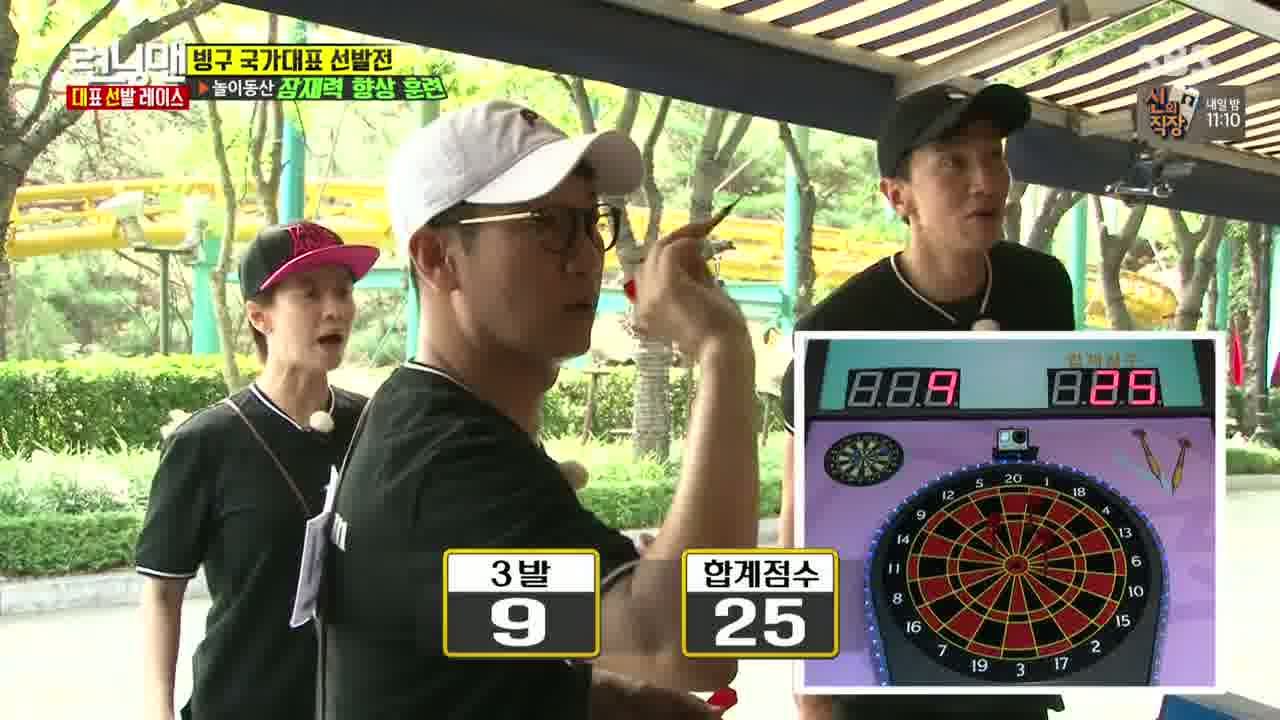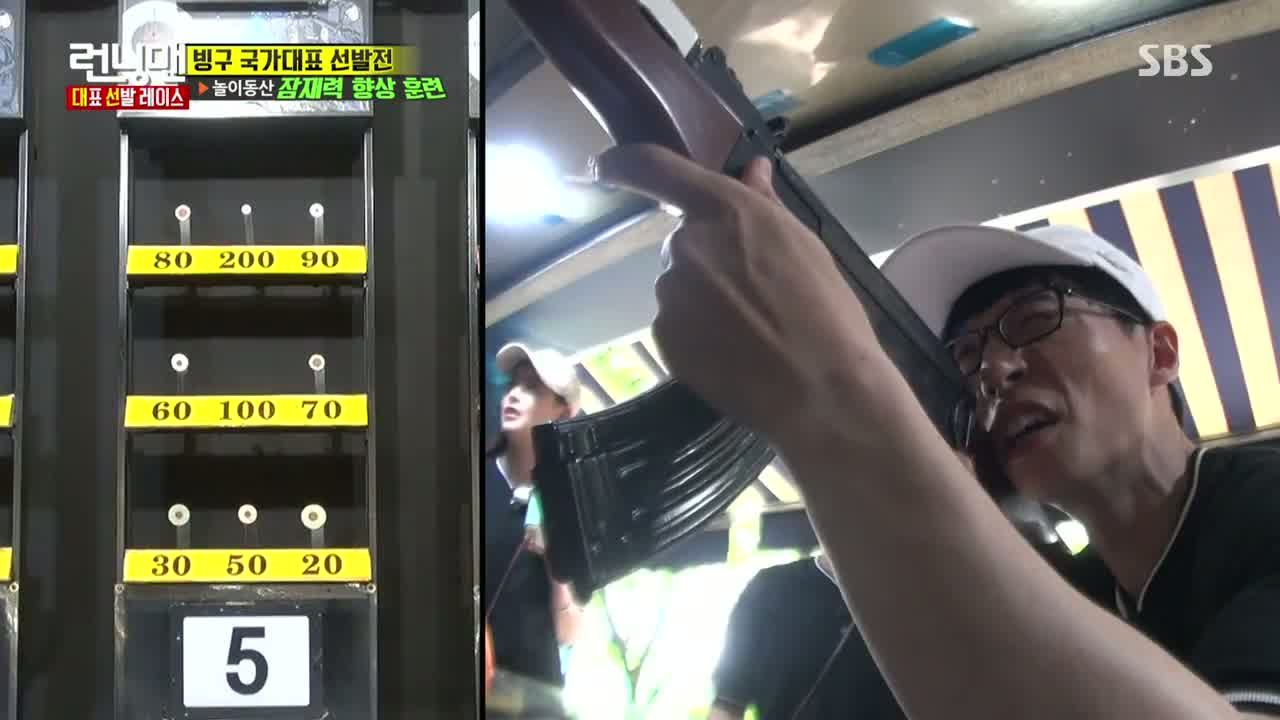 Too bad Suk-jin isn't so lucky because he only racks 95 points with his first round of five darts. His next attempt isn't any better, but he finally gets 139 points with 30 seconds left on the clock.
Jae-suk gets close, but it's not good enough, so they go for another round. This time Suk-jin gets 109 points on the first round, and Jae-suk racks up 540 points with just four pellets.
Team Yeon-seo heads out for the noraebang, but they're intrigued by an 80-second long roller coaster ride. A couple of rounds of rock-paper-scissors decide that Kwang-soo and Jae-suk will sit at the very front row. Problem is, Jae-suk doesn't have his glasses, and both he and Kwang-soo are scaredy-cats.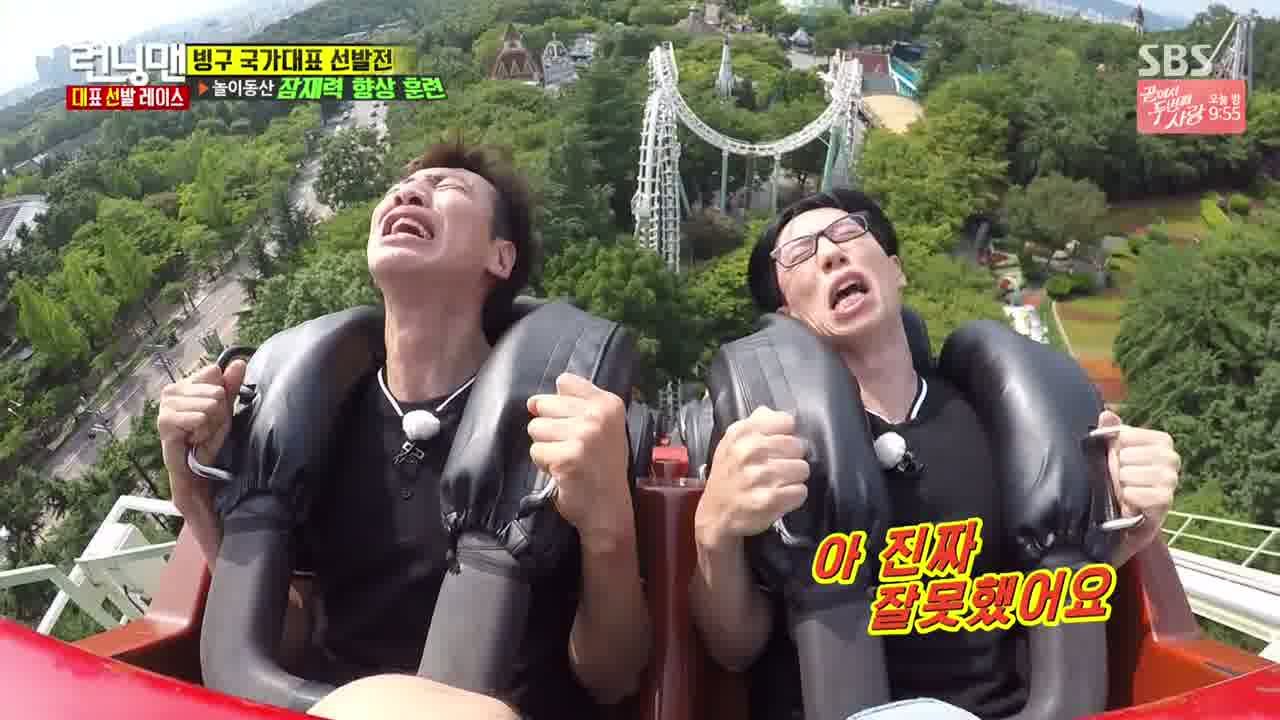 And then the ride suddenly moves backwards because they're on a boomerang roller coaster. It's a steep incline to the top, then both Kwang-soo and Jae-suk shut their eyes once the ride releases them downward.
The ride throws them for another literal loop until they stop at the station. It takes another minute for them to calm down afterward, at which point they're asked to spot three differences in the amusement park staff member.
Kwang-soo only spots two out of the three, and the team is told that they can ride this ride as many times as they'd like. So Ji-hyo climbs in, and Yeon-seo is hesitant until Suk-jin declares that he'll go on the Mega Swing.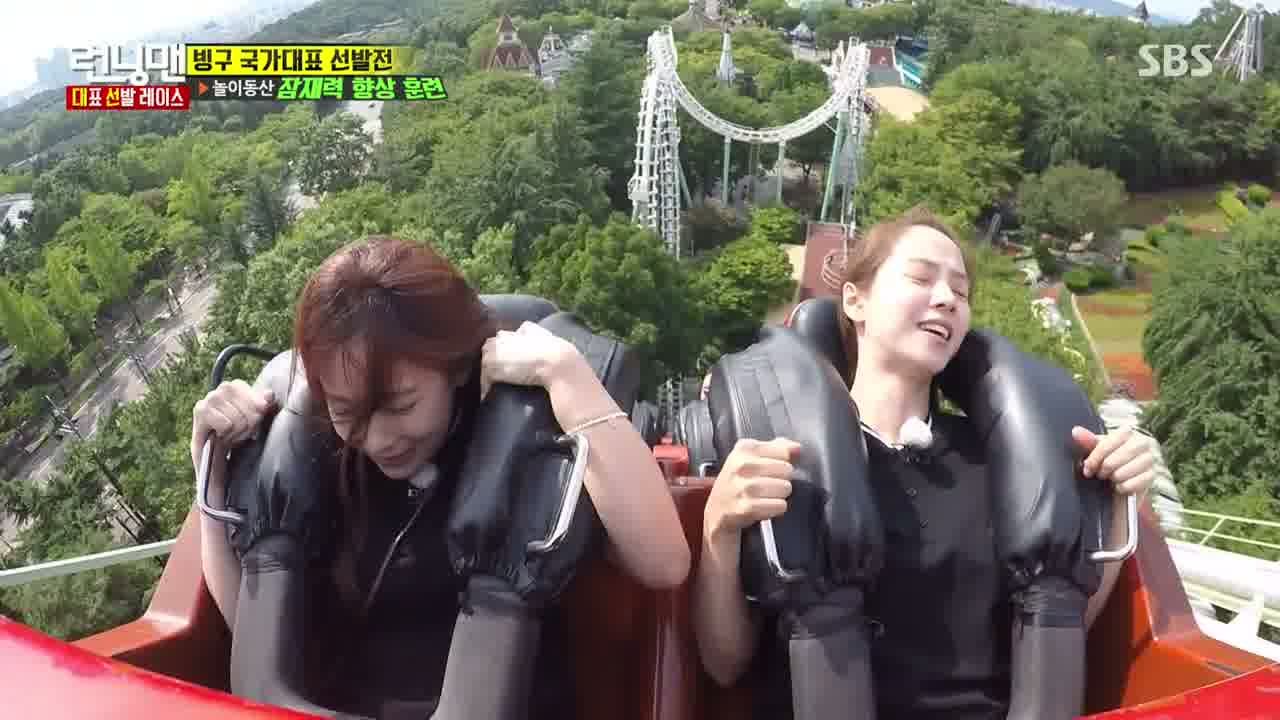 The ladies take a good look at the crew member before the ride starts, and only Ji-hyo keeps her eyes open for the duration of the ride. Ji-hyo spots all three differences and gets three stamps for her team.
Over at the Mega Swing, Su Ae, Jae-sook, and Haha climb on. Haha gapes to hear that this ride spins and twirls a full 360 degrees, but he does focus on sending his mother his love when the ride momentarily stops at the stop.
Su Ae, however, is wracked with fear while Jae-sook is convinced that this ride will age her a few decades. Down below, Gary and Jong-kook shout that she needs to read the drone buzzing nearby.
Once it's over, Haha admits that he never opened his eyes during the ride. Jae-sook says she did notice some writing which asked for the total number of members between TWICE and SISTAR. 13 is the correct answer, and that earns them five stamps.
After another snack break, Yeon-seo doesn't hesitate in handing over money to her teammates so they can play some games. For their noraebang mission, they need to score 95 or higher on a duet. The side mission adds in another caveat: they cannot sing the words "love", "us", or "you".
The guys decide to sing some tunes to pass the time, though Jae-suk cracks up at how there's three guys sitting in a booth belting out ballads.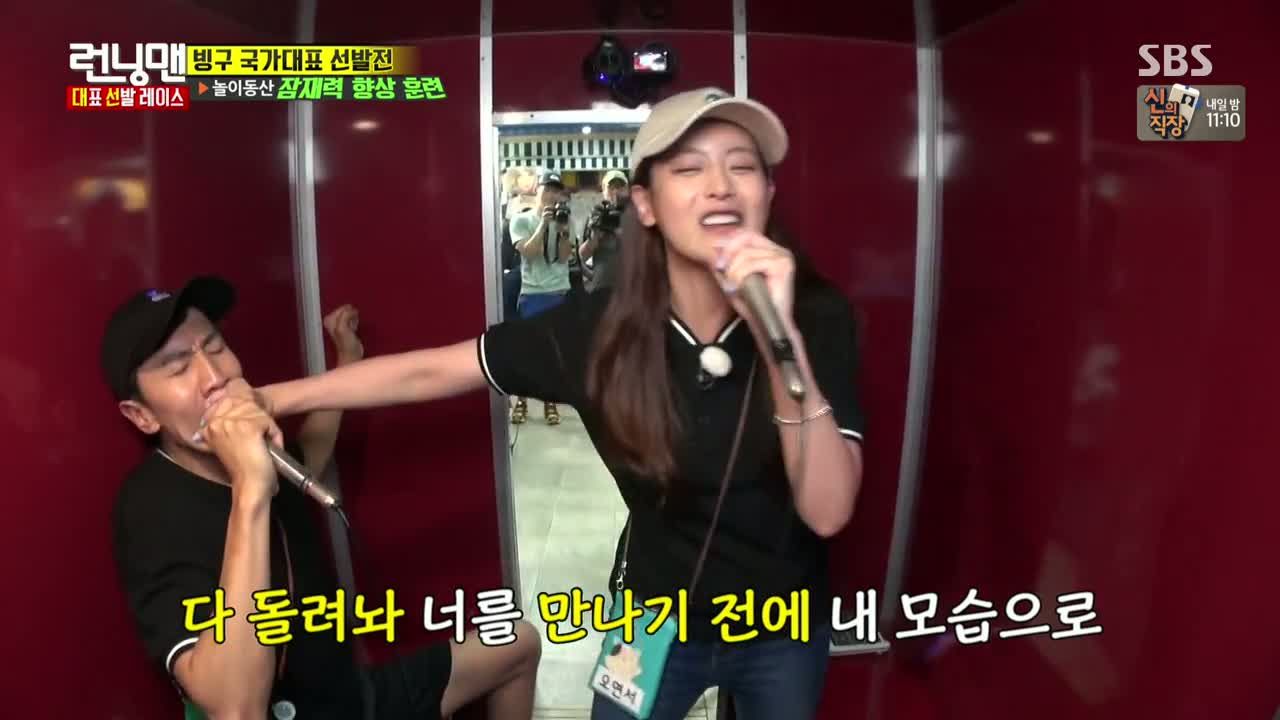 And that's when Ji-hyo slides in to stop the machine. HA. Kwang-soo and Yeon-seo take on the first attempt together, and she takes it upon herself to block Kwang-soo from singing their restricted lyrics.
Of course Kwang-soo thinks she's just trying to take the spotlight for herself, but unfortunately they only score an 86. Everyone climbs in when the guys choose "Addicted to Love" by Jo Jang-hyuk, but Ji-hyo stays halfway through the chorus before climbing out.
Time to check in on Team Su Ae, who prepare themselves for the arcade relay race. Gary impresses with his dart skills, and Haha has a 100% accuracy rate with the rifle.
Su Ae and Jong-kook get on the boomerang roller coaster ride, and while she keeps her eyes firmly shut, Jong-kook doesn't understand what he should be on the lookout for. They still manage to spot the three differences in the amusement park worker for three well-earned stamps.
After Team Yeon-seo finally get 99 on the noraebang machine, Team Su Ae takes a crack at it. Su Ae manages to block Jong-kook from singing "love" in the final few lyrics of the song, though they only get an 88 on the first try.
Team Su Ae scores a 99 with Jae-sook's choice of song, which means they've completed all five missions. A picture-in-picture tells us that Suk-jin backed out of the Mega Swing. Seeing as we're nearing the end of the episode, though, I have a feeling we won't get to the ice hockey match today.
Our cast is busy playing matchmaker between Su Ae and Jong-kook on the bus. She doesn't mind a muscle man like him, and asks, "What do you think of me?" I suppose we won't know until next week.
RELATED POSTS
Tags: featured, Haha, Ji Suk-jin, Kang Gary, Kim Jong-kook, Lee Kwang-soo, Running Man, Song Ji-hyo, Yoo Jae-suk