Running Man: Episode 313
A hero or heroine can only be as powerful as their partner, and this week's games will put that theory to the test. Our cast will be paired with their respective Running Man Women who can not only pack a punch but also bring their insatiable appetites to the table. Our couples' fates will intertwine this week with brute strength, heroism, and a dash of luck.
EPISODE 313. Broadcast on August 21, 2016.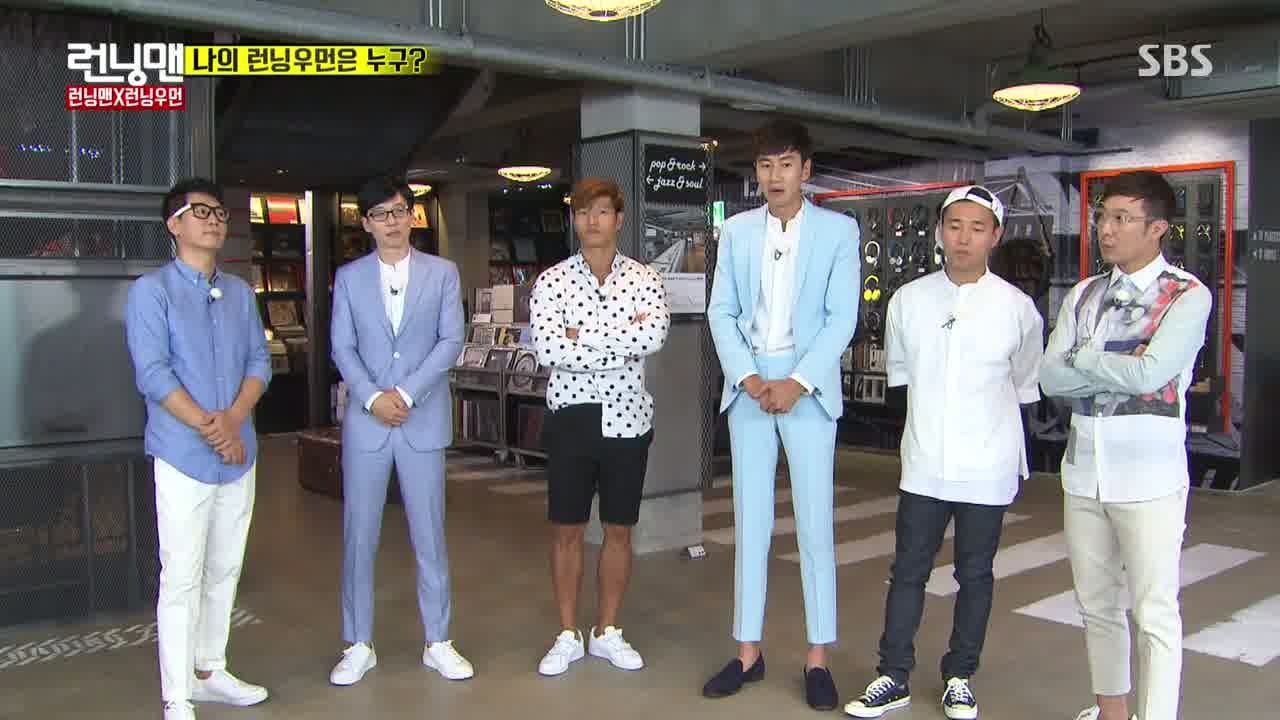 We open at a music cafe where our guys look on point with their wardrobes. Today's couple race will pair the guys up with their fated Running Woman according to matched music preferences.
Realizing that Ji-hyo is also in the running, they try to guess which song she'd pick—maybe it's the 200 Pounds Beauty OST "Beautiful Girl", or perhaps Cherry Filter's "Romantic Cat". It's likely a female idol would've chosen Taeyang's "I Need a Girl", but with four guys choosing the mellow Rose Motel song, it quickly becomes apparent that they all want to avoid being paired with Ji-hyo today.
We meet Jae-suk's choice of "I Need a Girl" and "Beautiful Girl" first: Gugudan's Sejeong and Lovelyz's Mi-joo, respectively. While Mi-joo hops back upstairs, Sejeong explains that she choose the Taeyang song because she sang it as a contestant on K-pop Star 2.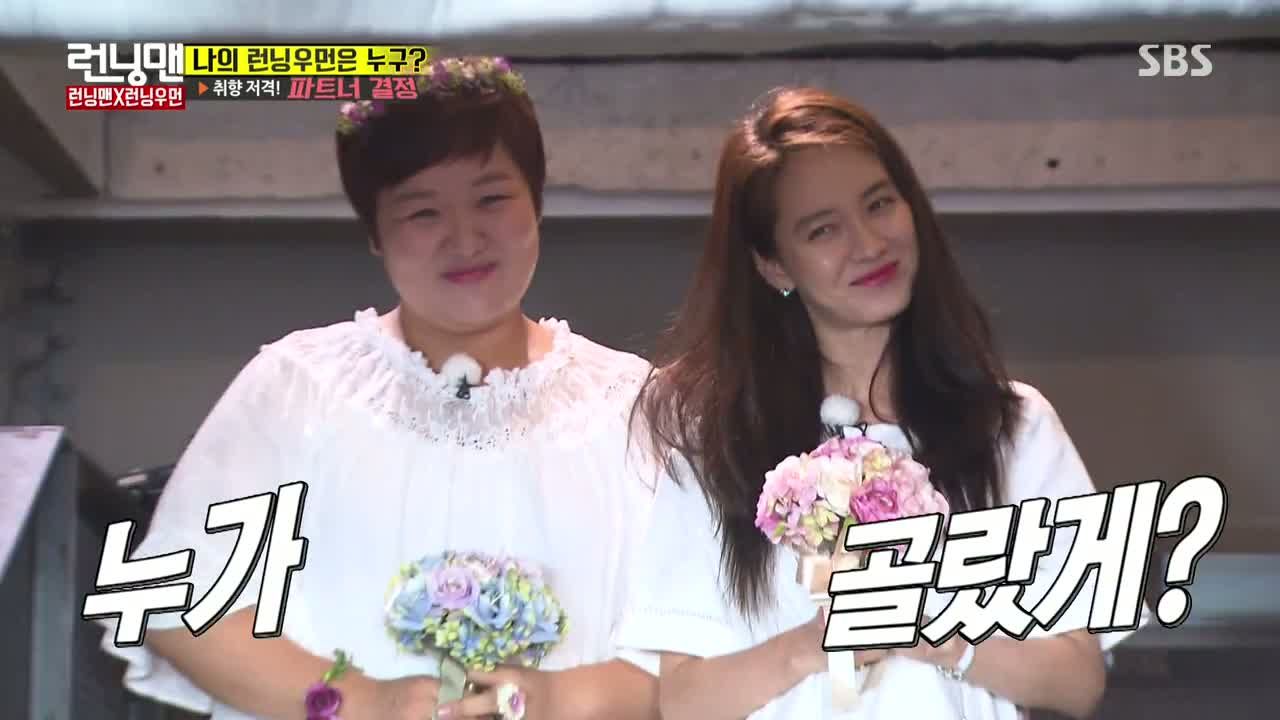 Time to see who chose Rose Motel's "Seoul Life" and Serebro's "Mi Mi Mi": why hello again Ha Jae-sook and Ji-hyo! It's Jae-sook who chose the Rose Motel song, and she makes sure to let Jong-kook know that Su Ae is doing fine.
Haha's arms are open wide when Jae-sook chooses him, only to tell her just as cheerily: "Why don't you reconsider? We've been teammates before!"
Now we get to see who chose the Cherry Filter song and TaeTiSeo's "Twinkle": Noh Sa-yeon and Ahn Moon-sook. HA—both of them exit when "Romantic Cat" starts playing because neither noona wants to be paired with Suk-jin.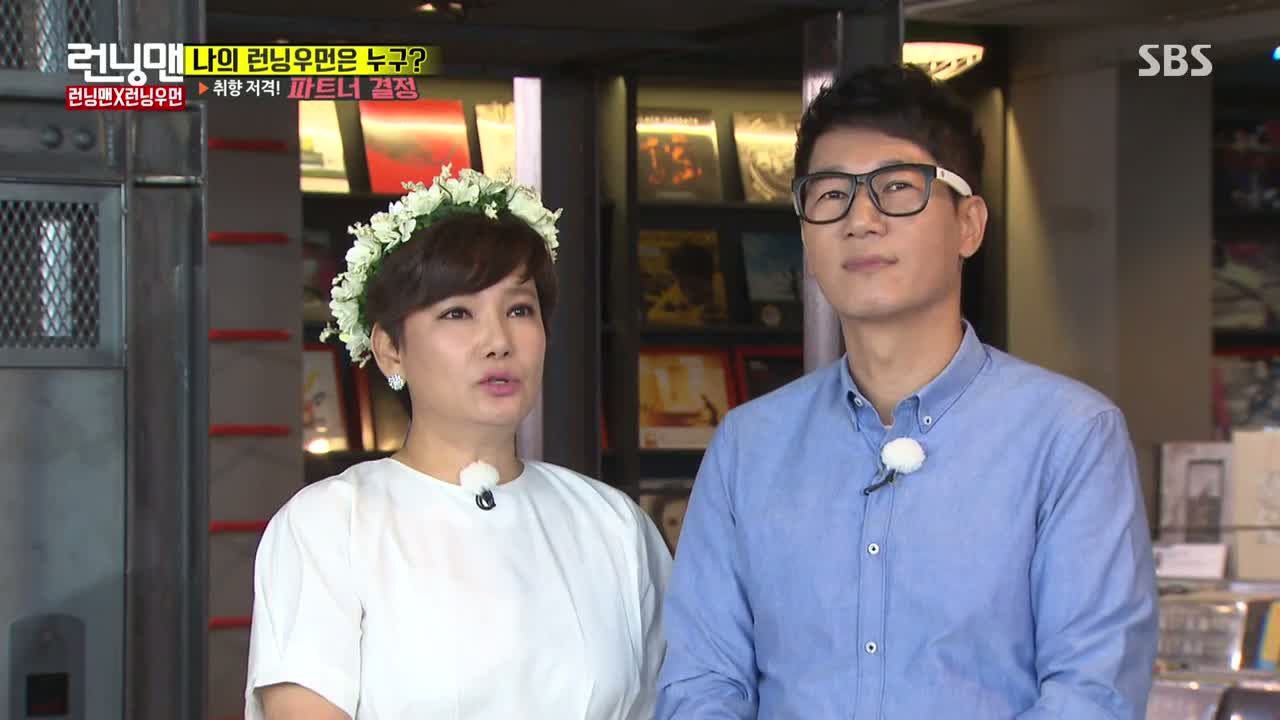 And then Moon-sook comes downstairs moments later. She voices her displeasure at how she's not paired up with the young'uns today. The remaining three choices are randomized again with everyday items—Jong-kook chooses the fan and Jae-suk hands out the others to keep things moving.
The fan belongs to none other than Sa-yeon who rejoices at being paired with Jong-kook again. Hahaha, I love it. There's a mix of happiness and outcry when Mi-joo walks to Kwang-soo and Ji-hyo throws her arm around Gary.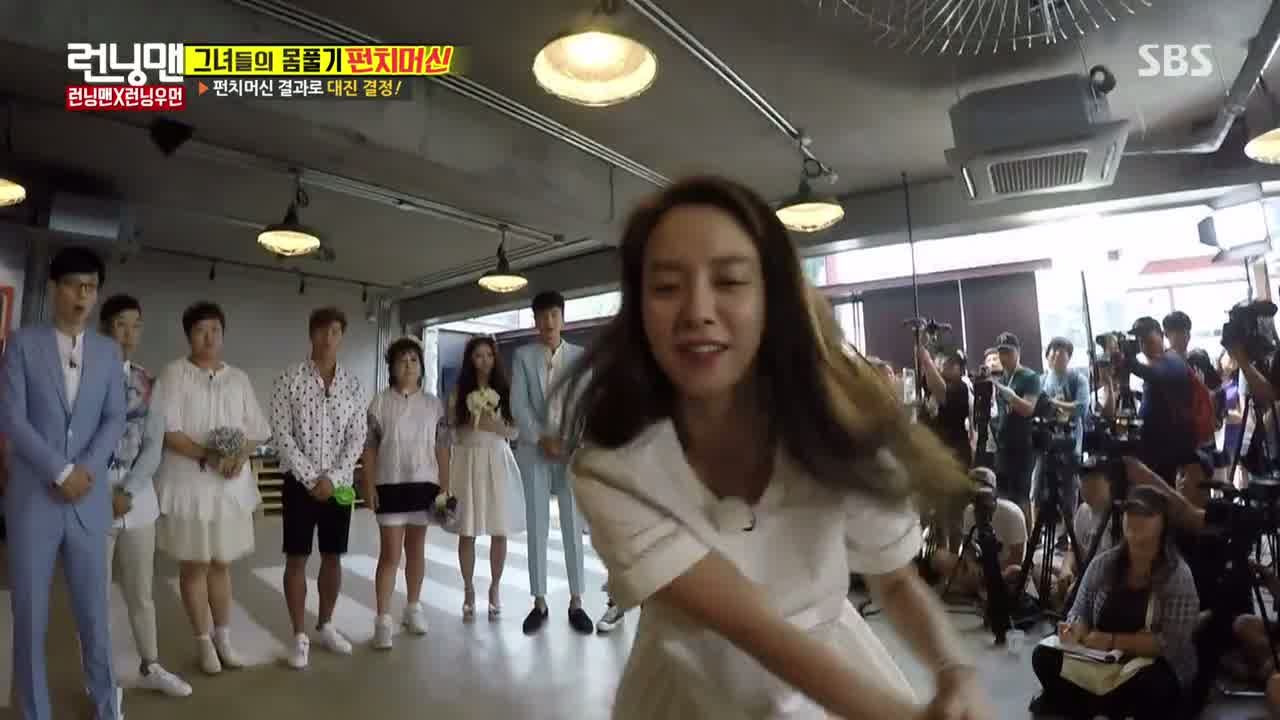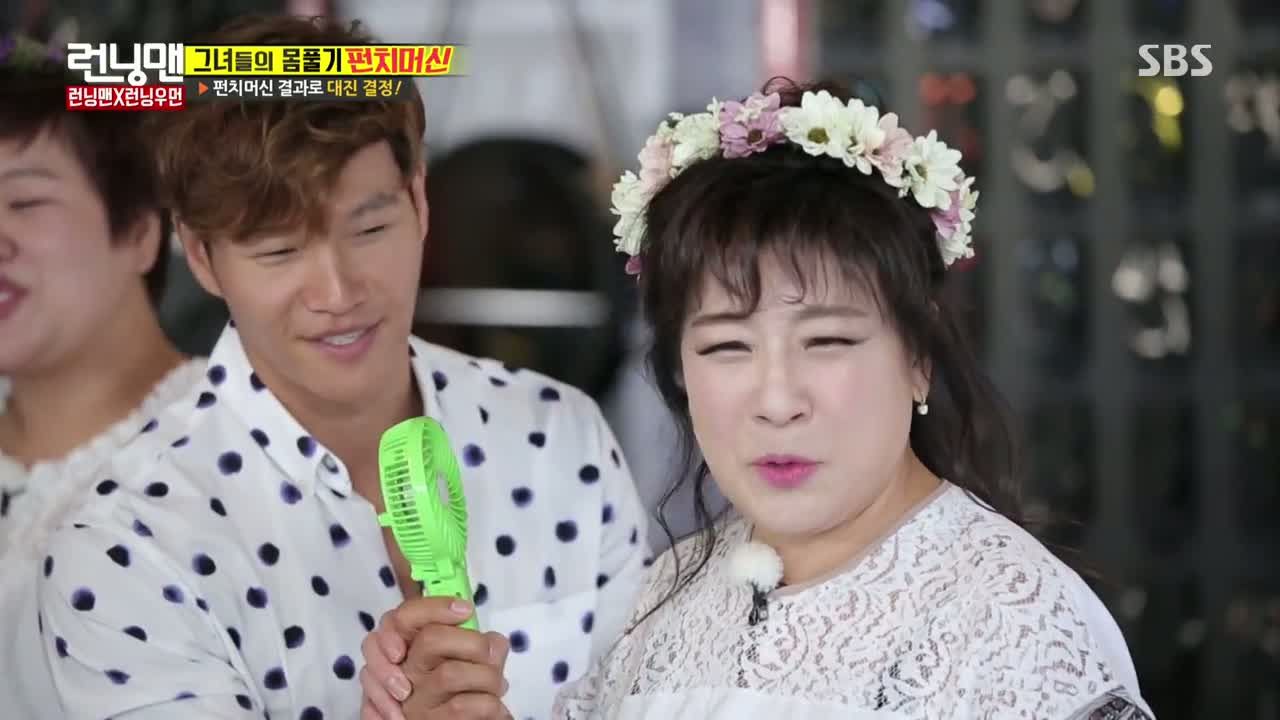 Our couples are put up to a warm-up exercise in the form of a punch machine. Ji-hyo throws the literal first punch, and Jae-suk calls Jong-kook out for giving tips to Mi-joo. "Take care of Tuna Noona!"
Speaking of whom, Sa-yeon gets annoyed when everyone keeps complimenting Mi-joo when it's her turn. She only gets a corner but still gets a score over 500.
Everyone is looking forward to see what Jae-sook will put on the scoreboard. It's an astonishing 689. Jong-kook is scolded yet again for looking out for another singer hoobae, and this time it's Sa-yeon who finally puts him in place.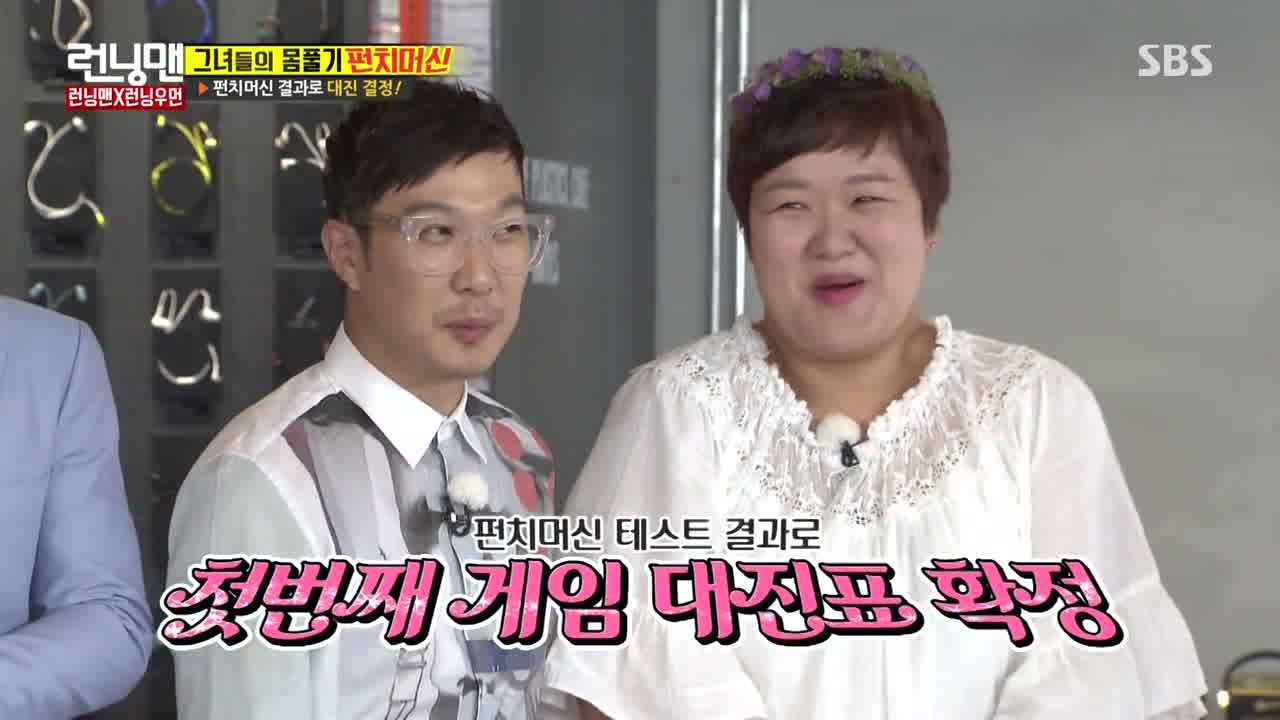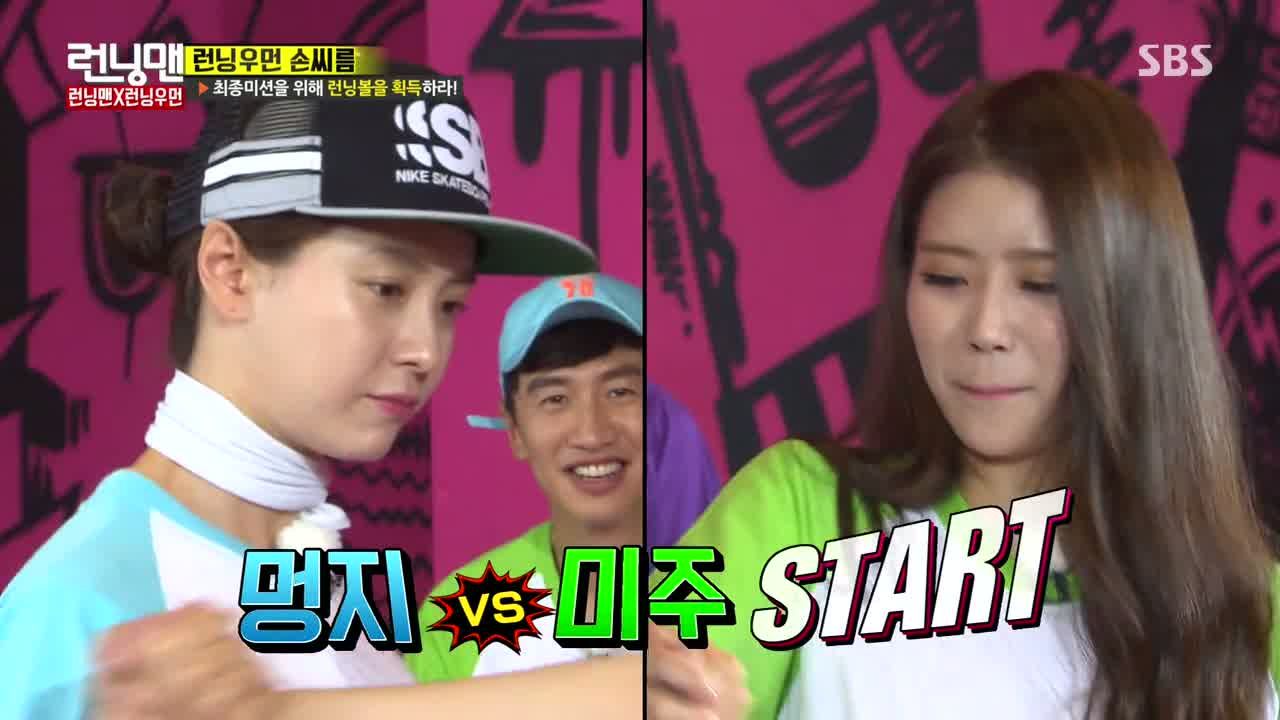 He gets yelled out for placing the mini-fan too close to her face (and thus making her face look too large on camera), then the guys walk her to the huge ceiling fan.
Sejeong packs an impressive punch with 591, but it's Jae-sook who comes out on top.
The two are matched up again in the first game of wrestling, where Jae-sook—who already feels bad about the uneven playing field—easily takes Sejeong down. Ji-hyo beats Mi-joo, and Moon-sook and Sa-yeon seem evenly matched.
In the end, Sa-yeon takes Moon-sook down, followed by Ji-hyo, until we're finally down to the finals between Sa-yeon and Jae-sook. Sa-yeon looks at ease while holding Jae-sook off, until she loses her balances and falls. Jae-sook immediately feels bad for the win, though we learn that even Sa-yeon was surprised by her opponent's strength.
For their second mission, the couples will need to collect as many Running Balls as possible between five locations within the time limit. At least four couples are set on heading over to the ddukbokki restaurant, and as Sa-yeon puts it, eating is as fundamental as breathing.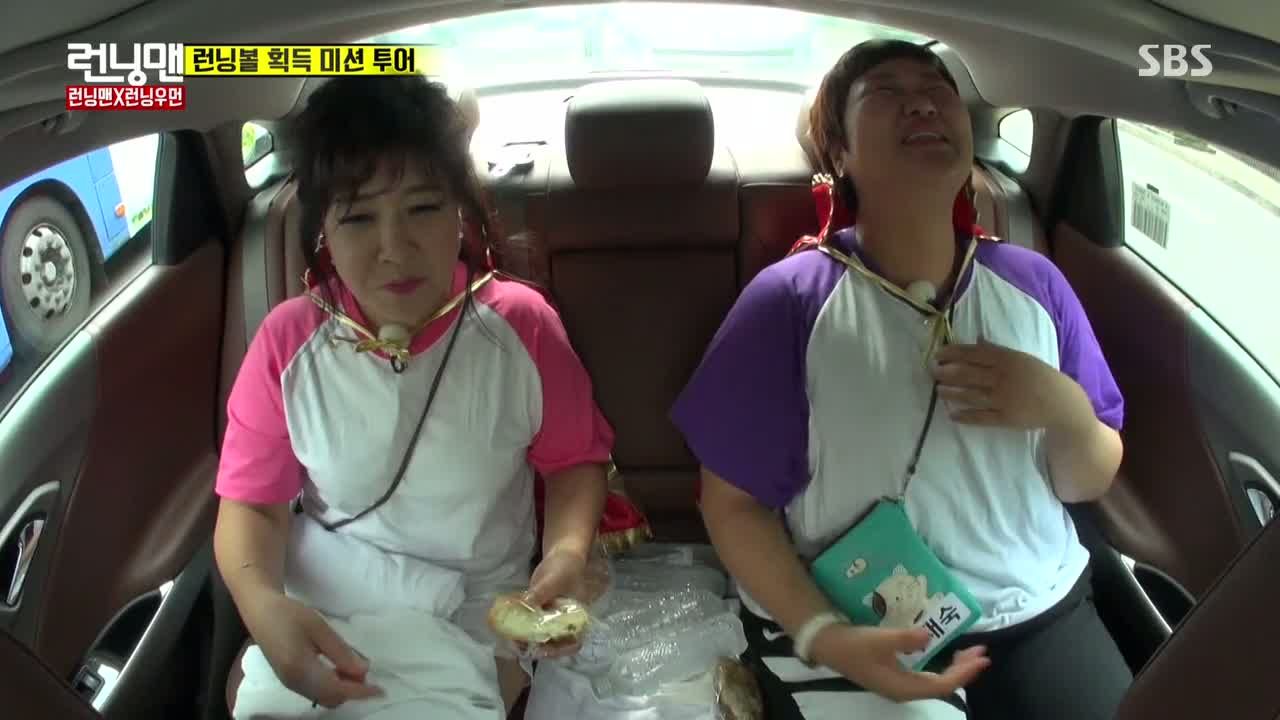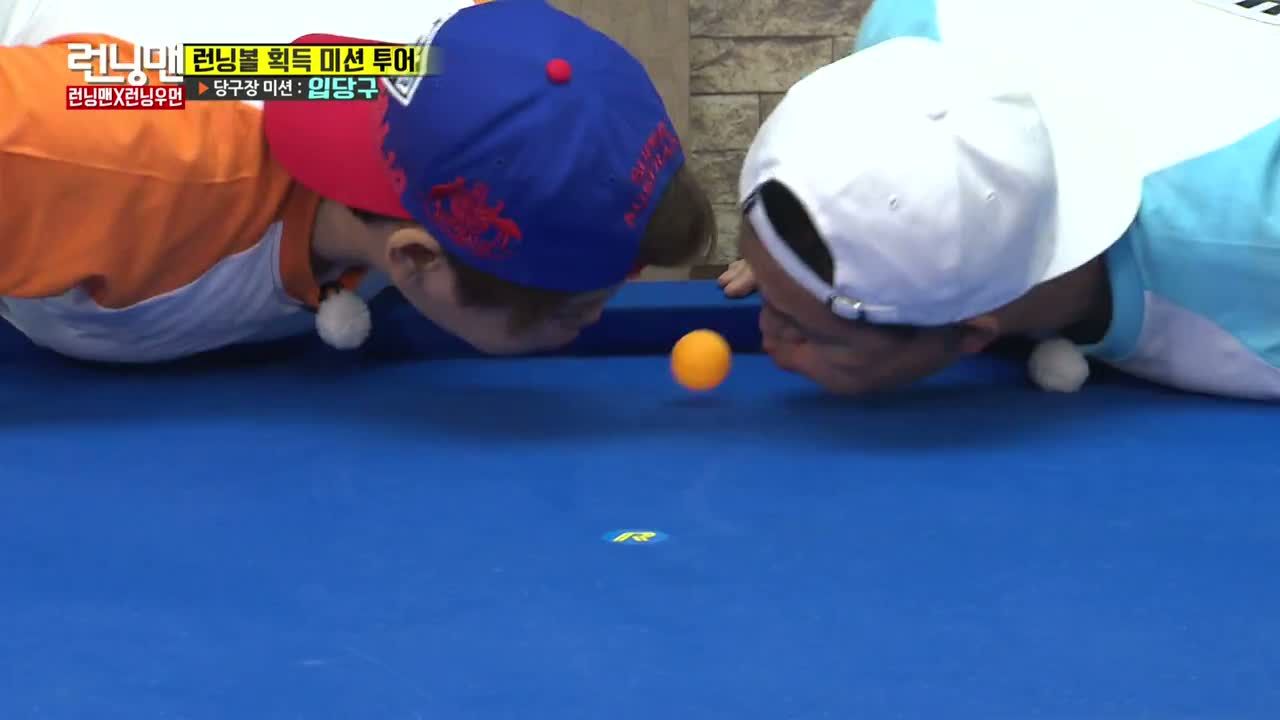 Moon-sook comments on how well this car drives before catching herself on the accidental product placement. Ji-hyo, Gary, Suk-jin, and Moon-sook head to the pool hall where they'll play air soccer for jjajangmyun and one Running Ball. First couple to two goals, wins.
Gary and Ji-hyo score their first goal when Suk-jin tries blowing the ball out of a corner. Gary and Moon-sook's faces get dangerously close when they try to blow the ball out of their side, which prompts Suk-jin to suggest that she should just kiss him.
When Suk-jin tries blowing the ball gently out of his team's zone, Ji-hyo blows it back into the goal.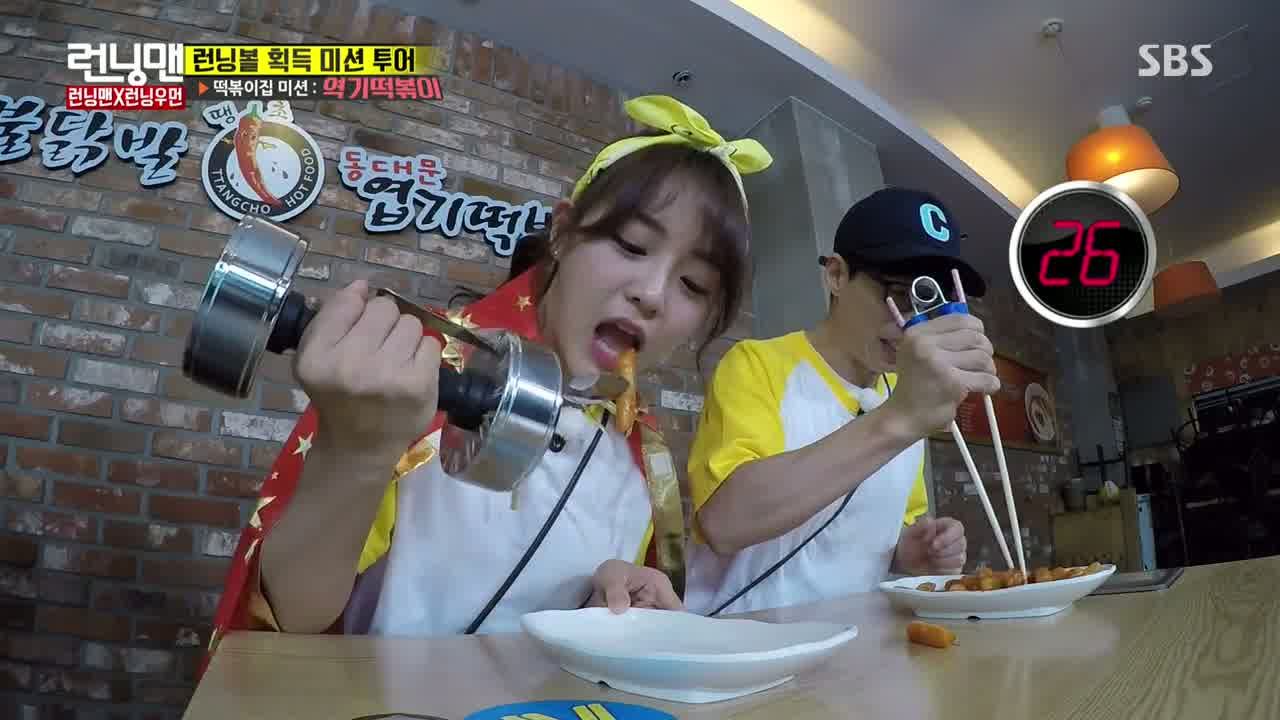 Kwang-soo, Sejeong, Mi-joo, and Jae-suk arrive at the ddukbokki restaurant where they'll be using gym equipment-utensil hybrids to eat as many pieces of rice cake within 30 seconds.
It takes a few, precious seconds for Kwang-soo to get the hand of his chopstick-hand strengtheners, but try as Mi-joo might to catch up, Sejeong still manages to eat more than her.
Back at the pool hall, Jong-kook and Sa-yeon face off against Haha and Jae-sook. They need to swap out the ball when it momentarily hits Jae-sook and comes out with a dent. And thanks to Sa-yeon's strong lungs, she and Jong-kook win the match 2:0.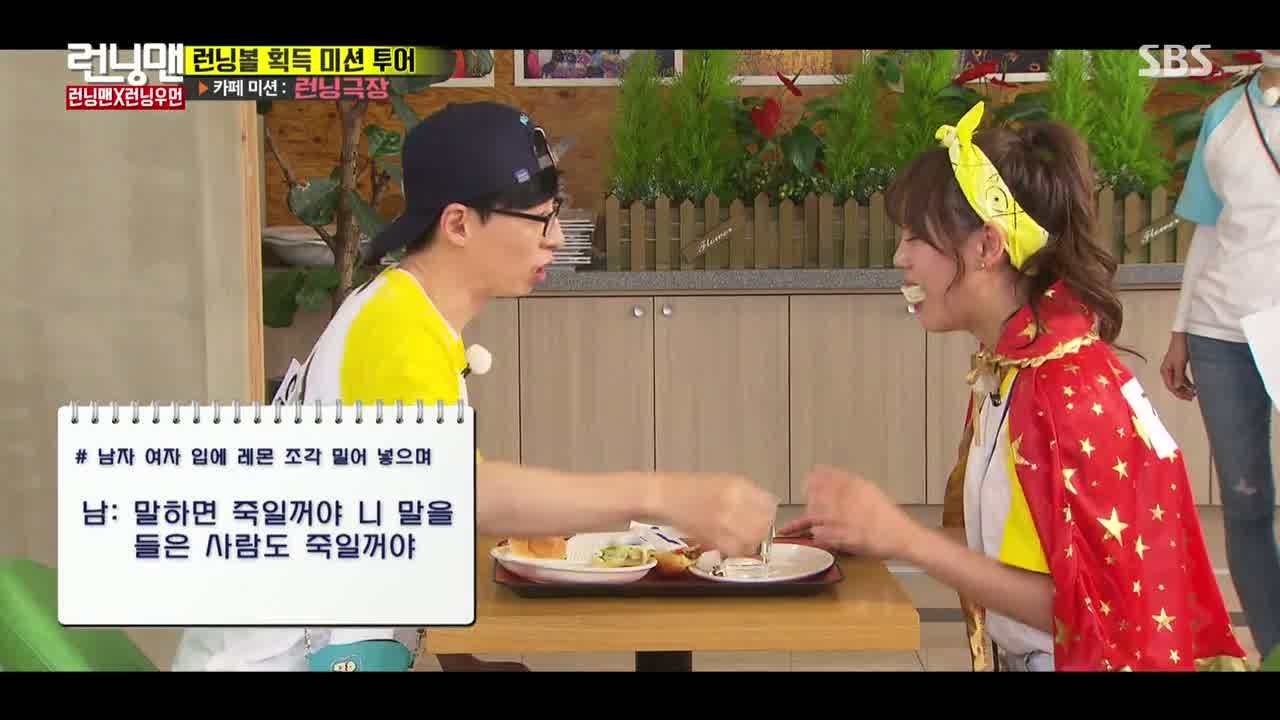 After having lunch, Jae-suk and Sejeong run over to the cafe where actor Ahn Gil-kang and his two daughters are waiting. Here the teams will stretch their acting muscles and it'll be up to Gil-kang and his girls to decide whether they get passing marks or not.
What are supposed to be shrimp burgers are in fact, wasabi burgers, and both Jae-suk and Sejeong struggle to get through the scene. She throws a glass of water in his face while he shoots her with a water gun, and then the climax: Sejeong cracking a gourd shell over his head…
… Only that it remains intact. Whoops. Jae-suk swears that the shell won't crack, so Gil-kang is willing to test that theory: What if it cracks when he hits it over his own head?
Crack. Jae-suk looks utterly speechless. Now THAT's what you call a real actor.
Then it's time for Ji-hyo and Gary to act out their scene. He needs to crack the gourd shell by sitting on it, and it takes a few tries—including Jae-suk swiping the shell away—before they hear the definite but painful crack.
They keep ad-libbing whenever they don't accomplish a task the first time around, to which Gil-kang says they can edit out in post-production. HA. The former Monday Couple gets an A for effort and awarded a Running Ball.
Meanwhile at the hair salon, Kwang-soo and Mi-joo are faced with a limbo mission, where the couple that passes under the bar with the lowest height earns three Running Balls. Kwang-soo doesn't get a good grip on Mi-joo the first time (methinks it's probably because he's trying to be too courteous), then plopsdown to get his hair sprayed in neon Christmas colors.
Afterward, he and Mi-joo try for a height of 75 cm, and nearly get through before the bar falls. Suk-jin gets a shot of bright orange before scooping up Moon-sook to try for a height of 90 cm.
They pass though, and now Kwang-soo's hair looks like a neon rainbow. He and Mi-joo try for 80 cm, and per the others' suggestion, she gives Kwang-soo an encouraging slap. That seems to do the trick.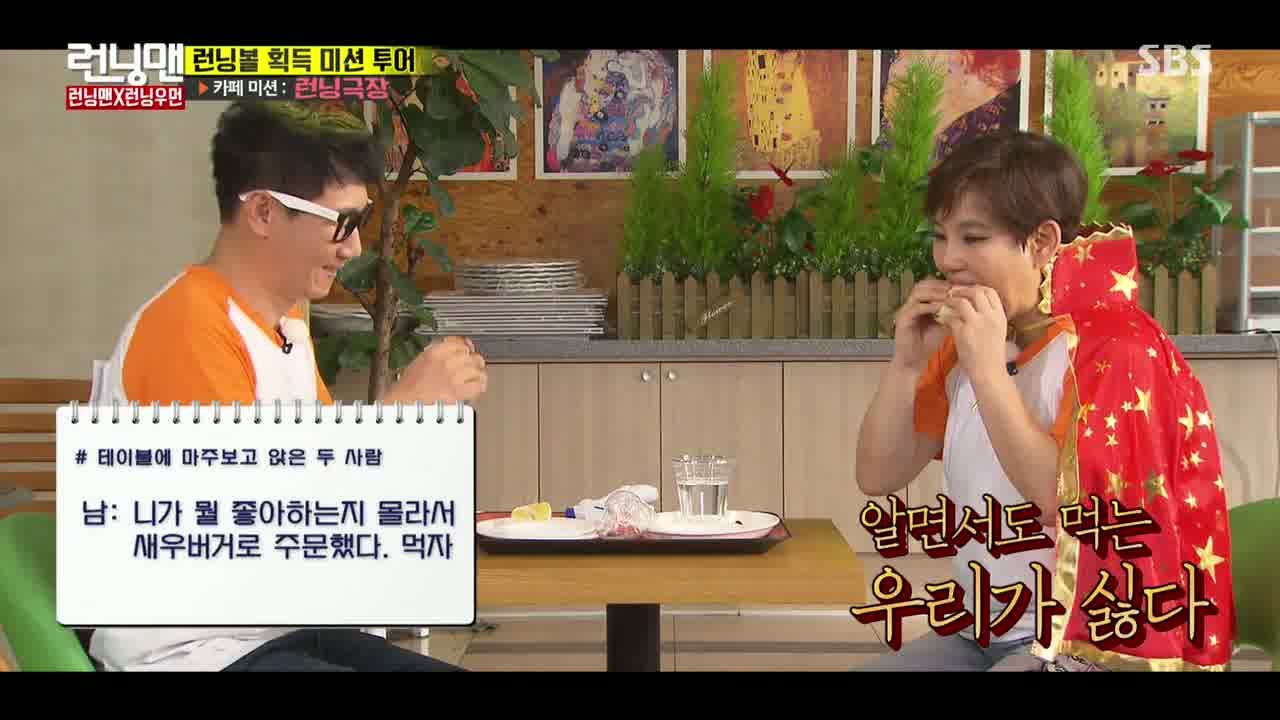 When Suk-jin and Moon-seok are at the cafe, she finds out that she and Gil-kang not only belong to the same clan, but he's also her elder. A hard hit across Suk-jin's head with the gourd shell earns them the Running Ball.
We see that Kwang-soo and Mi-joo put on a believable show for Gil-kang's daughters, while Jae-sook and Haha win the eating contest at the ddukbokki restaurant. Meanwhile, Gary and his pink skunk hair eases Ji-hyo and himself under the bar at the height of 75 cm. They try for a height of 65 cm and set a new record.
Jong-kook is taken aback when he has to carry Sa-yeon, struggling to rise to his feet. Jae-suk easily picks up Sejeong to try for a height of 65 cm but realizes he's already messed up when he lets Sejeong under the bar first.
So they're hilariously stuck there for a good minute with Jae-suk on one side and Sejeong on the other. Jong-kook and Sa-yeon try again upon her insistence, but that ends up with the bar falling on her neck.
Jae-suk offers to give it a shot, only to regret it as soon as he carries Sa-yeon in his arms. He ekes out: "I'm sorry, noona. I can't move an inch. This must be where it must end."
Jae-suk blames himself for being too weak, then teeters on his feet. Having finally given up, Sa-yeon kicks the bar away.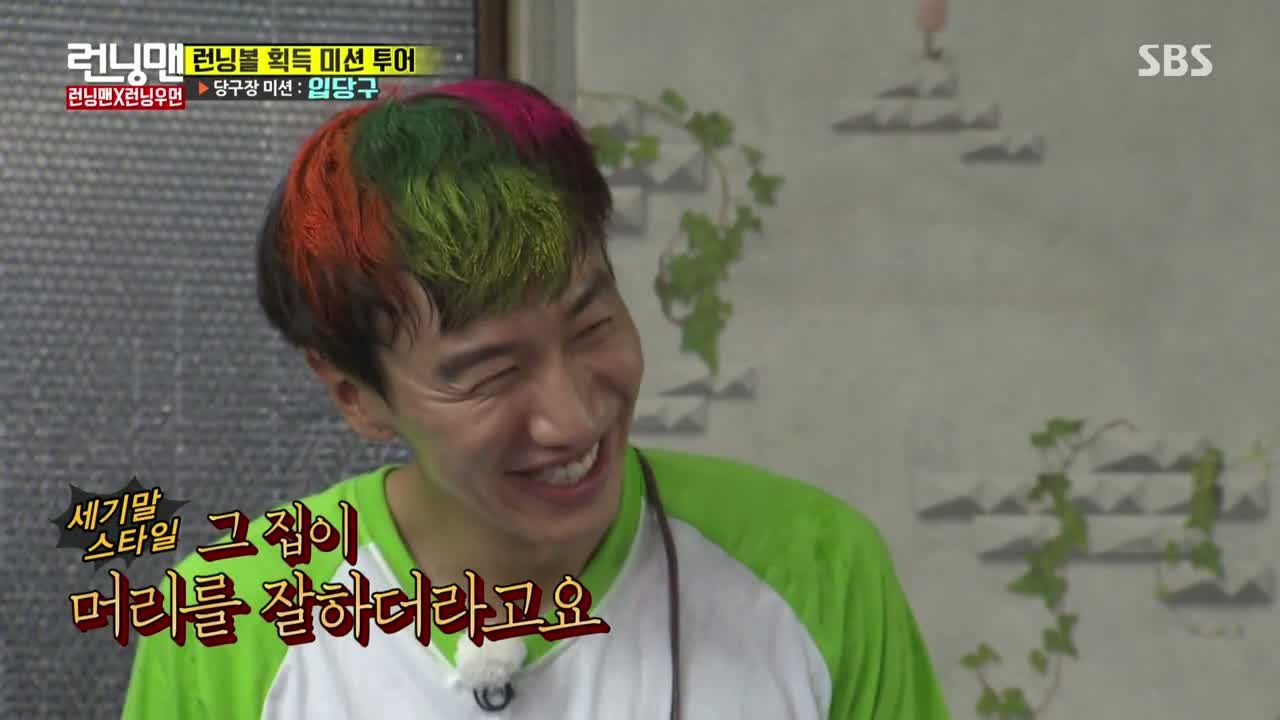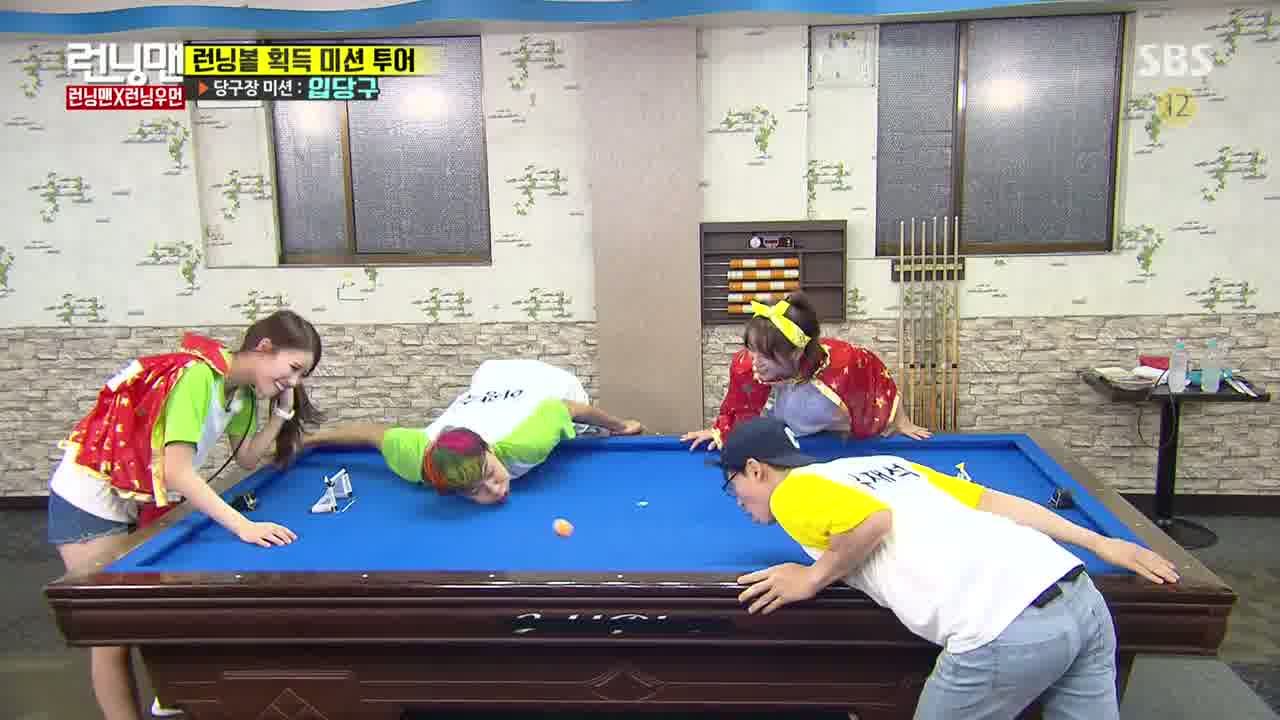 While Gary and Ji-hyo complete the photo zone mission with flying colors, Jae-suk and Sejeong meet up with Kwang-soo and Mi-joo at the pool hall. Jae-suk does a literal spit take when Mi-joo accurately guesses that they must have three Running Balls.
Since time is running out, these couples will engage in a deathmatch: one goal takes all. After Jae-suk hits Kwang-soo on the head, he retaliates by smacking Sejeong's head. And when Jae-suk hits the ball with his hand, Kwang-soo demands to know where the refs from last week are.
Kwang-soo is granted a penalty shot… and wastes it with the tiniest of blows. The game continues, and Kwang-soo tries fighting Jae-suk off with spit balls. Jae-suk is then granted a penalty shot when Kwang-soo throws the ball back in after it goes out of bounds.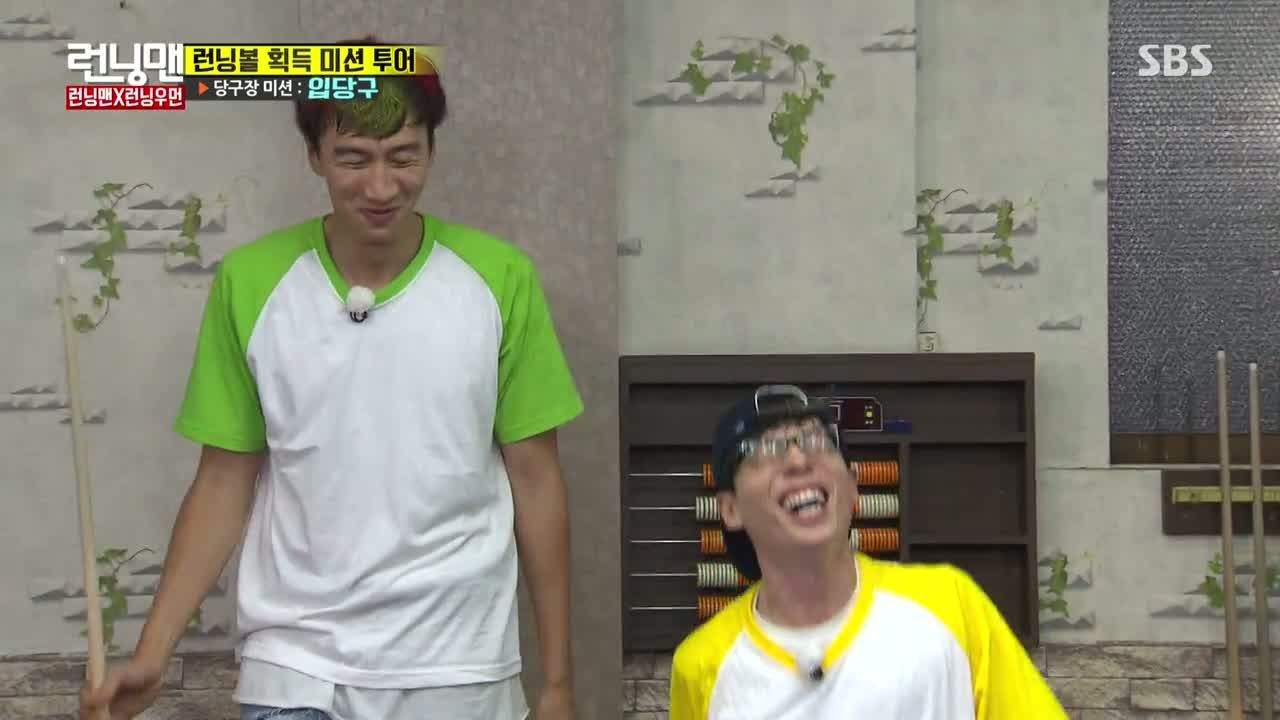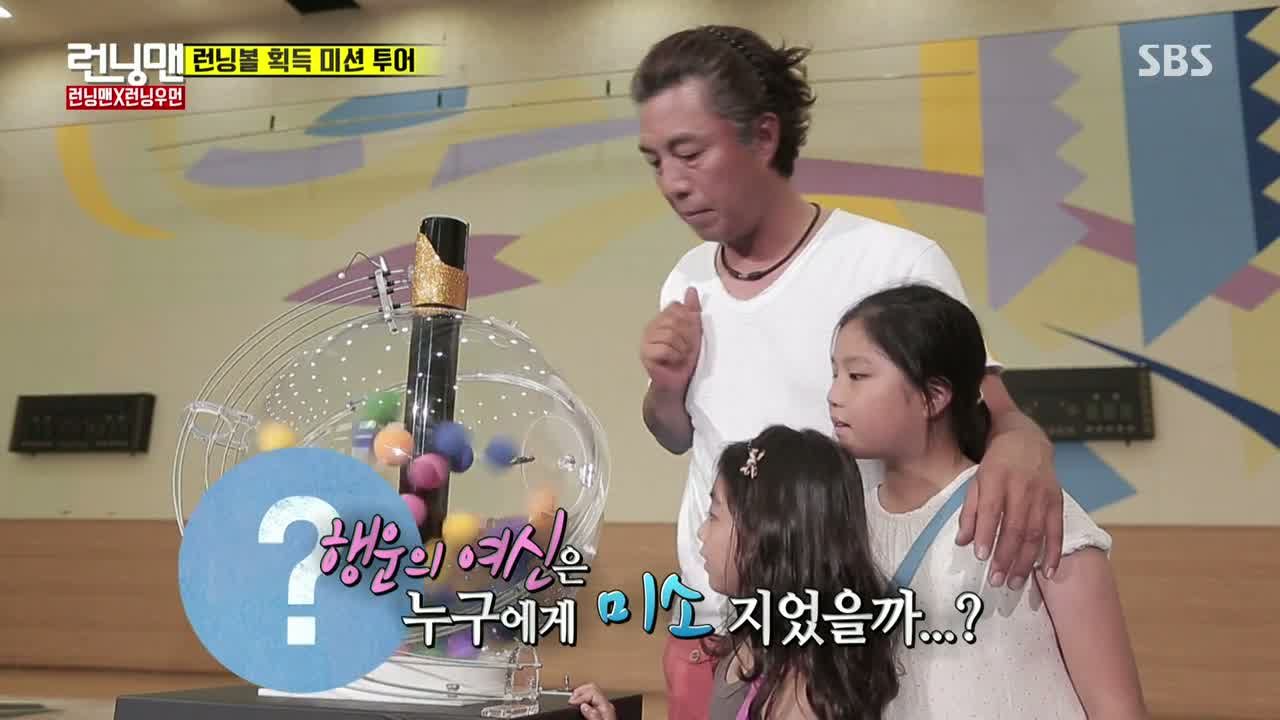 Kwang-soo won't let him go down peacefully by poking Jae-suk's bottom with a cue stick. The game continues again, and it's Kwang-soo who scores the winning goal.
Time to look at the scoreboard: Gary and Ji-hyo are in first place with eight Running Balls, Sa-yeon, Sejeong, and Jae-sook are tied for second place with six Running Balls, Mi-joo has three Running Balls, and Moon-sook has one.
Those Running Balls will be thrown into a lottery system that can be used for revival chances in their final mission. We don't know who the lucky team is for now because we move right along to the final mission.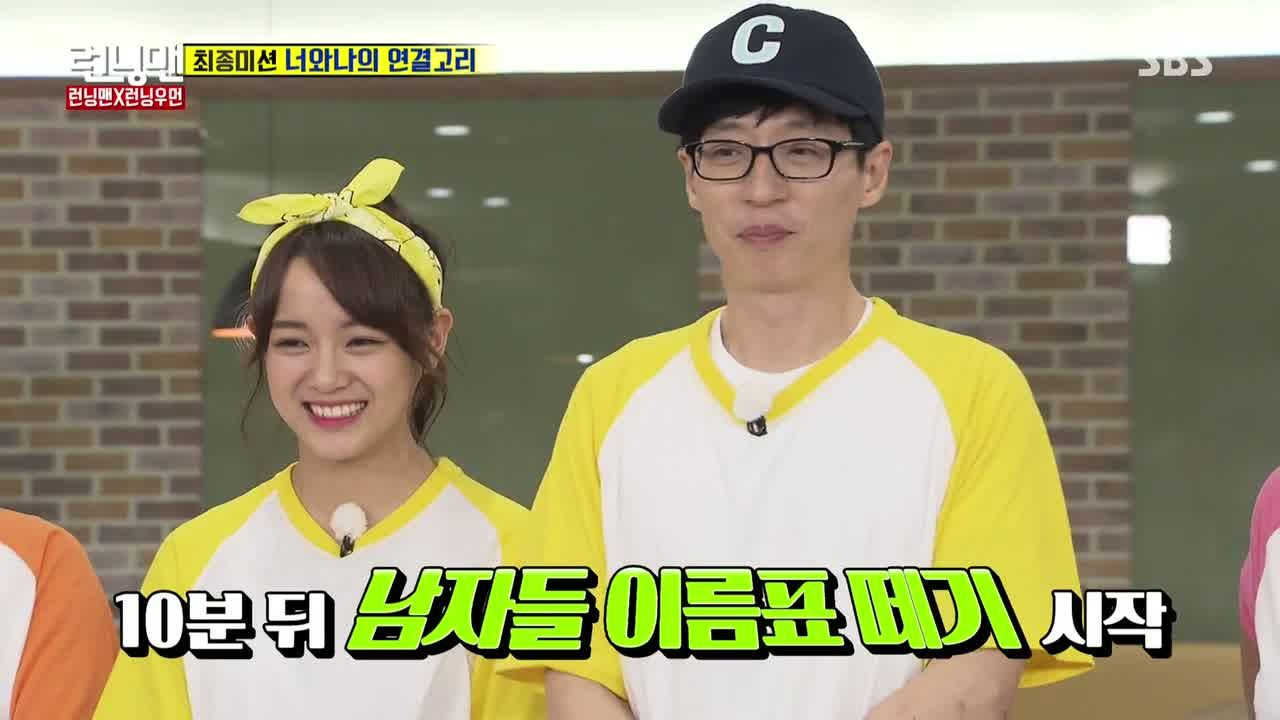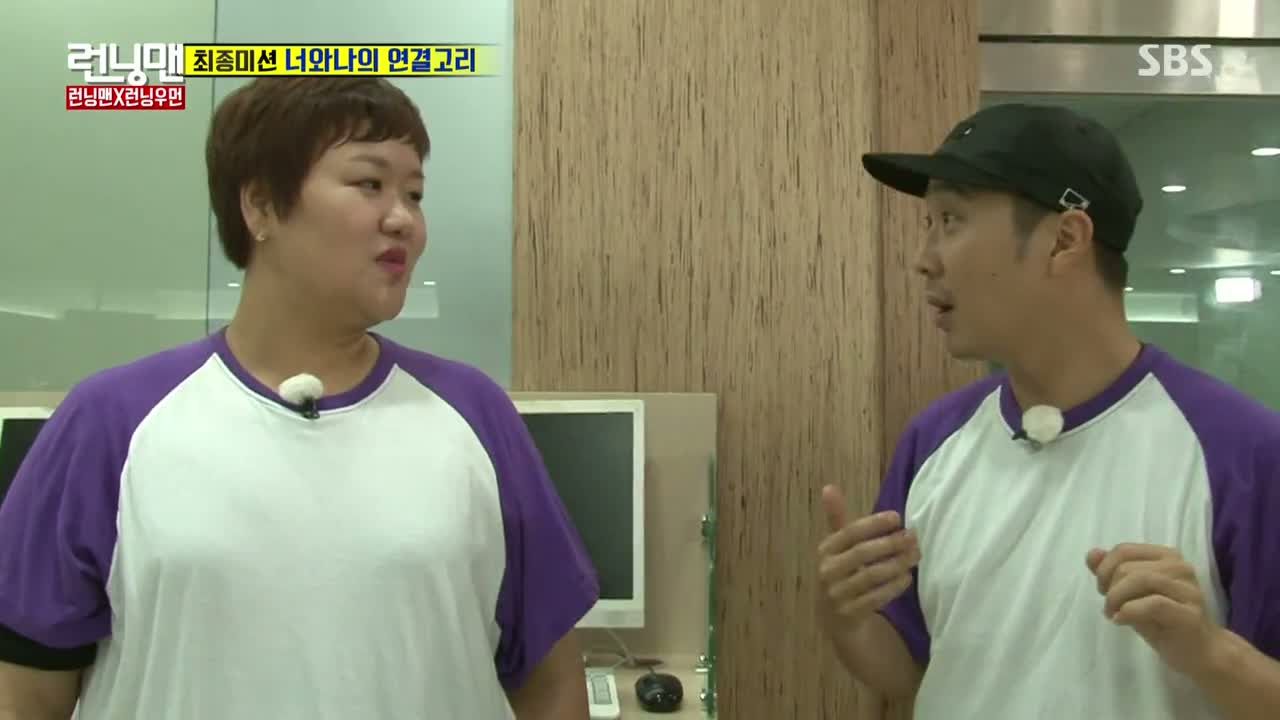 It's another nametag ripping game but with a few twists: the men and women will engage in separate nametag ripping battles, so they'll never cross paths. The ladies will get a 10-minute head start; however the teammates' destinies are linked — if one is eliminated, so is the other.
Remember those revival chances we've been told exists but don't know who has how many? Those can be used to revive both members of the team.
The guys walk their respective ladies through on their own tactics before the game begins. Moon-sook gets so into it that she accidentally rips off the stitching on Suk-jin's shirt.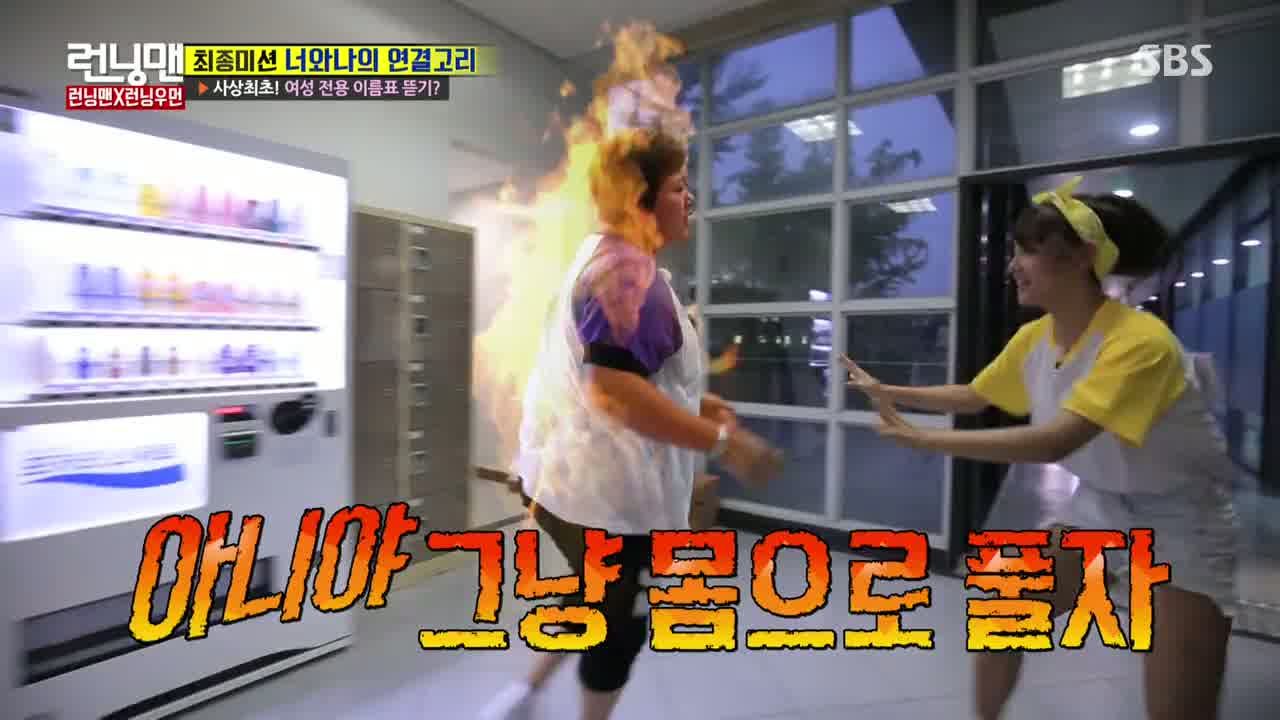 Both Moon-sook and Sa-yeon question the crew on how far they can go in this nametag ripping game. The guys can't help but worry about their partners, and the ladies' battle begins.
Sejeong runs from Jae-sook on the staircase before thinking otherwise—maybe they can become allies. But as soon as she comes down the stairs, Jae-sook reappears from a corner to try and grab her nametag.
Jae-sook is surprised by how strong Sejeong is while the latter still tries to plead for mercy. She eventually runs off, and the mat unnis catch Ji-hyo and Jae-sook making an alliance.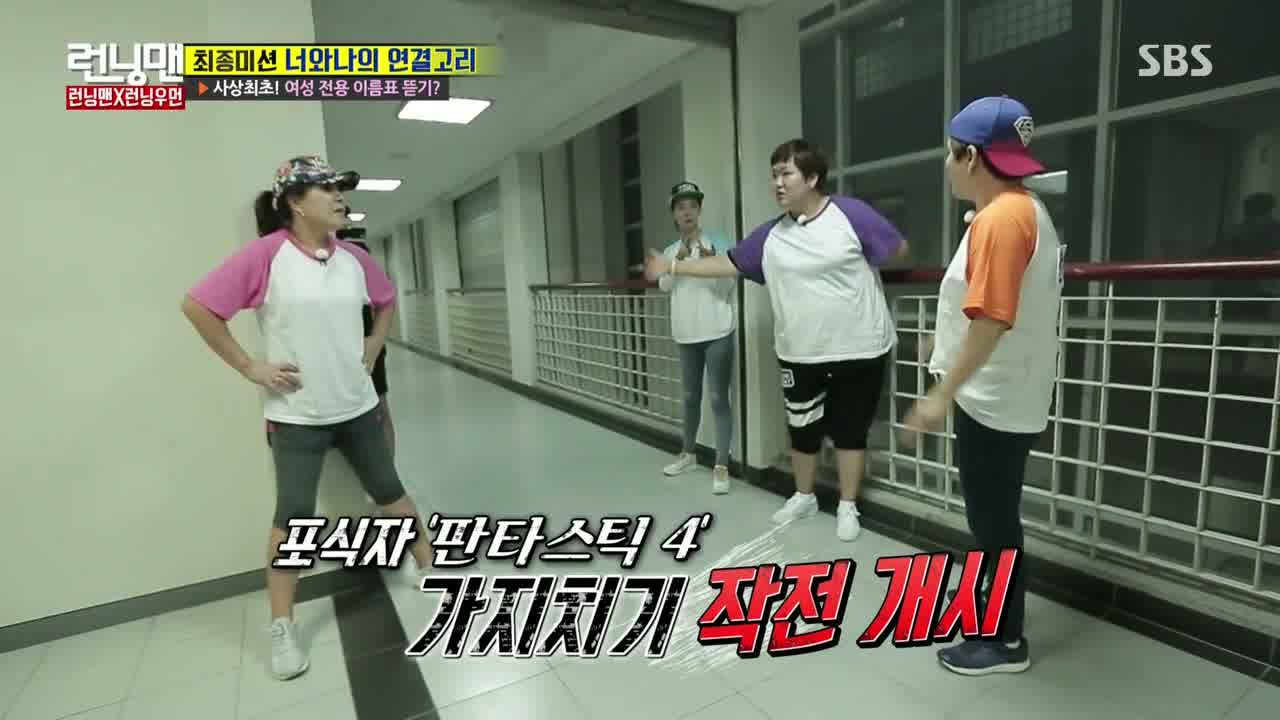 Moon-sook and Sa-yeon run straight into Ji-hyo and Jae-sook, and the four decide to work together. Just in case, Sa-yeon warns that betrayal will mean a bleak future in entertainment for them.
They have only three minutes to eliminate Sejeong and Mi-joo before the boys will start their own nametag ripping battle. Sa-yeon reaches over when Moon-sook leaves her back exposed, which legitimately spooks Moon-sook.
She goes for Jae-sook next, saying that she just wanted to give it a try. So the others are more than willing to give Sa-yeon a taste of her own medicine by ripping off her nametag.
That means Jong-kook is also eliminated even before the guys' brawl begins. Seconds before the guys' battle actually begins, Moon-sook worries about her own partner in Suk-jin. Speaking of whom, he runs into Gary, who swears that he doesn't have any chance of reviving himself or Ji-hyo.
Kwang-soo joins them on the stairwell, whispering that they should eliminate Haha first since Jae-sook is the next strongest competitor.
With that Operation: Catch Haha is a go, and all three of them keep their hands together as a show of loyalty. Then the speakers announce that Kwang-soo and Mi-joo are eliminated.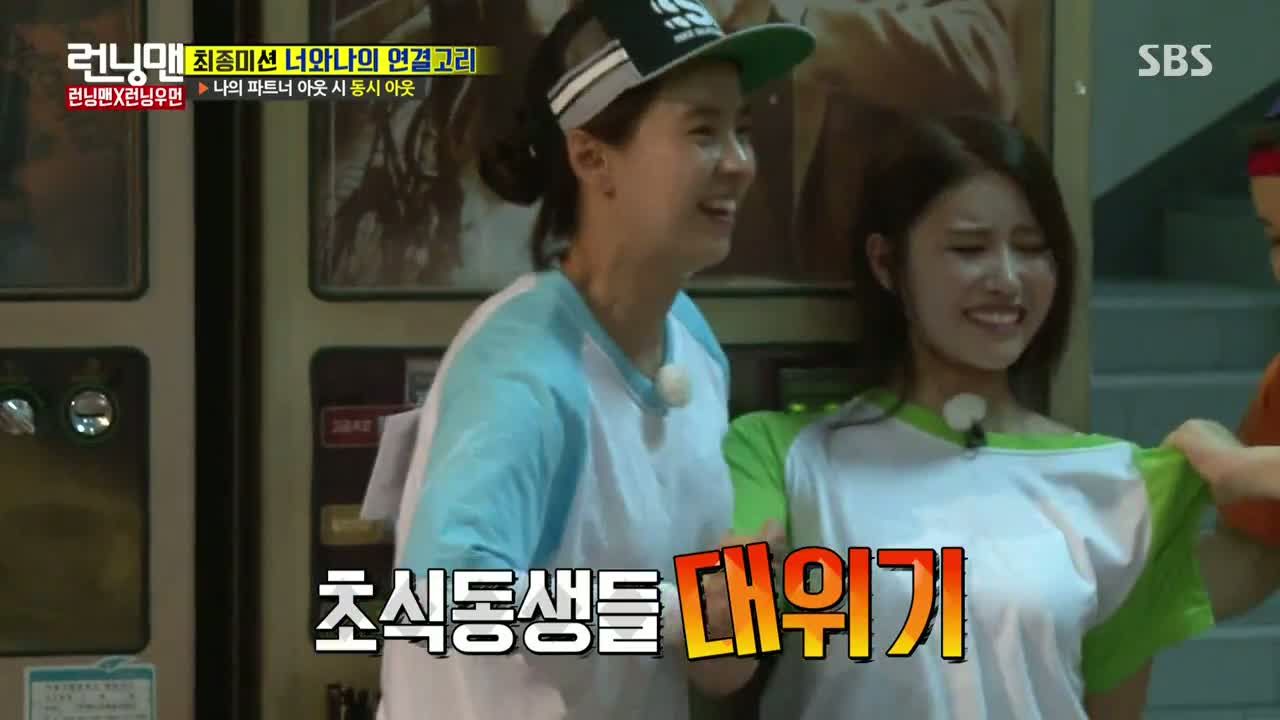 We learn that all five ladies had duked it out in the lobby and eliminated Mi-joo. Jae-suk is impressed by how Sejeong is still alive in the game, and that's when the speakers announce her elimination.
Now that the female idols are out of the game, Jae-sook hones in on Ji-hyo's nametag. And then the speakers announce that she and Haha are out of the game. She feels so wronged that her sadness quickly turns into anger.
We see that Haha had gone down swinging, and now only two couples remain: Suk-jin and Moon-sook vs. Ji-hyo and Gary.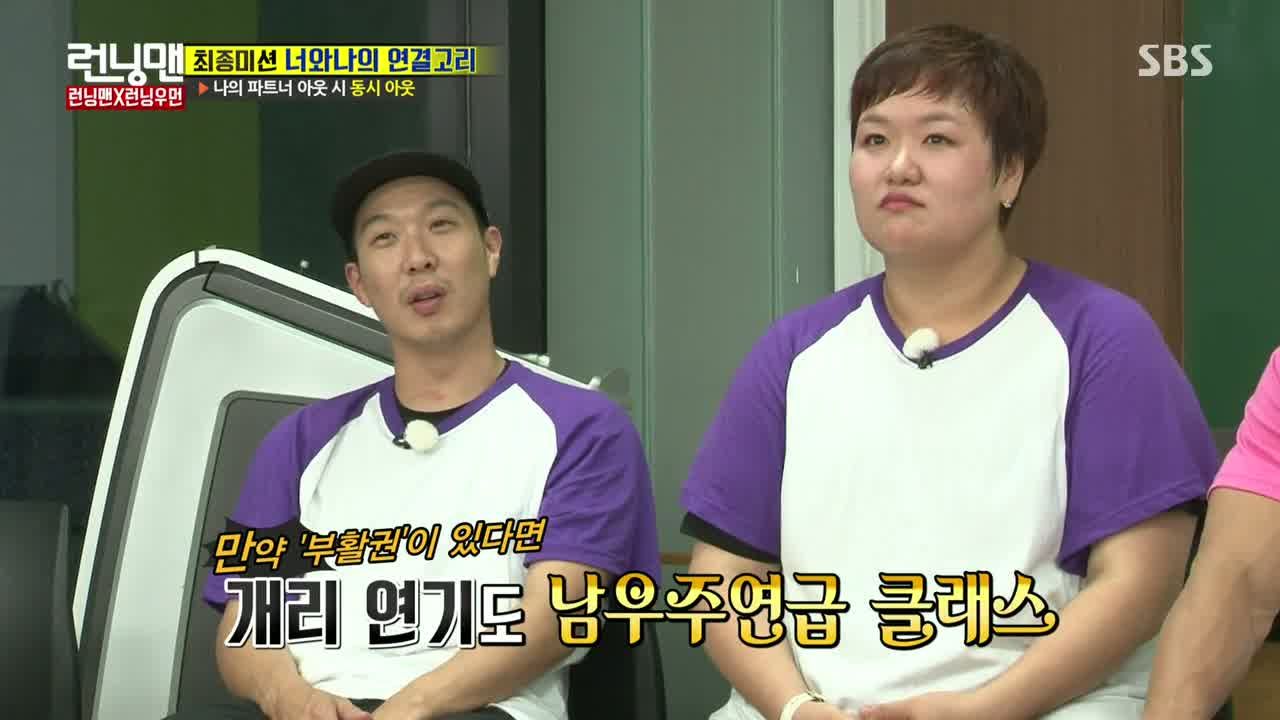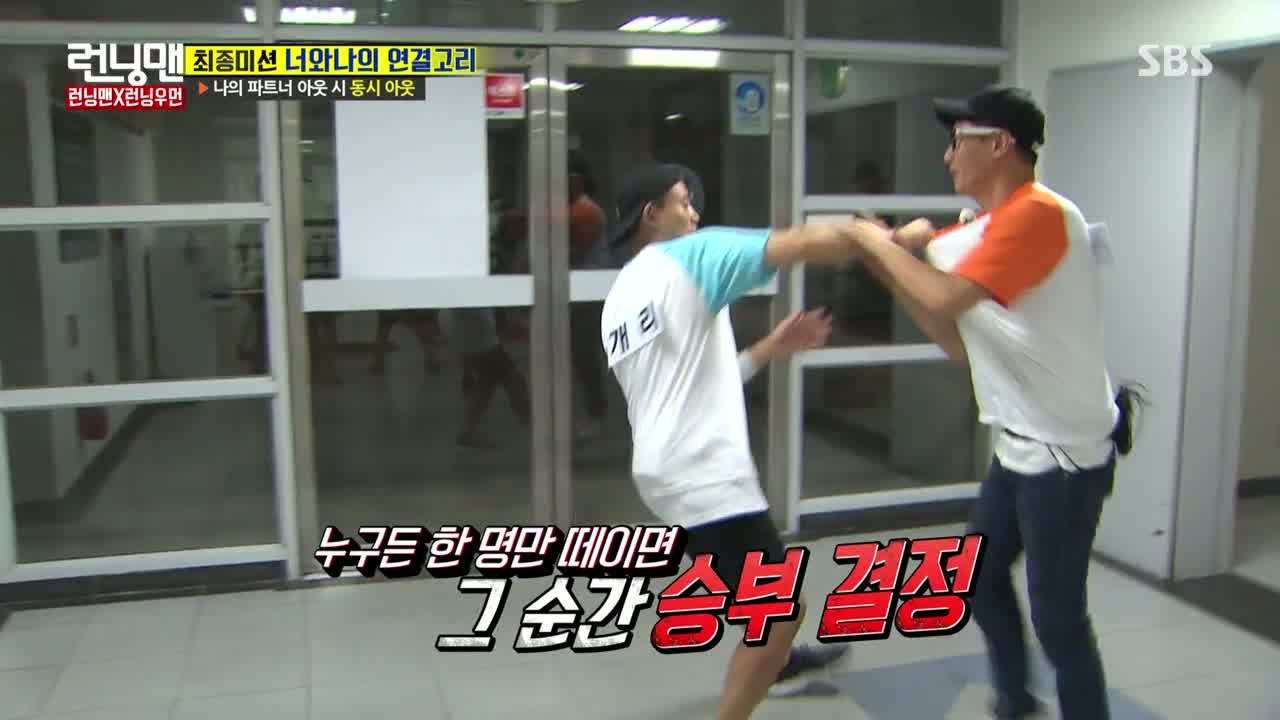 Over in jail, everyone suspects that Ji-hyo and Gary must have the revival chance in their hands. When Jae-sook asks if any of them have it, Jong-kook says they would've already used it. Or would you have saved it until this very moment?
Elsewhere, Moon-sook worries that Suk-jin will be eliminated before she gets to duke it out with Ji-hyo. We cut in and out of these 1:1 battles…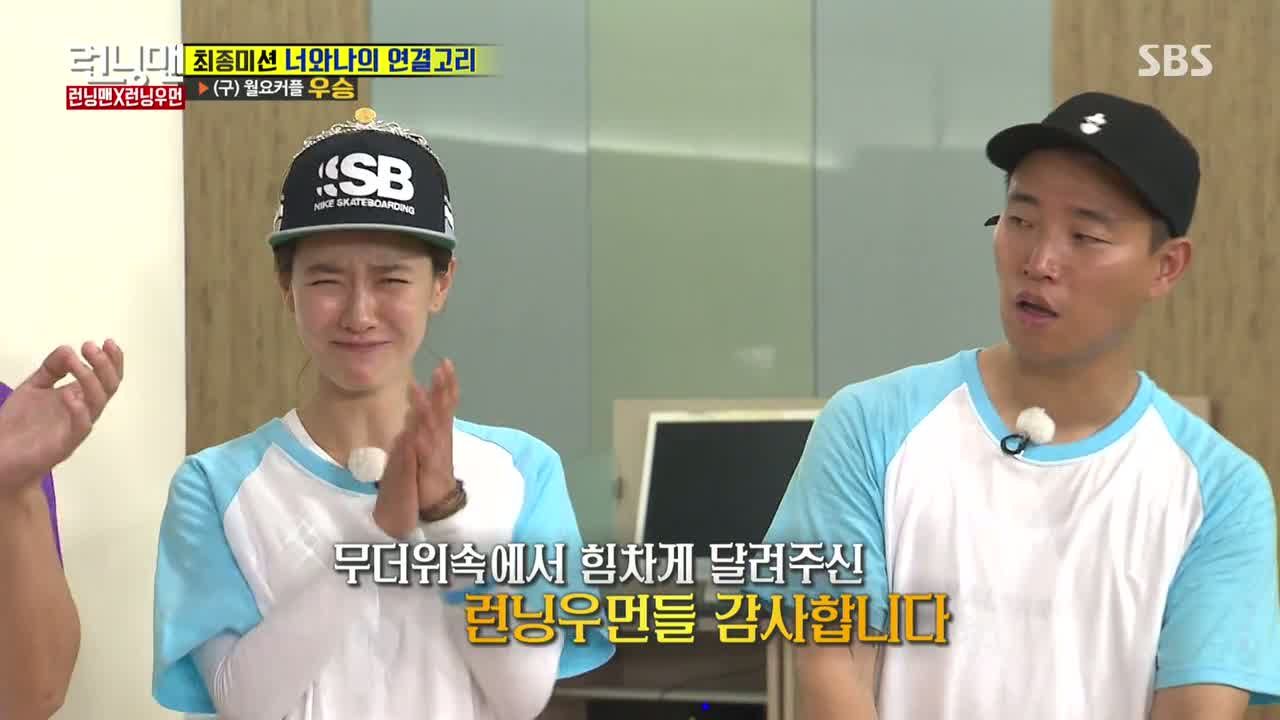 … And we see Gary and Ji-hyo walk towards one another on the bridge. We see that Gary had ripped off Suk-jin's nametag and Moon-sook ripped off Ji-hyo's, but it turns out that Gary had been faster and the other couple didn't have a chance for revival.
Our super Running Man couple are awarded a gold badge and tiara, which is a perfect segue to next week's episode of Moon Lovers: Scarlet Heart: Goryeo Princes.

RELATED POSTS
Tags: featured, Haha, Ji Suk-jin, Kang Gary, Kim Jong-kook, Lee Kwang-soo, Running Man, Song Ji-hyo, Yoo Jae-suk