Team Dramabeans: What we're watching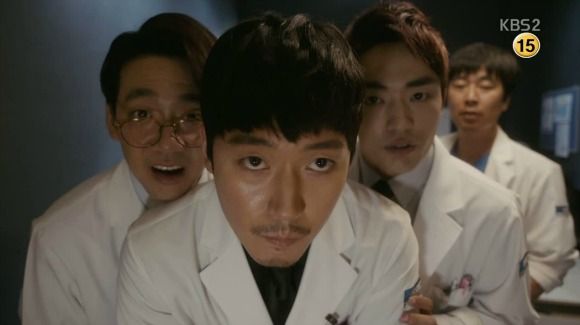 KCON LA came and went this past week (thanks to everyone who came out to hear our panels and play games with us!), so of course we all got behind on our drama-watching as a result. I never like to let myself get more than two weeks behind on a show, because for some reason more than four episodes is the tipping point where I start to feel like it's homework to get caught up. Is that just me? There are only so many hours in the day, and time travel has its consequences! What's your tipping point when you give up on finishing a show? Or am I talking crazy talk, and quitting is for losers? –girlfriday

After the Show Ends: I still don't know how much of this reality-variety setup is real and how much is constructed, but there's an addictive quality once you start getting invested in the couples. There are enough moments of flirty awkwardness and petty jealousy to give the interactions a realistic tinge, like So-hee falling asleep on Suk-jin's shoulder on the plane and Minhyuk feeling slighted ("I have shoulders too!"), or how So-hee sometimes checks to see if Suk-jin is noticing what she's doing. If Suk-jin weren't so self-aware and gruff and conscious of the cameras, I swear they'd be dating by now.
Bring It On, Ghost: Does anyone else feel like the ghost-of-the-week format makes the story too slow? Or maybe there wasn't much story to begin with, and the ghost-fighting scenes pad it out. In any case, I feel like I've been watching this show forever. They're adorable, so yay, but plotwise I'm getting antsy.
Doctors: Namgoong Min! The episodic cases can be rather ho-hum (particularly when they don't tie into the main characters' arcs and are there just to solve), but he made this week's episodes shine.
W—Two Worlds: I have no idea where we're headed, but I don't care; the ride is exciting and unpredictable in the best of ways. I love how his very existence transcends time and space, but I love even more that it's the regular ol' heroine who seems to be the linchpin; I keep thinking she holds the ultimate power in this universe, and just needs to figure out what it is and how to use it. Probably. Maybe. What do I know? This show could change everything in the span of the next episode.
Uncontrollably Fond: I was juuuust starting to consider dropping this, but this week dug a claw in my heart and dragged me back in bleeding. Maybe the light, upbeat promos were the drama's undoing, because rom-com cuteness isn't actually the name of the game, and anyone expecting a cheery romance was in for a disappointment. But now we're in heart-wrenching melodrama waters, and I'm drowning in delicious angst. Teeeeears. Also, Kim Woo-bin looks like he's really dying onscreen and I want to jump in and save him, W-style. Can anybody draw a cure for cancer?
Wanted: I'm all for complex and intricate mystery plots, but this show is in convoluted territory now, where following the specifics of the plot feels like it requires a lot more effort than it should. So mostly, now I'm just watching this for Ji Hyun-woo and his beautiful, beautiful face. (Seriously, he has never looked more beautiful.)
Currently recapping: W—Two Worlds
Doctors: Still watching this, but I often find myself more interested in the side characters and their little stories. I like the lead characters, I do—but they have almost zero conflict to speak of. Meanwhile, Yoon Kyun-sang has a cute potential noona romance going on, and Baek Sung-hyun is stepping it up too. I'm mostly watching it for them now.
Police Unit 38: I didn't like that the second to last week had soooo much setup in preparation for the final heist, but the bromance and the clever twists keep me onboard. Besides, I can't have come this far without finding out what the final twist-upon-twist-upon-twist will be, right?
Bring It On, Ghost: Ack, I got behind on this show while KCON happened! Oh no, I have to spend hours watching Kim So-hyun the sassy ghost and her posse of goofy sidekicks, what ever will I do?
Uncontrollably Fond: Sooooo behind on this.
The Good Wife: Yoon Kye-sang, were you always this hot, and why didn't I know it until now?
Age of Youth: Offbeat, a little unnerving, but also sweet and fun. It's not the light, fluffy campus drama I was expecting, but I enjoy how different each girl is from the rest of her housemates. There's just something nice about a low-key drama that explores female friendships on a micro-level, and I like that these roommates can fight about underwear or crappy boyfriends one moment, and then bond over drinks in the next.
Currently recapping: Doctors

Police Unit 38: I marathoned the whole show up to its current episode over two days, and I regret nothing. Ma Dong-seok is such an endearing ahjussi in this, and his bromance with Seo In-gook is so fun! Misfit vigilante squad scamming the top 1% is right up my alley.
Uncontrollably Fond: There's very little happening, Suzy's delivery often makes her sound like she's whining, and Kim Woo-bin needs a hug.
W—Two Worlds: This show frightens me a little and throws me into my own existential spiral. Everything feels unfamiliar because this show is breaking a lot of rules, but it's executed with style. Basically, it's my favorite rollercoaster ride: stressful, satisfying, and exhilarating.
The Good Wife: I want Hye-kyung to be as vicious and cunning as Tae-joon, but I know she's the good wife for a reason. As jaded as she may be, she maintains her composure with a fine balance of compassion and realism. And that's what I call class.

Yes, That's How It Is: I originally started this in hopes that time would pass more quickly until the start of Song Jae-rim's new weekend drama Our Gap-soon (which also stars his former fake wife Kim So-eun). Now, I've grown fond of it as it's about to end. Yes, That's How It Is has more meaty emotional substance especially in Kim Hae-sook's monologues and less makjang elements than its more successful competitors Five Kids and Happy Home. So it's with a bittersweet feeling, I await the finale of this heartwarming family drama.
Five Kids: It's a surprising day when I feel sympathy for the selfish, spoiled princess character. Yet, that's exactly what happened last Sunday. Aww Jin-ju. Next time, maybe you can find a man who's less of a mama's boy?
Master–God of Noodle: I know I'm late to the noodle party, but better late than never, right? I'm actually really enjoying the backstory of the murderer. I'm only on the third episode and the body count is already like five. Also, I'm in love with Lee Sang-yub's character. He's such a sweetie. I hope he gets a happy ending.
Currently recapping: Age of Youth
W—Two Worlds: I… This… I can't… Ohhhmygod. What is this drama doing to my mind?? The writing has proven to be original and unpredictable, so as I start every new episode, there's already an overwhelming amount of tension, even with scenes where Chul and Yeon-joo are just smiling and talking. I never know what bomb the writer's going to throw next and I love it. More than that, I love how much discussion the show leaves out in the open. Should Yeon-joo care about Chul when he's not even real? What if he is real? How is he real? It creates so much great conflict and I can't wait to see how the Writer-nim handles their relationship. I love the two characters both individually and together (gosh, they're so sweet together), so I'm ready for them to merge their two separate stories into one incredible love story.
Doctors: The pace of this drama has been consistently slow, and I don't see it speeding up any time soon, but I do appreciate the small moments we get with our doctors and their patients. This week in particular had me crying like a baby, thanks to the wonderful Namgoong Min and the theme of struggling fathers.
Five Kids: Jin-joo, nooooo! Please don't give up on your marriage like this. Just talk to your boyfriend, for God's sake.
Currently recapping: Age of Youth
W–Two Worlds: The only show I'm keeping up in real time so far, and it's SO fun to watch. The story is what sucked me in, but I can't ignore the beautiful work Lee Jong-seok is doing so far (those eyes! Those tears! Those trembling lips!).
The Good Wife: I'm a few episodes behind, but Jeon Do-yeon kicks ass. That is all.
Doctors: I checked out the first episode this week, just out of curiosity, since I could totally use a fluffy romance right now. And…eh. I don't see an episode two in my future.

RELATED POSTS
Tags: 1 show to rule them all, After the Show Ends, Age of Youth, Bring It On Ghost, Doctors, Master–God of Noodle, Police Unit 38, The Good Wife, Uncontrollably Fond, Wanted, What We're Watching, W–Two Worlds