Uncontrollably Fond: Episode 13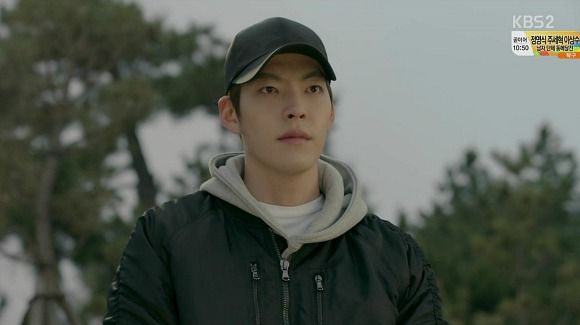 With all this self-imposed misery going around, it's incredible that somewhere in all the suffering, a tiny seed of positivity manages to bloom. Not everyone is content to wallow in a torment of their own making, and at least some good can come of all of this trauma and anguish people are imposing on themselves. And when that little spark of goodness starts to stand up and make itself known, not even the strongest person could fail to see it shine.
EPISODE 13 RECAP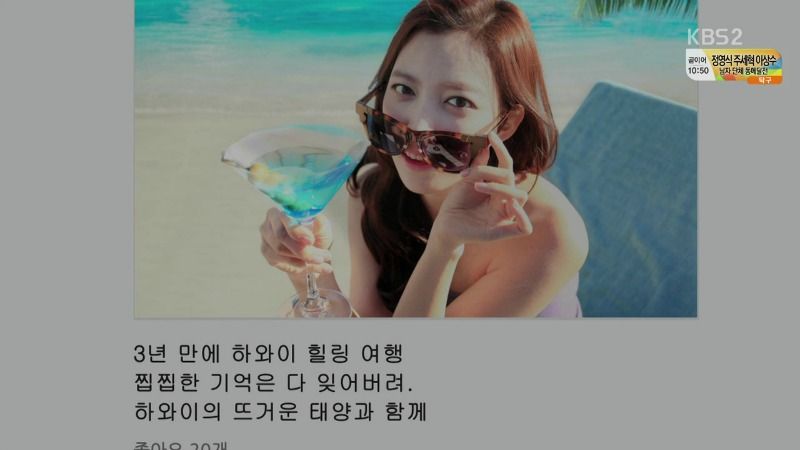 In a flashback, we see again Eul's witnessing of her father's accident, and how the driver just left him lying there dying in the street. Eul never saw the driver's face, only that it was a woman, but we know that it was assemblyman's daughter Yoon Jung-eun.
The scenes intercut between Jung-eun and Eul, highlighting the chasm between their lives in the aftermath of the hit-and-run. Jung-eun had enjoyed her carefree life, taking a "healing" vacation to Hawaii where she could erase her "dirty memories," and getting cozy with her future in-laws. Meanwhile, Eul worked tirelessly to find her father's killer, to no avail.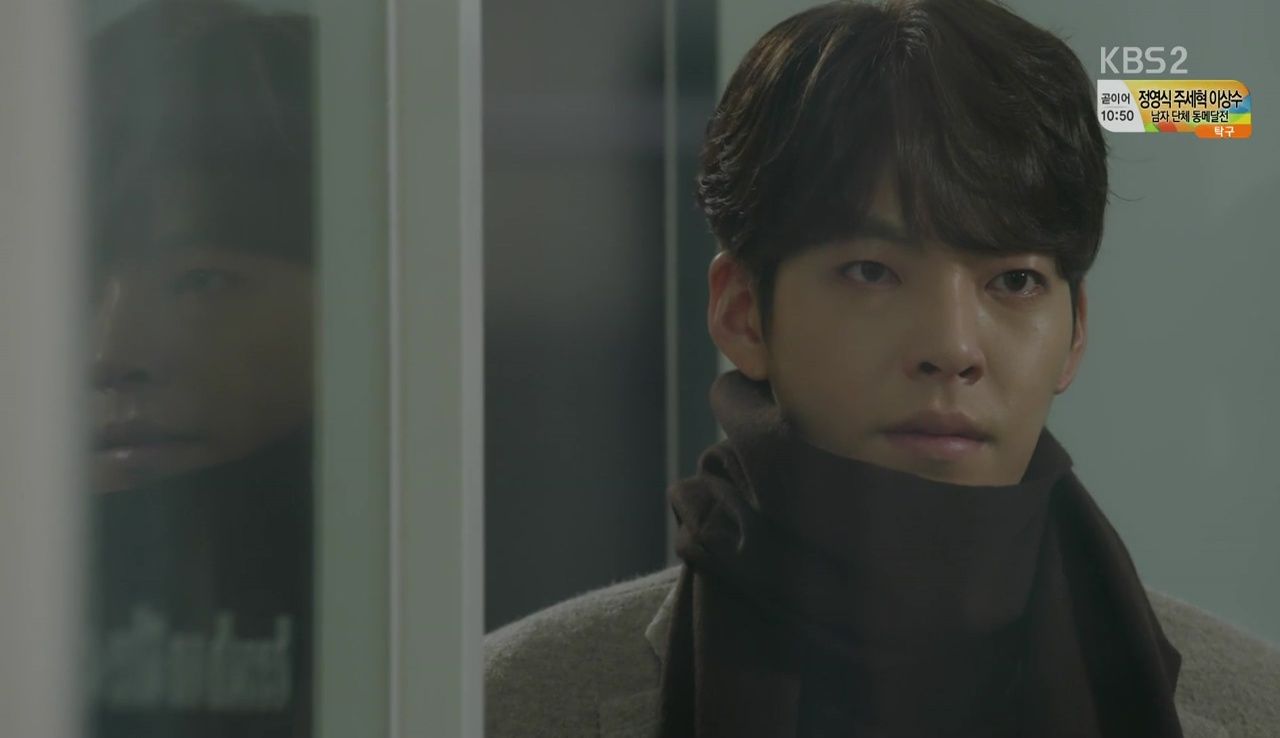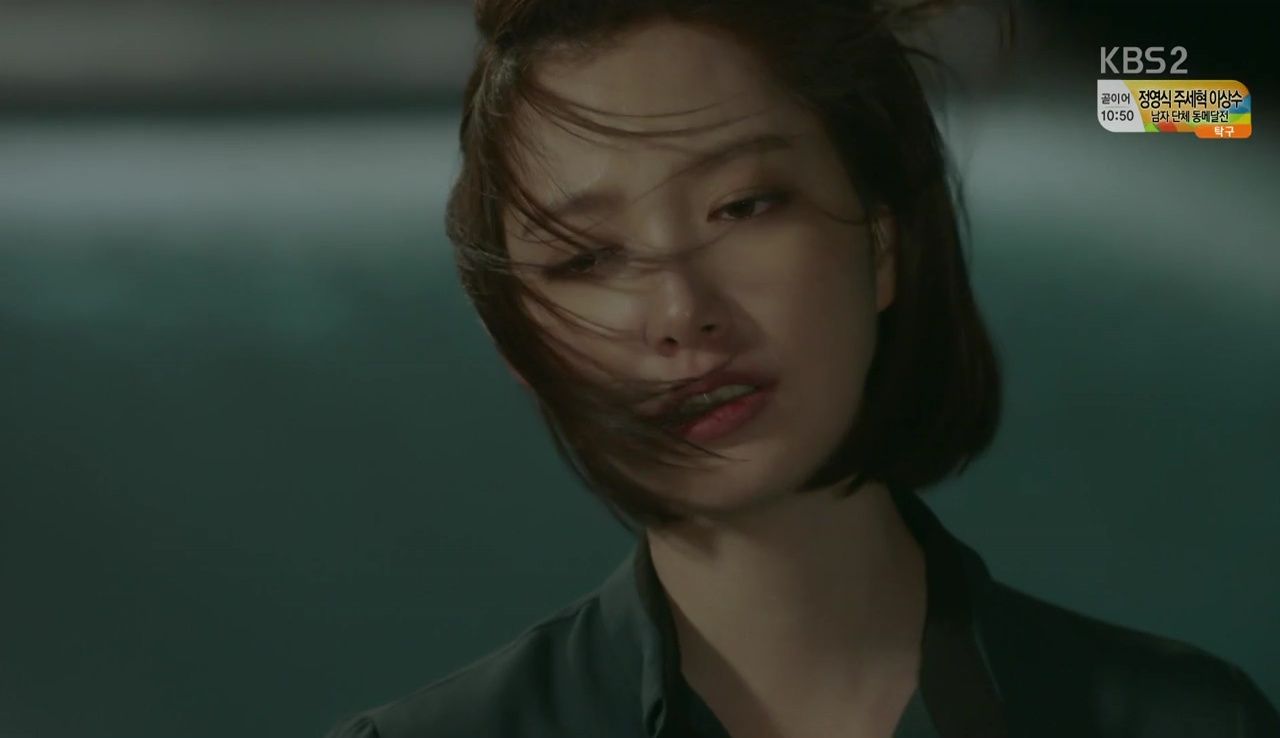 Now Joon-young knows Jung-eun's part in the accident, and tracks her life through her social media account. He'd been doing that while watching Jung-eun drink, taking in all the pictures of Jung-eun living it up on the beach, knowing that Eul spent those years miserably fighting for justice.
He'd followed Jung-eun to the pool area, going over the details in his mind — the CCTV cameras had been broken in the area where she hit Eul's father, and the witnesses changed their statements. And that's why he was there to save Jung-eun when she fell into the pool.
Now, Joon-young's team stares when he changes his mind about making the movie, because Jung-eun is the new team manager: "I heard she was really pretty." They don't buy it since Jung-eun is supposedly engaged, but Joon-young sticks to his story, even willing to take the part from the rookie actor who already accepted.
He does pause for a moment when Gook-young tells him that Jung-eun isn't marrying just anyone… she's marrying Ji-tae, and will soon be Assemblyman Choi's daughter-in-law. But he has a plan he's determined to carry out, and it involves being in this movie to gain regular access to her.
Upon arriving at the hotel where he'll be filming, Joon-young spots Jung-eun talking with the movie's other star, Seo Yoon-hoo, and reminds himself that he's on borrowed time — there are 46 days remaining before the hit-and-run's statute of limitations runs out, and he has between thirty and sixty days left to live. He approaches the pair confidently, taking pleasure in Yoon-hoo's dismay that he's going to be in the movie with him.
Eul is staying at the hotel where the movie is filming, since she's filming the behind-the-scenes footage for rival star Yoon-hoo. Ji-tae finds her there and insists on bandaging her blistered heel, tightly reminding her that they're supposed to be dating. He piggybacks her through the lobby, where they run into Joon-young and Jung-eun, only now meeting each other formally.
Ji-tae puts Eul down, and she walks straight up to Joon-young. She takes out her phone and dials his number, and when it rings, she calls him out on ignoring all her calls and texts. Good for her — and to Joon-young's credit, he looks abashed.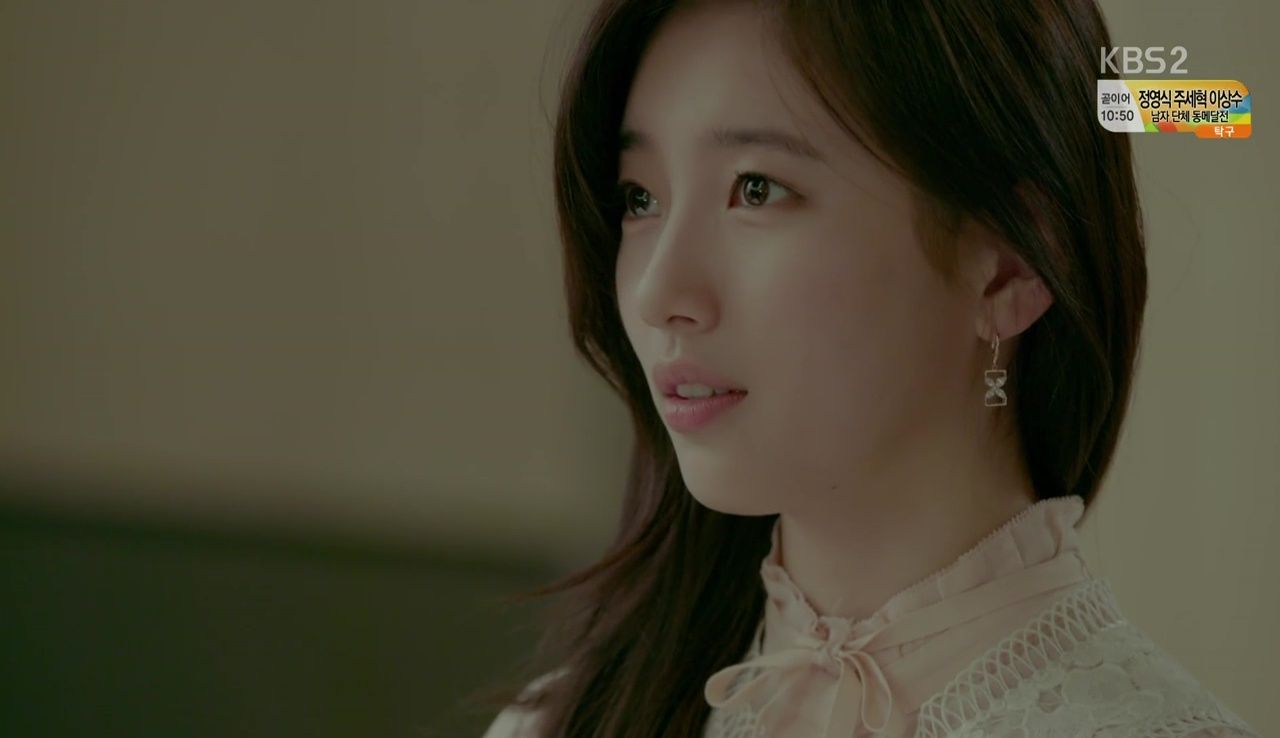 Eul asks why he's been ignoring her, and Joon-young can't give a better answer than "Just because." Eul is ready to light him up, but Joon-young says that he's in no mood to hear her out, and quickly leaves before she can say anything else. Eul also leaves to find her room, leaving Ji-tae to deal with Jung-eun.
She just glares at him accusingly, and he says a simple "I'm sorry." But he's not sorry for standing her up at their engagement ceremony — he's sorry for not making his decision sooner and confusing her. It's all he has to say, and he goes to catch up to Joon-young and invite him for a drink.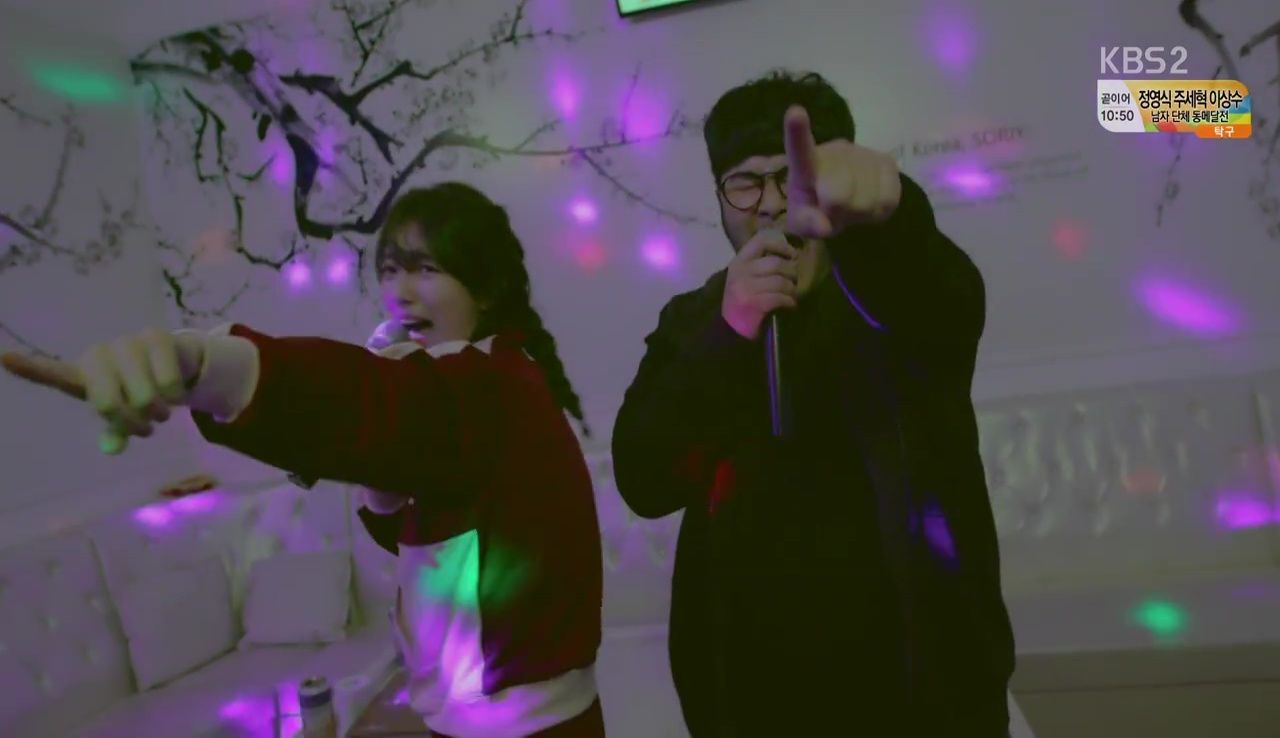 Eul also stops to pick up some soju, but she thinks better of it, knowing her tendency to get drunk and get in trouble. Instead she calls her work sunbae and invites them to go out, and they end up at a noraebang. Ha, Eul is partying her heart out, while he looks frankly terrified. He eventually gets into it, and they dance and sing the night away.
Ji-tae and Joon-young are having a much more sedate evening, drinking together like gentlemen. Joon-young cheerfully denies being here for Eul, claiming that he's here to film the movie and for Jung-eun. He reaches for his drink but Ji-tae down it instead, pointedly mentioning that Joon-young is too sick to be drinking.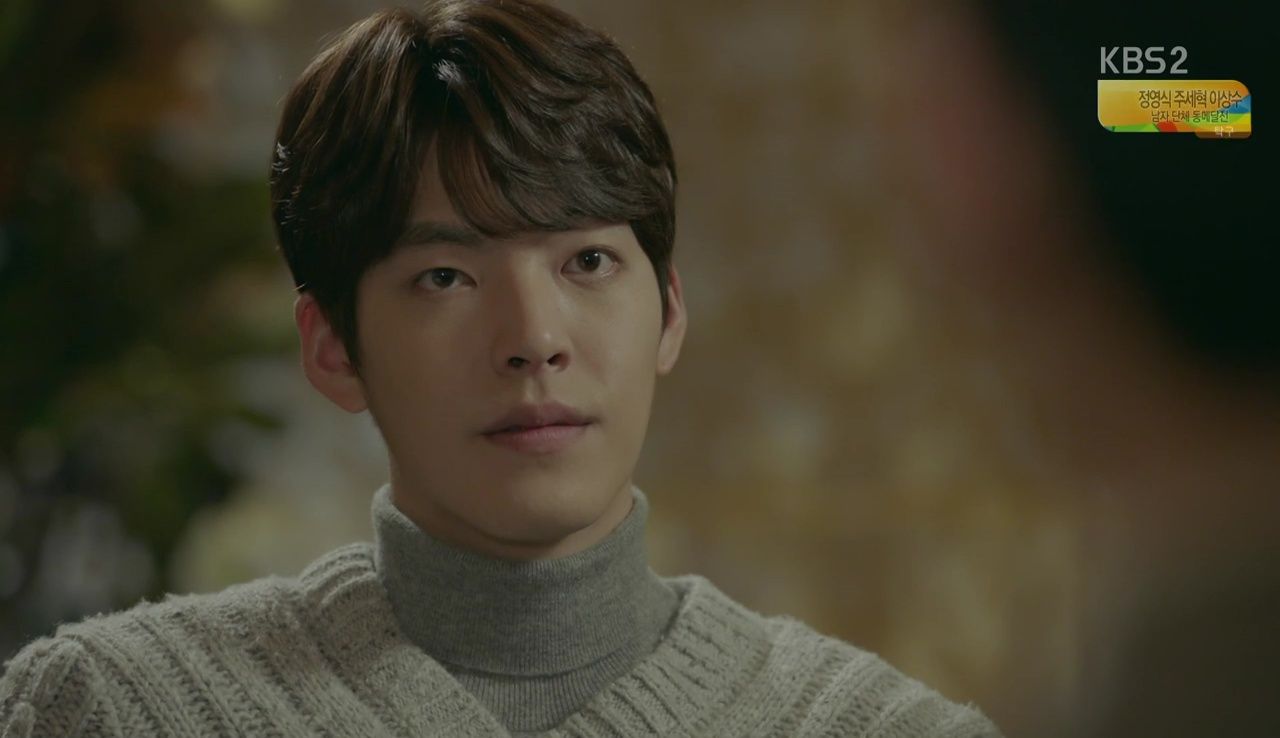 Joon-young denies that too, but Ji-tae knows better, and he even knows the name of the cancer Joon-young is dying from. He carefully says this in English so that nobody nearby will understand, and Joon-young gulps to realize that Ji-tae knows his secret.
Ji-tae tells Joon-young to look after himself, and to let Ji-tae look after Eul. It would sound nice except that he follows it up by saying that Joon-young can't take responsibility for Eul since he's dying soon, and to stop confusing her. Joon-young can't even think of anything to say in response.
Eul sees Joon-young's stylist Man-ok at the noraebang being harassed by a group of men, and though she tries to ignore them, she can't help but get involved when Man-ok starts to sound genuinely frightened. Eul runs at them, screaming and brandishing her shoe like a mighty battle sword.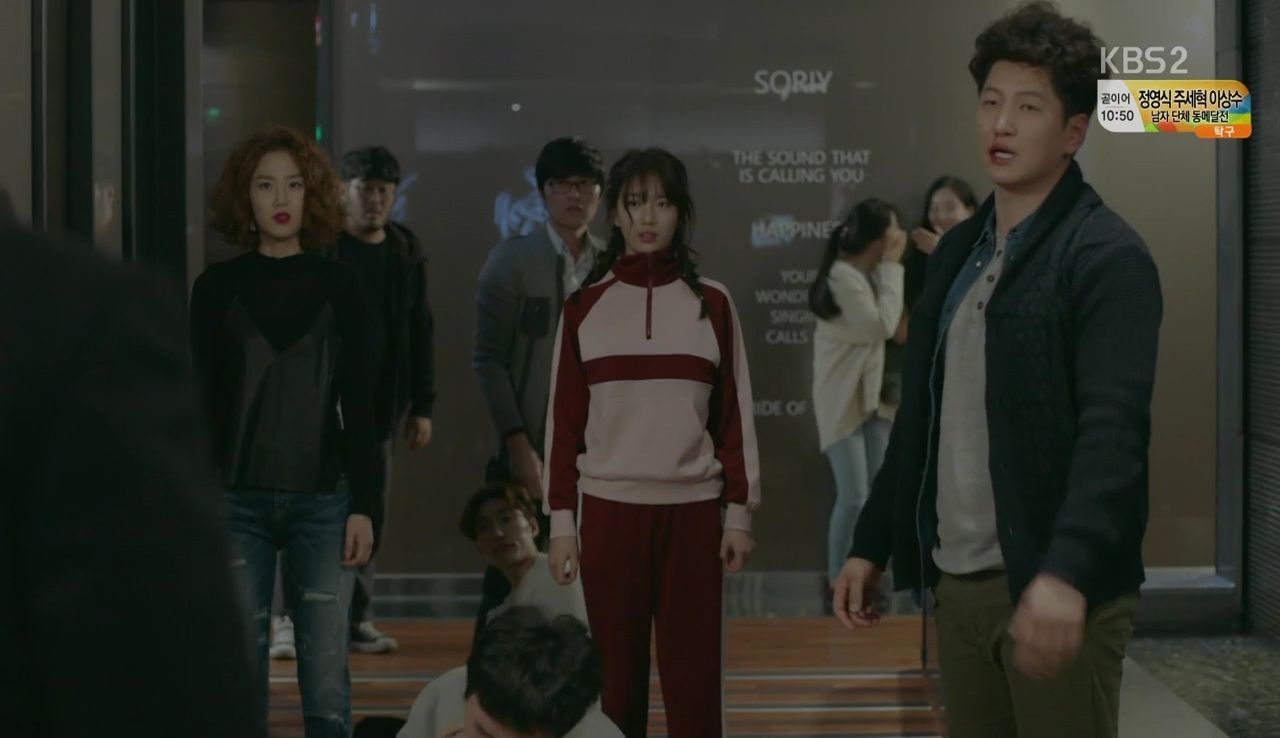 Joon-young calls Gook-young and HA, all you can hear in the background is Eul's screeching. It's an all-out brawl over at the noraebang, with Eul and Man-ok holding the upper hand and Gook-young backing them up. Joon-young shows up and yells HEY!!, and they all leave off fighting.
It's a struggle, but Joon-young ignores Eul, and just calls Gook-young and Man-ok outside. Eul follows him out anyway and explains that the men started it, and Gook-young was only helping. Joon-young acts like he doesn't care, but when Eul says she got hurt and shows him her battle wounds, his eyelids flicker just a bit.
She sees him caving and really plays up her injuries, though she can't decide which rib she thinks is broken, hee. But Joon-young can't help but remember Ji-tae's angry words that he has no right to her, so he just asks an employee of the building to take her to the hospital.
Ji-tae wakes the next morning in his hotel room with a wicked hangover, and realizes that Jung-eun is in the room with him. He's furious, but she's there on behalf of his mother, and she calls Mom to report that he's awake and hands him the phone.
His mom tells Ji-tae that she's replaced him as investment team leader and director with Jung-eun, and asks him to stay on the team to support her. He easily agrees, which seems to displease his mother, so she tells him to get out of the hotel room — it's not for regular employees. Damn.
That doesn't get the response she wants either, so she starts to fuss at him for his drinking. Ji-tae interrupts, dropping the cheerfully polite tone, and tells her that she can do whatever she wants with him so long as she doesn't touch Eul or anyone around her. He says this staring straight at Jung-eun, the message clearly for her as well, and he promises that he won't let it go if anything happens to Eul. He leaves her with the reminder of which "card" he's holding — a veiled threat to out her manipulations to his father.
Ji-tae hangs up on his mother and hands the phone back to Jung-eun, congratulating her sarcastically on her promotion. Jung-eun just says that she'll wait until he comes back to her, promising to resign when he does, but Ji-tae swears that will never happen.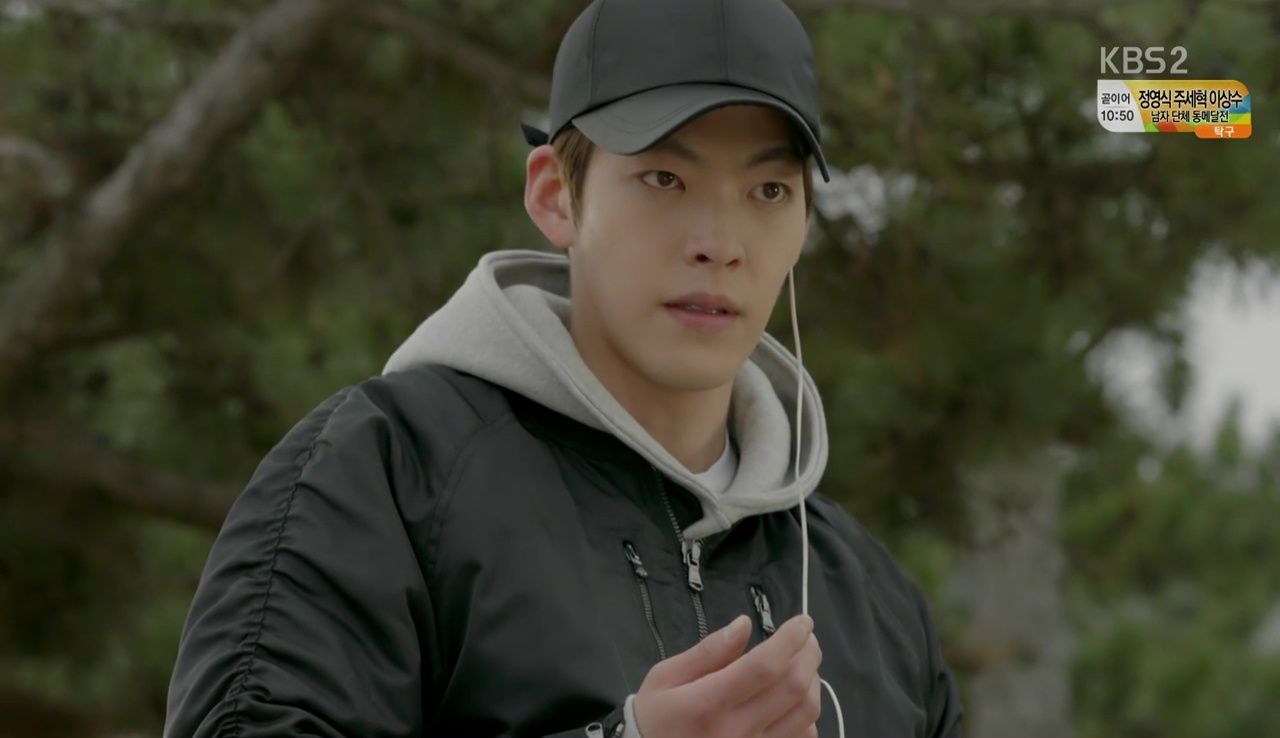 Joon-young goes for a morning jog, looking as healthy as a horse, until he trips over his own feet and goes sprawling. He jumps back up all right, but then has trouble picking up his dropped water bottle. He looks at his hand as if it's an alien thing, and recalls how his doctor said that he'd start to struggle soon with even simple motor functions.
Eul has a nice shiner after her fight the night before and rubs an egg gently over the bruise up in her hotel bathroom. She thinks about Joon-young's refusal to help her last night and gets angry, and accidentally cracks the egg on her face, ha. Then she slurps up the raw egg, ick, and calls downstairs for another egg.
She goes for a walk and runs into Joon-young sitting at the beach, watching the waves shift in and out of focus. He closes his eyes, and opens them to find Eul standing right in front of him, and she pretends she's looking for some dropped money. She accuses him of hiding her money in his shoes and orders him to take them off, but when he stands to leave she grabs his hand and stops him.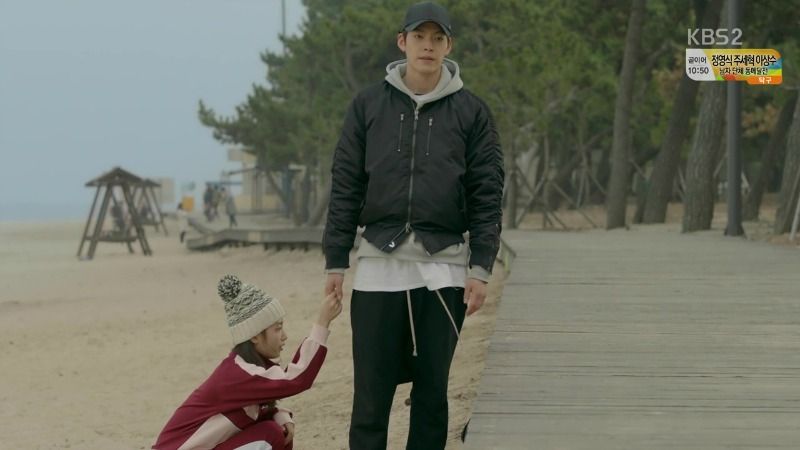 She says that she can't believe what people say, that he's avoiding her because he's afraid that she'll have a bad influence on his reputation. She knows him too well to think that he'd run away from something like that. But Joon-young twists his hand away and says that she doesn't know him.
She stands, insisting that she does know him, that she knows everything. She even knows what he's thinking right now — that he missed her. She's right, but Joon-young says that things must be really simple for her, imagining everything in her favor.
Eul ignores him and says that she misses him, too, very very much. She takes his hand again and says she'll see him later, and every day from now on. She gives Joon-young a sweet smile, and leaves him looking a little broken.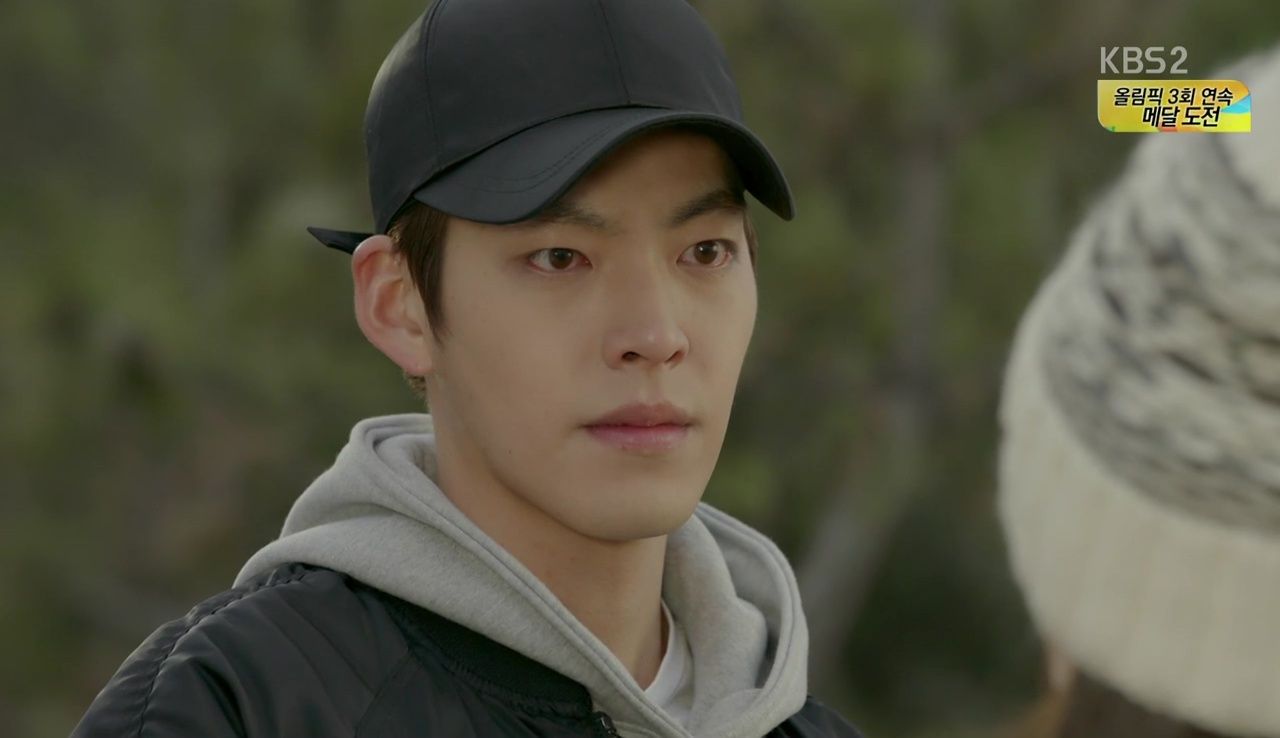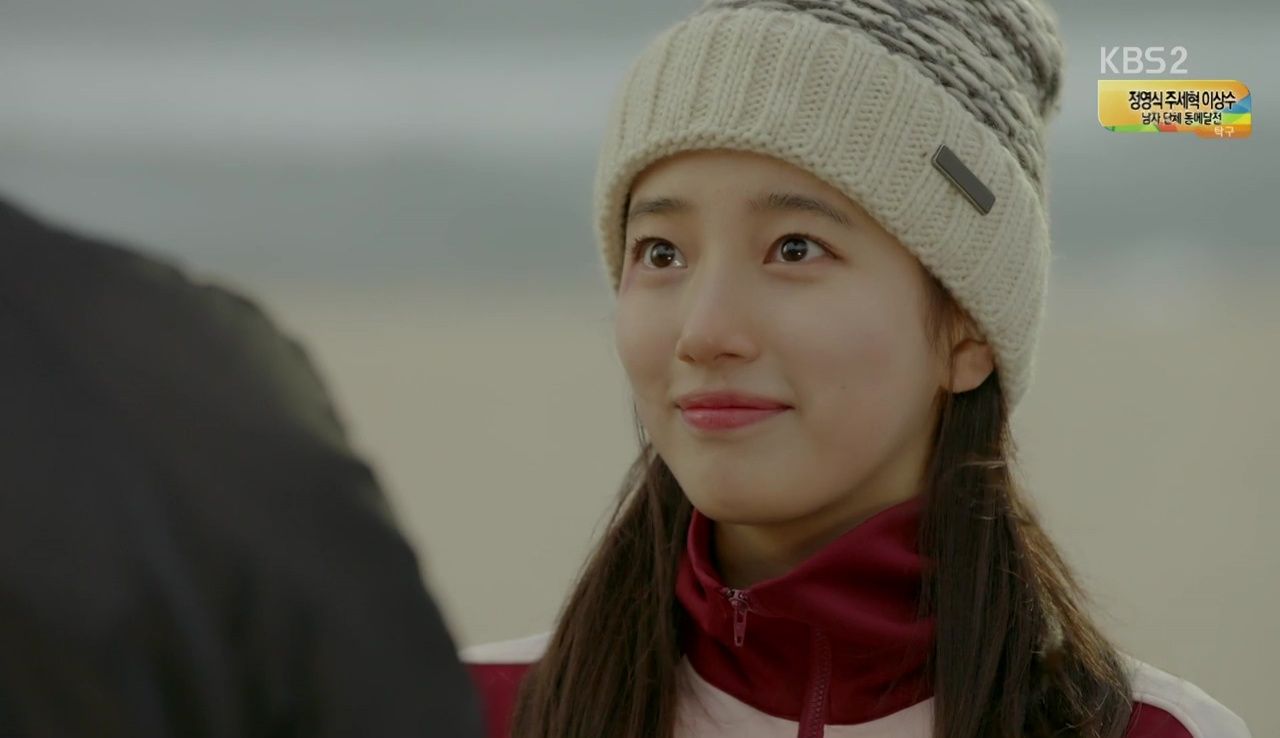 After running into Assemblyman Choi outside Joon-young's house, Joon-young's mother is so distracted that she's serving people things they didn't order, and Ajusshi is so worried about her that he's not doing much better. He gently helps her not over-season the food, which she barely even notices. She's thinking about how she and Assemblyman Choi went for tea to talk, and they'd both been painfully nervous.
After several minutes of awkwardness, Assemblyman Choi had asked Mom why she'd been at Shin Joon-young's home, and whether she ever got married. She'd been saved from answering by Ajusshi, whom she'd called over, and she'd yanked him down to sit and announced that he's her husband.
Assemblyman Choi's face had fallen as he'd watched Mom and Ajusshi holding hands. Mom had said that Ajusshi is Joon-young's father, and that they live apart because he didn't approve of Joon-young becoming an actor. She asked in turn why Assemblyman Choi was at Joon-young's house, and he'd just stammered that Joon-young had saved his life.
Haru takes out all of Jik's friends for a meal in order to pump them for information on him. Jik finds them and accuses Haru of stalking him, but she's more interested in the fact that his school nametag says "Noh Jik," when he'd told her his name is "Oh Jik." She figures that makes Eul his sister, and Jik warns his friends not to tell her anything about him.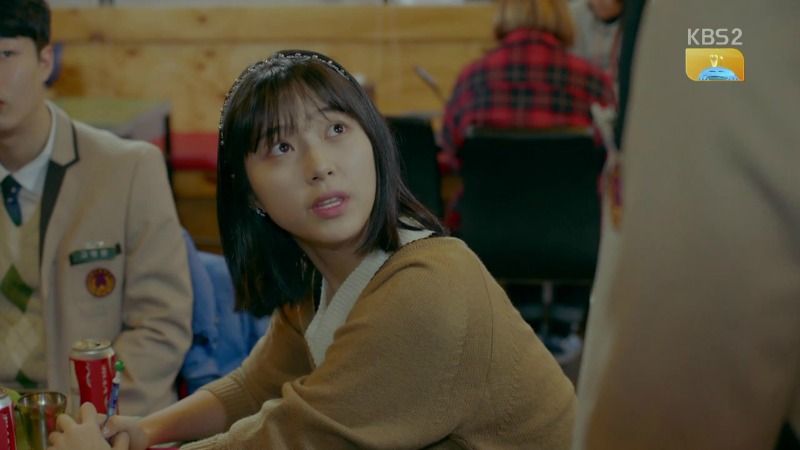 He tries to pay for their food, but Haru objects, and Jik's friends all chant that they should date. Jik is not amused, and when Haru tries to stop him from paying, he accidentally knocks her down and she bumps her head.
Next thing you know, they're at the sunglasses store where Na-ri works, after seeing a doctor for Haru's sudden amnesia. HAHAHA, really? That's hilarious. Jik doesn't know what to do since she doesn't know who she is or where she lives, and he can't find her phone to call her family.
Na-ri asks Haru a few questions, and based on the answers ("What's the capital of South Korea?" "San Francisco!") she decides that Haru is pretending in order to stay near Jik. Jik wonders why she'd go to these lengths for him when she must be very popular, being so cute and all.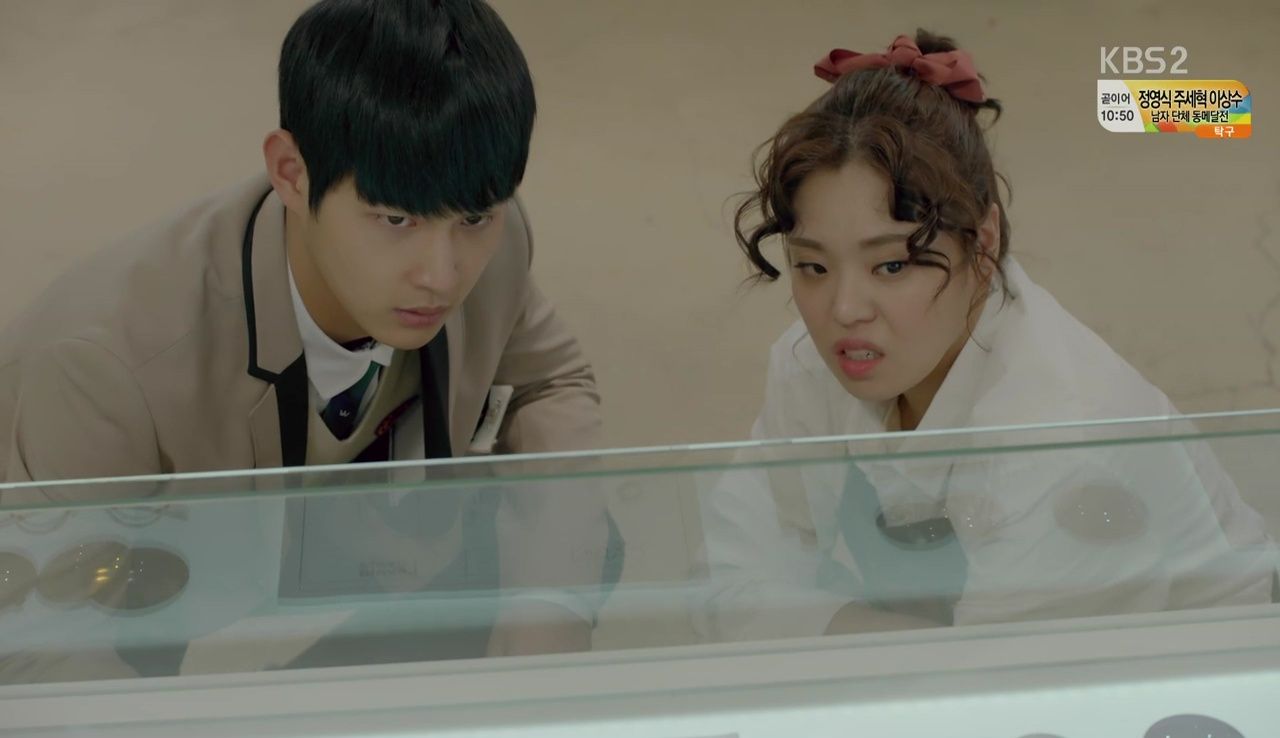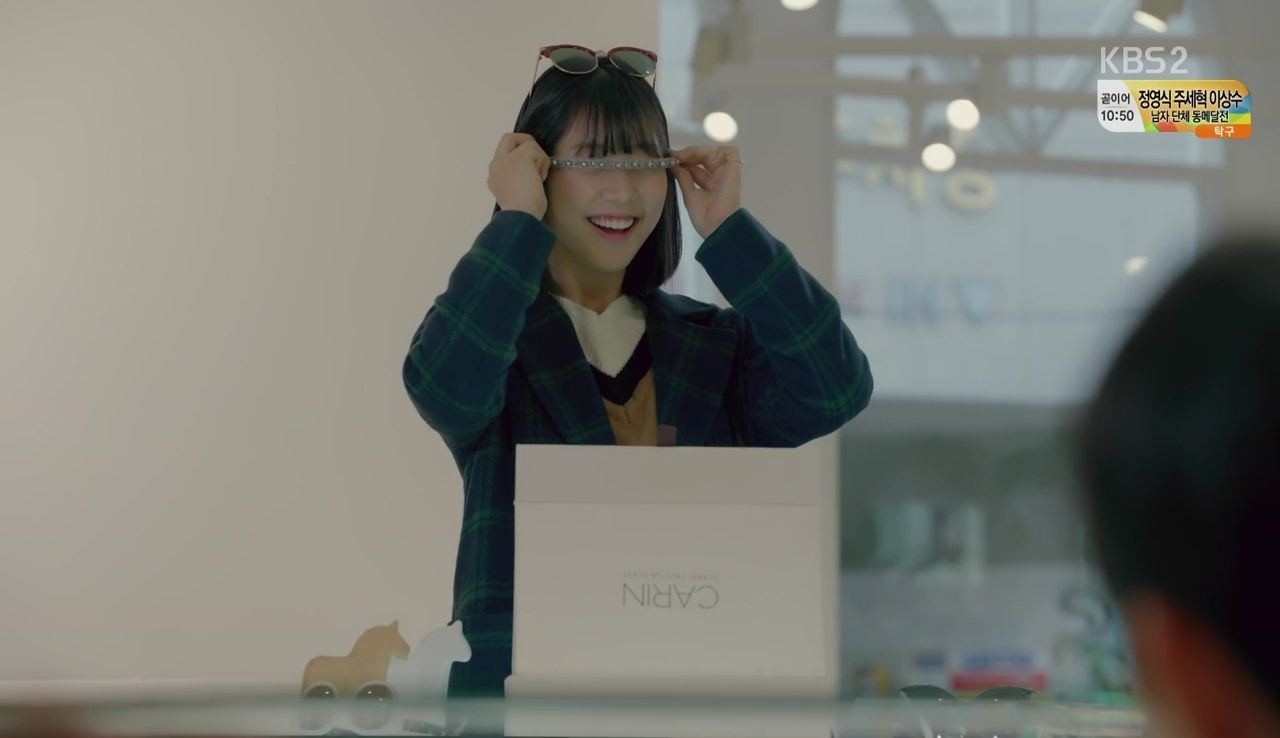 He takes a book out of Haru's bag which he finds filled with information about him, but ha, it's all incorrect. He tells Haru to just ask him if she wants to know something, and Haru smiles happily, forgetting her amnesia ruse.
Eul forgot to dry the one pretty dress she bought, so she's forced to go to Yoon-hoo's shoot today dressed in her stained old sweats. Yoon-hoo is not pleased at her sloppy appearance, and Joon-young arrives on set to find Yoon-hoo bellowing at Eul for showing up looking like this.
Yoon-hoo whips off Eul's sunglasses, revealing her black eye, and that just makes the finicky actor even angrier. As it turns out, the men Eul was fighting at the noraebang were on Yoon-hoo's staff, and Gook-young hollers that they're the ones who gave her the black eye in the first place.
Eul's sunbae tries to smooth things over, but Yoon-hoo tells Eul to leave. He screams again that he can smell the kimchi on her clothing, but Joon-young just stands there, doing nothing to help. Not that Eul needs it, because she looks Yoon-hoo straight in the eye and says that she just needs to film well — what does it matter how she's dressed? She says that this happens when people work hard, and there's no shame in being dirty from work.
Yoon-hoo keeps insisting that Eul leave, and grumbles that this must be why Joon-young fired her. He calls over to Joon-young that he should have told him that Eul was nuts, and Joon-young's hand curls into a fist. But he keeps his voice pleasant as he says that he didn't know Eul was working for Yoon-hoo, or he would have warned him.
Yoon-hoo turns back to Eul, and vows to make sure she never works in the entertainment industry again. Eul just picks up her bag and walks away, not even sparing Joon-young a glance as she goes.
Ji-tae spots Eul in the hotel lobby, and she apologizes for getting fired when he worked so hard to get her this job. He takes her for coffee and Eul says that she heard he got fired too, in favor of Jung-eun. He tells her that Jung-eun was almost his fiancee, but that he called it off for her.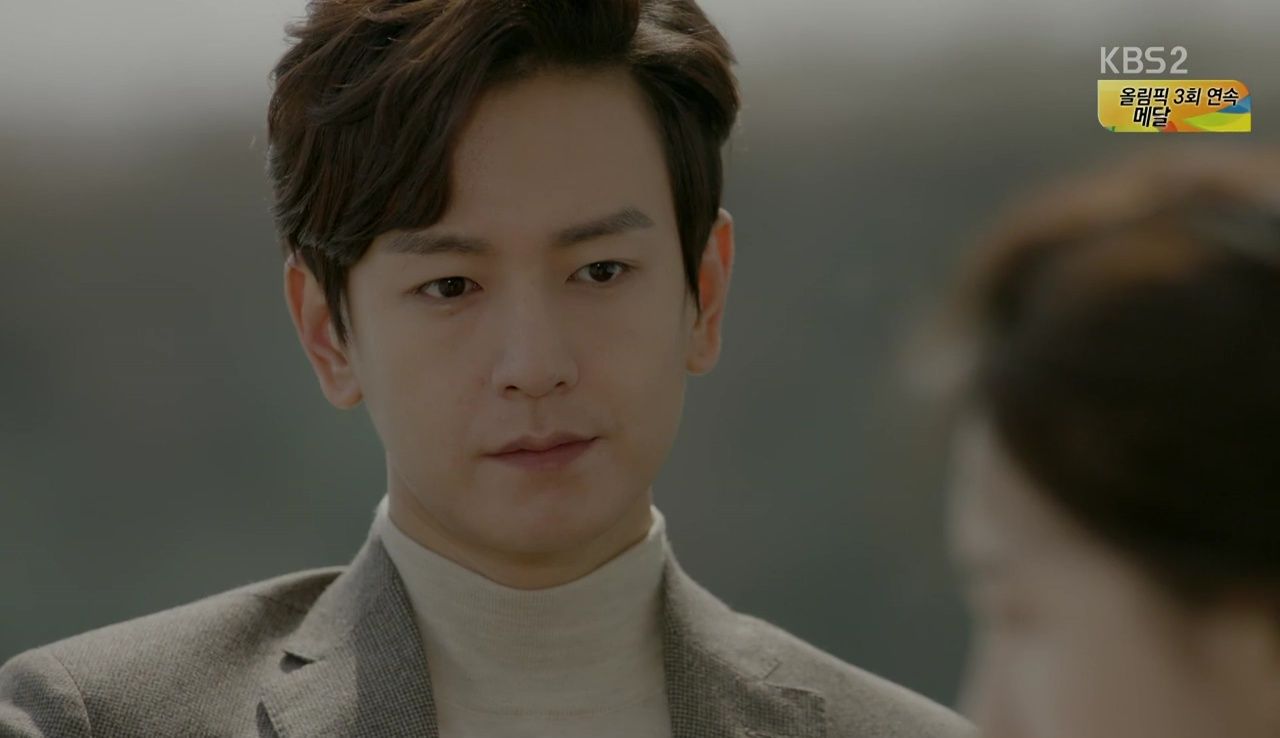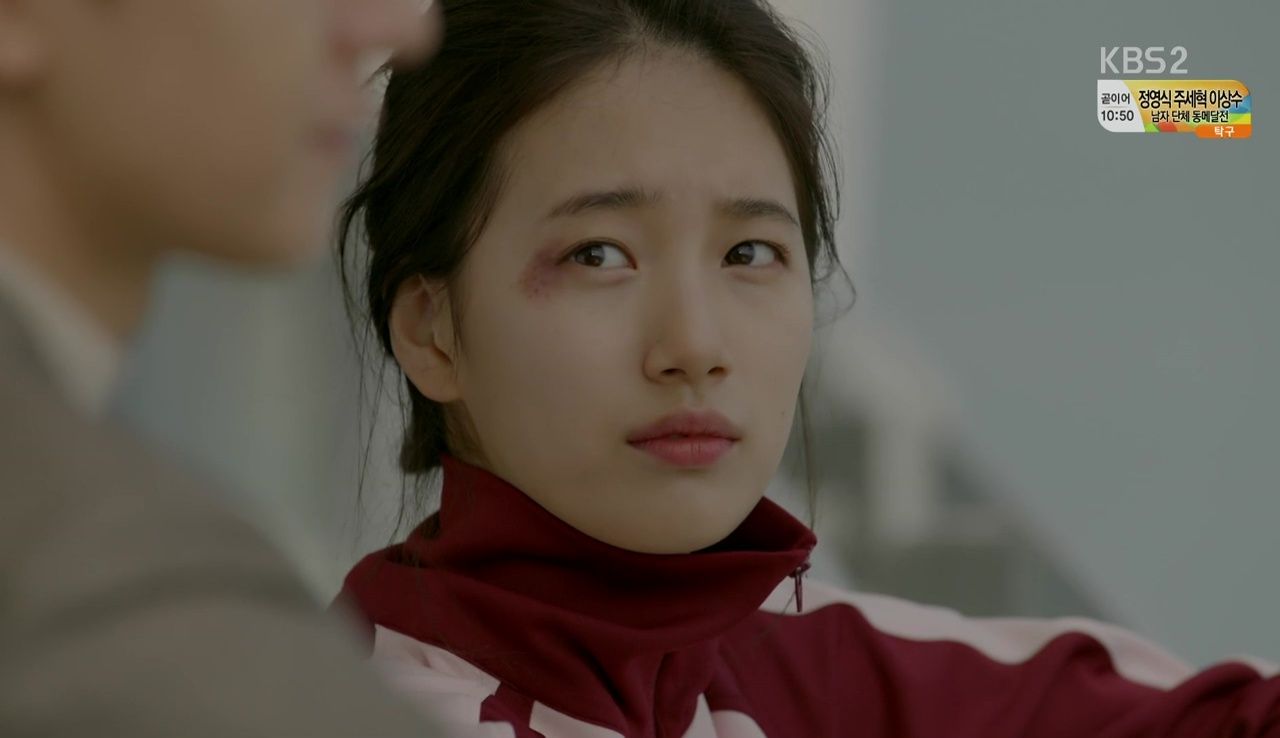 Steeling himself, Ji-tae asks if Eul really likes Joon-young that much when she always ends up hurt. She turns the question around on him, reminding him that he called off an engagement just to get hurt. Ji-tae says that he's just being smart, because she'll come to him if he waits long enough.
Eul says bluntly that it will never happen, referring to their positions in life, but Ji-tae says that you never know for sure. He brightens and offers to take her back to Seoul, and go on a date.
Gook-young is so angry with Joon-young for letting Eul be treated that way that he quits his job as manager. Wait, isn't this the guy who locked Joon-young in his own home to keep them apart? In any case, Gook-young is furious that Joon-young didn't defend Eul, and he swears he can't work with him anymore.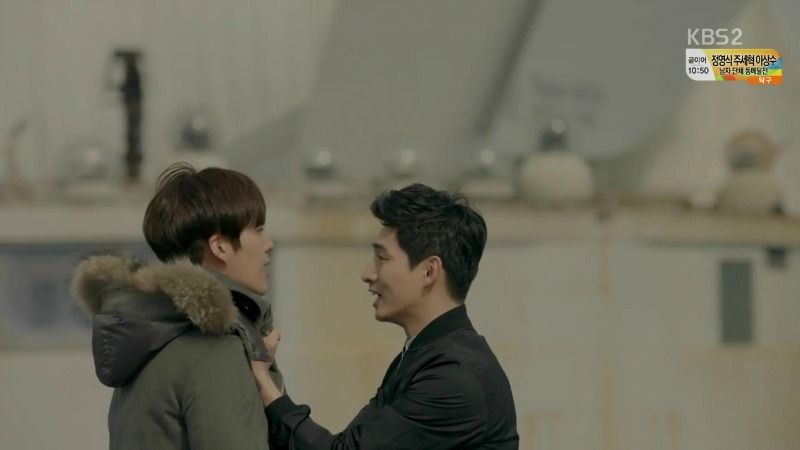 Filming begins on the movie, and they start with a scene where Yoon-hoo's character holds a gun on Joon-young's character. Joon-young invites Yoon-hoo to shoot, even nudging the gun with his head, and Yoon-hoo throws down the gun. He grabs Joon-young's lapels and tells him to name everyone he killed, then he can die.
Suddenly Joon-young slips out of character and kicks Yoon-hoo to the ground, then kneels above him to deliver punch after punch, a wild glint in his eye. Joon-young gets in several hits, rendering Yoon-hoo unconscious before the director stops things.
Shooting is canceled, and Joon-young swears to Jung-eun that he thought it was in the script to hit Yoon-hoo, and that he'll accept it if Yoon-hoo decides to sue him. Jung-eun suggests that Joon-young apologize before the reporters find out, but he says that once Yoon-hoo broke his nose in a similar situation and he didn't apologize. He'd just said that these things happen when actors get carried away.
Joon-young suggests they just call this thing off, but this is Jung-eun's first project and she cares that it goes well. Something about that changes Joon-young's mind, and he asks which hospital Yoon-hoo is being treated in.
They visit Yoon-hoo and Joon-young easily apologizes, but Yoon-hoo isn't interested in accepting his apology. Jung-eun reminds Yoon-hoo that he did something similar once, but Yoon-hoo is sure that this wasn't a mistake as Joon-young claims.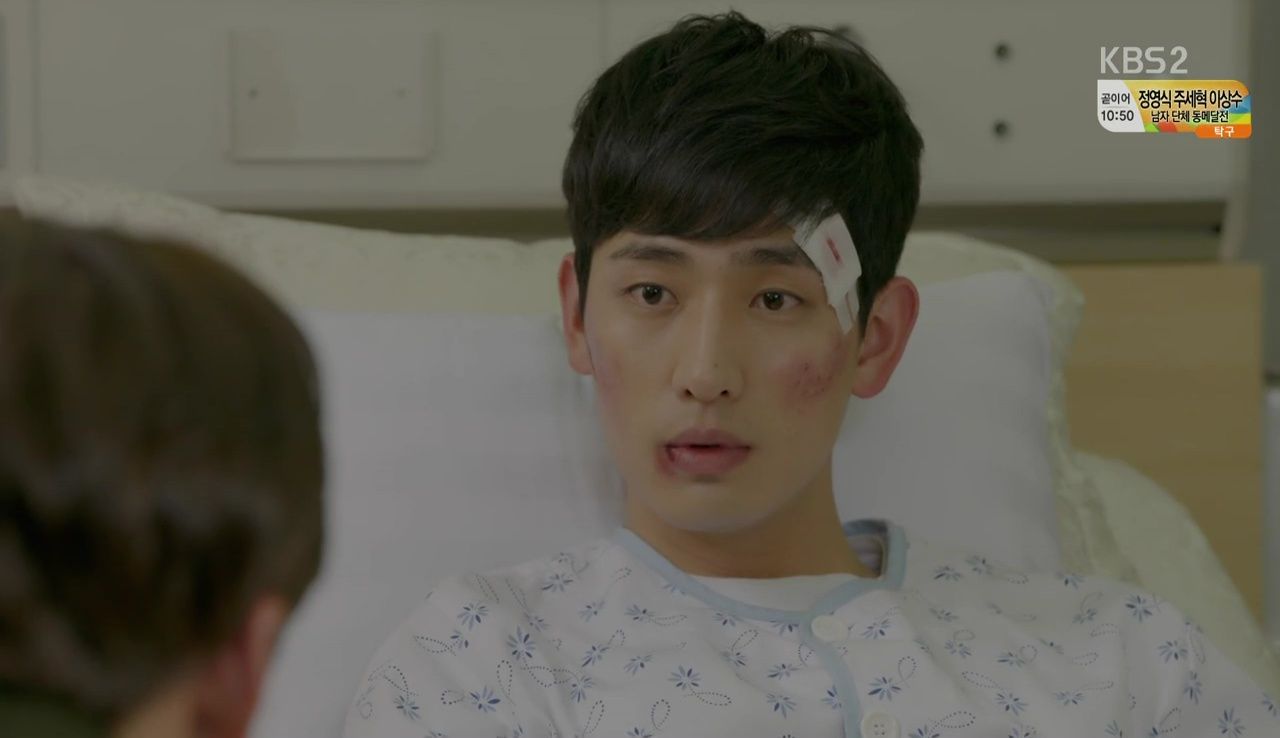 Joon-young is all wide-eyed innocence — why would he do such a thing on purpose? Yoon-hoo orders him to kneel if he wants forgiveness, which offends Jung-eun, and she offers to kneel instead.
But Joon-young grabs her arm and keeps her standing, and he kneels and bows his head. He apologizes with a great big grin, and Yoon-hoo is forced to accept the apology.
Joon-young heads back to the hotel where he sees Eul waiting outside his door, and she asks almost hopefully if he hit Yoon-hoo because of her.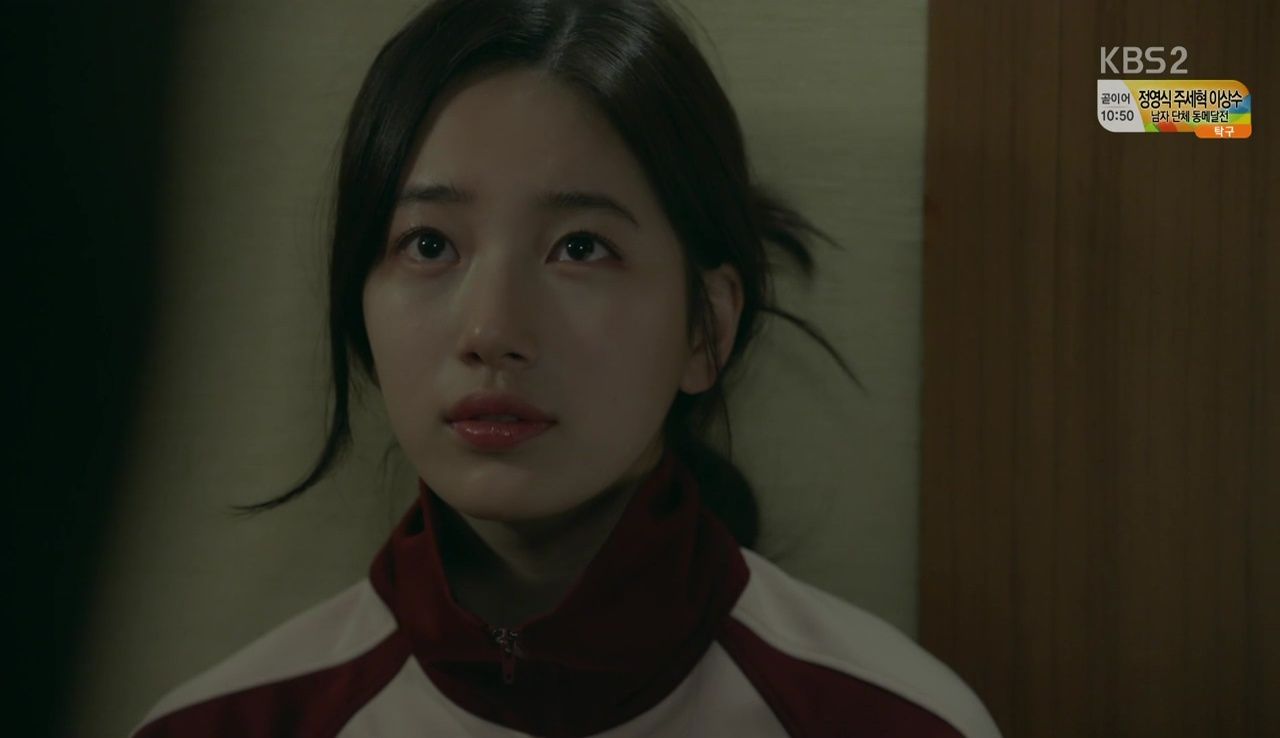 Joon-young tells her she's making things up again, but she pushes her way into his room behind him and says that she knows that he did. She asks why he pretends he doesn't care about her, and follows him into his bedroom. He doesn't answer, but just says that he's tired and going to sleep.
Eul tells Joon-young to act however he wants towards her — it won't hurt her. Joon-young just grabs her by the shoulders and pushes her onto the bed, landing on top of her. In a soft voice, he asks, "Do you want to sleep with me?" He slowly starts to unzip her top, and murmurs for her to speak now if this isn't what she wants.
Eul doesn't say a word.
COMMENTS
Well, that was about as forward as it gets. I'm gonna need a moment.
Okay, I'm better. First off, I've had all sort of compassion and sympathy for Ji-tae until now, but he totally lost me when he basically told Joon-young to leave Eul alone and go die. His saying that Joon-young should stop confusing her since he can't take responsibility for her wasn't wrong, but damn, did you have to say that so cruelly? Joon-young knows he'd dying and he has already pulled back from Eul, so he didn't need to have his illness and his loss of the woman he loves shoved in his face like that. It was unnecessarily mean of Ji-tae to say such a thing, since it's not like he's done anything for Eul up to this point other than break her heart. How dare he accuse Joon-young of confusing her, when he's been doing it for YEARS??
At this point I'm just sick and tired of his self-centered moping, and I'm ready for something to shake him up and make him realize that he's not the moral center of the universe, and he doesn't have the right to tell anyone how they should live, whether by lying or by saying it openly. I'm also not thrilled with his comment to Eul that she'll come to him if he just waits, which made him sound like a vulture just waiting for joon-young ot die so he can swoop in. But I do admire Ji-tae's commitment to responsibility, but he's taking it to an extreme that's not doing himself, or anyone else, any good. I still like him and his strong sense of right and wrong, I just think he's got some strange ways of behaving, and I want him to just walk away from all of this drama and go be happy somewhere far, far away.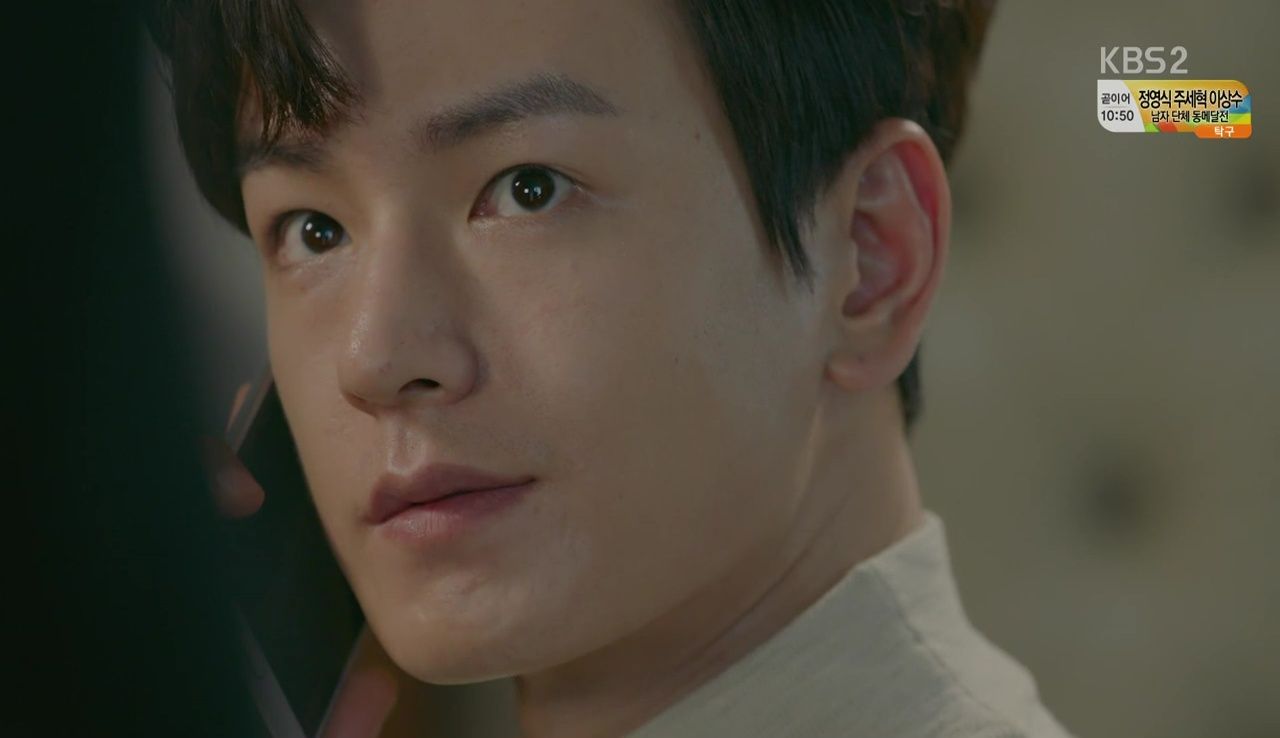 On the other side of things, I still want to smack some sense into Joon-young and snap him out of the self-imposed funk he's wallowing in. Of course he's depressed, seeing his life slipping away and being unable to do anything about it, that much is normal and in that sense I actually think he's holding up very well. But this whole "I don't deserve to love Eul because I made a mistake and because of who my father is" business has got to go. I understand that it's a cultural thing to take on the guilt of your parents, but it's just ridiculous for Joon-young to think that a man who got his mother pregnant but hasn't contributed to his life in any way whatsoever, should have any bearing on whether or not he deserves to spend the last few months of his life with the woman he loves. That's a leap of logic I can't get behind, and as far as his causing Eul's accident, I want him to forgive himself already. He didn't do it on purpose, he had absolutely no intentions of her getting hurt. It was an accident, nothing more, and he did not trade his own life for Eul's. His own illness is also just a fluke, and doesn't make him unworthy of love.
What does make him unworthy is his lack of honesty with Eul, and from that angle I do think that Joon-young doesn't deserve to be with her. If he had been honest from the beginning then yes, Eul may have guarded herself against falling for him. He basically tricked her into loving him by lying, and making her think they actually could have a future together. It's not right to be with someone, or avoid them, because you think that you have any right to decide their life for them. Now he's lying by letting Eul believe that he's staying away from her because of his career, which is much more personally hurtful than telling her that he's sick. But he can still earn the right to love her by speaking out and telling her the truth, that he's sick and just wants to be loved for who he is while he's still here. He's not giving Eul enough credit when he takes that decision away from her.
But it's not all bad, because I was really proud of Eul in this episode, standing up for herself at every turn while keeping her sense of dignity and self-respect. She's changed a lot, from stopping herself from drinking and getting into trouble, to maintaining her control when verbally attacked by Yoon-hoo and Joon-young at the same time. But she didn't let this thing with Joon-young turn her into a meek little mouse — she's still standing up for herself, just in a more mature, dignified way, and it's really beautiful to see. She still got into that fight at the noraebang, but that was in defense of someone who was being harassed and physically assaulted, so in that case I think her fight was justified. And anyway I wouldn't want to see Eul completely suppress her scrappy spirit just because of a guy. No matter how beautiful he is.
RELATED POSTS
Tags: featured, Im Joo-eun, Im Joo-hwan, Kim Woo-bin, Suzy, Uncontrollably Fond