Uncontrollably Fond: Episode 15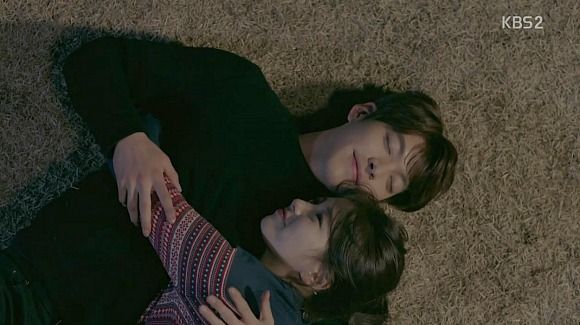 Is a lie really less painful than the truth, when the lie is causing pain to the one it's supposed to protect? Especially when the truth will come out eventually, and the backlash could cause ripples of pain for years to come. At least some fences are being mended — and it's a good thing, because time is quickly running out.
EPISODE 15 RECAP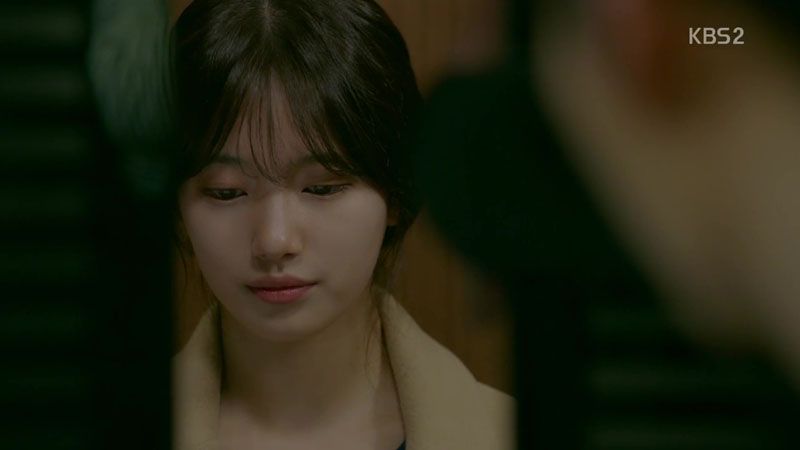 After Jung-eun screams at Eul at the restaurant, telling her to go kill herself if she's truly sorry, Eul is finally able to escape. She only gets as far as the elevator before her evening grows even worse, though. She talks to Joon-young in her head, telling him about the dream she had last night of seeing him, as the doors open to reveal Joon-young standing in front of her.
Eul thinks that, unfortunately, in her dream she saw him at the worst, most humiliating moment of her life. Eul steps into the elevator without a word to Joon-young, while he steps out. But before the doors close he turns, and stops them.
Joon-young steps into the elevator and just silently takes Eul's hand. He chooses this romantic moment to quip that it looks like her coat ate her entire meal, and guesses that she must be hungry. Eul thinks that she knew it was only a dream, but she was still excited, and his hand was unbelievably warm.
Joon-young takes Eul back to his place and makes dinner, while she just watches him like he might disappear at any moment. He starts to feed her the first bite, but tastes it first himself, then drops the utensils and rushes to the kitchen to spit it out.
Eul smiles at his antics then digs in, while Joon-young warns her that it's so bad it might kill her. She thinks that it's the first meal that he's ever cooked for her, so of course she should eat it. And even though she knew it was only a dream, it was still awful, ha.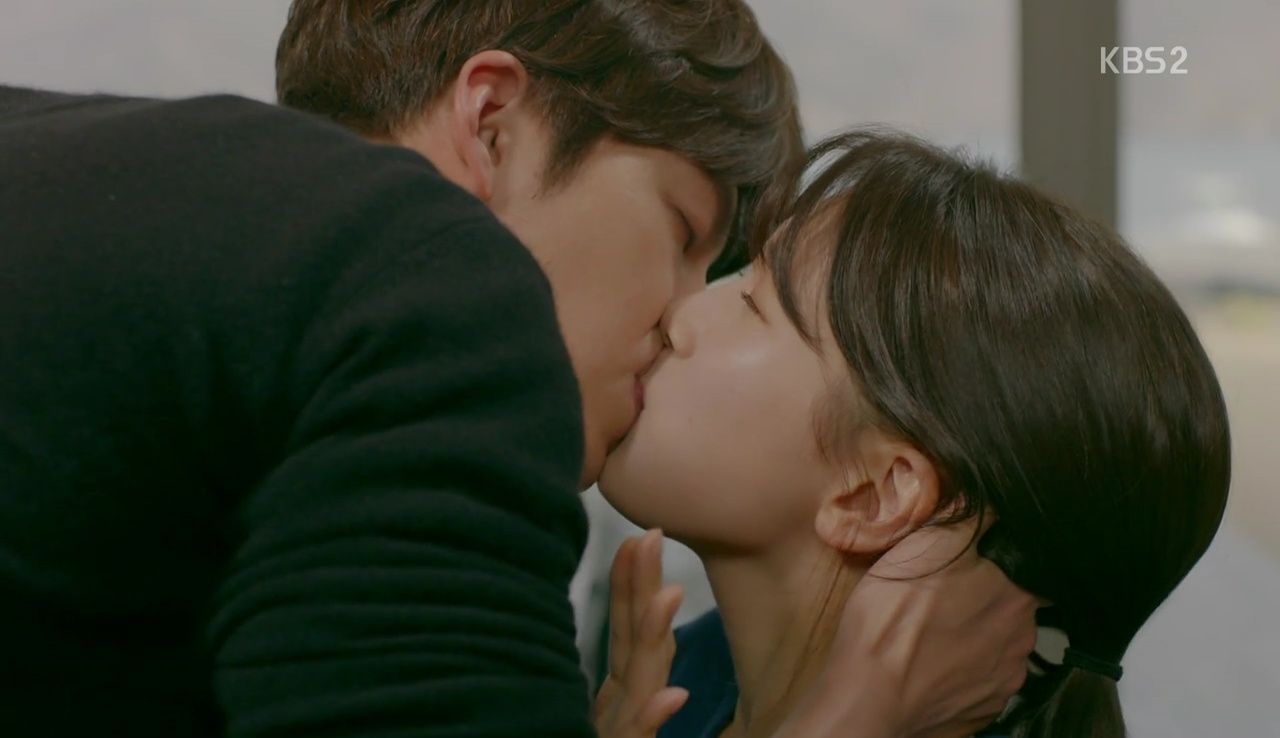 She asks for some kimchi, and Joon-young complies, but not before swooping down to give Eul one hell of a kiss. Her mouth is full of pasta so she tries to tap out, but Joon-young doesn't even care, and her hands just flutter helplessly. Eul says how desolate and lonely it feels to be in a dream that you know is a dream.
They snuggle on his patio later that night, playing games and talking, and it's no surprise that Joon-young is a big fat cheater. Eul loses and Joon-young chases her to deliver her punishment, then collapses, clutching his side.
But he's cheating again, and he grabs Eul when she leans over to check on him, and they lay there in the grass hugging and kissing. Eul warns the morning never to come, and vows to haunt anyone who wakes her from this dream.
And it was a dream — in reality, they pass each other at the elevator, and Joon-young never stops that door from closing.
Ji-tae confronts Jung-eun for her treatment of Eul, but Jung-eun has gone off the deep end and is threatening to kill Eul. Ji-tae grows very quiet, and says, "Wasn't once enough?"
He reminds her that she already put someone's life in danger once because of her behavior, and tells her not to speak so casually about ending someone's life. He turns to leave and Jung-eun grabs his arm, begging him not to go to Eul.
A calm voice interjects, "Just let him go," and they both turn to see Joon-young. Joon-young pulls Jung-eun's hand from Ji-tae's arm, and says lightly that she can hang out with him instead. Ji-tae leaves them and goes after Eul, but she's already left the building and is ignoring his calls.
Once they're alone, Jung-eun thanks Joon-young for repeatedly coming to her rescue. But she asks him why he's doing this if he has no interest in seducing her. Joon-young asks if it would work if he were trying to stir her heart. Not to get revenge on Eul, or to show Ji-tae what he's losing. He just wonders if she's sincerely interested in being seduced by him.
Then he corrects himself: He's asking her to seduce him, to make him forget Eul. "I want you to fill my head with only thoughts of you. Can you do that?"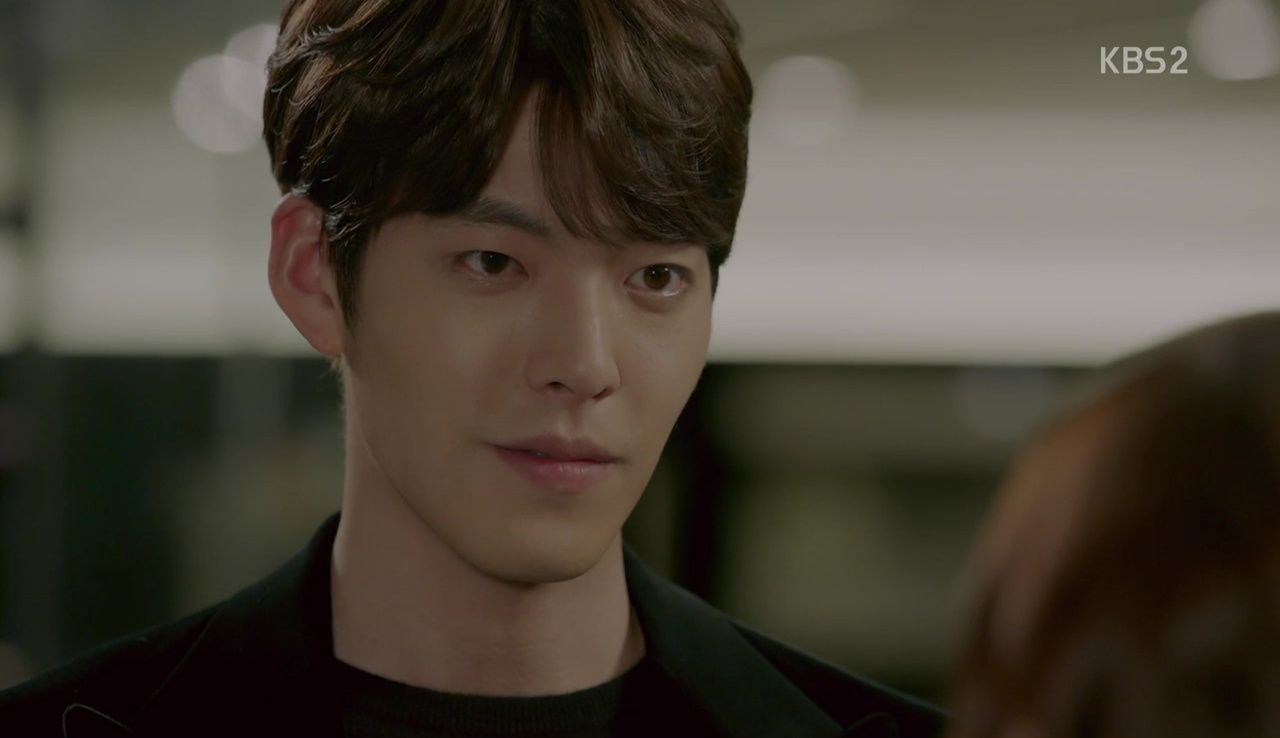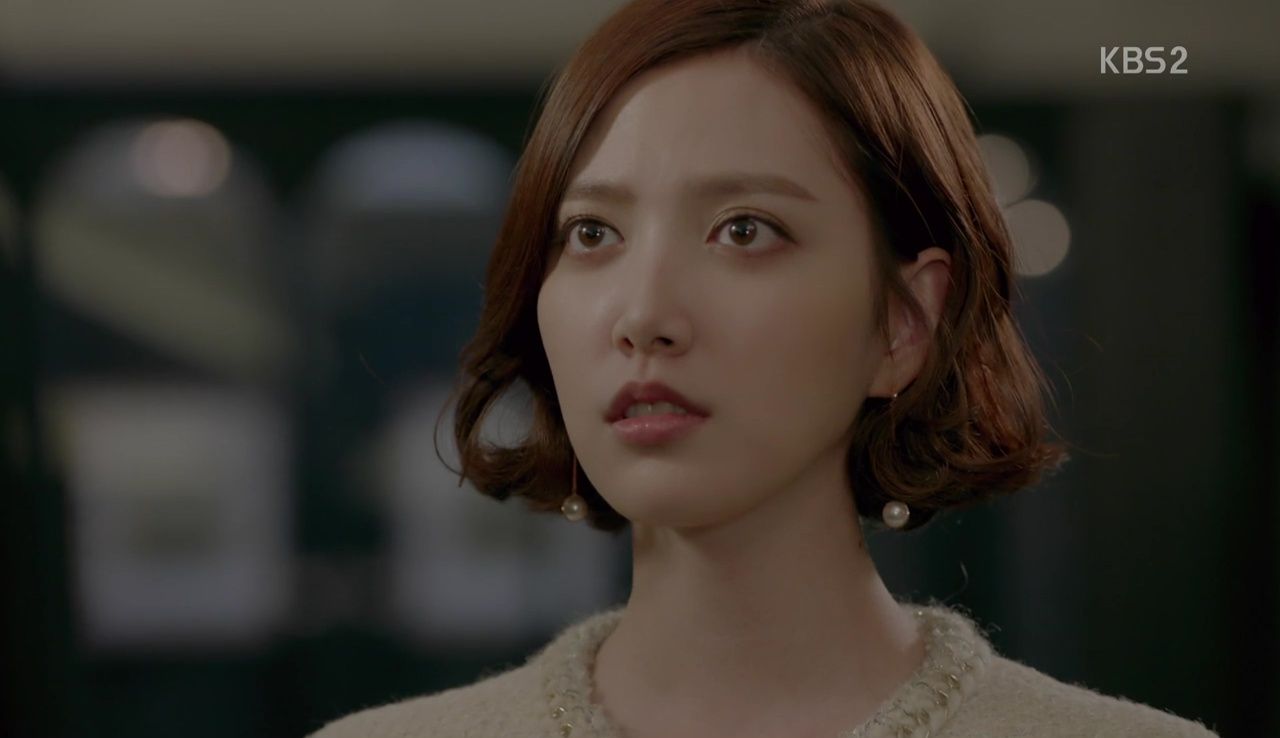 We don't hear Jung-eun's answer, but when Joon-young goes back to his car, Ji-tae calls him demanding to know what he's up to, and why he approached Jung-eun. Joon-young says that he did it to help Ji-tae, adding that he should do one good thing before he dies.
Joon-young's flippant tone annoys Ji-tae, but Joon-young just says that he can buy him a drink to show his gratitude. He hangs up and seems to deflate, and wearily lays his head on the wheel.
Eul had left all of her expensive purchases outside overnight, and Na-ri wakes her in the morning to complain that it's all been stolen. She's upset that Eul's just wasted 10 million won in one shot, but Eul tells her that she's rich now, and she can just buy it all again.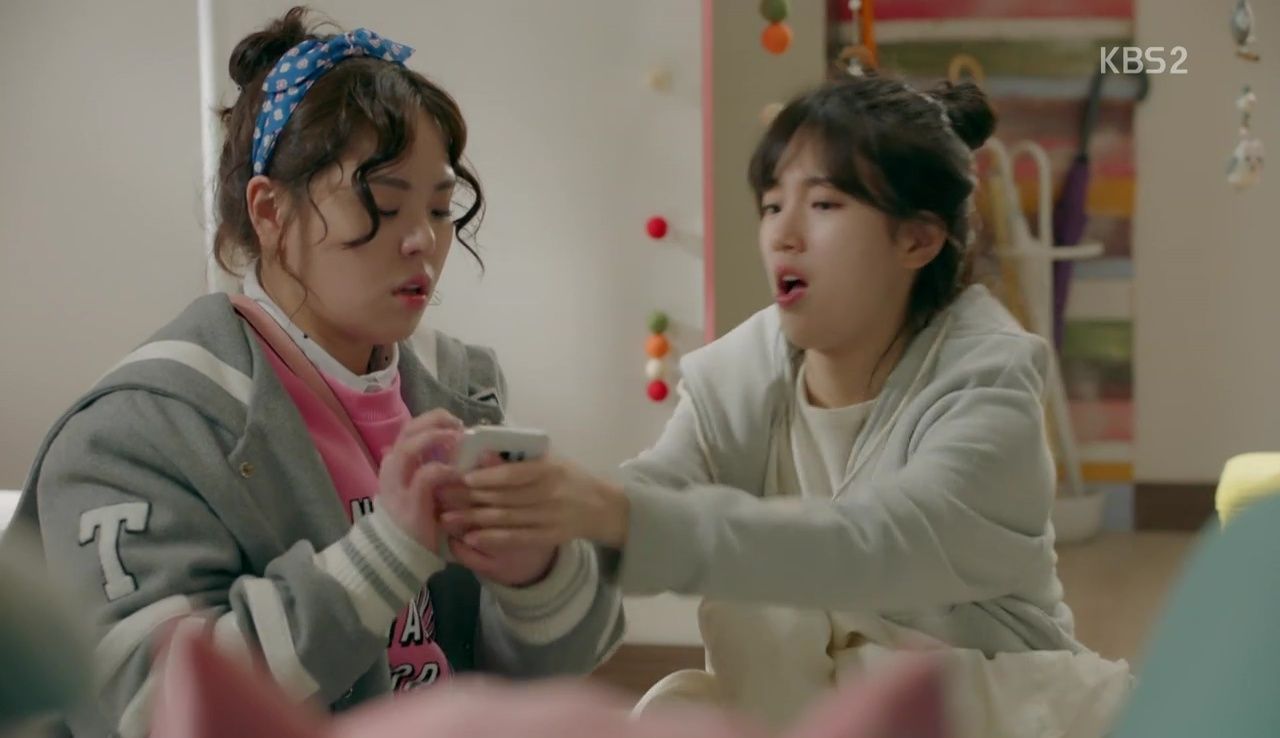 Na-ri threatens to tattle to Jik, and that gets Eul's attention since she knows that her brother would be disappointed in her for taking the money. Seeing her leverage, Na-ri tells Eul that she needs to return the money for Jik's sake, even the amount she spent already, and Eul screams in frustration.
Ji-tae shows up on their doorstep, but Eul refuses to see him, and Na-ri loyally tells him to get lost. He does, leaving behind the gift that he brought for Eul.
Gook-young made good on his threat to quit working for Joon-young, but as he's waiting tables at the restaurant, he bristles when he overhears a couple of diners gossiping about Joon-young's reputation for womanizing. He tells himself to stop caring, but then he hears them speculating on whether Joon-young has had plastic surgery.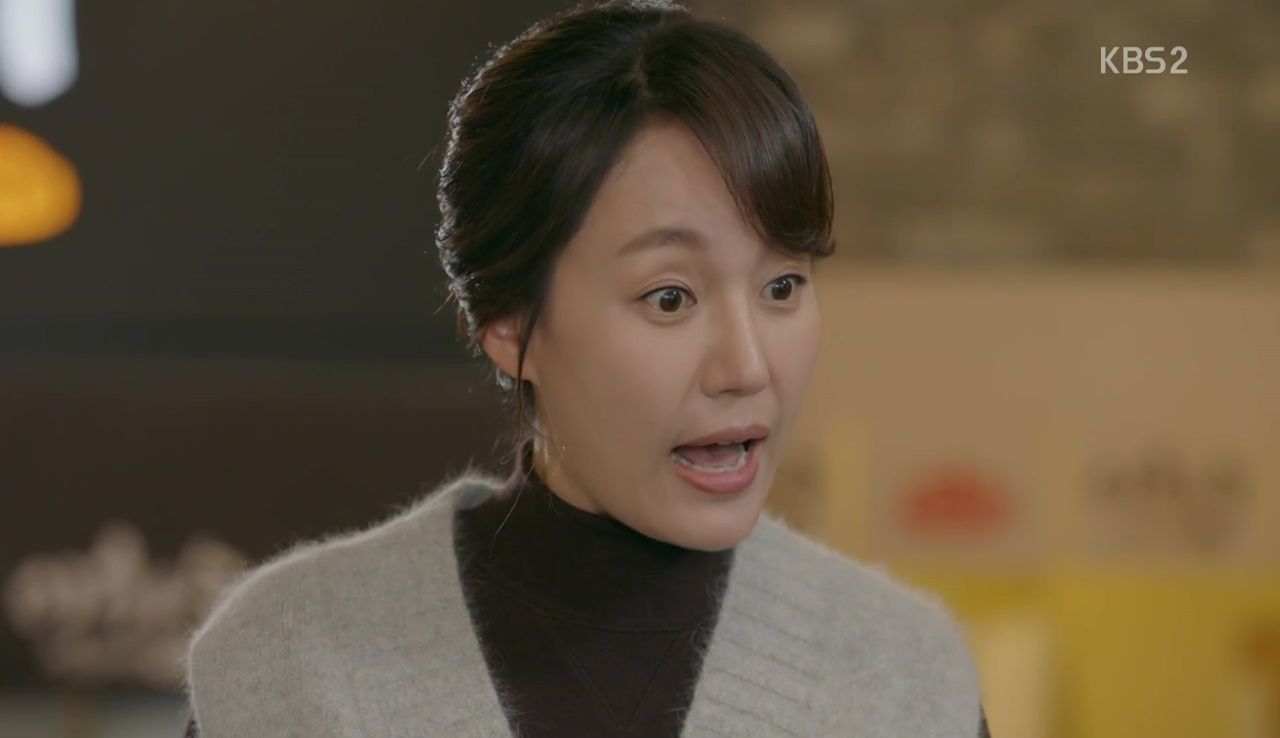 Joon-young's mother steps in, sarcastically exclaiming that she didn't even know about it, and she hilariously offers to give the two money so they can go get their own ugly faces fixed. HA, Gook-young is enjoying this so much.
Joon-young appears, admonishing his mother for speaking to customers that way, and he sits down with the two men. He tells them they should totally sue his mother, and asks where that plastic surgeon works that they were talking about, since he'd love to get surgery to look like Shin Joon-young. Pfft.
He politely asks if he can sue them if they were lying, and the men insist they didn't say anything. Gook-young jumps in to recite exactly what they said, and Joon-young asks why he just stood there and let them talk that way. Gook-young swears he was just about to say something to them — it's just that Mom beat him to it.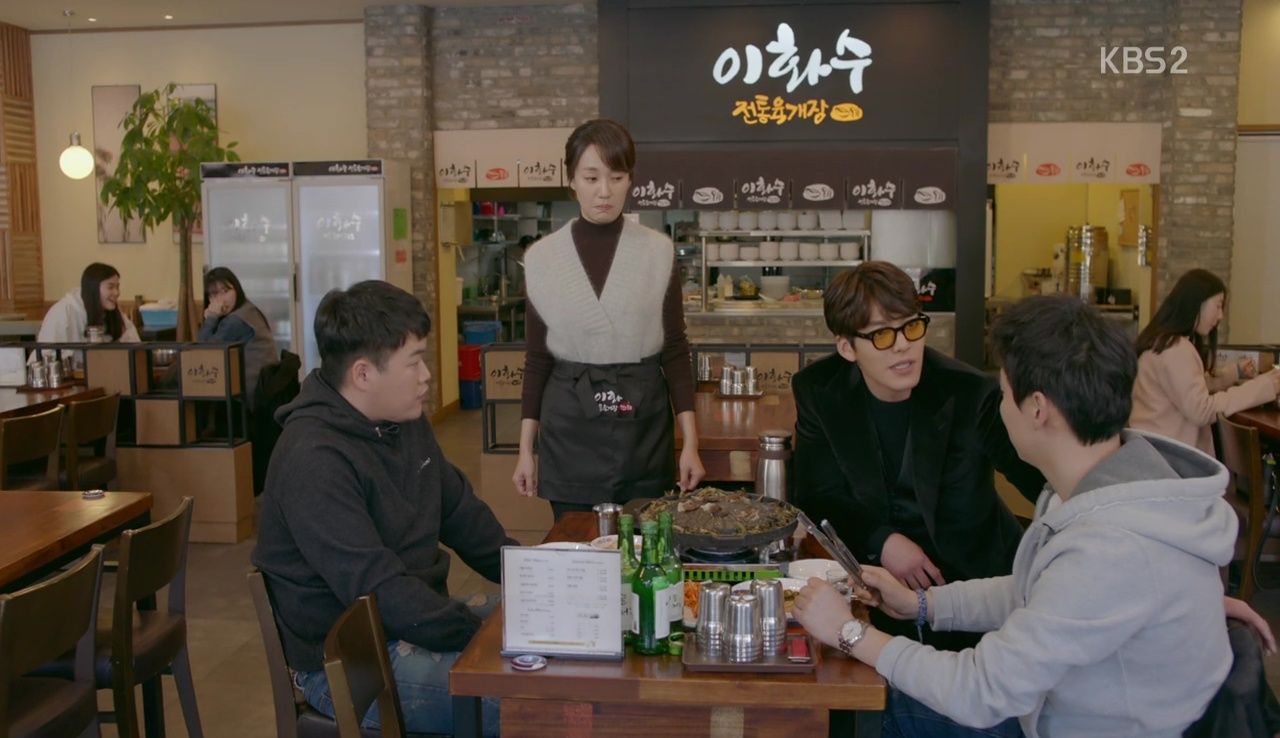 Mom tells everyone to just hush, and orders Joon-young to apologize to her customers. Joon-young grins because his mommy loves him the most, and tells Gook-young affably that he can just work here forever.
Joon-young drives Mom home after work that evening, and he asks her to prick his finger for his upset stomach (an old folk remedy). The way he watches her as she prepares, it really just seems like an excuse to be near her a bit longer. Mom asks if he's lost weight and he says he's on a diet, which makes her upset since he's already so thin.
Joon-young smiles this sad little smile, and says that she can just say she loves him instead of pretending to be mad. He takes her face in his hands and tells her to ask how he's been, and why he hasn't visited, and admit that that's why she's upset.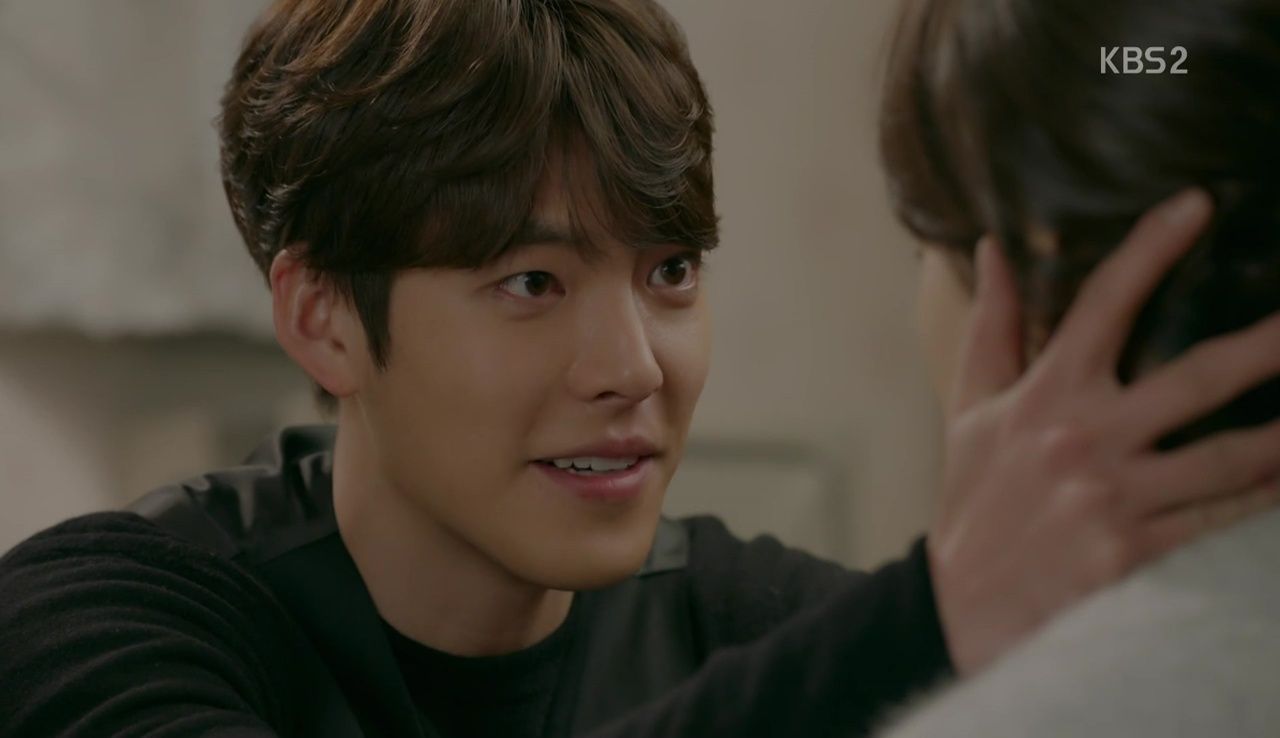 Mom just swipes his hands away, calls him crazy, and stabs his finger. HA.
On his way out, Mom calls after Joon-young, "If you like her, then just show it to her." Gook-young has been telling her that Joon-young is being mean to Eul, and she says that only children bully the girl they like. She thinks that's why he's got an upset stomach.
She tells Joon-young that Assemblyman Choi is a stranger to them now, and they won't ever have to see him again. So Joon-young doesn't need to deprive himself just because of who his father is. She goes to the next room, but Joon-young thanks her anyway.
Joon-young arrives home to find Eul huddled on his doorstep. He stops for a moment, but drives on inside and closes the gate. Eul waits at the door just in case, and Joon-young eventually lets her in, keeping his expression carefully neutral.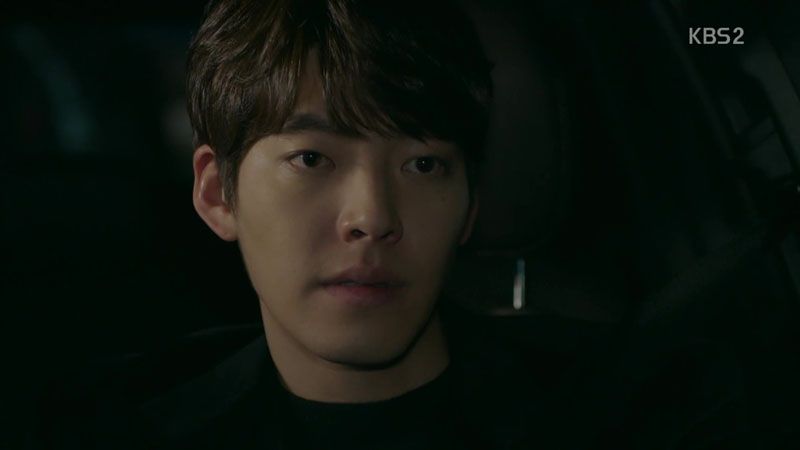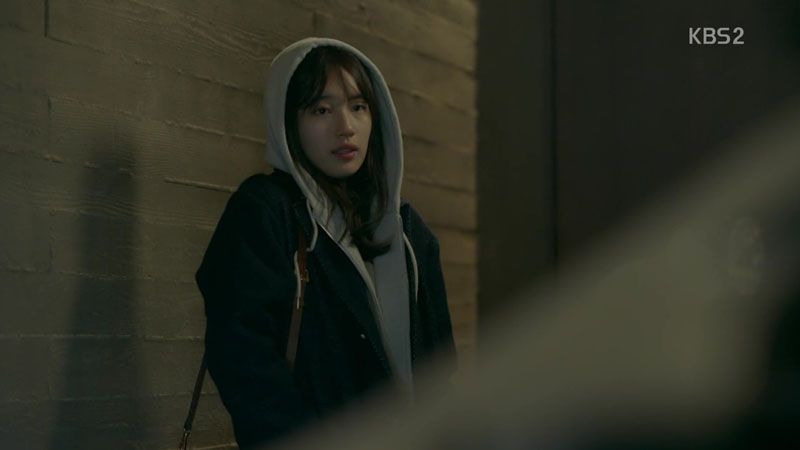 He brings her some medicine when she coughs, but doesn't speak. Eul tells him that she came to say goodbye, since they've known each other for so long. Joon-young just stares at her, and she admits that she did want to ask one thing before she goes — she wants to know why they're breaking up.
Joon-young doesn't answer, so Eul sighs and says that she'll just say her piece, then leave: "No matter how much I think about it, I don't think I did anything wrong. I didn't cheat on you, and I didn't gamble. I think the reason is on you. Either you don't like me anymore, or you have another woman."
Joon-young's grip on the counter tightens at that, but he remains silent. Eul asks for compensation for being hurt and humiliated, and for wasting her heart, time, and energy. Ji-tae's mother paid her a billion won (a million dollars) to get lost, but she asks for just 10 million won from Joon-young.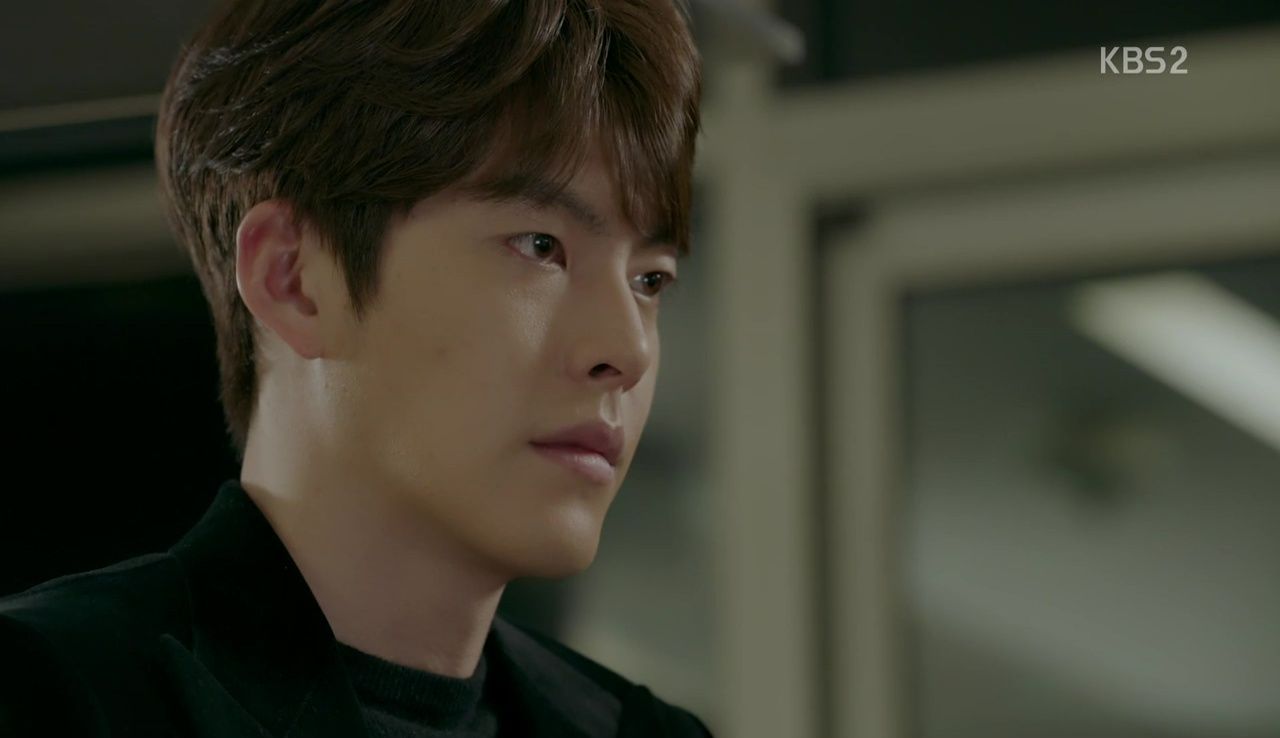 She explains that she thought about asking to borrow it, but then she'd have to see him again to pay it back. So it's better to just end things here, cleanly. Joon-young finally speaks, to agree and tell her to wait here.
He goes up to his room and sinks down onto the bed, stunned. Eventually he goes back downstairs and writes Eul a blank check, telling her to fill in any amount she wants. She asks what he'll do if she takes everything from him, and Joon-young says that she can have it all if that's what she wants.
But Eul just writes down 10 million won, the amount she spent and lost on clothes, and Joon-young asks her to leave if she's finished here. She stands and says that everything is done between them now, so he can live without any worries. She calls him a jerk one more time, and walks out the door.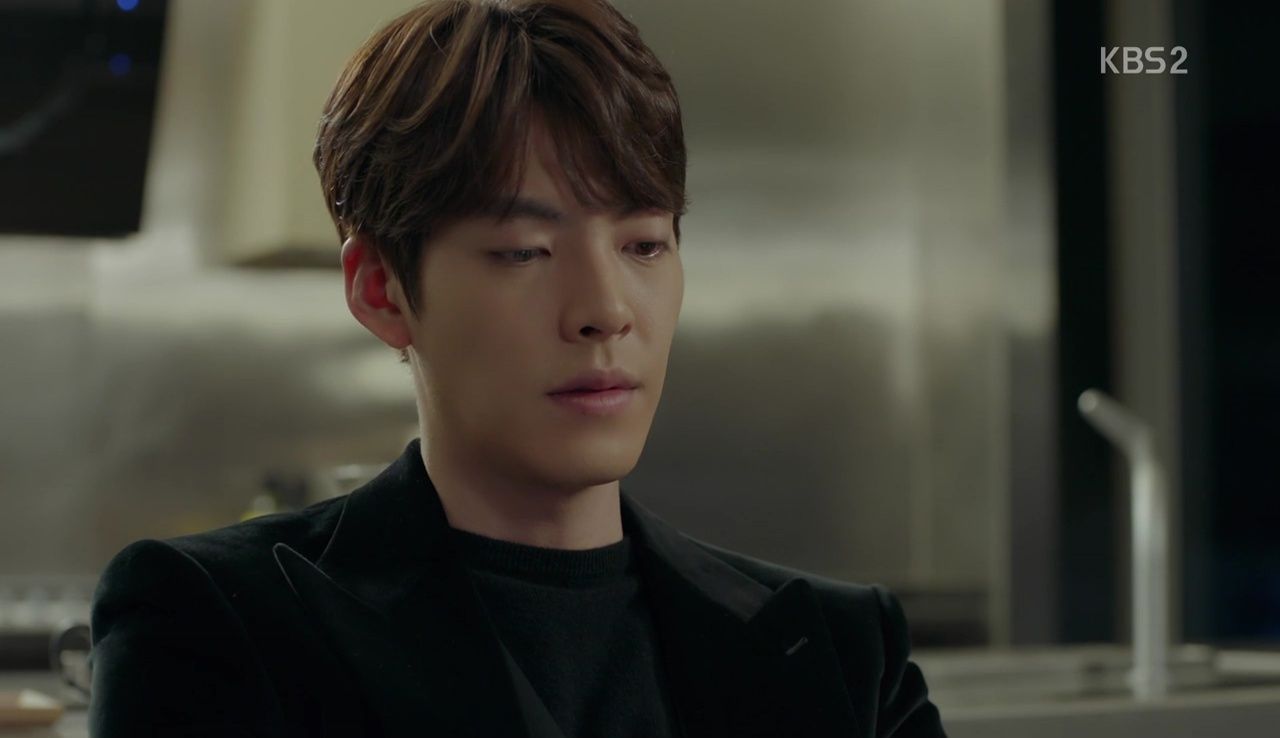 She manages to hold her tears until she's outside, and she watches the door, hoping that he'll come after her. But the door never opens, and Joon-young just sits holding Eul's empty cup.
He says softly to the empty room, "My punishment for hurting you—I'll be sure to receive it in hell."
Jik can't stop thinking about that kiss from Haru, and he reads what looks like every book in the library on love. He posts on a website about her kissing him and that he reflexively called her a pervert, asking if he's abnormal. HAHA, all the responses basically agree that yeah, he's not normal.
Jik freaks out and turns off his phone when Haru calls, which makes Haru fume over his calling her a pervert then ignoring her. She tells herself that he must have just been surprised, then gets mad all over again.
Eul visits Ji-tae's mother at home, to return the bribe money that she gave to stay away from Ji-tae. Eul gives her promise not to see Ji-tae again even though she's giving the money back, nor to seek the truth or revenge, even if it kills her.
But she adds that if there were a God, he might take the side of those like her who are falsely accused and powerless, and actually punish evil. But she tells Ji-tae's mom not to worry about that, because it seems to her that God is dead.
Ji-tae sees Eul on her way out of the house, and she tells him that she gave his mother back the money. He's thrilled at first, reading more into the gesture, until she adds that she's never going to see him again. She's no longer interested in revenge, so he's of no use to her anymore.
Ji-tae's mother gets a call, telling her that Ji-tae has called an emergency board meeting to demand his mother's dismissal from her company. He greets her like nothing's going on, and she follows him to his room where he's dressing for the meeting.
He chides his mother for not knocking first, and she too-politely responds that he could have "knocked" first as well, and talked to her before calling this meeting. Ji-tae coolly says that her lax management has done a lot of damage to the company, so this shouldn't be a surprise.
He mentions how she pushed certain projects forward despite the board members' concerns—they were all dismal failures, causing stock prices to fall and shareholders to lose money. Yet she's still living comfortably.
His mother shakily asks what people will think if he attacks his own mother, but Ji-tae is fully prepared to be called a bad son. But once the truth is out, people will also think that KJ Group isn't a corrupt company.
His mother asks what's wrong with him — he used to be such a good son. She blames this on "that girl," but Ji-tae says it's not that Eul herself is so important: "It's that you and Dad are wrong."
Assemblyman Choi finds Ji-tae before the meeting begins, and asks if he's really ready to tell the truth to the world. Ji-tae admits that he's not, that he lacks the confidence to call his parents terrible, scary people. But he wants to stop them from violating more people with their money and power.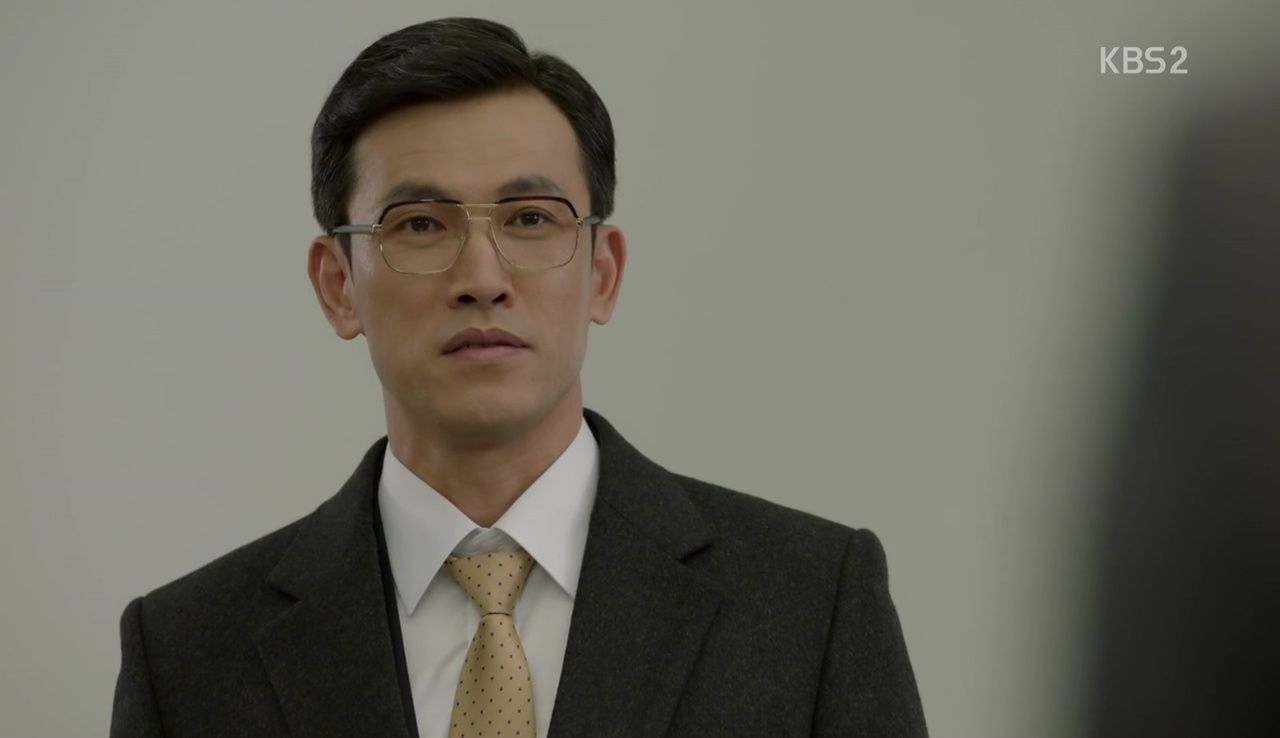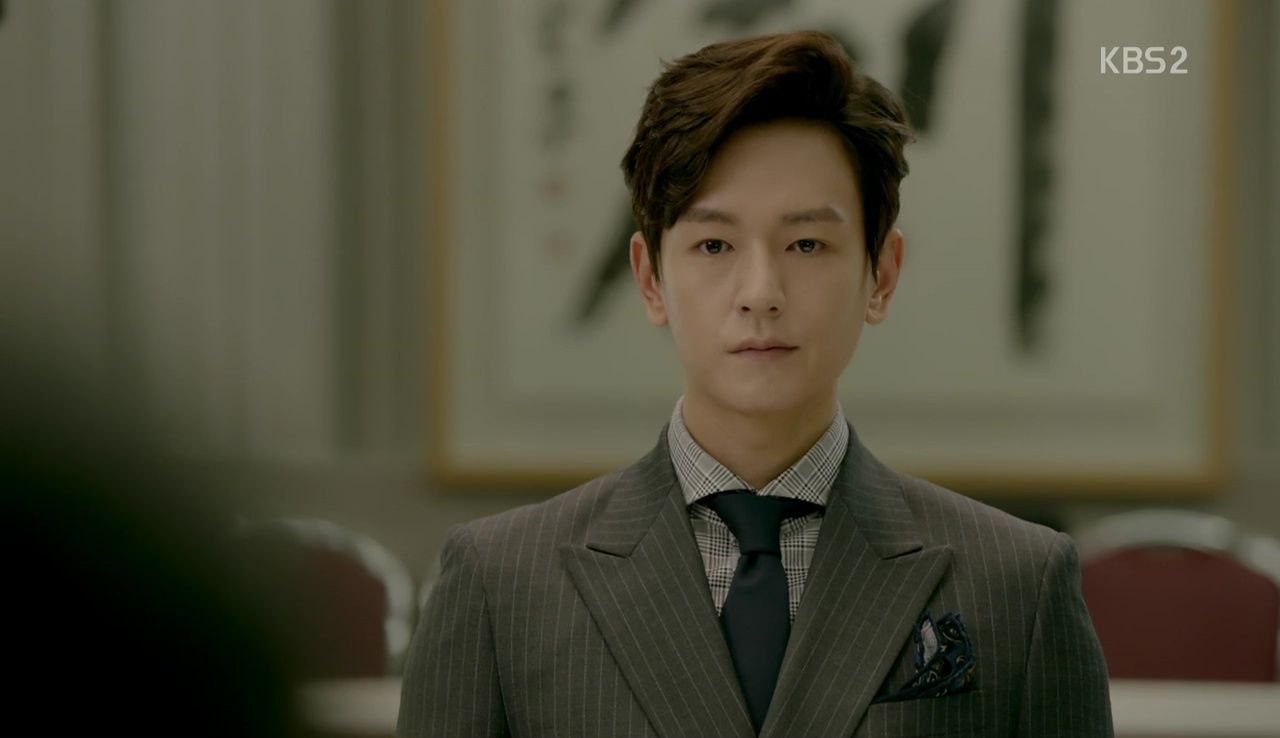 His father invites Ji-tae to try his hardest to stop them. He'll even support him until he wins.
On his way out, Assemblyman Choi receives a report that he'd asked for on Joon-young. He's legally registered under his mother's name, with no father on record. His mother was never married, and further inquiries support that she's always been a single mother.
At Mom's restaurant, Ajusshi plucks a couple of grey hairs from Mom's head, making her shriek. He says that they weren't there a few weeks ago, and figures that it's from stress. Mom asks why he's paying such close attention, and surprises Ajusshi by asking, "Do you like me?"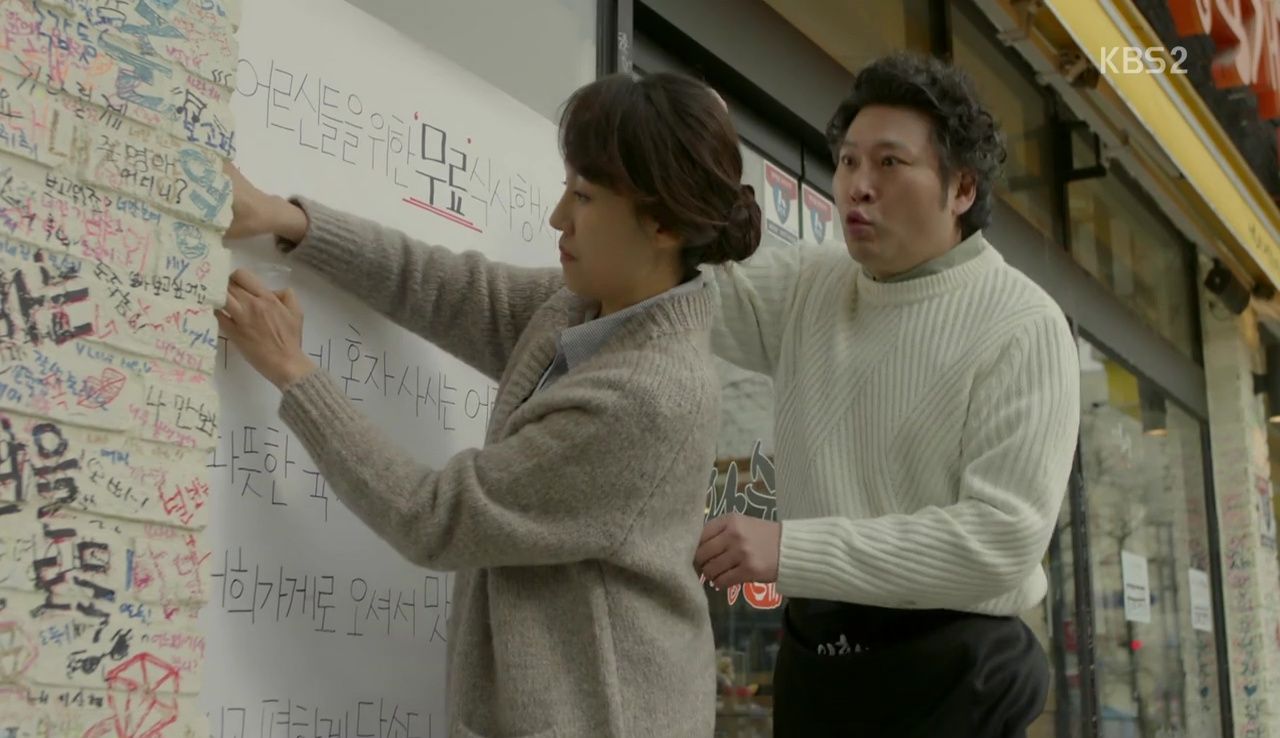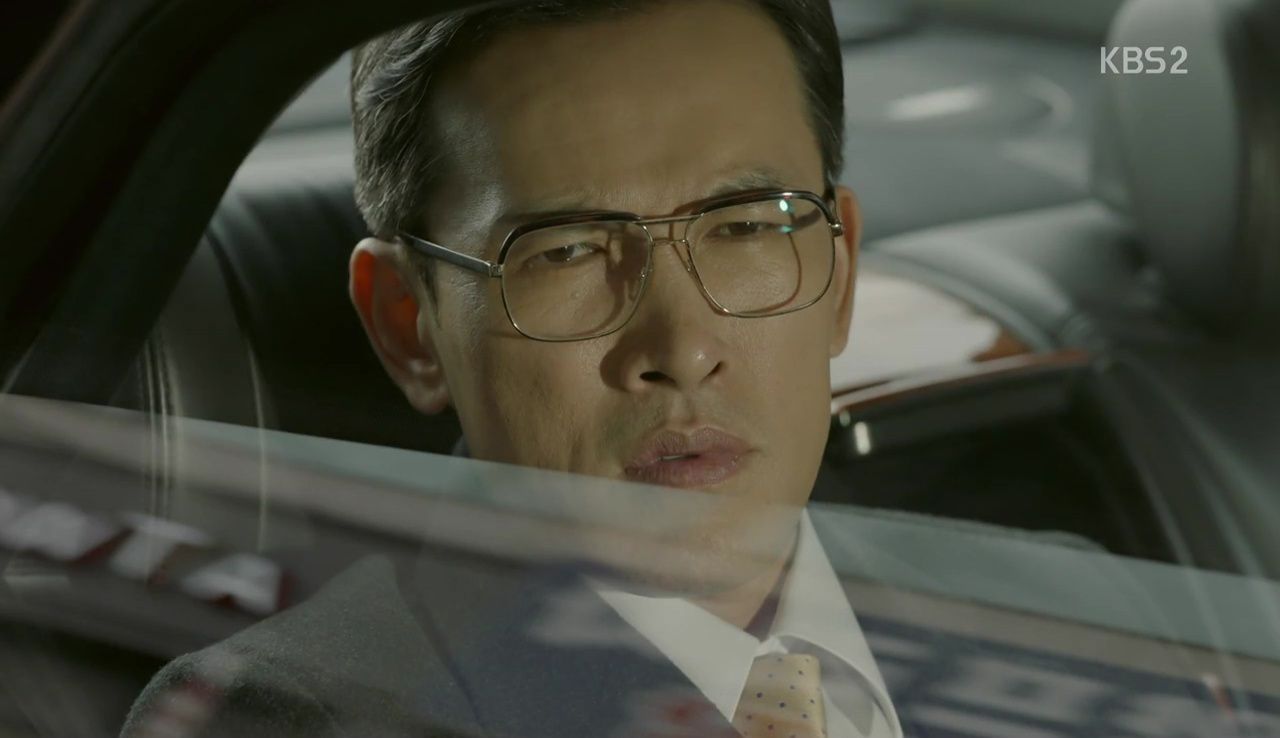 He freezes and his cheeks go adorably pink, and he manages a weak, "No." President Namgoong enters and pipes up that it's a big fat lie, because anyone can see that Ajusshi does like Mom. Ajusshi stammers a denial, but he's so adamant that Mom takes offense, hee.
She asks President Namgoong why he's here, and he says he came for Gook-young. Mom points to the kitchen, calls Ajusshi crazy again, and stomps out. Man-ok asks her dad if he really likes Mom and he denies it again, but Young-deok thinks that he does.
President Namgoong puts it to the test, and asks if Ajusshi would mind his setting up a friend with mom. Ajusshi nearly rips his head off, ha. He finds Mom outside and plucks a third grey hair, and they bicker while Assemblyman Choi watches from his car across the street.
Jung-eun brings some wine to Joon-young's house, and he says that he's going out and will be back in half an hour. She decides to wait for him and he heads out, but then just parks his car in an alley and sits.
Eul is called to her old office to organize the footage from Joon-young's documentary, even though she protests that she was fired from that project. But she's told to finish what she started, and a handful of cold hard cash quiets her arguments.
Eul has trouble even looking at Joon-young in the videos, and she has to keep reminding herself that she's a professional. One shot of Joon-young seeming to look directly into her eyes is too much, and she has to take a break.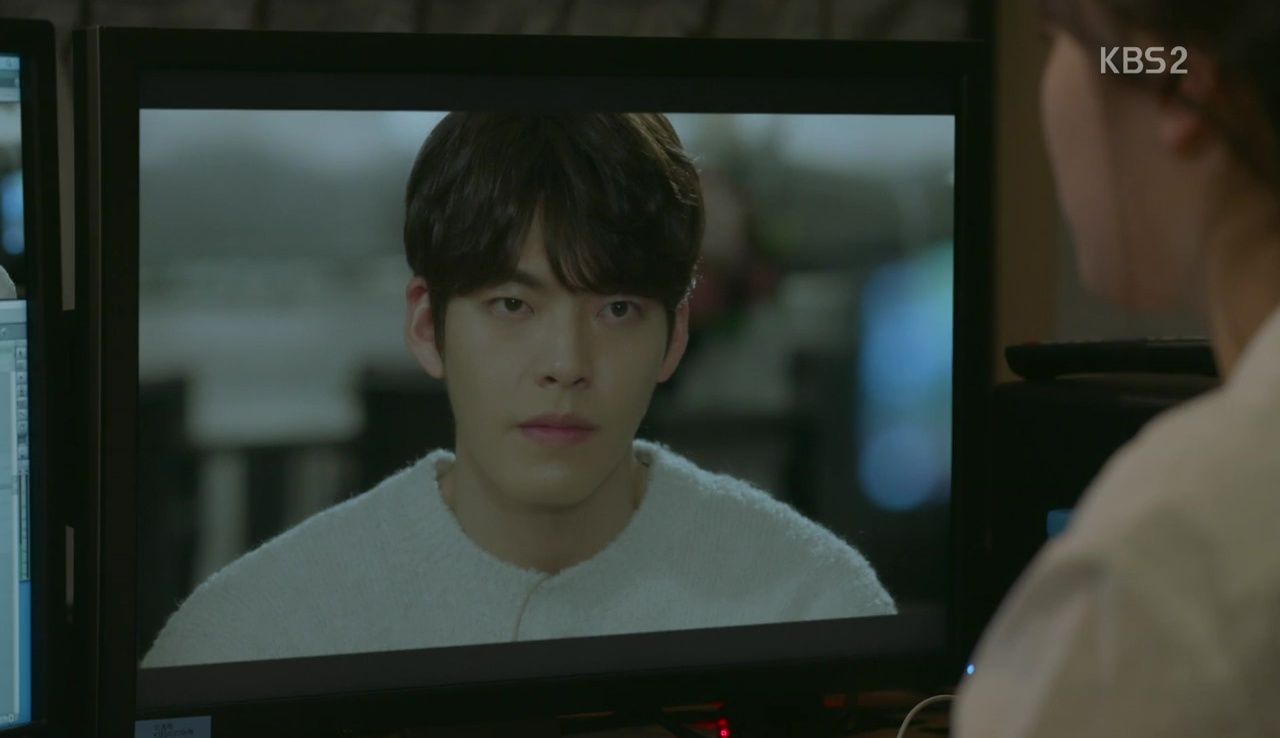 But her hand hits the keyboard and causes the video to play, and Joon-young's voice rings out, "Will you go out with me? Let's say I'm going to die in three months, so just for three months. Really passionately."
Not one board member shows up for Ji-tae's meeting, and his assistant wonders if this is his mother's doing. But Ji-tae isn't at all surprised, and he says that he just wanted to see how powerful his mother really is.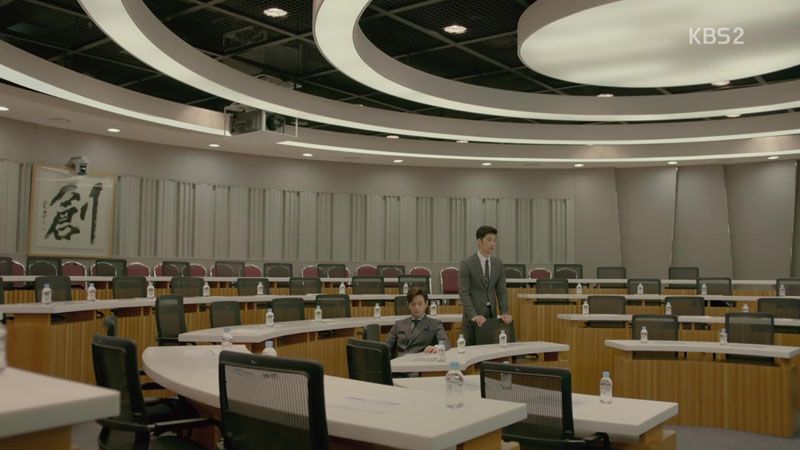 Joon-young sits in his car until after dark, eventually falling asleep. Jung-eun calls him but he just tosses his phone into the passenger seat unanswered. She's still at his house and furious now, and she starts to leave but stops herself.
Eul is now mesmerized by Joon-young's video footage, especially the parts where he spoke to the camera as if he was speaking to her. During the section when she'd asked him about his bucket list and he'd said that he wants to hear "You're my type" and "I love you" from the person who asked the question, Eul puts her hands over her face, watching shyly through her fingers.
She's given some more footage to fix, as the audio is nearly silent. It's the sequence of videos from the hidden cameras in Joon-young's home, when he'd been talking directly to the cameras. Eul fiddles with the audio levels, petulantly accusing him of not speaking audibly just to make fun of her.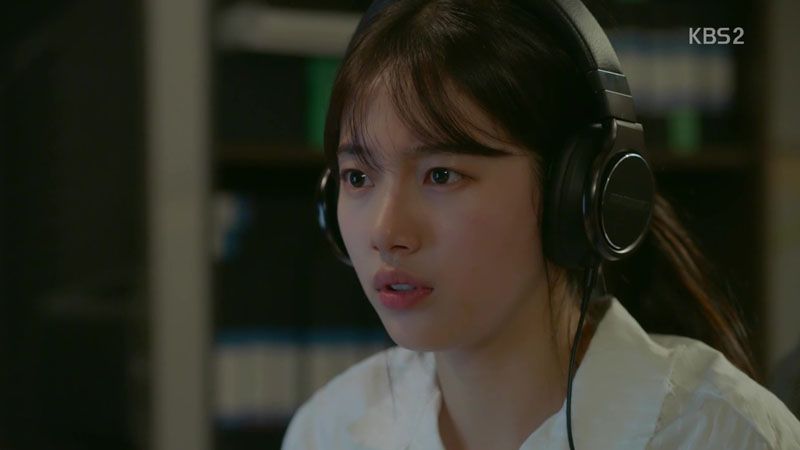 Jung-eun stays at Joon-young's place, drinking her wine and growing angrier by the minute. He finally comes home and says that something came up, and that he assumed she'd have gone by now. Jung-eun throws her wine glass at the wall by his head, where it shatters and cuts his cheek.
She snarls at him, "How dare someone like you make me wait!" Joon-young calmly calls Gook-young to say that a guest is drunk, and arranges for him to drive Jung-eun home. He leaves the room, leaving Jung-eun shrieking behind him.
Eul resorts to clumsy lip-reading to determine what Joon-young is saying in the videos. As best she can tell, it looks as if he's saying, "I don't have a lot of time to be around you, Eul." She wonders what that means, and tries harder to read what he's saying.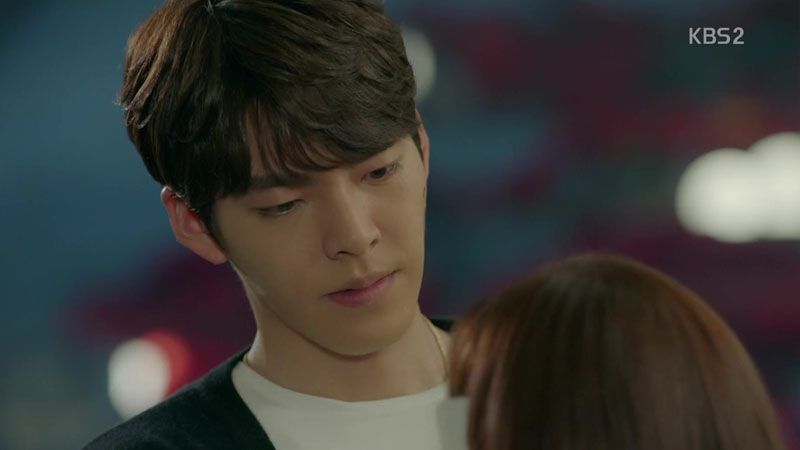 Jung-eun just stands in the middle of Joon-young's house, screaming over and over for him to come back and apologize. He does, though it couldn't possibly sound any less sincere, but it calms her down a bit. Her phone rings, and when she sees that it's Ji-tae's mother she hesitates.
But Joon-young roughly grabs the phone and puts it to her ear. Jung-eun refuses to speak, and we see that Ji-tae is with his mother. He tells her that he's not here to give in to her.
Joon-young tells Jung-eun that she should have cleaned up everything with Ji-tae before coming to him. He says that he wasn't born rich, but he still has pride. He gives back her phone, and tells her to run to her mother-in-law so they can scheme to get Ji-tae back.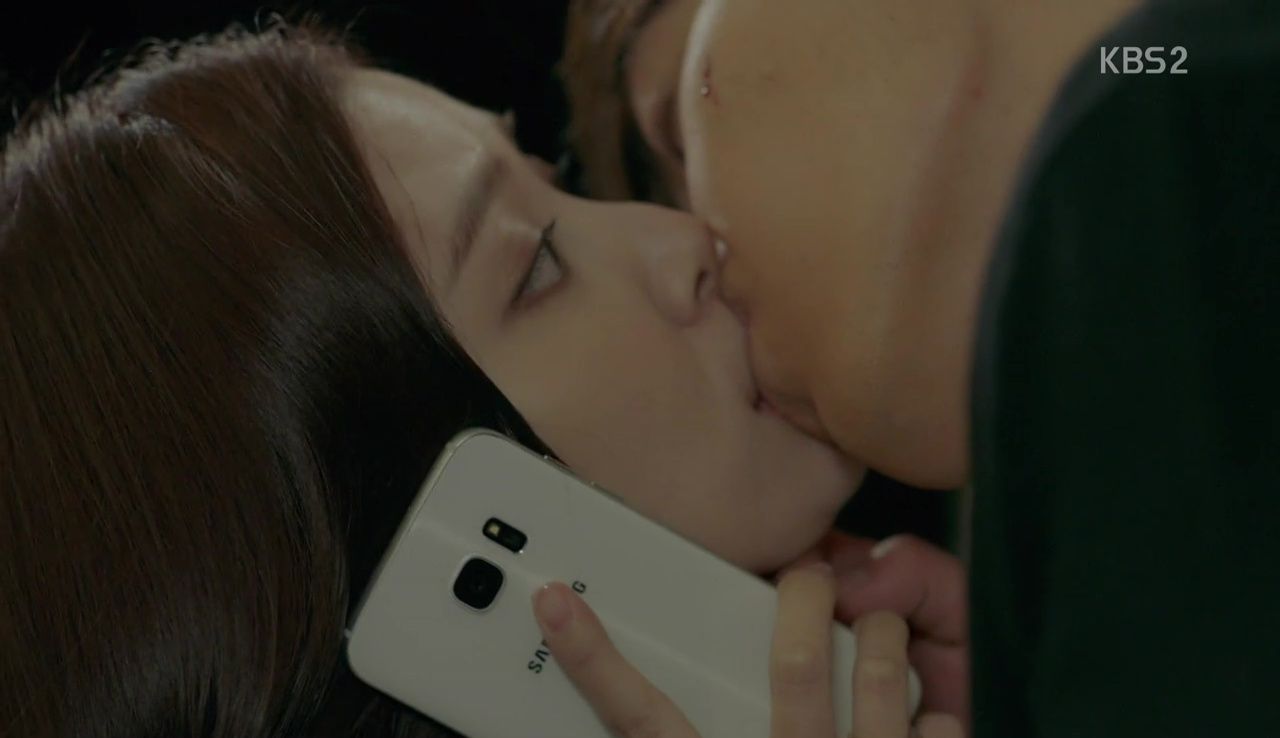 He walks away, but Jung-eun speaks to Ji-tae's mother so that Joon-young can hear her, and says that she's giving up on Ji-tae now. Joon-young turns back, and stops her mid-sentence with a kiss. Jung-eun drops the phone, giving in to his passion.
In the studio, Eul's eyes fill with tears, and she jumps out of her chair. "Shin Joon-young, you just wait!"
And as he kisses Jung-eun, Joon-young's eyes open, showing no emotion whatsoever.
COMMENTS
Noooo Joon-young, what are you doing?? Why are you kissing that harpy? This had better be part of your master plan, and Eul had better never EVER find out about this.
I still can't figure out exactly what Joon-young is doing with Jung-eun — I know that he's got a plan to get her to confess to killing Eul's father, but I'm unclear as to why that necessitates dating and kissing her. And why does he blow so hot and cold with her, one day asking her to sway his heart from Eul and the next openly avoiding her? At times he appears to actually find her attractive, then at others he treats her as if he finds her repulsive. It's my main complaint about this drama in fact, that we can so rarely tell what's going on in the characters' heads. It's hard to care about what they're experiencing, even when I badly want to, when I can't tell what it is that they want.
And I mean, come ON. There's guilt over unfortunate events, and then there's just self-flagellation. What else does Joon-young need to convince himself that he has the right to Eul's love, even if it's only for a short time before he dies? All he has to do is just tell her the truth. Tell her that he caused her accident but that it was an accident and he's sorry. Tell her who his father is but that he has nothing to do with him. Tell her that he knows who killed her father and that he's going to help bring them to justice before he goes. Tell her that he's sick but that he wants to love her in the time he has left. It's a terrible, nightmarish situation, but it's not like he can slink off and die in secret and Eul will never know — Joon-young is a Hallyu star. His death will be major news. She's going to find out, and she's going to be devastated that he kept his condition from her and robbed them of the time they could have loved each other. It should be Eul's decision whether to spend Joon-young's last days with him or not. Is all this secrecy any less painful than the truth?
At least Eul is finished being pushed and pulled around by him, and as much as I want to root for them to be together, I'm cheering for her as she starts to stand on her own two feet. She's finally standing up and saying that she did nothing wrong, that this is all on Joon-young, and refusing to give him any more space in her head or heart. And frankly, if he's not willing to be honest with her as I said, then he doesn't deserve her. Eul has grown a lot, and regardless of what I said last week (and part of me still believes), I'm proud of her for taking responsibility for her own life and giving that money back to Ji-tae's mother. The truth is that she had no right to it, since she and Ji-tae weren't dating and she had no intention of ever doing so. All his mother had to do was ask, and Eul would have told her that. It's got to hurt to give back nearly a million dollars, but Na-ri has a point — Eul needs to set a good example for Jik, and she's fully talented and capable of supporting them herself. She just needed to believe she can do it, and not give in to the temptation to take the easy way out.
And finally, Ji-tae is aiming his anger in the right direction, towards his mother and father. It's about time he stopped moping around and did something, and I think going after his mother first is the right choice. Her brand of evil is so insidious, because she looks so sweet and innocent on the outside that she fools everyone, even Ji-tae himself until recently. He knew that she was responsible for Eul's current financial situation but somehow he made it okay in his head, but now that she's flat-out paying Eul off and threatening her brother, Ji-tae can't sit back anymore. He's taking her power by taking her respect, and outing her for the selfish, self-centered person that she is. It's brilliant because to people like his mother and father, their reputation is everything, and to show the world their true colors is the most efficient way to stop them. And he's doing it for the right reasons now, too — in his own words, it's not because of Eul, but because they are wrong, plain and simple.
RELATED POSTS
Tags: featured, Im Joo-eun, Im Joo-hwan, Kim Woo-bin, Suzy, Uncontrollably Fond