Uncontrollably Fond: Episode 9
Secrets are hard to keep when they're not-really-so-secret, but when the truth is too painful to speak aloud, maybe keeping quiet is ultimately a better option. But even in the face of pain, there's a lot of happiness to be squeezed out of life if you just know where to search for it. But what's a guy to do when all the looks and charm in the world can't get him what he wants?
EPISODE 9 RECAP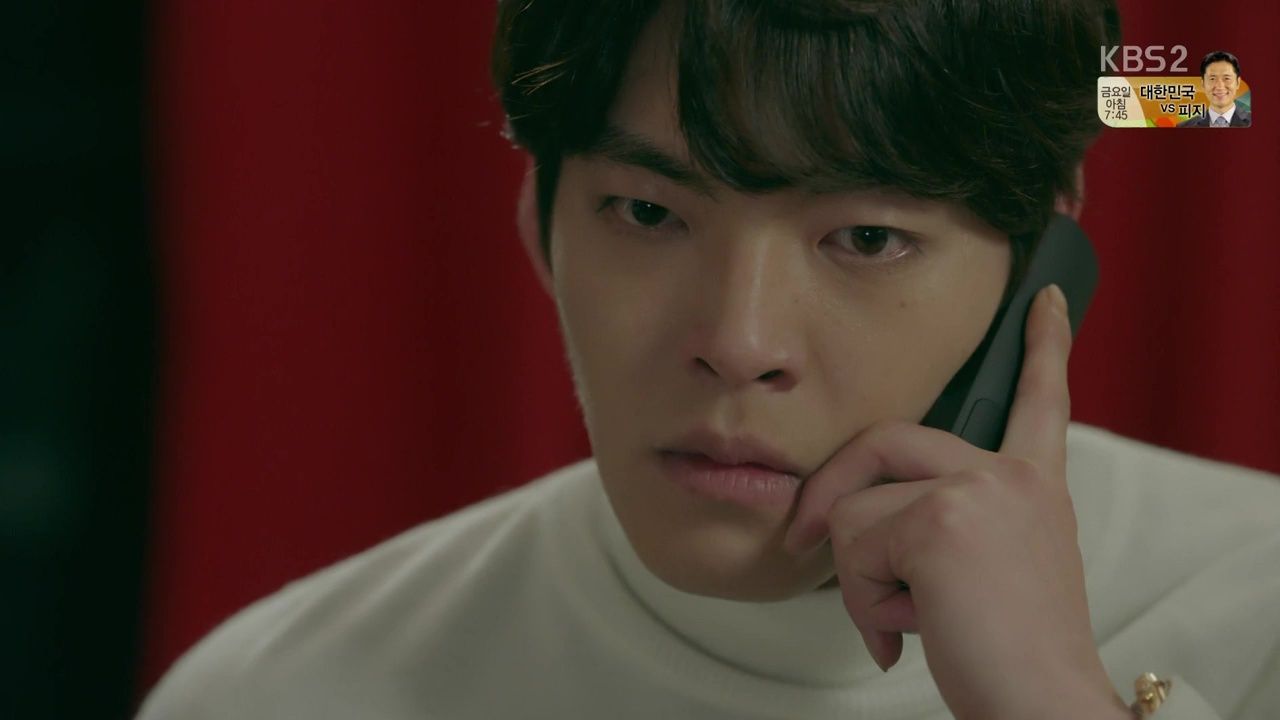 Before calling Joon-young, Eul thinks about him telling his mother how he feels about her. He'd said he's madly in love with her, and it had flustered her. She's now realizing that his confessions and claims of his feelings weren't a joke, and she thinks back on things he's said, understanding now that he meant every word.
She calls him and says haltingly that she's decided to trust him, just this once. At first he looks like he might cry, but then he gets excited and he tells her to say that again to his face. He rushes to her, but as he's walking towards her, his vision suddenly goes blurry.
After a few seconds it resolves, and he goes to Eul with a huge smile, and grabs her in a grateful hug. Eul is surprised, but Joon-young asks her to stay just for a minute, as he blinks through more blurry vision.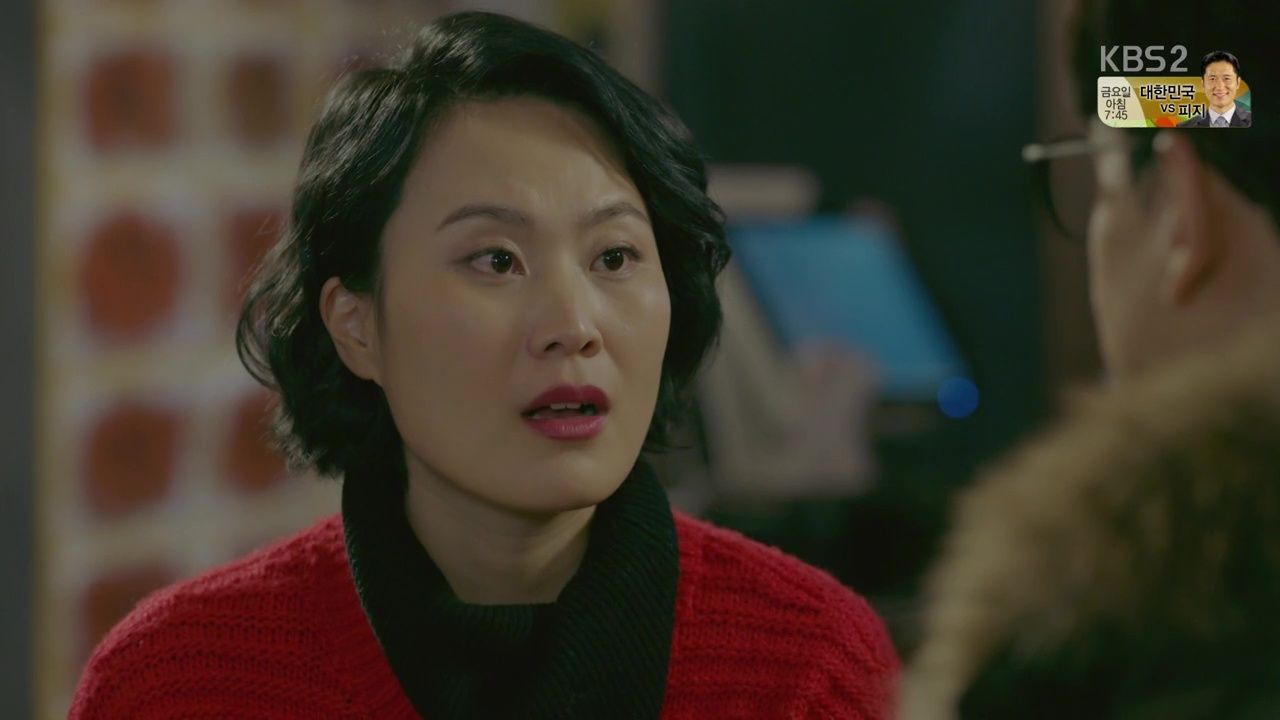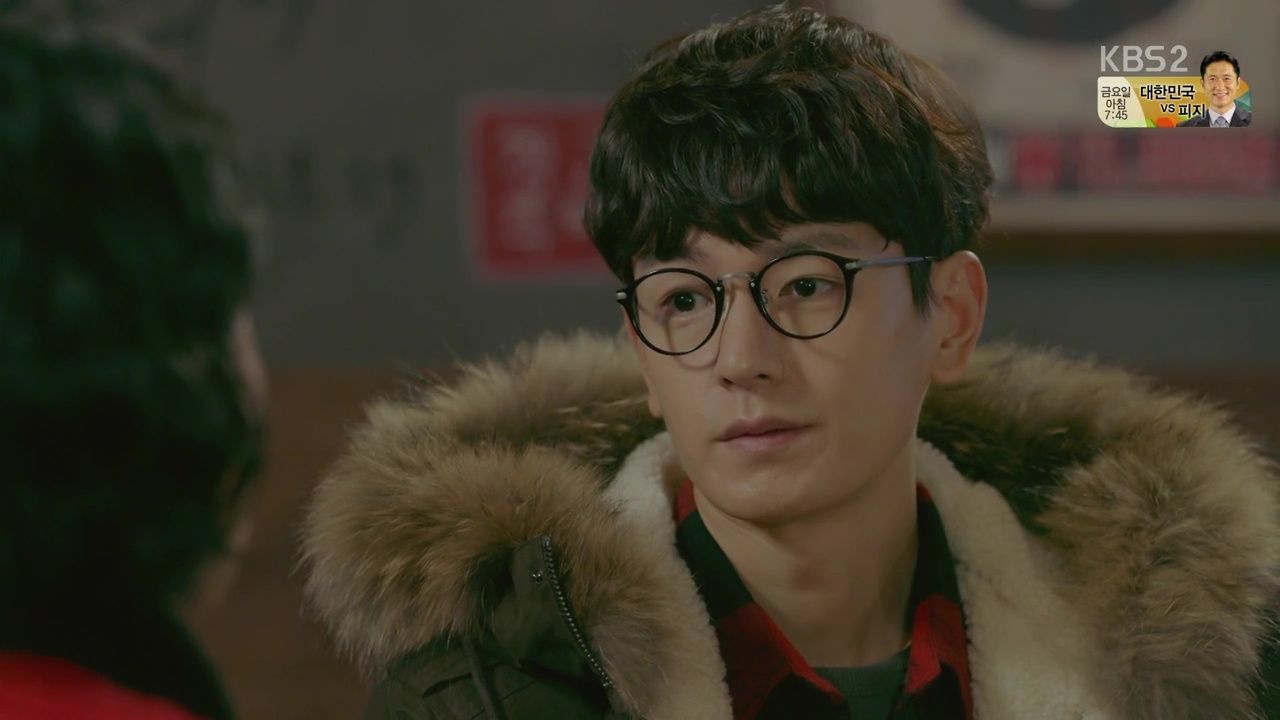 Ji-tae finally shows up at Unni's restaurant long after Eul's given up and left, but he says he actually came to see Unni. He gives her a generous check, saying that the money is to pay for future meals for Eul. He's not coming back here, nor does he ever plan to see Eul again.
Joon-young holds onto Eul for a long time, his vision shifting in and out. Meanwhile Ji-tae's mother wakes in the hospital to see her husband kneeling by her bedside, worried sick about her. Joon-young's mom also lies awake, tormented by her conflicted feelings towards her son.
When Eul points out that it's been more than a minute, Joon-young asks for another minute. Augh, he's so scared and just holding on for dear life, needing her but not wanting her to see his desperation.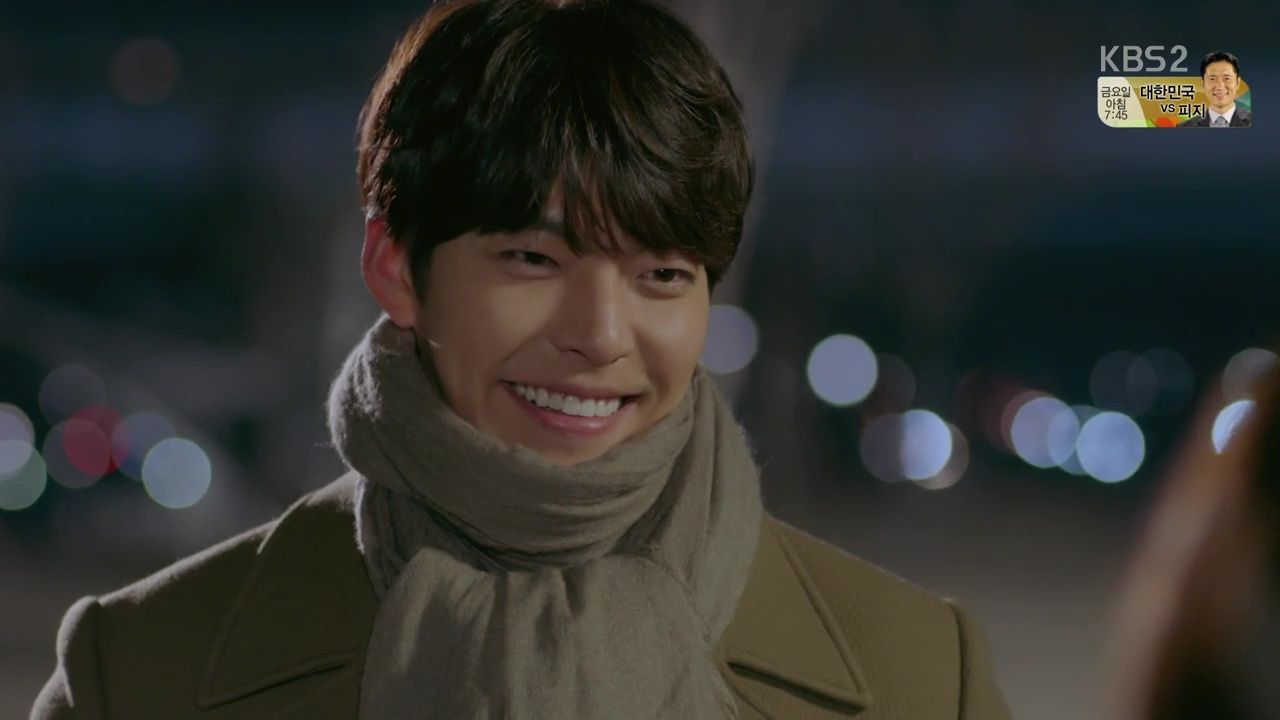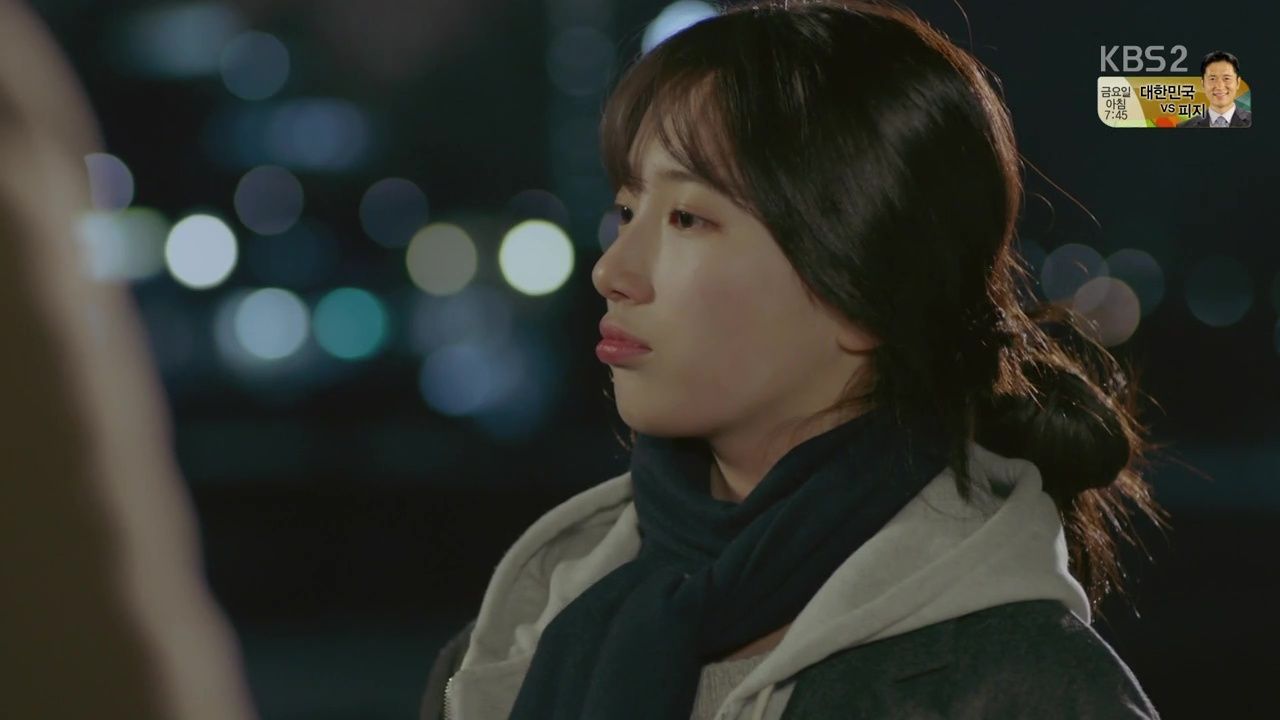 Ji-tae goes to see Jung-eun, and crushes her in a desperate kiss. It's obvious he's unmoved, but trying to force his feelings for her, since he can't have the one he wants.
Finally Joon-young's vision clears, and he jokes cheekily that he'd like to stay like this all night. Eul pushes him off and he just grins, and asks her to say again what she said over the phone. She clarifies that by trusting him, she didn't mean she's really going to trust him (Joon-young's smile widens, hee), but that she needs to trust him because her income depends on him. I don't think he's buying it, sweetie.
Joon-young just nods and says she's really pretty, so Eul makes a squishy face at him. He's too besotted and just says that makes her even prettier, and asks for a kiss, but Eul weakly threatens to kill him, hee. She mock-grumpily takes off, but Joon-young calls after her that he'll see her tomorrow… and the next day… and the next day…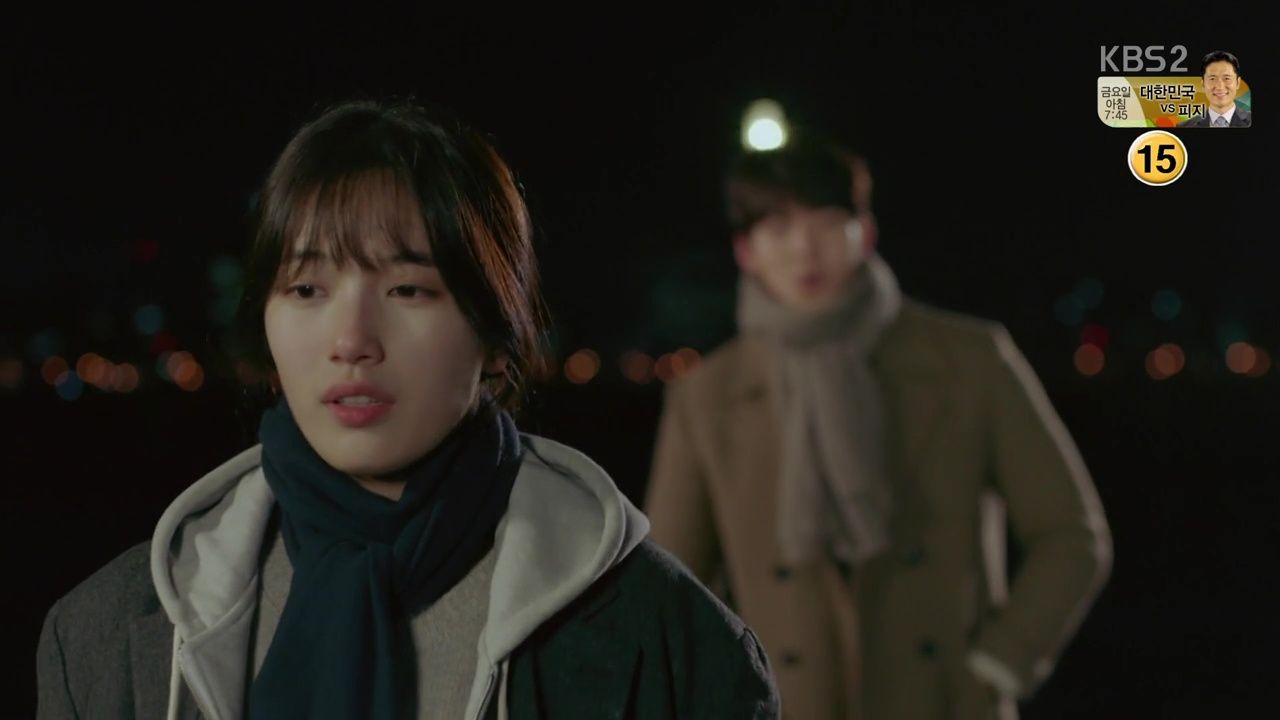 Eul is more flustered than she lets on, because she trips and falls, HA. Joon-young laughs after her, looking happier than we've ever seen him. This guy is toast.
He's all business the next day when Eul arrives on the set of his latest drama to film some more footage for his documentary. Gook-young has to promise the milling reporters that he'll arrange interviews with Joon-young and Yuna for them after filming to get them to settle down, and they start their scene.
A rogue drone flies over the set, and whacks Eul in the back of the head, knocking her down. Joon-young maintains his judicious distance, but later during the interview he keeps staring intently at Eul. Yuna takes over when Joon-young doesn't seem inclined to answer questions.
When pushed to speak he keeps things vague, saying that they're professionals, but deserve to have private lives out of the spotlight. He doesn't understand the obsession with gossiping about his love life, and why the person he loves is hated and threatened. He's looking directly at Eul as he expresses his confusion and disappointment.
He says that he won't say anything else about this issue, and adds that he won't be doing interviews any more after this. He leaves, but suddenly the reporters start asking Eul questions about her relationship wth Joon-young, and one of them guesses that it's really Yuna who's being used as a shield. Uh-oh.
Interestingly, it's Yuna who speaks up, and Eul says that she actually likes someone else. Joon-young isn't her style, mentioning that she's a fan of a different top star, but it doesn't seem like she's fooling anyone.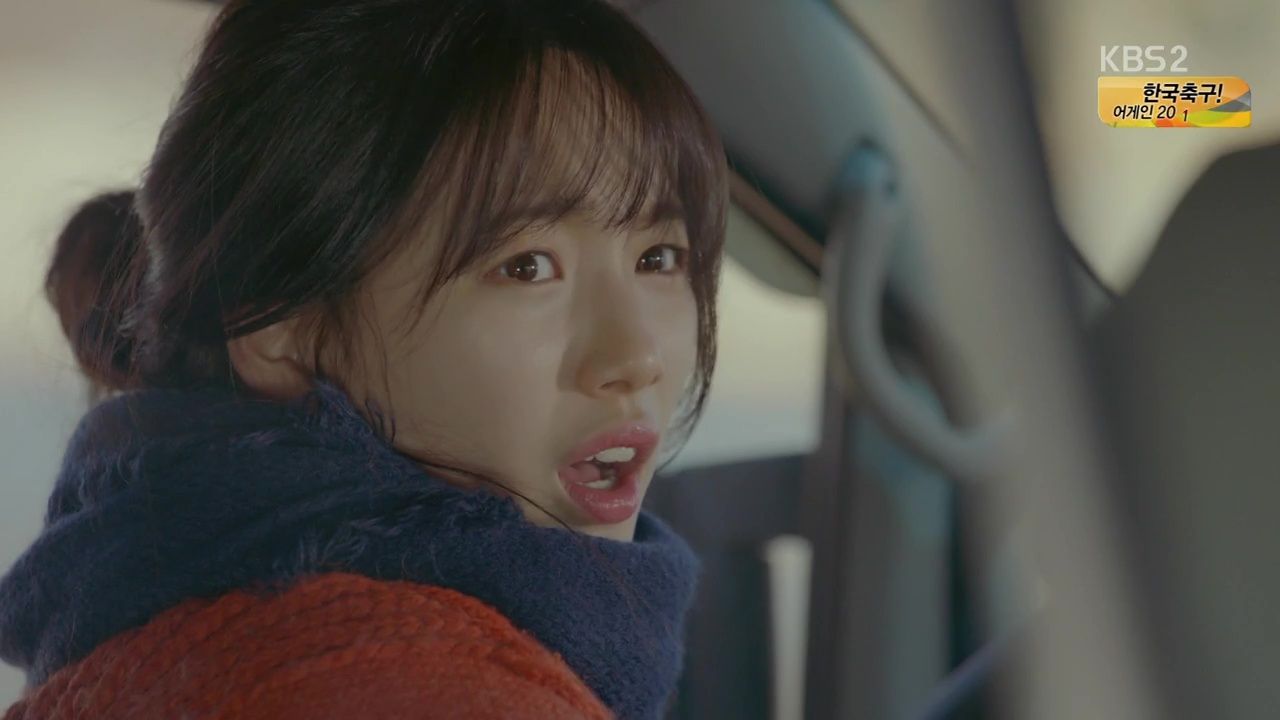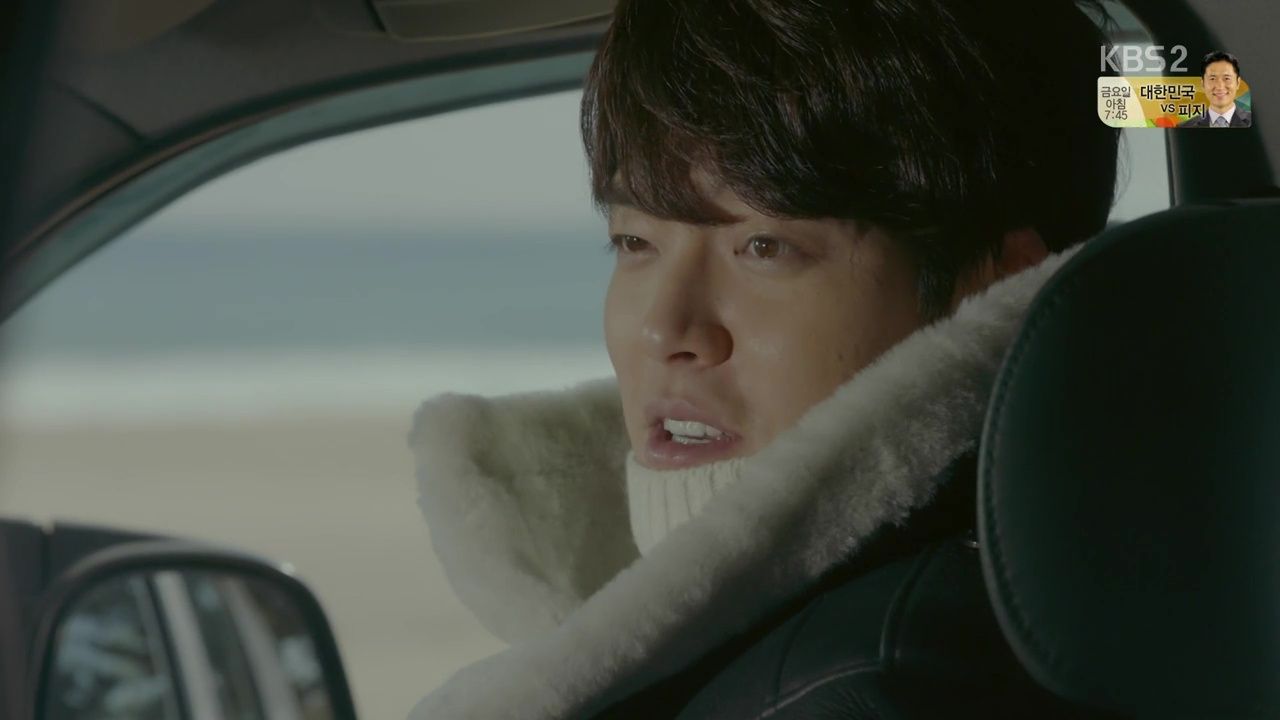 Joon-young surprises her by sliding into her car, and immediately grouches that she's some other guy's fan, calling him a total player. PFFT, he's so jealous. Eul is worried they'll get caught, and Joon-young is all, Caught because I'm actually your type? Because you like me back?
Eul calls Gook-young and tattles that Joon-young is in her car, so Joon-young grabs her phone away before she can say where they are. He says that everything that happens to him from now on is her fault, and stomps out of her car. After he's gone she realizes that he left a jar of sausages in the seat for her, awww.
Ji-tae's mother is sitting down to an unnecessarily lavish meal with her brother Hyun-gil, a police chief, though she doesn't touch a bite. He complains that her husband, betrayed him, but she counters that she just sent Hyun-gil money a month ago.
Apparently Hyun-gil's son got drunk and beat up someone, but Choi refused to get him off the hook, and Mom's brother feels wronged. Mom says that if word got out they could get in a lot of trouble, but he thinks he's entitled to the help because he's family.
Hyun-gil mentions Joon-young's mother and how they used to be close, which upsets Ji-tae's mom. He says that he feels bad because she was carrying Joon-young, but he sent her away on Ji-tae's mother's request. Flustered, Ji-tae's mother slips him an envelope of money and tries to leave, but he starts moaning loudly about poor Choi, raising someone else's son while his own son is right in front of him.
Stuck and with no other choice, Ji-tae's mom calls someone to arrange to have a significant sum of money transferred to Hyun-gil. She falters when she sees Ji-tae waiting for her outside the restaurant, and he takes the phone and angrily cancels the money transfer.
Back at their home, Ji-tae's mom asks how much he knows. He says he knows everything, even that Joon-young is Choi's son. He gently urges his mother to tell Choi the truth, including Hyun-gil's ongoing threats to her.
She's scared her husband will leave her, and tells Ji-tae that she liked Choi even before Joon-young's mother, Young-ok, did. She's the one who stood by his side as he became the man he is today, sure that Young-ok would have held him back if they'd stayed together.
Ji-tae agrees, which is why he thinks his father will forgive her if she confesses everything. But his mother knows Choi still dreams of Young-ok, and she believes that if he learns she had his child, he'll want to be with her and his son. Horrified, Ji-tae says that he's his son too, even if they're not be blood-related.
Ji-tae calls his father to tell him he loves him, and Choi jokingly returns the sentiment. Ji-tae invites him out for a drink and they arrange to meet soon, and Ji-tae nearly breaks when Choi casually calls him "Son."
It was his plan to tell his father everything today, and he'd promised his mother that her husband wouldn't leave her. She hadn't been convinced — his biological father left them for another woman, and she believes Choi will leave her, too. She'd asked for three months, accidentally letting slip that in three months, Joon-young will be dead.
Joon-young and Eul continue their interview, where she asks him to tell her one item on his bucket list. He says he wants to hear, "You're just my style" from the person who just asked him the question. Eul deadpans, "I'll edit that out."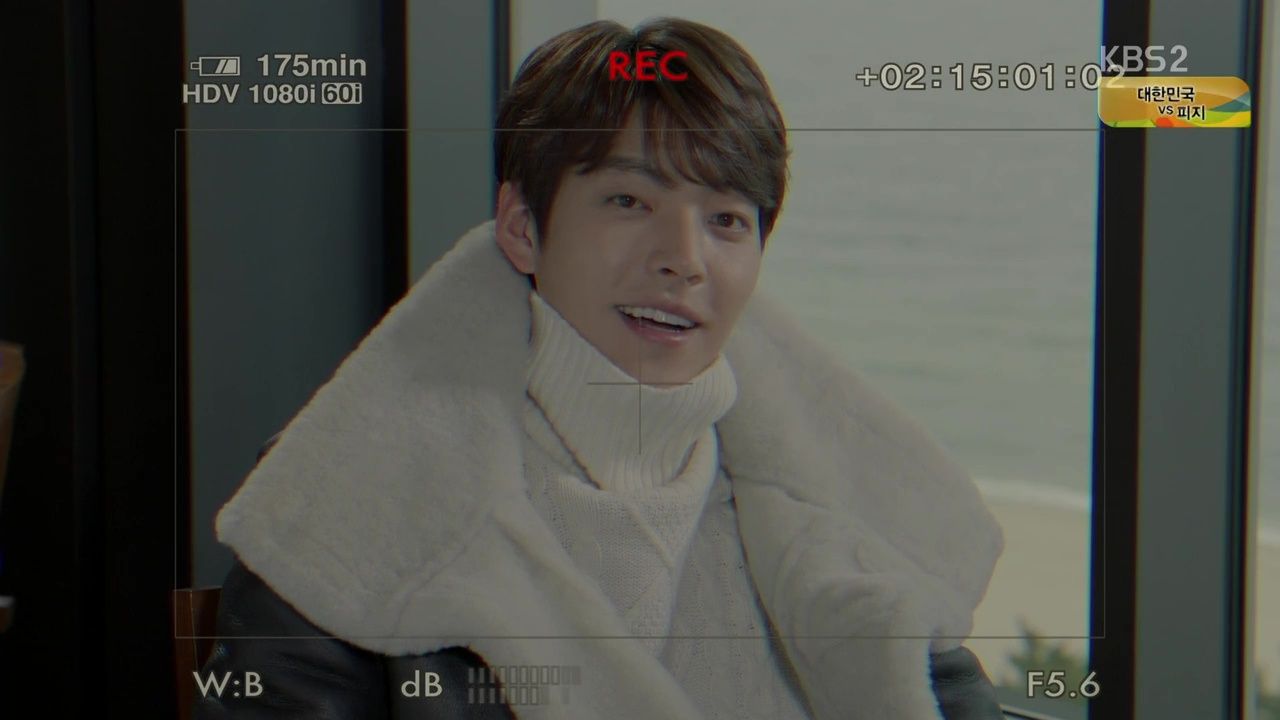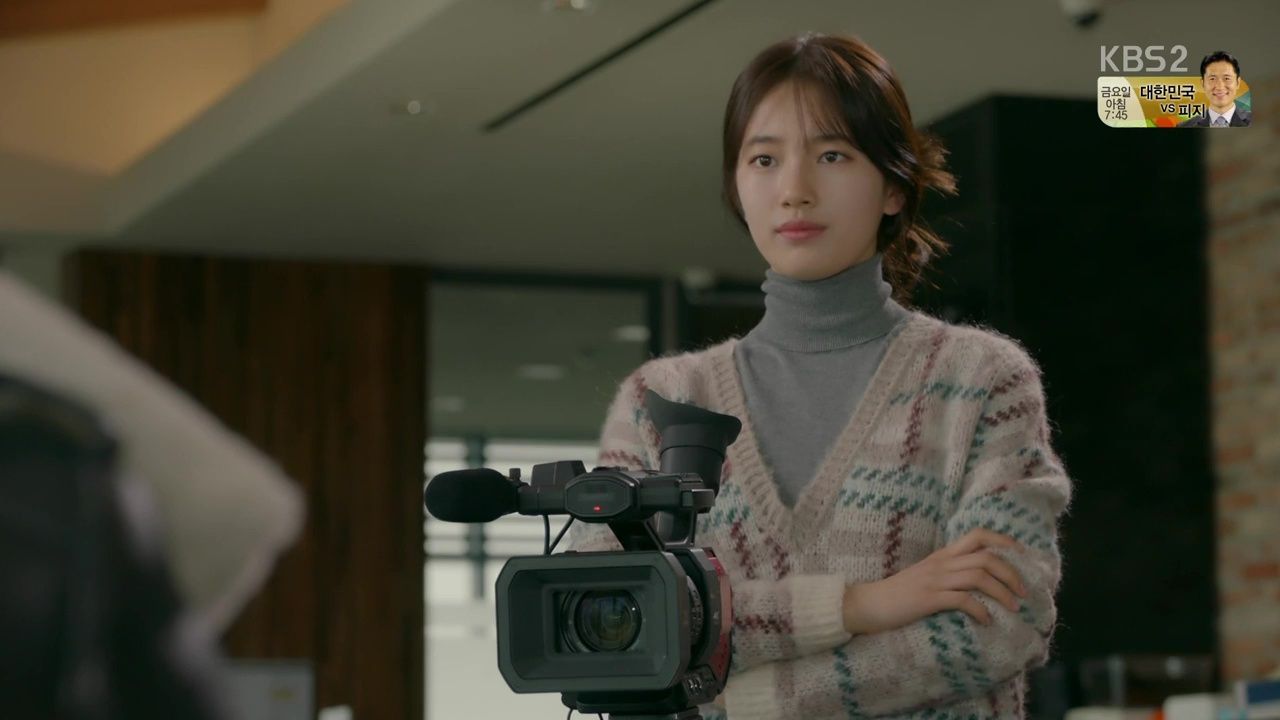 She asks again, and this time he answers that he wants to hear "I love you" from the woman standing in front of him. Eul tells him to knock off the jokes, but Joon-young isn't joking even a little bit, and Eul sighs in frustration.
He asks if she washed her hair, and when she spits back that she did, he takes it as proof that she likes him. She can't win with this guy. Eul says she didn't shower, actually, and hasn't bathed in a week, and she even threatens to fart in front of him, ha.
Gook-young interrupts to take Joon-young to his photo shoot and invites Eul along, but she's headed back to Seoul. She says that Joon-young is acting weird, and he shoots her a snooty look and stomps off, leaving behind another jar of sausages in his chair. Cute.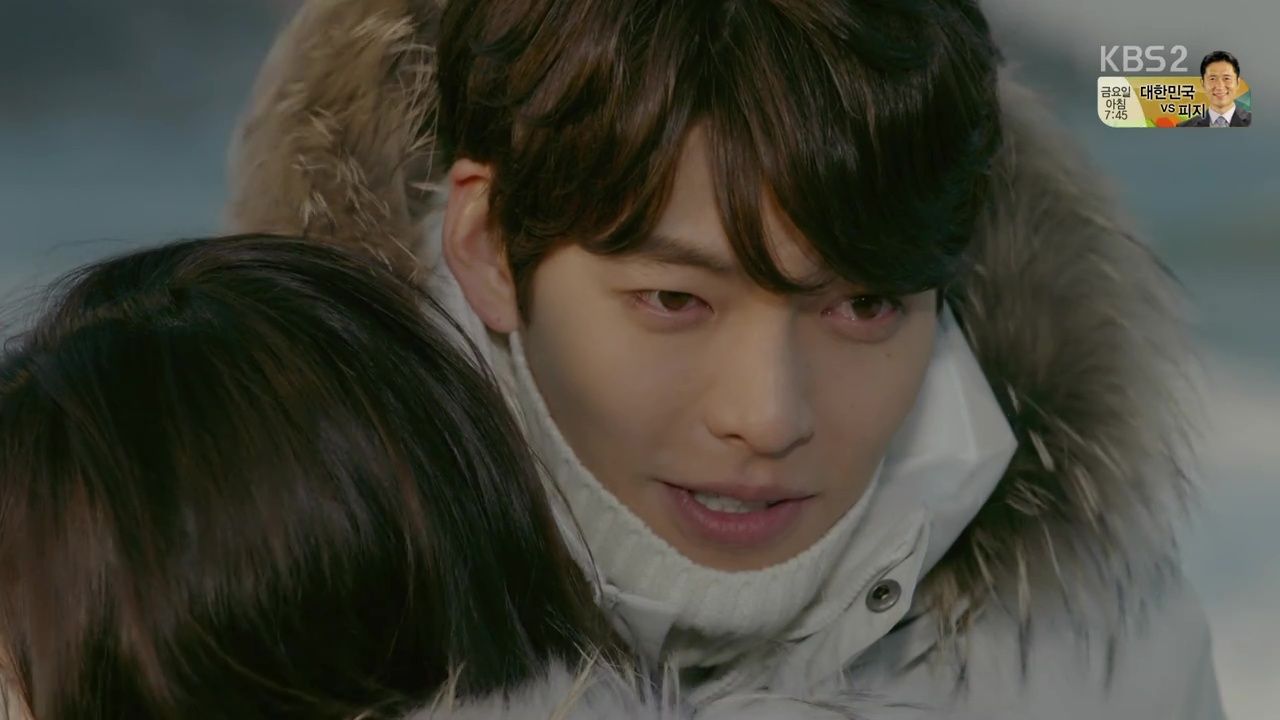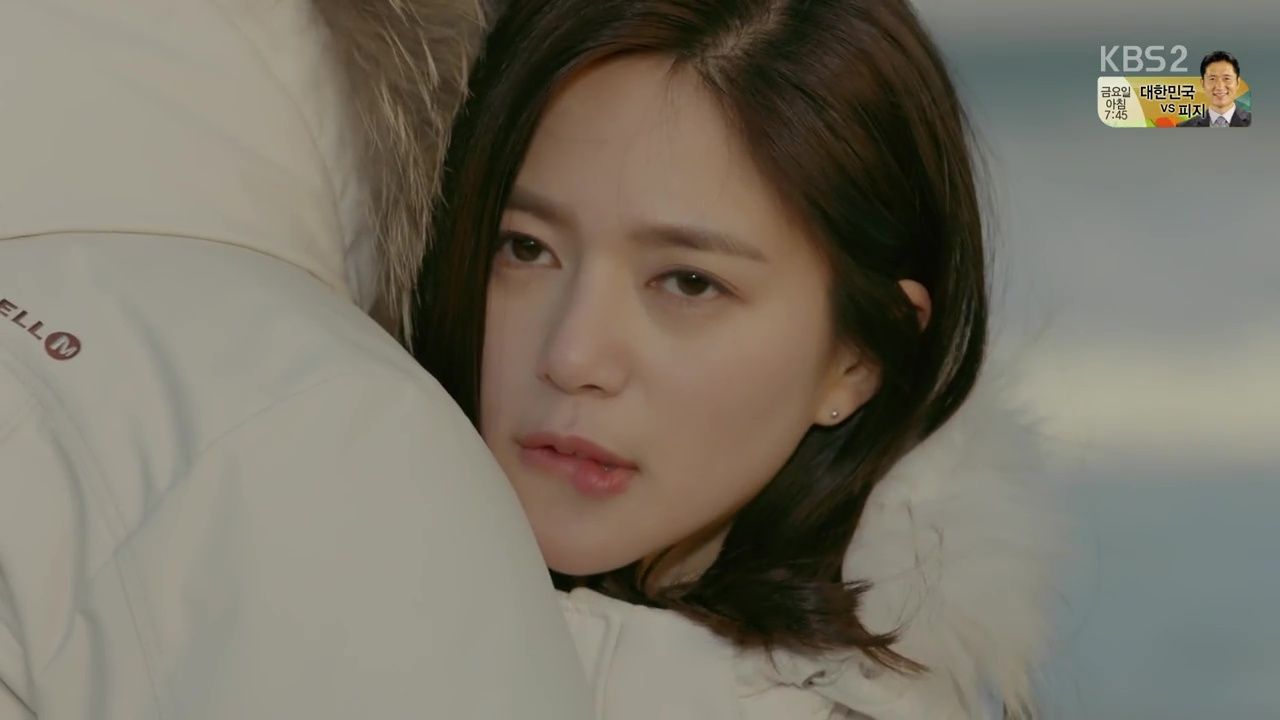 At the photo shoot Yuna suggests she and Joon-young date for real, and when he doesn't answer she asks what his relationship is with Eul. She calls Eul too low-class for a top star like him, and grows upset, asking what Eul has that she doesn't have.
She accuses Joon-young of making her feel bad, but he reminds her that she's the one who agreed to this fake relationship. He does express his gratitude to her for helping him and Eul, but that just makes Yuna angry. She storms off, and trips over a power cord hidden in the sand. It's attached to the light behind Joon-young, and it crashes down on his head.
Just as Eul is leaving to go back to Seoul, Gook-young jumps in front of her car and tells her that Joon-young was injured. He begs Eul to go to the hospital with Joon-young, and she jumps in the van that's about to leave. She's worried sick on the drive, and asks the driver if Joon-young was badly hurt.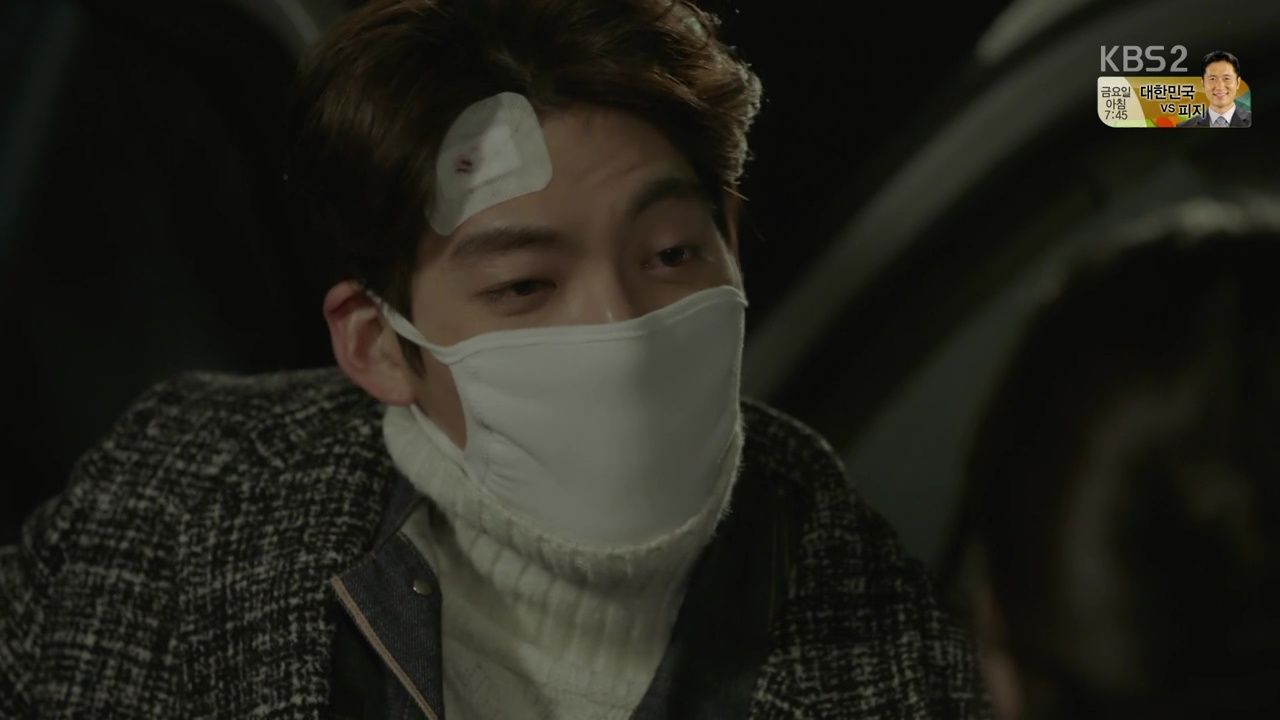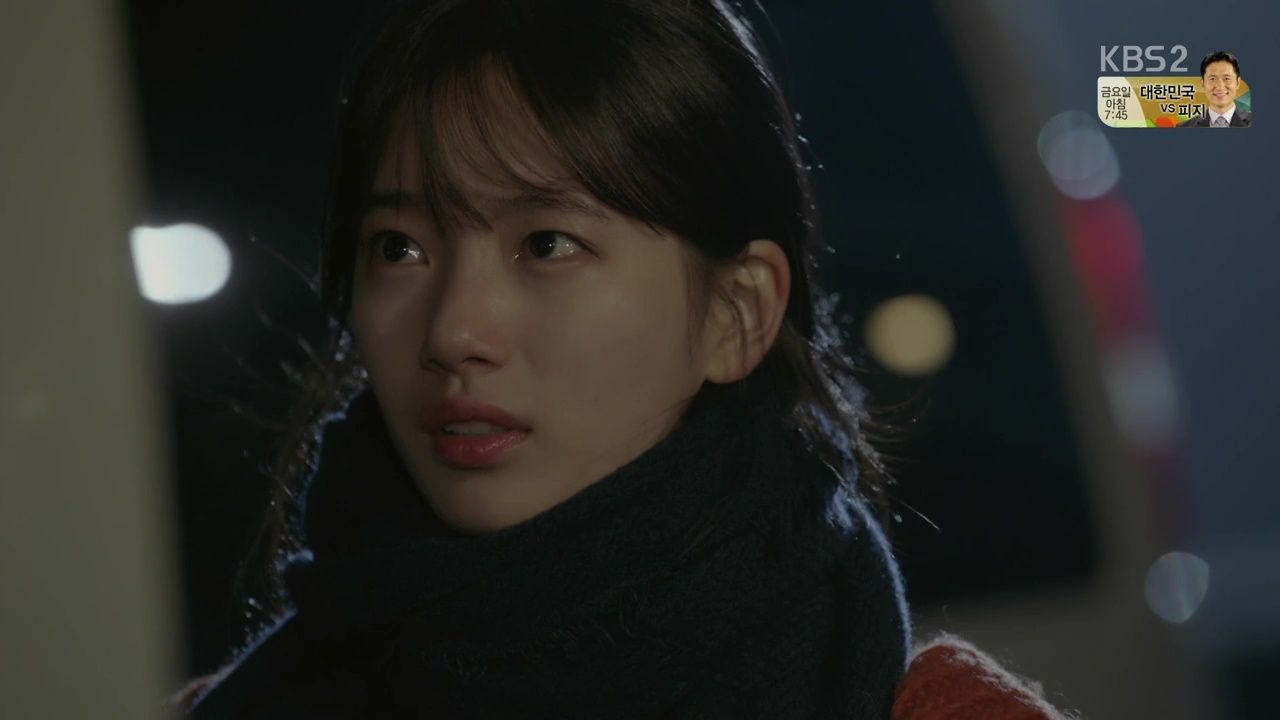 He says he was, that his life may be in danger, and Eul is too scared to even recognize Joon-young's voice behind the driver's mask. She grows angry when he stops for a cup of coffee, and yells at him to keep going because she has something she needs to say to Joon-young.
He says it will just take a few minutes, so Eul jumps out of the van and goes around to drive herself. She screams when the driver doesn't respond, and he finally gets out and takes off his glasses, revealing a small bandage and Joon-young's sparkling eyes.
He asks if she was so worried about him that she was planning to confess her love, and earns himself a kick in the shin. Yeah, he deserved that. Eul takes off down the road and Joon-young trails after her, contrite now, saying that it wasn't really a lie because he did get a bonk on the head.
He whines at her, asking why she pretended she didn't like him when her worry gives her away. Eul trips on a rock (dang, this girl trips over everything), and Joon-young takes off the mask to blow on her scraped hand. But his bare face reveals an even worse gash on his cheek, and the sight of it melts away Eul's anger.
Out of nowhere, Eul leans forward and kisses Joon-young, on the corner of his mouth below his scratch. He's struck silent, and Eul admits, "Fine, you're my style. Okay? And yes, I like you. Are you happy now?" She fusses at him for planning a date when he's this hurt, and he stops her complaints with another kiss. A really, really good one.
Some time later, Haru aegyos her father to take her along to a k-pop festival he's attending, but she's distracted by something and asks her driver to stop the car. It's Jik, walking to school, carrying something in his jacket — and it's meowing. She's surprised that he's in high school, but he says he never told her different, then he asks if she has any money.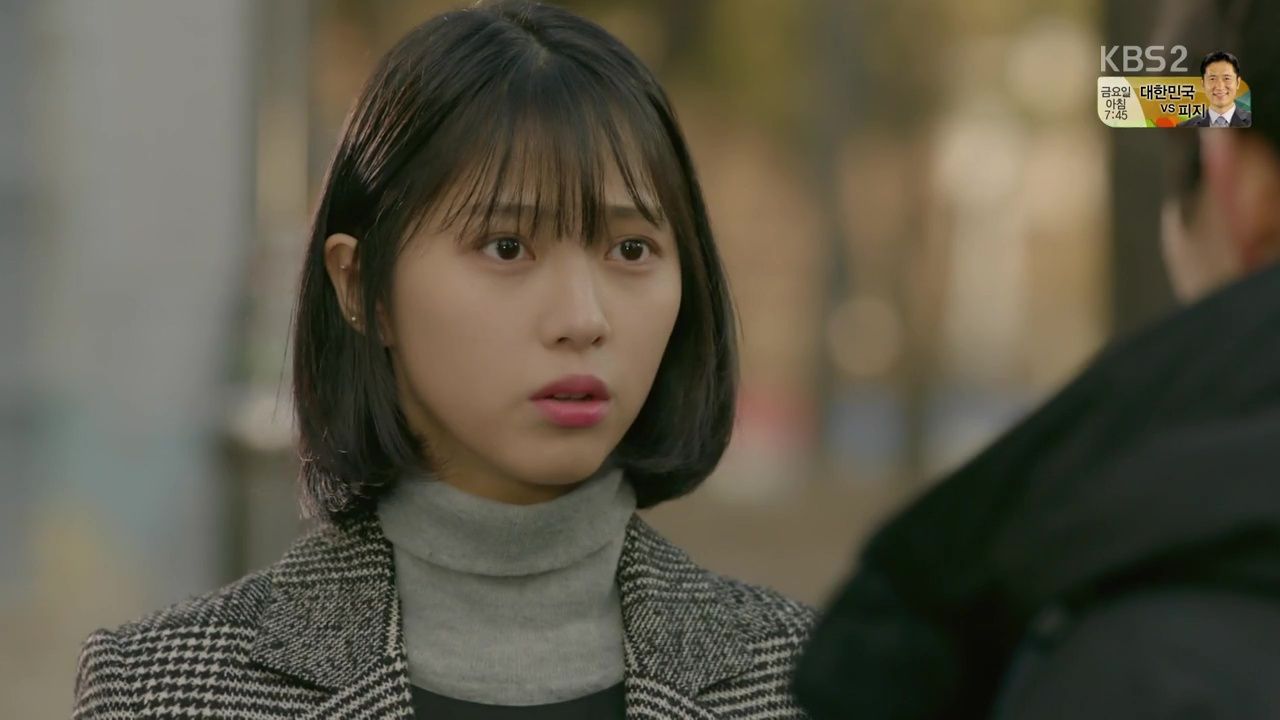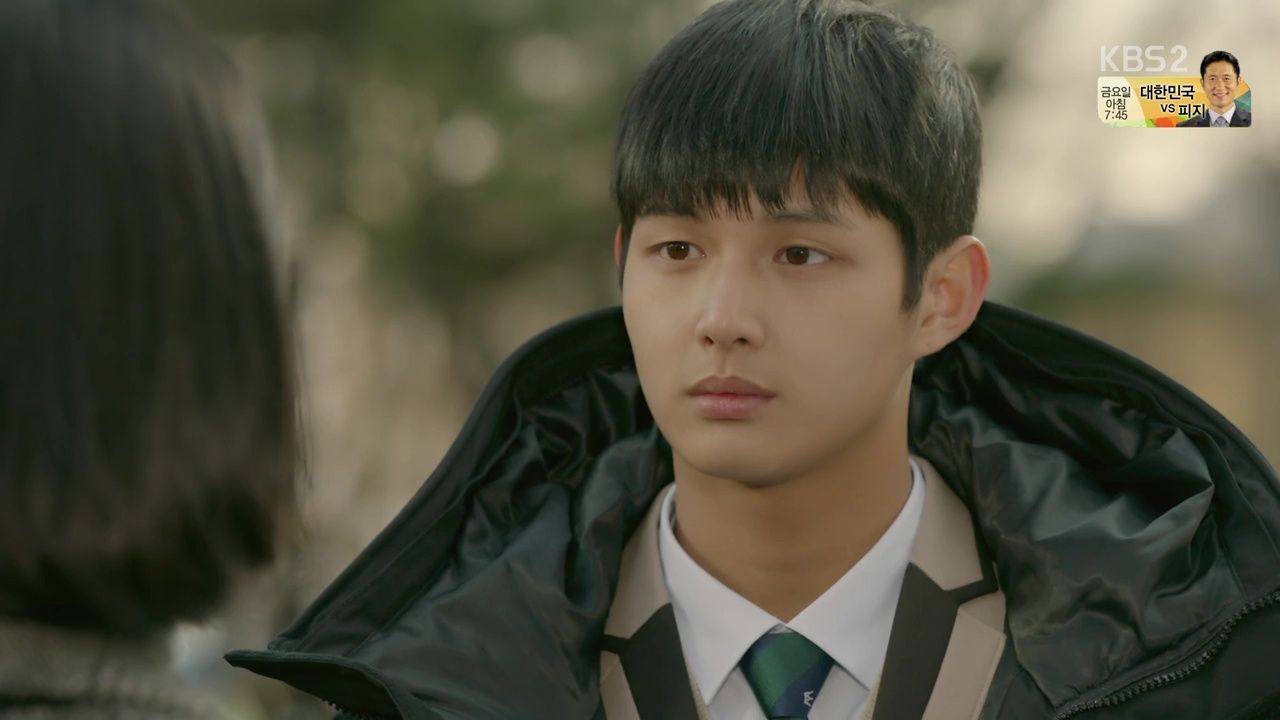 They get his kitten some food, and he says that someone abandoned it. He asks her politely to look after it while he goes to school, even calling her "noona," but she refuses. Jik turns his puppydog eyes on Haru and pouts that pretty people are usually nice, and it works. Well played, sir… well played.
Gook-young tries the same Joon-young is hurt, you have to come quick trick on his mother, but she's not a soft touch like Eul. He has to physically drag her out and takes her to a fancy clothing shop, where Joon-young is waiting. Mom tries to leave, but Joon-young stops her, and Gook-young literally hangs on her leg to keep her from moving, heh.
As it turns out, awards are being given to mothers of Hallyu stars at the k-pop festival today, and he plans for his mother to go. He buys her one of every outfit in her size, and tells the saleswomen to ignore Mom when she tries to refuse.
Joon-young reveals that a lot of important people will be there today, including Assemblyman Choi. He asks her to be proud of her son just this once, and Mom is too shocked to object.
Ajusshi is also going to the ceremony, and he cleans up really well in the tuxedo that Joon-young sent. His daughter plays the reporter and asks him to say a few words about Joon-young's mom, but he can't think of anything to say about her helping make her son a star.
Ajusshi wonders where Mom is — she's huddled outside, scared to go to the ceremony and possibly run into Choi. Joon-young watches her from his car, unsure of what to do.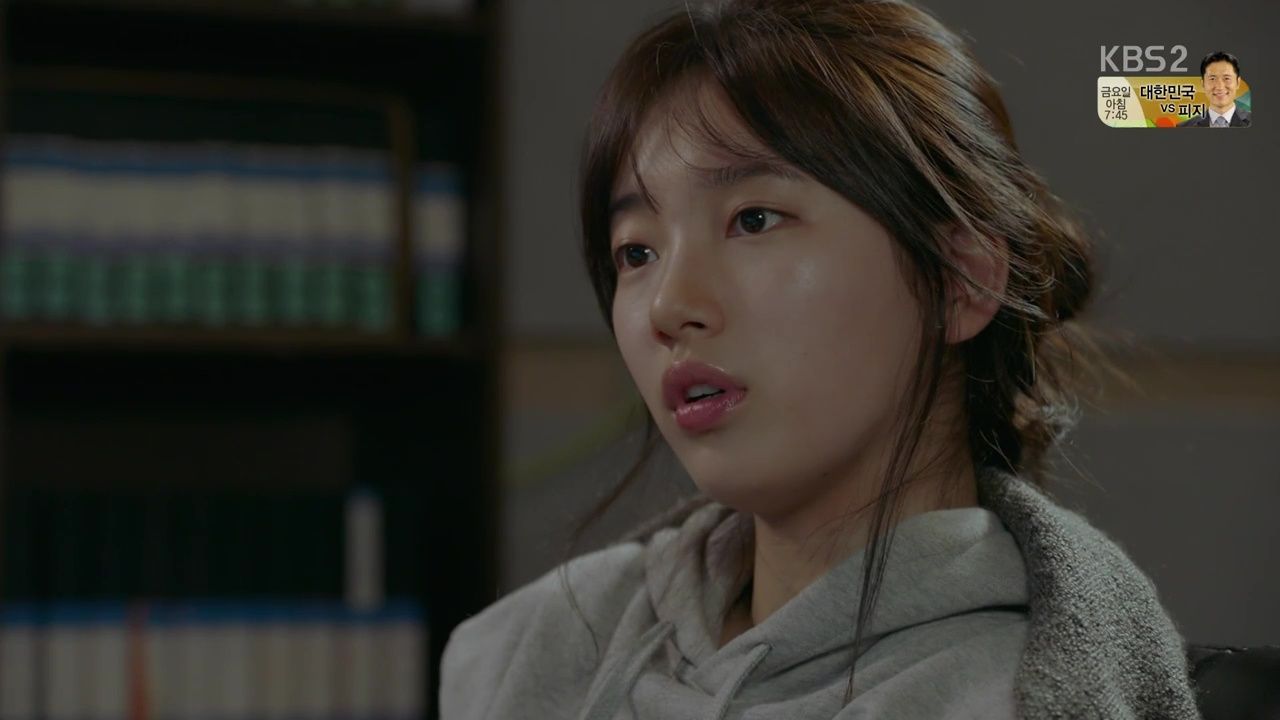 Eul goes over the footage from the cameras she's installed in Joon-young's home, and wonders what he's saying all the times he looks at the camera and talks. She plugs in the audio but she still can't hear, and wonders what's wrong with the recording.
Joon-young had told her not to come to the ceremony today, but her colleague says that as the PD of the documentary, she needs to go to film the festival. So she goes, cleaning up in the restroom as best she can, and doing a pretty good job with what little she's got.
Jik calls to ask when she'll be home, and she says she's got an unexpected shoot tonight. Na-ri snatches the phone to remind her that it's her father's memorial day, and Eul stops cold, shocked that she totally forgot. Jik takes the phone back and says that Dad will understand, and Na-ri admits that he's right… making a living comes first.
Eul is so taken aback that she can't even respond, and they assume she hung up. Jik keeps checking his phone, hoping to hear from Ji-tae, who always comes to their memorial services. But he's not calling either, and Jik can't call him because he's changed his number.
Ji-tae is actually standing on their doorstep in a suit with a bottle of wine, but he doesn't go in. he just leaves the wine on the stairs, and goes.
Choi, his wife, and Haru are on their way to the festival, and Mom nervously asks if Joon-young will be there. Both Haru and her father say he won't, and Mom pretends disappointment. When they get to the venue Mom tries to send Haru home immediately, but Haru whines that she wants to at least see Joon-young first. Whoops.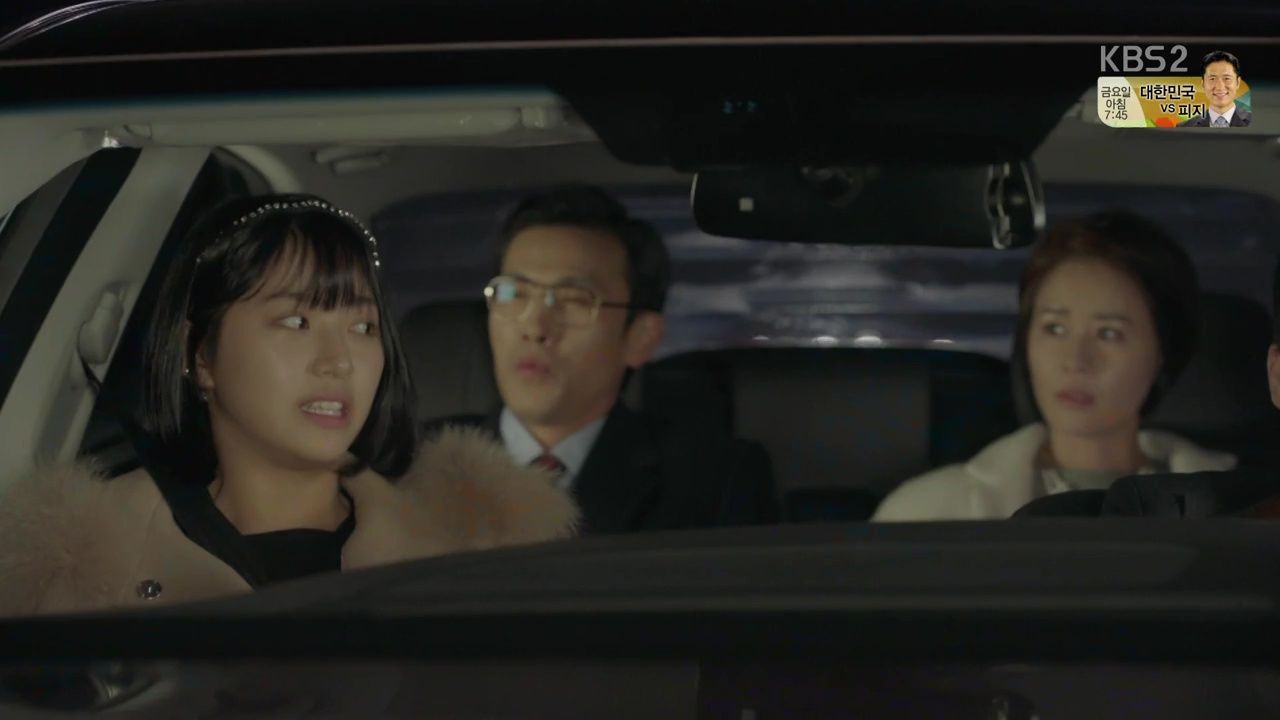 The kitten jumps out of her purse where she was hiding it, and Haru chases after it down the red carpet. Mom asks her husband why they lied about Joon-young, and Choi says that he just thought she'd send Haru home, and convinces Mom to let her stay.
Eul holds an impromptu memorial for her father, apologizing for forgetting about him. Haru's kitten jumps up and knocks over the soju, then starts chowing down on the french fries. Haru comes to retrieve the kitten, and offers to pay Eul for the ruined food.
Eul is insulted and knocks Haru on the head, saying that she should have apologized. Choi comes looking for his daughter, and Eul recognizes him with horror. Choi is perfectly polite, though Haru lies that Eul just hit her for no reason.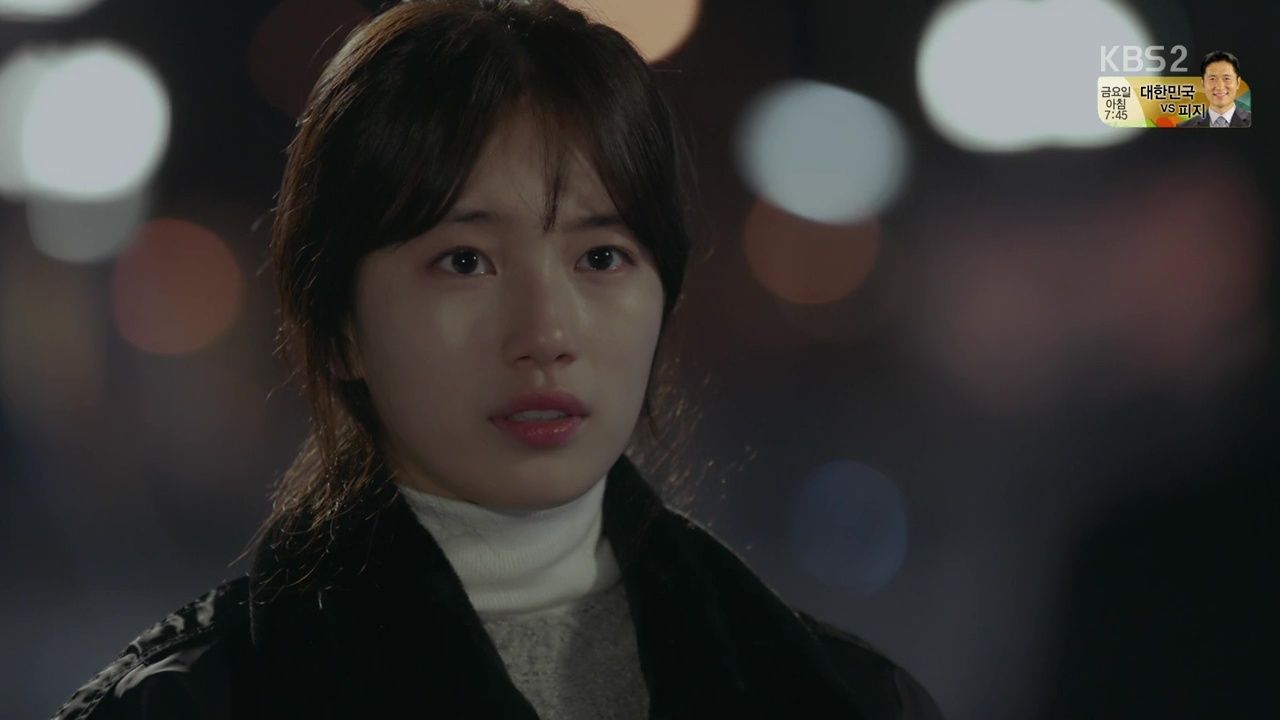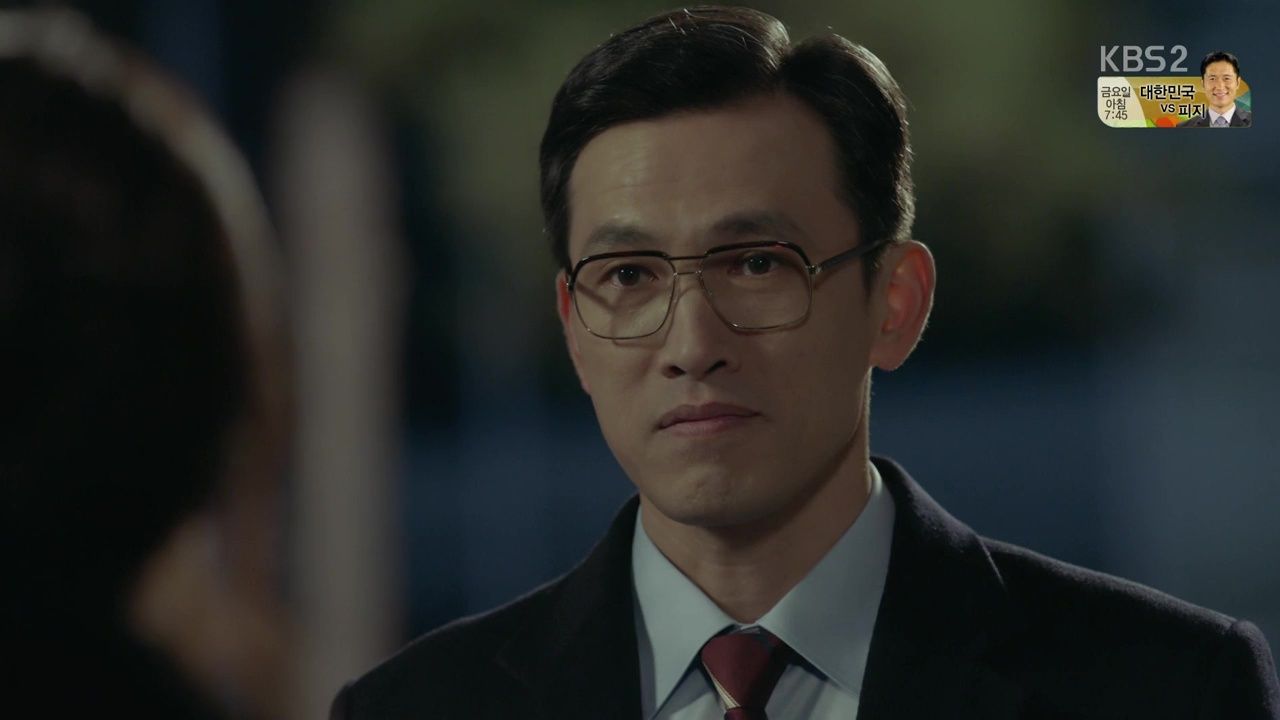 Eul asks if Choi recognizes her, and Haru whines that this is the gold-digger who tried to get her claws into her precious Joon-young. Choi shushes her and takes in the ruined food, and Eul flatly tells him, "Today is my father's memorial day."
He seems genuinely sorry and offers her more money to make up for it, then even more when she doesn't take it. A voice from behind them says firmly, "You should apologize first," and Joon-young strides up to the group.
He snatches the money from Choi's hand and angrily throws it to the ground. He repeats that he should apologize to Eul, and he and Choi lock eyes in a battle of wills.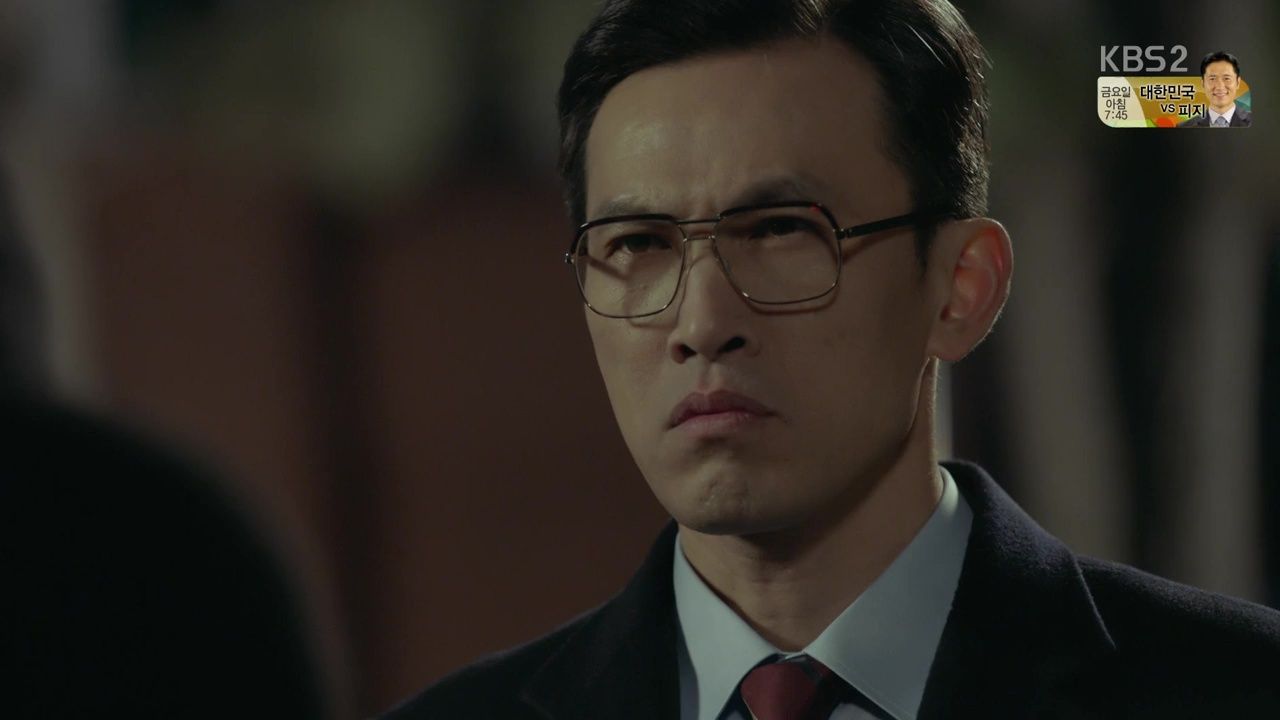 COMMENTS
I have a feeling that all the birth secrets are about to be blown sky-high, as the players are starting to circle closer and closer to each other. Big secrets like that can't be kept forever, and everyone really knows everything for the most part, they just don't know that everyone else knows. The only true secret is Joon-young's illness, and now even Ji-tae knows about that. I'm curious to see what he does with that information once he learns that Eul is falling for Joon-young. Will he spill the beans to try to protect her? Or will he keep it to himself and let her be happy for as long as she can?
One thing I really appreciate about this drama is how it shows the characters' emotions to be so true-to-life, messy and complicated and unclear even to their owners. Ji-tae's father is a good example — he obviously still carries a torch for Joon-young's mom. But at the same time, I believe he loves his wife and would do anything to make her well, even sacrifice himself. Love does not cancel itself out, and it's entirely possible to truly love one person while still retaining feelings for an old love. Joon-young's mother is another wonderful example of conflicting feelings, as she struggles with loving her son and hating his life choices, and only manages to confuse the two. She ends up treating Joon-young as if she hates him, which is clearly not the case, but she can't separate her anger at his decisions from the actual man her son has become. So she just attacks and hopes to get her son back the way he used to be, which is impossible. I just hope she resolves her feelings before it's too late for both of them.
Ji-tae, too, is a bundle of emotional contradictions. His situation moves me the most, because he has no control over how he ended up in such a confusing and traumatic place, but he's stuck trying to work it all out alone. He loves his father desperately, and yet he can't fully open up with him, knowing that at least once he chose to use his position to do a terrible thing. He loves Eul, but he can't be honest with her because of how his father wronged her, and I respect that he's trying to do the right thing and stay away, and set her free to live her own life. He's even prepared to marry a woman he doesn't love, and doesn't even like, knowing that she's the reason he's in this predicament in the first place. I'm not entirely sure, but I think he believes that if he marries Jung-eun and honors the deal with the devil that his father made, it will at least make the whole situation make some insane sort of sense. I also think that he sees his father happy enough with the woman who wasn't his first choice, and hopes that he can find the same happiness. It's hard to watch because Ji-tae is a good person and he deserves better, but it's because he's a good person that he's putting himself through all this.
In fact, Joon-young is the only person in this show who knows and understands his feelings clearly, and acts on them decisively. Even Eul was confusing her feelings for Ji-tae for love (I believe she cares for him, and feels a lot of gratefulness towards him for taking care of her and Jik, but she can't really love him when she doesn't even know who he is), so when real love found her, she had trouble recognizing it for what it is. But Joon-young has no problem knowing what he wants and going after her with single=minded purpose, and I love him for that. Seeing him smoothly switch tactics every time Eul moves the goalposts on him is hilarious, and he always manages to keep her off-balance, which turned out to be her downfall. There's no way she could resist that cheeky grin and his teasing manner for long. It's sweet that his desire to go on a date when he really needed a doctor is what tipped her over into her own confession, because she couldn't let him keep making stupid choices just to get her to like him. Easier to just give in and actually like him, and those kisses looked very, very worth it.

RELATED POSTS
Tags: featured, Im Joo-eun, Im Joo-hwan, Kim Woo-bin, Suzy, Uncontrollably Fond