W–Two Worlds: Episode 11
The earlier episodes twisted my brain, but this week's episodes really twist my heart. The romance went from sweet to genuinely moving in the latest story arc, and I'm even starting to think that Fate may not be so cruel after all. Though that's always what she wants you to think just before pulling the rug out from under you. Our heroine has a rough day ahead of her, because it's basically up to her to protect the love of her life, save everybody, and keep an entire universe from being swallowed up by a psychopath with a face fetish. Just a light to-do list before lunch hour.

EPISODE 11 RECAP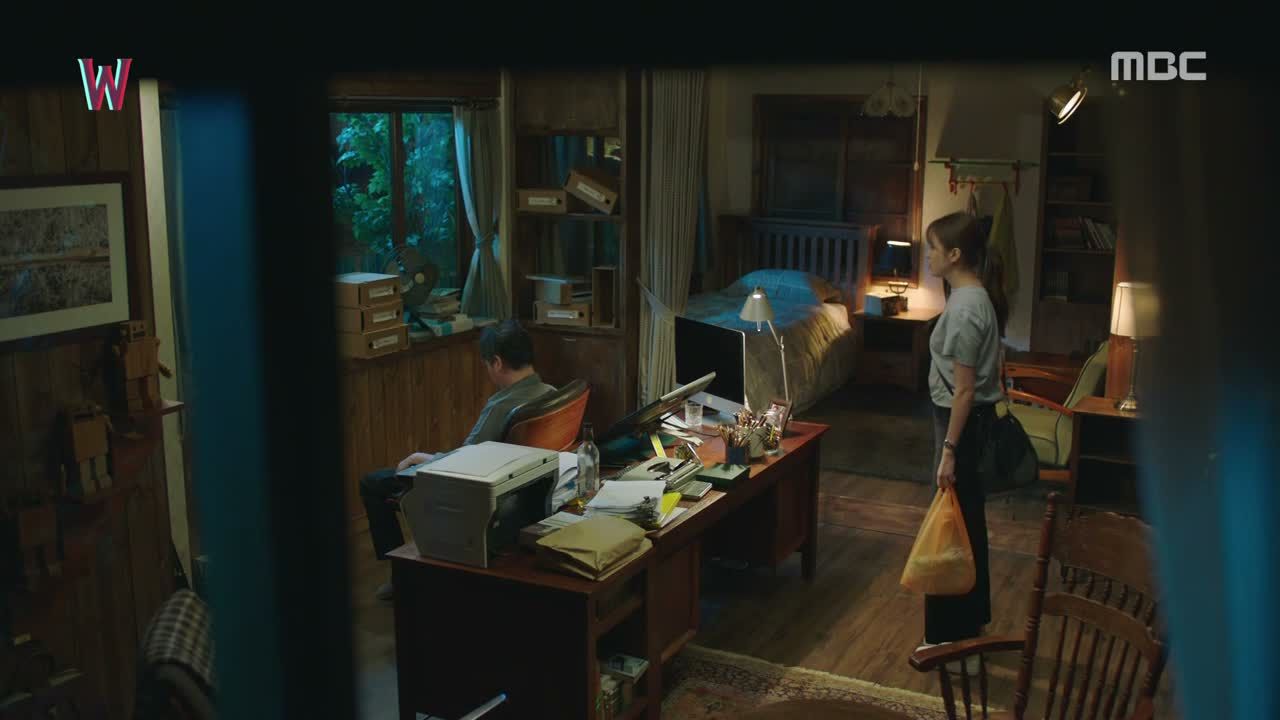 After returning to her world, Yeon-joo runs to the hospital's supply room and starts gathering the things she needs to treat Kang Chul's bullet wound. She races to Dad's workshop, but the gate is swung open, and no one answers when she calls out for Dad or Su-bong.
She checks Dad's office, where he's alone and sitting with his back to her at his desk, appearing to be resting. Yeon-joo breathes a sigh of relief and asks why he changed the happy ending and killed characters and framed Kang Chul for murder, and pleads with him to just let Chul be happy now.
But there's no response from Dad. Aiee, I already know what he looks like but I'm still scared. She calls out to him over and over and cautiously walks around the desk to approach him. She pauses for a moment at the torn-up copy of Goya's Saturn Devouring His Son, and then slowly cranes her neck to look at Dad's face…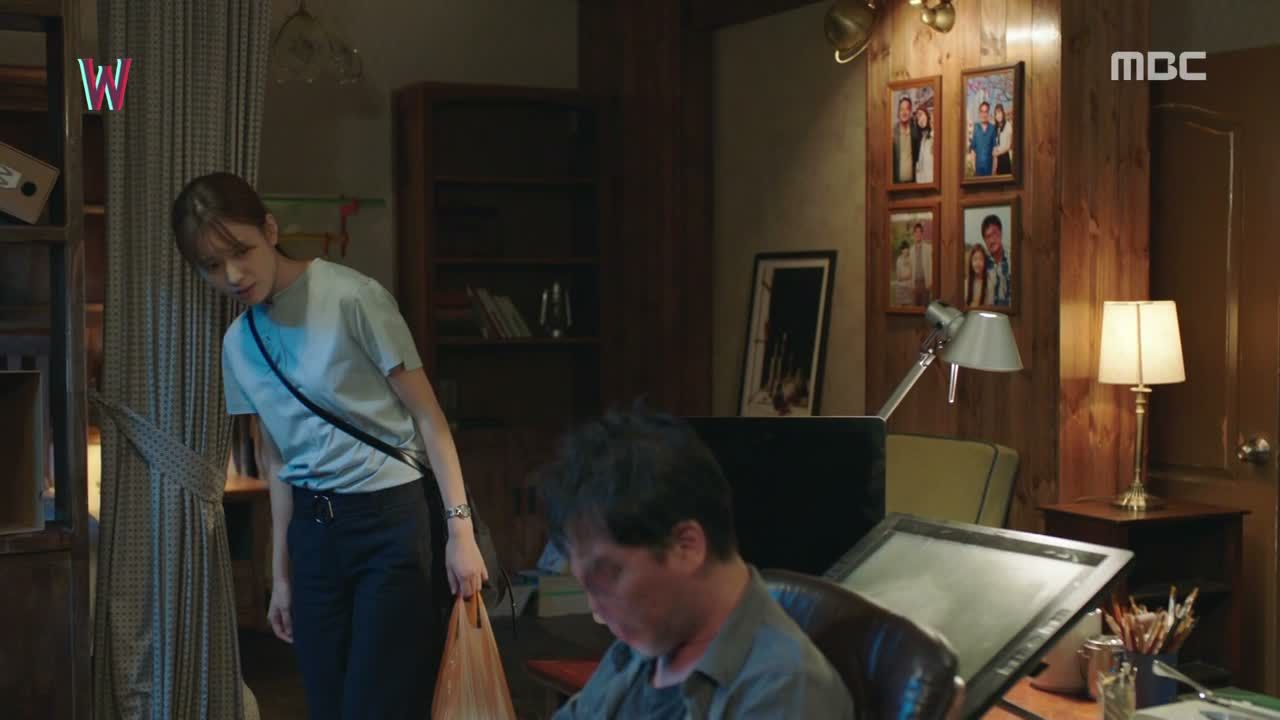 But he has no face, and Yeon-joo runs out of the house screaming like she's seen a monster. Oh no, she dropped her bag of medical supplies in the process!
At the same time, Su-bong blasts into Yeon-joo's office at the hospital, looking shell-shocked. Yeon-joo calls him and asks what happened to Dad, and Su-bong can only stammer, "You saw…? Teacher's face is gone! His eyes are gone, and his nose is gone, and his mouth is gone!" Yes, Su-bong, we all saw and now we can't un-see.
As he tells Yeon-joo what happened earlier that night, we see it in flashback: Su-bong woke up from his fainting spell, to see Dad drawing at his desk. It was almost as if he were possessed, drawing according to commands from New-Face Killer, whose voice was instructing him to draw Ajusshi's death in the manhwa.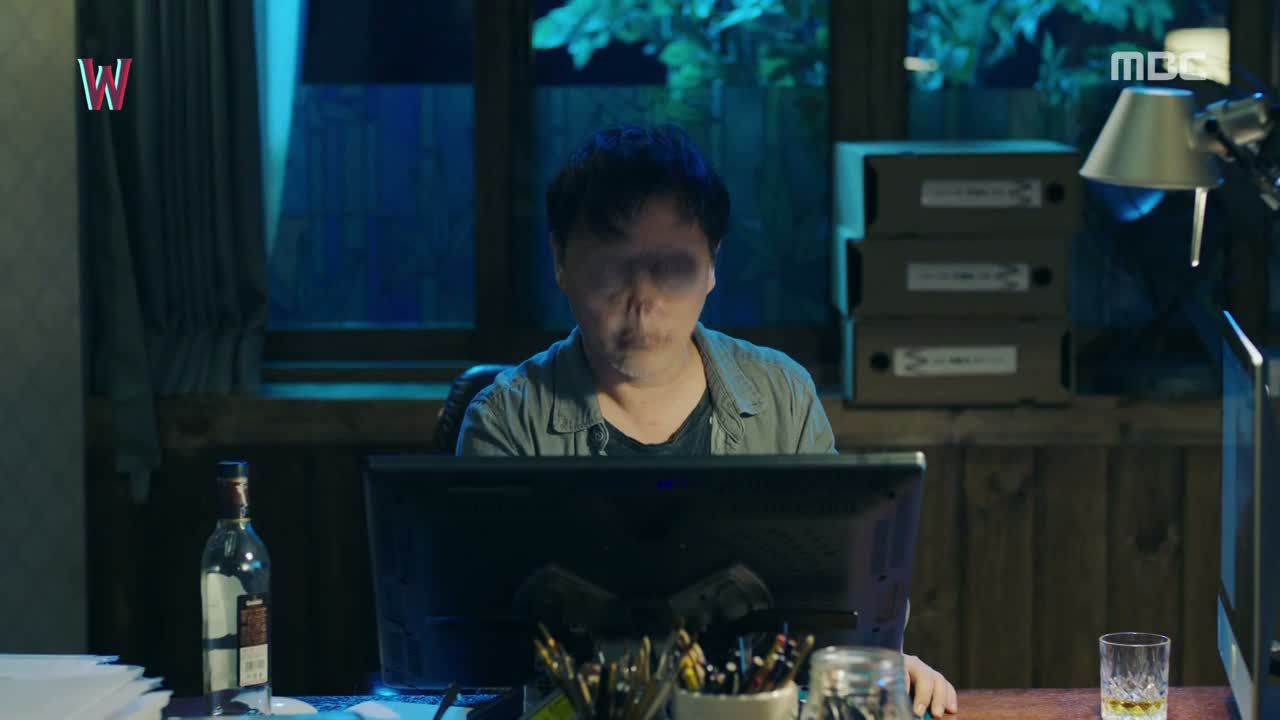 Su-bong screamed all over again and crawled out of there on his hands and knees, but Dad didn't even seem to notice, and kept drawing like a brain-dead drone. Gack, so New-Face really DOES control Dad? Well what the hell do we do now?
Back in the present, Su-bong stutters as he says that Dad was drawing like mad according to instructions, and Yeon-joo gasps and says, "You mean Dad drew that at the culprit's command?" Su-bong starts to cry as he shouts, "I… I… I don't… I was just so scared!" Aw, buddy.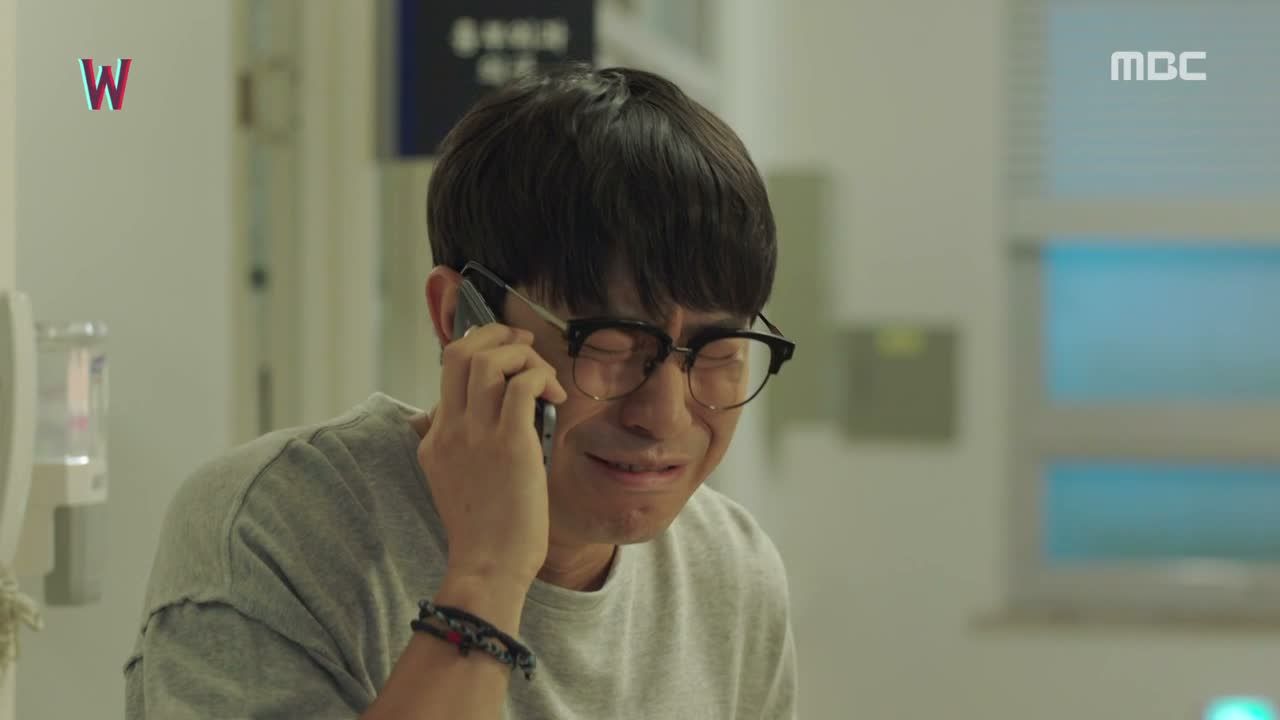 Yeon-joo says she has to get back to the manhwa world to save Kang Chul, but Su-bong argues that she'll die first, and that Dad isn't Dad anymore.
He yells at her to run and lock the door behind her, not noticing that Seok-bum and the nurse have overheard his entire crazypants conversation with Yeon-joo. Su-bong yelps when they walk up to him, but then he immediately runs into Seok-bum's arms and cries, "I'm so scared!" Thank goodness he finally got that hug. He needed it.
Yeon-joo must have balls of steel, because she ignores Su-bong's warning and goes back inside. She slowly creeps into Dad's office and tiptoes over to his desk. She's going for the one thing that can save them all—Dad's tablet—and starts to carefully reach for it without disturbing him…
But as soon as she puts her hands on it, Dad's hand clamps down on hers. Ack! And then he turns no-face-forward and lunges at her. Aaaaaaaaaaaack! All we hear are Yeon-joo's screams from the hallway and the sounds of a horrific struggle inside. This is terrifying.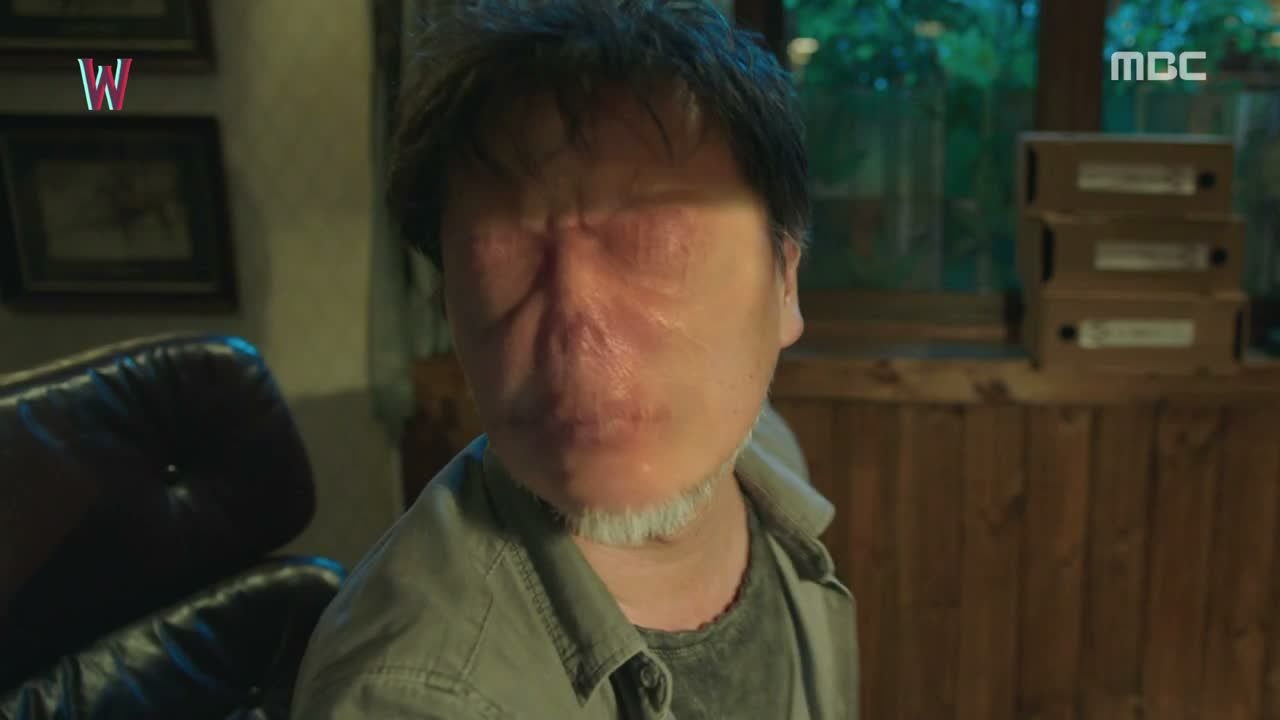 In the manhwa world, police officers are crawling all over Kang Chul's penthouse, boxing up anything that can be used as evidence against him. They find a gun under his pillow, of course, and they make So-hee open up the safe and tell Do-yoon that he'll have to be questioned as an accessory.
Do-yoon is alarmed when he overhears the cops reporting that they've found Chul on a traffic camera and are close to finding him. They set up roadblocks near the area, and two officers pull up to the hotel where Yeon-joo left Kang Chul still bleeding on the bed.
They get a list of current occupants and make their way down the hall, checking room by room. And at the very end of the corridor is Chul's room, with the blood on the floor and the door handle.
Chul can hear the cops in the hallway as they check the other rooms, and he struggles to turn off the lights and reach for his gun in his coat pocket. His room is next in the search, and Chul uses all his strength to point his gun at the door.
But just as the cops are about to walk over, the door gets erased. Yeon-joo to the rescue? It's just in the nick of time, and the cops don't notice that the drops of blood on the ground are getting erased at their feet as they walk over. Chul doesn't understand it, but the cops say that they're moving on to the next floor. And as the cops get on the elevator, the security camera overhead gets erased too.
Back in Yeon-joo's world, we see her at Dad's desk, frantically doing all the erasing. Yay! There's a disturbing ruckus behind the locked door though, and she keeps glancing over at it worriedly. Did you… lock your father out?! How did you…? Damn, I'm impressed.
Thinking quickly, Yeon-joo changes the color of Chul's car from black to silver, and rewrites the license plate number just as the cops reach the parking lot in the manhwa. With Chul out of the woods for now, she empties her bag of medical supplies on the desk and begins to draw them, one by one. Smart girl.
Dad just pounds on the door over and over, and Yeon-joo draws as fast as she can, murmuring for Kang Chul to just hang in a little longer.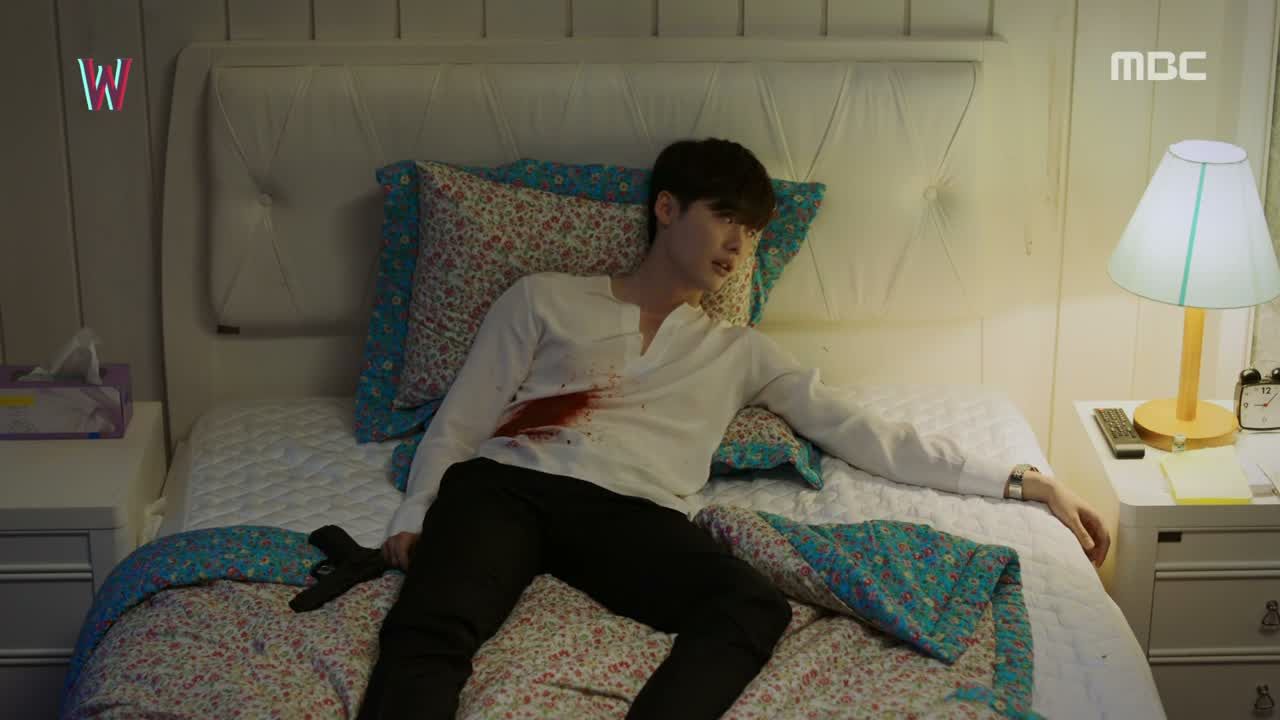 Chul is looking pretty bad right now, and is plagued with the memory of discovering his family dead and watching Ajusshi die right in front of him. But then on the nightstand, the bloody bandages get erased and replaced with a ringing alarm and new medical supplies.
Chul asks out loud if this is Yeon-joo's doing, seeming to understand that she's somehow helping him from afar. She includes a note along with the supplies, urging Chul to get it together and wake up, because she can't come to him right now and he has to treat himself. Treat himself?! Is he also Jason Bourne?
Yeon-joo continues drawing more supplies, when suddenly the tablet glows and New-Face asks, "Who are you? Are you Oh Yeon-joo? When did you get out?!" He peers up at her with a menacing glare, and then his hands shoot out of the tablet and wrap around her neck.
New-Face chokes her violently, and she struggles to free herself, but can't pry his hands off. She reaches for anything she can grab as a weapon, but everything is just out of reach. Just then, she spots the power button on the tablet, which is juuuuuuust close enough for her to reach… and with one click the machine shuts down and New-Face's hands vanish. Whew.
Powering off the tablet seems to sever the connection that New-Face has to the outside world, because he's shoved back down into the manhwa world, and at the same time, Dad stops pounding on the door and just kind of slumps to the ground like a powered-down robot.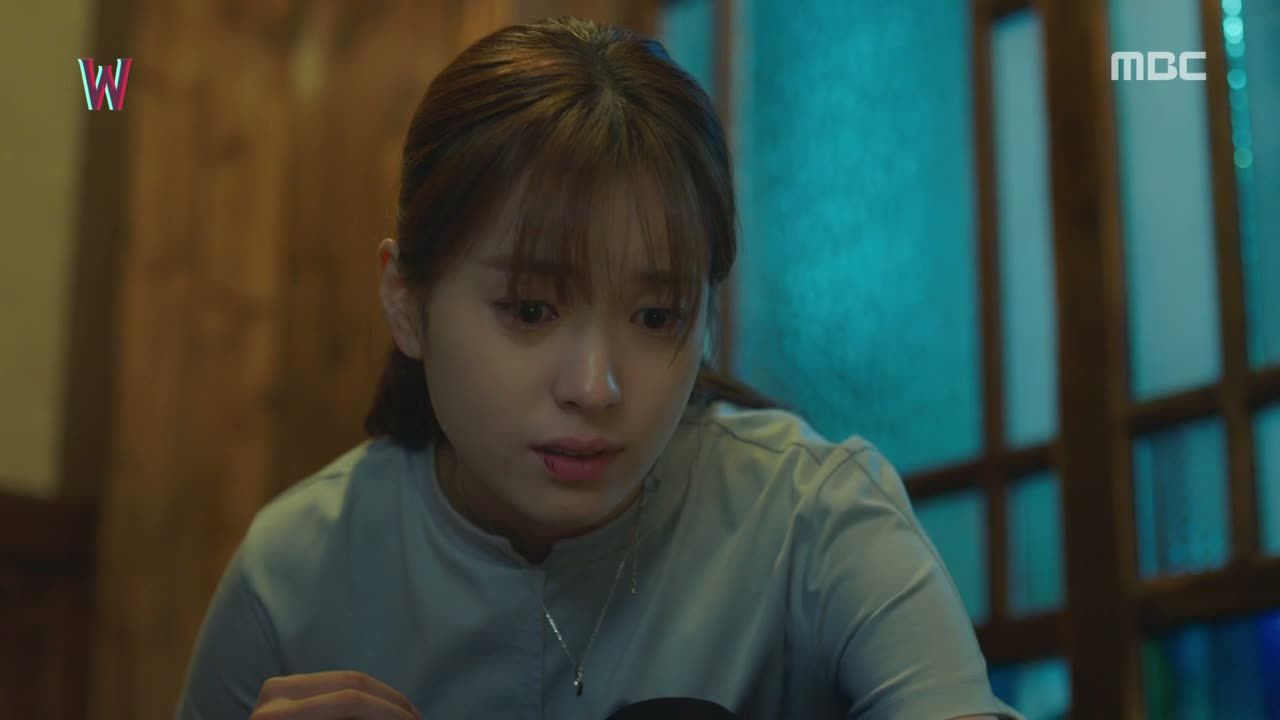 Yeon-joo goes out to check on Dad, who's unresponsive when she calls out to him. She carefully reaches out and puts a hand on his shoulder, but still there's nothing. He's not… dead, is he?
She cries on Dad's shoulder and then carefully moves him to her bed, tears threatening to overwhelm her again.
Su-bong drags his feet as he returns to Dad's workshop, and Seok-bum is there with him, encouraging him to go inside. The house is quiet when they enter, and Su-bong is so scared that he grabs Seok-bum's hand before calling out for Yeon-joo. Seok-bum points out that interlocking fingers seems a bit much since they just met today. LOL.
Su-bong clings to him anyway like a little baby octopus. They eventually split up and Su-bong finds Yeon-joo in Dad's office, just staring at the tablet numbly. She says that she locked Dad in her room, not knowing what else to do with him.
Seok-bum looks around the workshop and then reaches for Yeon-joo's door thinking it's the bathroom. No, don't open it! Thankfully it's locked, but it's making me nervous that he keeps jiggling the knob.
Yeon-joo tells Su-bong that Dad quieted down after she shut off the tablet, and they guess that it must've severed the connection between Dad and New-Face. Yeon-joo says that she was thinking of making it all a dream again, and Su-bong suggests going all the way back to before Chul's family was killed, before the villain ever existed. But… then the love interest becomes a minor!
Seriously though, have some pity for the readers of W. One it-was-all-a-dream might be tolerable, but two? The problem is, Yeon-joo points out, they can't turn the tablet back on to draw any of that, because that's exactly what New-Face is waiting for.
Seok-bum interrupts and asks where Yeon-joo is, and Su-bong looks at him like he's stupid and says, "She's right here." But when he turns to look at her, she's gone. All Su-bong can do is laugh, and Seok-bum laughs with him, but in that way where you pretend because you don't want to upset the crazy person in front of you.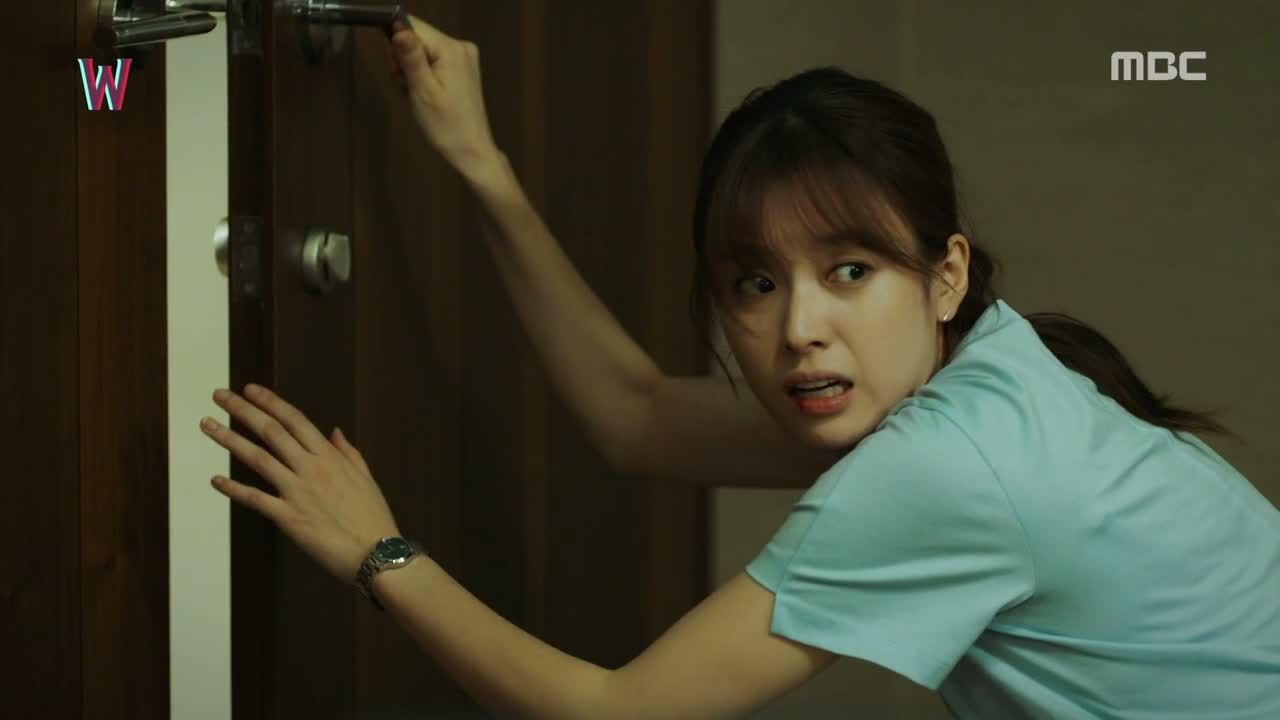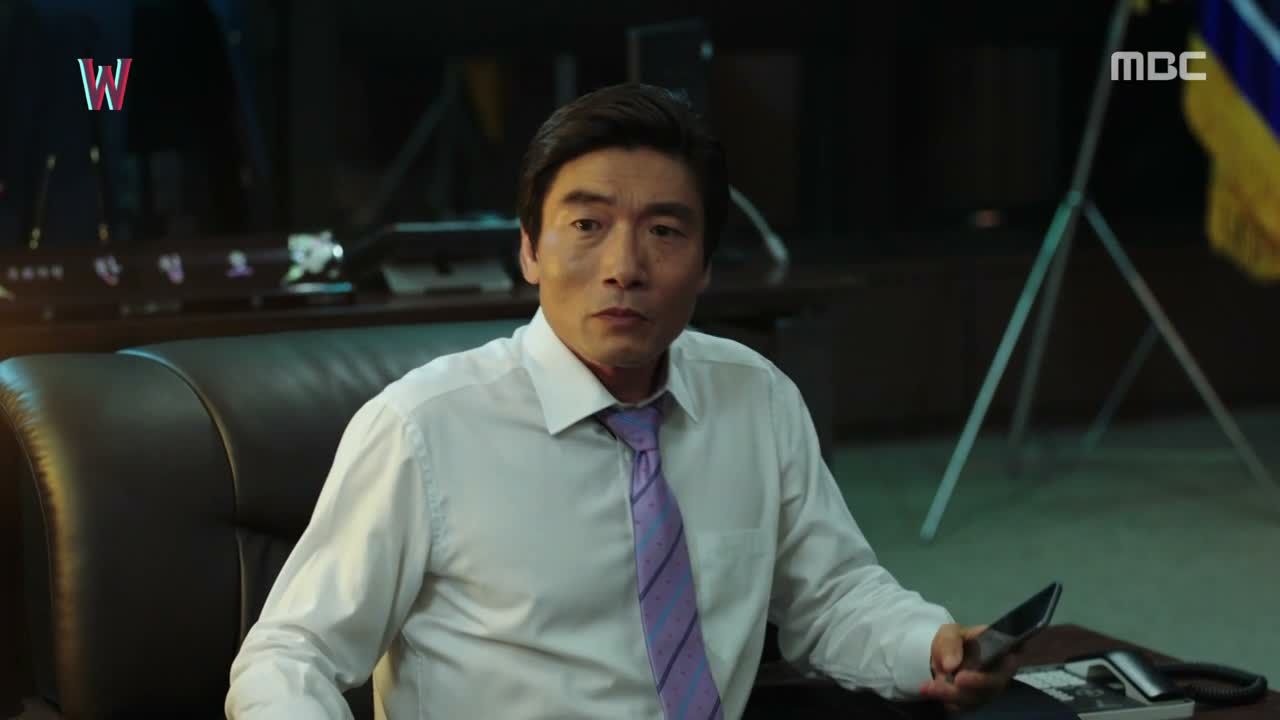 Of all the places, Yeon-joo appears in the manhwa world inside Assemblyman Han's office, while he's holding a traffic cam photo of her and wondering, "Who is Oh Yeon-joo?" to someone on the phone. He plans to start the search for Kang Chul with her, and calls it karmic retribution that things turned out this way for Chul, like it's proof that justice still rules the world.
While Assemblyman Han lays out his scheme to kill Kang Chul before he can ever make it into police custody, Yeon-joo ducks down and crawls her way towards the door, even though it's right in his line of sight. He catches her just as she's about to escape, and all she can do is run for her life.
Thankfully she makes it out to the street before anyone can catch up to her, and she wonders why on earth she arrived in Assemblyman Han's office. Then it occurs to her that Assemblyman Han was looking for her, and that perhaps the last times she's been pulled back here, it wasn't because of Chul, but New-Face, who was also looking for her. She wonders, "The hero's not the only one who can call me here? Why, all of a sudden?"
Assemblyman Han belatedly realizes that the mystery woman in his office was Kang Chul's runaway accomplice, and the wheels start turning in his head.
Yeon-joo runs into the nearest convenience store and asks the clerk what day it is and what happened to Kang Chul, explaining that she hasn't been able to check the news. He tells her it's the 22nd and Kang Chul is still on the run, and Yeon-joo is relieved that only two hours have passed in this world.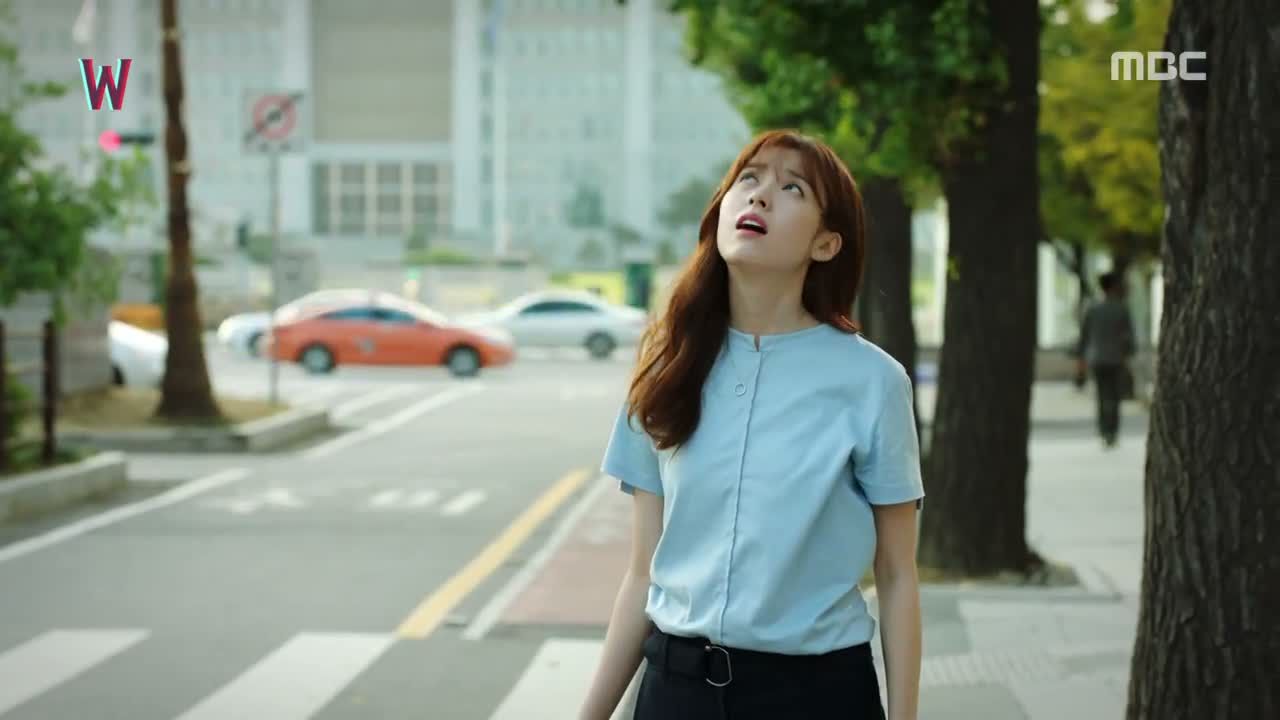 But as she's hailing a cab in the street, time suddenly fast-forwards, and night turns into day. Crud. Yeon-joo runs right back to the convenience store and asks the clerk the same questions, heh, and she finds out that it's the 22nd and Kang Chul is still on the run… but he means September 22, and Yeon-joo is shocked to realize that a month has passed.
She goes back to the hotel where she left Chul, but there's still no door to the room since she erased it, and there's no answer when she knocks on the wall. She's terrified that the rumors are true that he died while on the run.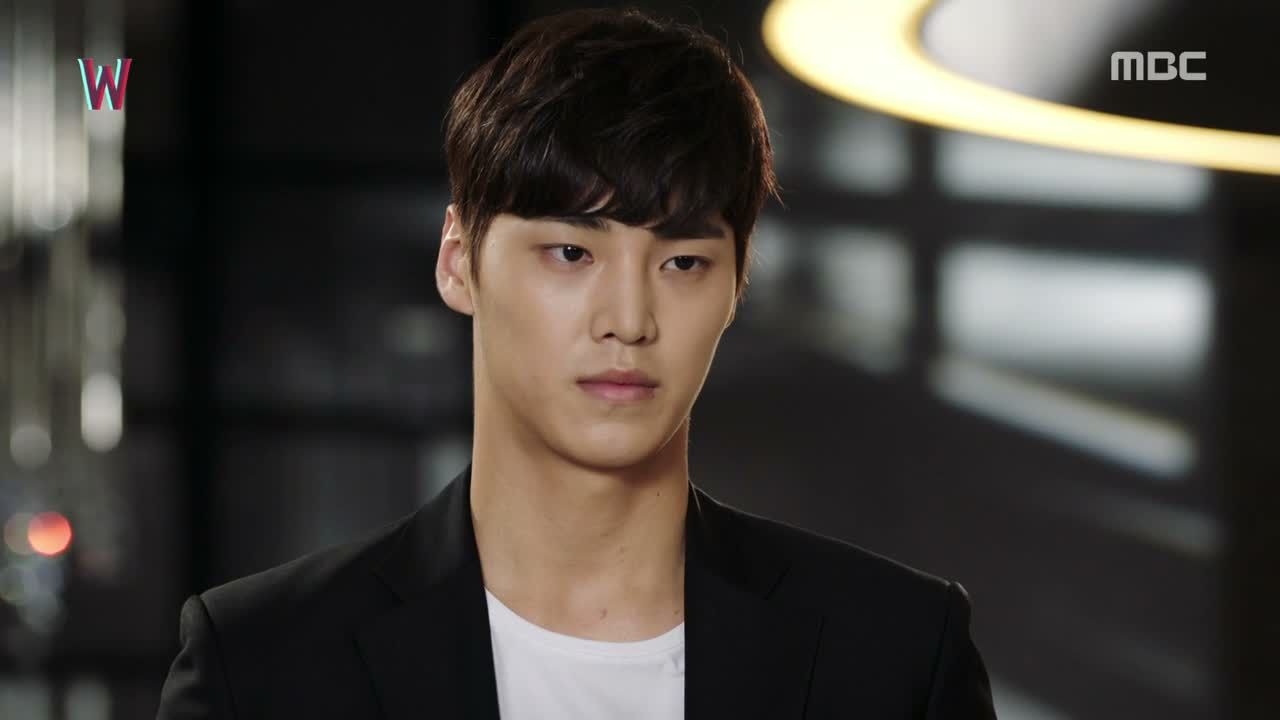 Do-yoon cleans out the last of their belongings from Kang Chul's penthouse suite, and So-hee tells him to join her for a glass of wine since it's their last day. She guesses that Chul really did die out there, because she doesn't know how he'd last this long otherwise. She wonders sadly how he could've just died without leaving a single word behind, and Do-yoon remains silent.
Another bodyguard pulls Do-yoon aside and says that someone named Oh Yeon-joo is here to see him, and Do-yoon comes out to the hall to find Yeon-joo crying on the floor. She asks if Kang Chul is still alive, and Do-yoon asks what her relationship is to Chul.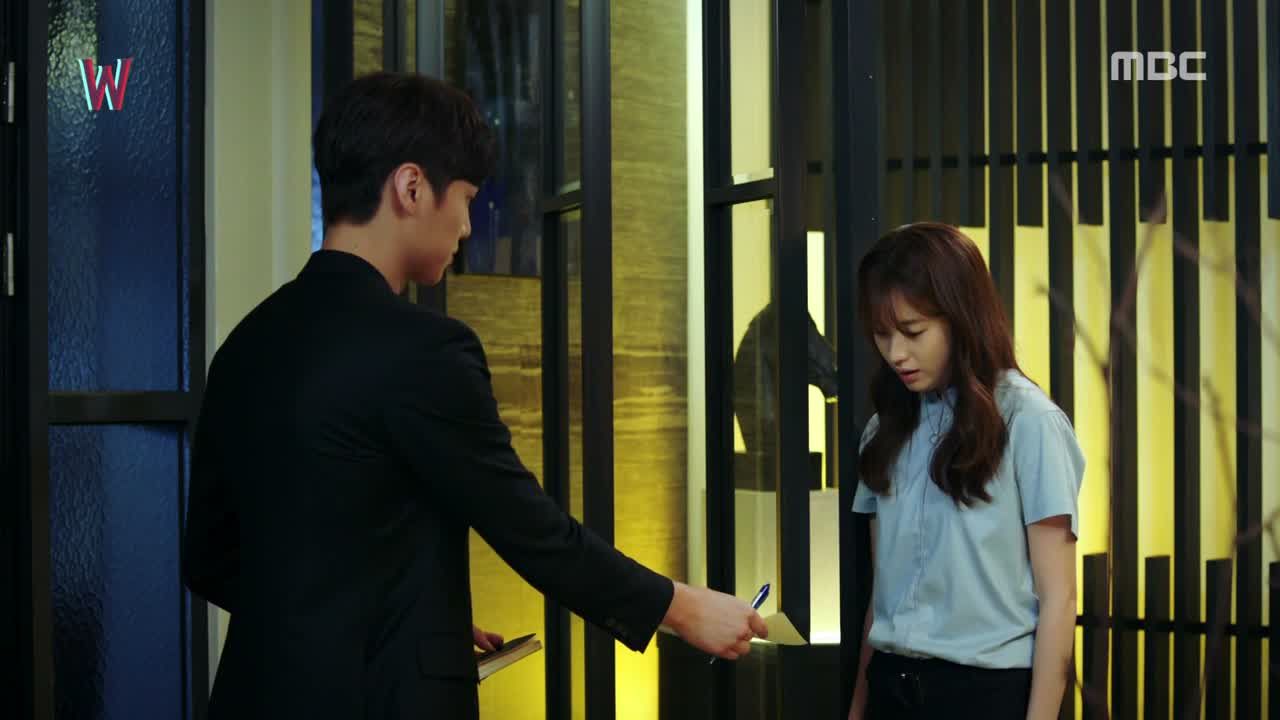 She says they're not really anything, but she cries so sorrowfully as she says that she just wants to know that he's alive because he was in bad shape when she left him. Do-yoon takes out a notebook and writes down a location, and tells her to go meet Chul there. He admits that Chul has been looking for her all this time.
She's just utterly relieved to know that he's still alive. As she leaves, Do-yoon asks her to convince Chul to turn himself in, because Do-yoon is out of other ways to help him.
Yeon-joo takes the bus to a remote town, and waits at the bus stop that Do-yoon indicated. She waits and waits, and then finally Chul pulls up in the car that she'd camouflaged for him.
He rolls down the window and calls out her name with a little grin. Heh, different car, same smile. She gets in and doesn't say a word, while Chul is happy to see her, mostly because he's happy to see a familiar face and to have someone to talk to.
She says she thought he had died, but Chul says he couldn't possibly, when she'd left such helpful instructions for how to treat himself. He flashes back to waking up in the hotel in the middle of a dream—the one where he's sinking at the bottom of the Han River (omo, is he remembering parts of his dream-past?).
It was as if she were calling him out of the dream to wake up, and then according to her instructions, he gave himself shots of antibiotics, and then dug the freaking bullet out of his own stomach. Holy crap, did we really have to see that?
It gets worse, because he had to staple the gaping wound shut, and I'm getting queasy just writing that. He spent his remaining recovery time just playing that incriminating phone recording over and over on an endless loop, making himself crazy. He finally threw his phone in anger.
When he was well enough to leave, the door to his room rematerialized so he could walk through it, and then it vanished once he was out. He didn't see it happen, but he turned back and saw the blank wall where the door was, and then went down to the parking lot to discover that his car had changed colors and license plates.
Chul spent his time hiding out and drinking, and he tortured himself by watching the news. And then at one point, his hand began to flicker in and out and reappear as a manhwa drawing, and at first he convinced himself that he was going crazy.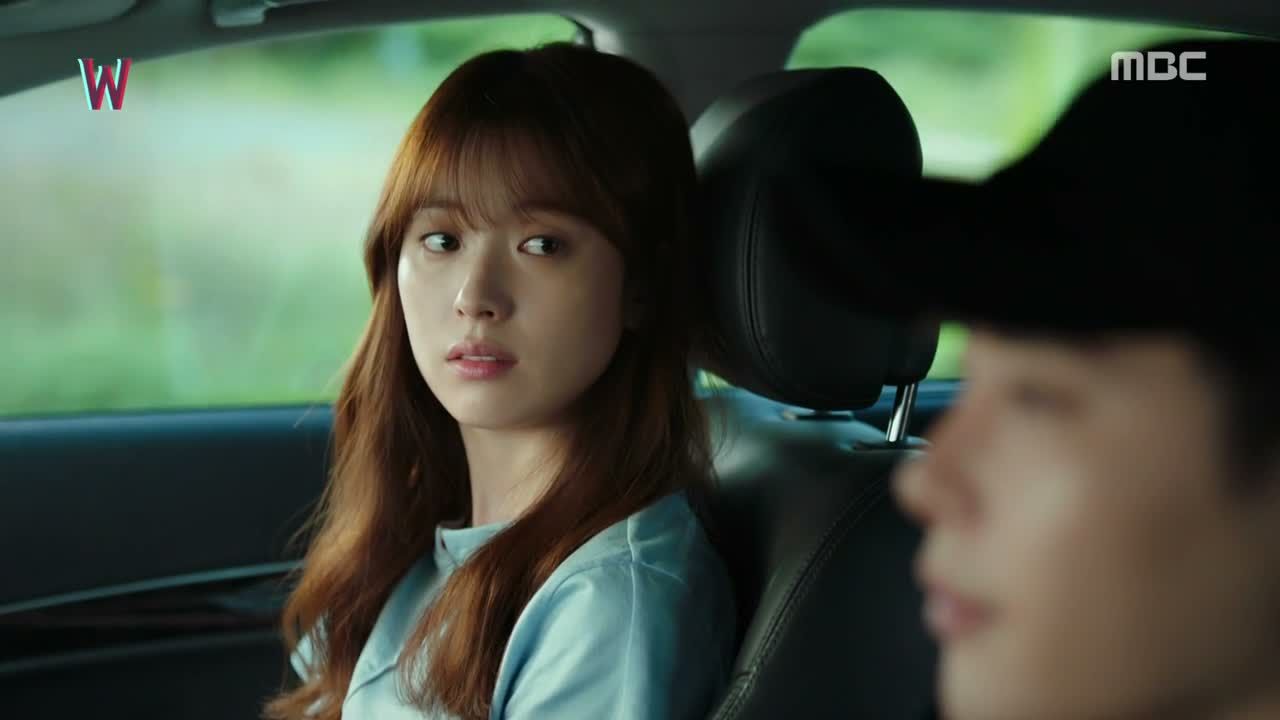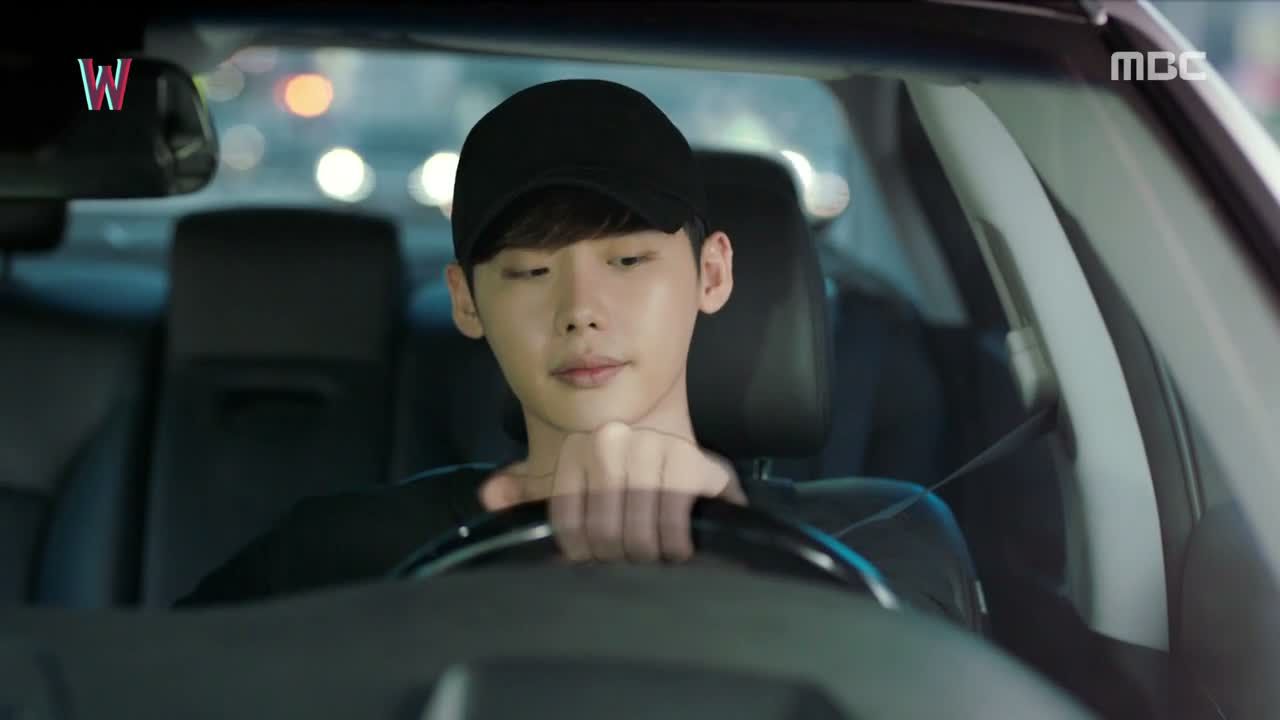 But back in the present, his hand starts to flicker in and out while he's driving, and he carefully hides it from Yeon-joo. He asks if she's found a way to help him, and guesses that she only said she'd find a solution to make him feel better, though he'd hoped she knew something he didn't.
He admits to wondering if she knows the killer, because she was so sure that Kang Chul was framed. "Perhaps the culprit's acquaintance? The culprit's daughter?" he asks. She turns to look at him when he says that, but he just smiles and asks why she came back if she doesn't have a plan. Yeon-joo just says she was worried about him, and Chul asks if by kissing and dashing, she fulfilled her lusty desires for her husband on him because they look alike. Pfft.
Chul offers to stop for groceries so they can eat, and guesses that Yeon-joo still has no money and nowhere to go. He says he doesn't have money but will take responsibility for her, since she saved his life. She looks pained at his words, which only bring up memories for her.
They head to the local street market, where Chul insists on buying her some clothes. It's déjà vu for Yeon-joo, who watches him curiously as he tells her to pick something out from the 5,000-won rack, and just know that in his heart he wishes he could buy her a 3,000,000-won dress. Weeeird, it's almost like he remembers, except he can't.
He returns with two ice cream cones and seems perfectly content to just sit and eat ice cream with her, tasting hers and insisting that she try a bite of his. She looks at him like he's sprouted a second head and asks what's gotten into him, and why he's just sitting here eating ice cream instead of trying to clear his name.
Chul says that if too many things happen to a person without context, they go crazy. He tells her to assume he's gone mad, and says that he's tried everything he could possibly do to clear his name during the last month, and now the only option is to turn himself in and fight through legal channels, but that'll mean a lifetime in jail.
He figures that he just has to accept his fate, because no matter how hard he tries, the result ends up the same. He sighs that maybe his life is meant to have a sad ending. No, don't say that!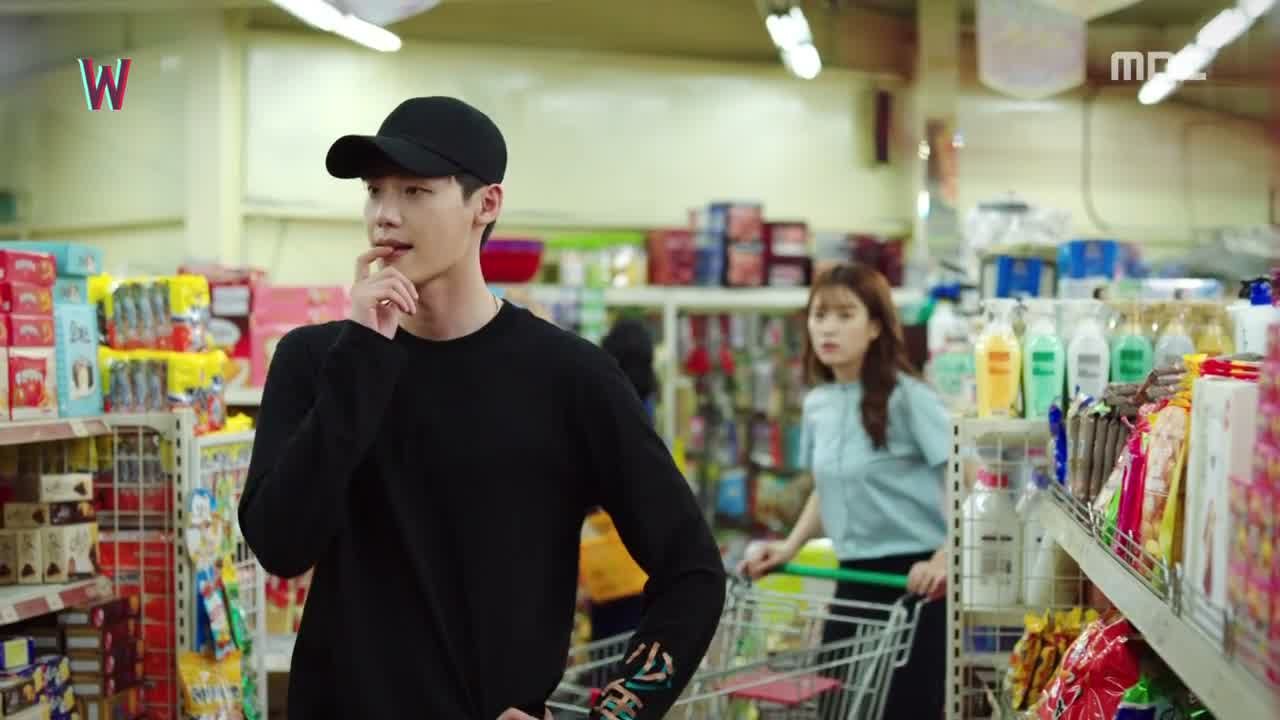 He holds up his fingers and says that they've now gone shopping and eaten ice cream: "We've done two things. Let's go grocery shopping now." Er? I know the words "two things" are completely generic, but it's suspiciously the exact wording they used when talking about their sweet romance homework.
Yeon-joo continues to look at him like an alien while he runs around the grocery store being cute and asking about what to get, and telling her how having someone to eat with has brought his appetite back.
They reach his hideaway and he offers to make her pasta, and she points out that he can't cook. He wonders how she knew that, but he says that he learned on the internet thinking that he'd like to cook for her when she came back. Aw, he's fulfilling his promise to cook her a real meal without even realizing it!
She's completely thrown, but he just smiles pleasantly and tells her to wash up, and points to the bathroom. As she starts walking out of the kitchen, he murmurs aloud, "Have we done four things now? If we do two more, today's homework will be done." OMO. OMO. OMONA.
Yeon-joo whirls around, remembering now that she'd marked these exact activities in their sweet romance book. She asks what he meant by "homework," and he replies casually that he was referring to his homework to do ten sweet romantic things a day.
He brings up her husband, who only did four things and then disappeared, according to her, and says that he was planning to do the homework in her husband's place to repay her for saving his life. You are SO messing with her right now.
Yeon-joo's jaw hangs open, and Chul says he thought she was following him around because he looks like her husband. She finally stammers that she never mentioned homework to him before, and asks how he knows about that. Chul smirks and says, "Because I saw it."
She asks where, so then he walks over to his coffee table and holds up the latest volume of W. AHHH, HE KNOWS. It's the one that Yeon-joo brought into this world the last time she was here, and he can tell right away from her shocked reaction that she knows the manhwa well.
He says that the husband in this manhwa married a girl and did only four romantic things before disappearing on her, and Chul calls him a cheap bastard. Hee.
In flashback, we see that Yeon-joo brought the manhwa into Kang Chul's world and tossed it aside on her bunk during the emergency call, not realizing then that she was in his world. Later, a doctor found the manhwa in his bunk and turned it over to Do-yoon, saying that Kang Chul and Yeon-joo were characters in the story.
Do-yoon didn't read it but brought it out to Chul during one of his visits, and he urged Chul to turn himself in because there was no way to prove that the audio recording was falsified, and they were out of options. The only lead he had on Yeon-joo was the manhwa, which he left with Chul.
Back in the present, Chul says that he had nothing but time so he read the manhwa over and over, and now he's memorized every line. Keh. They're your lines!
He says he didn't have much interest in it at first, but then we see how his eyes widened as he read all the events of the first timeline, from meeting Yeon-joo on the rooftop to all their kisses, to discovering that he was a manhwa character, to shooting Dad and jumping into the river.
He tells Yeon-joo that the story was exciting, and that he felt bad for Kang Chul, who seemed dumb at times… "like me," he finishes. That's why he didn't turn himself in, he explains, because he wanted to see Yeon-joo again and ask her how the rest of the story goes.
He holds up the manhwa and asks, "Have you seen the next volume? After this, what happens to Kang Chul and Oh Yeon-joo? Because things ended up this way, does Kang Chul forget Oh Yeon-joo forever? Answer me. Your husband who suddenly disappeared… Is it me?"

COMMENTS
Damn, he really pulled one over on me. I thought the dress-buying was eerily similar but not suspicious, in that it's just in Kang Chul's character to do that, and he really is a gazillionaire who currently can't access his money. It was his word choice about the "things" that made me suspicious, though I guess we should've known something was up when he teased her about lusty thoughts. But I love that he took his sweet time to tell her the truth, and that he actually started the homework in the first timeline to repay her for saving him, and then restarted it in the second timeline for saving him again. It's just so perfectly cyclical how they'll always end up with him discovering that he's a manhwa character because of his curiosity about her, which is unavoidable because Yeon-joo will never sit back and just let him die. It's what started the cycle in the first place—her sincere desire to save his life—and now it seems inevitable that her intervention will always lead to his self-awareness.
I find it so fascinating that in the first timeline, Kang Chul discovering that he was a manhwa character threw him into a deep pit of despair, so dark that he shot his creator to prove his free will and then killed himself on a bridge; but in the second timeline, the despair came from circumstances in the manhwa world. And reading W—in particular, his storyline with Yeon-joo, which was not part of the manhwa series when he read it the first time—brought him out of depression and gave him a reason not to give up on his life. I just really loved it when he asked her what happens in the next volume for Kang Chul AND Yeon-joo, not just Kang Chul. Because beginning with that volume, it really became their story, not his.
And I enjoyed that he didn't magically "remember" her, because there's something more bittersweet and heartfelt about him seeing their relationship from the outside, and recognizing Yeon-joo's pain and feeling frustrated that he might be the source of it without knowing. It's a way to use the meta-upon-meta framework of the narrative in a romantically angsty, but satisfying way, and it worked so well for me emotionally over the last two episodes.
I don't really know how Yeon-joo was technically able to bring that manhwa into his world, but I suppose in the past she's always brought whatever was on her person, like ID tags and lab coats. I think it's more likely that the manhwa defied the normal rules of universe-hopping, not that this drama has ever stayed consistent from episode to episode on what the rules are. I feel like the only rule here is: There are no rules. It's maddening at times, since that means that the relationship between the manhwa world and Yeon-joo's world is always on shifting sand, but that's also the point of Yeon-joo and Kang Chul changing each other's universes as they become inextricably linked—nothing stays the same after that.
What I don't know is how they're going to save Dad, because now he really does seem lost as an empty vessel under the killer's control, and it's not like Yeon-joo's world can reset like Kang Chul's (…that we know of). How will they get his soul back? That's not even the worst of it, because Kang Chul seems to be dematerializing in his own world, the one where he's supposed to be the main character. If he loses purpose in the story, it seems like he's not immune from disappearing just like So-hee nearly did last time. What happens then? Does he just disappear forever? And does that mean that New-Face has overtaken him as the main character? Because that cannot be happening. Hopefully Kang Chul regaining his self-awareness will put him on the same footing as New-Face, as long as we keep Dad locked up and away from his tablet. And maybe New-Face being corporeal now means that he has an ass you can kick, which is a very small silver lining, but not an insignificant one. You could also, yunno, SHOOT HIM IN THE FACE.

RELATED POSTS
Tags: Episode 11, featured, Han Hyo-joo, Kim Eui-sung, Lee Jong-seok, Lee Shi-un, W–Two Worlds