W–Two Worlds: Episode 12
Okay, this is it. I feel like I've been waiting all series long for this moment right here. It's time to face our enemies (faces optional) and find out what everyone's made of. I'm so excited, you guys! Will our hero learn from his past mistakes and stop being a pawn in someone else's game? Or will he break two worlds trying to defy the laws of the universe, just to get a second chance at a happy ending?

EPISODE 12 RECAP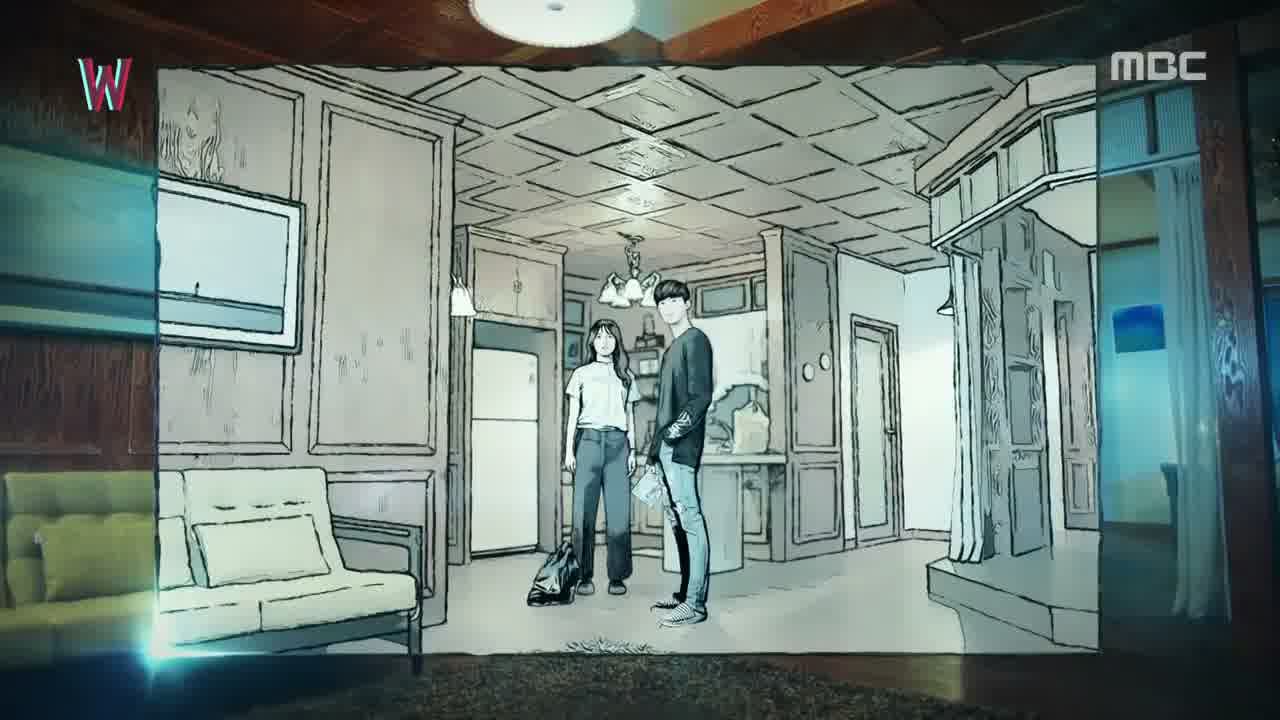 With the latest volume of W in hand, Kang Chul asks Yeon-joo if he's the husband who disappeared on her. As soon as he says the words, the manhwa world freezes, and a webtoon portal renders behind him, making them appear as a drawing on the other side.
Chul remains shockingly calm, perhaps because he saw this inside the manhwa, and he asks if it's difficult for her to answer his question.
She remains silent, so he takes her hand and says they'll find out together, and steps through the portal, taking Yeon-joo with him.
They come out in her world in Dad's office, of course, because that's where the tablet is right now. It glows a white light after they come through the portal, and then shuts off again. Chul guesses right away that this is her father's office.
He reaches out to touch the wedding ring that Yeon-joo is wearing around her neck, and she says she didn't know she'd taken the manhwa with her into his world. She looks distraught as she says that she never intended to tell him, and all she wanted was his happy ending. He smiles back at her sweetly.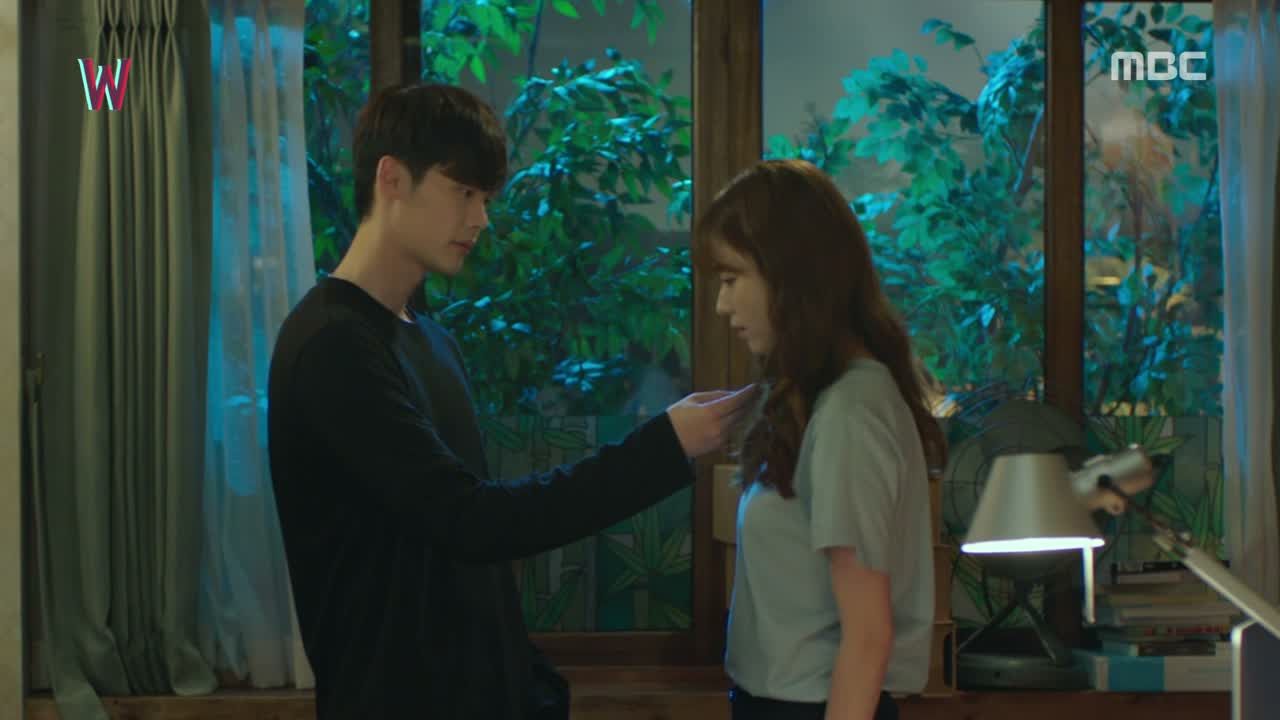 Out in the yard, Su-bong chases Seok-bum down and begs him to stay because he's so frightened to be here alone. Seok-bum argues that he's more afraid of Su-bong and his laugh than anything, but Su-bong just clings and asks him to stay until Yeon-joo returns.
Chul stops to look at the photographs of Yeon-joo and Dad, and asks where her father is. Yeon-joo hesitates to answer, so Chul tells her not to worry because he's not going to shoot this time: "If I repeat the same mistake twice, I'd be an idiot."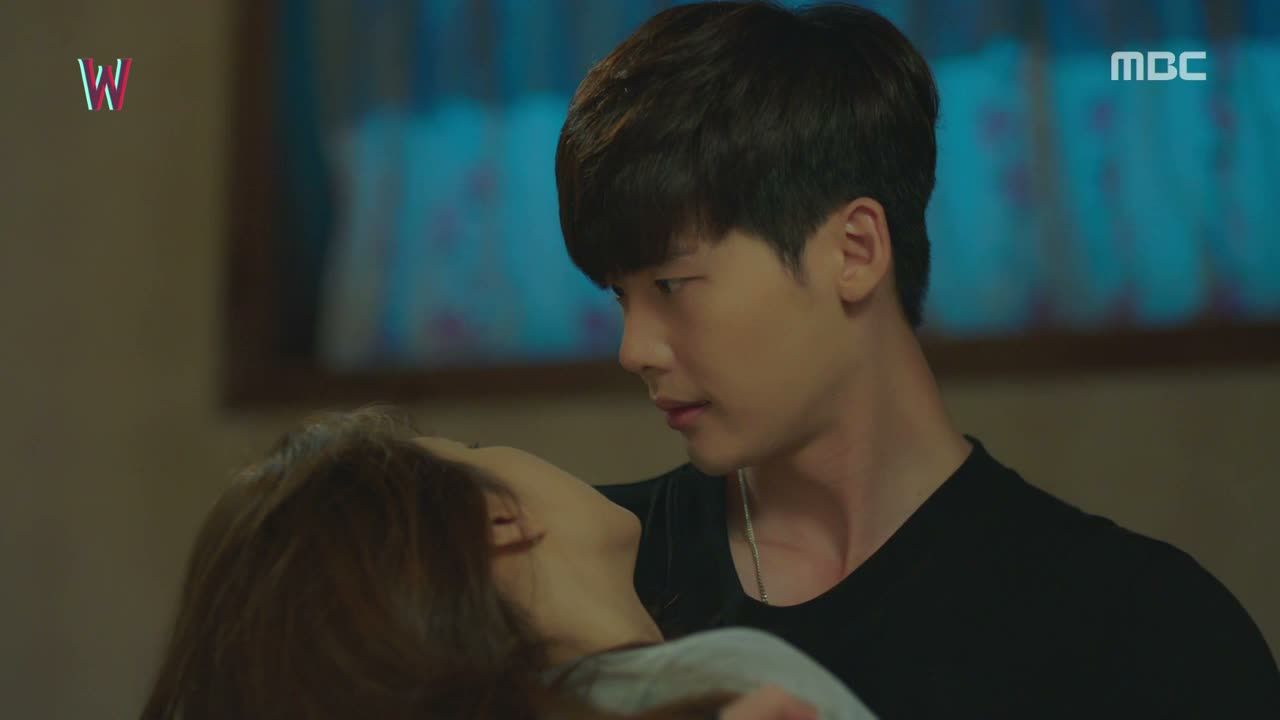 She tells him not to misunderstand—her father isn't the one who drew recent events, or framed him. With that, she goes to her bedroom door to unlock it. Chul is shocked to see Dad lying there with no face, and Yeon-joo immediately begins to cry.
She doesn't know why this happened to Dad, and explains that only a few hours have passed here, despite a month passing in the manhwa world. She starts to get dizzy all of a sudden and wobbles on her feet, and Chul catches her in his arms just as she starts to faint.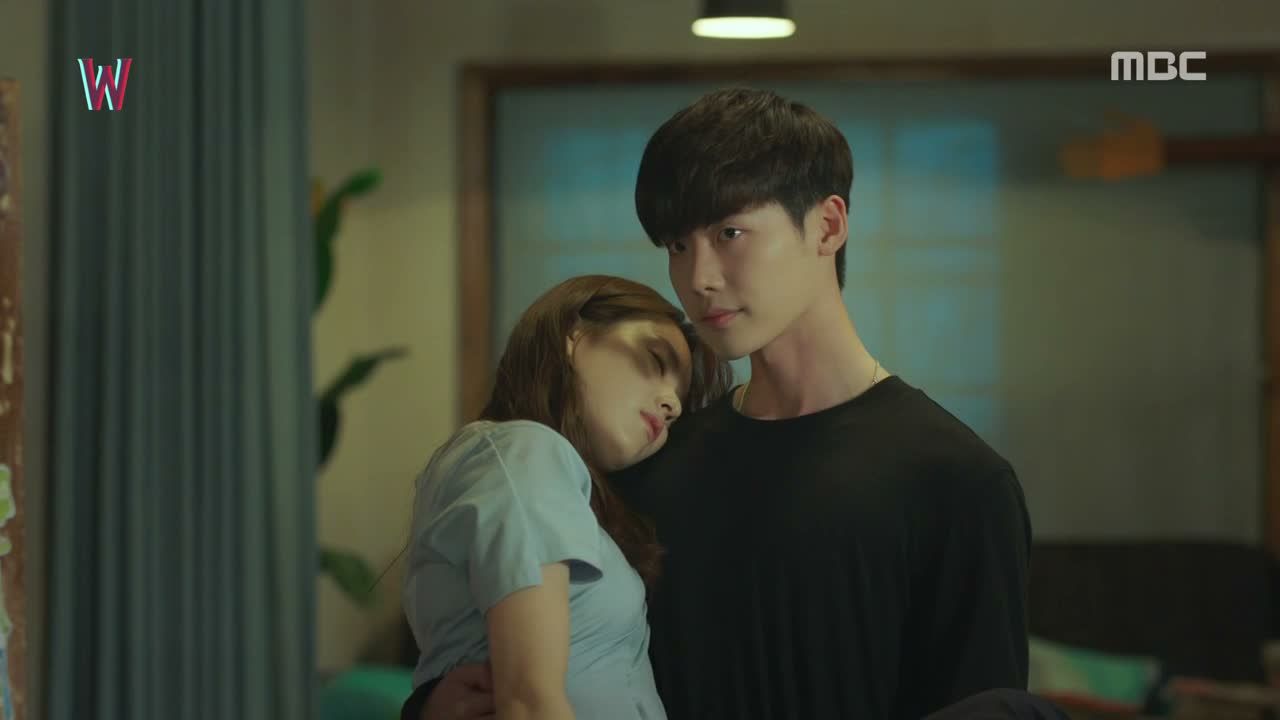 Su-bong actually manages drag Seok-bum back inside, and they jump when they see Kang Chul walking out of Yeon-joo's bedroom, carrying her in his arms. Su-bong stutters, "Kang… Kang…" and gapes at the sight. Kang Chul asks for some help with Yeon-joo, and then carries her outside to her car. But! You didn't lock the bedroom door with faceless Dad inside!
Yeon-joo stirs awake and says she just fainted from exhaustion, which happened the last time she traveled to his world and stayed for an extended period of time. Chul makes sure that she'll be okay if she just gets some rest, and Seok-bum calls ahead to the hospital to ask for a room.
Chul gets up to go, and Yeon-joo grabs his arm, asking, "Are you going somewhere? Don't go." He says that he has something to take care of first, and promises to come see her shortly.
"Do you remember? Do you remember… me?" she asks, hope in her eyes. But Chul says no, he's just guessing what the Kang Chul inside the manhwa must have felt. *whimper* It's not the same!
Chul says that Yeon-joo is the same though, so he's sure that he'll come to know it for himself soon—that crazy charm of hers that he read about. Heh. He sends her ahead to the hospital with Seok-bum, and then goes back inside the workshop where Su-bong is pacing back and forth wondering why Kang Chul is here.
Su-bong is a nervous wreck (I mean, more than usual). Chul asks his name and Su-bong blurts, "PARK SU-BONG!" like he's answering a drill sergeant, and he nods like a bobblehead doll when Chul asks if it's okay that he borrowed some shoes.
Su-bong quietly mentions that they've met before, thinking of the time that he fell all over himself as Chul walked out of the workshop holding a gun. Chul doesn't remember, of course, and apologizes since he doesn't know any events that weren't scenes in the manhwa. Lol, poor not-main-storyline-worthy Su-bong.
Chul asks for a screwdriver and goes to Dad's tablet, and immediately starts to dismantle it. Oh, why didn't anyone else think of that?? He says it's too dangerous to leave like this, and taking it apart should ensure that New-Face Killer can't come through it again. Su-bong worries about needing the tablet later, but then he remembers that Chul (whom he's now calling "Kang hyung") is a computer genius and won't have any trouble putting it back together.
Chul asks how Dad ended up without a face, and Su-bong says that this world is a mess too, and he doesn't know why, but all of a sudden Dad lost his face and was drawing guns and audio recordings on New-Face's command.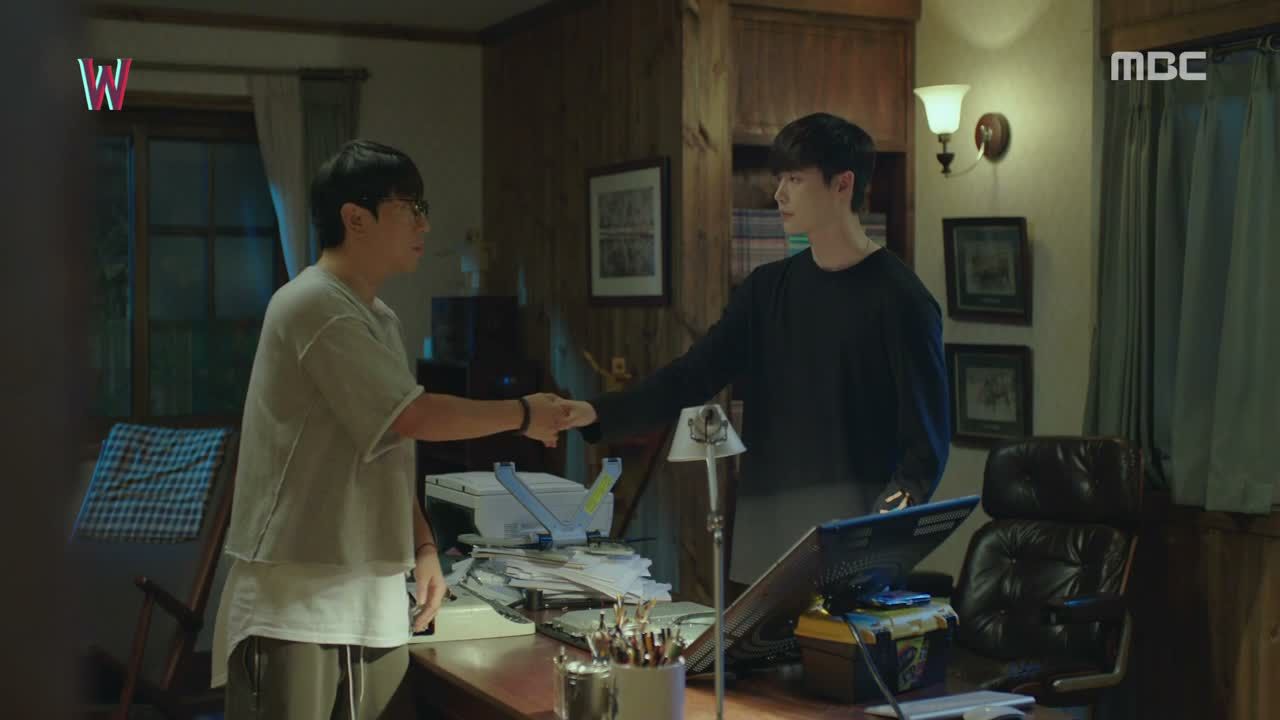 Su-bong recounts the events of the last few hours, which pretty much amounts to: Dad's face went poof, Yeon-joo noona went poof, and then poof—Kang Chul appeared. Suddenly he pauses and asks, "Um, Kang hyung… can I shake your hand? I've been your fan for a long time." Pfffffft. God, I love Su-bong.
Chul grins and obliges with a handshake, but Su-bong gets so excited that he doesn't let go. Then he goes full spaz and tells Chul that he drew the penthouse, and the TV station, and all the backgrounds, because he's done nothing but background work for three years.
He eagerly offers Chul a beer, since he's a fanboy and knows his taste, but Chul just asks for a water instead. Su-bong walks to the kitchen staring at his hand like he's never going to wash it again. And then he sniffs it. I'm dying.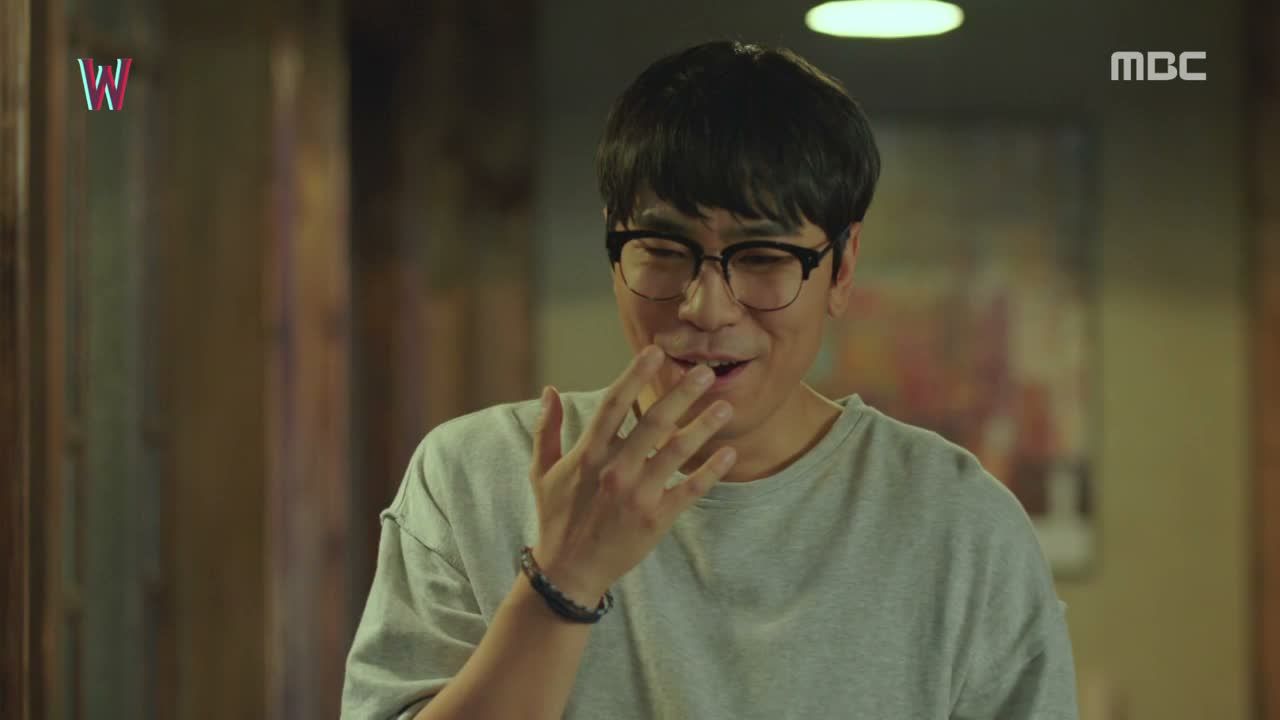 Chul carefully takes apart the tablet, and his instinct was right, because the portal that he left behind in the manhwa world disappears. He stands in Dad's office thinking back to the scene in the manhwa when he came here the first time and tore the place apart in anger.
Chul asks Su-bong for the next volume of the manhwa because he wants to know what happened, but there is no next volume. What he does have is the letter that Kang Chul wrote to Dad, along with the storyboards for their original happy ending, which never came to pass because of New-Face's interference.
While Su-bong sleeps, Chul stays up all night reading every volume of W and piecing together what must've happened after Volume 34.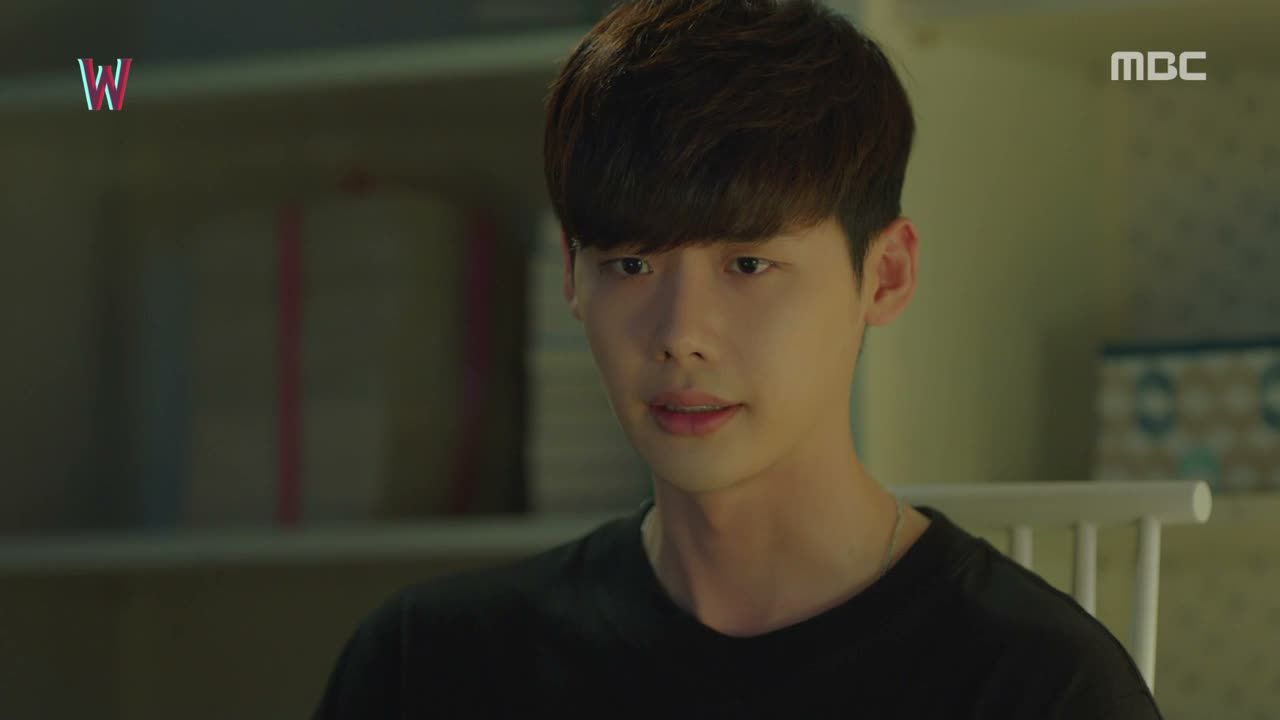 After racking his brains all night, he goes to see Dad and thinks back to their first meeting inside the manhwa, when Dad had called him nothing but an illusion he had created. Chul looks at Dad now and wonders aloud, "How are you a god? Why did I think you were a god? What was I so angry about that I shot you, when you're nothing?"
He makes a decision and goes back to Dad's office, where he reassembles the tablet. No! Why are you doing that?
Chul makes swift work of putting the tablet back together and cocks his gun before turning it on. Eeeek, I don't know about this…
At first, New-Face appears to be frozen in time too, but it turns out that he's just staring impotently at his frozen surroundings—he's able to move around (which was also the case before, when Chul stopped the manhwa world in the first timeline), and he pitches a fit at being stuck like this.
But New-Face can immediately sense it when the tablet turns on, and his eyes dart upwards. On Kang Chul's side, the tablet glows white, and he steadies his gun.
New-Face asks who's there, and Chul tells him to guess. Chul taunts him a little, asking how New-Face is handling it when he lives to kill people, but has no people to kill or guns that shoot.
Chul says there's no way out now, and thinks it's better for him to just die rather than be stuck there, but New-Face smirks and asks why he'd die, when all he has to do is wait around for Kang Chul to cease to exist.
New-Face points out gleefully that Chul has lost his right to be the hero of this manhwa—he's a killer on the run, and it's only a matter of time before he disappears altogether. New-Face figures that the world will unfreeze once Chul is gone (yeah but what if it disappears?).
Chul looks down at his hand, which starts to fade again—into a manhwa drawing, and then into nothing, and back. Crap.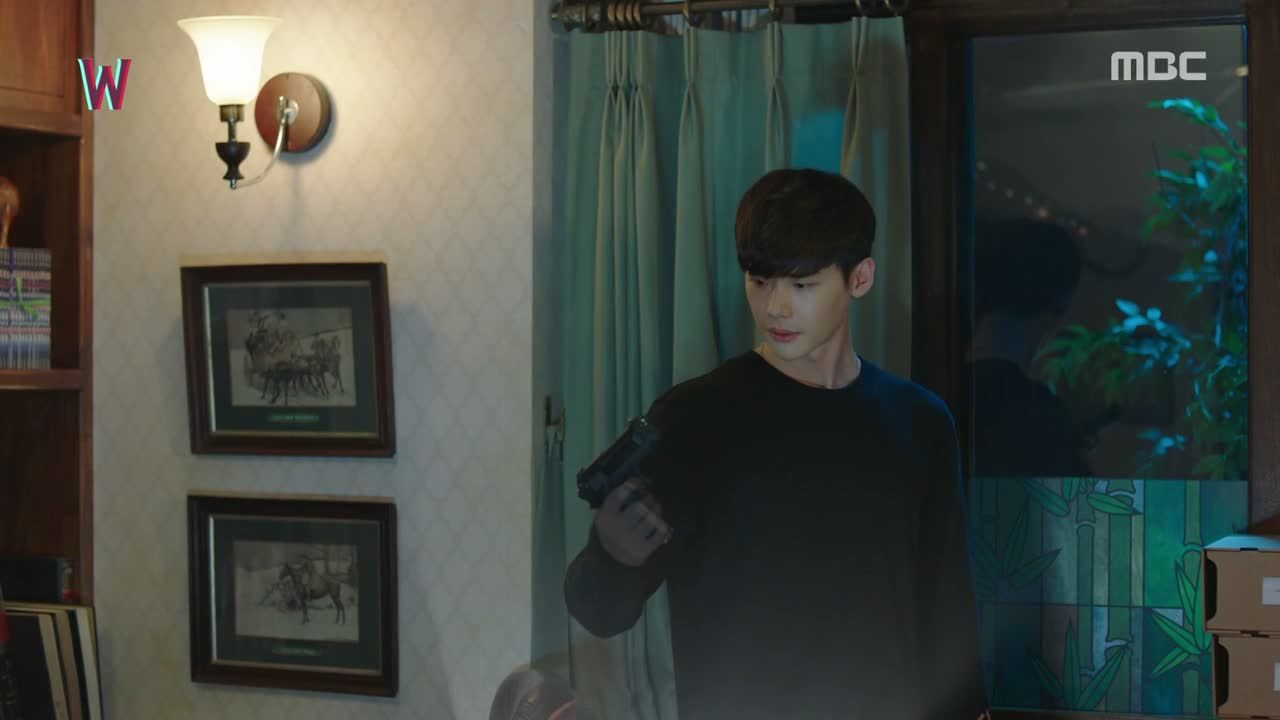 Yeon-joo wakes up in the morning with an IV drip hooked up to her arm in her bedroom. In the light of day everything looks normal, and she begins to wonder if everything that happened with Kang Chul was just a dream.
But then her phone rings, and it's Chul calling to check on her. She's so shocked that she doesn't answer at first, and when he says he's near her father's workshop, she blurts, "You're here right now? You're really calling me from here?" He laughs and asks how he'd call her from inside the manhwa.
Chul says he just bought a phone under Su-bong's name, and asks Yeon-joo out on a date. He says she's been asleep for two days, and in that time he's adjusted to her world and figured most things out, all except his marriage.
That surprises her, and Chul says with a laugh, "I'm definitely your husband, I think I'm sure of that, but I've only read it in a book—it doesn't feel real to me." He argues, "You know me so well, and I don't know anything about you. So you have to give me a chance to catch up."
Yeon-joo hesitates, saying that she has to go check on Dad. But Chul says he has stuff to tell her regarding her father, and prods her to go on a date with him. He takes her silence as a yes and hangs up.
Yeon-joo is overwhelmed with emotion and calls him back right away, just to make sure that this number is real and he's really there. She asks where he got the money to buy a phone, and Chul says he borrowed a lot of money from Su-bong, which he asks Yeon-joo to repay.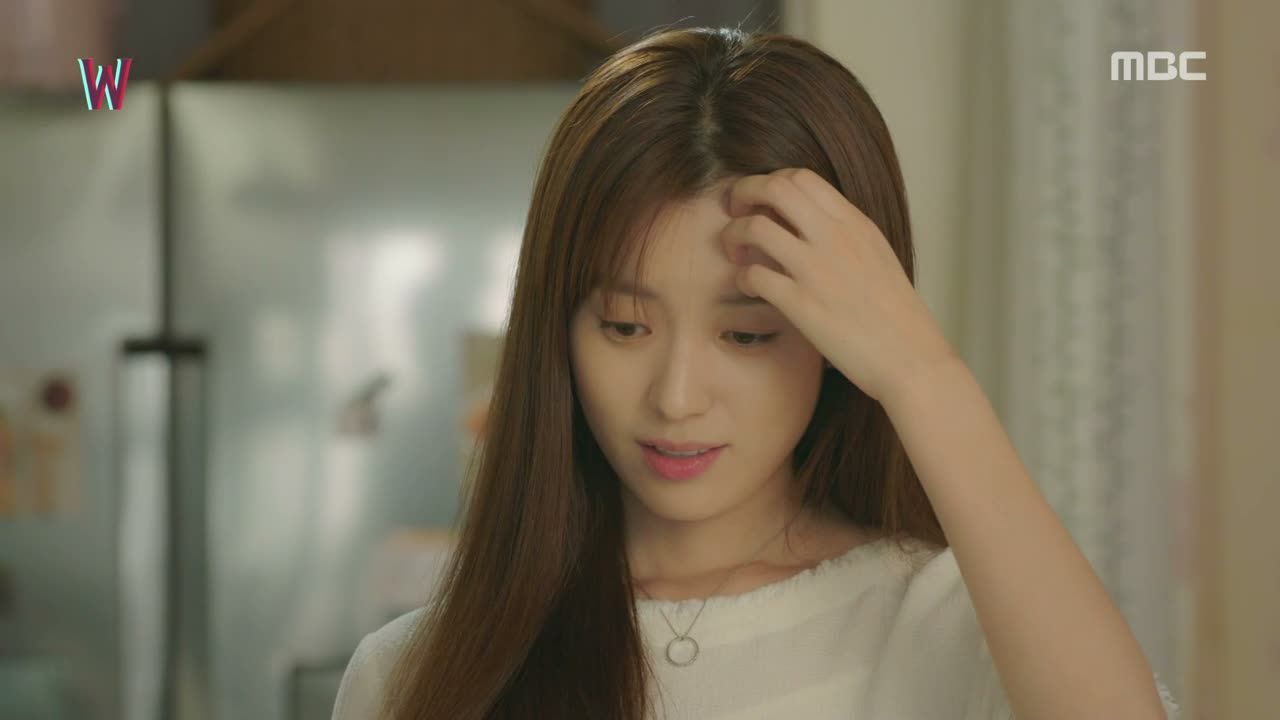 She grouses good-naturedly about him spending her money, and he cutely counters that they're married, plus when he was penniless, he bought her a dress and ice cream and everything. She calls a third time to check when he's coming to pick her up, and asks for extra time to get ready. I love her omg-I'm-really-going-on-a-date-with-him face. She looks so bewildered and excited.
Yeon-joo calls Su-bong as she's getting ready, and he confirms that Chul borrowed a million won from him. Yeon-joo gasps and says she'll pay him back, but Su-bong seems more worried about her and wonders, "Will you be able to handle a chaebol's spending habits?" Ha.
Su-bong wonders if Kang Chul will just live here now, and if that's okay. It gives her pause, but Yeon-joo says that it was okay for her to be in the manhwa world, so she doesn't see why not. But then Su-bong tells her that there's something strange about Chul's hand.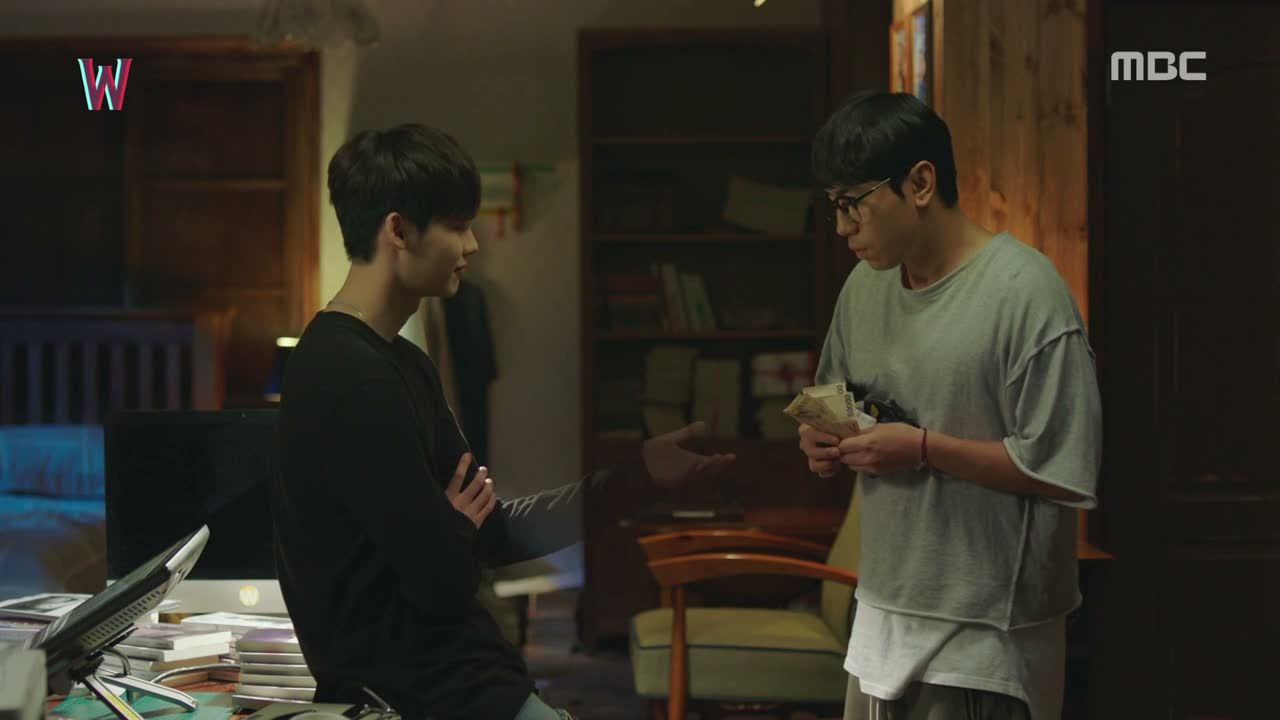 Su-bong flashes back to the other night, when Chul asked to borrow some money. Su-bong was hesitant but emptied out his wallet, and said he had more in the bank when Chul asked for more. He was about to hand over the cash when Chul's hand flickered in and out again. Chul said this is what happens when a hero can't fulfill his role as a hero, and asked Su-bong not to tell Yeon-joo about it.
But of course the first thing Su-bong does is tell Yeon-joo about it, back in the present. He says it was just like the time that So-hee's hand started to disappear, and only then does he remember that he wasn't supposed to tattle, and asks her not to say anything.
Yeon-joo hangs up to answer the doorbell, and is shocked when Kang Chul is standing there in her doorway, early and unannounced. He admits that he was curious about where she lived, and that Su-bong told him that her mother would be out at work.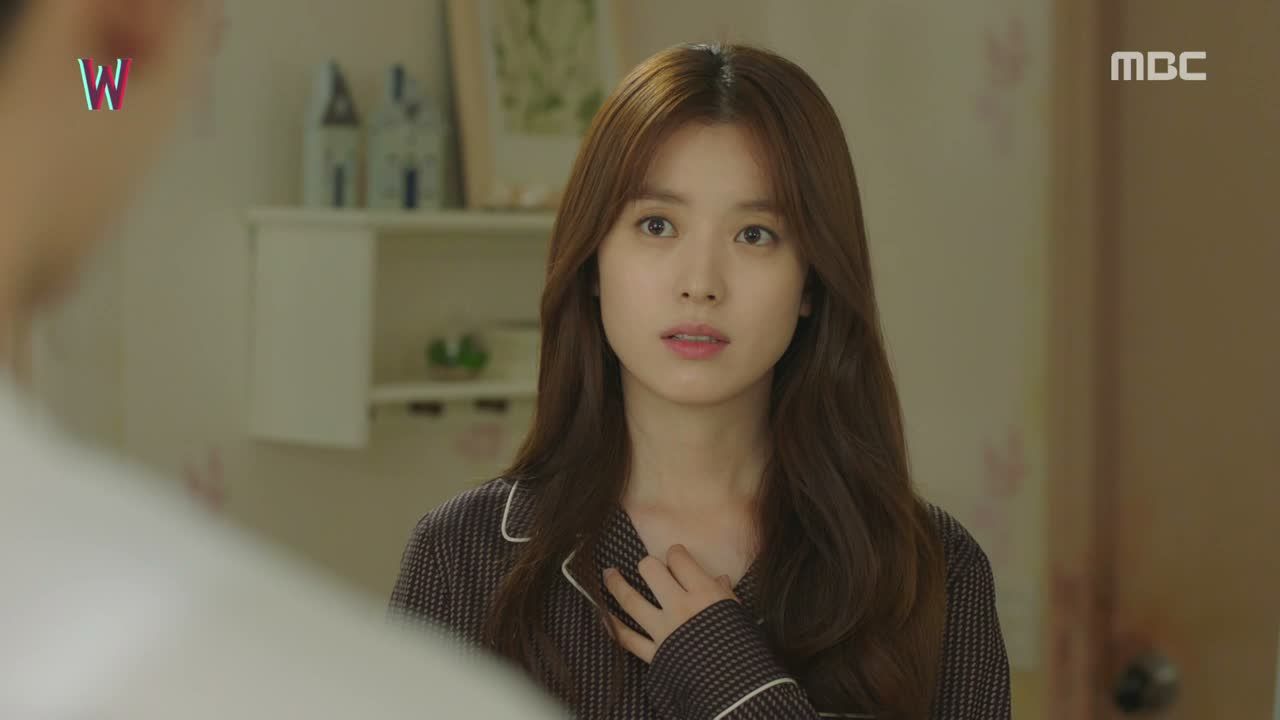 He says that there's not enough information about her in the manhwa and he wanted to see things for himself. Yeon-joo just stares worriedly at his hand, and doesn't relax until she makes sure that it looks solid.
He says that her house is nice and cozy, and reminds him of his childhood home. He tells her to take her time getting ready, but when she heads to the bathroom to change out of her bathrobe, he asks, "Since you're already in the robe, couldn't you take it off?" What? You can't just say things like that! You'll give a girl a heart attack!
He explains (as if this is perfectly logical) that Yeon-joo thinks it's unfair that she's the only one who remembers things, and he's frustrated by not knowing too, so they should hurry up and do all the things in the manhwa. "Like see you naked, and kiss each other about five times," he helpfully recounts. I can't believe she's not turning beet-red right now. I think I'M turning red right now.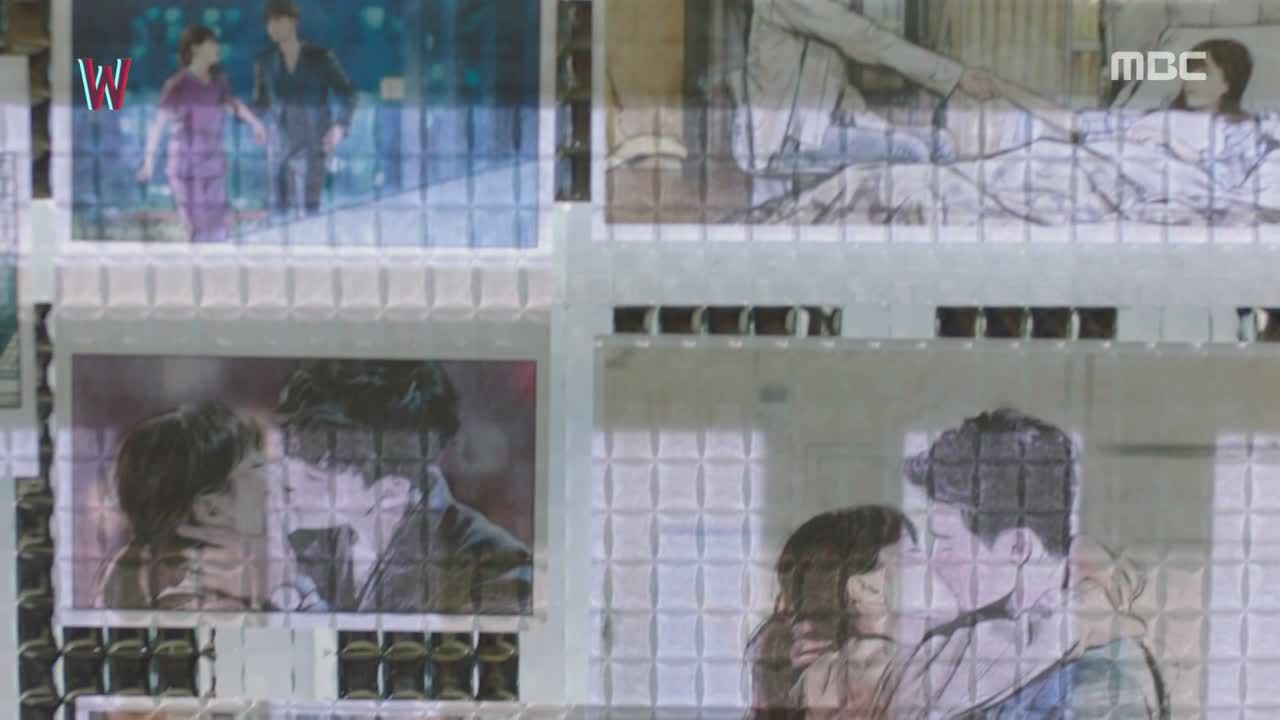 Her jaw just hangs open for a comically long beat, and he adds that the gap is too wide between what she knows and what he knows, and he's just curious is all: "I want to feel what the Kang Chul in this book feels." She asks if he's joking, but he says he's being perfectly serious, lol.
Yeon-joo ignores him and shuts herself in the bathroom to catch her breath. Chul takes a leisurely tour of her bedroom, taking in her taste in lingerie, and stopping at the window where she's taped up all of their big moments together in the manhwa.
He knows the drawings well by now and smiles thoughtfully to see that she'd cherished them, and when Yeon-joo comes out, he says, "Thank you. For not forgetting me, and for missing me."
She looks sad but touched at his words, and explains that they never once took a picture together, and she regretted it immensely. He agrees to take lots of pictures with her this time, and he looks over at the photograph of her with her mother.
Yeon-joo belatedly notices the underwear strewn over her bed and rushes to tidy up, and Chul starts talking about her husband in the third person, wondering if Husband would've married her if he'd known she was so messy, and she complains that this is his fault for nearly dying and taking all of her attention.
They head out on their date, and Yeon-joo offers to take him out, since he has no money and doesn't know where to go. Chul says that his takeaway from reading the manhwa is that Kang Chul and Yeon-joo got married too quickly, though of course there were extenuating circumstances.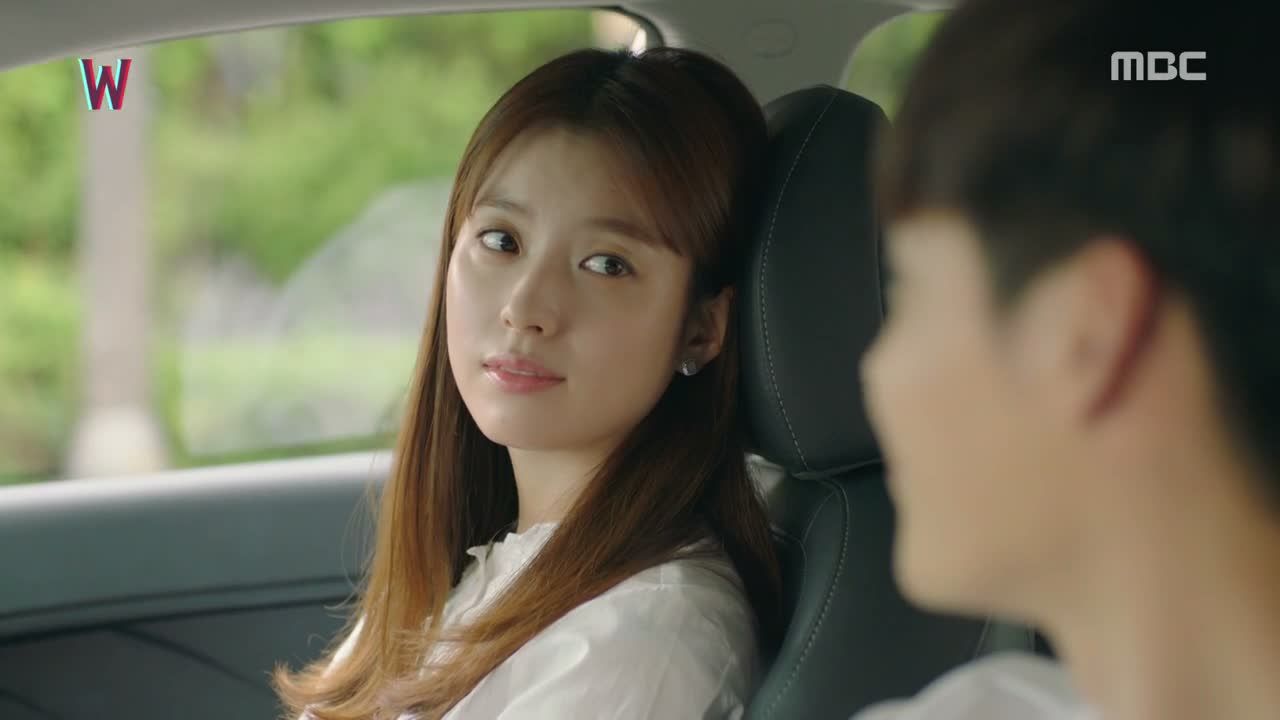 "So let's date, like other couples do. It's a little funny to marry first and date after, but let's not do the sweet things you want to do like it's homework to get out of the way," he says. Aaaand Kang Chul 2.0 for the win.
He suggests doing things naturally as they come, one by one, and she agrees happily. But then as soon as they arrive at the restaurant and he sees that no one is around, he turns to her in the car and asks when they can start in on the kisses. Lol, what happened to naturally one by one?
Yeon-joo tells him to stop messing with her, and Chul says he's serious, though he admits to joking earlier about the nude show. He guesses by her reaction that it's too soon and backs off, but then she blurts that it's not like it's awkward for her…
Kang Chul: "Then can I?" She says yes, and before she can even finish the sentence, he leans over and tilts her face towards his, and kisses her softly.
He stares at her intently for a beat as they pull away. And then he says cryptically, "So this is the feeling. Hm, it was this. I see now." Yeon-joo asks what he means by that and what it felt like, but he just smiles and says, "No comment." Urg!
They sit down to eat, and Chul's hand keeps fading in and out, not that Yeon-joo can see from her side of the table. But she's plagued with worry about it and calls him out on the fact that he's been keeping his hand hidden from her all day, and asks what they're going to do about it.
He realizes he can't avoid the subject and shows her his hand, which flickers in and out. He says it's been like this for a month, since the day that Ajusshi died, and while she was asleep, he spoke to both Dad and New-Face, because he wanted to be sure he was talking to the real Oh Sung-moo. And he discovered why their plan for a happy ending went awry:
It all goes back to that night on the rooftop, when Kang Chul was stabbed by (then) No-Face, and then stabbed again by Dad. No-Face caught Dad as he was running away, and demanded to know who he was, why he wanted to kill Kang Chul, and why he was invincible.
Two nights ago when Chul confronted New-Face through the tablet, New-Face told him that Chul wasn't the first to become self-aware in the manhwa—he was. And to top it off, New-Face said that Dad had promised long ago to give him a face.
Back on the rooftop, No-Face had Dad pinned down over the ledge of the building, ready to kill him. But Dad begged for his life and promised to make HIM the main character of the manhwa, and swore that it would be easy to do. Daaaaaaad!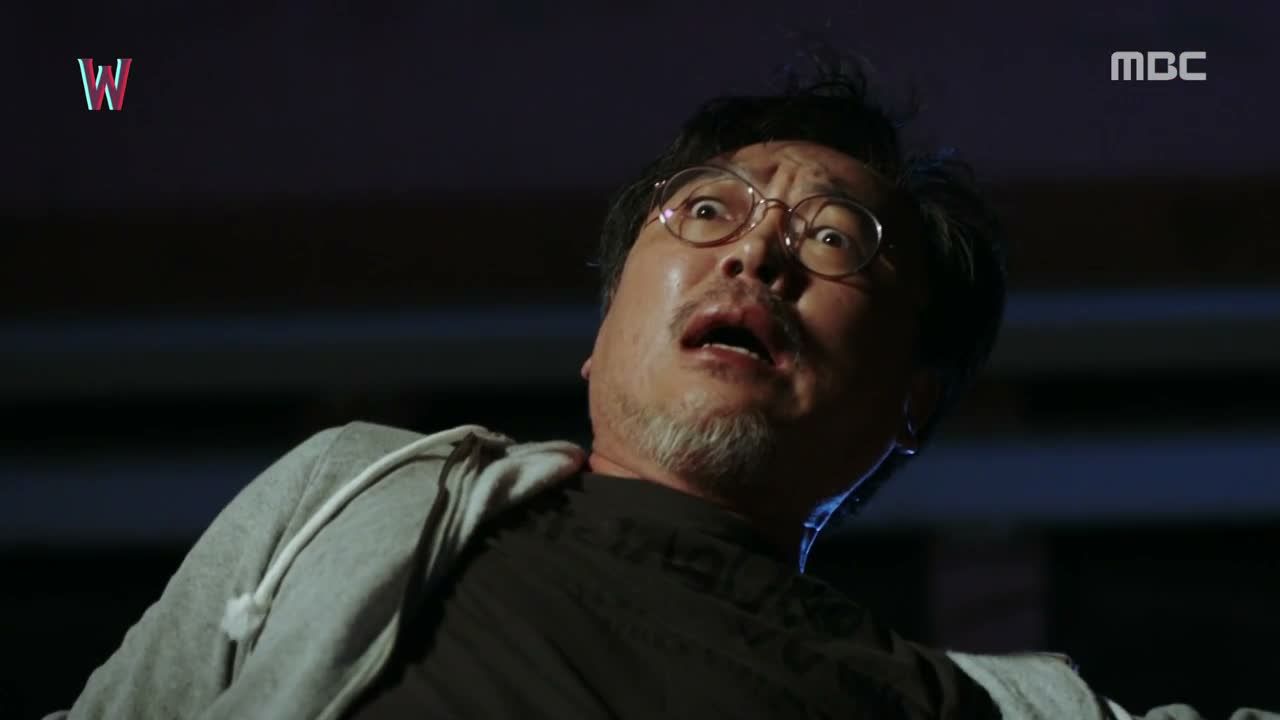 Two nights ago, New-Face told Kang Chul that the bastard betrayed him as soon as he was let go. "And so I ate him up," he said, "because he didn't keep his promise." *shudder*
In the present, Chul says that it was his mistake to assume that he'd become self-aware first, and that he chose the wrong starting point to make it all a dream, leaving the killer as he was and making himself useless without his memories.
Chul says he's thought about it, and asks Yeon-joo to promise to draw something for him when she returns to the workshop. Those words trigger a bad association for her, and she launches into a rant: "What, you want me to draw this all into a dream again? You're asking me to make it another dream? And you disappear again? You might be fine living with no memory of me, but I get left alone, reliving these memories twice over!"
She asks with angry tears in her eyes why he asked her on a date and kissed her if he was going to do this to her all over again, but he almost seems amused and just looks at her curiously, pointing out that he never said anything about making it a dream.
She says he was about to, but he counters that that was what Kang Chul in the manhwa did—he's not about to make the same mistake twice. Well thank goodness. Chul says this time he's had the chance to think it through, and he has no intention of living that same life all over again, or of becoming nothing but a memory to her.
Appeased, Yeon-joo wipes her tears and asks what he wants her to draw. Chul takes out a stack of photographs, and explains that he thinks New-Face has to die in order for Dad to get his face back, and right now Chul could disappear at any moment because he's no longer the hero.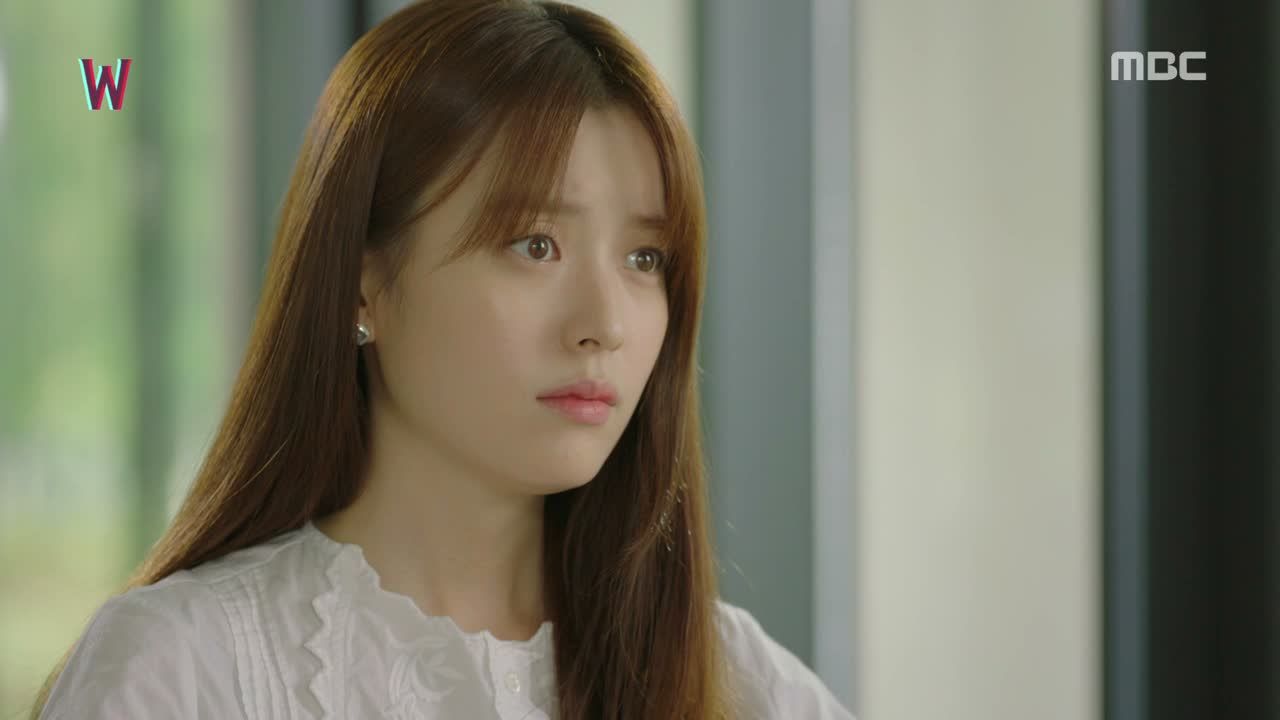 He says that there's only one solution: to carry out the original plan for a happy ending, in which Assemblyman Han kills New-Face and goes to prison. Chul says that's the only way to be sure and also save her father.
The only thing he wants to change is the last part of the ending, and proposes, "In the last scene, Kang Chul and Oh Yeon-joo get married and live happily ever after." He says with a smile that this is the only happy ending that makes sense in the context of W, and then adds, "whether or not the readers curse at it." Heh.
Yeon-joo returns to the workshop and goes to check on Dad, and thinks back to Chul's words earlier, when he said that her father wasn't a god, and his mistake was believing himself to be one. Chul argued that there was no way for one writer to have created all of those people, and concluded that their worlds existed independently, and the manhwa was just the connection between the two worlds. I don't know… but I hope you're right…
As Chul drives, he thinks back to the other night, when he asked Su-bong where New-Face lived, and Su-bong showed him the photographs of the apartment building he'd scouted.
Chul's theory that he shared with Yeon-joo was that only things in the manhwa could exist in both worlds, like Dad's main characters, and the locations they drew into the story. At first the connection between worlds was through Dad's tablet, but then characters' awareness changed the rules, even summoning Yeon-joo to their world by thinking of her.
Chul decided that they'd been played by the variables long enough, and it was time for them to use the variables they confirmed to be true, in order to change things. Aww yeah.
Back in the present, Kang Chul arrives at the address Su-bong gave him and stops outside Apartment 815, which Su-bong says he chose for no particular reason.
Chul texts Yeon-joo to say that ten minutes should be plenty of time, after which she's to turn Dad's tablet back on. Then he pulls out his gun and closes his eyes as he thinks to himself in voiceover: "I am out in the real world. At the same time, I am a main character. If a main character can summon a person in the real world at will, then Hypothesis One: I can summon myself into the manhwa." Is Hypothesis Two that there is no spoon?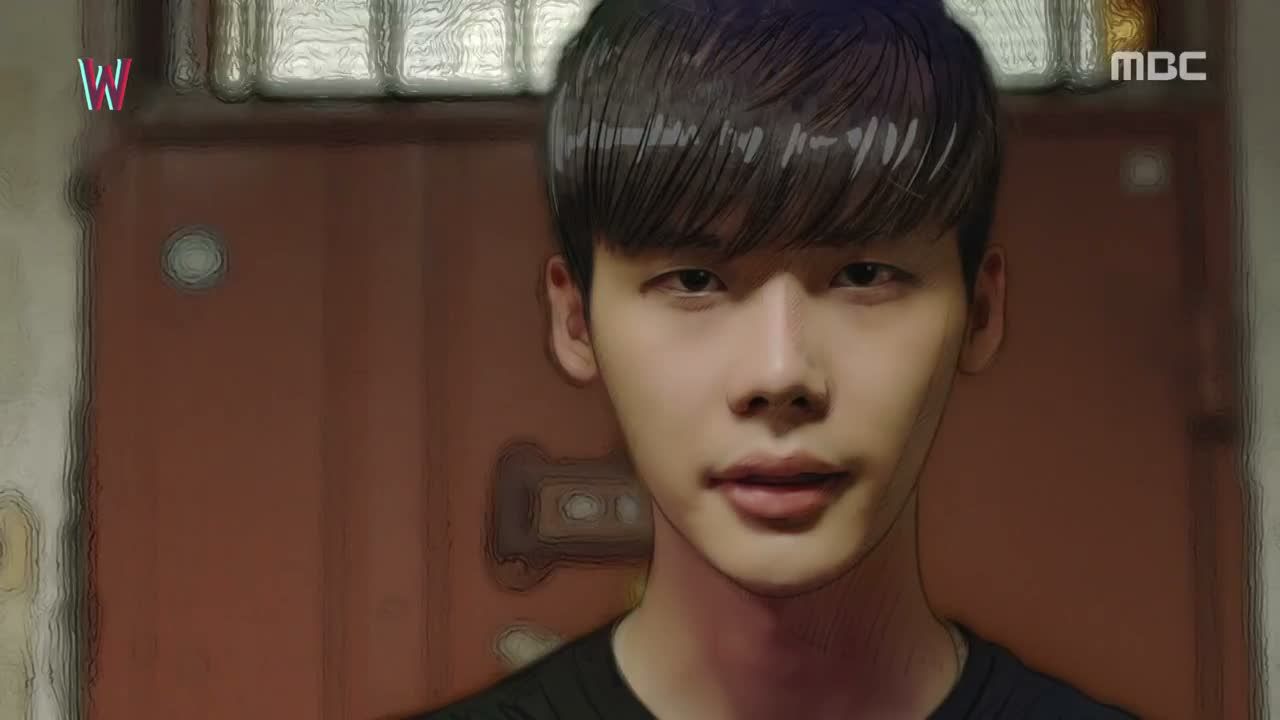 Kang Chul says in voiceover, "I summon myself now." As soon as he thinks it, lights overhead begin to flicker, and he starts to morph into a manhwa drawing right then and there. THIS IS BADASS.
He knows it's worked when he finds himself in the same hallway at nighttime, and inside, the manhwa world unfreezes around New-Face as soon as Kang Chul reenters the world.
Chul busts through the door with a smirk on his face, and kicks New-Face's gun away before attacking.
They go at each other violently, breaking everything in their path. New-Face is stronger than he looks, and he throws Kang Chul around the room. But Chul persists and kicks him down until he's run ragged, and then throws him on the sofa, where New-Face lies limp.
Chul calls the police to report that he's caught the crime show shooter, and only identifies himself as a citizen. New-Face is tied up and awake by then, and Chul asks which of them will die first. Chul guesses that he just bought himself more time since he did something a hero ought to do, and New-Face laughs. Chul tells him to rot in jail, while he comes up with a way for him to die.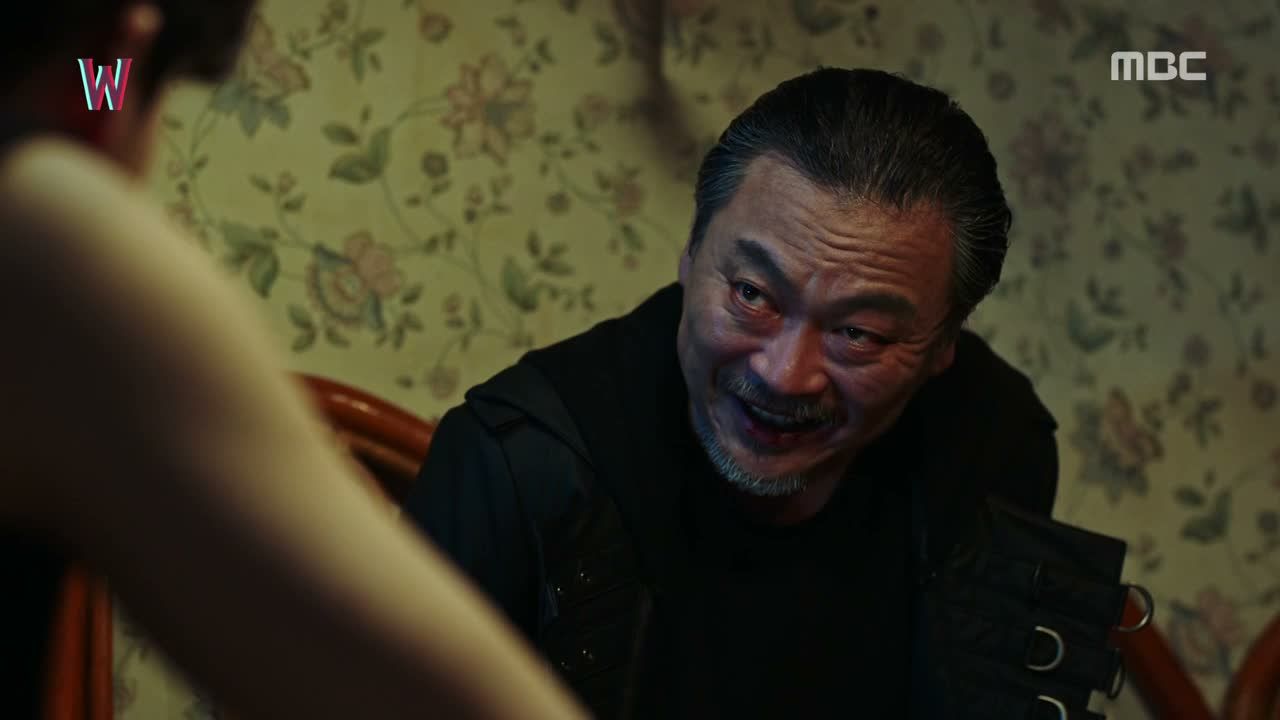 As Chul makes his exit, Yeon-joo stares up at the clock nervously in her world. She hesitates to turn the tablet on, and as she hits the switch, she braces for another horrific encounter with New-Face. But nothing happens, so she picks up the pen and gets to work.
Kang Chul had explained to her that he'd take care of New-Face so that she could turn the tablet on and use it without interference, and had given her a stack of images to draw. The first was a getaway car for him, which Chul discovers on his way out of the building.
Meanwhile, the police arrive to arrest New-Face, and Assemblyman Han is not pleased to hear that a random civilian caught him. So-hee tells Do-yoon that she suspects this might be Chul's doing, and that he might be alive somewhere.
Do-yoon wonders if it's possible, but he doubts that Chul could've caught the killer. Chul returns to his hideout, where he turns on the TV and confirms that New-Face was caught, and thankfully remembers to turn off the stove and running sink.
Yeon-joo cringes when she gets to the second image she's been asked to draw: a rotting corpse. What?!
Chul goes to his bedroom, where he finds said rotting corpse, lying on his bed. Ohmygod, is that who I think it is? Chul puts an envelope on top of a familiar-looking bloodstained white shirt and heads out.
He calls Do-yoon, who's relieved to hear from him. Do-yoon is shocked to learn that Chul really did catch the killer, but then his head really spins when Chul tells him to come to the hideout, where he'll find Chul's dead body. This is getting twisted.
He instructs Do-yoon to report the death and say they lost contact two weeks ago, and let the world think that he's dead. The DNA will match, he says, and he adds firmly, "Hyung, I died. Framed and shot, unjustly."
Chul assures him that he's alive, and he thought Do-yoon should know. But he adds that So-hee should believe that he's dead, because it's best for her sake.
Yeon-joo had asked what would happen to So-hee, and how they'd prevent her from disappearing. But Chul had argued that it wasn't right for a person to only have one reason for existing, and that they simply needed to introduce a new variable to change the course of So-hee's life. "Like me, meeting you," he said.
In the manhwa world, So-hee finds out that Chul is dead, and so does the rest of the world.
Yeon-joo watches the clock nervously, remembering the last thing that Chul had said to her as he dropped her off after their date. She asked how he'd return, if they were about to achieve a happy ending in the manhwa.
But Chul was confident he'd find a way, and asked her to wait for him here and draw one more thing, because he can't afford it here in her world: his wedding ring. I'm swooning so hard right now. As Chul returns to New-Face's apartment complex, his wedding ring reappears on his finger, and he smiles.
He walks back to the hallway just outside New-Face's door, and he thinks in voiceover, "Hypothesis Two: I have been summoned here from the real world. If I complete the mission in an episode…" He finishes the thought out loud: "I return."
And just like that, the "To be continued" chyron starts rendering in the corner of the hallway. Aaaaaah! He did it! Chul smirks again, and then he flickers into a manhwa drawing and opens his eyes back in the real world.
Yeon-joo gnaws at her nails and paces around the room, until Kang Chul finally calls. He says he's back and on his way to her, and she sighs in relief. He tells her to get ready so they can finish their date, because he plans to get the rest of his five kisses in today.
He says he can't stand to lose to her old husband, and Yeon-joo scoffs that he's got a weird sense of competition. He smiles and tells her, "You'll come to know it very soon—that I'm way better."

COMMENTS
You ARE way better! You are so much better. I know he's the same person, but Kang Chul 2.0 is so much more grounded and levelheaded. Maybe it's because he's seen more hardship, but I feel much better about the choices he makes and his outlook on life. And I can't help but compare him to Husband, whose idea of romance was cute, but completely unrealistic. This guy might not remember how he felt about Yeon-joo in the past, but the way he treats her now makes my heart flutter more than it did in the first timeline, because he actively thinks about their lives and their future together, and not just what's best for him. I especially enjoyed the way he wanted to know more about her and study her, and that he got to see for himself all the evidence of Yeon-joo's love for him, and how hard it was on her to be left alone in her memories. He wasn't the same Kang Chul who inflicted that upon her, but I thought it was important for him to know, and to see that her love was the thread that kept him alive.
It's so great to see that he's learning from his past mistakes and not defaulting to another dream reset (or else my brain might actually short-circuit), and that I'm beyond thrilled that he's finally starting to manipulate the rules of the two universes to his advantage. Because if there are so many freaking loopholes, the good guys should take advantage of them too! This should be the advantage of self-awareness, and it really opens up the narrative in exciting ways. It just figures that the only way Kang Chul begins to be free of his creator is to realize that Dad is not an all-powerful god. It's not unlike growing up and learning that your father is just human and fallible, and the moment he realizes it, the power that the creator held over him breaks. Kang Chul starts making his own rules and deciding the course of his own life beyond the scope Dad's manhwa frame, and that's when things get really exciting.
The fact that Kang Chul can go back and forth between worlds at will completely changes the game, and now that he's debugged Dad's tablet of New-Face's interference, he and Yeon-joo make the perfect tag-team. It gives me hope that the two worlds can coexist as well, and that Chul could cross back and forth instead of being tied to one world or the other. Because honestly, I'm not sure that the manhwa world will continue to exist without him. Will it? Has believing so made it happen? I want to believe that So-hee could move on with her life and find a new purpose, and Chul could be believed dead in that world, but I'm nervous that it all seems too easy.
You know what really terrifies me—why did we end on such a happy note? This is only Episode 12 and there are still so many things that could go wrong! While I do think that Kang Chul's move to fake his death was brilliant, I'm scared about the possible ripple effects. I mean, did they just create a second Kang Chul in the manhwa? Like, one that could have existed in a past timeline? I know that they introduced him as a corpse in the present, but if anything were to send them back in time, would it lead to two Kang Chuls running around in the manhwa world? It's one thing to fake your death with tricks, but it's another matter entirely to create a second version of yourself, with exactly the same DNA, and then bring him into existence. Look at what happened when Dad gave someone else his face! Have we not learned from this?
It just can't be that easy that Kang Chul and Yeon-joo get to be a happy couple living in her world either, because he'll continue to disappear if he's not being a hero in his world. That seems unavoidable, no? I don't know how they're going to find a way around that, but at least for now they've discovered a way to prolong his stay and for him to travel back and forth. As long as they have time for Kang Chul 2.0 to compete with Husband and get to do all the things he did and more, I guess that's enough for me, for now.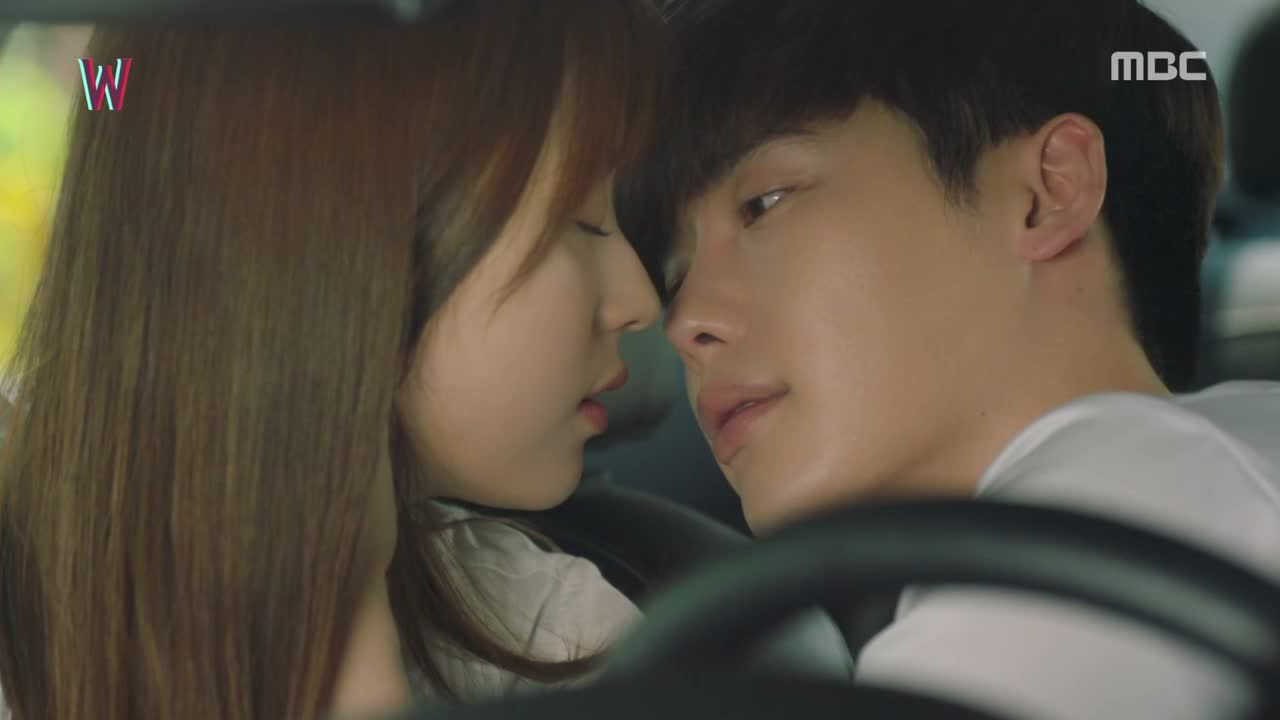 RELATED POSTS
Tags: Episode 12, featured, Han Hyo-joo, Kim Eui-sung, Lee Jong-seok, Lee Shi-un, W–Two Worlds