Beans of Wisdom: Pool dangers and threat of disnumberment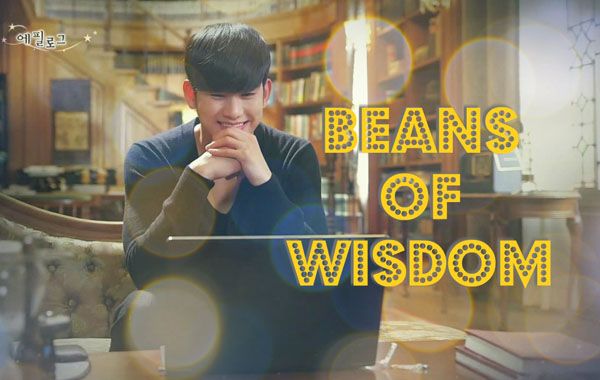 This week in Beans of Wisdom…
Lime Chilli comments on the extension in "KBS in talks to extend Moonlight Drawn By Clouds" in comment #18:
New title will be : Moonlight Drawn Out By Clouds ?
Itenoria:
And the alternate title will be: Extended in the Moonlight
randomblah:
Another episode and it will be "Moonlight…Oh Wait the Sun Came Up"
While Korazy Lady asks in "Moonlight Drawn By Clouds: Episode 6" comment #19:
Why do I keep expecting "whether you're a man or an alien, I don't care anymore" to come out of the Crown Prince's mouth? 😉
Why does that line sound familiar?
While atz has a message in "Moon Lovers: Scarlet Heart Ryeo: Episode 4" comment #34:
Dear HeadsNo2:

I don't think we, your viewers, mind if you skip writing Queen Sinmyeongsunseong's name and quote her what ever you like to call her from now on. I can see the pain of quoting her titled name every time you need to write her name!! Her name is just way too long!! I am not even sure if I did copy her name right! Your recapping is great and fast so you are entitled to quote the evil queen( Sorry I refuse to quote her real name) whatever you wish to call her. Great job as always.
Which has blnmom suggesting:
Queen S?
Queen Sin?
Sin Queen?
Queen SMS?
Yoyo:
Evil Queen?
bbstl
Queen SMH
And nchoe's brilliant idea:
I'm considering to use her name as my wifi password
Yoyo writes in "Moon Lovers: Scarlet Heart Ryeo: Episode 4" comment #107:
From possible incest, polygamy, slavery, assassinations, horse killings, mass murders, weird bathing habits and a whole lot of beautiful manly hair… All I can say is, what happens in Goryeo, stays in Goryeo.
paroles shares this gem in "Moon Lovers: Scarlet Heart Ryeo: Episode 5" comment #43:
Just thought it may be informative for you guys to know a little about the poem Wook wrote to Su. Basically, the first line describes the scenery, the second says that she hears him singing on the river, the third line says that there's sun in the east but it's raining in the west and finally, the last line says that you can say that it's not a fine (sunny) day but there's still sun. The word 晴 [qing] (sunny) sounds exactly the same as love/feelings 情[qing], so the last two lines act as a metaphor for saying that she's unsure of her sweetheart's feelings. Imo, it's sort of a reflection of Wook's feelings to her.
Followed by:
I feel bad for ruining the poem, so I found a proper translation on the web:
杨柳青青江水平,
Green, O green is the willow, placid, peaceful the flow,
闻郎江上唱歌声。
Hark and I hear on the river, songs from my love, my beau.
东边日出西边雨,
To the east, the sun is up, to the west, drizzles persist;
道是无晴却有晴。
Though they say the sun is naught, to me, the sun is aglow.
Translated by Andrew W.F. Wong (Huang Hongfa)
Retrieved from http://chinesepoemsinenglish.blogspot.com/2009/04/liu-yuxi-song-of-bamboo-twigs-i.html
Wandering writes in comment #46:
Loved this episode especially the scene where Su is following Wook's footsteps in the snow contrasted with the last scene where she's also following him in the snow except he's carrying his dead wife with him.

I thought those two scenes say so much about their relationship in the future. It might seem like it can work now that Lady Hae is gone, but the weight of her memory and what she meant to both of them will also come in between them. I can't see how they would get past that. But regardless of where it goes, I still think their love, however forbidden it may be, is pure and beautiful just like the snow. Sometimes, it's hard to remember but there are many different types of love that we experience, and I think while So might be end game, this was a love Su also had to experience.

On a different note, I also loved that scene because it was almost as if Lady Hae's most precious person was carrying her into the afterlife. It was sad and beautiful at the same time.

Also, after this episode, I kind of wish I paid more attention to my history teachers.
And Annie asks in comment #90:
Hey I was wondering if the 4th prince and the 8th prince are the same age (right!?) then how come they aren't like 4th and 5th princes!? How does that work!?!? Please someone explain it to me!!!!
pogo replies:
I assume princes #5 through 7 died off at an early age and that's why we don't see them.
though the odd numbers of princes left kind of remind me of the big debate over Cylon model numbers in Battlestar Galactica.
jomo adds:
What pogo said. plus, maybe if they fall out of favor, they get disnumbered.
Liza asks about the show's name change in "Kwak Dong-yeon goes from prince's bodyguard in Moonlight to young king in Goblin" comment #3:
The lonely, shining Goblin? Lol, am I the only one who thinks the new name is too funny?
Wag_a_Muffin:
Don't fret. Soon the title will be changed again to "Shine or Go Goblin."
Lime Chilli:
Goblin-ing Solo ?
Lonely Goblin from another Shiny Star?
Goblin of Noodles?
PBY:
My roommate is a goblin?
Mikanjjj:
My boyfriend is a goblin
I want to joing the naming game too:
Lets do the kim eun sook way- Descendant of the shiney Goblin
the-basketcase writes in "Cinderella and the Four Knights: Episode 8" comment #20:
SHOUT OUT the most ridiculous kdrama plot device EVER – ~~~random pool cramps~~~

I would like a list of all drama heroine who "almost died" because of random leg cramp in a pool they can all CLEARLY stand in. Then I would like a list of real-life cramp-related drowning in public pools. And then I'll email this to every drama writer ever, just to hopefully make them NEVER EVER EVER use this ridiculous ploy again.

You know what would be more likely than cramps? Slipping on the pool edge and hitting your head on the edge. Not only would the hero get to rescue the heroine, but she would also have amnesia (obviously)! Two drama tropes in one movement.

You are welcome drama writers.
whataretheodds continues:
Hero then takes heroine to the hospital, where the brain scan for her head injury reveals that she has brain cancer, and has less than a year to live.

This combined with the amnesia causes much angst.

BUT LO, 3 months of suffering later, it is discovered that THE DOCTOR MIXED UP THE TEST RESULTS AND OMG SHE'S ACTUALLY OKAY. Huzzah for inept medical professionals! The joy of this news returns heroine's memory.

Hero is so ecstatic about all of this that he runs to the hospital disregarding pedestrian crosswalk signals, and is hit by a white truck of doom.

Now HE has amnesia.

To be continued…
Emsel:
Hero meanwhile meets a simply stunning and caring doctor who he can't help falling in love with while recovering in the gloomy hospital.

He regains his memory and his torn between his past love and present love. Throw in a mix of kisses/tears and screen pauses dramatically by zooming in on their frozen faces.

Who will he chose? ?
Flightey Gazelles replies:
I'm fairly positive that there is a drama out there with this exact plotline.
Erratic:
The Mask of Cinderella's Sister?
Ren writes in "W–Two Worlds: Episode 15" comment #25.2:
I was actually so touched by So Hee. She genuinely wishes well for Kang Chul but for all intents and purposes she's moved on with her life. That's something really poetic about her becoming the heroine of her own story rather than a side character that exists to pine for the hero.

Ultimately W for me is about people's ability to break out of their predefined roles. Can Su Bong the scared lackey find courage? Can Dad who normally collapses when things get tough find the will to prevail? And of course can Kang Chul go against his predestined fate and smash the rules that govern his own world to pieces.
While Cipher has this to say in comment #48:
I find it kind of poetic to have OSM call himself a moster, considering he was the one who brought up this word in the very beginning and called KC that for many times.

In the end, the only monster we are able to make is the one out of ourselves.
stuffed reflects in "Uncontrollably Fond: Episode 20 (Final)" (#18):
JY's little speech when his mom came over really made me think about what kind of a daughter I am to my own parents. His concerns and guilt of disappointing his parents really gets to me. It makes me wonder if I had done a good enough job to make my parents proud and that if I die earlier than them, would I leave them with fond memories and pride as much as JY did.

Also, it was so fulfilling hearing him say that he had done his best in his life and that he couldn't have done better even if he had another chance. I'm glad that he is able to live his last moments with happy thoughts.

In a way, the show reminded me of a few things said by the late Randy Pausch in his Last Lecture series – that if we wait long enough, we will get to see to good side of the people around us. Although it may not be the case with some of the characters.. it rang true with Choi and Ji Tae.
logan5 starts this discussion in "Open Thread #464" comment #33:
So here's a Kdrama trope that I don't see any more … cleaning each other's ears …. Interesting.
bips99 replies:
YES! Thank you…. I saw this trope in a couple of the earliest kdramas i watched. And i was like – whaaat? Why do you want someone to clean your ears? And clip your toes (another trope) And why is this remotely romantic?… Thankfully i haven't across them in a while
Kaybee:
Mmmh, toe-nails and earwax… Just my kind of romance?
…
Maybe not 😛
Imagine a drama named "Toenails and Earwax". With the possible sub-titles:
"You had me at "Q-Tips"."
"I feel it in my fingers, I feel it in my toes."
"Can you hear my heart beating or do I need to clean your ears?"
"Wax on, wax off."
"Cliphangers at the end of every episode!"
"Lots of cliffhangers and hangnails!"
"He sure cleans up nice"
"The things you do for love"
"She claimed love… But wanted his DNA for experiments."
"Dirty little secrets are everywhere"
"His love – and nails – grew while he waited"
I think I need to sleep more than 4 hours a night….
Peeps adds:
I think it's some sort of show of trust. I trust you not to pop my eardrums and I trust you not to cut so deep my fingers/toes bleed.
In response to the unfortunate plot in "Chae Jung-ahn in talks to romance Park Sung-woong in Man to Man," Quiet Thought writes in comment #4:
It's hell being rich in Korea.
They have so many awful problems. They should give it up and just run small restaurants. That's where true happiness lies.
If I every get a chance to visit Seoul, the only cheerful people I expect to see in the streets are the industrious young folks delivering food on scooters.
Emanresu:
And the hungry recipients of those scooter deliveries. Expect them to be cheerful. People usually are after eating.
YY has a tip:
They should give up their mansions and move to rooftops. People who live on rooftops are a happy lot.
In "Drama viewership ratings for the week of Aug. 29-Sept. 4, 2016," YY started a hashtag party in comment #1.2:
The Laurel Tree Tailors Show is doing well, so my conclusion:
#HotCleanShoweredShavenOppasInSuitsDriveUpRatings
#HotBloodyGrimyMaskedOppasNoGuaranteeForHighRatings
junny:
I saw bits of Laurel Tree Tailors and it looks pretty decent. 50 eps though, so some motivation is needed…
#YayForChaInPyoMuscles
#LeeDongGunLooksGoodWithGelledHair
YY:
#FlexThoseBicepsFryMoreChicken
#LeeDongGun'sLeadingLadyNeedsGelledHair
Bips99:
#HalfFaceOppaEqualsHalfRatings
DramaMama shares in comment #1.4.1.1.1:
I love Korean dramas because they ARE so different from my home country's offerings. There are so many references, jokes, etc that I don't understand because I don't share the cultural history or knowlege, which can certainly cloud my opinion. But that is part of what I like – I am learning while I watch.

I'm not sure why the ratings are such a hot topic. We watch what we like and don't watch what we don't. I might check out a show due to high ratings but won't keep watching just because a bunch of others are watching. Nor will I drop one because no one else is watching it.
And Alynsilver writes in "Team Dramabeans: What we're watching" (#68):
One of my favorite things about DB is this weekly post. I love seeing everyone's opinions and how often some people like one show but another recapper will find that same show boring. It helps me understand that everyone is so different, and that we all don't have to like the same dramas 🙂
Cheers, Alynsilver! We may not like all kdramas, but we all like kdramas.
Feel free to share the beans of wisdom you found in the past week in the comments below!
RELATED POSTS
Tags: Beans of Wisdom