Cinderella and the Four Knights: Episode 11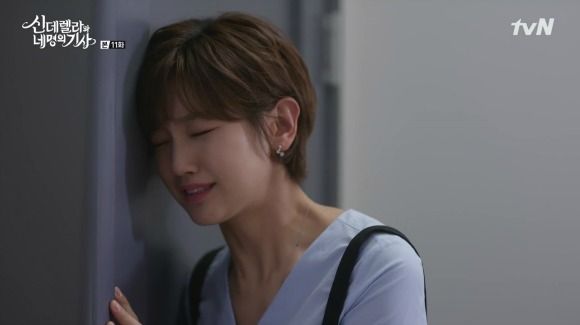 Sky House has another lady guest, and with the spotlight on her, she makes our Cinderella feel a bit lacking today. And despite feeling that the attraction is mutual, a certain knight is driving her insane. Their moments must count for something, right? But does she even stand a chance with Barbie in the house?

EPISODE 11 RECAP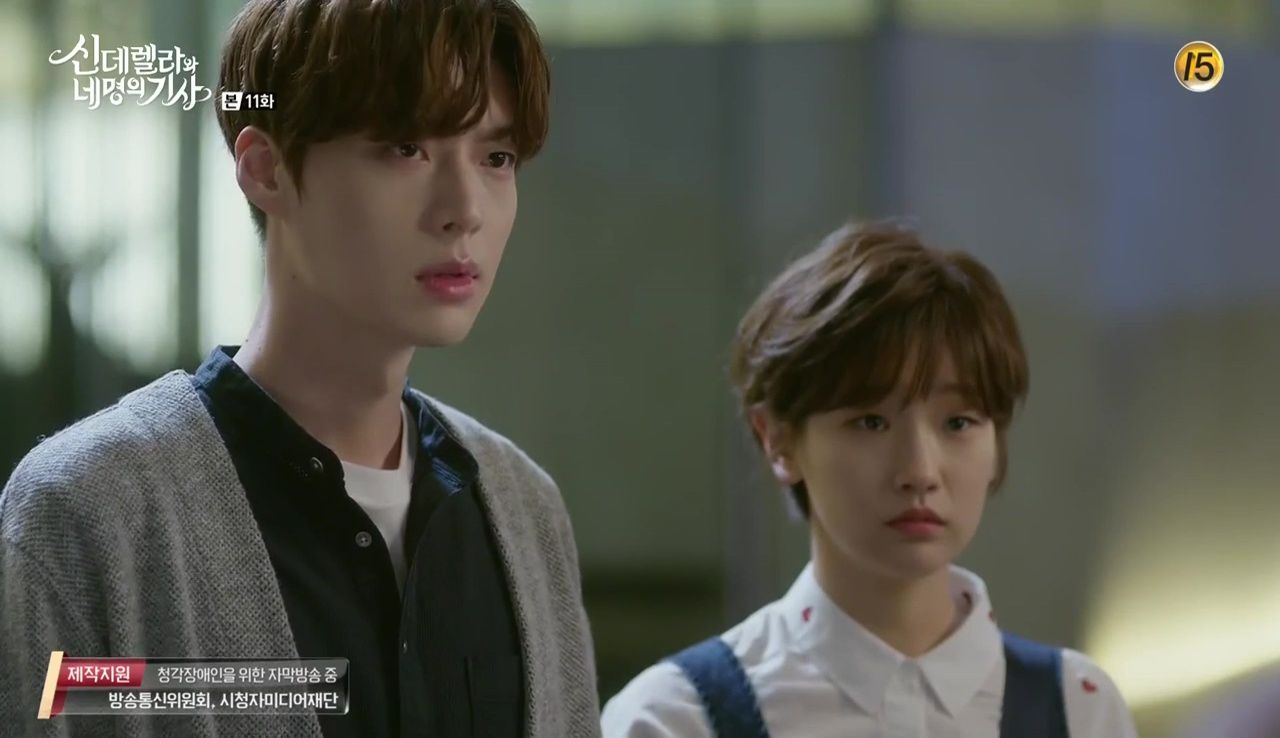 Ha-won and Hyun-min watch in silence as Ji-woon and Hye-ji arrive outside Sky House. Hye-ji has a suitcase with her, and Ji-woon announces that she'll be staying with them for the time being. Ha-won and Hyun-min don't make a peep, but it's not like they have much say in the matter.
Ha-won leads Hye-ji to her room as they'll be sharing. Hye-ji apologizes for the unexpected intrusion, but Ha-won assures her it's no problem since she doesn't own this room or Sky House. Hye-ji expresses how grateful she is for Ji-woon because he rushed to her assistance as soon as she needed him; he always came running whenever she was in a pickle. Ha-won listens to this with slight unease.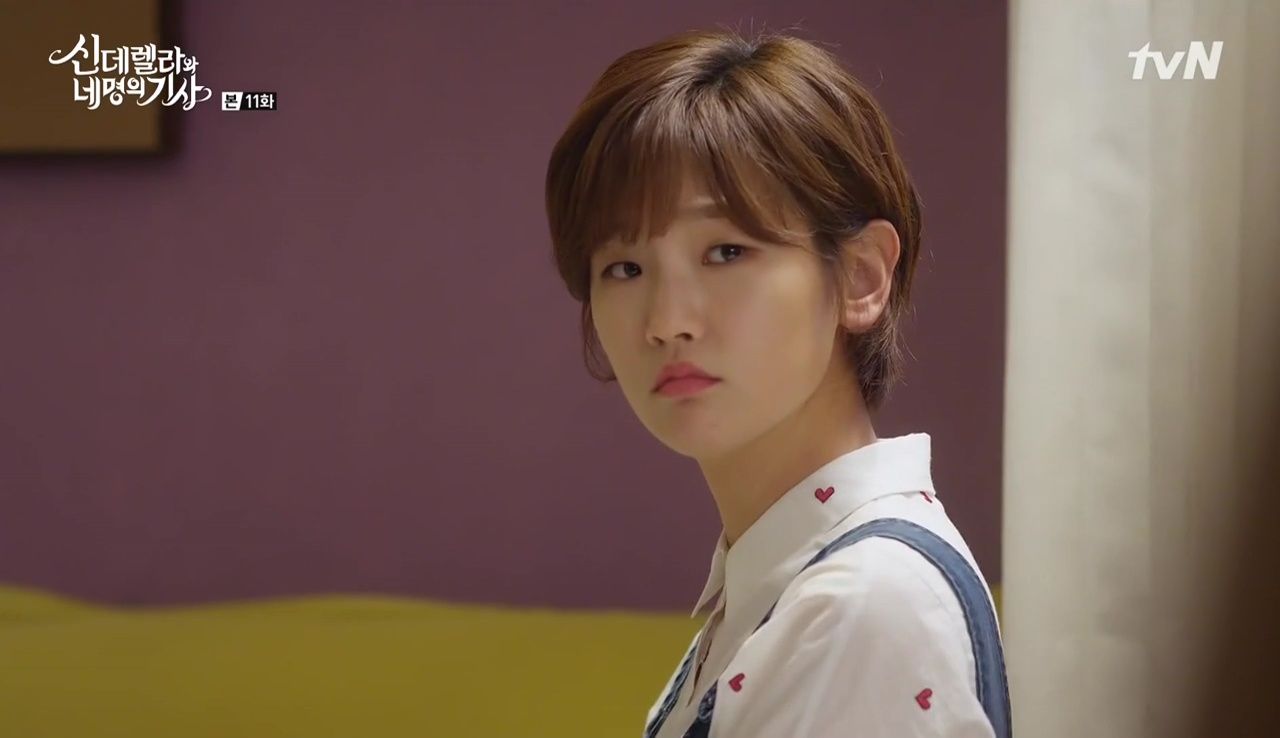 Hyun-min tries to explain his lack of response to her calls, but Hye-ji cuts him off and states that once again, he was a step behind Ji-woon. As Ha-won is turning down the bed, feeling conflicted by Hye-ji's sentiments from earlier, Ji-woon knocks on her door and enters. He tentatively asks her how she got home, and without facing him, Ha-won answers that she clearly arrived in one piece. It's an awkward, albeit civil interaction, and Ji-woon requests she take care of Hye-ji while she's here. As soon as he leaves, Ha-won wonders aloud if he only has eyes for Hye-ji.
The next morning, Ha-won wakes up to find her side of the bed empty. She's struck by how quiet Sky House is, and Ms. Beolgyo muses that Hye-ji is the reason for that. A flashback from earlier that morning reveals Seo-woo being startled by Hye-ji's presence, followed by his embarrassed beeline for his room as soon as he realized his bedhead and generally undone state. Hyun-min also had a humiliating encounter when Ms. Beolgyo held up a pair of crimson undies and asked him if they were his while Hye-ji was in the living room. Lucky for Ji-woon, Hye-ji greeted him with a glass of water and a light dabbing of his facial sweat post-run.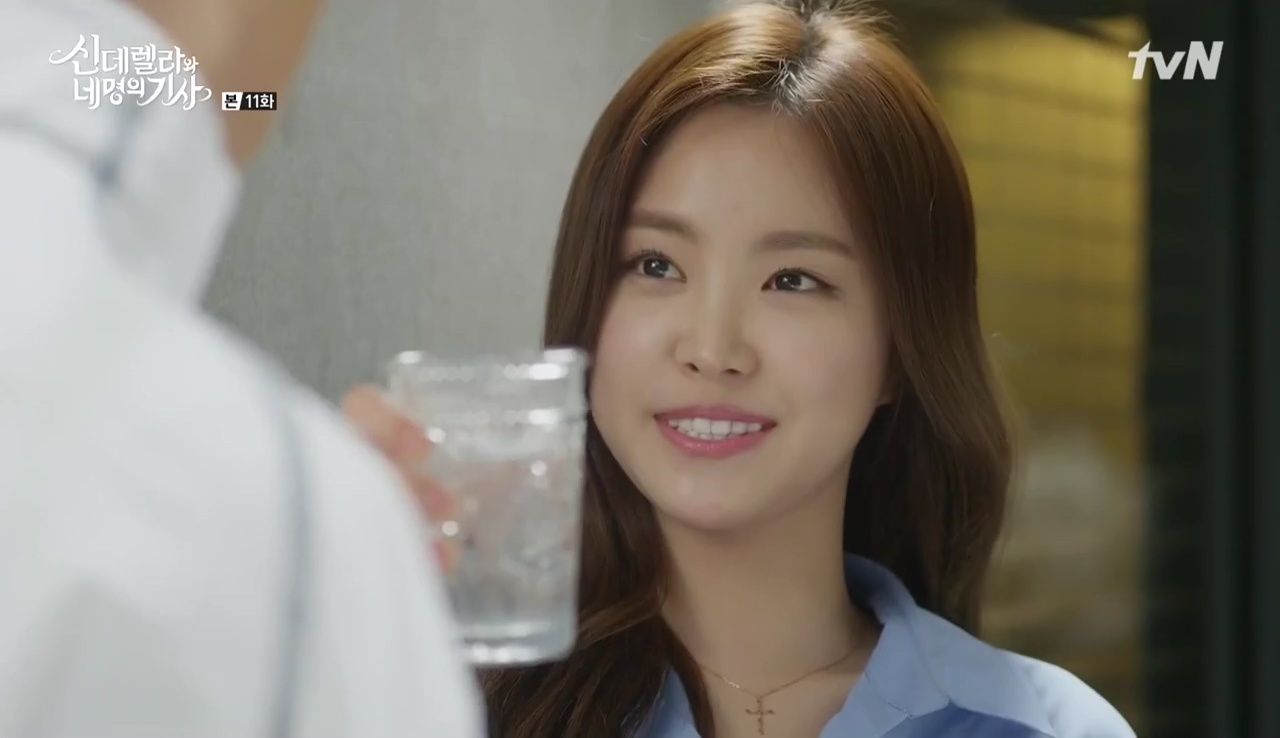 Back in the present, Ms. Beolgyo chirps that Hye-ji's presence has turned this place upside down; she witnessed Ji-woon's kindness toward a lady. A first! But she figures it was only natural since Hye-ji is as pretty as a doll. Ha-won suggests that the atmosphere was strange when she first moved in too, but Ms. Beolgyo points out that the boys never acted differently around her.
Ha-won's feeling like an inadequate woman and doesn't understand Hye-ji's appeal, but then she catches her standing in front of the air conditioner, hair perfectly windswept and face glowing in daylight, and Ha-won can't help but be enchanted by her beauty as well, LOL. She glances at her sweats and concludes that she and Hye-ji are indeed very different.
Back in her room, she bemoans that men are all the same, preferring girls with pretty faces and bodies. But a line from her coloring book — "Your inherent charm will attract your fated partner" — catches her attention and boosts her confidence, prompting her to try on all her accessories and peruse her wardrobe.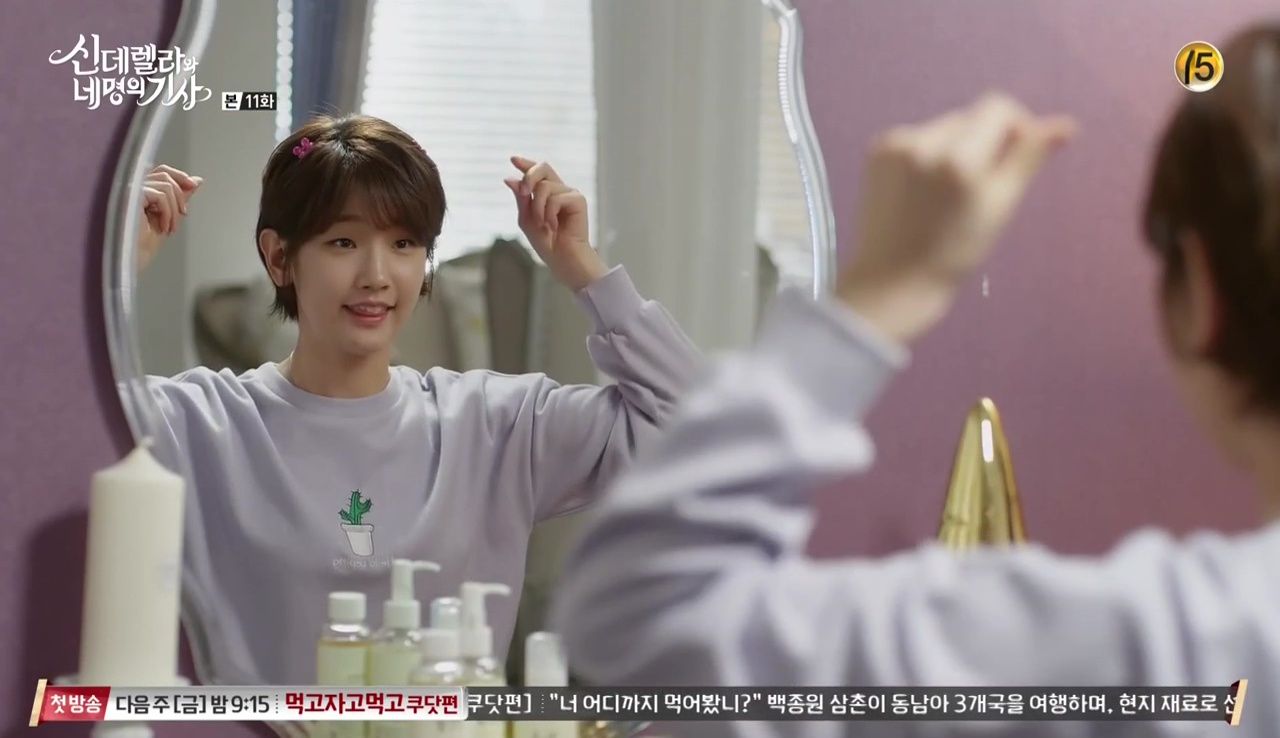 Ha-won steps out in a dainty dress, causing Seo-woo to drop his TV remote, heh. She shyly asks him what he thinks of her new look, and he struggles to speak before calling Ji-woon and Hyun-min for their input. Ji-woon arrives and notices Ha-won's outfit, but avoids commenting on it. Ha-won dashes to her room, feeling self-conscious.
Ji-woon reflects on Ha-won's distant and strange behavior toward him and figures she's still mad at him, but isn't sure how to make it up to her. Meanwhile, Chairman Kang and Hwa-ja are dining at a nice restaurant. She surprises him with a gift, but he's disappointed to see that it's a shirt, and not the tie he saw her pick out for the young man she had in mind.
Hye-ji tries to see her dad at the police station, but she's refused a visit due to ongoing investigations. She calls her uncle to see if he'd be willing to help her out, but he isn't. Hyun-min overhears all this and contacts his friend for a favor. He meets with him at a bar and learns that the judge in charge of Hye-ji's father's case is a colleague of his friend's dad; the friend says his dad will put in a good word and hands Hyun-min a letter addressed to Hye-ji.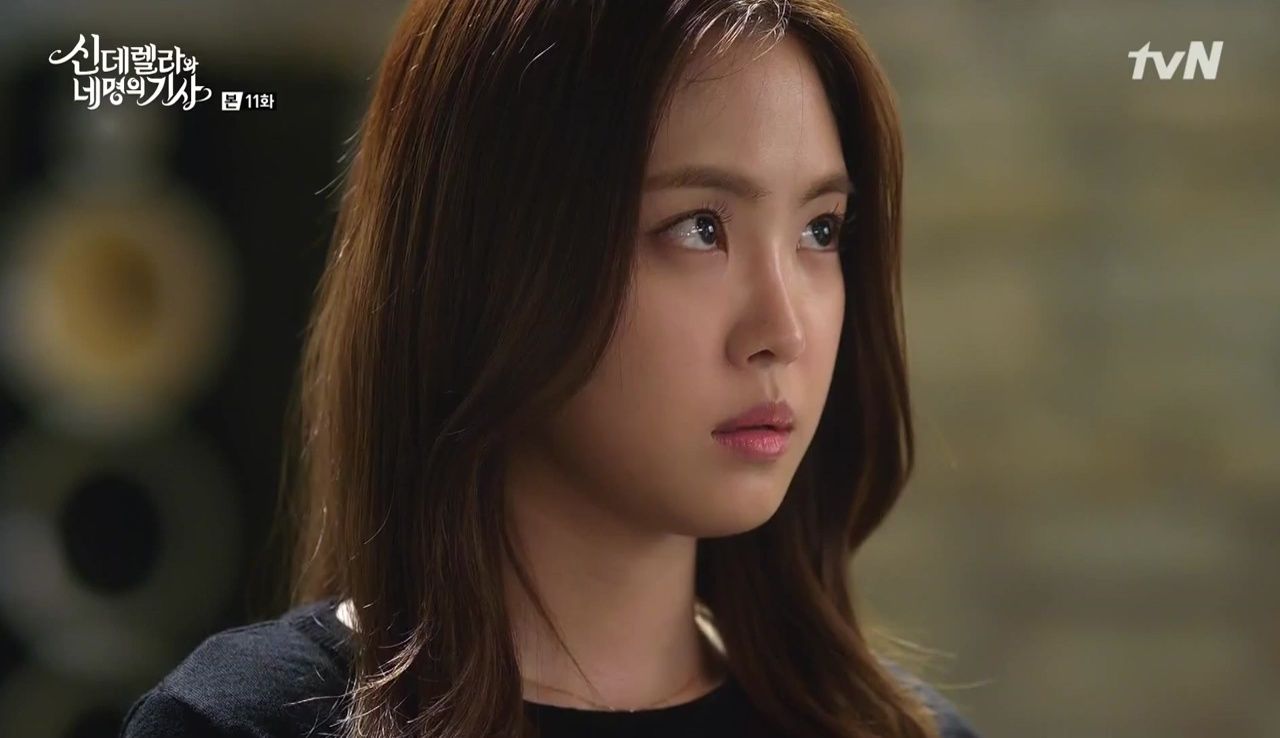 Hyun-min angrily chucks his glass at the wall in response to his friend's bashing of Hye-ji's father's embezzlement charges. He pointedly brings up how his friend's father set up a new law firm recently after losing his job over corruption charges to remind him that his father is no better, so he shouldn't denigrate others.
Hyun-min gets home and hands Hye-ji the letter from her dad. He tells her she doesn't need to worry anymore. Thinking she'd be grateful for his gesture, he puts on a magnanimous air and is about to hand her something, but she looks him in the eye and says his help makes her uncomfortable. She walks away, and Hyun-min opens his palm to reveal a key.
He throws the key at Ji-woon, and orders him to use it to retrieve Hye-ji's belongings, since Ji-woon's the one who brought Hye-ji here. Hyun-min warns him not to tell her that he's behind this.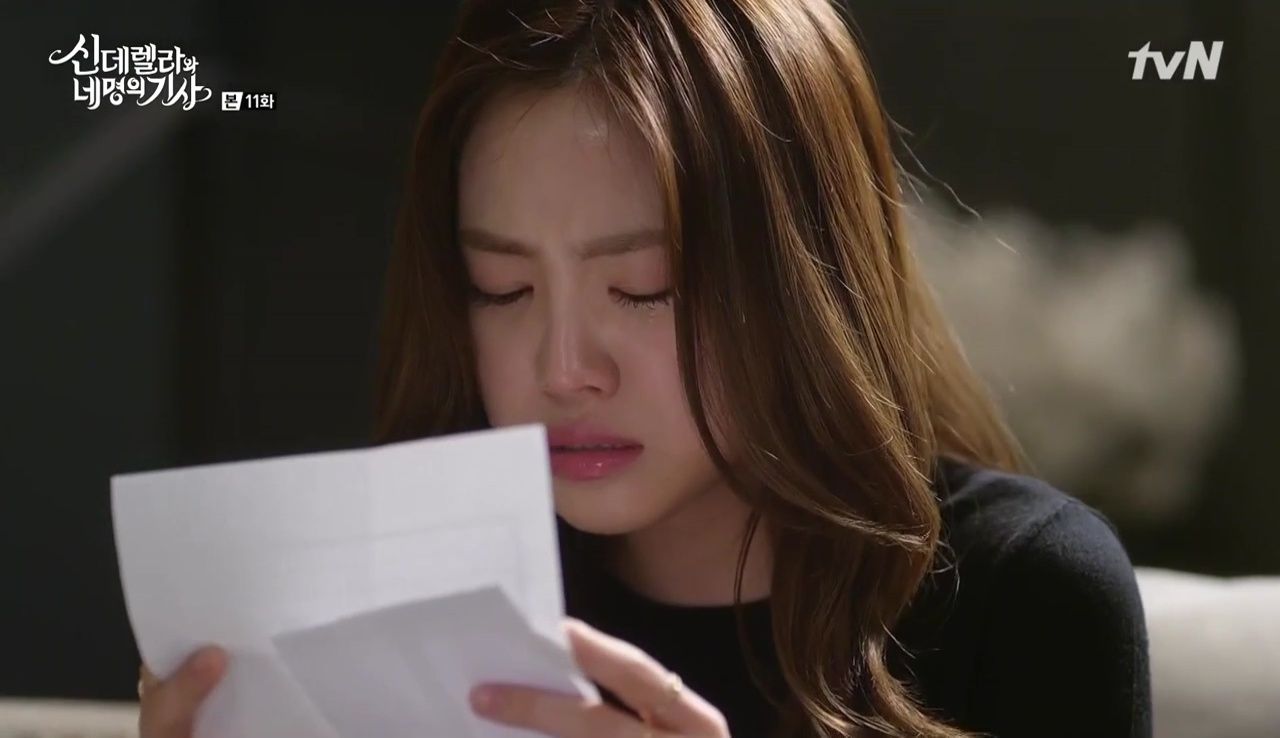 Hye-ji sobs as she reads her father's letter. He apologizes for the trouble he caused and encourages her to carry on with her life with her head held high, because her life won't change because of him. Ha-won observes Ji-woon quietly regarding Hye-ji.
The next morning, Ji-woon takes Hye-ji to a storage facility. Using Hyun-min's key, he opens a chamber, and Hye-ji's face lights up upon seeing all her sewing equipment in one place. She thanks him, and excitedly packs a few things in order to complete her projects. Ji-woon feels a bit awkward taking the credit for Hyun-min's doing, but he keeps Hyun-min's word and stays mum on Hyun-min's involvement.
Hye-ji happily offers to buy lunch for him, but is disappointed to end up eating instant noodles outside a convenience store. Ji-woon's thoroughly enjoying his meal, however, and Hye-ji guesses that he's eaten this many times before. Ji-woon affirms that he has with Ha-won, since she loves it as much as he does. Hye-ji notes that he seems to really care for Ha-won and inquires if his kindness to her is equivalent to the kindness she receives from him. Ji-woon doesn't know how to answer, and sheepishly admits that he hasn't done a lot of nice things for her. He dodges the subject by offering to grab coffee for her.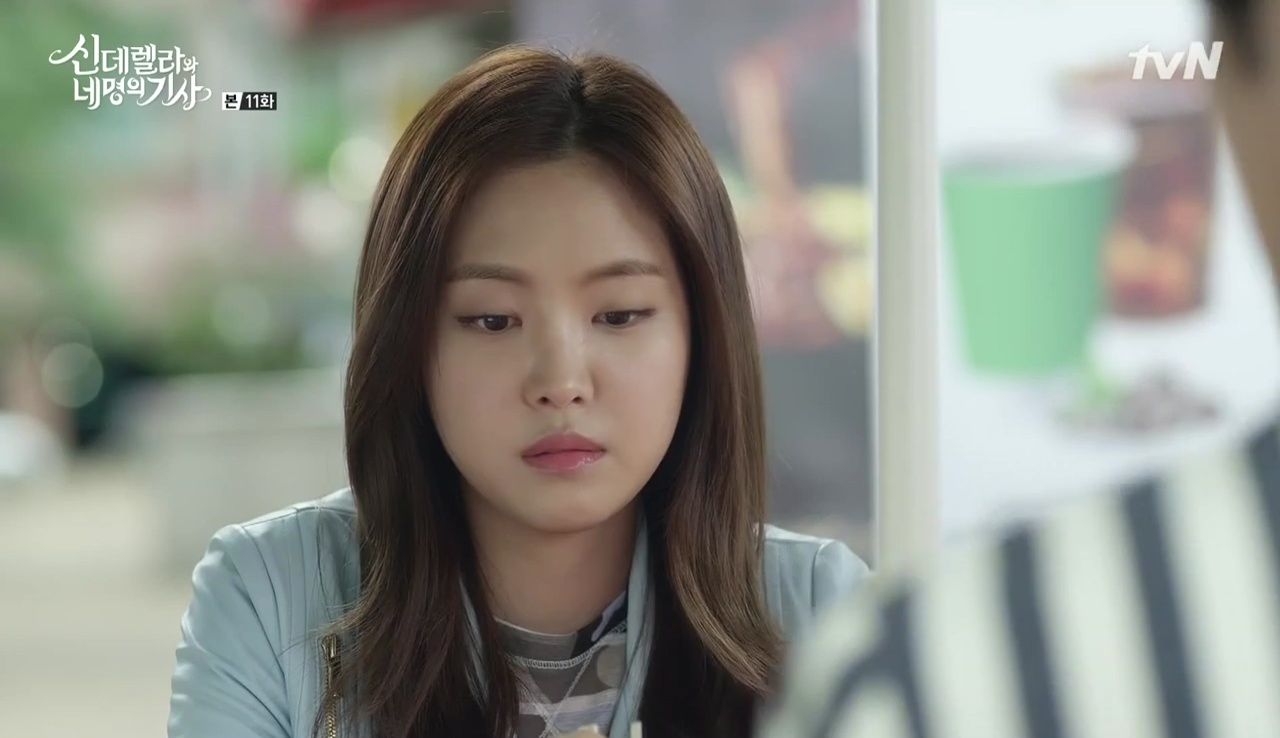 Inside the convenience store, he notices a special for White Day (like Valentine's day, but men present gifts to women). He purchases a gift box and sticks it in his jacket pocket before emerging with coffee. Hye-ji notices the gift in his jacket and observes aloud that he took awhile to get coffee.
Ms. Beolgyo lays out lunch on the dining table for Ha-won alone, since Seo-woo's out working. and Ji-woon and Hye-ji left in the morning. Ha-won's disappointed to hear that the two left together, and Ms. Beolgyo sympathizes with her, since she's been alone every day since Hye-ji arrived. She disapproves of Ji-woon not including Ha-won like this, and Ha-won quickly gets up to see if Hyun-min will join her.
Hyun-min's playing video games and has no desire to eat with Ha-won, but she shuts the game off and divulges that she doesn't want to eat alone. He begrudgingly joins her at the dining table. He remarks that her appetite has increased significantly, and Ha-won answers that it's because her heart, not her stomach, is feeling empty.
Hyun-min's ears perk up when Ha-won mentions that Ji-woon and Hye-ji are out together, but denies showing interest in their business when Ha-won observes his change in behavior. He gets defensive, claiming that he's not acting weird, but Ha-won advises him to just be honest about his feelings and express them so he doesn't get sick bottling everything up.
He then turns to her and asks if she feels annoyed for being left out all the time, and she assures him that she's not, even though she's eating alone. Hyun-min gets on her nerves by mimicking her repeated dismissals of being alone.
Ji-woon and Hye-ji return to Sky House. Hye-ji explains to Ha-won and Hyun-min that Ji-woon helped find her studio stuff. Hyun-min retreats to his room and gazes at his smiley face phone background. Ji-woon enters and tells him that he did what was asked. Hyun-min thanks him, but Ji-woon states that this is the last time he'll look out for Hye-ji on Hyun-min's behalf.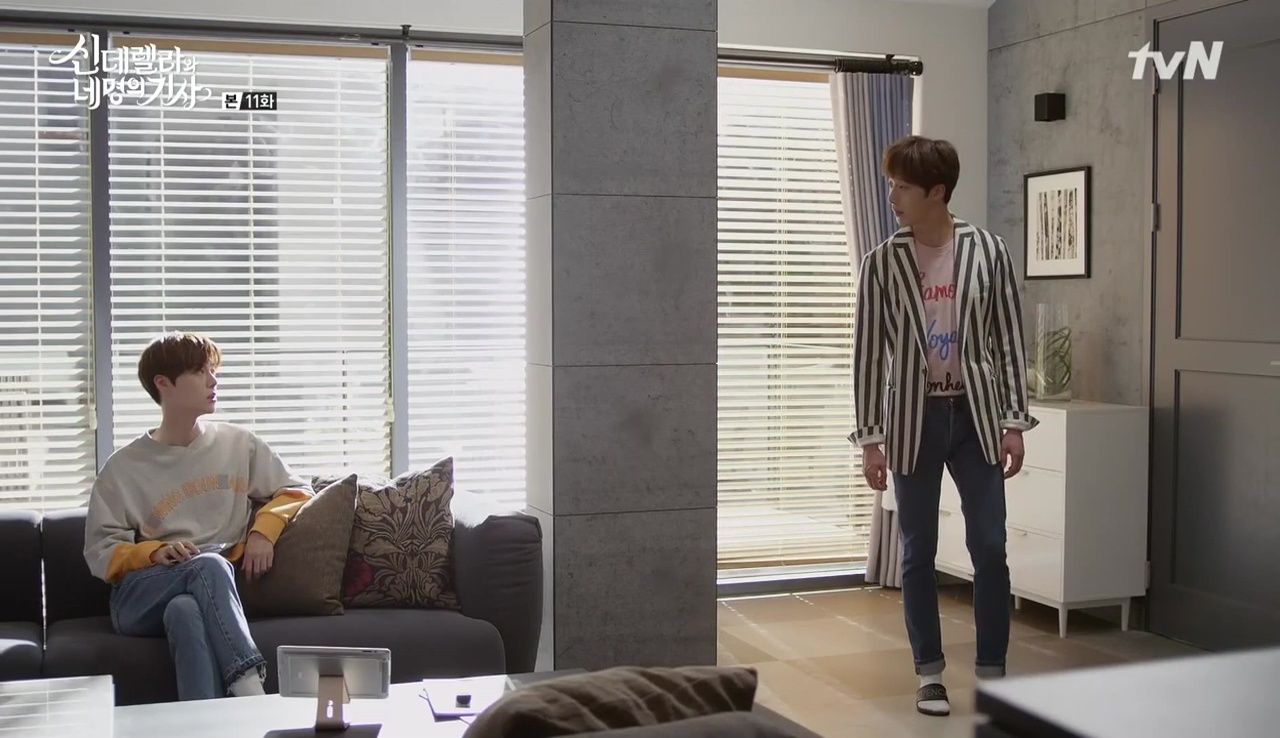 Hyun-min replies that he'll need Ji-woon to continue like this because he has no right to make it up to Hye-ji himself after hurting her. Plus, Ji-woon's always looked after her, so his favor doesn't change anything. Ji-woon clarifies that he's not doing this for him, but as a friend to Hye-ji since he values her, and warns Hyun-min not to make her cry again.
Ha-won's talking to herself while taking a stroll, still bitter about Hye-ji and Ji-woon, when Ji-woon pops out of nowhere and asks who she's speaking to. She shoos him away and suggests he tend to Hye-ji, and he smirks. "Sounds to me like you're disappointed that all my attention is on her," he quips. Ha-won denies feeling that way, and Ji-woon fails to give her the White Day gift he purchased for her.
"I'm sorry I left you behind that day," he says, meaning every word. She tries to brush off the incident, but he insists they go on another drive when she's free since their last trip was interrupted; he has something to tell her, too. Ha-won eagerly agrees to the drive and beams. Once he's out of Ha-won's sight, Ji-woon sighs, disappointed that he wasn't able to give her his gift.
Ha-won's on cloud nine after that conversation with Ji-woon, but is puzzled by his need to tell her something. Seo-woo catches her look of concern and figures she's struggling because Hye-ji's at Sky House now. He recommends she be nice to her while she's here since she lost her home, and Ha-won nods in agreement, but looks uncertain.
Ha-won watches Hye-ji unpack and throw her clothes into the hamper. She goes up to Hye-ji and volunteers to do her laundry, only to end up shrinking her clothes, LOL. Ha-won's very apologetic and offers her the black and white tracksuit to wear in the interim. Hye-ji insists it's okay since the shrunken clothes were old, and she can always go shopping with Ji-woon.
The mention of Ji-woon gives Ha-won pause, and Hye-ji reveals that she confessed her feelings to him; he was always by her side whenever she was having a hard time with Hyun-min, and that's why she wants to try dating him.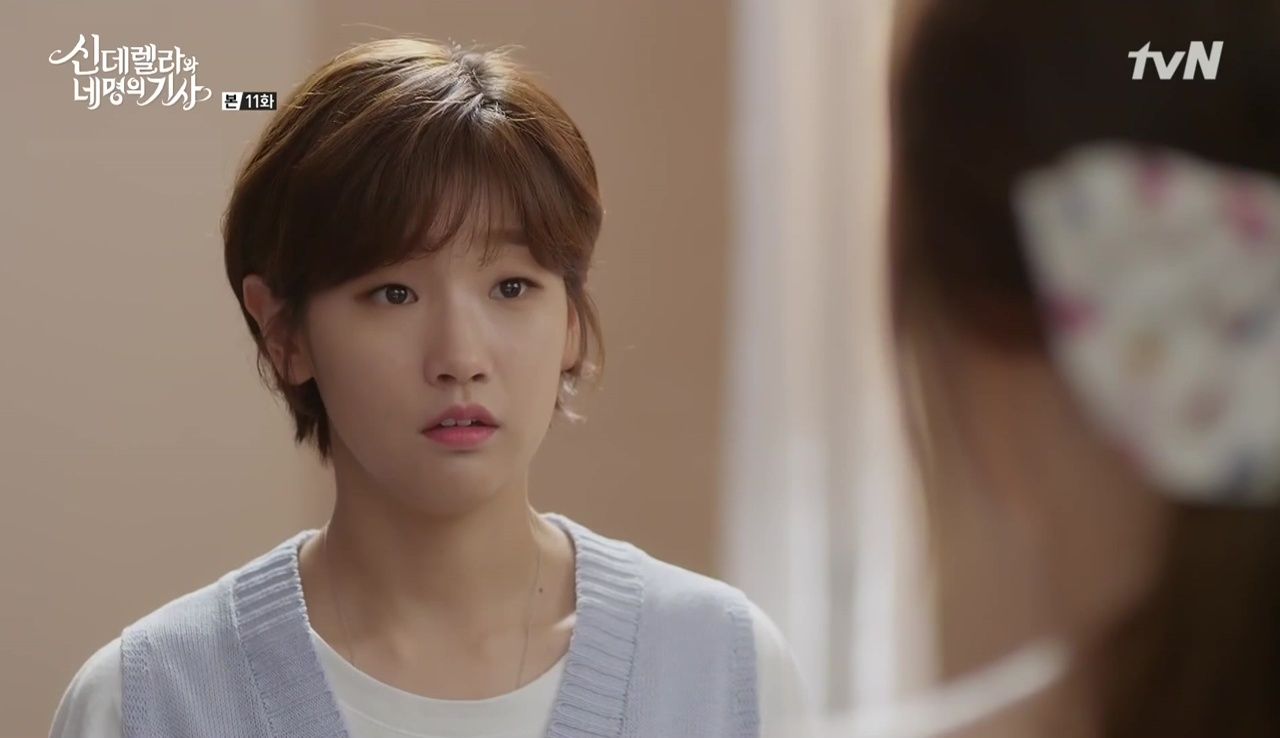 "Did he give you an answer?" Ha-won blurts. Hye-ji nods (aka fibs) and gives a cryptic response to a crestfallen Ha-won: "Ji-woon probably feels the same way I do. Don't you think?" Mmm no, I don't.
Chairman Kang does not look happy as he recalls Hwa-ja picking out a necktie for a young man, which ended up not going to him. He sternly orders Bodyguard Lee to report on Hwa-ja's every move. Meanwhile, Hwa-ja's getting her usual massage from nosy Stepmom, who lets slip that she heard Hwa-ja's current marriage isn't her first. Hwa-ja bolts upright, demanding to know who said that. Stepmom answers that she overheard two other chaebol wives talking about it, but assures her not to worry since she'll happily relay whatever rumors she hears. This doesn't ease Hwa-ja's anger, however, and she reprimands Stepmom for being a gossip-obsessed loudmouth and threatens to speak to the manager to get her fired.
Hwa-ja rings up one of the chaebol wives who was talking behind her back, and sweetly suggests they meet up before warning her in a threatening tone that if she spreads any more rumors, she'll have to face the music.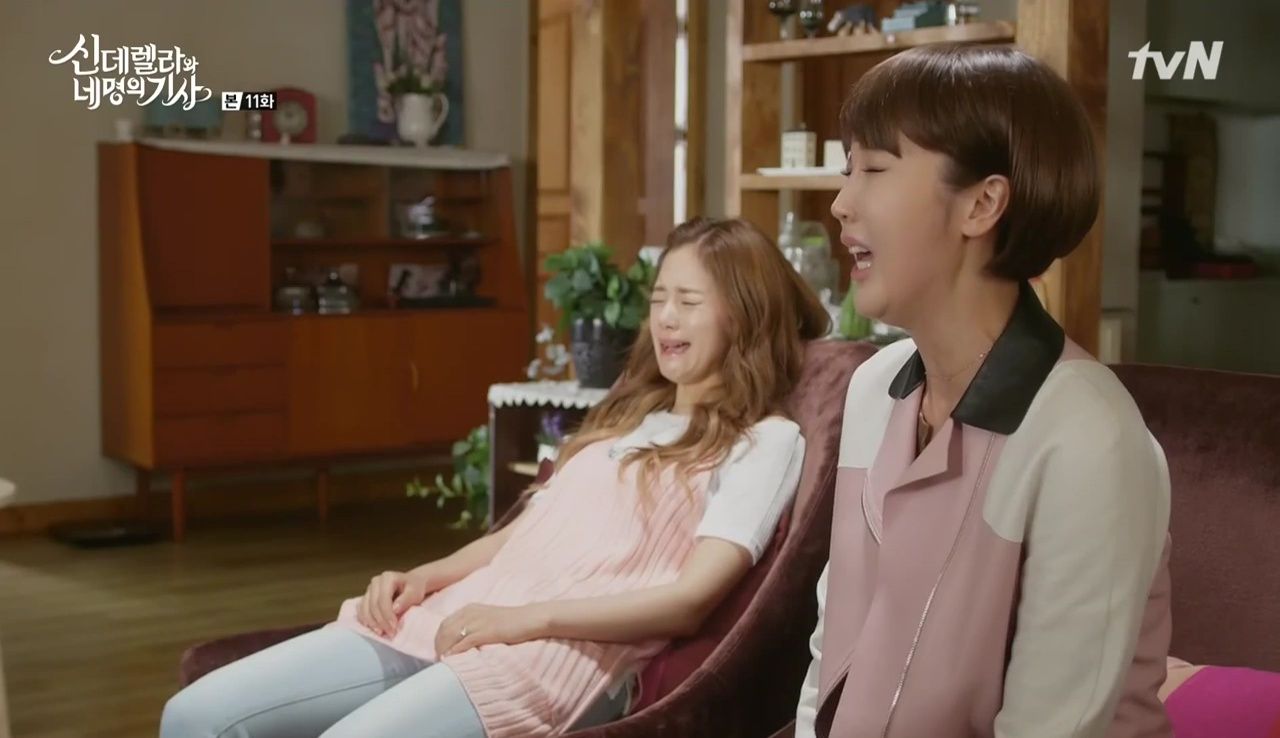 That night, Ha-won thinks back on all the times she and Ji-woon shared a moment, but Hye-ji's desire to date Ji-woon only confuses Ha-won even more. In his rec room, Hye-ji asks Ji-woon if he'll join her tomorrow on her shopping trip, and he agrees. The next day, Stepmom arrives for work, only to learn that she was fired after her incident with Hwa-ja the other day. She bawls when she gets home, regretting her decision to act as Hwa-ja's right hand woman just to get Yoo-na hitched to a Haneul Group son because it got her fired. Yoo-na erupts into tears as well, upset that her chances of moving into Sky House are even slimmer.
Hwa-ja's getting her nails done when she catches a glimpse of Bodyguard Lee passing by in her mirror. He conceals himself behind a door and appears uneasy with the task of spying on her. Hyun-min spots Ha-won (actually Hye-ji wearing Ha-won's black and white tracksuit) heading to the kitchen post-shower and marvels at her insatiable appetite. He places a hand atop her toweled up head to tease her for eating before drying her hair (what?), but is shocked to find Hye-ji's face right before him. She backs away from him and her towel unravels. Hyun-min apologizes; he mistook her for Ha-won, but Hye-ji's visibly shaken as she storms off.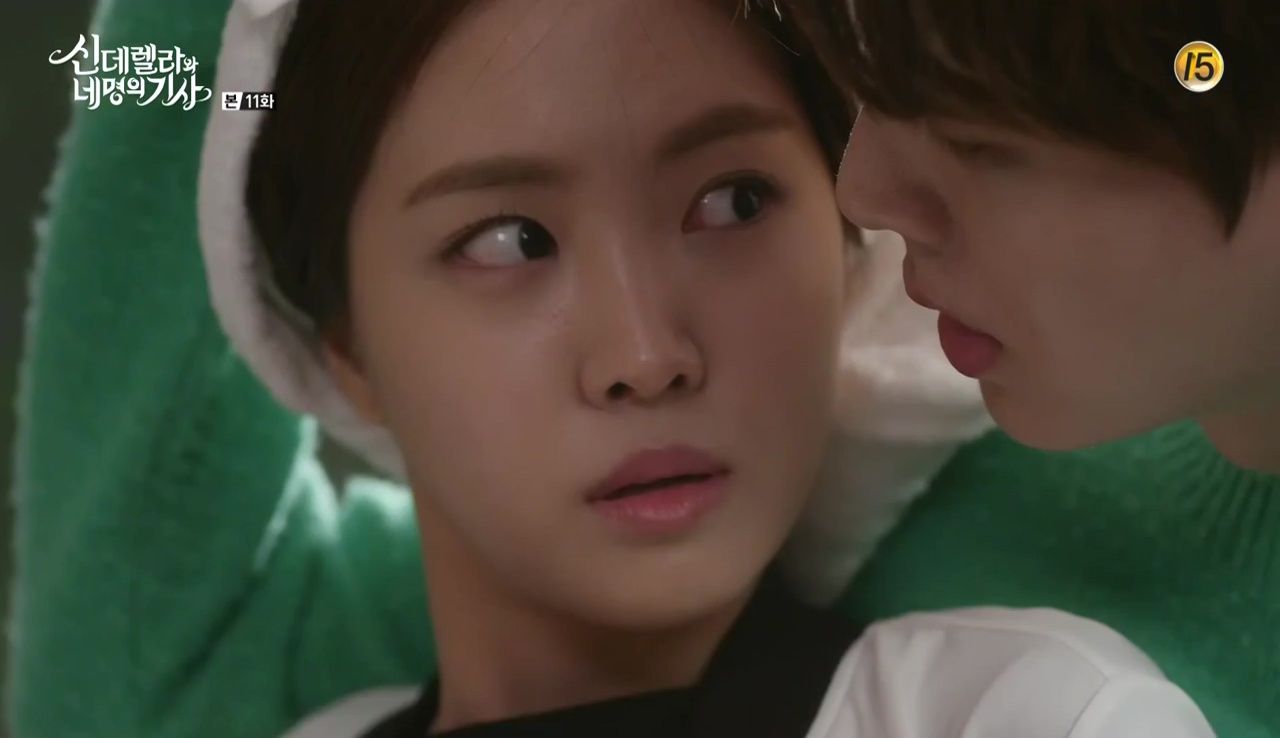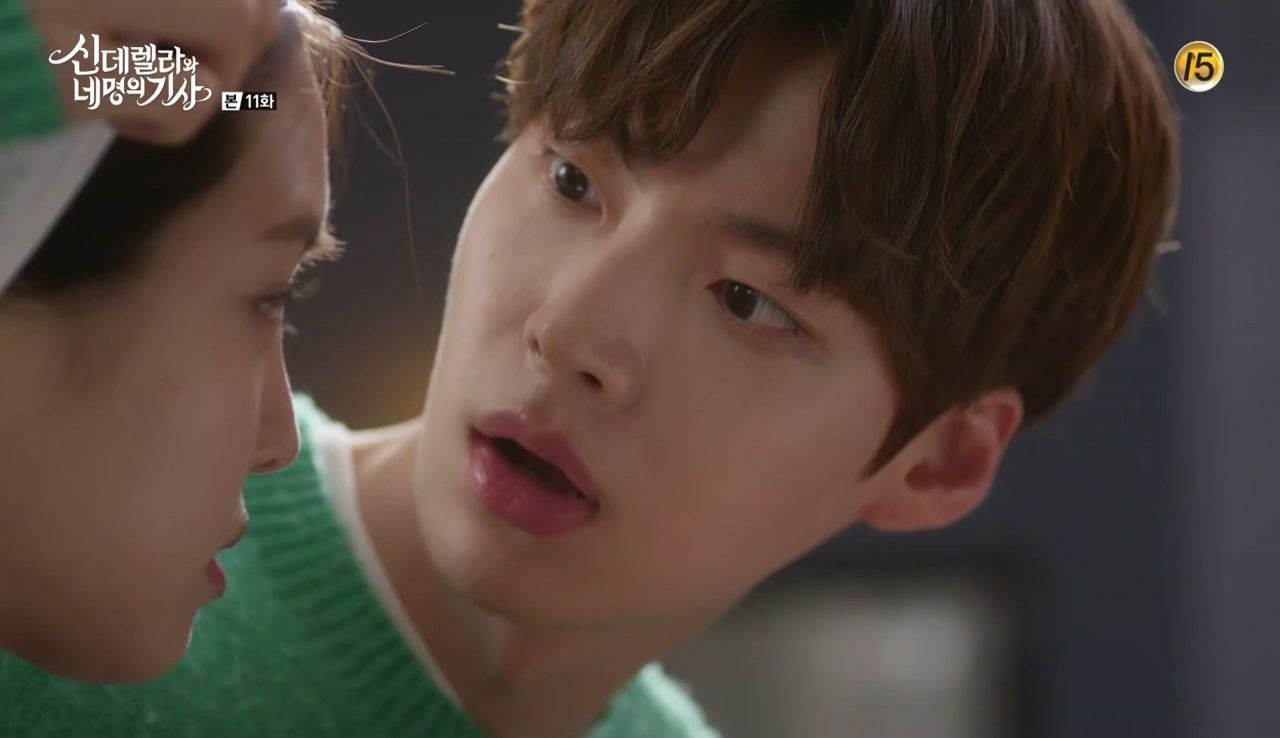 Ha-won marches to Ji-woon's room and knocks on his door. She wants answers, but he's not in. Hye-ji sees her outside his door and informs her that she's going somewhere with Ji-woon. Right as they're about to leave, Ji-woon realizes he forgot his wallet and heads back inside to grab it. Hye-ji's reminded of her lie to Ha-won and appears apprehensive.
Ha-won confronts Ji-woon in his room, notices the gift in his hands, and assumes it's for Hye-ji (it's not), which confirms her suspicions. She's about to leave without a word, but Ji-woon doesn't let her off the hook, knowing she came in with something on her mind.
Ha-won: "Sorry for not noticing sooner… Say things in a way I can actually understand. I heard everything from Hye-ji so don't do things that will cause misunderstandings anymore."
She walks away, and Ji-woon is left baffled by her statement, unsure of what she meant. Ha-won immediately regrets what she said and feels ashamed.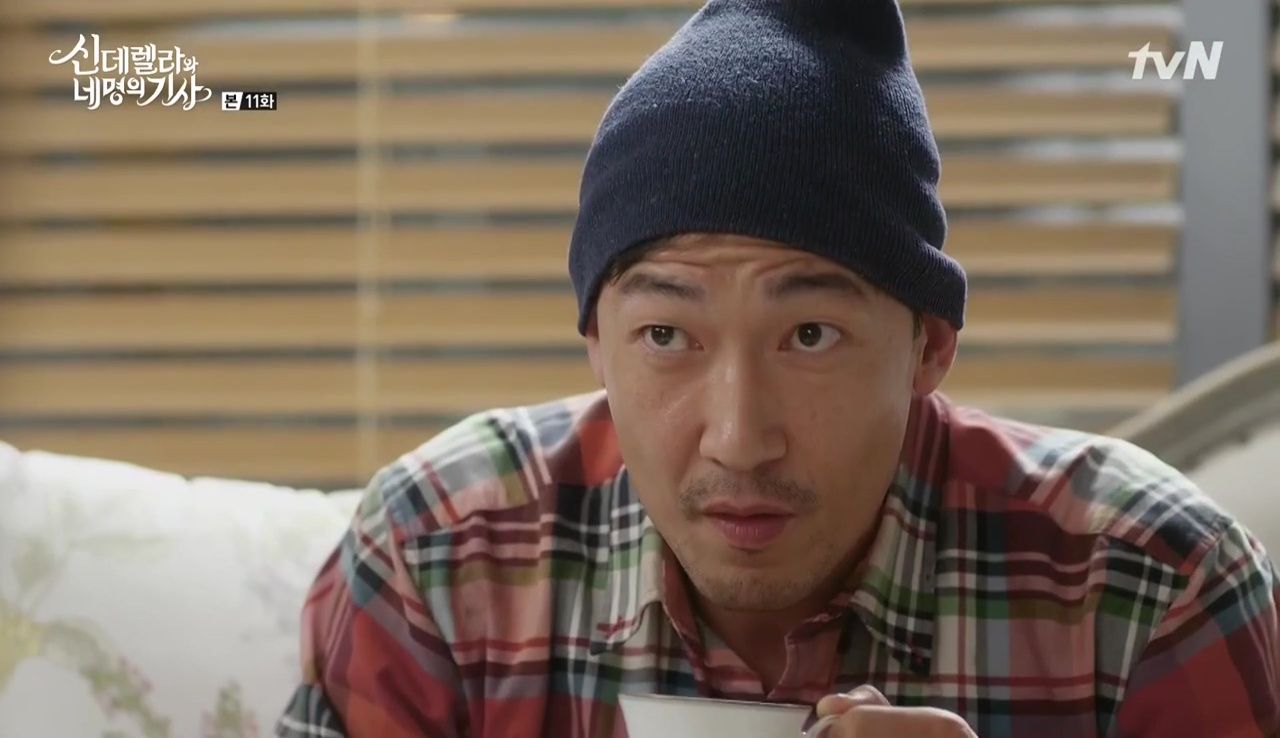 When she returns to Sky House, Ms. Beolgyo informs her that her father is here. Ha-won's overjoyed to hear this and rushes to see him, only to find a strange man noshing on snacks in the dining room. It's Kang Young-jin, the construction worker Stepmom confronted about being Ha-won's biological father, but Ha-won has no clue who he is.
Her face falls as Young-jin excitedly reminds her that he and her mother ran the Taekwondo dojo together. Young-jin ogles the luxury of Sky House and commends Ha-won on moving on up in the world. She wants to know why he sought her out, and he answers with a question: "Has your mom ever spoken to you about your dad… your real dad?" Ugh, I do NOT like Mr. Shadypants here.
Ji-woon screeches to a halt, bothered by Ha-won's mention of Hye-ji. He asks Hye-ji if she said anything to Ha-won, and she answers honestly about how she told Ha-won she wanted to go out with Ji-woon, and that the feelings were probably mutual. It all starts to make sense for Ji-woon, and when asked why he ran to her side during her time of need, he calmly apologizes and states that she'll have to head home by herself. Translation: Hye-ji just got kicked out of his car.
Back at Sky House, Ha-won drops her teacup, rattled to hear the stranger before her assert that he's her real dad. Ha-won doesn't understand; he and her mother were just friends. But he doesn't seem to address her confusion and merely states that he wants to be a proper father to her now after years of feeling bad for the man who ended up raising her. He clasps her hands and adds that if she "helps [him] out a little bit," the two of them can live together. And just like that, my skeeve meter just shattered.
This is all too much for Ha-won to process, so she urges him to leave at once. But when he doesn't, she ends up walking out first. Ms. Beolgyo eyes Young-jin suspiciously, unsure of what to believe. Ji-woon pulls up to Sky House just as Young-jin leaves. He asks Ms. Beolgyo where Ha-won is, and she explains that she just left, seemingly troubled after meeting with a man who's purportedly her father.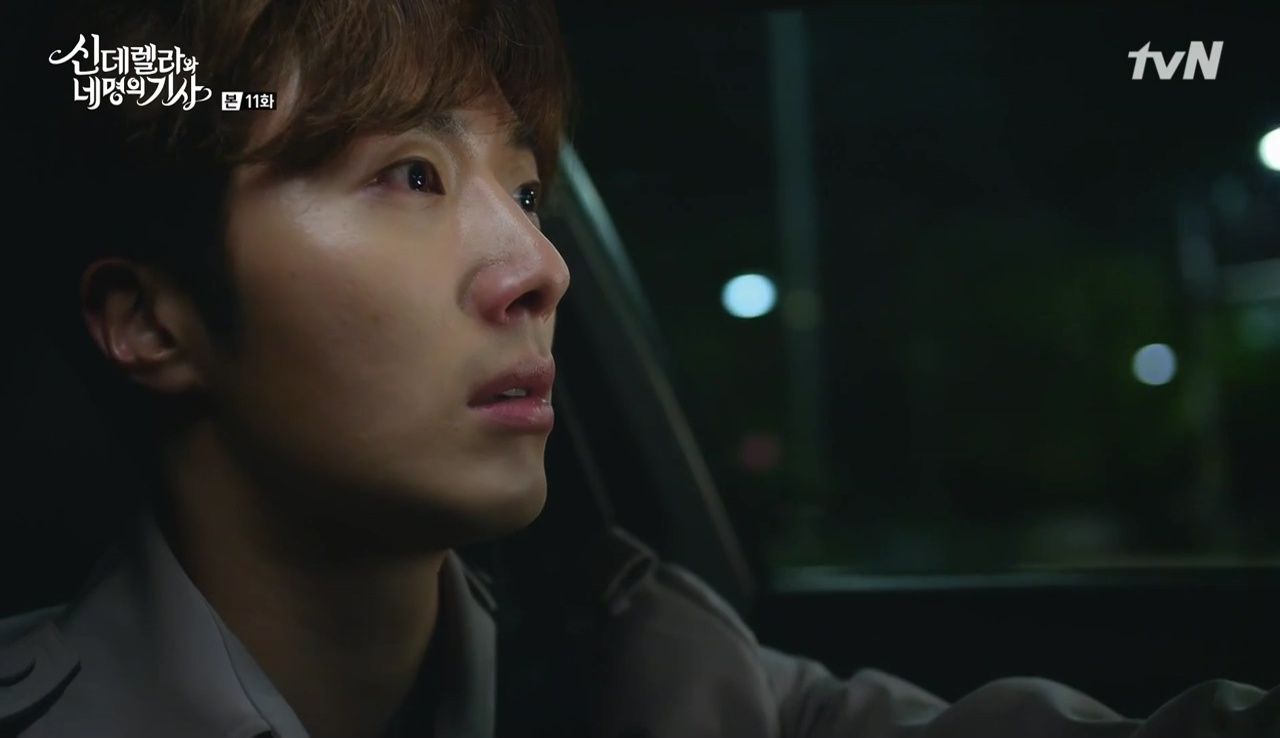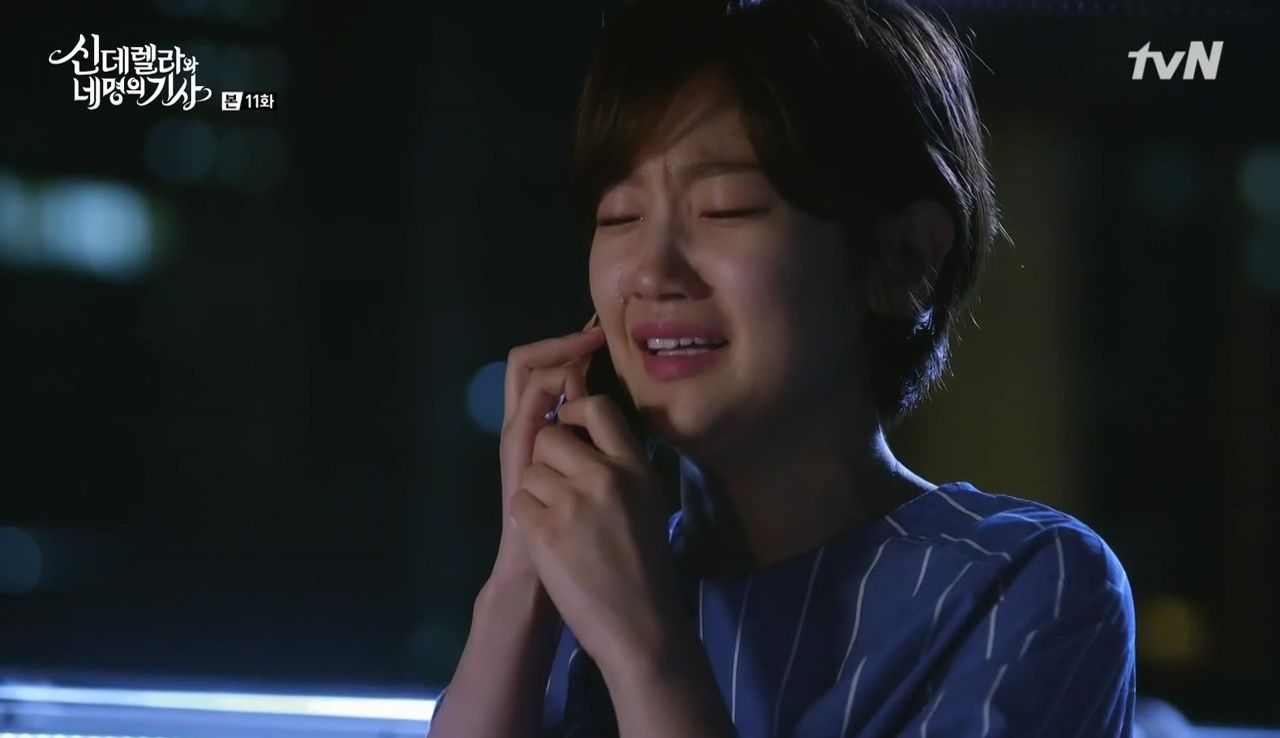 Ha-won walks across a bridge in a daze, replaying Young-jin's claim that he's her dad. She calls the dad who raised hers, desperately hoping he'll pick up for once. Meanwhile, Ji-woon's back in his car, wondering where Ha-won is and why her line is still busy. He remembers their conversation on the bench, and Ha-won mentioning how she wants to believe that her dad is her real dad.
Ha-won's fifteen calls to her dad go unanswered because her dad left his phone in his pickup. Ha-won's phone battery is on its last breath when a call comes in from Ji-woon. She answers it, and Ji-woon frantically asks her where she is. Ha-won breaks down into tears and cries his name, but her phone dies before she's able to say any more.
She sobs on the bridge, painfully alone, devastated, and unsure where to turn.

COMMENTS
There was A TON of screen time for Hye-ji in this episode, and unfortunately, none of her scenes were particularly riveting. She is a very vanilla corner of an otherwise sufficiently complicated love triangle, and it's just a pity that she's such a bland character, tepid as old bath water. I think part of it has to do with the actress along with the writing. She'd be a lot more interesting if she took on an extreme characterization, either as the love-to-hate, evil threat to our heroine's romance, or the perfect-on-paper beauty inside and out who's so lovable that we can't help but root for her as well. Hye-ji is somewhere in the middle, neither this nor that. She's just so-so — sorta nice, sorta mean. (Zzzzzzz…)
I can't hate her with a passion, and I can't love her character either. She's so mediocre, and my attitude toward her is well, meh. I can understand why the writer didn't paint her as a villain because Hyun-min needs to end up with her at the end, but I think the writer could've made Hye-ji a more compelling character who dramatically changes into the person Hyun-min fell in love with as a kid, or something like that. Something. Anything. More Hye-ji meant less Seo-woo and less Bodyguard Lee, which translated to the death of fun. Ever since Debbie Downer came into Sky House, it seems like all the fun and cute just evaporated. Ji-woon was busy driving her around and barely had time for Ha-won even though it's crystal clear that he likes her.
I wish the scene between Ha-won and her "dad" was way more emotionally charged. There was an inexplicable cut from their scene right as he was about to break the big news to her, and then we returned to it with Ha-won's reaction. This is literally an earth-shattering scene that upends everything Ha-won's known about her dad, but it felt so anticlimactic. Cutting away mid-scene was not the best way to go about this. We missed shady Young-jin's delivery and his exact words when he claimed to be Ha-won's real dad, along with Ha-won's full reaction to the news/the buildup to her dropping her teacup. I doubt he's her real dad, but still. What could've been a moving scene lacked a real emotional punch.
It seems like at this point, Ha-won is freeloading at Sky House because there haven't been any new missions. I wonder if this is supposed to mean that Ha-won truly has united and tamed the Kang boys, but clearly, she hasn't really. I don't think they've changed much from how they were at the beginning except for the fact that their romantic lives have become a lot more complicated because of Ha-won. It's interesting to note that Ha-won, while feeling conflicted about her growing feelings for Ji-woon, has not once fretted about the no-dating rule that was hammered in so much at the start of the series. Maybe she's forgotten, but I know we, as viewers, haven't. If she's aware that her stay at Sky House is only temporary and that she's technically an employee, how could she forget the cardinal rule?
While there was some movement on the real dad storyline, there really wasn't much besides that. This show is most enjoyable when there's lots of fluff and cheese, but this episode in particular was lacking on that front.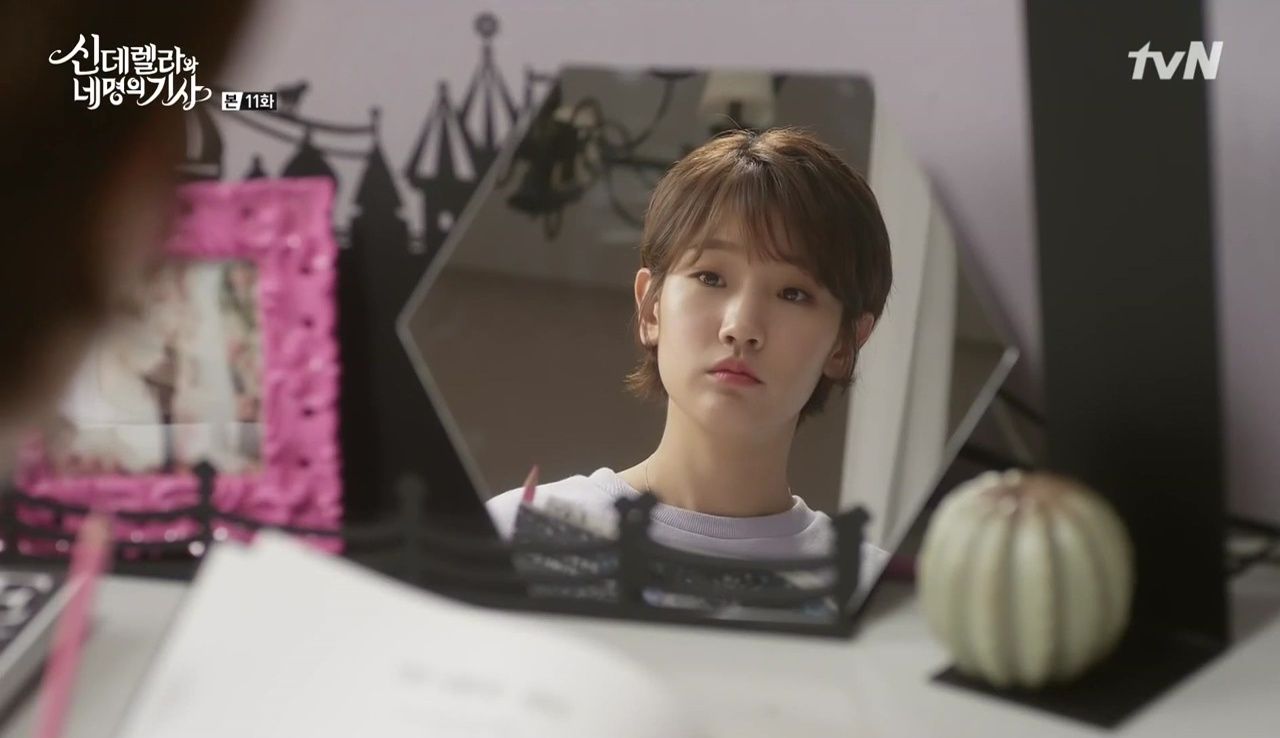 RELATED POSTS
Tags: Ahn Jae-hyun, Cinderella and the Four Knights, featured, Jung Il-woo, Lee Jung-shin, Park So-dam