Cinderella and the Four Knights: Episode 7
Our heroine has been successful with previous missions, but this new one comes with new challenges. Namely, a heartsick knight who's moping around and not making things any easier for her. How do you snap a miserable knight out of his funk when he doesn't want to be helped? Nothing heals a broken heart like time, but with the new mission looming, Cinderella doesn't have much of it.

EPISODE 7 RECAP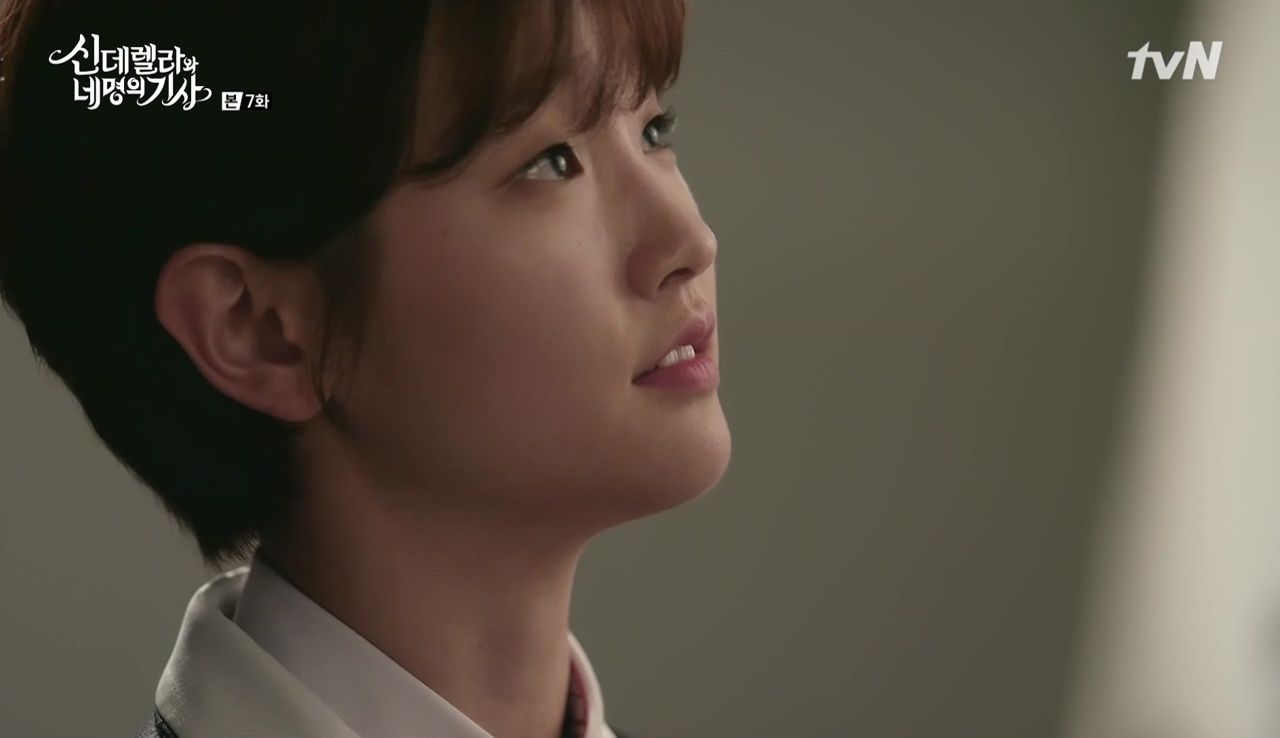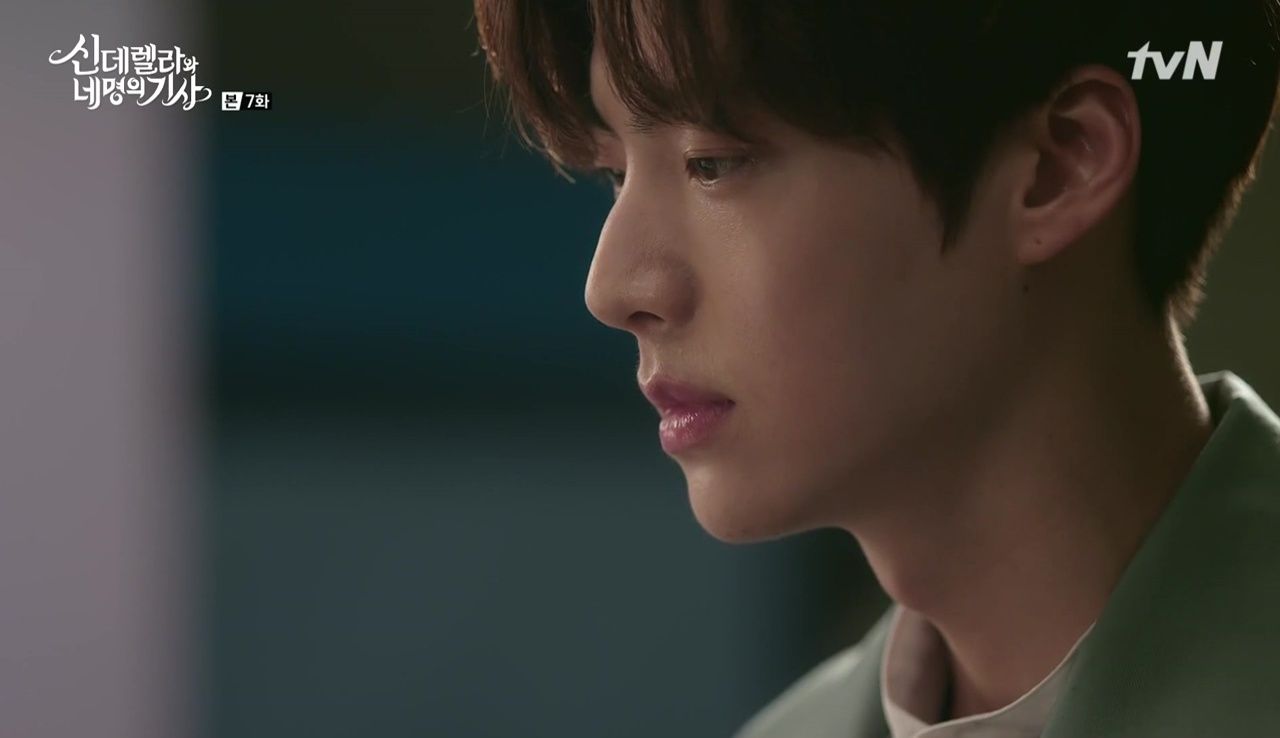 We resume where we left off last week. Hyun-min agrees with Ha-won to end their fake relationship, but proposes that they start dating for real this time. Hye-ji overhears all this and drops Ha-won's bouquet to the ground, fuming. Ji-woon follows her as she storms out.
Ha-won looks up at Hyun-min and asks him point-blank, "Do you like me?" He's hesitates to answer and averts his gaze, discomfited by the question. Ha-won continues, "Take a good look at what your heart feels, regarding your family and women." And with that, she walks away.
Ji-woon catches up to Hye-ji and assures her that Ha-won and Hyun-min had nothing going on, but Hye-ji's already aware; she's upset for another reason and simply wants to be left alone.
At school, Seo-woo is trapped inside an impenetrable ring of fangirls. Every time he tries to escape, the circle closes in on him, heh. He feigns sickness and then shouts, "Hey, it's CNBlue!" — a meta wink to Lee Jung-shin's band — and in that brief moment of distraction, he makes a run for it.
The rabid fangirls chase him, but Ja-young pulls him to cover and says she's got an idea. Cut to Seo-woo running toward his manager's car dressed in Ja-young's uniform, skirt and all. (Hey, he's got a nice pair of legs there!) His manager spots a "crooked-legged weirdo" approaching and immediately locks the car. Seo-woo frantically bangs on the windows, and the manager finally lets him after a double take. Meanwhile, Ha-won sullenly walks along a sidewalk, her phone battery running low.
Ms. Beolgyo shows Bodyguard Lee and Seo-woo Ha-won's farewell note; they're all concerned about her disappearance. Seo-woo asks Ji-woon if he's seen her, and he replies with a brusque "I don't care." Lee gets up to search for Ha-won, and Seo-woo volunteers to join since he was close to Ha-won, too. Aww.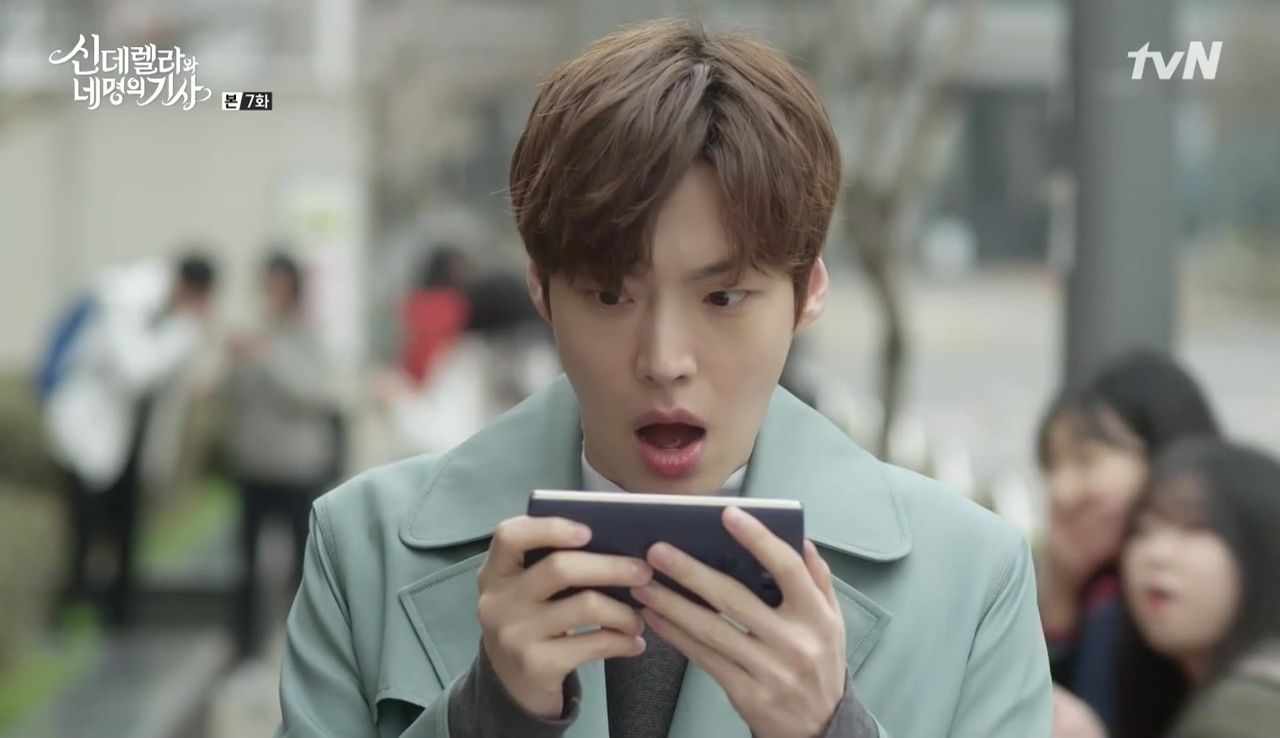 Hyun-min walks out of the school, and the hushed giggles and amused stares of passersby strike him as odd; it's not the kind of attention he usually attracts. He gasps when he sees his friend's text: a viral video of his confession to Ha-won, recorded unbeknownst to him.
Bodyguard Lee visits Stepmom's house to see if Ha-won's there, and Stepmom cackles upon hearing that Ha-won left Sky House so soon. Seo-woo pulls up to a cafe, masks his face, and asks for a worker named Ja-young. The person he's speaking to turns out to be her, and she immediately recognizes him. He relaxes when she promises to keep his schoolgirl exit a secret, but unfortunately she doesn't know where Ha-won is.
Ji-woon spots the white roses Ms. Beolgyo's arranging into a vase and asks if they're from Ha-won. She replies that they are; Ha-won figured colorful flowers would be inappropriate after the memorial. She goes on about how thoughtful Ha-won is, but Ji-woon leaves abruptly to go find her, suddenly reminded of her reason for living at Sky House, which was to protect something important to her.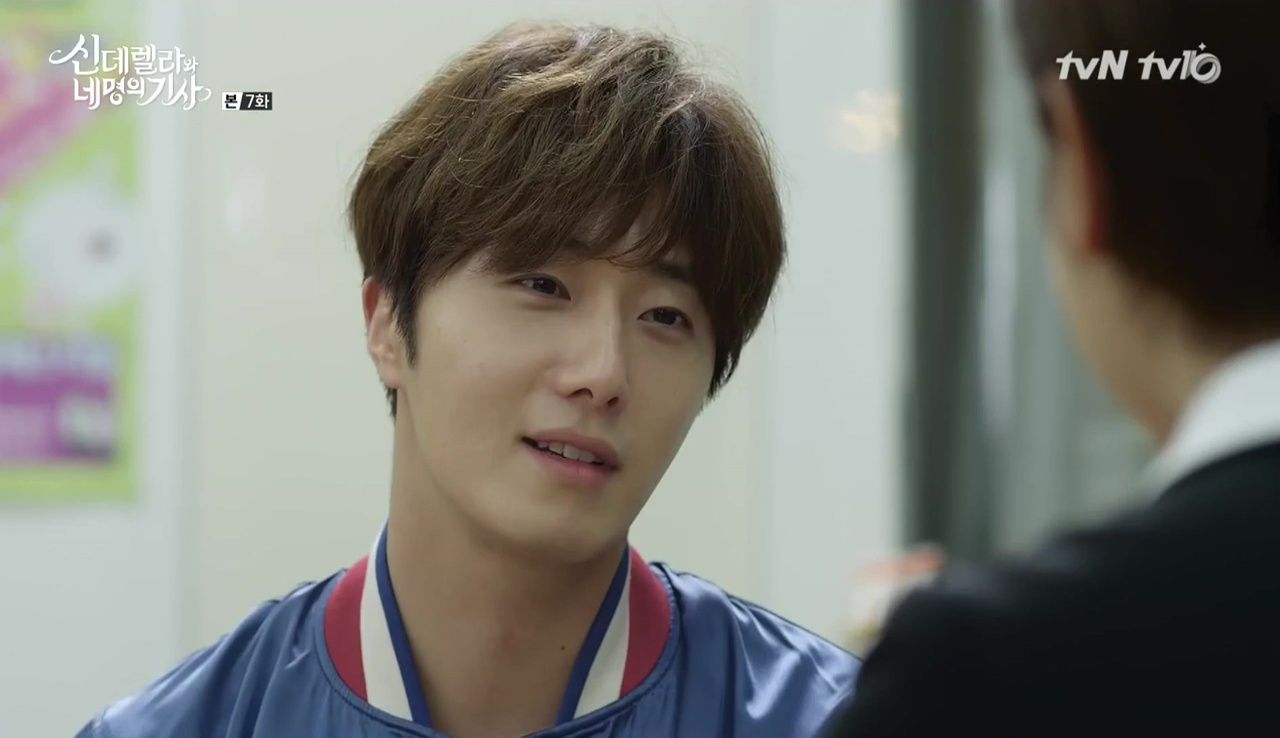 Seo-woo hears from Bodyguard Lee, who also wasn't able to locate Ha-won. He looks over at his scrawled lyrics: "Where could she be? Why?" Meanwhile, Ji-woon stops outside the convenience store and smiles at what he sees: Ha-won sitting inside with three bowls of instant noodles.
She happily digs in, acting as if her parents are eating with her and celebrating her graduation. But she starts to cry when she tells her mother that she's unable to go to college. Ji-woon observes all this and jokingly calls her out for eating three meals all by herself.
Ha-won hastily wipes her tears as he joins her at the table. He suggests she stop starving herself and return home to Sky House. He reveals that he attended his father's memorial, which means she completed her mission after all. Her face lights up, and when asked if she was the one who left a rose by his mother's urn, she replies that their mothers are like neighbors in a way.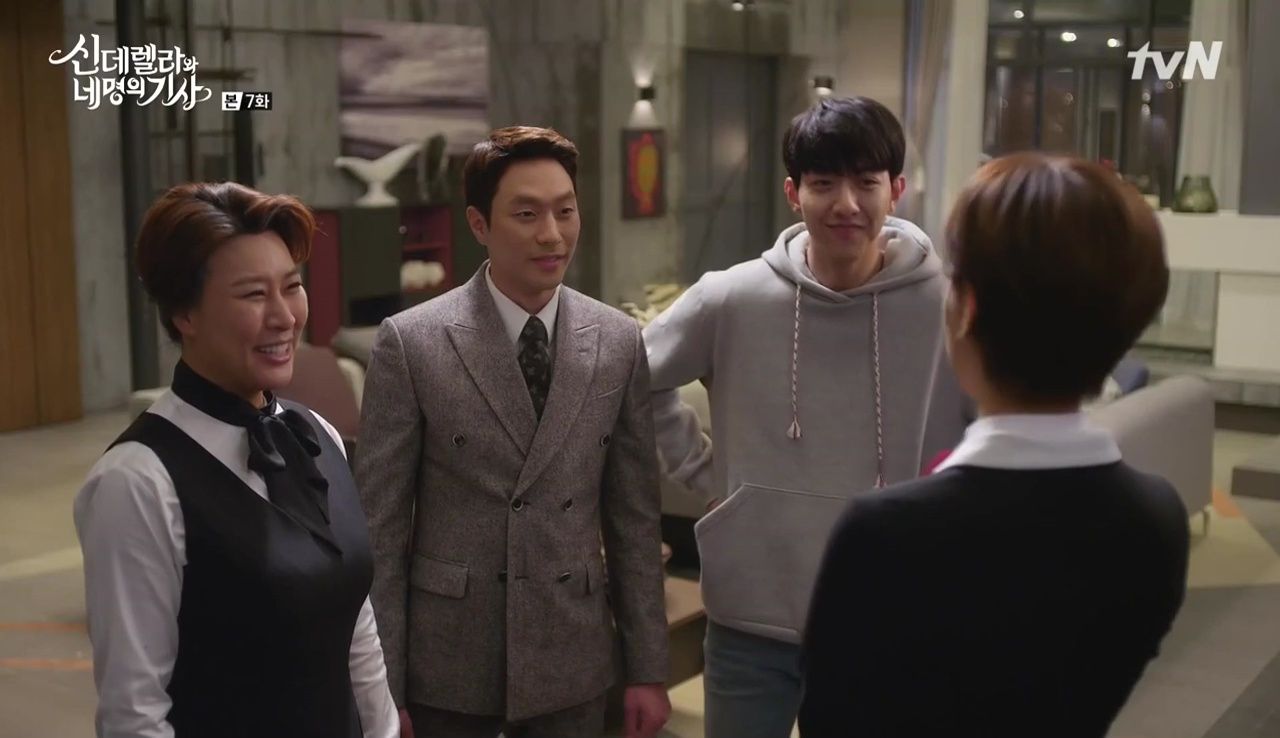 Ji-woon shyly admits that he gave that rose to his father, and Ha-won praises him for that gesture. She excitedly asks if they'll be heading back home together, and Ji-woon nonchalantly orders her to hurry up. Aww.
Bodyguard Lee and Seo-woo remain worried stiff, but Ha-won bursts through the doors with an enthusiastic, "I'm back!" Ji-woon follows close behind her. Lee, Seo-woo, and Ms. Beolgyo are relieved and overjoyed by her safe return. Seo-woo scoffs at Ji-woon's supposed indifference, and Ji-woon heads to his room, feigning disinterest.
Ha-won enters Seo-woo's room, and he greets her with a little ditty. She's beams and remarks on how touched she was by his forty-nine missed calls. Seo-woo apologizes on behalf of the three dingbats for making her suffer.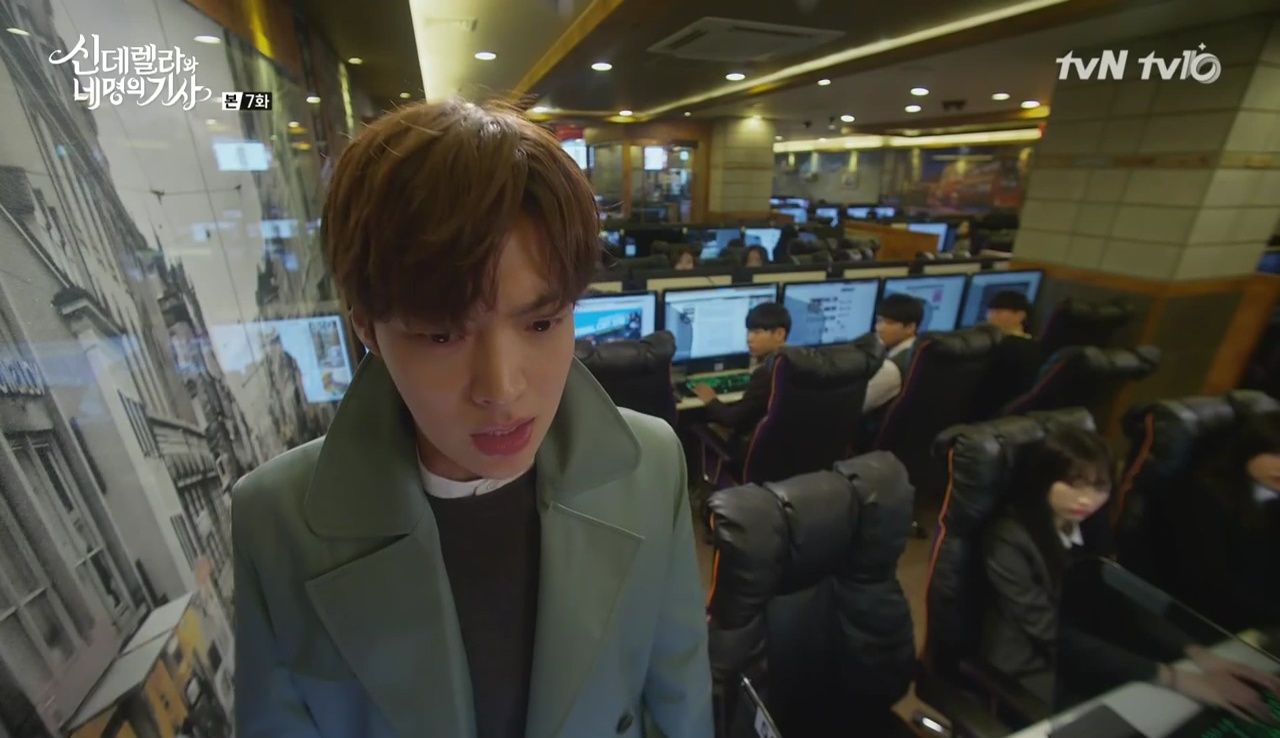 He states how impressive Ha-won is for rejecting Hyun-min so easily. She's shocked by his knowledge of that, and they both notice Hyun-min's empty bedroom. Ha-won watches the confession video with her mouth agape, and Seo-woo tells her not to worry; it was his first rejection, but he's probably out seducing another woman. Ha-won frets that she may have been too harsh on him.
Hyun-min's at a PC bang, furtively checking out the wrath of his viral confession, heh. The view count keeps rising, and the netizens' comments are pointed, calling him "Korea's #1 Douchebag" and remarking that money doesn't buy everything. He's fed up and humiliated, and the availability of subtitles in multiple languages only adds to his distress, heh.
He takes an obscure route home to avoid being seen. He reflects on Ha-won's question of whether he likes her and is perplexed by his unfamiliar emotions. And as luck would have it, it starts to downpour. He arrives home drenched and silently enters his room without acknowledging Ha-won's presence. So emo.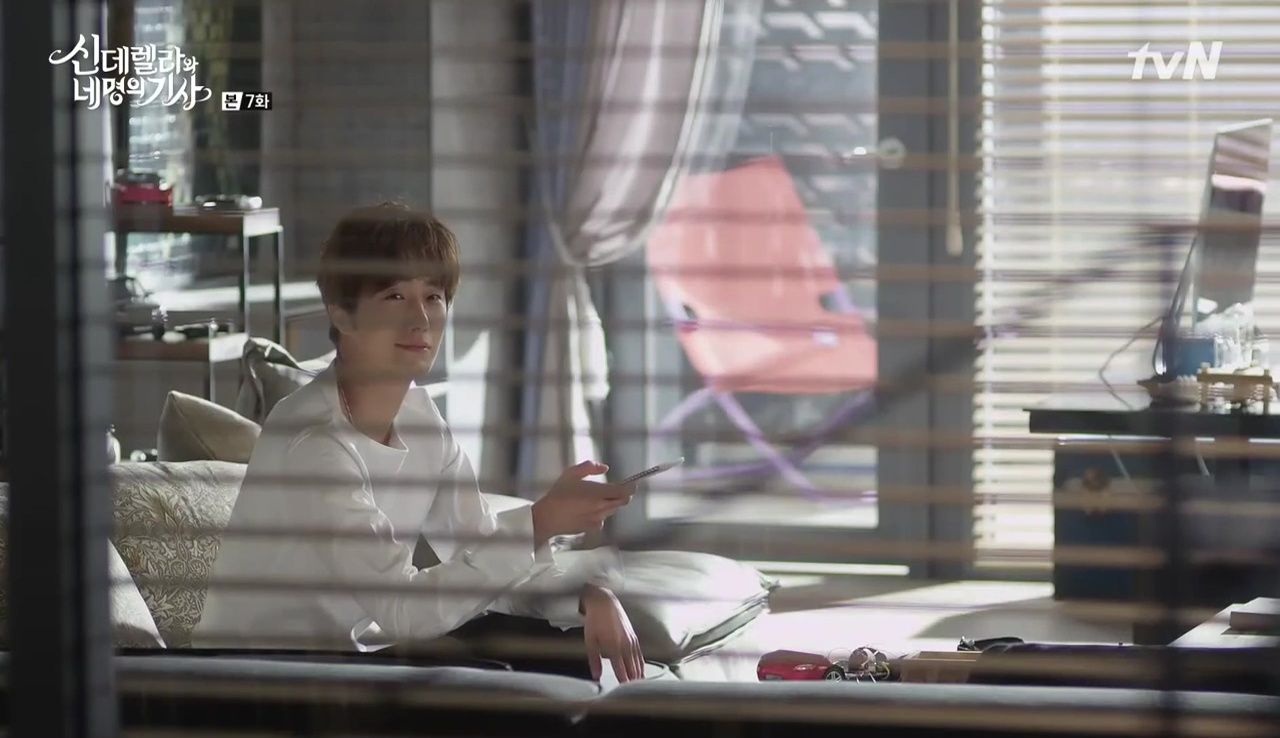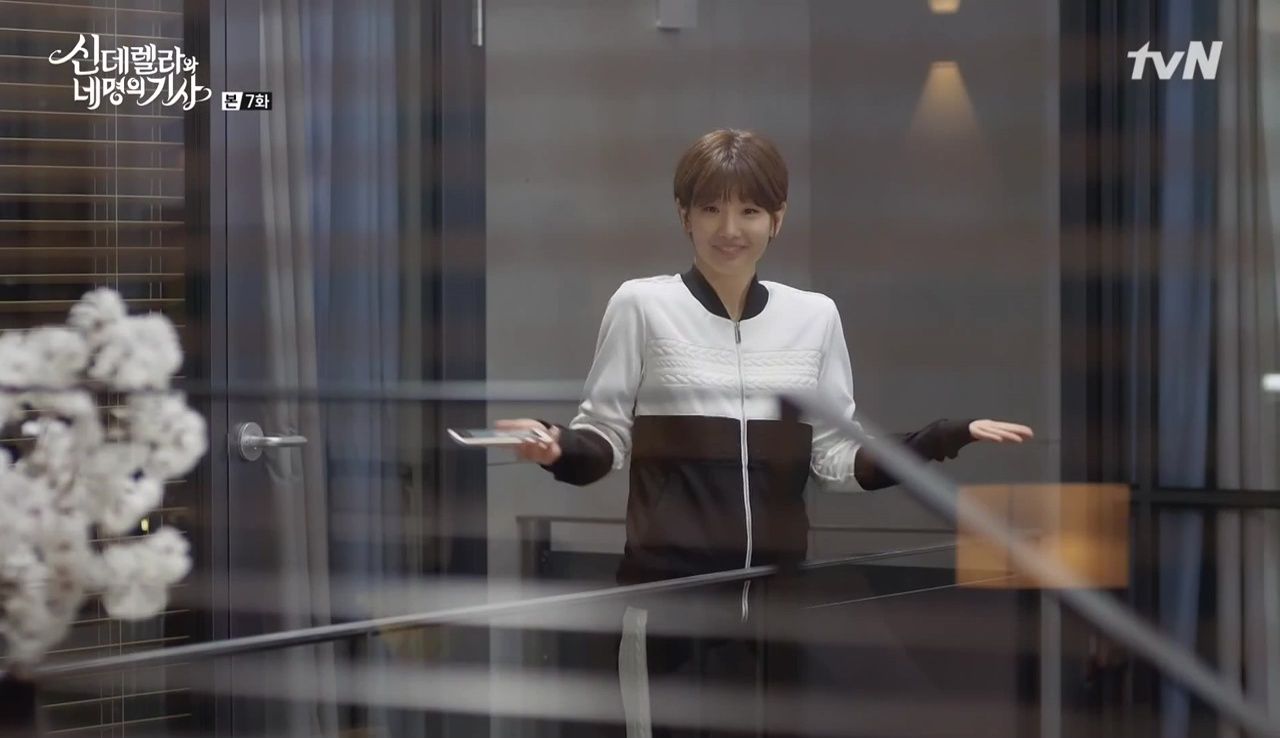 The next morning, Ha-won wakes up in high spirits. She looks over at Ji-woon's room and watches him tinkering with a toy car. He catches her gaze, and the two stare and smile at each other before Ha-won turns to her phone and texts him.
She asks if he slept well, and he writes back "Nope." He smirks and warns her not to act like they're close now. He also decides against bringing up the topic of her fake engagement with Hyun-min. She points out he's no longer ignoring her, and Ji-woon gets back to tinkering. Ha-won waves her arms to grab his attention and direct him to his phone again. Her "Thank you" text brings a smile to his face and hers. Adorable.
Seo-woo walks toward his manager's car, but his manager stops him first to check that he's not dabbling in a school uniform fetish again. Seo-woo tells him to stop with the ribbing since he's in a great mood. His manager assumes it's because he's making progress on his song, but Seo-woo declares that something even better happened. Aw!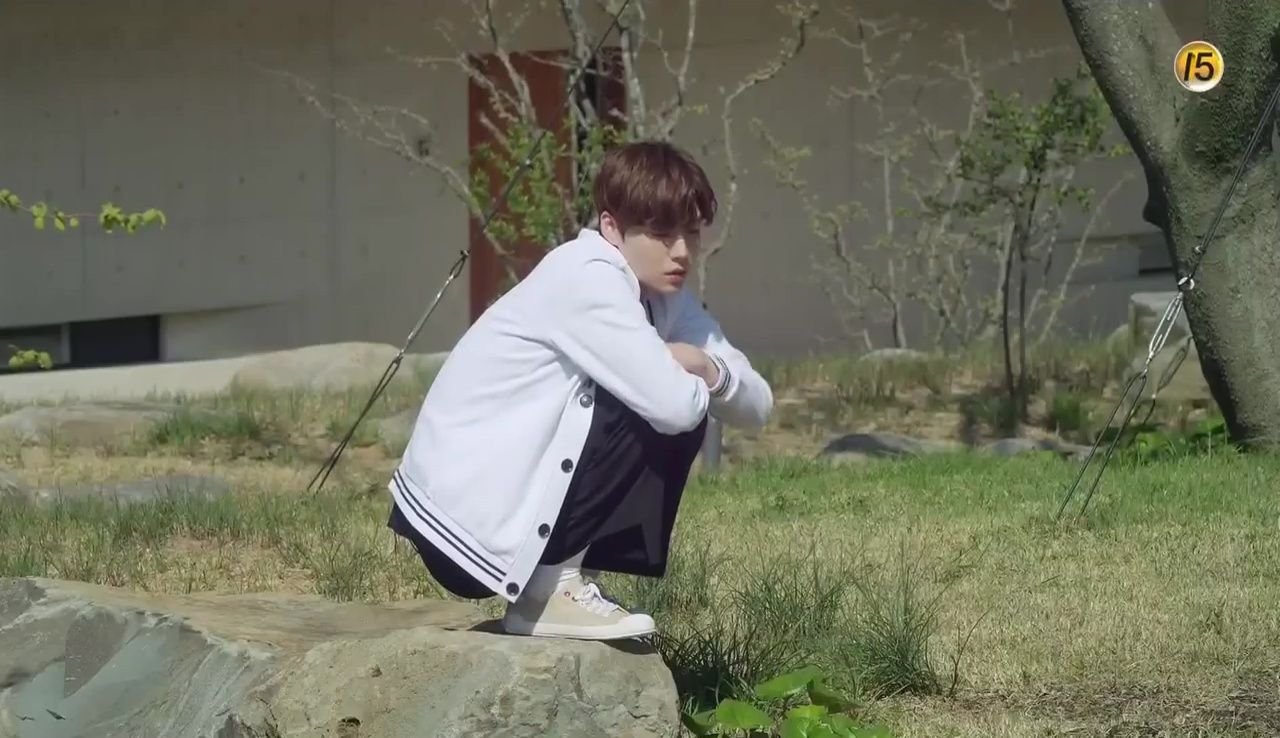 Not everyone's merry, however. Bodyguard Lee spots Hyun-min outside, twirling a blade of grass and crouching by the stream, looking rather pitiful. Omg, this image of Hyun-min is just so hilarious. I can't!
A luxurious feast is laid out on the dining table, but Ha-won's in the kitchen sampling Ms. Beolgyo's simple side dishes and watching her mix up some bibimbap instead. She gushes that she returned to Sky House because she missed Ms. Beolgyo's comforting meals and remarks that the fancy spread doesn't taste like home.
Bodyguard Lee appears and Ha-won feeds him a little something, interrupting his speech and taking him by surprise. Cuute. Ha-won mentions that Hyun-min's been acting odd lately, and Lee agrees; he's never seen Hyun-min like that before, but isn't too concerned. Ms. Beolgyo giggles about his new nicknames: variations on #RichDouchebag.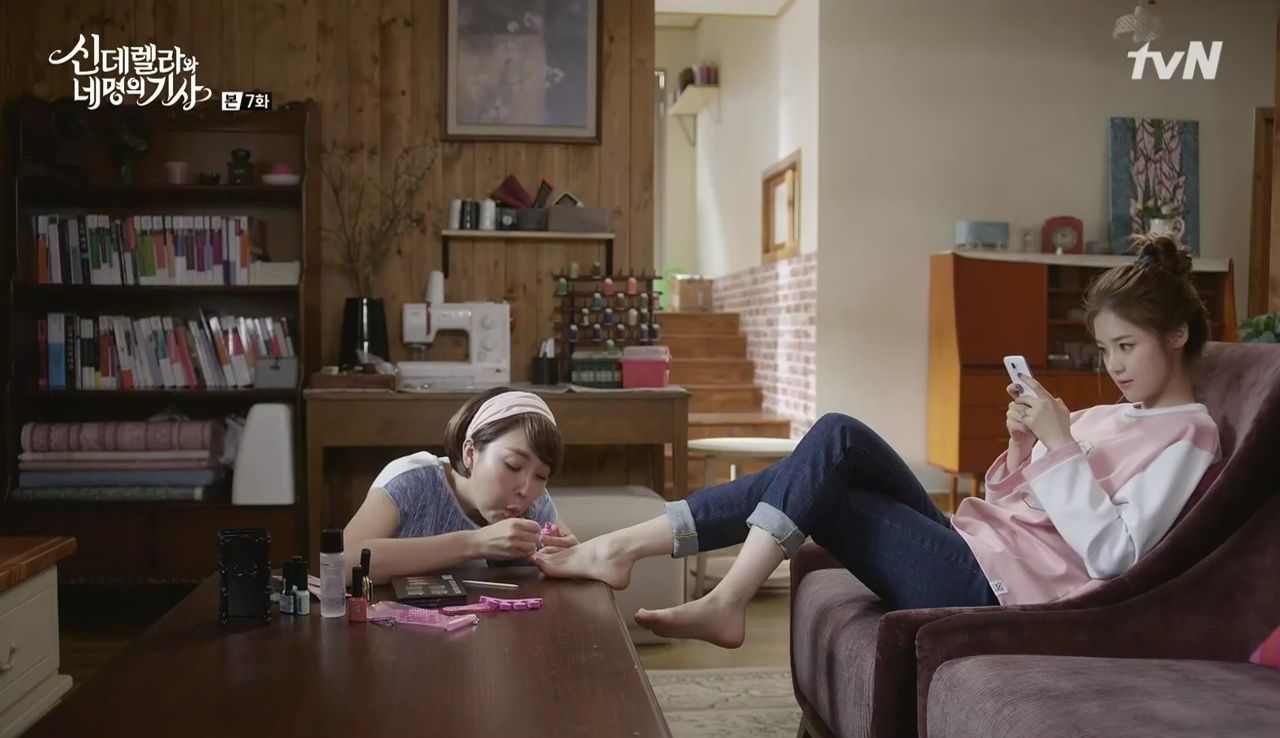 Stepmom is painting Yoo-na's toenails when suddenly, Yoo-na jerks her leg, sending her mom flying. She can't handle the comments left on the viral video, which include calling Ha-won the next Cinderella because of her good fortune.
Stepmom blames her daughter for digging her own grave with that story she wrote, and Yoo-na angrily trudges to her room. When stepmom shouts that an uneven pedicure is bad luck, the door opens slightly, and Yoo-na pokes her foot out so her mom can resume painting. Pfft.
Ha-won meets with Grandpa Kang, who shows her that he laminated the white rose Ji-woon left for his father. This rose signifies that Ji-woon is changing, he says, and he gifts Ha-won with several flight tickets; her reward is a vacation this time. Grandpa says she can bring whomever she'd like, adding that a vacation usually brings bickering people together. He looks forward to seeing just how skilled she is again, and Ha-won surmises that this won't be an ordinary vacation.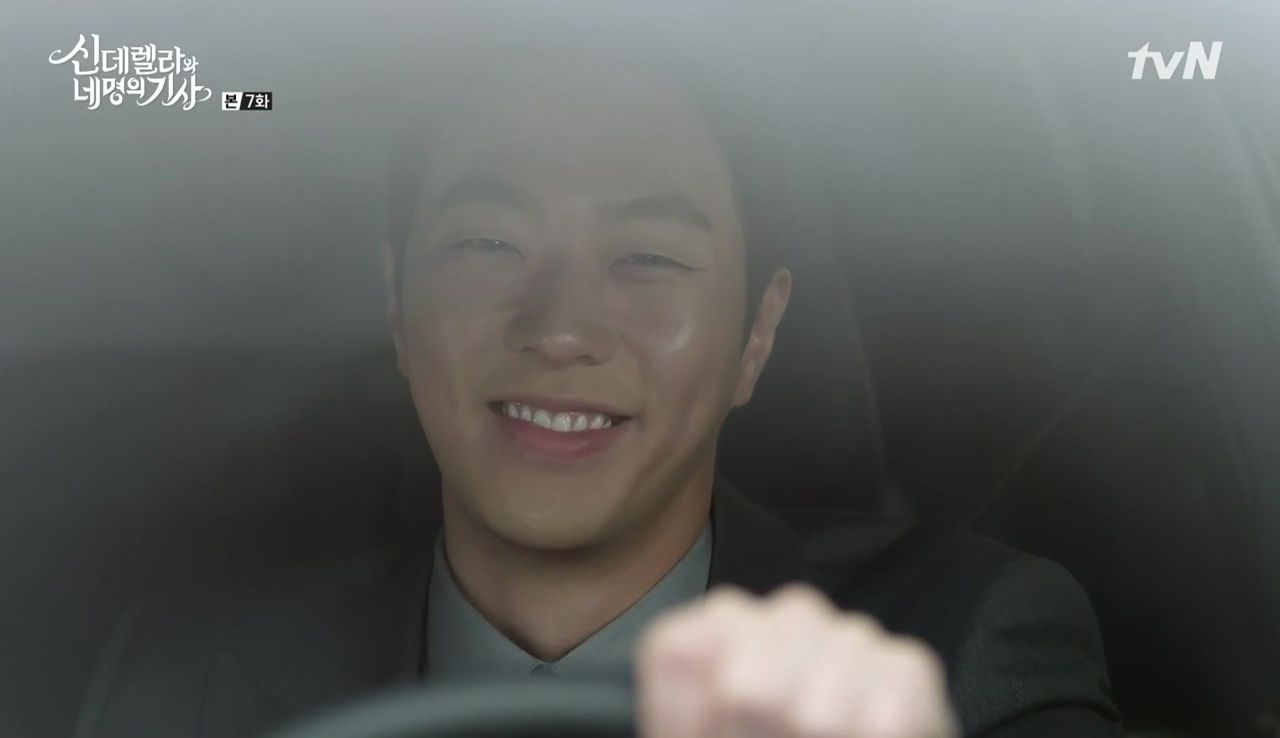 Ji-woon's outside Hye-ji's studio, but she doesn't seem to be in. Hwa-ja answers a call during her massage with Stepmom, and it sounds like she's arranging a date for someone, providing details on the type of girl she's looking for. Stepmom memorizes the number on her screen and calls Yoo-na to let her know that she's one step closer to marrying a Kang; the plan is to swap Yoo-na with the girl Hwa-ja had in mind. Oh Stepmom, you have it all wrong…
Bodyguard Lee drives Ha-won back after their meeting. She's unsure if the boys will go on vacation with her, but Lee believes she'll make it happen and flashes his biggest smile to date, dimples and all. Just then, he answers a call and his face falls at once. He responds with a terse "No, thank you" before hanging up. My guess? He just rejected a date set up by Hwa-ja.
Ha-won tentatively knocks on Hyun-min's door before opening it. She sees him in bed, fast asleep, possibly ill with a severe case of broken heart. Ji-woon's not in his room either, so she calls him and he picks up. He's right behind her with the phone to his ear, wondering why she's calling someone who lives in the same house as her.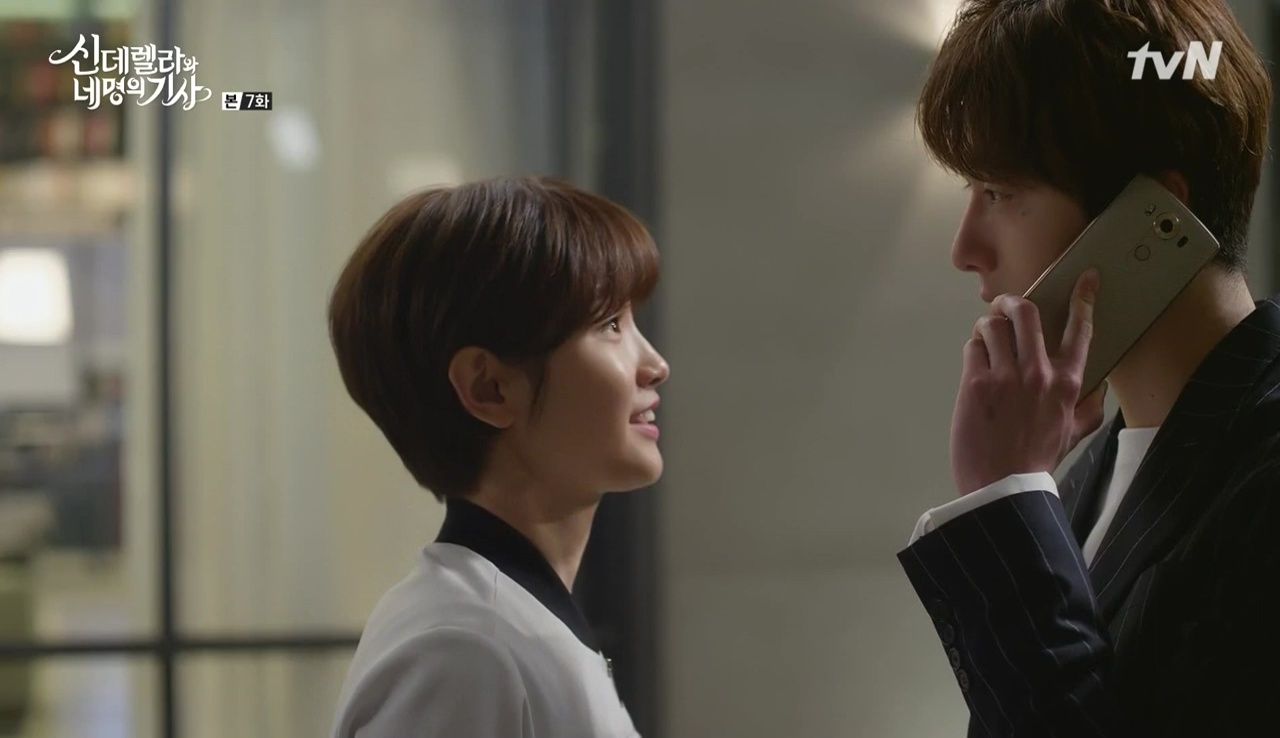 Ha-won hangs up her phone and addresses him in person. She excitedly requests that they all go on a trip together, and Ji-woon's face says "No" loud and clear. He hangs up his phone and shows her that this conversation is over.
Ha-won calls Ja-young next and visits her at the cafe. She thanks Ja-young for keeping her diploma safe, but Ja-young says there's no need for thanks; she shows Ha-won a stash of photos featuring Seo-woo in all his schoolgirl uniform glory. This is so great.
The fact that Seo-woo wore the very uniform she wore everyday for three years gives her such joy, heh. Ha-won's weirded out by this, but Ja-young claims that if other people saw this, trouble would brew. Ha-won's lightbulb goes off and she asks Ja-young for the photos.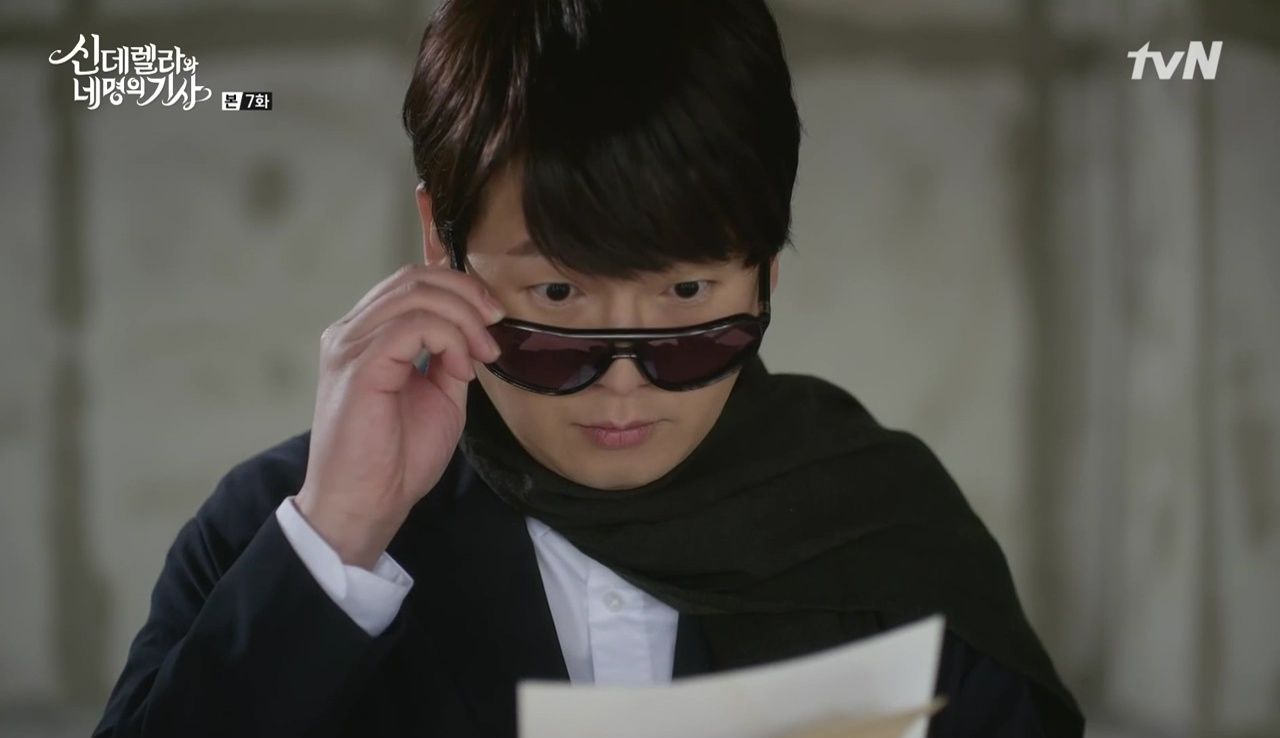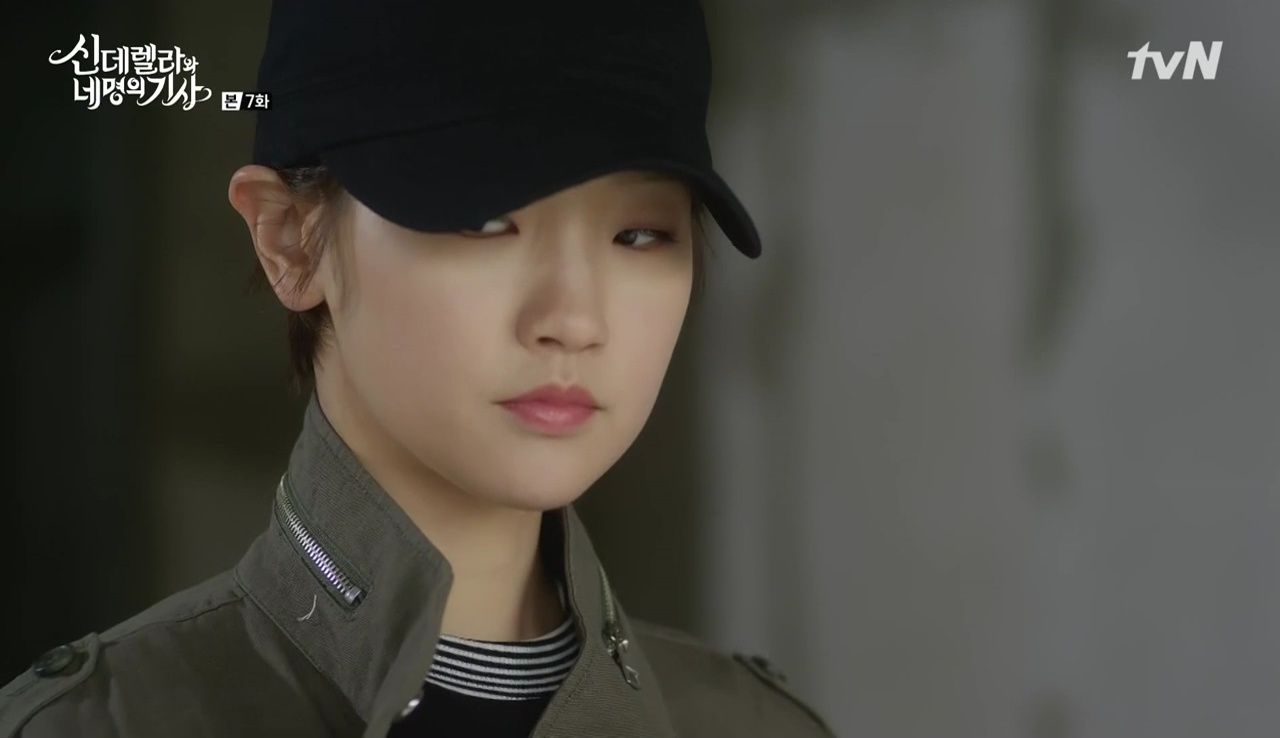 Seo-woo's manager arrives at an abandoned warehouse to settle matters with someone who purports to have incriminating photos of Seo-woo. That someone is secretly Ha-won — oh, I LOVE where this is going! — and she shows the manager the goods, aka photos of Seo-woo in Ja-young's uniform. The manager's rattled and demands to know how much money she'd like to keep these photos buried, but Ha-won merely asks for Seo-woo's schedule to be cleared for the next three days, and he gets right to work. Success! Ha-won exclaims that she's got one down.
Hyun-min's first interaction with civilization post-heartbreak takes place at a plastic surgery clinic. He begs the doctor to fix his entire face due to his "very serious situation." The viral video keeps him from walking outside with the face he currently has, HAHA! The doctor suggests he grow out his hair and seek therapy in lieu of surgery to get over his first love.
But Hyun-min corrects the doctor and informs him that his first love was someone else, and it seems this realization just occurred to him. Next, we see his first love Hye-ji at home, looking depressed. She finally turns on her phone and reads the texts from Ji-woon and Ha-won, but she responds to Ha-won's first since she asked to meet. Hye-ji suggests they meet at her studio.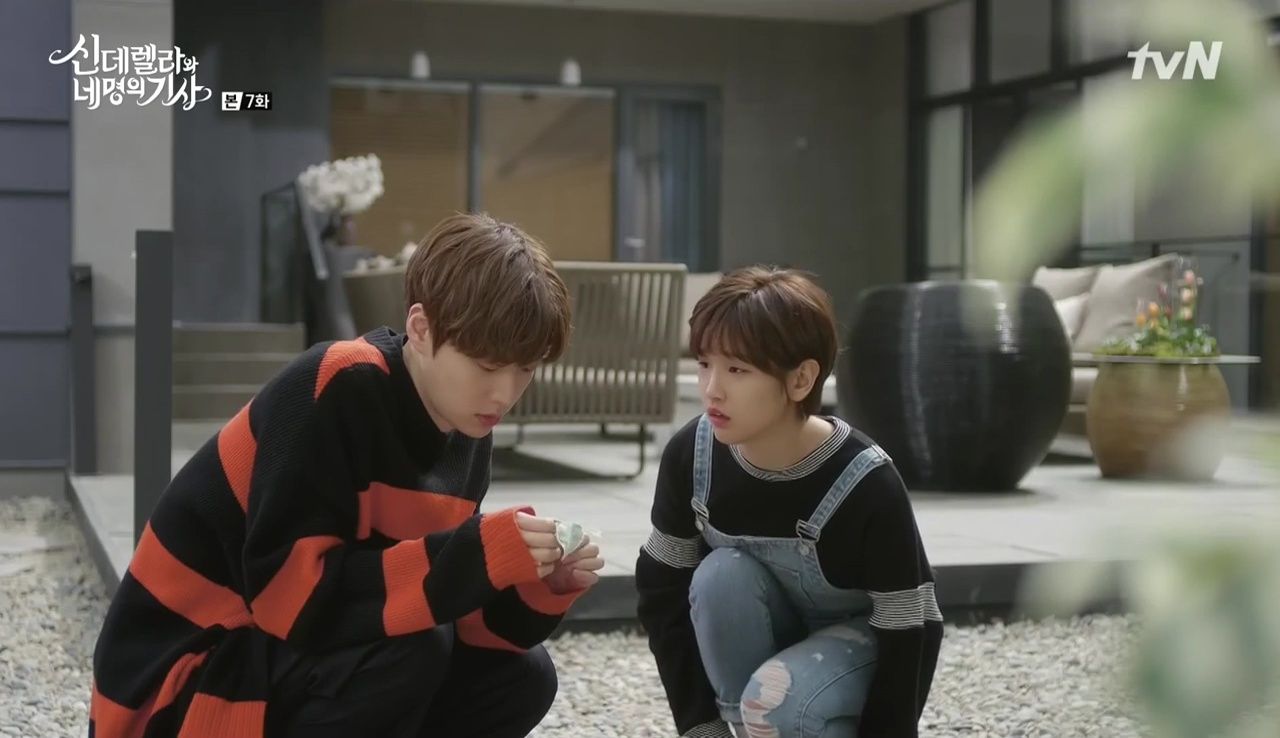 Oh Hyun-min, you poor thing. He meekly plucks at a bundle of leaves, doing the whole "I love her"/"I love her not" spiel to determine where he stands. Ha-won tries to snap him out of his depressed funk, bringing up the vacation and even offering to post a public apology on YouTube, but he tells her not to talk because she's distracting. She wonders who the girl in question is, but he doesn't answer and continues to pluck the leaves. Ha-won snatches the last leaf from his hands, thinking it'll shock him back to reality, but Hyun-min merely picks up another branch and starts all over again, LOL.
Hye-ji doesn't answer Ji-woon's calls again, so he heads to her studio. Ha-won is already there to meet with her. She sheepishly admits that she's back at Sky House and assures Hye-ji that there's nothing going on between her and Hyun-min, but Hye-ji commends her for rejecting him since he should know how that feels, too.
Ha-won tries to explain what happened, but Hye-ji interrupts and tells Ha-won that she shouldn't feel sorry toward her since she didn't make the confession. Ji-woon calls again, but Hye-ji ignores it and returns her attention to Ha-won, who came to ask Hye-ji for a favor.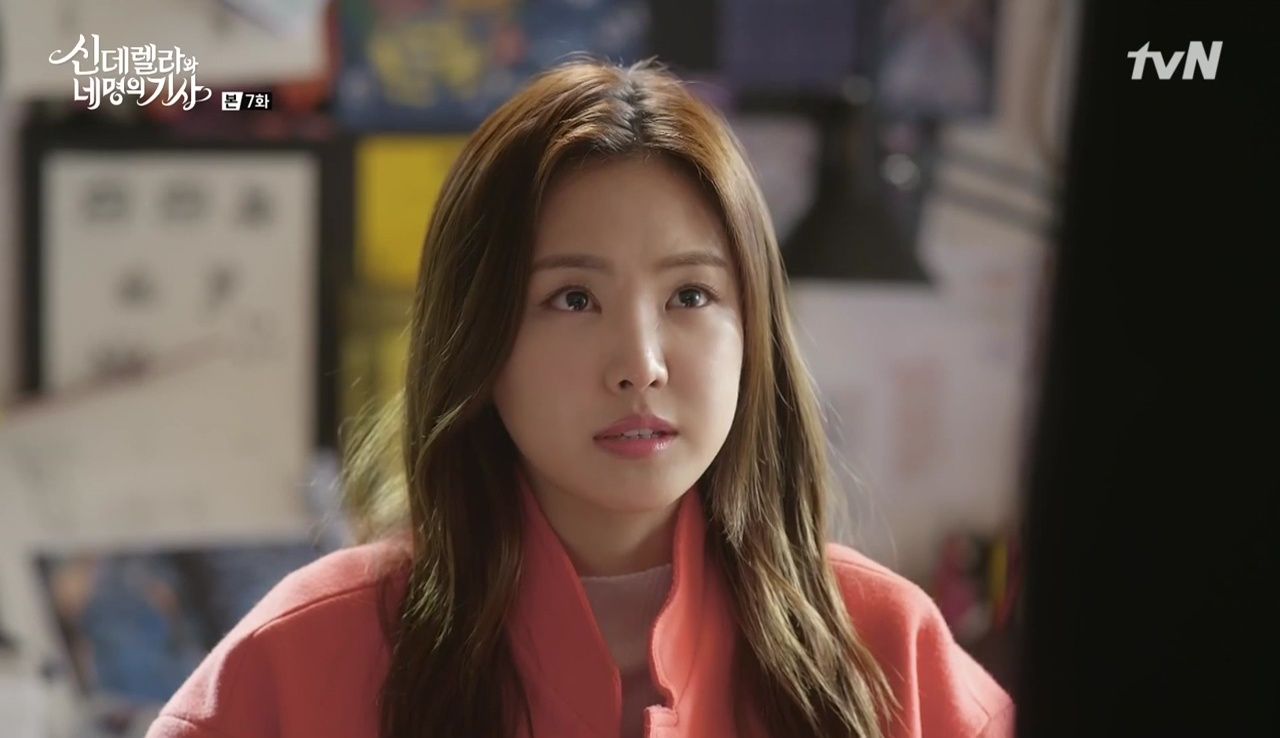 Ha-won says she has to get all the boys to go to the Haneul Group vacation home, but it's proving to be difficult. She figured that if Hye-ji went, Ji-woon and Hyun-min would too. Just then, Ji-woon arrives, and he's none too pleased with Ha-won's plan. He wonders if she has to take it this far, but Hye-ji states that she'll go, and suggests Ji-woon does as well. He's dead set on not going, however, and utters that he was worried about her. Ha-won takes this as her cue to leave.
Ji-woon asks what Hye-ji's intentions are for going on the trip, and she answers that she wants to visit the Haneul Group vacation home again; she went there a couple times with Hyun-min and their families. He's not sold on the idea, but Hye-ji admits that she doesn't have the confidence to face Hyun-min by herself just yet. Hook, line, aaaand sinker!
Stepmom calls the number she got from Hwa-ja's phone and tries to sell her daughter as a real catch, but when she falters at the occupation question, the person on the other end wraps up the conversation, no longer interested. Stepmom scolds Yoo-na for failing to get into college since she couldn't even call her a student, but Yoo-na just whines about Stepmom's broken promise of getting her into Sky House. Then, Yoo-na's father arrives unexpectedly after his job fell through.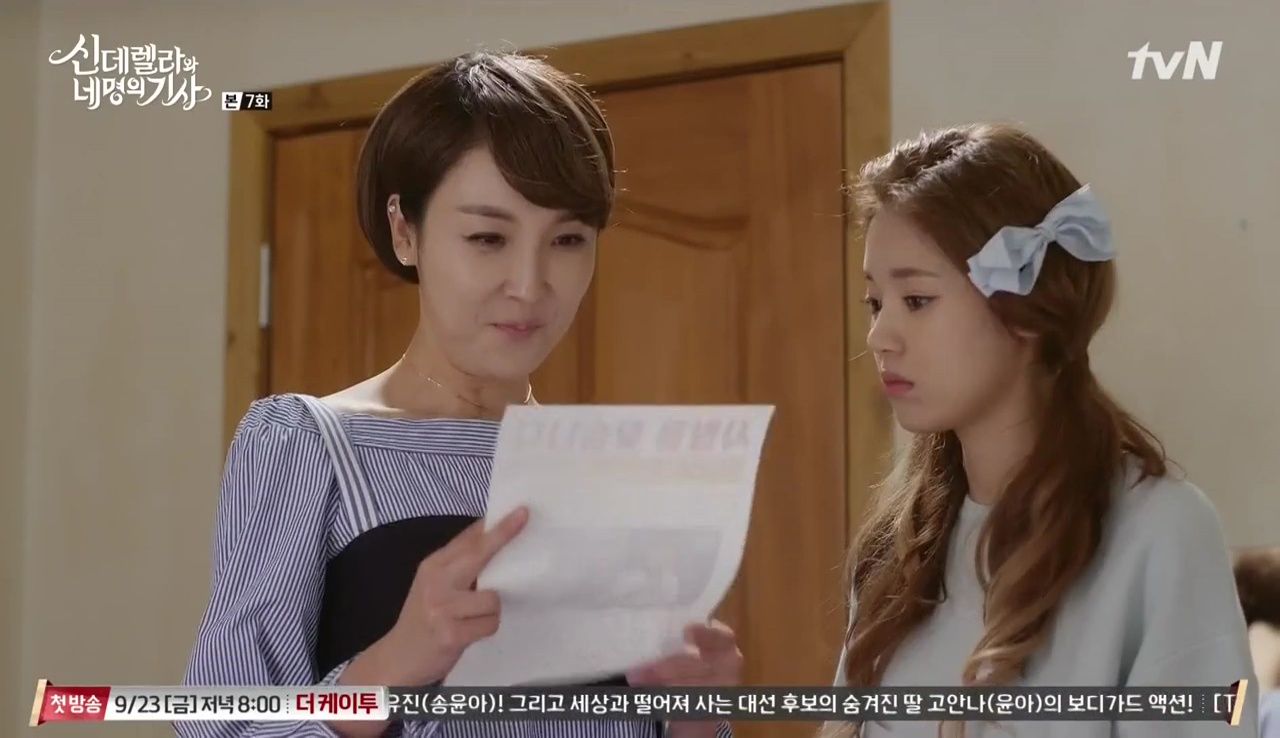 While grabbing her husband's belongings from his car, Stepmom discovers a suspicious text on his phone: "I found out where Kang Young-jin is. You're definitely paying me right?" She also sees a missing person poster on the floor.
She shows Yoo-na her findings and determines that her husband is secretly looking for Ha-won's biological father, a Taekwondo Master named Kang Young-jin. The poster includes information regarding a fire that took place at Yeongak Apartments in 2006, which is how and where Ha-won's mother died, and also Kang's last known whereabouts. Stepmom thinks she can use this chance to make some money and end Ha-won's Sky House days, which is music to Yoo-na's ears.
That night, Ha-won bangs on Hyun-min's door, but no amount of noise wakes him from his slumber. She's surprised to hear from Bodyguard Lee that since he's such a deep sleeper, he wouldn't notice if someone carried him on his back.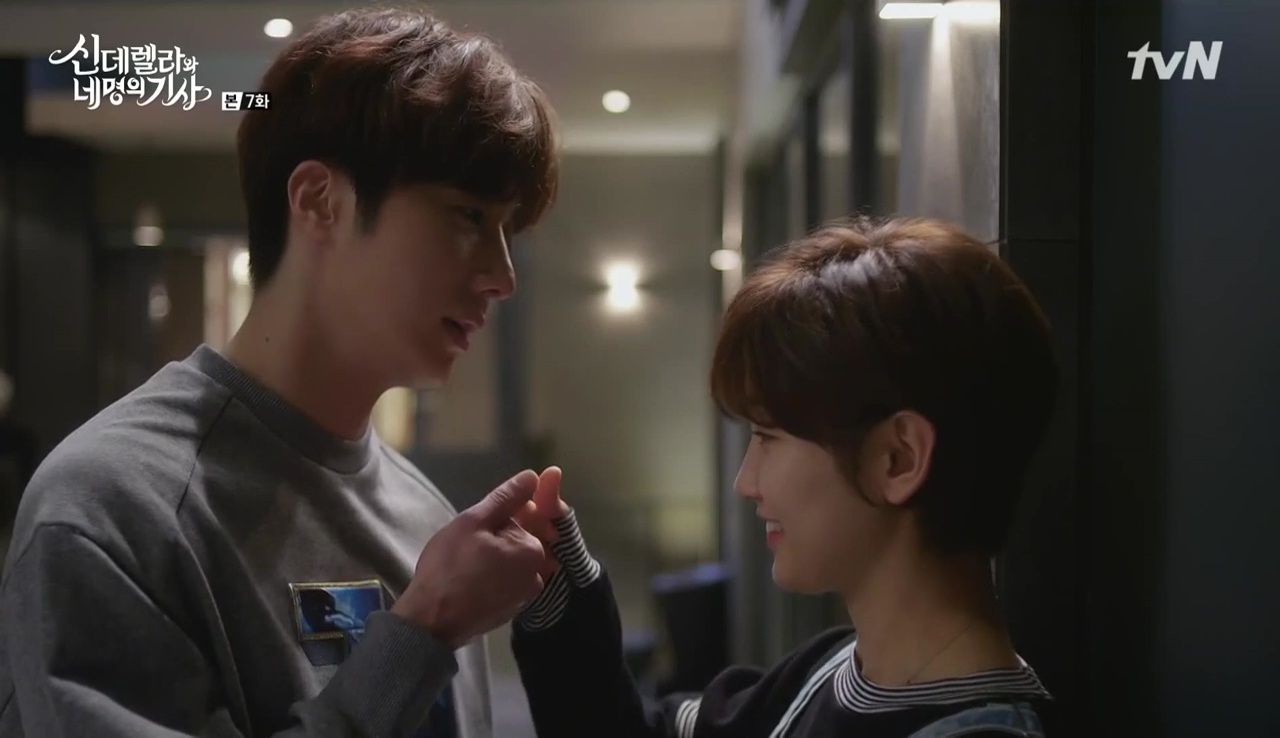 Ji-woon has Ha-won on his mind, thinking back to the sight of her crying at the convenience store and when he interrupted her meeting with Hye-ji regarding the trip. He watches her continue to bang on Hyun-min's door and asks if she'll be able to complete this mission. Ha-won answers that everyone will go on the trip except for Ji-woon. He wonders if she'll bring Hyun-min by kidnapping him, but she's in no mood to joke.
Ha-won's ecstatic to hear Ji-woon's had a change of heart and will only go on the trip if she can get Hyun-min to go as well. She makes him pinky-promise to that, then enters Hyun-min's room to rouse him from his sleep. She tries begging loudly and poking his face, but he's still sleeping like a log. Ha-won's reminded of Bodyguard Lee's comment about Hyun-min's deep slumber and Ji-woon's quip about kidnapping, and a mischievous grin breaks out on her face.
Seo-woo packs his suitcase, and his manager sends well wishes for his Thailand gig. Sure… the "Thailand gig." Hye-ji looks at an old photo of her and Hyun-min as kids, and texts Ji-woon to ascertain whether he'll be going on the trip tomorrow. He types out "I'm not going," but his finger hovers over the send button. Meanwhile, Ha-won approaches sleeping Hyun-min. She rolls up her sleeves and brings her smiling face close to his.

COMMENTS
She's not going to carry him herself, right? The notion of Ha-won kidnapping Hyun-min while he's asleep is just too funny. Quite a lot happened in this episode, but even though some of it was setup for Operation: Kang Family Vacation, there were some surprising, sweet, and downright hilarious moments.
There was a major shift in Hyun-min's persona; he went from pompous playboy to mopey Tigger (see: orange and black sweater worn during the excessive harming of leaves). Who knew he'd react like this? The unexpectedly sudden and extreme (plastic surgery was an option!) change in his mood made for a very enjoyable watch. I was so used to seeing Hyun-min as this unflappable Casanova who goes through girlfriends like Kleenex, that I figured one rejection, despite being his first and a very public one at that, probably wouldn't shake him all that much. But I was wrong, and I'm really glad I was, because Hyun-min's misery and suffering was so fun to watch. Harmless schadenfreude can be fun like that, okay?
Ever since Ha-won came into his life, he's been forced to reckon with his emotions. His messy, confusing, and unfamiliar whirlwind of emotions. It's like his true feelings started bubbling up to the surface after years of being pushed aside and ignored. And because he's so overwhelmed from feeling so much all at once, he's bewildered, fatigued, lost, and down in the dumps. His rejection allowed us to see a new side of Hyun-min that's fragile, insecure, and vulnerable, but also revealingly true. We've all felt insecure and vulnerable at some point in our lives, and while it's not the most pleasant feeling, it is what reminds us that we're human. We're not made of armor, and we all get hurt. And we process emotions in different ways.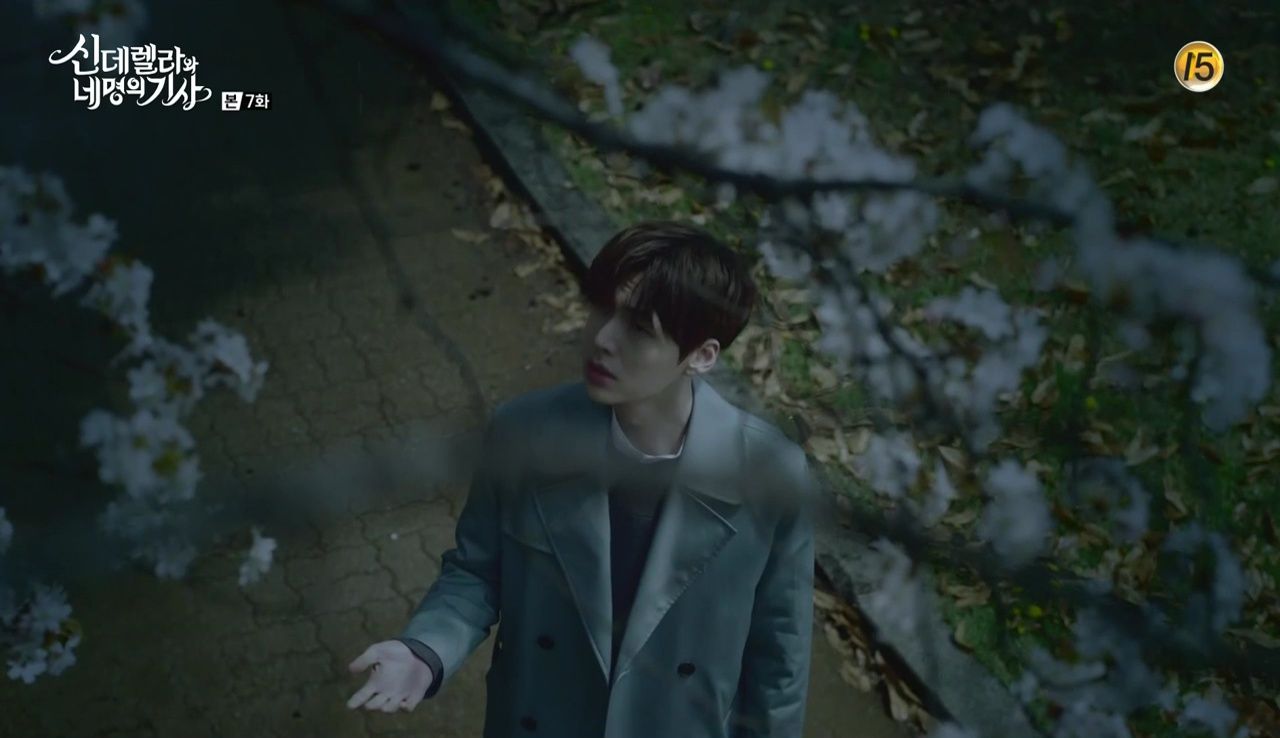 Ji-woon continues to win points in my book. I love how every time he does something good, like bringing Ha-won home for instance, he tries to act like it was no big deal and that he doesn't care, but that forced air of nonchalance just makes him even more endearing because we know the opposite to be true. In the beginning, it may have seemed like we were being forced to accept that Ji-woon and Ha-won were the OTP despite Hyun-min being the more compelling knight, but now their pairing is starting to make a lot more sense to me; it looks right and feels natural. Their easy banter and coy smile exchanges show that at the very least, Ha-won and Ji-woon feel comfortable around each other. Although, I do realize that a heartbroken Hyun-min made Ji-woon appear that much more ideal. It also helps that the steal-fiancée plan has been dropped since there was no fiancée in the first place.
The only thing that troubles me about Ji-woon is his odd relationship with Hye-ji. He's willing to go out on a limb for her, especially if what's upsetting her has to do with Hyun-min. Oh, she can't face Hyun-min by herself yet? Not to worry, because Ji-woon will be her moral support, and will also renege on his decision to not go on the trip. He is always at her beck and call whenever she's unhappy, almost like he's her boyfriend. But he's not. So, why is he trying so hard?
Hye-ji confuses me because when she's talking to Ha-won, she's completely civil, understanding even, and quite reasonable. I wasn't sure who she was mad at this time, and whether or not she considers Ha-won her friend anymore. She seems to go back on forth with her dislike of Hyun-min and/or Ha-won, and I can't keep track. I like her (ish) when she makes sense, but I can't stand when she's being needy and using Ji-woon to get what she wants.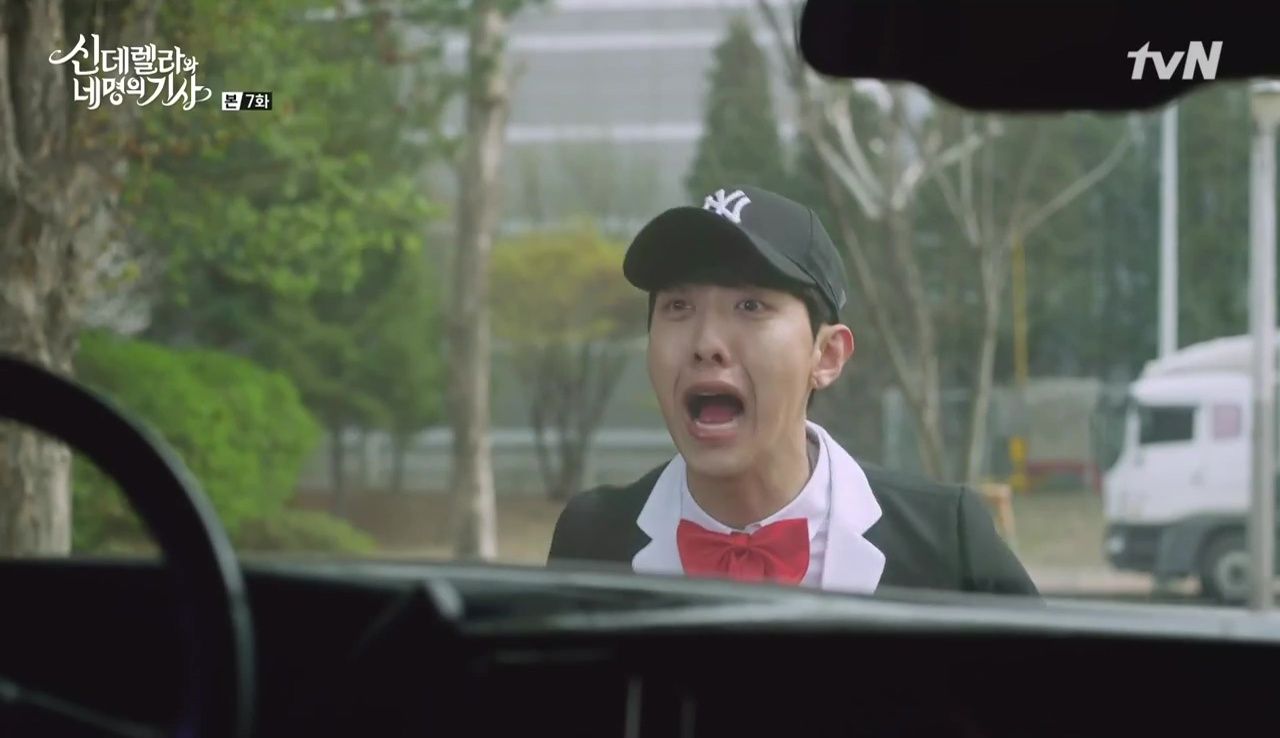 I loved when Ha-won used Seo-woo's schoolgirl uniform photos to coerce the manager into clearing Seo-woo's schedule. I thought it was clever and cheeky of her, and I hope we get to see more of her thinking outside the box. It's nice to see that the inhabitants of Sky House are becoming her makeshift family. It's pretty clear she feels at home there. She lights up the mansion when she's present, and when she's missing, her absence is felt, and everyone worries about her. She's finally getting the love, care, and eye candy that she deserves.
There was a small development in the missing person storyline, and I'm guessing Stepmom is correct in that the man in the missing poster is Ha-won's biological father. I'm curious to see how she uses this knowledge to her gain. It seems she and Yoo-na are bent on ruining Ha-won because they can't fathom the idea that she's living in the company of rich people at Sky House. They were cruel during the high school graduation, and I'm sure they're capable of way worse.
But first, a vacation! Grandpa Kang said a vacation brings people together, and I'm sure his words will ring true. Will people be brought so close together that sparks will fly? I'm wagering a resounding "Yes."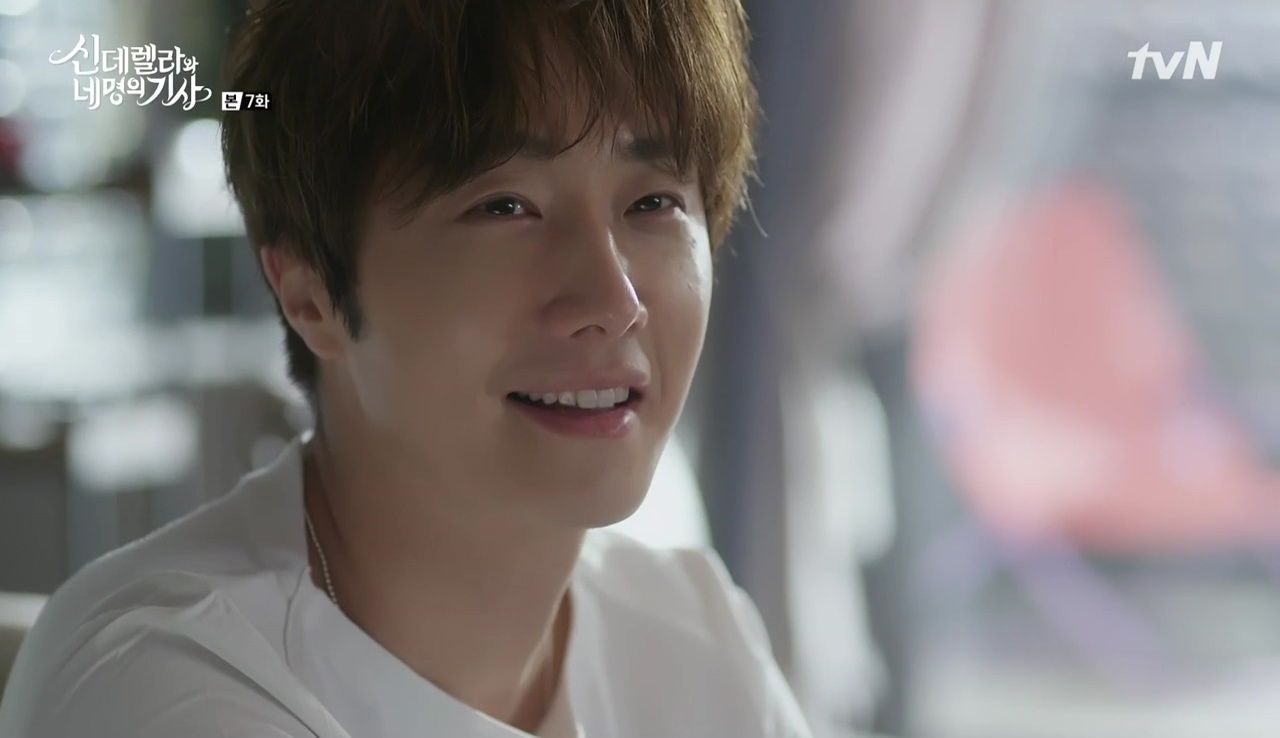 RELATED POSTS
Tags: Ahn Jae-hyun, Cinderella and the Four Knights, featured, Jung Il-woo, Lee Jung-shin, Park So-dam