Cinderella and the Four Knights: Episode 9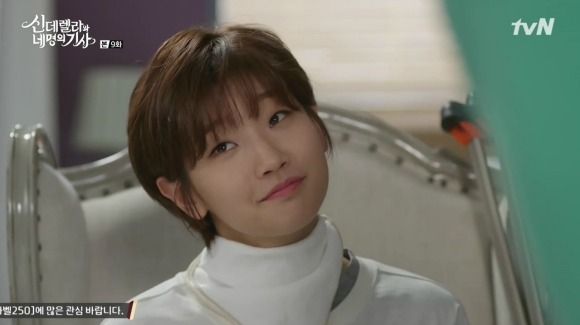 The morning after is never as fun. Hangovers rage and recollections are foggy, and Cinderella's faced with indecision and conflicted feelings. Not to mention knights who've made romantic feelings murkier than ever, and a headache to figure out. And despite the desire to erase a certain memory into oblivion, sometimes a concussion just won't do the trick.

EPISODE 9 RECAP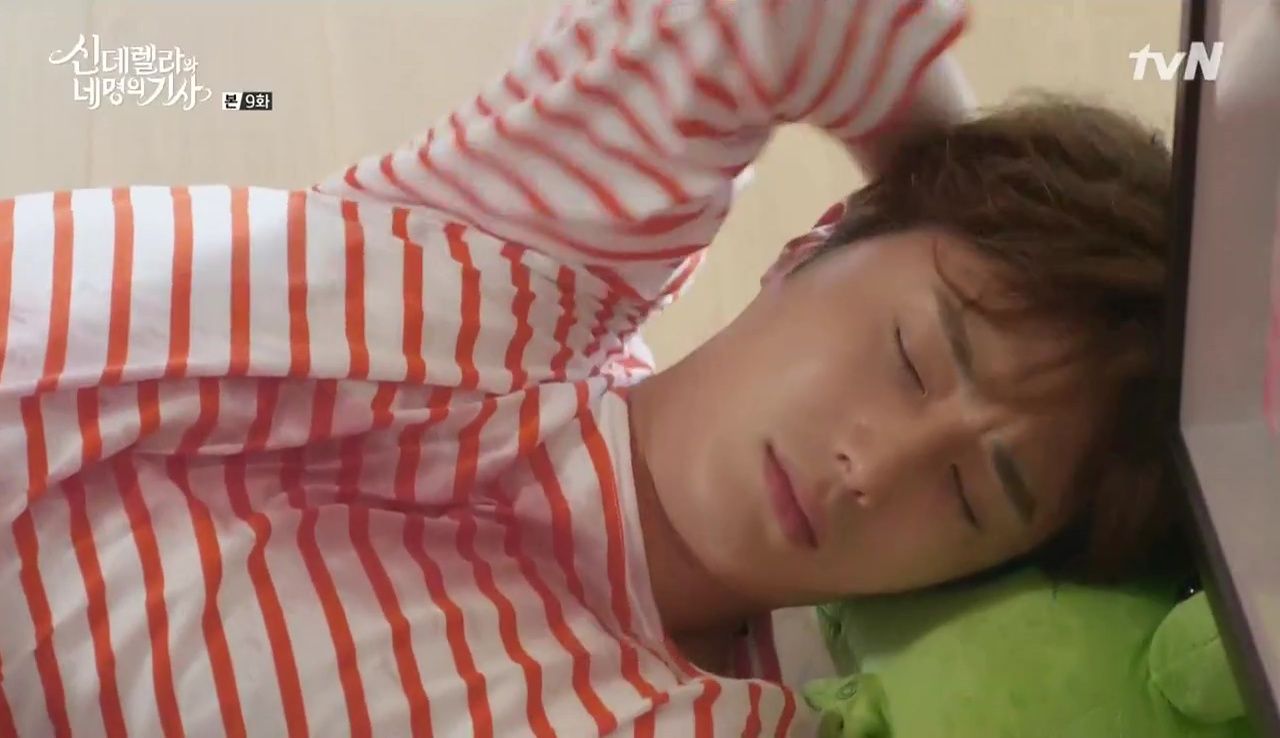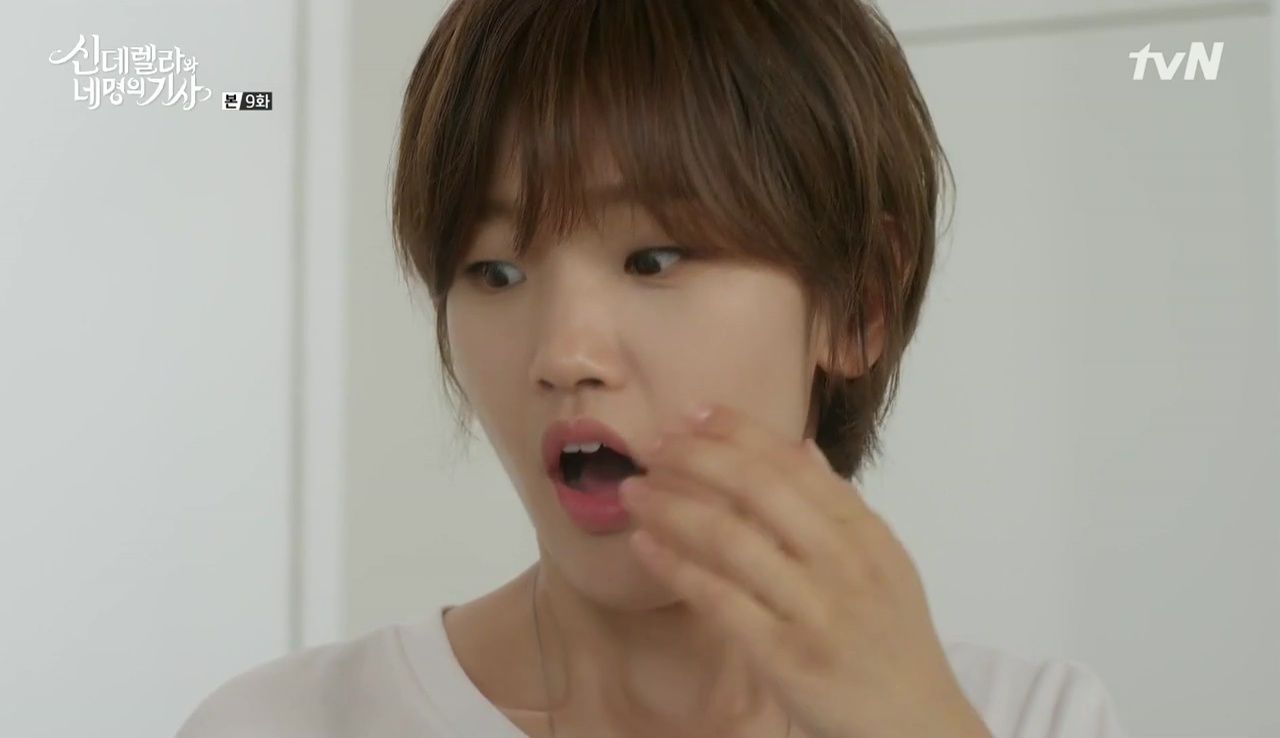 So, where were we? Oh right. Ji-woon drunkenly plants a kiss on intoxicated Ha-won's lips. The next morning, Ha-won wakes up with a hangover and remarks on what a strange dream she just had.
When she exits her bedroom, she finds Ji-woon sleeping on the floor and notices the wine stain on his shirt. That's all it takes for last night's memories to flood back to her: Ji-woon sloppily chugging wine, his kiss… Ha-won dashes to the bathroom and berates herself for what happened last night, but she's only human and can't help herself from smiling. In her fervor to snap herself out of her bliss, she slips on a bar of soap — the one she chucked at Ji-woon's face previously — and lands on the floor with a loud thud.
It's the thud heard all throughout the house because literally everyone — even Hyun-min who was outside — hears it, and they all rush to see what just happened. They find Ha-won sprawled on her back and knocked out.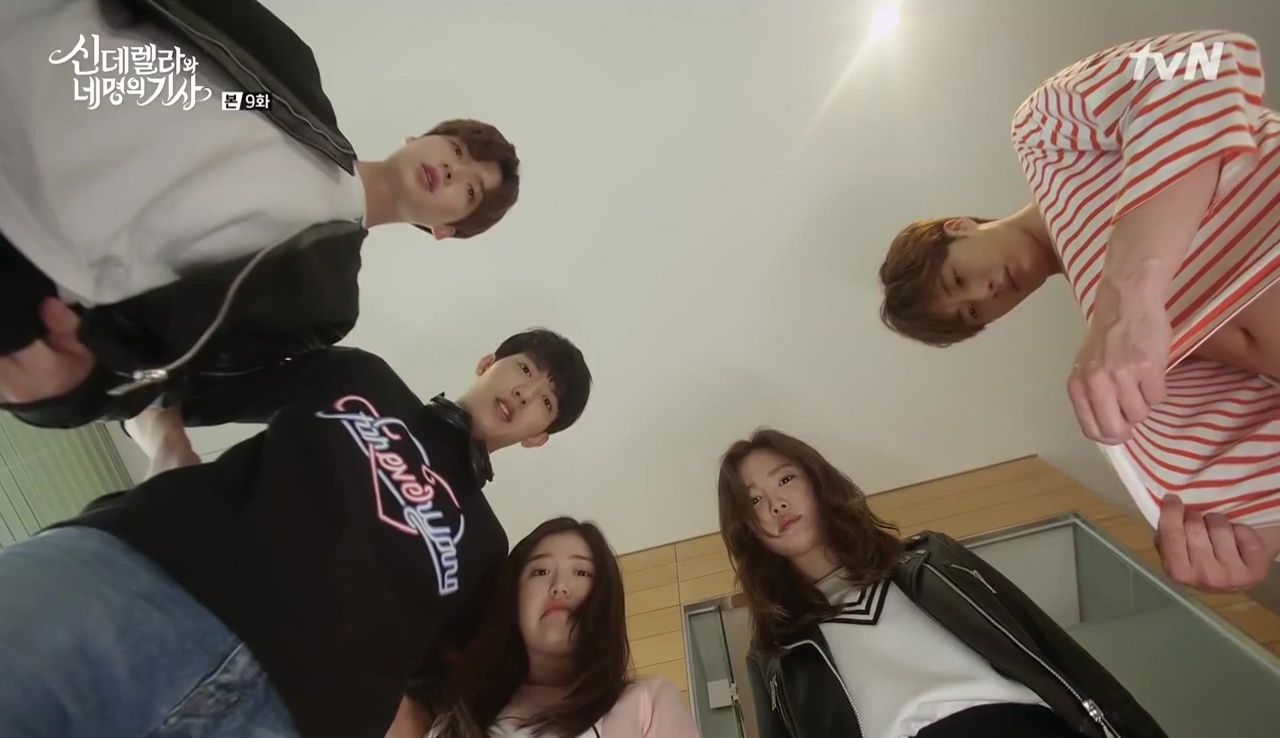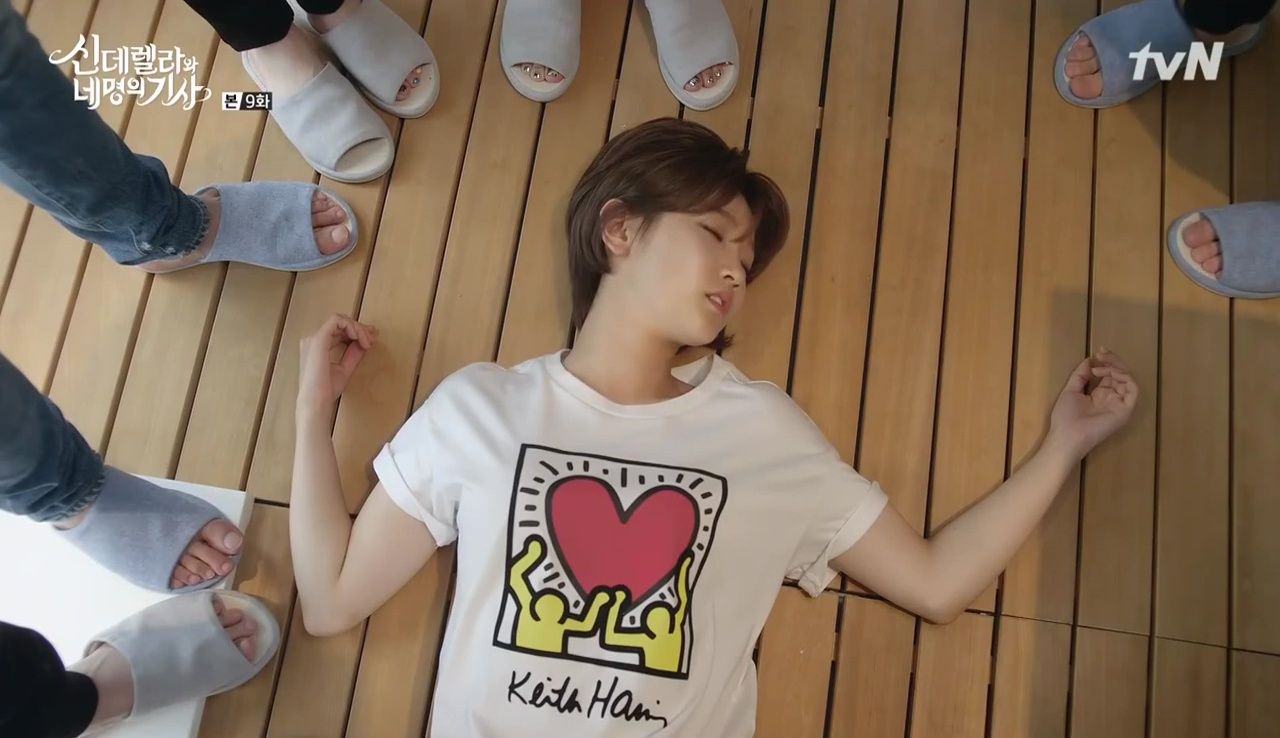 Bodyguard Lee and Ja-young are at the hospital, and the doctor informs them that Ha-won suffered a minor concussion but is merely asleep at the moment, much to their relief. Lee decides to transfer her to a hospital in Seoul as soon as she's up, and calls Seo-woo to alert everyone at the vacation home to return to Seoul on their own. Everyone readies to pack up their belongings, except Ji-woon, who appears puzzled and still recovering from his hangover.
Ha-won wakes up in the hospital and is alarmed to find that not one day has passed since she lost consciousness. LOL, is that disappointment I hear? She figured weeks would go by since that's how it usually is with concussed people, along with a bit of temporary amnesia that would render her unable to recall events from the night before, heh. No memory loss for Ha-won, but she did sprain her ankle, which means she'll get a cast once in Seoul.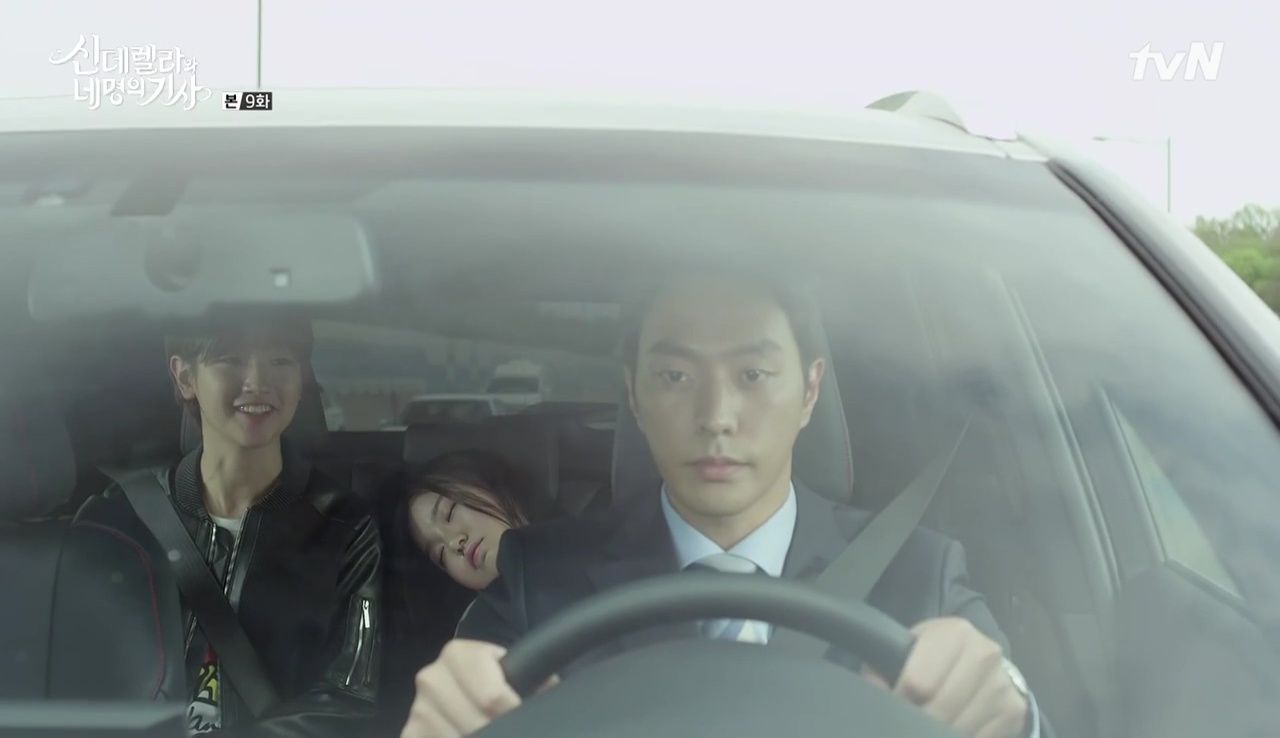 Back at the vacation home, Ji-woon observes the clothes Ha-won left behind and grins as he flips through her detailed family bonding plans. Bodyguard Lee drives Ha-won and Ja-young back to Seoul, and reassures a dejected Ha-won that although the trip was cut short, without her, there wouldn't have been a vacation in the first place. She breaks out into a huge smile and suspects that he has a very low tolerance for alcohol based on how quickly he passed out last night.
Ashamed, he urges her to erase that memory of him. When asked about her state last night, Ha-won stammers that she doesn't recall anything because she was too drunk. Suure. She claims that nothing major happened, despite being unable to recall anything, heh.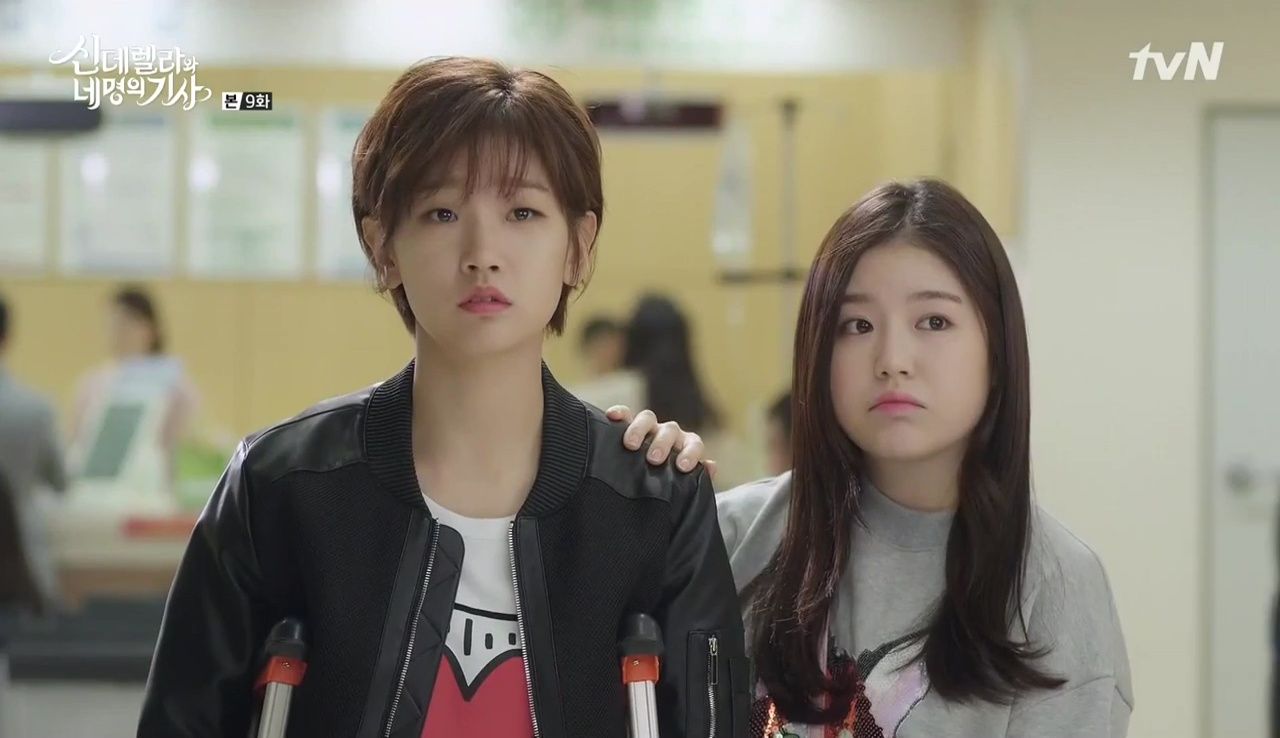 Back in Seoul, Ha-won gets her ankle treated and hobbles on crutches with Ja-young by her side. They spot Bodyguard Lee entering an Organ Transplantation Center which strikes them as odd. There, he speaks to a specialist who recommends that Chairman Kang divulge his condition to his family to find a donor within, but Lee replies that the chairman is staunchly against that notion.
Hye-ji and the Kang boys are back at Sky House, and they more or less seem concerned about Ha-won, or have something else on their mind. Hye-ji wants to talk to Hyun-min about what happened between them last night, but Hyun-min doesn't and suggests they pretend none of it happened, leaving her in disbelief.
Ji-woon still seems puzzled about last night and detects the tension between Hye-ji and Hyun-min. Finally, Ha-won gets home and locks eyes with Ji-woon momentarily before he turns away, only to turn back when he spots her injured ankle. She reassures everyone that she'll be fine in a few days, and almost loses her footing on the steps, but Seo-woo and Ji-woon catch her on either side. She and Ji-woon share another gaze before he averts his eyes again.
Hyun-min happily offers to be her human crutch, but Seo-woo reminds him that he's no longer her fiancé and steps in to be her support instead. Ha-won, however, rejects their help and hands Bodyguard Lee her crutches before hopping on one leg all the way to her room, leaving everyone befuddled.
Chairman Kang and Hwa-ja are at the hospital, ready to leave. Bodyguard Lee arrives, and the chairman laments almost blowing his cover since he planned on resting at the hospital in secret. Hwa-ja scolds him for keeping his illness under wraps, and the doctor advises against his discharge since the cirrhosis of his liver is worsening by the day. But the chairman brushes off his warnings and figures a donor will be found soon. Hwa-ja gives Lee a grateful look when he offers to take her husband's bag, and the chairman expresses how nice it would've been to have a son like him.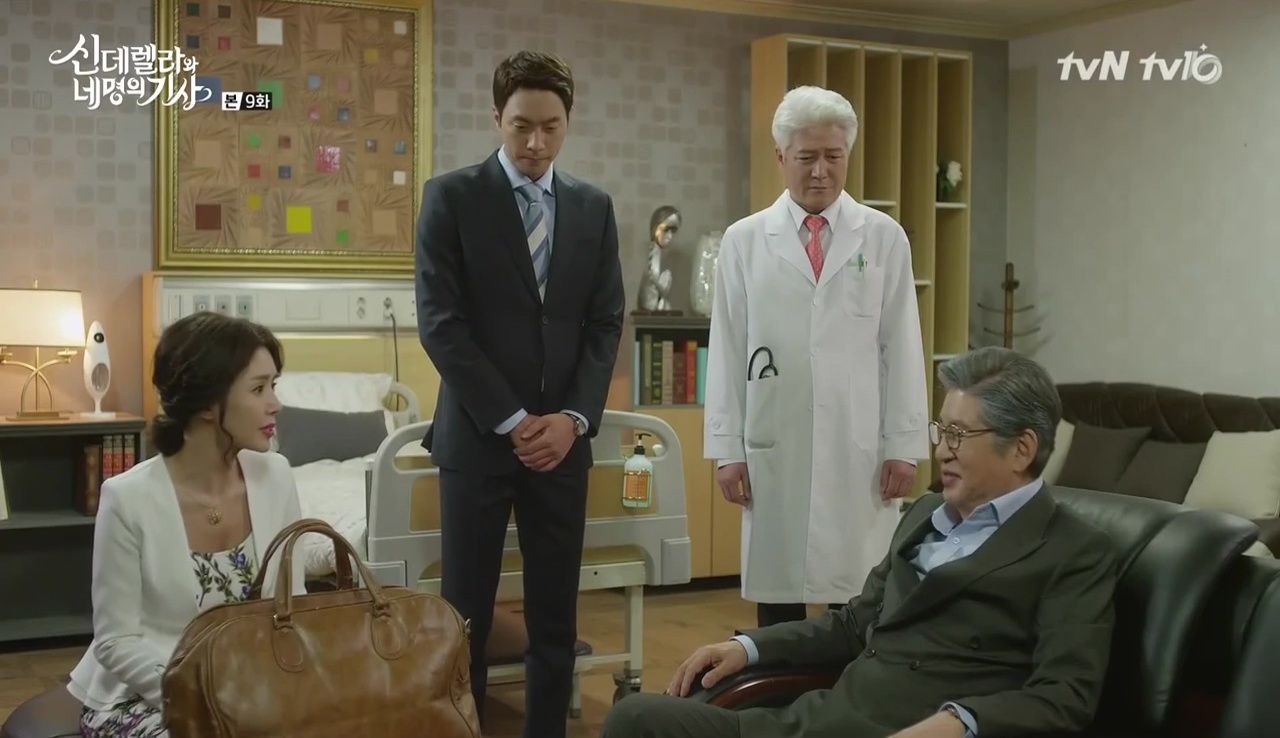 Ji-woon walks Hye-ji to her house and is asked whether or not something happened between him and Ha-won last night since they seemed a little off at Sky House; it seemed like Ha-won was avoiding him. Ji-woon deflects and sputters that Ha-won probably felt embarrassed by her accident. Hye-ji adds that he looked cute when he was drunk; she hadn't seen him smile like that in a while.
Two shady men approach Hye-ji and inquire about her father's whereabouts. She replies that he's on a business trip, and Ji-woon places himself in front of her, causing the men to retreat. Hye-ji and Ji-woon wonder what their deal is.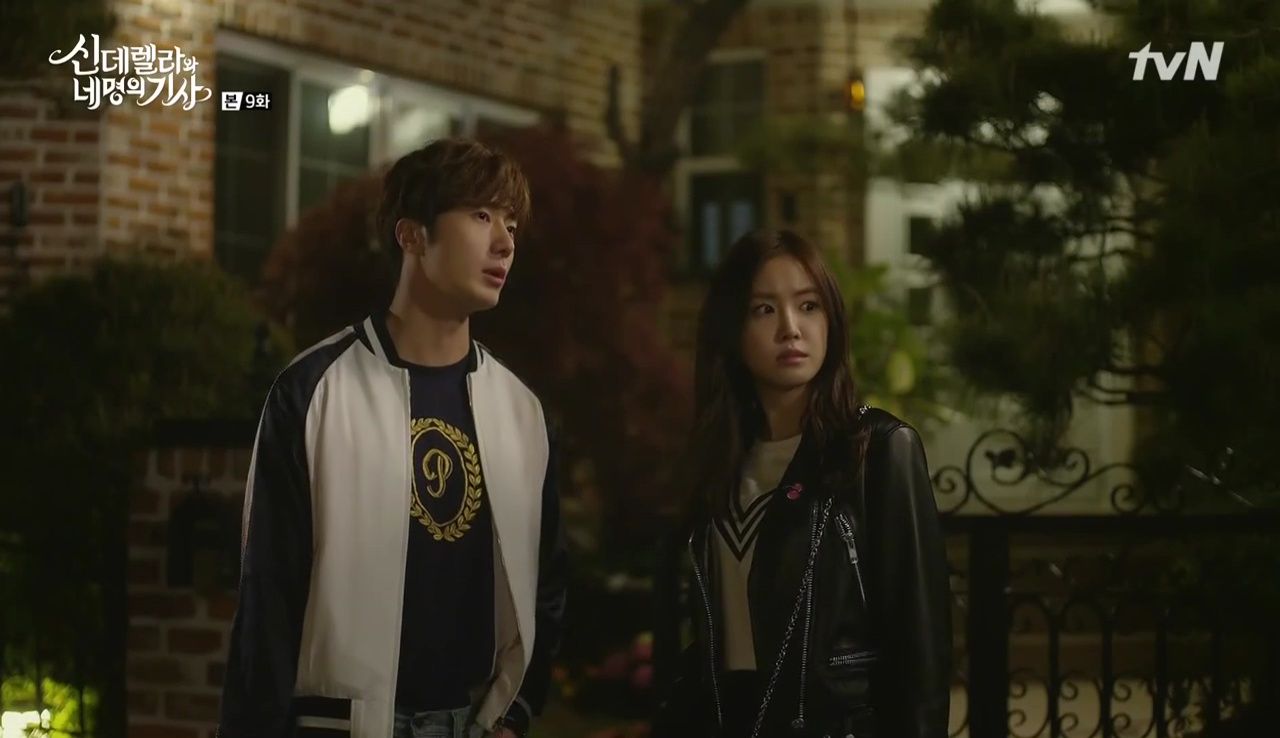 The next day, Bodyguard Lee receives a call from the organ specialist that brings him some cautious optimism. Ji-woon goes for a jog around Sky House, but Hye-ji's observation of Ha-won avoiding him gives him pause. Meanwhile, Hyun-min jumps at the chance to help Ha-won. She was about to change so she tells him to scram, but he doesn't budge.
Ha-won waits for Hyun-min to bring her clothes, but he comes empty-handed because her closet was a "crime against fashion." He goes off to buy some decent clothes for her and almost bumps into Seo-woo, who wheeled a multicourse breakfast (courtesy of Ms. Beolgyo) to Ha-won's room. Seo-woo ties a napkin around Ha-won's neck so she can dig in, but she doesn't have much of an appetite.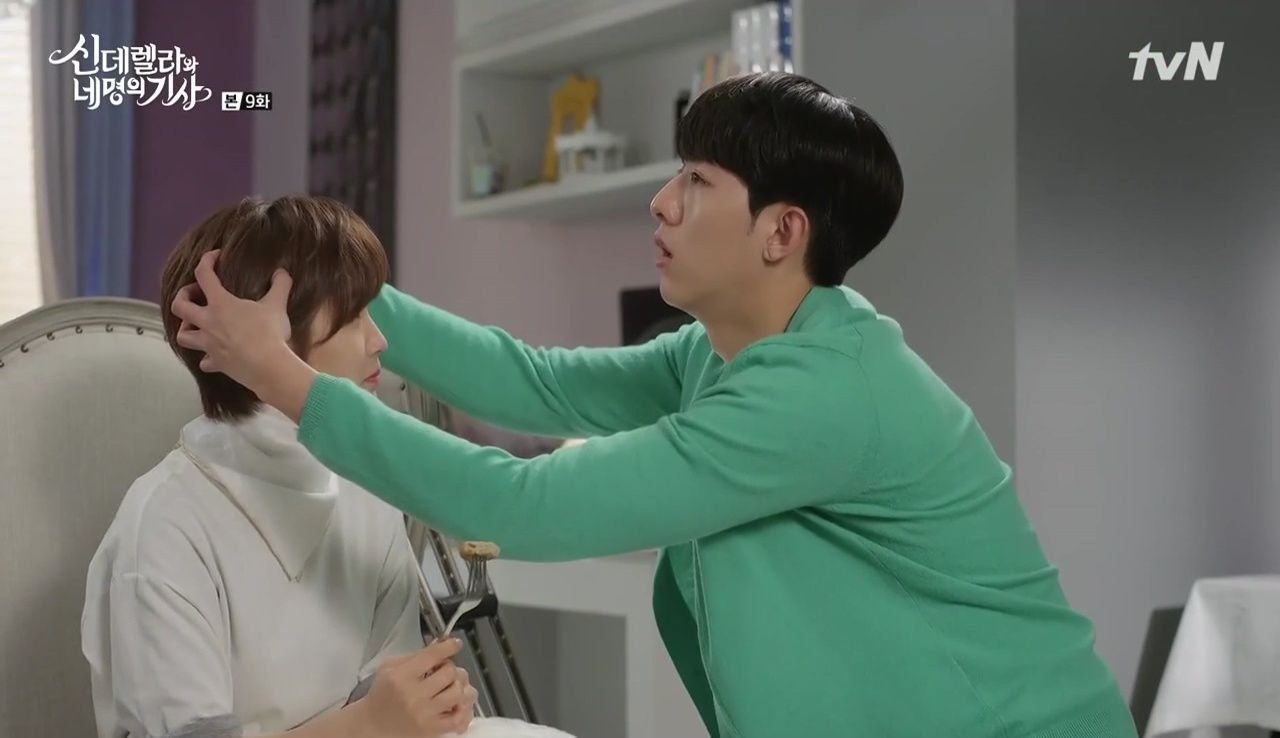 This worries him, so he checks to see if she's injured elsewhere. Adorable. She appreciates his concern and says she'll eat a ton just so he won't worry. Seo-woo brings his face close to hers and inquires if she washed her face today, and she shakes her head, heh. After handing her a dampened napkin, he downloads games onto her phone to ease her boredom. She says, "Thank you, friend!" and her last word makes him hesitate for a second.
The organ specialist informs Bodyguard Lee that Chairman Kang's current place on the wait list means he'll have to wait two to three years minimum for a transplant, but if a relative is willing to be a live donor, he'll be pushed up the list. The specialist eyes a man sitting outside the room warily, and Bodyguard Lee meets with him to hear what he has to say.
Bodyguard Lee is surprised to hear the man explain that if the donor is a relative, the patient can be operated on first regardless of his standing on the waitlist. This also applies if the donor is a relative on paper, implying that fabricating documents is possible, albeit costly.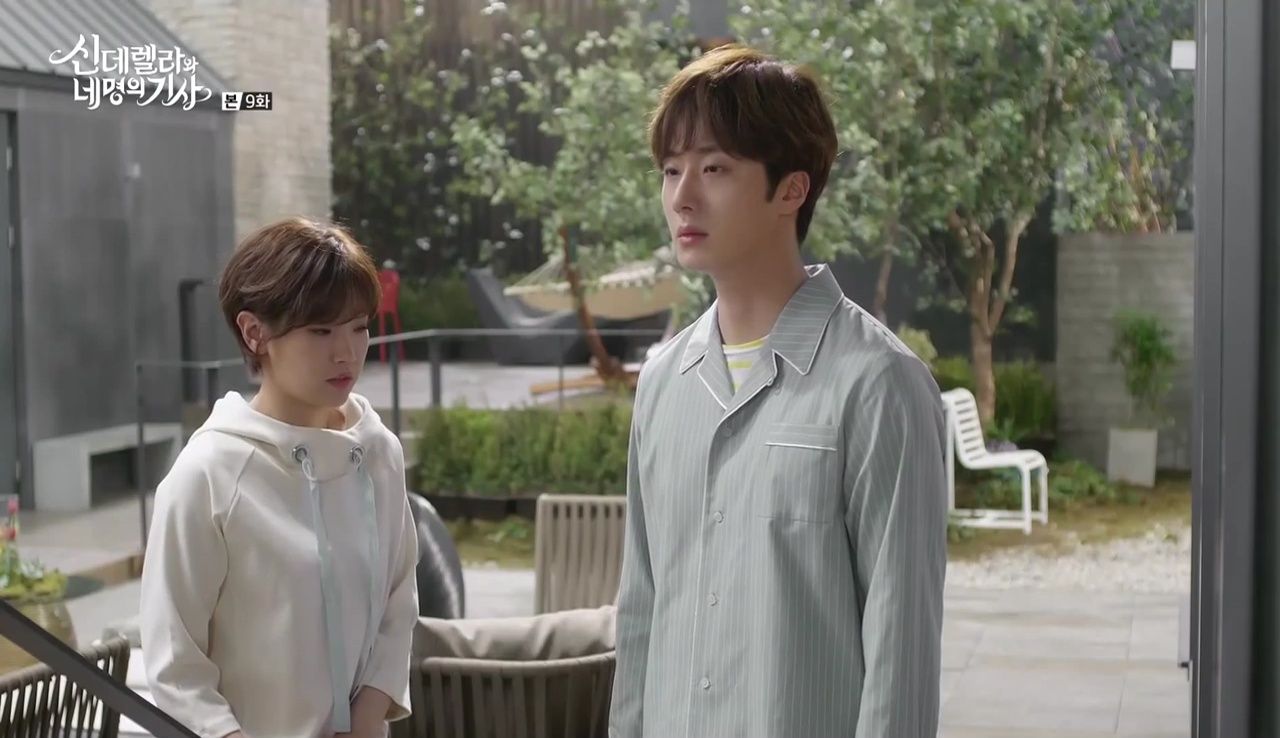 Ha-won stretches outside her room, and when she tries to talk about last night with Ji-woon, he promptly answers that he blacked out for the first time. This response disappoints her, but to save face she says she also has no recollection due to her concussion.
At the mall, Chairman Kang encourages Hwa-ja to pick out whatever she wants; he feels bad for making her spend so much time at the hospital. She declines, but she does pick out a necktie for a young man (Bodyguard Lee?). Chairman thinks it's for him since he's young at heart and beams at her consideration from a distance.
Seo-woo gets called into his manager's office on his day off because the paparazzi are about to release photos of him and Ha-won looking friendly. His manager is worried, but figures a statement denying that Seo-woo has a girlfriend will minimize the damage. However, Seo-woo is indignant and has no desire to make Ha-won suffer again after the viral Hyun-min incident. He states he has something even juicier than those photos that will provide plenty of paparazzi fodder. I think I know which photos he means…
Ha-won's frustrated that Ji-woon has no recollection of that night. Just then, Hyun-min arrives clutching numerous shopping bags. He got her dresses and pants with the stitching partially removed on one leg to accommodate her cast. He jokingly offers to dress her, and she throws up her hands to draw the line there, heh.
Chairman Kang informs Bodyguard Lee that he has no desire to act like a coward and cut in the donor line just to save himself, even if it may be his last option. Moved by his integrity, Lee responds that he serves a truly great man.
Hyun-min's insistence that they forget about their moment on the bench distracts Hye-ji from her sewing. Back at Sky House, Ha-won jabs at the air angrily, incredulous that Ji-woon can't remember what he did after a few drinks. She ducks when she sees Ji-woon in his room, but can't get herself back up.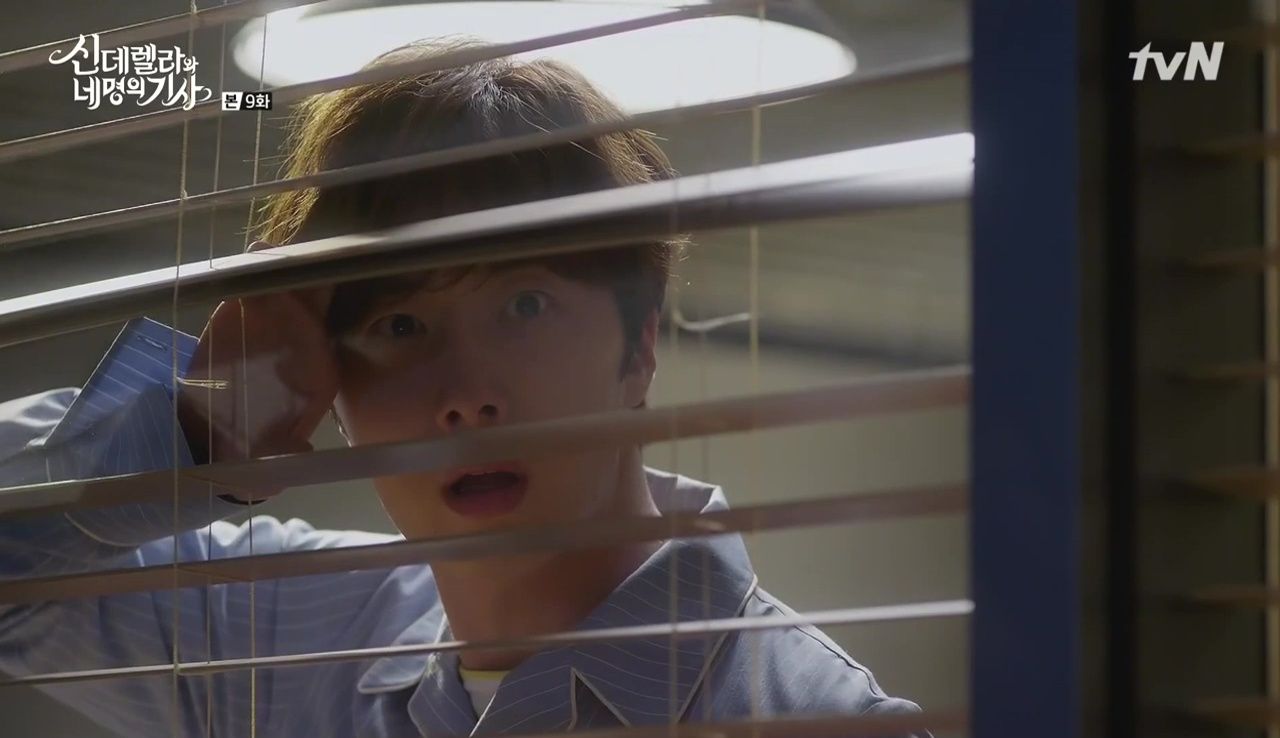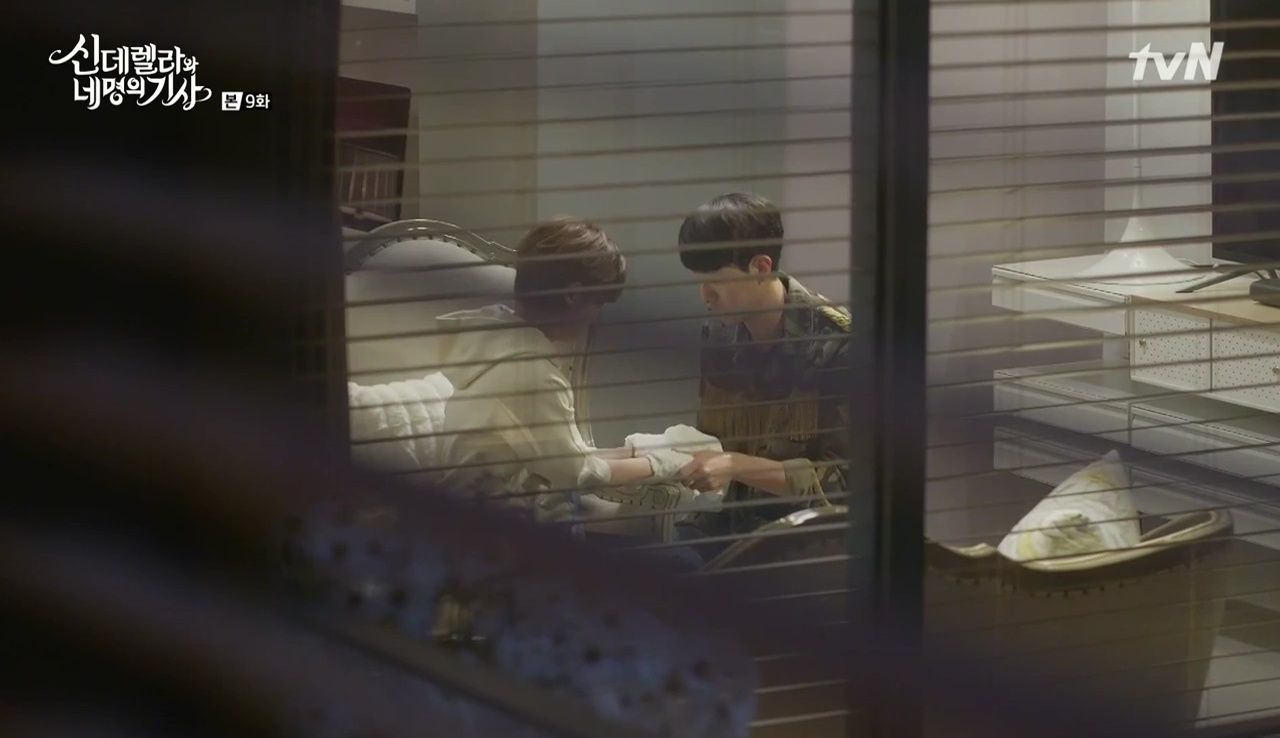 One glance at his team bomber jacket, and Ji-woon scrambles to his phone. He's horrified to find drunken selfies taken with Ha-won from that night. Seo-woo sees Ha-won struggling on the floor and helps her into her room, even bringing her a damp towel to wipe the dirt from her hands. He catches himself in the bathroom mirror and wonders why he's being so kind to her, but continues to tend to her with a smile.
Ji-woon peeps on Seo-woo taking care of Ha-won, and can't believe his eyes. He grabs a drink from the fridge as well as the last remaining banana milk for Ha-won. He comes across Ms. Beolgyo folding his wine-stained shirt from last night and gets involved in a tug of war over it; he wants it now, but she wants to get rid of the stain first. Eventually, he gets the shirt in the end, and Ms. Beolgyo comments on how nice it is to see him smiling frequently these days.
Ji-woon grins, thinking about how he piggybacked an inebriated Ha-won to her bed and quietly crawled out of her bedroom that night. He steps out of his room and texts Ha-won to step out as well so he can give her the banana milk, but he misses his chance when Hyun-min surprises Ha-won with fried chicken and snacks in her room.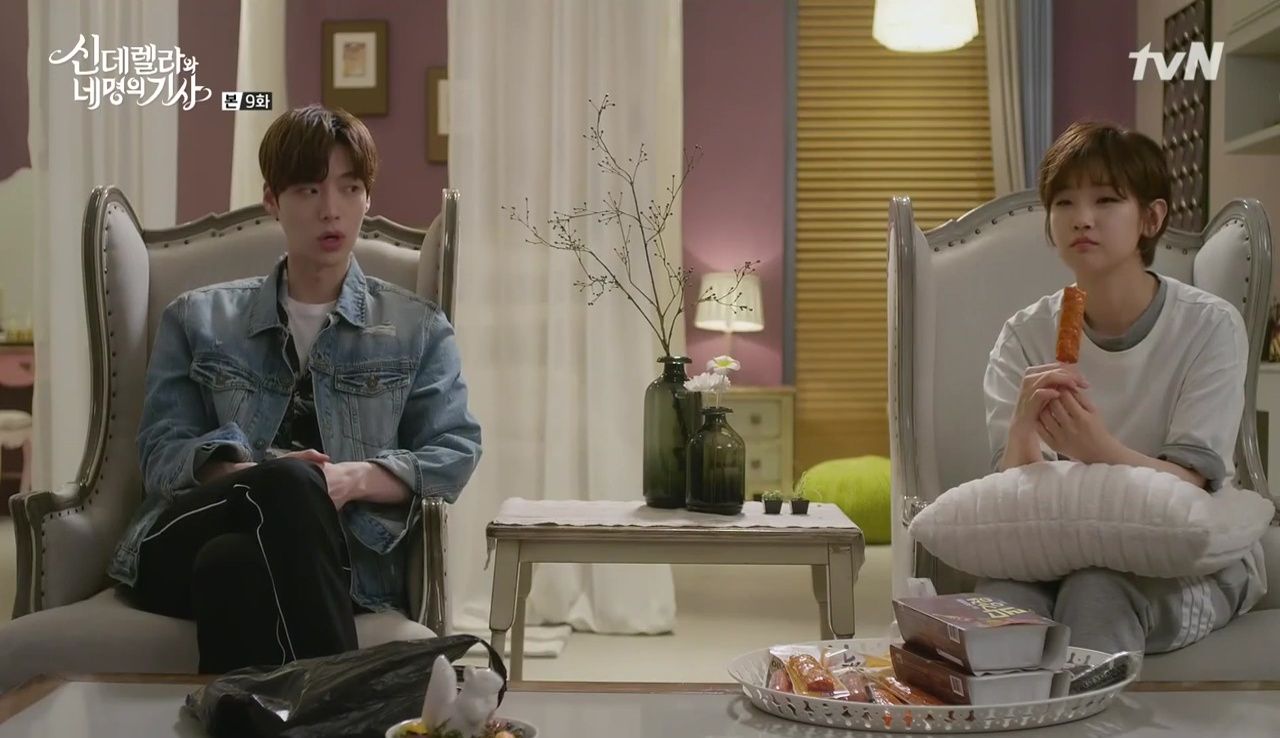 As she's munching on a fish cake, she asks Hyun-min if there's a girl who genuinely likes him like Hye-ji does. "Well, duh" is his automatic answer, but his face betrays uncertainty. Ha-won goes on, talking about how she admires Hye-ji for being honest and unwavering about her feelings for him, like a tree with firmly planted roots. She describes Hyun-min as the wind that keeps blowing at Hye-ji and disregarding her earnestness, but she's also seen his tender gazes toward Hye-ji, and reminds him that there is no tree that will wait for him forever.
That evening, Seo-woo burns the midnight oil composing a song. Ji-woon holds up Ha-won's favorite banana milk and can't help but smile at his drunken selfie with her on his phone. He thinks back on their banana milk bonding during the trip, and also the night that he kissed her. (That's right — he remembers everything!) Hyun-min's on his bed, gazing at the framed photograph of him, Hye-ji, and her brother from when they were little.
The next day, Hye-ji stops by a flower shop for a bouquet for Ha-won. In his van, Seo-woo takes a look at a news article online. The headline reads, "Kang Seo-woo Flees While Wearing Jungsan Girls' High Uniform" and includes photographic proof. His manager's apprehension turns to glee, however, because the fans find Seo-woo even more lovable post-"scandal," since he's proven that he looks good in virtually anything. Seo-woo mutters that he should've just announced that he and Ha-won were dating. Aww.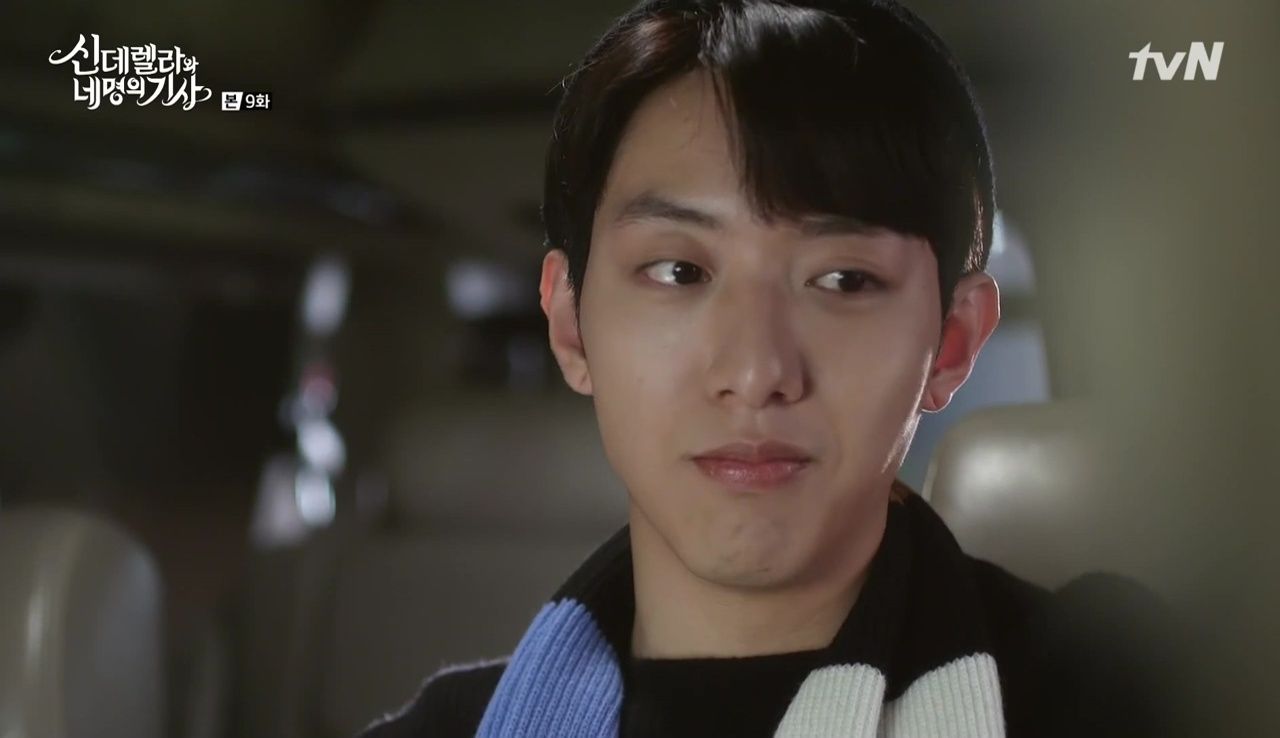 Hye-ji stops by Sky House and gifts Ha-won with flowers to wish her a speedy recovery. They move to Ha-won's room and continue the conversation there. Hye-ji admits that she's sometimes jealous of Ha-won because she gets along so well with all the Kang boys, but Ha-won assures her that there's actually a lot of fighting involved beneath the surface.
After going a couple days without showering, Ha-won's head is itchy. She excuses herself to quickly wash her hair. Hye-ji knocks on Hyun-min's door before entering, and her eyes land on the photograph of her, her brother, and Hyun-min as kids. She doesn't notice Hyun-min enter and gets startled, causing her to drop the framed photo.
Hye-ji tells him they need to talk; she can't pretend nothing happened between them and wants to know what she is to him. But Hyun-min answers that they don't have any kind of relationship and warns that he'll stop seeing her if she continues to act like this. He leaves the room, and it seems he has more to say to her, but can't bring himself to say it.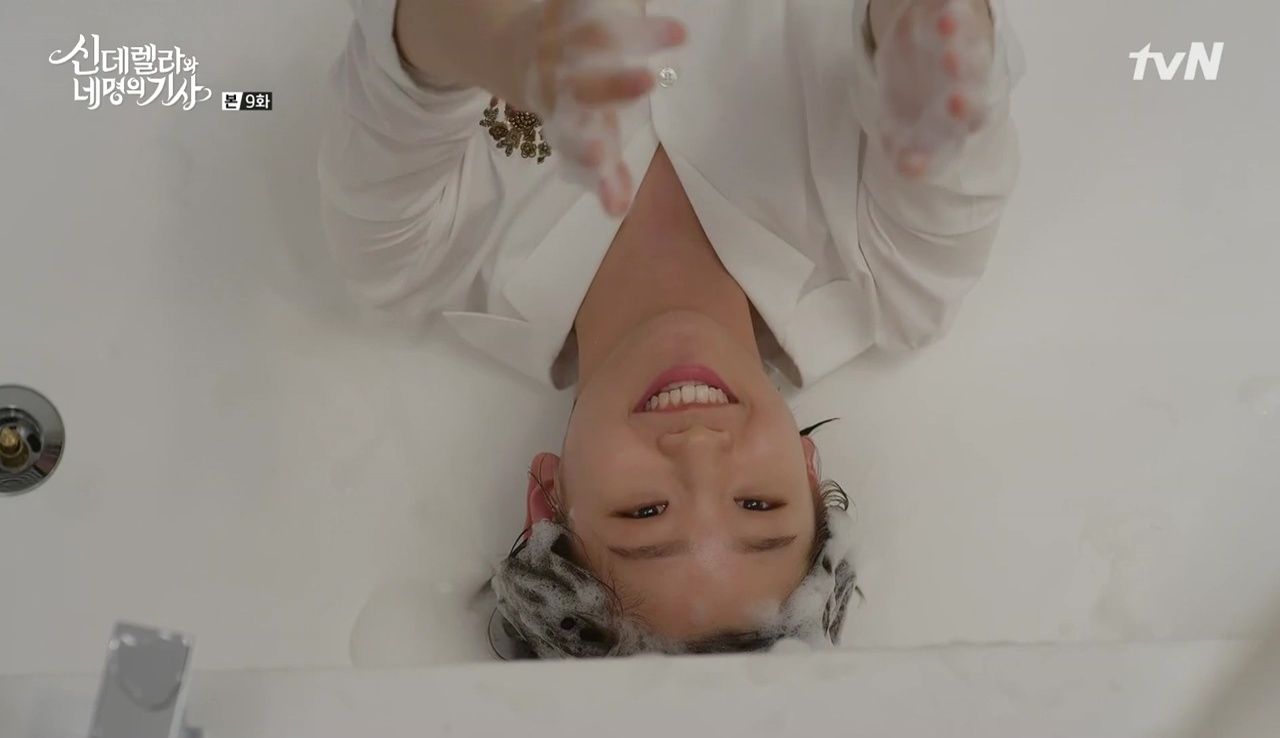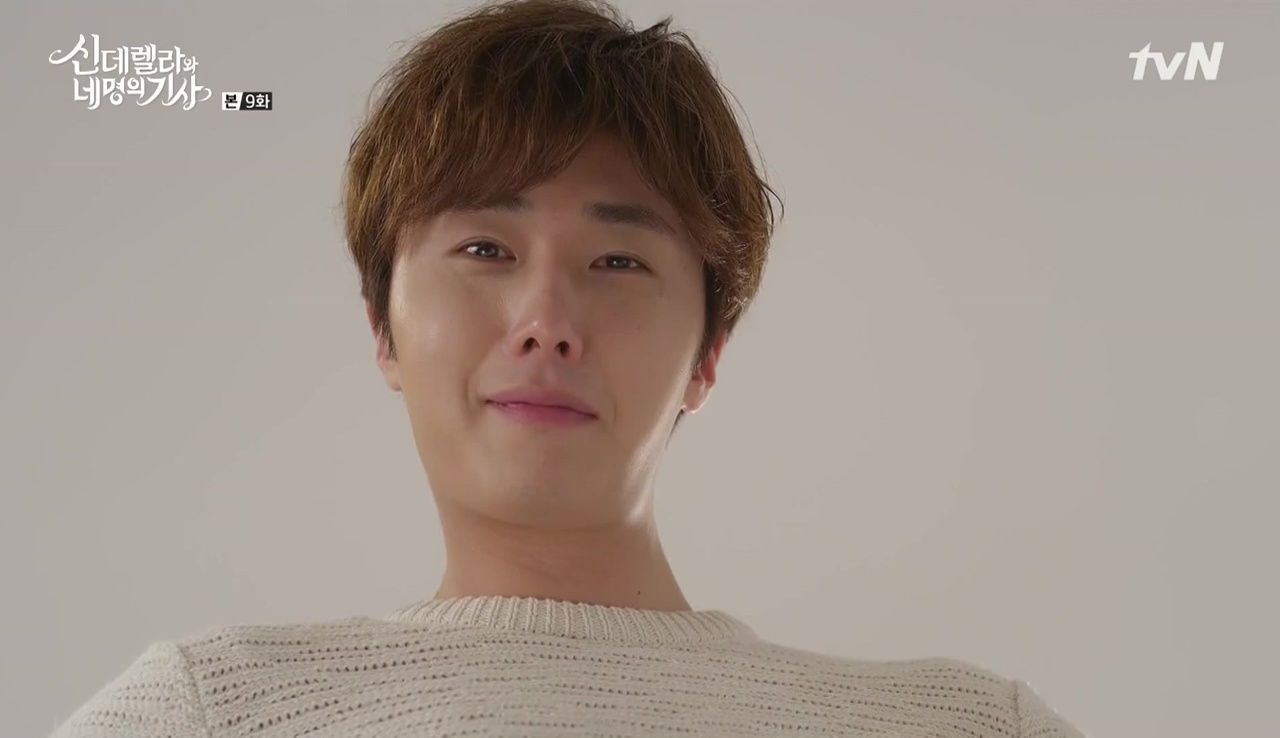 Ji-woon lingers outside his room when he hears Ha-won scream, followed by a thud. This girl and her thuds! He runs into Ha-won's room and finds her in the bathtub, foam in her hair and limbs in the air like a helpless insect on its back. He chuckles at her funny state. Ha-won explains that she slipped while trying to wash her hair and asks him to call Ms. Beolgyo for her, but he replies that she left a moment ago.
Embarrassed but in a rut, she asks Ji-woon to help her up, and he does after removing his watch and socks. He even rinses her hair of his own volition by sitting in the tub while Ha-won rests comfortably on the edge. She squeals when he gets water near her eyes and ears, and he chides her for being so fussy, heh. Afterward, he dries her hair with vigor like he's some kind of sassy barber, and gets a kick out of her shrieks.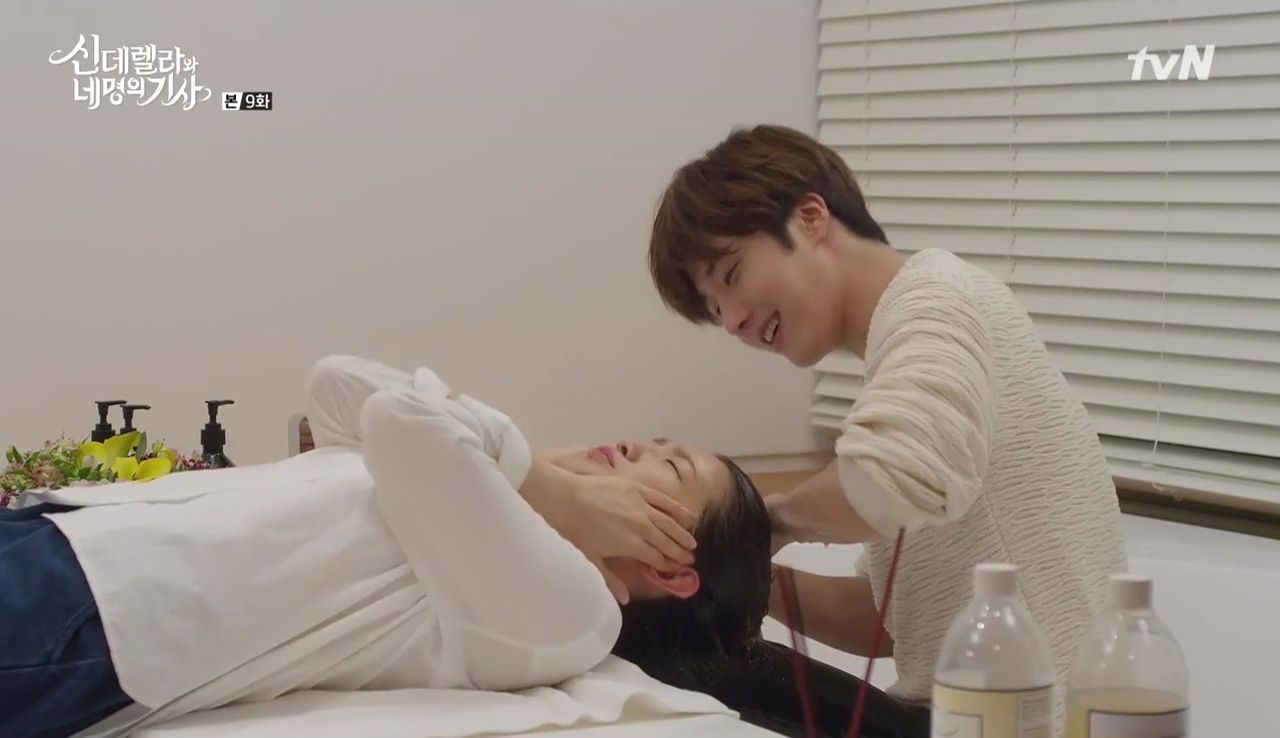 But then their hands touch, and you know what that means. Cue operatic angel army and thumping heartbeat sounds. Ji-woon sounds a bit sheepish that Ha-won's hair day has come to an end, and lets out a tiny smile after he suggests she use the hair dryer. She thanks him, but once he leaves, she cringes in embarrassment.
Ji-woon's in high spirits after helping Ha-won out, but he notices Hye-ji crying and runs to her to see what's wrong. Hyun-min picks up the photo Hye-ji dropped in his room, and we see that his phone background is a picture of the smiley face she drew on his hand.
Ji-woon grabs Hyun-min by the collar, furious that he made Hye-ji cry after he warned him not to. Hyun-min wonders what right Ji-woon has to say that, and after a beat, Hye-ji firmly answers that Ji-woon has every right to say that. She declares that she no longer wants to cry because of Hyun-min and wishes to take a break from him. She then turns to Ji-woon and asks him if he'll accept her. Meanwhile, silently watching this whole scene unfold is Ha-won, eyes glistening with tears.

COMMENTS
Hye-ji, Hye-ji, Hye-ji. How can you say that you're taking a break from Hyun-min if you guys weren't even an item to begin with? I can't tell if she's turning to Ji-woon as a way to guilt-trip Hyun-min, or because she's actually had enough and is ready for some change. She's such an odd character because she's not evil a la Stepmom and Yoo-na, but she is the wedge between Ha-won and Ji-woon, as well as Ha-won and Hyun-min. If I were to depict her life in a pie chart, there'd be 1% for her sewing hobby, and the remaining 99% for her ridiculous obsession with Hyun-min. My eyes nearly rolled to the back of my head when Ha-won stated how much she admired Hye-ji for her honest feelings. Admiration should be reserved for someone a bit more worthy. For example, Seo-woo potentially risking his career in order to save Ha-won from another media circus is an admirable, bold, and smart move that actually ended up working in his favor as well.
We've been told over and over again that Hye-ji and Hyun-min have a history since they grew up as childhood friends and were each other's first loves. But it's already episode nine, and we still have no clue as to why Hye-ji's been this persistent in pursuing Hyun-min or why Hyun-min's evading Hye-ji at every turn. Because their motives are unclear, Hye-ji always comes across as needy and fanatical, and without fail, we find ourselves sympathetic to Hyun-min because Hye-ji keeps pestering him despite his numerous rejections. If I'm being optimistic, I like to think that they each have their legitimate reasons for acting the way they do towards each other, but at this point, Hye-ji stands out as the more unreasonable and infuriating one who just can't let go. Unfortunately, Hyun-min's phone screen background pretty much confirmed to me that he's still in love with Hye-ji (for reasons not yet known) and will most likely end up with her, but I need more answers if I'm ever going to be okay with the Hye-Hyun pairing.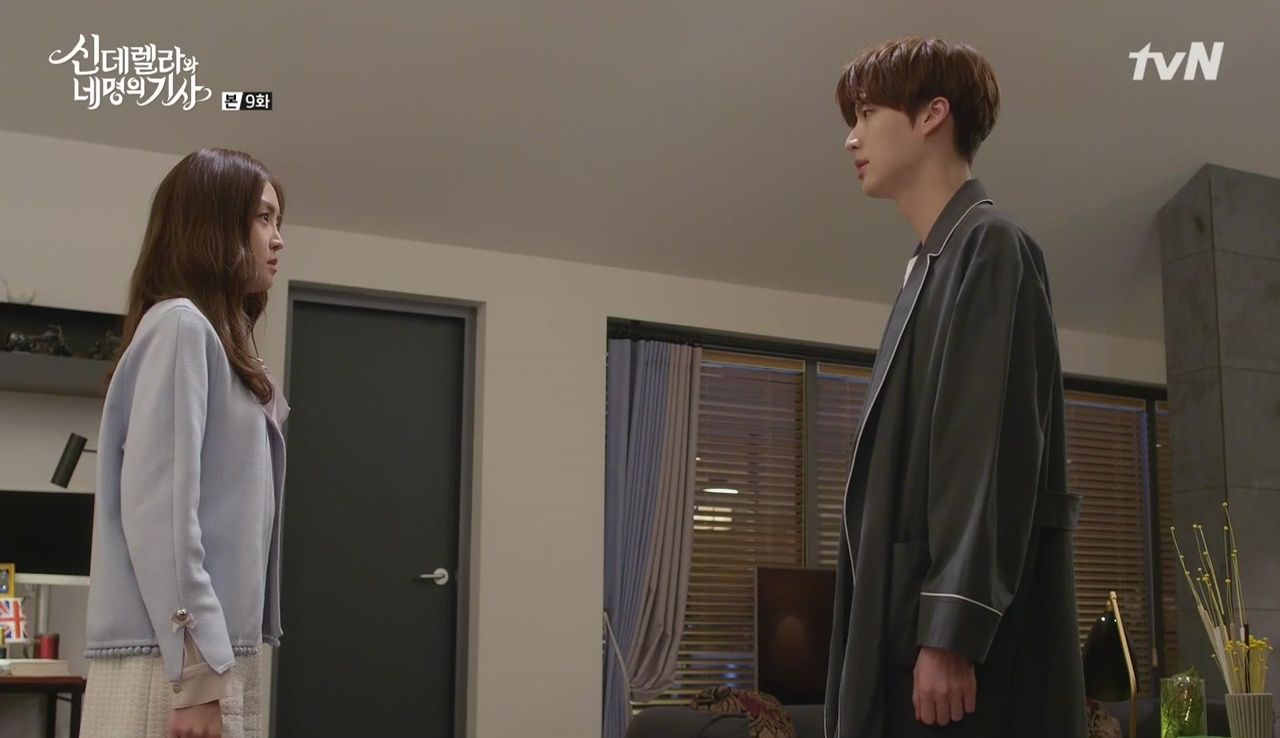 Episode 8 was a scrumptious hot mess, so it was fun to see how Ha-won and Ji-woon would react the morning after. I found it hilarious when Ha-won kept hopping from regret to joy thinking about that kiss, before slipping on a bar of soap and knocking herself unconscious. Her disappointment at not having temporary amnesia was too funny! She may not be as tough as nails as before, but I still find her impossibly endearing and just ridiculously cute, but not in a cloying or forced manner. I can see why everyone's falling for her because I'm smitten as well; I love how natural an actress Park So-dam is.
I'm enjoying the new Ji-woon that everyone else seems to prefer as well. He's not so guarded and angsty anymore, and he smiles and cracks jokes easily now thanks to his burgeoning crush on Ha-won. The crush is mutual, but it's a pity Ha-won believes Ji-woon actually blacked out since she's dealing with her confusing feelings alone. I like Hyun-min and Seo-woo (and Bodyguard Lee) just fine, but Ji-woon and Ha-won as a couple continues to make sense to me. I don't believe that the pairing feels forced, and I'm happily going with the flow and following the uneven trajectory of a flawed, albeit undeniably fun story. More cute Ha-Ji moments please!
I think Hyun-min is treating Ha-won with new clothes (again) and food in order to maintain his denial of loving Hye-ji. The more he does nice things for Ha-won, the easier it is for him to convince himself that his romantic feelings for Ha-won are real. I find this kind of unfortunate, but I'm certain there's a part of Hyun-min that actually cares for Ha-won as a friend, even though he's lying to himself about liking Ha-won as more than that.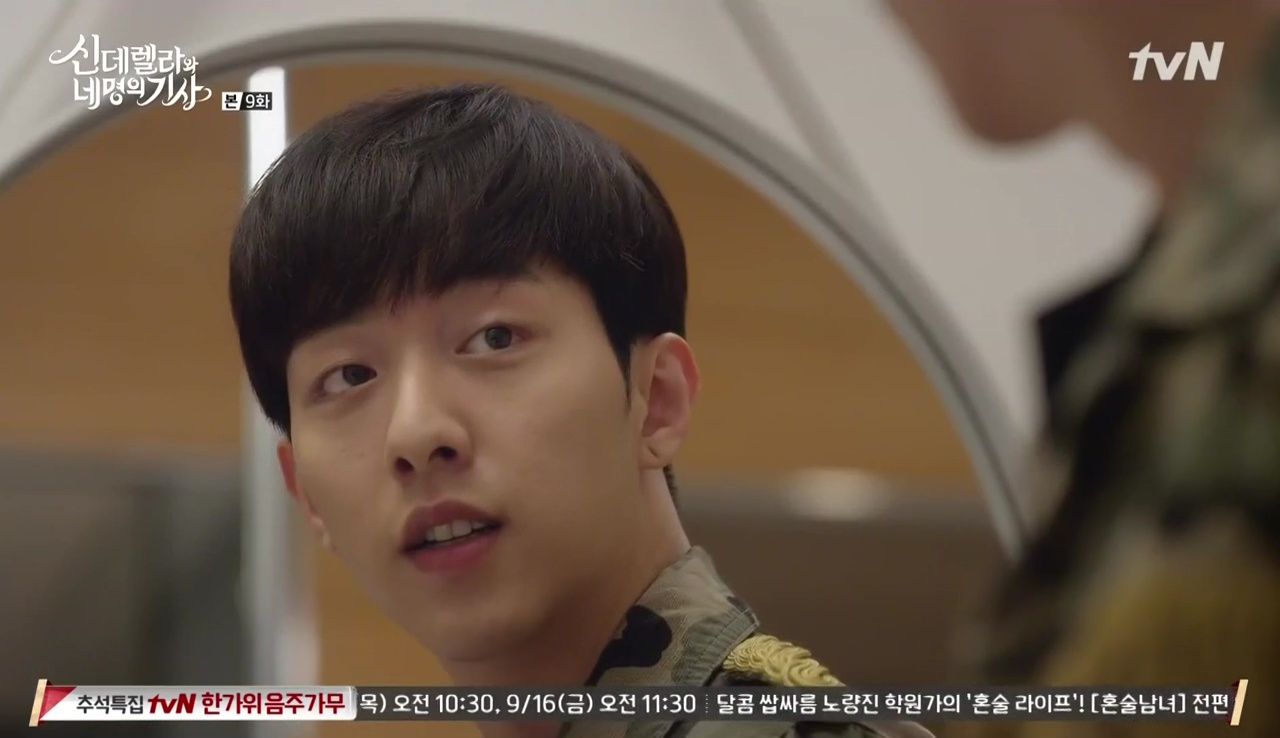 I'm starting to feel my heart break for Seo-woo because he's falling for Ha-won and doing all the right motions, only to most likely never win her heart in a romantic sense. He's the sweetest of the Kang boys, and the one with less emotional baggage and personality issues. Heck, he's probably written a full album of love songs inspired by Ha-won by now! *sobs*
Some moments that didn't quite work for me included the scene in which Bodyguard Lee meets with some man who divulges how one can move up on the organ transplant list. I was just thrown by that random man! Was he a lawyer? A medical professional of some sort? An organ aficionado? I wasn't sure whether he could be trusted, but in the end it didn't even matter because the chairman dismissed the notion of cutting in line for a more expedient transplant. I'm also not clear on how long the chairman has left to live. The doctor said his cirrhosis is severe, but how severe are we talking?
I don't see much plotting on Hwa-ja's end, just a lot of beaming at Bodyguard Lee, and all signs point to him being her son. More insight into her supposedly grand, evil scheme would be nice. And I hope we see bumbling Stepmom and Yoo-na in the next episode, along with some developments in the storyline regarding Ha-won's biological father. Granted, none of this is more entertaining or interesting than the love triangle fluff, and I wouldn't mind if every episode involved drunken shenanigans, but various story seeds were planted and they should probably sprout at some point.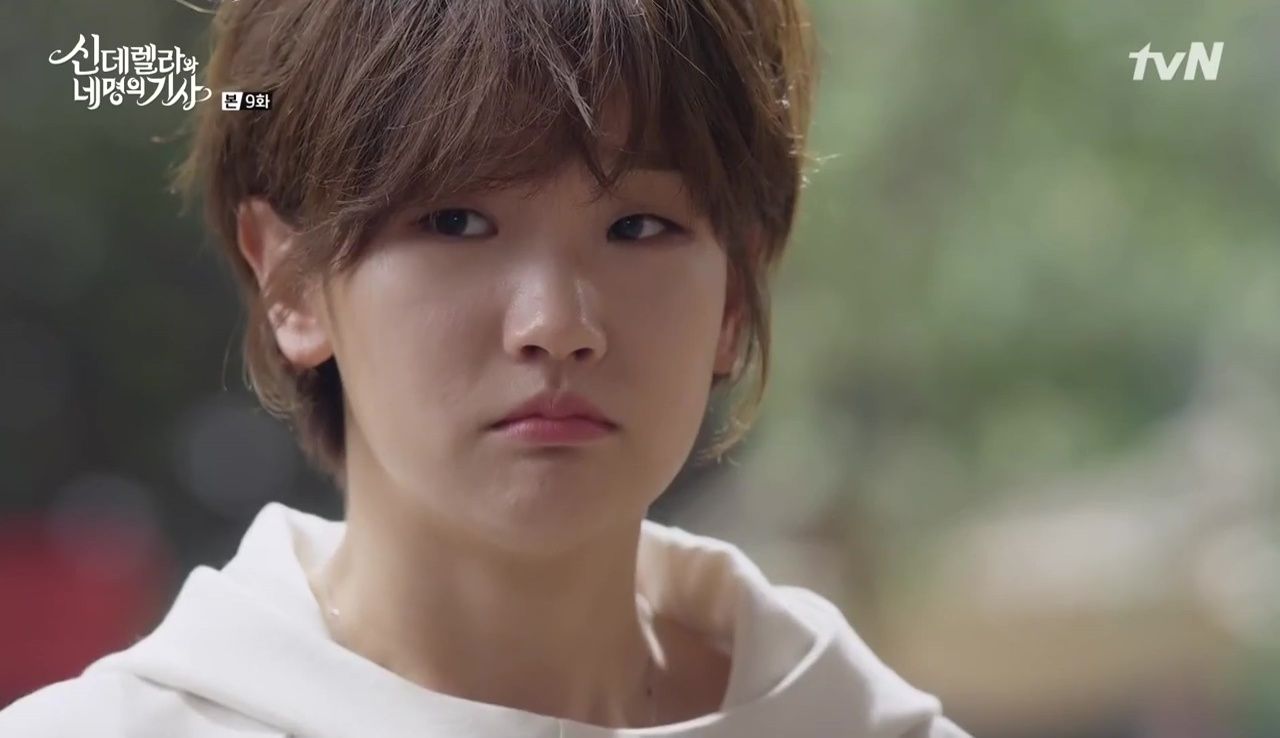 RELATED POSTS
Tags: Ahn Jae-hyun, Cinderella and the Four Knights, featured, Jung Il-woo, Lee Jung-shin, Park So-dam