Entourage drops pants in first teaser
At last, here's the first real teaser for tvN's Entourage, the remake of the HBO series about a movie star and his entourage of buddies navigating their way through showbiz and enjoying all the perks along the way. One of the perks, apparently, is traveling to red carpet events sans pants. Now, I would never knock anyone for being pantsless, but why the heck are they fully dressed on top?
The Korean remake stars Seo Kang-joon (Cheese in the Trap) as the hot young actor on the rise, and Park Jung-min (You're All Surrounded) as his best friend and manager. Lee Dong-hwi (Answer Me 1988) plays their carefree childhood friend, and Lee Kwang-soo (Dear My Friends) is the star's has-been actor cousin. And last but not least, Jo Jin-woong (Signal) is the power agent who makes all their dreams of fame and fortune a reality.
The fully pre-produced drama just wrapped filming on September 26 in Busan, and concluded with one final cameo from Lee Sung-min (Memory, Misaeng), who did it as a favor for his buddy Jo Jin-woong (they're currently shooting the movie Sheriff together, and were both in Kundo: Age of the Rampant). The four-month drama shoot included an impressive cameo lineup, with the likes of Ha Jung-woo, Song Ji-hyo, Kang Haneul, and Kim Sung-kyun, among others, stopping by to lend credibility to the drama about the entertainment industry.
I'm still waiting for the glitz and glam (tuxes and boxers don't count!), but I'm sure the party's just getting started. I do think they missed a big opportunity for a laugh in the teaser when they started out with the wide shot of everyone without pants. Why wouldn't you shoot them waist-up first, and then do the no-pants reveal? Wasted opportunity for a joke, I tell you. I do like Jo Jin-woong's single line: "Let's put 'em on."
Friday-Saturday drama Entourage premieres November 4.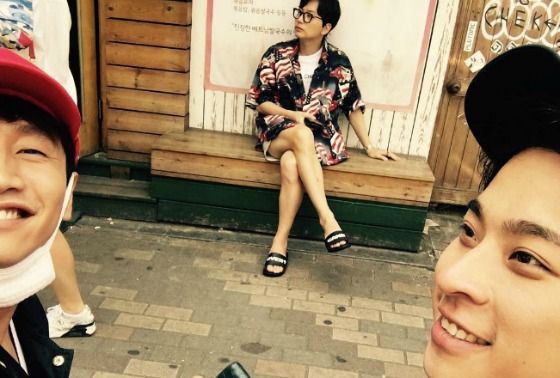 RELATED POSTS
Tags: Entourage, Jo Jin-woong, Lee Dong-hwi, Lee Kwang-soo, Park Jung-min, Seo Kang-joon