First still cuts of the boys of Entourage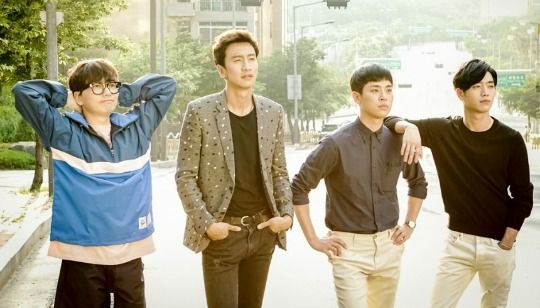 The first stills from tvN's Entourage are out, and for a remake of an HBO series that depicts the cutthroat entertainment industry where egos and emotions run high, our first glimpse is decidedly sunlit and understated. I was totally expecting to see the talent agent played by Jo Jin-woong (Signal) holler into his phone or chuck his dissatisfying lunch across the room. Or at his assistant.
But perhaps they're saving the good stuff for when the show premieres. The fully preproduced remake is about a movie star and his entourage consisting of his close circle of childhood buddies and his agent, navigating the frequently vapid, occasionally glamorous world of showbiz.
Seo Kang-joon (Cheese in the Trap) plays Young-bin, the hot young rising movie star, and Park Jung-min (You're All Surrounded) plays his best friend and manager named Ho-jin. Lee Kwang-soo (Dear My Friends) plays Joon, Young-bin's cousin and C-list actor, and Lee Dong-hwi (Answer Me 1988) is Turtle, friend of Young-bin and worrier of nothing. And finally, Jo Jin-woong takes on the role of Kim Eun-gab, Young-bin's powerful talent agent.
In the top still, the boys are looking cool and youthful with their easy stances. In the bottom stills, Jo Jin-woong appears very much like a talent agent in his tailored suit. Of course he's looking at his phone, and his office wouldn't be his if there weren't stacks of scripts on the table.
With a cast like this, I'll definitely be tuning in. I loved tvN's sleek remake of The Good Wife and have high hopes that Entourage will be another remake success story. Fingers (and all other crossable parts of the body) are crossed!
Entourage is a Friday-Saturday tvN drama that will premiere on November 4.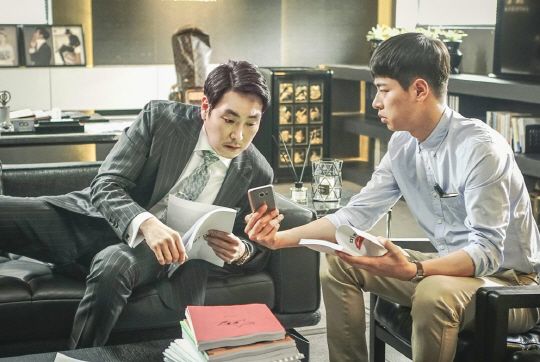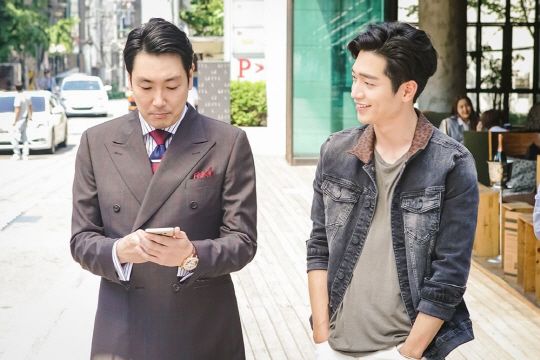 Via Top Star News
RELATED POSTS
Tags: Entourage, Jo Jin-woong, Lee Dong-hwi, Lee Kwang-soo, Park Jung-min, Seo Kang-joon