Hwarang: The Beginning to begin in December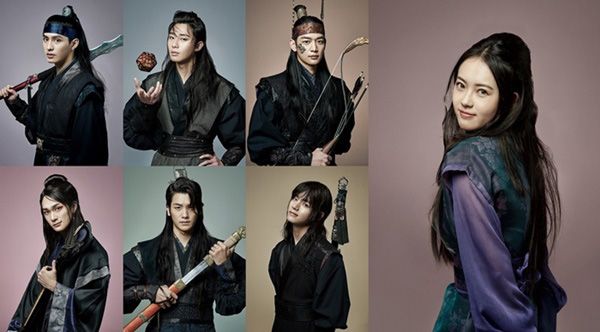 Finally, an update on Hwarang: The Beginning! The fusion historical drama about the beautiful warriors of the Silla kingdom had initially been planned as a summer drama on KBS, but summer came and went and all we knew was that the drama was still shooting. Now we have word that Hwarang has completed shoots, and KBS has given it a slot on its winter lineup, to premiere in December.
Hwarang: The Beginning takes us back 1,500 years in time to the Silla kingdom, where the Hwarang were warriors known for being beautiful. They've been depicted in Silla-era dramas such as Queen Seon-deok, but this will be the first time a drama takes them as the central topic. The show stars Park Seo-joon (She Was Pretty) as a warrior, opposite Go Ara (Answer Me 1994) as his love interest, with Park Hyung-shik (High Society) as his royal-in-disguise rival. The Hwarang unit is rounded out by fellow flower warriors Min-ho (Because It's the First Time), Do Ji-han (Basketball), and Jo Yoon-woo (Mask).
This drama drew a lot of initial interest as another one of the big-budget, 100 percent preproduced series that was courting a simultaneous broadcast with China, and after Descended From the Sun broke out to be such a massive hit, everybody got excited for all the other preproduced shows in the pipeline. But then recent political tensions between China and South Korea resulted in the restricting of use of Korean actors and content in China, and fears arose that this would impede, or even ban entirely, the airing of K-dramas there. But KBS's plans to air Hwarang in China will reportedly continue as initially planned; notably, the drama sold to China for an even higher price than Descended From the Sun.
Hwarang will kick off in December, and will be a Monday-Tuesday drama on KBS, which puts our lineup at youthful romance sageuk Moonlight Drawn By Clouds, then the quirky rom-com The Man Living in Our House, and then Hwarang: The Beginning.
Via TV Daily
RELATED POSTS
Tags: Hwarang