Jealousy Incarnate: Episode 10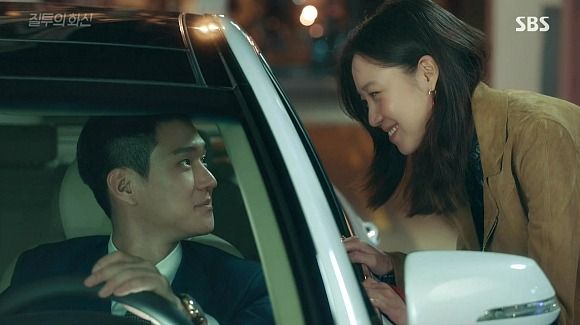 Now that is what you call upping the game, and the name of the game is, of course, jealousy, and my oh my, what a lot of it there is to be had! But this hour really belongs to Na-ri, as she's drawn gently out of her shell by her Mr. Dreamboat who, yup, does more dreamboaty stuff (aka "being a good guy"). Damn.

EPISODE 10 RECAP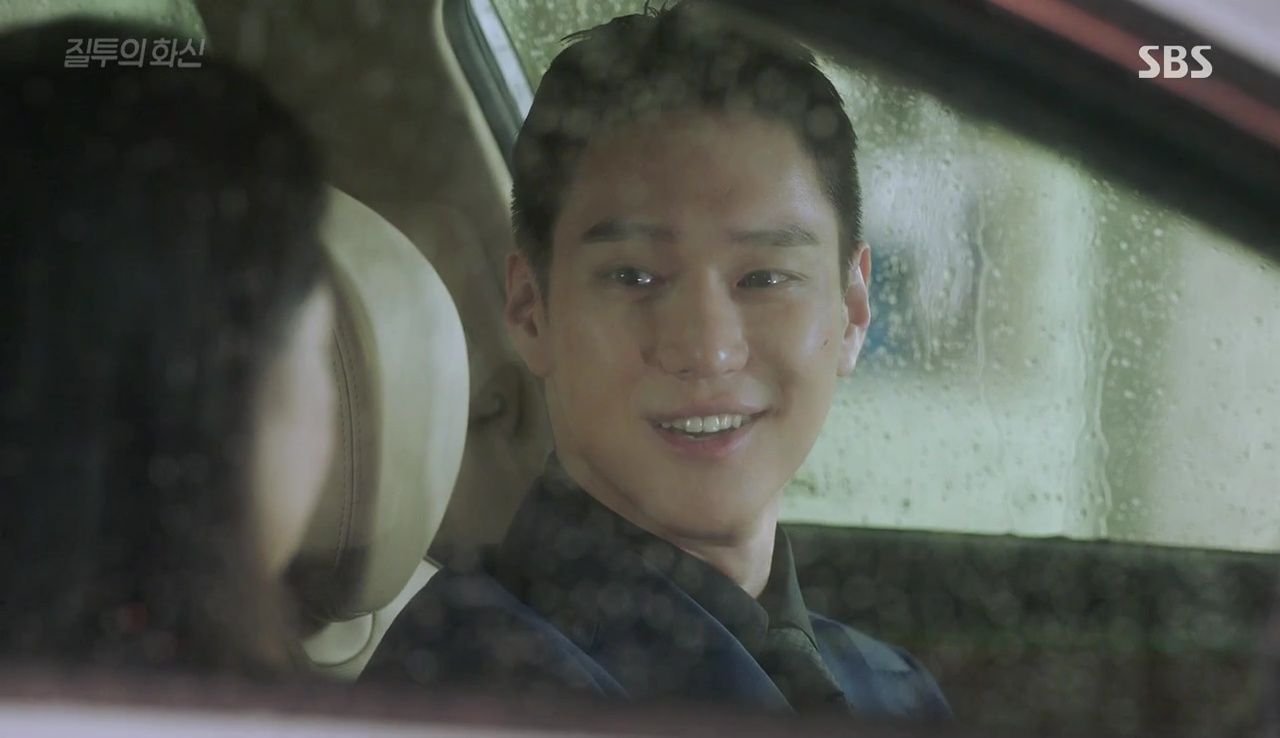 Jung-won and Na-ri get into his car to escape the rain. He coaxes her into admitting that she had a hard time today because of the articles about his apparently impending marriage, and thanks her for coming back. She confesses that she wouldn't have had the courage to if Hwa-shin had not brought her, and they resolve to be good to him. But they suddenly realize he's not there, and get out to look for him.
Hwa-shin stumbles through the rain and gets drenched by the spray of a passing car. At the stoplights overhead, electronic rain falls over the red man, too.
Madam Kim drops in on Chef at Rak Pasta to give him something she picked up for him in Paris. It's…French Viagra? Dude, why does your sister know this about you? She rails at him for wasting himself in this backwater, and finds his impotence embarrassing.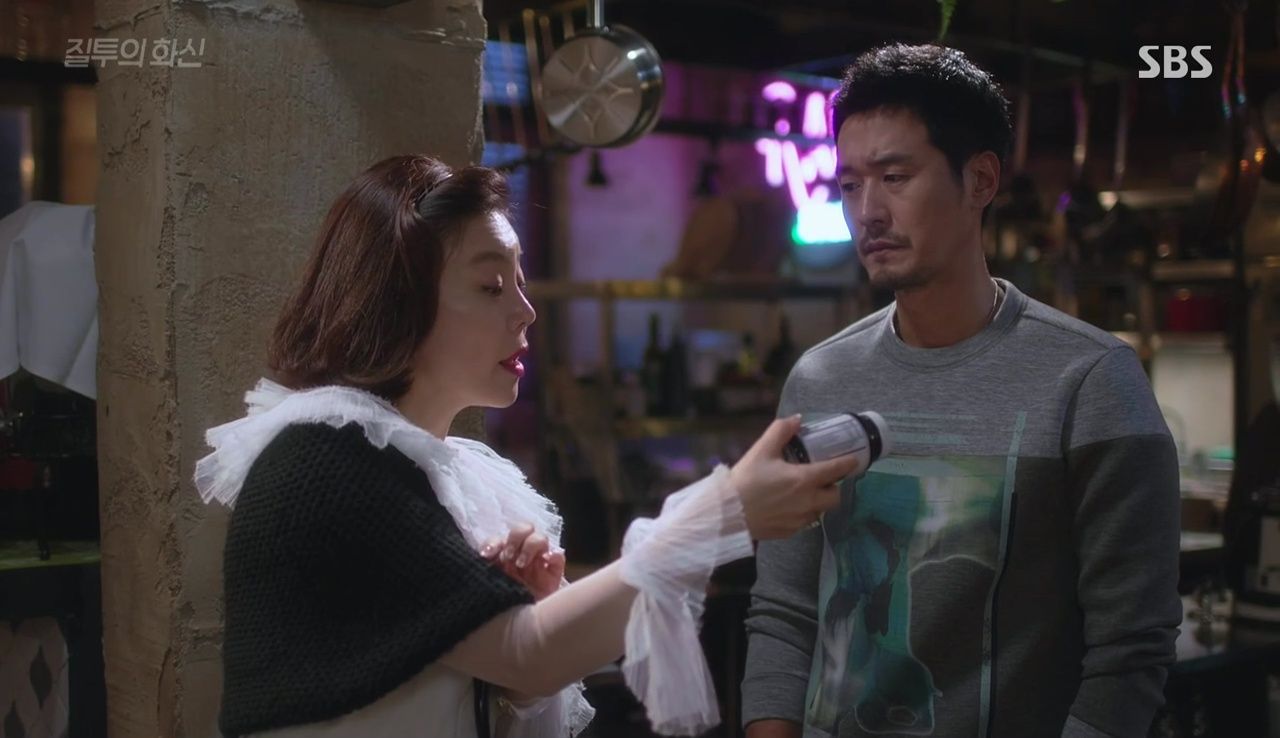 Frustrated, he snaps that his doctor said it must be a punishment for him treating women too carelessly before. That's a medical opinion, y'all. Not giving up, she explains the pills have a mild side-effect of making you wink, but what of it, she says brightly—it means it's working! How many ways can this go wrong, haha.
He tells her his condition is psychological, and growls at her to get out. She leaves the bottle on his counter.
In her room, Pal-gang has the TV switched on to Sung-sook's report, and the radio tuned to Ja-young. She tries to cut her nails but can't, and breaks into wailing for her dad.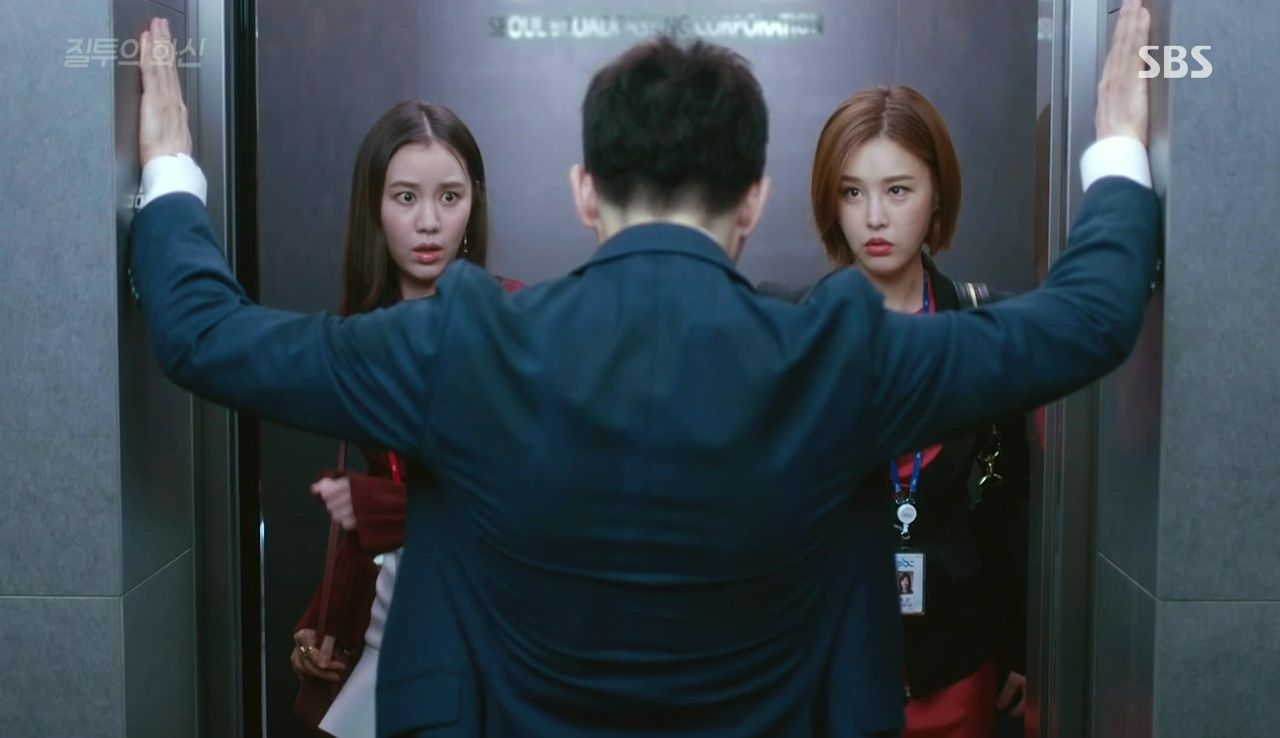 Hwa-shin lurches into the SBC building, wearing a focused look that can only come from drink. Why are you drinking, you stupid fool? He asks a passing weathercaster, "Do you want to date me?" and she hurries off in disgust.
When he reaches the elevators, Joo-hee and the morning announcer, Jin, are about to debark. "Let's date," he proposes, blocking the doors. They push past him in distaste. He makes the same invitation to the next woman he meets: "I'm charming, it's hard to turn me down, right?" But he looks up to see Sung-sook. Haha. "Yeah, let's date," she says sarcastically, "I'm your sister-in-law!"
Hwa-shin ends up in an empty newsroom where Hye-won practises her newsreading. Hands braced on the desk, he dips forward…and slurps up Hye-won's coffee. "Do you want to date me? In return for the coffee," he says, straightening up. She criticizes his behavior when he should be preparing for the auditions.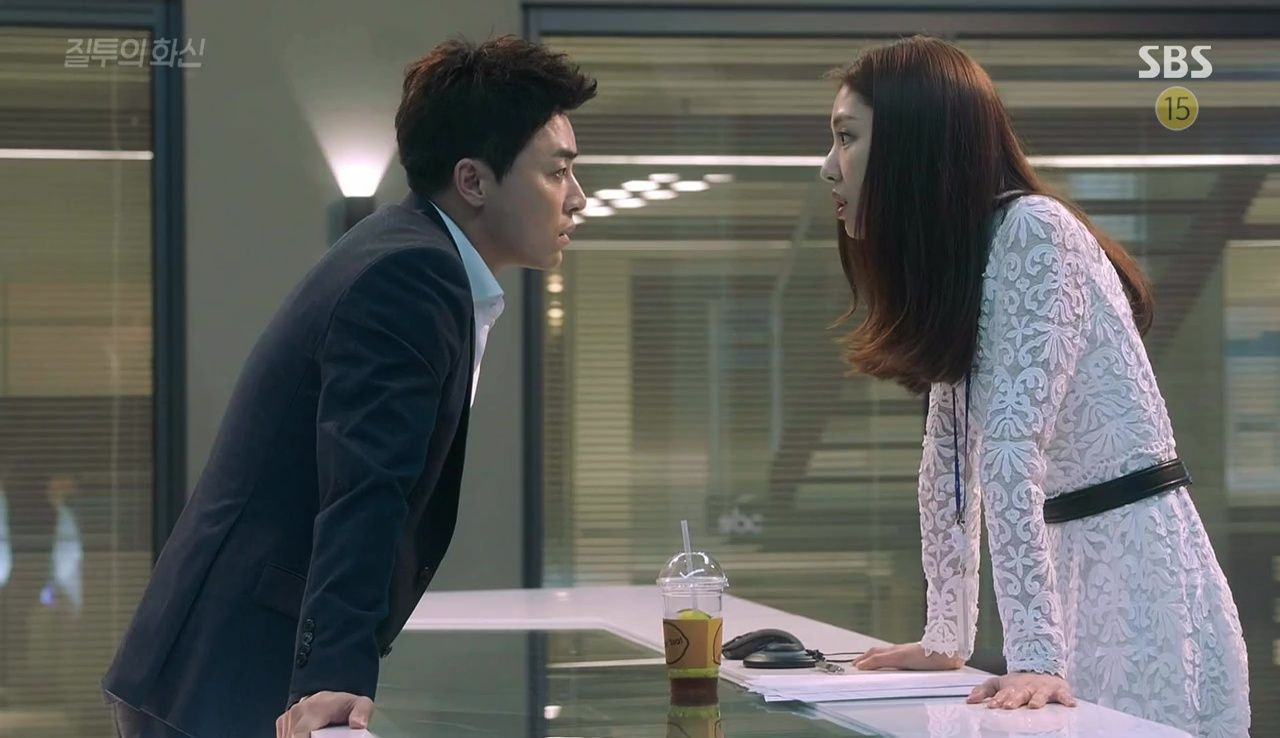 "So you don't want to date me?" Hwa-shin says. She asks if he even knows who she is, "I don't know," he replies, head lolling. Ire rising, Hye-won curses him out fiercely in banmal, and tells him to go sleep off the drink instead of sullying the newsroom with his nonsense. Through his drunken haze, he praises her impressive cursing…and dips for her coffee again. Thoroughly unimpressed, she leaves him there.
Jung-won calls Soo-jung out of her house, and tells her that he can't marry her. "Let's marry people we like," he says. She asks if he has someone he likes and is momentarily shocked to find out it's Na-ri.
He clarifies that he first met Na-ri after their arranged date, and Soo-jung nods in understanding. He tells her that he'll take the blame tell the elders, but Soo-jung good-naturedly tells him not to worry about it, she'll take care of it.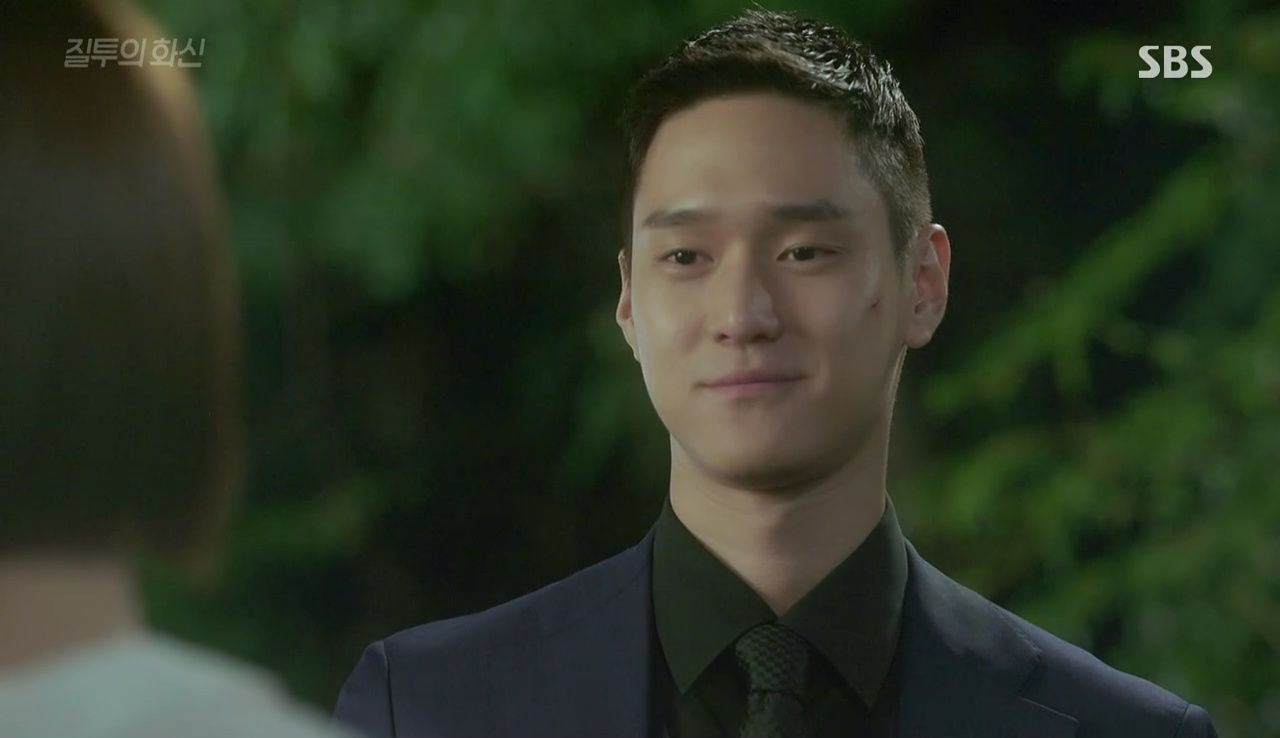 In her dorm, Na-ri sighs over her way-down-the-list candidate number for the auditions, and wonders where she can film her introduction reel. Just as she's grumbling about Hwa-shin and his aborted hospital visit, the door opens to let in the man himself.
Na-ri can tell he's been drinking, and rips into him for vanishing, but pulling up a chair, he just laughs. "Are you upset because of me?" he asks, mumbling that that's the only time she looks for him. He answers her questions with his own: "Do you want to date me?"
Na-ri blinks, and then laughs that everyone already thinks they're dating. But Hwa-shin leans in and asks again. She points out that she's dating his friend Jung-won, and says she means to give it her best shot.
He stares at her with that unnerving focus and says, "I'll do everything you want, so let's date." She's about to brush him off when she gets an impish look in her eye and asks, "Really? Everything?" But he flatly refuses her first wish: to sing Wrongful Meeting again.
He sings a different song instead, and she claps along, getting into it. She asks him to dance too, and falls about laughing when he immediately does. He gives her a ballad next, but she supposes he can't rap. Except he totally does it, haha, ending with the line, "Let's date."
That stops her mirth, and so she tells him to make her laugh. He turns on her with cross-eyes, and she crows, showing him her own. They laugh with glee, and Na-ri issues rapid-fire commands: Stand up! Dance! Sing! Like an amped-up personal jukebox, he belts out songs and complies with every order…until she asks him to fart, like that time in the hospital.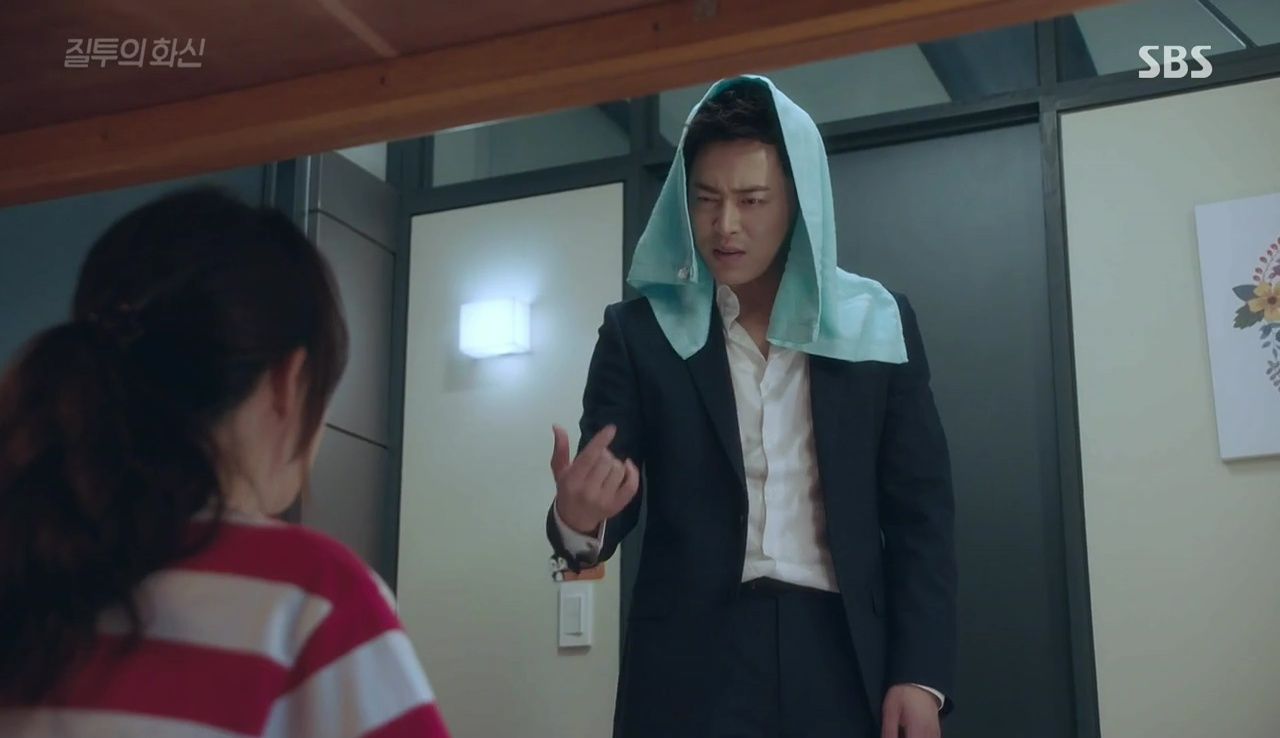 Something like embarrassment comes over him then, and he drops back into the chair. She coaxes and cajoles, and tells him she sometimes thinks of the sound of that fart. But whyyyy would you do that??
Voice dropping, Hwa-shin asks her if she doesn't think it's a shame to let her three years of unrequited love go to waste like that. With a quiet smile, she replies that she doesn't, and Hwa-shin asks, half to himself, how a crush can change.
Head dropping to his chest, he says pitifully, "I want to eat cup ramyun." But it ain't his day, neither for women nor for ramyun, as Na-ri can't find any in her stores. She doesn't see the lone cup that's fallen into a dark corner.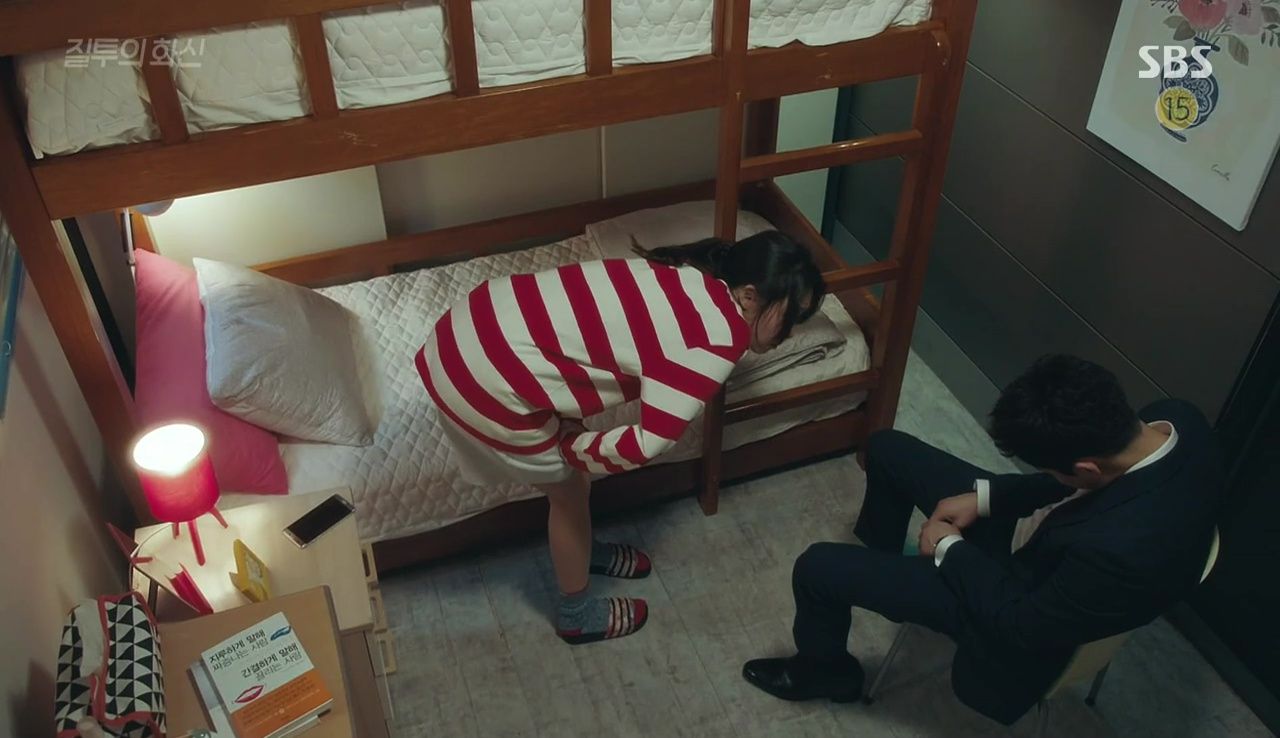 Elsewhere, Dae-goo and Chi-yeol come down to the darkened restaurant to make themselves some night-time ramyun. Chi-yeol spots the Magical Man Pills and Dae-goo disses Chef for hoarding goodly vitamins for himself. He pops one in his mouth and tosses another to Chi-yeol. This surely cannot end well.
The next morning, Sung-sook and Ja-young wait to see Pal-gang off to school. Sung-sook tells her to take an umbrella, since Na-ri's forecast predicted rain. Pal-gang points out that the other moms come to pick up their kids when it rains, and Ja-young immediately says she'll come.
Sung-sook is concerned about Pal-gang's report card and the moms gape when they find out she's bottom of the whole school. They follow her outside, scolding her (and each other), and Pal-gang finally looks up from her nails. She asks them who they are to play at being mom when they've never once cooked her a meal or gone to her school.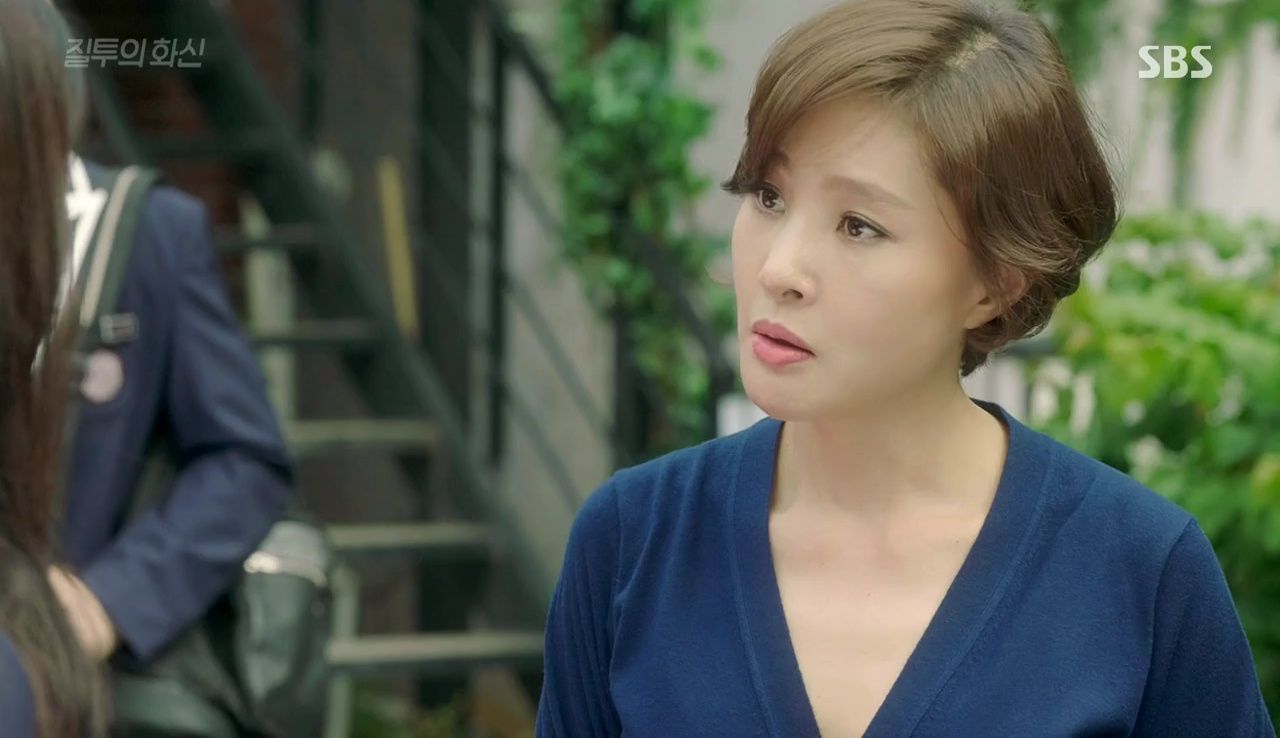 Appalled by her rudeness, Sung-sook asks if that's how her father raised her. Ja-young says that she won't let Pal-gang run wild, and demands she trim her nails. Pushed over the edge, Pal-gang yells at the two women, accusing them of trying to act like her mom when they're not. Ja-young slaps her across the face.
Near tears, Pal-gang tells them how Dad looked after her: how he came to school with an umbrella if it rained, a jacket if it was cold, sweet potatoes when it snowed. She says that he always cut her nails, and since he died, she can't bring herself to do it. He was always sorry that that was all he could do for her, since they had no money. "What were you ahjummas doing then?" she asks, crying.
Hwa-shin wakes up in Na-ri's bunk, and everything that happened the night before flashes through his mind. He groans. When Na-ri returns with a cup of tea, he flees.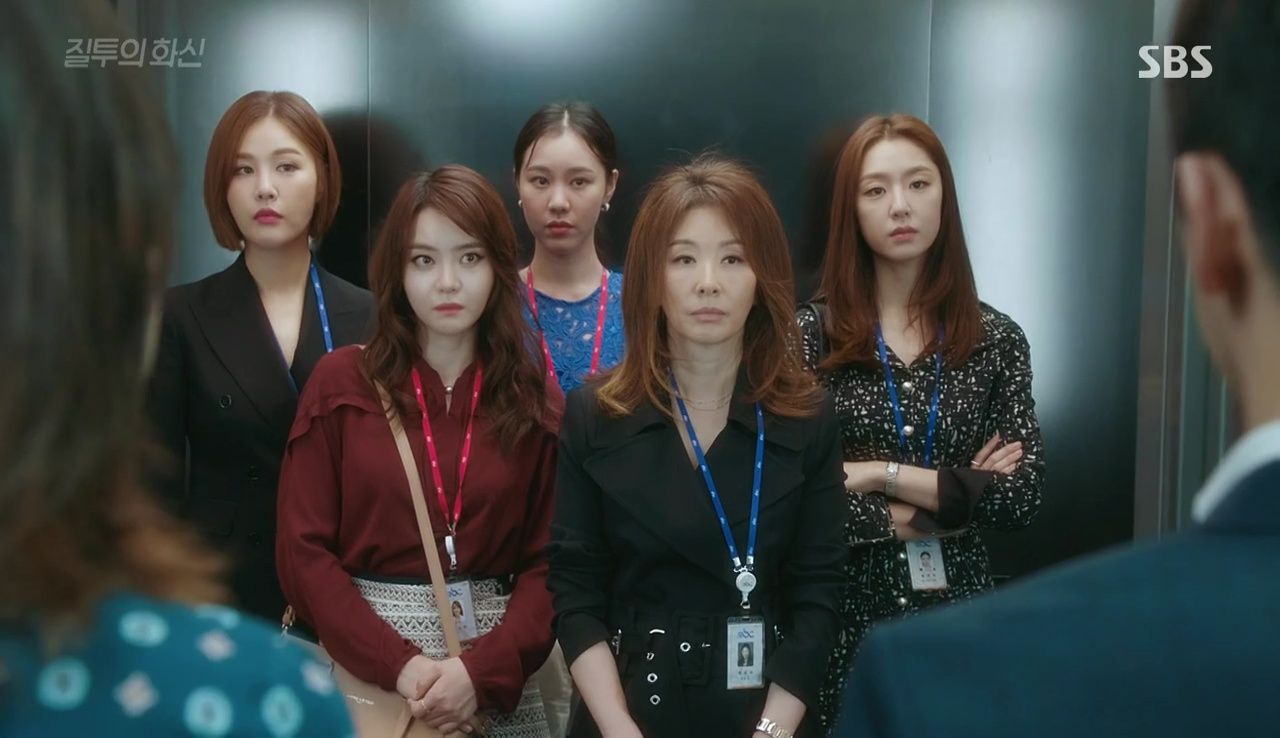 Hwa-shin snaps at Na-ri not to follow him. Amused, she tells him she's going her own way. But he freezes in horror when the elevator doors open to aaallll the women he propositioned last night HAHA. Sung-sook barks at him to get in.
When the doors close, Joo-hee mischievously asks which one of them he's going to date. Sung-sook declares that she's the one, and they all snigger. Sung-sook teases him to pick one of them, and even gives him a wink, and Na-ri quietly says he should stop drinking now.
Eyes fixed on Na-ri, Hwa-shin says he's going to date Hye-won, who's been silent so far. You're not actually meant to answer that, you goat! Sung-sook congratulates Hye-won on being chosen, and gives Hwa-shin a wink on her way out.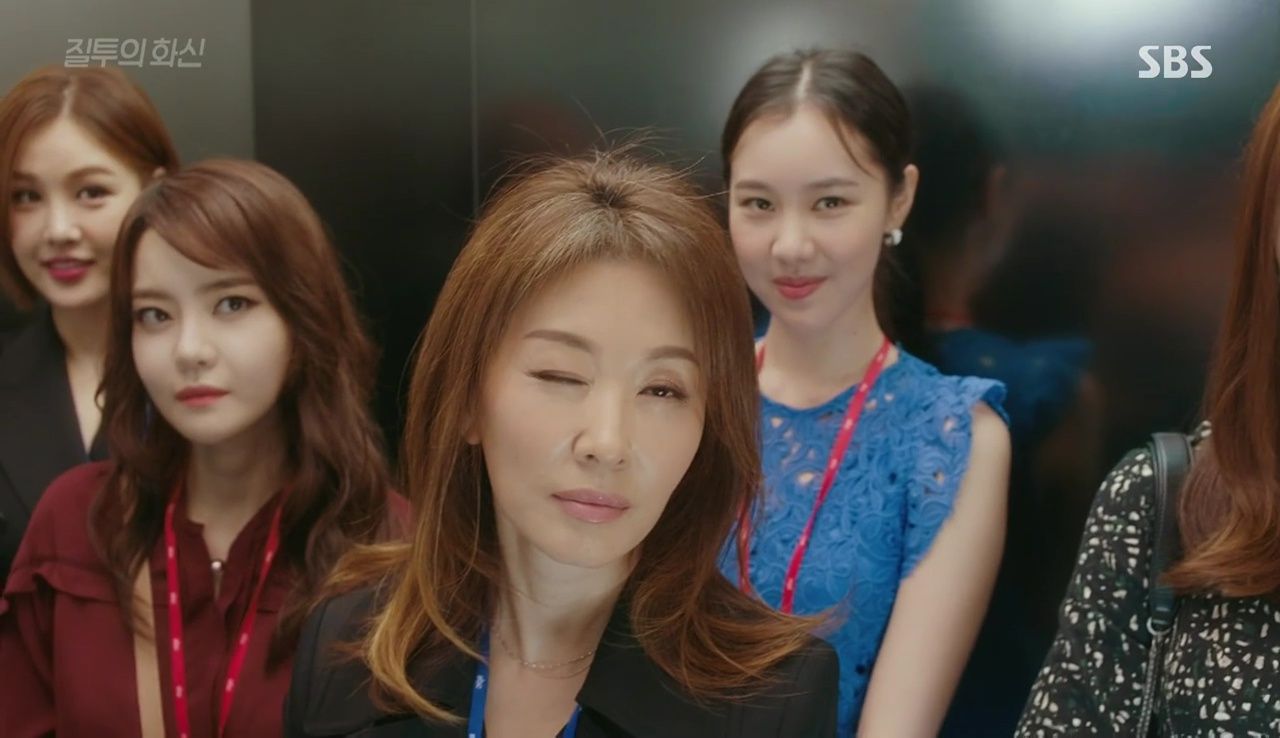 At school, Pal-gang looks in the mirror and touches her face. "Mom's hand sure burns," she says, and smiles.
Hwa-shin gets a call from the realtor, who's found him a place near Pal-gang's. Dong-gi comes over to tease him about dating Na-ri, and Hwa-shin retorts that he isn't dating anyone. He heads out to his car, still plagued by his performance the night before.
Na-ri throws herself in his car's path, because she has an urgent request. She makes him pinky-promise not to reveal her past crush on him to Jung-won, and also reminds him of their hospital appointment. Quietly crestfallen (having entertained a different hope for a moment), he tells her to get out of his way, and drives off.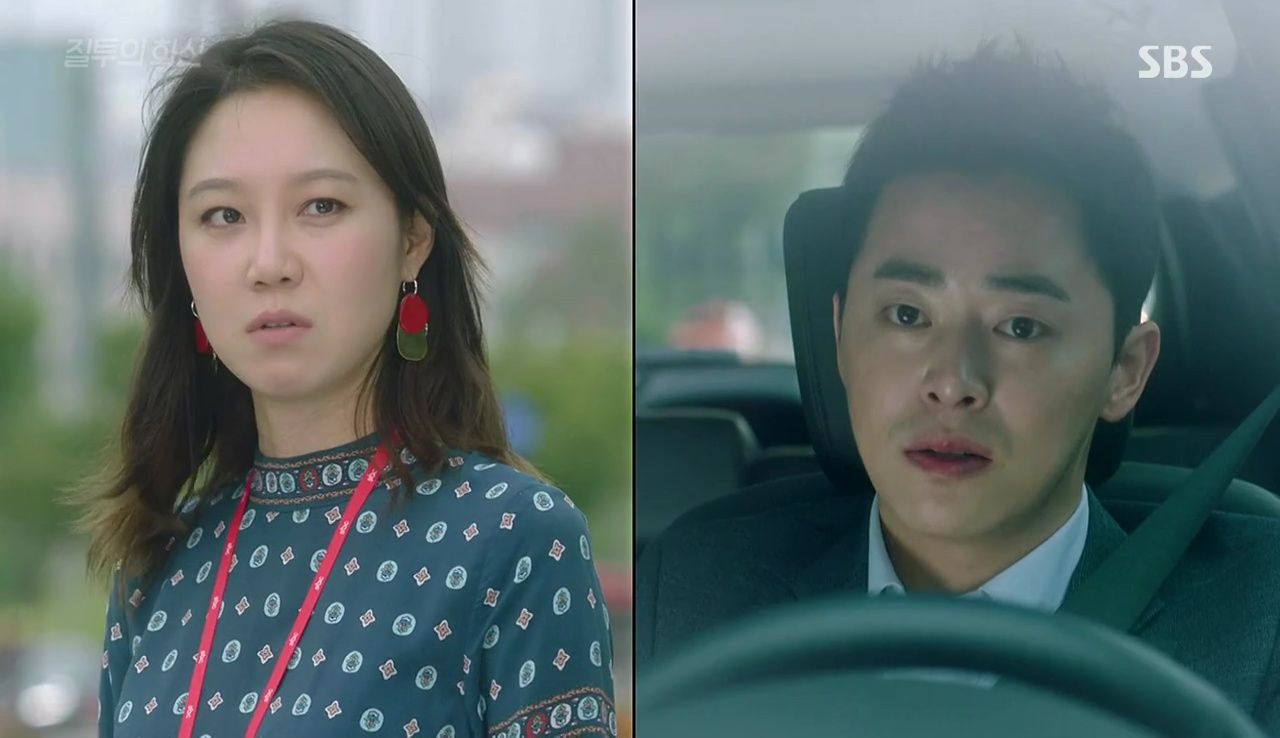 Watching him go, Na-ri scoffs to herself that of course a crush changes—it's not like she's a statue in a museum. "He doesn't even like me. And he always looks down on me," she says, eyes narrowing. Meanwhile in his car, Hwa-shin curses himself for an idiot, for falling for her now.
Jung-won's mom needles him about Na-ri, and says his girlfriend must be a liar because she said it's going to rain, but it doesn't look like rain, does it? Schooling himself to patience, Jung-won says that whether it rains or not is the clouds' fault, not the weathercaster's.
Mom tells him that his father called her—for the first time in three years—to say that if she can get Jung-won married to Soo-jung, he won't divorce her. Why does that sound like a lie? Wheedling, she says, "Jung-won-ah. Save me. Don't make me a divorcee."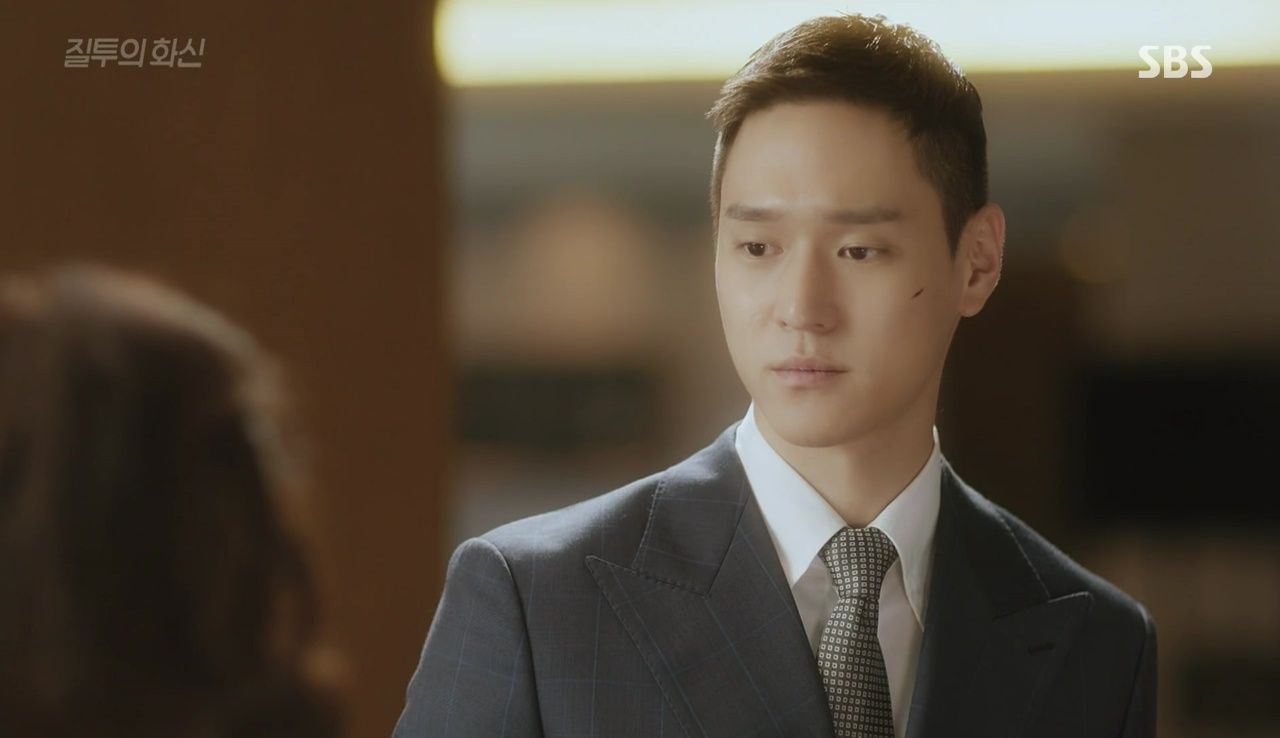 "I want you to be happy," Jung-won replies, "You want me to be happy, too, right? That's fine, then," he finishes, turning away. She follows him outside, and says that Na-ri only wants him for his money, unlike Soo-jung, who is far wealthier. Mom says she just had brunch with her, and she said she likes him and means to introduce him to her parents.
Jung-won tells his mom that Soo-jung lied to her, and drives off alone. He mulls on Soo-jung's stealthy betrayal. "I hate people who backstab the most," he glowers to himself.
At his bank, Hwa-shin tries to pay the deposit on the new place and finds out he's been the victim of voice phishing (from back in an earlier episode), and has lost 10 million won. Ouch. He tries to sell off some of his stocks to raise funds instead, but that doesn't work out either.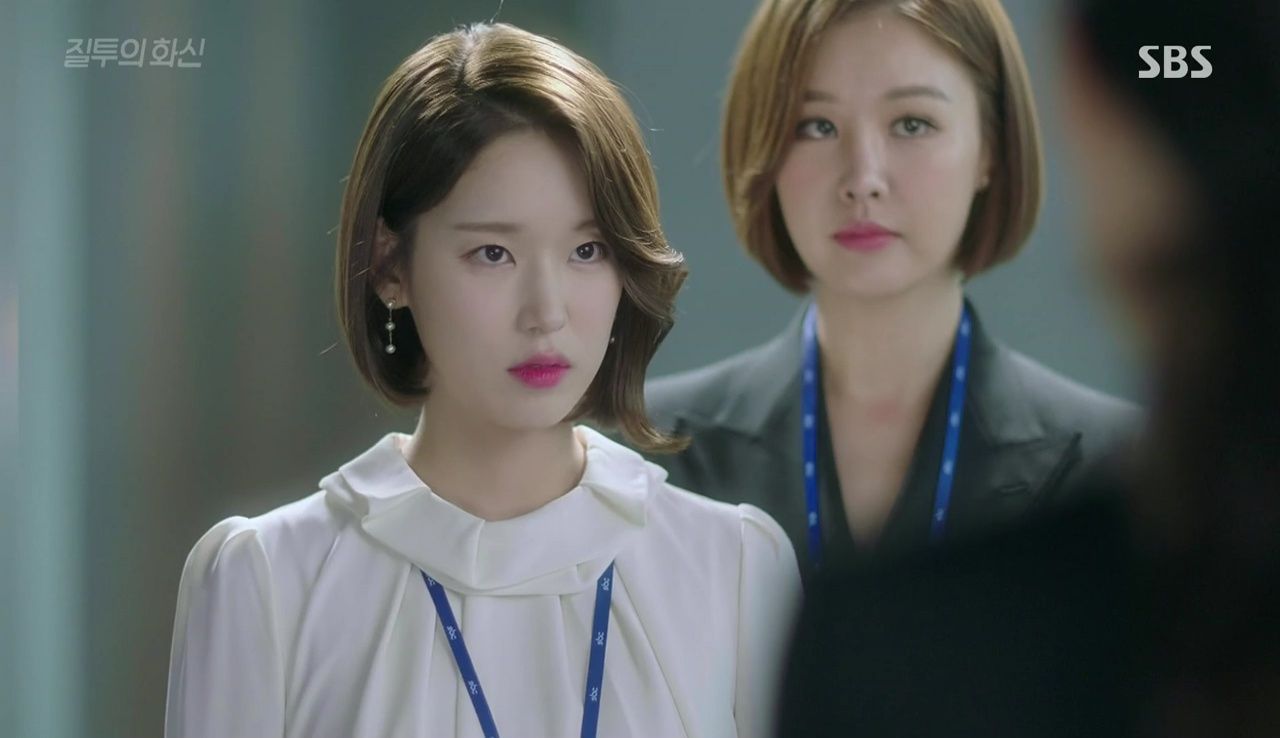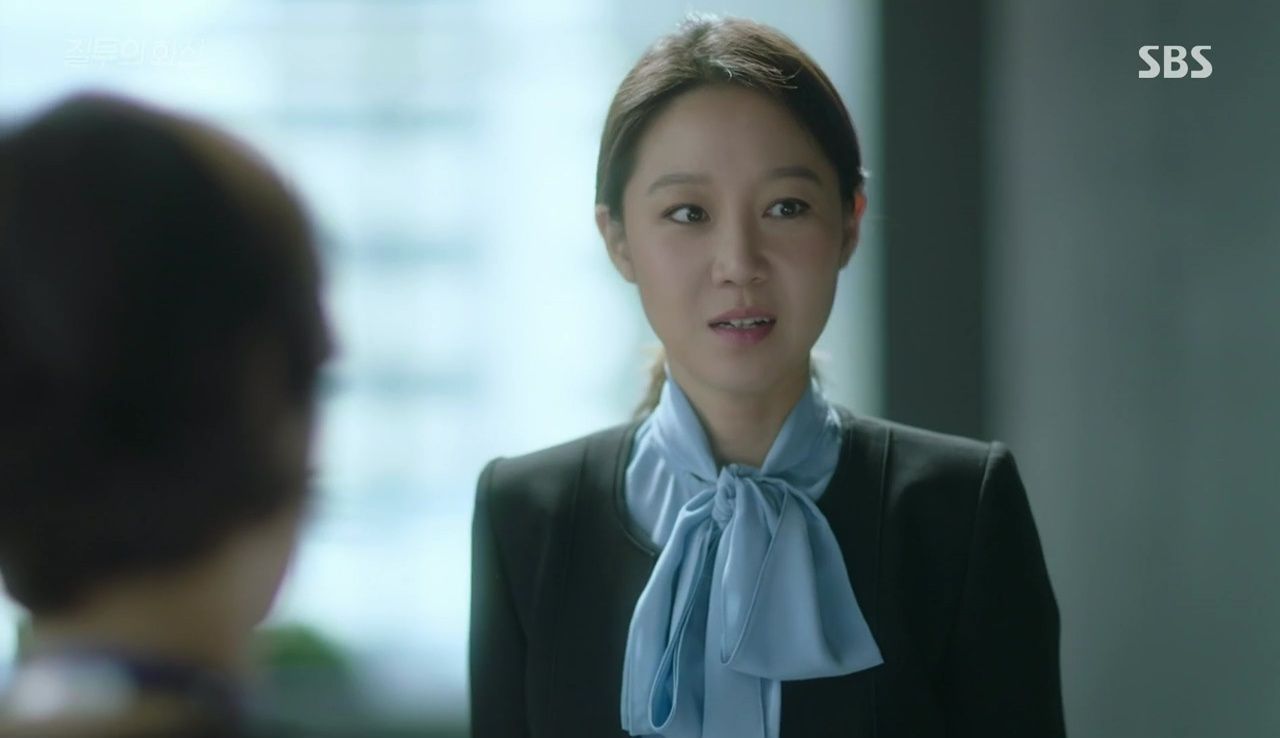 Na-ri tries to record the intro reel for her audition. She quickly hides away her camera when Ja-young appears, with juniors Soo-jung and Jin in tow. Soo-jung glares at Na-ri, who deflects attention from herself by offering to run any errands for Ja-young.
Instead, Ja-young sends the other two away. With sidelong glances, she asks Na-ri to let her have the puppy keychain Pal-gang gave her. Na-ri agrees easily. Before Ja-young goes off, Na-ri asks, "You're a fair person, right?" She bows to the older woman, and tells her that she wants to be acknowledged by her at least once.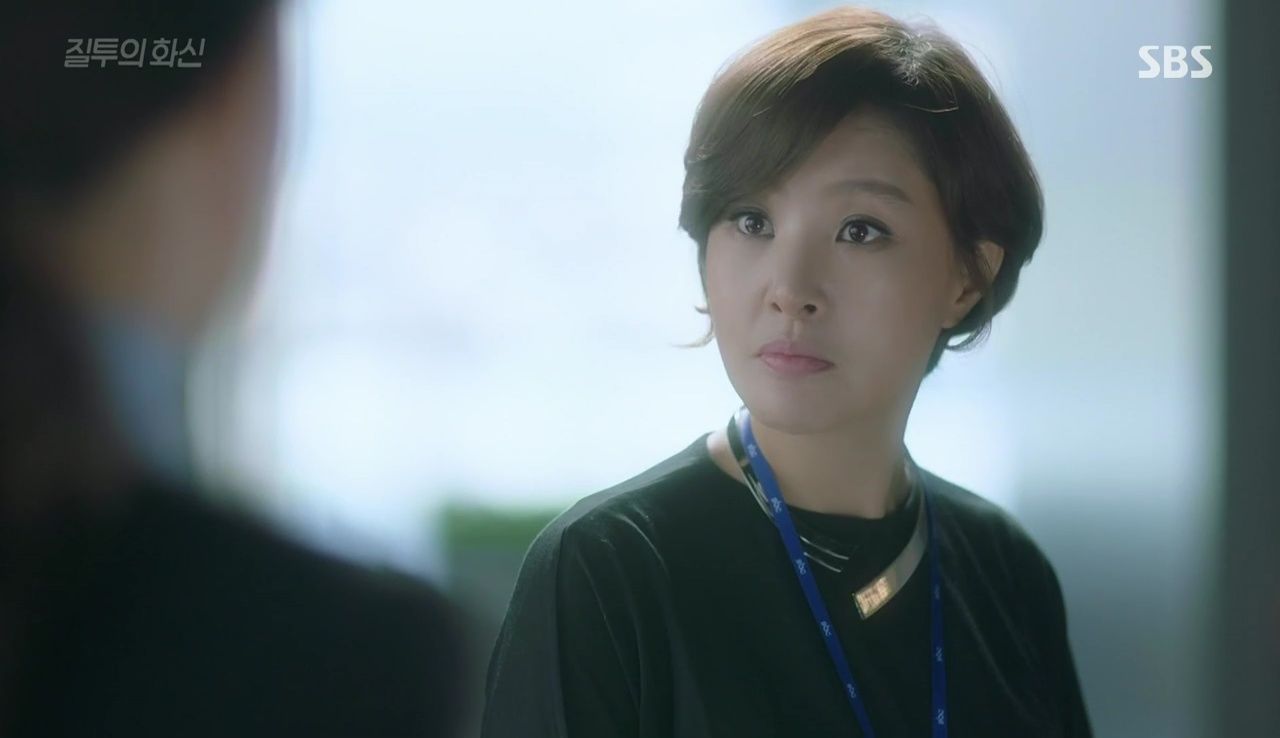 Hwa-shin pulls up to a jjimjilbang, which isn't quite as it seems. He shows a special text message at reception, and is let into an underground gambling den. With a camera hidden in his towel, he takes extensive footage of the place, which we see later airs on the evening news.
His furtive filming is quickly discovered, and Hwa-shin takes a beating. In the newsroom, he's covered in cuts and bruises as he takes questions on his investigation. Jung-won slips into the studio, Na-ri joins him with a smile. From the newsdesk, Hwa-shin watches them whisper to each other.
After the broadcast finishes, Hwa-shin goes up to his friend to say hello. Jung-won slings his arms around Hwa-shin and Na-ri, excited about the three of them going on dates together. He steers them out, but Hwa-shin insists he's already got plans.
Jung-won grabs him in a friendly headlock, but Hwa-shin yells angrily at Jung-won to leave him alone and stop dragging him into his dating life. But Jung-won finds his desperate rejection all the more reason to stay close to his friend.
Na-ri edges away, saying that the two men should go by themselves…she'll just have some cup ramyun. The mention of cup ramyun is the last straw for Hwa-shin, and he flails, "You said you didn't have any!"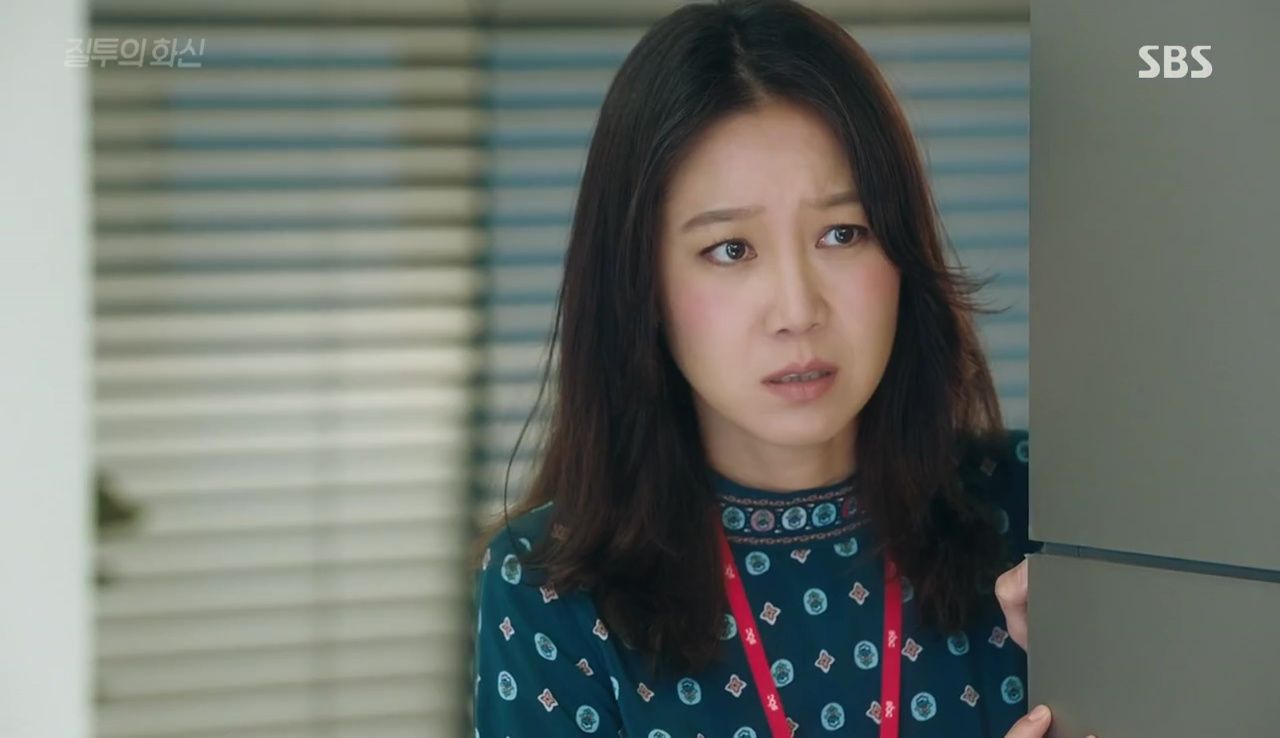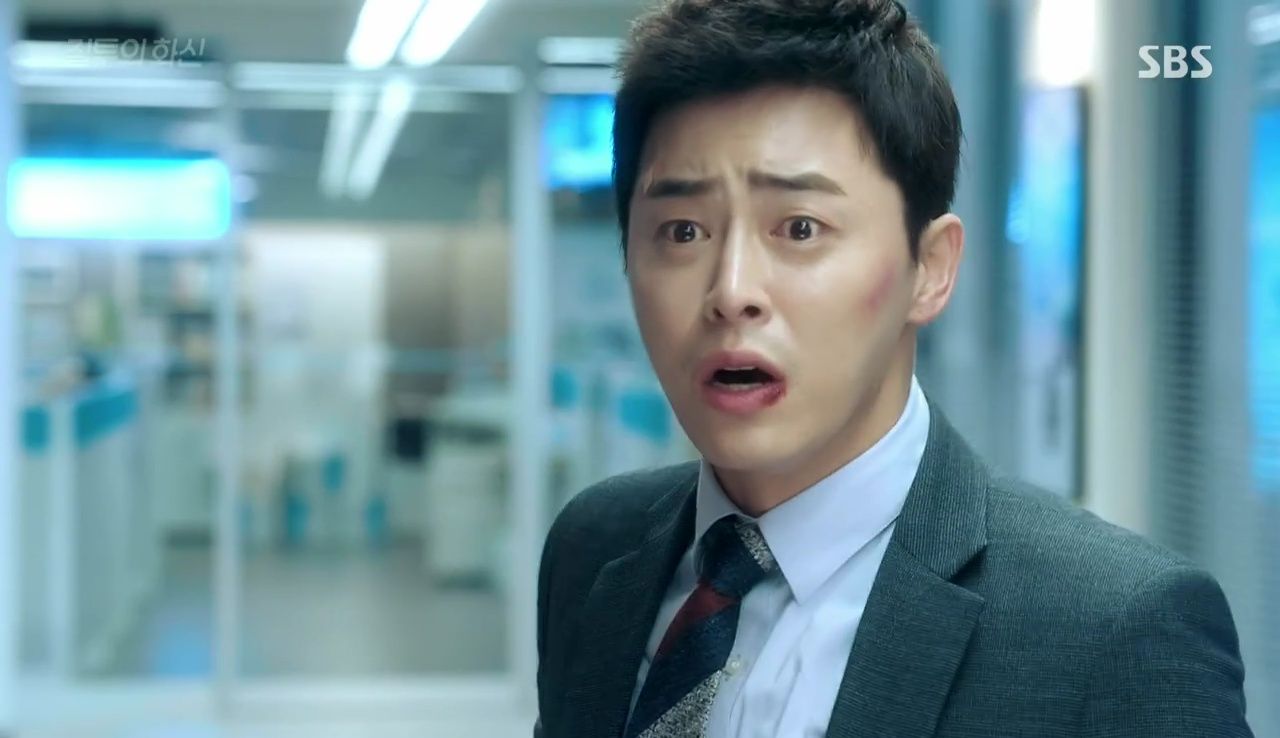 Hye-won emerges from the studio and coolly reminds Hwa-shin about their dinner-date. He snaps at her, and a beat later, barks agreement. He puts his arm around her and stomps off.
Na-ri whispers to Jung-won that those two are dating, which surprises him since Hye-won is not Hwa-shin's type. He confides to Na-ri that Hwa-shin's type is similar to his. Na-ri disagrees: "He doesn't like women like me." Jung-won pinches her cheeks and tells her that Hwa-shin definitely likes her, otherwise he wouldn't have set them up.
Across the lot, Hwa-shin watches them from his car, and Hye-won observes that he and Soo-jung have been made laughingstocks.
"Jagi-ya, what shall we eat?" Jung-won asks Na-ri, and she smiles at the endearment. As their car passes his, Hwa-shin wonders aloud what they're going to eat.
Chef helps Sung-sook out with heavy shopping she brings home that night, and to Sung-sook's shock, he gives her a big ol' wink. Ha, so he's taking the pills! He slaps his face in dismay and apologizes, but the winks keep happening.
Inside, Sung-sook squees a little, thinking Chef is interested in her, but the sight of a newly-placed giant portrait of Grandma makes her scream. Fleeing to the fridge, she gobbles up the dumplings she finds there, seeing too late Grandma's note that says they're for Pal-gang, and if either mom eats a single one, she will cut them.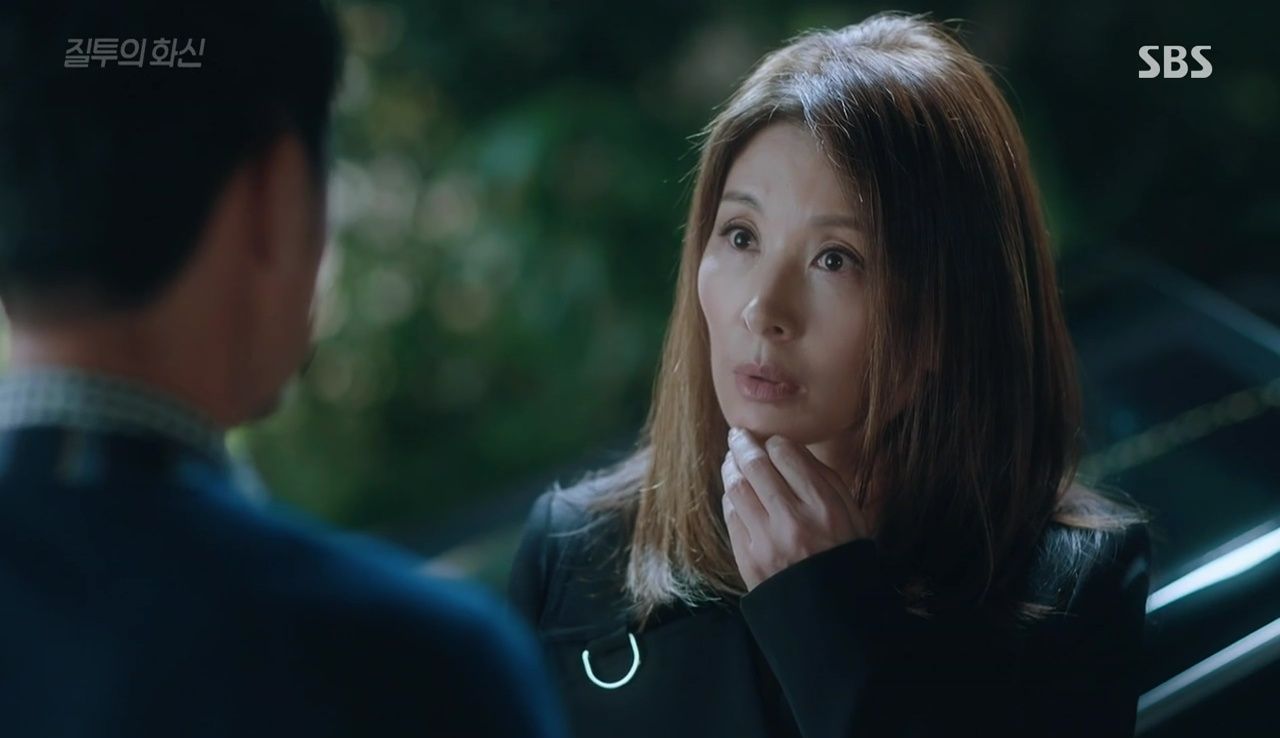 Ja-young goes to pick Pal-gang up from school, but Chi-yeol and Dae-goo come out first. She fusses over them, and blinks in shock when Chi-yeol winks at her. He gasps. Apologizing, he styles out that it's because he wishes she were his mom. She offers to be his mom, too, if he doesn't have high expectations, and gives him a wink back.
Hwa-shin brings Hye-won to a rooftop apartment. The building is directly adjacent to Pal-gang's (and therefore Na-ri's), far closer to than he expected—too close, he says, looking troubled.
Jung-won drops Na-ri home, and her polite farewell makes him ask her why she keeps treating him so formally. She eventually confesses she hasn't really dated much and doesn't know what to do, but wanted to make a good impression. Jung-won gently argues that he's the one who has to make a good impression, and tells her to do as he says: "Everything. All of it."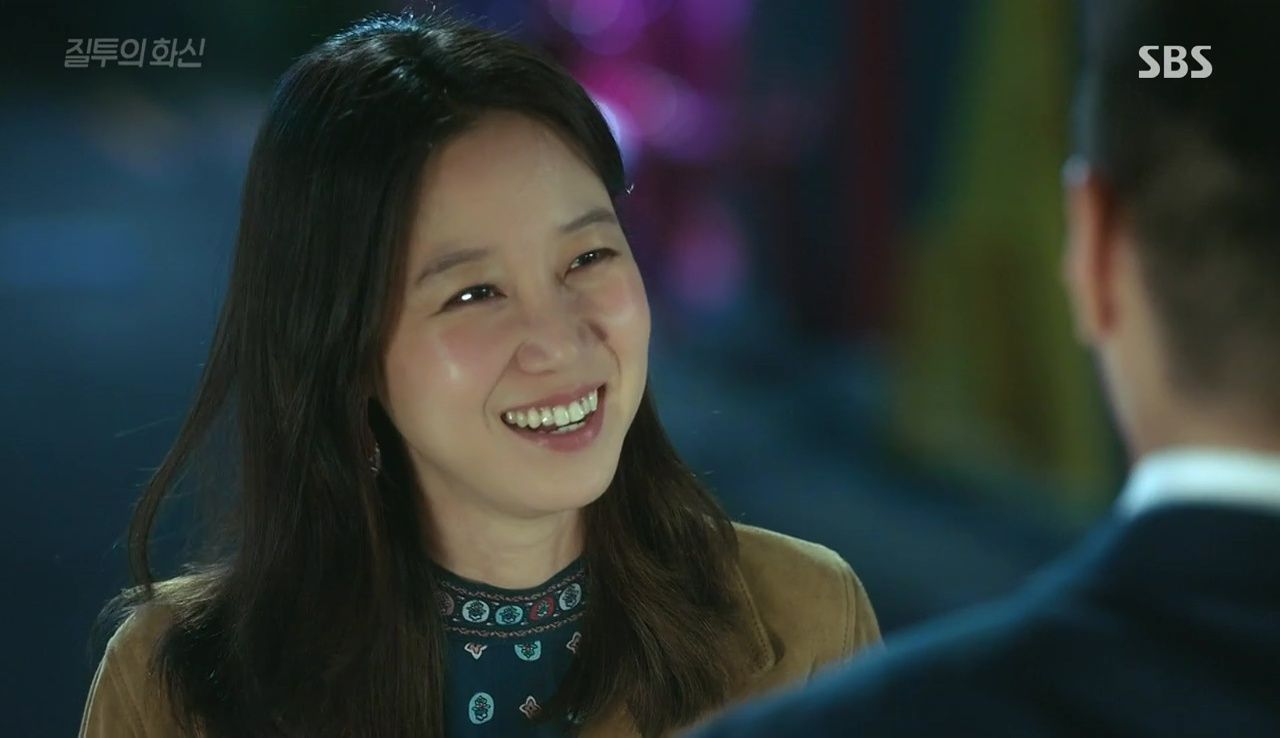 He repeats back all the polite platitudes she's given him all night, and exclaims, "I'm a man who wants to love you, jagi-ya!" She confides frankly that she doesn't remember when she last received love, and Jung-won playfully retorts that she doesn't seem to be used to giving it either.
She asks him super-formally if he finds her frustrating, and he laughs, bringing her speech down level by level. But he groans when she reverts a sentence later, to ask if she's already been dumped. This conversation is ridiculously adorable. Eyes merry, he says goodbye, but to his surprise, Na-ri leans into his car and kisses him on the cheek.
As he's driving away, Jung-won pauses when he spots Hwa-shin's car a building over. On the rooftop, Hye-won asks Hwa-shin why he brought her there.
"Lend me some money," Hwa-shin says. "How much?" she replies. Ha, that seals it, I definitely like her. She asks if that's why he asked her to date, but he says even if she lent him it, he wouldn't date her.
Squeeing to herself as she comes up, Na-ri doesn't yet notice the pair on the other rooftop. Meanwhile, Jung-won has left his car, and looks up at Hwa-shin's new building.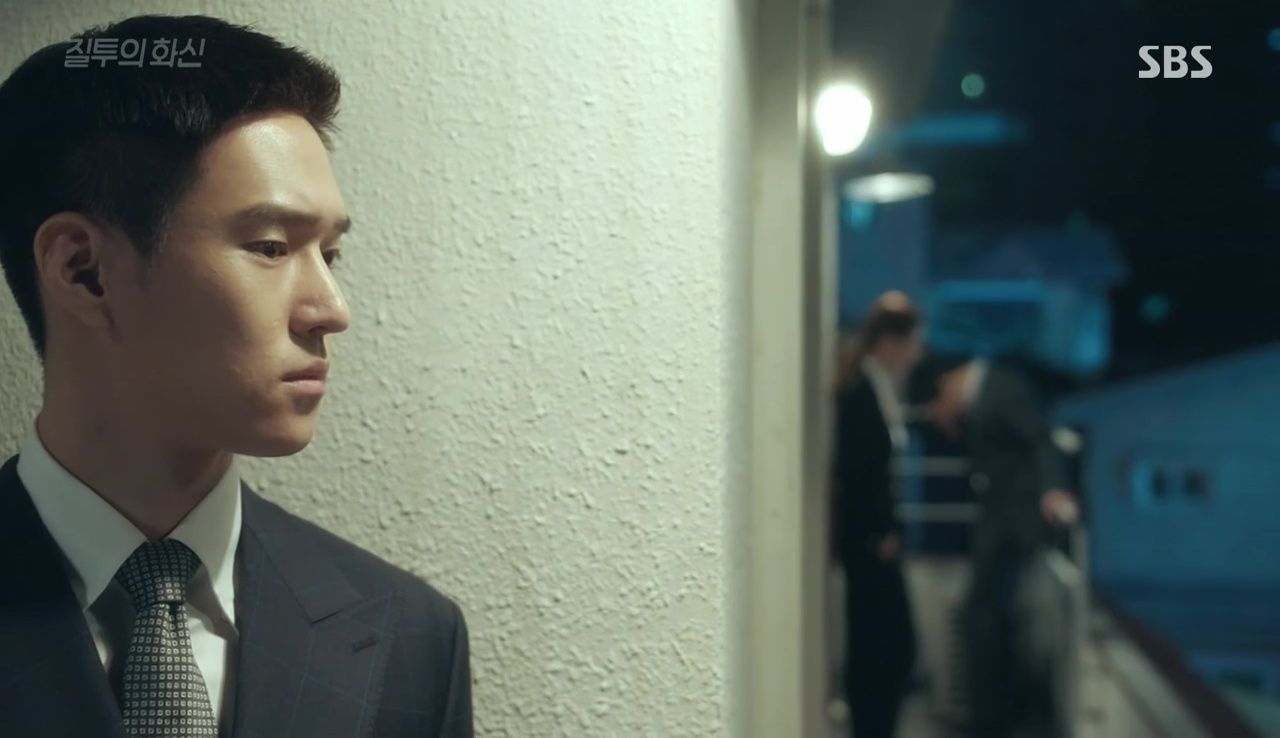 Hye-won tells Hwa-shin not to be a fool and tell Na-ri properly that he likes her. He refuses, but Hye-won argues that that he could easily steal her away from Jung-won.
For some mad reason, he actually entertains the thought. Of course, it'd make him a total bastard, Hye-won adds, and Hwa-shin finally realizes that she's trolling him.
Hye-won enjoys a good laugh, but around the corner, the camera reveals an unsmiling Jung-won, who's heard it all.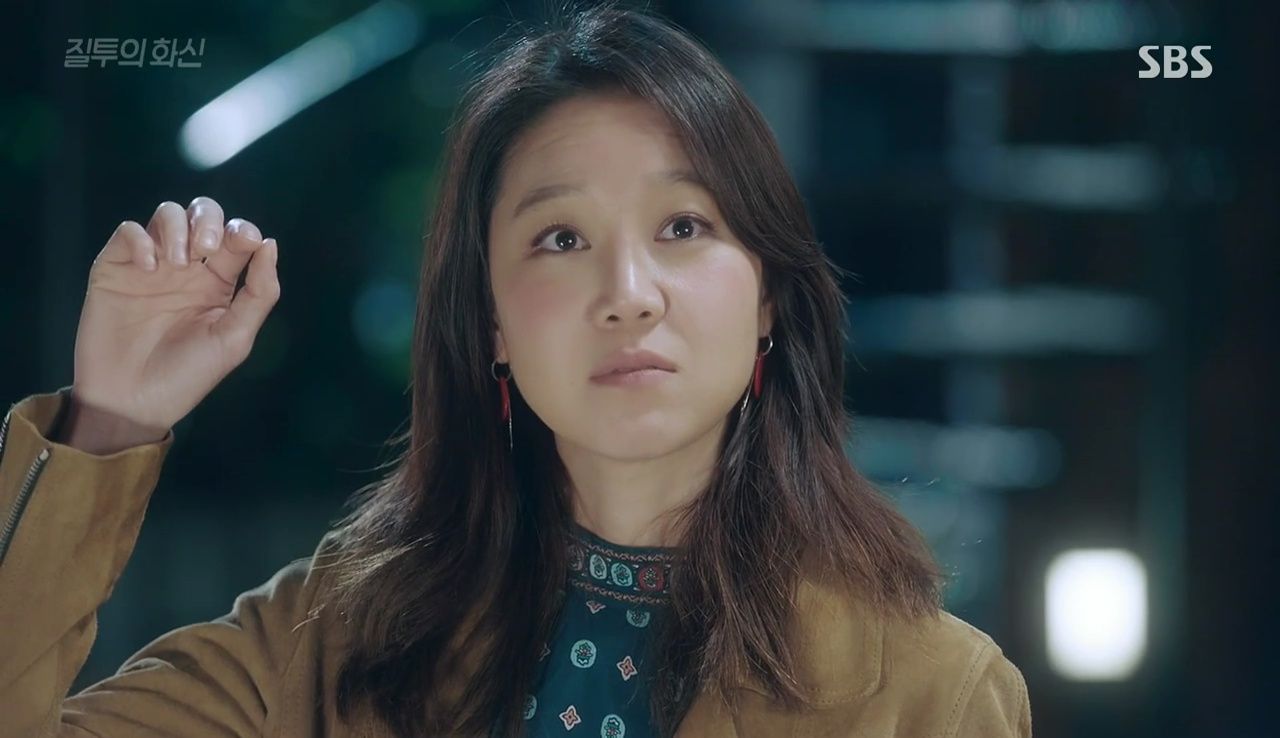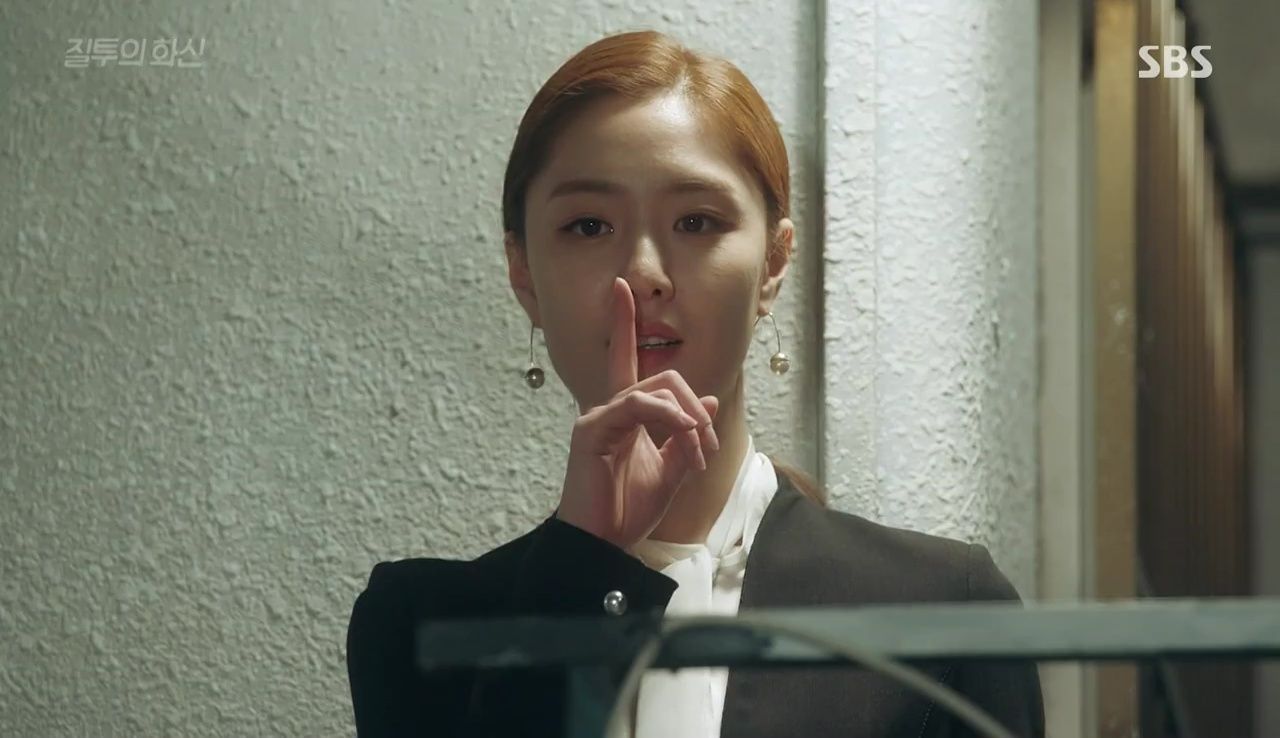 On her own rooftop, Na-ri turns around at the sound of Hye-won's laughter. Surprised, she waves, and is about to call out when Hye-won puts a finger to her lips.
Eyes on Na-ri, Hye-won tells Hwa-shin not to be a jerk, but to do the 9 o'clock news with her, date her…her voice trails off.
"Do you think I can't do it?" Hwa-shin asks. He finally raises his head, and with a look of dark determination, he says, "I'll have a go at being a bastard."
COMMENTS
Uwaaaaaaaaa. Gauntlet, thrown! But as much as I want Hwa-shin to stop being mopey and passive, I also don't want him to be a buttface. And as much as I think a fierce friendship needs a few good fights to strengthen it, I don't want him to destroy the one good relationship left in his life, which he clearly relies on despite his bluster. Is it bad that I kind of don't trust Hwa-shin not to do something that makes him irredeemable?
I think Hwa-shin's real confession to Na-ri came last episode (when he told her all the reasons why Jung-won was better than him) in the classic Hwa-shin way: ass-backwards. As diverting as his performance as a human jukebox was, it's no real proof that he's capable of being a good boyfriend. Despite his secret defences and stealthy caretaking, he still has so much more to prove: that he can openly respect Na-ri; that he's capable of intentional emotional honesty not only to himself, but to her, while sober. He also still has to deal with all his self-loathing, and by extension, all his self-destructive behavior.
I know the Jung-won ship is like a transit flight, but I'm on it until we sail into Port Hwa-shin, because I love what he does to Na-ri. Like how he's able to coax her into frankness, with confessions that could be embarrassing, but he never lets them be. It's such a great dynamic, because it cuts away at the cloud of insecurities that surround her, that make her feel like she's not good enough or worthy of being loved. I love that the show let her kiss him, too—most shows only let a heroine kiss her One True Love. But with that kiss last episode, it's saying that they'll let this relationship go all the way to its natural conclusion. So when she does go to Hwa-shin, it won't be the pull of an old crush. It will be something new, and a meeting of equals. As much as Hwa-shin needs to tame his ego and stop self-sabotaging, Na-ri needs to open her heart.
That's what's so great about Jung-won right now, because he pushes her—not to do things she doesn't want to, but not to be afraid of being herself. He's telling her, both implicitly and explicitly, not only that it's okay to be herself, but that he likes her most when she is. In a way, he's teaching her how to date and leading by example, which really is terribly sweet (obviously this guy can never be real). A big part of that is making her pull her own weight in the relationship and not letting her off the hook when she doesn't. As he pointed out to her, they can't have a proper relationship if he does all the work. And so Na-ri's being slowly brought to this point where her heart is ready to bloom.
Despite her three-year crush, I feel like Na-ri's heart has been furled tight all this time, with only room for her brother in it. Her generous spirit makes it easy to miss that she doesn't really have anyone by her side, the way Hwa-shin has Jung-won. Hwa-shin told her that Jung-won was lonelier than him—so is she. It's another element of what makes the Na-ri/Jung-won relationship so compelling, because they shine so brightly, defying all lonelyhearts stereotypes. Gahhhh. I love it. They're so right for each other right now, and I think it has really important meta implications, too, because it promises our characters change and serious development. The endgame of this show is not a mystery and never has been, but the fascinating part is figuring out how we'll get there in a way that is satisfying, believable, and true to the characters.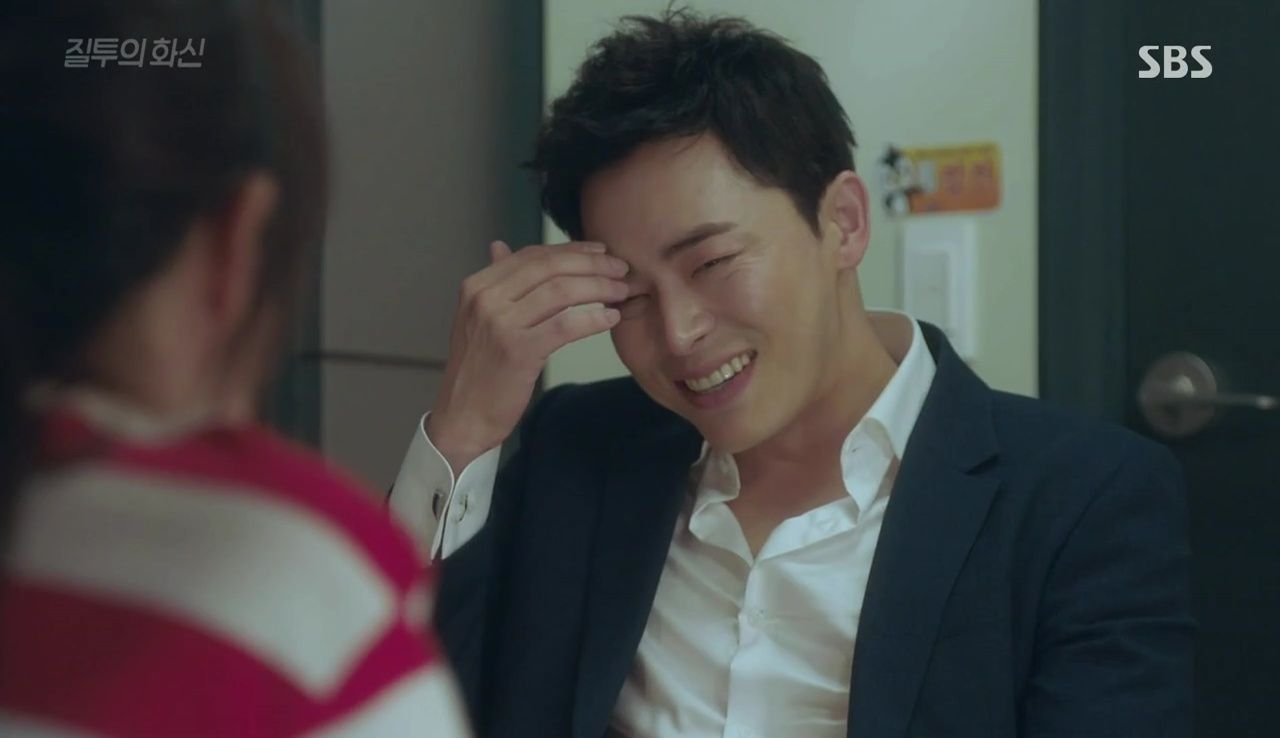 I'm really digging how the confidence Na-ri is gaining in her private life is also being mirrored in her professional life. She has an enviable sense of self-respect, but she's constantly put down at work despite being great at her job (which Hwa-shin, to his credit, has always recognized). That's what excites me a bit about Na-ri's connection with Ja-young, who now has something to gain from her (because of her connection to Pal-gang). It's not that Na-ri gains an advantage from the connection, but that her disadvantages are less overpowering, which does a lot to level the playing field.
If Ja-young and Sung-sook are forced to look at Na-ri as a person, and worth something by her own virtue, they won't be able to dismiss her again. They're women who've demanded recognition for their own skills, but along the way, become stooges for the very system they've fought, pandering to the wealthy, the connected, the elites, in a way that does disservice to their own struggles to reach the top. So it's gratifying to think that Na-ri might at last get a real shot at these auditions. By this point, I think she must have aced the original interviews, but lost out to Hye-won and Soo-jung due to her lack of influence.
Speaking of Hye-won, apart from Seo Ji-hye finally having more to do, isn't her straight-talking, blunt manner appealing? You get the sense that she's sincere about doing well at her job, but her status gets in the way of her fairly earning her place. Although at the same time, I don't think she wants to give up any of her privileges. But even if she wants to have her cake and eat it, you can't help admiring her guts. I like her as a foil to Hwa-shin right now, too. Bearing unpalatable home-truths, she's like an antidote to the self-pity he so enjoys. But she seems driven by ambition rather than malice, so I can't quite figure out if she's truly jealous of Na-ri, or just enjoys playing everyone. She seems like someone who makes a great friend and a terrifying enemy…oo, Na-ri and Hye-won as friends? Now there's a ship I want to see!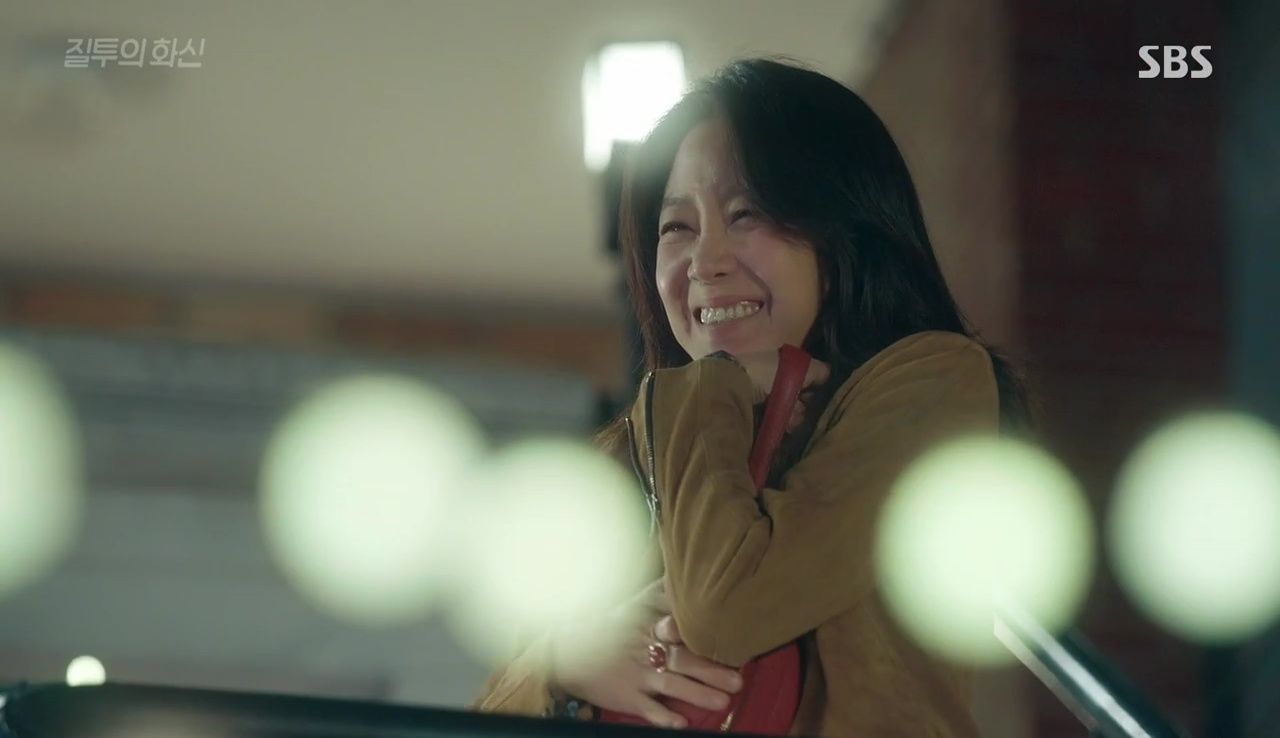 RELATED POSTS
Tags: featured, Go Kyung-pyo, Gong Hyo-jin, Jealousy Incarnate, Jo Jung-seok