Jealousy Incarnate: Episode 11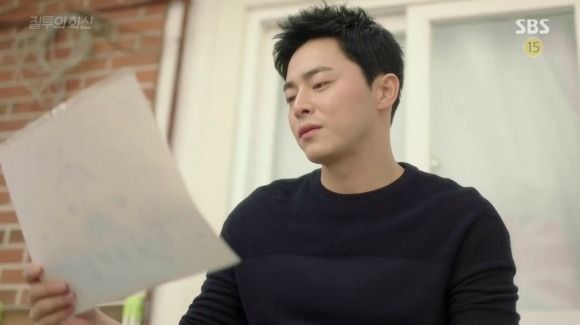 The rivalry gets real, as emotions are put out in the open and cannot be ignored. Hwa-shin finds himself straddling the contradictory line between loyalty and jealousy, and it's clearly driving him crazy. He claims to be choosing loyalty, but in rare small moments, it's clear how much he's trying to hold back from an exponentially growing crush.

EPISODE 11 RECAP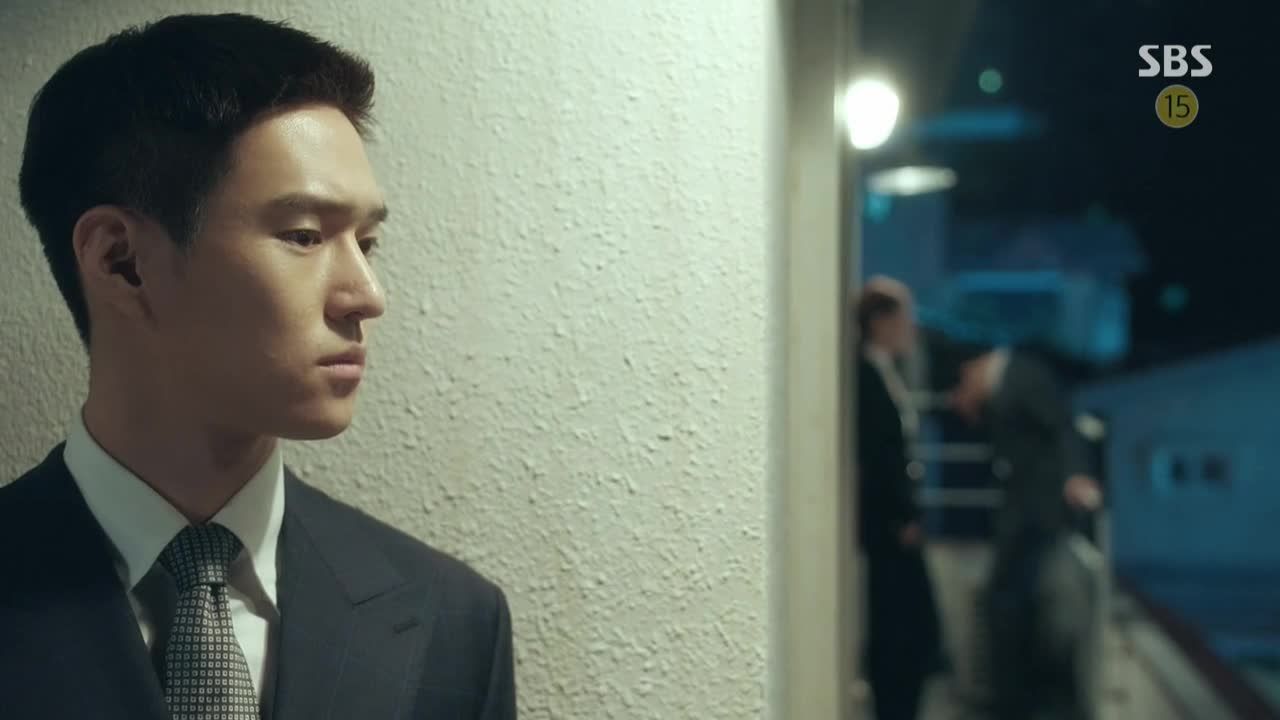 Hwa-shin seriously considers Hye-won's trolling offer to steal Na-ri and says, "I'll try being a bastard for once." Hearing this, Hye-won looks slight surprised, and Jung-won walks away from his eavesdropping corner. As he flees down the stairs, he stops, climbs back up, and stops again.
Na-ri finally calls out to Hwa-shin and asks what he's doing at the adjacent building. Hwa-shin says that he's moving there to live closer to Pal-gang, and Na-ri accusingly asks why he's checking the place out with Hye-won. Quickly clearing up the misunderstanding, Hye-won clarifies that she could never live in such a place, and before she leaves, she tells Hwa-shin that she'll come through on his request (to lend money for the place).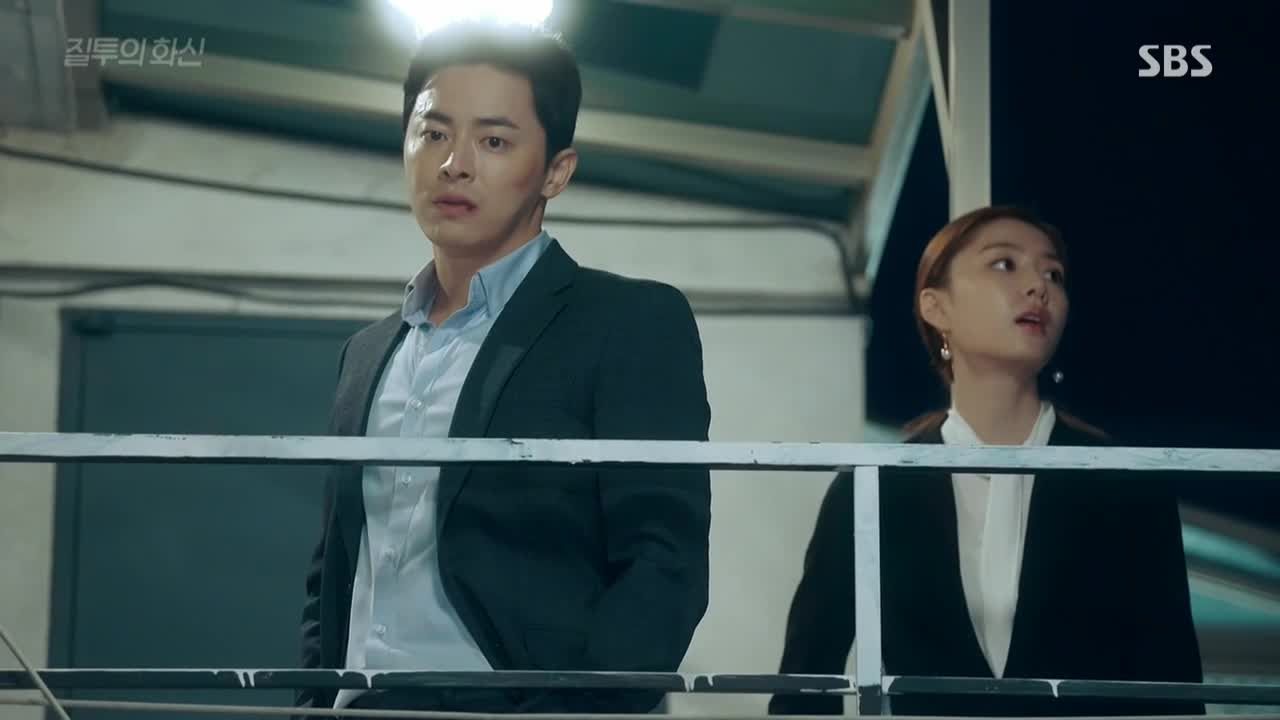 Hwa-shin asks if she doesn't like him moving there, and she tells him that it's a little weird that they'll be seeing each other every day. He agrees, saying that it'll be very weird, and storms into his new place.
Jung-won waits for Hye-won, and they sit in his car to talk about Hwa-shin. He knows that Hwa-shin won't tell him anything, so he's asking Hye-won to divulge the truth. She says that Hwa-shin can't make himself a bastard — just look at how he ran away to Thailand, refused to date her, and is now secretly crushing on Na-ri, who harbored a three-year-long crush on Hwa-shin.
Hye-won assures him that Na-ri has no interest in Hwa-shin because she likes Jung-won now. Then, Jung-won gets a call from Hwa-shin. He doesn't answer it, and Hye-won suggests: "Your friend is trying hard to hide his feelings. How about you feign ignorance and keep going your way?"
Chi-yeol looks delighted to see his noona home and tells her that he's happy that she's back. But Na-ri has more serious matters on her mind and asks if he wants to move, since the rooftop house in the adjacent building is too close to theirs. Chi-yeol flatly refuses the suggestion, leaving Na-ri to brush her teeth deep in her predicament.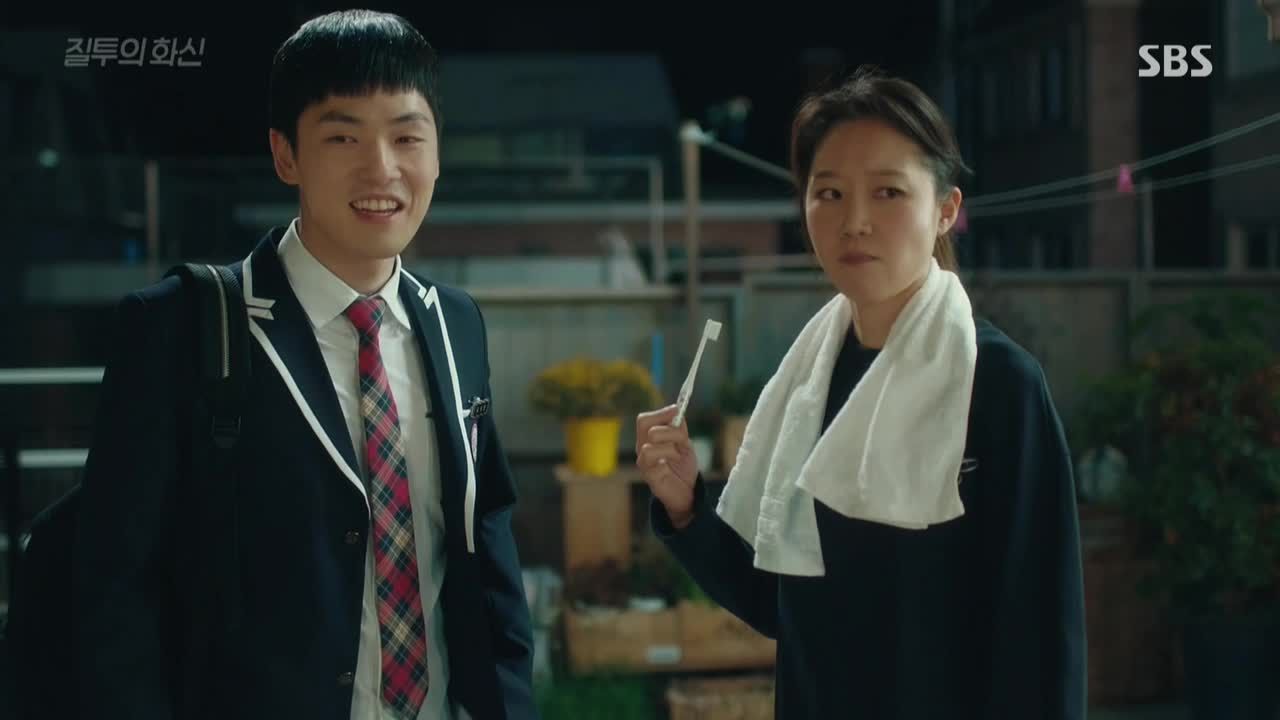 Jung-won walks to a pojangmacha, where Hwa-shin is already drinking away (ahh stop going against doctor's orders, ya fool!). As he sits down and pours himself a drink, Hwa-shin asks how his date went. He immediately follows that with an apology: "I'm sorry, I like Pyo Na-ri. I'm going to confess to her." Jung-won won't allow it, but Hwa-shin responds that he doesn't need his friend's permission.
Jung-won continues to tell him not to, so Hwa-shin says that he'll stop being Jung-won's friend — he feels too guilty towards him. As expected, Jung-won continues to tell Hwa-shin that he can't do any of that, so Hwa-shin asks what he can do. Jung-won tells him to remain as they are now, but Hwa-shin can't do that because he's going crazy just watching the two lovebirds together.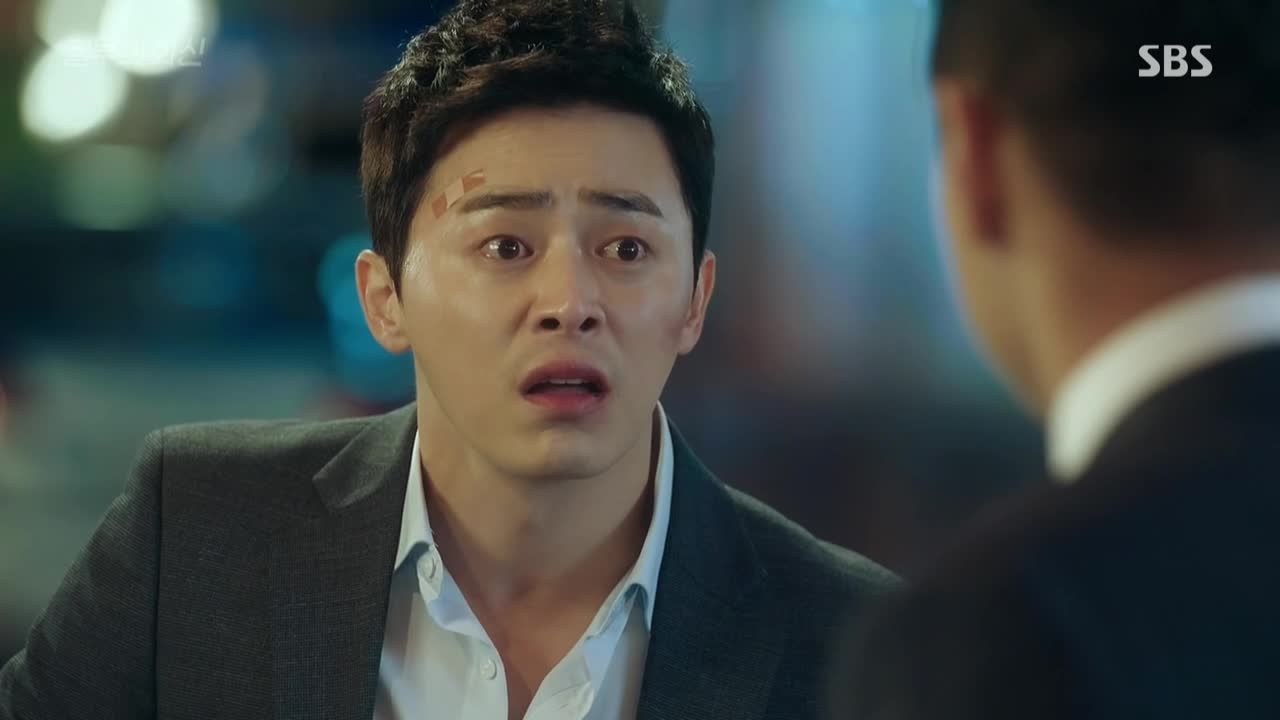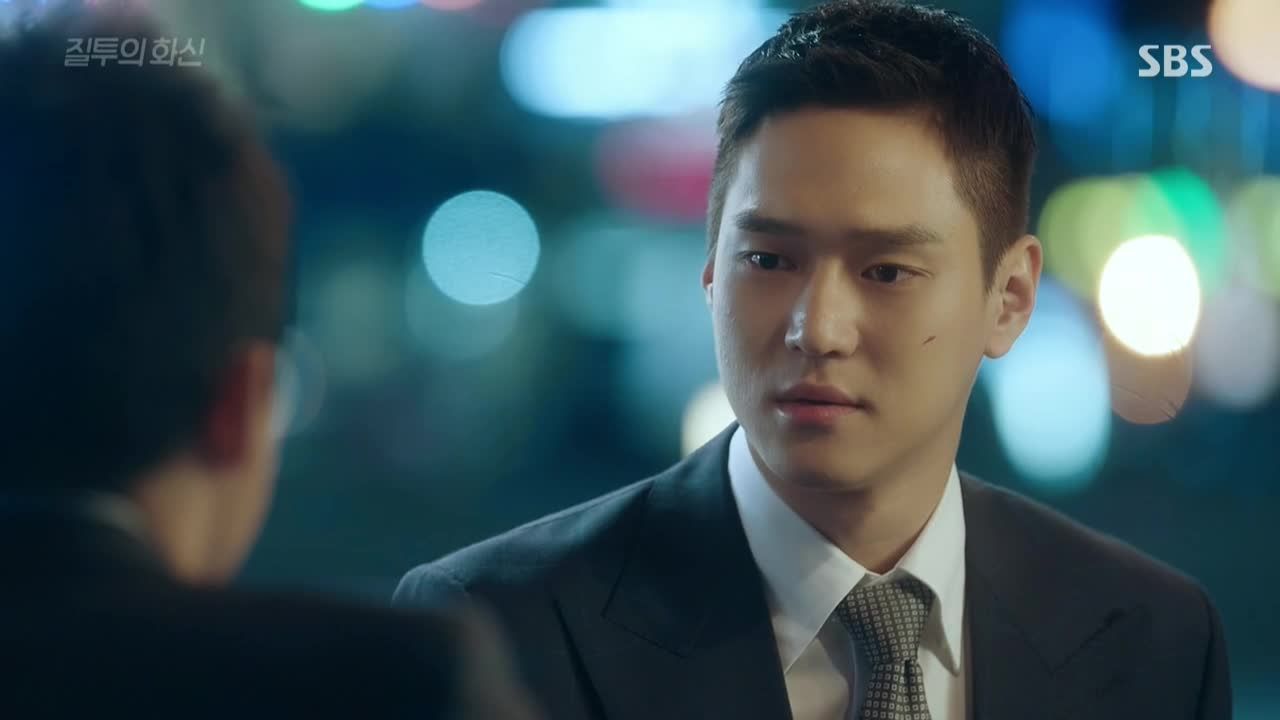 With complete honesty, he says, "I want to hold hands with Na-ri, hug her, kiss her, and sleep with her." Jung-won tells him to repeat that, and when he does without hesitation, Jung-won calls him a bastard. Hwa-shin accepts that title and admits, "I wanted to confess at least to you. I can't confess to Na-ri even if I die because of you. Na-ri won't know until she dies, so don't worry." Ahh, he's breaking his own heart. Jung-won tells Hwa-shin that he'll forget this conversation ever happened, and Hwa-shin walks away.
At the restaurant, Chef cooks with sunglasses on to avoid making more wink mistakes. The three kids enter the restaurant, and Ja-young asks what they want to eat. She tells Chef that Chi-yeol is also her son now, and she winks at him. His usually stoic face betrays a small smile, and it's adorable.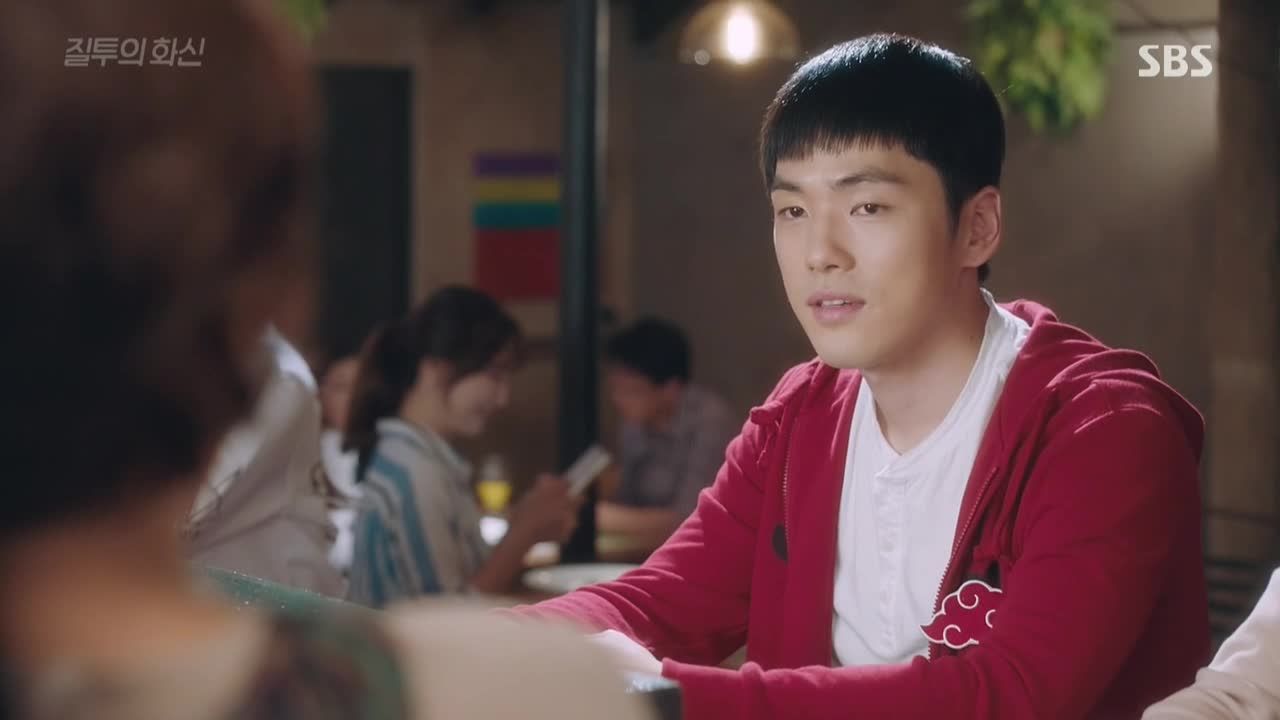 Dae-gu reminds Uncle Chef about his college entrance consultation, and Ja-young eagerly offers to go with Pal-gang. She's still acting distanced and prickly, so Chef offers to go with Ja-young for all three of them.
Sung-sook makes herself ramen and thinks back to Chef's (unintentional) wink. She smiles to herself and calls him cute.
Na-ri sees Hwa-shin walking past the convenience store where little Beom (Na-ri's stepmom's son) is coloring away, and she chases after him to offer him ice cream. Hwa-shin tries to avoid her, but her persistence provokes an outburst. He yells at her to get lost, but Na-ri follows him and complains that he's the one who should get lost — can't he move elsewhere?
Hwa-shin says that she has no say in where he lives, since she's not living with him. He walks away but turns back around to tell her to disappear from his sight, whether she emigrates or goes to the stars. As he walks away, she asks if he's done talking, and he turns right back around to command that she not talk to him.
Fed up with Hwa-shin's pettiness, Na-ri yells at him and impulsively throws the ice cream. It flies in slow motion towards him, and it hits bullseye. The chocolate ice cream splatters over his face and shirt, and Na-ri rushes over in complete regret. She offers to clean his shirt and begs for forgiveness.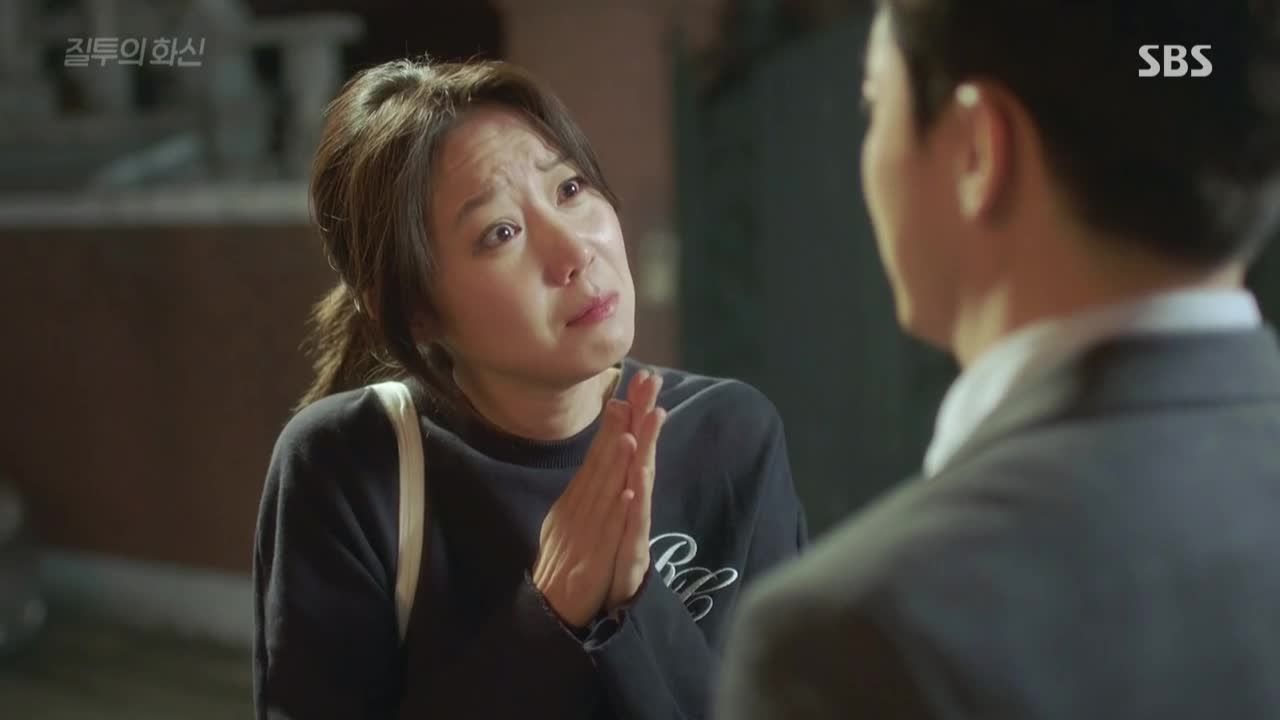 As she tries to unbutton his shirt, she sees the line marked across his chest and asks if he's visiting the hospital as instructed. He wonders if Na-ri paid rent for his chest, since she acts like she owns it. Na-ri doesn't seem to register much other than her own apologies and continues to beg for forgiveness while also offering to buy him a new ice cream as a special dairy treat from his radiation dairy ban.
Hwa-shin pushes her away, leaving Na-ri close to tears and anxiously pacing in regret. As he walks away, he laughs to himself in disbelief, scoffing to himself, "How can she be so cute?" Heeeee.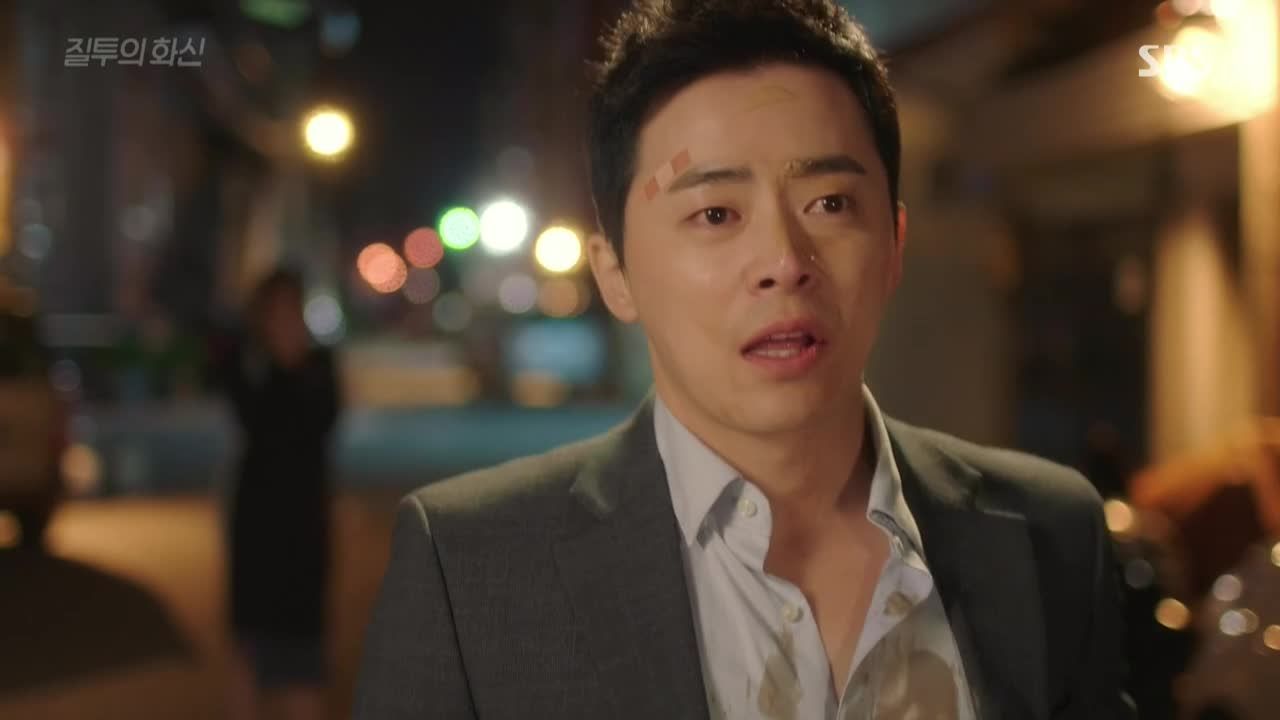 We flashback to Na-ri's hardcore crushing years. Na-ri finds Hwa-shin at Quiznos (the new Subway?) and asks to exchange half of their sandwiches to get a taste of both. He's not welcoming of her advances and leaves her to finish the rest of his sandwich. But when he gets to a café, he finds her right behind him in line. She claims that she's just running an errand, but Hwa-shin looks uncomfortable.
Na-ri brings up how a lot of blind dates happen at this café, and Hwa-shin shoos her away because he'll be on a blind date very soon. Dejected, Na-ri walks away, and turns out, he wasn't lying. He meets with his blind date counterpart (cameo by Han Ji-min using her name in her appearance), who's an Eastern medicine clinician.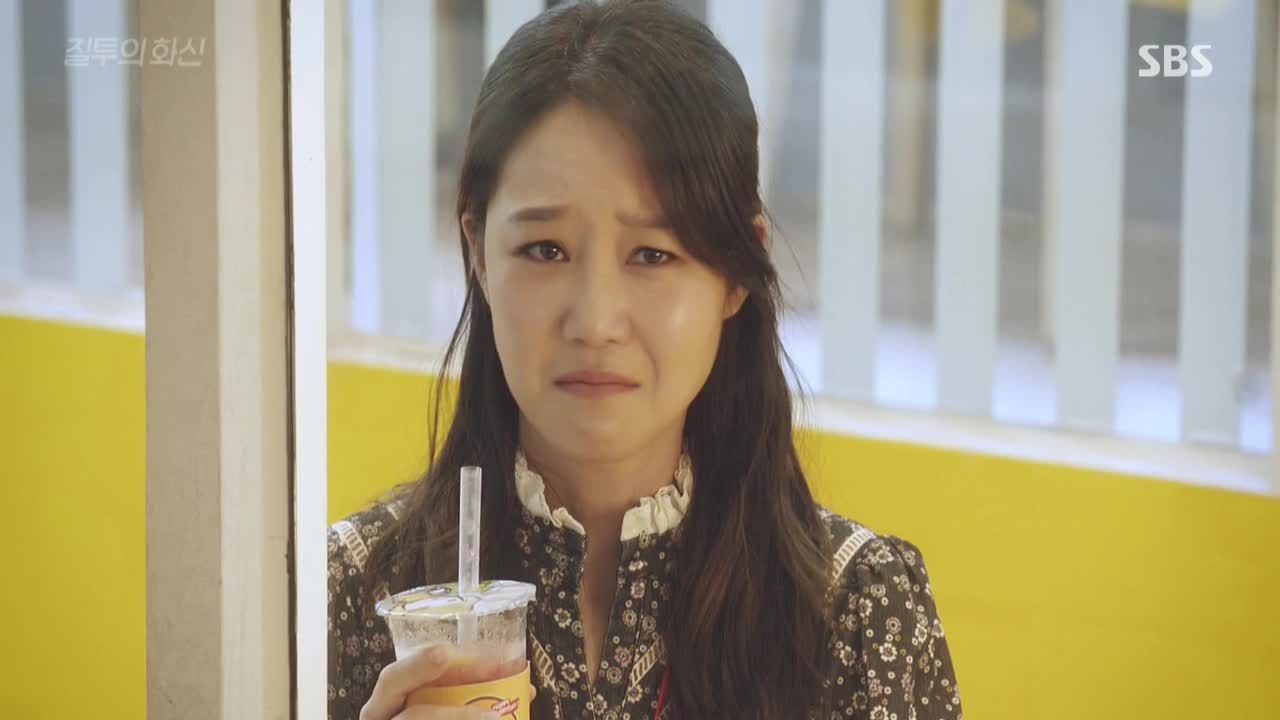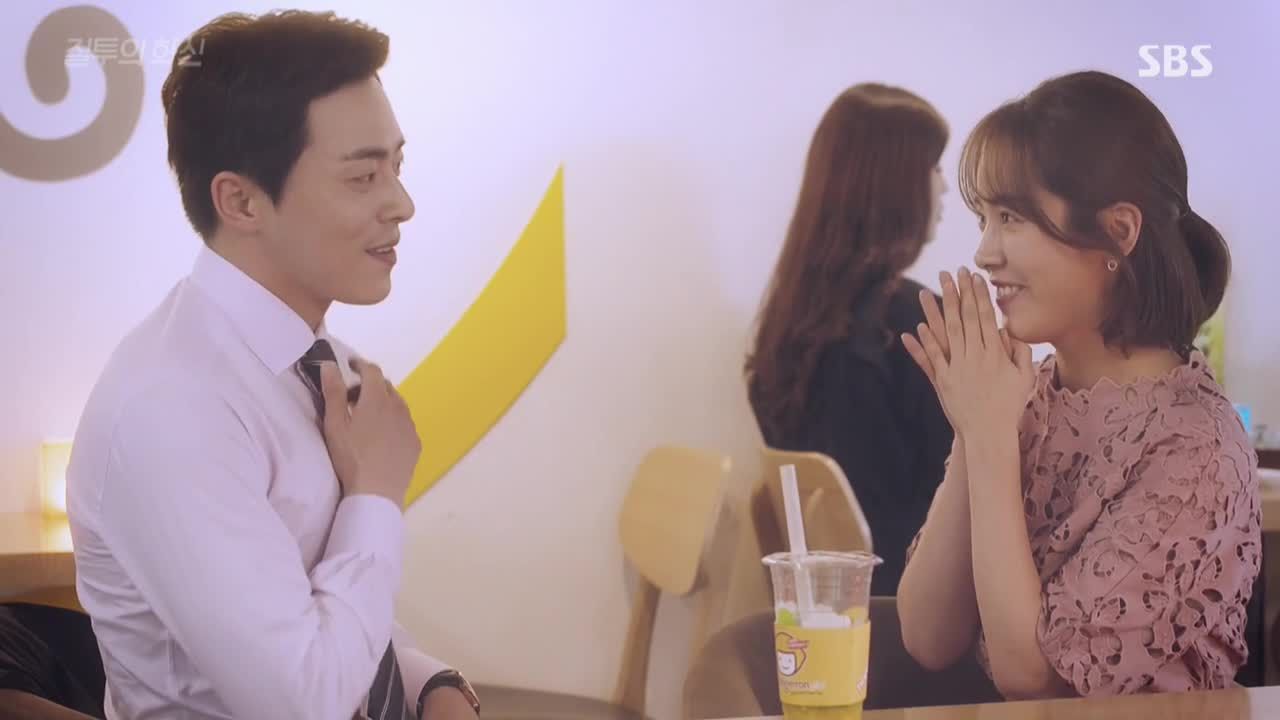 Hwa-shin rubs his chest from supposed indigestion (he claims it's from a strange lady who wanted to share sandwiches), so she comes to his side to use her skills. As she checks his pulse and rubs his chest, Na-ri watches with laser eyes and a frown from the stairs. Ji-min notices her, and Hwa-shin tells her that it's nobody while urgently waving her away. They hit it off and make plans for the weekend, while Na-ri wallows in disappointment and denial.
In the elevator, Hwa-shins' colleagues tease him about Na-ri. PD Oh wonders what's there to like about Hwa-shin, and Dong-gi suggests that he just date her if he's ever bored (ugh). Then, the elevator opens, and Na-ri walks in. She asks Hwa-shin if he's eaten already, and the guys all crack up at her obvious crushing. Hwa-shin ends the humiliation but asking Na-ri if she likes him. Before she can answer, he puts words into her mouth and tells her to pick out of the rest of the guys in the elevator since she doesn't like him. Na-ri falls silent and tears fill her eyes.
Tearful Na-ri is paralleled with tearful Hwa-shin, as we jump back to the present. Hwa-shin looks anguished with regret and frustration, and he lets out his anger by kicking the shit out of a bucket. Na-ri looks at him strangely but quickly enters her own house with little care.
Secretary Cha tells Jung-won that his mother ordered him to find Na-ri's number. They know what that means, and Jung-won dictates Secretary Cha's response: Interfering will only cause their love to grow stronger, and it may be more useful to let them grow apart naturally. Secretary Cha can sense something is wrong, but Jung-won simply orders him to drive Na-ri to work the next morning.
It's before sunrise, and Na-ri rushes out to get to work. Chi-yeol asks about her availability the next morning, but Na-ri is busy with a live shoot. He doesn't tell her about the consultation at school and tells her to go to work. At work, Na-ri wonders why Jung-won didn't come to pick her up directly that morning and tells herself that she should understand his busy life as his girlfriend.
Hwa-shin enters the Pal-gang and Moms residence and tells Pal-gang that he's taking her to school from now on. She refuses to go to school, and the moms don't let her leave before she eats breakfast. At the breakfast table, Ja-young doesn't allow Sung-sook to eat any of her cooked food, so Sung-sook microwaves the forbidden mother-in-law dumplings from the fridge.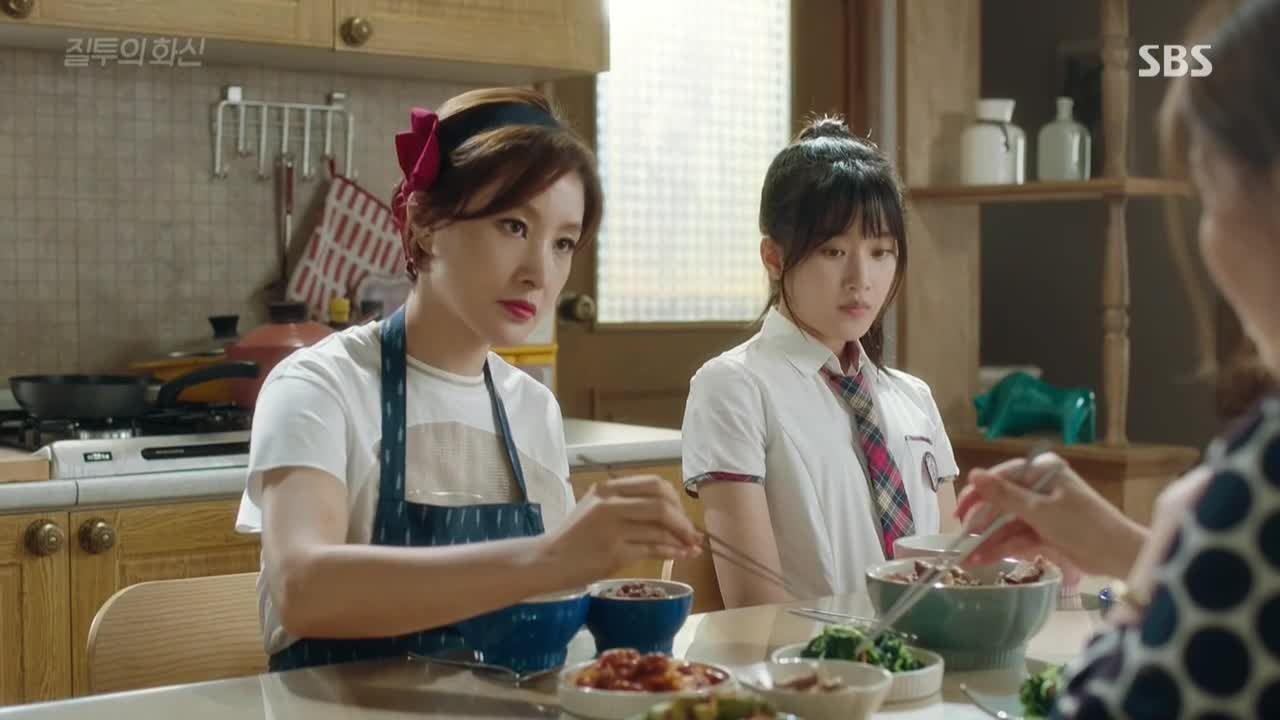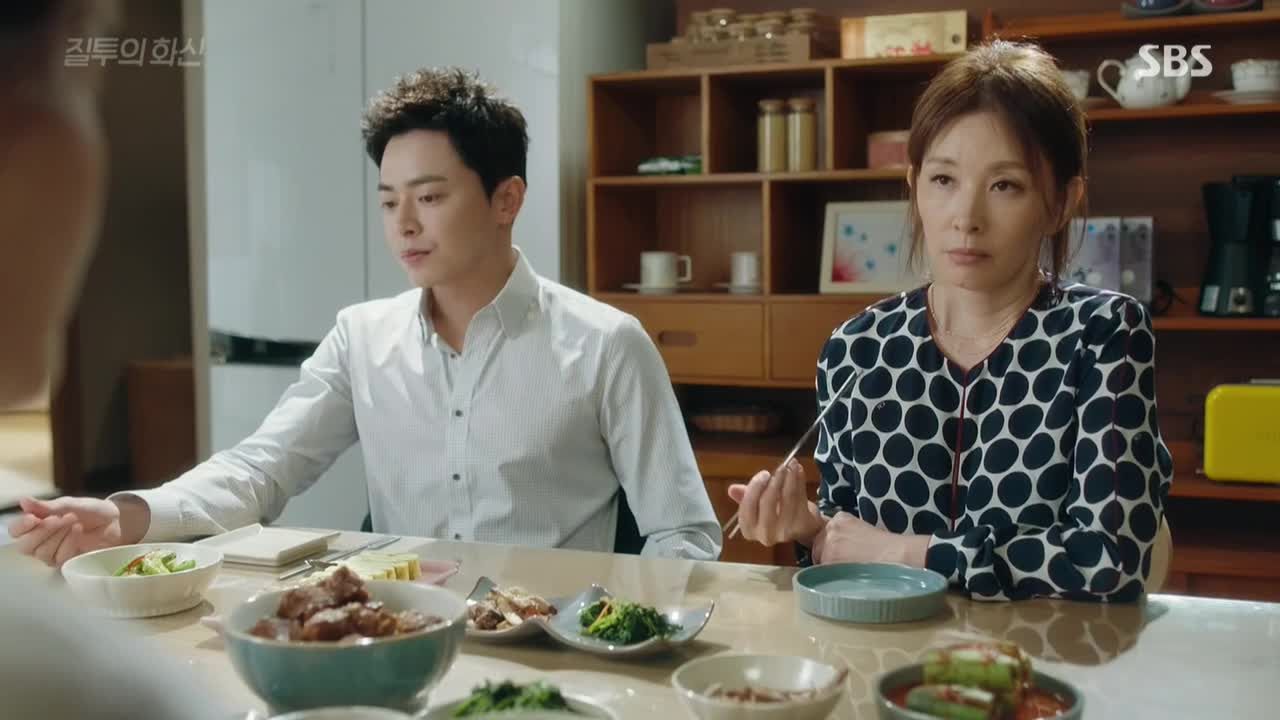 Hwa-shin tells Pal-gang that he'll take care of her like her father and offers her allowance money. She asks for 10 million won over ten years so that he can repay the debt that he caused for her father. Being the ass that he is, he recalculates the exact amount and corrects her that it's actually over eight years and four months.
He steals dumplings from Sung-sook's plate and correctly identifies them as his mother's dumplings. Cue: mother/mother-in-law entrance. Mom asks Hwa-shin if he's still wearing bras nowadays and reminds Pal-gang's moms about her warning that they'd be dead to her if anyone other than Pal-gang touched the dumplings. She can't believe that they're able to live together, and she asks Hwa-shin why he's in the house too. He simply answers that he moved here, much to everyone's surprise.
Jung-won sits through a meeting with the board members, but he walks out mid-meeting with different priorities. As he drives, he thinks about his fight with Hwa-shin in the boxing ring, when Hwa-shin kept hitting the back of his head (a phrase that means "backstabbing").
Hwa-shin gets hit on the back of his head by PD Oh, who gives him the task of reporting from the mud beach where Na-ri will be reporting the weather tomorrow. Hwa-shin says that he'll go alone because of the distractions. Sung-sook swoops in to steal this item, and she claims that showing the anchor also reporting from the site can add credibility to her position and the station as a whole. She tries to convince PD Oh that he could benefit from this as well, and he seems sold.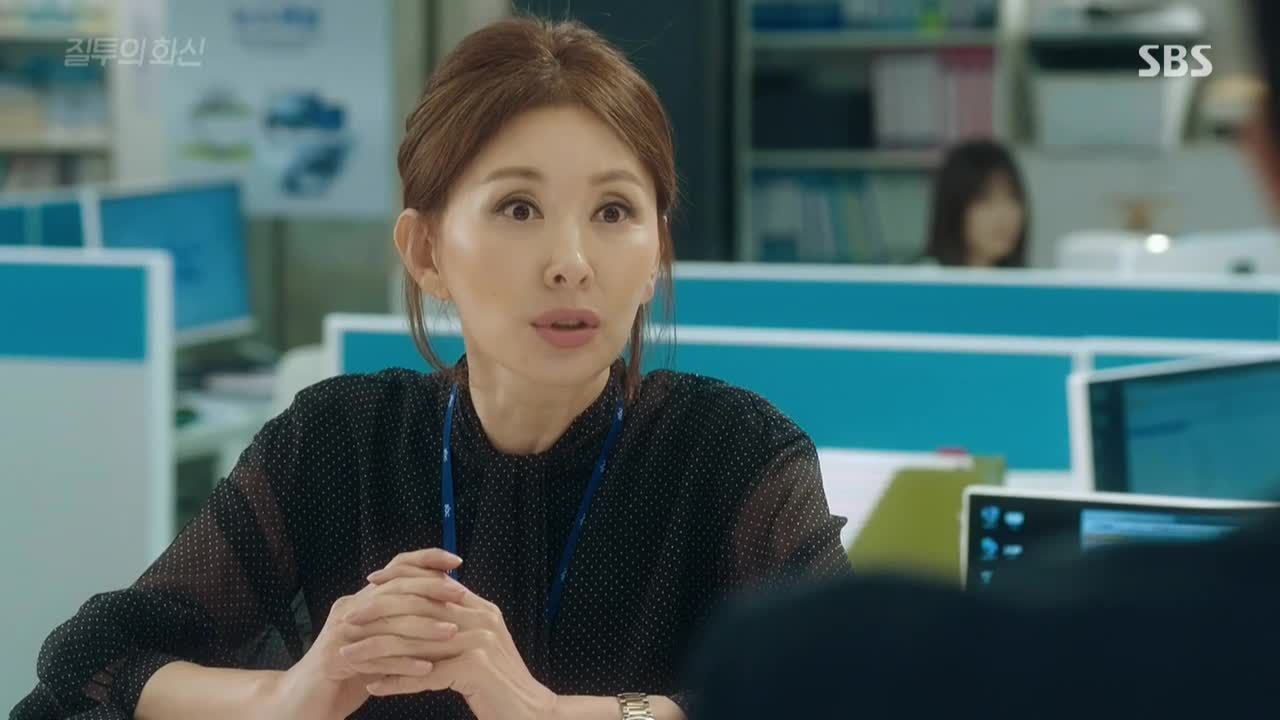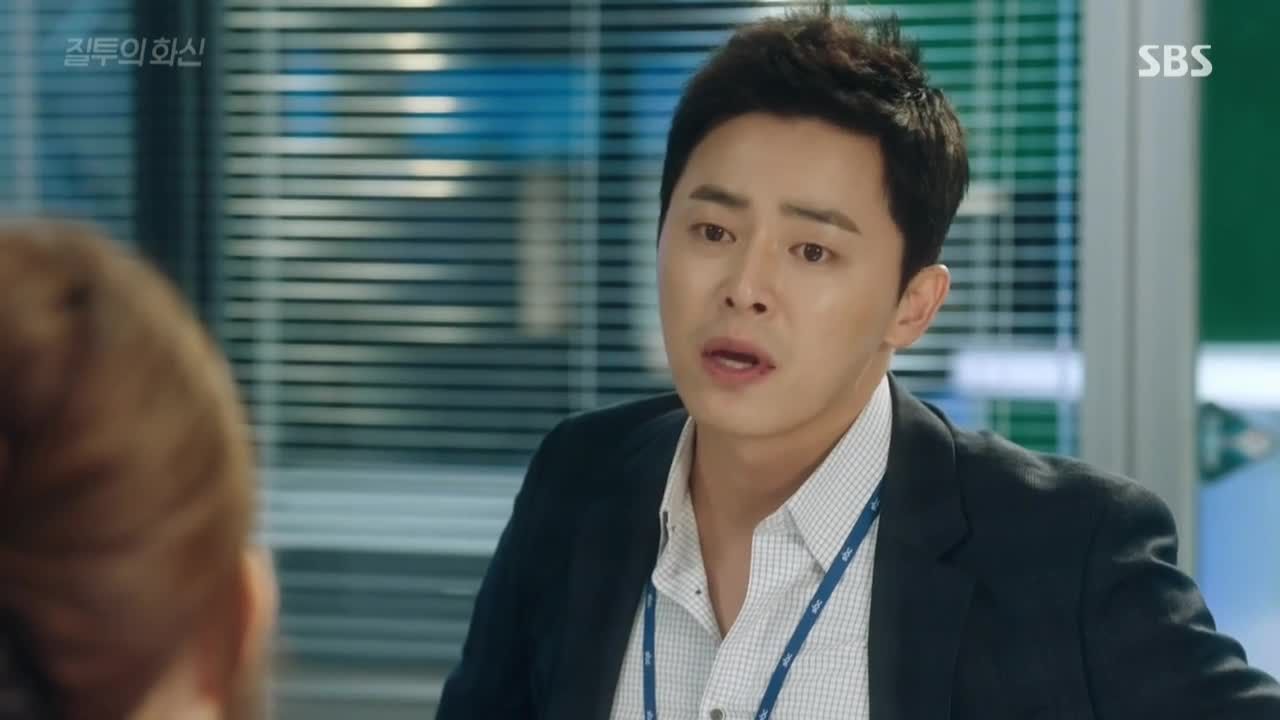 Hwa-shin will not watch his item being stolen right in front of him, but Sung-sook argues that there's no rule that anchors are stuck in the studio. Hwa-shin tells her that this won't help her, as a woman, to claim the spot of the 9 o'clock main anchor spot. He demands her to compete fairly, but PD Oh has already decided to pass this item to Sung-sook.
Jung-won arrives at the station, and Soo-jung sees him storm inside. At the station, Na-ri suggests a myriad of options to make up for her impulsive ice cream splat, but Hwa-shin isn't interested. He goes into the bathroom, and Na-ri quickly runs out after realizing where she blindly followed him into. Jung-won watches her pass by and enters the bathroom to confront Hwa-shin.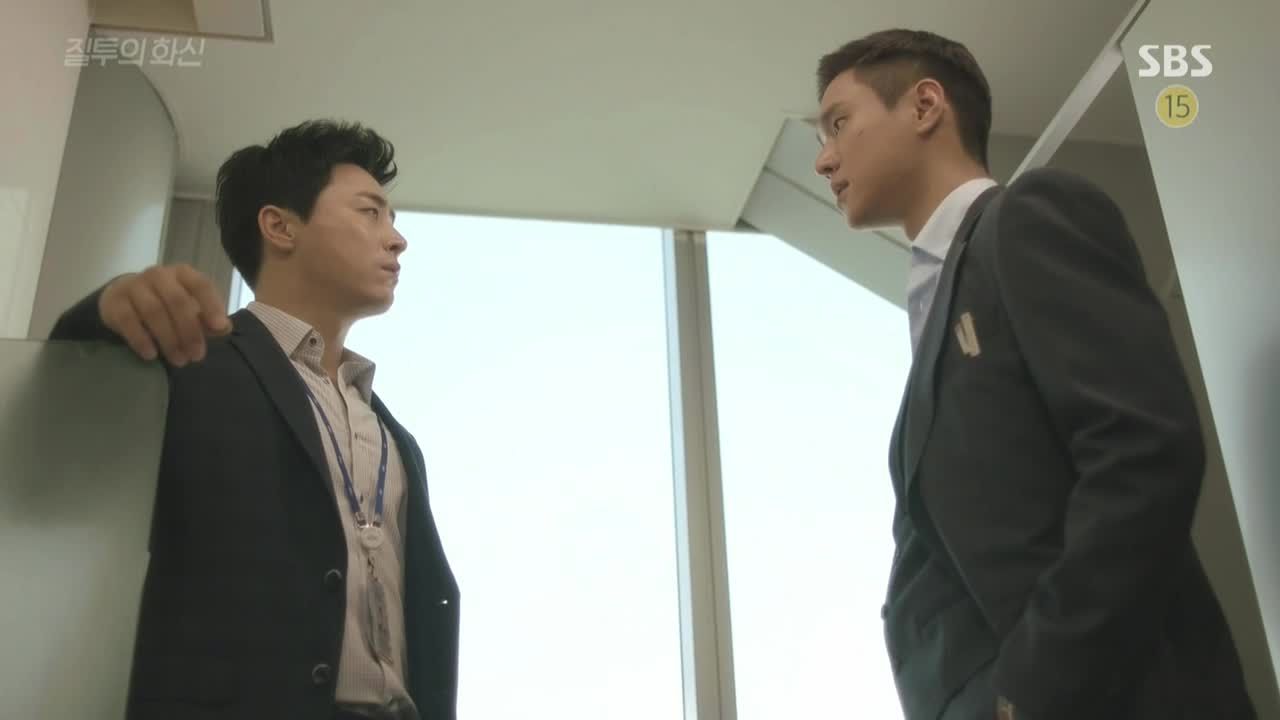 In the bathroom, Jung-won expresses his anger in response to Hwa-shin's confession last night. He tells Hwa-shin not to interact with Na-ri in any way and insults him: "You're a fool for introducing me to a woman you didn't realize you like, an idiot for using Pal-gang as an excuse to live closer to Na-ri, a pervert who enjoys the thrill of liking his friend's girlfriend, and a backstabber in a boxing match." Hwa-shin acknowledges all of this, and Jung-won just tells him to shut up.
Jung-won walks out into the lobby after his word-vomit, but he walks back inside. Hwa-shin walks into the newsroom set, where Hye-won warns him to be careful — he could potentially lose both a friend and love. He says that his friendship with Jung-won can't easily be shaken by a woman, but she wonders if that's true as she watches Jung-won barge into the set.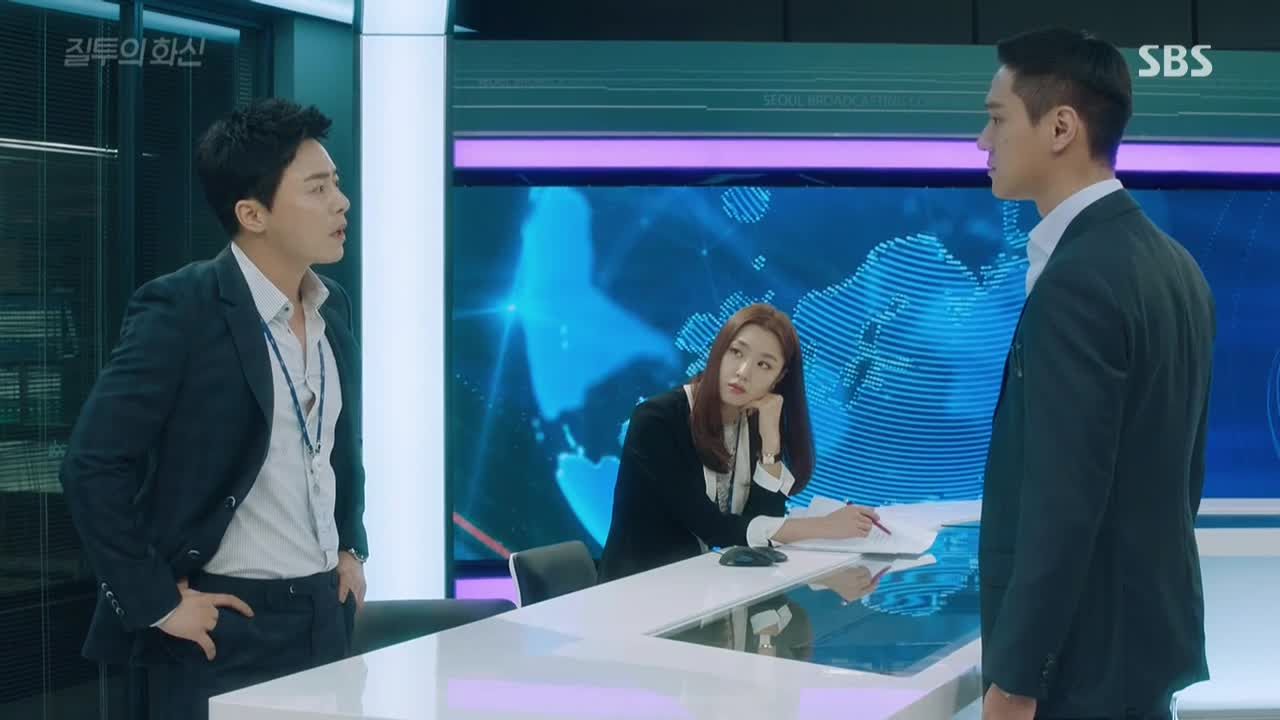 Jung-won demands to know why Hwa-shin left Na-ri to crush on him for three years. Hwa-shin tells Hye-won to leave, but she decides to stay and watch this new side of Jung-won, who's infuriated that Hwa-shin let Na-ri suffer through her crush for so long. Hwa-shin claims that he's kicking himself in the foot and yells at Jung-won to stop antagonizing him.
He goes a step further and asks Jung-won if he's implying that Hwa-shin should have accepted Na-ri's crush then. If he had, then he would have never introduced Na-ri to Jung-won. Is that what Jung-won wants? Should Hwa-shin win her back? Simmering with rage, Jung-won orders Hwa-shin to hide his feelings from Na-ri. Hwa-shin's late and lost his chance when he introduced Na-ri to him.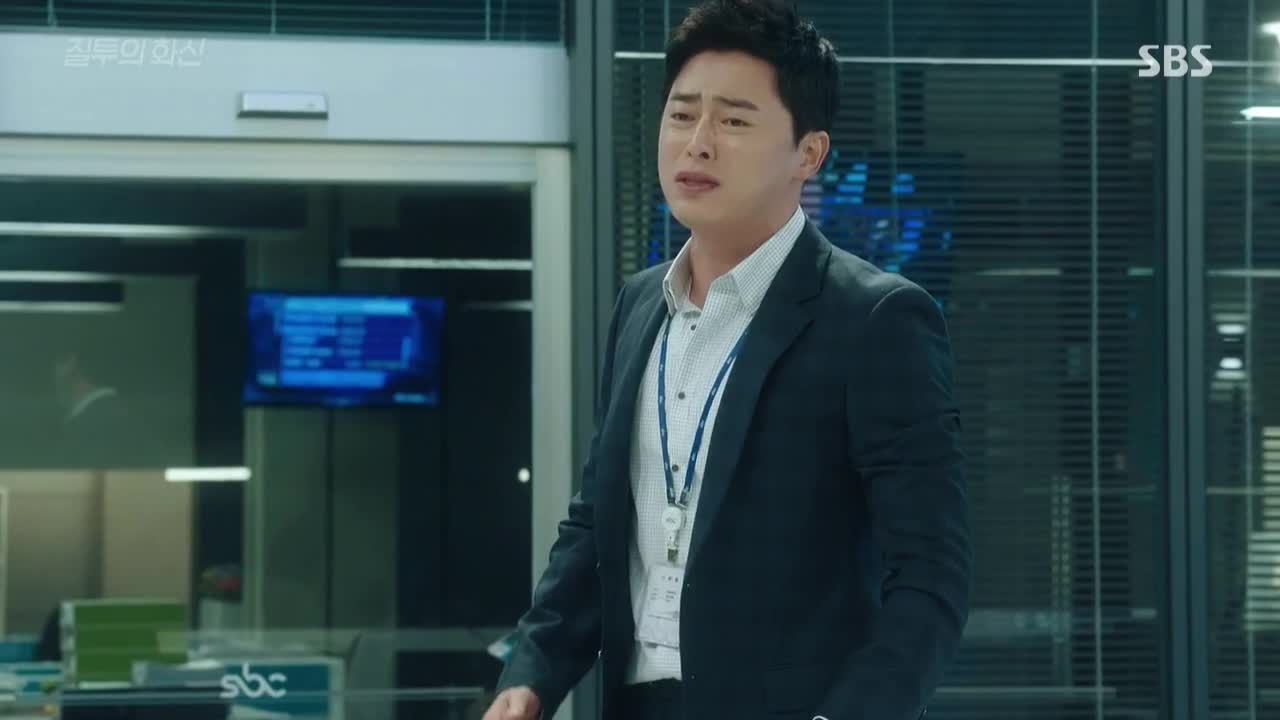 As they continue their tense bickering, Hye-won announces that Na-ri is entering the scene. Jung-won reminds Hwa-shin to hide his feelings and says that he trusts him. He walks out with Na-ri, and Hwa-shin yells at Jung-won not to trust him.
He continues to yell and pitifully cries that he can't do what he wants because Jung-won's trust. Hye-won comments that it's a shame that she's watching his tantrum alone, and turns out, she wasn't. Soo-jung encourages Hwa-shin with a "hwaiting," having witnessed everything from the stairs.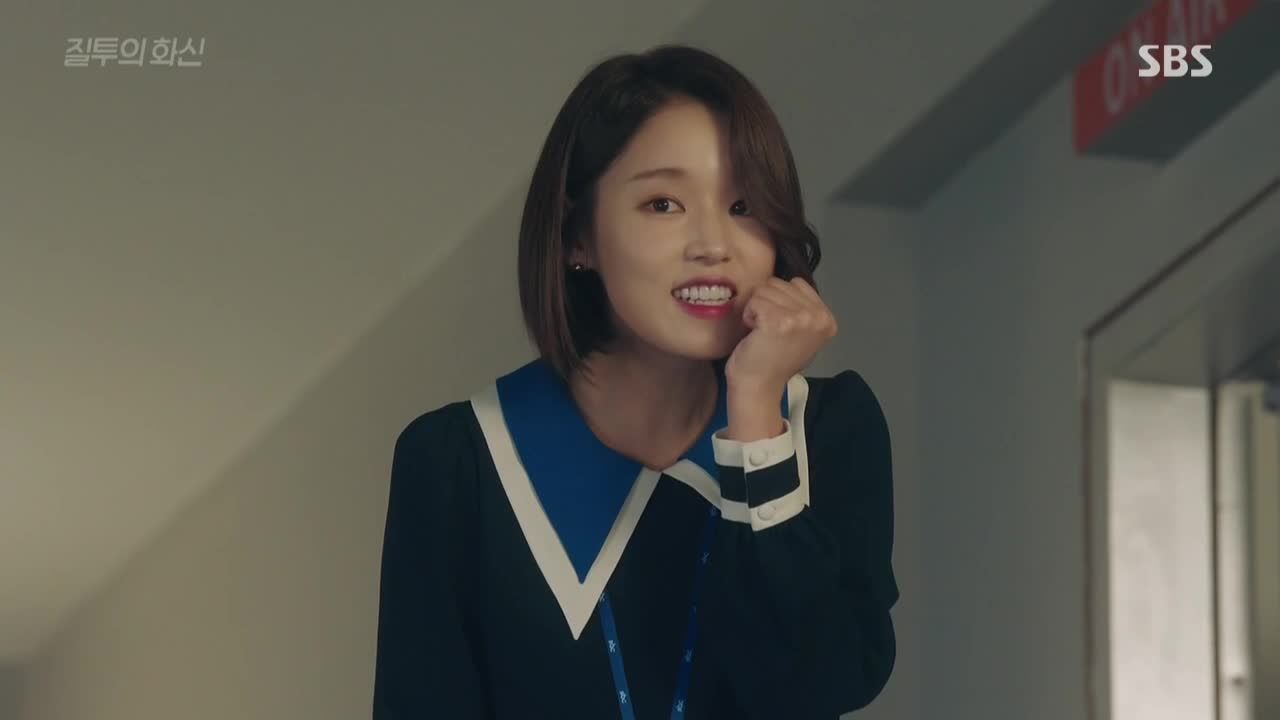 In the elevator, Na-ri asks Jung-won if he fought with Hwa-shin, and he responds that they've never and will never fight. Uh-huh, right. When the reach the lobby, Na-ri tries to persuade Jung-won to go the beach with her the next day, but his mind is elsewhere. He blurts out the question of whether Na-ri likes him or Hwa-shin better, and then takes it back because he realizes it's childish. But then he asks again, and then takes it back again because he knows it's a bad question. Haa, the jealousy is brewing.
Madam Kim visits her brother Chef's restaurant and looks up to Na-ri's rooftop house as she asks Secretary Cha about Na-ri's phone number. He recites exactly what Jung-won told him to say — that leaving the two to naturally rift apart could save her the trouble — and she believes it enough to let the issue be for the moment.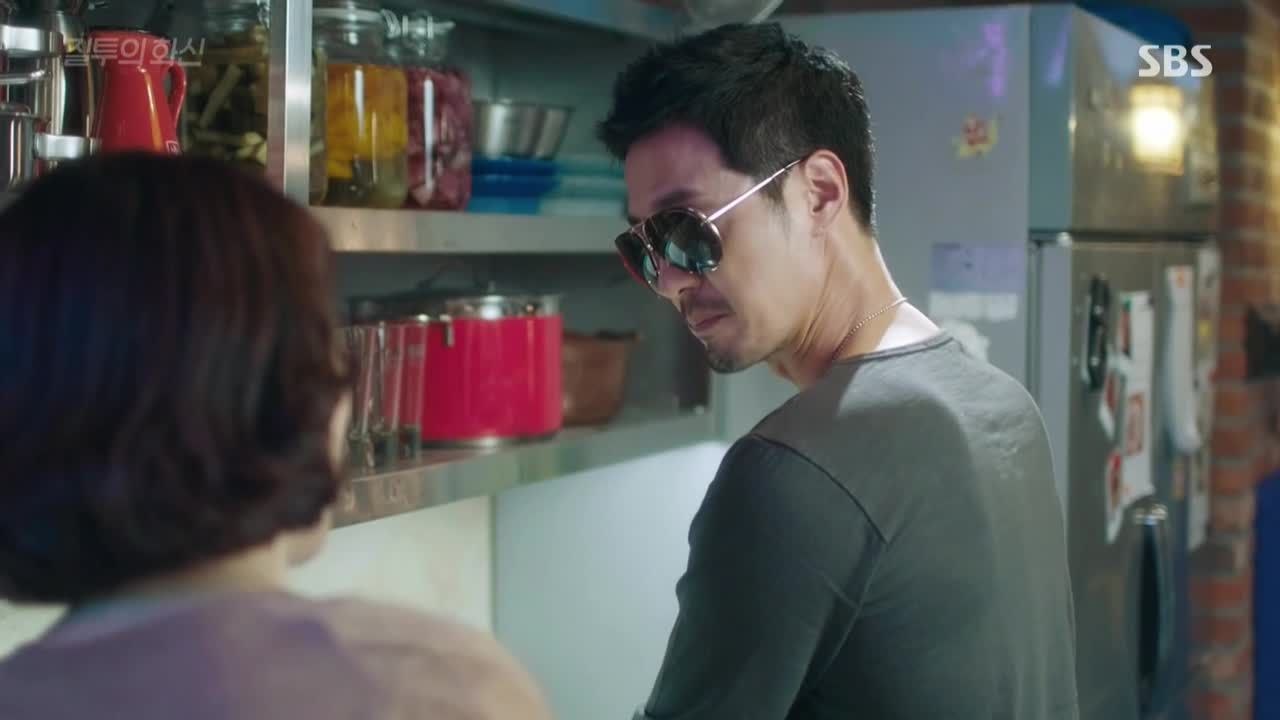 In the restaurant, Madam Kim asks Chef if he's been taking the pills, and she's delighted when she finds the bottle significantly emptier. She wonders if he's been experiencing any side effects, and he shakes his head at what he's been doing to deal with the uncontrollable winking.
Na-ri's weathercaster colleagues tease her about the "romantic" time she'll have at the beach with Sung-sook, but Na-ri insists that she'll have a great time. Her conversation is then interrupted by a call from the doctor.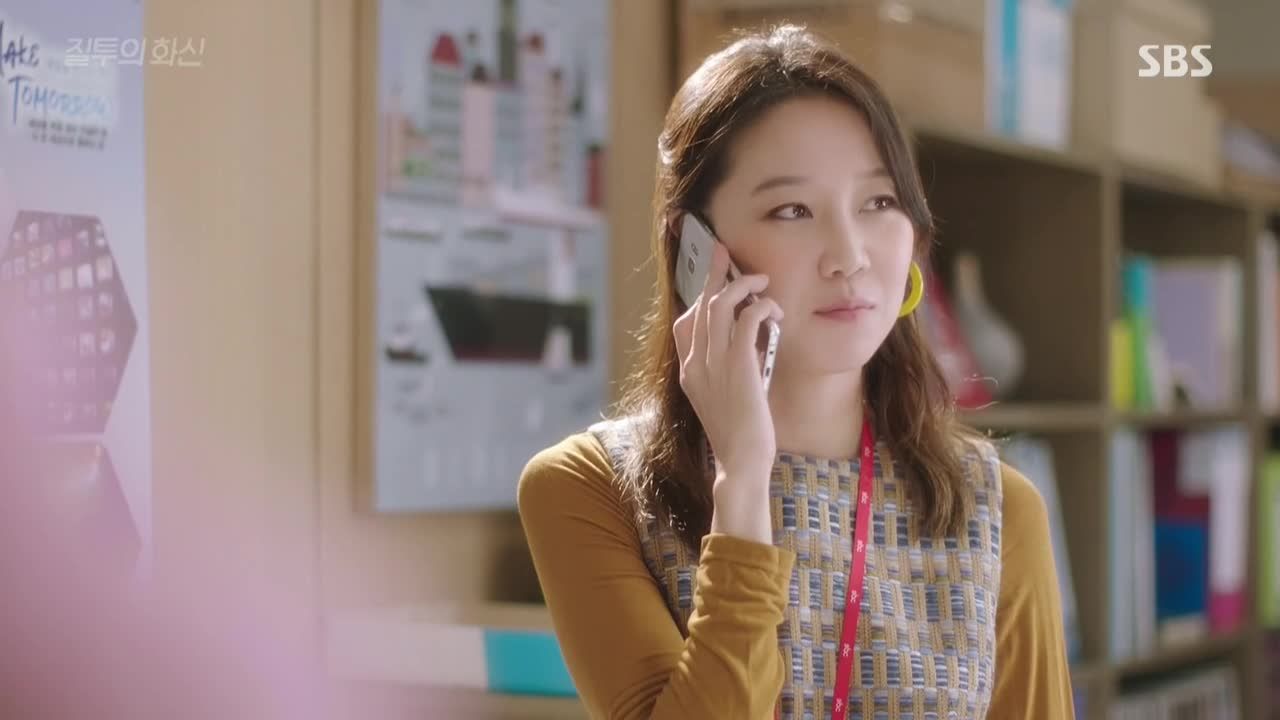 As Hwa-shin enters his car to leave, Na-ri pops into the passenger seat to accompany him to the hospital. Hwa-shin refuses to look at her and closes his eyes, explaining that he'll get in trouble with his mom if he's caught with her. Na-ri laughs at his answer and insists that they need to go to doctor, who called to inform her that he hasn't been back for radiation treatment since she'd gone with him.
She tries to coax him with ice cream and then starts eating it herself. He asks why she's treating him like a child, and she correctly identifies him as a child who's scared of going to the hospital, a child who's more scared of the hospital than dying. Hwa-shin looks at her in silence and asks if dating changes her to melt like ice cream. She shrugs and says that she doesn't know because she's been ignored by Hwa-shin for so long. Na-ri offers him a new ice cream, but Hwa-shin just wipes the ice cream off her face and tells her to leave.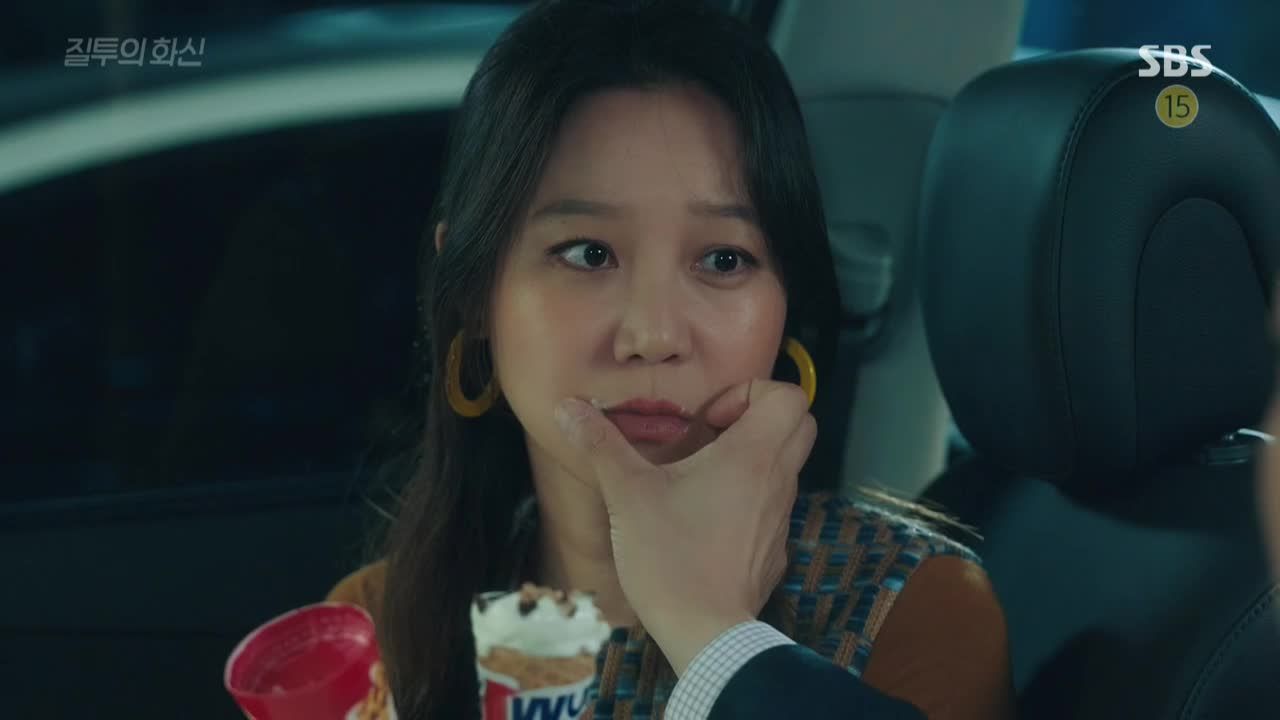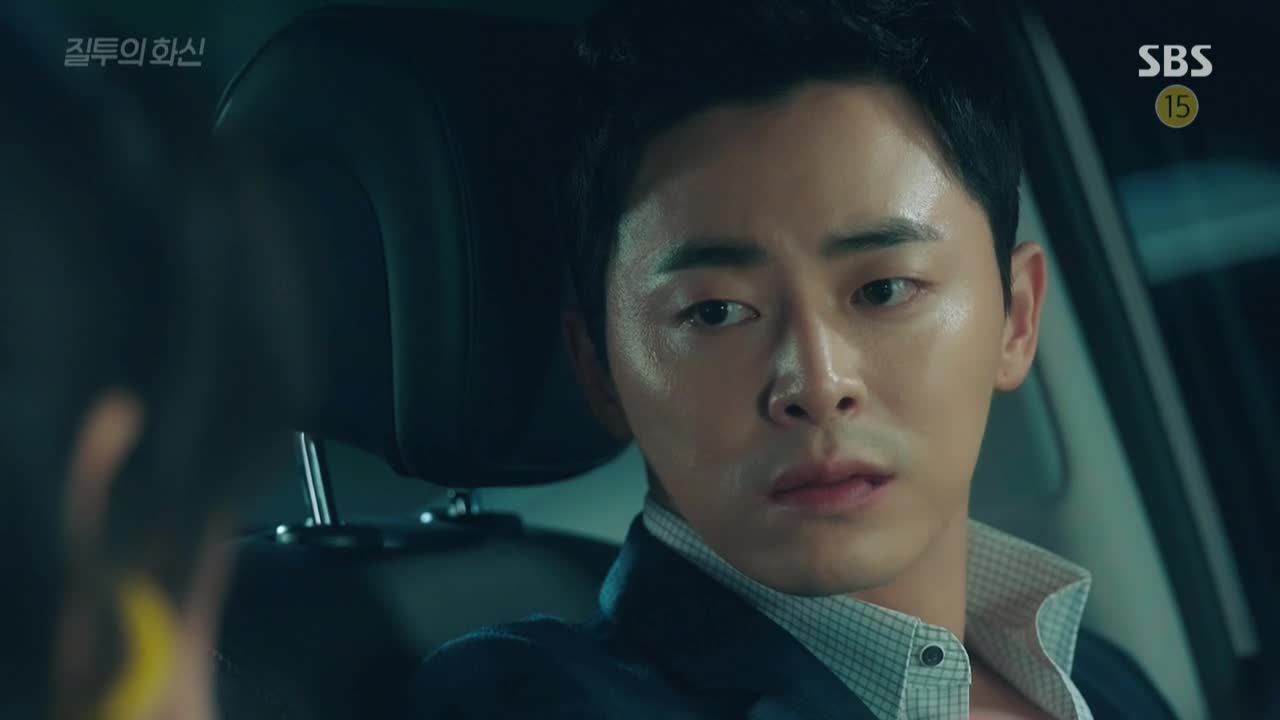 At school the next morning, Chi-yeol asks Pal-gang which mom is going to show up, and she's already mortified at the thought of both of them coming to school. Dae-gu asks if Chi-yeol told Na-ri about the college entrance consultation, but he responds that he'll take care of his own future. He's sure that his noona will insist that he go to medical school, and he doesn't want her to sacrifice any more to get him through more school.
Dae-gu warns Chi-yeol that Na-ri murder him if she finds out about this later, and he's probably right. He reminds Chi-yeol that Na-ri works hard for him, and she's even taking the announcer exam again for him.
As Na-ri and Sung-sook drive to the beach for the reporting, Sung-sook receives a call from Chef about Pal-gang's college consultation. She tells the driver to pull over, orders Na-ri to leave the car to buy some snacks, and then proceeds to order the driver to go to Pal-gang's high school.
Hwa-shin prepares a cup ramyun at the convenience store, and he sees little Beom with his drawing of Na-ri. He offers Beom money for the drawing, but when Beom refuses, he goes back to eating his ramyun. And then he turns around to offer more money, ha!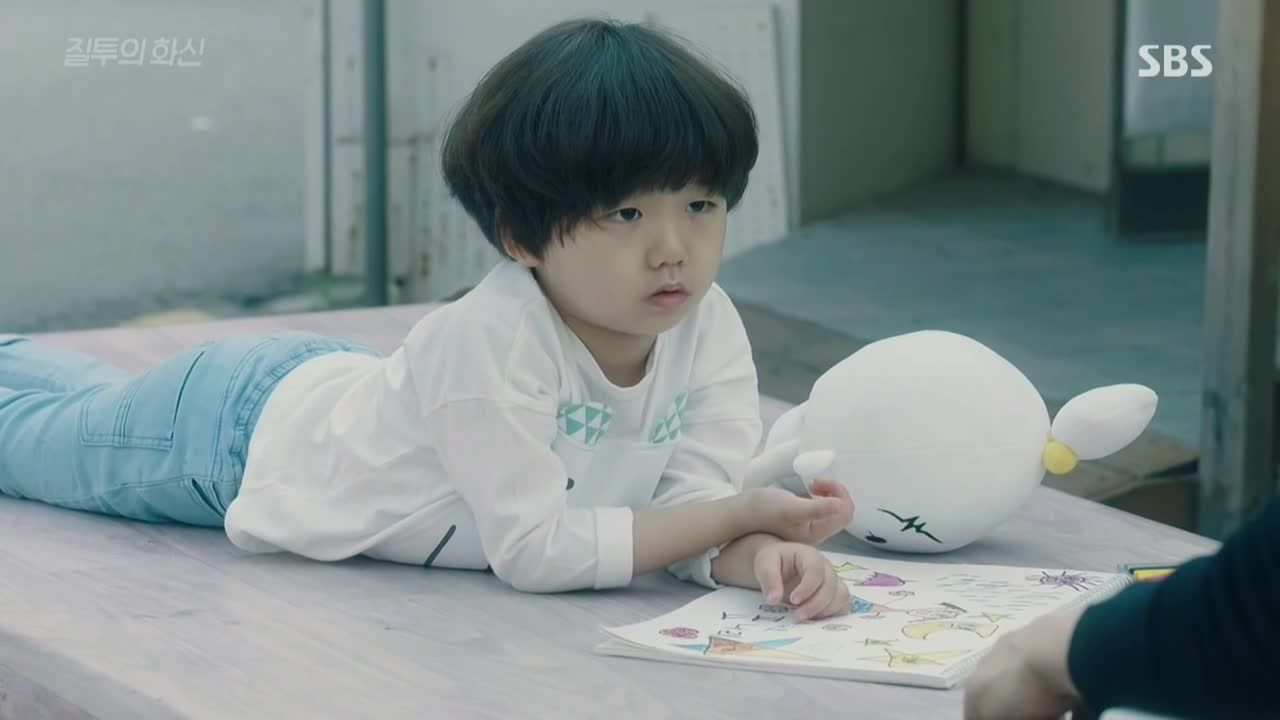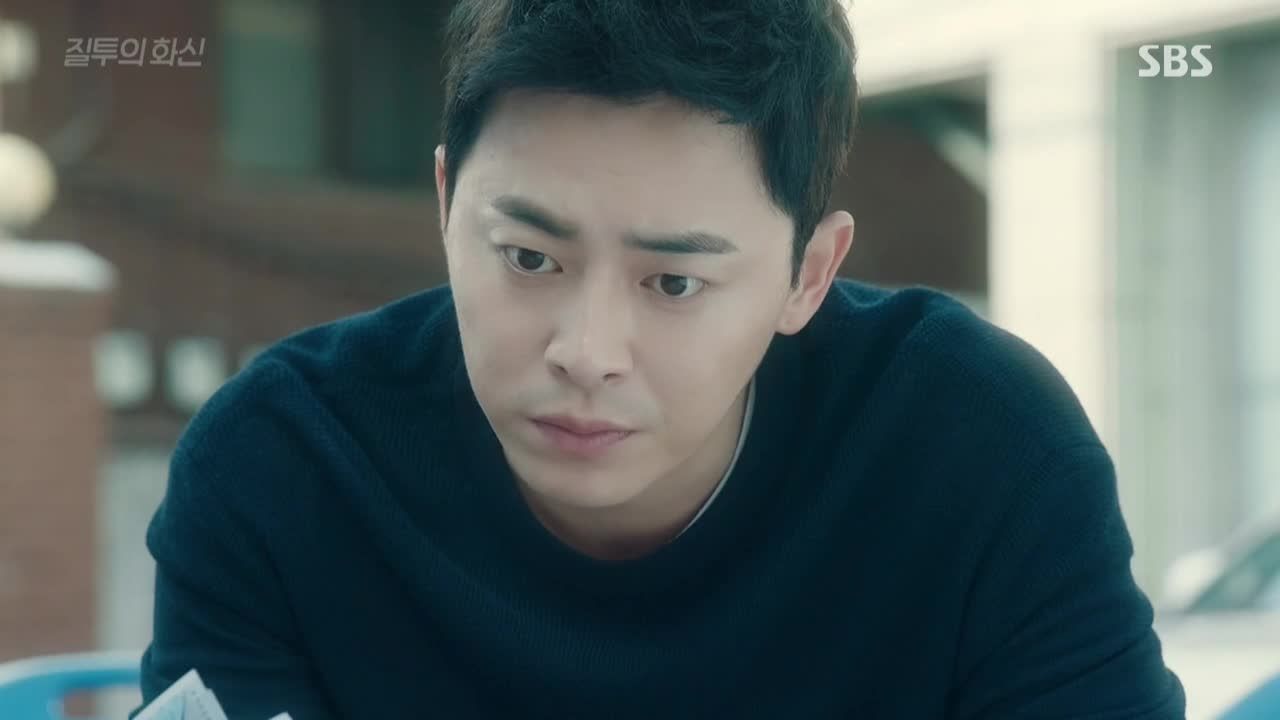 As Chef and Ja-young walk towards the school, a motorcycle zooms right between them and reaches the school gates. They look closely at the figure taking her helmet off, and it's none other than Sung-sook. She books it to the classroom, running barefoot so she can make it in time.
From above, Dae-gu and Chi-yeol see the mothers running into school, so they rush over to Pal-gang's consultation to warn her just before they all crash in. It ends up being one big consultation, and Ja-young remains unexpectedly silent when the teacher asks for Pal-gang's mother.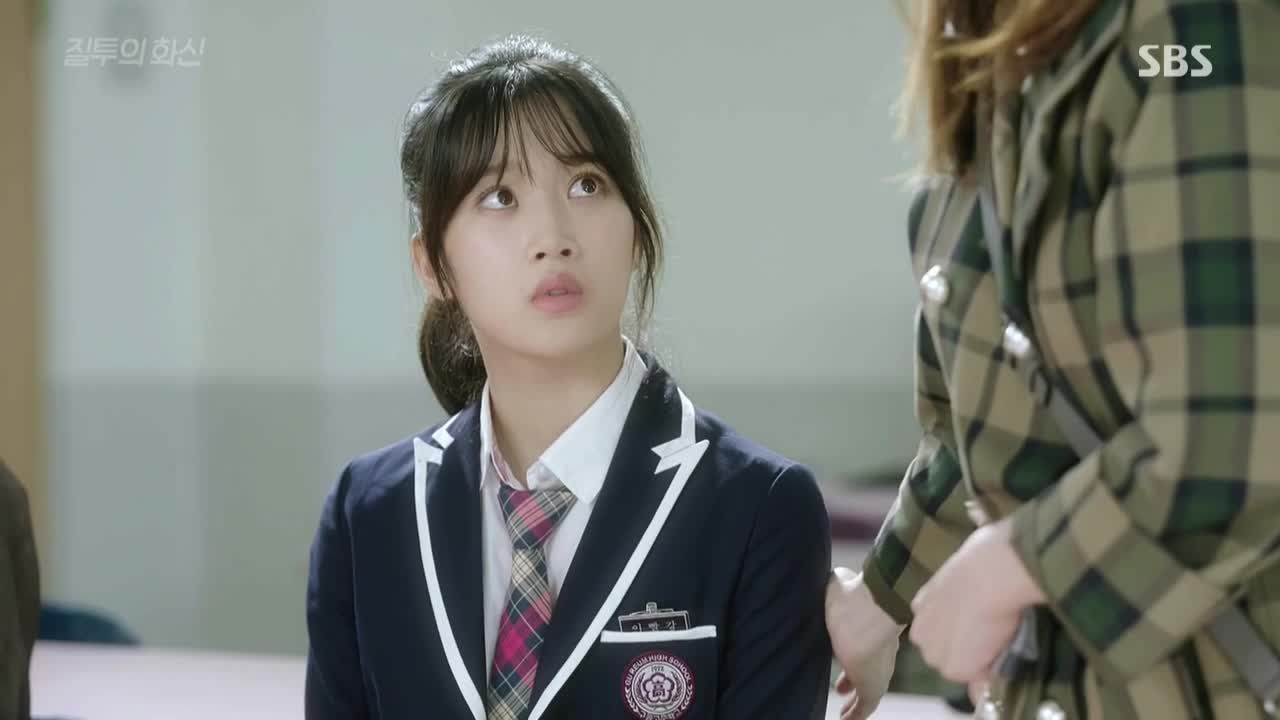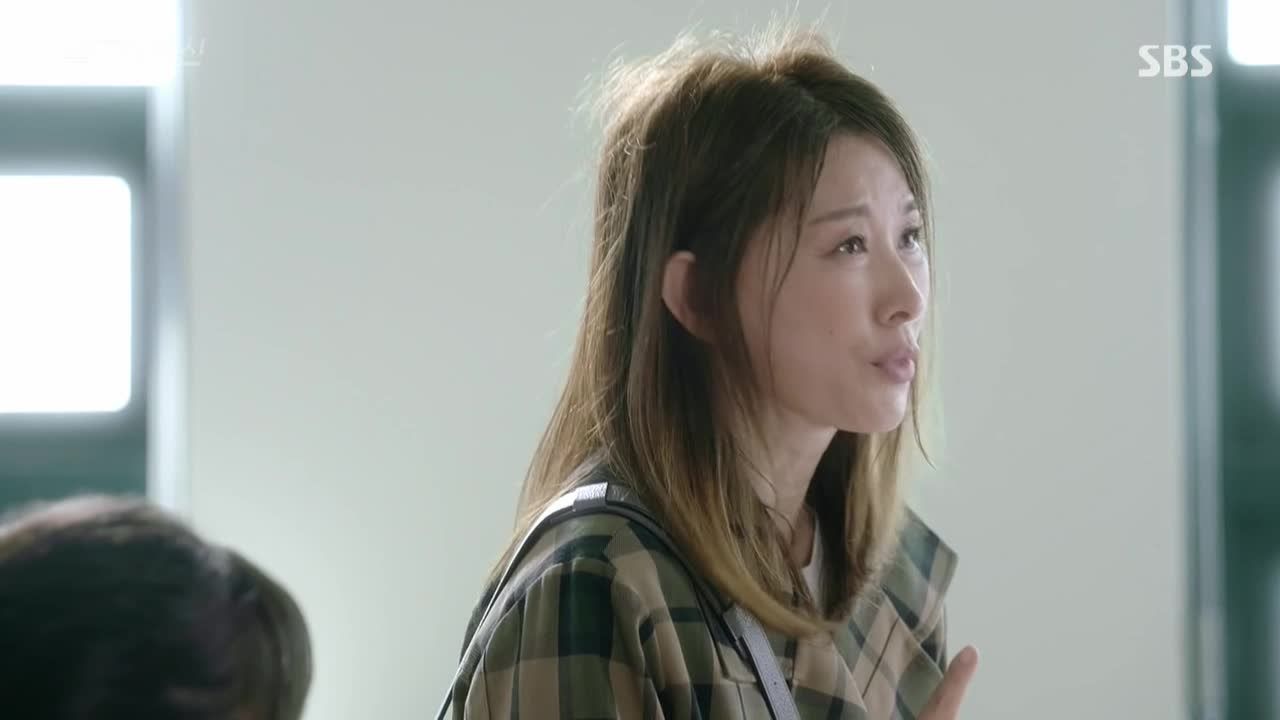 Sung-sook immediately claims the title and pleads that the teacher help Pal-gang find something she's the best at. Academics aren't everything, and she believes Pal-gang has a special talent in something that the teacher could help foster. Pal-gang looks touched by her mother's words and dedication, and she smiles to herself.
The teacher turns to Ja-young to identify herself, and she introduces herself as Chi-yeol's stepmother. Everyone looks to her with surprise, but the teacher is especially welcoming of "Stepmother" because Chi-yeol is extremely smart, in fact, smart enough for medical school. But he refuses to apply because he'll cause more hardship for his noona. Ja-young looks elated, and despite Chi-yeol's protests, she assures the teacher that she'll be sending Chi-yeol to fulfill his potential at medical school.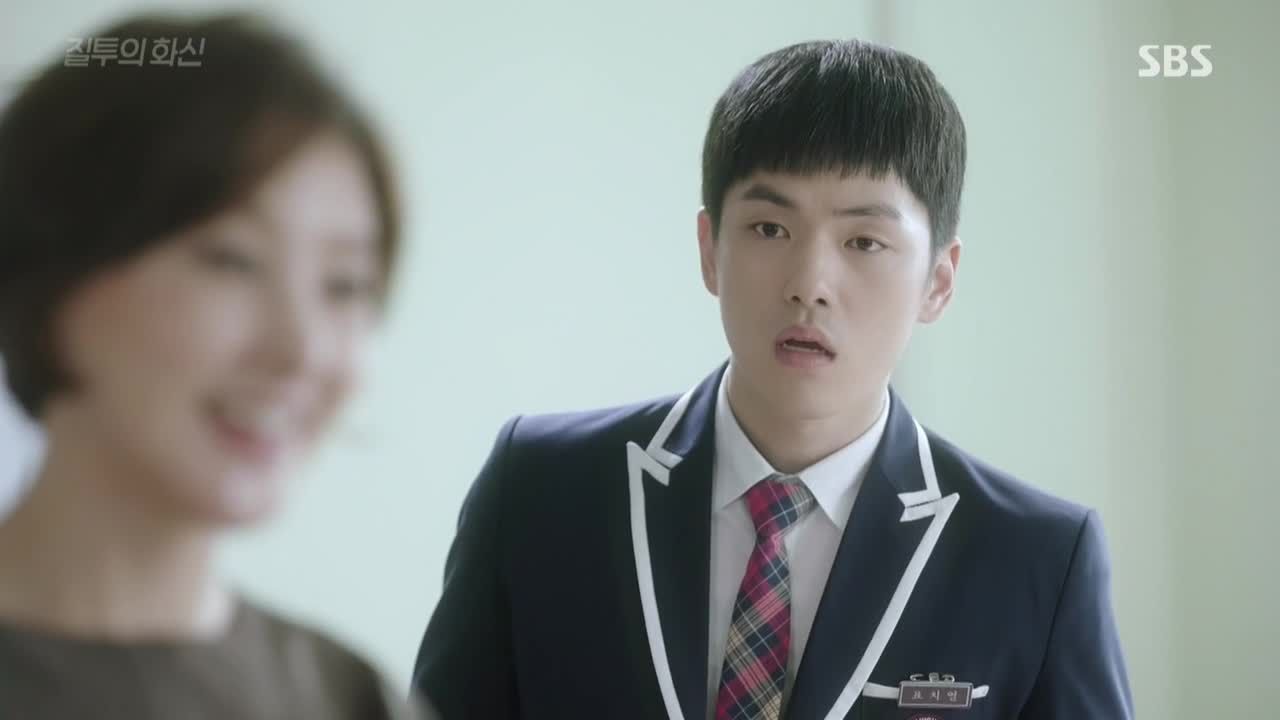 Chef looks at the two women, this time, looking thoroughly impressed by Sung-sook's sincere plea and advocacy for Pal-gang.
Na-ri's made it to the beach alone and misses a call from Jung-won. He remembers her mentioning the beach trip for reporting, so he orders Secretary Cha to find out her location. Meanwhile, Hwa-shin looks at the drawing of Na-ri that he successfully bought from Beom. He receives a call from PD Oh about the opening for the beach reporting item. Looks like we're in for a face-off.
Na-ri digs through the mud to find squid to cook for Chi-yeol, and Jung-won sees her from afar. He walks into the mud in his business suit, much to Secretary Cha's dismay, because he's in a rush to see her. At the same time, Hwa-shin sees Na-ri with his staff and decides to trek through the mud to warn her about the rising tide.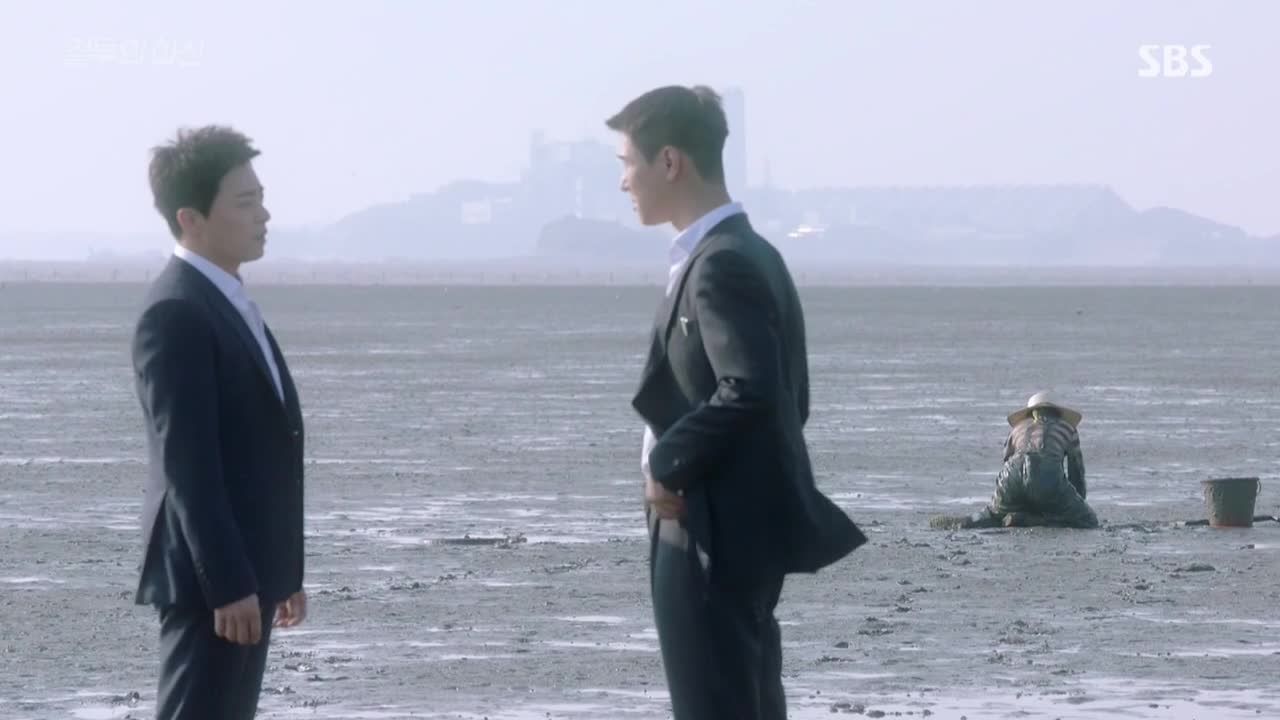 Both Hwa-shin and Jung-won approach Na-ri from opposite sides, and they inevitably notice each other. And instead of racing towards Na-ri, they approach each other. Jung-won incorrectly assumes that Hwa-shin was taking advantage of the couple's time apart to seduce Na-ri, and Hwa-shin wonders how much time Jung-won has be checking on a friend he actually doesn't trust.
Jung-won adds the final touch by accusing Hwa-shin of liking Na-ri because he's Jung-won's girlfriend now. Provoked by those words, Hwa-shin throws a punch, and Jung-won avoids the punch before swiftly kicking Hwa-shin into the mud. They're punching each other and rolling the mud, all unknown to Na-ri, who delights in her squid.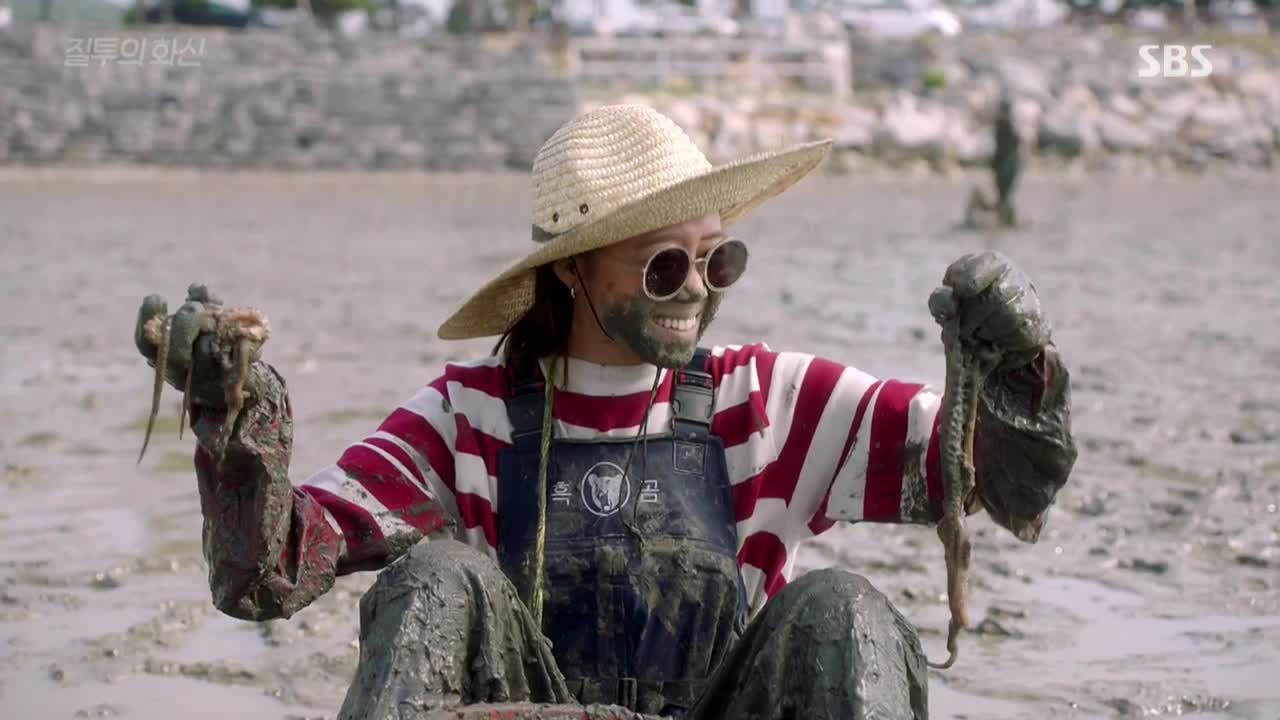 Jung-won tells Hwa-shin to always live in jealousy, since he'll always be able to give more to Na-ri than Hwa-shin can. As they get filthier, Jung-won gets real and says that it isn't easy hating Hwa-shin. He asks if they're still friends, and Hwa-shin yells in confirmation that they are.
Laying on the mud, they take a break from fighting. They acknowledge that Jung-won is insecure about the relationship and that Hwa-shin is jealous, all because of one woman. Jung-won asserts that Na-ri is his woman, and Hwa-shin recognizes that. But Jung-won isn't convinced, so he kicks Hwa-shin onto the mud and drags him towards Na-ri to prove his point. Hwa-shin squirms and yells, and eventually gives up and says in his mind, "You don't need to show me."

COMMENTS
Nooo stop! Don't crush his heart! There's no one more pitiful than Hwa-shin at the moment, and he's really personifying jealousy in ways that I didn't even know could be portrayed. He shows that jealousy and loyalty can be two excruciating emotions to feel at once, and he shows how clumsily he hands it. He shows that being dragged through the mud to face your crush to get your heart crushed is a mortifying result of jealousy. And he shows how entertaining jealousy can actually be (see: Hye-won).
I was thoroughly entertained by how the vicious cycle manifested in Hwa-shin and Jung-won as jealousy and insecurity incarnate, respectively. Jealousy feeds insecurity, which only amplifies jealousy to further intensify insecurities. Of course, they have it all wrong because the reason for Hwa-shin's crush has nothing to do with Jung-won and everything to do with Na-ri, herself. And Jung-won's uncertainty with Hwa-shin has nothing to do with Hwa-shin's interest and everything to do with Jung-won's own confidence. Hwa-shin's romantic interest isn't something that was suddenly provoked, as he had grown emotionally and romantically attached to Na-ri throughout their time at the hospital. It's interesting how the blame got circled around, ultimately making their fight on the mud futile and more for entertainment than emotional deconstruction between friends.
I'm not complaining too much about the lack of developments because a lot of the drama is based how petty everyone can get. It's a game of how low you can go to meet your opponent — not how classy you can get to reach the top. While it's a completely backwards approach, the show knows how to reduce a heavy emotional moment into a laughable one. Occasionally, it's jarring, but overall, I'm glad that they're sticking to their fundamental belief in all things petty because sometimes, the trivial things truly matter.
On the flip side, this show also knows how to create something of substance and emotional weight from something quite trivial. Those French Viagra pills were completely unnecessary and unimportant, until Chi-yeol experienced the side effects. The one wink led to an excuse, which led to a truly heartwarming moment in this episode, where Ja-young posed as Chi-yeol's mother. She didn't volunteer to be "Stepmom" out of pity or necessity; rather, it was because she understood the important role of a mother. These moments that really connect our character together, not just as colleagues or friends, but as potential family.
Though she's frustratingly oblivious (or maybe just completely emotionally detached from her three-year-long crush), I love how much Na-ri cares about Hwa-shin's health. The more she cares, the more uncomfortable Hwa-shin becomes because the deeper he falls for her. Na-ri's concern for Hwa-shin and his chest has a lot to do with her own family because she's lost so much from this disease, and this is kind of her chance to reclaim victory against something that has only brought suffering. The opportunity at life is something she holds dear to her heart (and chest), and I hope that Hwa-shin's complete disregard for his health doesn't come bite him in the ass.
Jealousy continually cracks me up, but I'm also appreciative of its consistent attention to detail. The small details in transitions into and out of flashbacks, the cheeky editing, and utilization of minor characters makes this show such an enjoyable watch. I thought that Little Beom really came through in this episode with his drawing, ice cream eating, and especially that face. What a cutie.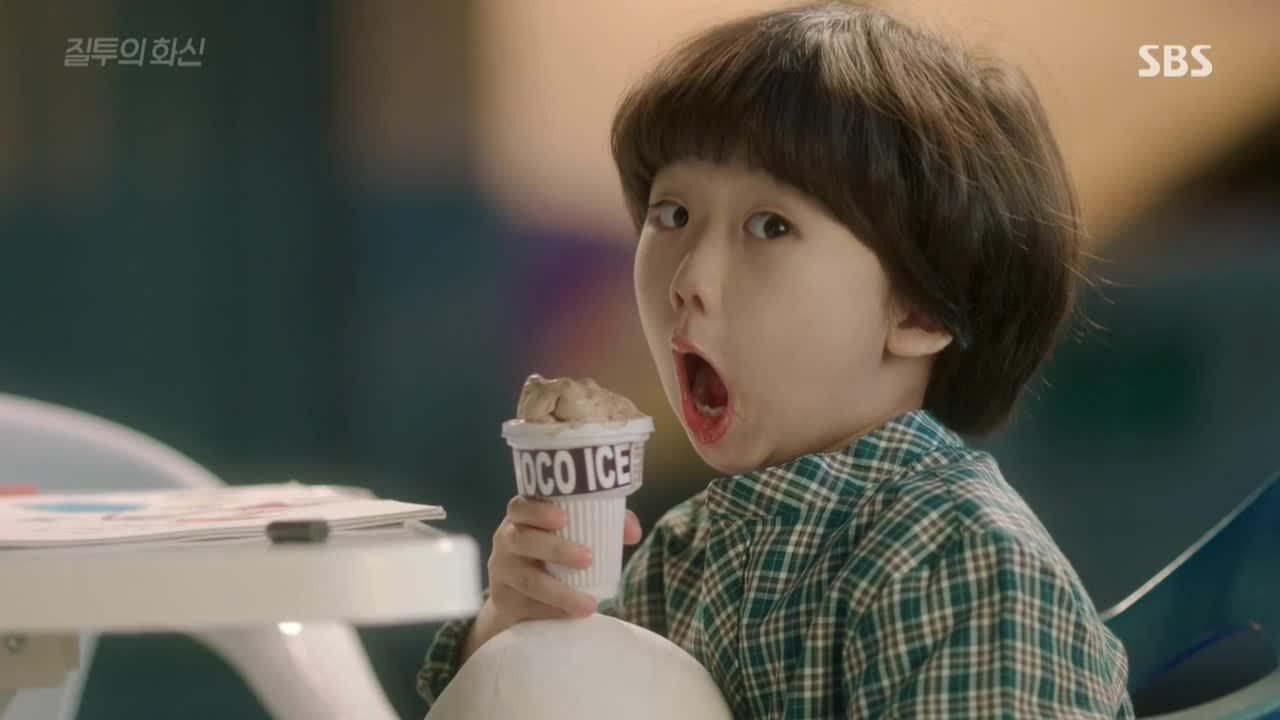 RELATED POSTS
Tags: featured, Go Kyung-pyo, Gong Hyo-jin, Jealousy Incarnate, Jo Jung-seok