Jealousy Incarnate: Episode 3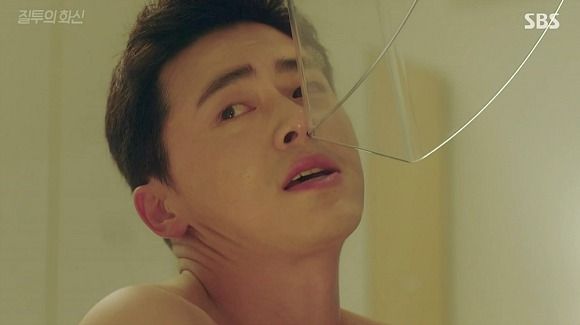 I'm liking this show a lot more (and I'm a lot less confused!) now that the character introductions are clarified, and the plot is finally kicking in. Strangely, that plot isn't at all what I expected — it's a lot more serious and grounded than anticipated. But that's not necessarily a bad thing, because while I'm missing the cute rollicking rom-com I was looking forward to, I'm really enjoying the more somber, thoughtful show I'm being served.
EPISODE 3 RECAP
After Hwa-shin confronts Na-ri about making his heart flutter with worry over he broadcast, Na-ri tells him that she's no longer interested in his chest or him. She walks out, saying that this was her last broadcast. Hwa-shin stands shamefaced for a minute, then storms out of the room. But he doesn't go after Na-ri — he walks right past her, and continues into a nearby office.
Na-ri runs into Jung-won, who looks pleased to see her. But before either of them can say anything, perky newscaster GEUM SOO-JONG pops up to thank Jung-won for the suit she's wearing, which his store donated to the station. Soo-jong happens to be one of the girls who was hired when Na-ri interviewed, and she and Jung-won were previously set up on a blind date.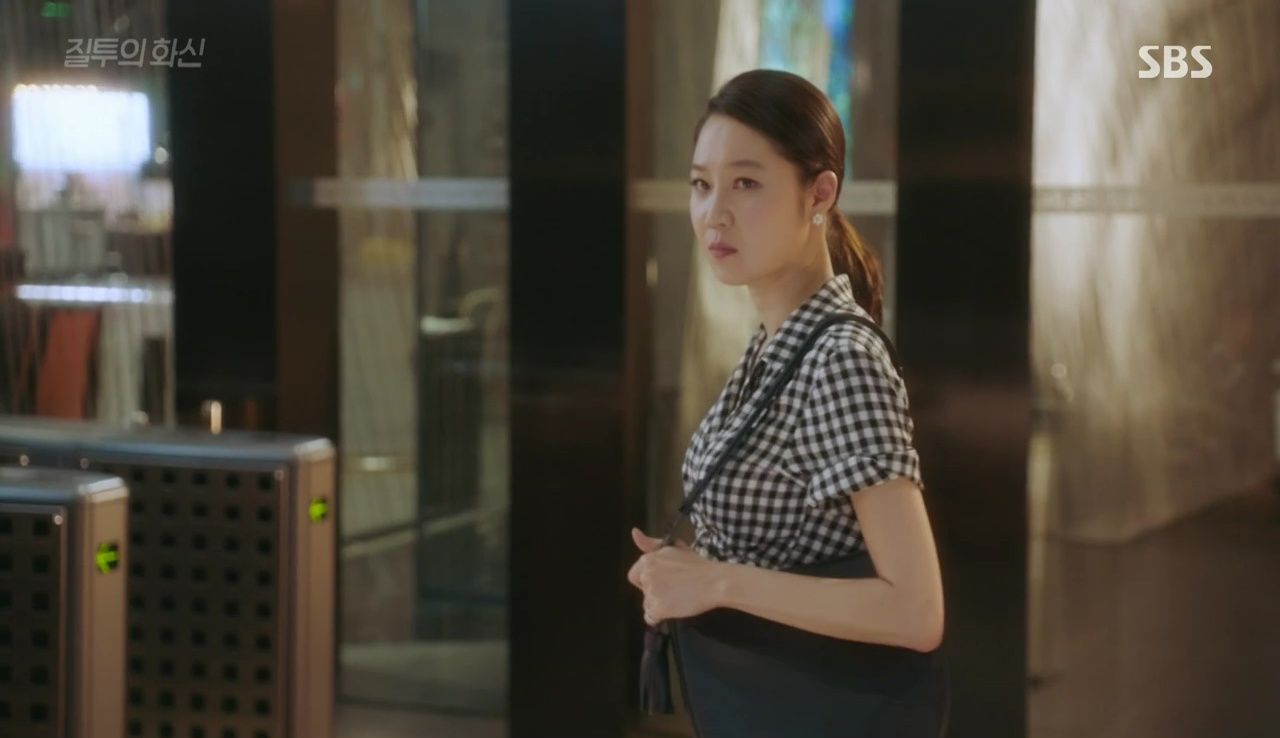 Jung-won watches Na-ri leave while Secretary Cha gushes that Jung-won is Soo-jong's fan, and Na-ri grumbles to hear it. Jung-won wants to follow Na-ri, but Soo-jong invites him to watch her broadcast from the control room. Secretary Cha coos that he'd looove to, earning a death glare from Jung-won, heh.
Na-ri stops outside to watch the three talking, and from her perspective, Soo-jong and Jung-won look awfully cozy. She sighs that she wouldn't have been fired if she'd been wearing Soo-jong's outfit.
Hwa-shin stomps all the way to the newcasters' office suite, and prints something out from one of the computers. He asks PD Oh why he fired Na-ri, and everyone on the office stops to watch their confrontation.
Hwa-shin says that PD Oh has always favored ratings above everything else, and loves any newscasters who bring in the highest numbers. He shoves the printout at PD Oh, asking why he didn't award Na-ri, and PD Oh's mouth drops open when he sees there was a massive spike in ratings when Na-ri was on the air tonight.
Sung-sook and Ja-young go on the defensive, saying that the weather isn't news, and Na-ri isn't a real reporter. Hwa-shin barks back that at least Na-ri doesn't just read news that someone else writes — she researches the weather herself, and writes her own reports.
Na-ri stops at a pojongmacha to drink, and she ignores a call from her "Complainer." She doesn't see Jung-won standing nearby, and when she doesn't answer he approaches her table. She tells him to sit somewhere else, then grouchily asks if he's a fan of every woman on TV.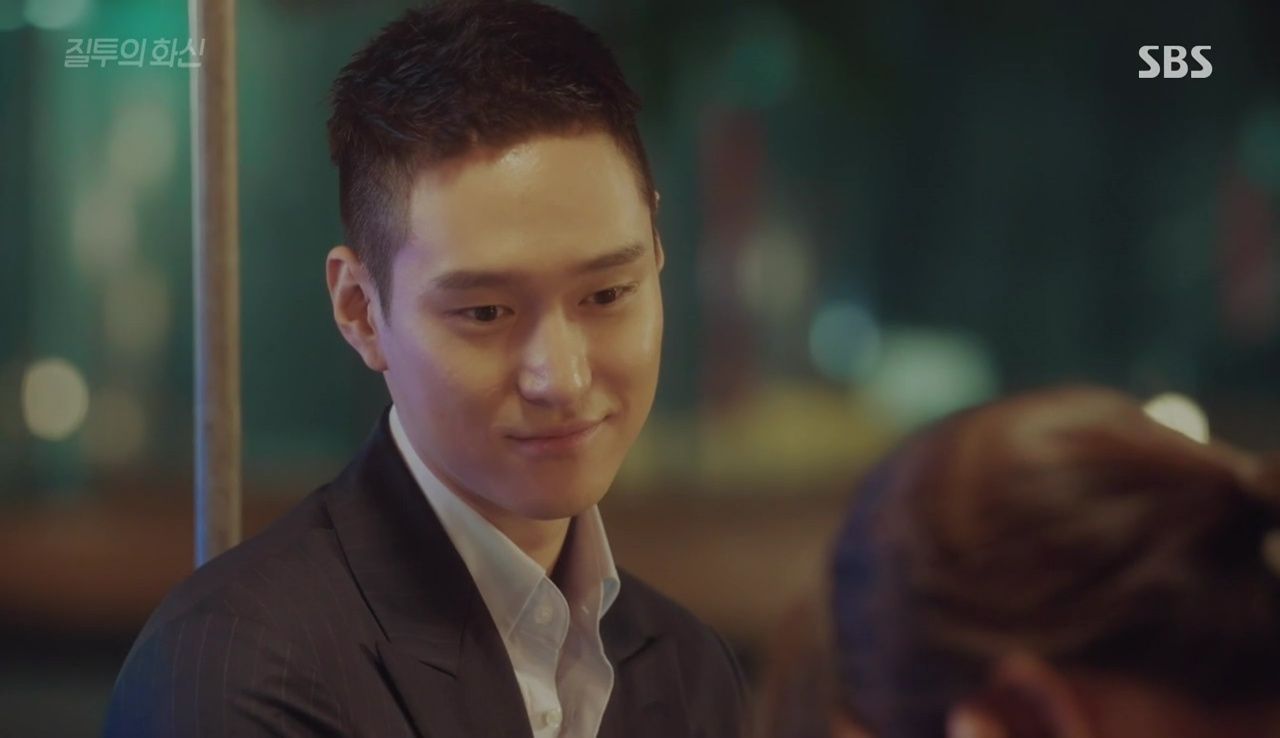 Jung-won asks if that's wrong, which throws Na-ri off-balance, and she wonders if it is wrong. Jung-won says that he hasn't done anything wrong to her today, and asks why she's arguing with him.
Na-ri asks if he'll sponsor her with his clothes, then takes it right back when he doesn't immediately respond. Jung-won says that he's a businessman, so he doesn't take losses unless it's for a friend or a girlfriend. He asks what she'll do for him if he sponsors her.
Na-ri considers her choices while Jung-won waits patiently. She gets the embarrassed giggles and says that he probably doesn't need any more friends or girlfriends, while she needs both friends and a boyfriend. She waves him on about his business, and he goes after telling her that she did well today.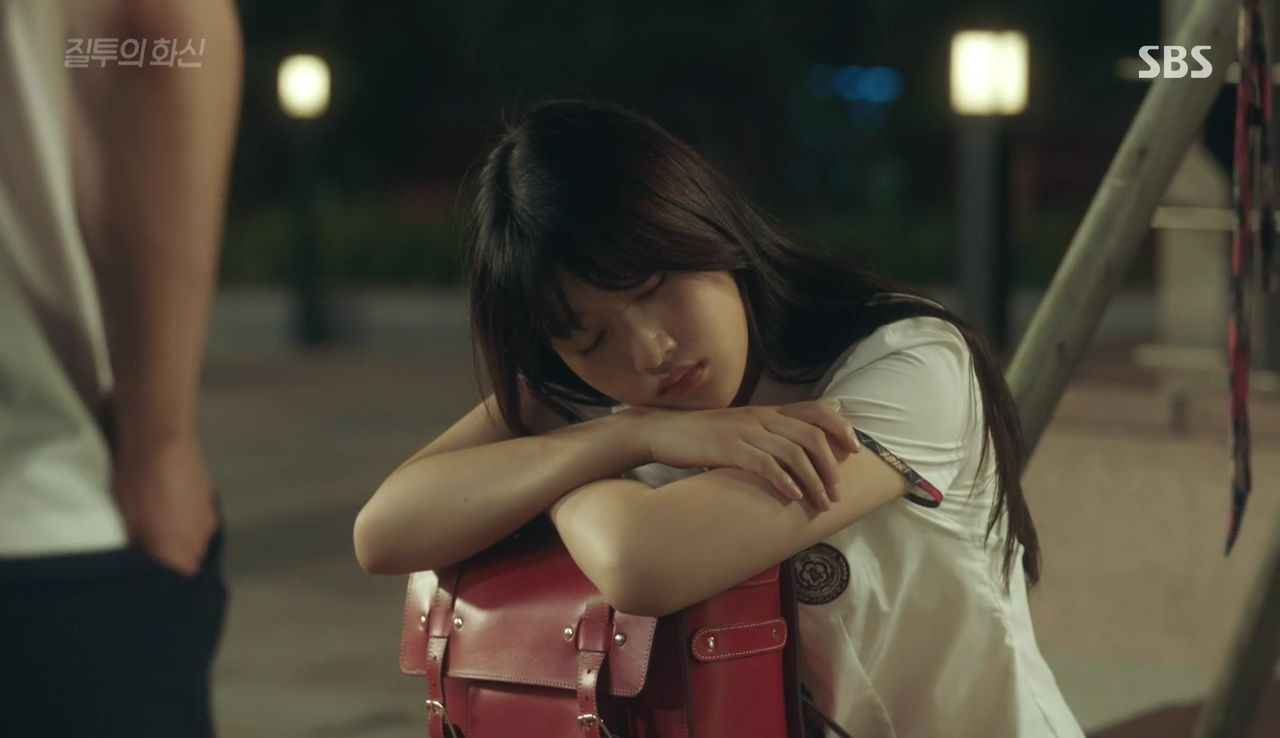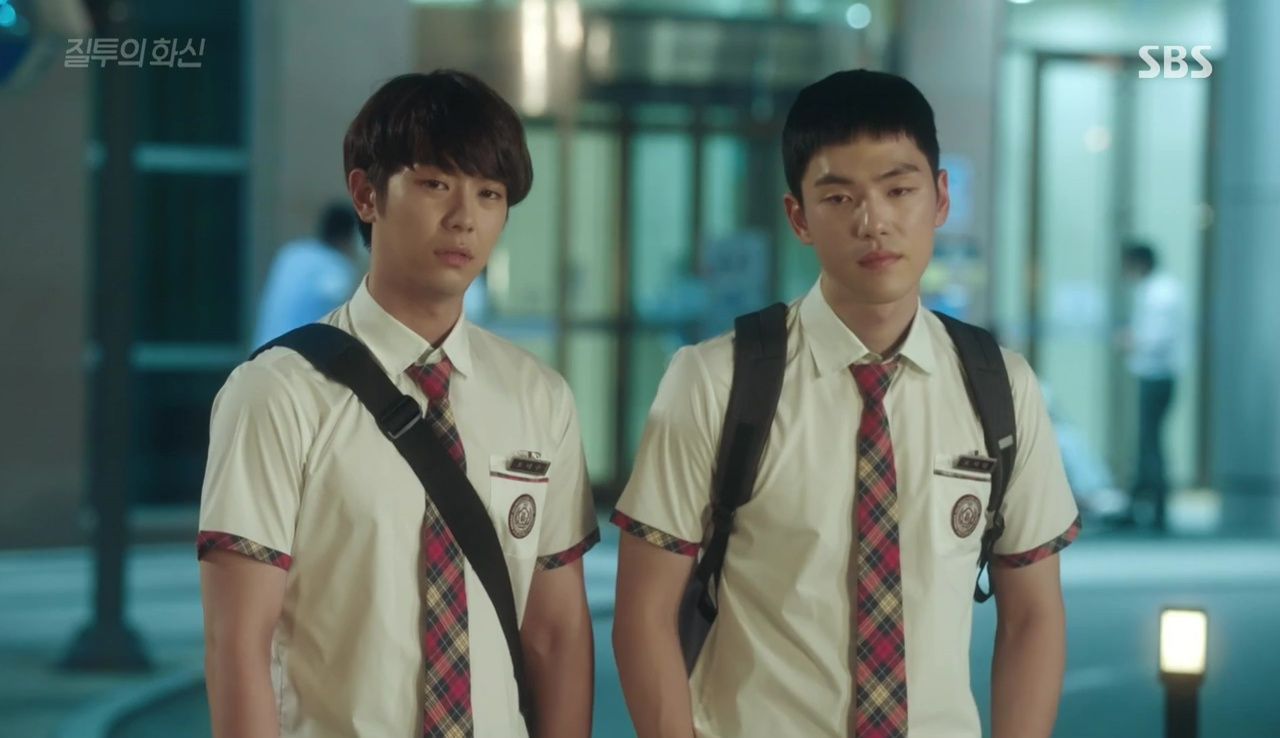 Pal-gang isn't eating or sleeping from worry over her father's condition, and Chi-yeol and Dae-goo are growing concerned. They follow her around like sad little puppies, and watch as she falls asleep sitting up on a bench.
Ja-young interrupts Sung-sook as she rehearses her broadcast, asking if she knows where Pal-gang lives and whether she's seeing her secretly. Sung-sook reminds Ja-young that she invited her to her wedding to Pal-gang's father, though Ja-young pouts that no sane ex-wife would have actually attended.
She says that even Sung-sook's overly generous monetary gift was scary, but Sung-sook says that she gave that money so Ja-young would use it to take care of Pal-gang. Ja-young used it to buy herself a designer bag instead, but she defends that she spent even more of her own money feeding and clothing Pal-gang. In her mind, that makes her more of a mother than Sung-sook, who only threw money. Sung-sook ignores this, and says that she's decided to find her daughter and raise her.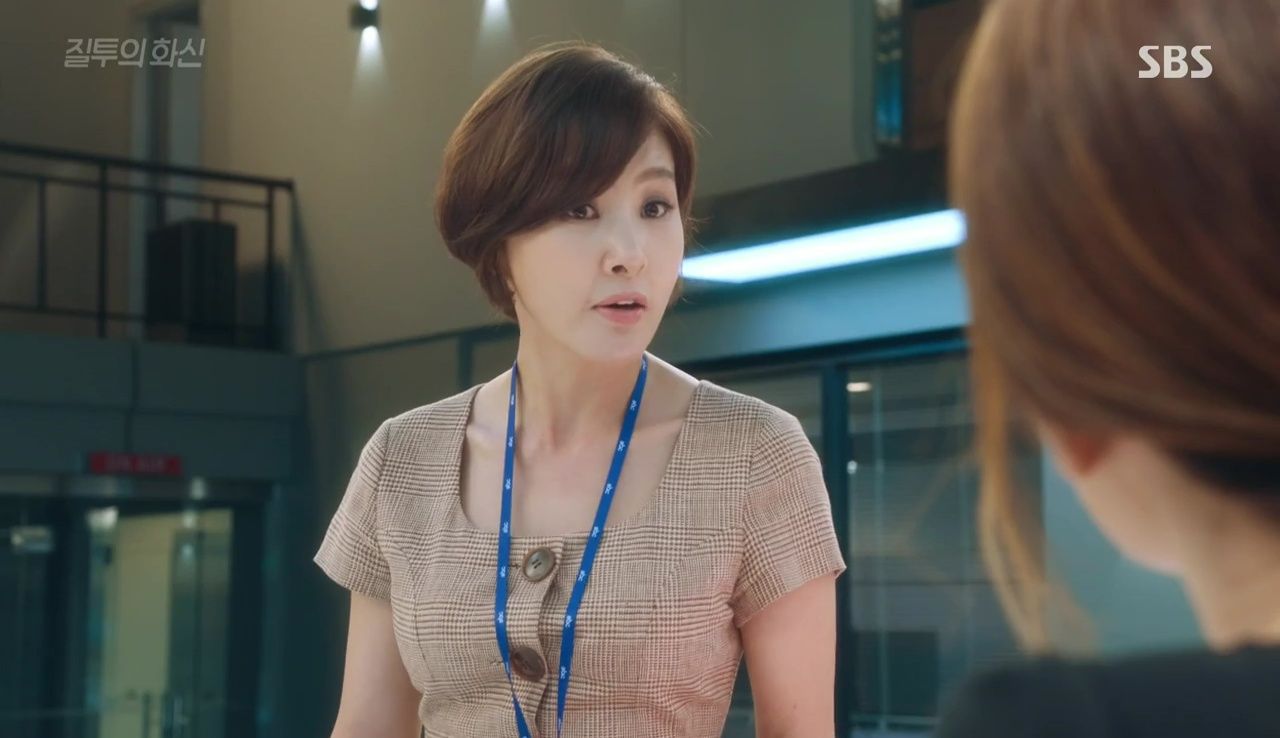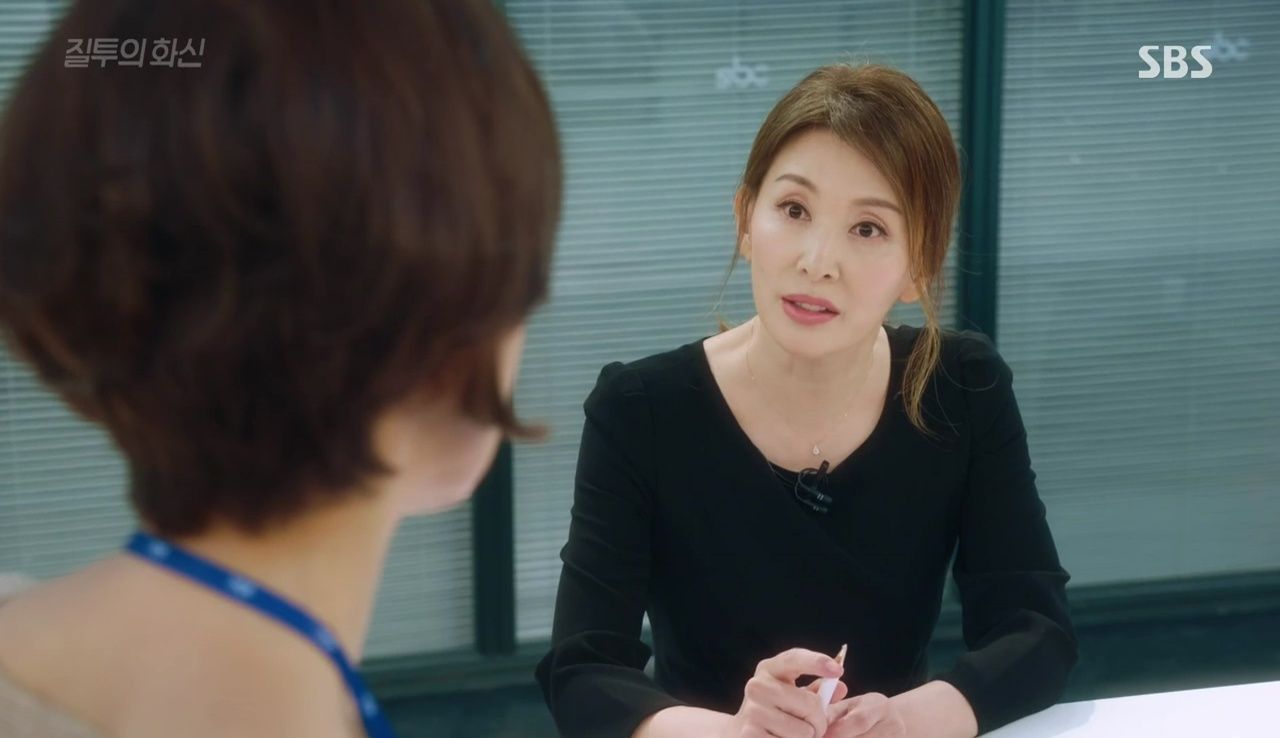 Hwa-shin sees Na-ri sitting on the sidewalk after failing to hail a taxi, and pulls up next to her. She hilariously hops in the backseat and directs him to her place, thinking he's a cab driver, and Hwa-shin doesn't correct her.
She's pink-cheeked and chatty after several beers, and Hwa-shin steams over the fact that she doesn't recognize him. Feeling petty, he takes corners too hard just to tip her over, and tells her that she'll have to pay for it if she barfs in his car. Finally Na-ri admits that she knows this isn't a taxi, ha.
They get out to walk so that the night air can sober up Na-ri, and Hwa-shin asks if she knew he wasn't a taxi when she got in his car. She points out that he wouldn't have given her a ride if she just asked, and he can't even say she's wrong.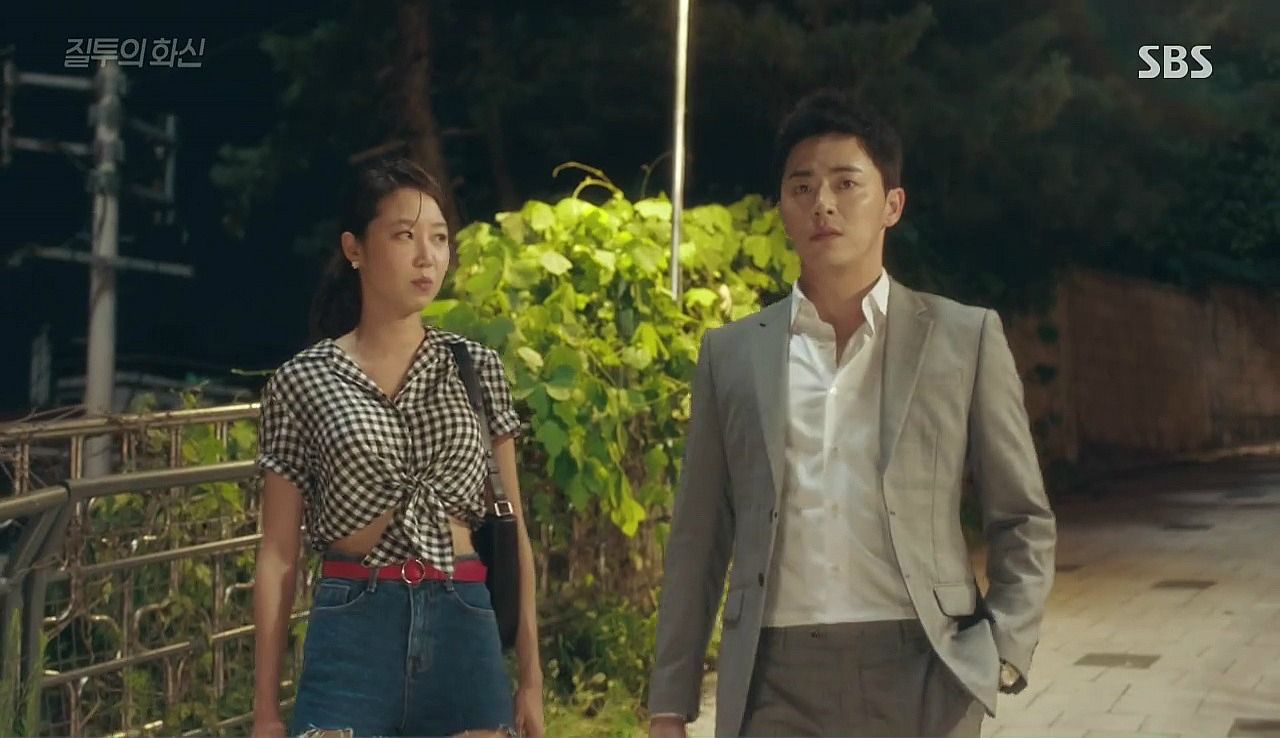 She asks Hwa-shin why men never offer her a ride without her having to ask, and why she always has to ask a man to be her friend or boyfriend. He doesn't answer that either, nor does he want to know who Na-ri was drinking with, and she grouches that he's not curious about her at all. Hwa-shin gives Na-ri his jacket when he sees her shivering in her skimpy outfit.
Chef Rak helps the boys carry the sleeping Pal-gang home, and Chi-yeol is surprised to see Na-ri walking towards their building with a man. Chef Rak gets a little angry, and wants to get a better look at a guy who would get Na-ri drunk while he stays sober, but Dae-goo stops them both.
Na-ri wonders out loud what she'll do starting tomorrow, and Hwa-shin tells her to go on some blind dates and get married. Na-ri's silence speaks volumes, and Hwa-shin says that she should find someone better than him and rub it in his face.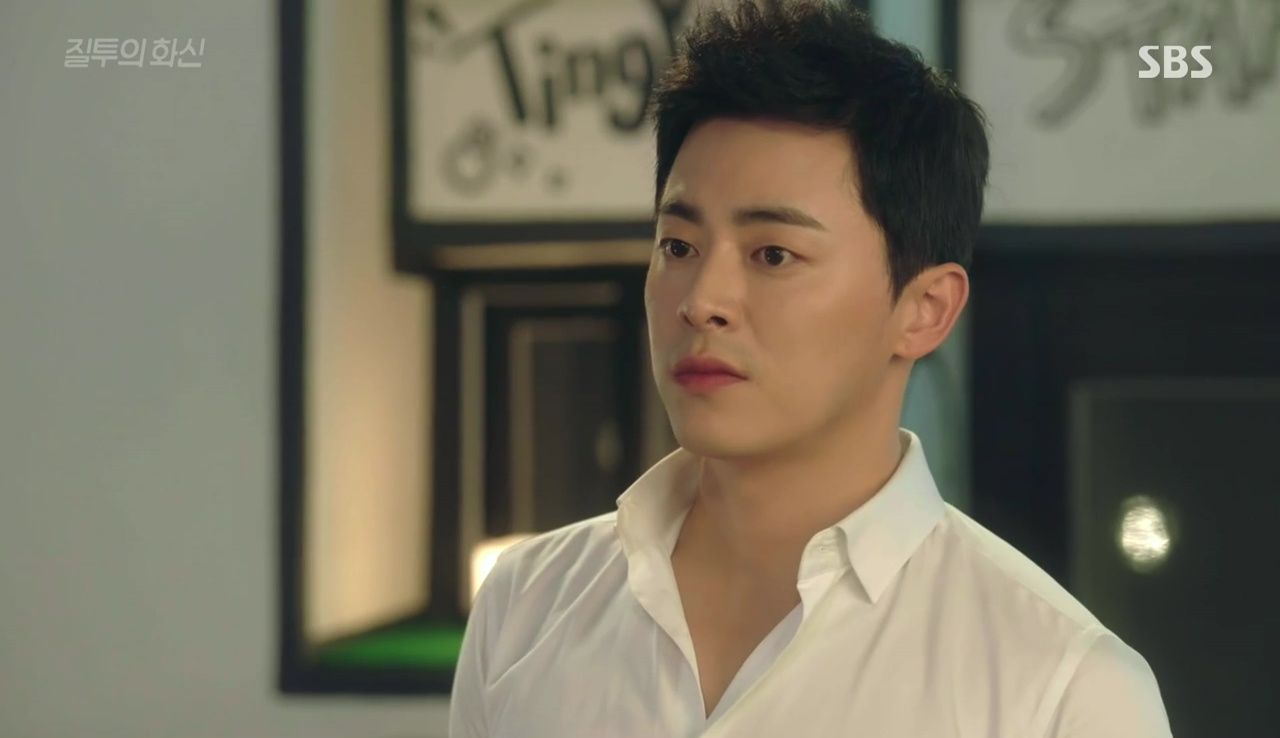 Na-ri says that he's already out of her league, but she'd like to find someone better and love him with all of her heart. Hwa-shin notices that she becomes more open when she's drunk.
He drops her off at her building, and Na-ri finally thinks to ask why he called her earlier. Hwa-shin lies that he mis-dialed, and they both nervously agree that he has no reason to call her. They linger there for a moment, then Hwa-shin reluctantly goes.
He passes by Chef Rak and the kids, and Pal-bong, who's now awake, hides her face from her uncle. She remembers back to three years ago, when she'd picketed Hwa-shin's station with a sign saying that her father is not a swindler. Hwa-shin had run out to her, looking stricken, and both Ja-young and Sung-sook had joined them.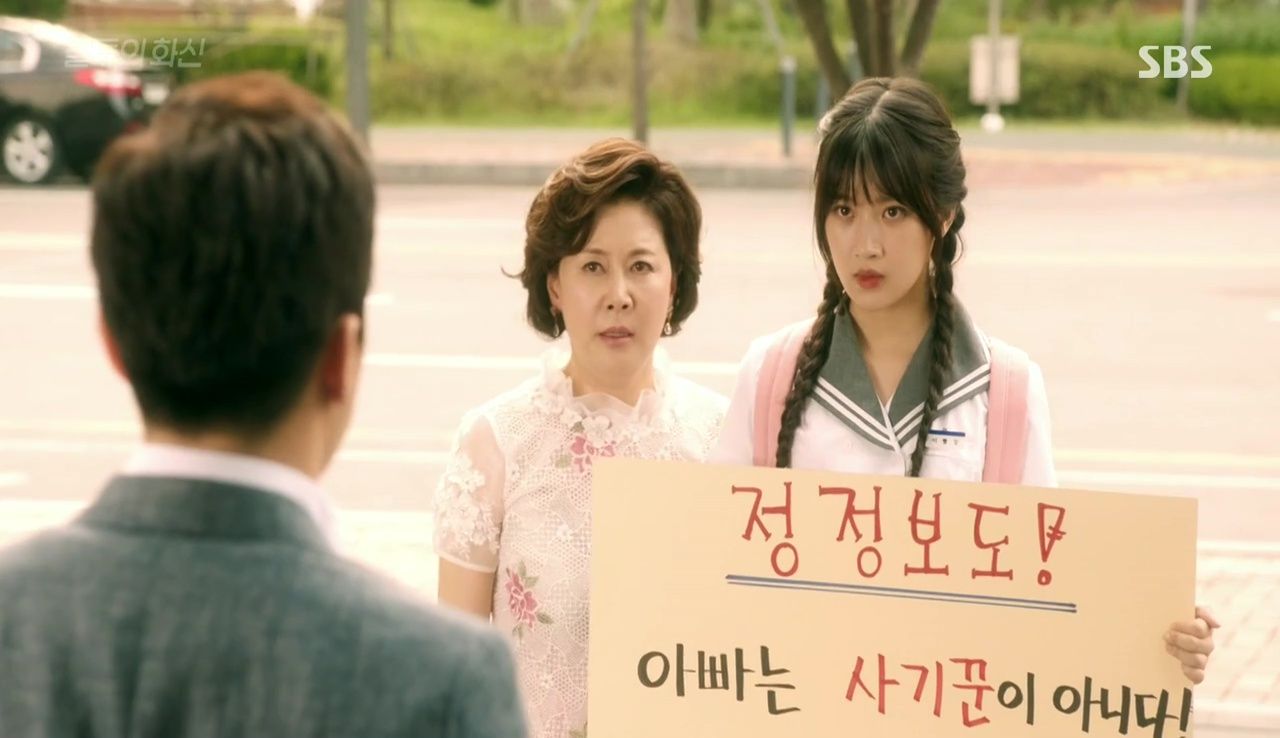 Hwa-shin's mother had pleaded with Pal-gang to let this go, because nothing she does will effect Hwa-shin. She'd said that she no longer considered Hwa-shin her son, so he's not Pal-gang's uncle anymore either. She'd finally pulled Pal-gang away, leaving Hwa-shin alone on the sidewalk.
Na-ri washes off her makeup and pulls her station ID out of her purse to look at it. Chi-yeol comes home and asks if she's got something to tell him, and when Na-ri asks if she should do something else, Chi-yeol reminds her that she wanted to apply to be an announcer. He tells her not to quit, and that he's proud of her.
He asks if she really wants to be an announcer, and Na-ri says that she does. She tells her brother that the strap on her station ID is red because weathercasters never know when they may be fired — newscasters have blue straps, which are only for permanent employees. Na-ri gives a dry laugh, and says that she doesn't even wonder what kind of people work at the station, that she only sees the color of their straps.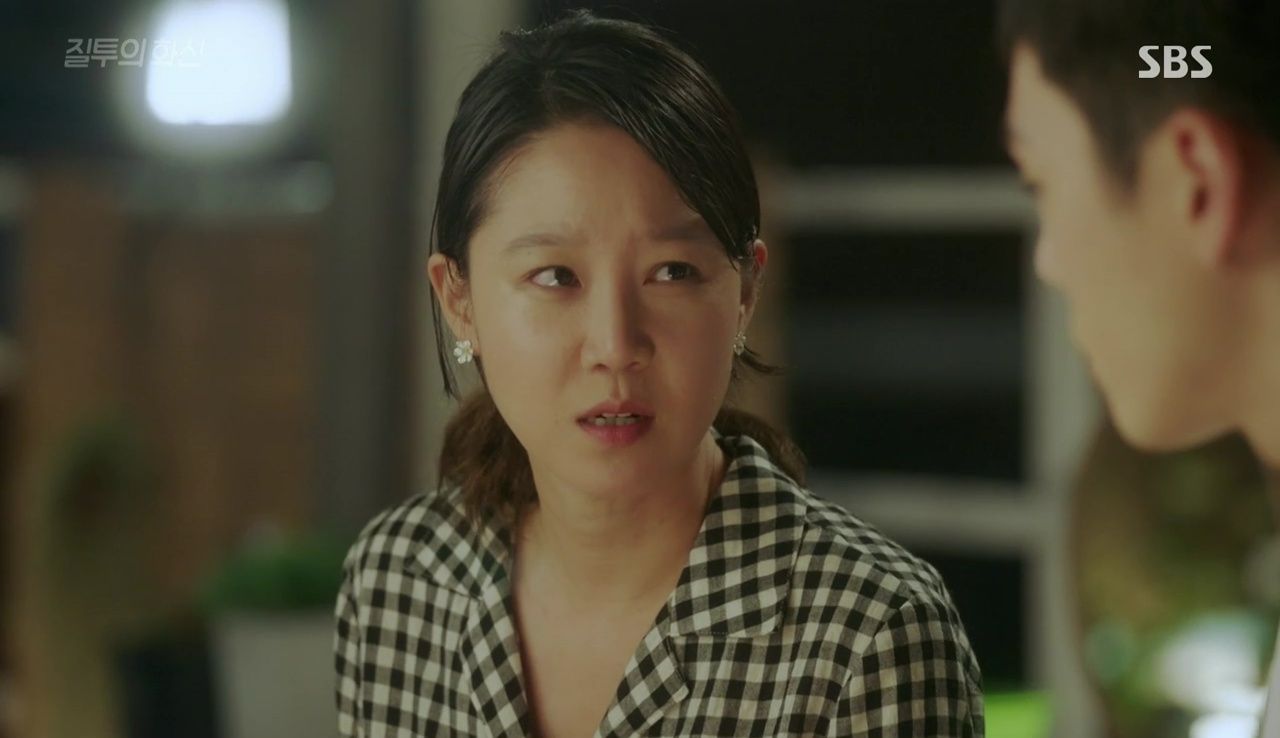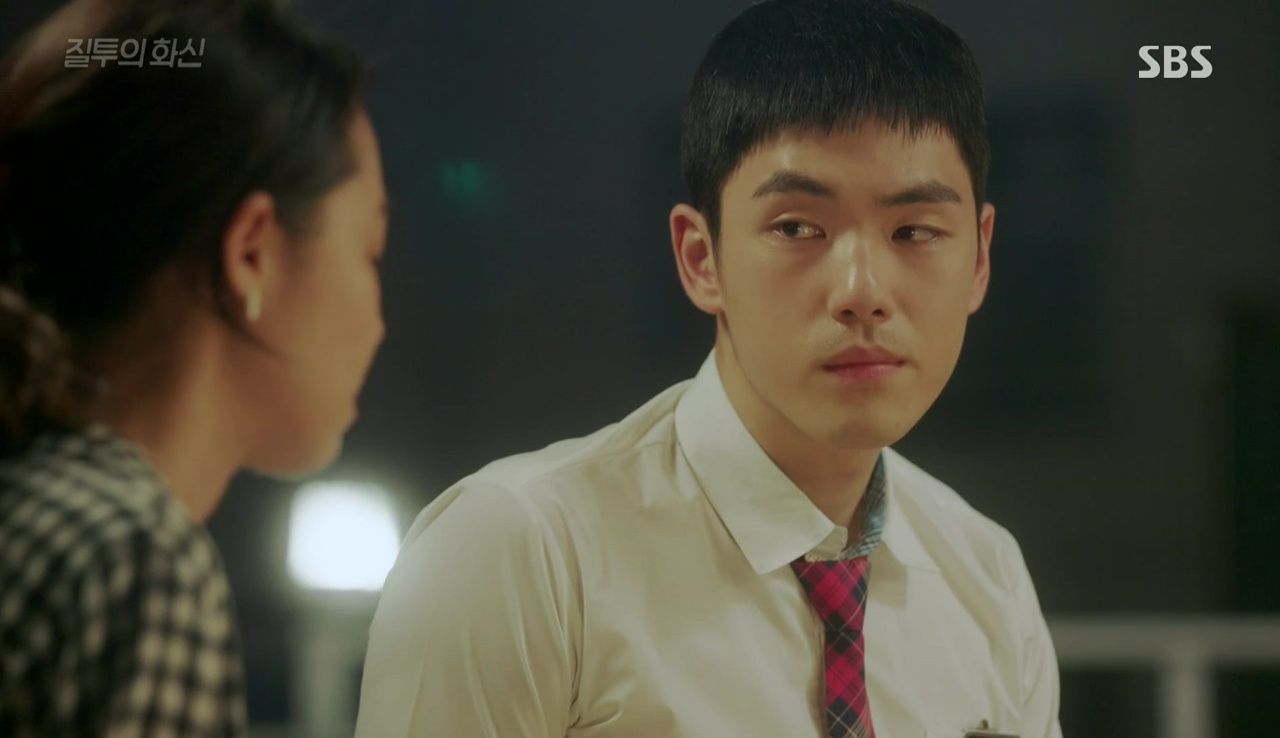 She bemoans the fact that she studied so hard, but she only made weathercaster, and now she doesn't even know if she's capable of doing any better. But her dream is to be a newscaster, with the job security that comes with the position.
Chi-yeol and Dae-goo take Pal-gang to Chef Rak's restaurant, but she still refuses to eat even when Dae-goo tries to feed her himself. Chi-yeol grows annoyed with her stubbornness, so Pal-gang asks for a favor, and says that if they'll eat, she'll eat.
We see Hwa-shin's appointment with the OB/GYN doctor in flashback, and at first he's flustered when he realizes that DR. GEUM is a woman. Dr. Geum explains that since he's a man (and therefore an unusual case), they'd wanted to get him in as soon as possible.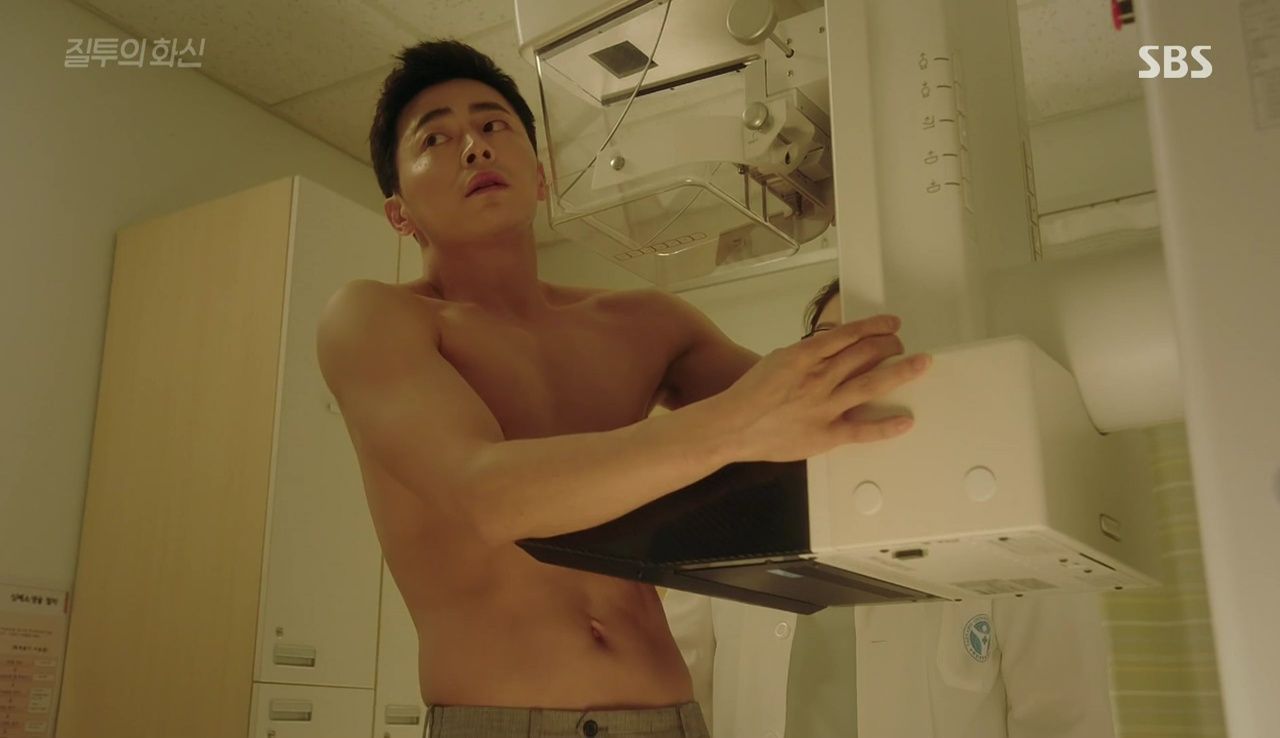 At Hwa-shin's obvious discomfort, NURSE OH looks into a male doctor for him, but none of them are available for several months. Pfft, Hwa-shin starts unbuttoning his shirt right there, and Dr. Geum has to ask him to change in the dressing room.
An ultrasound finds a white mass in the exact location that had concerned Na-ri, and the doctor decides to do a biopsy right away. Then Hwa-shin suffers through a mammogram, which is painful considering his marked lack of breast tissue. His bellow of pain echoes through the entire office, and the technician just deadpans that that's nothing compared to childbirth.
After it's all over, he heads to an empty stairwell, which is when he tries to call Na-ri and she hangs up on him.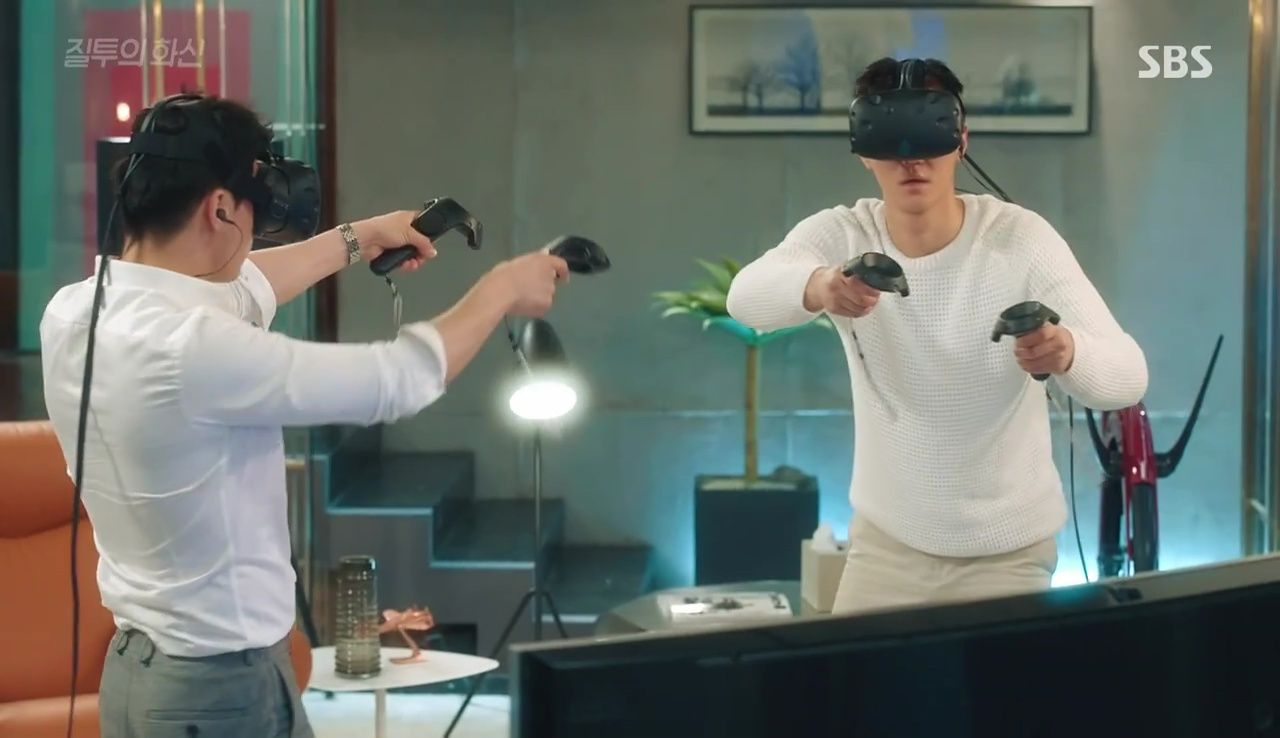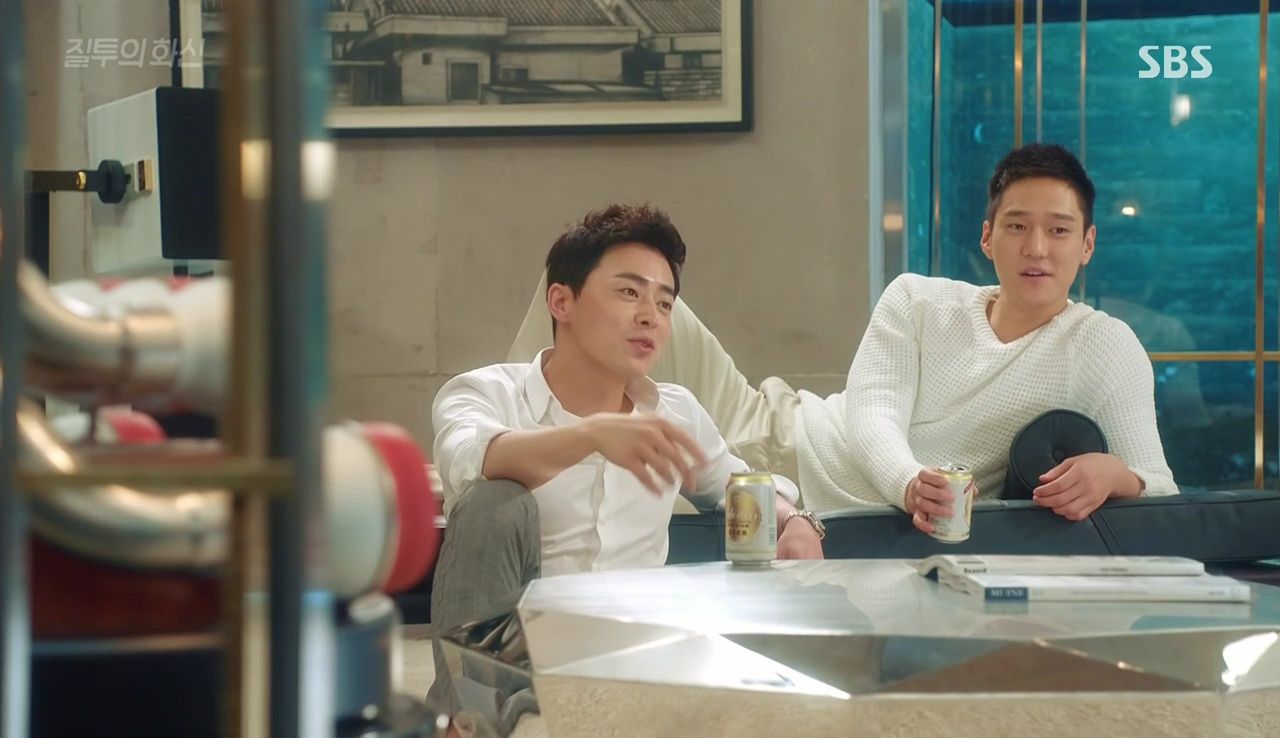 Jung-won has a beer and thinks about Na-ri, and how she'd gotten nervous when he'd asked what she would do for him if he sponsored her clothing. He calls Hwa-shin, noting that his phone doesn't alert him that it's an overseas call (Secretary Cha previously lied that Hwa-shin was still in Thailand). He invites Hwa-shin over and the two play virtual reality video games — which is absolutely hilarious — then Jung-won invites Hwa-shin to stay the night.
Jung-won pouts at Hwa-shin not to leave the country again, because he's been bored without him. Jung-won mentions an old girlfriend of his who's getting married, and the two friends realize that she was both of their first kiss. Ew, lol. Hwa-shin wonders if she liked them both equally, and Jung-won wonders if they should go to her wedding and ask. HA.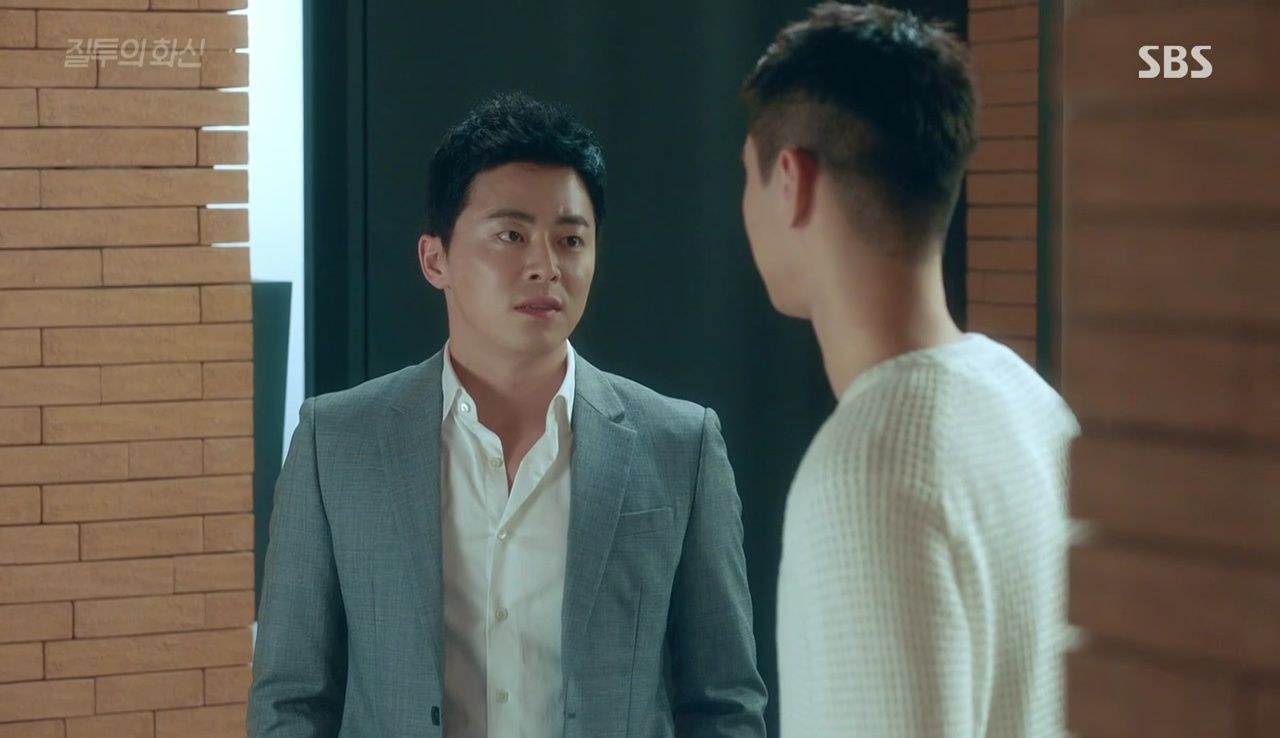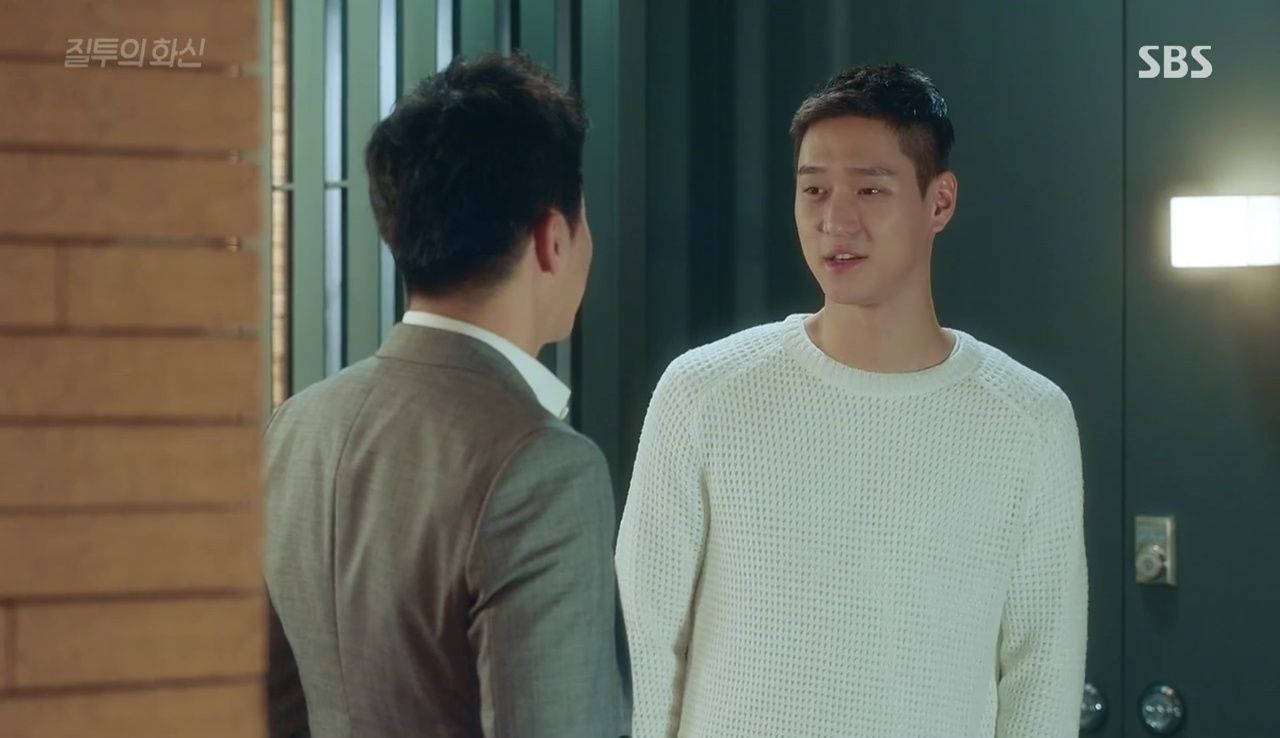 Hwa-shin decides not to stay over, and on his way out, he starts to tell Jung-won about the lump on his chest. But he changes his mind, and pretends it was nothing.
In the morning, Chi-yeol sees a text reminder on Na-ri's phone regarding an appointment with Dr. Geum. Ah, so Hwa-shin did go to her doctor. Chi-yeol drops the phone on the bed where she's trying not to wake yet, and she groggily answers a call when it rings.
It's Jung-won, calling for his promised personal weather forecast, and is he doing yoga on his desk? Weirdo. Na-ri quickly wakes when she sees that it's her "complainer," and she tells him that she got fired. She asks for a minute to get prepared, and runs outside in her pajamas (and HA, the look on her brother's face).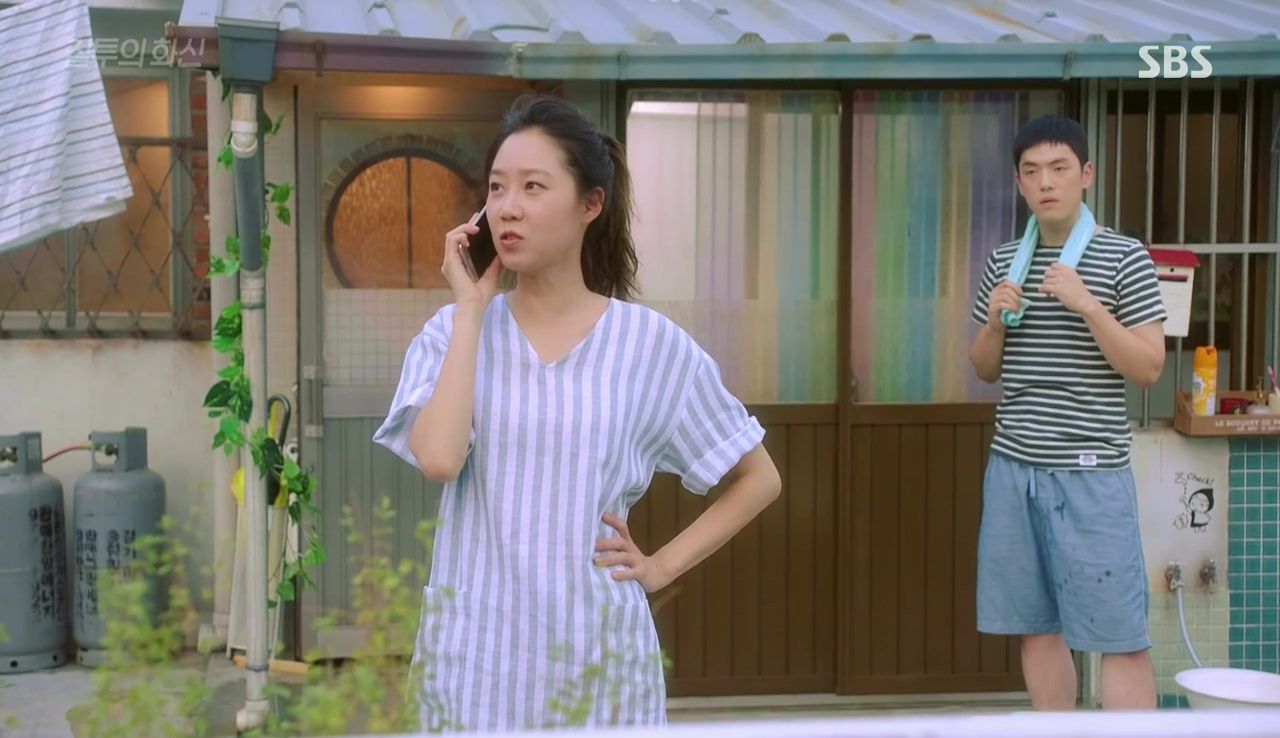 She asks what he's planning to do today, and Jung-won says that depends on her forecast. Na-ri figures he has a date planned today, so by the feel of the weather conditions this morning, she says that he could go just about anywhere. Further, there are no clouds, so she advises him to go stargazing tonight.
Jung-won finds this all highly amusing, and says that he'll pick her up this afternoon. It takes Na-ri a second to realize he's asking her out, then she backpedals and says that she's super busy and hangs up (she doesn't know her complainer is Jung-won).
Na-ri grumbles that his voice sounds very familiar, and Chi-yeol demands to know if she was talking to the guy who walked her home last night. He's all worked up at the thought, and neither Na-ri nor Chef Rak, who overheard the last bit, understand why.
Awww, Jung-won had ordered some dresses brought to his office for Na-ri to choose from, but he tells his assistant to take the dresses back because the lady is too busy.
Hwa-shin spends the morning drinking beer after beer, and looking up information on breast lumps online. Yikes, never do that!
Ja-young soaks in a luxurious bubble bath, and gets a call from someone claiming to be an investigator at the Seoul District Court. She's not at all concerned, assuming it's a voice phisher, and hangs up on him.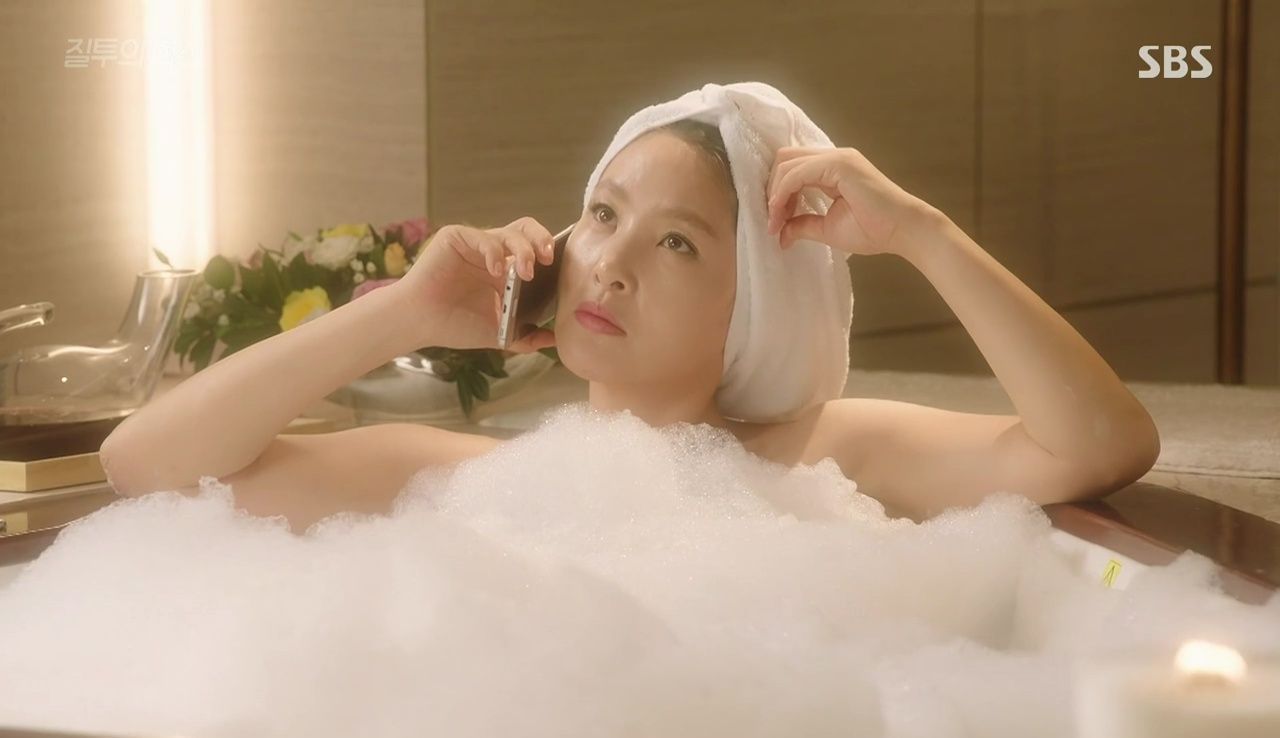 Sung-sook also takes a call from someone telling her about a man who was recently arrested for was stealing identities. She also thinks this is a scam, and hangs up.
Hwa-shin receives a similar call, and he's told that the man had two different bank accounts under Hwa-shin's name. The accounts were used to carry out fraud, and the victims are now suing Hwa-shin. Hwa-shin asks what he should do, and he follows the caller's directions, logging onto his bank account.
Na-ri's young stepmother, Hong-dan, attempts to go to Na-ri's appointment with her, but Na-ri prefers to go alone. She tells little Beom (and I suppose this makes him her half-brother) that he'll have to get a huge shot in his hiney if he goes to the hospital, scaring the little guy until he cries so that Hong-dan is forced to stay home.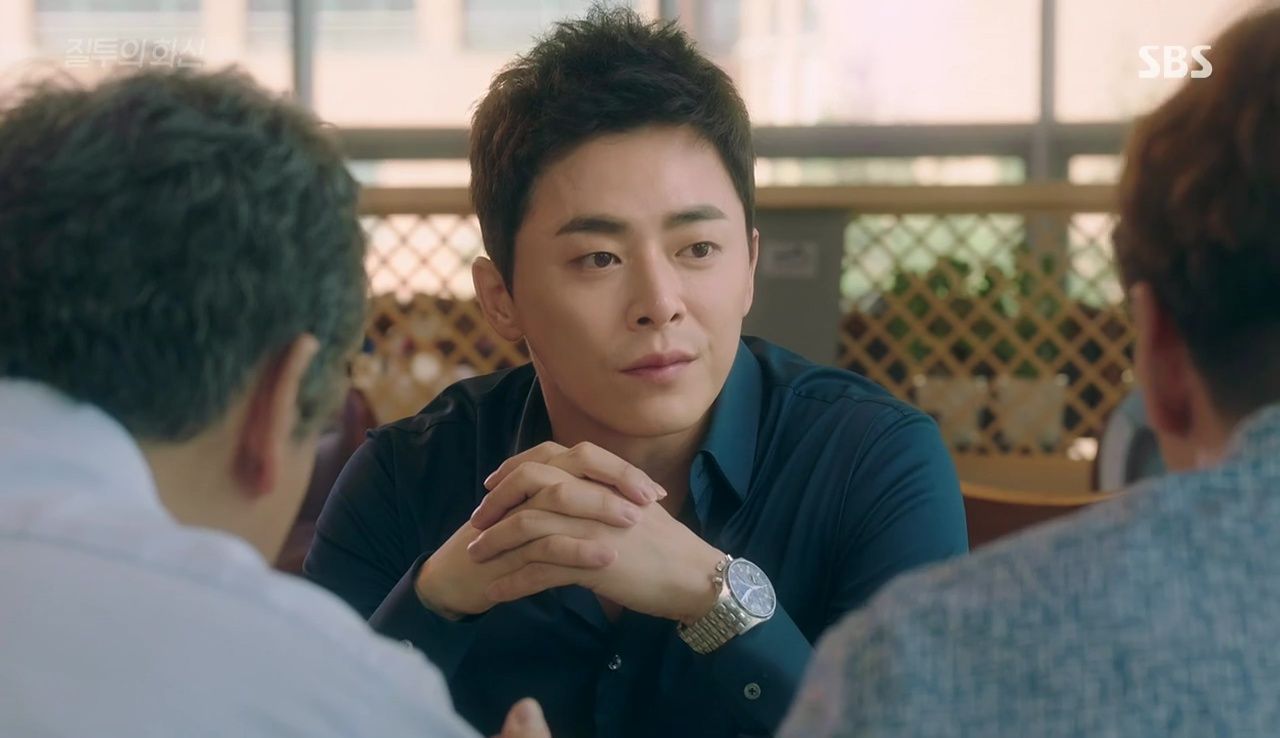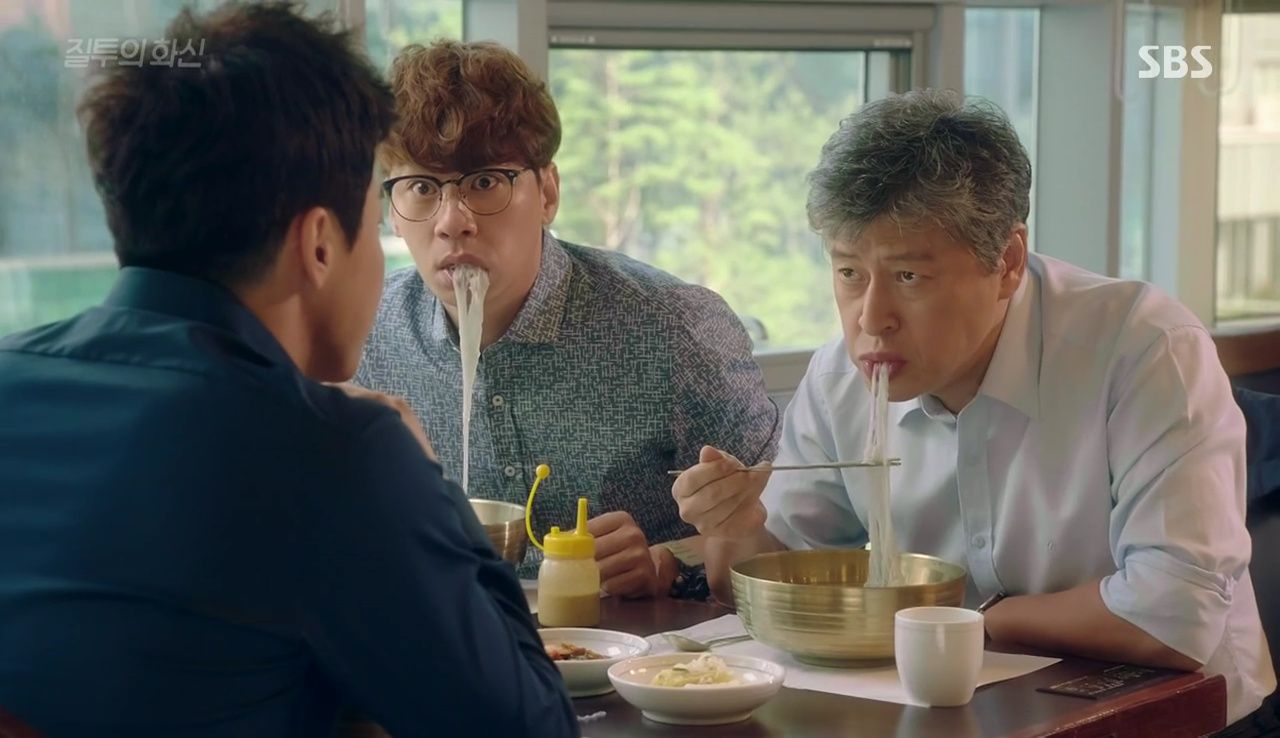 Ja-young surreptitiously watches Hwa-shin's place until he leaves, then lets herself in, since the passcode hasn't been changed since the last time she was here.
Hwa-shin goes to the station and takes PD Oh and Dong-gi out to lunch. He informs them that he plans to audition for the anchor position, and Dong-gi warns him that Sung-sook plans to also audition for the job. Hwa-shin breezily says that the competition will only make him look better.
He's not asking PD Oh and Dong-gi's help — he's only asking them not to stand in his way. Hwa-shin goes a bit stiff when he's reminded that he'll have to turn in a copy of his medical records.
At her exam, Na-ri learns that she needs surgery — she has a new lump in her breast, and while it's not cancer, it still might cause complications. Na-ri quips that her breasts are small enough without removing even more, and Dr. Geum reminds her that this is good news.
Hwa-shin also goes in for his test results, and unfortunately, he's not as lucky as Na-ri. He has breast cancer, and Dr. Geum reassures him that this is rare, but it does happen to men.
Hwa-shin's instinct is to deny it, but the doctor tells him that he's young, and the cancer is only in Stage One. She says that being a man makes his cancer no harder to treat or cure, and that with surgery and treatment, he'll be fine.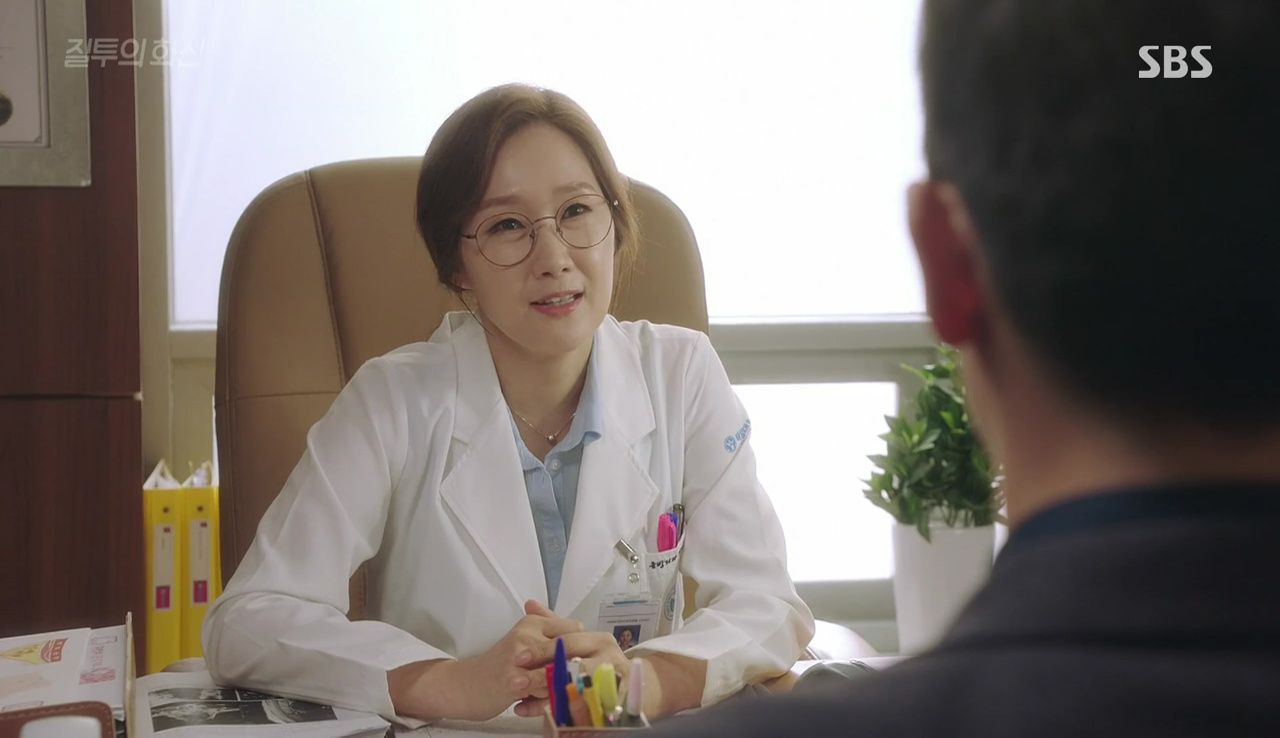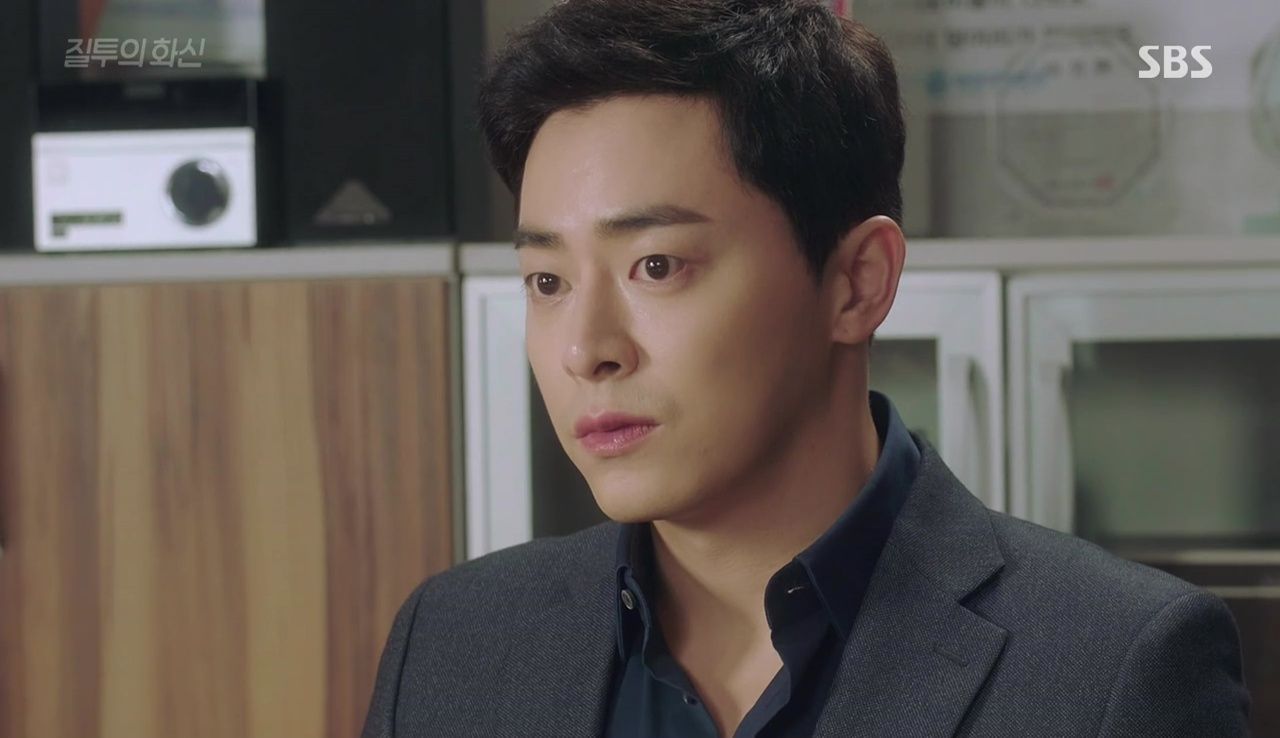 Hwa-shin says disbelievingly that he can't have cancer now — he's got an audition in a month. He asks Dr. Geum to get him well by then, and adds that nobody can know about this. It finally hits Hwa-shin that he has cancer, and his voice quivers as he asks the doctor why this is happening to him.
Dr. Geum tells Hwa-shin again that the cancer is in a very early stage, and very treatable. She says that they can just surgically remove the cancer itself, or do a full mastectomy, which she recommends. His eyes go wide at that, and he asks how he could do things like swim, or even look normal in the nice shirts he likes to wear, with only half a chest.
He accuses the doctor of not caring because he's a man, saying that men's chests are important, too. Dr. Geum tells him that if he chooses not to have a mastectomy, he'll have to undergo radiation every day for six weeks, but to Hwa-shin there's only one choice.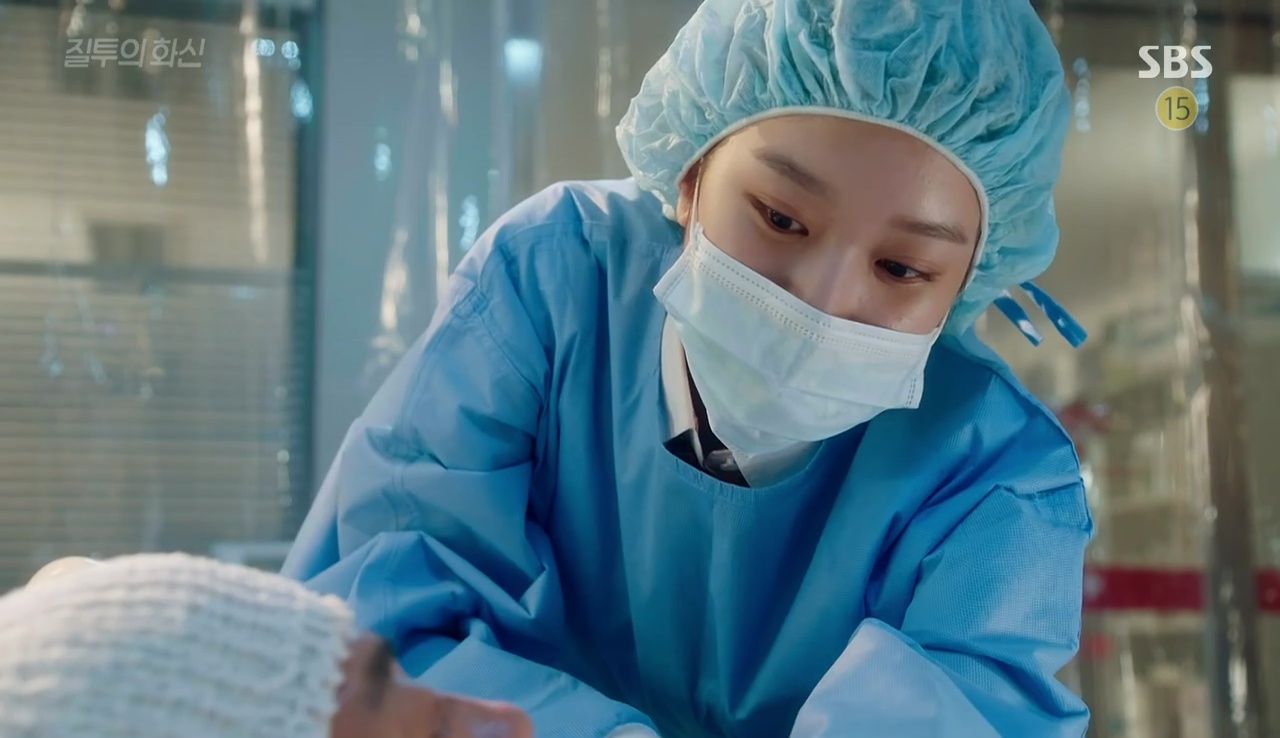 He asks about scars, begging the doctor to please be as careful with him as she is with her female patients. She says that there's no way to avoid some scarring, but that they'll fade with time. Hwa-shin suggests that she cut at the edge of the areola so that the scars are less visible, and Dr. Geum replies that she'll do her best.
Pal-gang's father is breathing on his own now, and seems to be improving. Pal-gang puts earbuds in his ears so that he can listen to music, and he hallucinates that his mother arrives to see him. Sung-sook and Ja-young also enter to bring him flowers, then Chef Rak, Chi-yeol, Dae-goo, and even Jung-won all show up and cover his bed in bouquets.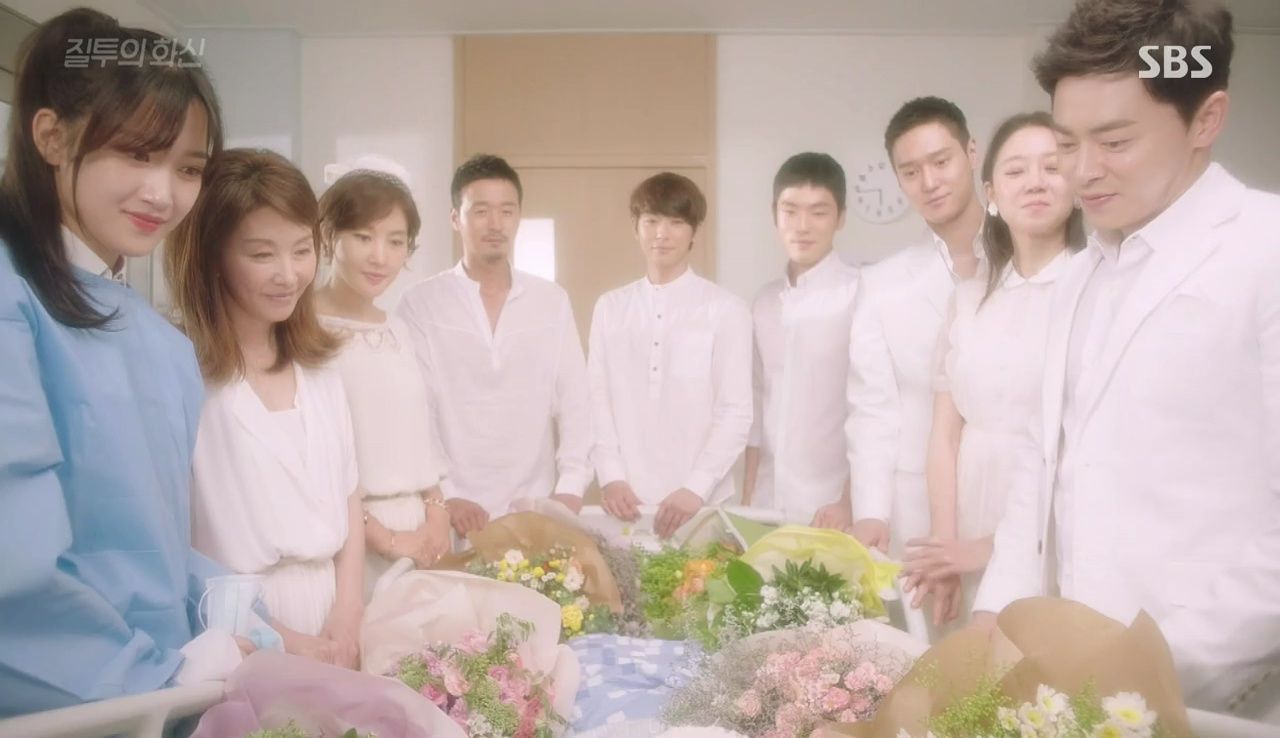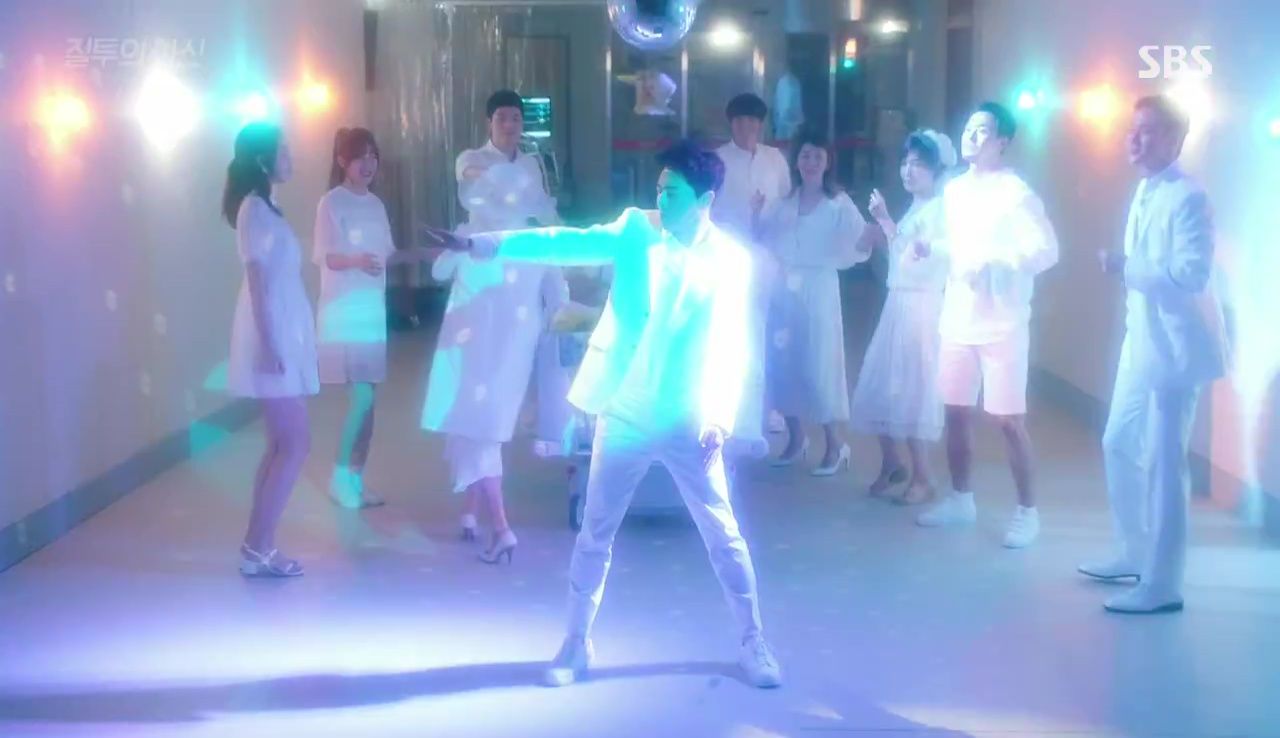 Na-ri and Hwa-shin also come, and they all stand around the bed, smiling down at him. They push his bed out of the room and down the hall, and into a bright white light. They all dance around the bed while Pal-gang's dad nods and smiles at them, then they pull him up to spin and dance with them. He floats back to the bed and into reality, and Pal-gang (the real one) takes some pictures of the tiny smile on her father's face.
Na-ri arrives at the hospital for her surgery, and though the other bed in her room has the curtains drawn tight around it, nobody answers when she says hello. She notices a pair of slippers peeking out from under the curtain, so she tries to be quiet as she unpacks her bag.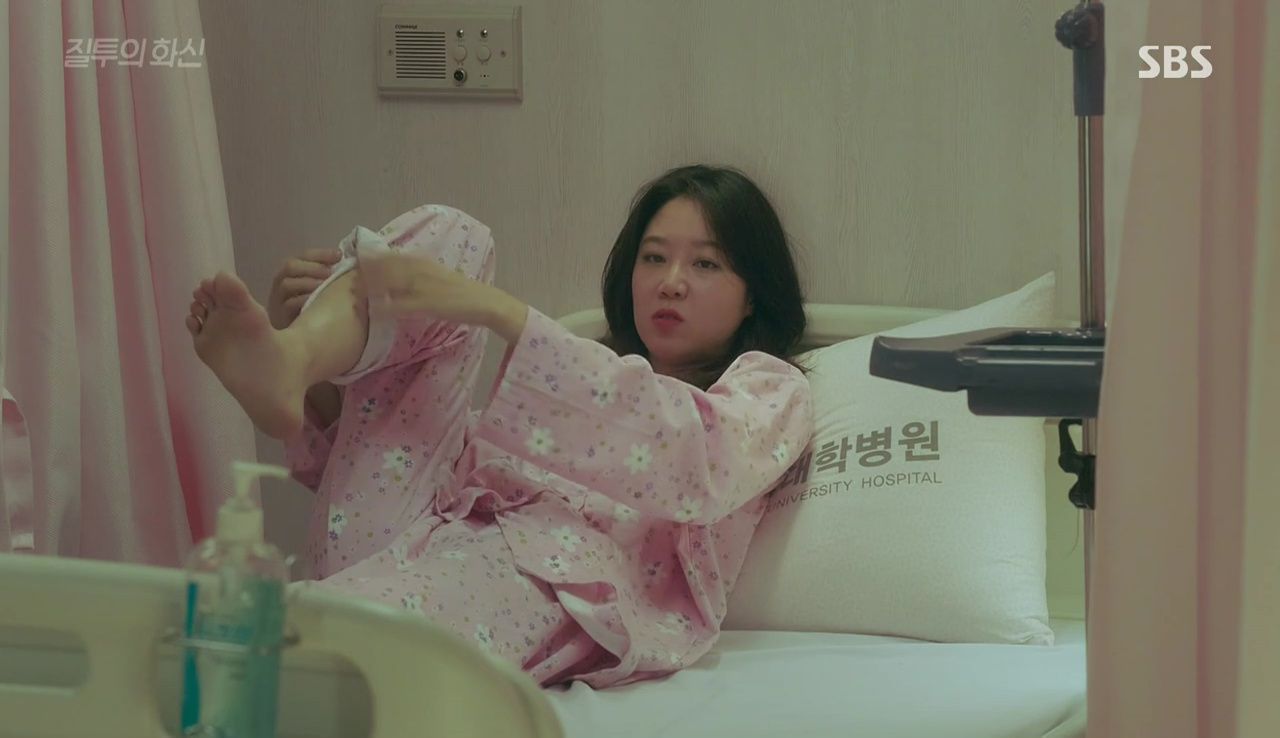 She asks if the other patient minds her turning on the TV, and still there's no reply. She undresses, which we just see as a silhouette through the sheer hospital curtain, and there's a cough from the other bed as Na-ri is stepping into her hospital-issued pajamas.
The television is tunes to the SBC news, and Na-ri grouches to see that the station is getting along just fine without her. She starts to change the channel, but a voice from the next bed asks her to leave it. It's a male voice, and Na-ri falls off the bed in surprise, ha.
She pulls herself up to peek over the edge of the mattress, just as the curtain around the other bed is pulled aside. There, wearing the same pretty pink flowered hospital jammies as Na-ri, is Hwa-shin.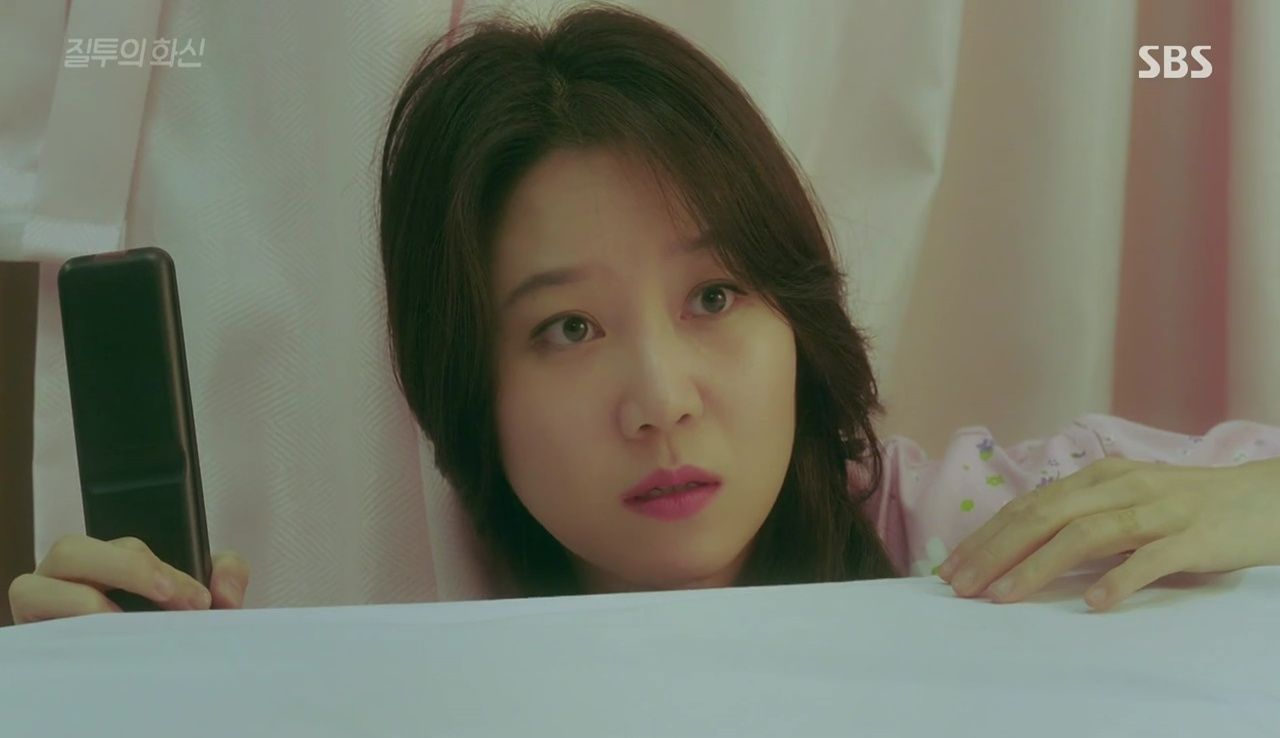 COMMENTS
I'm surprised at the direction this show is taking — call me crazy, but I was expecting a lighter drama about jealous newsroom antics, and fewer breast cancer scares. That's not to say that I'm disappointed, not at all. In fact, I appreciate the show tackling the unusual topic of a man with breast cancer, and the lighter moments are still fun without being bogged down in the more serious topics. And Jo Jung-seok is doing a fantastic job as Hwa-shin, who's such an enigma and holds his feelings so close to the vest. But he betrays these small glimpses of vulnerability and loneliness that just kill me, and the more I learn about him the more I realize that his bad behavior is more a defense mechanism than who he truly is inside.
I was really surprised at Hwa-shin in this episode, and the way he championed Na-ri when she was fired. I'm still not entirely sure what made his attitude change from one of detached disinterest to such passionate vehemence on her behalf, but I like it on him. It feels as though Na-ri's past crush on him was a bit of an ego boost for Hwa-shin, and now that she's told him she doesn't like him anymore, he's realizing that possibly, he liked the attention a bit more than he realized. Then he spent three years isolated from his family, who all hate him for ruining his hyung's business. To be alone for so long, without anyone to care for you, then return and find someone who cares so much about your well-being, must have left a strong impression on Hwa-shin.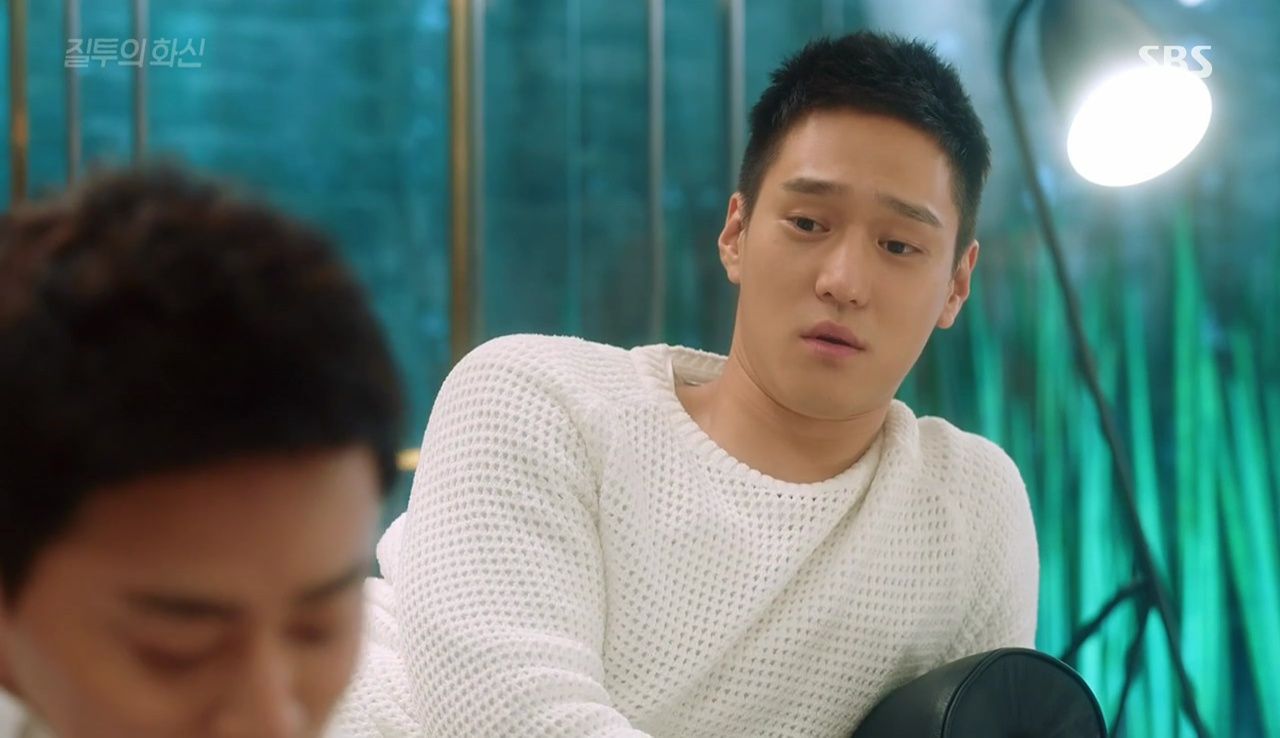 I initially agreed with Saya regarding Jung-won, and how he just seemed to be this one-note, boring character. I know it's not due to any lack of acting ability on Go Kyung-pyo's part, because I've seen him playing engaging, dynamic characters on more than one occasion. I think that Jung-won is just that kind of guy — his life isn't that exciting so he's just sort of coasting along, because his looks and money don't require him to be any more interesting than that. But then we saw him with Hwa-shin just hanging out and being buddies, and he really relaxed into himself. He let his guard down around his friend and suddenly I found myself caring about him for the first time. I think that as Jung-won gets to know Na-ri, we'll see him open up and become even more compelling.
I was even more pleased at the change in Hwa-shin around his old friend. He was laughing and making goofy jokes, and seemed more comfortable in his own skin than we've seen him to date. It's clear that these two men are very close, and have been for a long time, to the point that they're probably each the only person they can really be themselves around. I was especially touched by the moment when Hwa-shin nearly told Jung-won that he may have breast cancer, in that small beat when he changed his mind. You could see his longing to open up to someone and share his fears, warring with a reluctance to have his oldest and closest friend see him differently. I don't blame Hwa-shin for not telling Jung-won quite yet, and wanting to preserve their relationship the way it is for just a little while longer.
I'm pleased to see Jealousy Incarnate settling into itself this week, because the premiere episode was… well, let's just say it was rough. The character introductions were confusing and vague, and thank goodness Episode 2 came along to clear up a lot of questions. This episode did an even better clarifying and setting up the central conflict, and while I do wish we'd gotten more cute moments between Na=ri and Hwa-shin, I feel like we'll be getting plenty of that very soon. I'm glad I hung in there, because the show is slowly but surely finding its footing, and I think that if it can keep the audience interested long enough to hook us in, the show could end up being quite wonderful.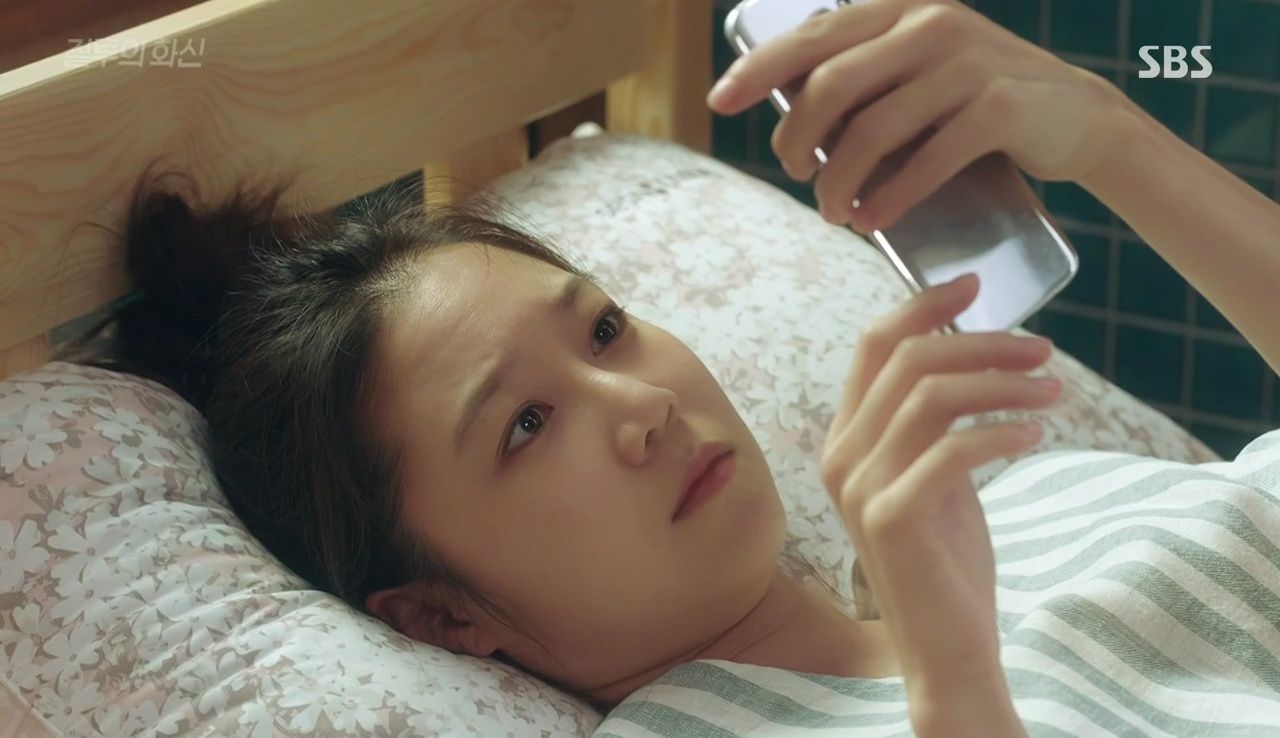 RELATED POSTS
Tags: featured, Go Kyung-pyo, Gong Hyo-jin, Jealousy Incarnate, Jo Jung-seok