Jealousy Incarnate: Episode 4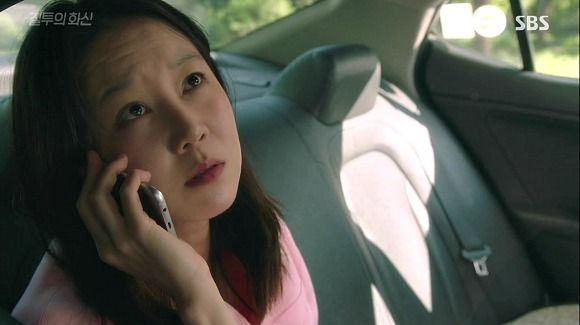 Although its opening week was a bit uneven, Jealousy Incarnate's been getting better by the day. We dial down the quirky charm of last episode to spend some serious quality time with Na-ri and Hwa-shin this hour, as they take a long look at their relationship (such as it is).
Meanwhile, true to the title, circles of jealousy spring up left and right, with new feelings budding even as old ones die. And perhaps new beginnings are just what the doctor ordered…

EPISODE 4 RECAP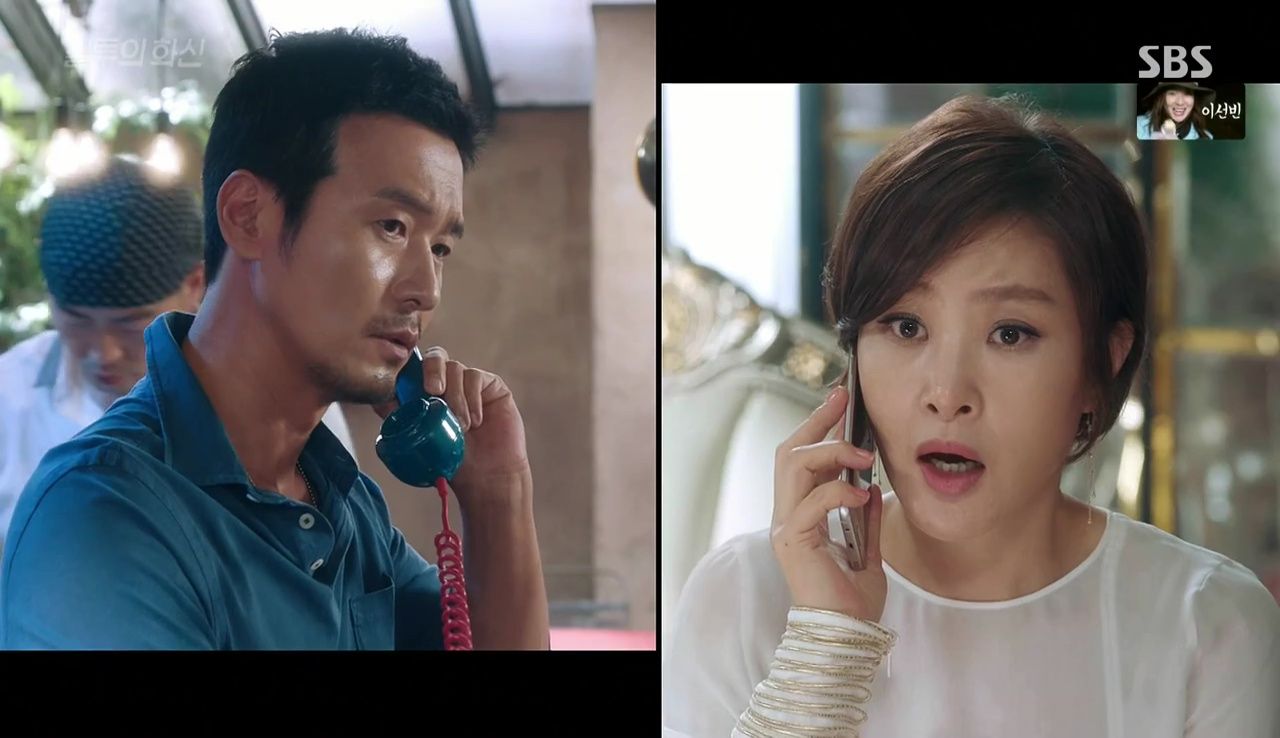 Ja-young sneaks into Hwa-shin's mother's (i.e. her ex-mother-in-law's) empty house and rifles around for clues of Pal-gang's whereabouts. Finding a drawer full of napkins from Rak Pasta, she tries the number, and Chef picks up. She asks him if he knows one Lee Pal-gang, but when he asks who she is, her voice quivers in hope as she replies that she's Pal-gang's mom.
Meanwhile, Sung-sook also arrives at Grandma's gates but scuttles around the corner when Ja-young comes back out. Sung-sook overhears her on the phone asking about Pal-gang repeatedly, and saying she's headed to him right now.
Ja-young makes like an ahjumma Speed Racer to reach the restaurant, and doesn't at all notice Sung-sook tailing her. At the restaurant, Chef remains perplexed by the call.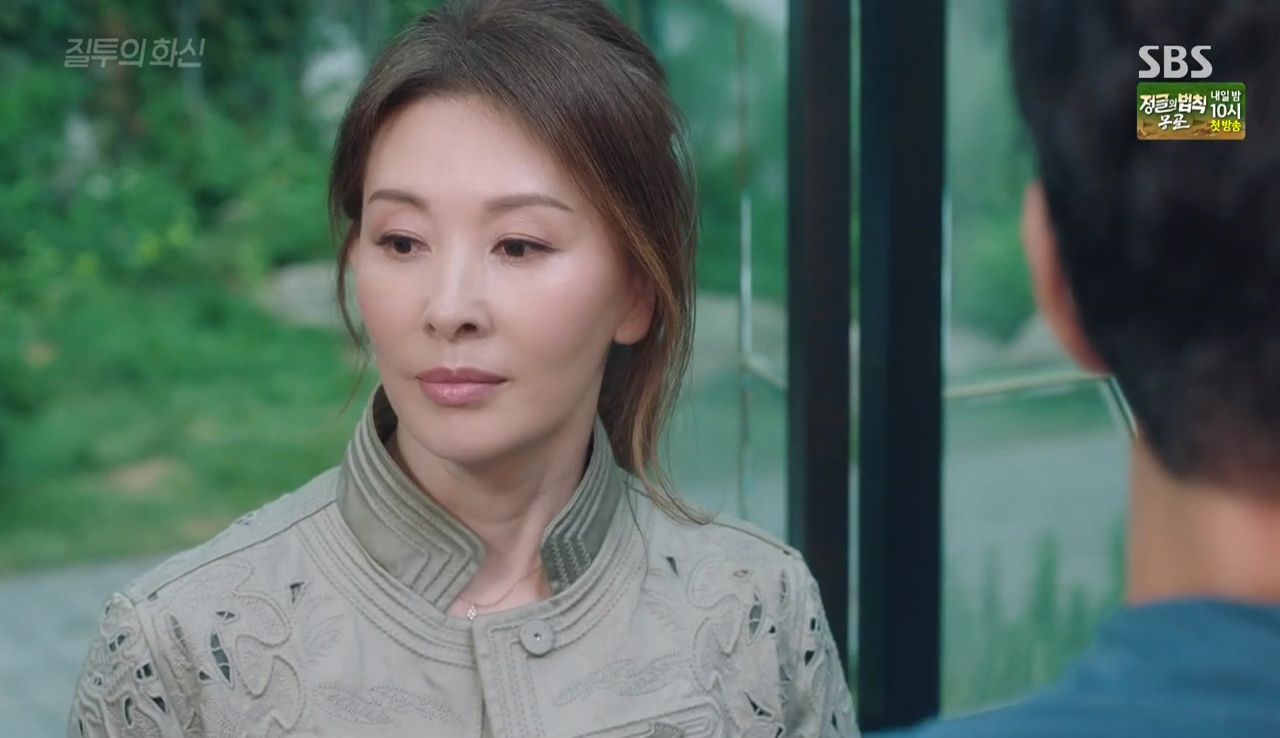 When Ja-young arrives, she rushes up to Chef, and gasps when Sung-sook runs up an instant later. Chef asks which of them made the call. A vehement argument ensues as to who is really Pal-gang's mother.
When he calls Sung-sook the "real" mom, Ja-young grabs him by the collar. "'Real'? Then are you saying I'm fake now?" she asks, "I'm the only person Pal-gang ever called 'Mom'!" Pointing to Sung-sook, she says, "She calls this woman 'ahjumma'." Chef apologizes, but now Sung-sook grabs him too, yelling furiously that she gave birth to Pal-gang after a painful labor.
Chef spots Pal-gang returning home, and he seizes the squabbling women in a sudden embrace. Pal-gang walks slowly past, headphones over her ears. Chef clutches the women more tightly, and waxes that they should all hug, "With love!" he says. The women become strangely still.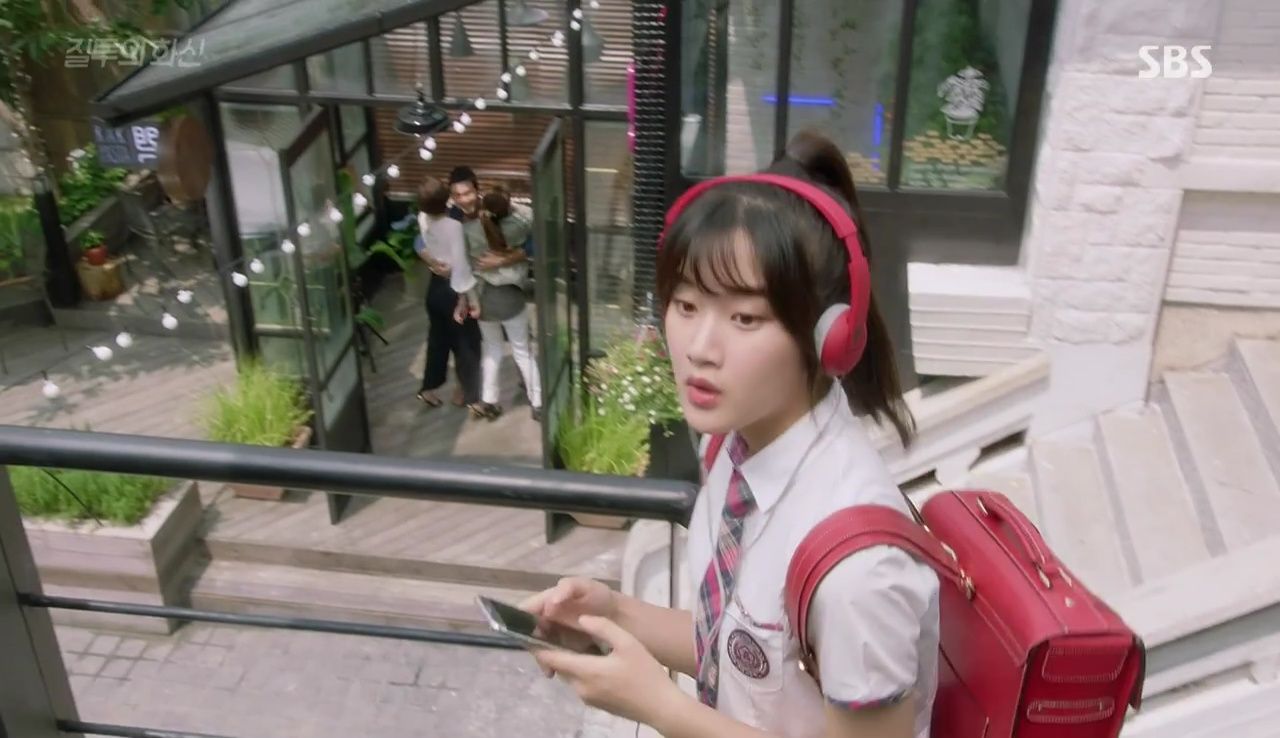 The second Pal-gang is safely out of view, he drops them like lurgies and dusts himself off. Returning to formality, he says they should talk.
We rewind a bit from the end of last episode. Hwa-shin surreptitiously checks himself into his hospital room, which he's dismayed to find is not a single. Nurse Oh looks in on him, greeting him cheerfully by name. He begs her to just call him "Patient" instead.
Hwa-shin asks about his roomie. Nurse Oh ignores his question and he guesses it must be a young woman. "Is she pretty?" he asks, concerned.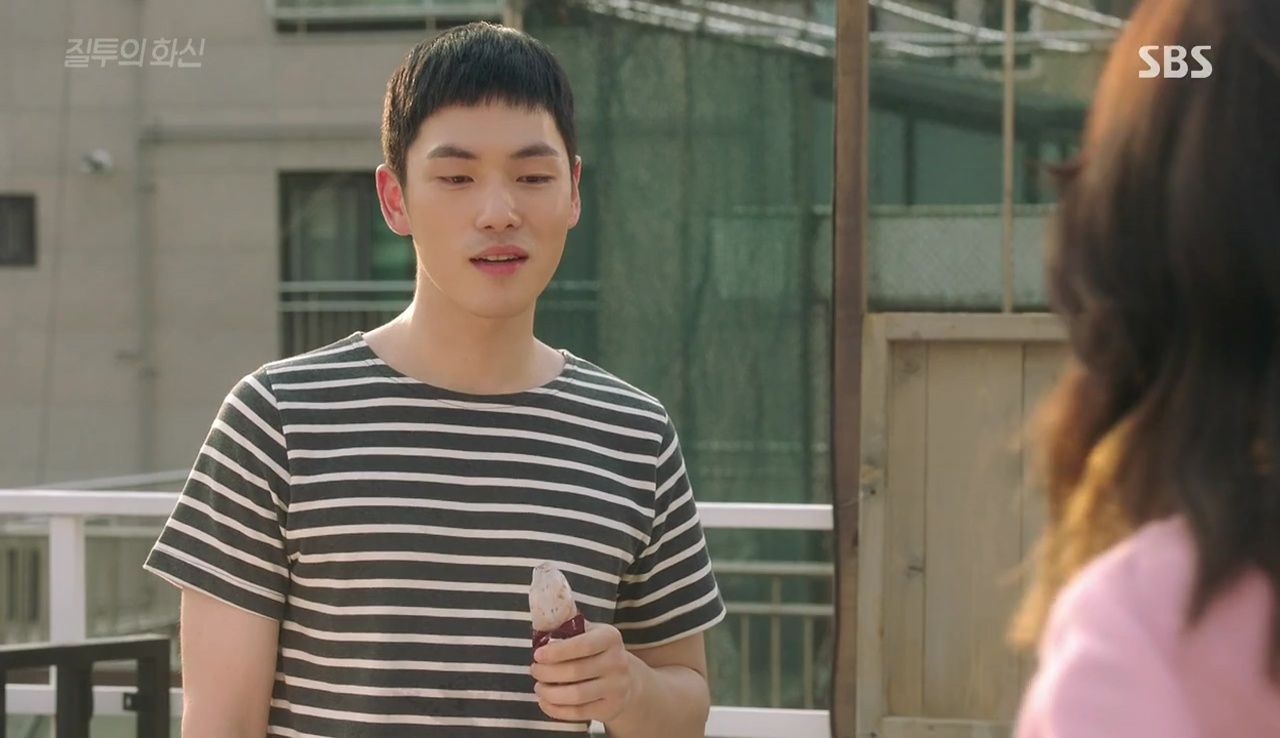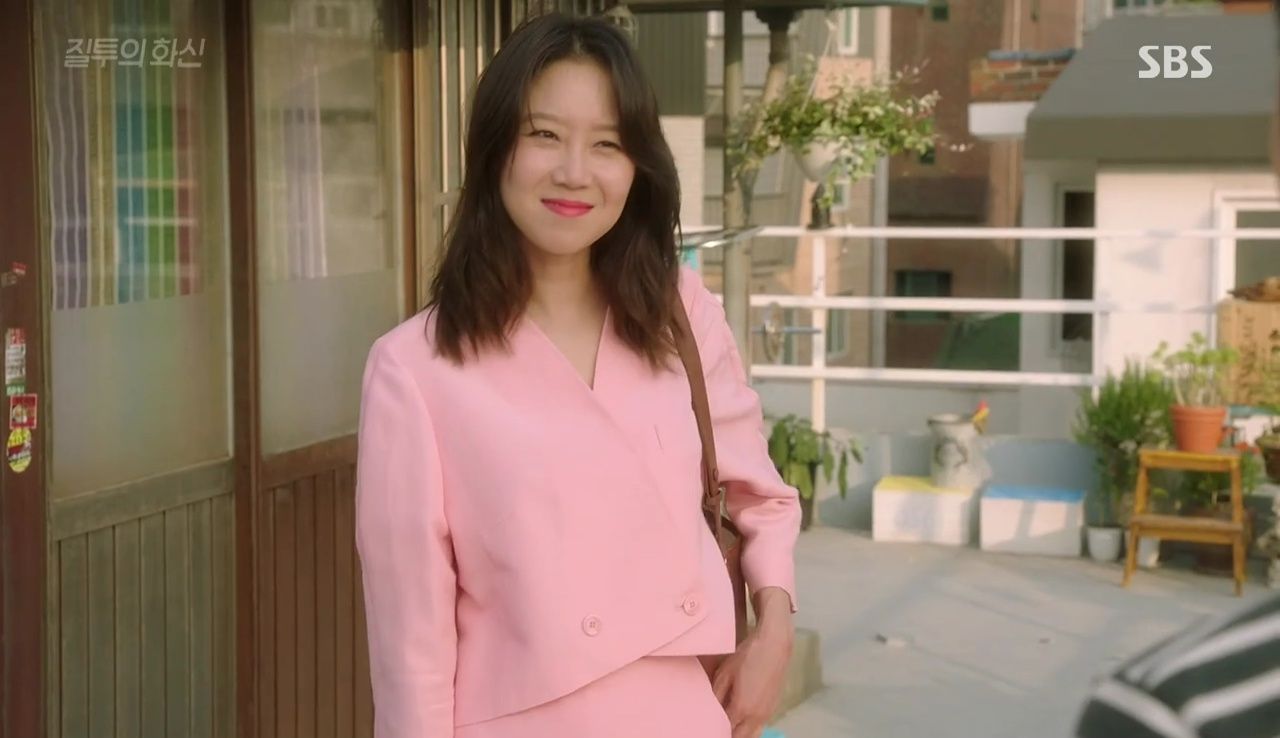 Chi-yeol arrives home just as Na-ri is leaving. He smiles to see her dressed in their mother's clothes and Na-ri says they make her feel stronger and unafraid, like Mom is with her. Since he thinks she's going on a business trip, he finds her words odd, and asks her if she can't do a broadcast wearing those clothes.
Sung-sook and Ja-young are shocked to learn from Chef that Pal-gang and her father have run up a sizeable tab at his restaurant, but Chef professes not to have their contact information. He turns down the large cheques they proffer, and they press their business cards on him instead.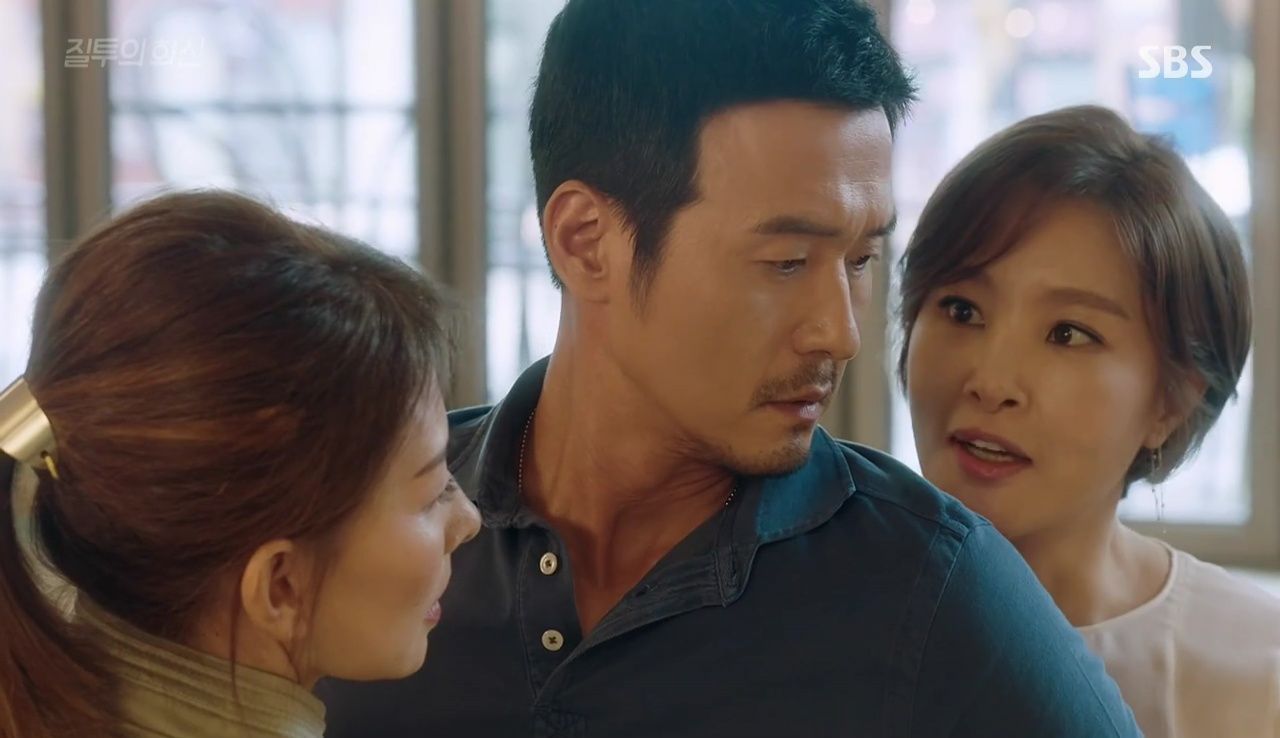 Chef tries to excuse himself, but gets uncomfortably sandwiched between their grabby hands. Sung-sook slips her card into his breast pocket, while Ja-young pops hers into his butt-pocket. He finally shakes them off, leaving the women glaring at each other.
Na-ri arrives at her hospital room, where the other bed has the curtains fully drawn. When she asks if she can turn on the TV, Hwa-shin sits up as he recognizes her voice. She begins to undress and he turns away from her silhouette, flustered.
Na-ri grumbles that the station seems to be doing just fine without her, and Hwa-shin cracks the curtain open for a glimpse. He flails silently when he sees it really is her.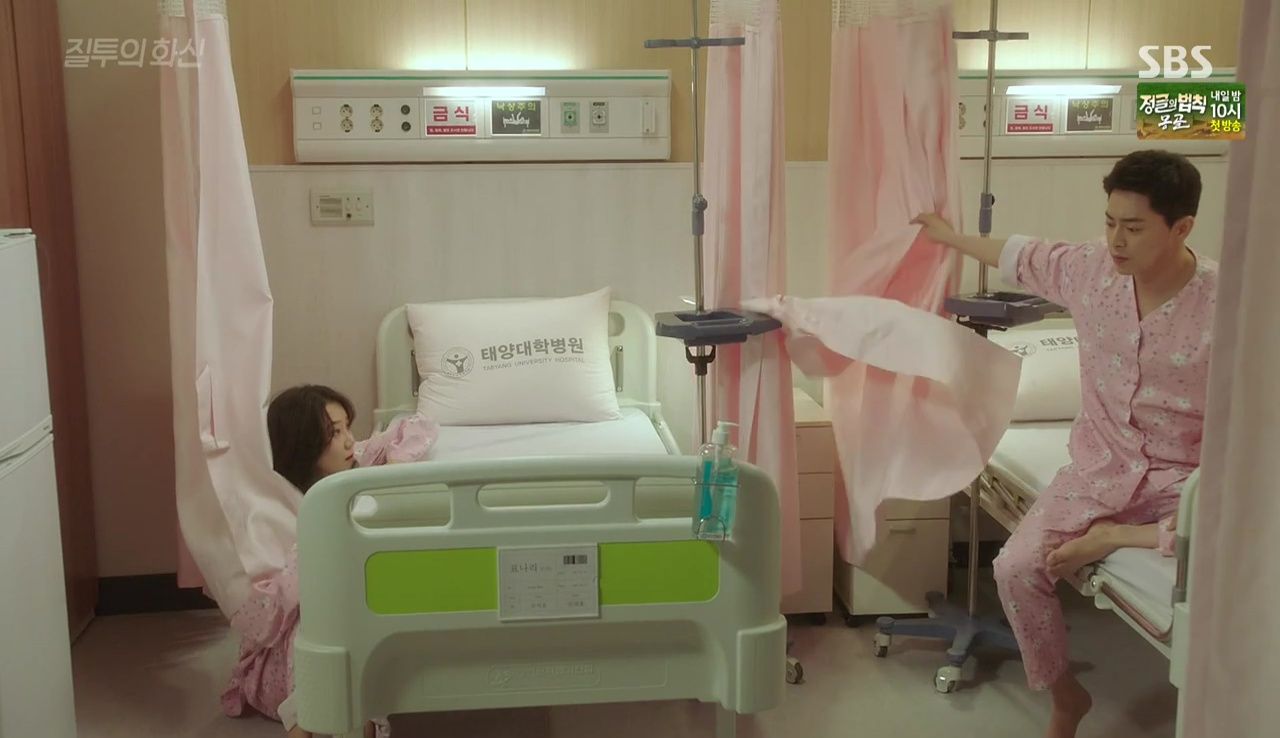 Just as she's about to change the channel, he tells her not to. She falls off her bed in shock at the sounds of a man's voice, and he whips back the curtain to reveal himself, somehow managing to look at once both resigned and dramatic, haha.
With Na-ri away, Chi-yeol, Dae-goo and Pal-gang dine alfresco on the rooftop, the boys grateful for the return of Pal-gang's appetite. Pal-gang's optimistic that her dad will get better soon, and lies down to sleep right there, and Dae-goo stretches out beside her.
Chi-yeol goes inside and returns to find Pal-gang asleep on Dae-goo's arm. He drops a blanket on them with the terse warning not to catch cold.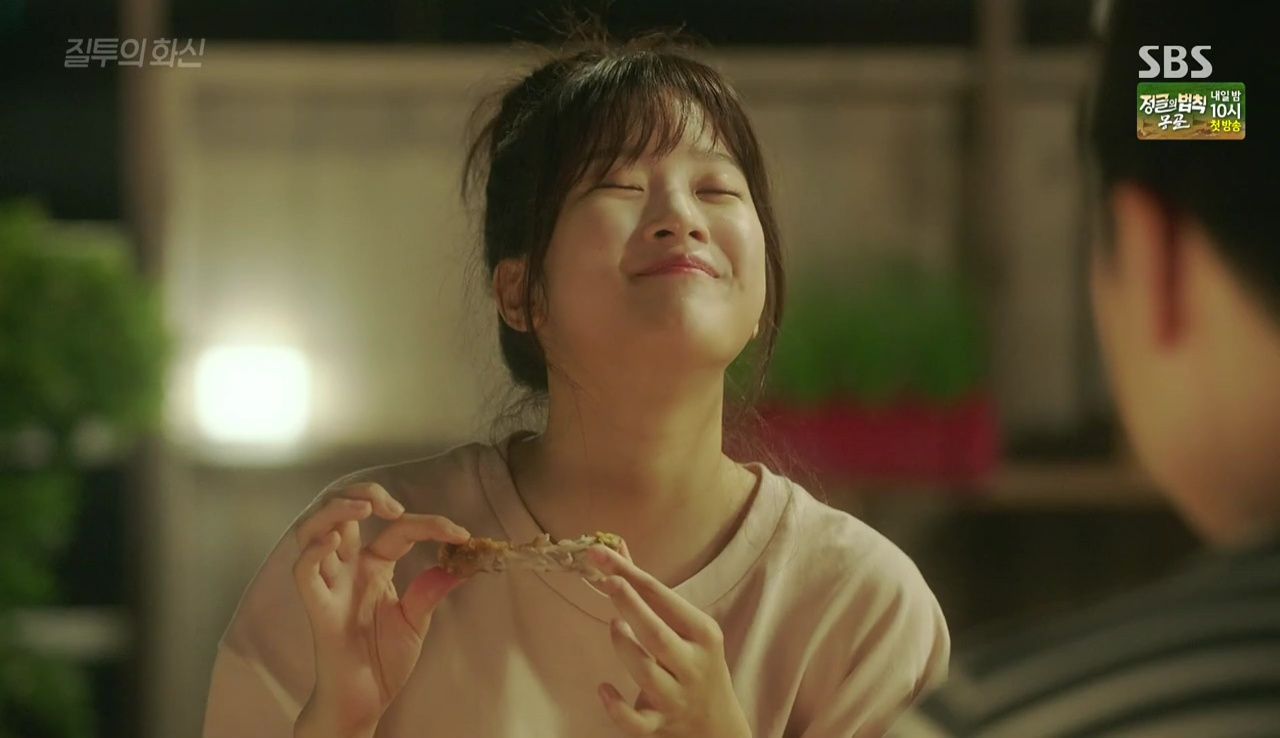 Na-ri complains to Dr. Geum about her roommate, and the doctor tells her that she should just think of him just as a sexless patient. But Na-ri frantically argues that even if all the men in the world were just patients, this one would always be a man to her.
Dr. Geum realizes she likes him, which Na-ri refutes in an embarrassed whisper, suddenly aware that Hwa-shin can hear them. From behind his curtain, Hwa-shin declares that he'll reschedule. The worst that can happen is that he'll die, he says morosely. Drama queen. Dr. Geum gives Na-ri a pleading look.
Later, Hwa-shin asks Na-ri if she really doesn't see anyone else as a man. She assures him that she doesn't like him anymore. She says she plans to meet someone much better than him and have an intense relationship, even if she gets dumped in the end.
She asks why he's even here, and he retorts that this is what she wanted. "Do you have breast cancer, too?" he asks, "So do I."
She bolts up. "But I don't…" she replies. Shocked, Hwa-shin tears the curtain open. "You, a woman, don't have breast cancer, but I—a man—do?" he asks in disbelief.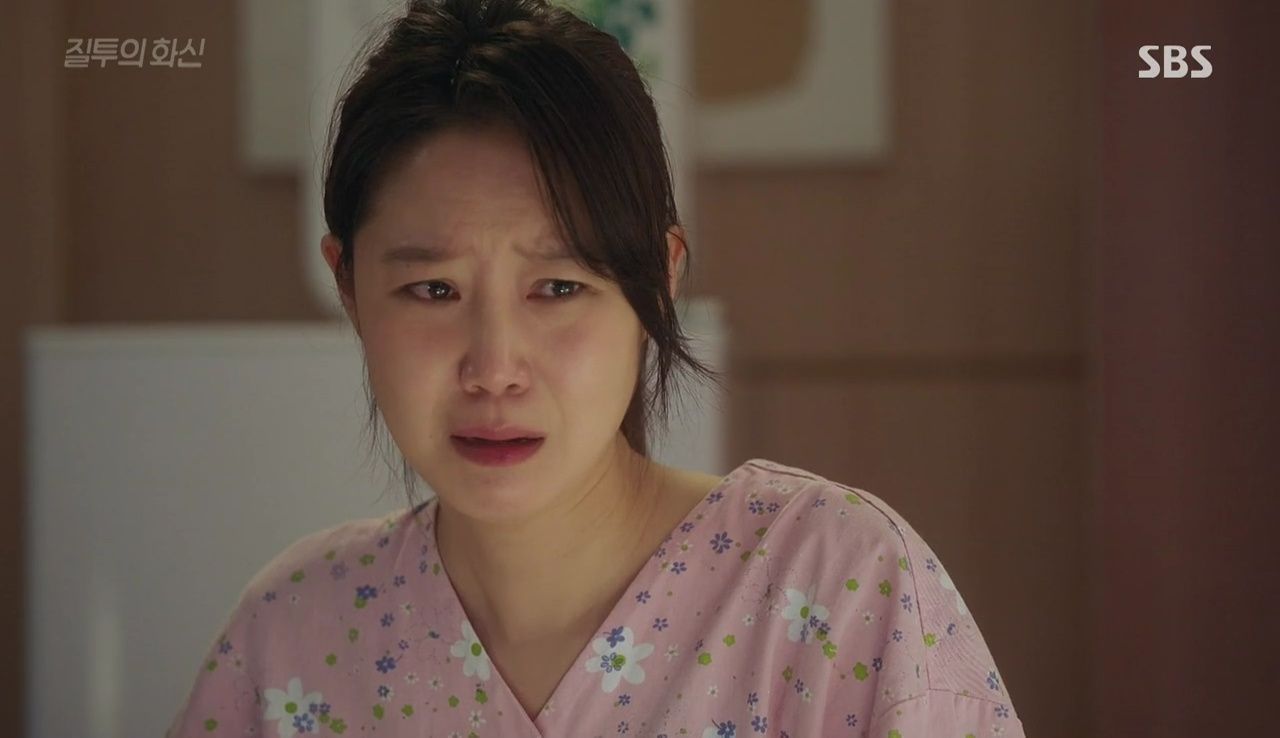 He says to himself that it must be his punishment. She legit starts crying, and gets even more upset because he's here alone. She asks how such a macho guy like him could have breast cancer of all things, and can men even get that?
Hwa-shin snaps at her and says that if word gets out, he'll be the subject of gossip and that would be the end of his career. "But aren't you scared?" Na-ri asks him, and vows not to tell anyone even for a million dollars. Hwa-shin dryly tells her that for a million, she should.
He pulls the curtain closed and tells her to sleep, but once her own curtain is drawn, Na-ri dissolves into fresh sobbing.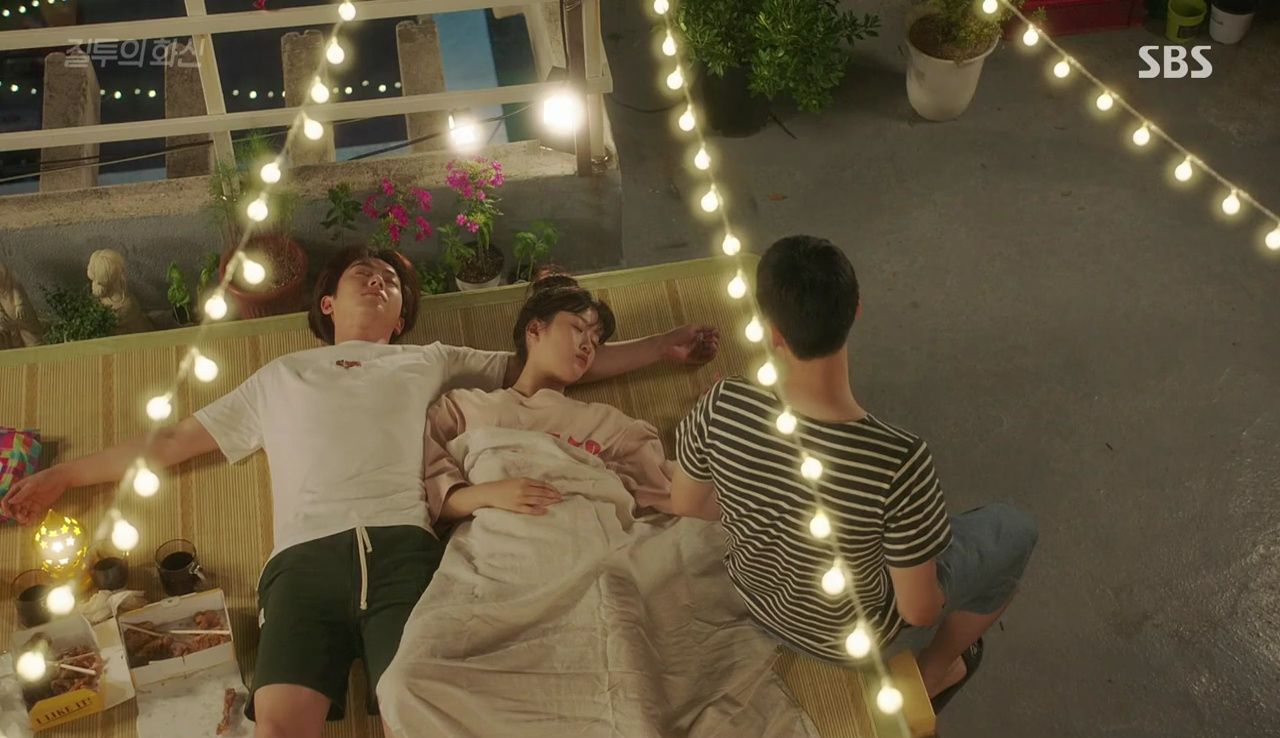 Chi-yeol comes back out to the rooftop, and sits by his sleeping friends. Eyes soft, he tucks the blanket around Pal-gang, and leaves a mosquito-coil burning beside her.
Na-ri apologizes to Hwa-shin's sleeping form, because she feels like his cancer is her fault. Hwa-shin opens his eyes and says she must not see him as a man anymore, and she agrees, "You're just a patient."
He sighs, wondering if he'll ever be able to get married now. He asks what woman would see a man with breast cancer as a man at all—even Na-ri no longer does.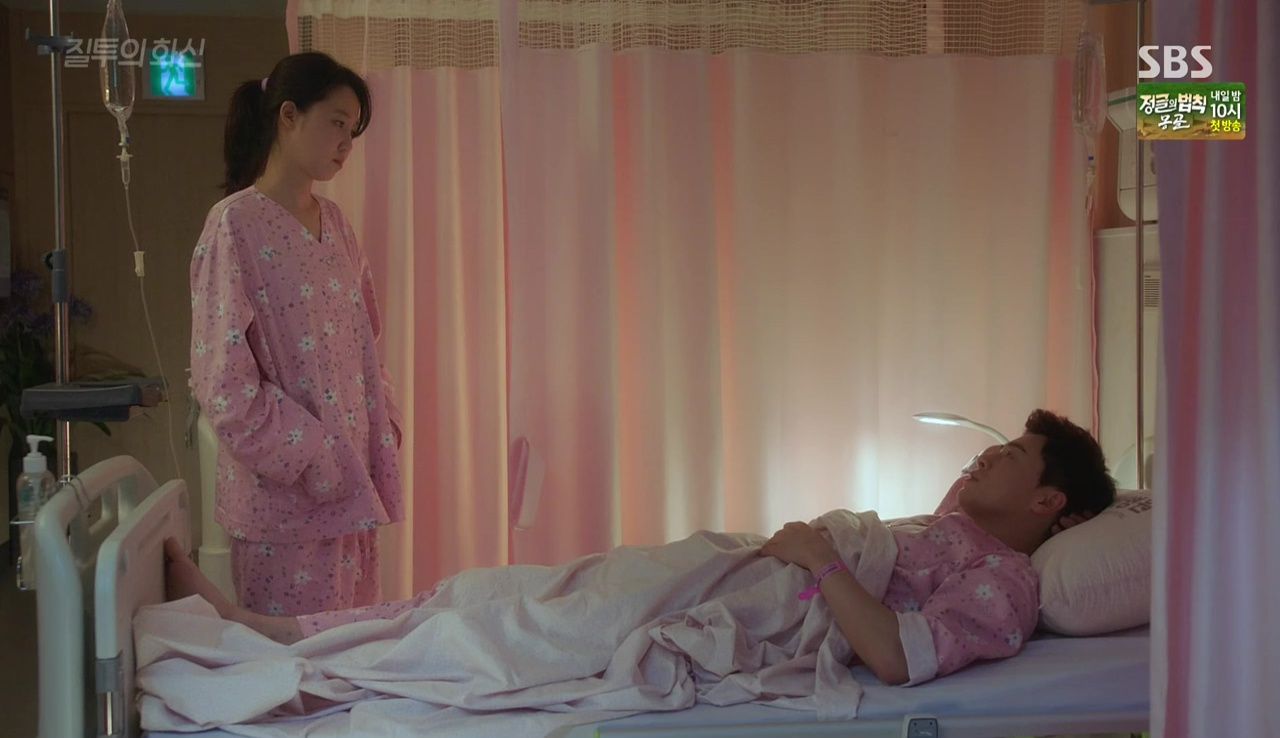 Sitting tentatively at the foot of his bed, Na-ri pats him and tells him not to give in to bad thoughts. He bolts up, and rattles off a litany of worries—she's just getting is a little bit of her breast cut out while he may lose the whole thing, he says, aggrieved.
He scoots close to her and asks, "Can I kiss you?" She's taken aback by the sudden question and he throws himself back on his pillow, convinced that he's not sexy anymore. Snort. After a troubled pause, Na-ri says, "Do it." You played right into his hands there!
"Really?" he asks, sitting up. He pulls her closer and she closes her eyes…and he suddenly flaps her aside. He just wanted to reassure himself he's still got it, he explains coolly.
Before he can say more, she slaps him (not hard enough). She must have wanted to kiss him, he concludes, and tells her to kiss a guy who likes her. Lying back down, he pulls the covers over his face.
Angry and confused, Na-ri takes herself all the way outside. Back in the room, a serious Hwa-shin taps out a text that says she might have regretted it tomorrow, and she should kiss a healthy guy who likes her. But he ends up not sending it.
Na-ri recalls the first time she encountered Hwa-shin. She had forgotten her work ID, and leapt through the station's entry-barriers behind him. Her momentum sent him flying embarrassingly across the floor and splat into the wall, although he picked himself up like nothing happened. I feel evil for laughing.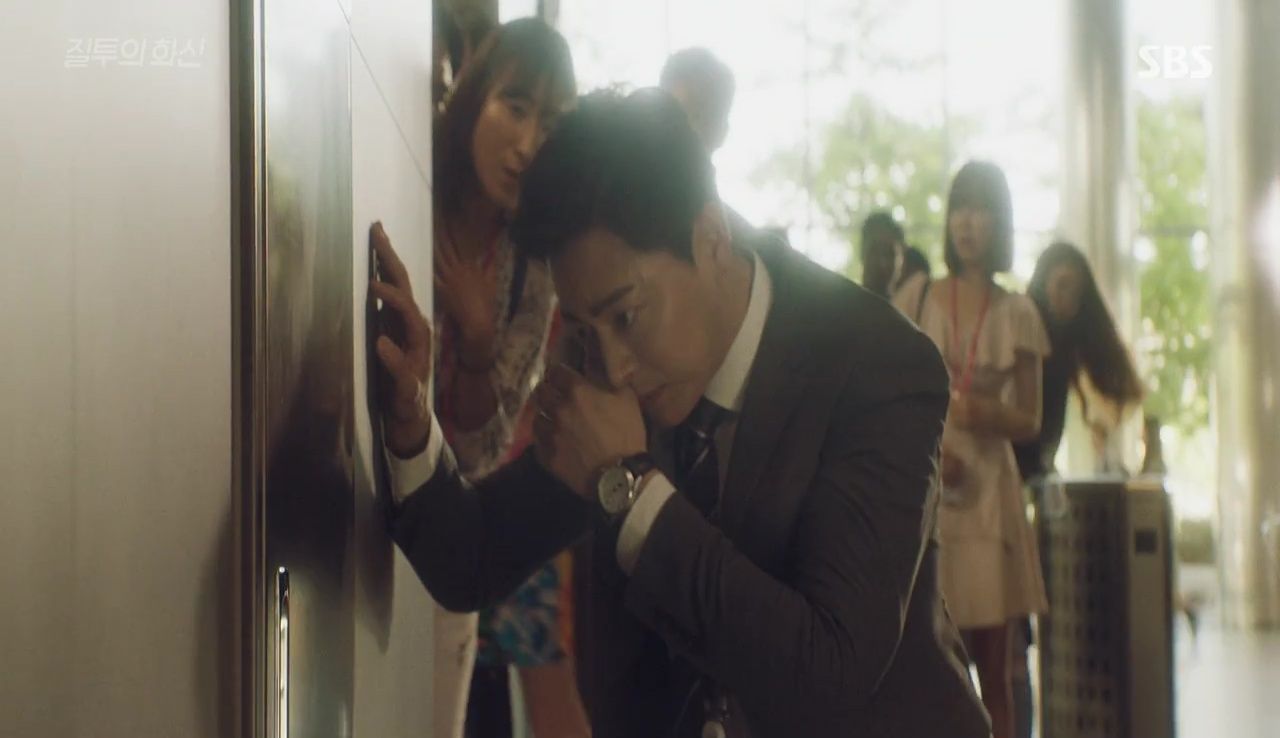 They ended up alone in the elevator afterwards. She read his name tag, and winced as his nose started to bleed. We then visit a succession of memories as she secretly followed him around from then on, sneaking peeps at him whenever she could. One day, she finally spoke to him. She admitted causing his accident that day and apologized. He told her it was fine, but misreading her tag, called her Pi Na-ri.
Another time, she left an umbrella on his desk against a rainy day, but we see that Dong-gi pinched it instead. Another time at a company dinner, she plucked up her courage to ask him to sing a duet with her, but he told her he was going to sing solo…and then sang a duet with mean-girl announcer Soo-jung, which tore the veil from Na-ri's eyes.
Done with the past now, Na-ri scoffs to herself and marches back into the hospital.
Now we're in Hwa-shin's memories: Another day, another elevator. It was just the two of them, and Na-ri had treated him angrily and he couldn't understand why. But another time, when her lanyard snapped in front of Hwa-shin's desk, he immediately offered her his spare—a blue one. He didn't get why she turned it down, but she'd smiled at him, the shine back in her eyes.
Returning to the present, Hwa-shin goes in search of her, a baseball cap pulled low over his face. They see each other across the empty foyer, and keep walking until they meet in the middle.
Shuffling uncertainly, he reminds her that their operations are first thing tomorrow. He turns back, but Na-ri blocks his path, eyes flashing. She roughly pitches off his cap, and he's startled, but not as much as a moment later, when she presses her lips to his.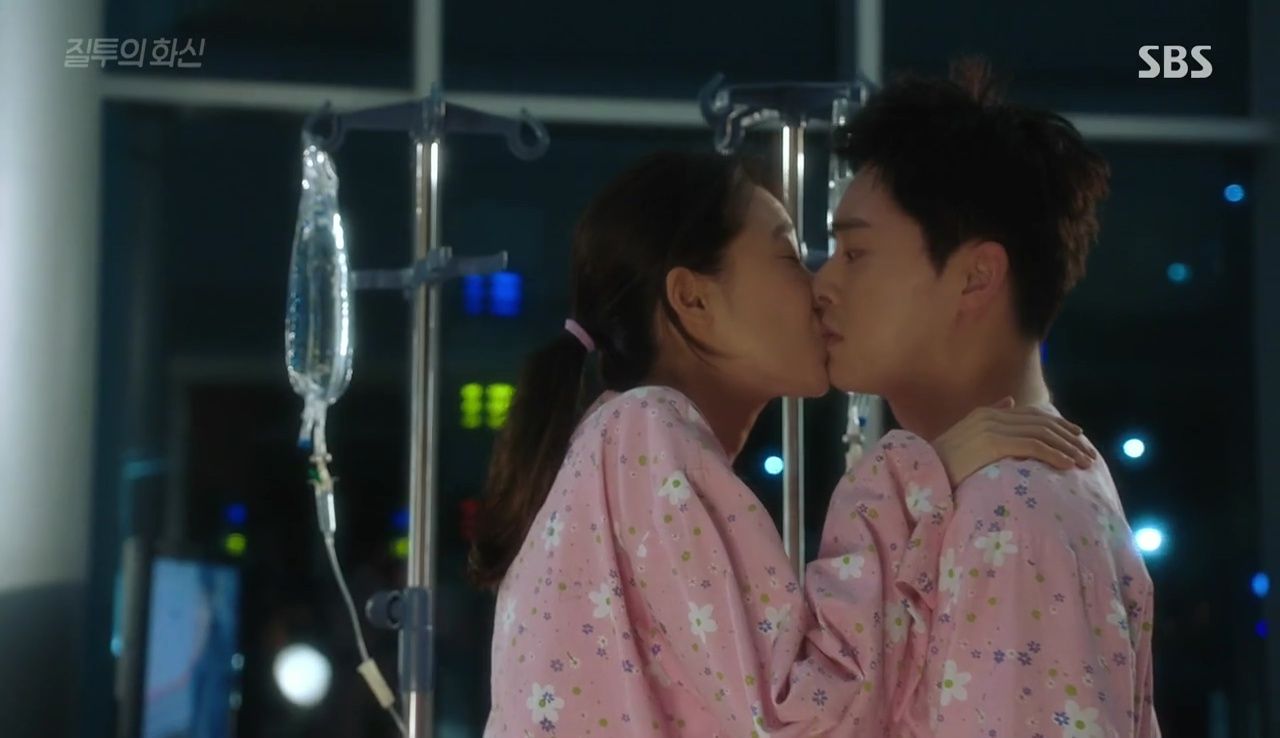 Drawing back, she tells him that it's up to her, not him, who she kisses. She explains that she couldn't end her three-year crush without doing anything. But with this kiss, she has no more regrets. He gets all offended when she says that the kiss wasn't even all that, after all.
She leaves him behind, a ghost of a smile on her lips, as Hwa-shin yells after her. Many floors above, Dr. Geum and Nurse Oh exchange shocked glances, having witnessed the whole encounter.
Riding the elevator up alone, a resolute Na-ri says to herself that she's severed her lingering attachment now for good.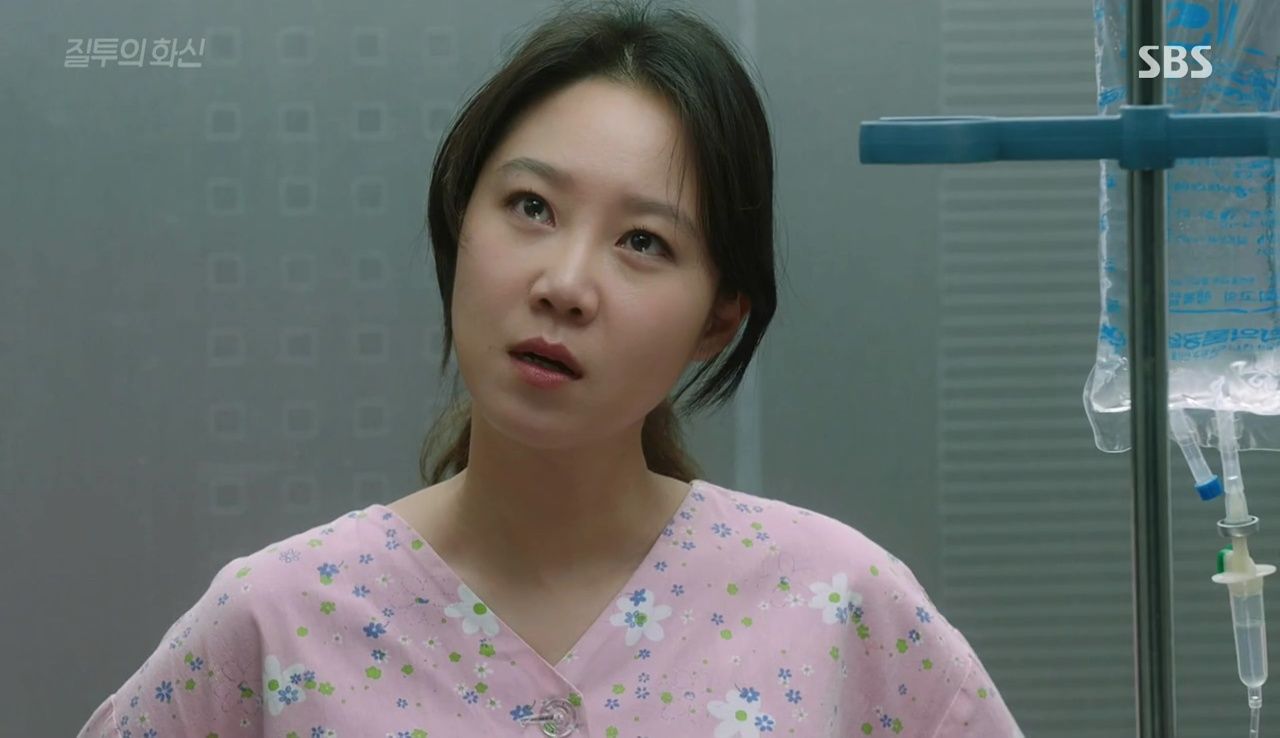 The next morning, PD Oh ponders over the big spike Na-ri got them in the ratings. Coming to a decision, he tells Dong-gi to call her back to work. But her phone rings in her empty hospital room.
Na-ri and Hwa-shin are wheeled into theater together, Hwa-shin hiding his face under a mask under a towel. Haha, overkill, much? She doesn't look at him, but he figures she's scared, and reassures her that it'll all be over after a little sleep. And then he decides it'll be helpful to point out that she'll have mismatching breasts. Sigh, Hwa-shin.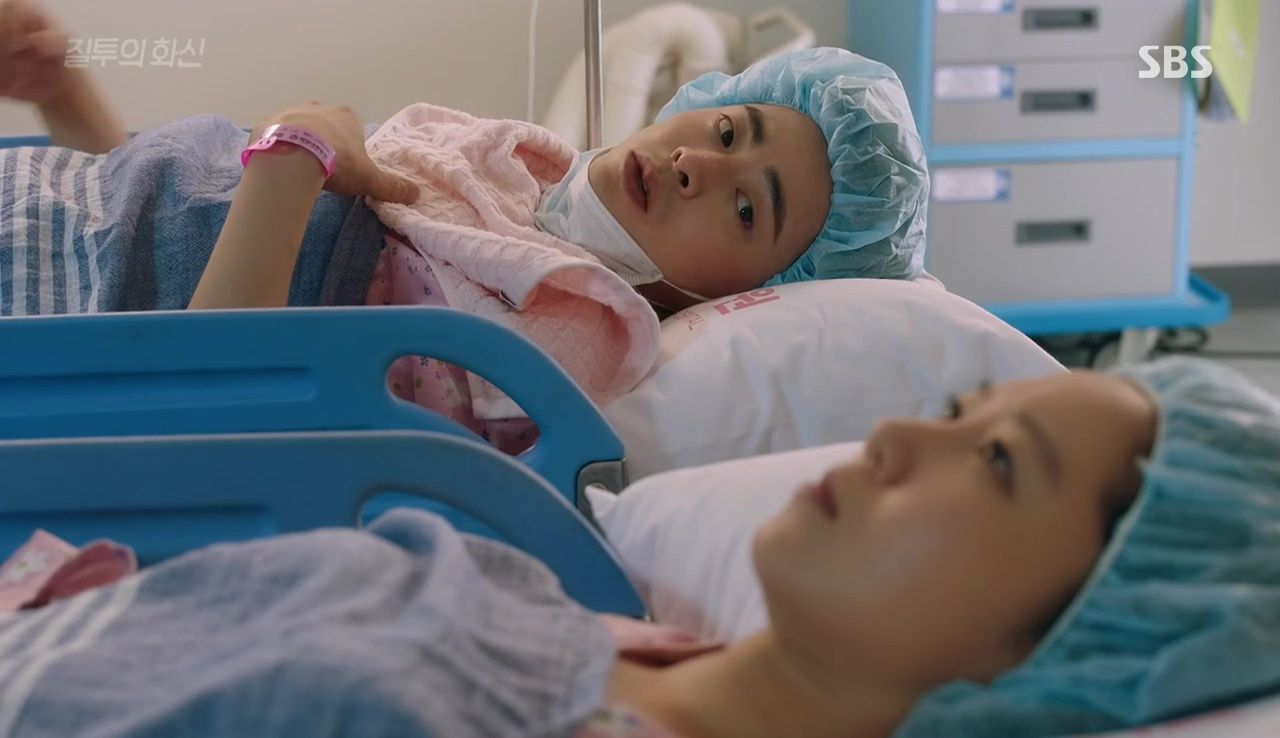 PD Oh complains about Na-ri not picking up her phone, and Dong-gi points out that he did fire. PD Oh snaps at him to get her back in time for today's broadcast.
In theater, meanwhile, Dr. Geum extracts Hwa-shin's tumor and sends it off for a biopsy.
At his workplace, Secretary Cha chatters to Jung-won about his (Jung-won's) mother's return, but Jung-won's attention is staked by a pretty new dress. He confides that he wants to give it to another woman, who Cha guesses must be "Pooped out a Cloud"-girl.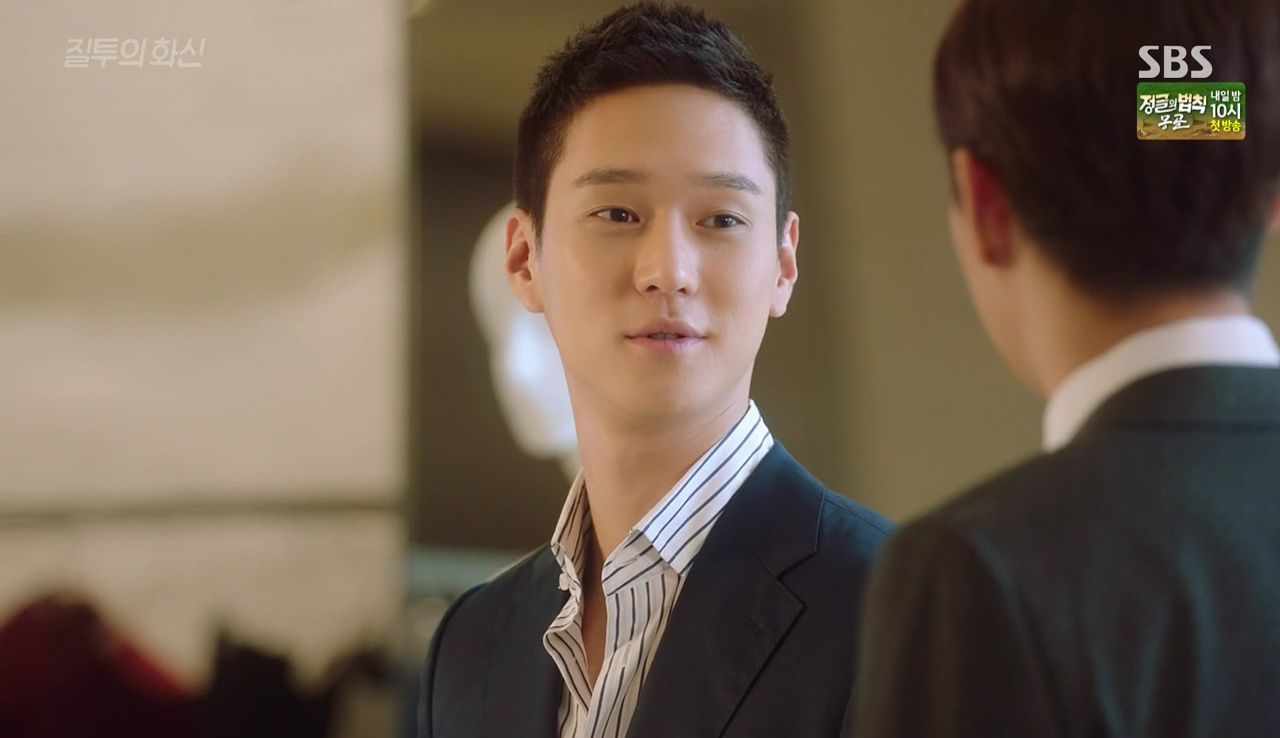 Cha points out that he can't cheat on Soo-jung . Jung-won sighs, and says that if he could see Na-ri in these clothes once, he could discover the nature of his feelings towards her. Disarmed by Jung-won's frankness, Secretary Cha sighs to himself.
Nurse Oh rouses Hwa-shin after his operation. In his drugged stupor, he imagines it's Na-ri, harshly telling him that her feelings for him are finished. But as Nurse Oh's face comes into focus, he asks her about the surgery. She tells him that Dr. Geum will explain everything to him, and he goes under again.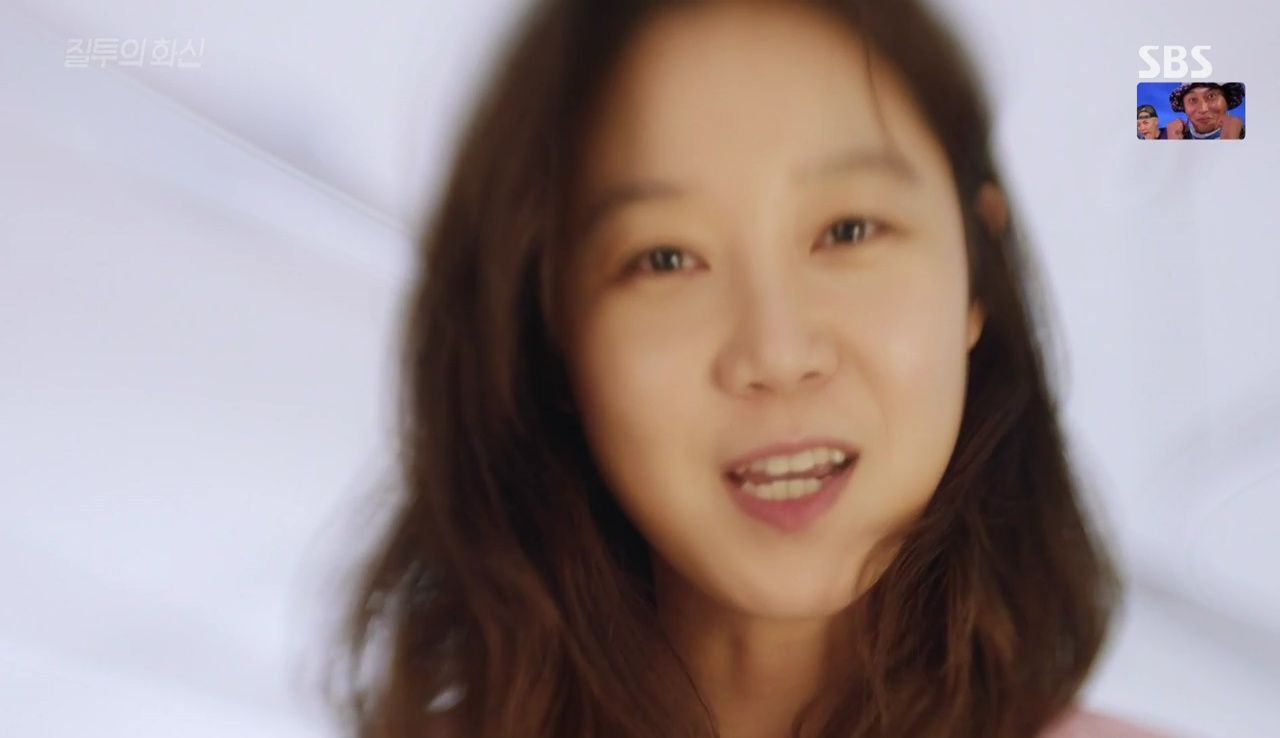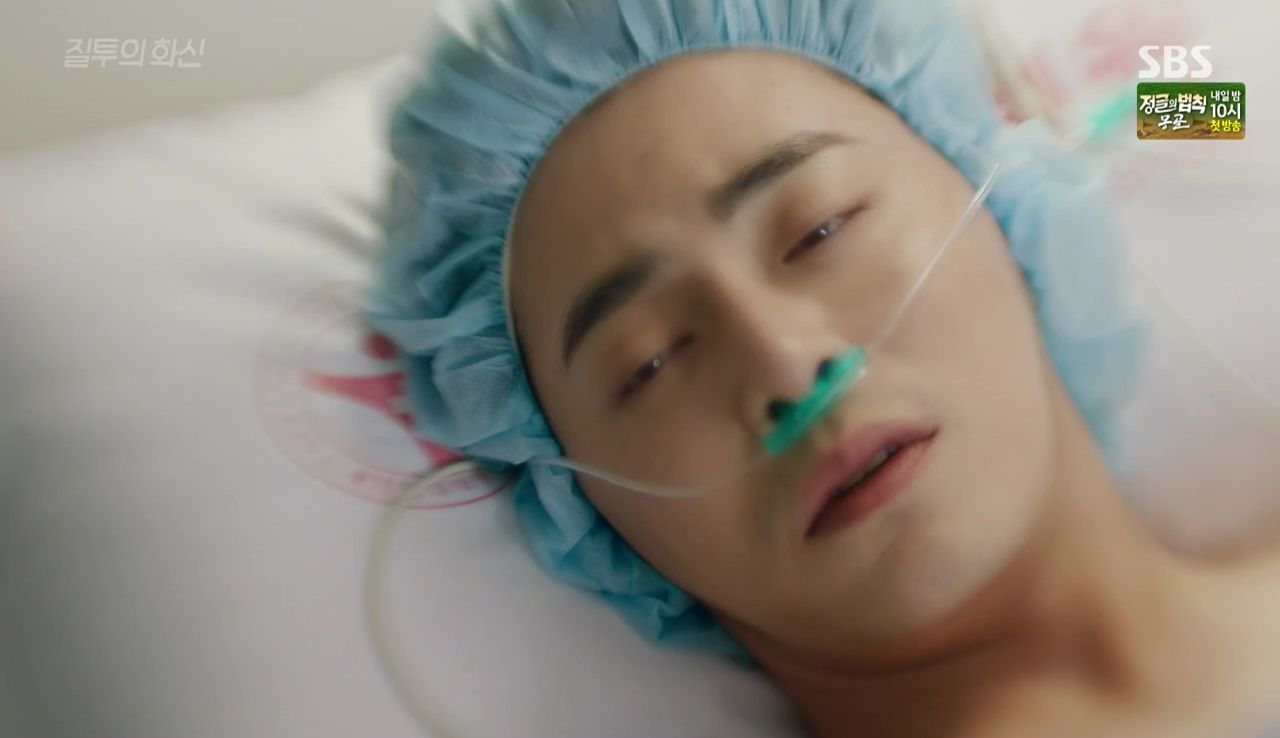 Na-ri has been returned to her room already, and comes around slowly. The nurses hook her up to a painkiller drip, and she moans in pain while her phone rings incessantly.
In the weathercasters' lounge, the girls wonder what's happening with Na-ri's slot, when it's so late and no one's been assigned to it yet. Sung-sook bangs in and they all snap to attention. She tells someone to volunteer and every hand shoots up.
On the way to the station, Secretary Cha advises Jung-won to avoid Soo-jung. Jung-won points out that they had one meeting, but Cha reminds him that the match had already been decided between the families beforehand. But taking pity on his boss, he concedes that they can just say he felt sorry for the weathercaster and wanted her to wear a nice dress.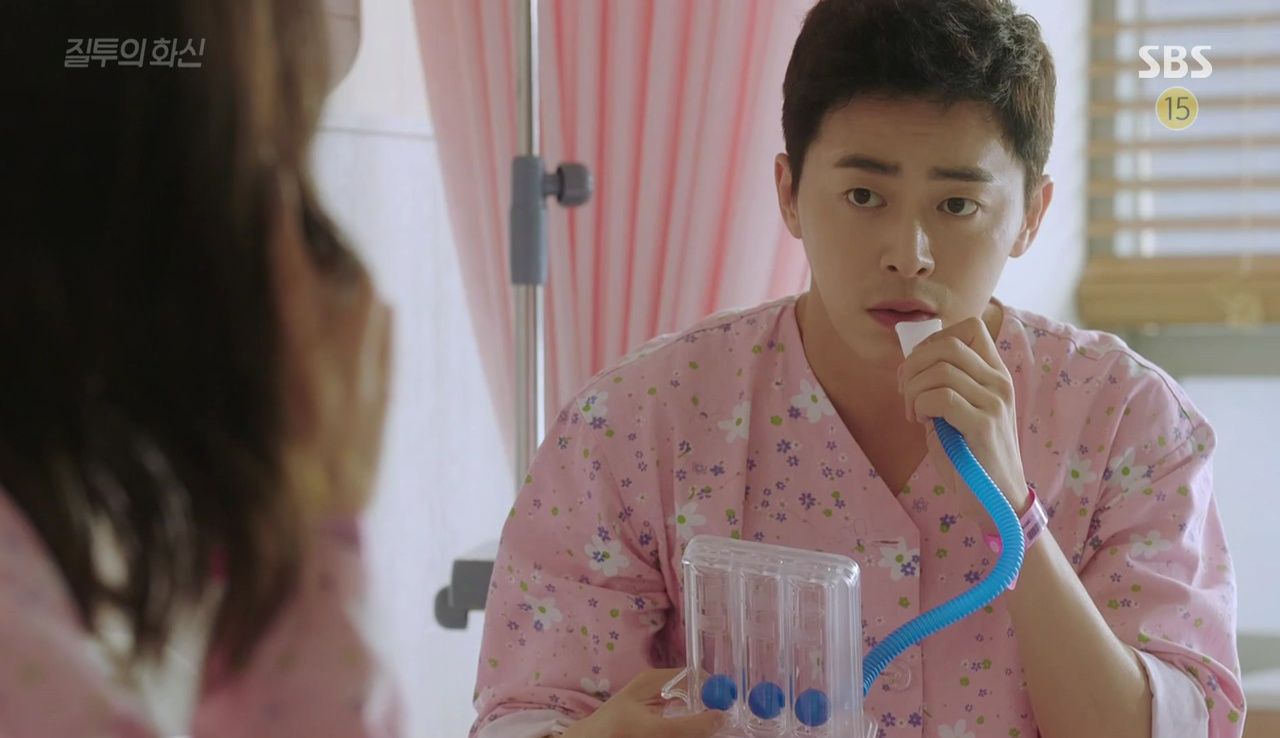 Hwa-shin is returned to his room, and he and Na-ri labor through breathing exercises to clear the anaesthetic clear out of their lungs. Her phone keeps ringing but she's too out of it to answer. Hwa-shin grows increasingly annoyed with it and finally grabs it to turn it off. But he's surprised to recognize PD Oh's number, which immediately catches Na-ri's attention.
Sung-sook has the weathercasters lined up like soldiers for inspection, and lectures them that the news is not a place for them to look pretty or pick up men, and nor should they have pretensions of being any better than they are. She picks Joo-hee to replace Na-ri, and orders her to change her clothes.
Observing from a mezzanine above, Ja-young remarks cattily to her vapid flock of juniors that Sung-sook should have been born a man, and they all titter.
Dressed in her mother's suit again, Na-ri lurches out of the hospital. A quick flashback shows us that PD Oh yelled at her to come back to work immediately. He told her that if she doesn't turn up now, she won't get another chance.
On her way, she calls the National Weather Service for the day's forecast and puts her report together as she travels. The taxi driver recognizes her as the "weather agasshi" but she's too unwell to get any satisfaction from it.
As soon as Jung-won enters the station, he crosses paths with Soo-jung, who thinks he's here to see her. Secretary Cha even offers her the dress he brought for Na-ri, but Jung-won stops him. "This is for the 7 o'clock news' weathercaster," he tells her, and sends Cha to deliver the dress. Awks.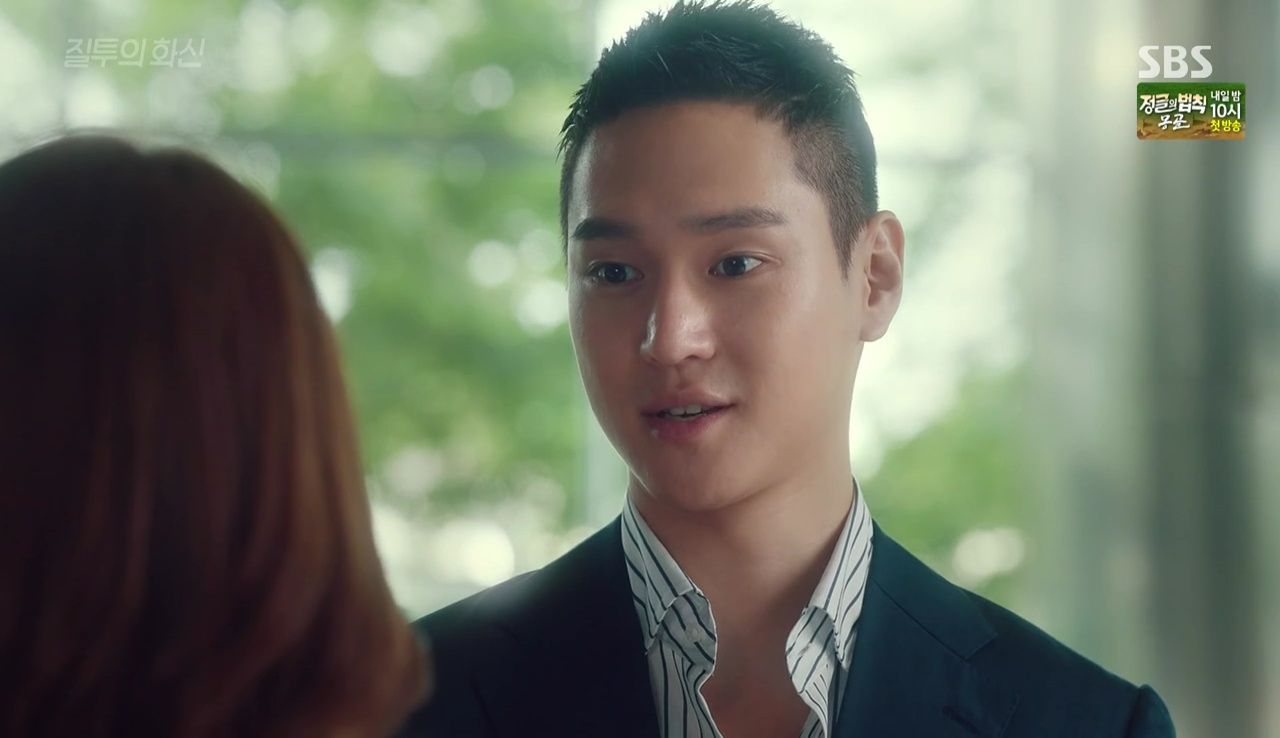 Dr. Geum gives the nurses a severe dressing-down for not preventing Na-ri from leaving. I strongly suspect it's also directed at Hwa-shin behind his curtain…which she draws back the next moment, haha. She tells Hwa-shin how careful she was with Na-ri's surgery, cherishing the hope that Na-ri would get married and be loved.
Her voice rises, and on her angriest note, Hwa-shin succeeds at the breathing exercise. Dr. Geum calls for a round of applause and everyone breaks into uneasy laughter.
But Dr. Geum's cuts off abruptly, and she asks Hwa-shin what's up with broadcast people that they don't listen to doctor's advice: Are they fearless or just stupid? Unperturbed, Hwa-shin glances at Na-ri's empty bed and agrees.
Dr. Geum tells Hwa-shin that a private room's opened up, and orders the nurses to move him out immediately. "Excuse me…" Hwa-shin interjects.
Na-ri reaches the station building, but in the studio, they're worried. Sung-sook browbeats PD Oh into using Joo-hee. She'll get the ratings, Sung-sook assures him, since she's younger, prettier and classier than Na-ri. He's nearly convinced, but Dong-gi doesn't agree.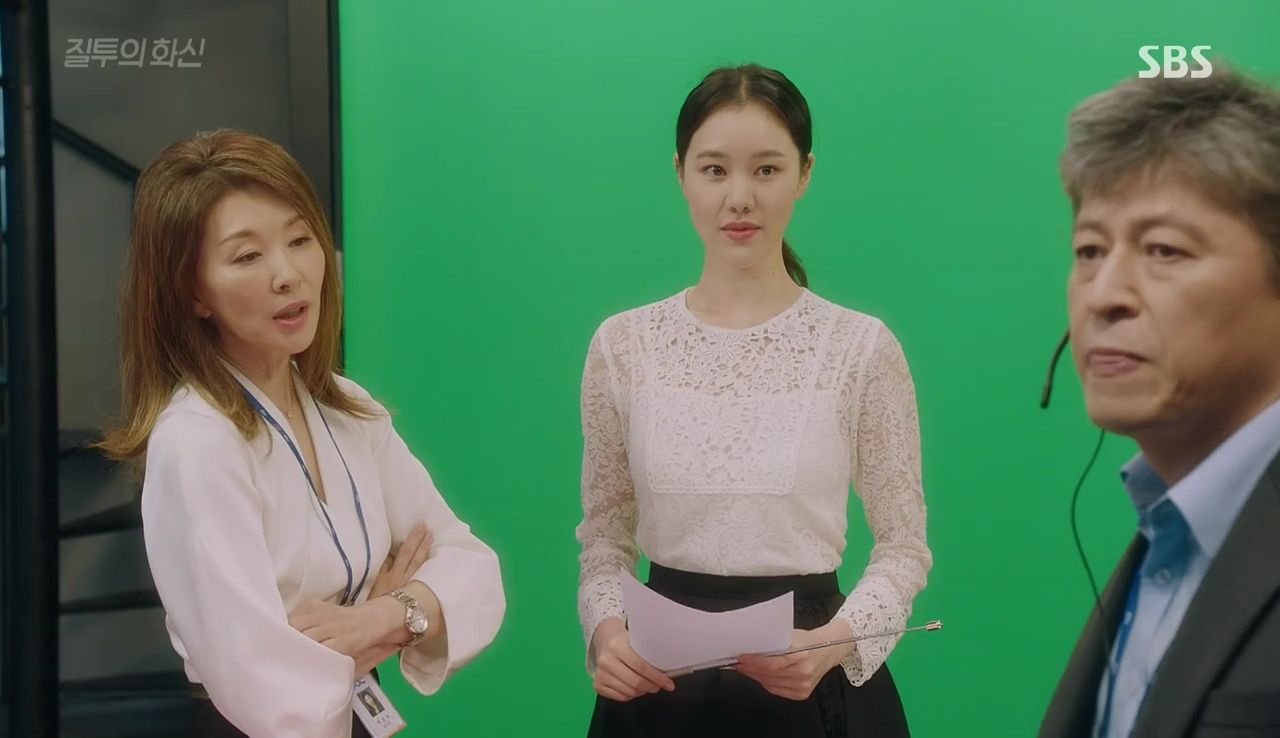 Jung-won reaches the studio and is startled to see his dress on Joo-hee, but Secretary Cha says that she's the seven o'clock weathercaster. "Did they change?" Jung-won wonders, perplexed. He overhears Sung-sook hounding PD Oh about holding out for Na-ri after firing her, and Secretary Cha realizes that's who Jung-won was hoping to see.
At Pal-gang's dad's hospital, Chi-yeol tells Dae-goo and Pal-gang that Na-ri might be on air in Mom's clothes today. "Noona is the prettiest person in the world when she's wearing those clothes. Just watch," he says, quietly proud.
Na-ri finally arrives at the news studio, surprising everyone. She apologizes fervently, but stops in shock when she sees Joo-hee in her place. So this was why she made her drink that day, Na-ri guesses. Caught, Joo-hee replies, "This isn't your place now, unni."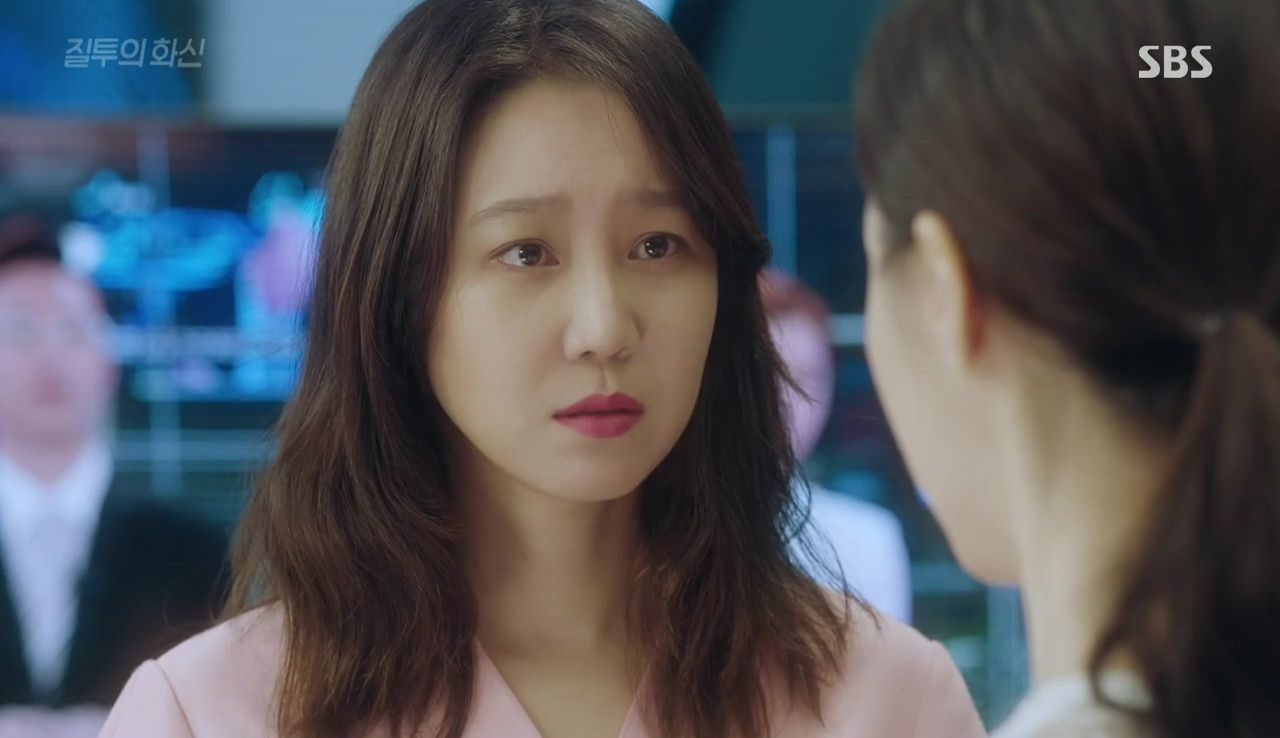 PD Oh comes up to Na-ri. "Can you do this?" he asks. "Yes, I can do it," she replies earnestly.
Secretary Cha wonders where Na-ri got her clothes, while Jung-won gazes at her with a spreading smile. He tells his secretary that he thinks he is cheating after all.
From his hospital bed, Hwa-shin wishes strength on Na-ri, and adds that he doesn't want to go to the private room.
At the studio, Na-ri repeats to PD Oh that she can do this. "Even if I die, I'll die right here," she says.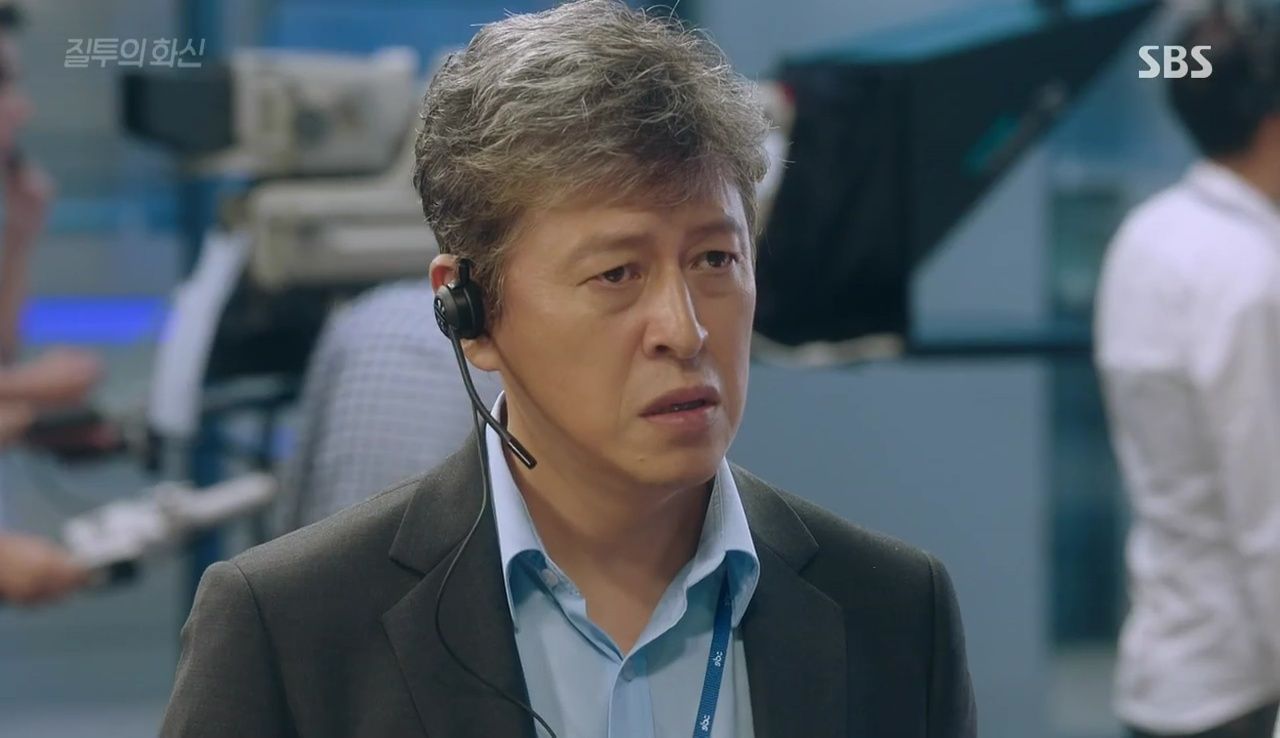 COMMENTS
Why are all the SBC women such cats? And I don't mean to cast aspersions upon cats, but to quote an L. M. Montgomery character: "I like cats as is cats. I don't like cats as is women." And what's up with Sung-sook telling the weathergirls that they're not objects (and the general don't-be-sluts lecture), and then choosing Joo-hee because she's "younger and prettier"? Ugh, double standards. They can't look pretty (except they must) and mustn't be ambitious (but there's something wrong with them if they're not), and so on. But I like that we see more proof that Na-ri is neither gullible nor a pushover. She understood Joo-hee's game the moment she saw her, but as for why she didn't clock it before, and I think it's down to one simple quality: She gives people the benefit of the doubt. Which means that she can be taken for a ride once…but not a second time.
Last week, I felt justified in lumping Sung-sook and Ja-young together in a box marked "harridan", but now that they're resolving into more distinct characters, I actually am loath to pick one woman as better than the other. It's hard not to notice that Ja-young—who remains largely unlikeable—seems driven by genuine emotion for Pal-gang, especially since her desperation and self-censure for being no sort of mother are private moments.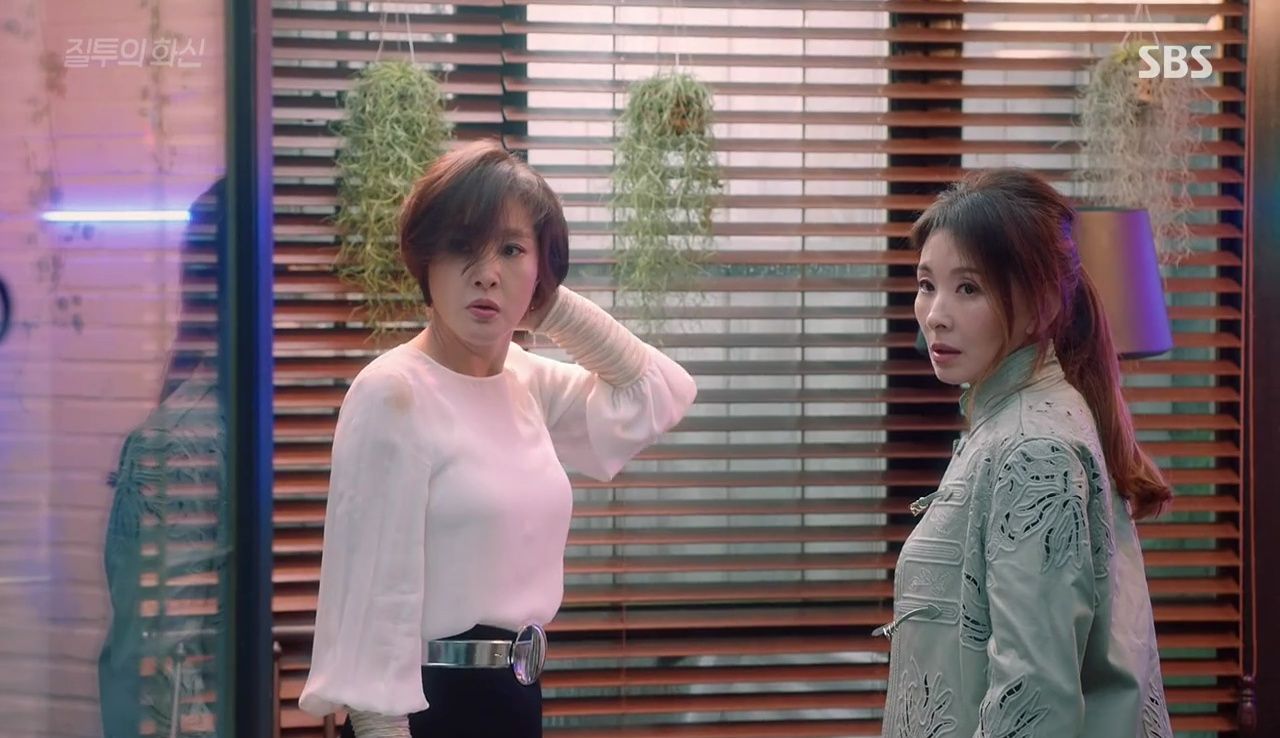 On the other hand, Sung-sook appears much more narcissistic, in constant competition to be best and first, especially against Ja-young. She can't bear to be second in anything—not at work, not to her daughter, and certainly not to the second (ex-) wife. I can understand how she can feel embittered and wrong over a marriage that ended ten years ago, but it's hard to say that she isn't responsible for her own choices. That her daughter calls her actual mother "ahjumma" is pretty telling about their relationship, and I'm sure that with Sung-sook's forceful personality, she could have found a way to keep up contact had she wanted to. Her present fight for Pal-gang is like a fight over a trophy—achieving the victory is what counts, her daughter is merely an accessory to it.
Still, I'm unwilling to write her off for having a naturally harsh personality, because there's a certain amount of personality you just can't escape because of the way you're wired. She's allowed to have a sharp temperament as much as any other woman (or man), but what makes the difference is whether she has other redeeming qualities. At this point, her best qualities are that she takes her work seriously, but perhaps the talents that make her effective at her job don't make for such a great parent/spouse. Like, you need a lot of fight to make it as far as she has, but that same aggression at home? Not so good. The who's-the-mom argument would be blindingly easy to call if Sung-sook's and Ja-young's situations were switched, but maybe this is what makes it an interesting conflict: The stepmother has more feeling than the birth mother, but does the birth mother have more right? Is it even up to them in the end?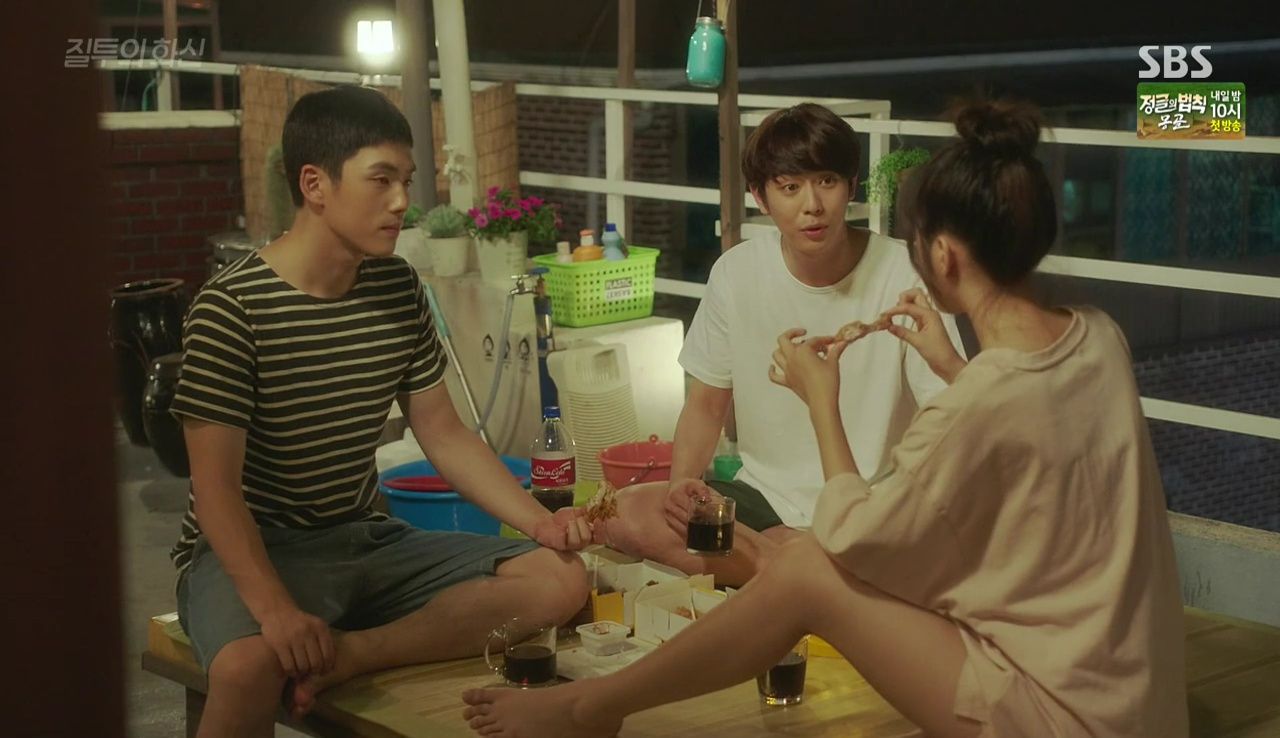 As for Pal-gang herself, I find her surly and manipulative, and I'd like to know why everyone's dotty for her, and how she earned such unswerving loyalty from the boys. But at the same time, as with Sung-sook, I feel like it's not fair to dislike her for not being a sweet and chipper dream-girl. She's allowed to be who she is without apology, and I guess we've still got twenty episodes to see what makes her special. I actually can sort of understand why Chi-yeol, at least, goes soft around the edges for her, because there's something very emotionally available about him despite his taciturn disposition, which somehow matches with Pal-gang's difficult, prickly, yet vulnerable one.
I definitely didn't expect this to be a cancer drama of any kind, but I find its treatment here quite novel. For a start: one man's battle against breast cancer, which also throws open an interesting discussion about why Hwa-shin should find it so emasculating. I actually think it might be some kind of misdirected coping response, to pick out the single most irrelevant part of his diagnosis to take issue with. Because any other cancer would be better or more dignified? Orrrr maybe it's not that deep, and having woman-cancer really is his biggest concern. On the other hand, Na-ri's reaction on finding out: At first, her sobbing seems comically disproportionate—he was the one with cancer but she was the one crying! But then you remember she lost both her mother and her grandmother to breast cancer. The loss is real, and the pain alive to her, in a way that Hwa-shin might not feel about himself. As she and Chi-yeol prove, it's an ache that doesn't really go away, and this gives an inner quietness to both their characters.
But how I itch for Hwa-shin's comeuppance. He's such a strange mixture of rough kindness and utter self-absorption, and sometimes there's little to separate the two. The problem with his good intentions is that they don't count for anything if nobody knows them. He's an idiot, really, who thinks he's being noble, and it's worse because you can see the sincerity all over his face every time she's not looking. Saving Na-ri from herself by humiliating her with the not-kiss, and then telling her he was just using her? That's a bit messed up, although I suspect he realizes that. But I'm heartened by the metaphor in how they meet in the hospital lobby afterwards. It's good to know that he's the kind of person who'll come and meet you halfway.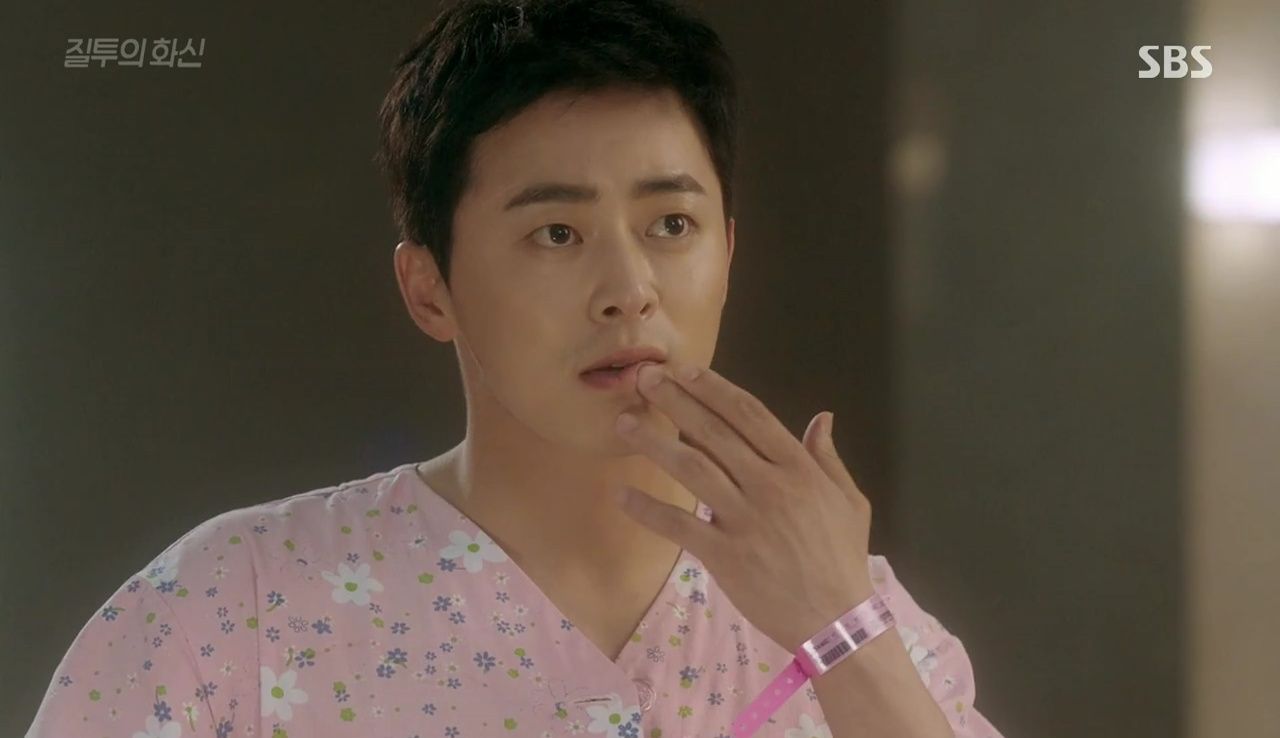 RELATED POSTS
Tags: featured, Go Kyung-pyo, Gong Hyo-jin, Jealousy Incarnate, Jo Jung-seok