Jealousy Incarnate: Episode 5
Have you ever played a game of hide-and-seek by yourself? Oh, is that not how that game works? Right, I thought so. But that's exactly what Hwa-shin does, having convinced himself of his importance. It's incredibly endearing, embarrassing, and hilarious. As Jung-won starts to make moves for Na-ri, Hwa-shin convinces himself that he's still worthy of a crush and does more hiding from his growing feelings because self-absorbed Hwa-shin can't possibly requite the crush, can he?

EPISODE 5 RECAP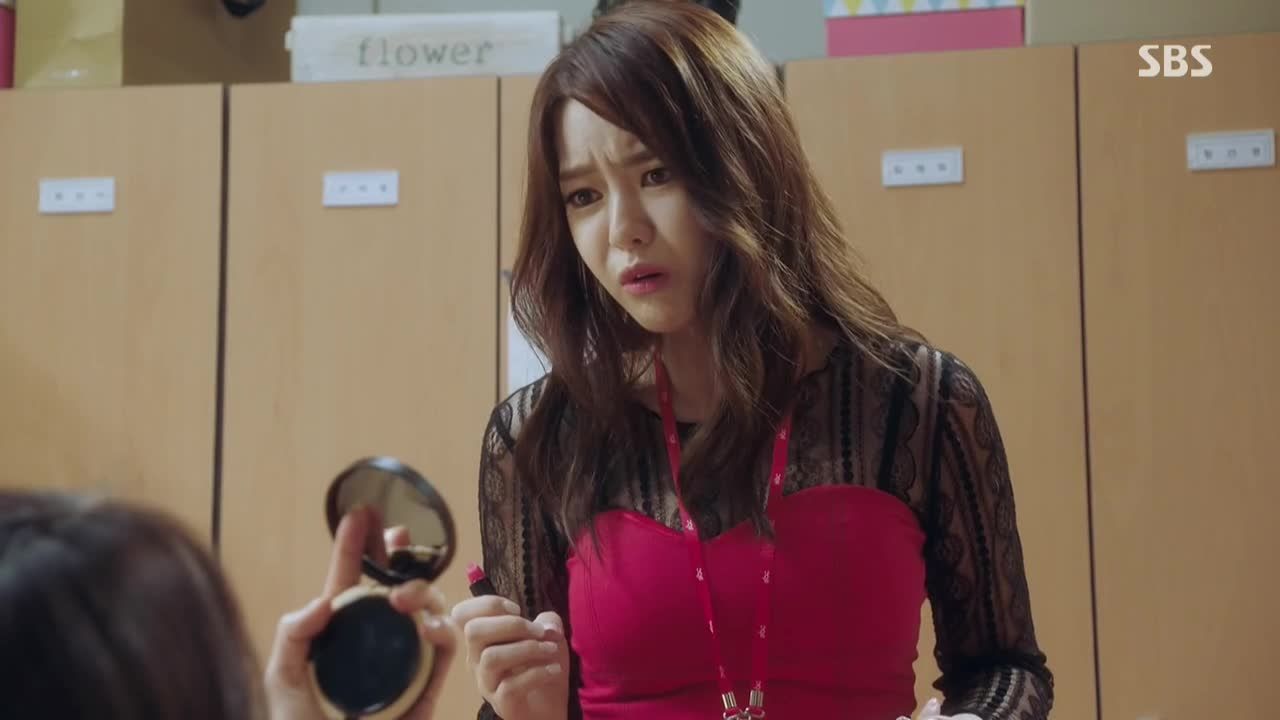 Na-ri stumbles in the weather forecaster room, and her colleagues looked shocked to see her. One follows her inside the dressing room and assumes that she's here to clean up her belongings; only, Na-ri takes her make-up and quickly starts applying it. Her colleague realizes that Na-ri is preparing for broadcast and looks at her with disbelief, especially with her old-fashioned clothing. But Na-ri straightens out her mom's clothes and looks ready to roll.
Hwa-shin half-listens to Dr. Geum's instructions for post-op care with his eyes glued to the TV. The only thing that really matters in their conversation is his decision to reject the single room that just opened up. He glances at Na-ri's empty bed and confirms his decision.
Na-ri arrives for the broadcast, but Joo-hee refuses to give up her spot. It's mere minutes before the weather segment, and PD Oh orders one of them to leave. But both women stubbornly stay on the set, arguing that the other should leave. Na-ri grabs the weather CG remote, and during their scuffle, the remote gets flung out of sight, under Jung-won's shoe.
The whole crew panics at the missing remote, but Na-ri sees it slide under his shoe. Na-ri motions him with her urgent glances, but Jung-won stays quiet and unmoving. There's no more time remaining, and Dong-gi reluctantly signals the start of the weather forecast.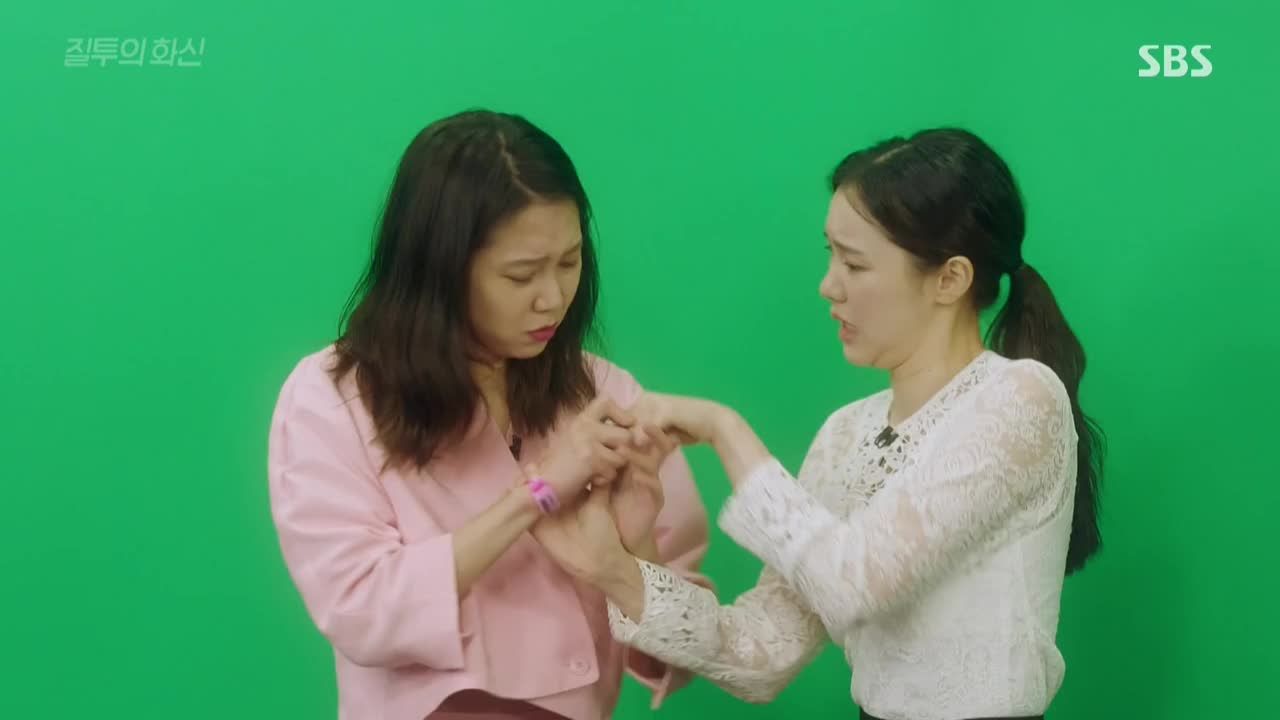 Joo-hee refuses to leave her spot, so Na-ri makes moves to leave the set for the sake of the live broadcast… until Jung-won kicks the remote to her with a wink.
Only seconds remain before the live weather broadcast, and whole crew erupts into chaos, signaling one of the women to leave. The last few seconds slowly tick down, and Na-ri asks her mother to help her. She finally wore her mother's clothes and worries that she may dishonor her mother because today could be her last day as an announcer.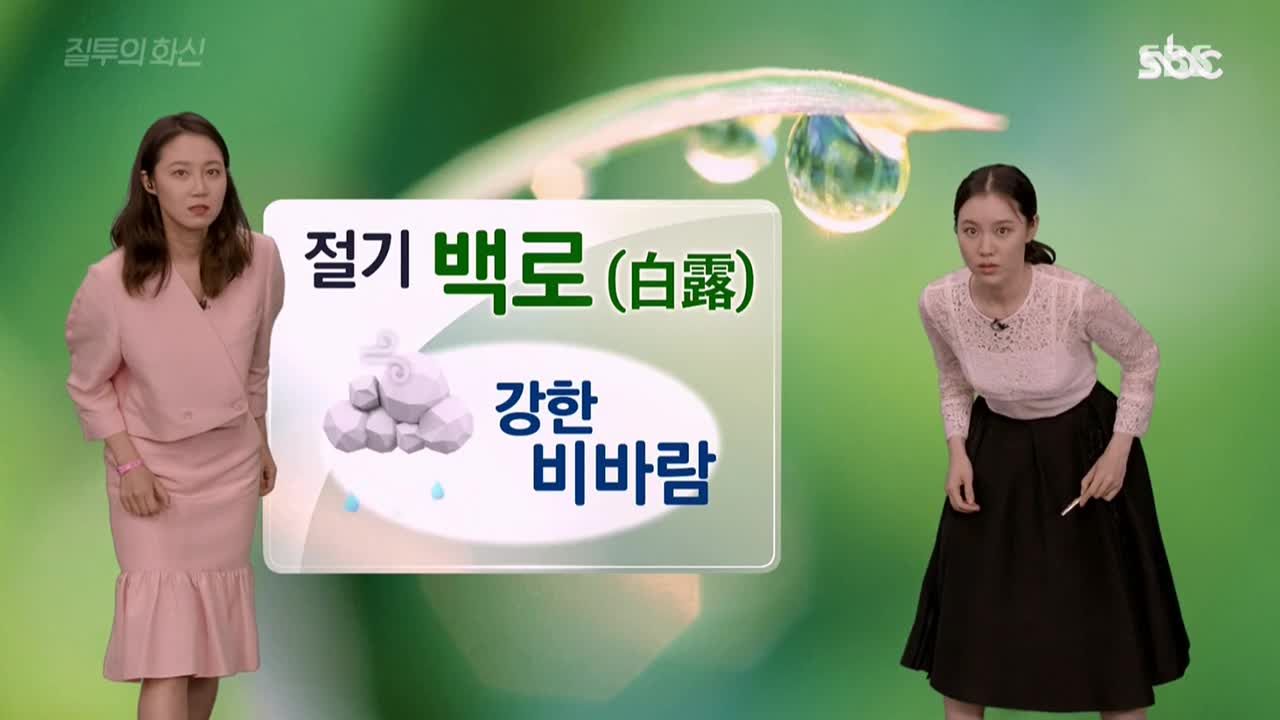 Time runs out, and weather broadcast is live with two forecasters. They're awkwardly bent over but quickly proceed with the forecast. Na-ri bends down to pick up the remote and smoothly delivers the news. She passes on the next news to Joo-hee, but the flow seems to be under Na-ri's control since she has the remote.
But Na-ri suddenly stops mid-sentence, supposedly in pain, which give Joo-hee the opportunity to take over. It's a strange dynamic, and from his bed, Hwa-shin wonders what the hell is going on.
Nurse Oh checks on Hwa-shin to check if he's farted (for medical reasons, obviously), but farts are the least of Hwa-shin's worries.
In the studio, everyone remains frozen, slowly realizing that this was a broadcast accident. Joo-hee turns to Na-ri and slaps her, and then Sung-sook slaps both women. She chastises them for ruining the broadcast, and they both apologize profusely.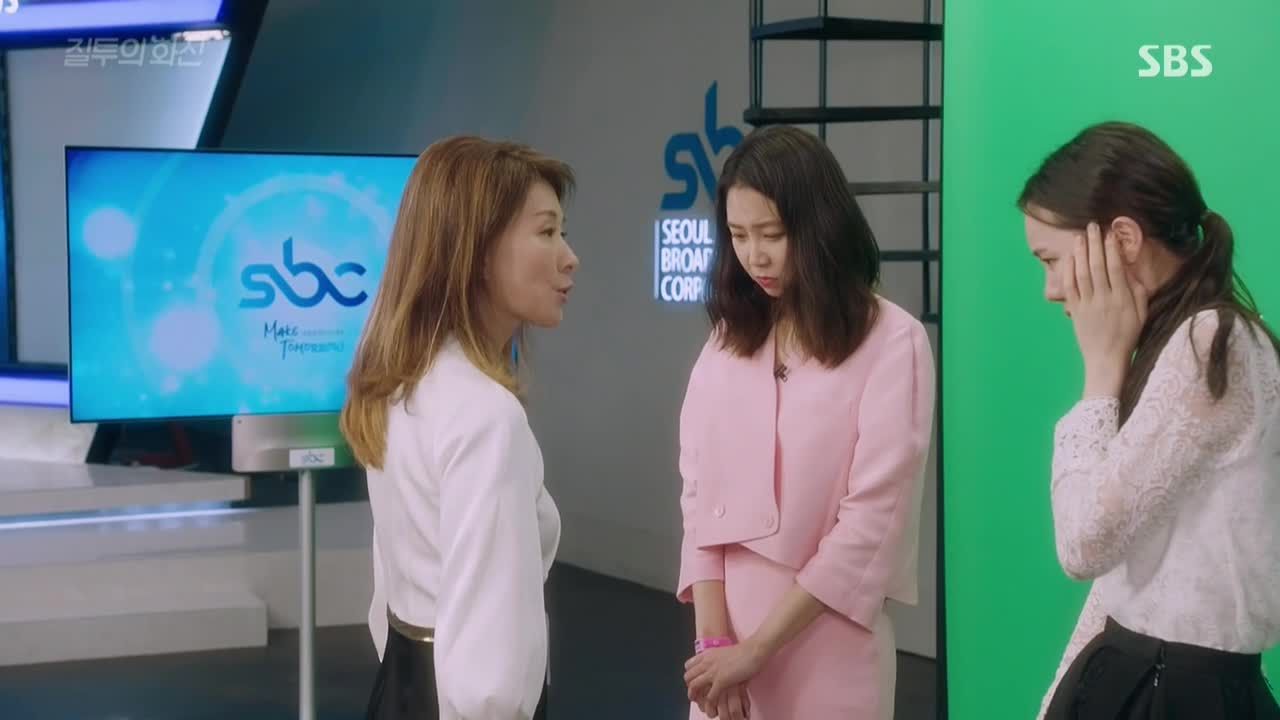 PD Oh receives a call from the news station president and tries to insist that this was not a broadcast accident. He then hands the phone off the Sung-sook to explain Joo-hee's placement and signals everyone to clear the studio. As everyone clears out, Joo-hee approaches Jung-won to thank him for the outfit, but he completely ignores her and wrist-grabs Na-ri out of the studio.
Dong-gi receives a confused call from Hwa-shin, and he explains that the weather forecasters had no fault — it was Sung-sook and PD Oh's indecision that resulted in this accident.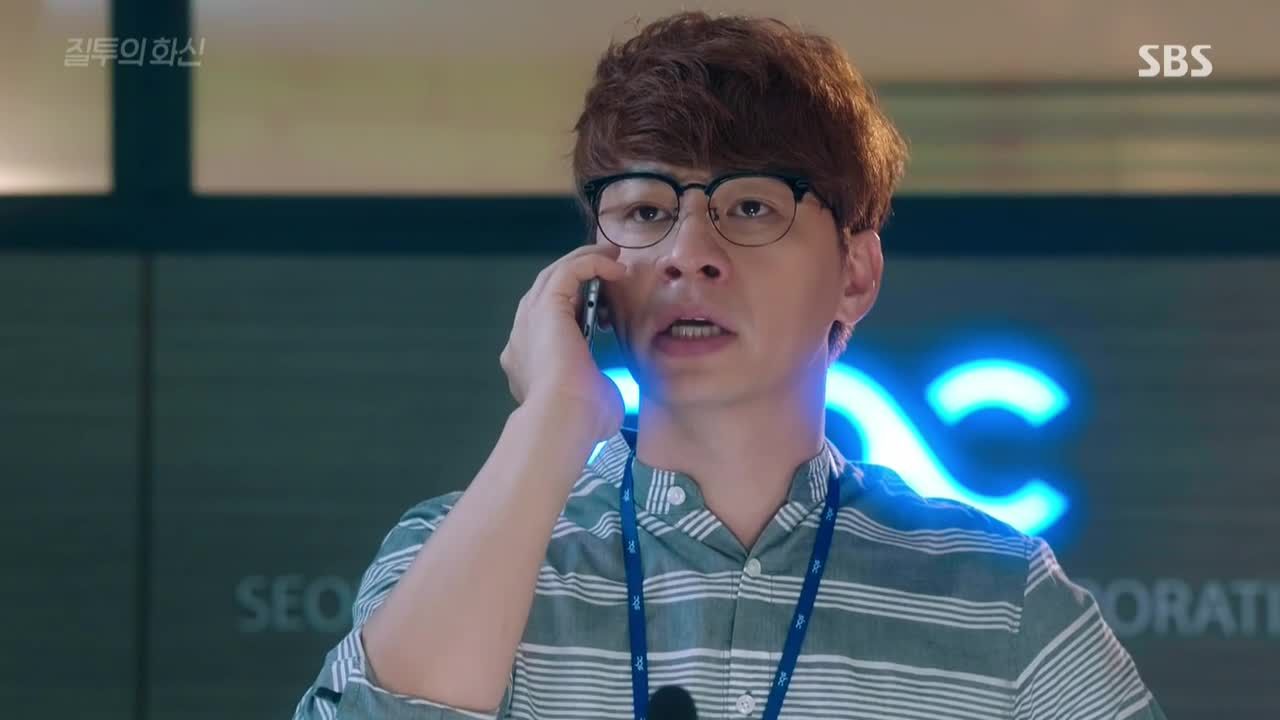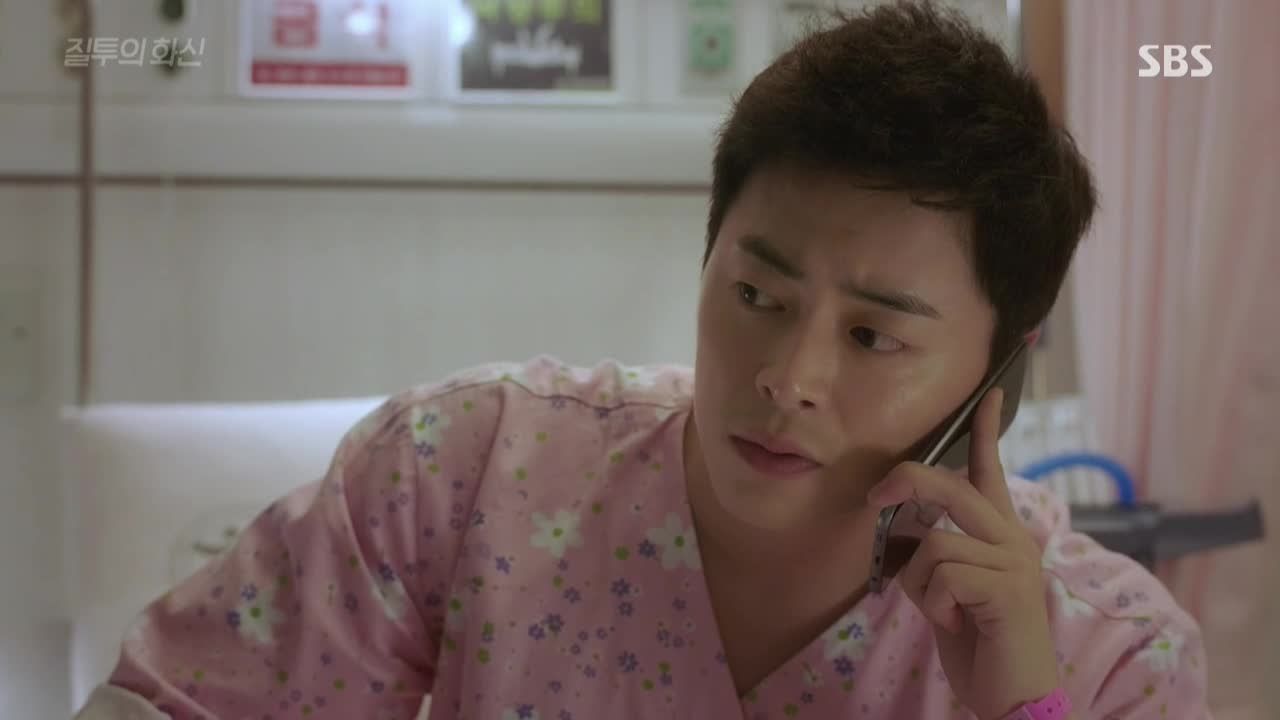 He orders the lights to be turned off in the studio, where Sung-sook yells through the president's complaints to make her voice heard. She argues that weather is a part of the news, and this blunder was a result of sincere efforts to improve the weather forecast. She asks why the women forecasters' bodies were sexualized — because their main audience is men or because the president himself is a man?
Sung-sook continues, "My point is that both men and women can be weather forecasters. Looks are not the priority; rather the attitude to present with grace and confidence is of utmost importance. Understand? Are you okay?" She makes a solid argument, but the president simply hangs up on her. Defeated, Sung-sook mutters to herself that she wants alcohol, a man, and someone on her side.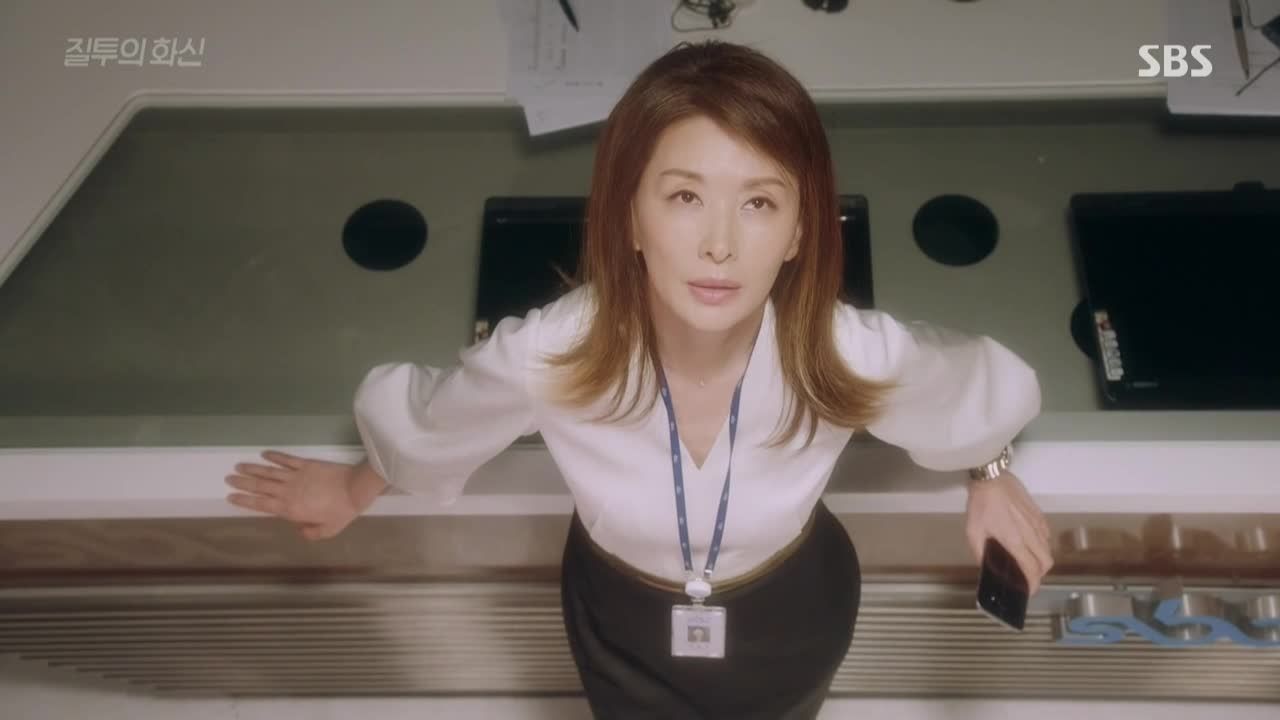 As Jung-won drags Na-ri out, she jealously asks if he's also a fan of Joo-hee, seeing that he provided her outfit. She wonders why he passed the remote to her, and Jung-won yells that the remote was the only thing that went to the intended person.
Before they can argue any longer, Na-ri crumples to the ground. Secretary Cha notices Na-ri's hospital wristband, so Jung-won carries her out. The announcer gang watches him carry Na-ri into the elevator, but they're unnoticed by Soo-jung, who passes by just as the elevator doors close.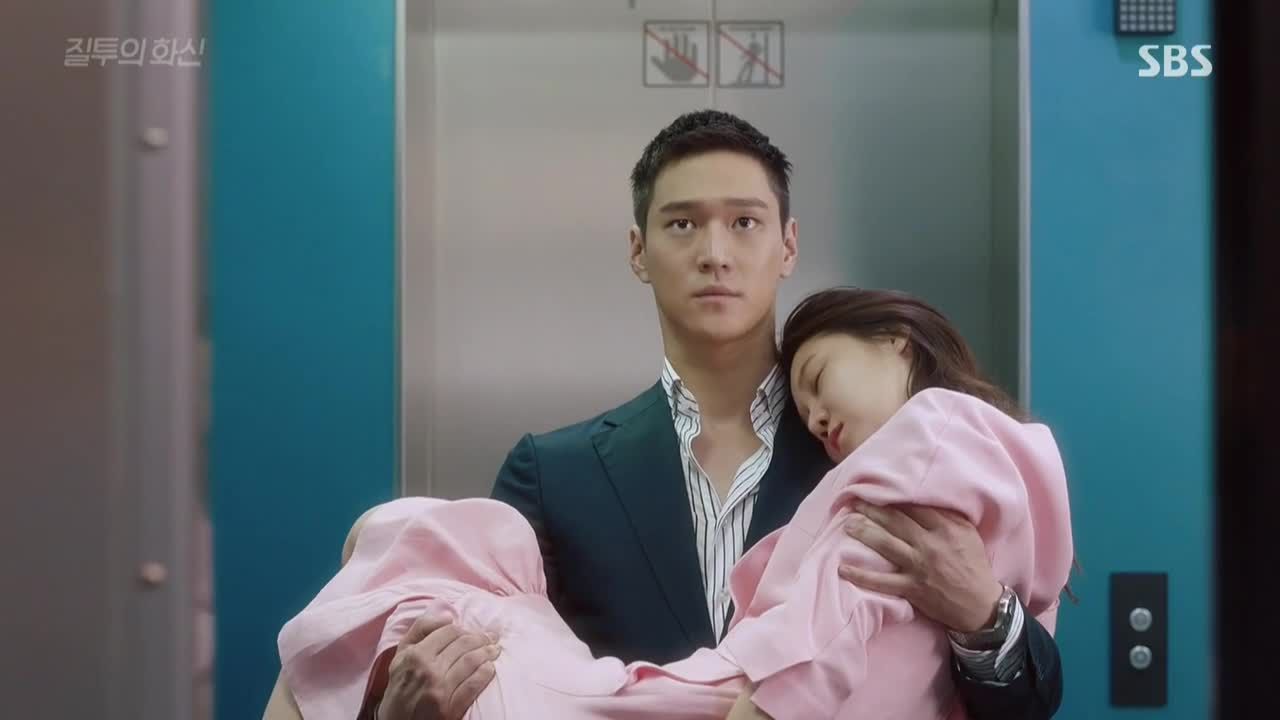 Chi-yeol calls his sister after watching the news, as does Hwa-shin, who's sustained a new injury on his forehead trying to grab the slippers under his bed (lol what a klutz). In the car, Jung-won gently holds Na-ri's face on his lab and holds her hand, but he quickly lets go when she regains consciousness.
She groggily picks up the phone, and it's Hwa-shin. He roughly nags her about her condition, but she cares very little about what he's saying and hangs up before he finishes.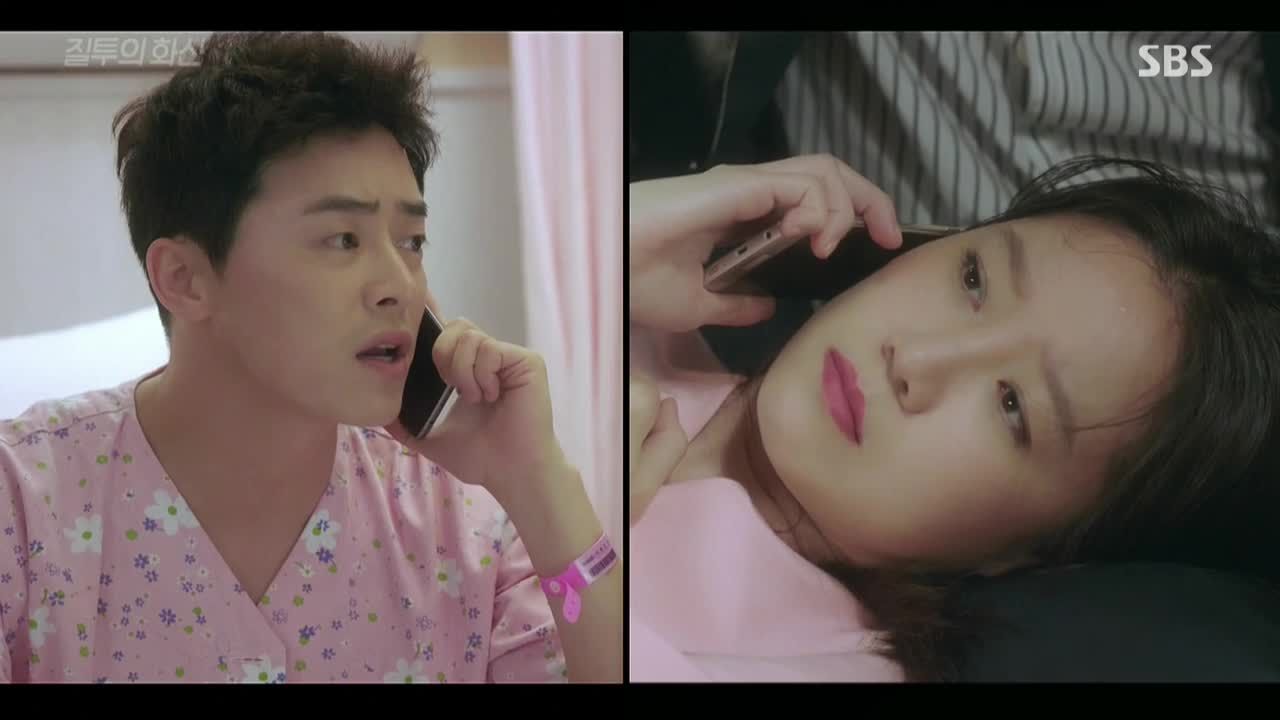 But when Na-ri arrives at the hospital with Jung-won, she suddenly realizes the potential publicity that Hwa-shin may receive and seems to care a whole lot about securing his privacy. She throws a fit in the car, refusing to leave and grabbing Jung-won's thigh, dangerously close to his sensitive area. He freezes as she continues to grab onto him desperately.
The medics somehow get her onto the stretcher, and she continues to fret. She exaggerates her pain and insists that she needs to go to the emergency room instead of her hospital room, all in attempts to protect Hwa-shin. Ha, this is hilarious.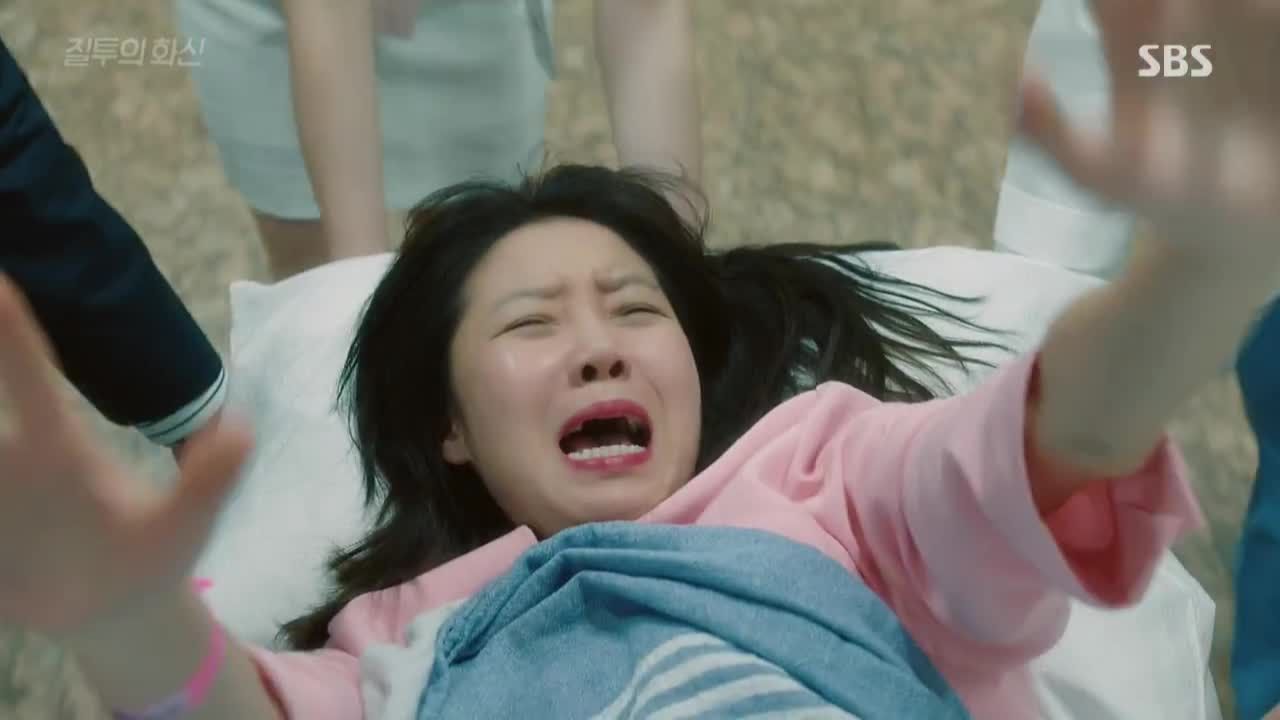 Hwa-shin peeks out of his hospital room disguised with a towel around his head, and he spots Na-ri being wheeled with unwelcome guests. He hides behind his curtain as defeated Na-ri enters the room with Jung-won and Secretary Cha. They leave briefly to let Na-ri change into her hospital clothes, and Hwa-shin angrily slides open the curtain to express his disapproval.
Hwa-shin assumes that Na-ri brought people from the news station on purpose, in an attempt to expose his illness to the public. He sounds betrayed and blames himself for trusting a woman with his secret. He's boiling with anger, and Nurse Oh warns him that his surgical wound could burst if he gets overexcited.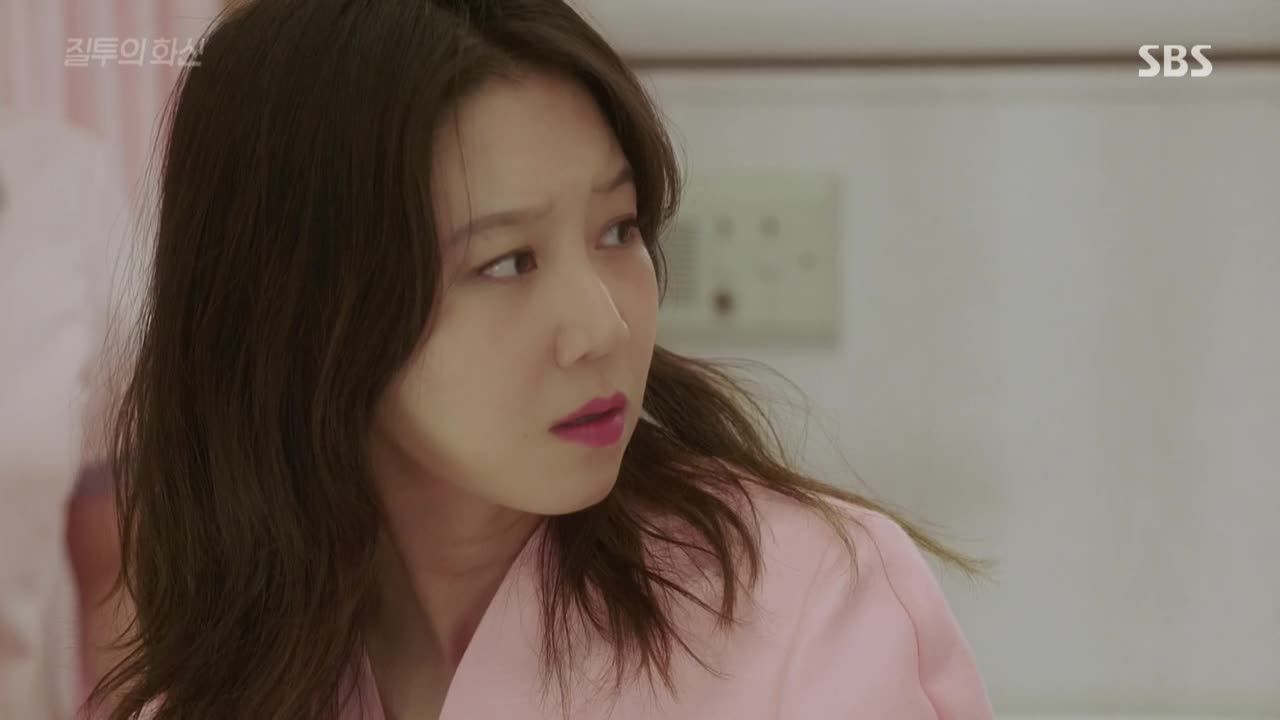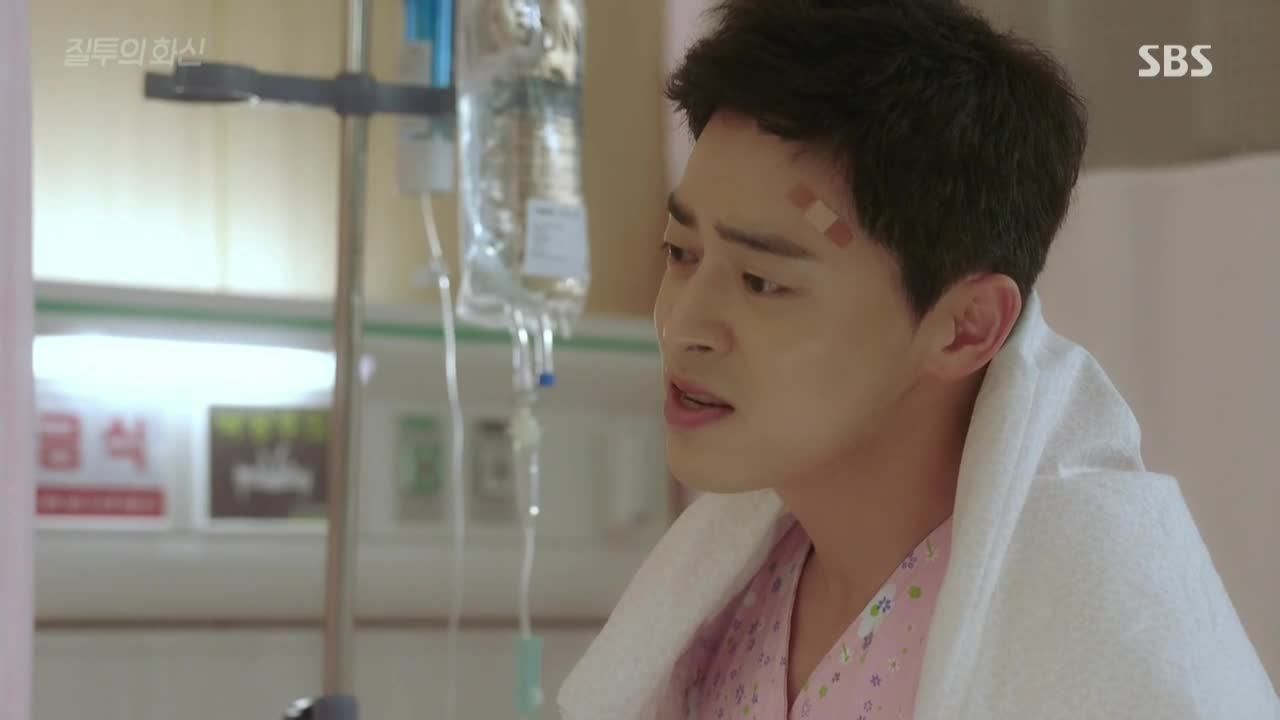 Sulky Hwa-shin pulls the curtain closed, and Na-ri sarcastically acknowledges that she purposely brought the biggest blabbermouth at the news station to disclose Hwa-shin's secrets. She talks in hyperboles and accepts her fate to die in Hwa-shin's hands. She adds that the people she brought would be willing to pay large sums of money for the intel, and Hwa-shin seems to take her seriously despite the obvious sarcasm.
Outside, Secretary Cha tries to convince Jung-won out of his two-timing with "Pooped out a Cloud," arguing that Jung-won never showed real interest in women. He only really cared for his friends. Jung-won takes that point and explains that he has to meet a woman who's like a friend, not an especially feminine woman. He orders Secretary Cha to buy some healthy drinks and gives him a carefree wave when Secretary Cha threatens to report all of this to his mother.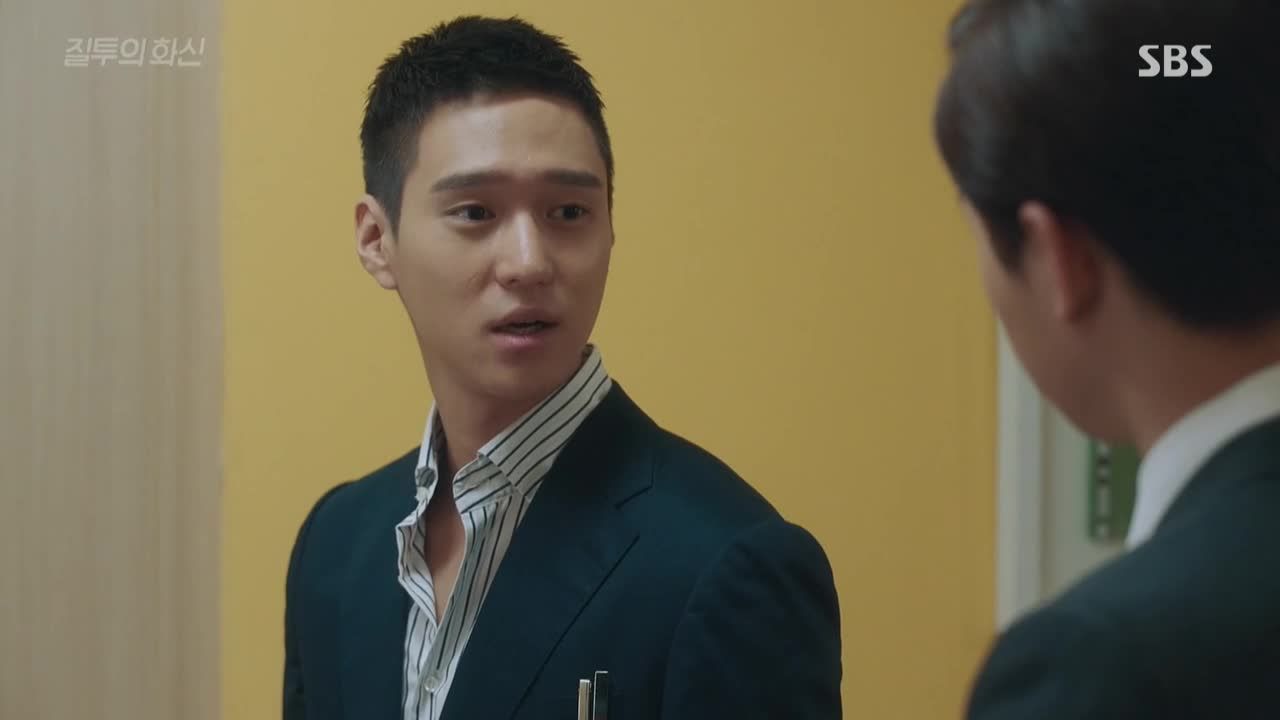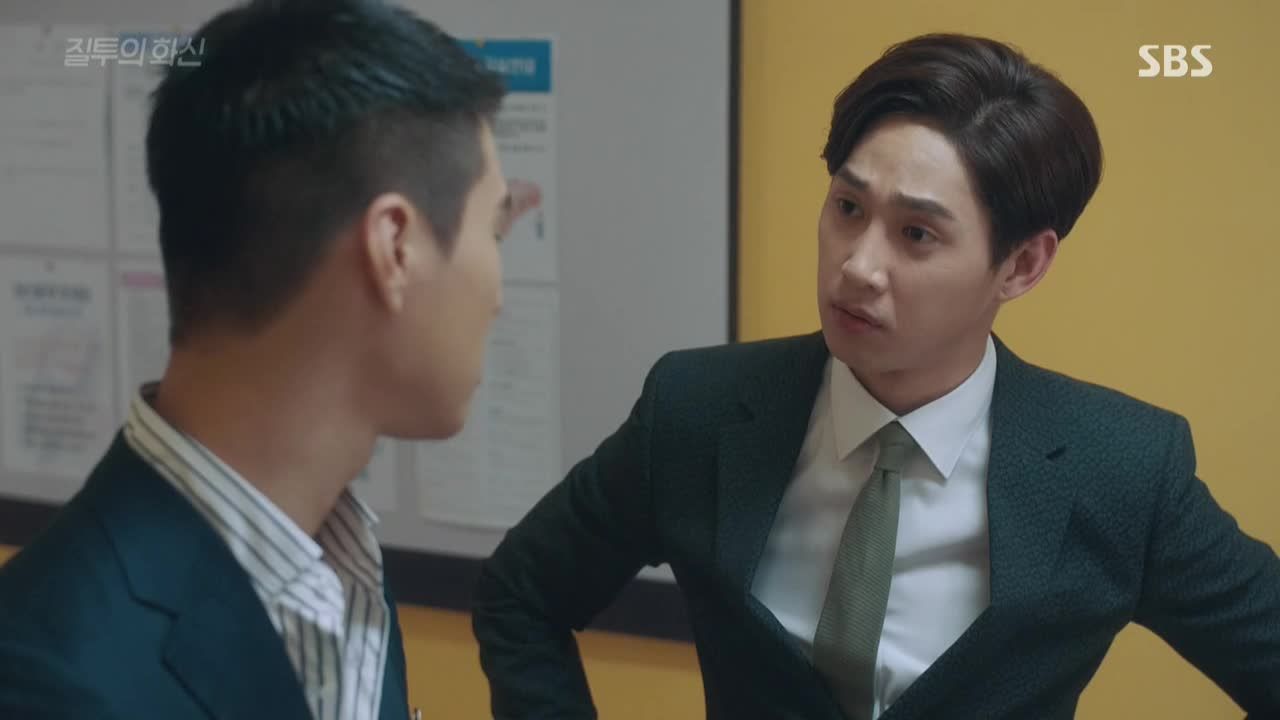 Ja-young visits Chef's restaurant and orders a saffron pasta. Chef tells her that Pal-gang also ordered the same pasta, and she looks super pleased. Wondering who the real mother is, Chef joins Ja-young to chat as she eats dinner. Ja-young shows interest in Chef, asking if he's been married. Later, Sung-sook also visits the restaurant for wine, and she also shows interest in Chef.
After both "mothers" have left, Pal-gang enters the restaurant and eats Chef's pasta. He asks if she really doesn't need her mother, and Pal-gang nonchalantly nods that she's fine without her mom.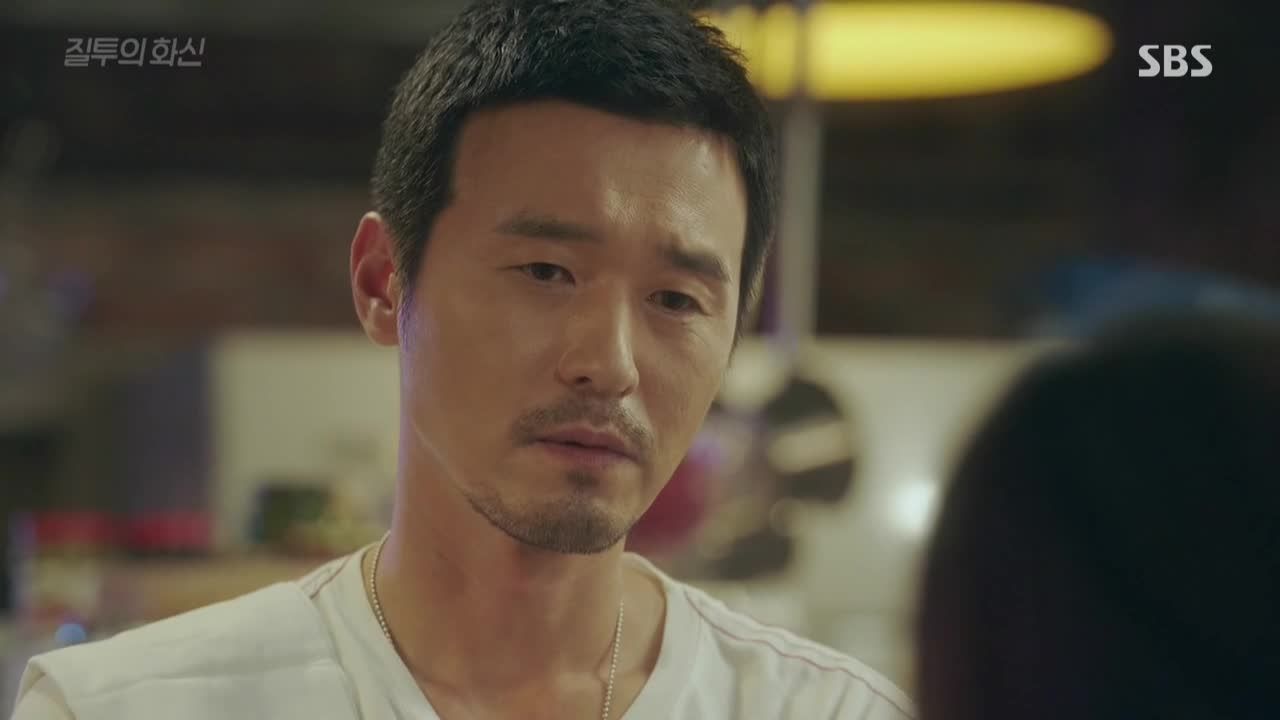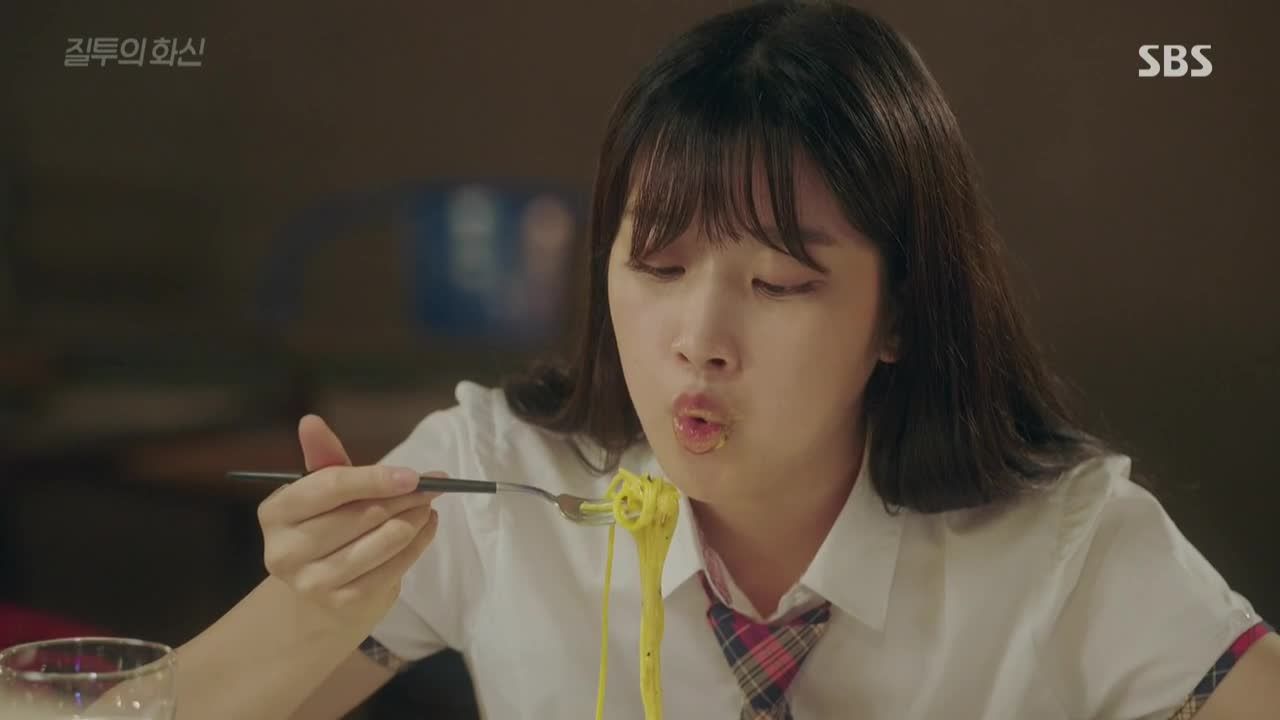 Dr. Geum storms into the hospital room to scold Na-ri and her nurses for the disappearance. She says that Na-ri's mother and grandmother didn't run away, and Na-ri begs for forgiveness. Dr. Geum turns to Jung-won and yells at him to watch over Na-ri at all times as her guardian. He seems happy with the responsibility of being by Na-ri's side.
Next, Dr. Geum moves on to check on Hwa-shin, except she pretend that he's an old grandmother behind the curtain. She slips through the curtains and continues her act as she tells Hwa-shin about his removed lump. She says that he was lucky to have undergone surgery early and should thank the person who pushed him to get tested. She tells "grandma" that he needs to come to the hospital every day for the next six weeks for radiation treatment and makes him promise that he'll comply.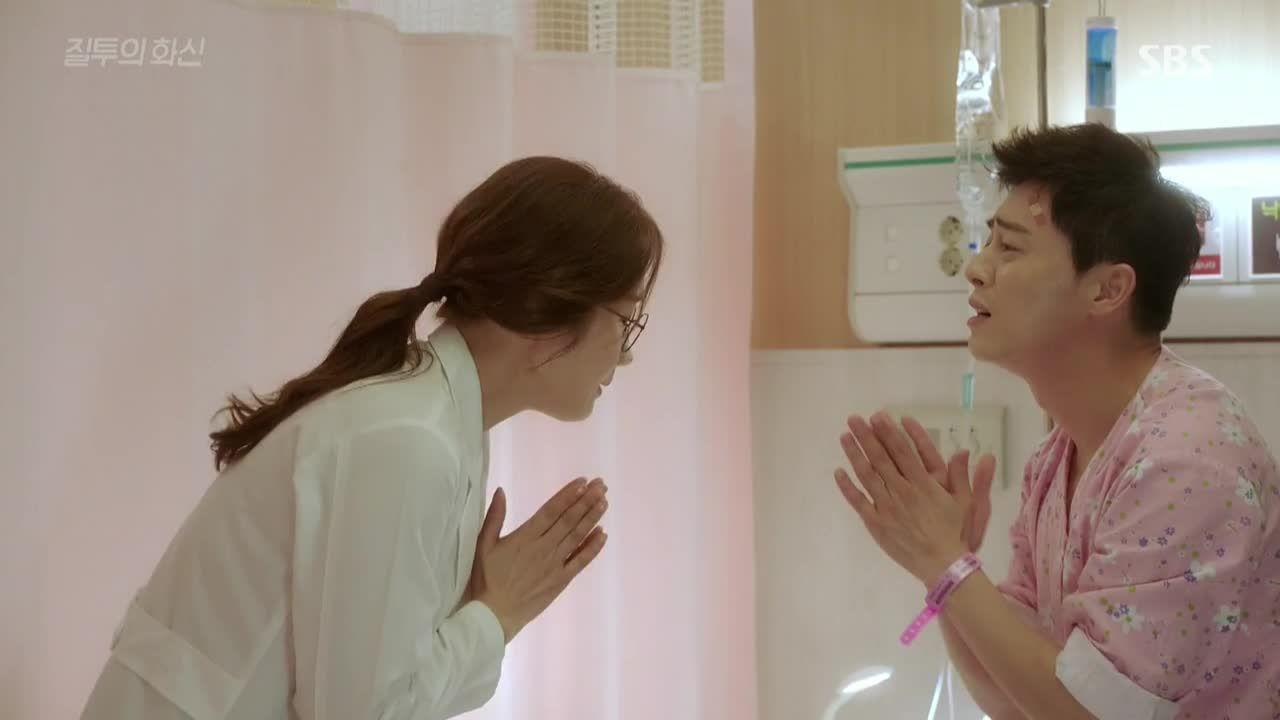 Before she leaves, Hwa-shin motions to her about the single hospital room, but Dr. Geum reminds him that he decided not to take the single room. He pleads and begs, but the room is no longer available now, so his request is flatly denied.
Dr. Geum leaves with her staff, leaving Na-ri to try to get rid of Jung-won. But he's not going anywhere soon since he intends on following Dr. Geum's orders to stay by Na-ri's side. He asks if Hwa-shin knows about her hospitalization, and Na-ri's vehement denial makes him relieved. Hwa-shin listens curiously.
Chi-yeol and Dae-goo try to enter the broadcast building, but the security guard doesn't allow them to pass. Sung-sook sees Chi-yeol's desperation and tells the guard to all them inside. She directs the boys to the weather caster room, but when they peer into the room, no one is there. Chi-yeol runs back to Sung-sook to ask if her sister will get fired, and Sung-sook simply says that Na-ri isn't one to get fired easily, as he should know.
Back in the hospital room, Na-ri asks how Jung-won thought to slide the remote to her in those last moments. He explains that he wanted to ensure that the remote went to the right person at the right time. Na-ri wonders if she behaved correctly in that moment, and Jung-won assures her that she did well. Better to be left with a warning than a loss.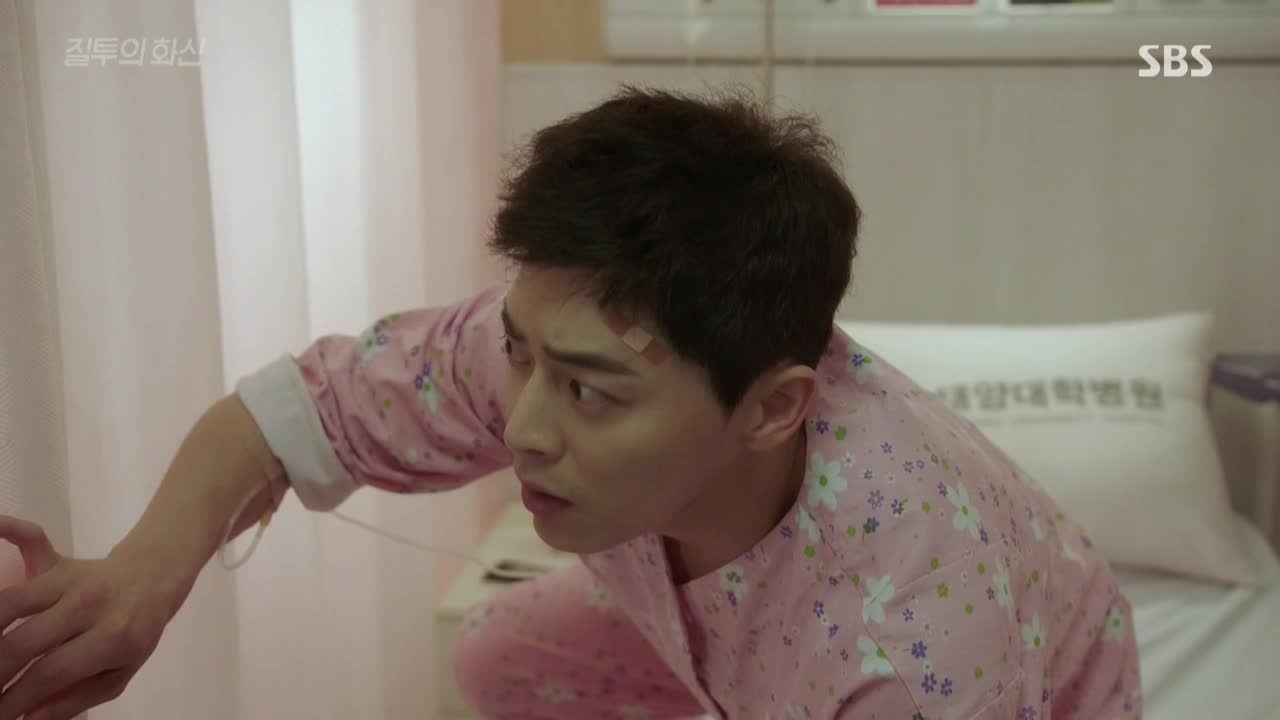 They're all smiles, and then suddenly the mood is interrupted by a fart, followed by more disgustingly loud farts. It's Hwa-shin with the medical farts, and Jung-won goes to open the window to fan out the smell. Hwa-shin takes that moment to stand on the bed and signal Na-ri to get rid of Jung-won faster. Lucky for him, Secretary Cha enters the room to summon Jung-won, and Na-ri walks him out. Hwa-shin peeks from behind the curtain and finally sighs in relief.
At the hospital doors, Na-ri thanks Jung-won for everything, but her formal attitude disappoints Jung-won — he thought they had grown closer through today. She confirms that they have but tells him to never visit her again. She says that she'll buy him a meal to thank him for all his help today and heads back to her room.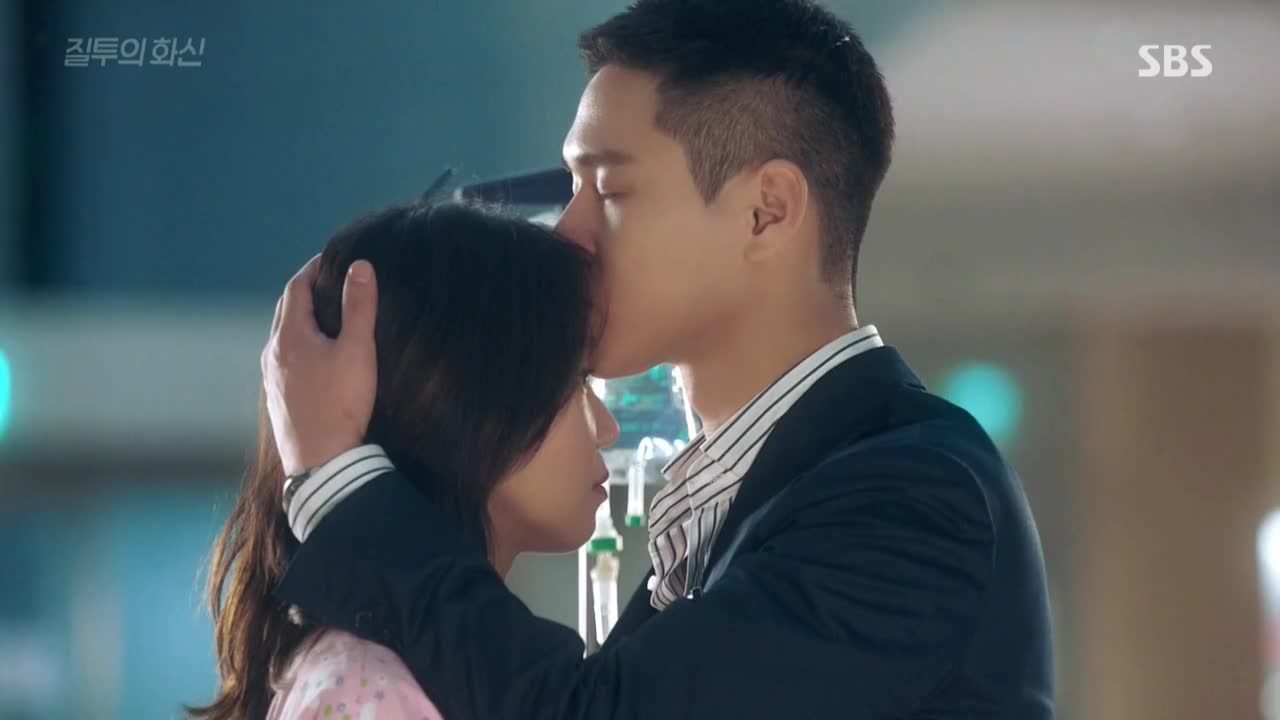 Jung-won follows her, turns her around, and plants a kiss on her forehead. She looks confused and nervous, but Jung-won assures her that this was just a gesture towards a patient. He also tells her not to worry about losing her job, since the ratings were double the normal amount. He wishes her a good night and heads out, leaving Na-ri speechless.
It's Na-ri's turn to chase after Jung-won, and she asks if they're moving too fast. He agrees but also notes that she was also quick to push him away. He never intended to stay by her side 24/7 as per doctor's orders and wonders if she expected that of him. He also wonders if she's slow or just bad at romance, but Na-ri explains that her conflict lies in the fact that he's Hwa-shin's friend.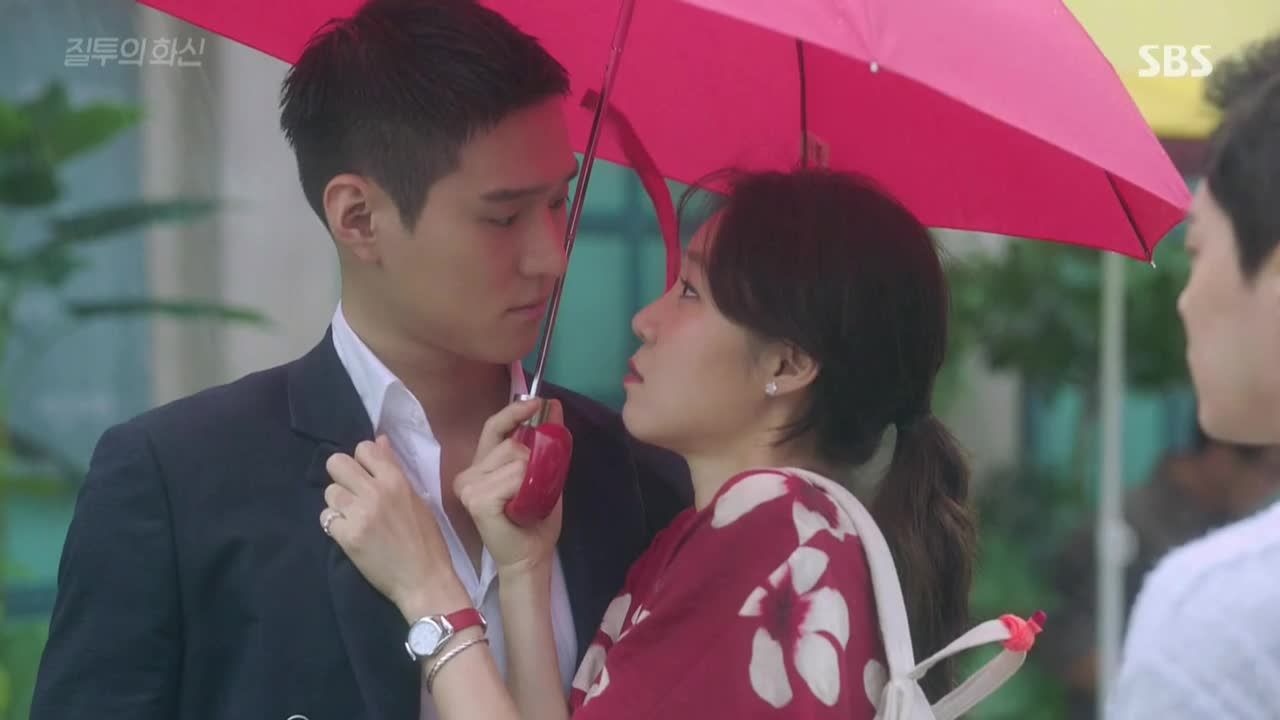 He reminds her that she claimed that Hwa-shin isn't interested in her at all and tells her to think about their time in Thailand. During the storm, when Na-ri chased them with her umbrella, Jung-won tells her that she wasn't the one to jump into his arms when thunder struck — it was actually him who pulled her close. He smiles and looks amused by her clueless reaction.
As Na-ri finally head back inside with a few glances back, Jung-won receives a call from Hwa-shin, who watches him from his hospital window. Hwa-shin asks if it's okay if they have secrets from each other, and Jung-won seems to think that secrets are unnecessary. Hwa-shin jokes that his secret is about some investment information that he won't share since Jung-won is already rich. Jung-won is a good sport but changes the topic to Na-ri and her illness. He says that he brought her to the hospital, and Hwa-shin compliments his good deed.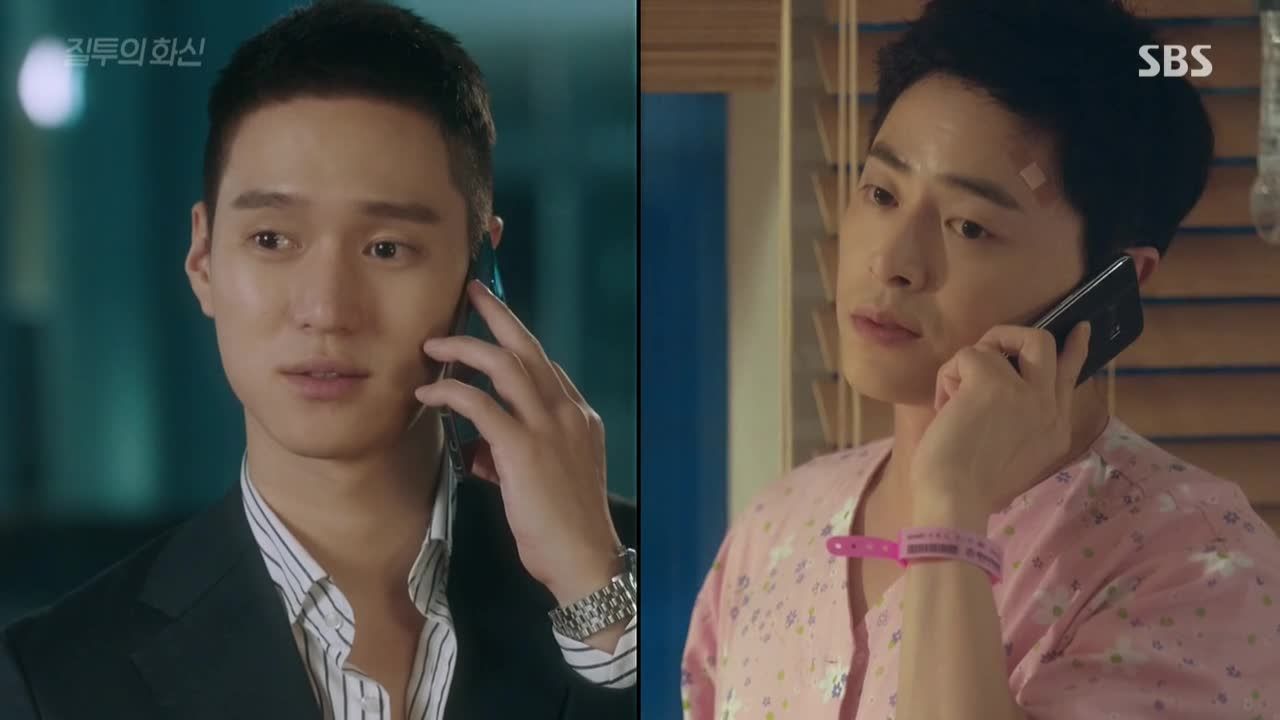 Ja-young and Sung-sook wrap up their recordings and meet in the elevator. Ja-young reluctantly boards the elevator with her rival and smells alcohol around Sung-sook. She accuses Sung-sook of being a hypocrite, after scolding Na-ri about going live while drunk. Sung-sook gets back at her by criticizing her excessive perfume and taunting her about being demoted to radio. They're about to rip each other apart but resist the urge to, since the elevator has a security camera.
They pull out each other's hair and stumble into the dressing room. Sung-sook blames Ja-young for ruining her life by stealing Pal-gang and her husband. They start spraying water at each other, and Ja-young blames Sung-sook for her greater fault in their demise. They crouch down and have a good ol' cry as rival colleagues.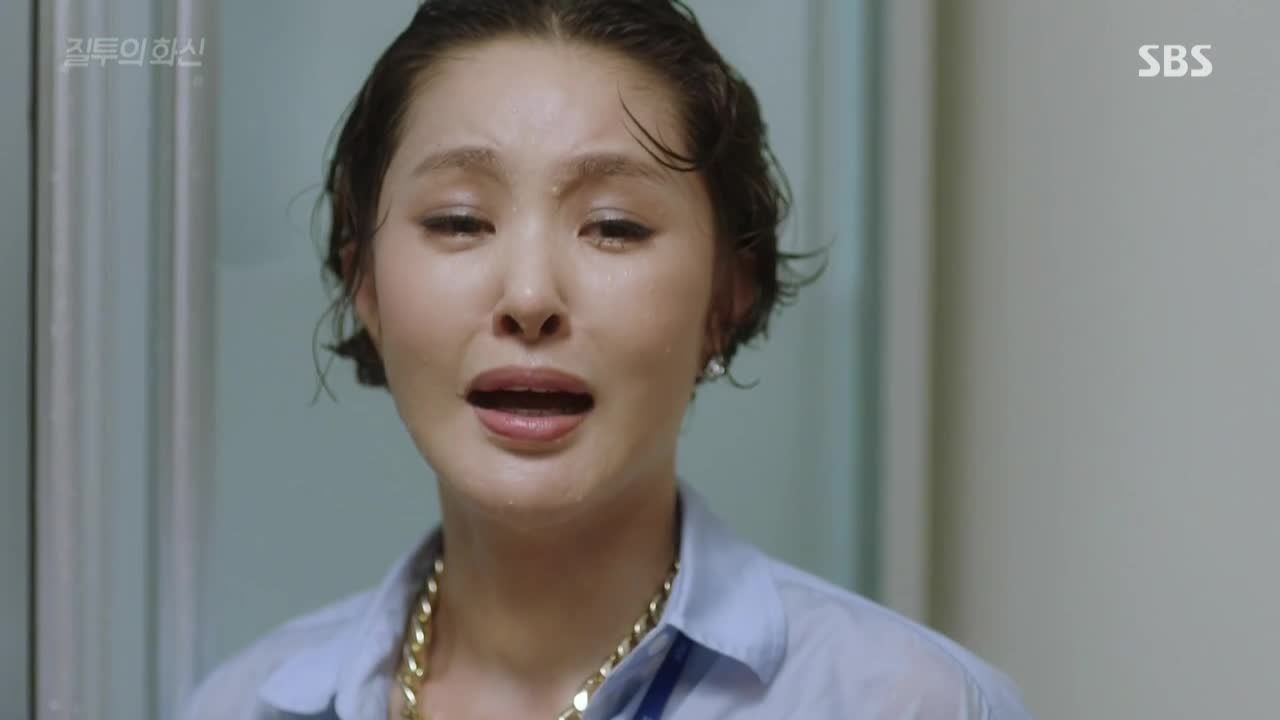 Na-ri begins to fart and looks over to check if Hwa-shin is awake. He's awake and notes that he must not be a man to her because she's farting in front of him. Na-ri asks why he's hiding his illness from Jung-won, and Hwa-shin says that he doesn't want pity from his friends. Plus, it's his chest — a man's chest.
Na-ri farts some more, and Hwa-shin can tell that she's trying to hold in her farts. He wonders if she's careful because of him and starts to rationalize that she must be into him, especially since she initiated the kiss. She assures him that she's not and tells him to stop bothering her.
She turns on her side, but Hwa-shin tell her not to since all the farts will be directed towards him. Na-ri comments that he and Jung-won are two very different friends, and she smiles to herself thinking about Jung-won. She can't sleep because of her hunger, and Hwa-shin agrees, but he won't accept the juice packets that Jung-won brought.
Every little thing seems to affect sensitive Hwa-shin, as he tells Na-ri to stop noisily sucking on her drink and tells her to face him while sleeping. Na-ri obliges and tells Hwa-shin to face her as well, but he refuses. She tells him that she's just afraid that the rest of his farts will come out, so he reluctantly turns over to face her.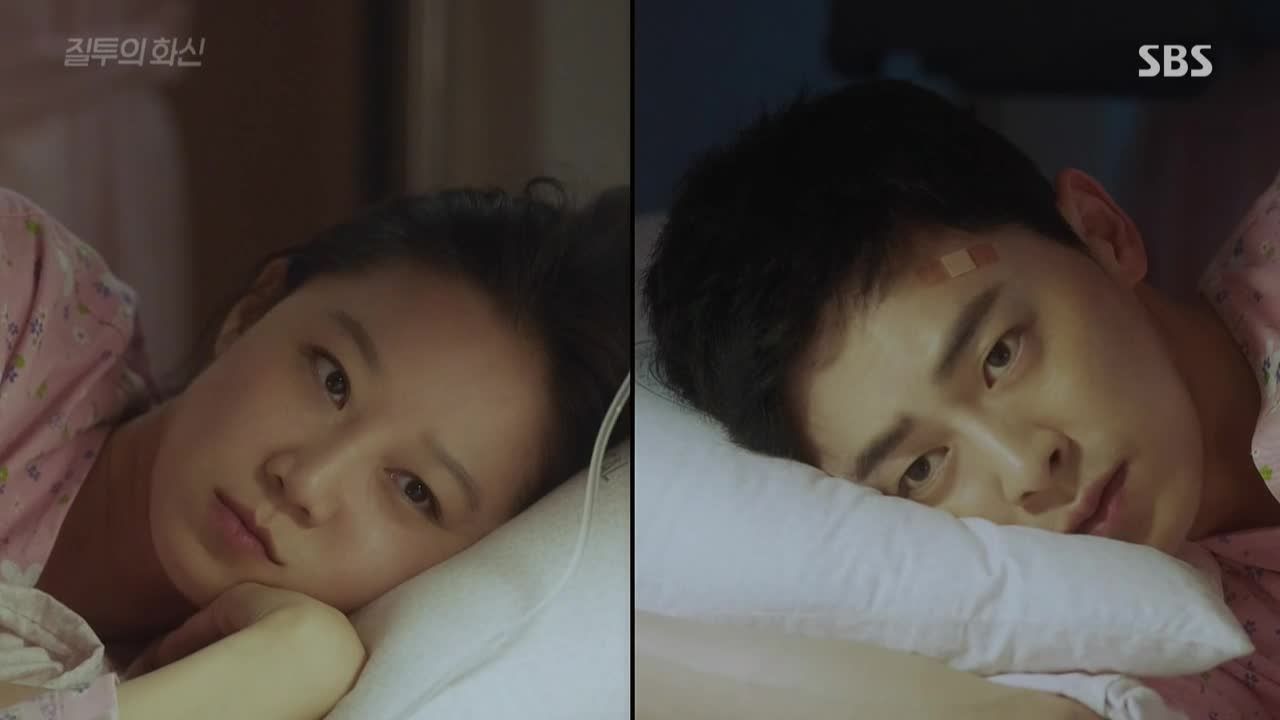 Na-ri asks if Jung-won is a player or if he has a girlfriend, and Hwa-shin says that he doesn't know. She says that she's interested in him, and that seems to bother Hwa-shin. He convinces her and himself that she's just saying that because she's trying to get over her one-sided crush on Hwa-shin. She smiles and turns away from him as she refutes his claim, but he's only listening to himself.
Hwa-shin advises Na-ri to naturally let go of her crush, since a three-year-long crush won't easily be forgotten. Now it's Hwa-shin looking at Na-ri, as he tries to convince himself that she's not over him.

COMMENTS
I'm liking how this story is folding out now, though I admit that it did take some warming up and patience. The first few episodes were confusing and narratively unfocused, which made it hard for me to follow and really enjoy, even with this stellar cast. Luckily the narrative seems to have found its way and allow for our actors to really shine in their roles. And by narrative, I'm not implying that there's much of a story — there really isn't. But even without a heavy plot component, this show is able to make every small interaction memorable and full of subtext.
I like Na-ri and especially love her complete inability to lie about her feelings. She's terrible at hiding her emotions, and it's double the hilarity because Hwa-shin is terrible at emoting properly and reading emotions. Gong Hyo-jin portrays Na-ri's vulnerability and determination with a vibe reminiscent of her previous characters, but the dynamic between her and Jo Jung-seok's Hwa-shin makes all the difference. Her unyielding dedication to her less-than-satisfactory weather forecaster job juxtaposed with Hwa-shin's haughty disdain makes Hwa-shin pettier than he already is, and it's oh-so-fun to watch.
Jo Jung-seok has also played very similar characters: clumsy, arrogant, yet extremely endearing. But again, I think it's his dynamic with Na-ri that really makes this character new. His inflated ego is hilarious and troublesome, as is his lack of trust in others. He assumes the worst in people, never giving them the benefit of the doubt and finding a way to make everything about him. I wonder if his extreme self-centered nature was always a part of him or if he developed that as a defense mechanism after betraying his brother. Of course, we don't know enough about that situation yet to know, but I'm interested in seeing how his character arc will tie in all the elements of his current despicable personality. I hate Hwa-shin (and his man's chest) as much as I love him, and I only really love him because he's a fumbling idiot behind his conceited façade.
I found Sung-sook's character growing on me in this episode, especially with her monologue that expressed so much pride as a woman in her job. She demanded that the president treat her and her staff with the dignity, instead of objectifying them on broadcast. Though the portrayals of the sexualized women forecasters are exaggerated, the show makes its point about how women can be treated within the media industry. And her rivalry with Ja-young further proves why unfair treatment continues to perpetuate: the women are pitted against each other for their own pride. If the end scene with the two women crying is positively utilized, my hope is that they learn to reconcile their pasts and work together to bring down the man. Maybe I'm being a little too hopeful or reading too much into the monologue, but I can dream.
I'm ready to see the jealousy unfold in earnest outside of the hospital room, though I did really enjoy how much growth and shenanigans happened in that room. Yes, there was some slapstick humor for me to enjoy some cheap laughs, but I think there was something more special, some new realizations, and some new feelings that came out of that shared hospital space apart from the aroma of medical farts.

RELATED POSTS
Tags: featured, Go Kyung-pyo, Gong Hyo-jin, Jealousy Incarnate, Jo Jung-seok