Jealousy Incarnate: Episode 6
So much fun! I spent this hour laughing out loud at Na-ri and Hwa-shin's antics, and I'm so pleased that Jealousy Incarnate is turning out to be as entertaining as I'd hoped after its rocky start. For a show with such a simple plot, it delivers a surprising amount of heart and hilarity in equal measures, and I'm just completely enchanted. I could watch these two chase each other around a hospital room forever.

EPISODE 6 RECAP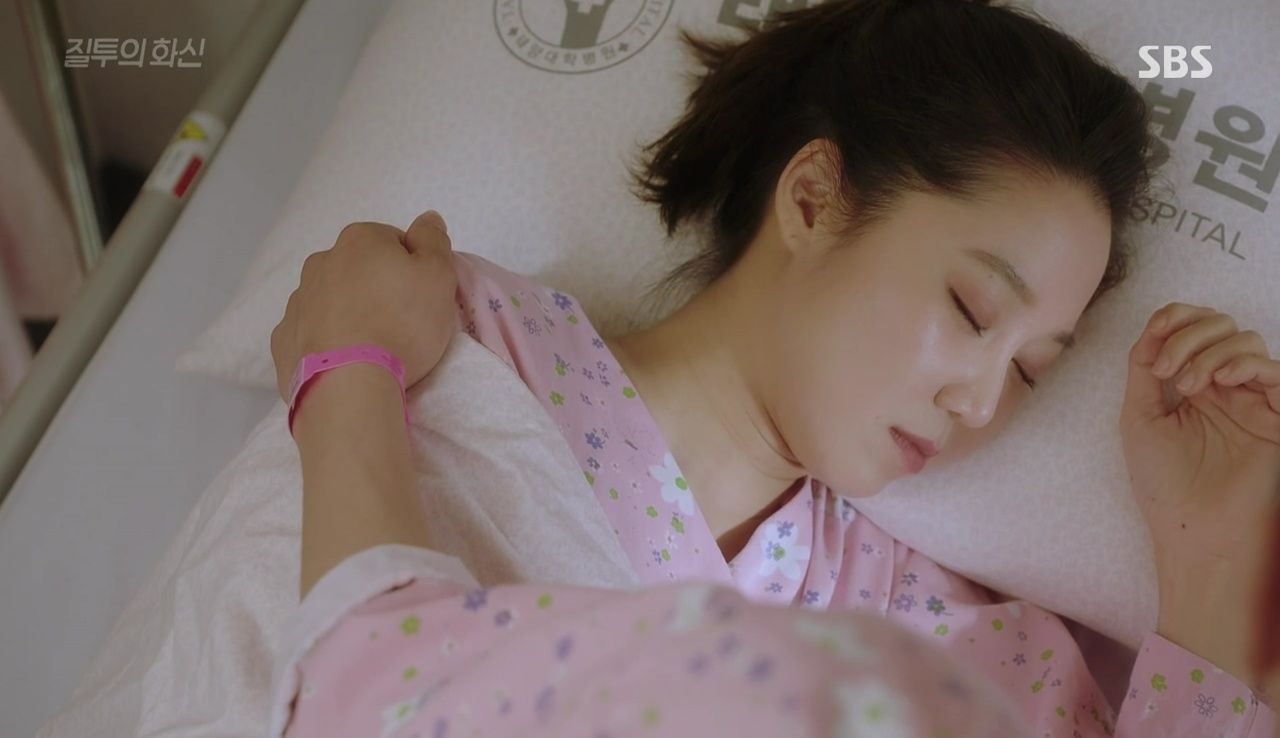 When Na-ri expresses interest in Jung-won, Hwa-shin tries to convince her that she's actually still into him. She turns away from him in her bed and ignores his insistence that she take her time getting over him.
Hwa-shin wakes first in the morning, and he tiptoes to Na-ri's side of the room to snag one of her juice packets. Na-ri starts to talk in her sleep, telling her boss that she can do a good job. Hwa-shin seems moved, and he pulls her blanket up snugly. He puts a hand on her shoulder, and his touch seems to soothe Na-ri.
Jung-won hops out of the pool to find his mother's employees waiting for him to sign some paperwork. He says that his mother can handle the hotel without him, but reaches out to sign. Then he remembers that he shouldn't just sign things without reading them, and says he'll look the documents over in his office.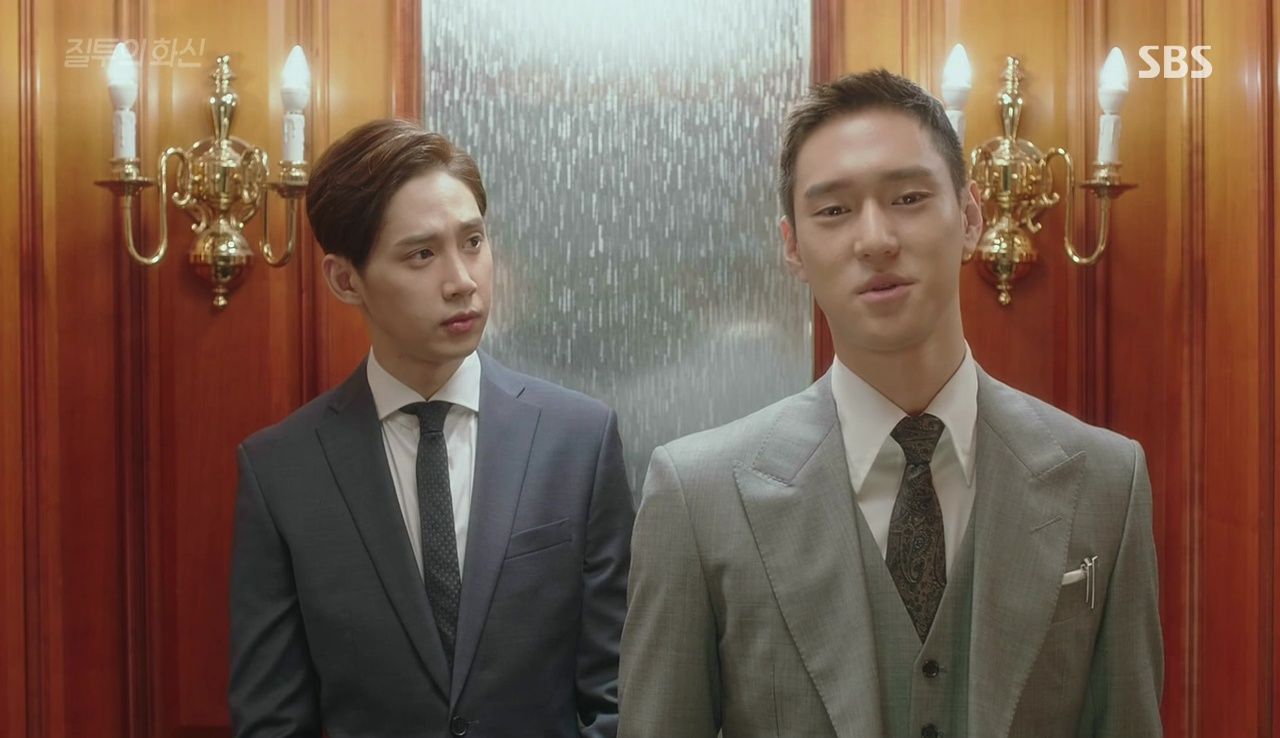 Later he complains to Secretary Cha that his mother's assistant thinks he's just a figurehead, then berates Secretary Cha for letting them know that he swims here in the mornings. He accuses Secretary Cha of conspiring with his mother's man to catch him off-guard, and by Cha's guilty reaction, it looks like he's nailed it.
Jung-won tells Secretary Cha he'll forgive him if he finds out where Na-ri got the suit she wore on air. His voice is full of admiration as he says that she looked very retro and sincere, and he'd like to buy her something else from that clothing line.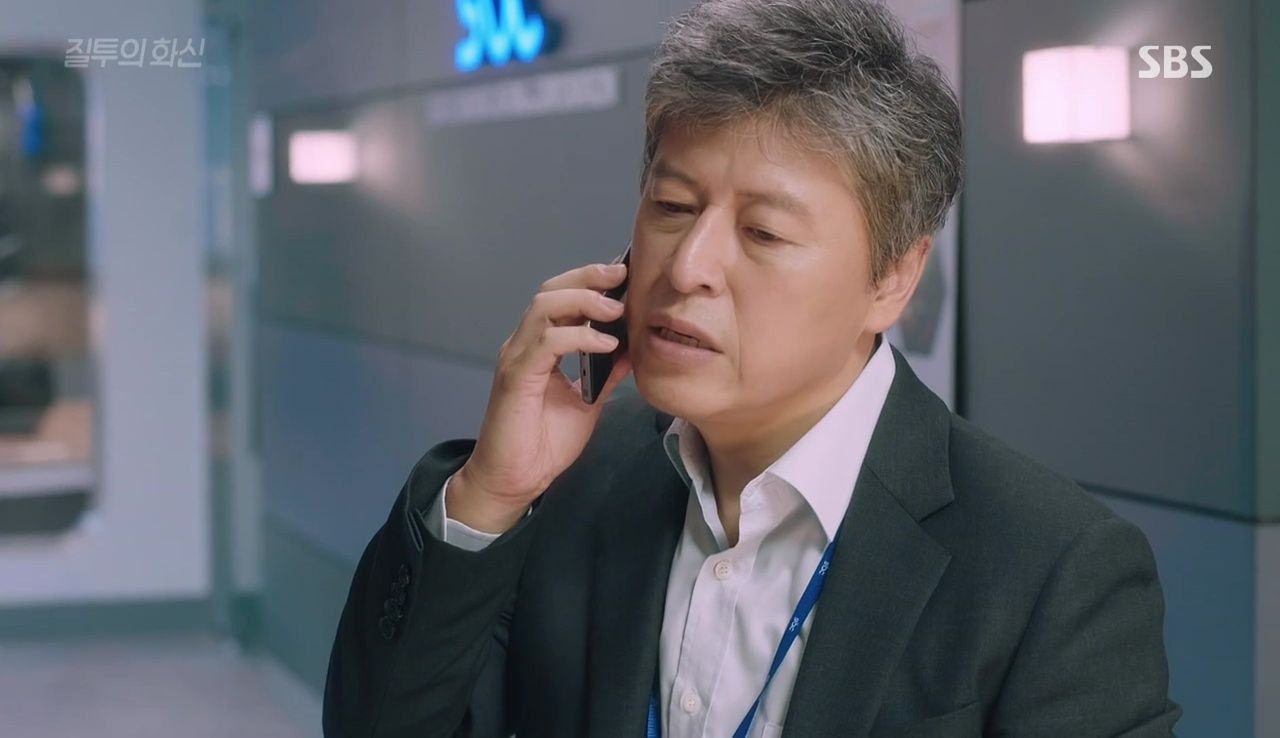 Na-ri calls PD Oh sounding chipper and energetic, apologizing for being a bit sick the previous evening. She assures him that she's just fine now, and prepared to go on air tonight. PD Oh just sighs and says that fine, she can come in and face her punishment. She hangs up, elated to have her job back, then she winces when she realizes that he said "punishment."
Ja-young realizes that she lost an earring in her cat fight with Sung-sook, so she heads back to the station to look for it. She finds the earring, but she stops when she sees a little dog keychain on Na-ri's locker. It's exactly the same as a dog keychain she owns, and it must be related to Pal-gang somehow. She calls Na-ri to find out where she got it, but Na-ri's phone is dead.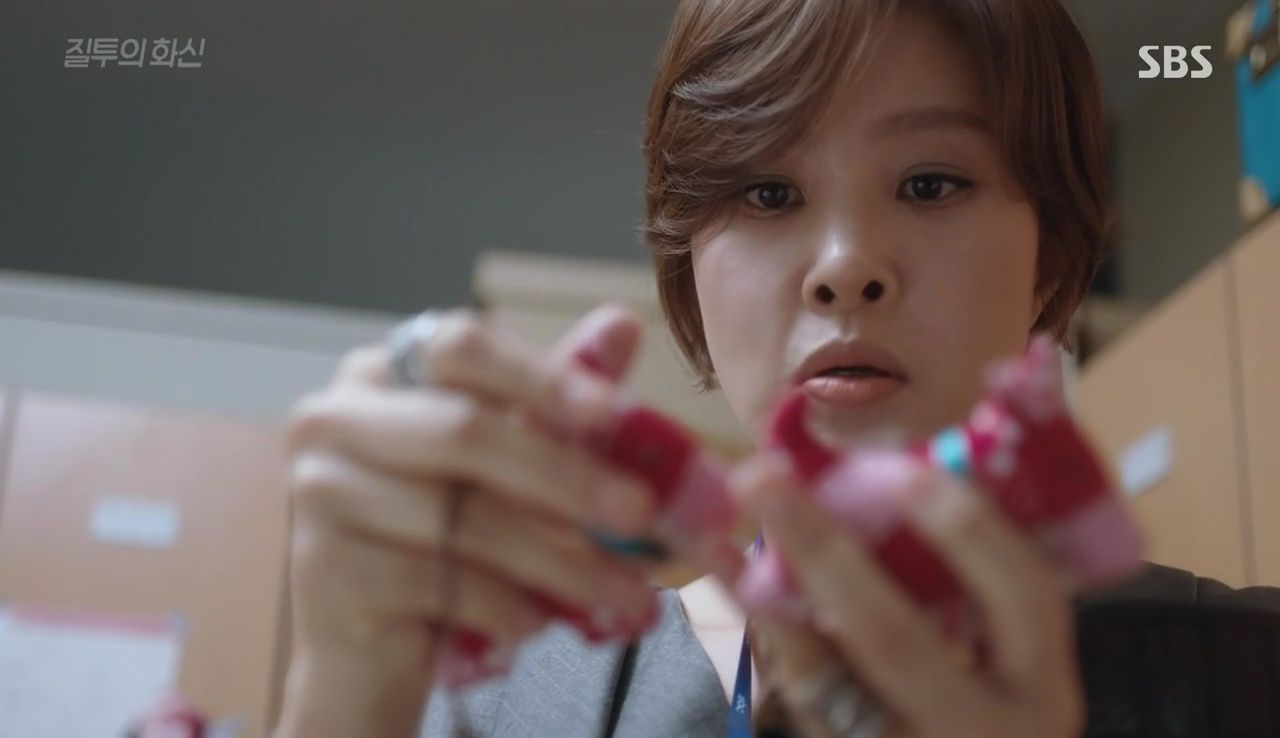 Chef Rak runs to the hospital, where Pal-gang's father has regained consciousness. He tells his friend that Pal-gang is on her way, and to hang in there. Rak notices that Hyung has a piece of paper in his hand and he takes, it, and Hyung whispers a faint "Hwa-shin."
Hwa-shin overhears Na-ri asking Dr. Geum if she can be released a day early, but Dr. Geum refuses to allow it. She redresses Na-ri's surgical site, then it's Hwa-shin's turn, and he says in all seriousness that he thinks his scar makes him look like a gangster. PFFT.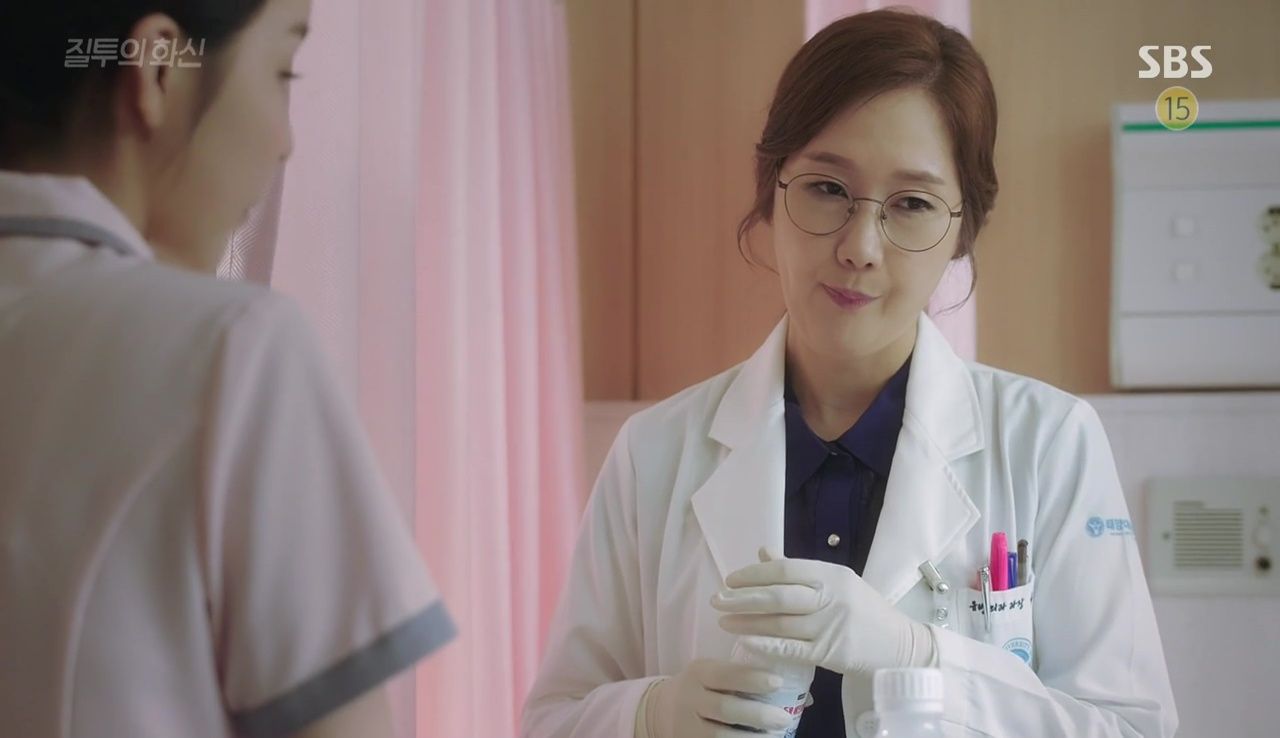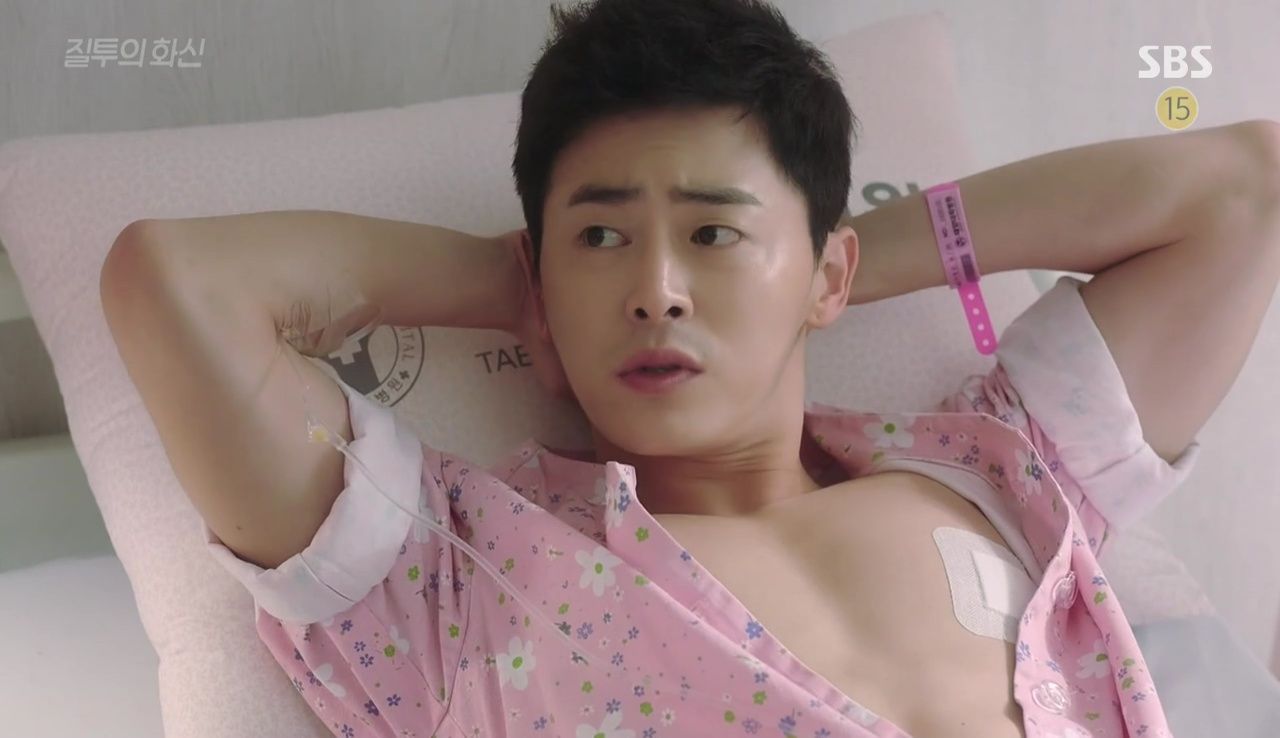 Dr. Geum is about a thousand percent done with Hwa-shin's sexist attitude, and she refuses to speak to him, answering his questions as if she's giving Na-ri post-op instructions. She rips off Hwa-shin's bandage, calls him "Grandma," and refuses his request to also be released today. Just to get at him, she says that Na-ri can go home after all.
Chef Rak reads Hyung's note, and whatever it says seems to upset him. Meanwhile, Pal-gang makes it to her dad's bedside, and holds his hand while he sleeps.
Sung-sook is on the phone trying to find out which school Pal-gang attends when PD Oh comes and whines that Na-ri is on indefinite suspension, so they need to find someone else to do the weather tonight. Sung-sook snaps at him for interrupting, scaring the poor man half to death.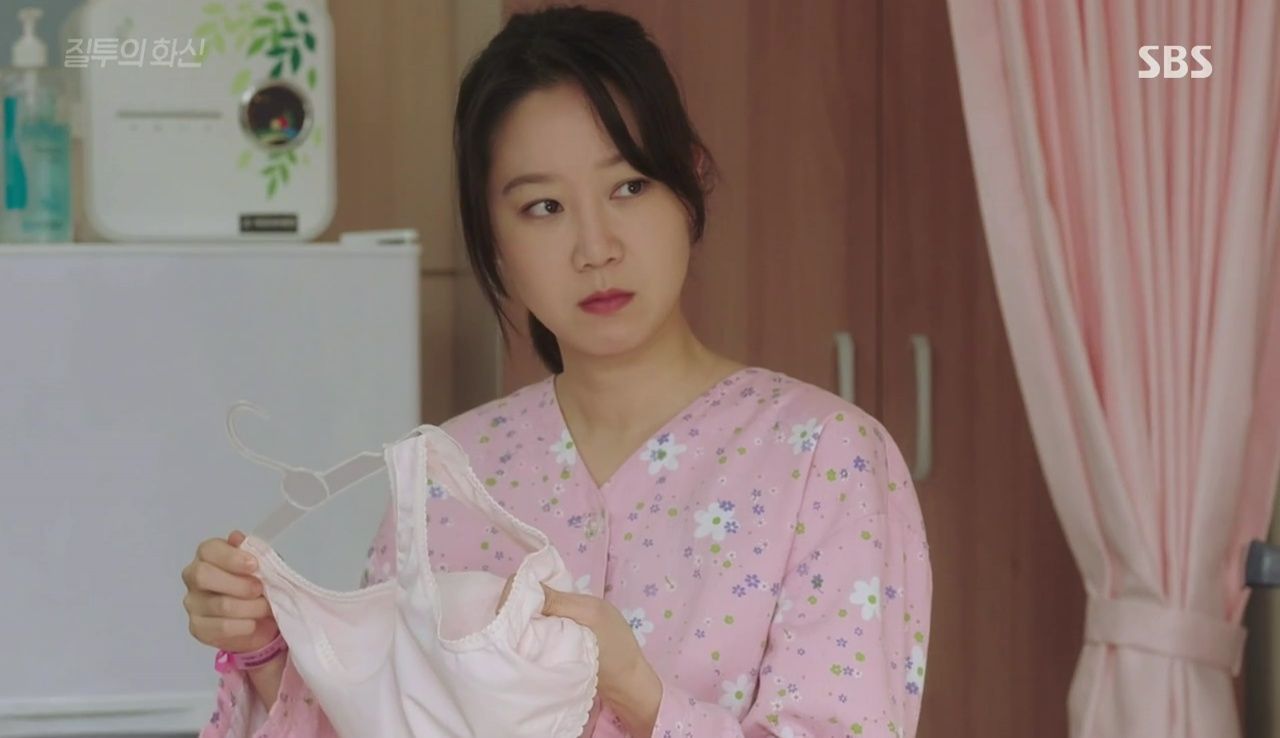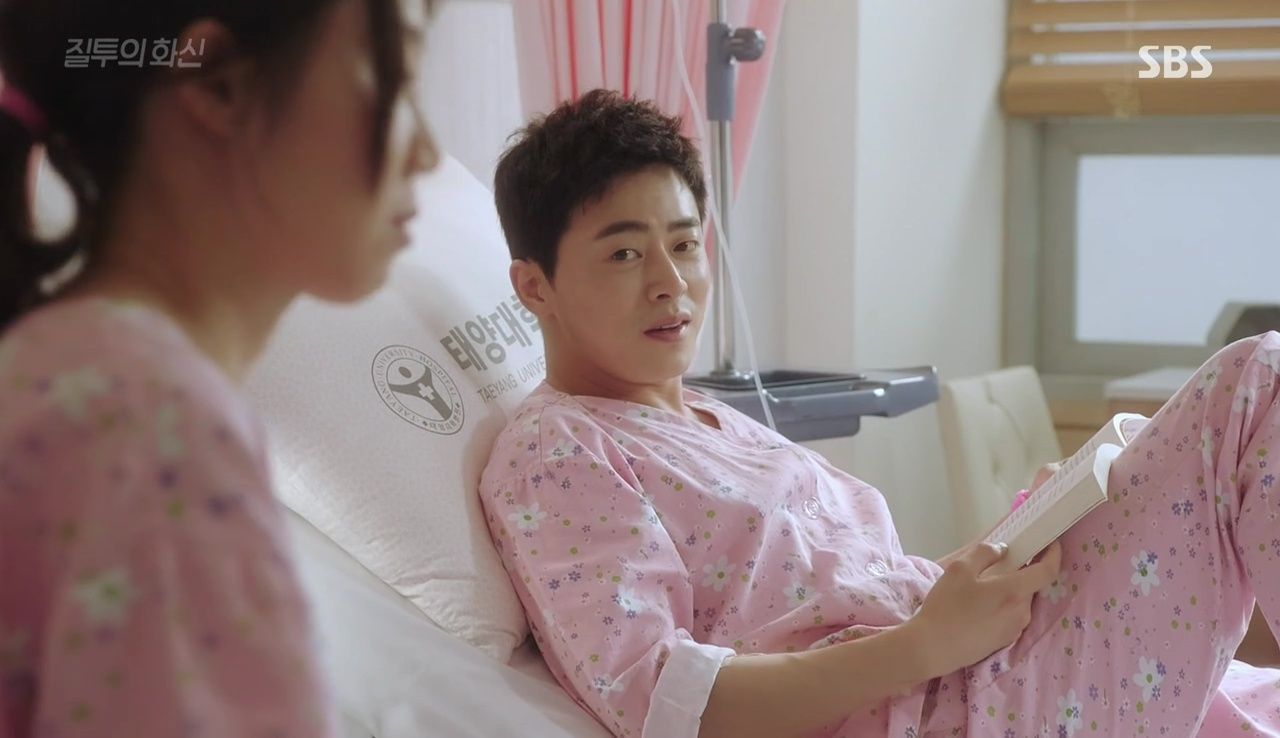 Nurse Oh delivers Na-ri and Hwa-shin's medications, then presents Na-ri with a post-op bra. She explains that the pressure helps reduce swelling and pain, and Hwa-shin asks where his post-op bra is. The funniest part is that he's deadly serious.
Nurse Oh says that they don't make them for men, and suddenly Hwa-shin is all grouchy over not being treated equally to women. He eyes Na-ri's bra enviously and urges her to put it on, which makes Na-ri feel a little squicky about it.
Hwa-shin can't get over not having a bra of his own, and he gets all huffy — if he has breast cancer like women get, he should get the same equipment. He even argues that he needs it more than Na-ri, because he had more tissue removed. He decides to just buy one at the hospital store, and Na-ri laughs in his face.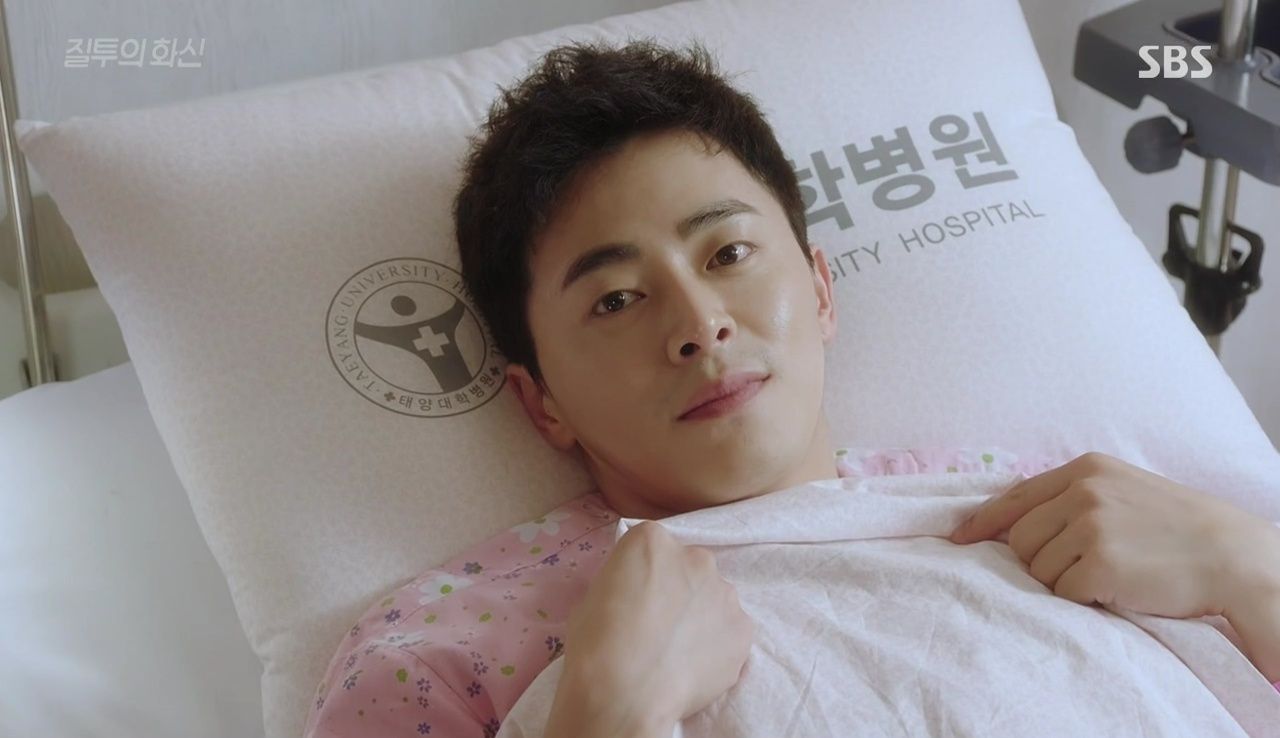 But Hwa-shin figures that he's already weird enough, having gotten breast cancer, so he may as well wear the bra. Na-ri can't argue with that, but she balks when Hwa-shin asks her to go buy it for him. But he turns on the puppy-dog eyes and promises to remember this favor, and Na-ri caves.
Hwa-shin asks for the one with padding (for seemingly no other reason than that Na-ri wants to get herself one, and he's just that competitive), then he tells her to lock the door so they can figure out his size. He manages this by trying on Na-ri's bra, and Na-ri can't even bring herself to look. Out in the hallway, Nurse Oh happens by as they're talking about locking the door and doing it quickly, and assumes they're getting it on.
Na-ri argues that she saw his chest in Thailand and would rather make an educated guess, but Hwa-shin just sits there with her bra on until she finally relents… and cringes, because he's wearing it backwards. BWAHAHA.
She helps him put in on the right way, while Hwa-shin mutters that he only knows how to take these things off, hee. That makes Na-ri giggle, and she touches his shoulder, which has Hwa-shin shrinking back. No skinship allowed, apparently.
Na-ri backs off and takes her phone off the charger, and she gets a silly idea. She starts recording Hwa-shin trying on the bra, and when he sees her, he starts chasing her around the room trying to grab her phone away. Na-ri barks that she's doing this because he treats her so badly, insisting that she's not in love with him anymore.
Hwa-shin pushes Na-ri down on his bed and leans over her, but she slides the phone under her back so that he can't get it. He orders Na-ri to delete the video, and she says that it depends on his behavior. She struggles when he goes after the phone again, and Hwa-shin sits on her to make her stop.
The both grow still when they realize the position they're in, and Hwa-shin accuses Na-ri of doing this as a way to cling to him. Oh you are so conceited. He says that she'll never find a man by exploiting his weaknesses, but he agrees to date her in exchange for the video if she's that desperate.
He offers to date her for three days, then thirty when Na-ri laughs ruefully. She says that she wants three years, as payback for the three years she liked him. Hwa-shin asks why he would do such a thing, saying that he wouldn't give her three years even if they were both in it together. You. Absolute. Jerk.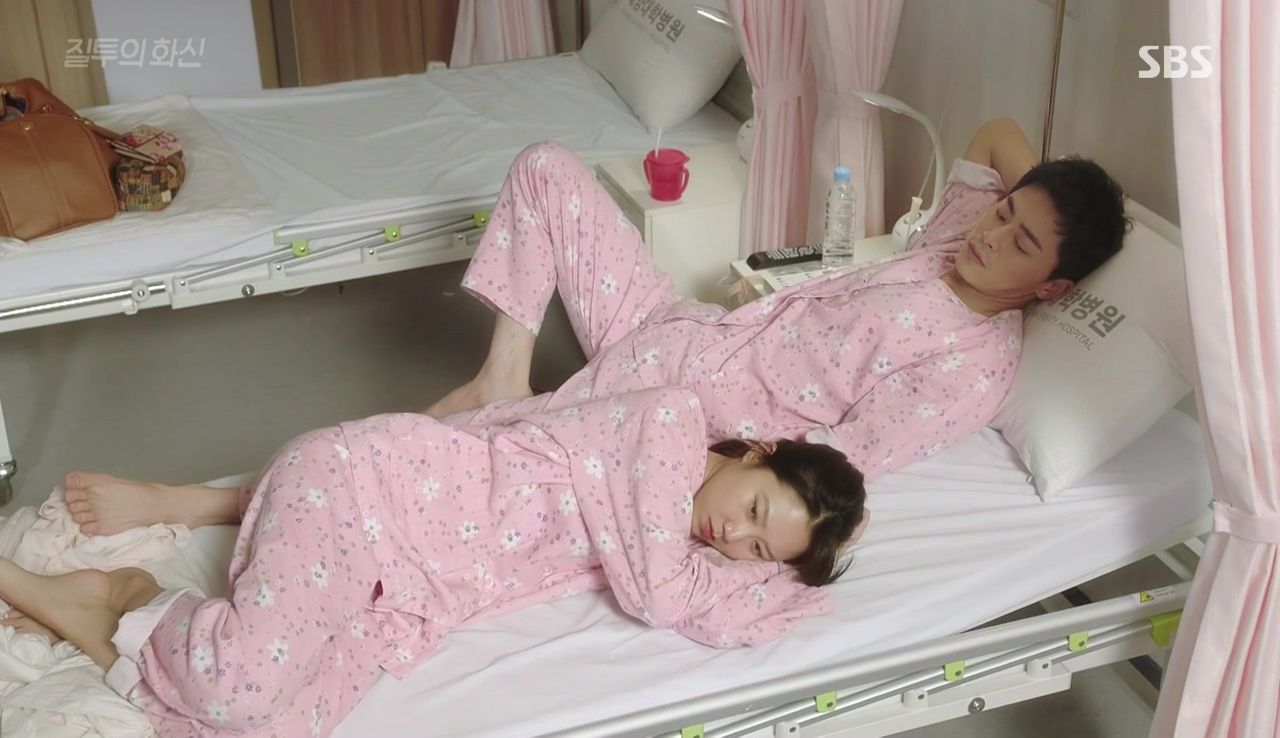 Na-ri cries out that she just wants to be on the receiving end for once, asking if he knows how sad and lonely she was. Hwa-shin leaps off of her, and Na-ri curls up in a tiny ball of hurt. Hwa-shin says softly that they'll both die the day anyone sees that video, and lies down on the bed next to her. He grumbles that she has bad taste in men — if she had good taste, she'd never have liked him, he says.
Ha, Jung-won forces Secretary Cha to ride in the backseat of the car like a misbehaving child. Secretary Cha whines, but he insists that Jung-won needs to watch a video he found.
Na-ri finally calls Ja-young back, and tells her that the dog keychain on her locker was a gift from her little brother. Ja-young says that the two keychains are a unique set, and asks hesitantly if Na-ri knows Pal-gang. Na-ri replies they live in the same building, and Ja-young anxiously gets Na-ri's address.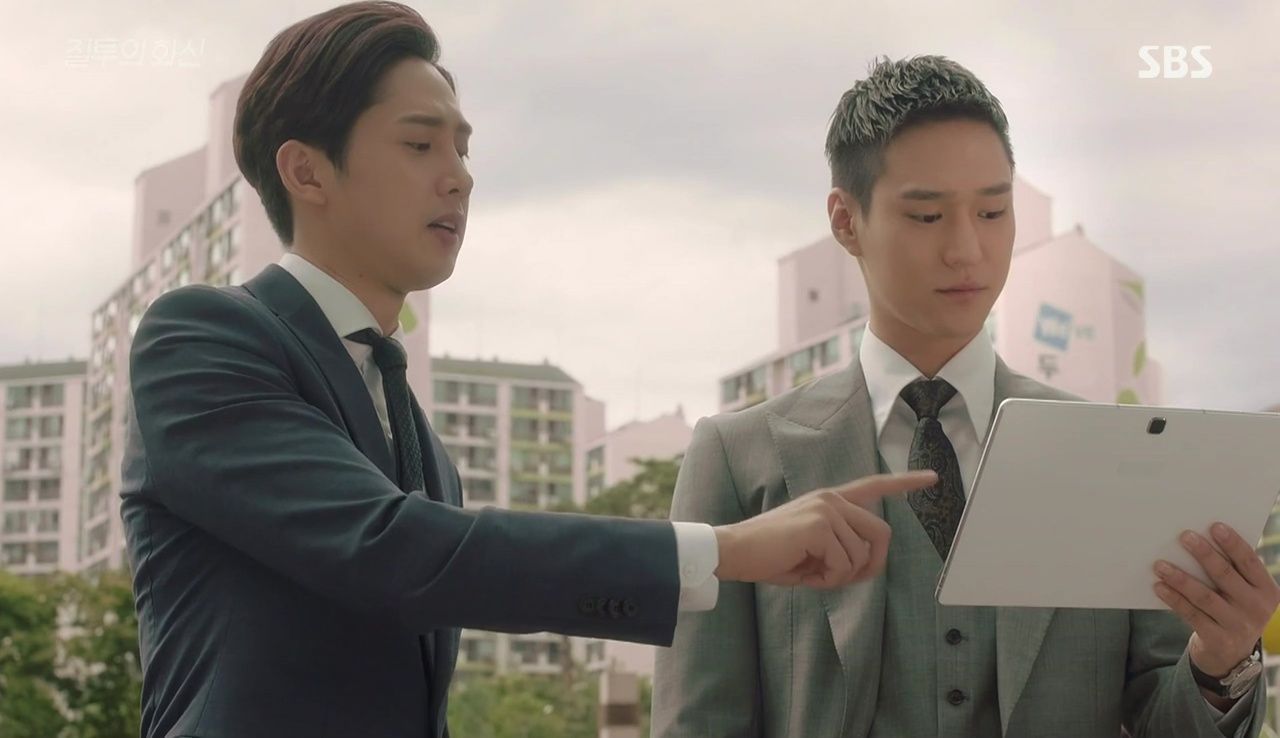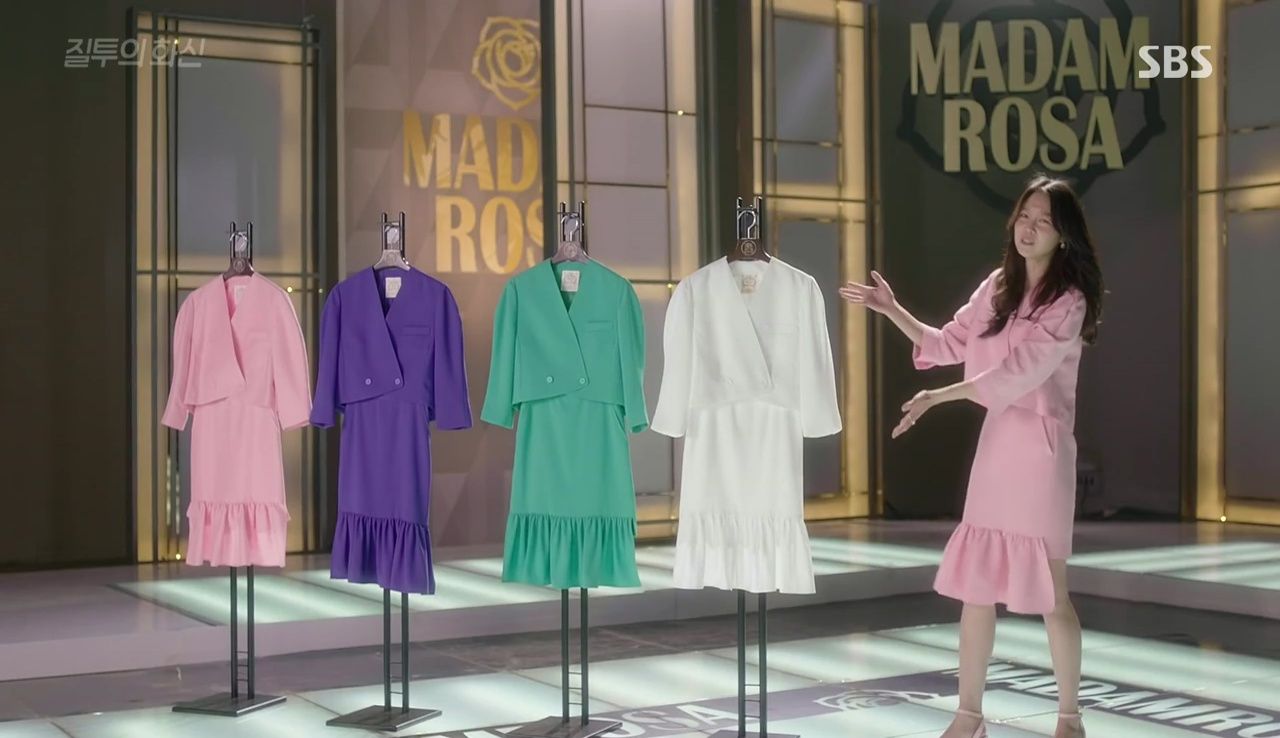 Jung-won arrives at the hospital to see Na-ri, and Secretary Cha insists again that he watch the video. Jung-won finally takes a look and sees Na-ri at her previous job on a home shopping network, selling the suit from the previous evening's broadcast.
Secretary Cha rattles off everything he learned about Na-ri — before she was a weathercaster, she worked as a home shopping host for two years. This is a video of her first show, and the suit sold out.
Jung-won watches the video on a bench outside the hospital, and Na-ri sneaks up behind him to see what's got him so engrossed. She's horrified to see her embarrassing antics on film, and begs Jung-won not to watch any more.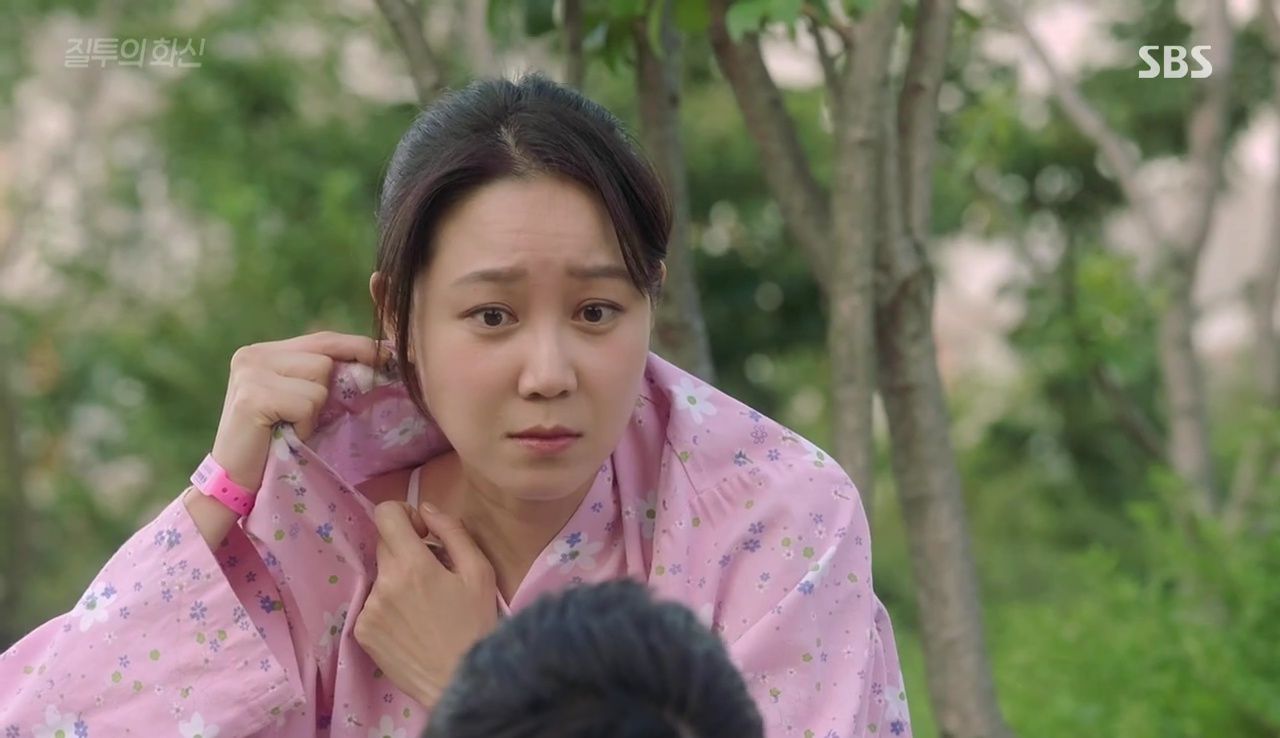 Jung-won adorably says that he really wants to see it, so much that he offers to sponsor her clothes from now on. Na-ri compromises with an offer to recreate the show for him live, and makes him pinky-swear.
She starts out her performance enthusiastically, and Jung-won is positively enchanted. But Na-ri suddenly stops, embarrassed that she remembers the entire speech, and she can't even face Jung-won. He steps up behind her and grasps her arm, then puts a hand on her shoulder and softly says that she's worked hard. So sweet.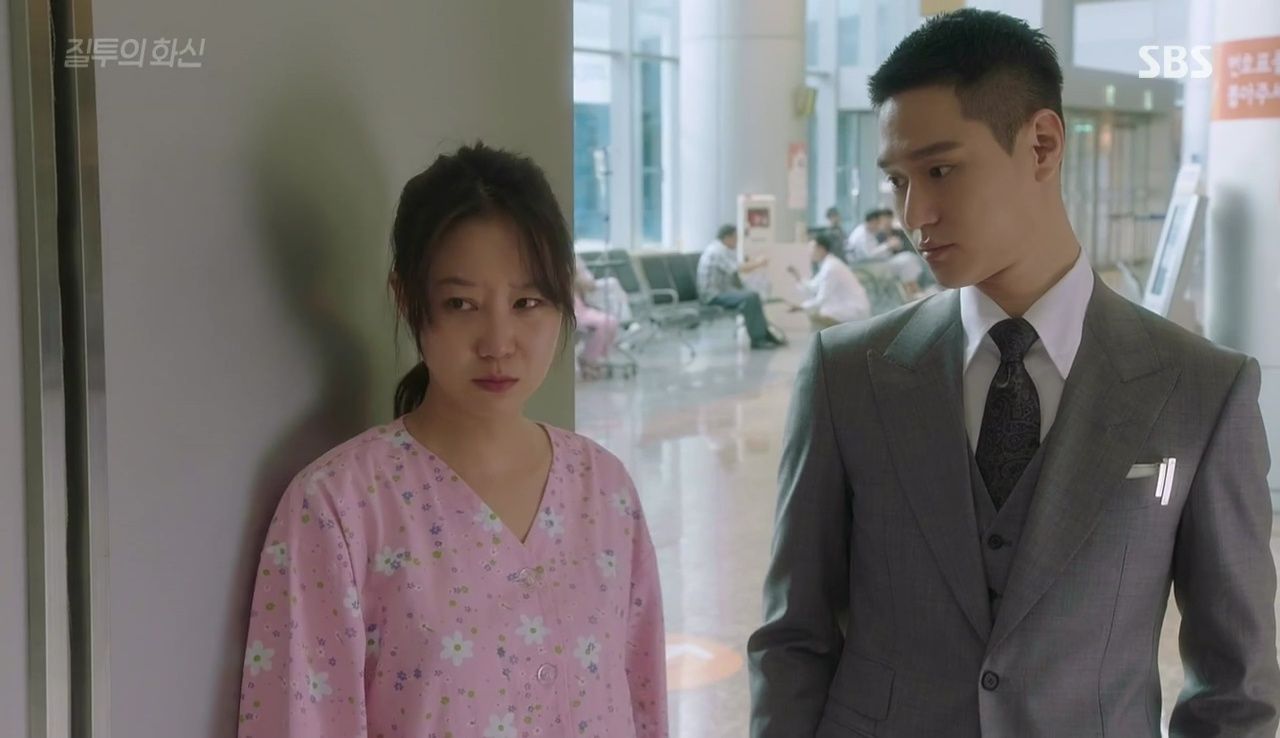 Na-ri turns sad eyes to Jung-won, and her face crumples. Embarrassed, she runs back into the hospital, and barely makes it around a corner before the tears start. Jung-won's gentle, encouraging words remind her of her mother, who would wait up for her to come home every night after her home shopping job.
She'd encouraged Na-ri not to give up on her dream to be a news announcer, and though she was very ill, she'd said that she wanted to see her daughter realize her dream before she died. Jung-won follows Na-ri inside and sees her crying, but he doesn't mention it, and just asks her to lunch.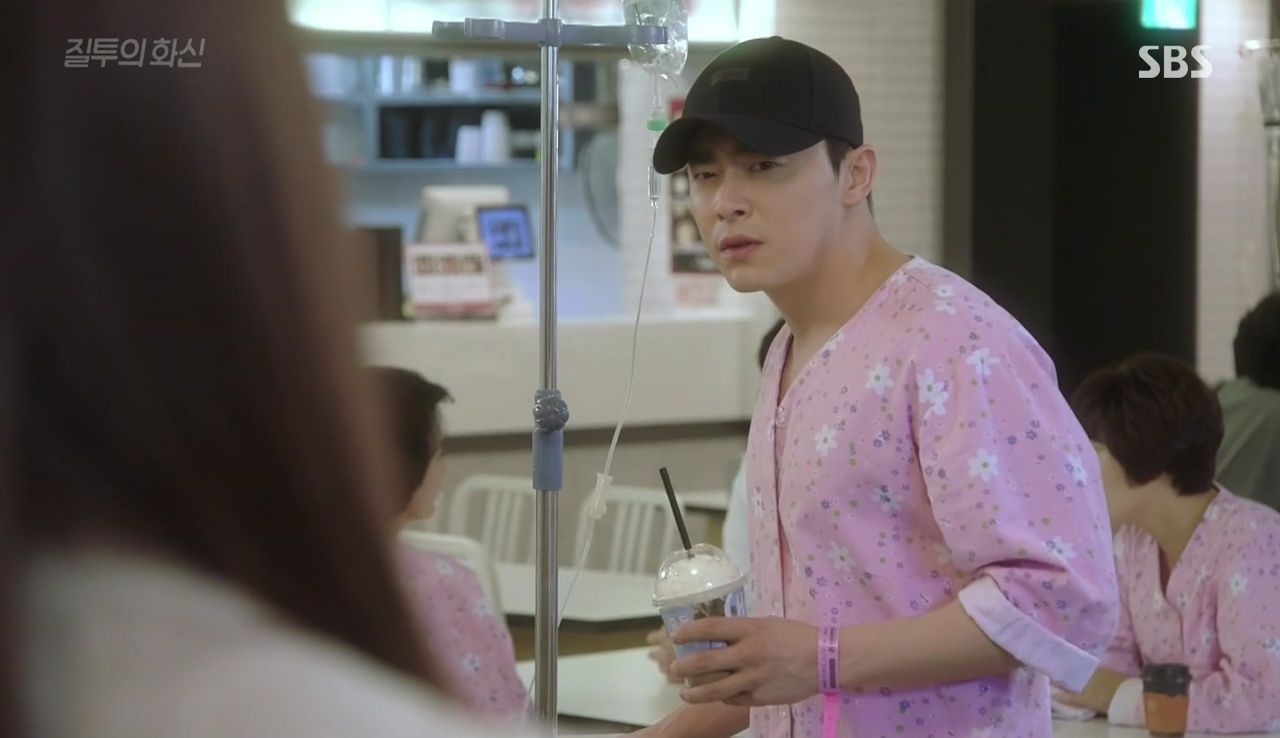 Up in the hospital room Hwa-shin wonders what's taking Na-ri so long with his bra. He grabs a baseball cap and ventures downstairs to look for her, and stops for a coffee for himself.
He spots news anchor Hye-won from the station and tries to hide, but Nurse Oh sees him with the forbidden coffee and stops him. Hwa-shin silently begs her to keep her voice down, but it's too late, and Hye-won has spotted him.
They sit to chat, and Hye-won clocks Hwa-shin's twitchy nervousness. She asks why he's here, and he quickly fibs that he got Dengue Fever in Thailand. Hye-won leans over to feel him for a fever, which is the exact moment that Na-ri and Jung-won enter the cafeteria. Na-ri sees the cozy-looking scene and snarls, and luckily Jung-won doesn't notice his friend sitting nearby.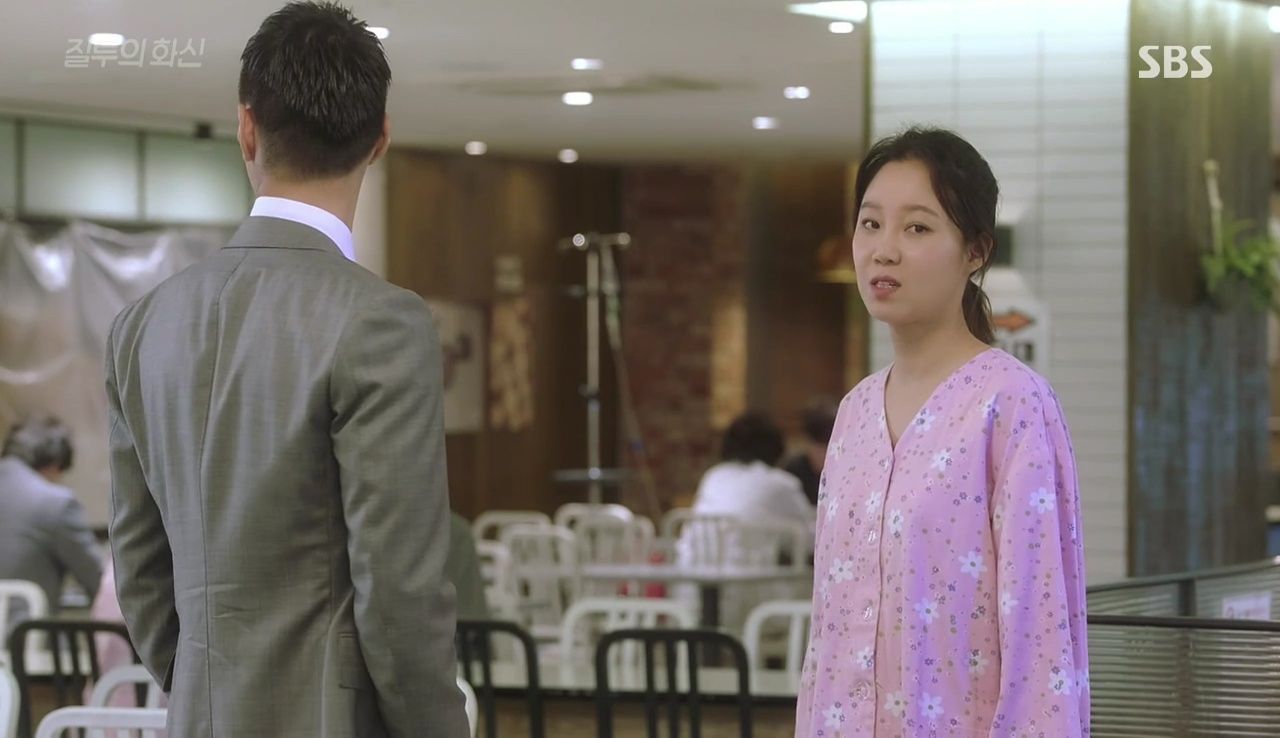 Hwa-shin starts criticizing Hye-won's on-air performance from the previous day, nitpicking her word choice. She frowns, but takes the criticism as advice, and he says that if she's thankful she'll keep their meeting here a secret.
Hwa-shin tries to hide his face when he sees Jung-won and Na-ri waiting for an elevator, and he listens as Jung-won asks about the "grandma" in Na-ri's room. Na-ri sees him there with Hye-won and scoffs, and adds that that "grandma" likes rich women. Hee.
Hye-won asks Hwa-shin if he'd like to meet her father, who happens to be one of the station bigwigs. That makes him smile, which Na-ri sees, and she misinterprets things again. She sends Jung-won on his way, and heads back their room with Hwa-shin's bra.
He ignores the bra and asks if Na-ri is interested in Jung-won, and Na-ri quips that she doesn't know how such a nice guy is friends with rude, bad-mannered Hwa-shin. Hwa-shin just snaps back that he's very nice to women he likes.
Na-ri packs up her things to go home, and Hwa-shin objects when she packs the hospital-issue sippy-cup. Hwa-shin calls her petty, and she retorts that it's always petty when things are over between a man and woman. She tells him that her one-sided love is definitely over now, and asks him to pretend he doesn't know her at work.
She turns to make her grand exit, and when Hwa-shin calls her back, she tells him to let her go. He calls out, "Take that off before you go," and dammit, she's still wearing her hospital gown. So much for her Grand Dramatic Flounce.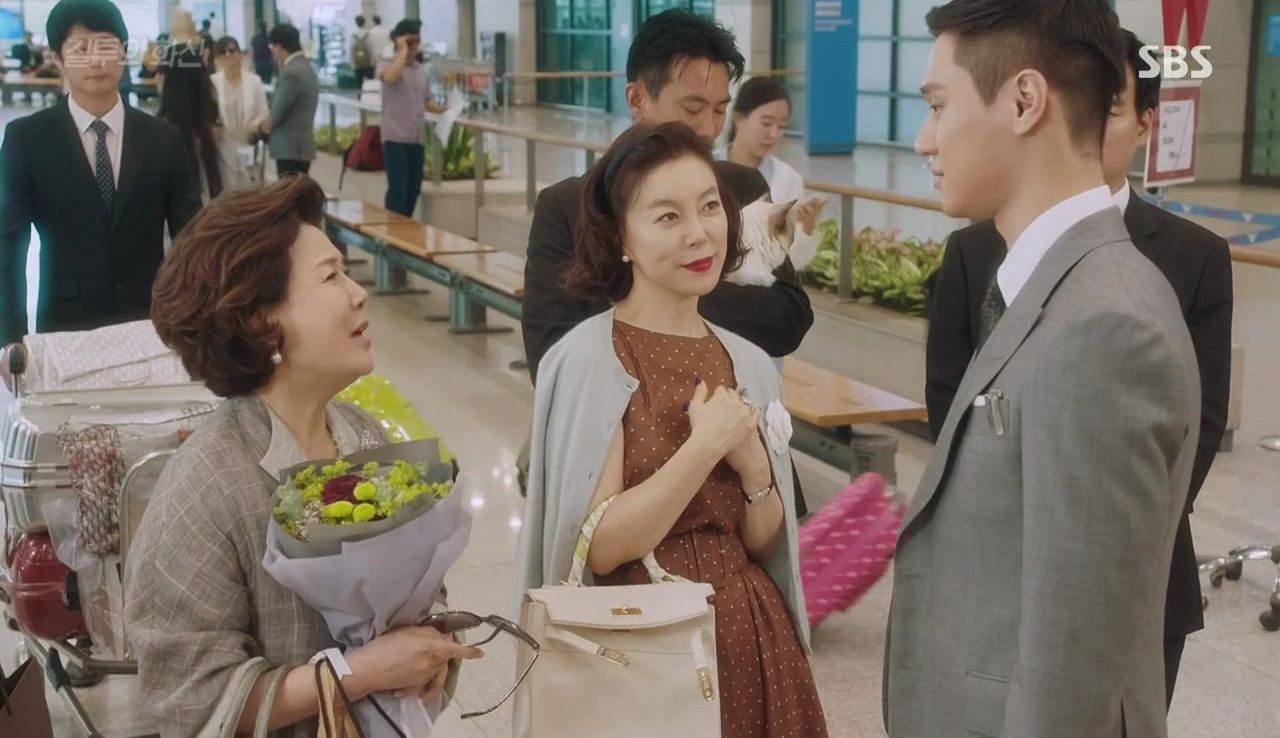 Hwa-shin's mother and Jung-won's mother arrive together at the airport after a Paris shopping spree, and Jung-won comes to welcome them home. They both call him "son," and Jung-won gives the bouquet of flowers he brought to Hwa-shin's mom.
Ja-young shows up at Na-ri's building, but nobody answers the door when she knocks at Pal-gang's place.
On the drive home, Jung-won asks Hwa-shin's mom if Hwa-shin ever came home while he was stationed in Thailand. She says angrily that she told him to stay there, get married, and never come back, because he's no longer her son. Jung-won's mom asks how things are going with Soo-jung, but Jung-won stays silent and lets the two ladies bicker.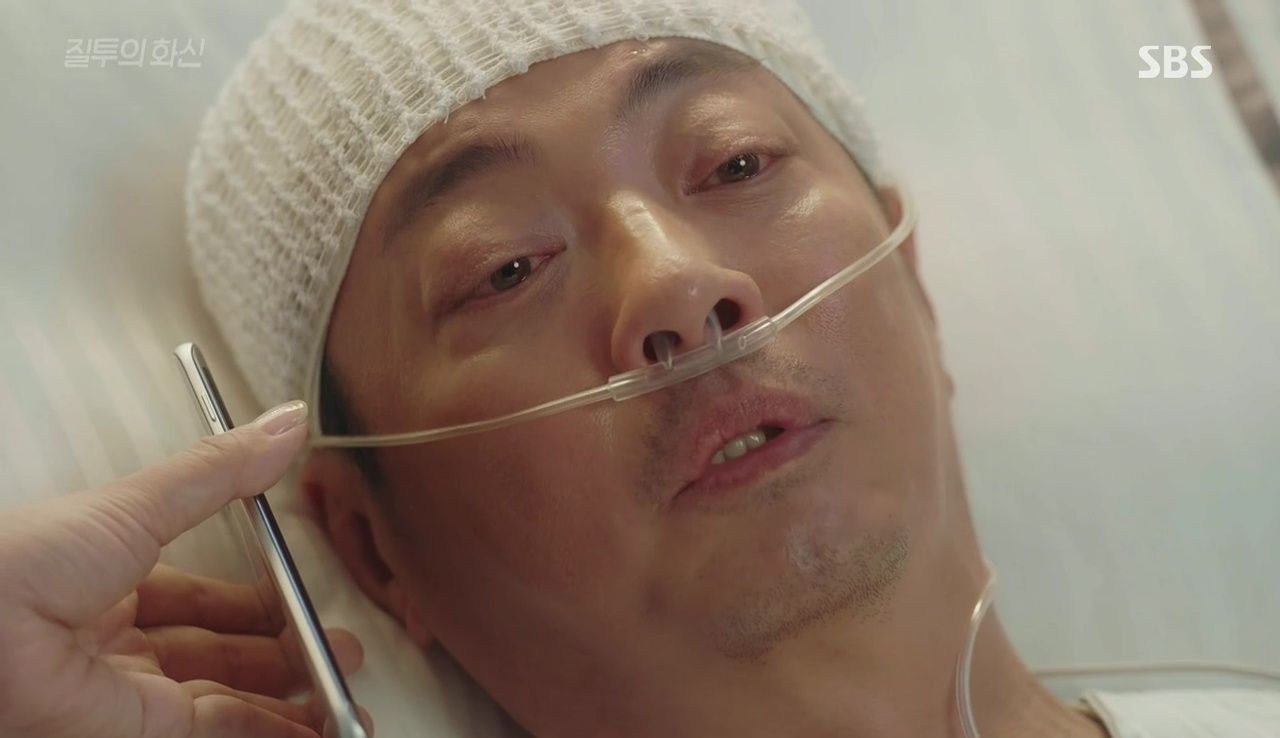 Hwa-shin sits alone in his now-empty hospital room, remembering Na-ri's final words that her one-sided love is now truly finished. He gets a call, and on the other line is his brother, who speaks weakly while a nurse holds the phone for him.
He tells Hwa-shin that he misses him, then he flat-lines. Hwa-shin is stunned, and he tries to call his brother back while the doctors frantically work to resuscitate him.
Chef Rak gets the news, and Ja-young watches him run to his car and speed away. In class, Dae-goo's phone rings, and he holds the phone to Pal-gang's ear while her face goes white. She runs out of class, with loyal Dae-goo and Chi-yeol right on her heels.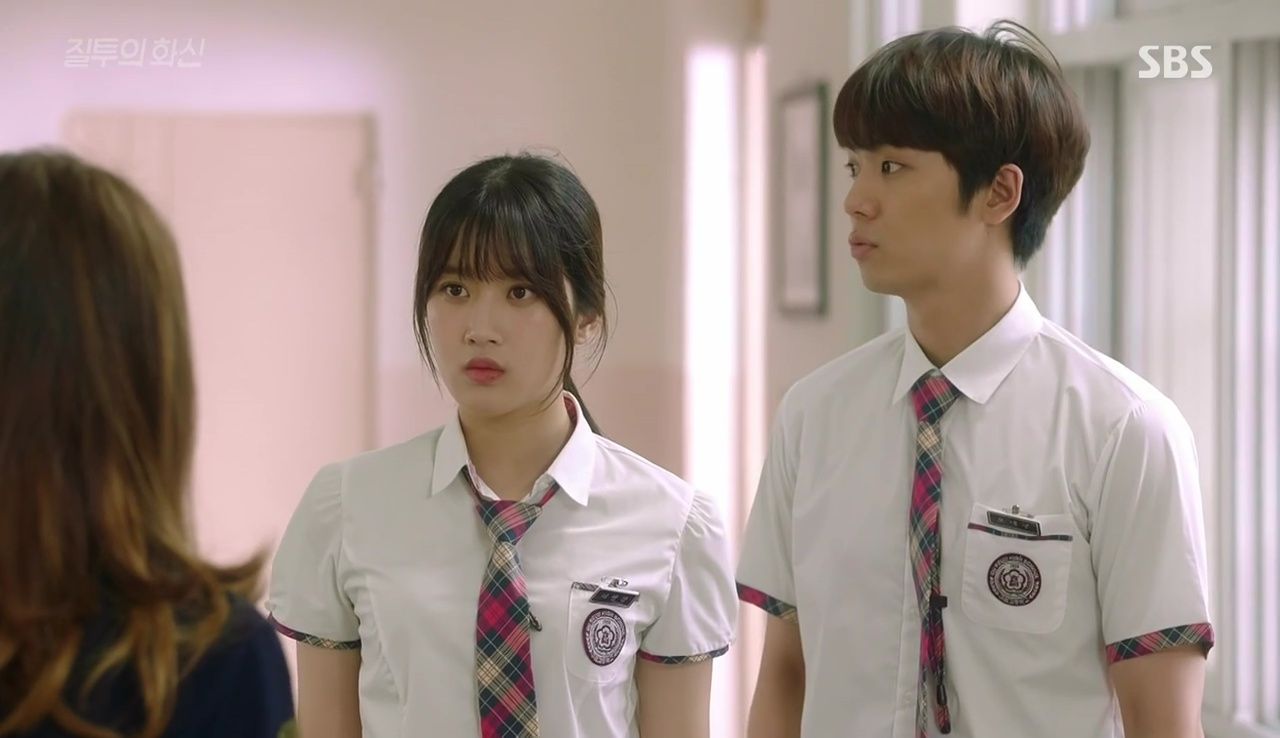 She stops short to see Sung-sook in the hall, having tracked down her school. Pal-gang just says that she doesn't have a mom, and Sung-sook tries to explain that she's been waiting until Pal-gang goes to college to live with her. Pal-gang just runs past her without another word.
Hwa-shin calls Hyung's number over and over, crying and saying the words he didn't get to say: "I miss you, too." Just as everyone arrives at the hospital, Pal-gang's father is pronounced dead.
Jung-won takes the ladies to Hwa-shin's mother's house, the same home where Hwa-shin's been staying. No sooner do they step inside than the phone rings, and Hwa-shin's mother receives the news that her eldest son has died.
The family gathers in a funeral room, and Sung-sook and Ja-young find themselves alone together. Sung-sook says that Ja-young can leave since she's not Pal-gang's real mother, and Ja-young snaps back that Sung-sook has no right to say that, when she hasn't even cried for the loss of her ex-husband.
Jung-won helps Hwa-shin's mother into the funeral room, and she collapses to the floor in grief. Na-ri arrives, having been notified by Chi-yeol, and Hwa-shin runs into the room a few seconds later. She's surprised to see him here, but he only has eyes for the photograph of his brother.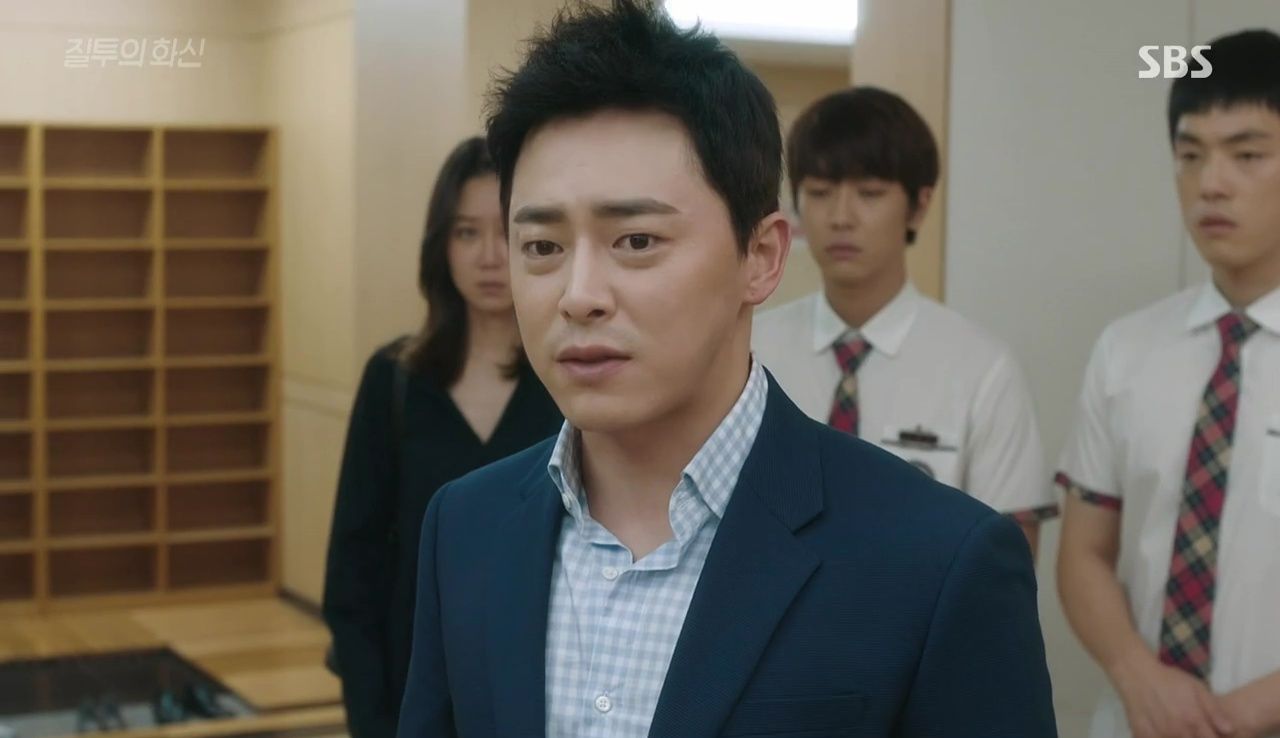 Hwa-shin's mother orders Sung-sook and Ja-young out of the room, shoving them against the wall and screaming that they abandoned Pal-gang and her son. She turns on Hwa-shin and says that his brother wouldn't want him here, but Hwa-shin's eyes never leave his brother's picture, and he sees his hyung smiling at him.
We see Hyung's dream again, where he'd been surrounded by those he loved. They lead him into the light, and they all dance together in a joyous celebration of life.
Chef Rak looks at the note from Hyung again, which says that he wanted Pal-gang to be raised by Ja-young. He's confused that her father didn't want her to go to her biological mother, but he barely has time to think about it when Sung-sook and Ja-young approach, and Ja-young slaps him hard.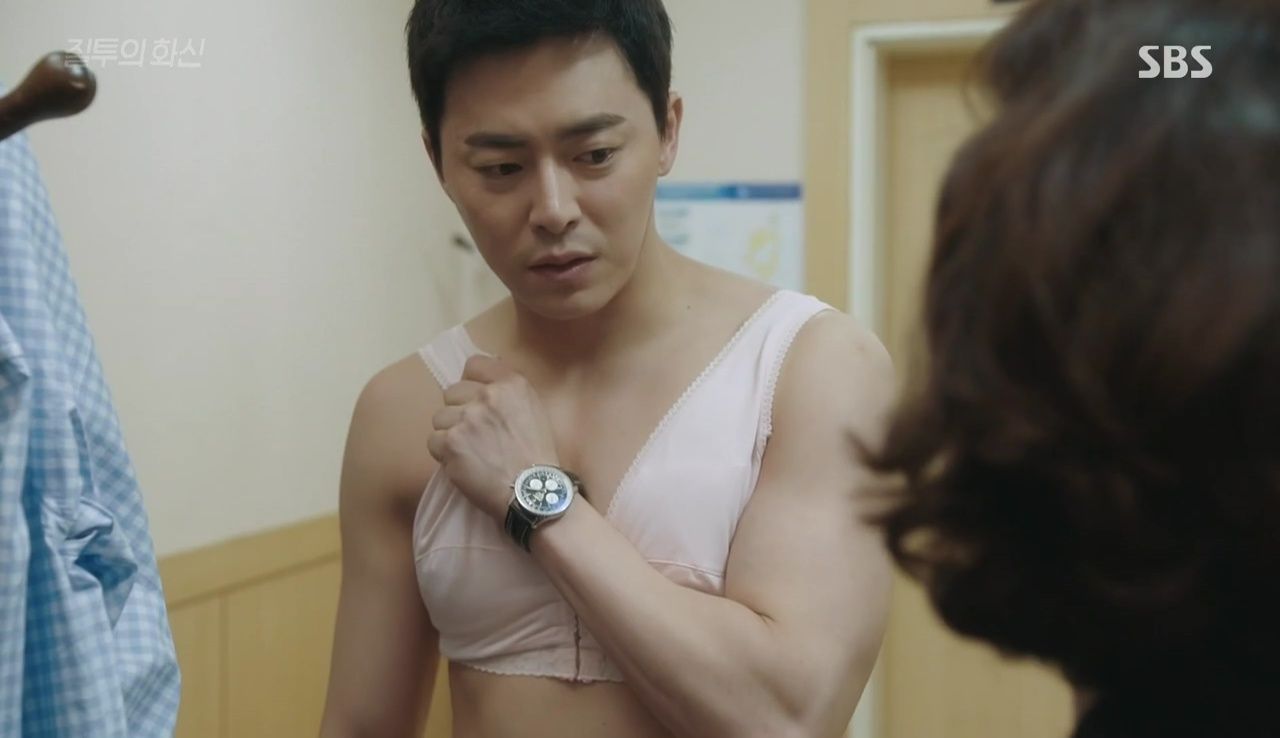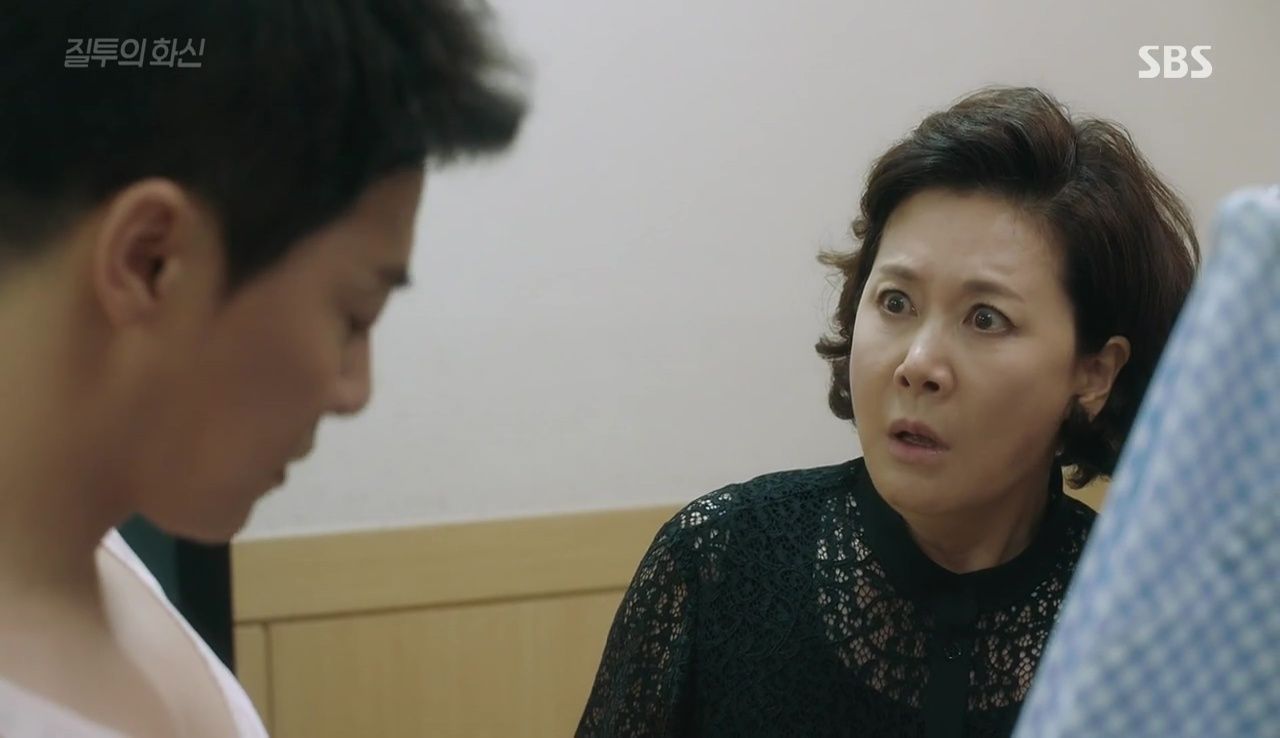 Hwa-shin finds a private room to change his shirt, and his mother enters and sees him wearing the post-op bra. She completely flips out, and she starts hitting him and calling him a pervert. Hwa-shin struggles to put on a shirt while his mother screams and beats him, yelling that he should have died instead of his brother.
She attacks Hwa-shin with a serving tray, and chases him out into the room in front of everyone. Luckily he's got the shirt mostly on by now, and he grabs the tray to shield himself.
Things calm down, and Na-ri helps serve food and drinks to the funeral visitors. She smiles at something on her phone, and wishes strength to Hwa-shin. Jung-won finds her and she expresses surprise that Hwa-shin is Pal-gang's uncle, and asks if he wants to see something on her phone, about Hwa-shin.
Exhausted, Hwa-shin steps into the room and sinks to the floor. He sees Na-ri and Jung-won laughing at something on her phone, and he assumes that she's showing Jung-won the video of him trying on the bra. He starts to angry-cry, wailing internally that if there's a God, then why would He take his brother? He cries, "I'm the one who deserves to die. Take me instead. I'll take Pyo Na-ri with me, too. Please give me my brother back. Please bring my brother back to life!"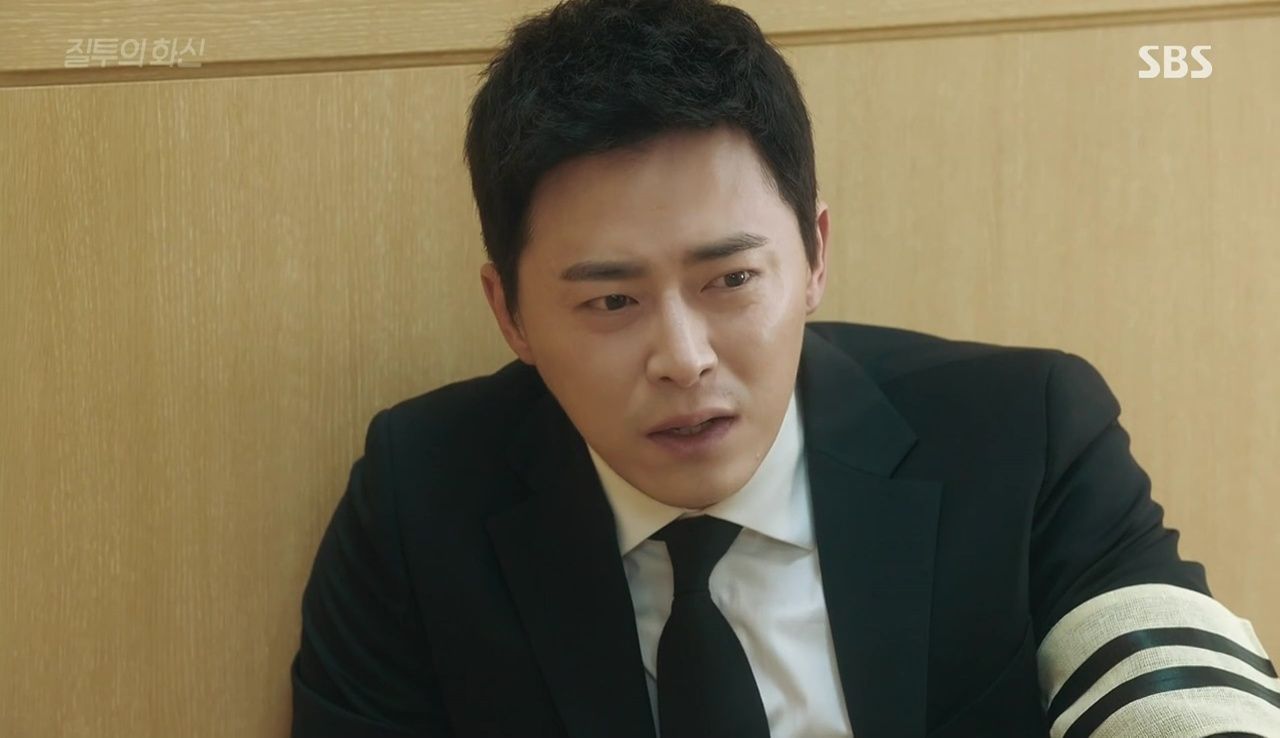 COMMENTS
I never would have imagined a show could get so much mileage out of a guy wearing a bra, but the way Jealousy Incarnate pushes situations beyond the point where most shows would drop a gag really works in this case. It's such a ridiculous circumstance, though Hwa-shin is probably right that it won't hurt for him to wear it to promote healing, so it makes sense even while it's hilarious. But then, to take something that's been played for laughs for the entire episode, and have it turn into a source of anguish, was just frankly brilliant. Hwa-shin hasn't got much in life besides his pride, and he's really dealing with this breast cancer pretty well, considering that he has no support system at all. He's going through this all alone, and to have his mother see him wearing a bra was such a poignant moment. He's already the black sheep of the family, if not the outright villain, and now he's stuck between telling them about his cancer, or having them think he's a weirdo. I just find it so entertaining for the show to use the exact same situation to play for laughs, then for tears, and have both be equally effective.
I just adore that a show with such a straightforward plot manages to deliver so much, and it's all due to the incredibly relatable characters. Even the smallest characters (Dae-goo, for instance) are so well-acted that they never feel one-dimensional — you can see them reacting even when they aren't the main focus of the scene, and it allows their characters to breathe and live. Even when we're still learning how everyone relates to everyone else, they all feel so natural and fully realized, which for me, makes up for a lack of a complicated plot. I don't even mind that the actual story is simple, when the characters are so rich and interesting.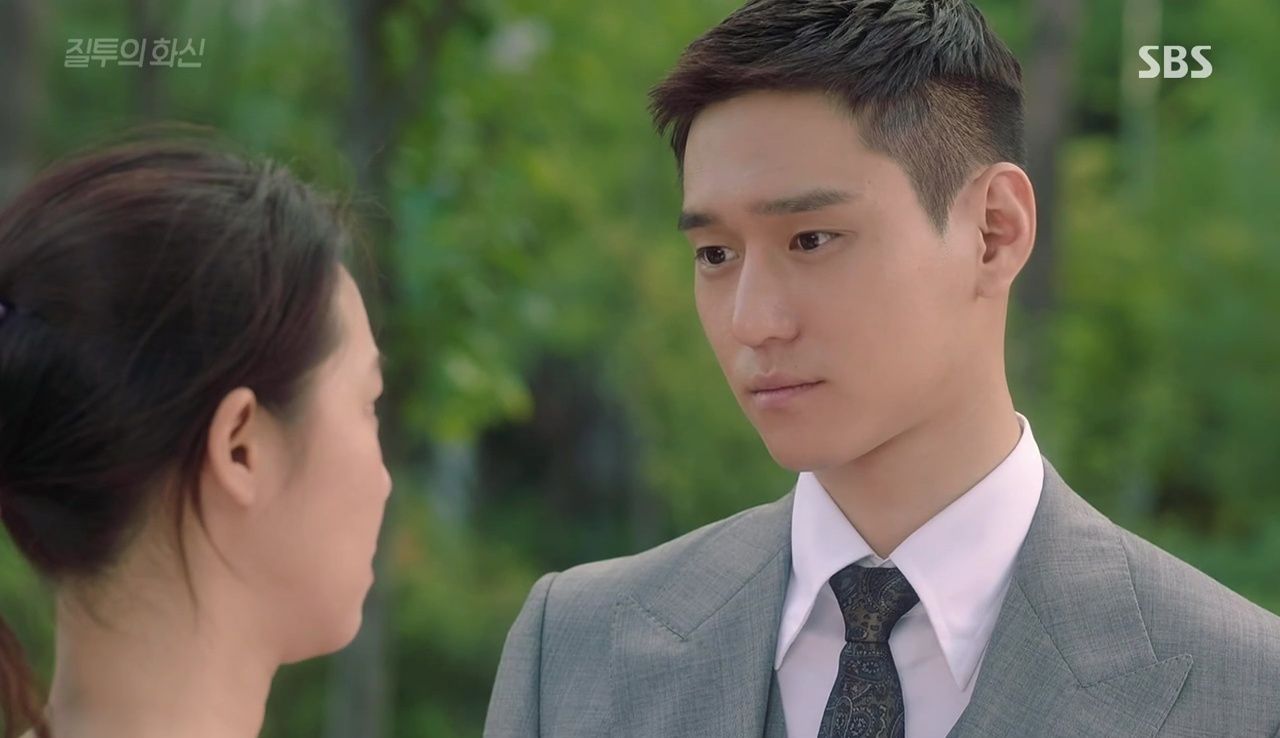 I worried at first that Jung-won would be bland and boring, but I think that he's really just very closed-off around everyone but Hwa-shin. It doesn't feel like a coping mechanism, though — more like an instinctive conservation of energy, like he just doesn't really feel the need to emote around anyone else. You can see him making the effort to break out of that when he's around Na-ri, the way he makes strong eye contact and really listens to her when she talks. He's not a guy who's going to be flashy in his affections, but more of a steady, constant presence. Flashy is very attractive, but strong and reliable are also wonderful qualities to possess.
On the other hand, for a guy who professes not to like Na-ri one tiny bit, Hwa-shin sure does care a lot about what she thinks. It's kind of endearing how grumpy it makes him to see her with Jung-won, and the poor doofus has no idea why. I have a feeling that Na-ri's crush wasn't entirely unrequited back when they used to work together, but more a case of Hwa-shin being so self-absorbed that it literally never occurred to him that he had feelings for her. But we know that he remembers her slighting him a couple of times, and there's really no reason for him to remember those incidents, unless it's because they hurt his feelings. It's very telling that he's always the one to mention Na-ri's supposed crush on him first, and especially how quick he was to agree to date her when he assumed that's why she took the video of him in the bra. I love how he keeps telling Na-ri that she's not over him, as if he's trying hard to convince her not to be over him. He's projecting all over the place, and it's as hilarious as it is head-shaking.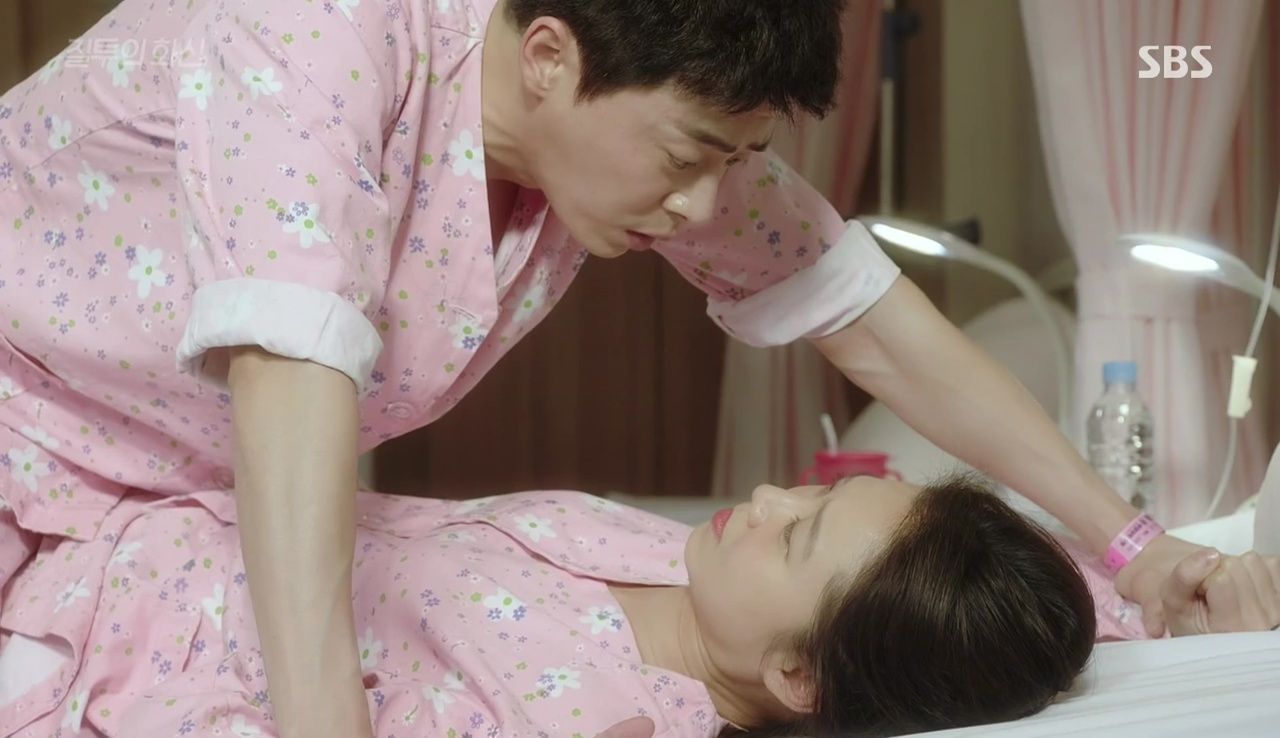 Na-ri is my clear favorite though — I just love everything about her character. She's subservient, but stands up for herself when it counts, and never lets anyone walk over her unless she chooses to let them. She's willing to do whatever she can to advance her career, but at the same time she has a sense of pride. I adore how willingly she gets in Hwa-shin's face when he's wrong, and that she's not ashamed to confess that she liked him. She owns her feelings and never holds things in, even when it's something embarrassing to admit. That only comes from having a spine of steel, and a very impressive sense of personal worth. Na-ri may not seem like it when you first meet her, but she's one of the strongest female characters I've seen in a long time, precisely because she knows when it's better to bend.
It's also what makes her such a great counterpoint for Hwa-shin, who makes pride the most important feature of every interaction. He's practically nothing BUT pride at this point, but it falls on deaf ears with Na-ri, because while she has pride, she knows it's not the most important thing. Na-ri's strength is that she knows when to let go of her pride, and roll with the punches. Hwa-shin has a lot to learn from Na-ri, if only he'll let himself relax and rely on someone else for a change.

RELATED POSTS
Tags: featured, Go Kyung-pyo, Gong Hyo-jin, Jealousy Incarnate, Jo Jung-seok