Jealousy Incarnate: Episode 9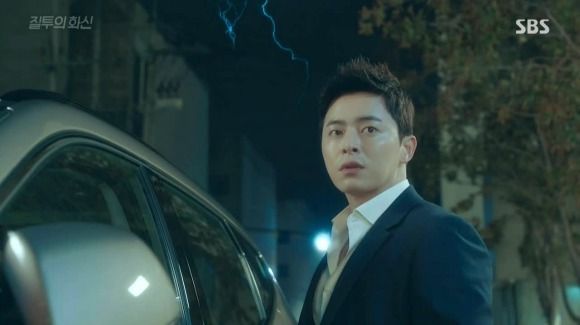 The impending doom has arrived, and Hwa-shin is finally facing his feelings. Of course he's still reluctant, but he's becoming aware of how much he cares about those around him. He may still try to maintain his self-absorbed façade, but we're slowly but surely seeing his capacity for love.

EPISODE 9 RECAP
Hwa-shin gently strokes Na-ri's hair as she sleeps and thinks about her suggestion to entrust her with his chest (or more aptly in this case, his heart). He falls asleep by her side, leaving their phones ringing and unanswered.
The news crew heads home for the night, and the lady anchors stick around to gossip about Hwa-shin and Na-ri, who left together and are now rumored to be dating. Hye-won listens to this rumor with disapproval and heads back to the station to check for herself.
Jung-won arrives later to pick up a tipsy Soo-jung. He's still got his gentleman manners, but he's very curt in his conversation with her. From afar, a camera records Jung-won opening the car door for Soo-jung and continues to capture their interactions.
Sensing the discomfort, Soo-jung asks if Jung-won was annoyed by her drunken chauffeur request, and he replies that he'll save his intended conversation for when she's sober. Then, Soo-jung mentions the rumored relationship between Hwa-shin and Na-ri. He's silent, but his stone face seems to harden a bit more.
Drunk Ja-young pays her proxy driver and stumbles towards the house just as drunk Sung-sook's proxy driver also pulls in. Ja-young mistakenly enters Chef's room and climbs into bed with him in just her dress slip. Sung-sook thankfully finds her way into the right house, but she climbs into bed with Pal-gang and lovingly strokes her hair.
We return to the original bed scene — Hwa-shin stirs awake next to sleeping Na-ri, and he's brought to his senses when he sees Hye-won, arms crossed and staring at him in the room. He pretends to fall back asleep, but Hye-won knows it's an act. She approaches him and forces his eye open with her fingers, calling him out for faking. In a reporter tone, she wonders what's going on incident, and Hwa-shin drags her out of the room.
Jung-won arrives to see Hwa-shin drag Hye-won into the hallway, but he doesn't hear the critical question asked by Hye-won: Does Hwa-shin like Na-ri? Hwa-shin tries to explain that he was simply returning the favor by bringing drunk Na-ri back to the station but fell asleep in the process.
Hye-won says she would have left if she found the two asleep facing each other or in each other's arms, but that wasn't the case. She finishes her thought with a more physical explanation and wraps her hands around Hwa-shin from behind. Seeing this, Jung-won smiles to himself and leaves, satisfied with the dispelled rumor.
Hye-won continues her explanation in words: Na-ri was sleeping with her back to him, but Hwa-shin was sleeping behind her, on top of the blankets. Hwa-shin peels Hye-won off of his back, and she explains her hypothesis that Hwa-shin must secretly like Na-ri.
She further proves her point with an astute observation of Na-ri's behavior at the company dinner. Though Na-ri appeared to care for him by taking all the proxy drinks, her real actions seemed more akin to a child trying to finish homework. Hye-won tells him bluntly that he has a one-sided crush on Na-ri — alone and secretly.
Hwa-shin tries to laugh it off and blames it on the alcohol, but Hye-won knows exactly what she's talking about. He says that it was a mistake that won't happen again, and Hye-won agrees in a menacing tone. She adds that he and Na-ri don't suit each other.
Jung-won enters the dorm and tucks Na-ri back into her blankets. He worries that Na-ri won't be able to wake up in time, so he calls up someone.
Hwa-shin punches a sandbag at a boxing club, trying to sober up and figure out his feelings. He blames it on the alcohol, then on the changing hormones from treatment that Dr. Geum had warned him about. Jung-won also walks into the gym, and seeing that they both have keys to the place after hours, they seem to have been regulars there. Wanting to get beaten up, Hwa-shin challenges him to a good old fashioned fight, so they head into the ring.
Before the fight begins, Jung-won suggests a bet, but Hwa-shin says that he's already decided to let himself lose. Jung-won complains about that attitude being no fun, and Hwa-shin warns him of the dangers of fun. They get started, each expertly throwing and avoiding punches. Jung-won gets in some good punches and tells Hwa-shin to lose fair and square — not just by making himself lose.
Hwa-shin gets back with a punch on the back of Jung-won's head, to which Jung-won yells at him to stop hitting him in the back (in metaphor, to stop backstabbing). They get really physical with their punches, and at the end, Hwa-shin decides to drop his guard to suffer a blow from Jung-won. Hwa-shin self-declares defeat, and they both lie in the ring, breathing heavily.
Jung-won asks Hwa-shin why he's up so late, and when Hwa-shin explains that he's trying to sober up and wake Na-ri, Jung-won claims the latter. He calls Secretary Cha and tells him to bring Hwa-shin's outfit along with the custom dress he made for Na-ri. That last part piques Hwa-shin's interest, though he doesn't really show it.
Jung-won talks about how big and calloused Na-ri's feet are, and he says that he wants to give her good shoes to walk in. He tells Hwa-shin to rest up and mentions the ridiculous rumor. Hwa-shin confirms that it isn't real and complains about his tangled hand wraps (and relationships).
It's almost time for wake-up duty, so Jung-won heads into Na-ri's dorm and begins to make coffee. Na-ri wakes up and watches in awe, but she quickly closes her eyes when Jung-won sits down to watch her "dream," which is actually just her trying to fake-sleep. He asks when Na-ri will confess her feelings to him and then heads out to answer a call. Na-ri pops up and grabs a cup of coffee with a wide smile.
The broadcast preparations begin, and Jung-won delivers the customized dress to Na-ri. The main morning announcer, PARK JIN, requests a sponsorship as well, but Jung-won ignores her. In the dressing room, the Jin and Joo-hee try to bully Na-ri to hand over the dress, but Na-ri refuses to give it up.
Chef wakes up alarmed by Ja-young on his arm, but he tries to respect her sleeping time by immediately switching off his ringing alarm. Ja-young turns off her alarm and wraps her hand around Chef before opening her eyes and realizing her huge mistake. She kneels on the ground and begs him to kill her, or rather, save her. She apologizes profusely, and he wraps a blanket around her with a calm temperament before heading down to make breakfast.
Dae-gu wakes up and looks shocked when he sees Ja-young come out of Chef's room in a blanket. Ja-young says that it's not what it looks like, but Dae-gu doesn't look convinced.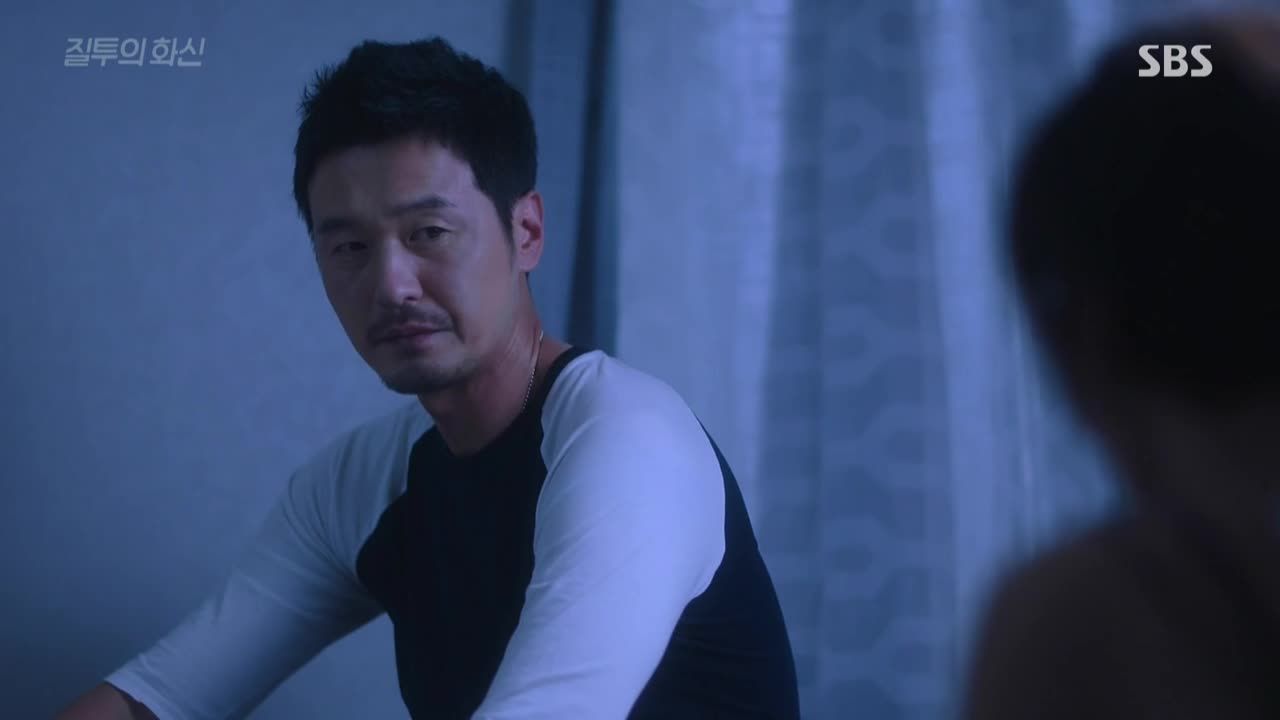 Pal-gang is infuriated by Sung-sook, who's on her knees begging for forgiveness after sleeping in Pal-gang's bed. Pal-gang threatens to run away from home if this happens again and orders her mother out of her room.
When Sung-sook steps outside, she witnesses Ja-young enter the house wrapped in a blanket. She's shocked at Ja-young's appearance and gasps when she realizes that Ja-young must have already made moves on Chef. Pal-gang overhears this conversation and peeks out of her room.
Na-ri reports the weather while Jin glares at her. Once the screen turns back to the main news anchors, Jin thanks Na-ri for her forecast and comments on how love can make someone bloom. She adds irrelevant comments about Na-ri's workplace romance before concluding the news. Not a class act, this girl.
It's breakfast time, and the family assembles for the meal. Ja-young overcompensates for her mistake by complimenting Chef's cooking a little too much for Dae-gu's taste, so he leaves in a huff. Pal-gang shakes her head at the adults being bad role models and follows suit, leaving Chi-yeol to wonder what's with everyone.
Sung-sook asks Chi-yeol about Na-ri and warns him not to trust his sister so much. She reveals her rumored relationship with Hwa-shin and babbles on about her other professional skills. The inappropriate talk at the breakfast table results in a scolding from Chef, who tells Sung-sook not to come down for breakfast from now on.
In the studio, PD Oh chastises Jin for her irrelevant ad-lib in her closing and calls on Hwa-shin to clear up or confirm the rumor. Hwa-shin finds this ridiculous and looks to Hye-won for help. And she does help — by telling Na-ri to provide her side of the issue — but also hurts Hwa-shin because Na-ri's real confession completely dismisses any relationship with Hwa-shin. We see Hwa-shin's face freeze and smile waver at Na-ri's vehement denial of workplace romance.
In the dressing room, Na-ri confronts Jin and Joo-hee, but they seem convinced that Na-ri is lying to everyone to protect her relationship with Hwa-shin. Na-ri criticizes Jin for reporting unchecked rumors and Joo-hee for her destructive ambition. They argue, push, shove, and then it gets physical.
Hwa-shin follows the argument outside, and when it gets rowdy, he enters the room to take control. But he's easily pushed aside in the cat fight and needs to exert some real force to get Na-ri out of there. While he's trying to separate Na-ri from the fight, she's yelling all these offensive things about never ever dating Hwa-shin ("He's really not that great! I'm so tired of him! If I like him again, I would be Pi Na-ri, not Pyo Na-ri!"). Ha, and his ego continues to get crushed.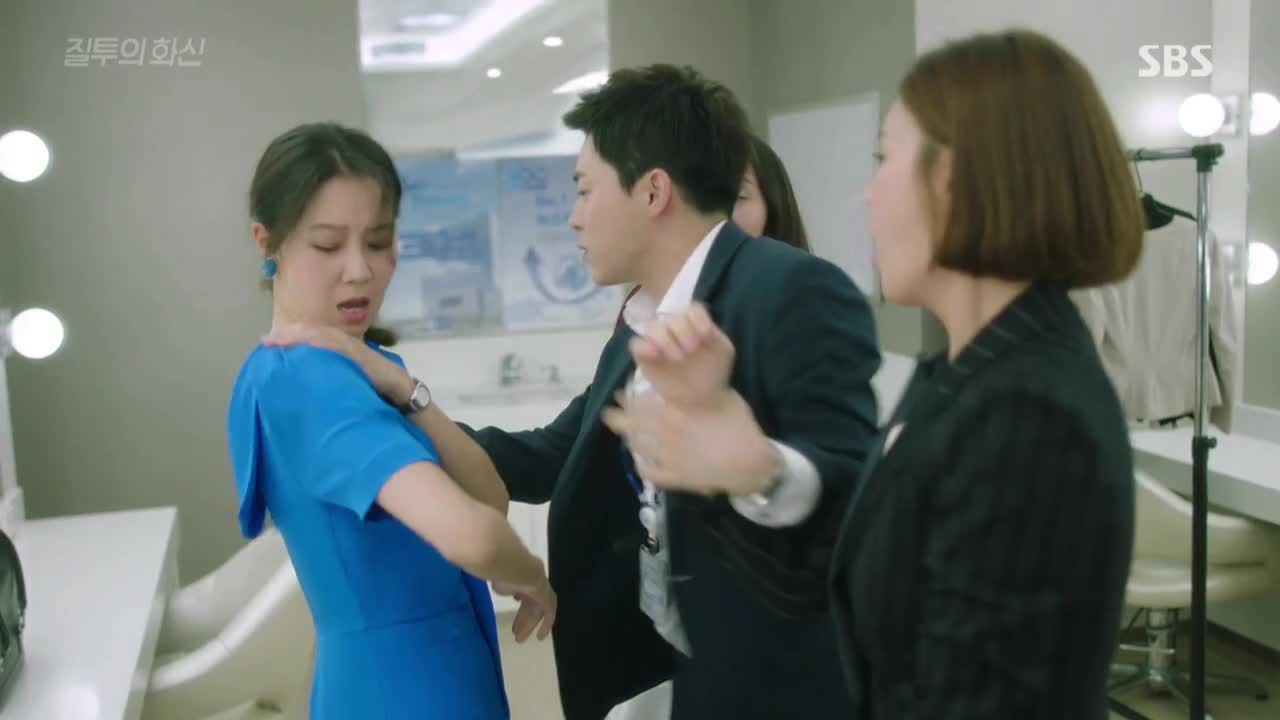 Once they're outside the building, Hwa-shin tells Na-ri to sleep at home from now on. Before he heads off, she invites him to join her… to the make-up store. She's in a great mood and laughs to herself as she tries on a new lipstick. She offers to put some lipstick on his lips and asks him to buy it for her. Hwa-shin looks at her like she's crazy, but Na-ri is too happy to care.
She puts her arms around Hwa-shin's neck and admits that she's very happy with the rumor because her three-year-long crush now feels validated. She was acting like she was offended by the rumor, when in fact, she was overjoyed. "My constipated sorrow now feels relieved through diarrhea." Haha, that's one way to put it.
Hwa-shin tells her to get her hands off of him, so she grabs what she's wanted the whole time: his ID. She uses his ID to get a discount on the lipstick, which isn't possible with the contract employee ID.
As they walk back to the station, Hwa-shin hands Na-ri a napkin to wipe her residual snot from her sneeze, and he's offended by how freely she wipes her nose in front of him. He asks if she's comfortable around him, and Na-ri responds with a simple yes. To further test their boundaries of comfort, he offers to throw away her used napkin for her, and she hands it over. Hwa-shin is totally offended and hands the trash back to her before walking away.
Hwa-shin tells himself that she's too comfortable with him because of his breast cancer surgery. Na-ri returns the ID to Hwa-shin and says that she's fine with the rumor as long as Jung-won doesn't know. Hwa-shin argues that he's the real victim of this rumor and asks when she started to think about Jung-won before him. Na-ri reminds Hwa-shin that he's the one who introduced her and Jung-won, so it would be strange for both of them if Jung-won found out. Na-ri walks away, and Hwa-shin says that if he relapses, then he's going to blame her.
Sung-sook and Ja-young return to their house, where they find their ex-mother-in-law sprawled out on the ground. She tells the two exes to leave, but the women are not fazed. They welcome their ex-mother-in-law and get ready for work. As they head out, they designate the living room as her room and assign her to a long list of chores to complete while the women are out working. They're feed off of each other in responding to the all-power ex-mother-in-law, leaving her confused and in disbelief.
Madam Kim calls up Jung-won to tell him about her anniversary celebration with his father, who told her he'd come this time. With an envelope in hand, Jung-won says that he's already on his way to crash it. He arrives at the venue and crushes his mother's hopes by delivering the envelope from his father. She's clearly disappointed but not surprised. She tells Jung-won to open it, expecting another travel ticket, but when he does, he finds divorce papers.
Jung-won lies that his father sent cruise tickets and sits down with his mother for a meal with "a more handsome man." His mother begins to shed tears, and Jung-won looks helpless.
Na-ri enters the locker room to change out of her beautiful, customized dress, and an open browser shows the dating scandal with Jung-won and Soo-jung caught on camera. Na-ri doesn't see this because the computer is facing the other side, and she sits down at another computer to apply for the morning news anchor position.
As Soo-jung sits in her meeting with her news team, the weather girls gather around the pout in jealousy of her dating news. Hwa-shin hears this and looks confused, until he glances at the computer screen behind him — it's Jung-won and Soo-jung looking very intimate in the car as he puts on her seatbelt.
Jung-won leaves the venue and crumples up the envelope in rage. He calls his father and demands that he meet with his mother at least three times before throwing divorce papers at her. Jung-won argues that his mother never did anything wrong and forgave everything that his father did wrong. He can't just leave her to shrivel up like this. But his father doesn't respond and just hangs up.
Frustrated and fuming, Jung-won kicks a nearby trash bin, and Secretary Cha cautiously approaches him with the unfortunate news of the scandal. Secretary Cha shows him the photo leak ordered by his mother, leaving Jung-won in defeat. Jung-won picks up the dented trash bin and says that he's headed to the news station. As he walks in a hurry, he asks how much money it would cost to pull down all the dating articles, since he's worried that Na-ri will see them.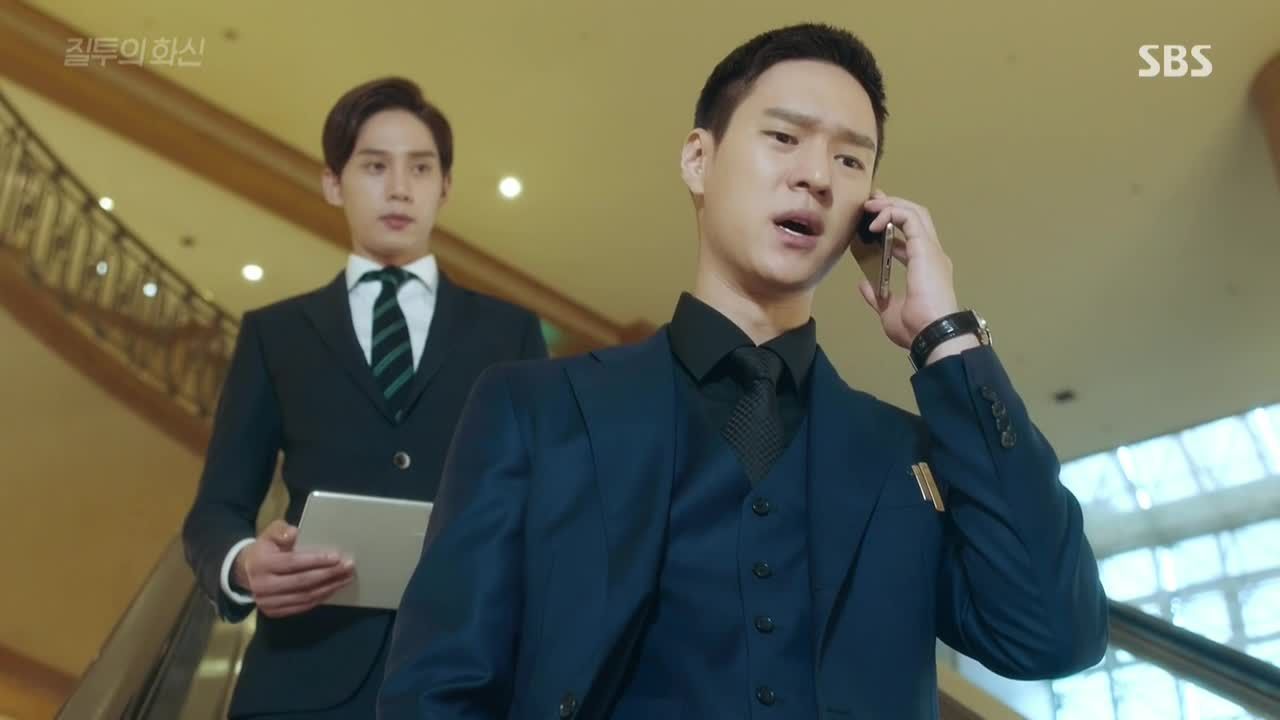 When Soo-jung comes out of her meeting, everyone congratulates her, and Na-ri looks at them with slight confusion. She looks to Hwa-shin and then sees the computer behind him. The angle of the shot makes Jung-won look like he's kissing Soo-jung, and Na-ri's face hardens. Hwa-shin notices her change in demeanor and suggests that she call Jung-won to confirm the facts.
To sprinkle salt on the wound, a deliveryman with a huge bouquet of flowers from "Jung-won" asks Na-ri and Hwa-shin where Soo-jung is. They point to her at the end of the hall, and Na-ri bitterly comments that the cost of the flowers could pay her rent for a year. Na-ri continues to make copies, but decides to just leave.
Na-ri sees the news in the lobby reporting on Jung-won and Soo-jung's relationship. She leaves, and Hwa-shin fails to find her in the crowd. As she waits at the crosswalk, she remembers and scoffs at Jung-won's wish for her to confess her feelings. She crosses the street carrying a paper bag walks right past Jung-won's car. They both don't see each other and head in opposite directions.
Hwa-shin continues to search for Na-ri and finds her phone in the weather casters' office. Jung-won also arrives at the station to look for her, and he meets with Hwa-shin on the roof. Hwa-shin blames Jung-won for making her hide away and expresses regret for introducing them if she's getting hurt
Na-ri approaches Jung-won's clothing store, where a mob of reporters crowd around her, questioning if she's Soo-jung. They realize their mistake, and Na-ri continues on her way into the store. Madam Kim sees her enter and watches curiously as Na-ri asks the sales assistant to deliver the bag to Jung-won.
Jung-won leaves the news station with a trail of reporters and cameras at his heel. He sits in the car, eyes closed, thinking back to Soo-jung's mention of the dating rumor between Hwa-shin and Na-ri. Meanwhile, Na-ri eats ramyun in a convenience store alone.
Madam Kim looks at the foot imprint of Na-ri, having realized her relationship with Jung-won. When he arrives, she tells him to treat Na-ri well, give her good clothes and good shoes, but no more than that. Jung-won says that on days like this, he can understand his father. He tells his mother to stop spending her excessive free time interfering in his life. That triggers his mother to throw Na-ri's foot imprints at him and ask if he's implying that she divorce his father. He looks back with silent rage and new scratch on his face.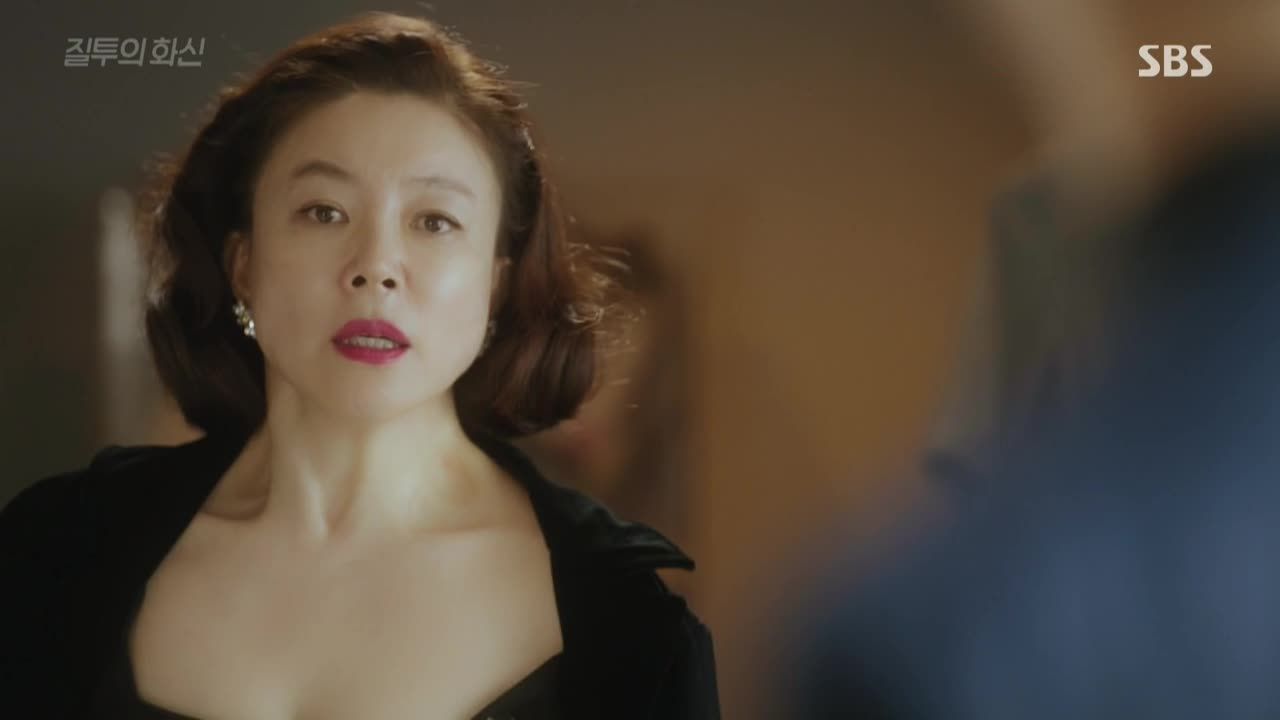 Hwa-shin receives a notification on his phone about his upcoming appointment at the hospital and realizes that Na-ri could possibly be there. As he drives in a hurry, he begs her not to be there, especially on a disappointing day. He asks, "If you're waiting for me on a day like this, what am I supposed to do?"
He turns the corner, and there she is. As she approaches the car, Hwa-shin tells himself that he's never letting her go to another man ever again. She gets into the car, and he asks what she's doing, to which she states the obvious: going to the hospital with him. She doesn't want to talk about how she's doing, so Hwa-shin just speeds off in the opposite direction of the hospital.
As he drives, Hwa-shin tells Na-ri that Jung-won is a trustworthy guy. Just like their false dating rumors, Hwa-shin assures Na-ri that Jung-won's scandal is false. Na-ri continues to complain about going in the wrong direction, but Hwa-shin continues to advocate for his friend. He explains Jung-won's genuine interest starting from their first encounter on the plane, and he reveals Jung-won's earnest wish for her to sit next to him in the plane back from Thailand.
He also adds that the flowers to Soo-jung probably not from Jung-won because he likes blue flowers. Hwa-shin has received flowers from Jung-won before, and they've always been blue. Even the dress that he made for Na-ri is blue. Hwa-shin persuades Na-ri to trust Jung-won — a guy who's lonelier, more considerate, and wealthier than Hwa-shin. And more than anything, he's healthy.
Hwa-shin continues to compare himself with Jung-won and concludes that Jung-won is a good guy, worthy of being set up with Na-ri. He also debunks the belief that Jung-won does whatever he wants — he rarely has control of his own life in actuality.
Na-ri asks why Hwa-shin set her up with such a grand guy, and Hwa-shin just hands over her phone. Jung-won called her more than a hundred times. Na-ri looks affected as tears begin to well up, and Hwa-shin offers to drive her to him.
Jung-won looks at the empty frame of Na-ri's foot imprints, and Secretary Cha approaches him with updates on the retreated reporters and the bag with the dress from Na-ri. Jung-won grabs it and heads out.
Hwa-shin parks in front of Jung-won's store, and Na-ri suggests that they go to the hospital, even though it's late. Hwa-shin opens the car door for her to get out, and as soon as she does, they see Jung-won come out of the store.
Na-ri approaches him, and Jung-won angrily asks why she returned the dress so quickly. He asks if he's that suspicious and untrustworthy of a person. Na-ri notices the scratch on his face and reaches out to check it, but he grabs her hand and demands an answer. Hwa-shin watches them as she responds, "I know it's late, but I still want to say this. I like you."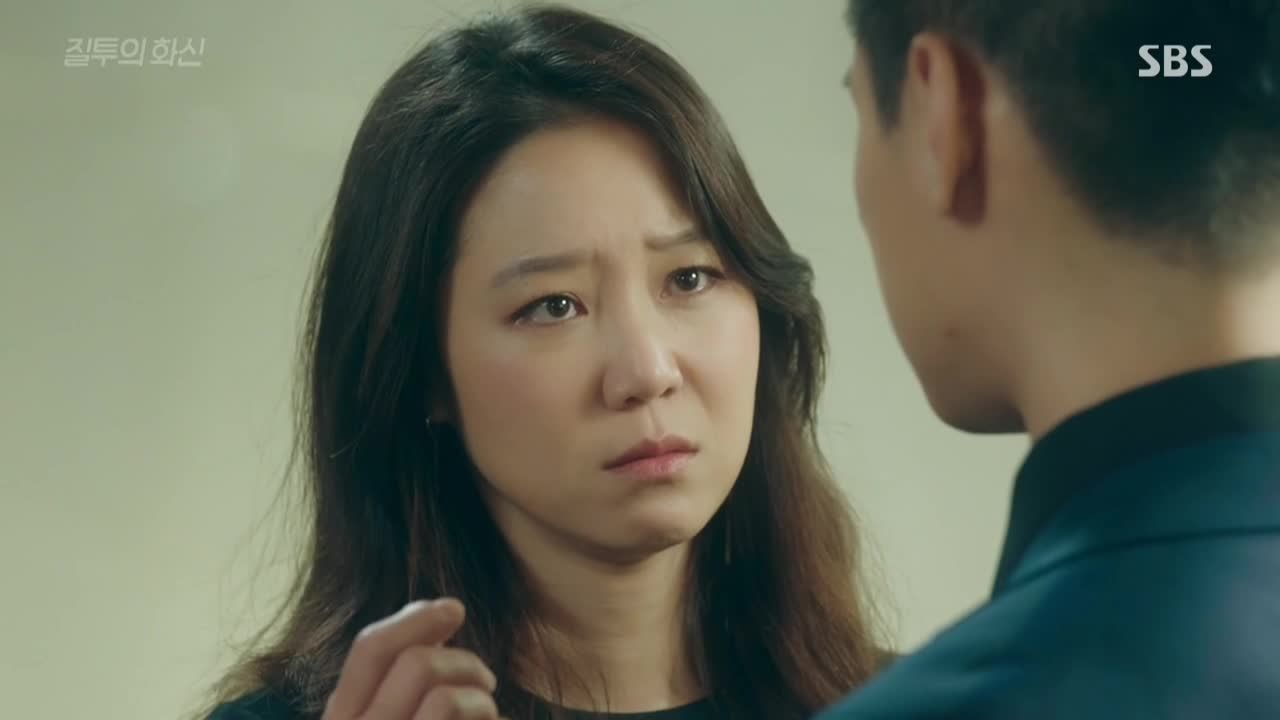 She confesses with the same words he wished to hear, and he tells her, "It's not too late." He drops the bag and pulls her close for a kiss. Hwa-shin turns and sees the two mid-kiss, and he freezes. Lightning strikes behind him, and he stares in shock, as if the lightning had struck him.
The couple pulls apart and continue to kiss as rain starts to fall while Hwa-shin walks the other way. He thinks to himself: "Pyo Na-ri, you quack. It's raining. You said it would be good weather for a date. Pyo Na-ri, you quack."

COMMENTS
Oh my goodness, have you seen a sadder third wheel? There is so much sadness and immediate regret in his eyes that I think he may burst into tears if I poke him. There's something about Jo Jung-seok and his reversals with characters that just hits me, and Hwa-shin is a wonderful example of that. He went from Petty Asshole to Reluctant Cupid, and I loved seeing how simple he really is, despite all the overthinking he does to make himself seem so suave.
I would argue that Jung-won is the more complicated character, as emphasized throughout this episode. He knows that his parents' relationship is no model to strive for, and he's actively making decision that would allow him to live freely. He's trapped within the confines of his mother's expectations and misfortune, and it was quite interesting to see him attempt to balance both. His sympathy (maybe pity) for his mother was immediately juxtaposed with his detest for her control over his life, and that quick change of face showed how little control he has over his life. He swings very abruptly from one side of the pendulum to the other, and he's reacting more than living. He has very little free will, and that's something our Reluctant Cupid recognized in his persuasion of Na-ri to trust his friend.
I'm a fan of the current pairing because I'm convinced that Hwa-shin ranks third in terms of the current capacity for love. I was persuaded by Hwa-shin when he persuaded Na-ri that Jung-won deserved to be trusted, and it felt like a huge step out of his ego and into self-awareness. This central triangle is appealing enough for me to stay engaged, but I would have to agree with Saya that this show is juggling a lot of elements. We rarely get enough screen time for our secondary characters, who are a great breath of fresh air. I think the show is trying to get at the generational dimensions of romance and jealousy, but when it's trying to do too much when the central romance is already compelling, the other relationships seem less relevant. I'm hoping that the fact that all of our characters are connected in some way can make the cast shine as a whole.
I love how everything in this drama is like a metaphor. Though most of the metaphors are pretty obvious, they're not so blatant that they seem obnoxious. They're subtle and clever enough to go unnoticed, but it's like a little wink to the audience. At times, this show really relies on dramatic irony and repetitive hijinks, but the chest/heart metaphor is definitely my favorite because it allows for so much subtext and miscommunication. The hijinks are endless.

RELATED POSTS
Tags: featured, Go Kyung-pyo, Gong Hyo-jin, Jealousy Incarnate, Jo Jung-seok