Kim Min-jung considers becoming a fangirl for Man to Man
Oh cute, there's finally a character description for the heroine of JTBC's new drama Man to Man: She's the head of the fan club for the Hallyu action star played by Park Sung-woong (Remember—Son's War), and she becomes a fangirl success story when she gets a job at his management company. That's a much cuter setup than I was expecting — it could be a rom-com if it wanted to be — though of course the spin will be when she then meets the star's mysterious bodyguard, played by Park Hae-jin (Cheese in the Trap). The offer is currently out to Kim Min-jung (Master of Trade–Inn 2015) to play the part, and she's considering favorably. I hope it's a fun, light character, because I tend to like her more when she veers away from melodramatic roles.
The drama from writer Kim Won-seok (co-writer on Descended From the Sun) and PD Lee Chang-min (Remember—Son's War) stars Park Hae-jin as an elite black ops agent known only to the highest tiers of national intelligence. He never fails at a mission and keeps everything hidden behind a poker face, and when he takes on a secret mission to protect a Hallyu star, he'll meet his greatest challenge. Park Sung-woong co-stars as the stuntman-turned-star, an actor beloved for being a bad guy onscreen, who has a fatal secret in his past.
Kim Min-jung is up for the role of Park Sung-woong's biggest fan, ever since her high school days. She's the head of his fan club, and actually manages to get a job as a manager at his agency, where she'll get to interact with Oppa. It's also how she meets Oppa's bodyguard, and ends up caught between them.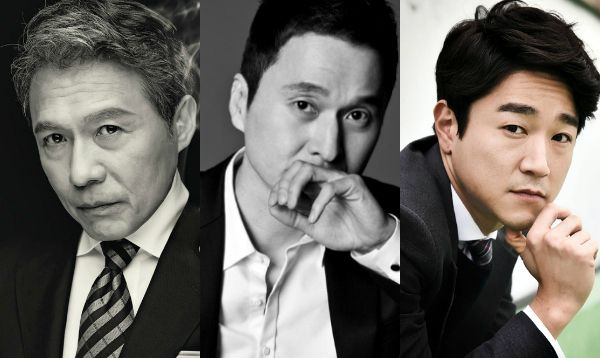 Chun Ho-jin, Jang Hyun-sung, Tae In-ho
Yeon Jung-hoon (Mask) is confirmed to play the main villain, a chaebol who lost his father very suddenly and lives according to his grandfather's wishes. He hides his vast ambition and though he managed to marry the woman he loves, played by Chae Jung-ahn (Entertainer), he knows that she loves Park Sung-woong's character and is determined to see his downfall. Hm, didn't she play this character in Yong-pal? Here, she's a Miss Korea who became an actress, and she shares a tragic past with Park Sung-woong.
Also joining the cast are supporting players Chun Ho-jin (Moonlight Drawn By Clouds) as a powerful politician in cahoots with Yeon Jung-hoon's family, Jang Hyun-sung (Doctors) as a national intelligence agent and deputy director, and Tae In-ho (The Good Wife, Misaeng) as a black ops agent and alpha team leader who goes head to head with Park Hae-jin. True to its title, there are a lot of good men in this drama. Hopefully not all of them are hiding a dark side.
Man to Man (to Man to Man to Man to Man) will be a fully pre-produced drama and plans to begin shooting in October, for a 2017 broadcast on JTBC.
Via OBS, Herald Pop, Ten Asia
RELATED POSTS
Tags: Chun Ho-jin, Jang Hyun-sung, Kim Min-jung, Man to Man