Laughs abound during table read for The Man Living in Our House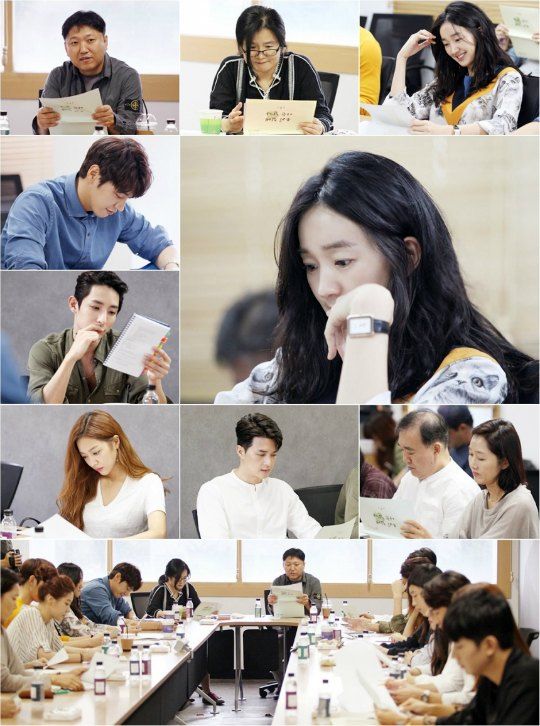 Production has begun with the first table read for upcoming KBS rom-com The Man Living in Our House. Actors Su Ae (Mask), Kim Young-kwang (D-Day), Lee Soo-hyuk (Lucky Romance), Jo Boa (Monster), Kim Ji-hoon (Jang Bori Is Here), and staff all convened for the first time in three months to read through the scripts and get into character.
Family lines will get tangled in this webtoon-based romance. Su Ae plays the role of Hong Nari, a flight attendant who suddenly has to deal with Kim Young-kwang's character, Go Nan-gil, a younger man who randomly appears in her mother's house, claiming to be her stepfather. This will be Su Ae's first rom-com in nine years, but judging from the reported fits of laughter during the table read, it seems her comedic chops are still intact as she fluidly switched from her usual melodrama fare to light comedy.
Kim Young-kwang plays the former legendary gangster who's now a farmer, though the heroine is convinced he's a conman and determined to prove it. Lee Soo-hyuk is his wealthy rival who only believes in the power of money, Jo Boa is Su Ae's co-worker who lies at the drop of a hat, and Kim Ji-hoon is guest-starring as Su Ae's wishy-washy boyfriend.
PD Kim Jung-min (Joseon Gunman) confidently asserted that The Man Living in Our House is a fun drama that will be shot in an enjoyable manner until the end. Let's hope the laughs from the table read carry over onto the screen and induce us into giggle fits.
Written by Kim Eun-jung (Gabi, Flower Boy Next Door) and produced by Contents K (the same production company behind hit dramas Secret and School 2013), The Man Living in Our House will air on Mondays and Tuesdays and will premiere on October 24 as the follow-up to Moonlight Drawn By Clouds.
Via Top Star News
RELATED POSTS
Tags: Jo Boa, Kim Ji-hoon, Kim Young-kwang, Lee Soo-hyuk, Su Ae, The Man Living in Our House