Main foursome finalized for Kim Sun-ah's Woman of Dignity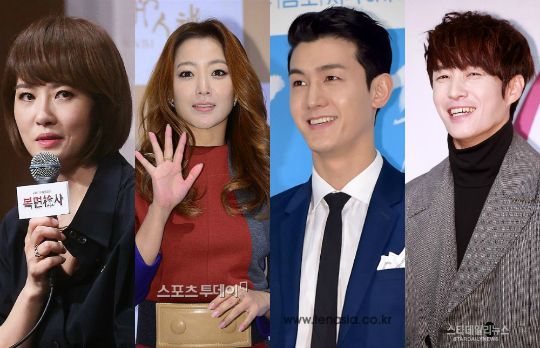 The four main leads for upcoming Woman of Dignity have been finalized, but a network and time slot have yet to be secured. The production team is currently in talks with SBS to broadcast in the latter half of 2017. This new drama captures the story of the slow rise to success of an ajumma who was betrayed by her husband and thrown out by her chaebol father-in-law.
Kim Hee-sun (Angry Mom) is set to star as the homemaker who has hit rock bottom. Originally, she was an airline flight attendant with a legendary beautiful face and figure. She meets Shim Hyung-tak's (Five Children) character, who is a handsome second-generation chaebol. They fall in love, and she immediately quits her job to become a full-time housewife. However, this Cinderella story doesn't end with happily-ever-after. On the outside, he acts like a wonderful husband, but secretly he's an incurable playboy who is having a passionate love affair with their daughter's art teacher.
Kim Sun-ah (Masked Prosecutor) has been confirmed to play a determined woman with country-bumpkin origins who elevates herself to fit in with high society through the sheer force of her will. But the backstory of Lee Ki-woo's (Memory) character may be the most interesting. Due to a devastating car accident, he lies in a vegetative coma until he miraculously wakes up one day. After a grueling rehabilitation process, he eventually becomes a lawyer who listens to the cries of the unjustly accused. Will he become a daddy-long-legs to the woefully wronged Kim Hee-sun? Goodness knows he definitely has the legs for it.
The 100 percent pre-produced Woman of Dignity plans to hold its first script reading later in September and start filming next month.
Via TVDaily, Daily Sports
RELATED POSTS
Tags: Kim Hee-sun, Kim Sun-ah, Lee Ki-woo, Shim Hyung-tak, Woman of Dignity