Moonlight Drawn By Clouds: Episode 10
Brace yourself for loads of sweetness: This episode put a silly grin on my face that lasted for an embarrassingly long time. This show certainly knows how to play out small moments for great effect, and it's been rewarding watching these kids figure things out and grow up in the process—even if that includes having to feel pain. Just don't hurt these kids' feelings too much, you hear? I'm not sure I could take that. It would be like kicking puppies, and who wants to be the puppy-kicker? You monsters.

EPISODE 10: "Like a fairy tale"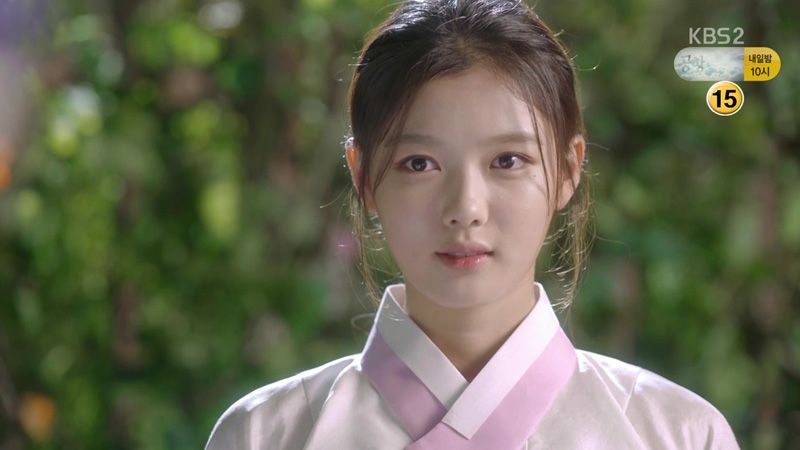 Yeong finally learns Ra-on's name, and says it aloud. He notes that it means joyful, and she tells him her father named her that hoping she would live a joyful life. Yeong says it suits her perfectly.
In the morning, Yeong sneaks peeks out his door, giddily anticipating the arrival of his eunuchs. Well, just the one, but they tend to come in groups.
Ra-on is full of secret smiles as she and Eunuch Jang make their way to the prince's chamber. Eunuch Jang starts to make his usual whimper of announcement, but today Ra-on takes the lead, asking loudly if he's awake.
Yeong lights up and tells her to enter, then runs like a little boy to his desk so he can act like he hasn't been pacing all morning waiting for her. Ra-on runs inside the second the doors are open.
As she dresses him, Yeong asks questions just so he can use her name, over and over: "How is the weather outside, Ra-on-ah? Did you take the books for the morning lecture, Ra-on-ah?"
She enjoys hearing it, but worries that someone might overhear. Yeong assures her that he'll only call her Ra-on when they're alone: "All that time that I could not call your name, I will make up for abundantly now."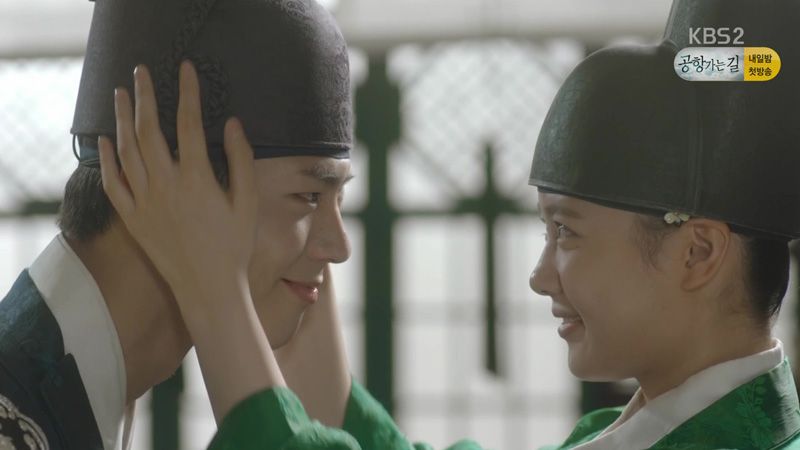 Ra-on leans in to fasten his belt around him and they thrill at the closeness. Gah, I can't stop smiling like a fool. It's like watching puppies frolic; the giddiness is contagious.
When Ra-on reaches up to place his hat on his head, Yeong teasingly makes himself taller to put himself out of her reach… and then leans down to meet her at her level. Ah, there's a nice poetry to that, isn't there?
Once dressed, Yeong requests Ra-on's advice as a love expert, and asks, "A love with the crown prince—is that not what all women dream of?" Ra-on makes a face, and then he grabs her belt to yank her close, slinging an arm around her shoulder.
Byung-yeon tells his rebel leader that he was unable to locate Hong Kyung-rae's lost daughter. (Yessss. You go, Gat Byung-yeon!) He says that their old neighbor couldn't remember anything, and then the look on his rebel leader's face changes. Uh…oh. That is not a good look.
Byung-yeon asks what happens when they find her, and his leader replies that they'll protect her as one of their own. Byung-yeon says he will keep searching.
Masked rebels blanket the town with papers, kicking off their renewed rebellion with declarations that the people are the true owners of the nation, rather than their ineffectual king. Their manifesto vows not to fail as they did ten years ago.
This sets off the already panicked king, who rails against his soldiers for being unable to catch the rebels. Yeong attempts to be the calming force and says he will handle this, but the jittery king orders any and all suspicious persons rounded up and punished harshly.
Seeing his father like this worries Yeong, and he asks Byung-yeon if there is any news on Hong Kyung-rae's daughter. Looking torn, Byung-yeon answers in the negative. Yeong declares that he will sever the tie of bad fate between the king, the prime minister, and Hong Kyung-rae, and asks his friend to help him.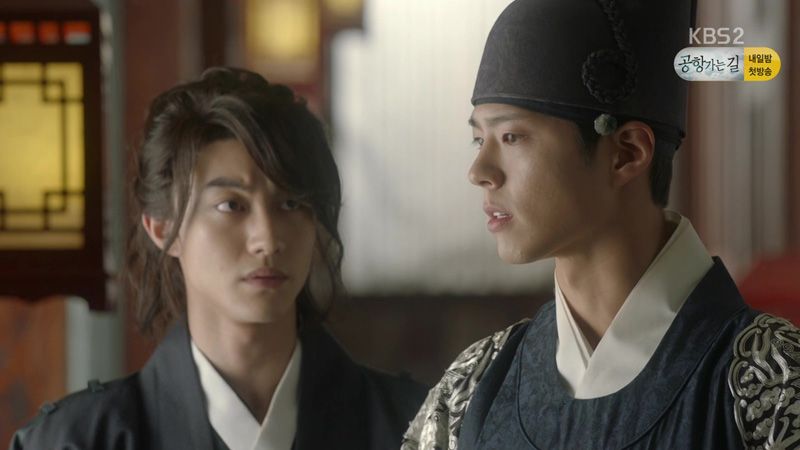 Yeong crosses paths with Prime Minister Kim in the hallway, and pauses to bow before moving on. But the prime minister stops him to ask if he thinks these events are sudden and new: "Unrest seeks out the weakest places." Yeong interprets that as a dig at him—that the unrest arose once the weak prince was named regent.
Prime Minister Kim affirms it, saying that despite his good intentions to effect change, the real effect is turmoil. He offers to allow the prince to take "refuge" under him, where he can accept the aid and counsel of more seasoned politicians.
But Yeong replies that it would hardly do to ignore the mud under one's foot just to stand in the shade.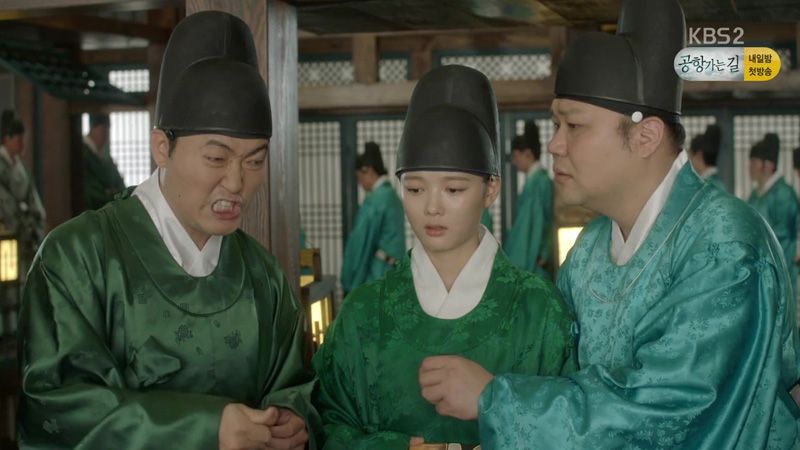 Under the king's orders, everyone in the palace has their things searched for incriminating evidence. Ra-on asks Eunuch Jang what the fuss is about, and he whispers that the rebels' flyers spoke of a coup that would dethrone the king, which is the stuff of high treason. When similar events unfolded ten years ago, he adds, there were spies in the palace; hence this paranoia now. Eunuch Jang warns the rookies to be extra careful, because they could find themselves painted as traitors even if they did nothing wrong.
That night, Yeong finds Ra-on preparing his bed and joins her next to it. She supposes he's had an upsetting day, and he agrees, adding, "I did not see you all day long."
Ra-on pats the bed and tells him to rest, and Yeong immediately complies—by laying his head down in her lap. She knows he hasn't had restful sleep lately and offers to tell him interesting stories until he falls asleep.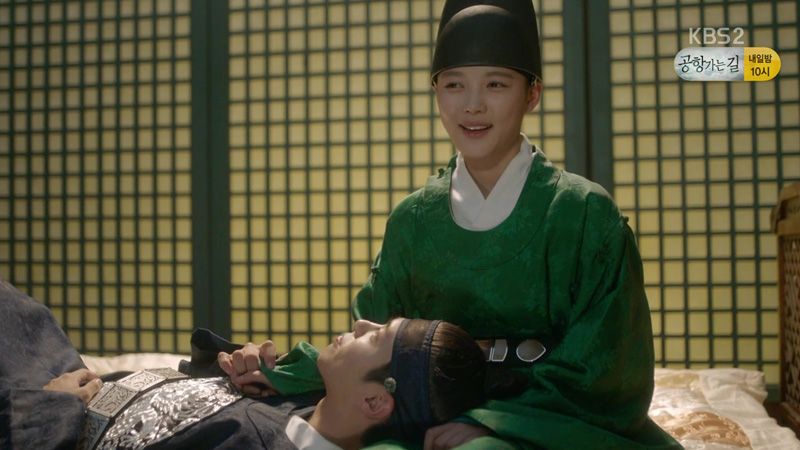 He listens sleepily as she relates a story in a book she once read, which shares similarities to his comment about every woman dreaming of romancing a prince. In it, a mermaid from the sea fell in love with a prince.
He closes his eyes as she talks, and she pauses to watch his sleeping face. She hovers a hand above his brow, barely touching it with a finger. Then Yeong's hand joins hers, and he asks if that prince was as good-looking as himself. She laughs, and supposes that he was, since the mermaid fell in love at first glance.
"Like you?" he asks. Ra-on laughs bashfully, then continues with the story of the mermaid who lost her voice and gained two legs to be with the prince.
From outside the door, Byung-yeon listens to them talk, just as Yeong says, "Continue… Ra-on-ah."
The king frets to Head Eunuch Han about the unrest, certain that what happened to will inevitably happen to the prince: The voices against him will grow louder and render him powerless. These fears make the king even more eager to hurry the prince into marriage, to help stabilize the wildly swinging public sentiment.
As for the bride: The king orders the minister of rites (Ha-yeon's father) summoned secretly.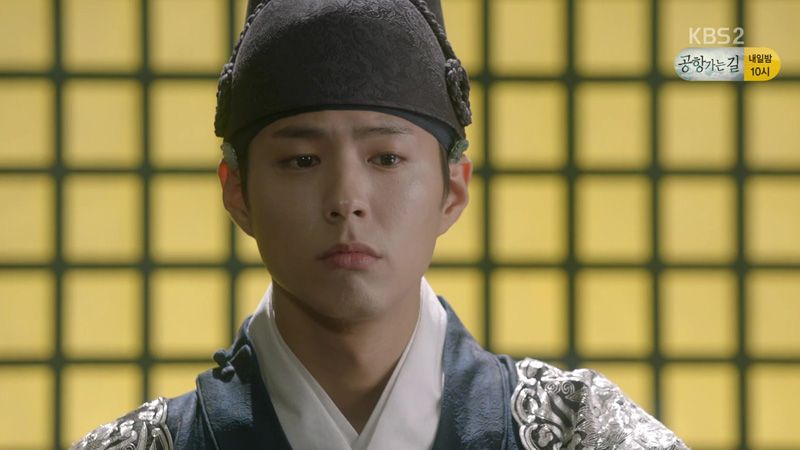 The recent civil service examination has yielded a class of new government appointees, and they are brought to court to greet the prince. Aw, Young Master Jung passed in first place, and is hilariously nervous and bombastic as he promises to work hard.
Yeong encourages him to make full use of his talents in his new position, and Ra-on enters carrying scrolls. One look at each other has them both gasping in surprise, since Ra-on was the love expert penning Young Master Jung's letters to the princess. But that hardly seems like something they'd want to be outing now, and they both blurt nervously that they don't know each other that well, having only seen each other in passing a few times.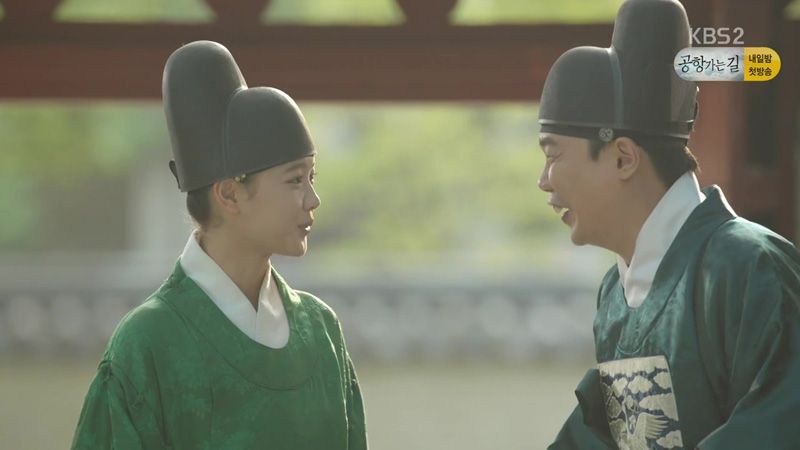 Yeong looks unconvinced, but lets it go for the moment. Young Master Jung is dismissed feeling relieved, and Ra-on catches up to him outside, where she assures him that she won't say anything about their previous ghostwriting association.
Princess Myeongeun calls out to Ra-on, and Young Master Jung's eyes widen in shock when he hears this is the princess. In a flash he's gone, leaving both Ra-on and Myeongeun wondering where he went.
Ra-on marvels at Princess Myeongeun's transformation, and the princess puts on mock-dignified airs to match her new appearance, then giggles with Ra-on.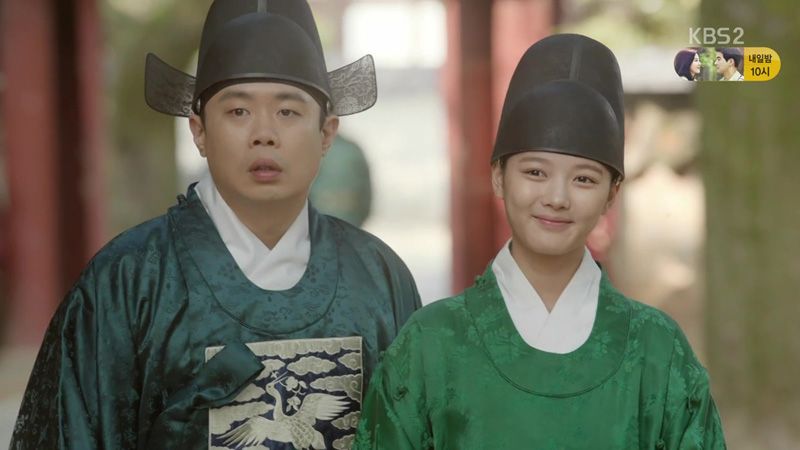 After she leaves, Young Master Jung comes out of hiding, and Ra-on asks how he'll manage being at court often. He replies that he'll have to avoid the princess to the best of his ability, then gets teary at the thought of how thin she has become.
Yeong pauses in the palace courtyard to see a little girl with a vegetable cart, recognizing her as the lantern-seller whose wish was to meet the king. He greets her and learns that she's followed her father on a grocery delivery. A court lady arrives and very nearly gives away his identity (the girl doesn't realize he's the prince), but Yeong motions for her to hush. He instructs her to have the refreshments meant for him given to the girl instead.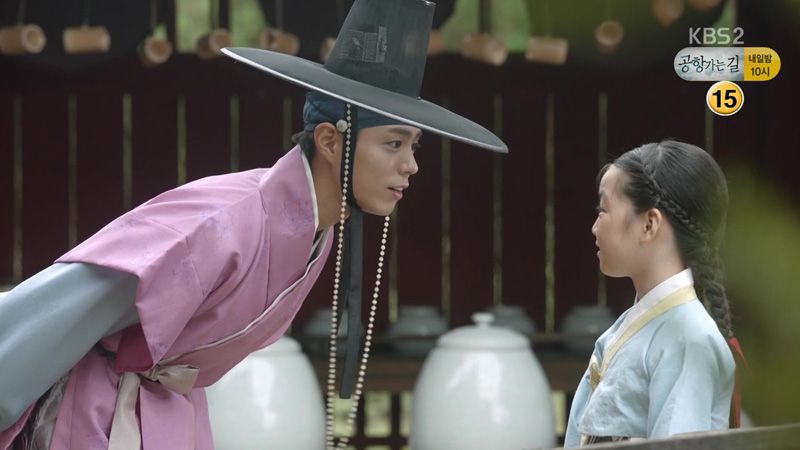 The king calls Minister Jo in for a secret meeting and makes his case directly: Marry Ministers Jo's daughter to Yeong, and become a supporting force to the prince.
The Kims catch wind of the marriage talk and suspect that this is why Minister Jo delayed their talks regarding marrying his daughter to Yoon-sung. The younger Ministers Kim are thrown into panic mode, worrying that if the crown prince and princess conceive an heir, that endangers their own moment of opportunity, with the queen (a Kim herself) being pregnant.
Prime Minister Kim, on the other hand, is as calm as ever and tells them not to worry. After all, the process of selecting a crown princess is something that requires the approval of many, which means there is still a way to prevent the marriage. The prime minister asks how old the other minister's daughter is, likely to throw her into the mix.
Yeong spots Ra-on with her eunuch buddies Do Ki and Sung-yeol, who support her on either side to help her with a twisted ankle. Do Ki suggests carrying her between them instead of having her limp, and she laughs as they run across the courtyard with her.
Yeong's expression darkens, and he motions the other two away, then complains about her putting her arms around anyone's shoulders, and laughing with anyone. Hee, petty jealousy is the best.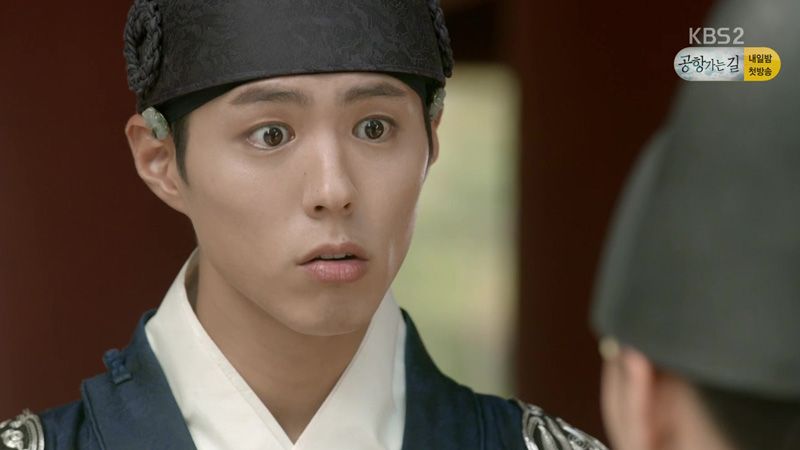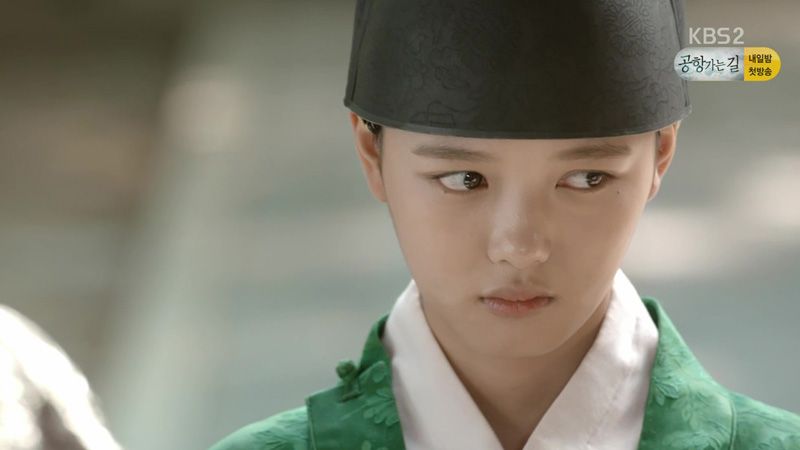 She hangs her head, feeling a bit put out, but he softens his tone and tells her, "Don't get hurt. That's an order." She points out that nobody gets hurt intentionally, and he adds, "And in front of other people, hold back your laughs. That's an order too."
Ra-on retorts that she won't obey, and Yeong pouts and moves in for a forehead flick. Ra-on flinches, but instead of flicking her head, Yeong holds up a book to cover their faces, leaning in to kiss Ra-on's cheek.
She's startled, and he tells her that's her punishment for disobeying the prince. Oh, is that how this works? *files away information*
Minister Jo shares his dilemma with his daughter, not knowing whether to side with the king or the Kims. But Ha-yeon tells her father readily to follow the king's request. She'd been wanting to find a way to be a comfort to the prince in his current troubles, and expresses her desire to be helpful.
Her father worries at the ramifications—particularly if she should be eliminated from the selection. In that case, they will have taken an adversarial stance to the Kims, she won't have the protection of being royal, and she'll be able to marry anyone else.
Ha-yeon considers it, but states that she will not regret her decision.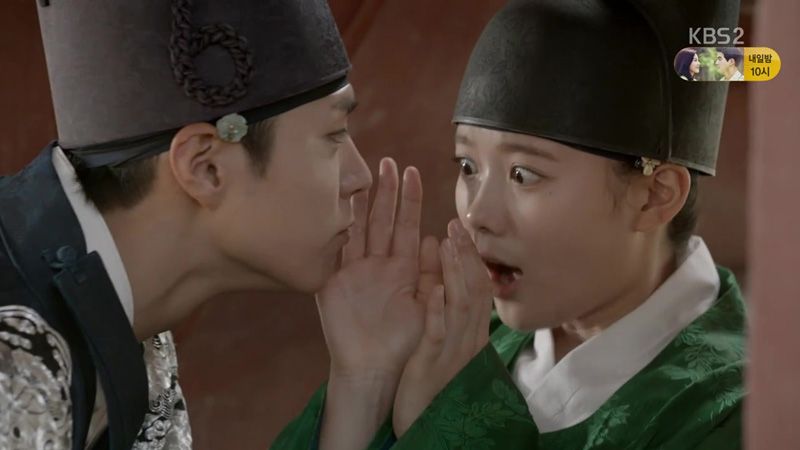 Yeong takes a look at Ra-on's sprained ankle, dismayed at the extent of the swelling, and tells her to stay put until he returns. She assures him that the injury isn't that bad and that she can walk, but he asks sternly if she's disobeying him and swoops in for another "punishment." Ra-on rears back and concedes quickly, which is crazy because some punishments should just be suffered. I'm told it builds character.
Then she recoils a second time when she thinks he's trying to sneak another kiss, only to have him hold up the book he was reaching for. Heh.
And then, Yeong hears of his impending marriage from his father, who is impervious to his pleas to reconsider. The king points out the precarious state they are in, and how if the prince betrays signs of struggling, the populace will be more readily swayed by talk of revolution.
Yeong is firm, though, in stating that he does not want to take on a lifelong partner purely as a tool in a power grab: "I will gather my people using my methods." He asks his father to retract the order.
The queen is aghast at the proceedings and wonders how her father could be so calm when a princess from the Jo clan could shake up everything. Prime Minister Kim just reminds her that he was able to turn the daughter of a mere gisaeng into the nation's queen. He tells her to refrain from needless worrying and focus on her pregnancy.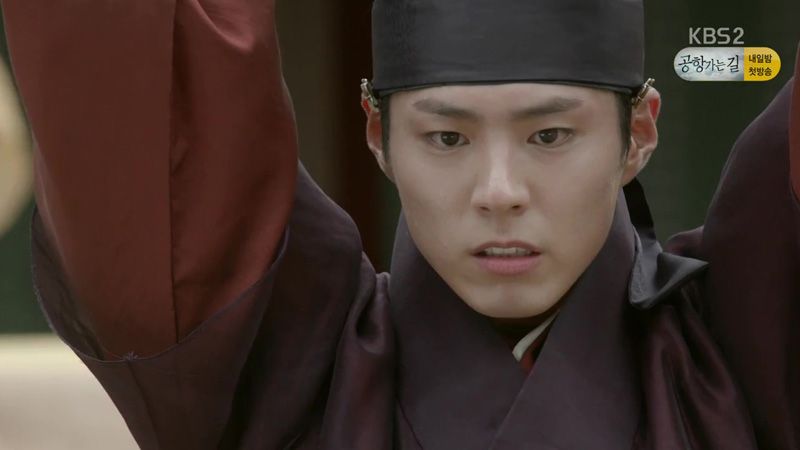 With the marriage news fresh on his mind, Yeong engages in a particularly fierce training session with Byung-yeon. He's so caught up in his frustrations that he belatedly recalls his instructions for Ra-on to wait for him. He abruptly calls an end to the session and hurries back to the pavilion where he'd left Ra-on.
She's still there when he arrives, and chides him for leaving her waiting. But when he kneels in front of her and tells her to climb on his back, she balks in alarm, casting nervous looks around them. He says that he'd do the same for Eunuch Jang and makes it an order, and she notes that he sure does like ordering her around.
Yeong asks if she really means to defy him, and Ra-on looks around uncertainly.
She ends up on his back, of course, and as he walks slooooowly across the grounds, he comments on how light she is. She teases him, saying that his arms seem to be trembling. Still, she worries that they might be seen, and he assures her that he knows a number of unused paths in the palace.
Yeong asks what happens to the mermaid and the prince in her story, and she resumes where she'd left off: The prince didn't recognize the mermaid's feelings and married another woman, making the mermaid disappear into bubbles.
She doesn't draw any particular connections, but it makes Yeong stop in his tracks and note, "It's a sad story."
Ra-on tells him he can let her near her building, but at that, Yeong smiles his denial and declares that they'll make the trip again. He turns around straightaway and declares that he'll carry her alllll the way back to his palace, and come allllll the way back.
The queen makes a midnight visit to a locked chamber, and inside is a pregnant court lady. It's the same woman who'd gagged while serving the queen, and she has been kept here under the queen's watch—captive, but apparently well-fed and looked after. She asks fearfully what will happen to her and the child, and is told that no harm will come to them, as long as she doesn't say anything.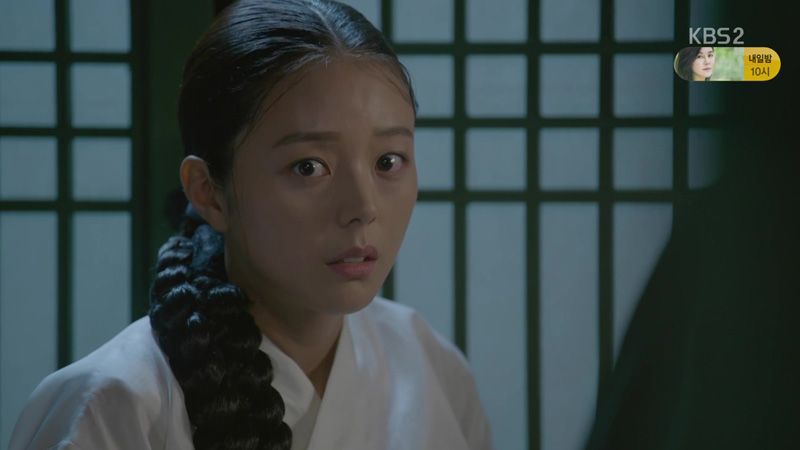 In a flashback, a fortuneteller had sworn vehemently that the queen was carrying a son, which had satisfied the prime minister. That was purely for his benefit, though, because the queen had confirmed that it was really a daughter—and while she had been bitter about it, she was determined not to let this opportunity go to waste. No matter what, she would produce a prince to inherit the throne.
Eunuch Sung picks Do Ki to be assigned to a new duty, explaining that that they need help preparing the royal wedding. Ra-on wonders who will be getting married, and Eunuch Sung informs her that it's the crown prince.
Ra-on reels. Heartsick, she sits by herself trying to deal with her emotions, and thinks of the mermaid story, feeling the connection now.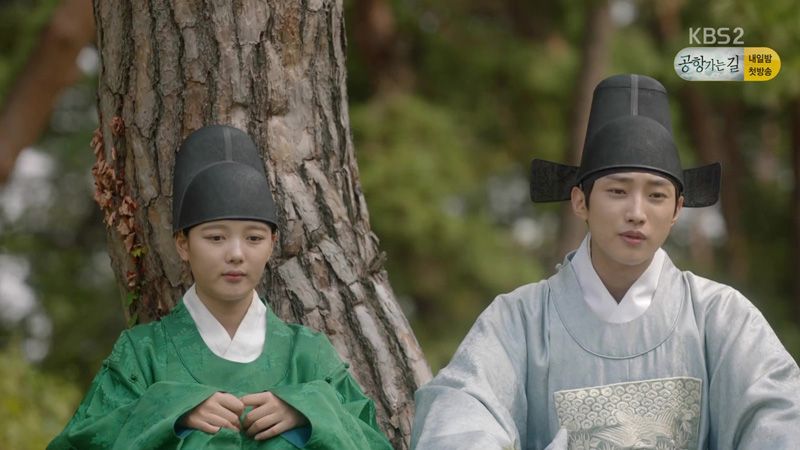 Yoon-sung joins her there, teasing that seeing her makes him want to skip his duties. He starts to explain that he's busy with a new task, but stops short when he realizes it would lead to mention of the wedding. Ra-on catches on, though, and says she just heard of it herself, and the need to appoint a temporary post for an upcoming ceremony.
Yoon-sung looks over and sees that Ra-on is struggling to keep a smile on her face. He admits that he'd wanted to feign ignorance, but can't when her feelings are written so clearly on her face. So he gets up and excuses himself to allow her privacy.
He turns back at a distance to see Ra-on with her tears, and thinks, "Be as sad as you wish. Cry your fill, feel all your hurt, and then you can come to me."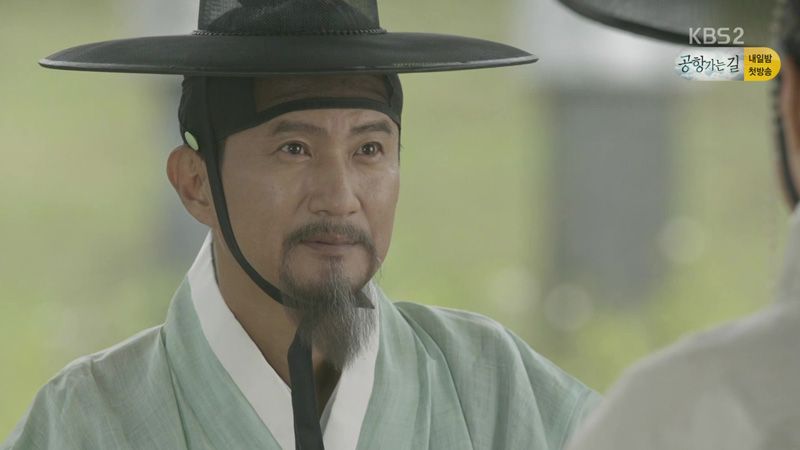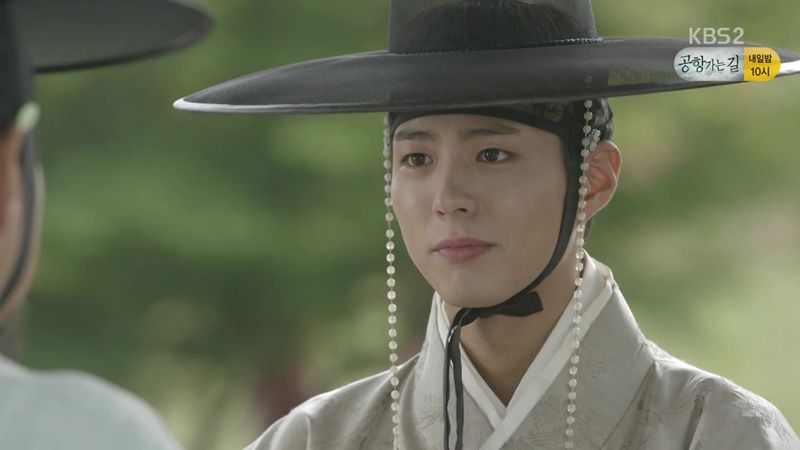 Yeong meets with Teacher Dasan, asking him to stand with him and offering a lofty government position. Teacher Dasan asks what it is the prince wants from him, and Yeong replies that he wants a devoted worker, one who will not twist the truth, who will remain steadfast in the face of temptation.
Teacher Dasan offers the advice that a bowstring that has been strung too tight will snap. Yeong replies, "Yes, just as you are doing now, teach me and urge me on. That is what I hope for from you."
Yeong has a second issue to discuss with him, and states that there is a woman he must not lose; he needs Teacher Dasan's help to ensure that.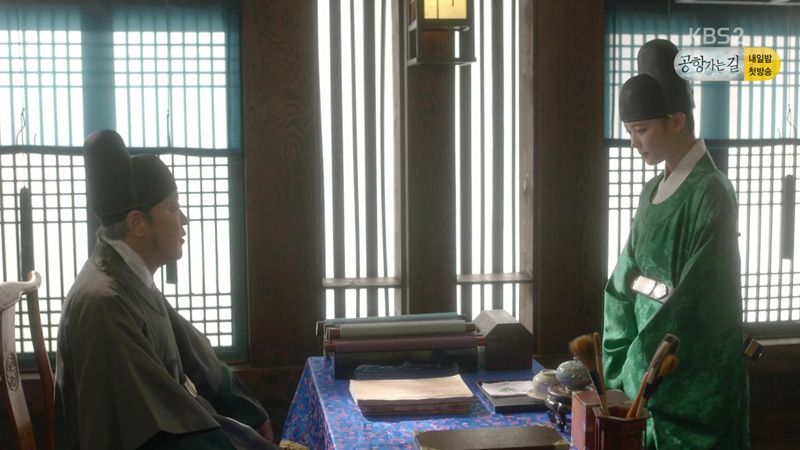 Ra-on drops off books in Head Eunuch Han's office, and lingers to look at an embroidered handkerchief on the desk. Head Eunuch Han notices her looking, and she explains that it was the egret flower that caught her eye.
Eunuch Han notes that it's not a flower many can name, and Ra-on says that her mother was fond of the flower. Eunuch Han says that his old friend used to carry around a handkerchief with this flower on it, given to him by his wife. Hmm.
That doesn't land with Ra-on, but it does give the eunuch something to think about, and he looks after Ra-on in a new light.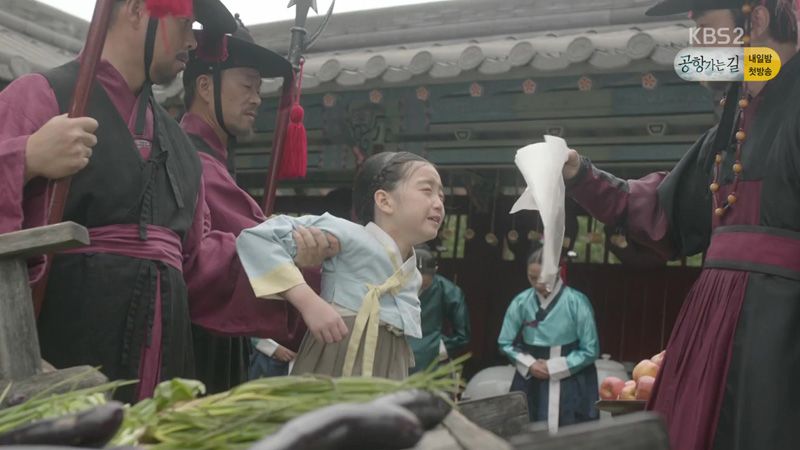 The grocer girl is apprehended by royal officers, who hold up the stack of treasonous papers hidden in her vegetable cart. The girl sobs, swearing that she knows nothing, but the officer orders her carted off to the court tribunal. Byung-yeon arrives to see the girl being taken away, and it makes him flash back to a similar memory from his past.
As a young boy, he had watched as his father was dragged before soldiers and accused of treasonous activity, communicating with rioters and offering them supplies. His father had spit back that all he'd done was open his stores to the starving people, who were neither traitors nor rioters. He'd sneered at the attitude that standing by to watch their misery would be more patriotic, and an angry officer had cut him down for it.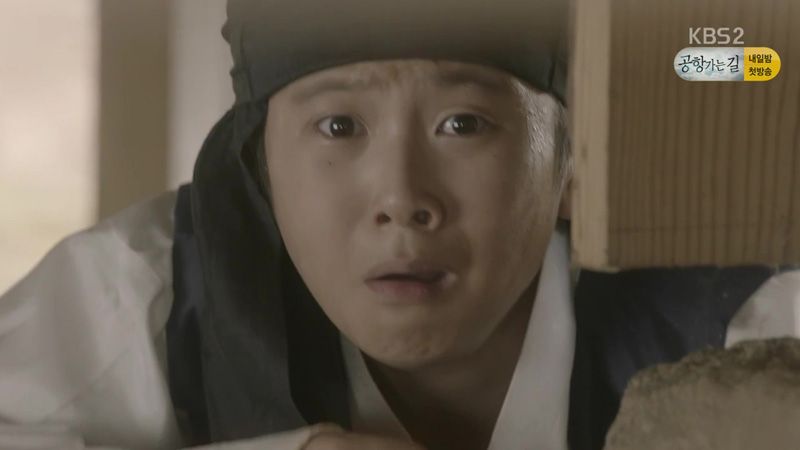 Afterward, as young Byung-yeon had been crying for his dead father, a man wearing a bamboo hat had come by to outstretch his hand.
Head Eunuch Han mulls over his suspicions, thinking to the time Ra-on had almost been sent off with the Chinese envoys, when he'd learned that she was orphaned in the revolt ten years ago.
Yeong argues on behalf of the grocer girl with this father, but the king insists that she's not too young to be involved in treasonous activities, and that her youth can be deceiving. Yeong says it's likely she did an errand for a few bites of food, pleading with the king to be lenient.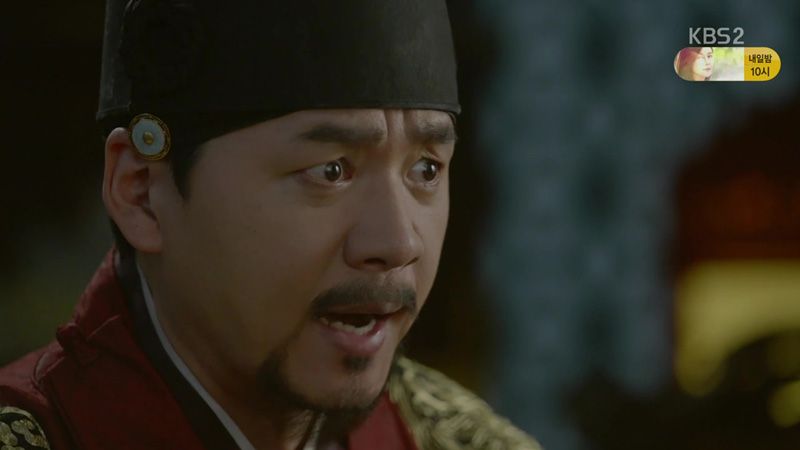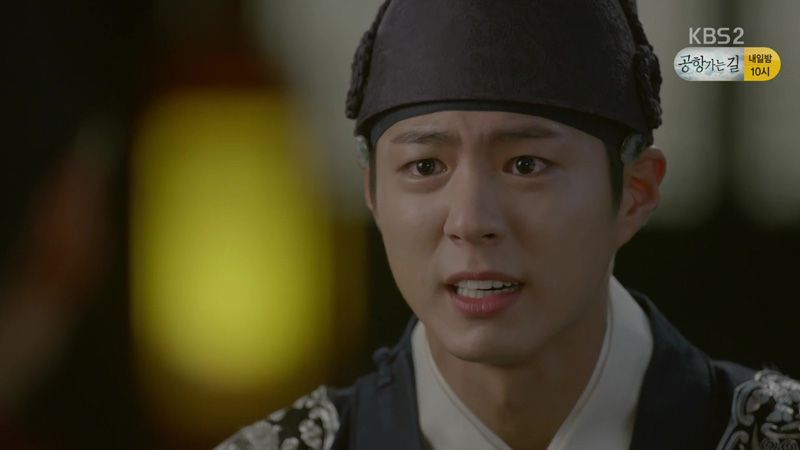 But the king is all the way on the other end of that spectrum and insists that they must make an example of her and deliver an especially harsh punishment.
That night, Yoon-sung broods over Ra-on's situation, and how he'd once wondered what it was that kept her at the palace despite its dangers. He waits outside the prince's quarters to speak with him, and explains that he wrestled with the dilemma of whether to approach him as a vassal with a request, or a friend declaring war. His choice will be contingent upon the prince's reaction, he says.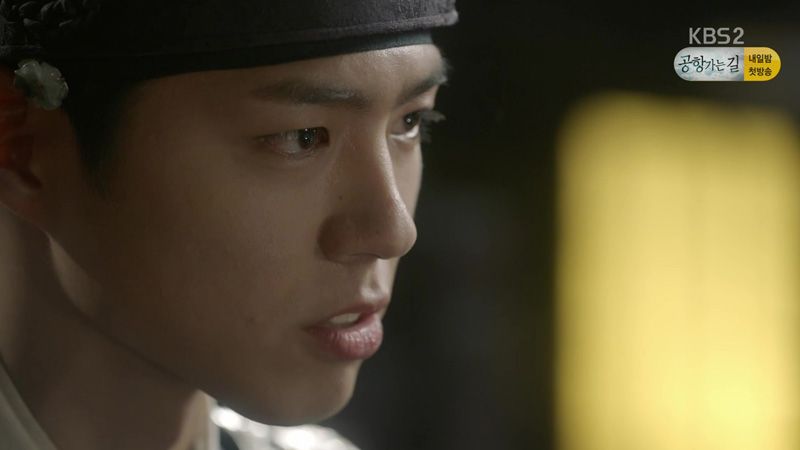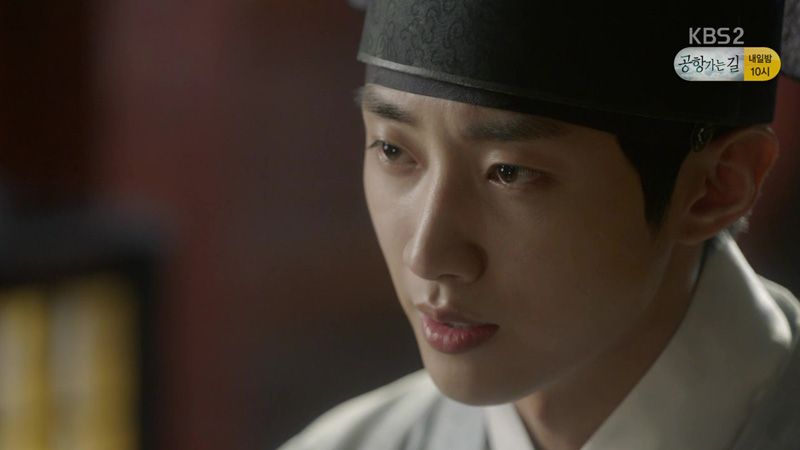 Yoon-sung mentions the prince's wedding plans, and says that there is one person who must watch everything but hide her pain in front of the prince. Yeong's eyes narrow and he asks what Yoon-sung is getting at.
"That is the person I love," Yoon-sung says. "I do not want to see that woman hurt because of your ambition. No, I will not just stand by and watch."
Byung-yeon is called in by his rebel leader, but the moment he arrives, he's ambushed by his fellow masked rebels, who knock him to his knees and draw their swords.
"Hong. Ra. On," his leader says. Oh shit. They know everything.
His leader asks why Byung-yeon didn't say anything, and whether he planned to hand her over to the prince instead, or the prime minister. Byung-yeon says no—it's just that Ra-on had lived a difficult life, and he wanted to keep her from experiencing the pain he'd felt.
He says that she knows nothing, and will be able to offer no information about her father. He asks, "Can you not leave her to live not knowing?"
In response, his leader grabs a sword and holds it to Byung-yeon's neck. He reminds Byung-yeon of the warning he'd given when he first sent him to the prince: to do as told, without thinking, and that acting on independent thought was a dangerous thing.
With a roar, the leader swings the sword at Byung-yeon's neck, and Byung-yeon doesn't so much as flinch. Just then, a voice calls out, "Stop!" It's the mysterious man in the bamboo hat.
Eunuch Jang delivers a letter from Teacher Dasan to the prince, and it conveys promising news: He has found a way to solve the prince's problem. Yeong's face breaks into a smile as he reads the instruction to arrange a meeting with Ra-on.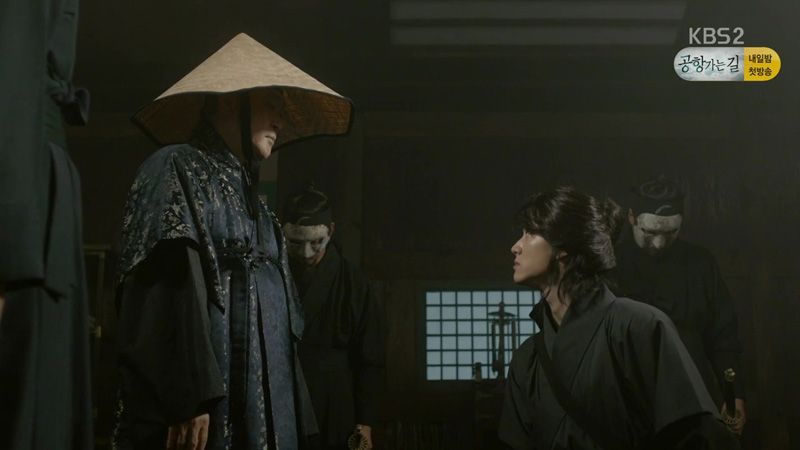 Bamboo Hat makes his way inside the room to join the rebels, and as he turns, we see his face. What, it's Head Eunuch Han?
Byung-yeon recognizes him too, but it's a shock for him to connect the dots: Eunuch Han had been the man who brought him to the rebels after his father had been killed, and is their current leader.
Eunuch Han tells Byung-yeon that he has been watching him, and announces that he will bring Hong Kyung-rae's daughter to the reunion of their rebel ranks.
Sitting outside her building, Ra-on lights up to see Yeong approach and greets him brightly. He asks if she's smiling because she's glad to see him, and she admits to feeling happy every time she meets his eye.
He smiles down at her for a long moment, then asks why she pretended not to know. "No," he amends, "why are you pretending that you're fine?"
She tells him not to struggle too much when it's a situation that has no solution. He asks if she intended to act like nothing was amiss, and then disappear into bubbles.
But while she seems resigned to things out of her control, Yeong hands her a letter and tells her he's found a way to keep her with him as a woman.
"I don't like the story you've told me," he says. "I will change that story. Those two lived happily together for a long, long time. Like us."
Ra-on brightens, and so does he.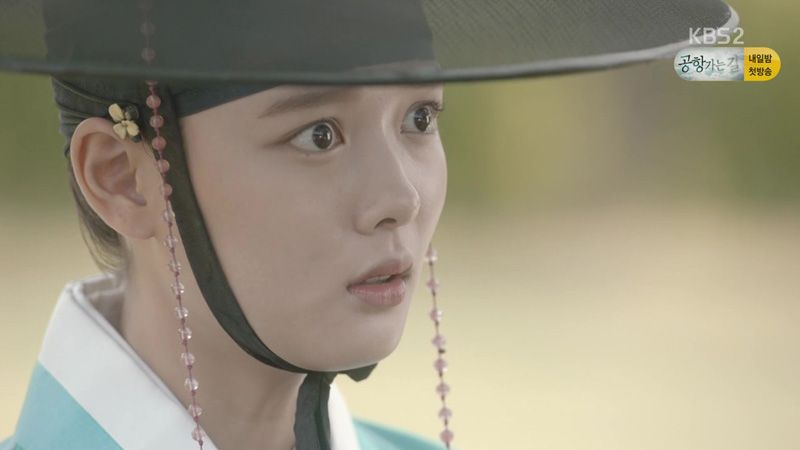 The next day, Ra-on waits at the gate for Yeong to take her to meet someone. She hears someone approach and looks up in anticipation, but her smile drops to see who it is.
It's Head Eunuch Han, and he says, "I have wandered for quite a long time searching for you." She doesn't understand, but he says, "I have something to tell you. Ra-on-ah."
Suddenly filled with alarm, she tenses and steps backward as he approaches her. Then Yeong's voice cuts in: "How did you know that name?"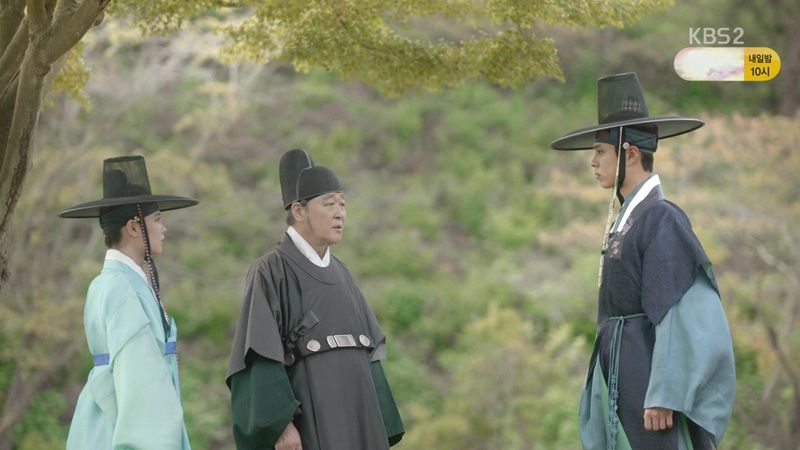 COMMENTS
You're gonna end right there? But what's the super-smart secret way to solve all their problems and let Ra-on be with the prince as a woman? Garg, you would make me wait a week to find that out! I've been getting so spoiled by the endings of this drama's recent episodes that it almost felt jarring to end on a traditional Dun-dun-dun! cliffhanger moment. I suppose I can't complain, since I did feel like the last few weeks were too good to be true, and I was basking in it while it lasted.
Now we're gearing up to let the backstory step to the forefront, and the timing feels about right, because now we're preparing to take on ever-bigger stakes and risks. The ending wasn't quite a cliffhanger in the sense that we knew all of that already, but it was a big moment in bringing together everybody's bits of knowledge and clarifying who knows what. I like that this show knows when to move forward, having milked a scenario for the optimum amount and leaving before sucking it disappointingly dry—I still want more cute eunuch moments and stolen romantic beats in the palace, but I suppose not at the expense of moving us onward.
I don't know if we're going to have Ra-on leave her position anytime soon, and perhaps we'll get to keep her as a eunuch for a bit longer, but it seems inevitable that her days there are numbered. I'm a little sad about that, because every one of their small, intimate interactions together gets me good, and I love the thrill of letting them have their stolen moments. I'm not sure I want to watch a Moonlight where they're separated for too long. Ahem. Got it, show?
Now that most of the main parties have figured out who Ra-on is, we'll be in a race to score her allegiance—will she join the egalitarian rebel cause her father spearheaded, or will she protect the man she loves? Will there be a way to do both without betraying the other, since they are almost fundamentally at odds, pitting the royalty versus revolution? There's no question that she'd steer clear of the Kims once they figure it out—which can only be a matter of time now—but that doesn't mean they won't try to use her for their means anyway, so now she becomes pivotal to the story in a new way, which I'm looking forward to seeing unfold.
I did love that Byung-yeon didn't betray the prince, even if it endangered his standing within his organization, even if he wasn't quite ready to choose Yeong over the rebels either. And I found it touching that his argument was for Ra-on's own happiness; that they didn't really need her, so there wasn't the need to open her eyes to a painful truth when she could be happy otherwise. His backstory was a nice way to tie their plights together, and I appreciated that he would spare her that pain.
I liked the incorporation of the Little Mermaid fairy tale, despite it being rather an overused reference in K-dramas. I suppose it speaks to dramas' love of the kind of romantic melodrama that breaks your heart, even if you're left with a sad puddle at the end; there's something noble in the mermaid's sacrifice, where she would carry the pain on her own to protect her prince. Aw, there's even a mirror in Byung-yeon's actions if you look at it like that (from Gat Byung-yeon to Mermaid Byung-yeon?), where sometimes knowledge is a sacrifice of happiness. I don't think that was necessarily an intentional mirroring, but it's nice that it works anyway, because it means the metaphor runs deeper than pure surface. Moreover, I like that it put a twist on the title of the episode ("Like a fairy tale"), which evokes images of satisfying romance and happily ever after; what we get is a bit more complex than that.
It was a bittersweet moment when Yeong made the connection of the mermaid's plight to his own circumstance—I actually preferred that he saw it first, before Ra-on did, because it makes it more poignant to have the prince in the story recognize the truth. It's the thing we're denied in the traditional Little Mermaid story, which makes the mermaid extra sacrificial: that her tragedy did not even go appreciated by the author of it. But it reinforces that Yeong is no typical storybook hero, and gives us the satisfaction of having a hero declare that he won't accept the ending as written, and would take control of his own story. Their narrative might resemble the bare bones of that sad fairy tale, but he's determined to not let it be like that in any other way, and how can you not root for a hero who refuses to let fate jerk him around? He's always been able to outsmart his adversaries and find his own solutions, and I can't wait to see how he rises to this challenge.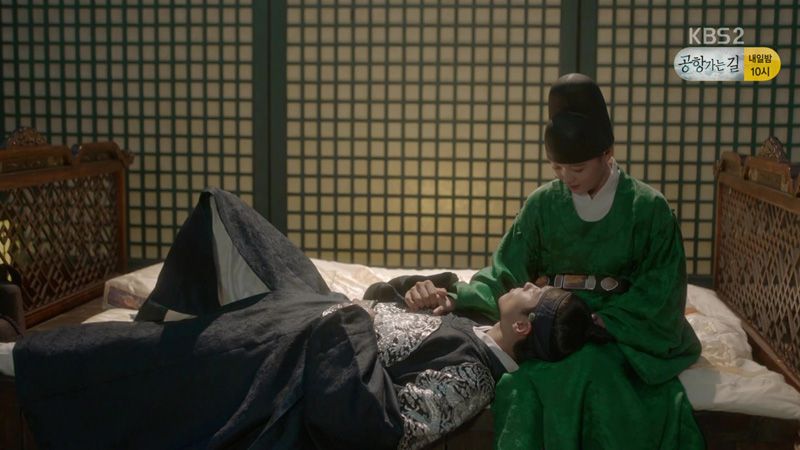 RELATED POSTS
Tags: Episode 10, featured, Jinyoung, Kim Yoo-jung, Moonlight Drawn By Clouds, Park Bo-gum