Moonlight Drawn By Clouds: Episode 11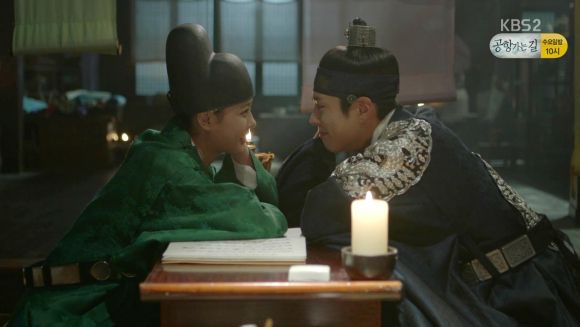 I was half afraid for this week to roll around for Moonlight Drawn By Clouds, because it felt like we'd been happy for so long that doom was just around the corner. But I'm pleased to report that as of today's episode, my heart is still intact and beating just fine, if a little pinched at the poignant moments today brings us. The emotions are a bit more subdued in this episode, but not in a bad way; I love this kind of sweet, heartfelt storytelling where love is about so much more than pure romance.

EPISODE 11: "Promise"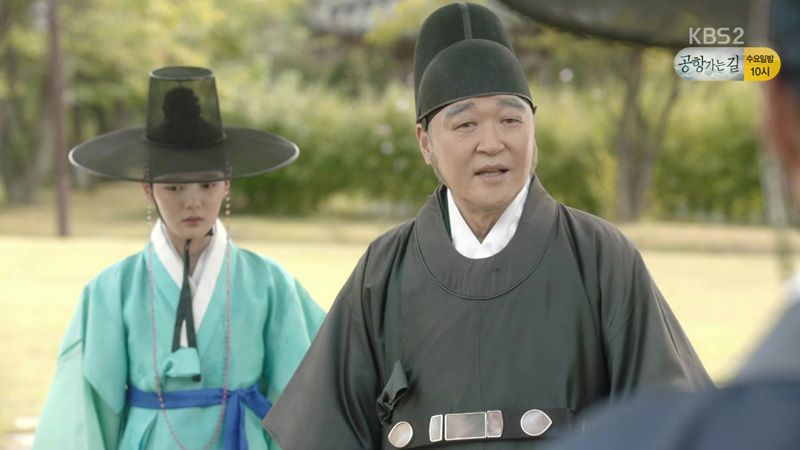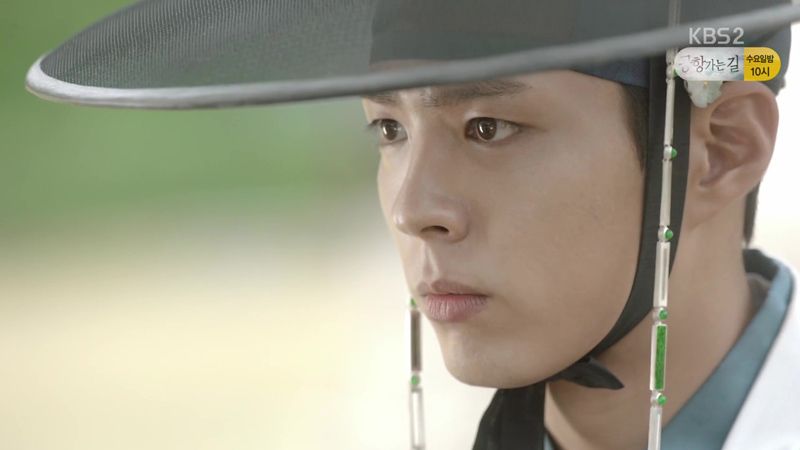 Head Eunuch Han says that he has been looking for Ra-on for a long time, and Yeong arrives in time to hear this and ask how the eunuch knew her name.
There's a long moment as everyone takes in this information. Then, Eunuch Han explains that he knew Ra-on as a child, although she doesn't remember it now.
The men sit down for a private talk, and Eunuch Han explains that he owes a great debt to Ra-on's mother. He had looked after her closely for a time, but lost contact after a sudden separation.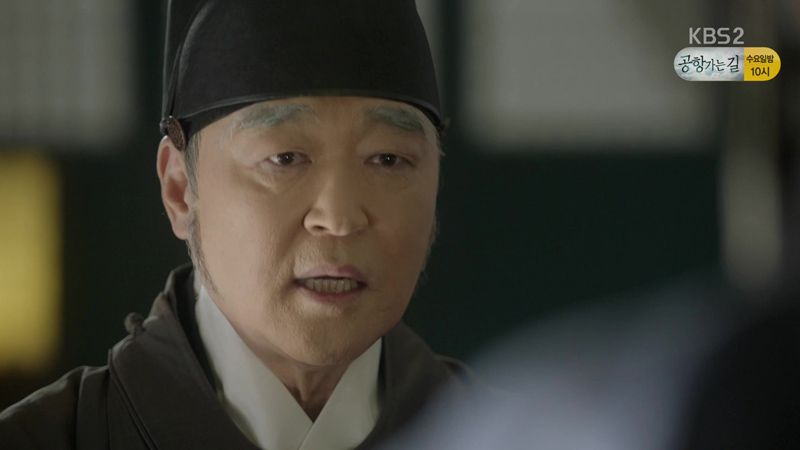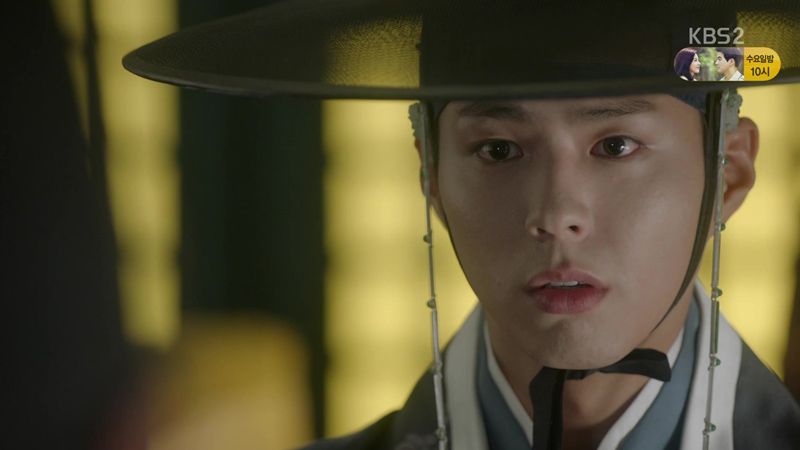 Both men tread carefully, wary of saying too much but feeling that they know what the other person knows. Yeong asks if Eunuch Han "already knows too." Eunuch Han replies, "That [she] is unable to be a eunuch?" That's confirmation enough.
Yeong says that the eunuch now has the opportunity to repay his debt, and requests that he take good care of Ra-on as the head of the eunuch department. Eunuch Han agrees to do so.
Ra-on tries to ask Eunuch Han about the meeting the minute he steps outside, but he advises her to hold her questions until he seeks her out separately. For now, she's left to wonder.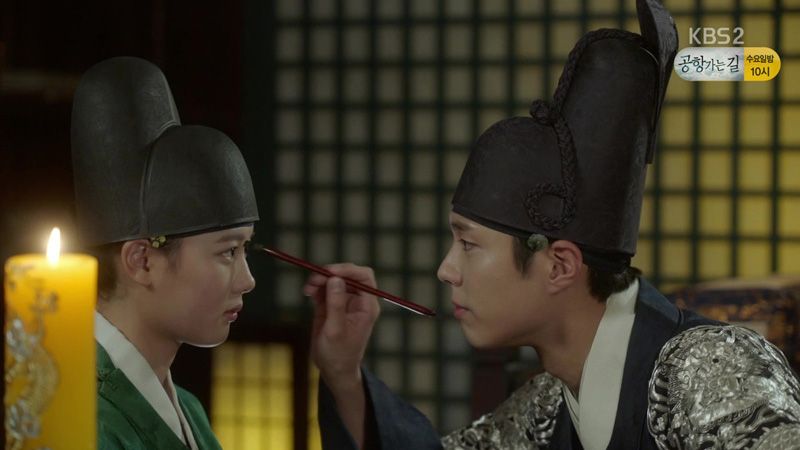 Later that evening, Yeong tells Ra-on that he will reschedule their meeting with Teacher Dasan. She asks what kind of man he is, and Yeong replies that Teacher Dasan is a good person to learn things from, "except for one thing—his drinking habits." Hearing that Teacher Dasan goes around talking to animals when drunk, Ra-on fondly recalls that her grandfather used to do similar things.
Yeong's gaze softens as he calls Ra-on's name softly, then leans in close, holding her stare. Then he playfully taps her with his brush, dotting her forehead with ink, and giggles to himself.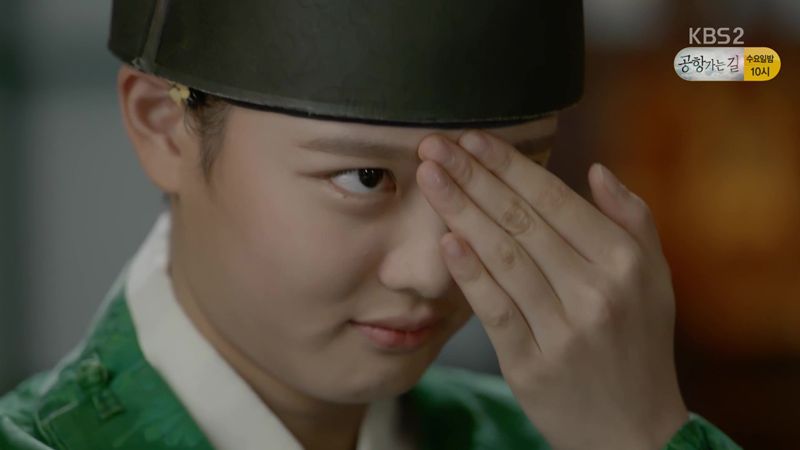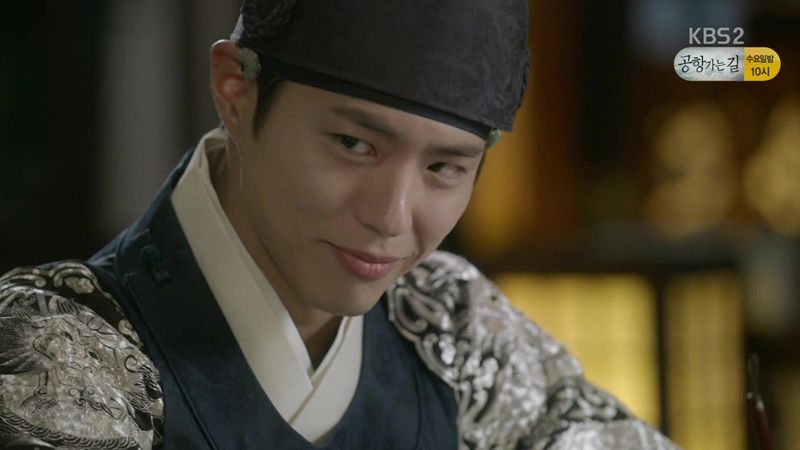 Ra-on doesn't laugh, though, and his smile fades. Yeong replies more seriously, "It is my heart." Ra-on asks what he means by that, and he replies that he "had his eye on her" a long time ago—a pun on the phrase that sounds like "paint a dot." Yeong smiles, looking proud of his wordplay, and I'm pretty sure the camera cuts out just before Ra-on gives an eyeroll.
Now that Byung-yeon also knows that Head Eunuch Han is part of the rebel cause, he asks if he'd hidden his identity in order to punish those who betrayed them. Eunuch Han says that he's never worried about Byung-yeon, because Byung-yeon knows too well who destroyed his family.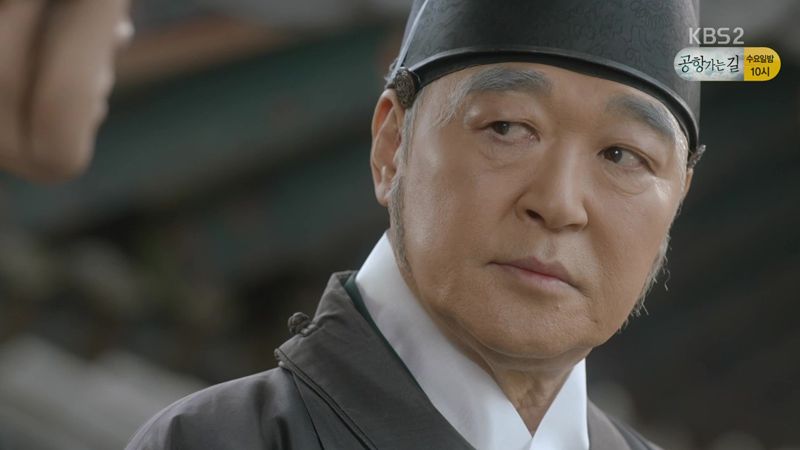 Eunuch Han adds that he has served three kings, and that the moment they ascended to the throne, what started out with small expectations ended in frustration and despair. "There is no more hope for a Joseon ruled by the Yi family," he says.
Byung-yeon asks what their secret society will do to ensure a new hope for the future. Is it another uprising? Head Eunuch Han replies that an uprising is merely one means: "How can a riot give hope?" Well, I sure hope that means you have a better idea, Mr. Cryptic Smartypants.
Eunuch Han asks if Ra-on truly remembers nothing of the last rebellion ten years ago, and Byung-yeon confirms it.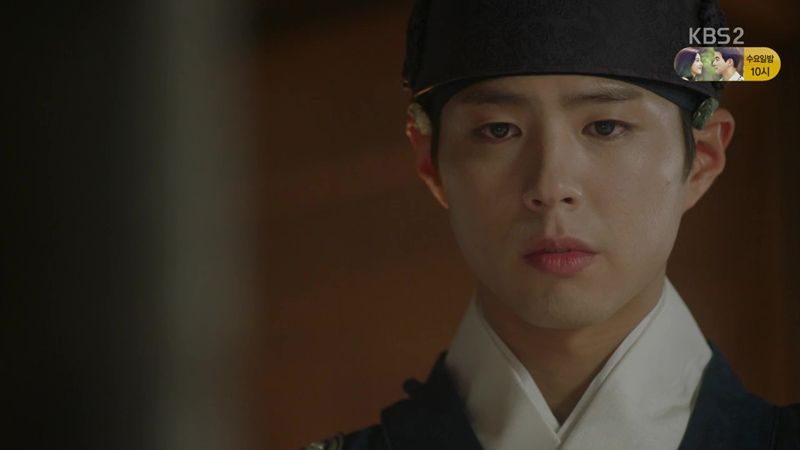 Yeong visits the little grocer girl in her jail cell, watching her cry with a heavy heart. He recalls how she had spoken of the king with hope, as someone who would care for his people's sufferings. Despite being burdened by her plight, however, he can't do much to help her.
At court, the ministers propose a harsh interrogation of the girl to get some answers about her supposed rebel activities. When Yeong protests the cruel punishment, the ministers counter that her crime is grave enough to merit a death penalty. Yeong demands that proof be submitted of her alleged spying, but the minister replies that interrogation (read: torture) will provide that evidence.
Yeong declares angrily, "If it is true that a ten-year-old child has learned to be a spy before learning to read, then the people who deserve stern rebukes are myself and you all." He orders the girl released, and this time, they concede.
The king's meal taster discovers that the food she is about to eat turns the silver chopsticks dark—a sign of poison. This throws the court into an uproar, and officers search the palace top to bottom for clues, which turns up one man who'd been noted a suspicious entrant to the palace. And who should it be but the father of that grocer girl.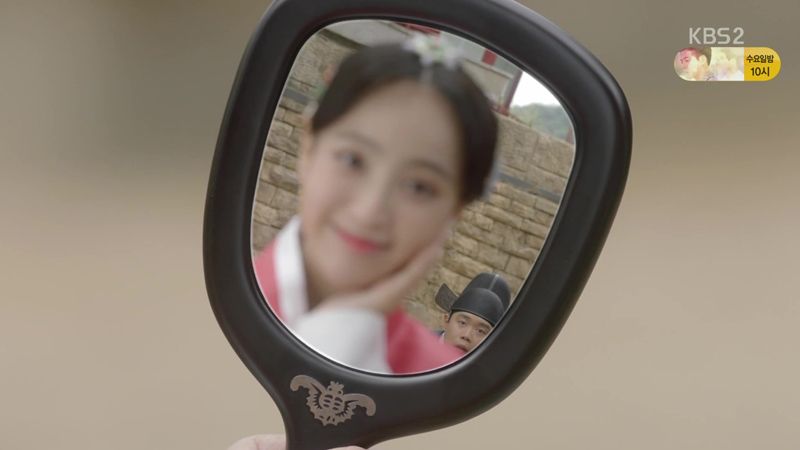 Still-lovesick Young Master Jung lurks around for a glimpse of Princess Myeongeun, ducking out of sight and trailing like a heartbroken puppy. The princess ignores her court lady's urging to eat—she's determined to maintain her newly trim figure—and heads out for a walk.
She pauses to look at herself in a mirror, and only then glimpses Young Master Jung in the background. She catches him following in her tracks and confronts him about it, and Young Master Jung is so nervous and incoherent that it just makes her assume the worst.
The princess takes him for a creeper and yells for help, then trips while backing away. Young Master Jung lurches forward to catch her, grabbing her closely to himself… before his knees then give out and he goes falling backward. Ha, romantic gesture fail.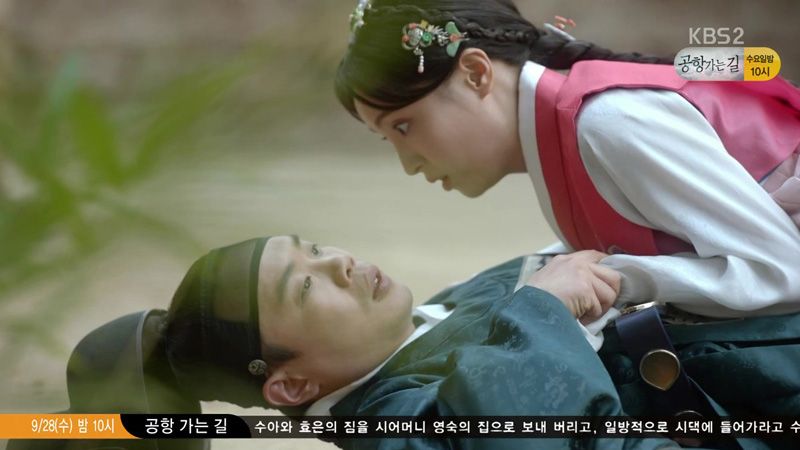 Princess Myeongeun lands right on top of him, then slaps him in outrage. He asks if she's okay, and she slaps him again. But he just asks yet again if she's okay, and it confuses her into stopping the slaps; she leaves him with a warning not to lurk around anymore.
It's only after she's gone that he opens the box he'd been carrying, containing the princess's favorite sweets.
The Ministers Kim inform Yeong (I'm sure with relish) that the culprit in the poisoning attempt must be the girl who was released on the prince's orders. Both the father and daughter have suspiciously fled, and the ministers pressure Yeong to order them captured and executed.
All of the eunuchs' quarters are searched, including Ra-on's, and that turns up a woman's hanbok. While proof of nothing on its own, it's odd enough to raise suspicions.
The grocer father and daughter are caught in no time, and Prime Minister Kim uses this opportunity to pressure the king to hasten the prince's marriage, arguing that it will stabilize restless public sentiment. The king is reluctant to force the issue, saying that Yeong has no desire to marry now, but the prime minister asks pointedly, "Has following the prince's wishes ever resulted in proper results?" Would we even know, master of sabotage?
The prime minister states that he will begin the bride selection process, and assures the king that he will alleviate his troubles.
That evening, Yeong thinks back to the advice his mother once gave him, when he had asked what kind of king she wanted him to become. She had told him to be a king with keen sight who was not deaf, so that he would not ignore the plight of those in lowly positions.
Moreover, she had urged him to treat every one of his citizens as though they were his only one. She had taken Yeong's hand and asked, "Will you promise your mother that you will become this kind of king?"
Now as he lays his head wearily on his arm, he asks Ra-on, "Is what our eyes see the truth? Whose words should be trusted? What happens if what I believed to be right is wrong? When everything is difficult, what should I do?"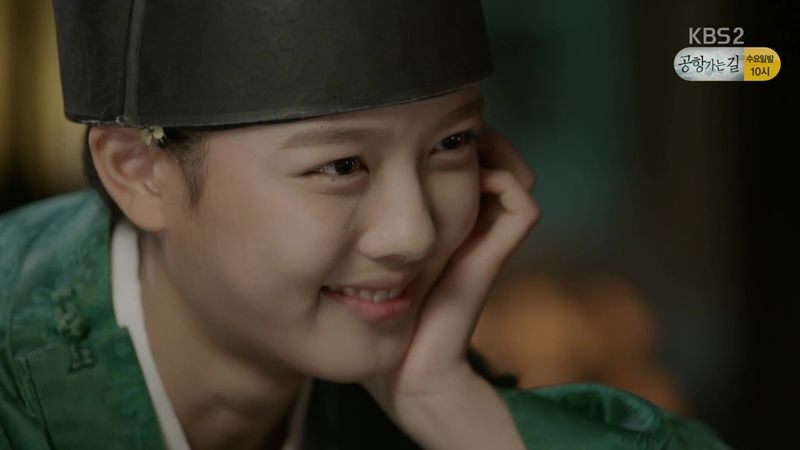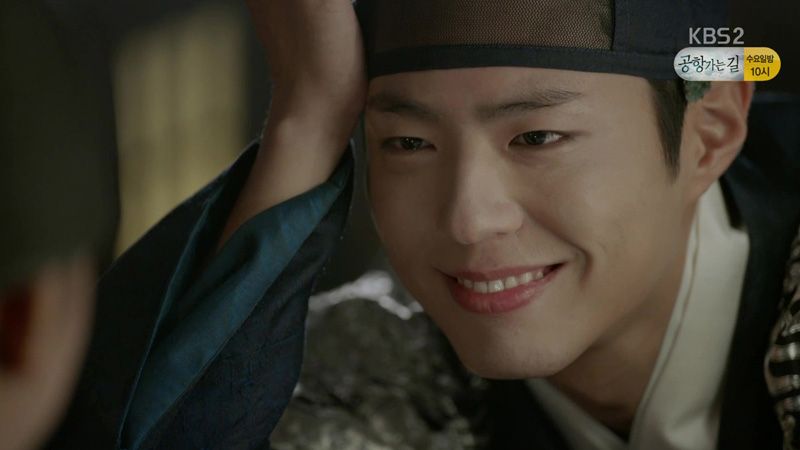 Ra-on shares something her grandfather used to say: that a sad heart leads you to doubt everything. He repeats the words, then smiles at her: "Then, I need you."
He asks her to ease his doubts with her joy. Ra-on beams warmly at him, resting her face on her hand, just inches away from him. They sit there for a minute, staring at each other lovingly.
She asks if that worked, and he replies yes, that it has filled him with joy (ra-on).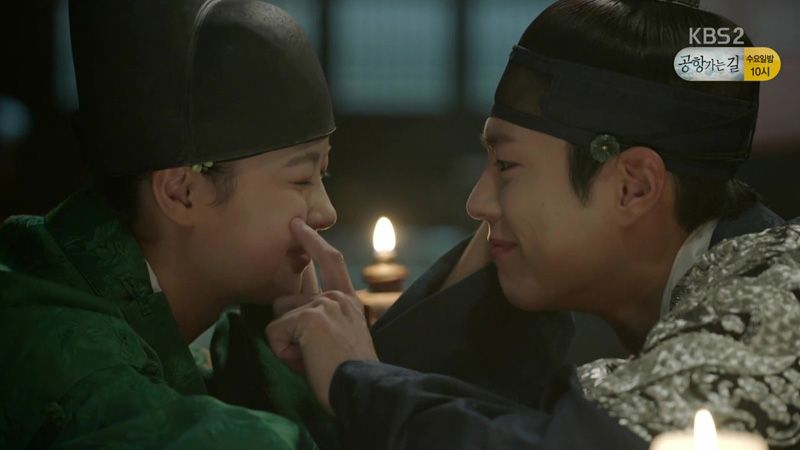 Prime Minister Kim meets with Ha-yeon's father, Minister Jo, to revisit the issue of their children's marriage. Minister Jo looks both relieved and apologetic to realize that the prime minister already knows that the king spoke to him secretly about marrying Ha-yeon to the prince. Then he looks distinctly queasy at the prime minister's confidence that Ha-yeon will marry Yoon-sung as initially planned.
Prime Minister Kim declares that the bride selection will yield a princess from the Kim clan, and gives Minister Jo the choice to either take his hand, or to find his own power cut off.
Eunuch Sung takes the lady's hanbok found in Ra-on's things to the queen, who tries to figure out what it means. She can't quite believe a eunuch could actually be a woman, but decides she will have to confirm her suspicions directly. Eunuch Sung suggests that the prince won't like that, but the queen seems to relish the idea of his reaction.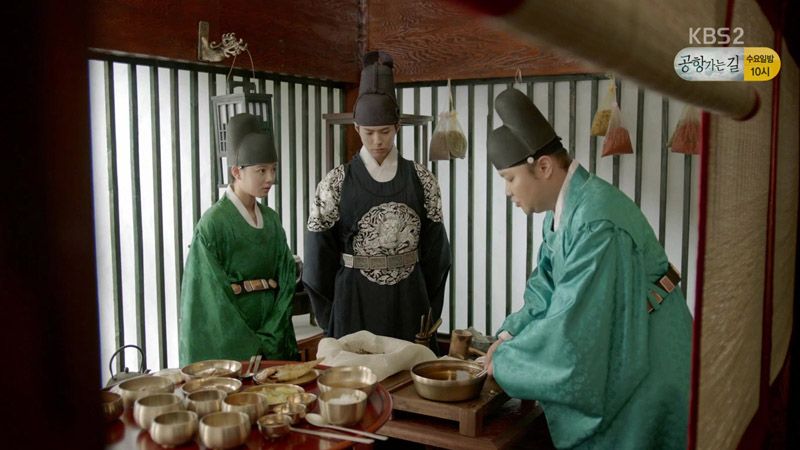 The issue of the poison weighs on Ra-on's mind, and she asks Do Ki for information, as he has learned a little about poisons. Ra-on finds it curious that the tainted food was fed to animals, and none of them died.
Do Ki tests the tainted silverware with specially prepared water, then demonstrates to Ra-on and Yeong how the dirt wipes off—something that doesn't happen with poison. It's unclear what caused the color to darken in the first place, but finding that out will be their next task.
Yeong heads out into the city to visit the healer, and as he walks into the yard, a woman walks out—wait, Ra-on's mother is still alive? He looks curiously at her as she passes by, but Yeong can't know what Ra-on's mother looks like.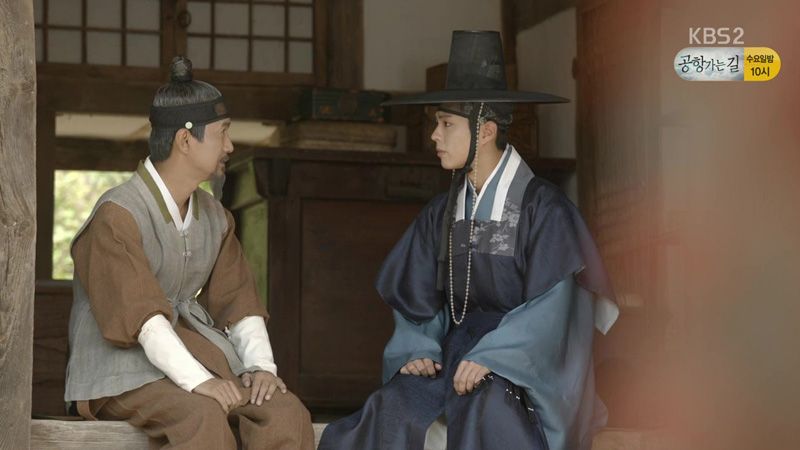 Ah, so Teacher Dasan is currently serving as neighborhood healer. Yeong asks him again to return to government service, and when Dasan points out that the palace already employs many qualified doctors, Yeong clarifies that he doesn't mean in a medical capacity. He needs help saving a wrongly accused girl, and reminds Teacher Dasan of his words to never give up on a single citizen.
Ra-on is brought before the sneering queen, who shows her the hanbok discovered in her quarters. The queen declares that she will confirm her doubts with her own eyes and orders Ra-on stripped.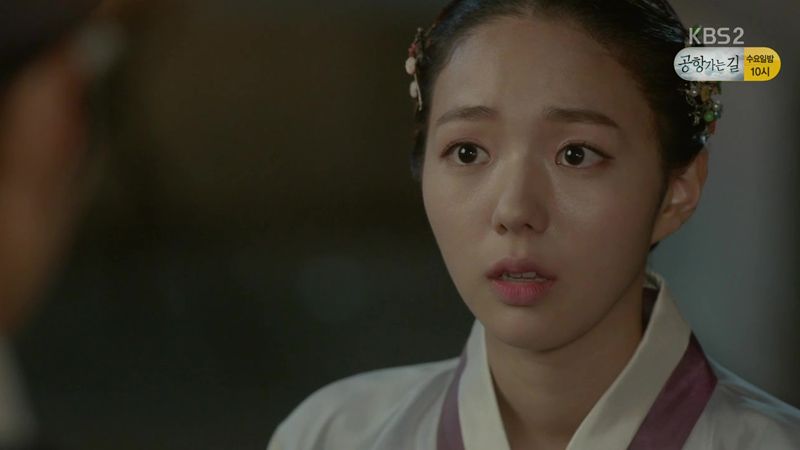 Ha-yeon comes upon Yeong in the courtyard, and asks if he's out for some fresh air. He notes that she has become increasingly fearless, which she takes as an admonition. She apologizes for her rudeness, but Yeong clarifies that he meant she's fearless for walking around alone at night.
Ha-yeon asks hesitantly if he disliked her at the outset because she was too forward about her feelings. Yeong replies that there's a woman in his heart, and that it's not her fault.
Ha-yeon's heart sinks, and she asks what kind of woman it is. But before he can reply, Eunuch Jang comes running in and gasps out something about Ra-on and the queen's palace. Yeong heads out immediately.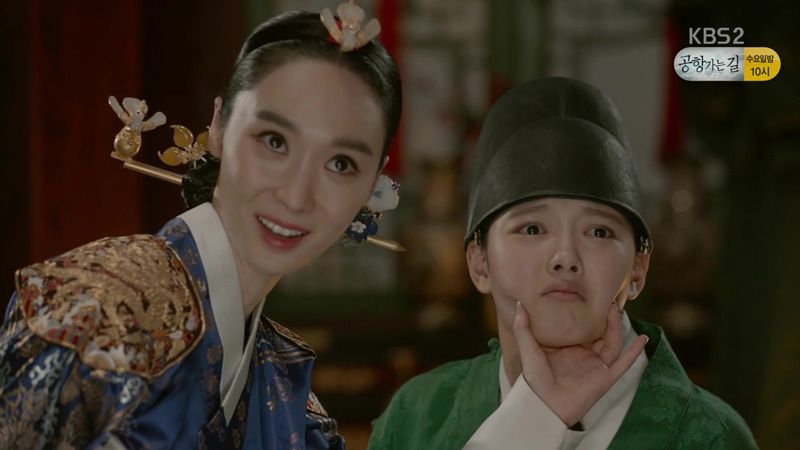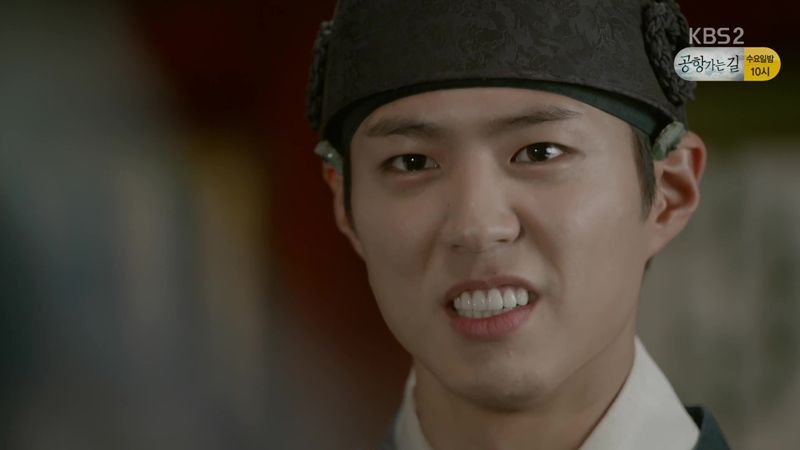 Thankfully, when Yeong arrives, Ra-on is still clothed and her secret intact. For now.
The queen kneels to look at Ra-on's face closely, cooing how much of a shame it is to waste such a beautiful face on a man. At that, Yeong's eyes sharpen and he orders the queen to take her hands off Ra-on.
The queen presents him with the hanbok found in Ra-on's room. She explains that with all of the rumors and suspicions swirling around the prince lately, she thought to address them here, before witnesses, to clear them up once and for all. How thoughtful of her.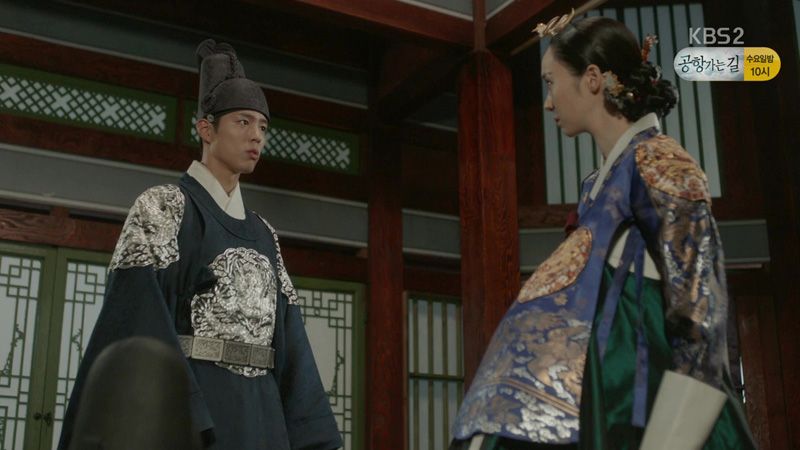 Without betraying any emotion, Yeong tells her to go ahead. The queen presses Ra-on to answer to why she has the hanbok, or to remove her clothing and prove herself. Ra-on struggles to find something to say, unable to defend herself.
Then Yeong orders Ra-on harshly to do as the queen commands—shocking everyone, including the queen herself. He next turns his scorn on the queen for going to such lengths over one eunuch, toying with everyone at court over rumors. "So let us reveal now who is right," he states. "And if there is any mistake, I will demand that the utmost responsibility be taken."
So now we're playing chicken with his bluff, and while the queen looks a little unnerved at Yeong's conviction, she orders Ra-on to obey. Not bothering to wait, she starts to claw at Ra-on's robe with her own hands, and Yeong has to stand by and watch.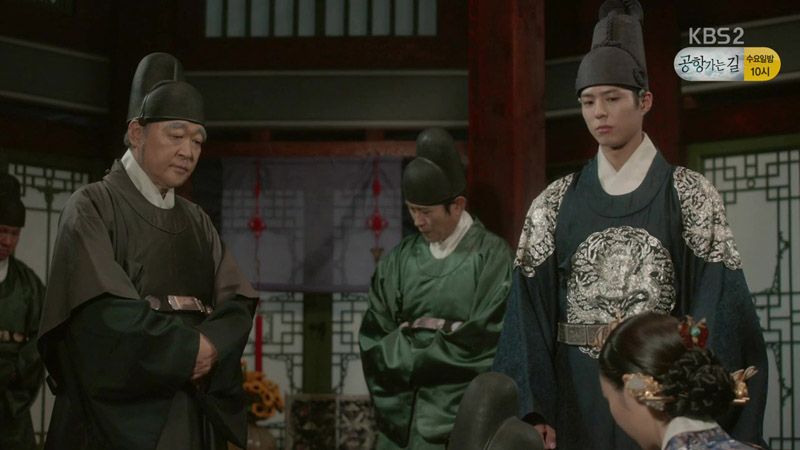 But then, a new visitor is announced: the king's head eunuch. He tells the queen that it is no difficult task to strip one eunuch of his clothing, but requests that she confirm the situation in a manner that preserves the dignity of the eunuch position.
He reminds the queen that Ra-on passed the eunuch department's examination, and that Eunuch Sung personally oversaw the re-examination. That puts Eunuch Sung on the spot (since we know he skipped out and let Eunuch Ma take over), and he has to agree.
Head Eunuch Han then makes the argument for her own modesty, saying that it would be less than decorous for the mother of the nation and a pregnant queen to look upon a bare-nekkid man. What would happen if the king were to hear about this?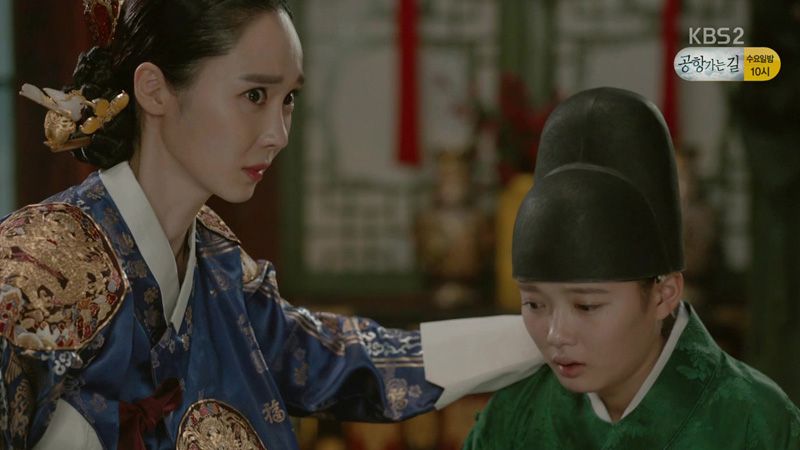 Now Yeong plays devil's advocate, asking Eunuch Han to leave them be, since both he and the queen are the type who cannot let doubts go unaddressed. He presses the queen to continue and put these suspicions to rest.
But now, the queen is beset with concerns for herself, and self-preservation wins out. She lets go of Ra-on and orders her taken away. Phew, safe for another day, although that was quite the risky gamble Yeong took. If the queen had been the least bit stupider or smarter, we'd have been screwed.
Later at Ra-on's quarters, Yeong sits at her bedside while Ra-on sleeps. Byung-yeon arrives and asks if something happened. Yeong replies, "I am only trying to keep a precious person next to me. Why do regretful things keep happening?"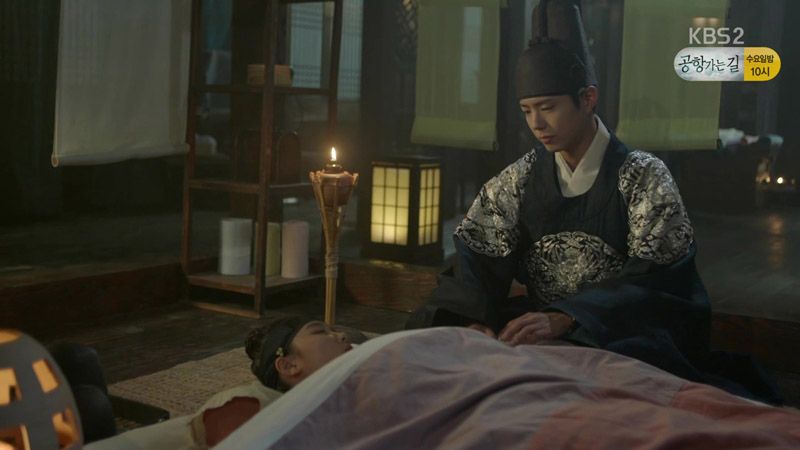 Byung-yeon doesn't know what to say, but Yeong just says he's thankful to his friend, which seems to throw Byung-yeon into another bout of guilt.
He calls Yoon-sung for a drink, which is unusual enough to make Yoon-sung wonder why. Byung-yeon replies that felt nostalgic, and also that he felt Yoon-sung would be in a similar mood.
Yoon-sung asks after Ra-on, having heard of the incident with the queen. Byung-yeon says she's fine, "Because the prince is with [her]."
Yoon-sung says that when they were younger, he wanted to be the prince's most reliable friend, but at some point he became an uncomfortable presence. "And for the first time," Yoon-sung says, "I found a woman I wanted to keep at my side—"
"Don't say it," Byung-yeon interrupts. "Just keep it in your heart."
But Yoon-sung overrides that warning, saying that he won't keep things inside anymore: "This is the first time I've wanted something this much."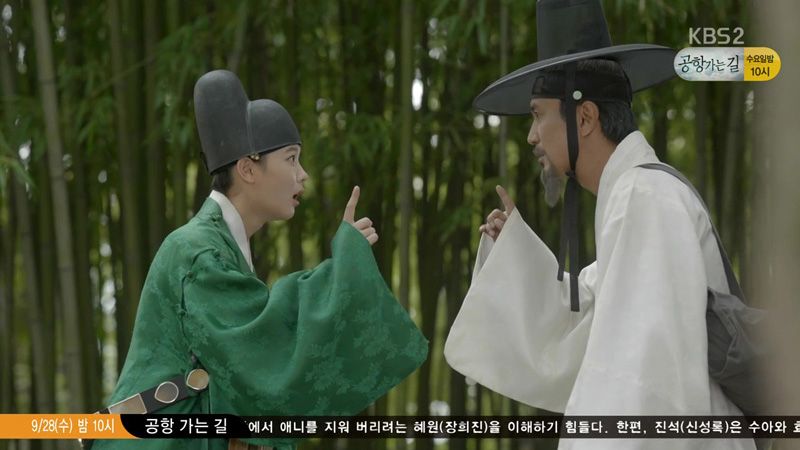 The next day, Teacher Dasan makes his way to the palace, and pauses to ask a passing eunuch for directions. The second he sees Ra-on's face, his eyes widen in recognition—and then, Ra-on's eyes widen too. They circle each other warily, studying each other's faces, and declare simultaneously, "Grandfather?" "Ra-on-ie?"
She hushes him before anyone can hear him call her by name, and tells him she goes by Sam-nom here. He's naturally curious to know how she came to be a eunuch, but she tells him that's a long story, and then they hug warmly. Teacher Dasan marvels at their reunion after so many years, and Ra-on recites his own words, that people who are destined to meet will meet somehow.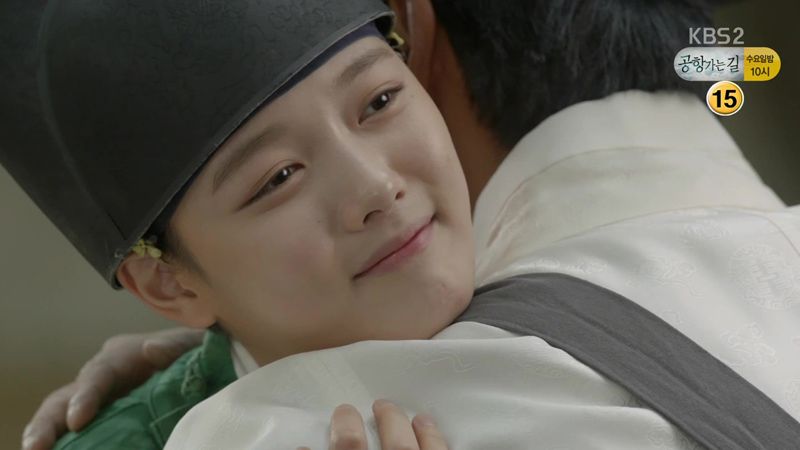 Teacher Dasan thinks back ten years, to when soldiers had shown up at his door looking for the rebel leader's wife and daughter. He had managed to harbor them in his home safely then, at least for a time.
And then, Yeong shows up and asks curiously how these two know each other. Ha, always one step late to the party, aren't you? They all stand there a moment, putting the pieces together, and Ra-on realizes, "Then… Grandfather is Dasan…?"
Yeong gapes. "Grandfather?"
Teacher Dasan is brought in to inspect the food served to the king, and he picks out one dish as the culprit: an herb whose sulfurous content turned the silver dark. He eats some to demonstrate that it's safe, then wonders why all of the royal doctors kept their mouths shut—they should all have been aware of its properties. Why let the situation turn so dire?
From the look on his face, it seems Yeong has an idea why. And just in case we weren't a hundred percent sure of the culprit, the Ministers Kim crow to themselves that the prince will probably be quaking in his boots, because no doctor would dare flout the prime minister's orders and inform him of the truth. They figure that the prince should soon realize that nobody in the palace is on his side.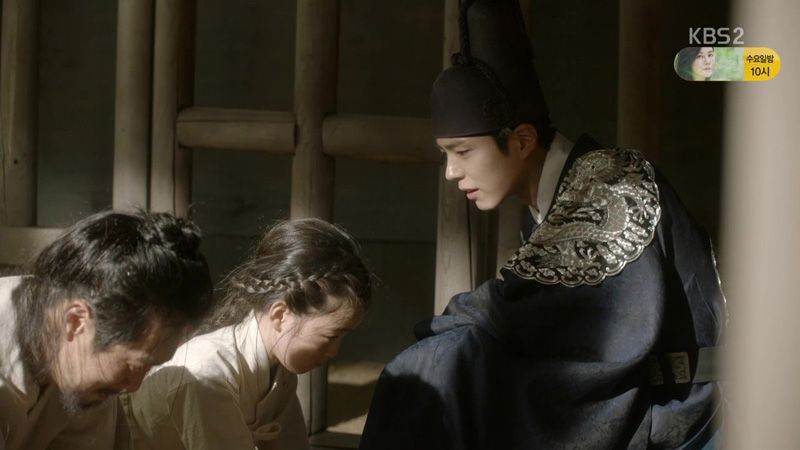 But they're one step behind, because this discovery enables Yeong to release the grocer and his daughter from prison. He goes to see them, and the father immediately recognizes him as the prince and drops to his knees in gratitude. The girl recognizes him from the lantern festival and only now is told that Yeong is the prince.
Yeong apologizes for the trials she's suffered, and she asks if her wish to see the king has come true. He says yes: "You have not forgotten what you wanted to ask the king, have you? Be sure to watch and see if I am making a good nation."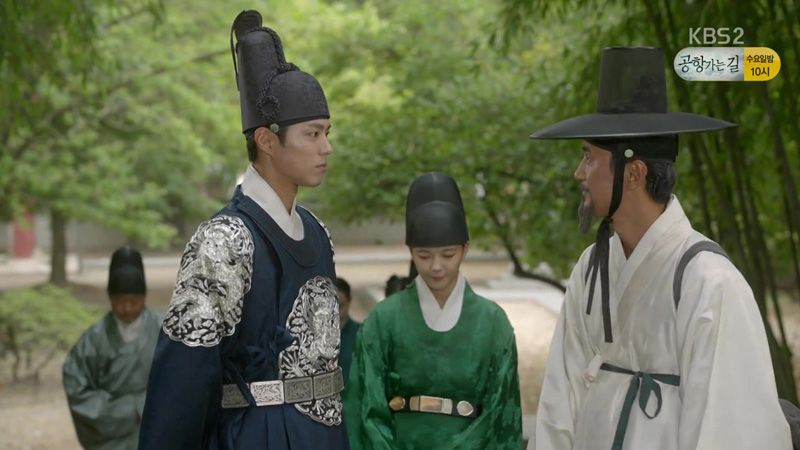 Yeong and Ra-on walk Teacher Dasan out to the palace gate, and Yeong thanks him for his help and asks when he will give him his answer (about returning to service). Teacher Dasan deflects once more, saying merely that he's an old man who couldn't possibly be much help, and turns to go.
Ra-on stops him to ask if Teacher Dasan has heard from her mother. We know he must be aware she's alive, but he merely replies that he'll hope to deliver better news next time.
The king informs Yeong of his intention to proceed with the marriage, and Yeong protests once more, saying that he doesn't wish to enter an unwanted marriage. His father understands that feeling, and says that he has not lived one day without fear or confusion since ascending to the throne at the age of ten.
He likens the feeling to walking against a rough current: "I had felt certain that I had taken ten steps, but found that I was only standing in the same spot, moving my legs in place. In order to go from the current to a safe place, must I not at least grab on to a tree branch?" He tells Yeong to marry Ha-yeon.
Ra-on straightens books in the library, thinking of Eunuch Jang's words about how nice it would be for the prince to marry into a strong family and gain supporters. Yeong finds her there, whispering into her ear, and asks what thoughts have her so preoccupied.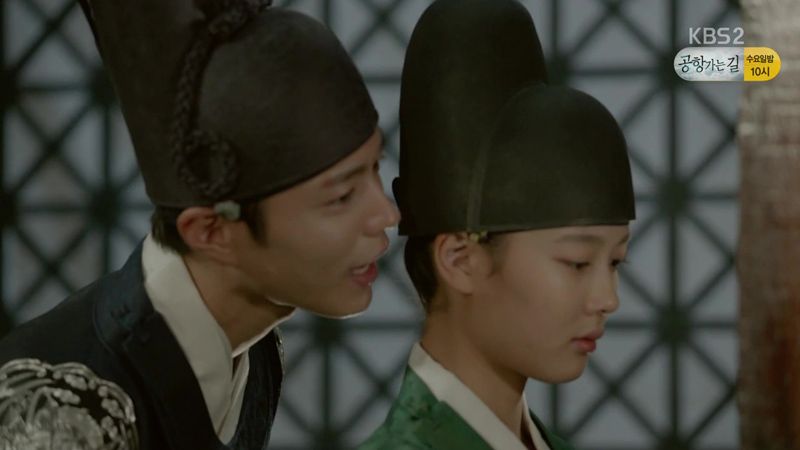 Ra-on asks him to accompany her to her quarters, and he happily complies, walking with her to her building… then back to his, then back to hers again. He teases her about being loath to part ways, and she tells him these days, she is happiest when he calls her name.
Yeong replies that he's happiest then, too—to call her name, and have her there in front of him. She tells him she won't wish for anything more, but Yeong disagrees, saying that he will aspire for even more: "When you like someone, is it not natural to be greedy for more?"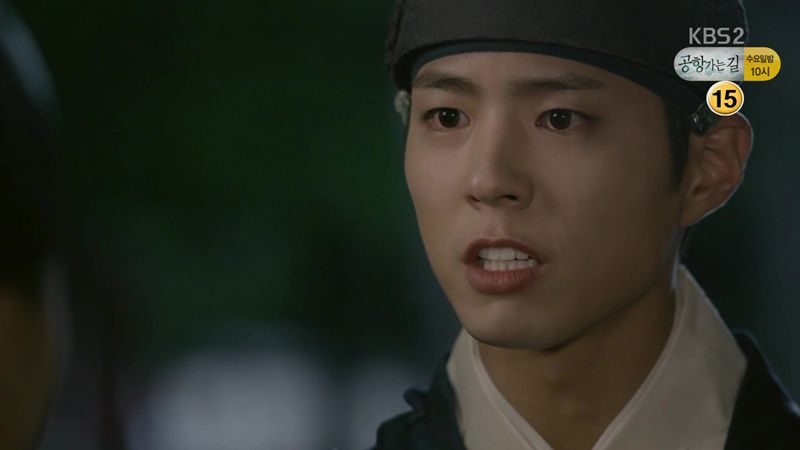 Ra-on agrees with a smile, replying, "I am already your person, so do that." However, she adds that she doesn't want him doing dangerous things for her: "Just because I cannot be by your side as a woman, my love will not disappear. So…"
He cuts her off, catching her drift and wanting her to stop. Ra-on continues, "Please do not refuse your marriage anymore."
It upsets him so much that he storms off, while Ra-on does her best to choke down her tears.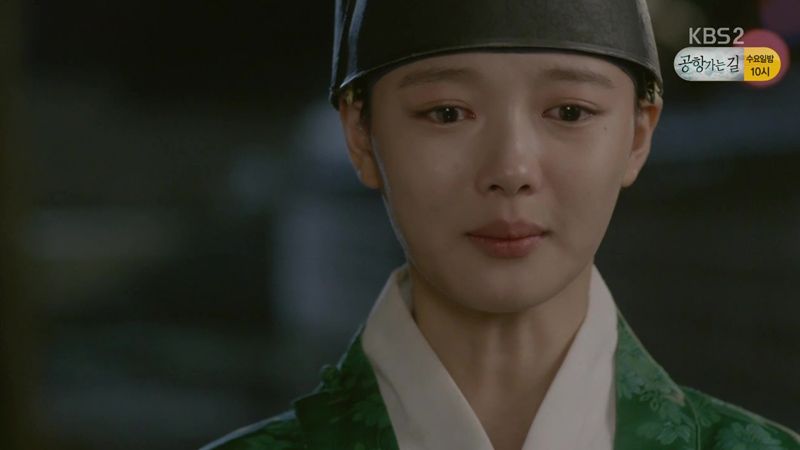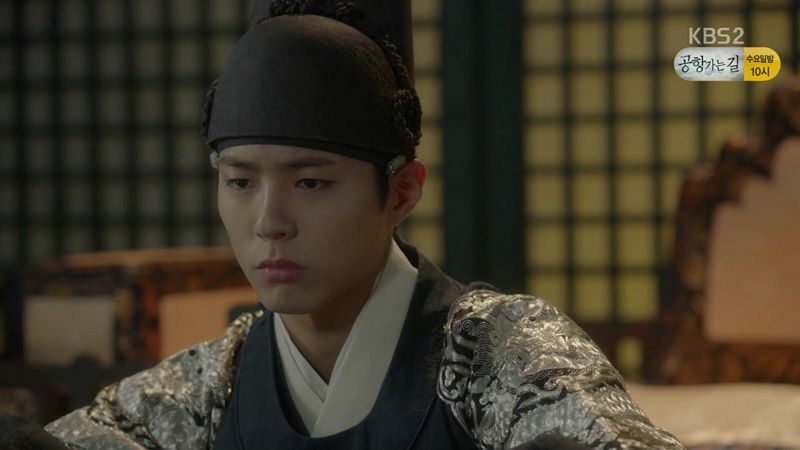 Yeong mulls over the conversation he had earlier with Teacher Dasan, where he had confided that Ra-on was the woman he had wanted to be with. Teacher Dasan had asked why he would go to such lengths over a mere eunuch. Yeong had replied that she was his beloved, who just happened to be in the guise of a eunuch.
Yeong had asked for his help overcoming their status difference and their crossed fates. But Teacher Dasan had told him, "The person she needs is not you."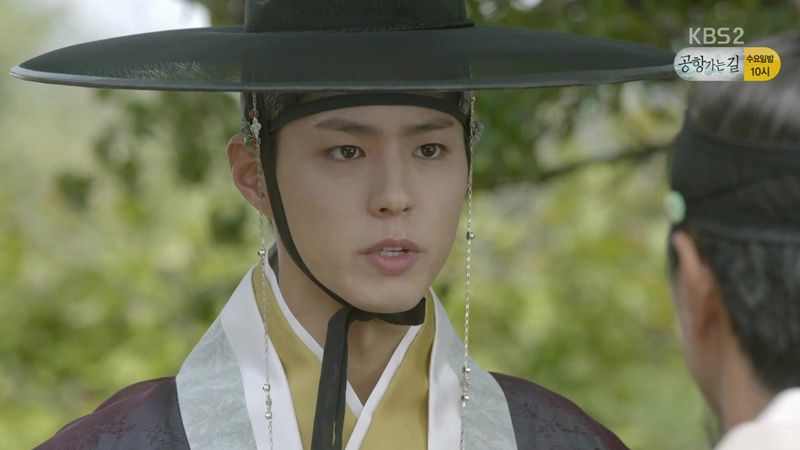 That thought makes his face grim, but he wears an even more determined one the next morning, when he drops in on Teacher Dasan with something important to discuss.
Later that day, Yeong sits with Ra-on and tells her about the lantern girl and how she'd said the king would know what a good nation would entail. Ra-on asks what kind of nation Yeong wants Joseon to be.
He thinks, and says, "I would like for children to live as children, and for women to be able to live happily as women."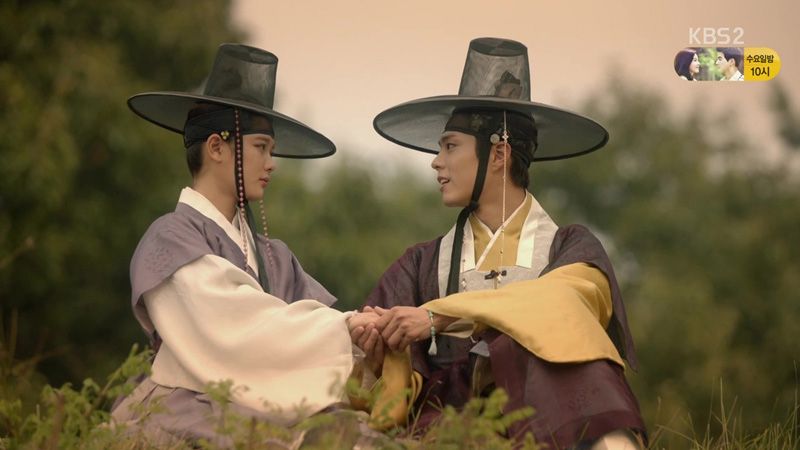 Yeong takes her hand in his, both of them still wearing their eternity bracelets, and says, "Until I make that kind of nation for you—can you wait? In the new Joseon that I make, you will be my first person."
They smile sweetly at each other, but then his gaze grows long and he thinks back to his conversation with Teacher Dasan this morning. Teacher Dasan had asked what would happen if reuniting Ra-on with her mother would prove dangerous to Yeong. He'd pointed out, "If you covered it up and pretended not to know, you and Ra-on might be able to live happily."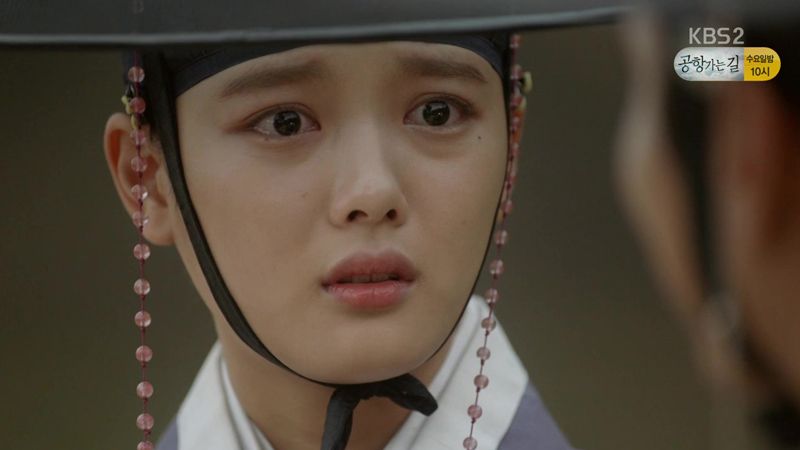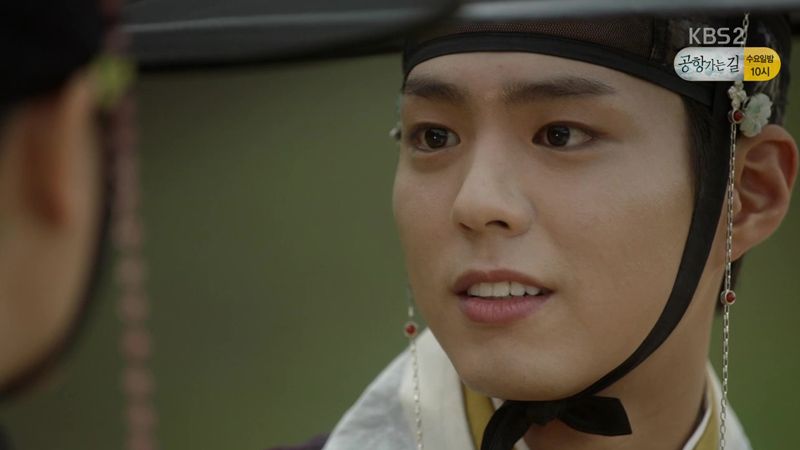 Now, Yeong tells Ra-on earnestly, "If, in a difficult moment, you must let something go… that must not be me. Can you promise me that?"
Ra-on promises readily. Yeong looks relieved, and says, "I think my wish has been fulfilled now." She asks what wish that is.
"My wish asking for your wish to be fulfilled," he replies.
Ra-on's face turns serious as that sinks in, and Yeong adds, "I've found your mother."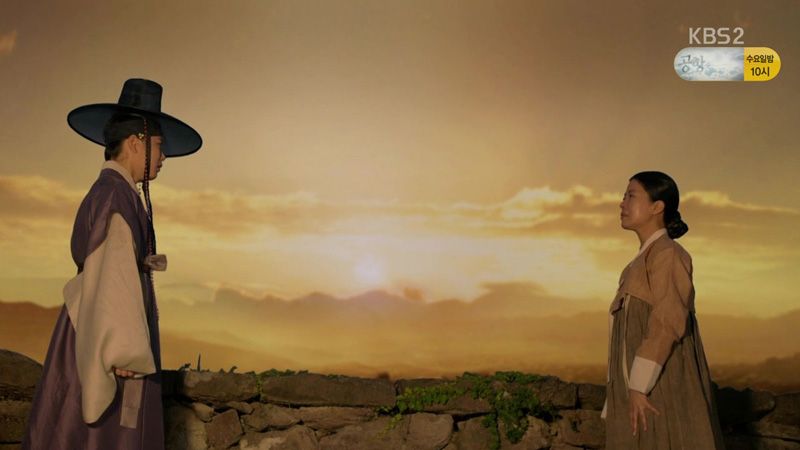 Yeong's gaze shifts to something in the distance, and Ra-on turns around to see her mother standing there, smiling at her. They slowly walk toward each other, and Ra-on calls out to her mother.
Her mother says, "I've come too late, haven't I?" and then envelops her in a hug as they sob in each other's arms.
From a distance, Yeong watches with tears in his own eyes.

COMMENTS
This wasn't an episode of grand romance or quotable confessions, but it had such quiet moments of intimate connection that I thought it was quite moving. In fact, the quieter it got, the more affecting I found the interactions, such as them sitting quietly together writing at a desk, or staring in each other's eyes, or clasping hands sitting next to each other. It's not that one style is better than another (i.e., grandiose versus small, dramatic versus prosaic), but that it feels that this relationship is maturing before our very eyes, and it feels appropriate to where they are: feelings confirmed, hearts on the same page, finding joy purely in each other's presence.
It's probably that element that made me think over the course of the episode that these two are so well-matched that it feels like their bond transcends romantic feelings; it's not a romance that feels driven by chemistry, though they certainly have that too. But they provide such emotional support for each other that it feels like such a crying shame that they can't marry and live normal, happy lives together—at least, not within the framework of their world and their positions. They make each other better people, and her influence on him reminds me of his mother's influence—urging him to see things through the eyes of people less privileged, to consider everybody and not those in higher, louder, harder-to-ignore positions. I get the sense that Yeong is growing as a person through his love for Ra-on, and not in the sense that he only does good things to benefit her. Rather, it feels like his love for her is spurring him to see the world differently and find ways to improve it
I love that line at the end, when he wishes for a nation that allows children to be children, and women to be women—essentially, that doesn't punish you for being born the way you were, that doesn't take the deck that's been stacked against you and then smother you with it. And it was a lovely way to draw the parallel with the lantern girl, who gets her wish at the same time that Ra-on gets hers. (I'd previously thought it odd that they should hide his prince status all this time, but it was worth the delayed gratification when the girl met him as the prince today and got to make her wish for a better country.)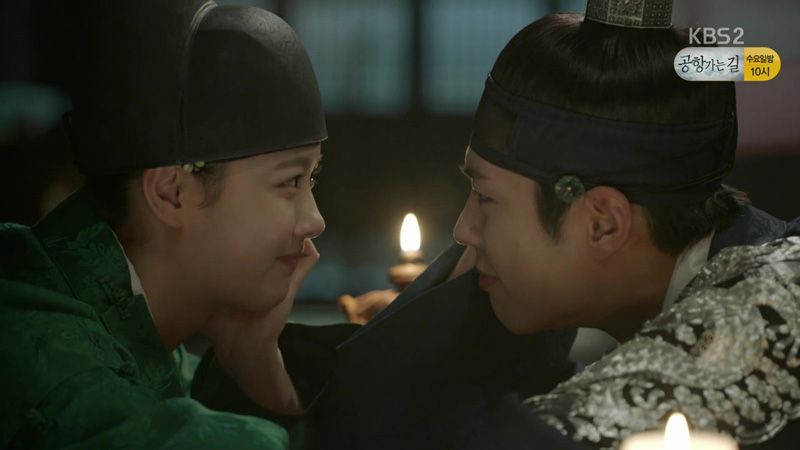 How sweet is it that Yeong is the one who enables both, and it tickles my fancy for a couple reasons. One, it's just plain touching that he had a hand in two very important wishes, but also, they tie into loftier ideals about making a better nation. Through them, he's living out his mother's wishes that he see every citizen as equally precious, and that nobody ought to be overlooked or neglected. He's living by example, not just spouting ideals the way the politicians do, twisting them for their own benefit.
Most of all, I especially like that this takes a nebulous concept of wishing on a lantern (which is to say, a fantasy) and puts Yeong in the driver's seat, once again making him the author of his own fate. Last week he refused to accept the sad fairy tale and declared that he would write his own happy ending, and today he enabled two wishes with his own actions. (The drama doesn't tell us how he found Mom, and I suspect we'll find out tomorrow exactly how, but I think it's fair to guess that he saw her at Teacher Dasan's and put some pieces together.)
It's this idea that I'm clinging to as the royal wedding approaches—that Yeong will assert his will and find a way to change his fate. I'm not sure it's possible to avoid a wedding altogether, but I'm still holding out a huge hope that the drama will find a way to give us a satisfying resolution anyway; as of right now I have no clue how that'll happen, and if it doesn't succeed it might just crush me, but I've trusted this drama with my heart this far and I've been okay, so I'll just trust it a little longer. If nothing else, the drama has proven time and time again that Yeong can outwit his opponents even when backed in a corner, as he did with the queen—admittedly I was nervous that he overplayed his hand, but you could argue that his skill includes reading his opponents and making appropriate calculations based on their reactions. Just… don't fail me now! You can't! You won't! I won't let you.
RELATED POSTS
Tags: Episode 11, featured, Jinyoung, Kim Yoo-jung, Moonlight Drawn By Clouds, Park Bo-gum