Moonlight Drawn By Clouds: Episode 12
Of all the adjectives I could use to describe Moonlight Drawn By Clouds, I wouldn't have predicted that badass would be one of them, but today's episode had a unexpectedly badass tinge to it, and it got my blood pumping in excitement. The dangers in the palace are mounting, but if one's life must be in peril, the least we can do is to also provide an opportunity to prove oneself in a way that mere words couldn't.

EPISODE 12: "Faith becomes fate"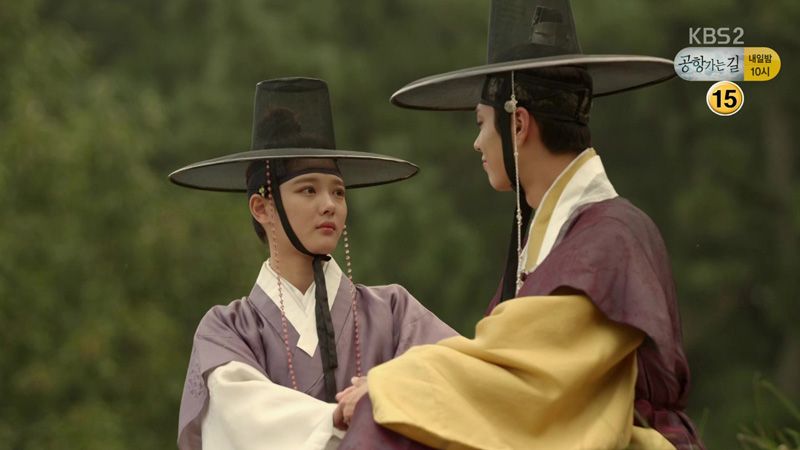 As Yeong sits with Ra-on, he thinks to his talk earlier with Teacher Dasan, when he'd seen Ra-on's mother show up once more. He hadn't thought much of it until she mentioned seeing someone at the lantern festival who resembled her child, and that had provided Yeong with the missing link.
So now, he asks Ra-on to promise not to let go of him when confronted with difficulty, and she agrees. He tells her his wish has been fulfilled, and steps aside as she reunites with her mother.
As mother and daughter embrace, Teacher Dasan watches from a distance and exchanges looks with Yeong.
In another flashback, we see their most recent talk, when Yeong had confronted Teacher Dasan about hiding the truth from Ra-on's mother—he knows both are looking for each other, and they ought to be allowed to reunite. Teacher Dasan asks what would happen if that reunion proves dangerous to the prince—especially when remaining silent on the matter could allow him to be happy with Ra-on.
Yeong says firmly that while he doesn't know what that danger may be, he doesn't want to be the cause of breaking up a family.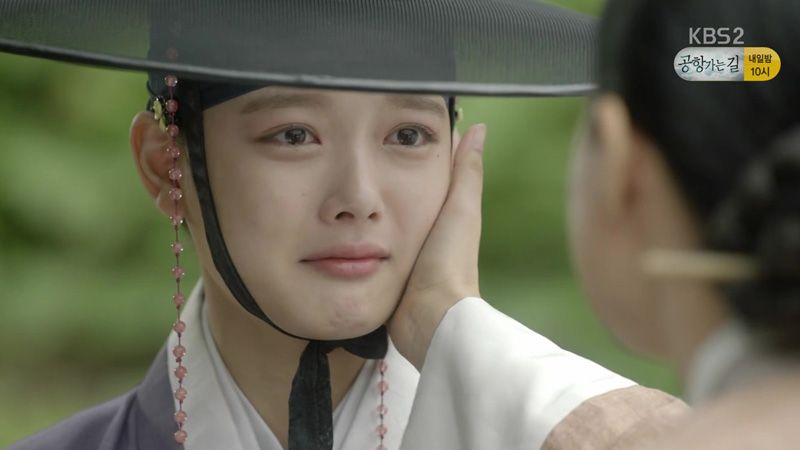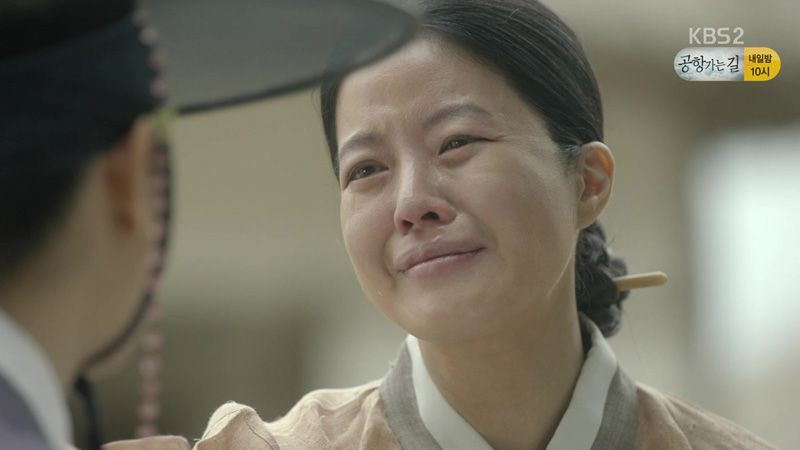 Mother and daughter can't get enough of looking at each other, and Mom asks if it has been difficult for Ra-on all this while, wondering how she came to be a eunuch. Ra-on replies that she'll tell her the full story in due time, and assures her that she's living well, and that the prince is very good to her.
Mom's face falls as she realizes, "Then that person over there… is the crown prince?" Her expression clouds.
Yeong tells Teacher Dasan that his words do concern him, but he's thankful that Dasan gave him the choice. Teacher Dasan replies, "Is fate something you can meet just by wanting to, or avoid just by wanting to?" Yeong returns, "That is exactly what I want to say."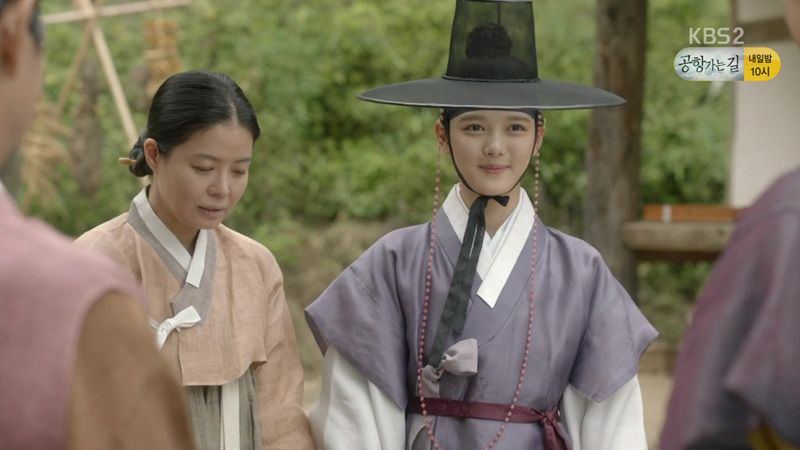 Ra-on's mother is subdued as she and Ra-on rejoin the prince, though she doesn't outwardly betray her fears. Yeong assures her that Ra-on will be released from palace service soon, and Ra-on happily says goodbye, telling her mother they'll see each other soon.
After Ra-on and Yeong leave, Teacher Dasan tells Mom, "Now what's left is for Ra-on to make a choice." But Mom disagrees, deeply unnerved to hear that Ra-on is at the palace, and in such close proximity to the prince. She laments, "You know this cannot be."
A sudden downpour sends Ra-on and Yeong under a tree for temporary cover. She offers to fetch an umbrella, and Yeong commands, "Do that." As she turns to go, he adds, "…is what you think I would say?"
Instead, he takes her by the hand and leads her on a slow stroll in the rain. She suggests he hurry his pace, then supposes that the prince never runs in the palace.
Yeong replies, "But what of it? Do you suppose a prince ever liked a eunuch either? It all just happened that way."
All of a sudden, Yeong yanks her closer by the hand and shields her from the rain with his sleeve. He gives her the nod and they take off together, running in the rain.
Byung-yeon slips into the prince's empty room, casts a wary look around, and leaves a book on his desk. Ooh, is that the secret ledger he hadn't handed over to his rebel leader?
He ducks out stealthily when Yeong and Ra-on enter the room, and Ra-on fetches a handkerchief from a chest to pat the water from Yeong's face. She worries that he'll catch a cold, but he just stares into her eyes and places his hand on top of hers. He reaches to untie her hat ribbon and pulls the hat off her head.
Then with a sly grin, he literally sweeps her off her feet and carries her over to his bed, where he sits down with Ra-on in his lap. He takes the handkerchief from her hand, then returns the gesture, dabbing the moisture from her face.
"I'm scared," Ra-on tells Yeong. He asks why, and she replies, "Because I'm so happy. What if happiness meant for someone else has come to me? And what if it will be stolen away again?"
Yeong asks if she's that happy to see her mother again. Ra-on says that it's a happy thing to have someone to be with both inside and outside of the palace. "If you're happy, I'm happy too," Yeong says.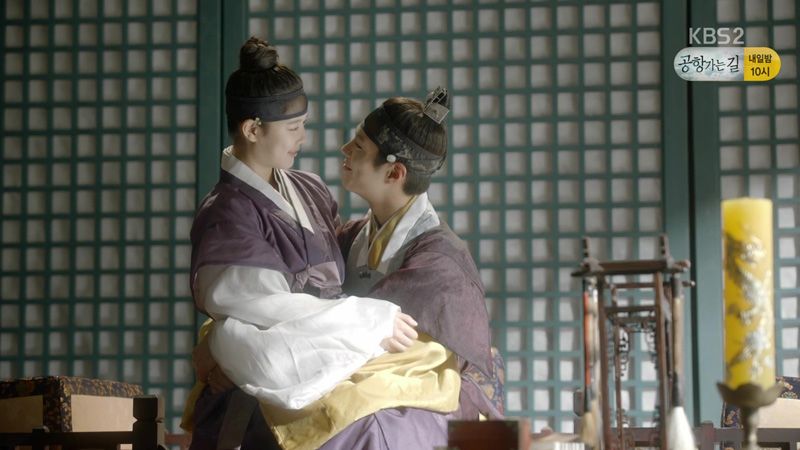 Then he adds, "But you talk as though you will be fine without me outside of the palace, and that makes me sad." Ra-on assures him not to worry: "Without your permission, would I go anywhere?"
Byung-yeon reports to Head Eunuch Han that he left the book in the prince's room, as ordered. Byung-yeon seems worried about the plan, but Head Eunuch Han tells him, "If one does not mean to act, there was no need to have hidden." It's all very cryptic for now, but I'm sure it's meant to be.
Byung-yeon asks when the eunuch will reveal everything to Ra-on. Eunuch Han says, "I am waiting—for when the prince cannot do anything." Well that sounds dire.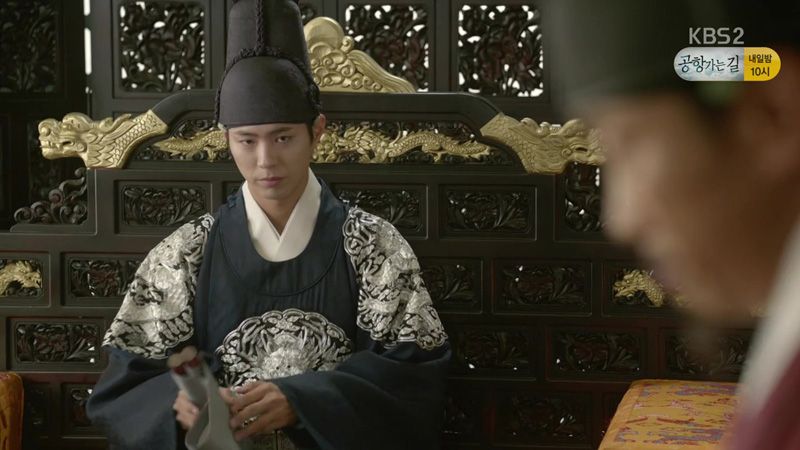 Yeong reads his way through a pile of scrolls with a thunderous expression, and informs the elder Minister Kim (the minister of personnel) that they are accusations against him for accepting bribes in making government appointments. Yeong asks why none of these messages ever made it to him, and the nervous younger Minister Kim makes the excuse that they were unverified claims.
Yeong makes Dumb and Dumber sweat more when he informs them that the petitioners anticipated this response and included evidence. He takes out that book left by Byung-yeon, which they recognize, given that it was stolen from their home. The book contains a list of every government official who'd gotten his position through bribery, in full detail.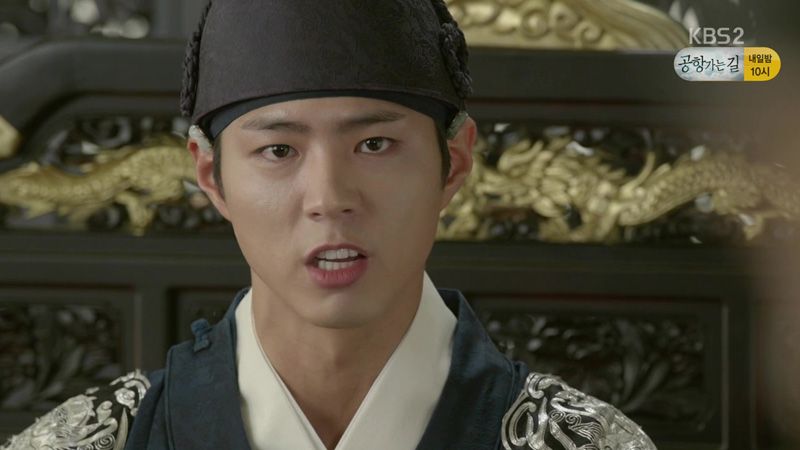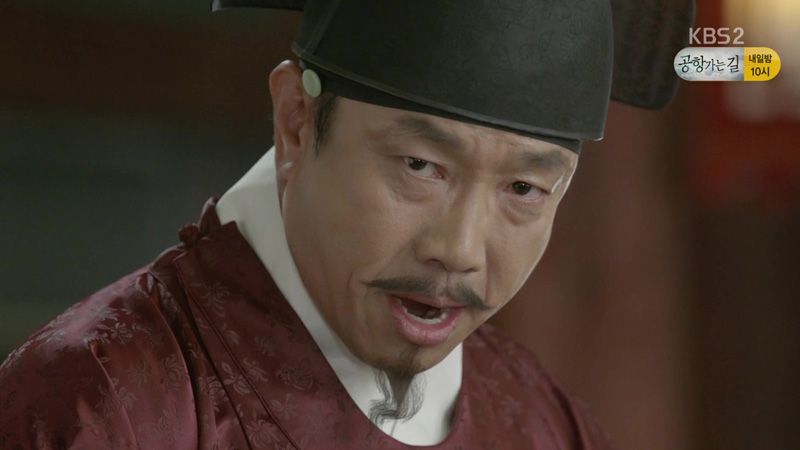 Minister Dumb can barely even whisper that the charge is false, and when Minister Dumber is pressed, he has to admit that the information checked out as accurate. Yeong orders Minister Dumb removed from his position.
The minister feebly argues out that the prince must investigate this more thoroughly and consider the situation more carefully. Yeong tells him he's right—he will be investigating this with the utmost gravity. Booyah.
At the Kim family home, the inner circle discusses this calamity, wondering how the prince ended up with the stolen ledger o' corruption. Their lead henchman joins them to report back that when he went to meet the supposed informant, they were already dead. However, he was able to find the name of Hong Kyung-rae's lost daughter: Hong Ra-on.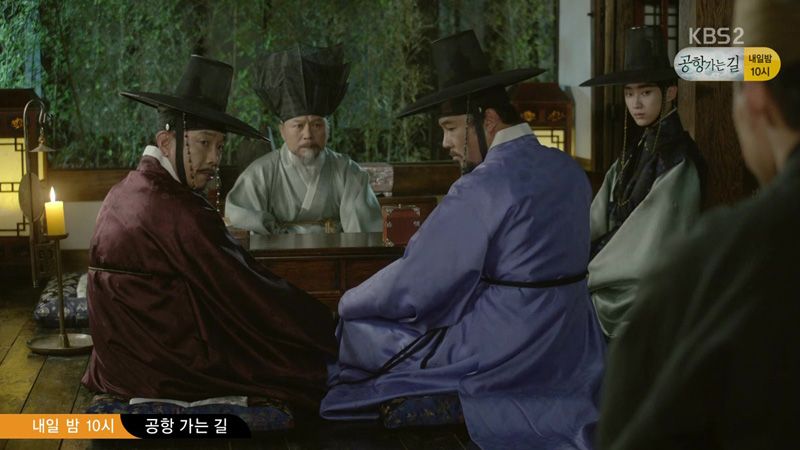 Yoon-sung remains silent while his elders mull this over. They deduce that Ra-on won't have used her real name, and order the henchman to keep digging.
Next, Yoon-sung goes to Yeong's palace to discuss the bride selection, but hears that he's in his library and heads over there instead.
In the library, Yeong reads at a table while Ra-on naps with her head on her arm. He moves his book to shield her from the sun, and sees her smiling in her sleep. Ra-on opens her eyes, and Yeong lays his head down on the table too, as they hold their gazes steady.
He asks, "Even when you close your eyes, do you see me? You were smiling so much in your sleep." Ra-on answers, "Yes, I dreamed of you."
Yoon-sung steps inside as Yeong takes Ra-on's hand and asks about her dream. Yoon-sung turns to leave quietly, just as Ra-on explains, "I dreamed of when you first called me Ra-on-ah."
At that name, Yoon-sung whirls back around, and Yeong replies, "Sleep more, Ra-on-ah." Yoon-sung's eyes widen as he makes the connection.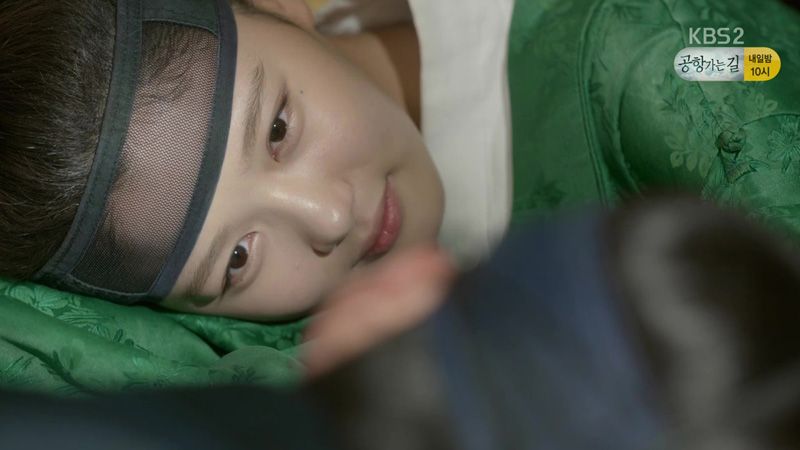 Ousted Minister Dumb is feeling vindictive, and plots of a way to get back at the prince. Minister Dumber protests that it would be treason, but the elder Kim has thought of a cover. He produces the rebel mask (dropped by Byung-yeon), explaining that they can carry out their scheme, drop the mask at the scene, and blame everything on the rebels. They can use this chance to accomplish several goals at once: hasten Yeong's wedding, keep the rebels in check, and knock down the prince.
Minister Dumber asks how to handle their plot with the prime minister, and Minister Dumb replies that the prime minster would not stop them. Yes, but he's your only brain—are you sure you want to operate without him?
Young Master Jung continues skulking around the princess's palace, waiting for a clear moment to sneak in and hang a set of food boxes on the gate handle. The minute he turns, though, he finds Princess Myeongeun watching suspiciously, and he stammers out a lame excuse about walking by.
At her mistrustful expression, he comes clean about being unable to forget a beautiful woman who used to live here. He gazes at her longingly, meaning her, but Princess Myeongeun wonders if he's thinking of her former court lady, Wol-hee. Young Master Jung fumbles for an explanation and says that the woman is no longer here.
She sees the boxes, and Young Master Jung explains that he prepared things that the woman used to like. The princess lights up at the sight of her favorite sweets, starting to shove one in her mouth before she recalls herself.
She puts the sweet back without tasting it and says that Wol-hee didn't like these. She orders him to take them away, resisting the temptation to eat them, and says that Young Master Jung must have liked someone with similar tastes as herself.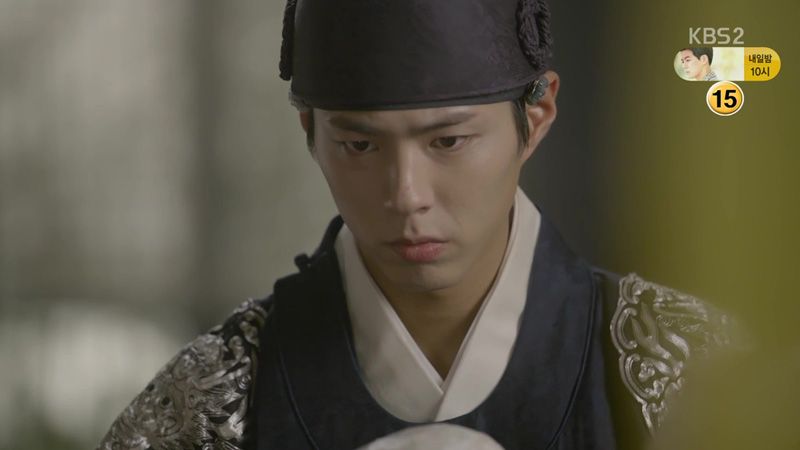 Yeong drops by to see Byung-yeon, but finds his quarters empty. As he turns to go, he knocks a pile of clothing onto the ground and picks them back up. The bloodstained clothing is a little odd, but it's the mask that grabs his attention, and he thinks back to when he saw something similar.
Yeong recalls that fight in the city streets, when he'd jumped in to fight alongside Byung-yeon and seen a dropped mask. And just as he makes the mental connection, Byung-yeon arrives.
Ra-on's mother receives an unexpected visit from Head Eunuch Han, and seems rather angry to see him. She asks bitterly if he ever thought of how she and Ra-on lived all this time while her husband prepared for the rebellion. Head Eunuch Han promises to take care of them now, but Mom rejects his help, afraid for what will happen to Ra-on.
Eunuch Han pleads for her to help them ensure that hundreds of civilian deaths did not go in vain. Mom asks, "We do not know anything. Please, do not take any further interest in us."
When Byung-yeon arrives, Yeong indicates the bloodied clothing and asks if he's injured. Oh no, are you hoping he'll come clean on his own? I can't watch. It hurts to see Byung-yeon lie, not knowing that Yeong has suspicions; he says the injury came from yesterday's training session.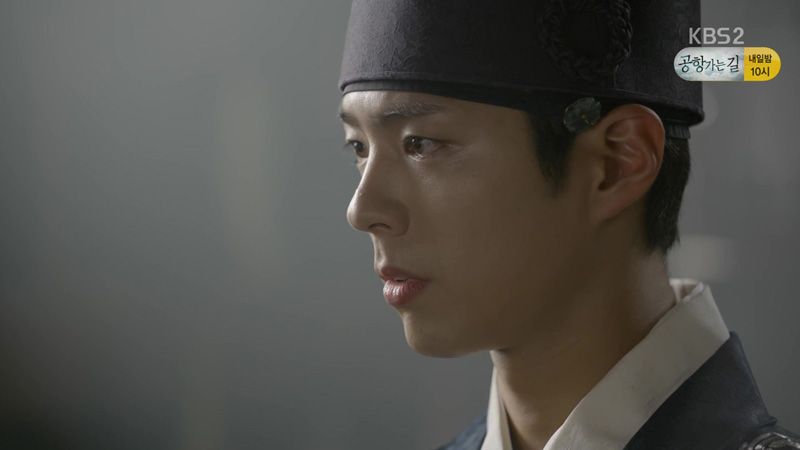 Then, Yeong hears from another official that not only did Byung-yeon skip training today citing illness, there was no training yesterday. Yeong's face hardens, and oh no, there goes another crack in my beloved bromance.
That night, Yoon-sung runs into his grandfather's henchman out in the city, who has found where Ra-on is and is eager to report to the Kim clan. Yoon-sung's eyes widen in alarm to hear that he knows Ra-on is at the palace, and he asks if there's proof. The henchman shows the document he's carrying, and Yoon-sung sends him along to make the report.
Then, Yoon-sung follows the henchman through the dark city streets. The henchman senses his tail, but relaxes when he sees that it's Yoon-sung, who says he forgot to tell him something.
He motions the man closer—and then slashes his throat. Omo omo. I don't even know whether I'm glad or not about this! Yoon-sung takes the letter from the dead man, and its contents make his eyes widen in alarm.
At the palace, the Kims' plot unfolds. Masked men in black infiltrate the palace walls and take down the night guards quickly, then open the gates for the rest of their ranks. Two of their own take up the guard posts while the rest head inside.
After reading that alarming document, Yoon-sung goes straight to Yeong. But Yeong starts by warning him not to say a word about Sam-nom (Ra-on): "If [she] needs anything, I will be the one to do it."
Yoon-sung contradicts him: "What Eunuch Hong needs is to leave this place." Yeong bristles, considering this an overreach by Yoon-sung; any problem-solving will be up to Yeong.
Yoon-sung doesn't seem able to entirely flout his family, but he says earnestly, "As long as the two of you are together, you are in danger too." That makes Yeong think of Teacher Dasan's comments too, and he asks Yoon-sung what that danger is.
But Yoon-sung has no answer, so Yeong dismisses him, saying that if he was going to be shaken by such words, he would never have begun in the first place.
A bit later, as Ra-on carries a tray of tea down the hall, she's assailed from behind and dragged away. Her tray crashes to the ground, and around the corner several court ladies lie in pools of their own blood.
From his room, Yeong snaps to attention, picking up on the disturbance. His call outside goes unanswered, and he senses something wrong; he picks up his sword and readies himself, approaching his doors cautiously.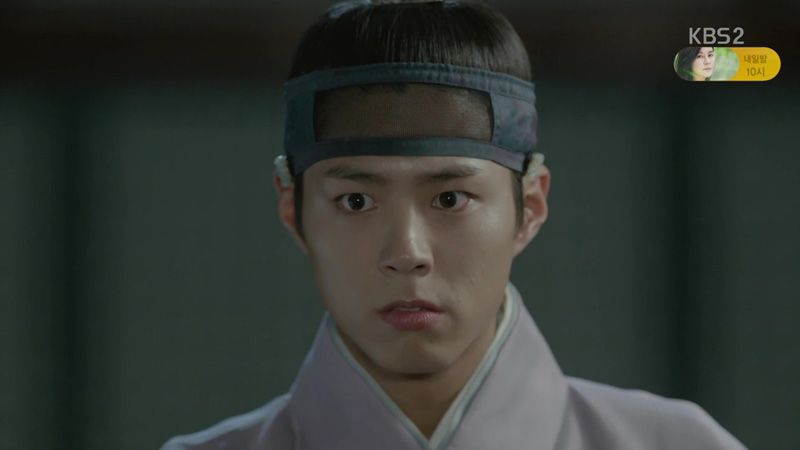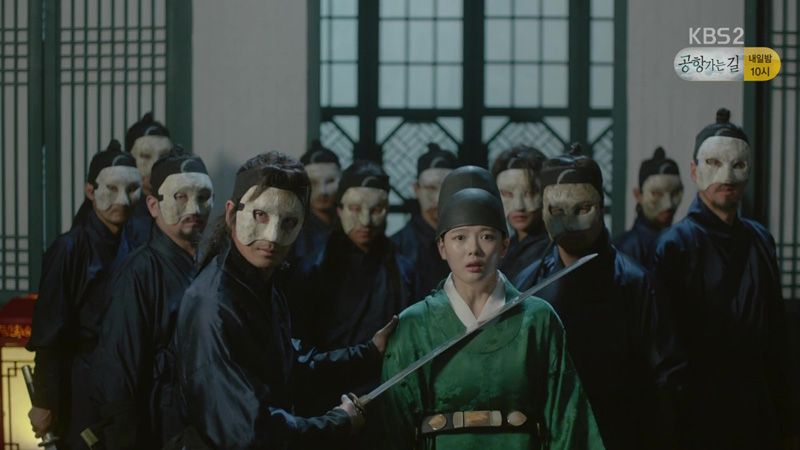 Then he flings open the doors, and finds Ra-on held at swordpoint, with an army of masked intruders at her back. Yeong draws his sword and asks who they are, but they remain silent and continue their approach, pulling Ra-on along with them.
Yoon-sung makes his way out of the palace, and as he passes by the (impostor) night guards, he notices blood on their hands. He pauses in his tracks, and the two guards exchange looks and draw their swords.
But Yoon-sung anticipates this and charges them, swiftly taking charge of the situation and cutting them both down.
The masked mob advances into Yeong's room, and he backs up warily, very aware of the blade held to Ra-on's neck. Finally he drops his sword and tells them that he doesn't know what they want, but they can let Ra-on go first.
He reaches a hand out slowly, carefully, toward Ra-on, and she reaches out to grasp it. Just before they make contact, the leader raises his sword to charge the prince, who reacts just a hair quicker—he yanks Ra-on toward himself, clearing the sword's downward swing by inches, and holds her protectively.
In the next split-second, a body comes flying in through the paper-lined doors, breaking through the slats and rolling into the middle of the fray. It's Yoon-sung (woohoo!), and he slashes one intruder on his way to joining the prince.
For a long moment, the two sides regard each other, and then the intruders charge. Yoon-sung launches himself forward and deftly fights one group, while Yeong does remarkably well defending himself with his sword scabbard.
At one point, blocking one attack with the scabbard leaves him open to another attack, and an assassin charges in with a sword pointed straight at Yeong's chest. Yoon-sung sees the situation and leaps forward, grabbing the blade with his bare hand and stopping it mere inches from Yeong's face.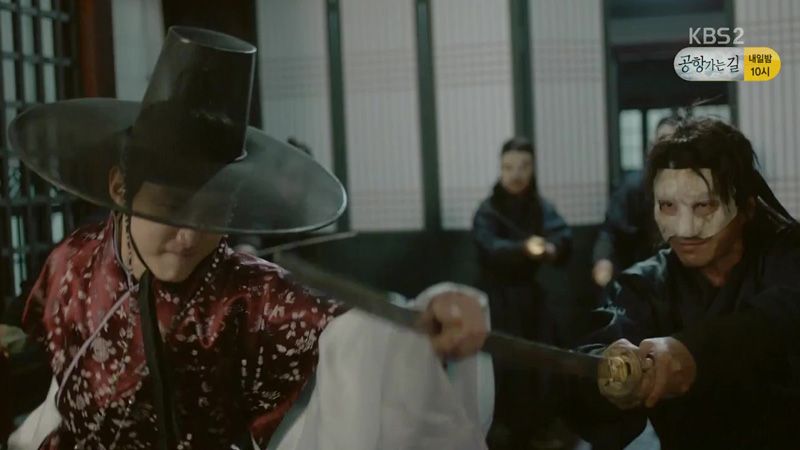 Then Yoon-sung whirls around with the blade still firmly in his grasp, ignoring the injury to his hand as he holds his position. Yeong is so shocked he can't believe his eyes, but Yoon-sung doesn't even betray a hint of weakness while his hand grows bloodier and bloodier.
Ra-on looks around frantically to try to help, and spots Yeong's dropped sword on the floor. She slides it across the floor to Yeong, and he kicks it up by the hilt and grabs it in one smooth motion.
Newly armed, Yeong fights with renewed determination, and (thankfully!) helps free Yoon-sung's hand from its grip on the sword.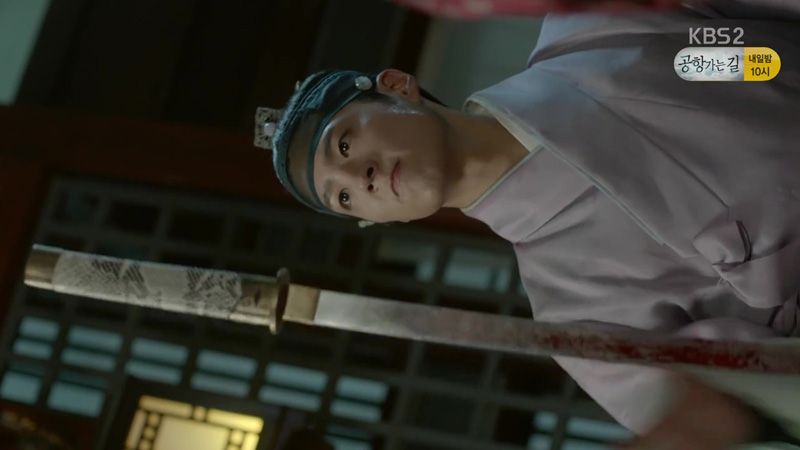 Now both friends launch themselves fully into the fight, whirling in tight quarters and taking on multiple assailants simultaneously. Yoon-sung drives several of them outside and fights in the hallway; Yeong takes on the remainder still inside.
Then, one attacker charges Ra-on, who's unarmed and alone. Yeong spots the danger and darts forward, blocking the sword with his own and taking down the assassin.
But as he faces one swordsman, he misses the one at his back until it's too late—the blade slashes across Yeong's back. His blood spatters the walls.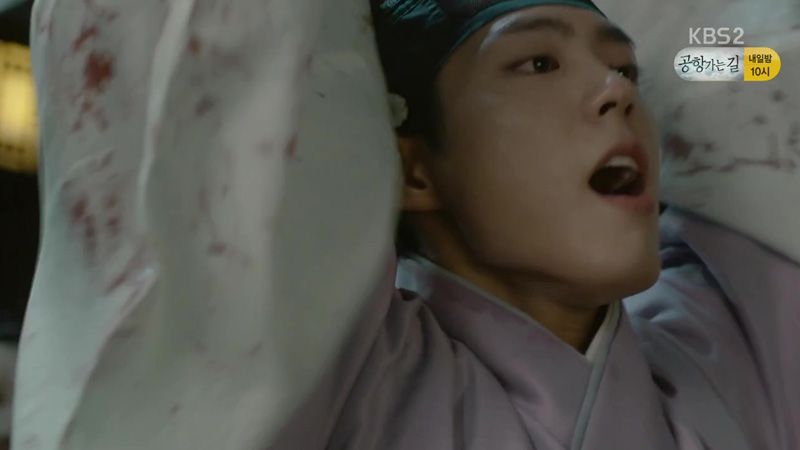 Yeong is still able to hold his stance, but a final assassin drives forward and stabs Yeong in the gut with his sword. Oh no. No no nooooo.
Yeong musters the last bit of strength to cut down one assailant, but he's injured badly and fading. With a gasp, he falls onto his knees, and when he looks up at the last masked assassin, he pictures Byung-yeon standing there instead.
He asks in a trembling voice, "Is it you, Byung-yeon-ie?" Ooof, that. It feels like the possibility of betrayal hurts even more than the stab wound in his gut.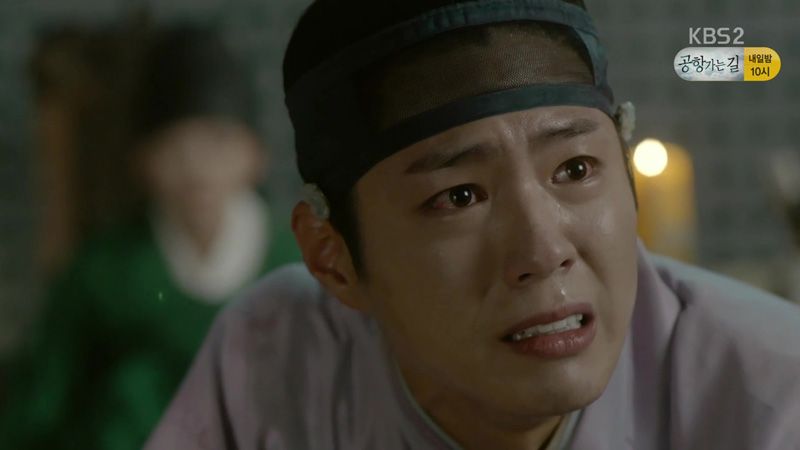 The assassin still wears Byung-yeon's face as he raises his sword for the deathblow. Ra-on watches in horror, and then the sword swings downward…
But only for a second, before the assassin goes slack, stabbed in the back. As he crashes to the ground, we see the real Byung-yeon behind him, here in just the nick of time. Oh thank god. Thank you thank you thank you.
Byung-yeon apologizes for his late arrival, then sees one attacker fleeing and runs after him.
Yeong barely has time to register this before his injuries overcome him. Ra-on catches him just as he falls unconscious in her arms.
Yoon-sung returns to the room, sees the scene, and quietly turns away.
The king is beside himself over this attack, and asks the prime minister what to do. Prime Minister Kim advises him to keep this incident from leaking outside the palace, arguing that it will do no good to stir public sentiment, and I'm thankful that at least Head Eunuch Han sharpens his gaze at that. Prime Minister Kim assure the king that he will take care of it quietly.
The mood Chez Kim is grave, and Dumb and Dumber assure the prime minister that they tied all their loose ends. But they're putting on a false front for their leader's sake, because privately Dumb and Dumber fret about the one missing assailant: They sent ten, but there were only nine bodies. They hope he made a clean escape, but it's a definite complication.
Ra-on waits in pins and needles for the royal doctor to finish tending to the prince, and asks to see Yeong. She gets a stern refusal, and when she pleads to know how Yeong is doing, the doctor ignores her question.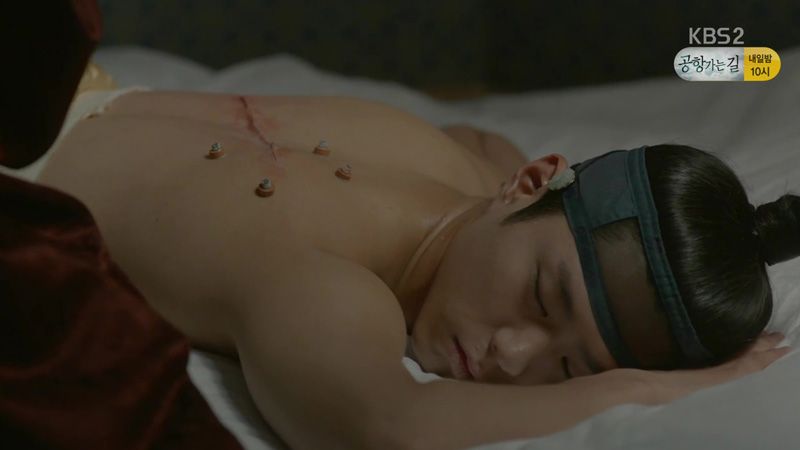 At home, Yoon-sung sits down to paint, but his concerns weigh on him heavily, stopping him before he starts.
Yeong remains unconscious as he is treated by the royal doctors. Ra-on huddles in his empty room, wondering when he will return.
Finally, Yeong opens his eyes, and the doctor at his side breathes a sigh of relief. As do we all. He informs Yeong that he's been moved temporarily from his blood-soaked palace, and is under strict orders from the king to restrict all visitors other than doctors.
Yeong sits up with difficulty and requests one of his attendants, as he has something he needs to retrieve.
So Ra-on is allowed in, although she pauses outside the door. She calls out to Yeong and asks if he's okay, and has to struggle to hold back tears. She reminds him of her words that she was so happy it scared her: "When you collapsed, I was so scared. I thought, 'In the end, my happiness is being taken back.' Please do not ever let go of my hand. I will not let go, either."
She reaches a hand to the door and rests it there longingly. And then, a hand joins hers, and an arm wraps comfortingly around her shoulders.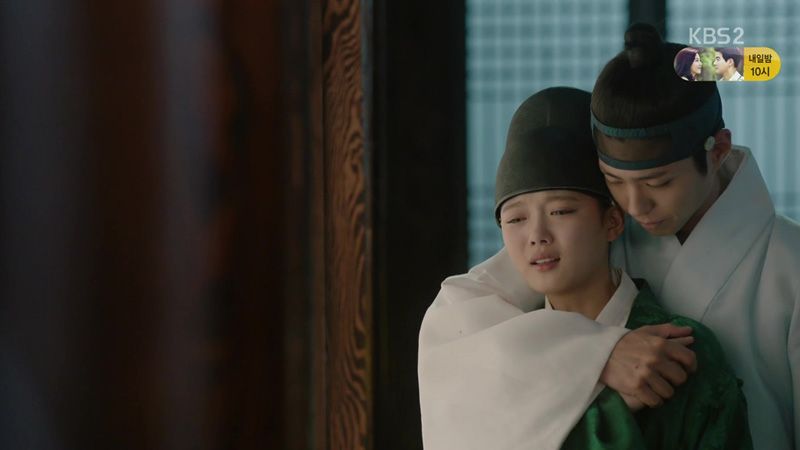 "How impertinent," Yeong tells her. "Without my approval, there will be no one who can steal away your happiness. So, do not cry."
He tightens his grasp and vows, "Because I will not ever let go of this hand."
Ra-on's tears continue to fall, but at his words she does seem to breathe easier, resting into his hold as they stand there holding each other.
And then, we rejoin Yeong and Ra-on when he's back to full health and just about to grant Ra-on permission to leave for the day. She promises to be back before curfew, but he insists that she be back before sundown instead. Ra-on pouts a little, then agrees.
Unbeknownst to her, Ra-on's mother is determined to leave with Ra-on and informs Teacher Dasan. She has been deeply shaken by the news of Ra-on serving the prince, as well as the recent attack, and can't abide the fear of leaving Ra-on there.
Ra-on arrives outside the house just as her mother says, "That our Ra-on and the crown prince have each other in their hearts as lovers—do you truly not understand what that means?"
Yeong spends the day at his desk, and looks up in surprise when a court lady lights a candle; the day has passed and Ra-on is not back yet. He pouts a little, but then laughs it off.
Ra-on's mother tells Teacher Dasan that she worked so hard to cast off "that cruel fate," forcing a beautiful girl to live as a boy. "If anybody finds out that our Ra-on is the daughter of Hong Kyung-rae…"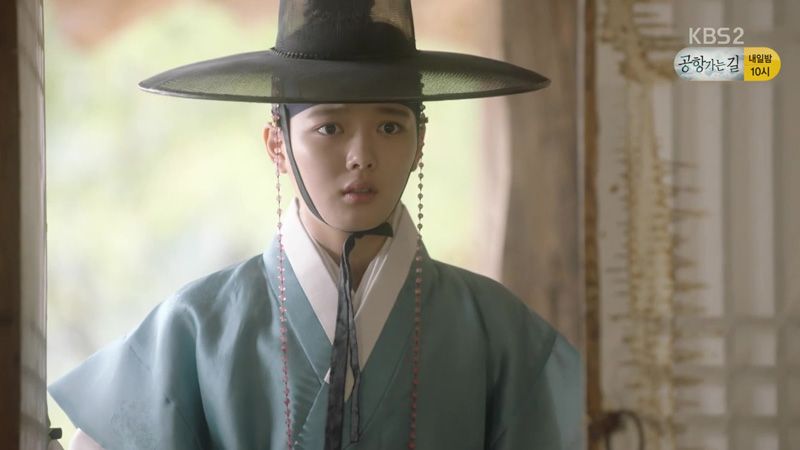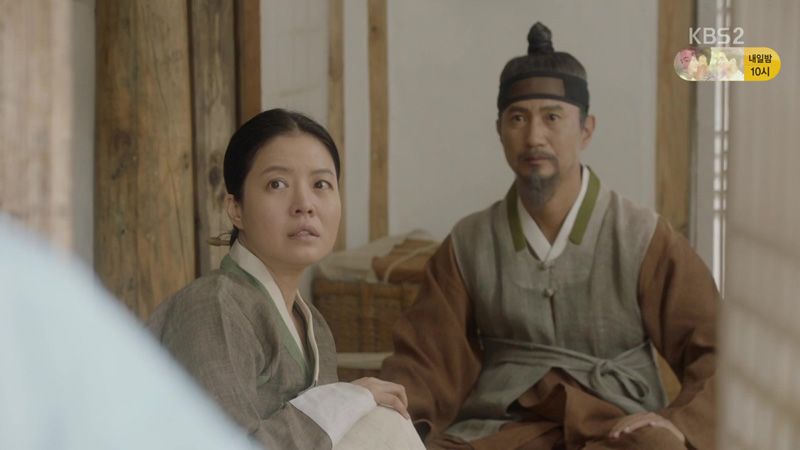 Ra-on opens the door and looks at her mother in shock.
Yeong paces outside Ra-on's building that night, and thinks back to the promise he asked of her—to not let go of him even in her most difficult moment. He also thinks of Ra-on's cheerful comment that she wouldn't go anywhere without his permission.
Ra-on arrives, and asks if Yeong has waited a long time. He turns to face her, and in one moment feels a swoop of relief. They stand there and beam at each other, eyes shining.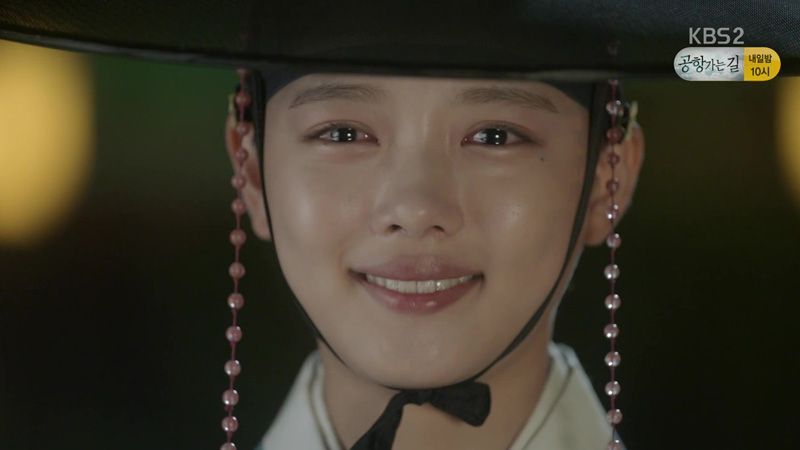 COMMENTS
Oh, my beloved bromances are back! And if not in full swing, then at least on the clear road to recovery, which is enough for my full heart today. How I've missed these boys being friends, trusting and leaning on each other, and with everything that's gotten in the way to cause doubt and suspicions, I loved that today sort of charged in and proved things in one fell swoop. Almost like fate deciding it was done with the confusion and deciding to clear everything up in a bold, undeniable way.
I'm thrilled that Yoon-sung got a chance to do something definitive this time, because he is the character with the most information, but because of his conflicted loyalties, he's often prevented from taking an active hand. We've seen his good, upstanding nature in action and he's definitely crossed the family loyalty line before to side with Yeong, but I've worried that he would be the kind of person whose good nature got stifled by silence, who was never quite as bad as our more evil villains but also complicit by not rejecting them. Who might find his integrity compromised the longer he remained silent, which makes him on par with the king, and that's a comparison nobody wants.
I'm not assuming that everything is suddenly hunky-dory now between Yoon-sung and Yeong, and there is the tricky matter of Yoon-sung knowing about Ra-on's identity and being determined not to lose her. But there's something so visceral about seeing somebody risk their life to save you that makes it impossible to just return to the status quo afterward. I loved Yoon-sung's decisiveness when he grabbed that blade away from Yeong, but I loved even more the bewilderment on Yeong's face as he witnessed it. From his look, it was clear he hadn't believed Yoon-sung was capable of that kind of sacrifice, and it lands with more impact considering they'd just parted on tense terms. I'm excited for what this means for them now; I'm practically bouncing in my seat in anticipation for a full Three Musketeers revival. With a song and a dance and a secret handshake and everything. I'm getting ahead of myself, but what can I say, the thought makes me giddy.
And as if that weren't enough excitement, I was doubly jazzed when the attack forced Yeong to confront his worst fears about Byung-yeon betraying him, and at the same time proved them wrong. (Yeong's plaintive "Is that you, Byung-yeon-ie?" was a knife in the heart.) I'll admit that I don't love that Ra-on is often in a dangerous position and unable to defend herself—I don't expect her to be a fighter or fearless, since that wouldn't make sense with her character, but it just feels like she'd have died a dozen times without Young—but today, she was part of a means to get both bromances out of purgatory, and it was worth the result.
Similarly to Yoon-sung, I don't think one fight will fix all of the doubts about Byung-yeon that have arisen through numerous suspicious acts, and he still has a lot to answer for, but it does clear up the biggest, most hurtful doubt. I'll take that. And the relief is twofold, because on top of demonstrating for us that the friendship was real, it also reinforces the fact that the prince isn't totally alone after all. He may not have a lot of people on his side, but when they're as capable and kickass as these two buddies, they more than make up for the lack in numbers.
I got so excited about the boys that it almost overshadowed the poignant moments with Yeong and Ra-on, which is nuts because it was also an episode chock-full of heart-stirring exchanges between them. You know, I started thinking today that we keep expecting doom 'n' gloom to arrive with the royal wedding, and I know the show intends to address that (Ha-yeon's character description identified her as the crown princess from the outset), but I've decided to stop dreading it as the end of all things. We've got three weeks left now, and our OTP is safe and intact; I don't doubt that they'll be slammed with opposition and angst and danger, but is that any different from what they've faced thus far? If the show has found a way to keep the threat alive while still feeding their relationship and allowing it to grow, I trust that it'll continue drawing upon its small moments of affection and conviction through the end.
What really eased my mind this episode was Ra-on's reaction in the aftermath of the prince's attack, when you would expect a bout of guilt and noble idiocy to rear its head. It's the anticipated response, and a familiar one, and furthermore it's the one that's aligned with these good-natured characters' hearts; I couldn't really imagine her not feeling bad and partially responsible. But instead of withdrawing, or wallowing in self-recrimination, she asked him not to let go of her, and then I felt gratified and reassured. I'd never worried that Yeong would be the one to let go or push her away, but I'd worried all the time that Ra-on would "for his own good," choosing to live alone with the memory of his love. That she chose to hold onto that love was hugely reassuring; if yesterday was about making promises, today was about affirming them. Really, as long as these two kids are together, I have nothing to worry about.
RELATED POSTS
Tags: Episode 12, featured, Jinyoung, Kim Yoo-jung, Moonlight Drawn By Clouds, Park Bo-gum