Moonlight Drawn By Clouds: Episode 7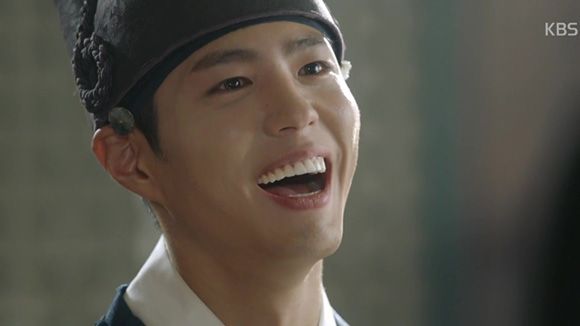 What a great episode to break 20% ratings with. It had a lot of elements going for it, and packed a surprise emotional punch even in its side stories. There's denial and confusion and a lot of emotions, which makes for a satisfying episode all around. I foresee many squees being had; if you've seen the episode I'm sure you'll know why, and if you haven't, what are you doing, go watch!

EPISODE 7: "Confession"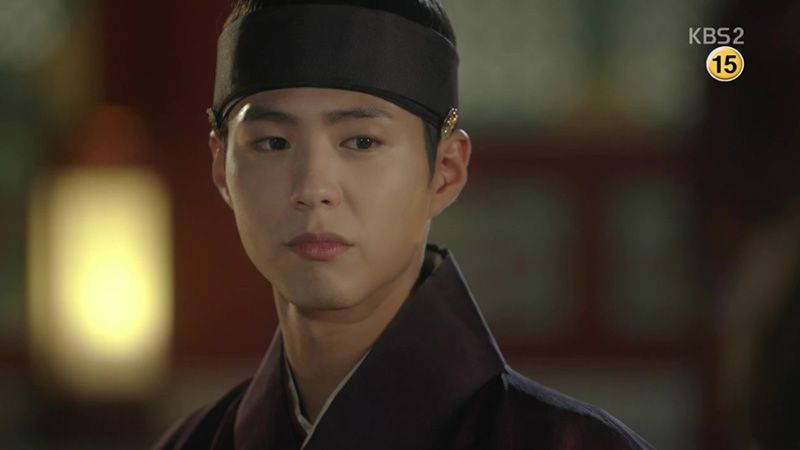 After Yeong and Byung-yeon make their intrepid rescue of Ra-on from the corrupt Chinese ambassador, they arrive at the palace late that night. A panicked Eunuch Jang bursts into the courtyard fussing over the prince and bombarding him with questions. Yeong tells the eunuch to hold the questions till tomorrow, then tells Ra-on he'll see her back at his palace soon.
Back at their quarters, Ra-on notices the scars and fresh wounds on Byung-yeon's back and asks if he incurred any injuries from saving her today. He tells her simply that they came from him doing his job, not because of her. She still feels bad, noting that he didn't just rescue her today—he also nursed her all night when she was sick.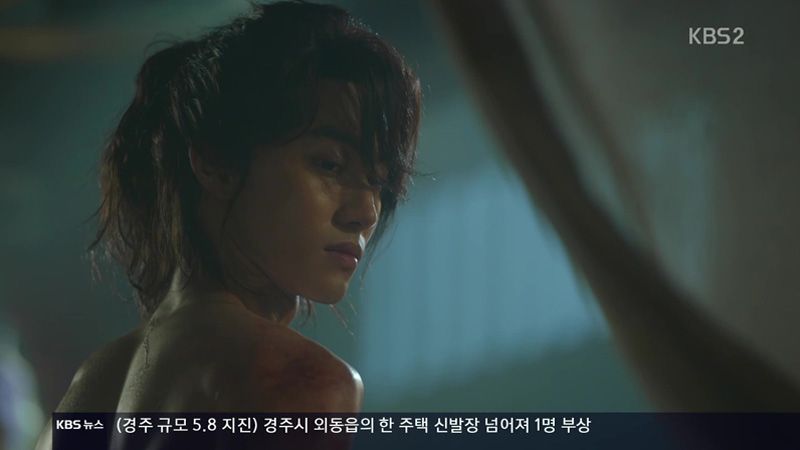 Byung-yeon gruffly tells her that it wasn't him. He's told her that before but Ra-on hadn't believed him, and she scoffs that there's nobody else it could be… and then remembers the prince. Now it makes sense how he knew of her mother, if he'd been there the night she'd dreamed of their separation. The blurry face in her mind sharpens, and she now sees that it was Yeong at her bedside.
Ra-on settles down to sleep with a smile on her face, and sighs to Byung-yeon that the palace feels comfortable to her now. She reminds him of something he'd once said: that the palace becomes a livable place when you find someone you like inside of it.
She muses, "I'm worried I may start liking the palace more."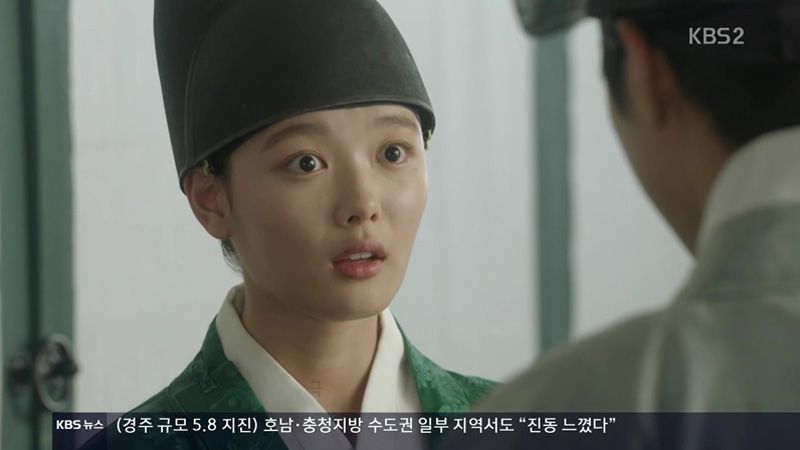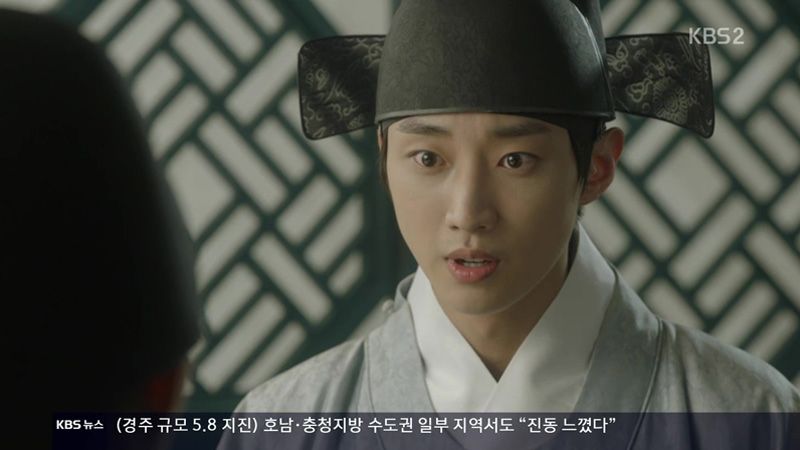 The next day, Yoon-sung is so excited at Ra-on's return that he runs through the palace, smiling widely to see her. She assures him she's fine and asks if he worried, and Yoon-sung replies, "Yes. Please make it so I don't worry again. You're a very special person to me."
Ra-on is startled at that, but he jokes it off: "You're the only person to make me run inside this palace."
The prince arrives, and both he and Yoon-sung stiffen a little. Yeong has heard from Byung-yeon that Yoon-sung played an important role in the rescue, and Yoon-sung answers that it was important to him.
Yeong muses that it was important enough for Yoon-sung to defy his own grandfather, and deduces, "You're telling me not to pay much mind to it because it wasn't for my benefit." Yoon-sung confirms it.
The queen cackles in amusement upon hearing of the prince's actions, wondering when he took such a benevolent interest in his servants. Eunuch Sung chuckles with her, and whispers that there are even rumors in the palace that the prince may be gay. She smiles darkly at that.
The queen is served her tonic, but the court lady serving her gags audibly, to everyone's horror. (Aha, telltale pregnancy sign, is it?) The court lady begs for forgiveness, but the queen throws her bowl angrily and orders the lady dragged off.
Rookie eunuchs Do Ki and Sung-yeol sit with a group of ladies, demonstrating a new process of removing wrinkles with poison-laced acupuncture needles—heh, primitive Botox.
One court lady shares gossip about the belowground furnace "burning hot" these days—the furnaces aren't currently in use, which means those enclosed spaces are perfect for secret rendezvous. One of the women, the princess's lady-in-waiting Wol-hee, fidgets nervously and quickly changes the subject.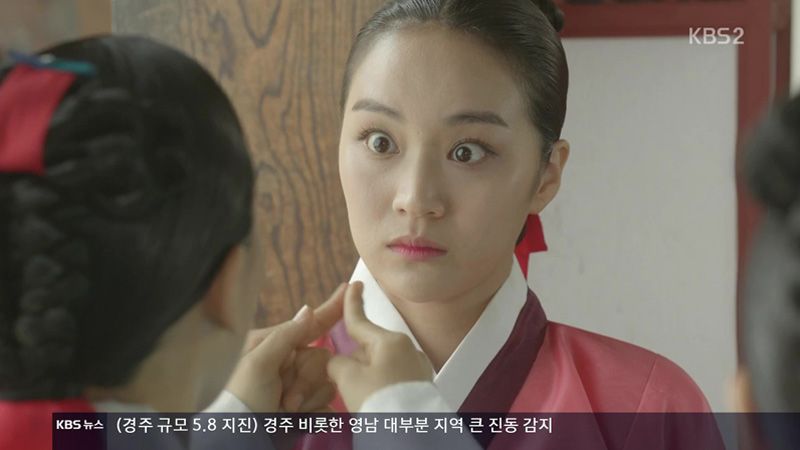 The queen's Eunuch Sung complains to the king's head eunuch about the rumors disturbing the queen in her delicate condition. The head eunuch says that the king hasn't visited the bed of a court lady in years, and Eunuch Ma supposes that a politician or official might be involved instead. Hm, why does he look uneasy?
Eunuch Sung says that the queen even harbors suspicions about the eunuch department and ordered that the culprit be caught. The head eunuch considers this, then decides to have all of the eunuchs undergo medical testing. Eunuch Ma (who's the only one who knows Ra-on's real gender) asks what happens with the rookies.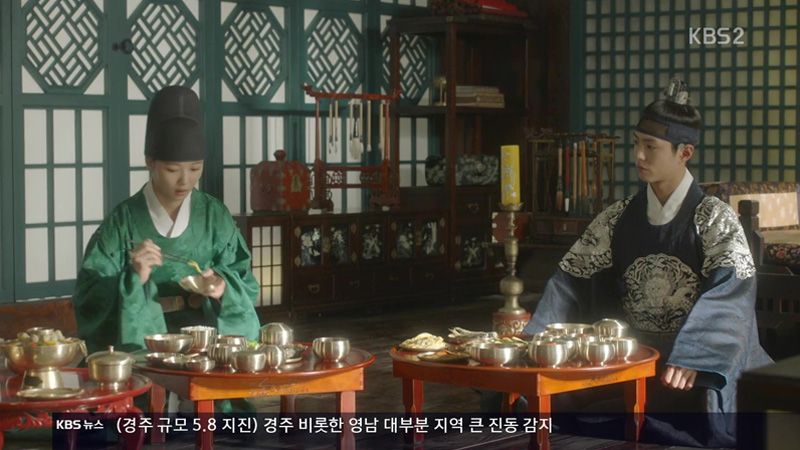 Ra-on comes upon Yeong sitting before an untouched meal, which he won't eat before it's been tasted for poison. She offers to call the appropriate court lady, but Yeong tells her to do it for him, ordering her to sit. She complies hesitantly, then widens her eyes at how tasty the food is, which makes Yeong smile secretly to himself. Aww.
When she deems the food safe, Yeong barely tastes his food before deeming it terrible, and Ra-on grimaces at his excessively picky palate. He pushes the table aside, telling her to eat instead, and when he threatens to have it cleared out immediately, she hastily agrees.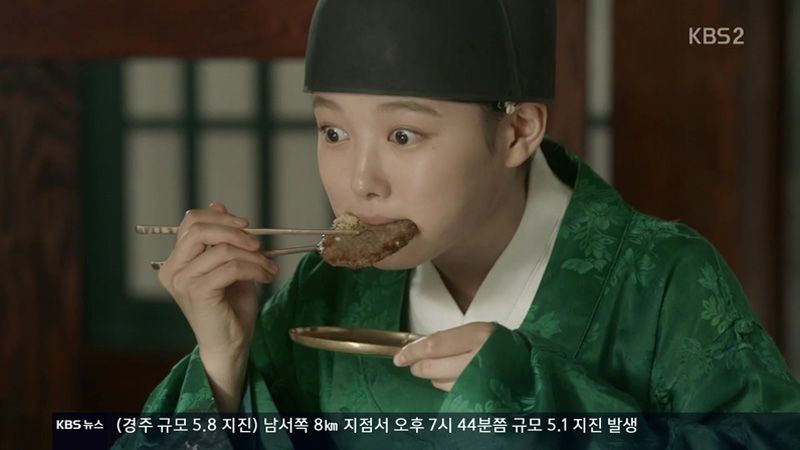 She can't hide her enthusiasm once she's eating, and he smiles, contented to watch her eat. Omgah you two are too cute, I just want to put you in my pocket.
After she's done cleaning off literally every plate, Ra-on works up the nerve to ask what Yeong meant when he'd told her to stay by his side, back when he'd rescued her. But his answer is matter-of-fact, saying that there's nothing strange about wanting to keep a eunuch he cares about by his side.
Spoken like that, it seems quite normal, and Ra-on deflates. Then Yeong gets up to leave the room, pausing to turn back and point out, "You are already five steps away." Ra-on hurries to his side, and he grins that impish grin.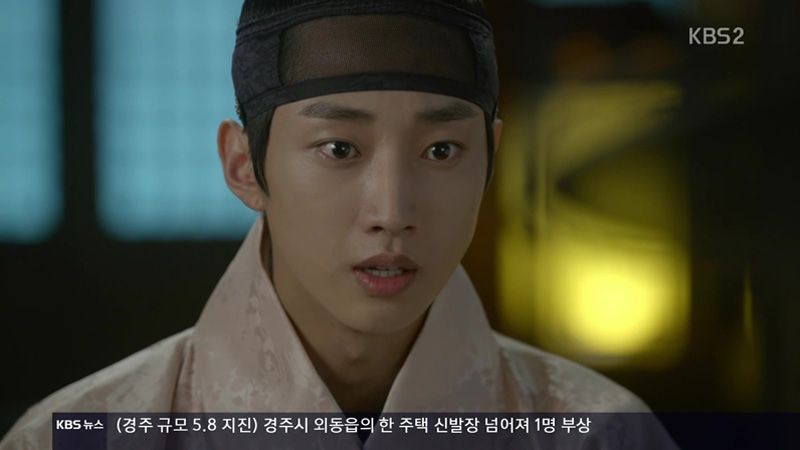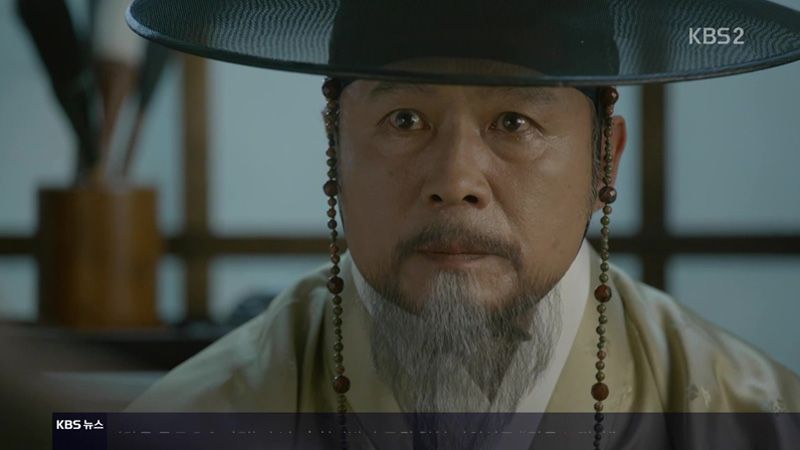 Yoon-sung works on a new set of drawings, all of Ra-on in her female guise, one of them inspired by that day in the rain when she'd held a lady's cloak over her head. He hides the drawings when his grandfather, Prime Minister Kim, drops by, lying that he was reading.
The prime minister informs him of marriage talks with the minister of rites' family—that is to say, the plans to marry Yoon-sung and Ha-yeon. After that, the prime minister intends to marry a young woman from their clan to the crown prince. That does tie up the court nicely in the Kim clan's hands.
Yoon-sung protests that he's not ready for marriage, but his grandfather barks that this isn't about Yoon-sung (well, only technically!) and instructs him to do as told.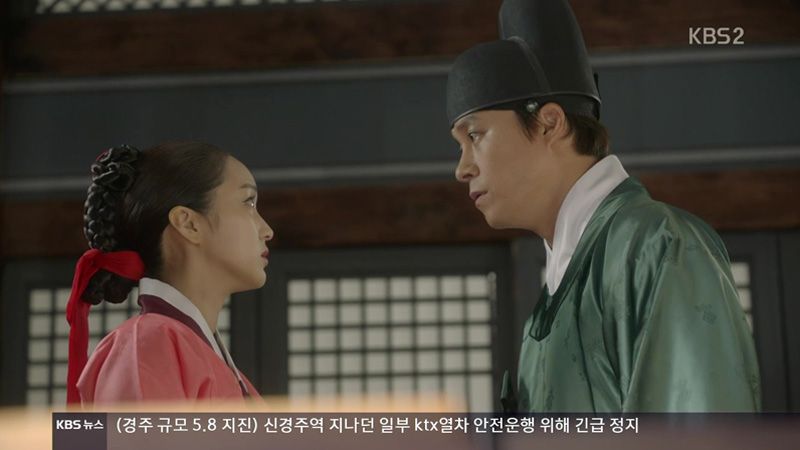 From a pantry, Ra-on hears whispered voices and instinctively ducks for cover. It's Eunuch Ma and Princess Myeongeun's lady-in-waiting Wol-hee, who have been carrying on a secret romance, although Wol-hee has grown tired of sneaking around. She wants for him to be able to declare openly that she's his woman, but Eunuch Ma is much more concerned about the ramifications of their relationship being exposed. He points out that she could be hurt, but Wol-hee replies that that's what their relationship is: "If we like each other, we get hurt."
Before he can reply, the sound of approaching steps sends them ducking too, and from his hiding spot, Eunuch Ma meets Ra-on's eye. Whoops.
After Wol-hee stalks off with hurt feelings, Ra-on explains that she didn't mean to eavesdrop. Eunuch Ma just warns her to keep her mouth shut, for her own good.
Ha-yeon barely pays attention to the sit-ups she's supervising Princess Myeongeun to do, thoughts fixated on the crown prince. He's always surrounded by lots of people, but she supposes that there must be times he likes to be alone. The princess says that he sometimes goes for a walk in the gardens, and like that, Ha-yeon is off like a shot.
She goes straight to the gardens, pleased to find Yeong sitting there alone with a book. She plays it like a chance encounter, saying that she was just passing by, but finds that Yeong doesn't respond quite the way she wanted. First he points out that it's not really a "happened to be walking by" type of place, then gets a rise out of her by teasing that she crawled in through a hole.
So Ha-yeon gives up the act and admits that she miscalculated by trying to fake a fateful encounter. She smiles to see his book, then uses pretty literary words to suggest that he take a break from his book and walk with her.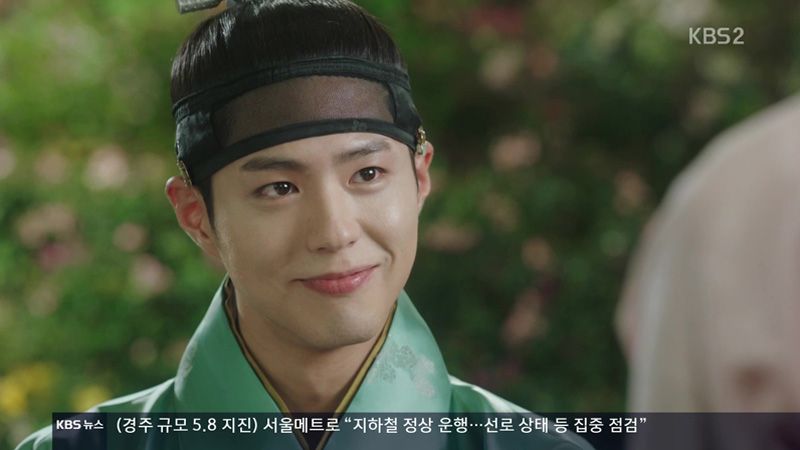 Ra-on approaches with her arms full of books, but when she sees the prince smiling up at Ha-yeon, she takes a step back, spirits sinking.
What she doesn't know is that Yeong declined Ha-yeon's suggestion, which sends Ha-yeon storming off in a snit. She's particularly annoyed that he gave his rejection with a smile, which had made her heart skip. But then she cheers up, and something tells me Ha-yeon is down but not out.
That night, a drunk Eunuch Ma parks himself outside Wol-hee's door and bellows for her to come out. Before he can get himself into serious trouble, though, Ra-on darts in and grabs him, clapping a hand over his mouth.
Eunuch Ma turns the tables, grabbing Ra-on by the throat and asking why she's following him around. Ra-on gasps that she's acting out of concern for him, and he retorts, "Who's concerned about whom? Acting like a eunuch—"
It sounds like he's about to out her secret, but out of nowhere Byung-yeon intervenes and shoves Eunuch Ma aside. He checks that she's okay and reaches toward her neck, but then his hand gets shoved aside by Yeong. But the intense moment begins to feel awkward, and Yeong tells Ra-on brusquely that she's fine and turns to go.
Ra-on hurries after them, and asks Byung-yeon if entering the palace life makes it impossible to change your fate (as in, leave the court). Byung-yeon replies that it can't be done without the king's consent.
At that, Yeong cuts in sternly to tell Ra-on not to concern herself with the others' relationship. He states that the law is the law, and while Ra-on concedes that that's true, she asks how the direction of one's heart can be right or wrong.
The next day, Ra-on broods by a tree, heavy-hearted at the memory of Yeong smiling with Ha-yeon in the garden. Eunuch Ma, sober today, sits down nearby to brood too before spotting Ra-on and getting huffy about the other night.
But Ra-on chides him for his series of bad choices: getting drunk, going to the women's quarters, and raising a fuss. She asks what he means to do now, and Eunuch Ma says glumly that there's nothing he can do. So Ra-on offers to help.
The king confers with the prime minister regarding an incident where bandits raided government stores of relief rations for the populace. The bandits have demanded the resignation of the vice minister of taxation, who has been accused of siphoning off those stores for his own gain.
The king asks why reports of the vice minister's wrongdoings were left out of the report, but the prime minister asks why the king has been blinded by the words of the ignorant populace, and taken issue with only the officials' "small flaws."
Prime Minister Kim presents the king with the mask dropped by Byung-yeon in the chase the other night, and declares that every suspicious culprit involved in recent troubles have worn a mask like it. Moreover, the man at the center of these activities is Hong Kyung-rae.
The name sends the king flashing back to the death and destruction of the peasant rebellion that Hong Kyung-rae had led, and he declares that the man has already died. Prime Minister Kim agrees, but believes his supporters are searching desperately for Hong's kin in order to revive their efforts.
Now that's an alarming prospect for the king, and it stokes his fears. He orders the prime minister to have them all caught, insisting that history cannot repeat itself.
That night, Ra-on works on sewing a doll and suggests that a preoccupied Byung-yeon give it a try, to help get his mind off his worries. When he tells her to shush, she grumbles that he's probably not even any good—which gets Byung-yeon to join her and show off his expertise.
Ra-on claps in amazement and heaps on the compliments, then asks him to do another. At which point he grumpily extinguishes the candle with his sword.
The next day, Yeong and Ra-on come upon a eunuch fistfight in the courtyard, which comes screeching to a halt at the prince's arrival. A bloodied Eunuch Jang initially refuses to explain the reason until Yeong threatens to send him to the court tribunal, and then he blurts that the others had been spouting nonsense.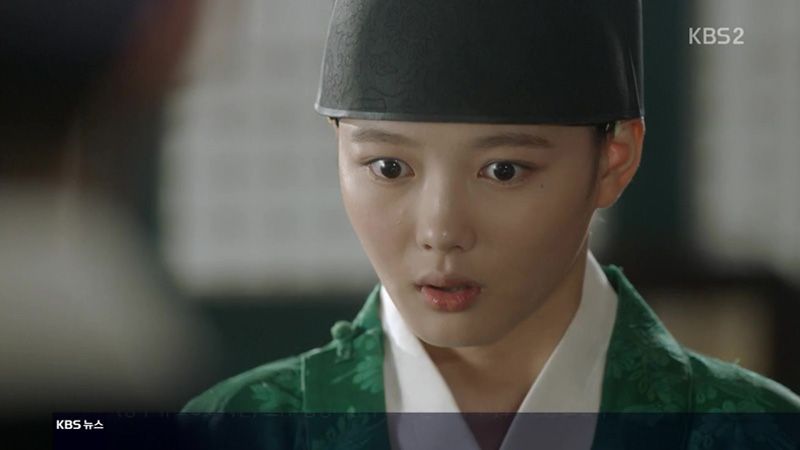 Yeong encourages him to explain further, and with great reluctance, Eunuch Jang tells him the rumor about Yeong being gay. The news comes as a shock to both Yeong and Ra-on, and his eyes briefly flicker over to her before he bursts into a big forced laugh, acting like it's a silly joke that's not worth the reaction.
But Eunuch Jang persists, saying that the rumors say that he looks at Ra-on like a lover, and that their closeness is out of the ordinary. At that, Yeong angrily tells him enough.
Later in the prince's library, Ra-on reaches up to a high shelf and ends up dropping the doll in her hands, which she'd been sewing earlier. Yeong gets to it first, and when Ra-on tries to yank it out of his grasp, he pulls on it too, and the sleeve rips.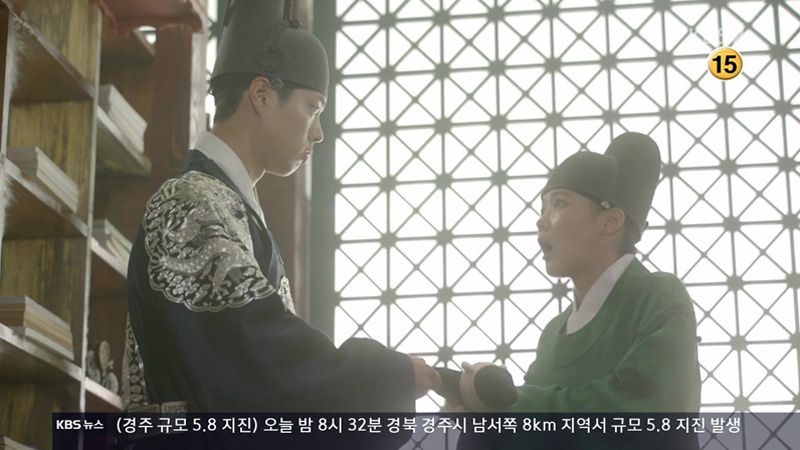 Yeong orders Ra-on to explain what she's up to, and she replies that the doll is something to convey true feelings without getting anyone hurt. Exasperated, he reminds her that he'd warned her not to get involved with Eunuch Ma's issues, but Ra-on counters that she won't do anything illegal.
"Is it not futile?" Yeong asks. "Even if you know your heart, it doesn't change anything."
Ra-on replies, "One doesn't not reach out a hand to the sky thinking it will touch it." He asks why, then. She replies, "I know that it is no use, but how can you control liking someone? Even though nothing will change, I would like my feelings to be understood."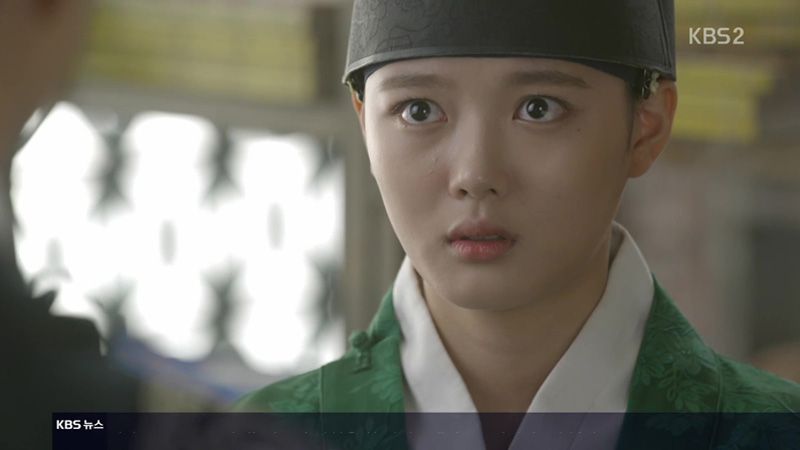 But Yeong replies that it's quite selfish for the departing party to confess their feelings for their own comfort.
Ra-on counters, "Is it not possible to confess to someone who cannot be?" She says that sending someone away well shows as much of a warm heart as love does. "The memory of having received love could become a lifelong source of strength."
His gaze changes at that, and she adds, "Although you will not be able to understand that feeling." She walks away, and he almost steps forward to follow, but stops himself.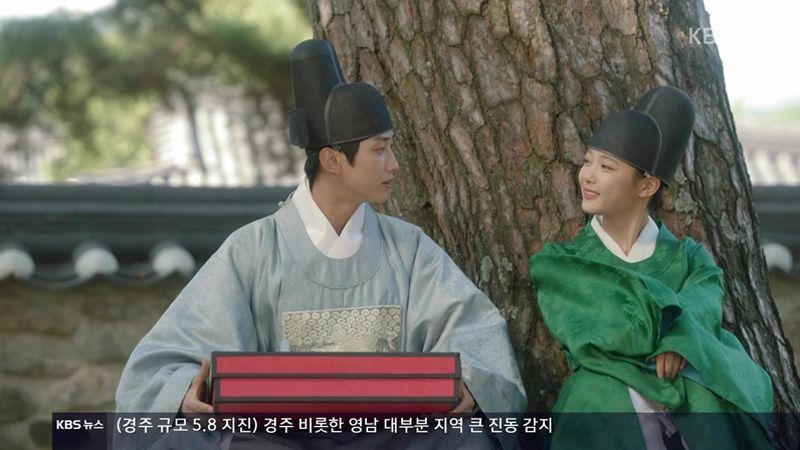 Ra-on joins Yoon-sung under a tree, saying that she's in need of its comfort. Yoon-sung's face lights up at the sight of her, though he does ask in concern who's been upsetting her.
"It's me," she answers. "I'm the one making myself the most angry." She says it feels like she's only causing trouble for the prince, and Yoon-sung asks cautiously if she means as a eunuch. She replies, "Of course."
Yoon-sung relaxes at that and says that it's probably the position itself that's the problem; her uniform doesn't suit her. He opens the box with him to show Ra-on the hanbok he'd bought before, which he'd said was meant for someone special. He's been waiting for the time the recipient might accept it happily, and wants to ask her today.
Then he places the box in Ra-on's hands and asks, "Do you not want to live as a woman?"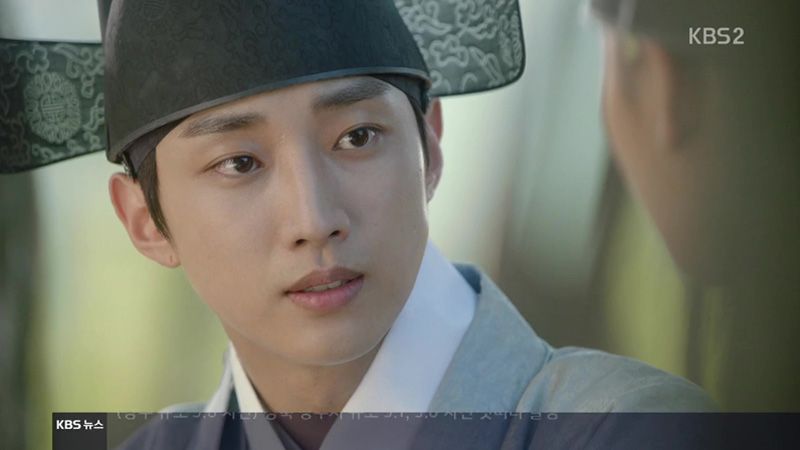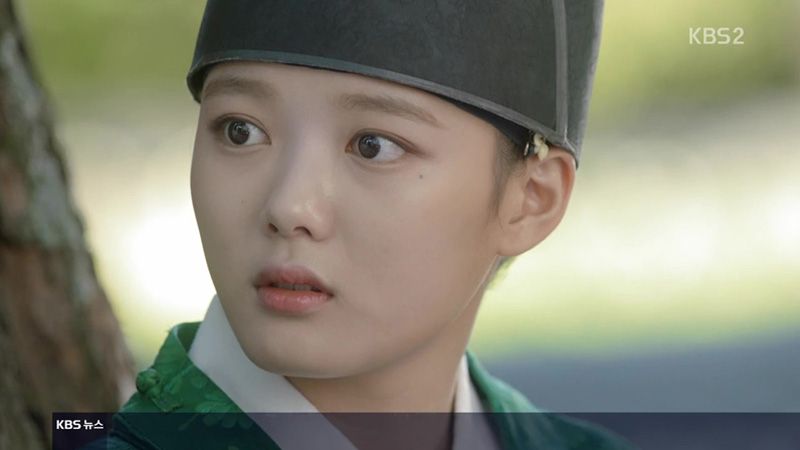 Meanwhile, Ha-yeon has tea with her father, and is taken aback at the mention of marriage. Ha-yeon is hesitant, saying that if she were to marry, she would like for it to be with the person she wants to marry, a response that leaves her father nonplussed.
Back at the tree, Ra-on takes a moment to get over her surprise, and answers that she likes things as they are. Yoon-sung presses, saying that it's dangerous living here in disguise, and says he'll help her leave the palace and live as a woman. The statement starts out as an offer, but ends as a request.
Yoon-sung tells her that this is what he's wanted to say since the day he bought the clothes. Ra-on tries to laugh it off, but he remains serious and tells her he'll wait until she figures out what she truly wants.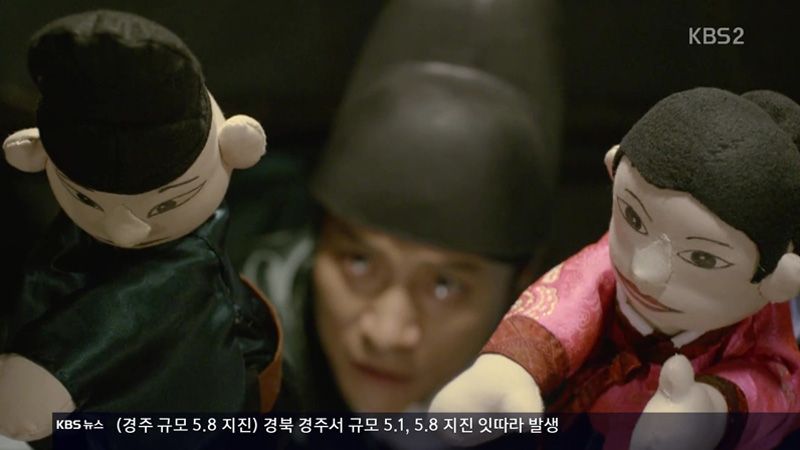 That evening, the eunuchs and court ladies gather for a puppet show—Ra-on's big idea—titled (hee) "The Court Lady's Man." Do Ki and Sung-yeol work the puppets and narrate the story of Do-hwa, the most beautiful woman in the land who became a court lady.
Enter the eunuch who followed her around, whom she rebuffed because court ladies are only meant for the king. And yet, Eunuch Wang was the only person she found she could rely on in the palace. When Wol-hee joins the audience, Ra-on signals to Eunuch Ma, who takes puppets in hand, looking determined.
Outside, the queen's Eunuch Sung hears of the puppet show with disapproval, but it isn't until he hears Ra-on's name that he snaps to attention .
Eunuch Ma takes over the storytelling as Puppet Do-hwa is about to spend the night with king, but longing for her lover. She asks Puppet Eunuch why he won't call her his woman, and Wol-hee recognizes his voice and their story. Puppet Eunuch sends her away, because their love has no future.
Wol-hee starts to storm out, but stops as Puppet Eunuch's declares, "I wanted to say these words! In a place with many people, in a loud voice! I love you! Truly, I truly love you!" Oh, tears. It's exactly what she'd wanted of Eunuch Ma, which he'd been reluctant to do.
Yeong arrives just as Eunuch Ma adds, "You may just be one of hundreds of the king's court ladies, but to me, you are the whole world!"
Gah, that is so freaking sweet. Beneath the stage, Eunuch Ma sobs, and onstage the puppets embrace. Ra-on looks at them with shining eyes, and Yeong thinks of Ra-on's words about a warm farewell meaning as much as a show of love.
Yeong leaves quietly, and Ra-on looks over just as he walks out, her face falling.
Then Eunuch Jang storms into the courtyard in a huff, berating the eunuchs and demanding the instigator to step forward.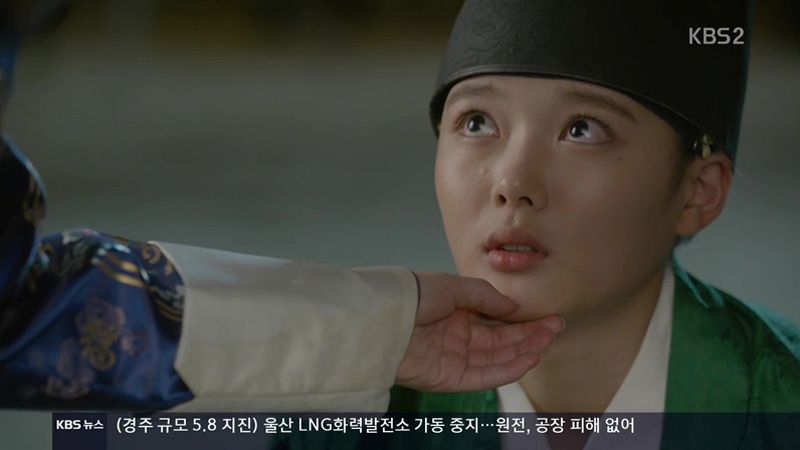 The next thing we know, Ra-on is kneeling before the smug queen, begging her pardon. The prince arrives, declaring that he took her bait in coming here, and will be taking Ra-on now.
But the queen refuses to allow it, stating that the rookie has overstepped his bounds. She reminds Ra-on that all court ladies belong to the king, and slaps her in the face, hard. She looks eagerly at Yeong for his reaction.
In fact, it seems everyone's waiting for Yeong's reaction, but he refuses to give it. After long moments, he starts to chuckle and tells the queen that a court-lady-and-eunuch love story is pretty standard parody stuff. He points out that even the king gets lampooned, and asks if she wants every satirist dragged before her for punishment.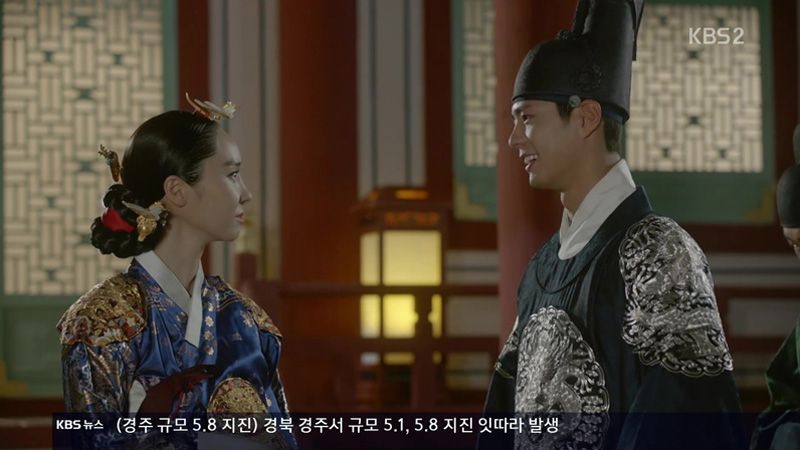 That angers the queen further, but it seems he's won this round. Yeong orders Ra-on to stand, and this time the queen doesn't stop it. She does, however, warn that the king is already troubled enough and asks, "Are you not afraid of the scandalous rumors about you?"
Yeong stands his ground, and advises that she give it a rest and not blow everything out of proportion. He leads his entourage away, keeping his emotions in check—but not so well in check that it escapes the queen's eagle eyes.
She's positively gleeful, in fact, as she notes that he isn't looking at Ra-on like one looks upon a eunuch: "That is the gaze of a man looking at his lover."
On the other hand, Eunuch Jang assures Yeong that he did a good job not letting the queen get to him. Yeong turns to look at Ra-on, who bows her head meekly, then continues without a word.
In her quarters that night, Ra-on thinks of Yeong's words about wanting to keep a eunuch close, and the queen's reference to the ugly rumors.
The next day, a new crisis is upon Ra-on, because the king's order to have all the eunuchs re-examined requires her to undergo another physical. She quakes in her boots and almost blurts her secret to Eunuch Sung.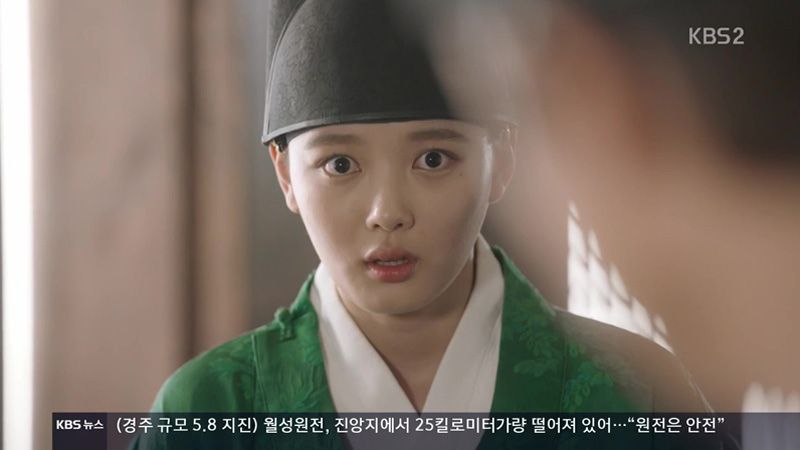 That's when Eunuch Ma interrupts, then plays off his interruption like it's no big deal, he's just off to make a really important delivery from the queen to the prime minister. Eunuch Sung balks because that's his purview, and he grabs the delivery and orders Eunuch Ma to give Ra-on a thorough exam. Phew, one bullet dodged.
Then, Eunuch Ma just goes over to the exam table and stamps her certificate: PASS. Man, is Ra-on burning through her nine lives or what?
It's a surprise to her, but he just gives her a little smile. She asks him how long he's known, and he says it was since the king's celebration. She apologizes, and he accepts that before then also thanking her.
It makes Ra-on smile, and she says that it offered her consolation to see them. Eunuch Ma tells her that she skirted this peril this time, but that the palace is a place where not even the king's safety can be guaranteed.
She understands, and says sadly, "If I can leave, I should leave, shouldn't I?"
Her mood is heavy as she attends on the prince, who notes her glum mood with curiosity. Finally he tells her to look at him directly, only to have her reply that her downturned face is the proper pose for a eunuch. Yeong asks if someone's been scolding her, or if she's angry at him for some reason.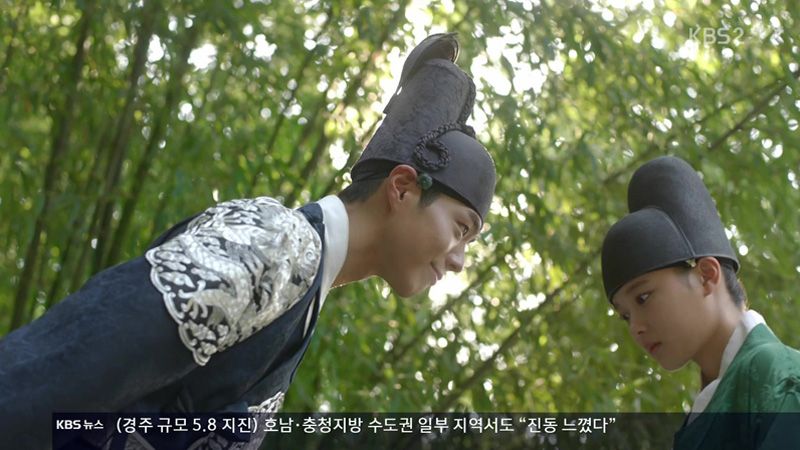 With a playful grin, he leans down to look her in the eye, and Ra-on shrinks away, even stepping backward. He's surprised, and she asks him not to be too nice to her: "I cannot be friends with you, or something else either."
She adds that she was taught that a eunuch's place is one step behind the prince—no closer, no farther.
"You're my person," Yeong reminds her, saying that nobody else can dictate the distance they keep. But Ra-on seems to have made up her mind, and requests, "Please care for me exactly as much as you do the other eunuchs. To me, that is something I'm grateful enough for."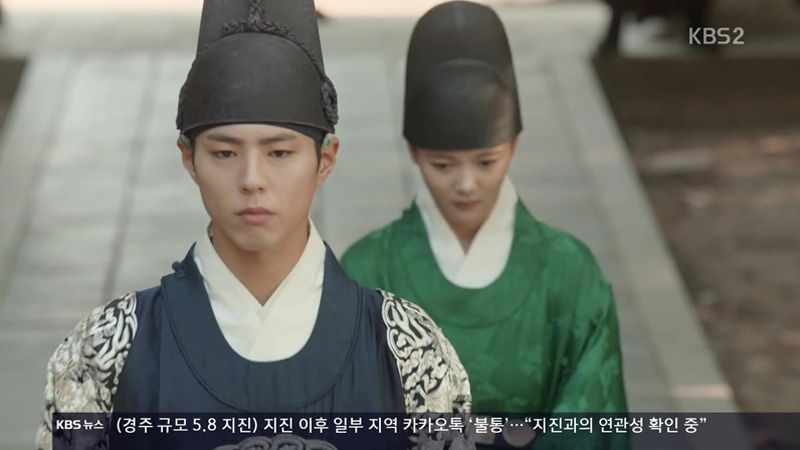 Yeong's face hardens, and he turns and resumes walking, with Ra-on remaining one faithful step behind.
That night, Yeong replays Ra-on's words about wanting to have her feelings understood, even if the result cannot change. He takes ink to paper.
Ra-on, meanwhile, looks over the pretty hanbok Yoon-sung gave her, thinking over his question: "Don't you want to live as a woman?"
The next day, Yeong summons Ra-on to the garden, the mood very serious. He takes a long moment before speaking, then finally says, "I lied to you."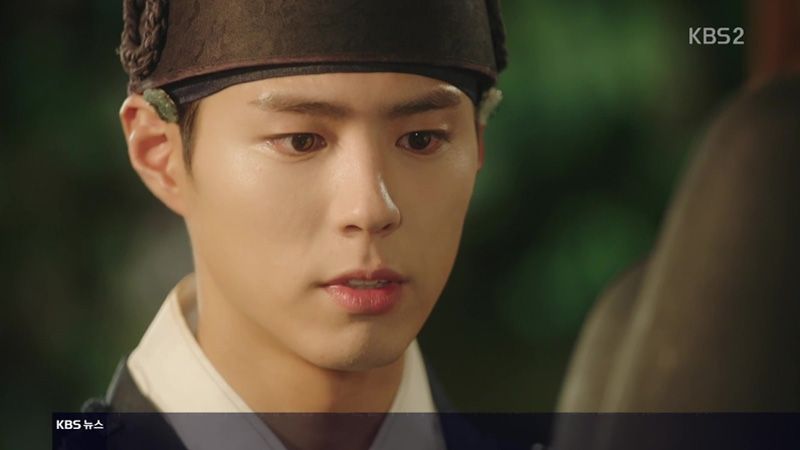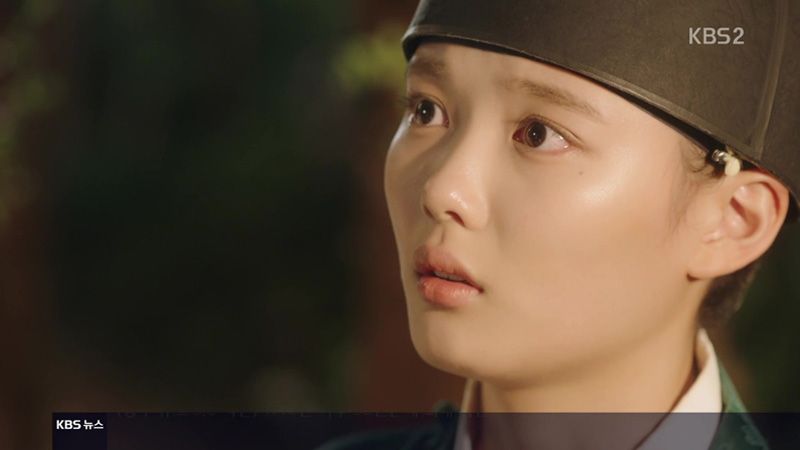 He clarifies, "When I told you to stay by my side, I did not mean as a eunuch. Then why do you think I said those words to you?"
Ra-on looks up in shock, and he continues, "To put to bed this impossible chaos, every night I have asked myself countlessly, and found that answer."
Yeong grabs her arm and pulls her closer. "Before I am the crown prince," he says, "I am one person, and one man. That I love you—that is my answer."
Oh. My. God.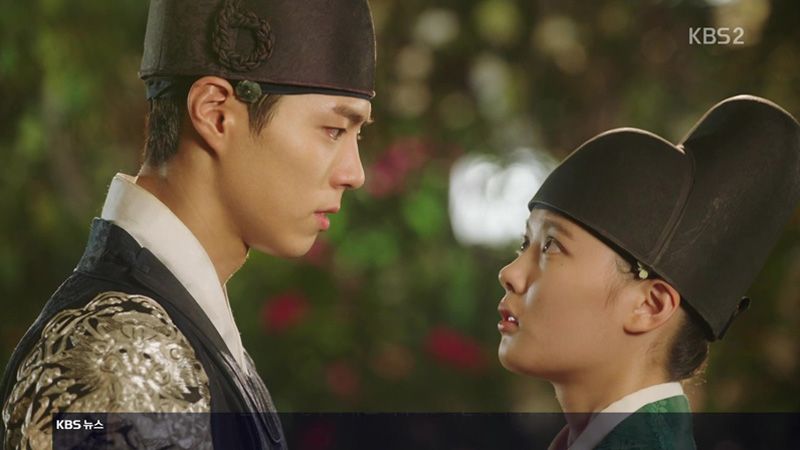 Ra-on is so flustered that she barely knows what to do. (I'm so flustered I barely know what to do.) She shakes off his hand and stammers that he's the prince—how could he love a man like her, or a eunuch?
"Do not tell me that my heart is wrong," he says, reminding her of her own words about being unable to declare a heart right or wrong for feeling the way it does.
He has a point, but Ra-on is still left grasping at straws, saying that there are nice loves and bad loves, and that this is one that nobody would support. More than that, it's impossible.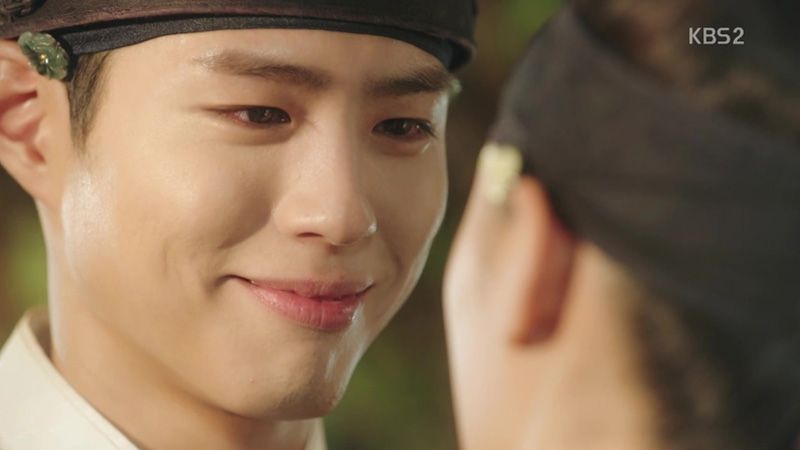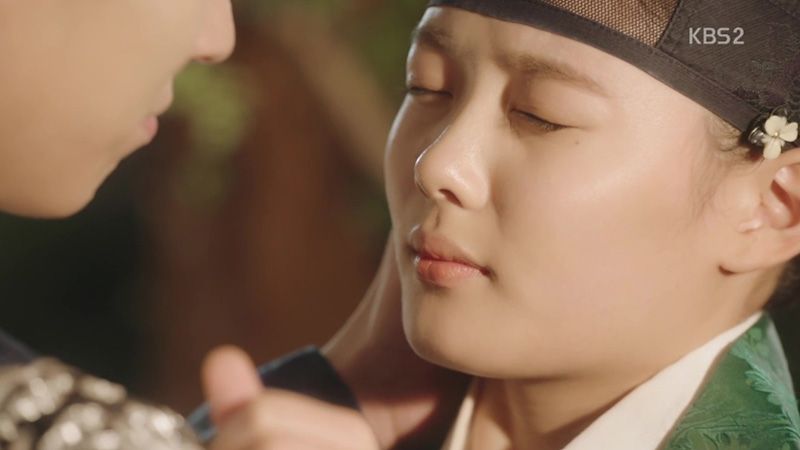 "I know," Yeong says. "However, I mean to give it a try, that bad love."
He steps closer, tiny step after tiny step, advancing as she takes equally tiny steps backward. Then he grabs her around the waist and pulls her close, toppling the hat from her head, staring intently at her face.
Ra-on is all aflutter with surprise and confusion and feeeeelings, but he lifts her face with a hand to her cheek, and she closes her eyes. Oh, he smiles at that.
And then, that kiss.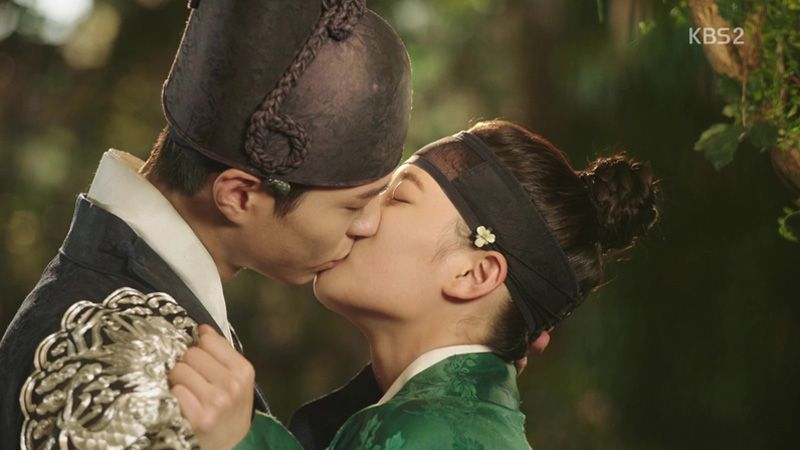 COMMENTS
Hold on, I think I need a minnit to gather my thoughts, because right now they're just sitting in a pool of sloppy emotions at my feet. It's going to take some effort to get them out of the primordial ooze of pure squee. I'll give it my best shot.
Okay, first things first: The confession and kiss make this a pretty awesome episode, but I can't overlook all of the other reasons I was so pleased with this episode, even before the last five minutes came and shoved those more civilized thoughts out my head. I was already thinking with the plot of the day that it was a lovely handling of a touching story, one that could have easily been a throwaway plot that was there merely to push our main couple along.
I can't quite pinpoint why I found Eunuch Ma and Wol-hee's story so moving, and it's not purely the writing or the acting. But I do believe it's the same inchoate element that makes Moonlight Drawn By Clouds as a whole such a winner for me—there's just a really nice, balanced directorial hand that elevates all of the elements and really facilitates full emotional absorption. That's a word (absorption) that gets thrown around in the Korean drama viewership extremely frequently, though it doesn't quite get the same attention internationally: the degree to which a drama sucks you in, and makes you feel fully immersed in the world. When you're wholly invested, you feel everything a little more strongly, a little more keenly, and that's the quality that this show has in spades, which makes it better than its familiar plot and potentially juvenile premise.
So the eunuch-and-court-lady tragic romance was moving on its own (I shed such tears in Eunuch Ma's shouted confession), but it was doubly effective for (1) mirroring the main lovers' struggles, and (2) spurring on their behavior toward each other, giving them half-cover for their veiled confessions earlier in the episode. When I saw that the episode was titled "Confession," I was both excited at the prospect and wary that of course we couldn't be talking about the main couple yet, and figured it was a reference to the other storyline. And then the Yeong-Ra-on story up and went that way too, and I was happily surprised to get double the whammy.
I really appreciate this kind of layered storytelling, with the A and B stories running parallel and each getting their own resolution, while dovetailing at the emotional high point of the episode. The construction is pretty familiar in American television, and in the best episodes, the multiple threads all converge on multiple levels—plotwise, emotionally, thematically. There's an added feeling of satisfaction and resolution when stories meet like that, so that by the time you reach our climax, everything resonates with extra vibrancy and clarity. It isn't to say Korean dramas lack the ability, but the serial nature of the episodes doesn't really lend itself to that. And also, I just don't think that kind of writing is the style in K-dramas.
Frankly I think Moonlight was carrying an extra-heavy burden, because when you stand on the shoulders of tent-pole Hallyu dramas like Coffee Prince or Sungkyunkwan Scandal, you can't just whip out a mediocre confession and achieve the same effect. Heck, you can't even be as good; you have to find a way to make it fresh again, and I didn't know if anybody would be able to top Gong Yoo's "I don't care if you're a man or an alien" speech. (That phrase still gives me the shivers.)
But my hat's off to Moonlight, because I was squealing pretty hard, and not in the least disappointed with the way Yeong made his grand confession. I love that it was straightforward and stated with clarity, and that he went there with the kiss, knowing what that meant with the historical context. Youth fantasy sageuk or no, it's still a sageuk, and I do think that provides a heightened effect with regards to the gay-acceptance throughline. It's also what makes me worry for the aftermath, because he's a prince with political enemies dying to take him down, and the stakes have just shot through the roof.
But why worry about things that haven't happened yet, when I can just rewatch that confession? Better that than sitting impatiently, waiting for tomorrow.
RELATED POSTS
Tags: Episode 7, featured, Jinyoung, Kim Yoo-jung, Moonlight Drawn By Clouds, Park Bo-gum