On the Way to the Airport: Episode 2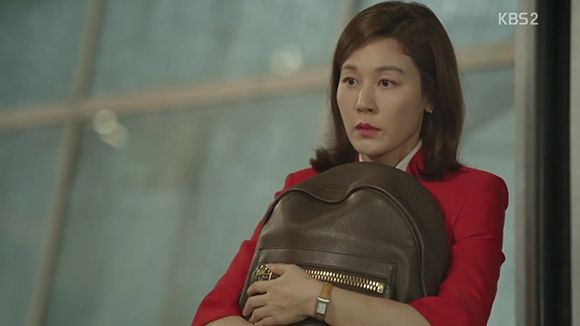 Following the tragic events of the premiere, our characters have to figure out how to adjust back to normal life. For some, that could mean allowing themselves to forget, while for others, it could mean allowing themselves to face reality head-on. And for Do-woo and Su-ah, it could just mean finding comfort with the presence of another person who happens to be going through similar pain.
EPISODE 2 RECAP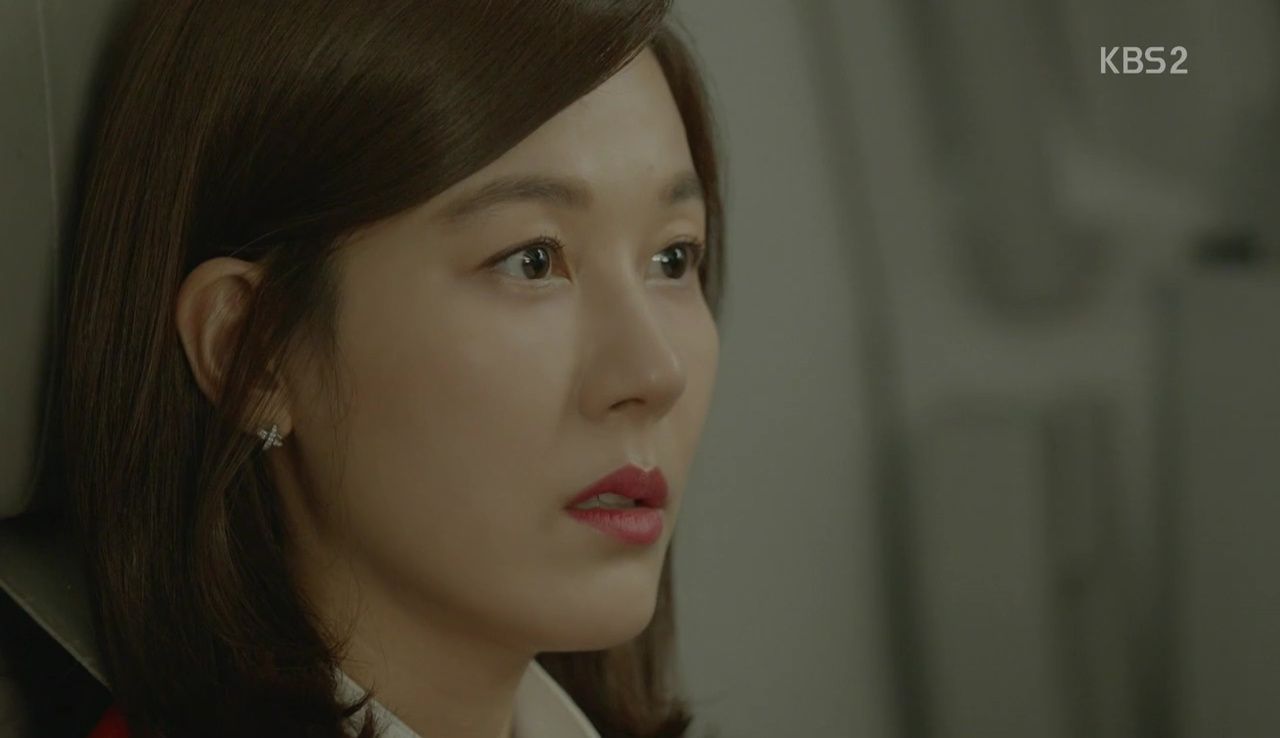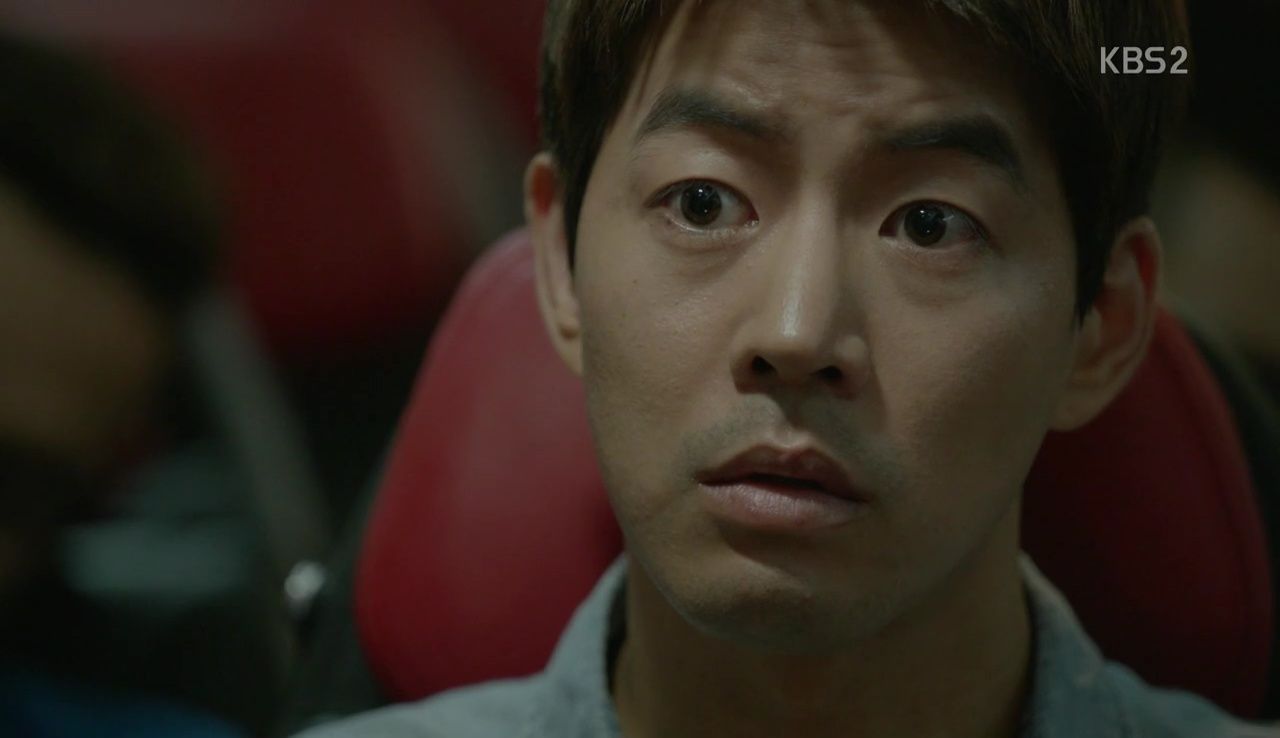 Do-woo is floored to find out that Su-ah is Hyo-eun's mother, his eyes widening first with shock, and then understanding. He starts to ask about Hyo-eun, but Su-ah has to maintain her professional composure when the passenger sitting next to Do-woo returns. Do-woo reads her apologetic expression and decides to keep his mouth shut for now.
They arrive back to Korea and the two exchange another polite look as Su-ah sees Do-woo off the plane. She watches him as he shuffles the rest of the way down the jet bridge, lost in thought.
Do-woo's stuck in his trance all the way to the terminal until a familiar figure walks up to him. "Suk hyung," Do-woo says in surprise.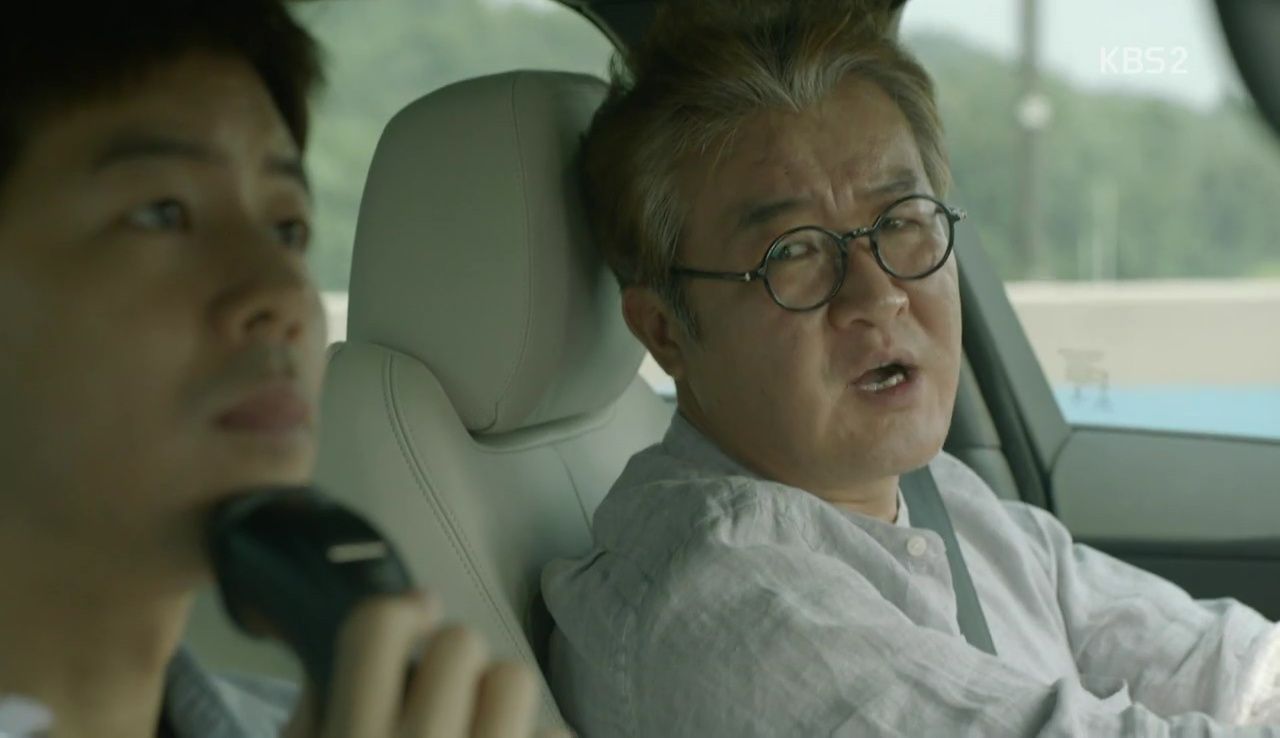 This must be Annie's uncle, Min Suk, and he's here to pick Do-woo up. As they drive back, Suk berates Do-woo for coming empty-handed and wonders if Hye-won is in her right mind in asking Do-woo to bury Annie in Malaysia. Or if Do-woo is in his right mind for actually listening to her.
Do-woo instructs him to just head to the hospital, but Suk says there's no need. Hye-won isn't there since she's too busy with a big event at the ornaments shop, which she insisted on carrying on with.
Suk drops Do-woo off at the shop, and lo and behold, Hye-won really is keeping herself busy – she's demonstrating how to tie one of the traditional knots, looking rather elegant and poised. From afar, Do-woo stares at his wife in concern as she smiles for the crowd.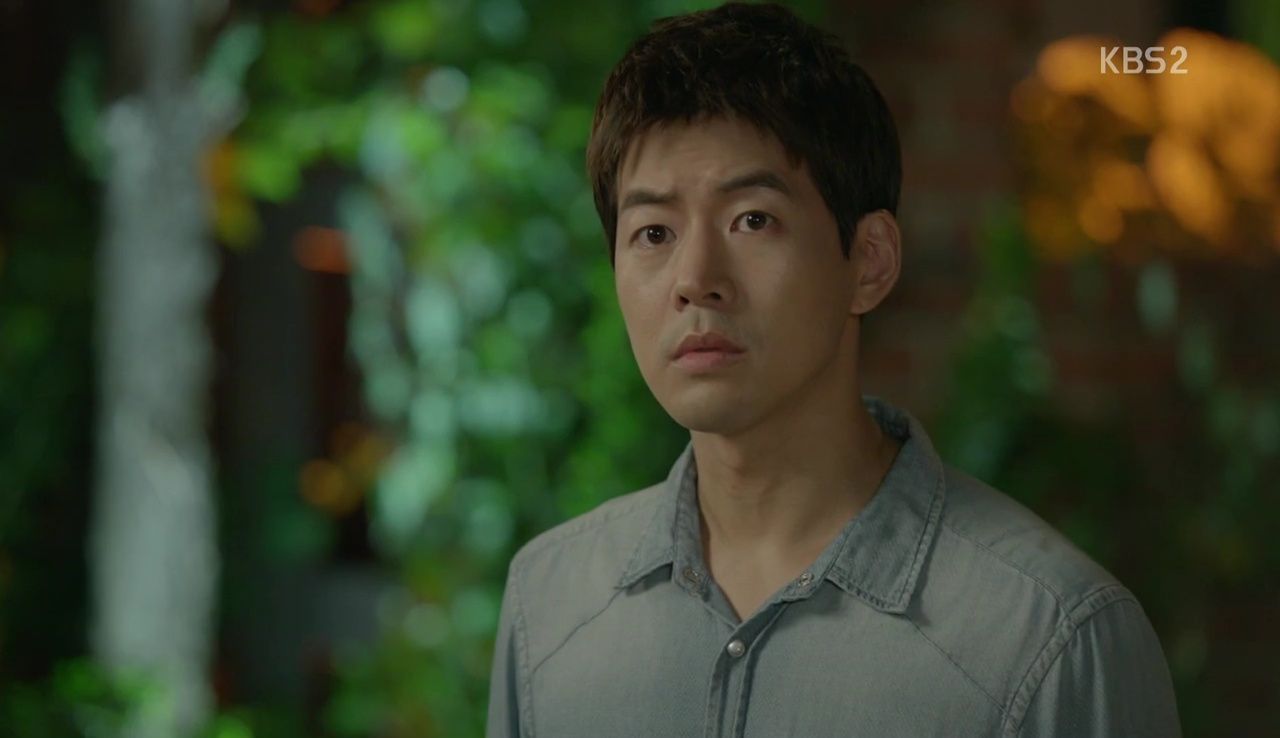 Ji-eun (Do-woo and Mi-jin's mutual friend) finds him and drags him off to talk in private. She too doesn't understand Hye-won's behavior since Annie's death. Hye-won hasn't told anyone and she just acts as if it's nothing. Do-woo looks up at that, asking, "Did that seem like it's nothing?"
The two return outside to find everyone waiting for Annie's grandmother, the star of the show. Do-woo watches Hye-won excuse herself, and mere seconds later, he gets a call from her. When he answers, Hye-won quietly pleads with him not to look at her strangely. Do-woo insists it's only because he's worried about her. He knows how much she's hurting after all.
"Don't say anything," Hye-won cuts him off. She doesn't want him mentioning whatever happened in Malaysia. She tries to change the subject to bringing Grandma out, but Do-woo won't let her. Do-woo: "It may be hard, but our daughter is dead. Let's accept that she's gone." Hye-won doesn't reply, and the two both turn towards the front when the crowd starts clapping at Grandma's entrance.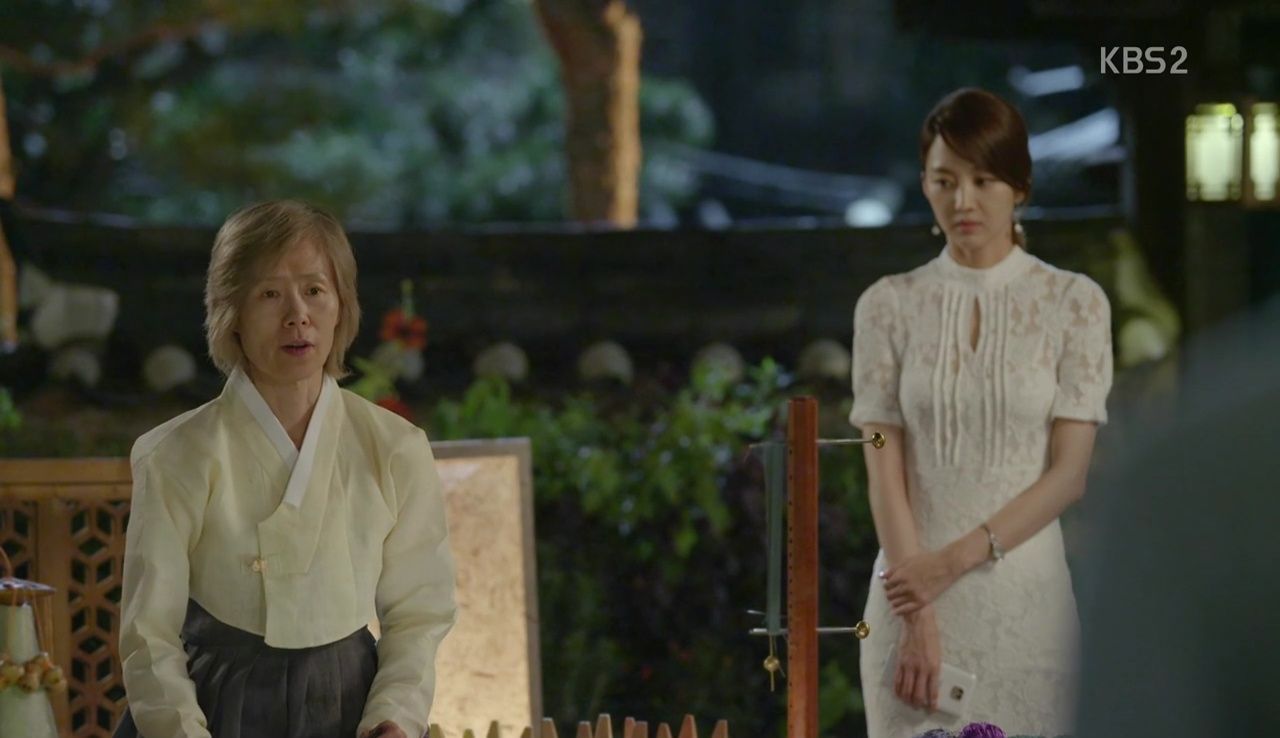 Before beginning her demonstration, Grandma announces sadly to the entire party that her granddaughter has passed away, sending a wave of gasps through the crowd. It all ricochets back to Hye-won and she just stands there, looking as if she really can't bear to hear this right now. As Grandma has everyone bow their heads in respect for a moment, she turns to Hye-won, who avoids her gaze.
After the event ends, Hye-won hastily clears up a table, but when her intern tries to help her, she snaps that she'll do it. Do-woo comes rushing towards her, and she pushes him away too. Hye-won spits out that she knows everyone thinks she's crazy, but she's going to keep working like this – it's her only way to cope. "I'll live as I always have, I'll work, I'll forget, and I'll accept it," she says, her voice rising, "I'll accept that she's not in this world anymore! So please, just watch over me."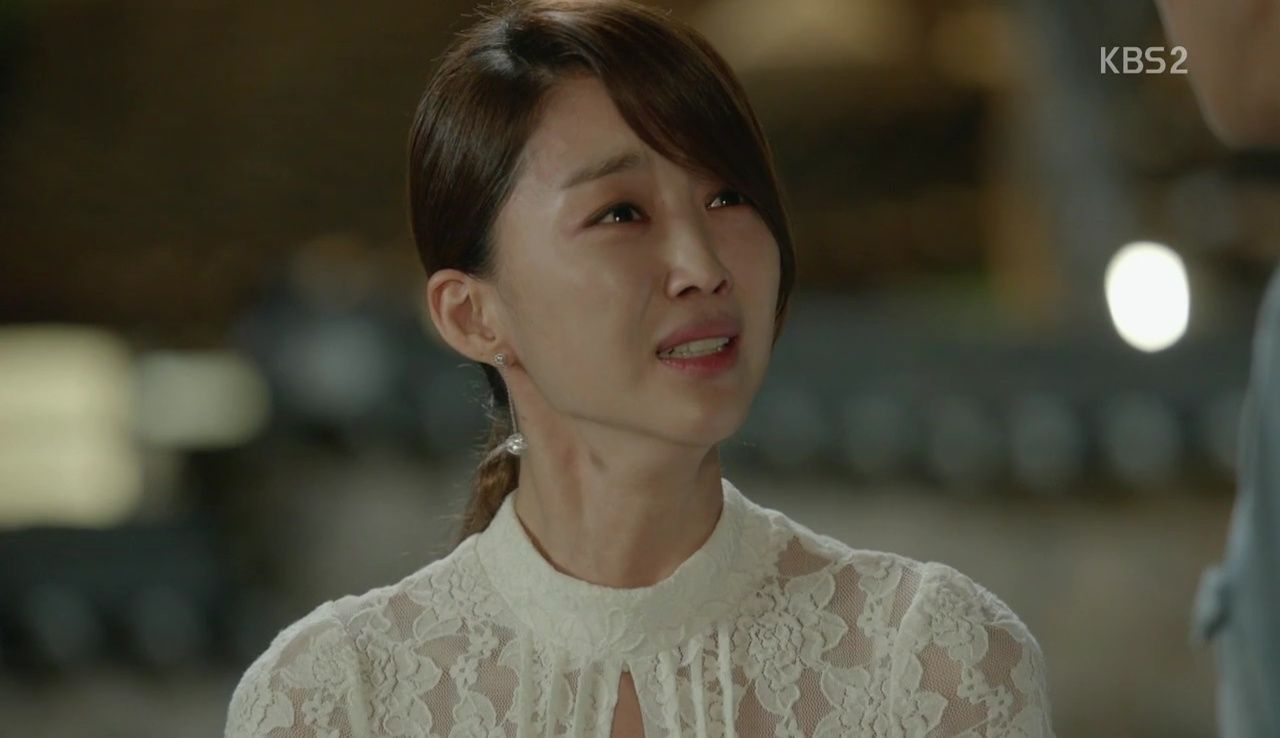 Jin-suk and his crew arrive back to Incheon Airport, and as Jin-suk chats with his co-pilot, one of the flight attendants keeps watching him from behind. Hm.
The crew goes their separate ways, and almost immediately, Jin-suk gets a call. He turns back to see that same flight attendant, but ignores her call, muttering that she's not too sharp. The flight attendant gets frustrated and sends him a text instead, asking if she made some sort of mistake. He ignores that too, only to see that he has another text from Su-ah saying she and Hyo-eun have arrived too. His expression darkens and he whirls around, going back the way he came.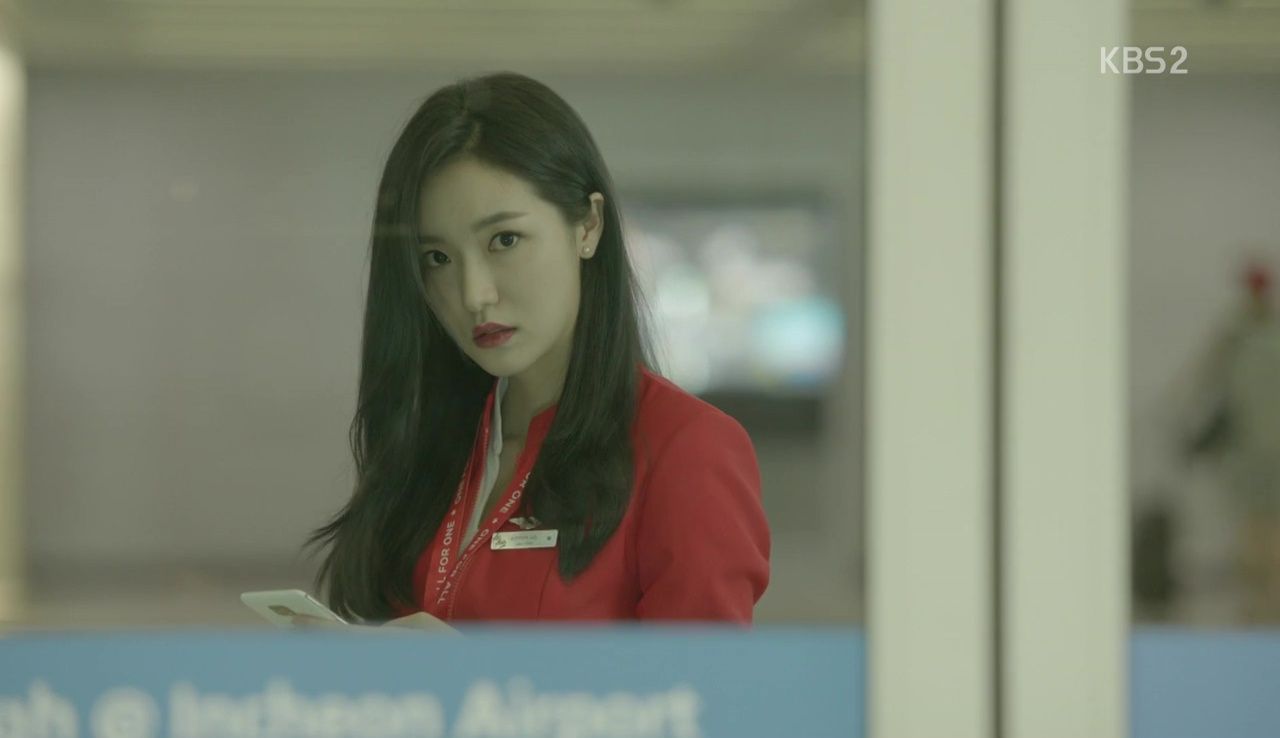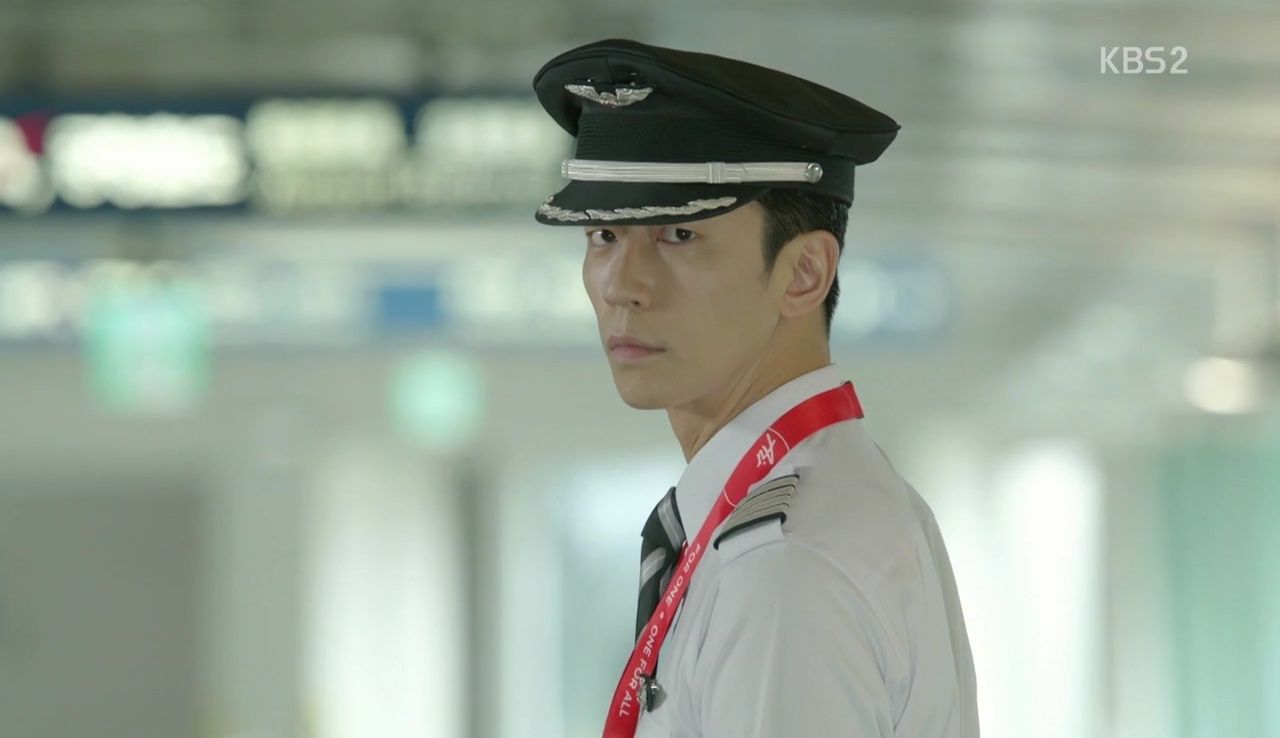 Su-ah and Hyo-eun reunite happily, though their smiles fade when Jin-suk comes into view. He sits them down for a stern talk, never forgetting to smile pleasantly whenever a co-worker passes by. Hyo-eun tries to lighten the mood, but Jin-suk only gets more upset to learn that they didn't even bring any kind of proof of enrollment from the international school. He urges Hyo-eun to just go back.
Instead, the three drive home, with Jin-suk still rambling about the school. Su-ah calmly tries to convince him that it was best to get Hyo-eun out of there since a close friend of hers died. Jin-suk gets a little agitated and argues that Su-ah shouldn't be so emotional in raising their daughter. He says that with Su-ah's mother's incident and the New Zealand incident, they keep dealing with the same thing over and over, and that the international school was the best option.
From the backseat, Hyo-eun cuts in, trying to ease the tension again. She smiles and says that she wants to eat ddukbokki right now. Jin-suk firmly tells her to go back after eating, prompting Hyo-eun to say in the exact same tone that she won't eat then. Ha, these two.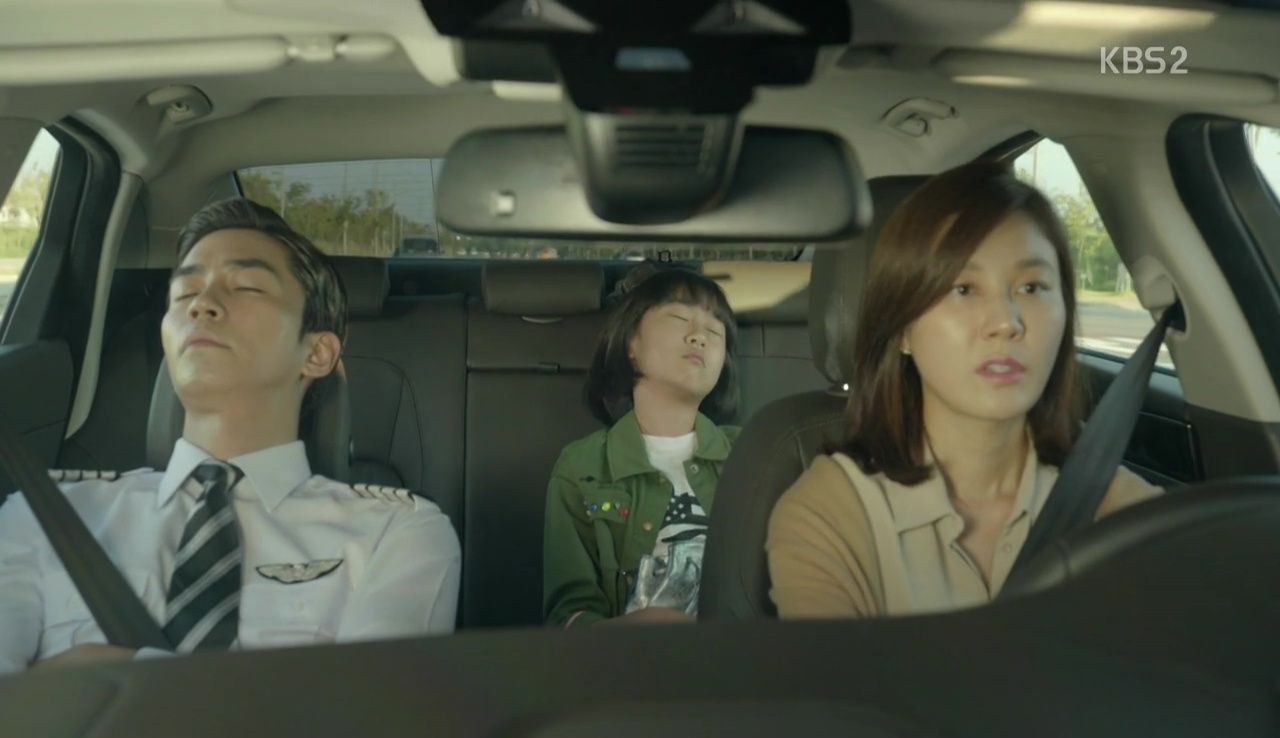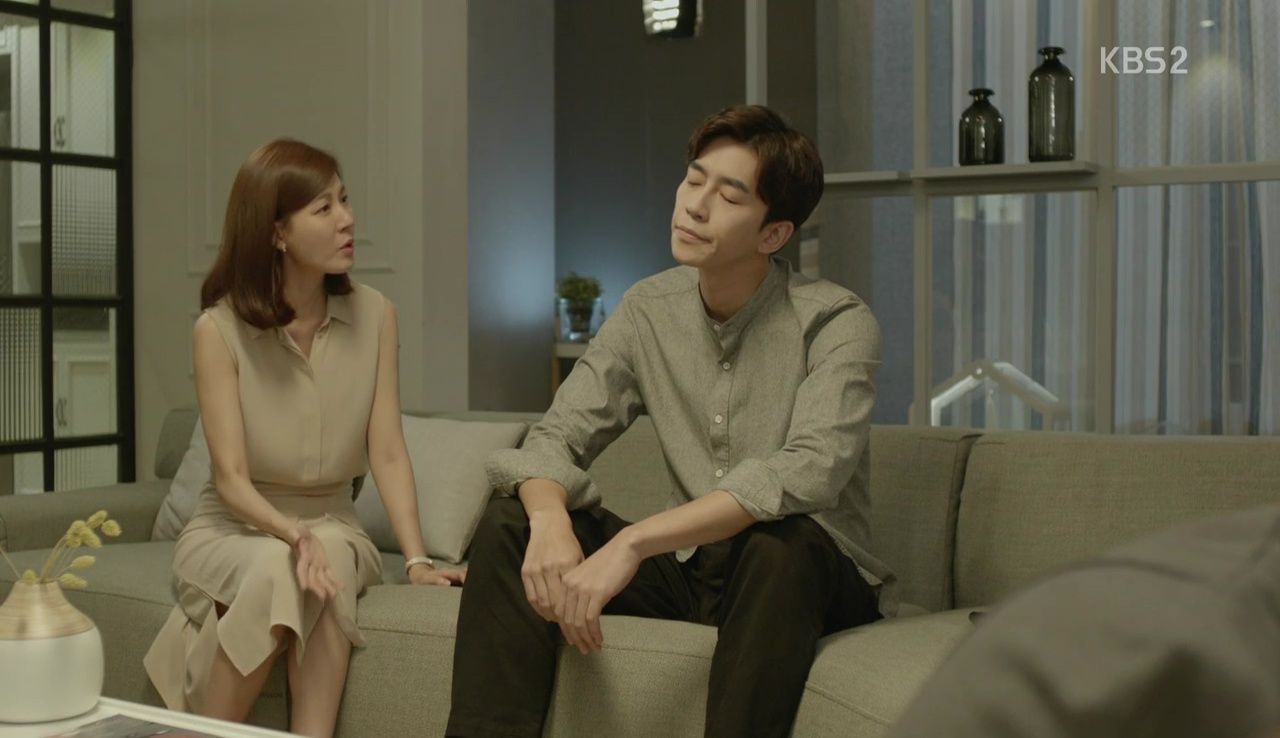 At home, Su-ah suggests the three of them go out and have fun when all of their schedules are free, earning an incredulous look from Jin-suk. He tells her to take Hyo-eun back after one week. Su-ah braces herself before saying quietly that Hyo-eun's name has already been taken out of the school.
Another fight ensues, with Su-ah wanting to take in Hyo-eun's opinions and Jin-suk wanting to do that when she's older. Su-ah doesn't hold back this time and insists they need to work together to raise their child, but Jin-suk won't budge. He walks away from the fight, leaving Su-ah pounding her chest in frustration.
Meanwhile, Do-woo sees Hye-won sitting alone in the bedroom and places a comforting arm around her. Hye-won leans into him and, her voice strained, she tells him not to bring Annie back to Korea.
The next day, Do-woo comes back from a morning run and overhears Hye-won on the phone with the host mom, Mary. He hears her tell Mary that she's not ready to see Annie's belongings yet as it would be difficult for her. Do-woo leaves after hearing that, and we see that Hye-won knew he was standing there the whole time. Once he's gone, she tells Mary to just get rid of all of Annie's things. Curiouser and curiouser.
Later, Do-woo and Hye-won go about their morning just as they used to, though Do-woo keeps sending worried glances her way. Suk walks in and asks Do-woo when he'll be going to Malaysia. It rubs Hye-won the wrong way, as if Suk is belittling her for not going. Suk snipes that he's not belittling her, but as a mother, she should retrieve the body. "I am the mother! But…" Hye-won trails off and breaks into tears. Do-woo reaches out as if to touch her hand, but decides against it.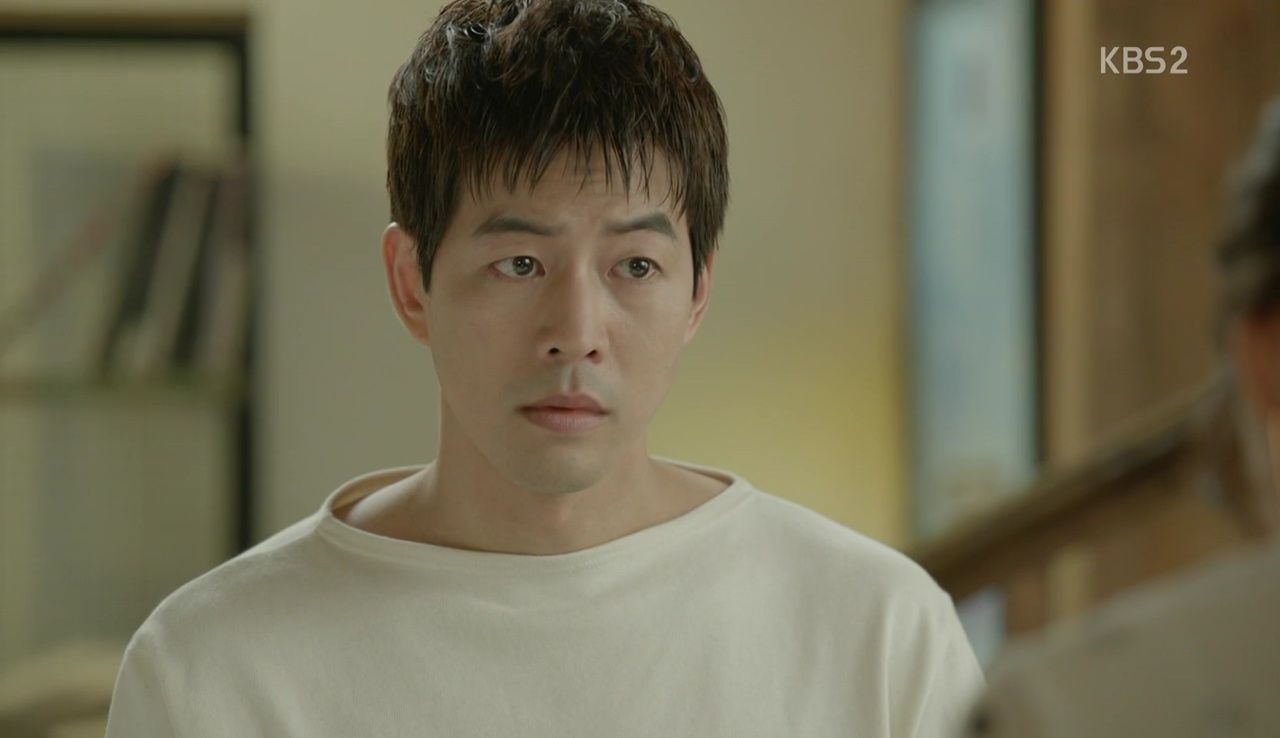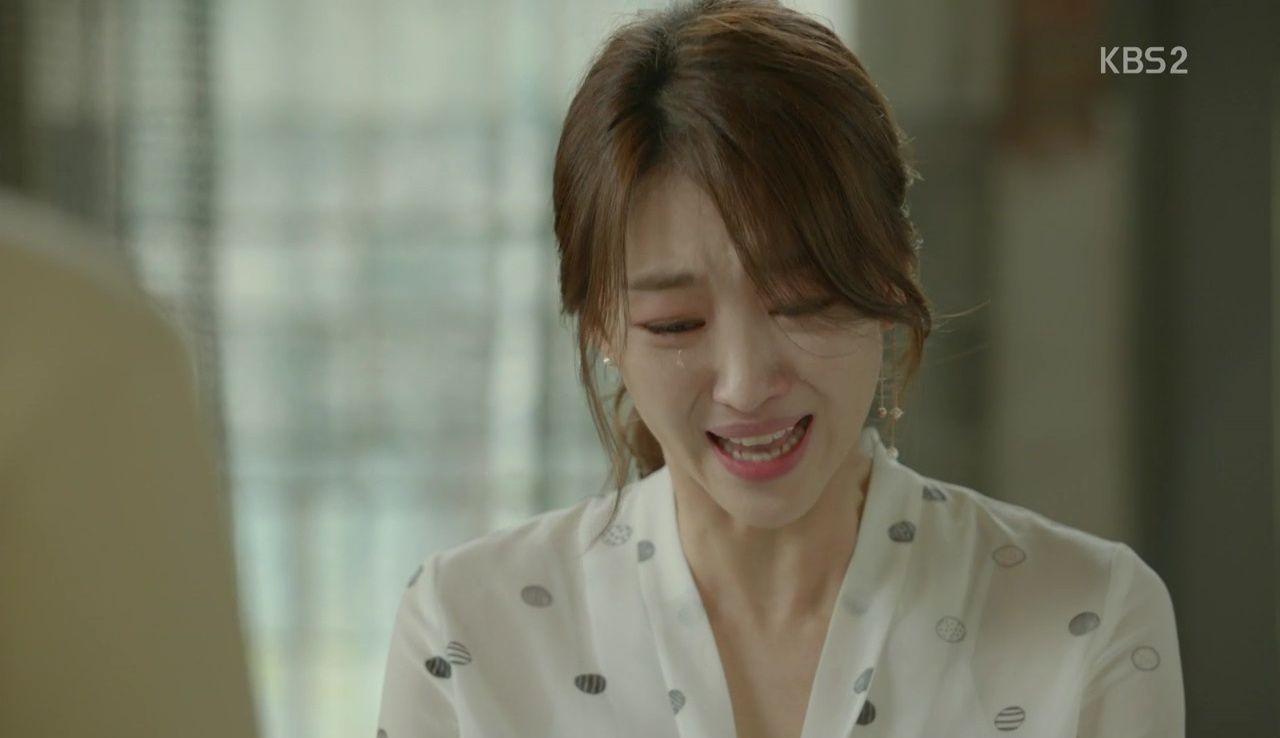 Su-ah sees if she can get any ground positions at the airport to free up her schedule a bit, but it won't be enough to take care of Hyo-eun. Though she knows it'll be futile, Su-ah visits her mother-in-law in hopes that maybe she'll help look after Hyo-eun.
But her mother-in-law is in a hurry to go out for singles night with friends and doesn't even want to consider babysitting her granddaughter. She tells Su-ah not to bring it up again, and Su-ah has no choice but to smile politely and agree.
The flight attendant that was starry-eyed for Jin-suk calls Mi-jin out for drinks. The flight attendant, Joo-hyun, knows that Mi-jin worked with Jin-suk before and wants to ask about him. Joo-hyun admits that she likes him and that they often had drinks together. She assumes Mi-jin must've had similar relations with Jin-suk as well and wonders if they should team up to ruin him. Mi-jin slams her drink down and calls Joo-hyun a crazy bitch, warning her not to mess with a superior's husband, and not to spread any rumors.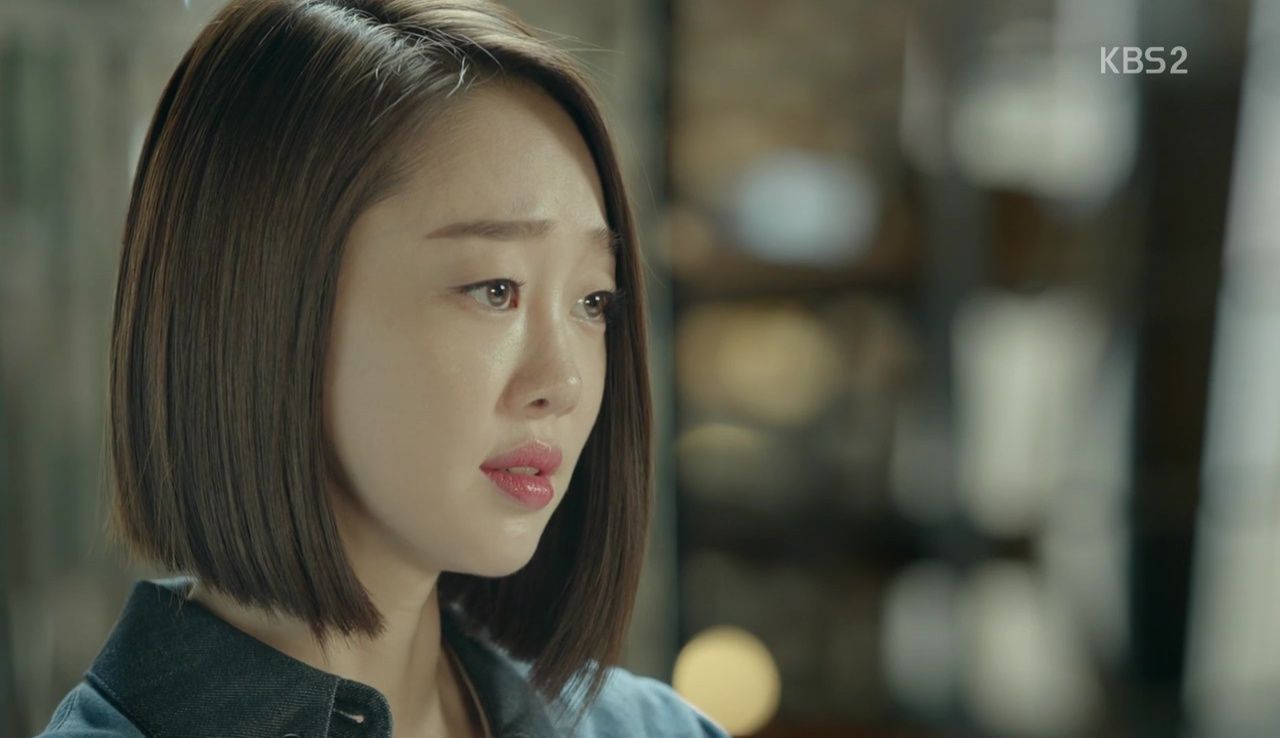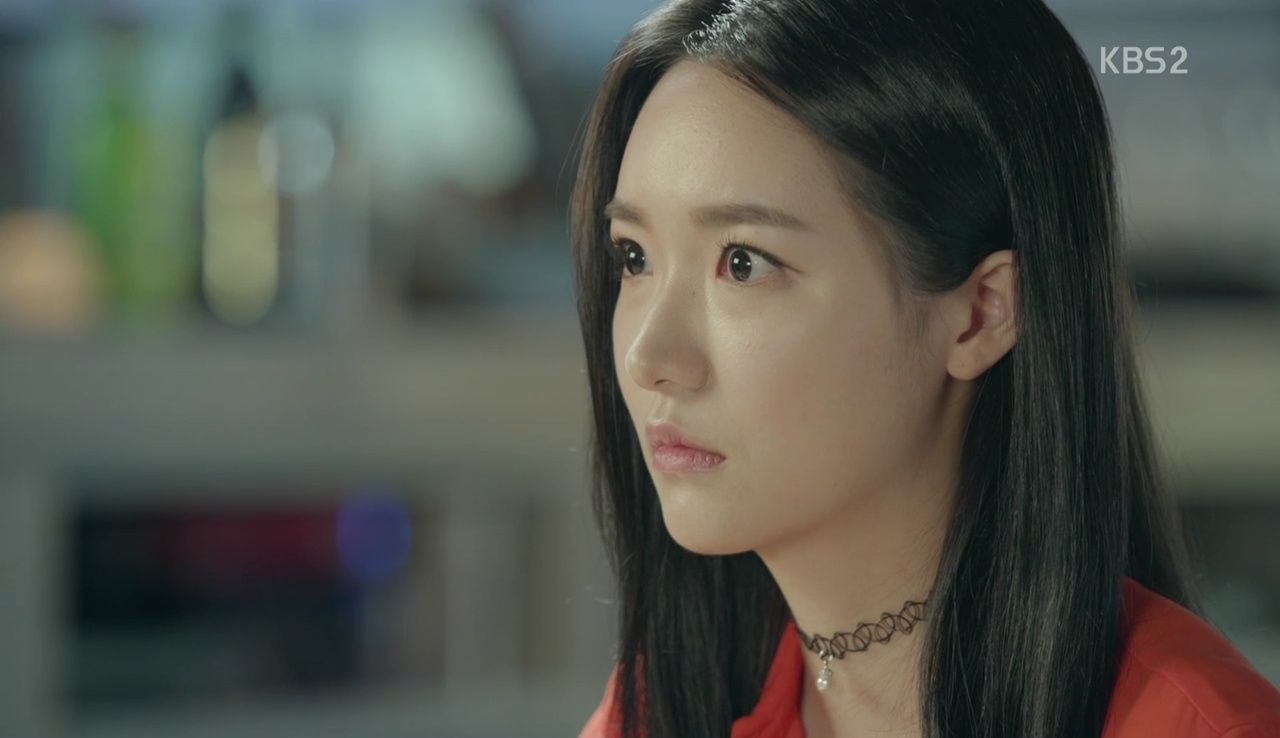 Su-ah and Hyo-eun spend the night together, with Hyo-eun helping her mom pack and get ready to head off to the airport again. As Su-ah gets dressed, Hyo-eun gets serious and tells her mom not to send her back to Malaysia. Su-ah smiles and gives her a small nod.
For now, Su-ah instructs Hyo-eun to study at home to please Dad before they decide on a school. Su-ah turns to leave, but Hyo-eun calls her back to ask about Annie's death, and if it would've hurt her friend as she went to Heaven. Su-ah reassures her it couldn't have hurt too much – maybe as much as a pinch. Hyo-eun adorably pinches her own cheek and smiles that it isn't too bad.
Su-ah looks at her daughter lovingly and says she really likes it that they're together now. "With you here, it feels like home," she beams. Hyo-eun excitedly agrees and sends Su-ah off with a big heart and an "I love you." So, so precious.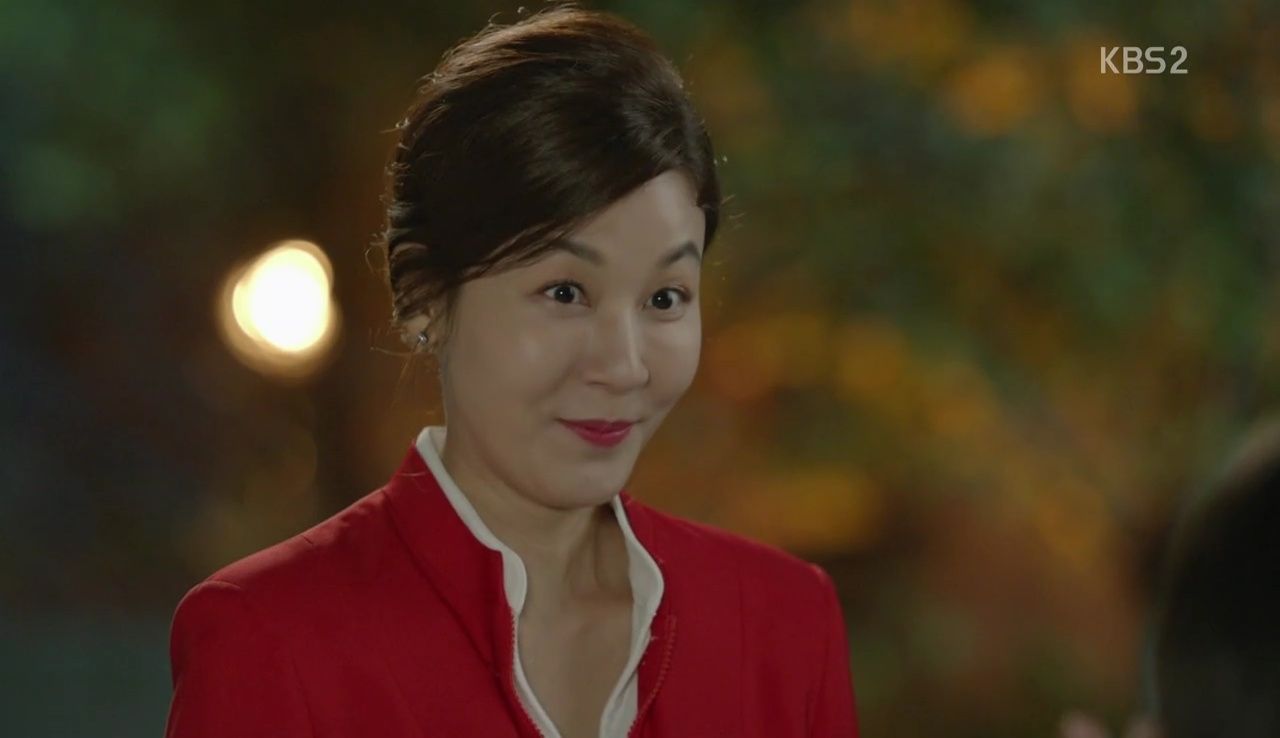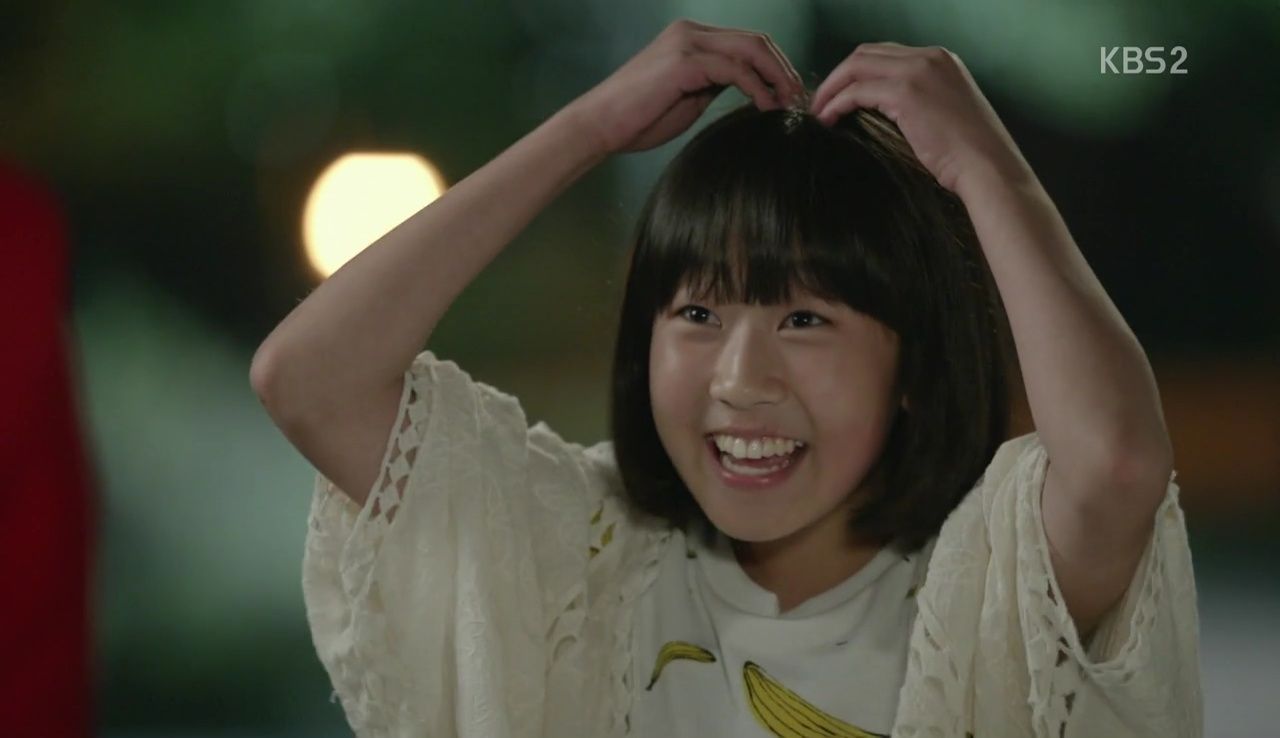 On her way to work, Su-ah gets a text from Do-woo saying what he wanted to ask her on the plane before: Did she bring Hyo-eun back? Su-ah replies that she did, and that it's nice having her back. Do-woo looks up from the text to gaze outside, saying to himself, "Of course it is."
They continue texting each other, Su-ah asking Do-woo about the paperwork needed to transfer Hyo-eun. She apologizes and thanks Do-woo for being such a big help. And later, when she receives a reply that Do-woo talked with Mary and that Mary already has it all taken care of, Su-ah grins with relief.
Do-woo is also at the airport, on his way to Malaysia to retrieve Annie's remains. He informs Suk of his plans and asks him to hide it from Hye-won.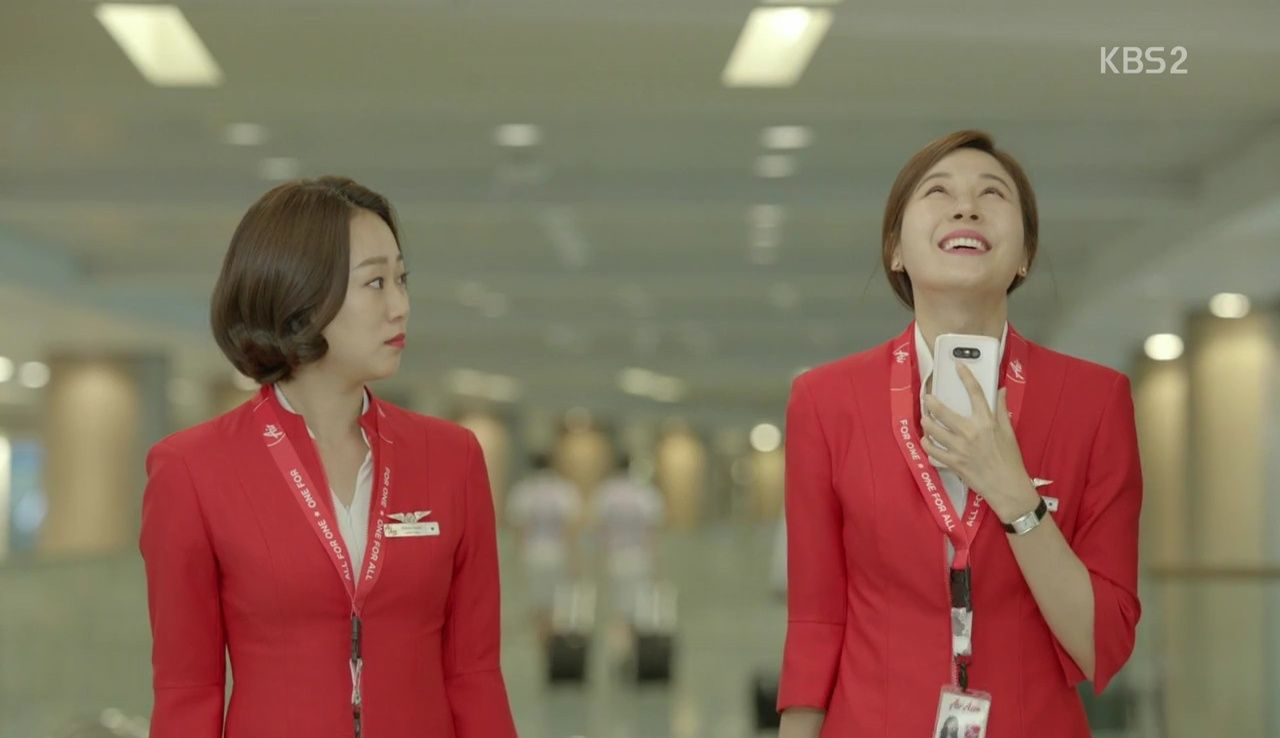 Back at home, Hyo-eun prepares bibimbap for Dad, but Jin-suk just stares at the dish, muttering that he's tired of bibimbap since it's the most common meal on flights. Hyo-eun pouts, so Jin-suk eats it anyway to acknowledge her efforts. That gets her smiling again, and she assures him that she's perfectly capable of taking care of herself.
When Jin-suk gets snappy about her needing to study, Hyo-eun switches to jondaemal to say that she lost a dear friend and she wishes to stay at home with her parents. She promises to do well. It seems to work because Jin-suk stops eating and offers to go out and play.
They go out to a soccer field, and Jin-suk suggests on making a deal with Hyo-eun: If she can block one goal from him, she can stay in Korea. Hyo-eun tries her very best to catch the ball, but Jin-suk is just too good, and he gets it past her every time. After a while, he gives Hyo-eun a rest and tells her to just go back to school.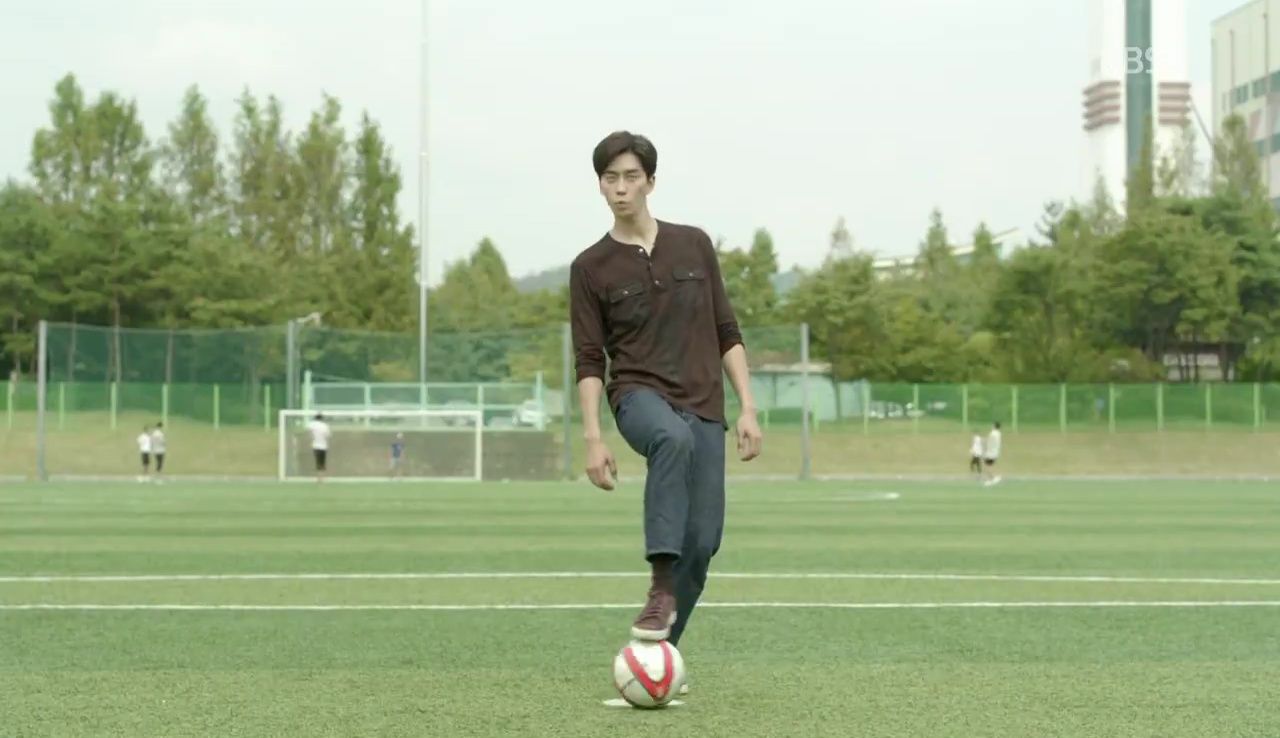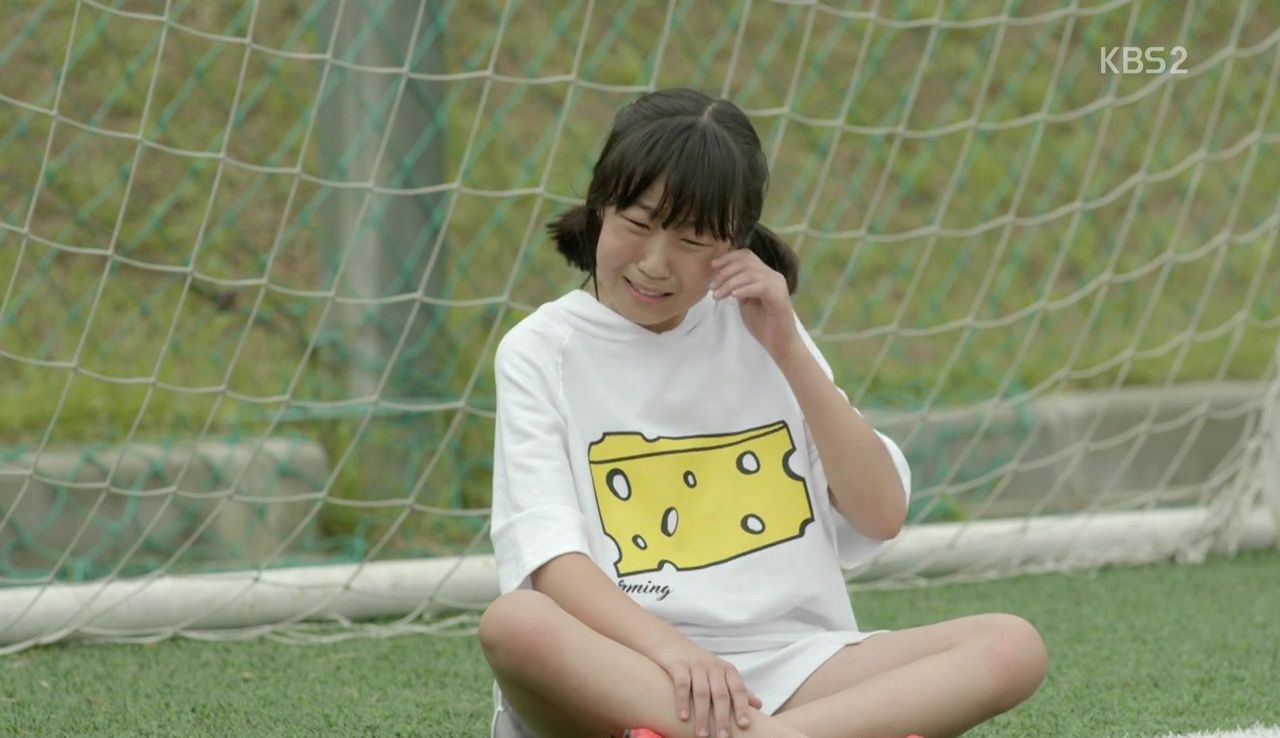 Hyo-eun cries that a dad shouldn't go that hard on their kid, and that Annie's dad wouldn't be like that. Jin-suk sighs and tells her that it's fine to cry – she should let it all out and then forget about her friend's passing. Then he yells at her to forget about the soccer game and concentrate on studying before stalking off.
Su-ah reaches Malaysia and goes straight to Hyo-eun's homestay. She apologizes to Mary for her behavior before, and Mary just tsks that Korean parents are all the same, always checking in on their kids' grades rather than the kids themselves. But she notes that Annie's dad was different.
As Su-ah packs up the rest of Hyo-eun's stuff, Mary sighs that she has no idea what to do with Annie's side of the room – the dad wants her to keep it while the mom wants her to toss it. Su-ah recalls how heartbroken Do-woo was after Annie's death and tells Mary that she'll take everything and deliver it to Do-woo herself, including the iron Annie had bought. Aw, yay.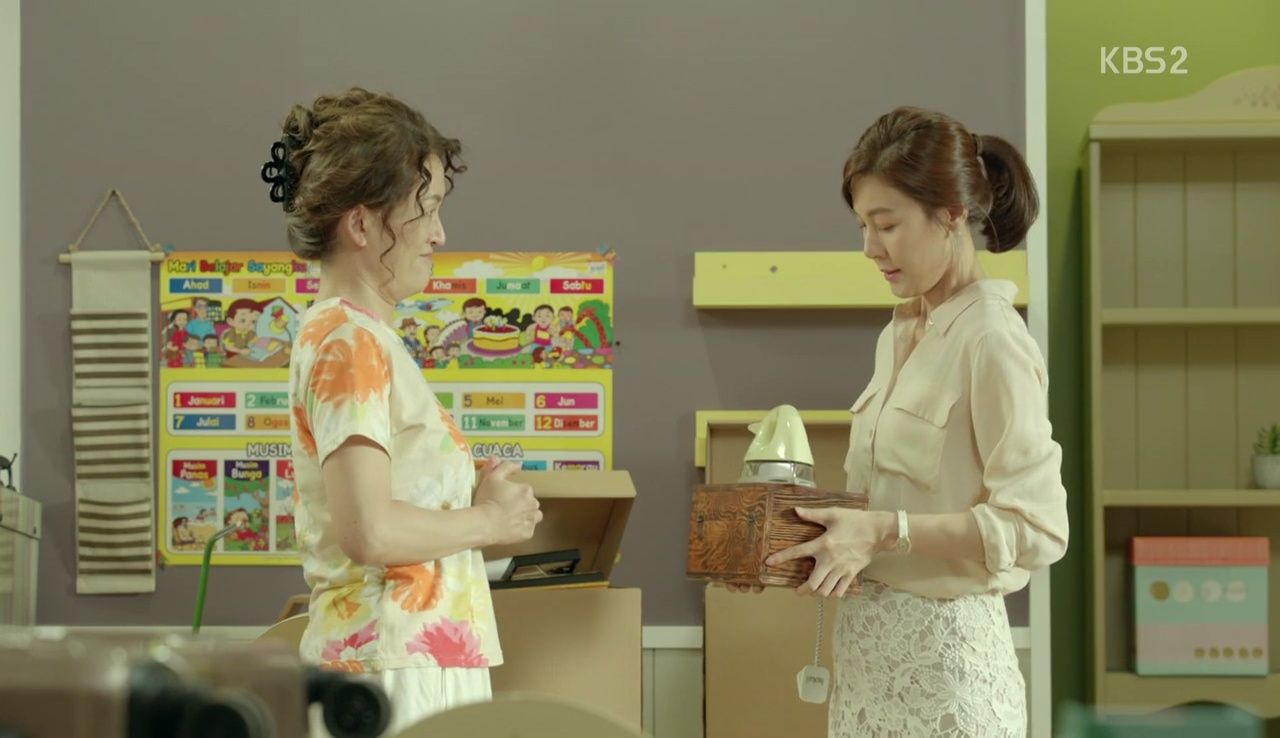 At the same time, Do-woo retrieves Annie's ashes, finally ready to bring her home.
He's on the same flight as Su-ah, of course, and they're both pleasantly surprised to see each other again. She thanks him for helping out with Hyo-eun's paperwork and tells him she'll have something waiting for him when they land.
In Korea, Hye-won hesitantly enters Annie's old room and then starts taking everything down, from the books to the photographs.
Once Su-ah and Do-woo are in Korea as well, Do-woo waits patiently for Su-ah's call. After confirming her luggage will be coming in with the next flight, Su-ah calls Do-woo and notifies him that she can have it mailed to his address. He's about to give her the address but changes his mind upon learning it's the iron. He texts her with a smile, saying he should accept it now. Do-woo: "Let's wait for it together."
Su-ah rushes out to meet with Do-woo, and as she rides the escalator down to his location, her eyes search the area until they land on him. He catches sight of her too, and as she gets closer and closer, their eyes are totally fixed on each other until they're finally face to face. Su-ah apologizes for not introducing herself properly before, but Do-woo beats her to it: "Choi Su-ah?" He smiles, pointing to the name tag on her uniform. "I'm Seo Do-woo," he continues, "Nice to meet you." Su-ah gladly returns the smile.
They sit down together to wait for the luggage, and Su-ah starts talking about Hyo-eun's stay in Malaysia and how she immediately adjusted thanks to her friendship with Annie. Su-ah stops herself when she realizes she probably shouldn't have mentioned Annie, but Do-woo urges her on. "It's okay," he says, "It's nice to hear. I can't talk about Annie at home."
Su-ah is more than happy to comply and continues sharing the happy memories their daughters made together.
At his mother's house, Jin-suk searches for boarding schools online with no luck. His mother thinks it's about time Su-ah just quit her job, but Jin-suk absently reminds her that they can't live on his salary alone.
When Mom keeps pressing the topic, Jin-suk looks up from his laptop to defend his wife: "There are many flight attendants in their forties, and Su-ah is a capable woman."
Mom changes the subject and suggests he and Hyo-eun leave since he has a flight out tomorrow. Before they go, Hyo-eun tells Su-ah over the phone that she and Dad are hanging out at Grandma's. She also mentions the soccer match earlier and how it was the first time she had seen her dad look so determined.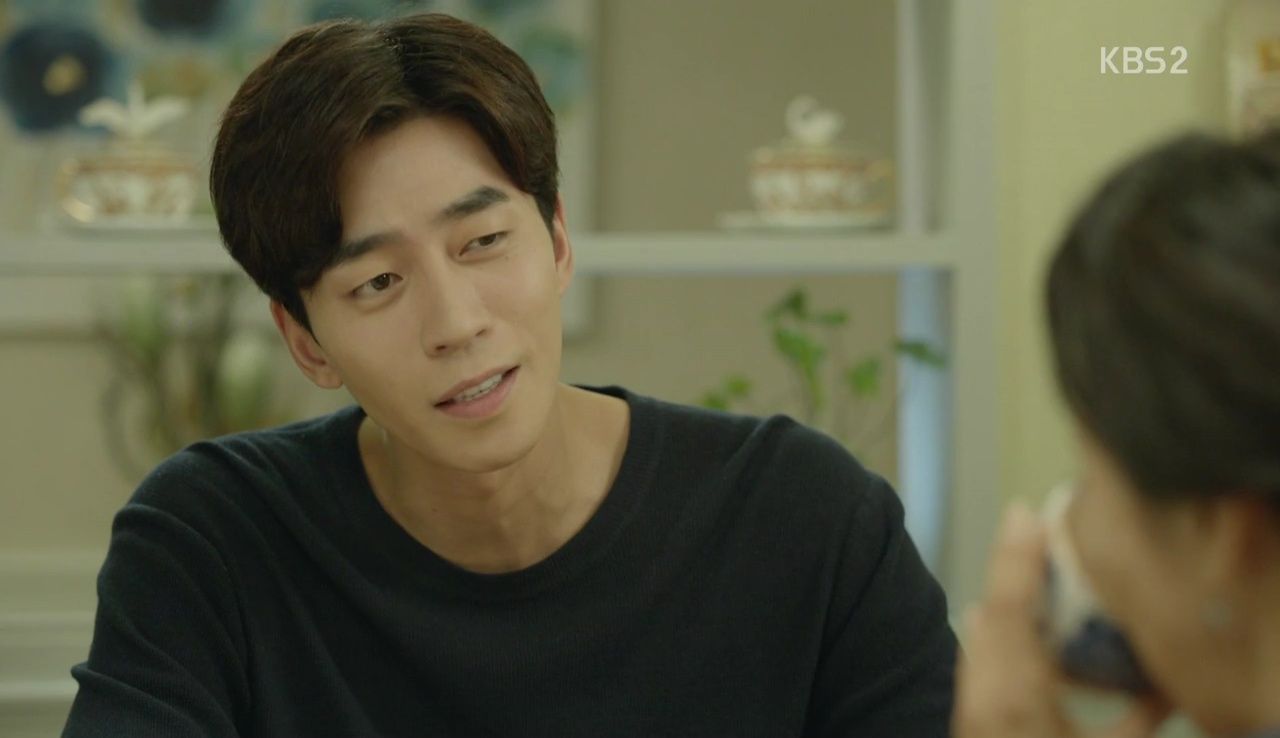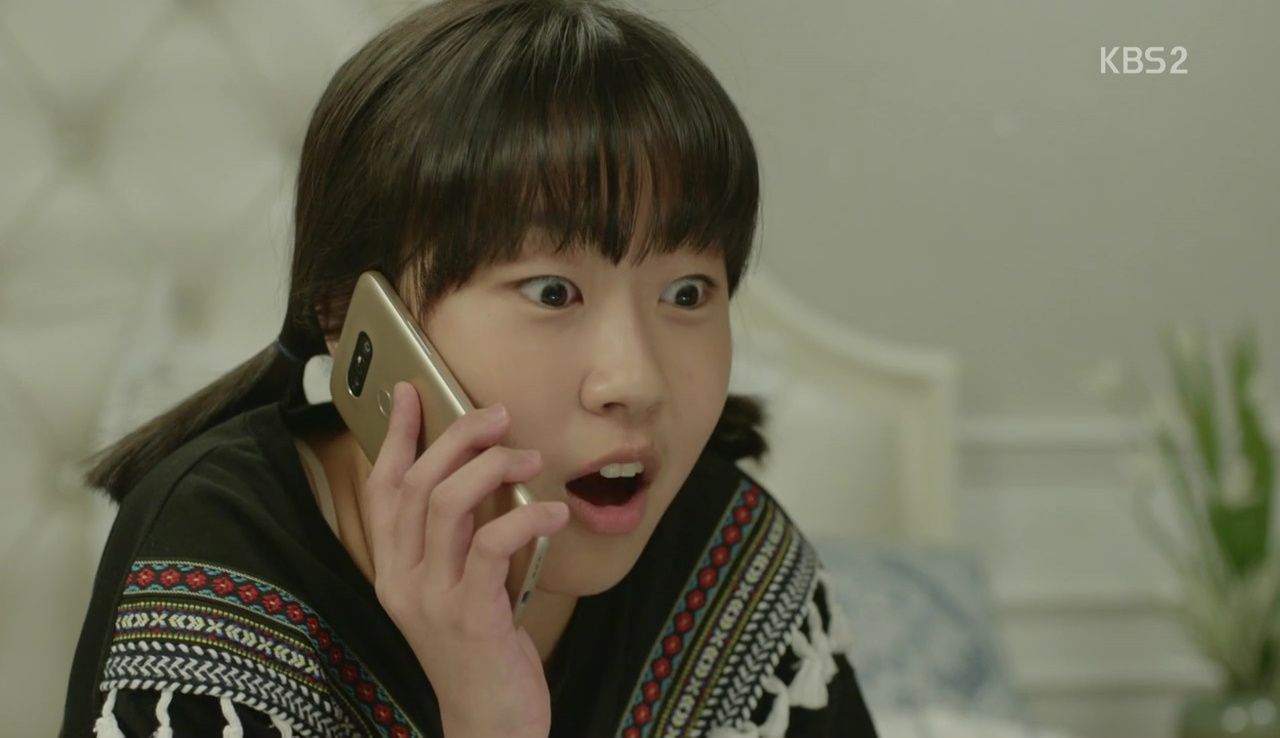 Su-ah ends the call when she sees Do-woo approach with coffee. He asks how Hyo-eun is doing, smiling to hear that she's trying her best to prove she can be independent. Su-ah admits that she's always feeling sorry towards her daughter. She thought the international school was the best option, but now she feels like she just took the easy route, letting someone else take care of her child when she was exhausted. She notes that a mother's selfishness can really hurt her child.
Do-woo says that his wife probably feels the same way. And that Hye-won's guilt over her selfishness is why she doesn't like bringing up Annie. Su-ah wishes she could offer words of comfort, but she doesn't know what to say.
Do-woo thinks for a moment. He says he's fine, but she can offer comfort to Annie. "'It's good you came. You worked hard. Rest in peace. Thanks for what you did for Hyo-eun.' Wouldn't this offer comfort?" Su-ah nods, and folds her hands to pray, but Do-woo motions to his backpack.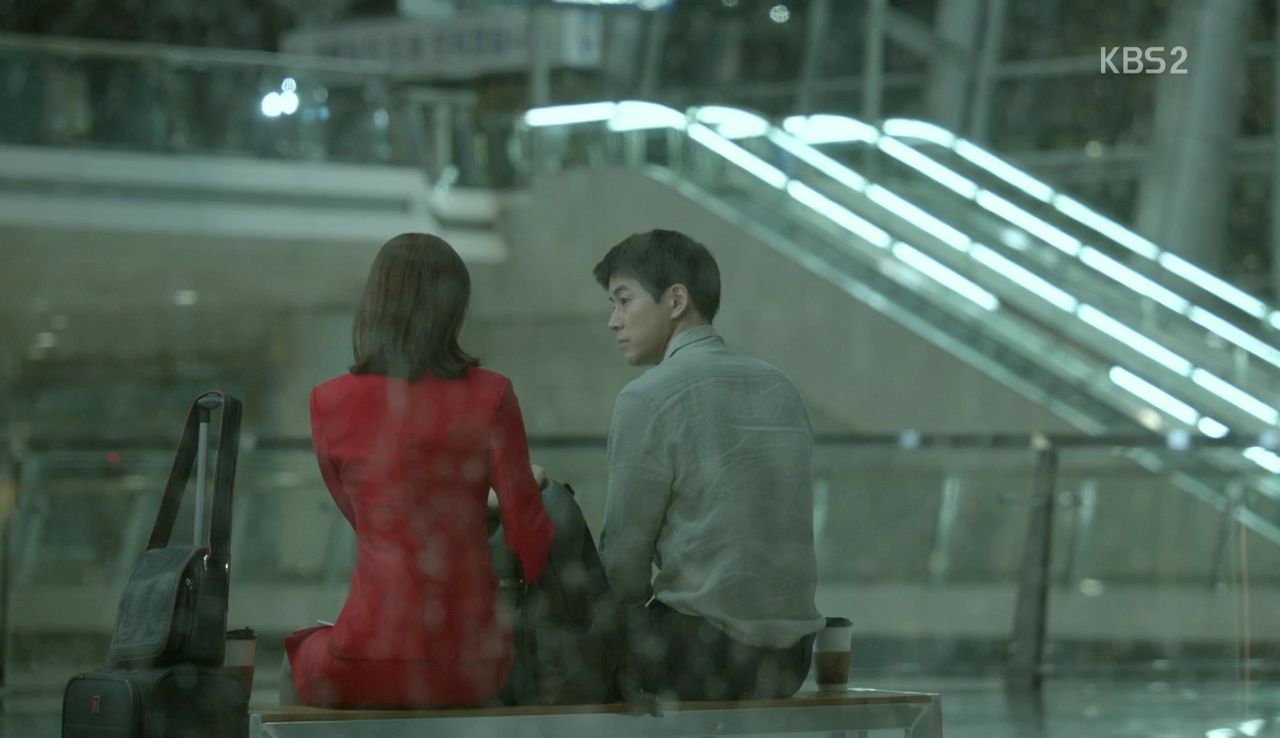 "Here," he says, "She's in here. I brought her back." Su-ah lets out a shaky sigh and places her hands on top of the bag, reciting Do-woo's words in her head and thanking Annie sincerely. Do-woo watches her gratefully, seeming touched at Su-ah's teary-eyed prayer.
At last, the luggage comes in and Su-ah gets Annie's belongings into Do-woo's hands. He offers to drive Su-ah to her mother-in-law's house, telling her it's okay mooch off of him since she did give up her plane ticket that one time.
By now, it's pouring down rain, so Do-woo has Su-ah wait by the entrance while he gets his car. When he comes back with the car, he peers through the rain to see Su-ah clutching the backpack with Annie's ashes tightly to her chest. My goodness, that is incredibly sweet. Do-woo definitely seems to think so too, as he can't take his eyes off of her.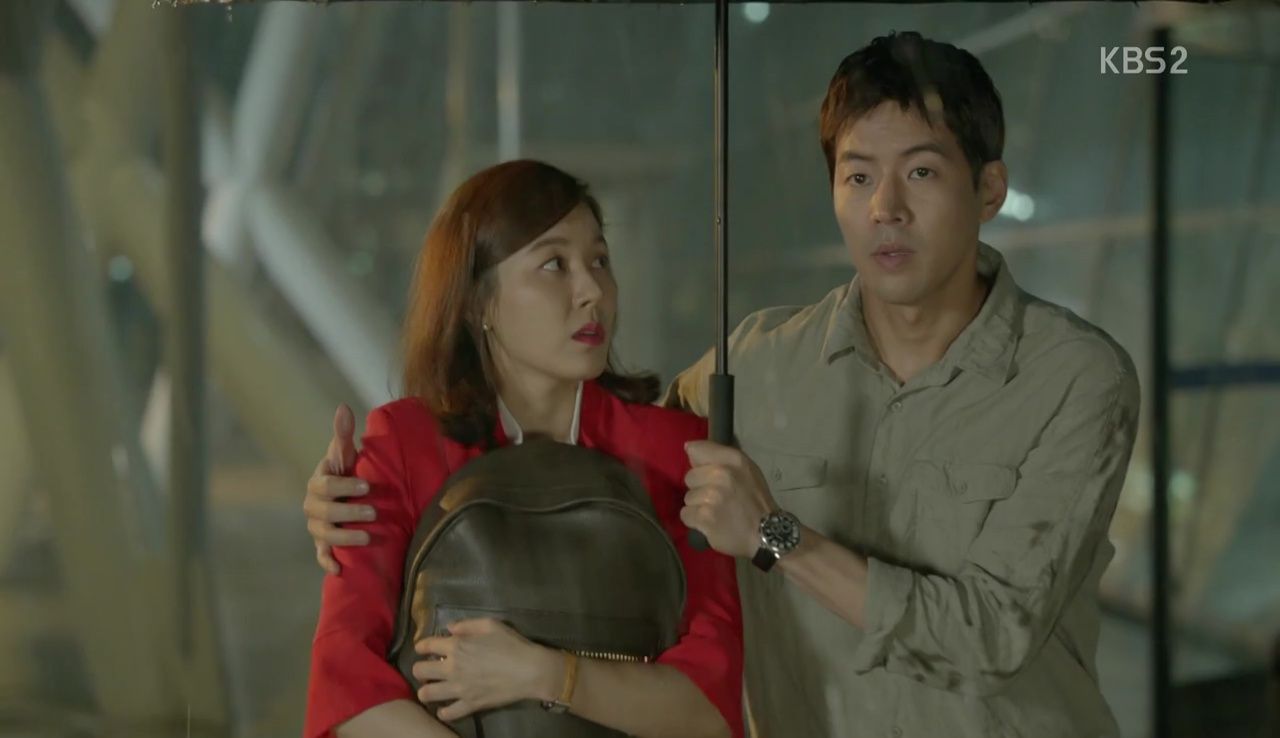 He runs up to her with an umbrella, wanting to escort her to the car before he loads the luggage. He walks her through the rain, and smoothly closes the distance between them so she won't get rained on. She looks up at him for a brief moment – perhaps flustered by the closeness?
They keep the conversation casual in the car, and when it gets silent again, Do-woo asks her if they can see each other again. Su-ah hesitates before saying yes. Do-woo quickly adds that she should bring Hyo-eun too, making Su-ah purse her lips as if she had expecting something else.
Soon, the rain slows to a stop and Su-ah states that the sun should be rising soon. She reveals that she's had plenty of special memories while being a flight attendant, like views of the night sky and the sunset from various places. Do-woo: "Are those places you miss?" Su-ah: "It's different from that. I would say that they're my precious memories. Like my own secret assets that no one else knows about."
When the car comes to a stop in front of Su-ah's mother-in-law's place, they both turn towards the backseat for her bags, with their faces only inches away from each other. They pull back, and Do-woo suggests they get out first. He gets her bags out of the car and Su-ah grabs them, saying a hasty farewell before hurrying away. I guess someone really is flustered.
Once out of sight, she lets out an exhausted sigh. Her phone rings, and it's Jin-suk calling from his plane to ask where she is. She answers that she's at his mother's place to get Hyo-eun. Exasperated, Jin-suk says Hyo-eun was at his mom's place, but now she's at home.
Su-ah immediately turns around to head back and notices that Do-woo still hasn't left yet. He walks up to her, wondering if she needs another ride. Su-ah insists she can just take a taxi, but Do-woo's already got her bags in hand. "You can be five minutes late, right?" he asks.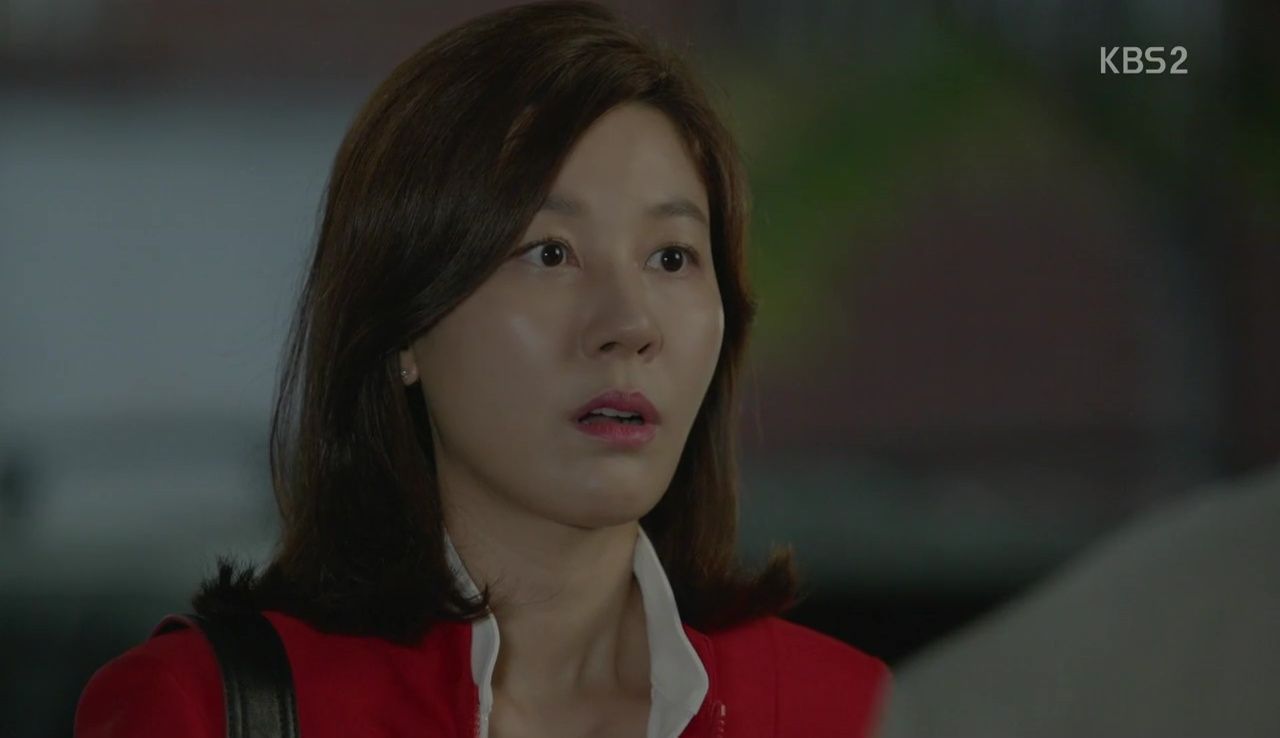 Do-woo drives them to the Han River, just in time for the sunrise. As they look out at the horizon, Do-woo remembers his last happy memory with Annie by the river in Kuala Lumpur. He comes to a decision and exits the car, taking Annie's urn out of his bag and scooping out a handful of the ashes.
He walks up to the water and opens his fist, letting the wind carry the ashes away. Knowing this is really his last goodbye to Annie, his eyes well up with tears. Su-ah watches the entire scene from within the car, Do-woo's shaking shoulders bringing tears to her own eyes.
It takes him a moment before he's ready to turn back, and when he does, his eyes go straight to Su-ah. They stay like that for the longest time, just gazing at each other as the sky brightens around them.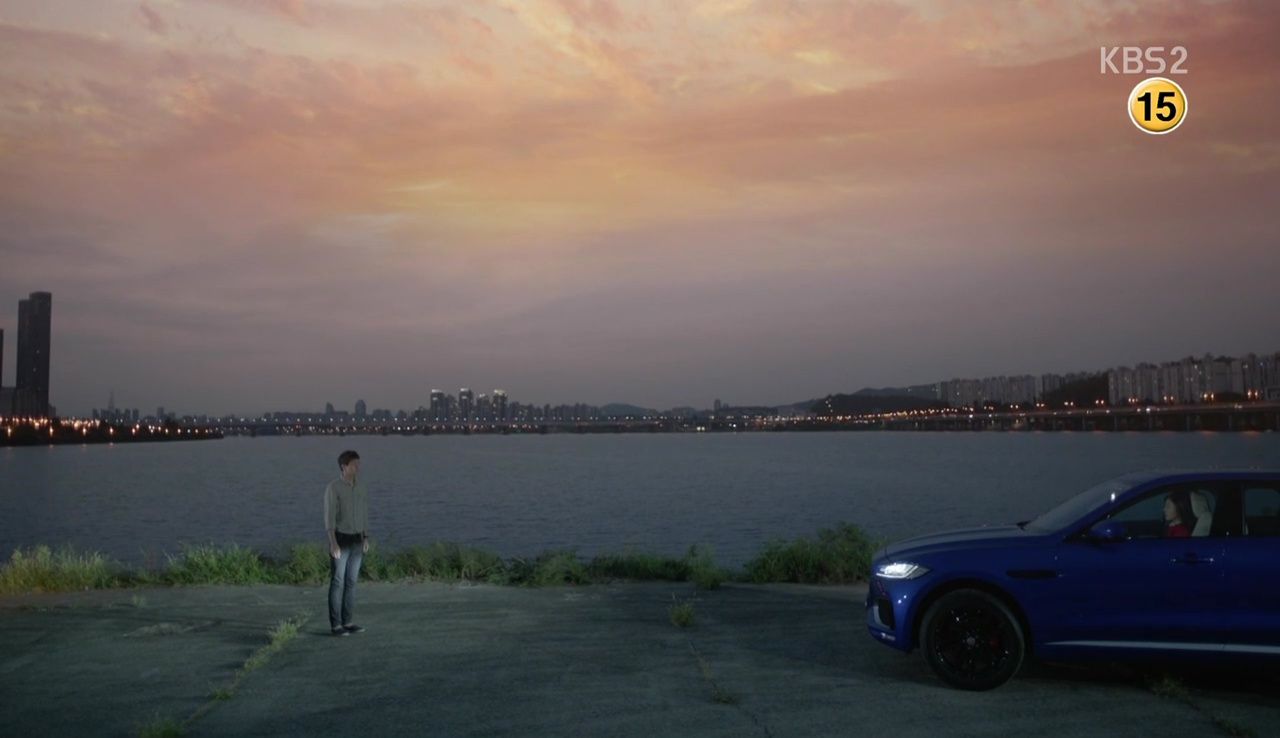 COMMENTS
I am so conflicted. Lee Sang-yoon and Kim Haneul are lovely together as Do-woo and Su-ah, and their small moments together are an entirely different level of precious. From the very beginning, their interactions have felt warm and comforting, to the point where I get all the warm fuzzies every time they do voiceovers for their text conversations. And it's so gratifying to watch them break free from their troubles and find some kind of peace by just being around each other.
But they're both married. I've been getting a strong friendly vibe from them all this time, but the last few minutes of this episode were when I was starting to see some signs of romantic tension. I want to be giddy, but then I get this overwhelming feeling of guilt, just like Su-ah seemed to get when she was in Do-woo's car. It's not the best feeling, but as a viewer, I love the kind of conflict that brings to the table. Is this really a sign of romance? Or is it just a special connection our leads have managed to form? I was already interested before, but now I'm even more eager to see which route the drama will eventually decide to take.
With the negative way second leads Jin-suk and Hye-won were initially set up, there is a possibility of villainizing them further, thus leading to two divorces. But I don't think Airport wants to take that route – it would almost be too easy of a way to get the lead couple together.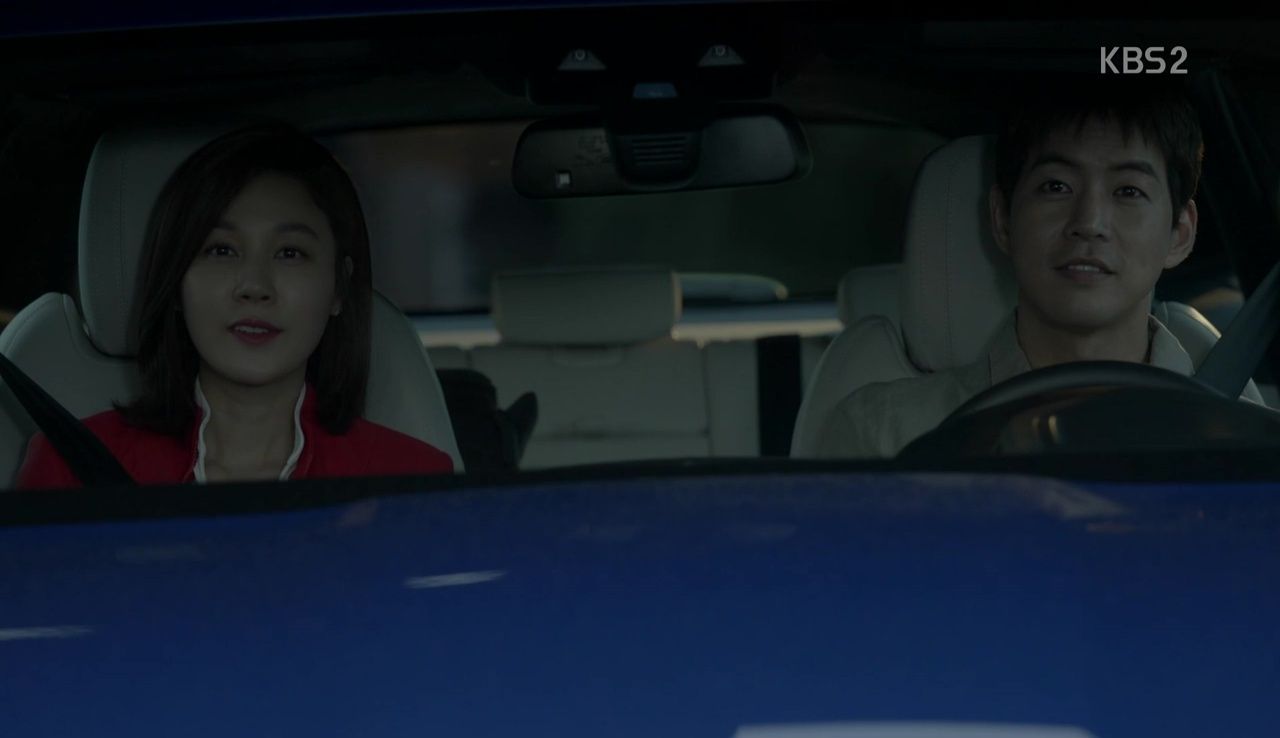 Because, honestly, our second leads don't seem like typical drama villains. Like hanshimi mentioned in the last recap, they seem like real people who just happen to have their own flaws. Sure, in the first episode, I personally didn't like Jin-suk for wanting to ship his daughter off to boarding school in such a harsh manner, but after spending more time with his character in this episode, I realized that he's just a dad doing what he believes is best for his family.
And you know what? Jin-suk is absolutely adorable with his family. His scenes with Hyo-eun are actually pretty funny, cute, and realistic. I thought the soccer scene was especially well done in showing us how their relationship may be strained, but they still love each other and can still laugh together. And I have to believe that the sweet, loving Su-ah married this guy for a reason. So, with that considered, I really hope they're able to work through their problems together and make their marriage work. Su-ah is great with Do-woo, but I think they could also be great simply as very close friends. I guess we'll have to wait and see how it plays out.
As for Hye-won, I'm not quite sure what to think of her yet. I believe that there is anguish buried deep inside her over Annie's death, but there's a secret we've yet to find out that's keeping us from sympathizing with her wholeheartedly. I want to feel sorry for her, I do, but she keeps giving me reasons to remain suspicious. I'd love to get more backstory on her and Annie, but in the meantime, I'll be content with the amazing mother-daughter moments we're already getting with Su-ah and Hyo-eun.
RELATED POSTS
Tags: Choi Yeo-jin, Episode 2, featured, Jang Hee-jin, Kim Haneul, Lee Sang-yoon, On the Way to the Airport, Shin Sung-rok