Park Sung-woong goes Man to Man with Park Hae-jin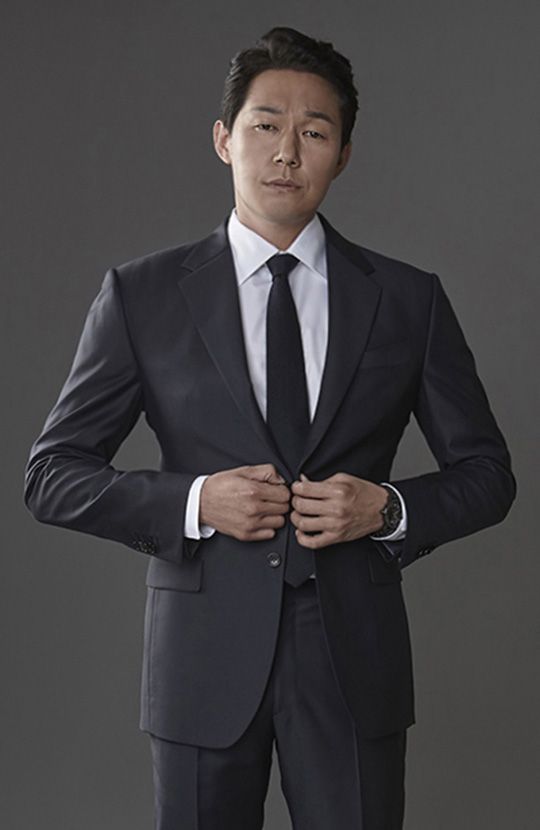 Ooh, Man to Man just got more interesting with the casting of Park Sung-woong (Remember—Son's War, Hidden Identity) to star opposite Park Hae-jin (Cheese in the Trap) in the upcoming JTBC drama about a Hallyu star and the bodyguard assigned to protect him.
Park Hae-jin was cast early to play the bodyguard, and I'd been wondering what kind of Hallyu star they'd be going for to play the other lead: youthful and fresh-faced like a top idol? Or maybe a hotshot at the height of popularity, like Kim Soo-hyun or Lee Min-ho? Or someone older and more polished, like a Bae Yong-joon or a Jang Dong-gun? Turns out it's none of those: Park Sung-woong will play a "bad guy Hallyu star" who built his reputation by specializing in villains. (Apt casting!) The character started out a stuntman, transitioned to action star, and then became an international Hallyu star through a lucky opportunity. But despite receiving much love from the public, he hides a devastating secret.
Park Hae-jin's character isn't merely a bodyguard, but a shadow intelligence agent who's in disguise as a bodyguard. Sounds like the star will be challenging to work with, being sensitive and difficult to please, and I expect plenty of conflict between them, although I'm also hoping for meaningful bonding and bromance. The show makes it a point to say that the title doesn't mean "man versus man" but rather "man x man," which, *throws hands up in air.* I still have no idea what that means. From context clues, I'm guessing it means they're not enemies, although given that one's job is literally to protect the other, I could have figured that out myself.
In any case, although I wasn't expecting someone like Park Sung-woong to fill this role, I'm fully looking forward to it, because he's always badass, charismatic, and sexy. It's also a logical pick given that he just recently worked with the director, PD Lee Chang-min, on last year's legal thriller-melo Remember—Son's War. Writing will be Kim Won-seok of Descended From the Sun, Queen's Classroom, and Friend, Our Legend.
Man to Man plans to be 100 percent pre-produced and will begin filming in early October; it will air on JTBC next year.
Via TV Daily
RELATED POSTS
Tags: Man to Man, Park Hae-jin, Park Sung-woong