Running Man: Episode 317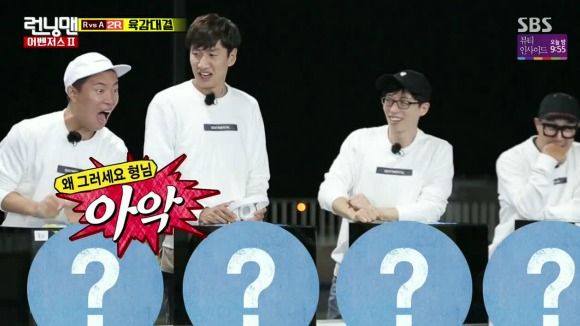 When a new team of Avengers comes together to play this week, our cast will find out that these celebs aren't your everyday contenders. Banded together by a unified desire for entertainment glory, the revamped Avengers will pull out all the stops to claim their shot at redemption. All of their senses will be put to the test, but even the greatest superpower won't be able to stop the inner fear that threatens to overwhelm them.
EPISODE 317. Broadcast on September 18, 2016.
We start off with a little spook today, as Suk-jin sits down in a dressing room to fill out a quick questionnaire. He's busy thinking up answers when a picture suddenly falls off the wall, spooking him.
His attention turns back to the piece of paper, but then he jumps a foot when he feels cold water drip from above. He's not the only one to freak out, as we see Kwang-soo and Ji-hyo also let out terrified screams. Ji-hyo checks beneath the sofa to make sure nothing's hiding under there.
The strange happenings certainly leave an unsettling feeling, so it's understandable that Ji-hyo is reluctant to step out into the darkened hallway.
The next room is utterly silent until Kwang-soo and the hyungs make bets on how Ji-hyo will react if Kwang-soo tries to scare her upon entry. Jae-suk thinks she'll slap Kwang-soo and curse, which Suk-jin agrees with.
So Kwang-soo hides behind the door until Ji-hyo appears and spooks her from behind. She screams and curses, much to the guys' amusement.
Once they're all together, it's time to meet today's special guest. Suddenly the couch they're sitting on tips backwards spilling them into the larger set behind them. And sitting with regal triumph is MC Lee Kyung-kyu, here for a shot at redemption for the Team Avengers.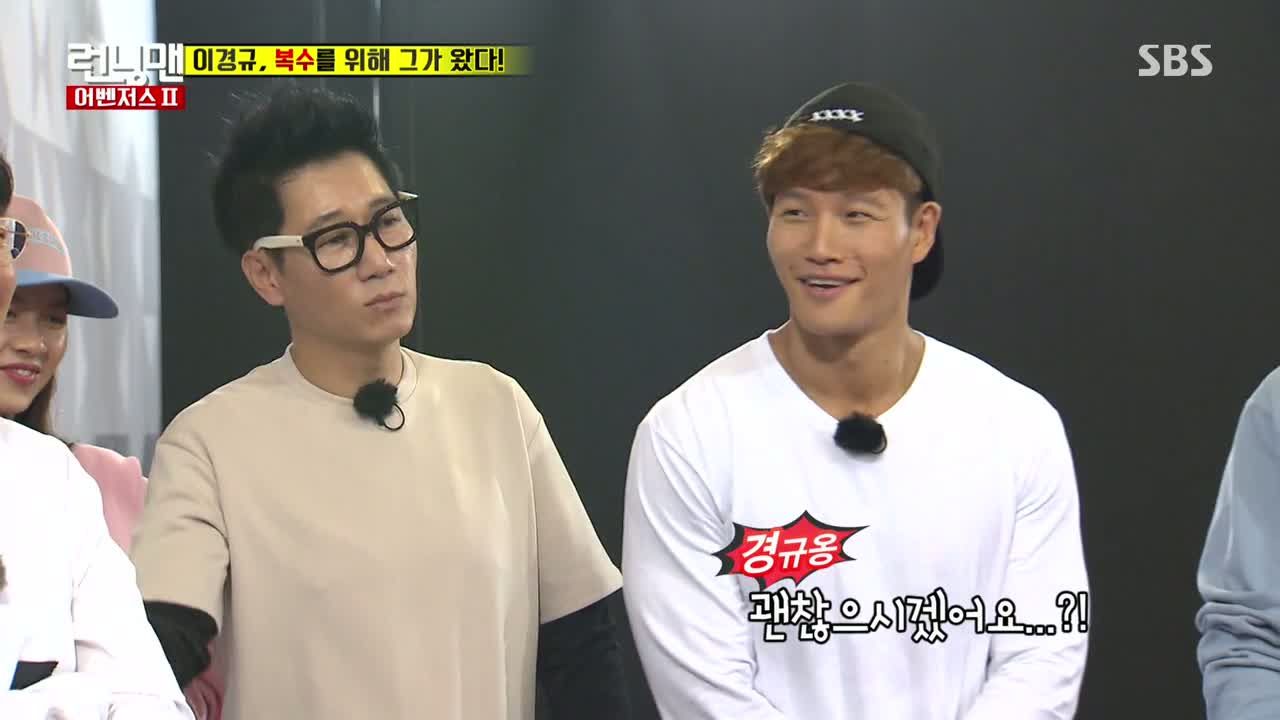 He'd been the one pranking them in the dressing room, and instead of being annoyed, the entire cast rejoices. Haha: "Today's shoot will end early, everyone!"
Kyung-kyu has traded out the weaklings to create a stronger Team Avengers 2.0, and ready for today's Chuseok special rematch. Furthermore, today's final mission will be a Game of Chance (Bokbulbok) Name Tag Ripping Race, where two members of each team will be either "Lucky" or "Unlucky."
Both teams will play games to acquire hints on who these people are. The victors will walk away with gold whereas the losers will face a forehead slap punishment.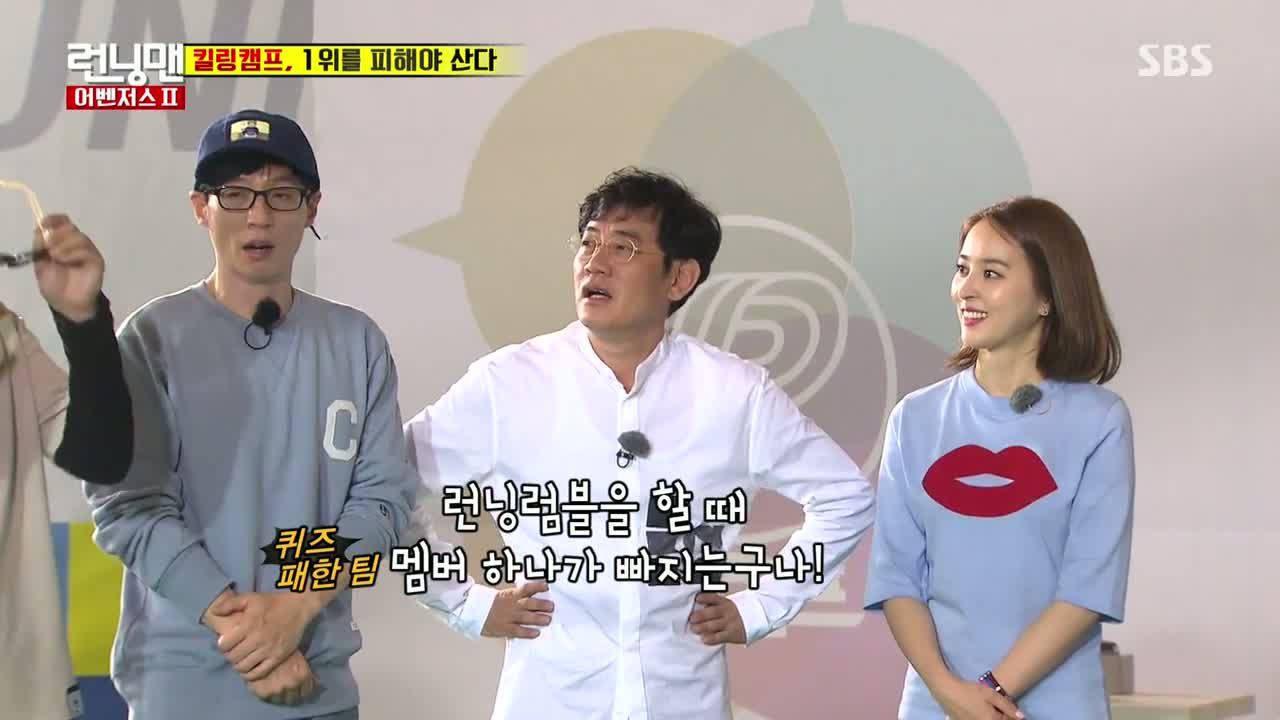 The cast immediately feels bad at the prospect of variety veteran Kyung-kyu being hit on camera, but Kyung-kyu is here to win it. His first recruit is none other than actress and fellow Healing Camp host Han Hye-jin.
Their first game "Killing Camp" is a variant of Family Feud, where the teams will try to guess the second to sixth most popular answers to a given topic while avoiding the most popular answer. Every answer Team Running Man gets right will get them closer to identifying the other five Avengers and having them sit out of the next game—the Running Rumble wrestling match.
Team Avengers have a similar deal, where every correct answer will increase the likelihood of a Team Running Man member to sit out the next game.
Back to the game: the first question asks what the most popular fetal nicknames were this year (in Korea, expecting parents often give a nickname for their unborn children). After a few suggestions, it's Suk-jin who guesses the most popular nickname of "Happy".
That prompts the cast to ask after the baby bump nickname for Hye-jin and husband Ki Sung-yueng's son Shi-on, and she sheepishly replies "Boxing" because he was conceived on Boxing Day. Jae-suk jokes that if Jong-kook has a child, he'll probably refer to it as "Dumbbell." Ha.
Hm, even though Jae-suk guessed the second most popular name, his team wasn't given a chance to get close to identifying an Avenger (whereas Team Avengers added Jong-kook's name onto the wheel). It's only when Haha spits out the second most popular social media picture does the team see the first hint of another Avenger: his feet.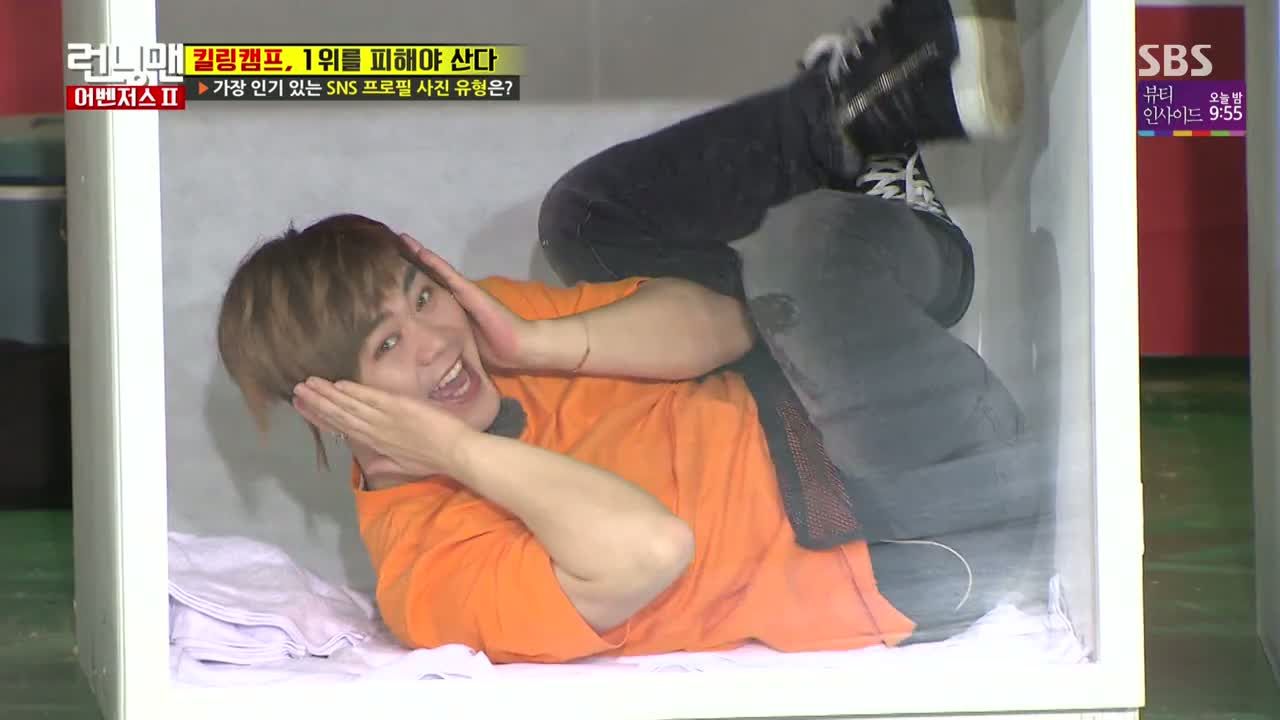 Kwang-soo gets the fourth most popular answer (baby photos), so that some members can see who they're looking at from their angles. Haha then offers "selcas" which is thankfully only the third most popular profile picture.
Suk-jin's answer of "food photos" enables them to figure out one Avenger: Moon Hee-jun. Kwang-soo tries to close out the category by going with "stock photos", only to learn that THAT's the most popular type of profile picture.
That allows Team Avengers to plaster another one of Jong-kook's stickers onto the wheel, then it's time to see what everyone's personal profile pictures look like. Kyung-kyu is astonished to see his pic—of him flashing his sculpted arms—blown up.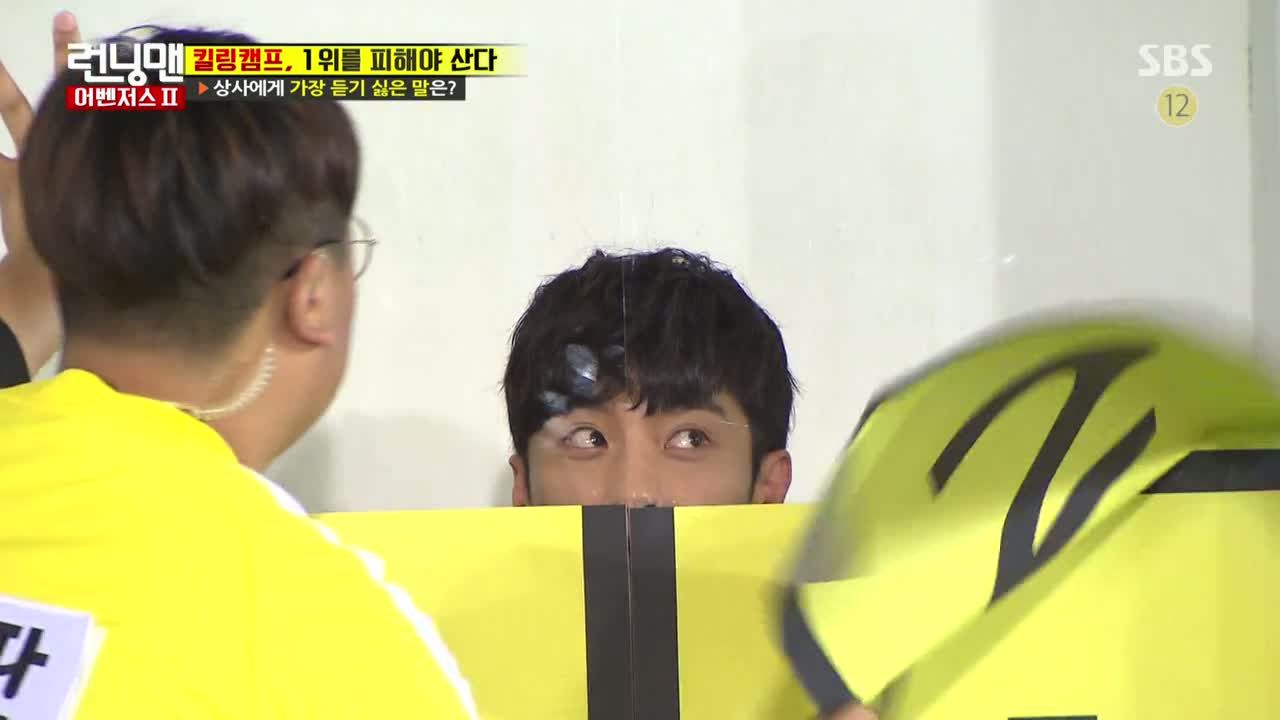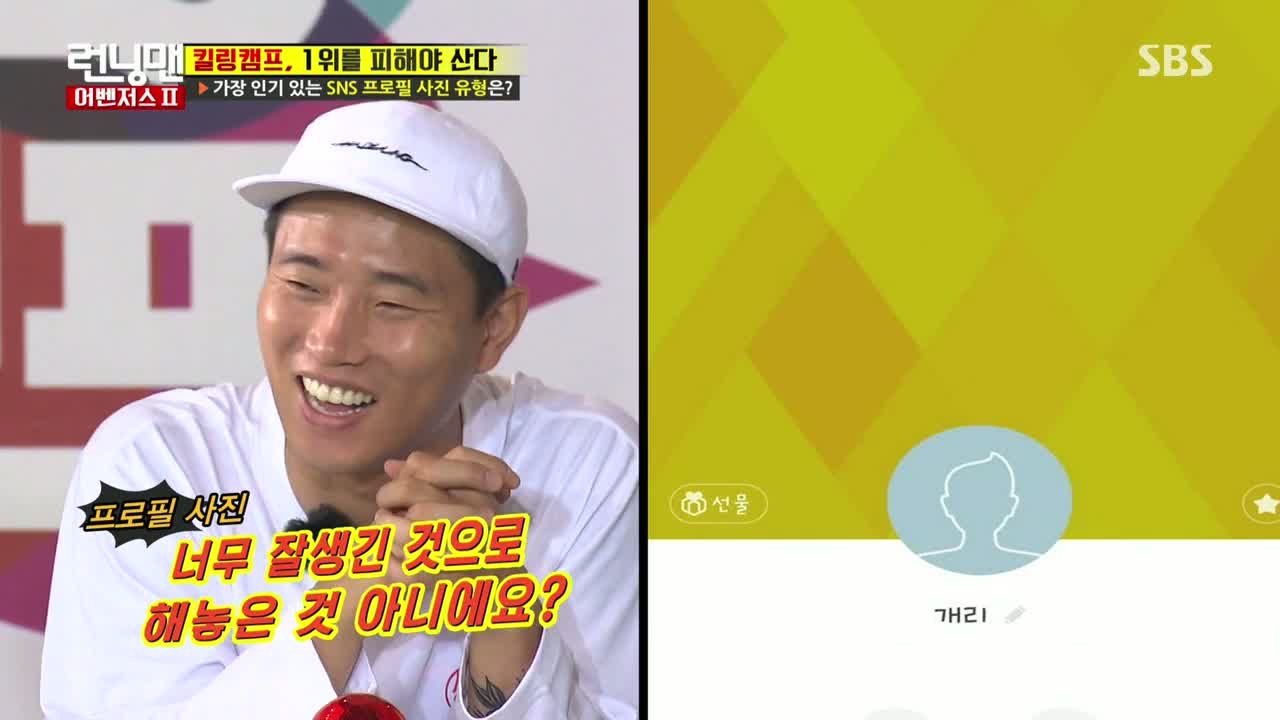 Gary's profile has a stock background and photo, which Jae-suk jokes that the silhouette looks better than Gary does. After Kyung-kyu nudges Jae-suk to hurry things along, we breeze through the rest—Kwang-soo has a globe, Haha's background is of a tall manhwa character, and Suk-jin's exuberant photo is an attempt to look as young and hip as possible, Gary says.
We move on to the next question ("Things You Hate to Hear from Your Boss"), which enables us to see another Avenger, SHINee's Key. A string of correct answers reveals the half-profile of yet another Avenger. Ah, it's actor Sung Hoon, who has to remain hunched over.
Kwang-soo ends up guessing the most popular answer yet again, and then an additional Avenger is revealed: comedian and UFC fighter Yoon Hyung-bin. Our final Avenger is Kim Dong-hyun who's wearing the most hilarious wig.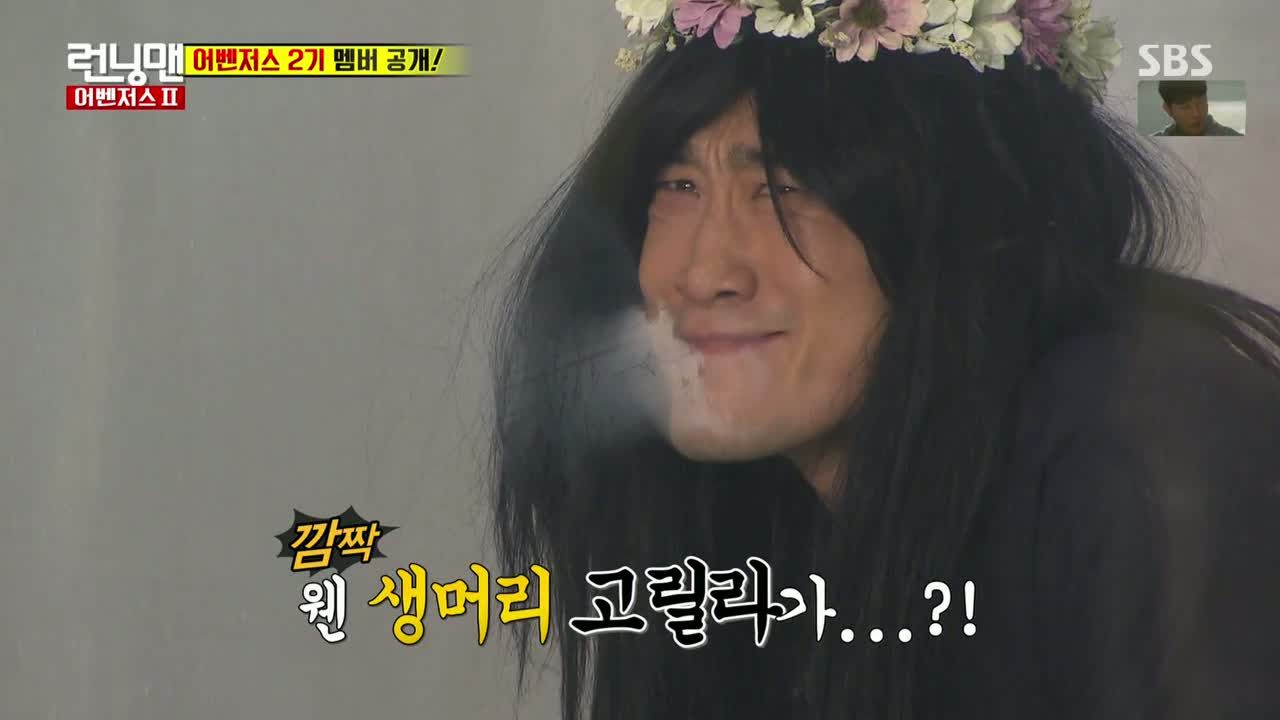 Because Team Avengers won this game, they spin the wheel to see which Running Man member (sans Suk-jin) will be left out of the Running Rumble. Despite the multiple Jong-kook stickers, the spinner lands on Ji-hyo.
Each team stretches before the match, where one additional member can enter the ring in 30-second intervals. The first team whom all members are eliminated, loses. Jong-kook is first to enter the ring to face Dong-hyun, who spins and falls into the ring.
Jong-kook grabs a fistful of Dong-hyun's sweater to more easily grab his nametag. But Dong-hyun holds out until Kwang-soo and Hyung-bin enter the ring. Just as Jong-kook lunges for Dong-hyun's back, the latter grabs his nametag…
…and rips it off. Kwang-soo must hold out until a teammate can join him—Gary, who is one step too late to save him. Now Gary is outnumbered 3:1 for the next thirty seconds, as he deftly worms his way out of any oncoming attacks.
Jae-suk runs in to help, though he and Gary quickly find themselves cornered. Help comes in the form of Suk-jin, whose entrance is paired with Hee-jun's. Suk-jin lasts all of two seconds before Sung Hoon eliminates him.
Gary and Jae-suk are eliminated just seconds before Haha's arrival, which means Haha has to face everyone else alone. Gulp.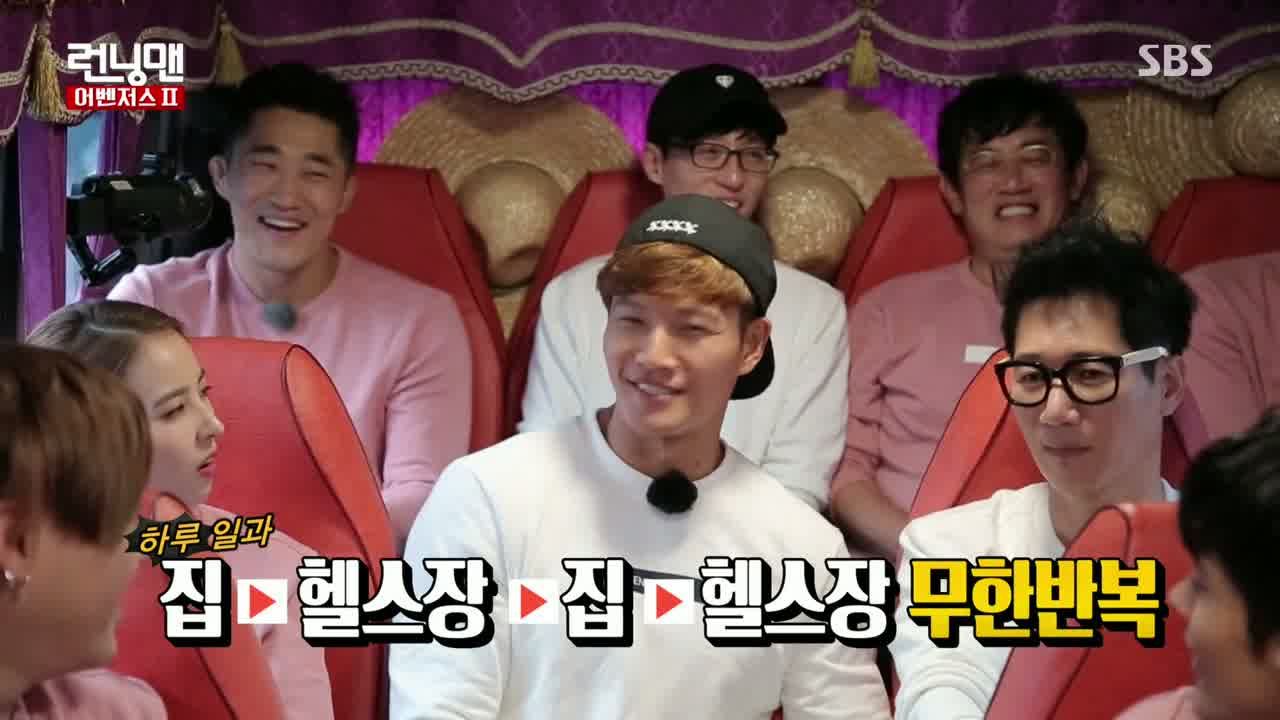 The Avengers pick Haha up off the ground so that Hye-jin can rip off his nametag, and Team Avengers solidify their first win. On the bus, Jong-kook admits that Hyung-bin was much stronger than he anticipated, which spurs Jae-suk to add that these Avengers are far more difficult to beat.
When Hye-jin asks why Jong-kook hasn't gotten married yet, he replies that his hyungs told him to delay marriage as much as possible. Jae-suk quips, "Not this delayed."
The other marrieds adds that Jong-kook lives a structured lifestyle that boils down to three possibilities. Either he's: a) heading to the gym; b) at the gym; or c) leaving the gym.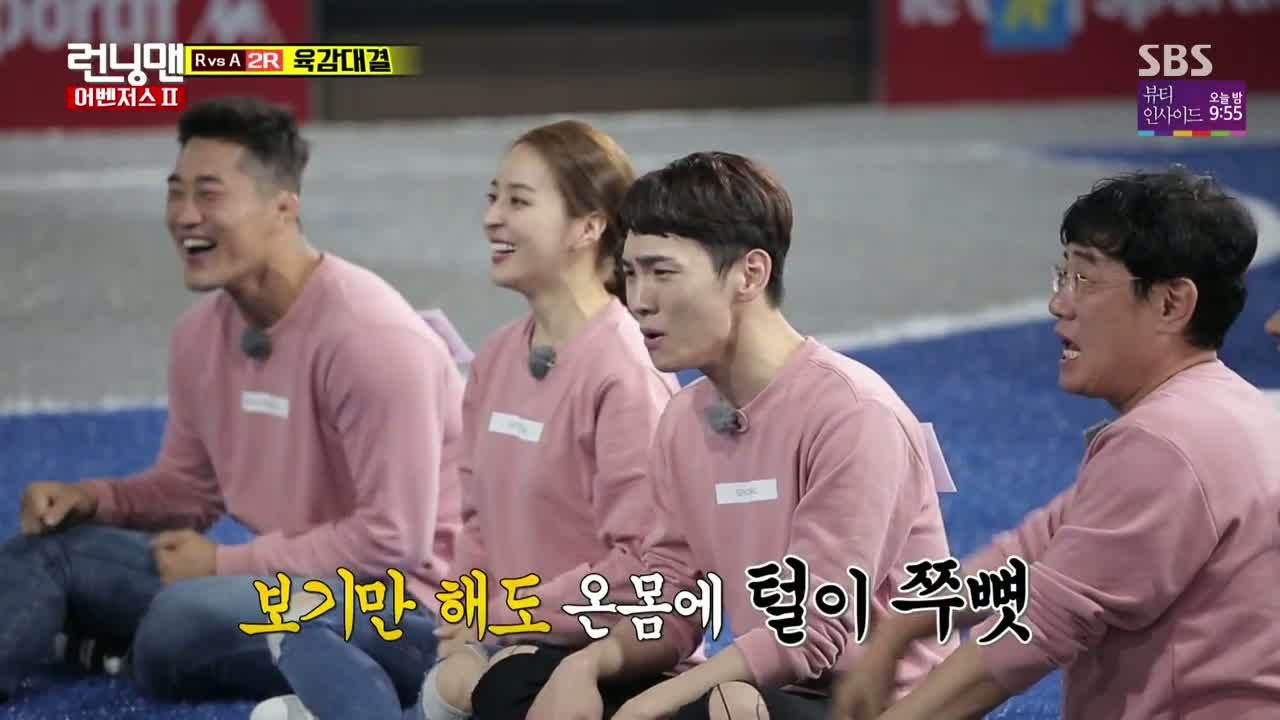 The second game is a test for the senses: one team member will try to guess from the others' descriptions about a mystery item. Best out of two rounds will win it, but in the event of the tie, the team with the fastest time will win.
Coming into contact with the unknown is one of Team Running Man's worst fears, and Jong-kook prefaces his team's attempt by saying that if whatever in this box messes with him, he'll kill it.
As soon as the sheet falls, Team Avengers whoops and laughs, which only puts Team Running Man more on edge. Gary carefully reaches in his box… where a human hand awaits him.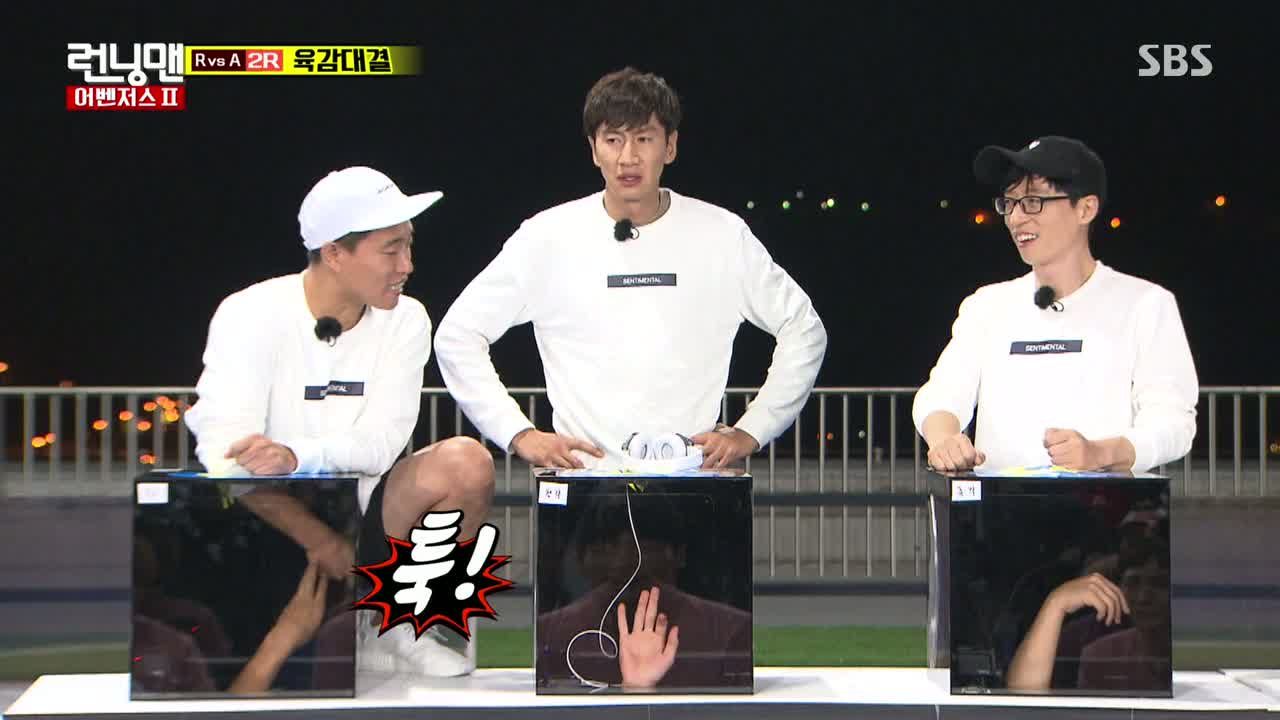 Gary reaches around until that hand makes contact with him. He screams and jumps back, while Hee-jun exclaims that it almost bit him. Gary believes that whatever it was, it licked him.
Kwang-soo has to hear whatever's going on inside the box, and he claims that he heard a slurping noise. (It was, in fact, the sound of fingers brushing up against one another)
Jae-suk can already feel the heat radiating from inside the box, and when he makes contact, he jumps back yelling, "It's alive!" Well I hope it would be.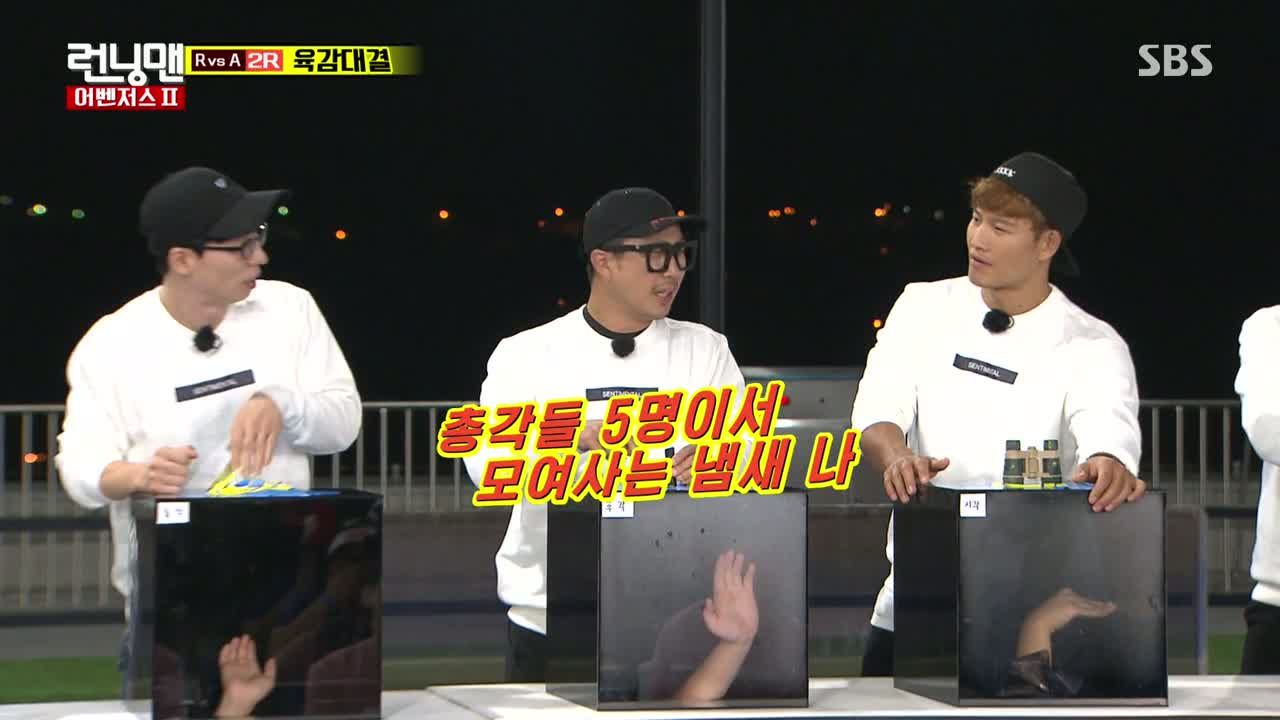 Haha has to smell whatever's inside, and he pulls back from the grandma scent. "It's like the scent of five young men living together." Jong-kook takes a look through the binoculars and says whatever's inside isn't really moving anymore.
Suk-jin reaches into his box only to reel back and state that it's moist inside. Ji-hyo has to piece together the vague clues of her teammates, and guesses that it's a frog.
That's incorrect, and once Team Running Man finally see the line of human hands, Haha still claims that his box actually stank.
Now it's Team Avengers' turn to guess and for Team Running Man to squirm. Haha high-fives the staff while the others say that it's moving and has teeth. Hyung-bin is the first to venture inside with his hand… where an abalone is waiting below.
Kwang-soo: "It's the first time I've ever seen someone touch it alive!" Hyung-bin's fist finally unclenches to brush up against the abalone before he retreats into a fighting stance.
Key spots some green through his binoculars, a description that impresses everyone. When Kyung-kyu claims that he doesn't scary easy, Jae-suk tells him that he's got the most active one.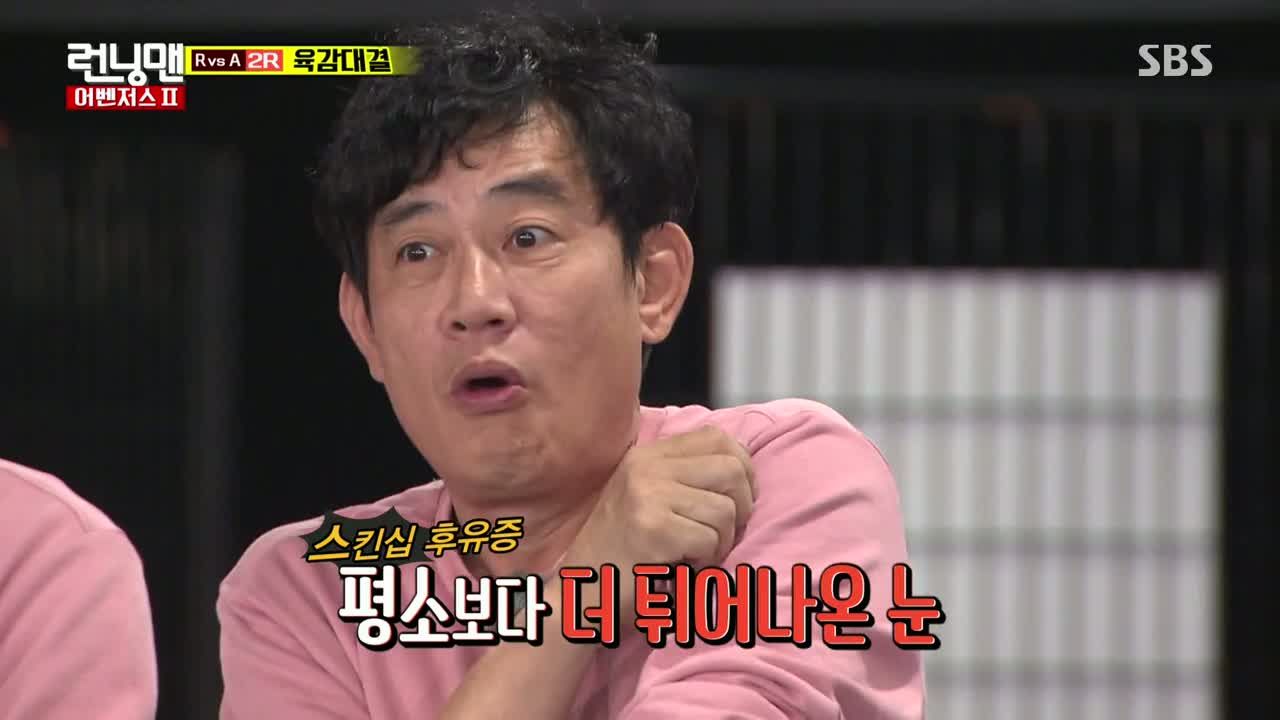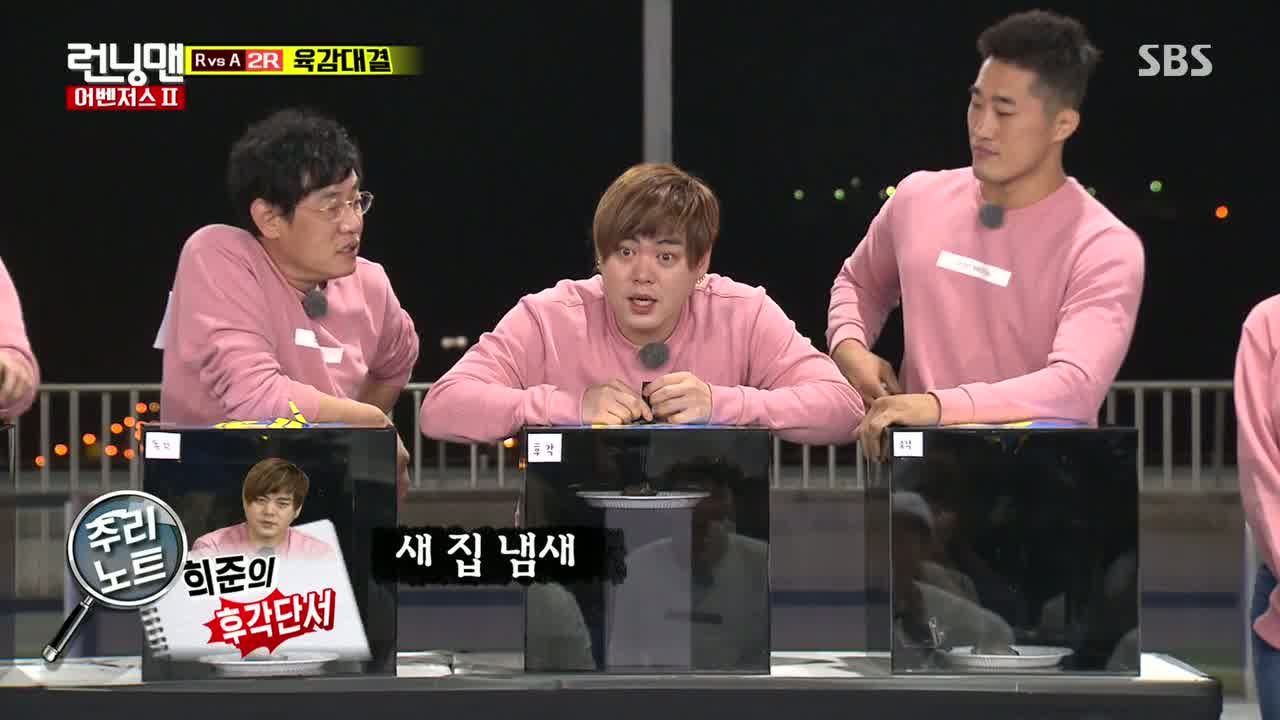 Team Running Man suggests that Kyung-kyu use his non-dominant hand, so he inserts his left hand and starting feeling around. He jumps at the slightest touch, then Hee-jun takes a good sniff inside the box.
He identifies a "new house smell", particularly a house in Busan near the seashore. Then it's Dong-hyun's turn to touch the abalone, and his face and arm automatically clenches. He can still identify that there is a hard and soft spot, and now it's time for Hye-jin to guess.
She guesses "turtle", which is close but still incorrect. Hee-jun: "So I was right about the Busan apartment!"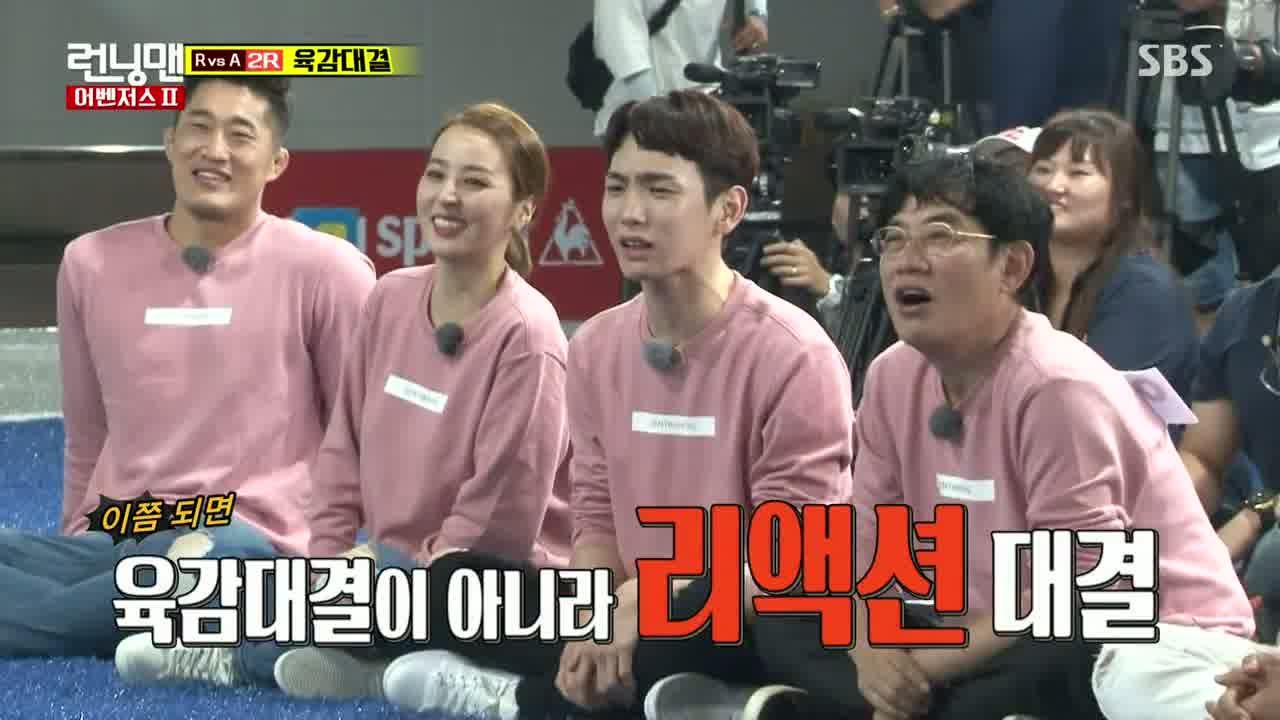 It's Team Running Man's turn to guess again, and Suk-jin's jaw drops upon hearing that he has to TASTE whatever is inside his box. It takes Kwang-soo some time but he identifies that it feels rough, and Gary can see a part of a fin.
Haha hears bristling sounds, which might suggest whatever's inside is still alive. Suk-jin has to stick his tongue into the box, only to throw his head back to describe that it tastes bad and fishy.
Jong-kook has an inkling of what it might be when he picks up the item and Ji-hyo is familiar with the fish smell, which is enough for Jae-suk to correctly guess dried pollack.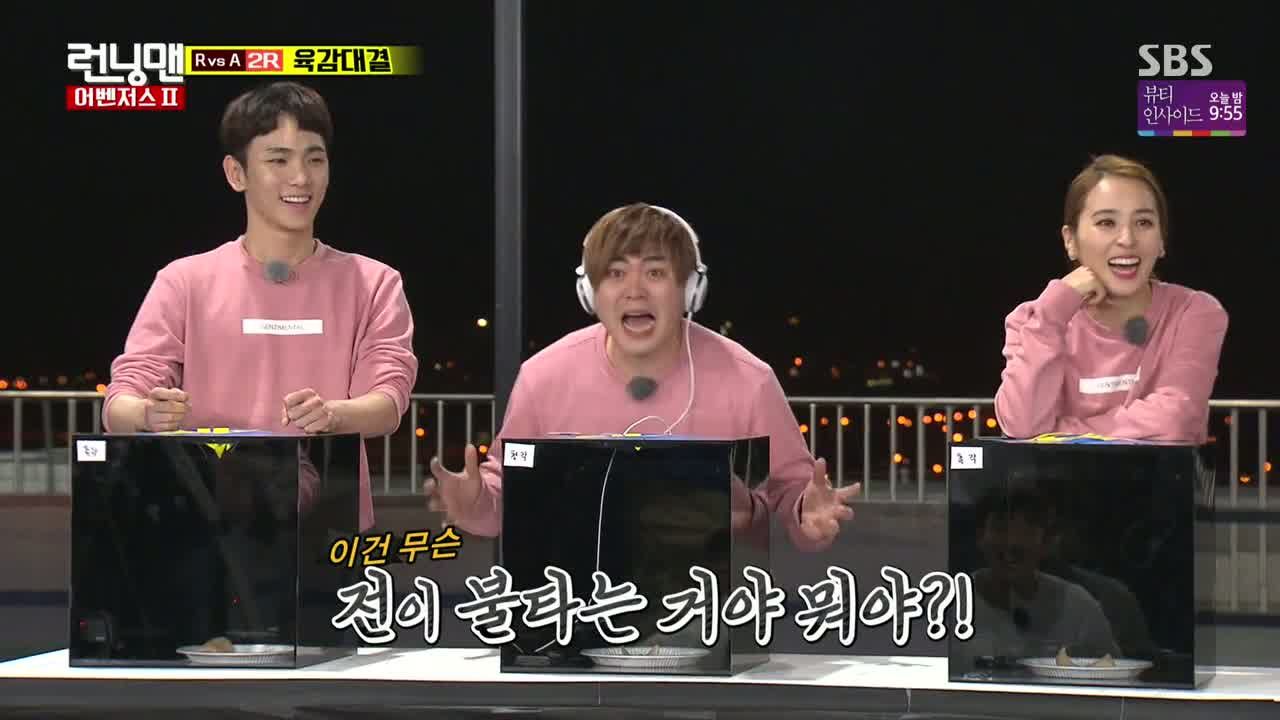 Team Running Man run up to take a closer look at Team Avengers' next item: pig skin. Of course their exclamations only freak out the other team even more: "How did you get this?" "Does this even exist anymore?" To make matters worse, a crew member crouches with chopsticks so that Sung Hoon can have a taste.
Key is the first one to reach inside his box, and he wonders if it's some kind of skin. Aha! Then when Hee-jun has to listen in, he yelps that he can hear a sizzling sound: "It's on fire! Fire!"
Hye-jin fearlessly reaches into her box and gets a good feel. To that, Jae-suk boos that she's no fun, and when he asks if she's not at all afraid, she smells her hand and nods.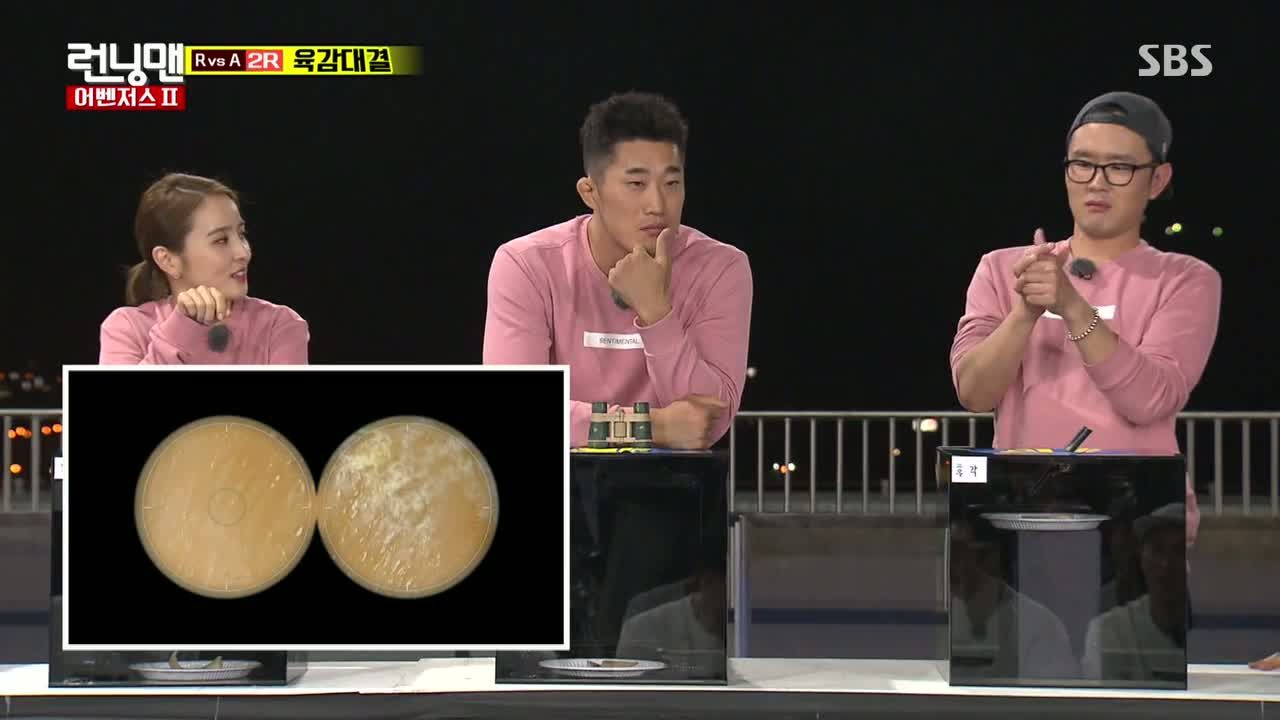 When Dong-hyun says he thinks he sees a thumb, Team Running Man gives him a thumbs up. Hyung-bin has to smell the box's contents, which he describes as "Grandma's pillow". Sung Hoon involuntarily jerks back when his tongue meets the pig skin.
His reaction incites Kyung-kyu's rage: "You said you'd take care of it. You told me: 'Sunbae, I'm not afraid at all. What if I'm not funny?'" well you are, and you were.
He asks Hyung-bin to keep his head down, but as soon as his tongue gets another taste, Sung Hoon hits the table and box repeatedly. It doesn't help that Sung Hoon claims that this doesn't have a taste, and despite the other hints, Kyung-kyu incorrectly guesses "deep-fried squid."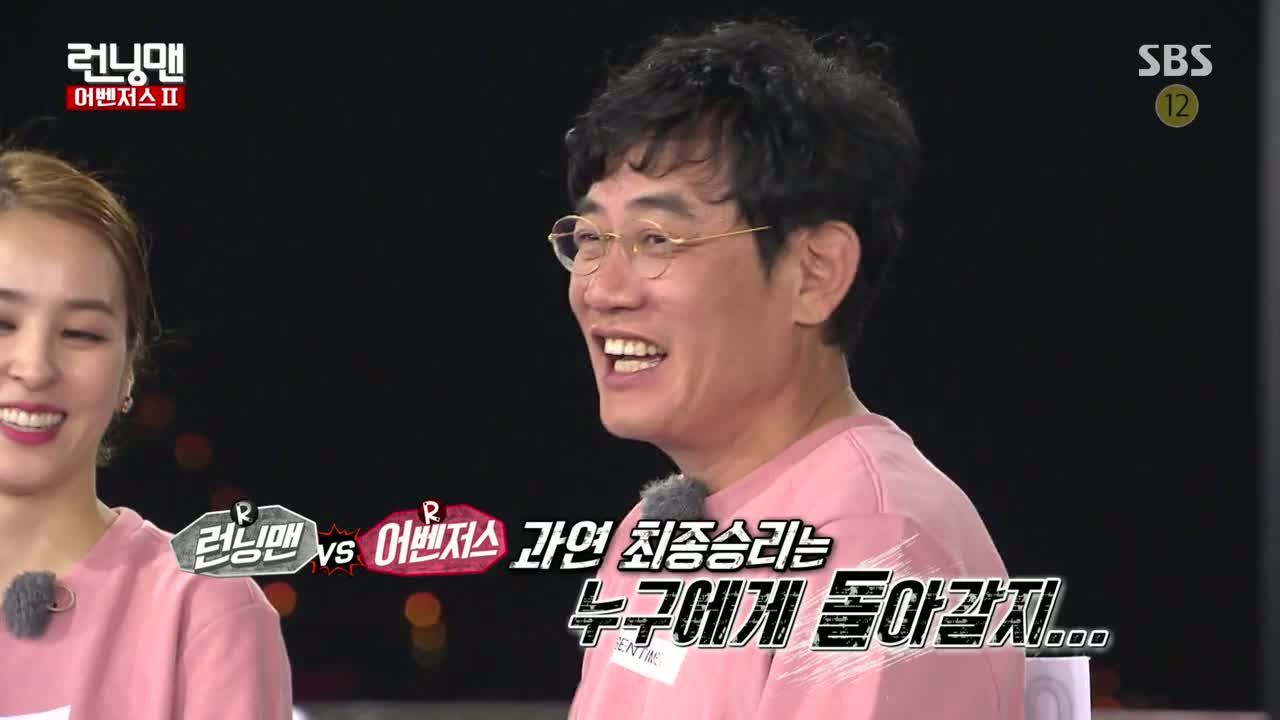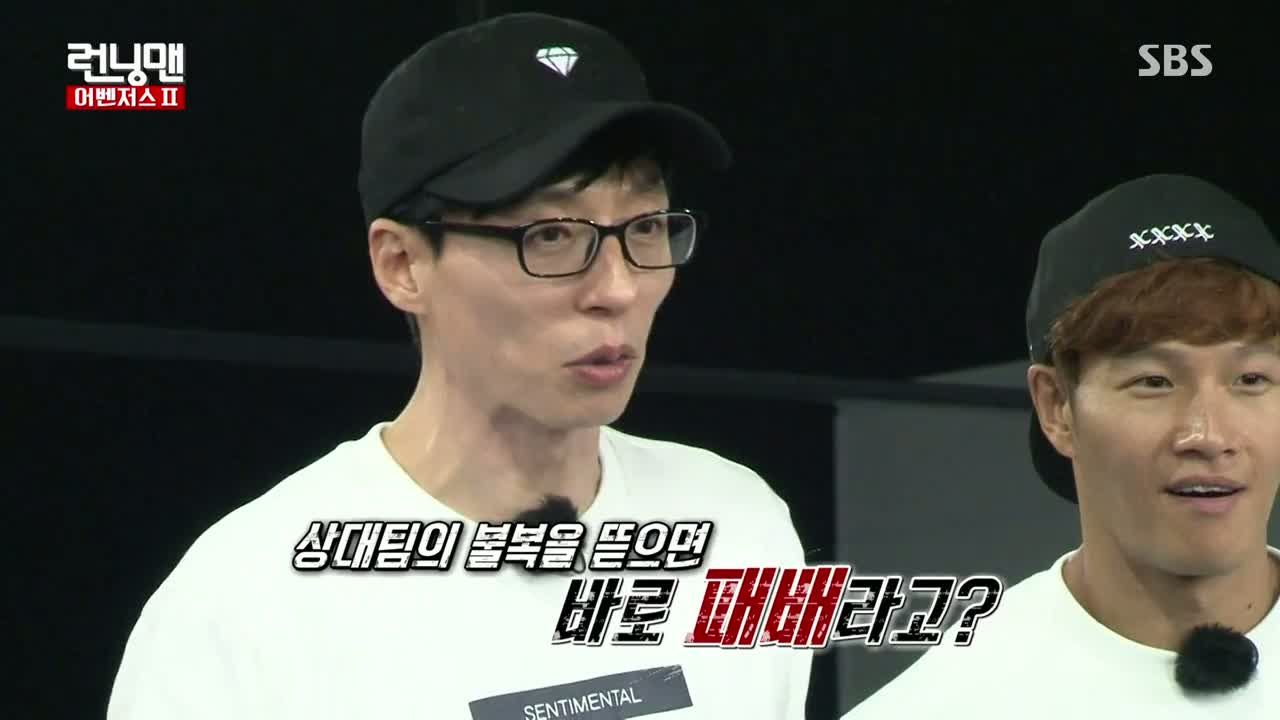 So Team Running Man wins the second game, and we move on to the final Game of Chance Nametag Ripping mission. Two members from each team will wear either a "Lucky" or "Unlucky" nametag; if someone wearing a "Lucky" nametag is eliminated, that person and another person will be eliminated. However, the moment an "Unlucky" nametag is ripped off, the ripper's team automatically loses.
As it turns out, that little twist was Kyung-kyu's way to make sure they'd all finish the game in the most efficient manner possible. Ha, I like it.
Once the game beings, we learn that Team Running Man knows that the "Unlucky" Avenger has debuted within the past 20 years. Conversely, Team Avengers is given the hint that the "Unlucky" Running Man has put out an album before.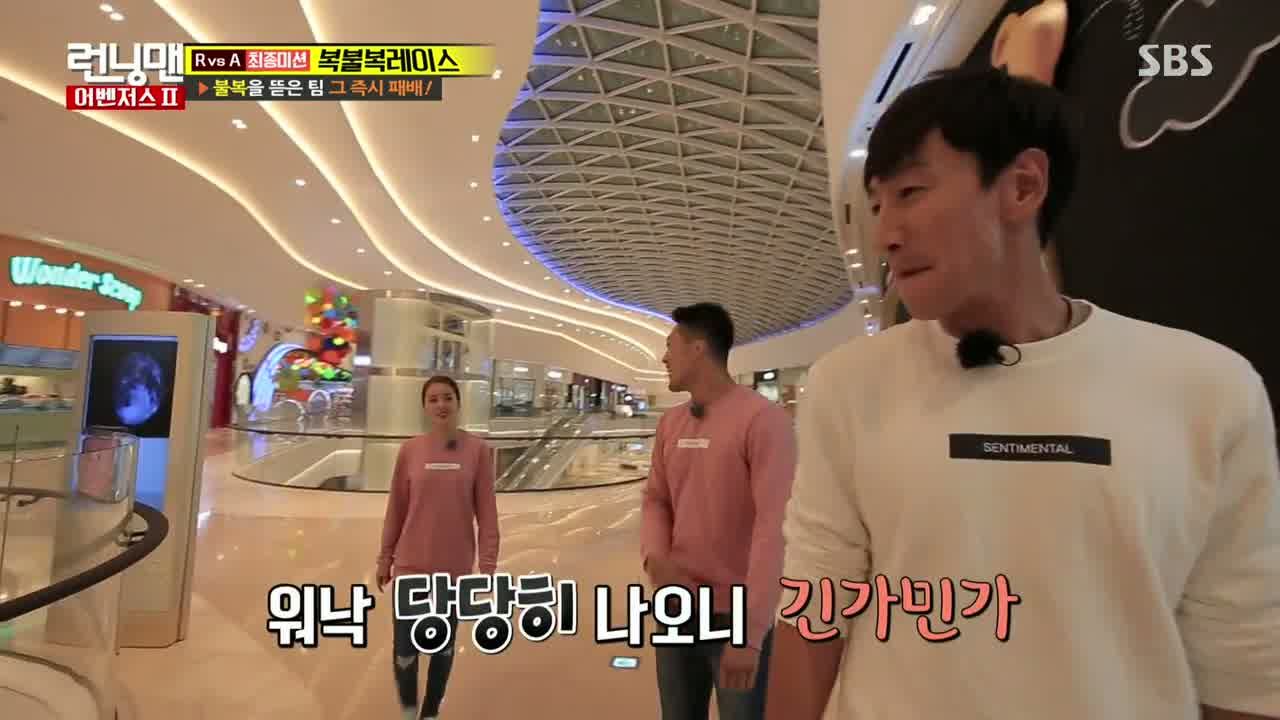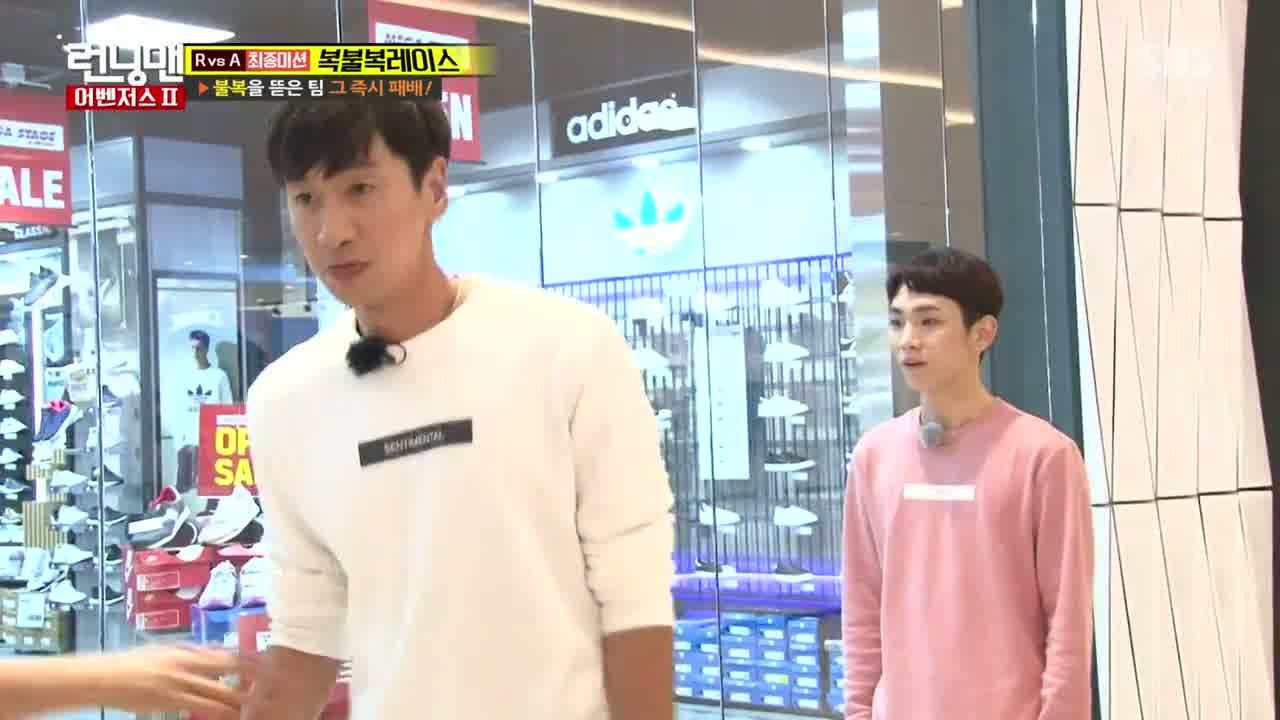 There are still clues hidden around the building, so both teams are on the move. Ha, Hee-jun is locked out of an ice cream freezer, while Hye-jin and Kwang-soo cross paths, claiming that they're both the "Unlucky" one.
He openly shows his back to Dong-hyun to risk ripping off his nametag. But the UFC fighter thinks better of it, and soon Kwang-soo finds himself surrounded by four Avengers.
Key says it's safe to rip off Kwang-soo's nametag, and upon the very mention of "album", Kwang-soo makes a run for it, screaming that the Avengers' hint was "someone who's put out an album." He then yells at Ji-hyo to protect herself.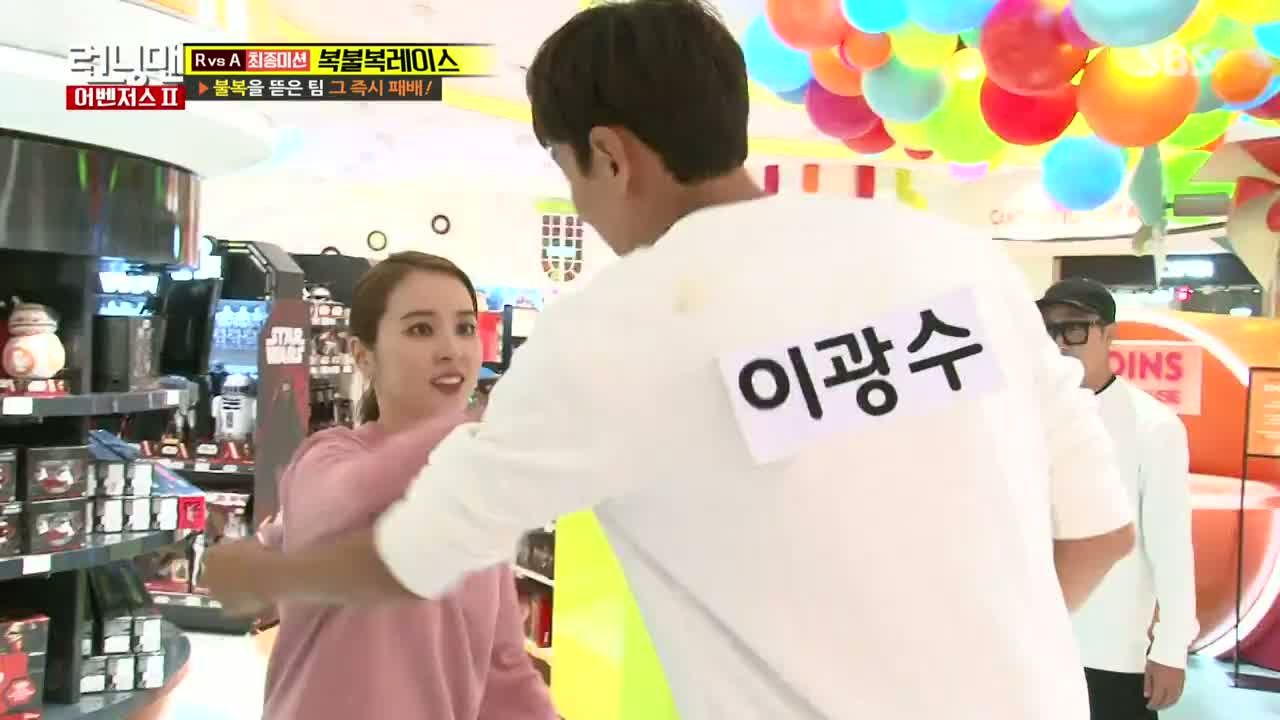 Elsewhere, Hyung-bin discovers a box that comes with a stipulation: drink the correct yogurt drink and he'll get a hint. Kyung-kyu chooses one and downs it in one gump. Thankfully it's yogurt, and they have Lee PD drink from the other one to double check.
Their next hint is the the "Unlucky" Running Man is unmarried, which is still either Ji-hyo, Kwang-soo, Jong-kook, or Gary. Of those, only Jong-kook and Gary have released an album.
Team Running Man runs into Hye-jin, who voluntarily shows her nametag to them. She claims she has to get going to watch soccer, and when her teammates show up, Sung Hoon runs to protect her.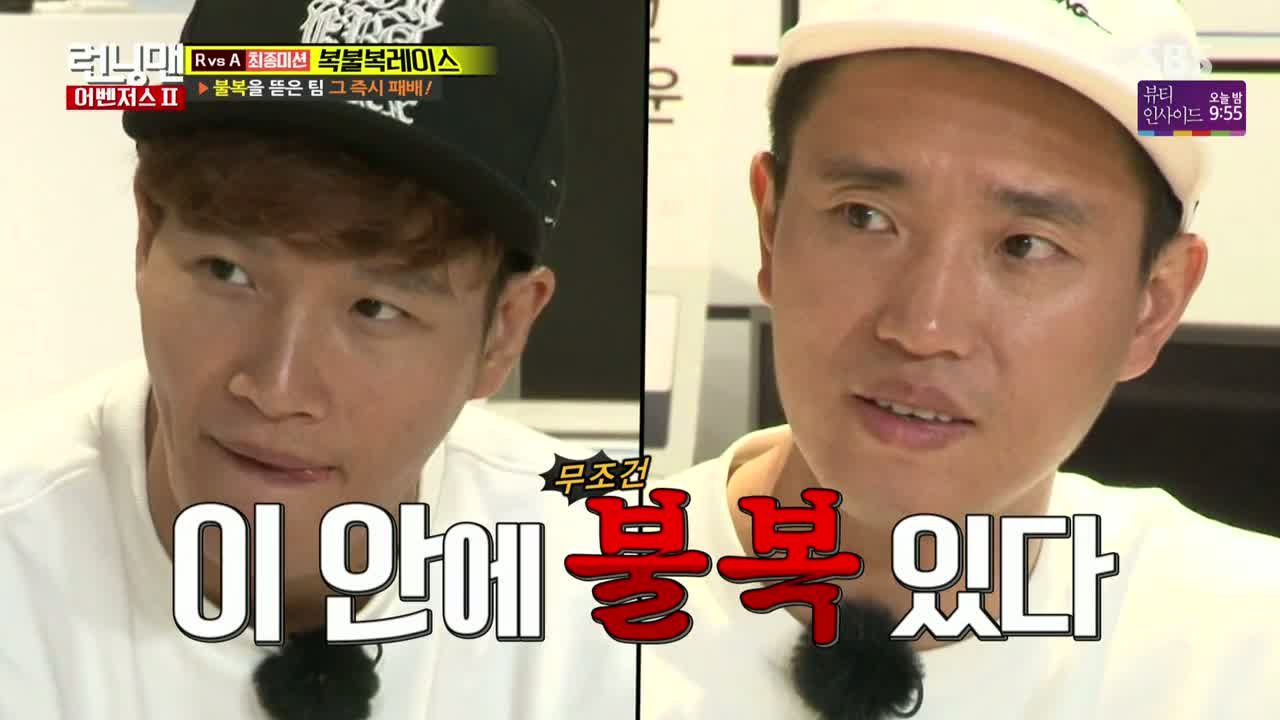 But it's a trap because as Team Avengers draws nearer, Jong-kook and Gary sneak up from behind. They eliminate Kyung-kyu, who then shouts to his teammates not to attack either Jong-kook or Gary.
After Suk-jin is eliminated, the Avengers go after Jae-suk. Gary rushes to his aid, and then Dong-hyun and Hee-jun work together to eliminate Haha.
When Jong-kook rushes towards Hye-jin, we find out that's because Ji-hyo had found out another hint: the "Unlucky" Avenger goes by a different name… which means he's free to eliminate Hye-jin.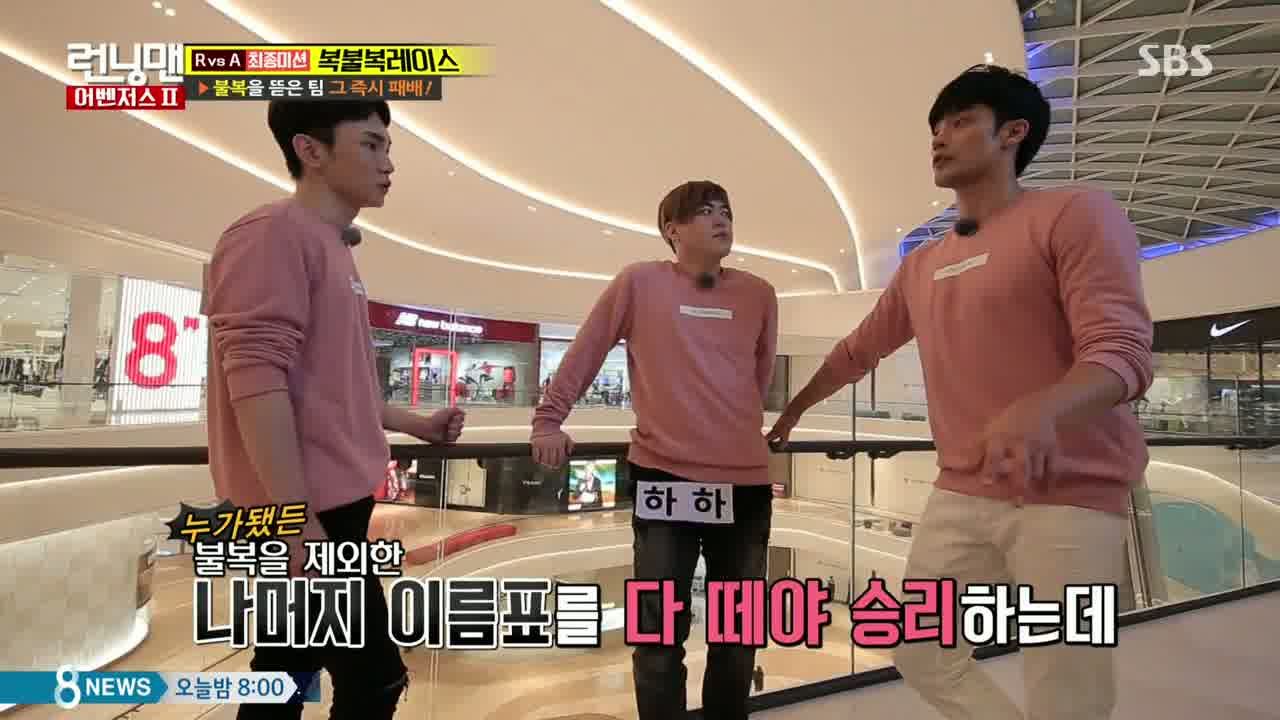 Key rips off Kwang-soo's nametag, and then Jong-kook is lightning quick to tear off Dong-hyun's nametag. As it happens, Dong-hyun is the "Lucky" Avenger, so Team Running Man chooses to also eliminate Hyung-bin. When he tries to act like the game is over, they counter that they know he's been in the business for more than two decades now.
The teams take some time to strategize, as Jae-suk says they have no choice but to risk ripping off either Key's or Sung Hoon's nametag.
Meanwhile, Hee-jun believes Ji-hyo must be the "Lucky" one because they haven't really seen her around. What if she was told to stay out of sight?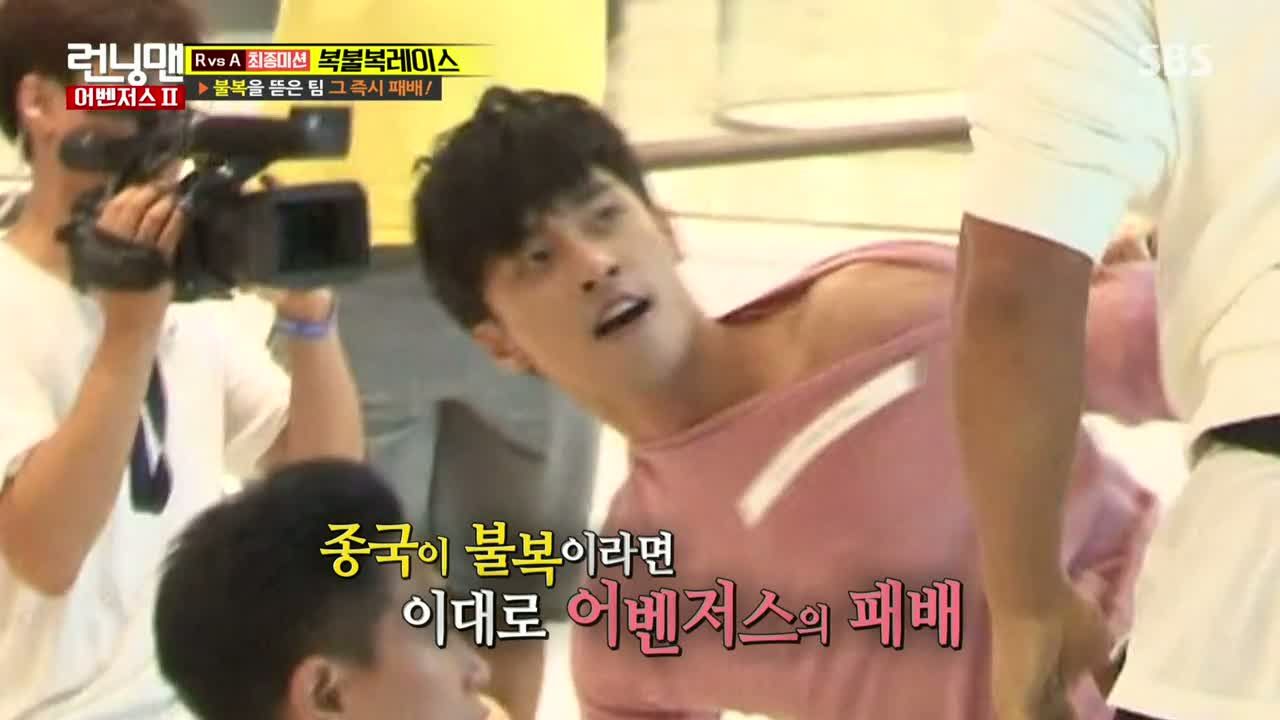 A little later, Key, Sung Hoon, and Hee-jun work together to take down Jae-suk. They then break up to take on Gary and Jong-kook, and Sung Hoon lunges for Jong-kook's back. Off it goes, and there's a glimmer of yellow: Lucky.
We learn that Hee-jun had found another hint box that told him the "Unlucky" Running Man has a stage name. That's Gary, and the Avengers also eliminate Ji-hyo by default.
With that, the Avengers are victorious, and Kyung-kyu rebukes Suk-jin before delivering a hard slap to the forehead. But who knows when we'll need to call upon the Avengers once more?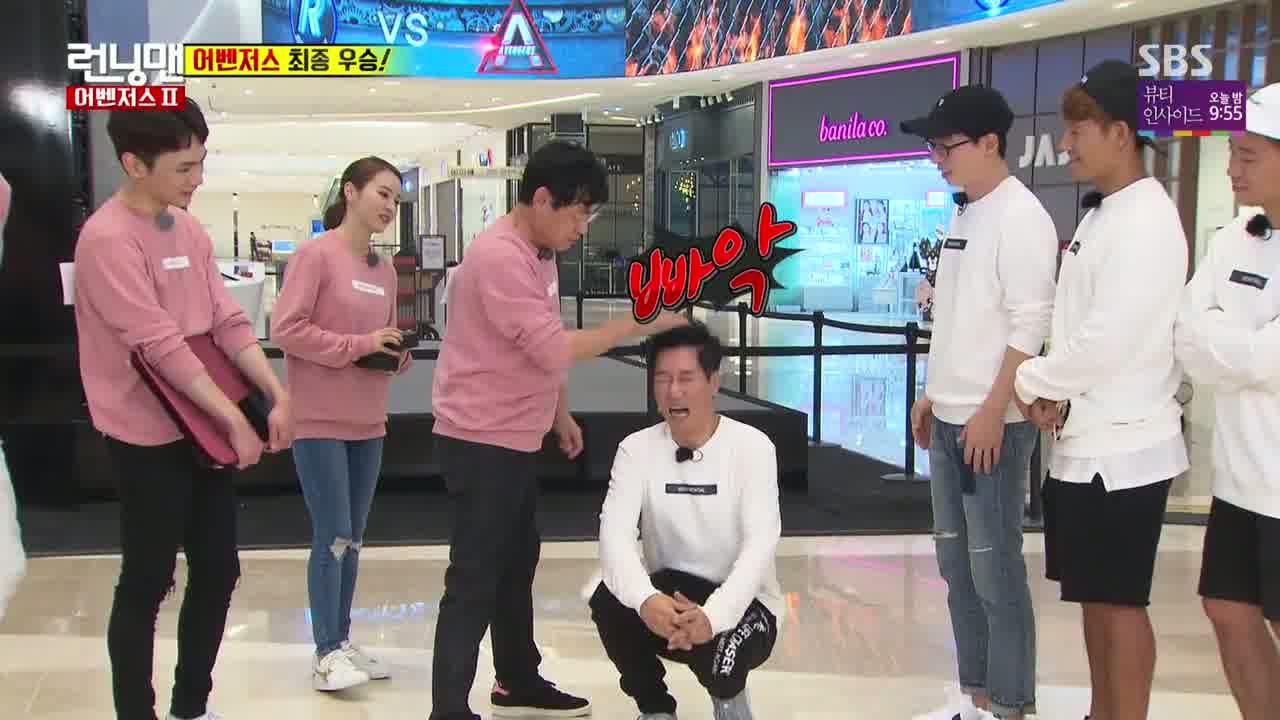 RELATED POSTS
Tags: featured, Haha, Ji Suk-jin, Kang Gary, Kim Jong-kook, Lee Kwang-soo, Running Man, Song Ji-hyo, Yoo Jae-suk