Running Man: Episode 318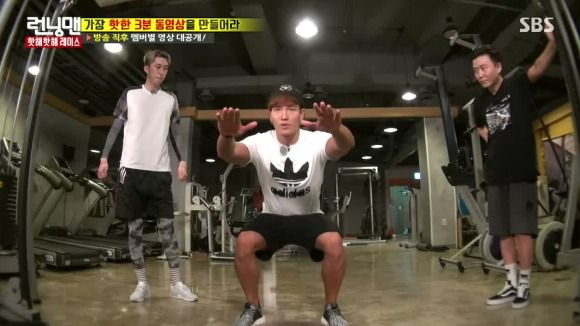 Popularity is a fickle thing, but our cast will tap into their individual talents to attract as many fans as possible and top the charts. Covering everything from food to music to exercise in this week's race, they'll need to stay on their toes if they want to keep the one trying to steal the limelight at bay.
EPISODE 318. Broadcast on September 25, 2016.
On a bright early autumn day, a table awaits each of our cast members with items that represent their five most-searched keywords. Jong-kook blushes at the picture of his bulging biceps and of Su Ae, while Jae-suk learns that one of his includes "skinny jeans."
In today's Hot Hot Race, our members will each choose one item to create a three-minute video that will be featured on a portal site. The member whose video is most popular 24 hours later will receive an advantage for next week's race.
Gary takes "face" out of the running while Suk-jin chooses "Big Nose" and Ji-hyo goes with her nickname Mung Ji-hyo. Jae-suk decides to assume his Yoomes Bond persona again.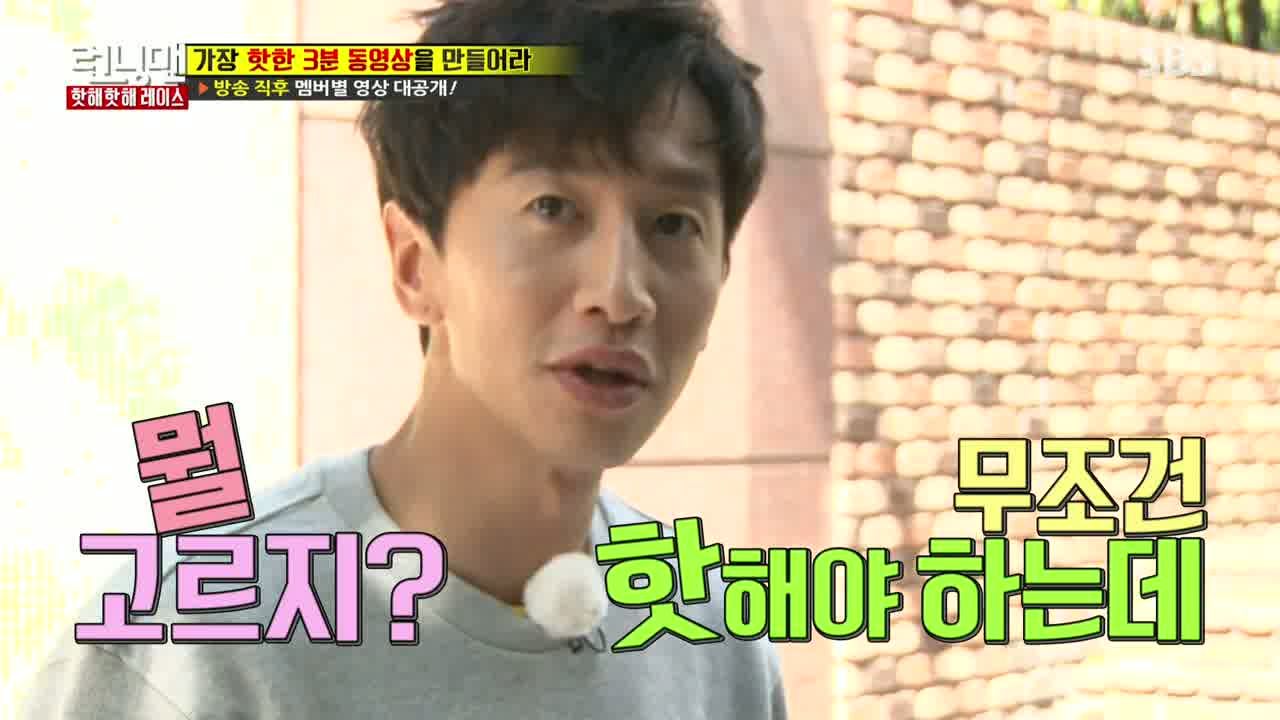 Jong-kook, who went with "Coach Kook", needs to make an exercise video with a weakling. Somewhere in a gym, a mystery guest is struggling to lift weights. Suk-jin needs to find his perfect "Nose-erella", and Kwang-soo is on the hunt for a female celeb who named him her ideal type. He happily asks, "So I'm going out on a date with her?"
Gary's task is to make a one-minute jingle for the show but he'll need everyone to sing. Jae-suk has a "scene-stealer" mission that will allow him to steal 10 percent of their hits every time he completes a personalized mission.
Here's the catch: the other members can pinpoint his location and identity if they complete their own mission, and in the event his nametag is torn off, his number of hits will be reduced by half.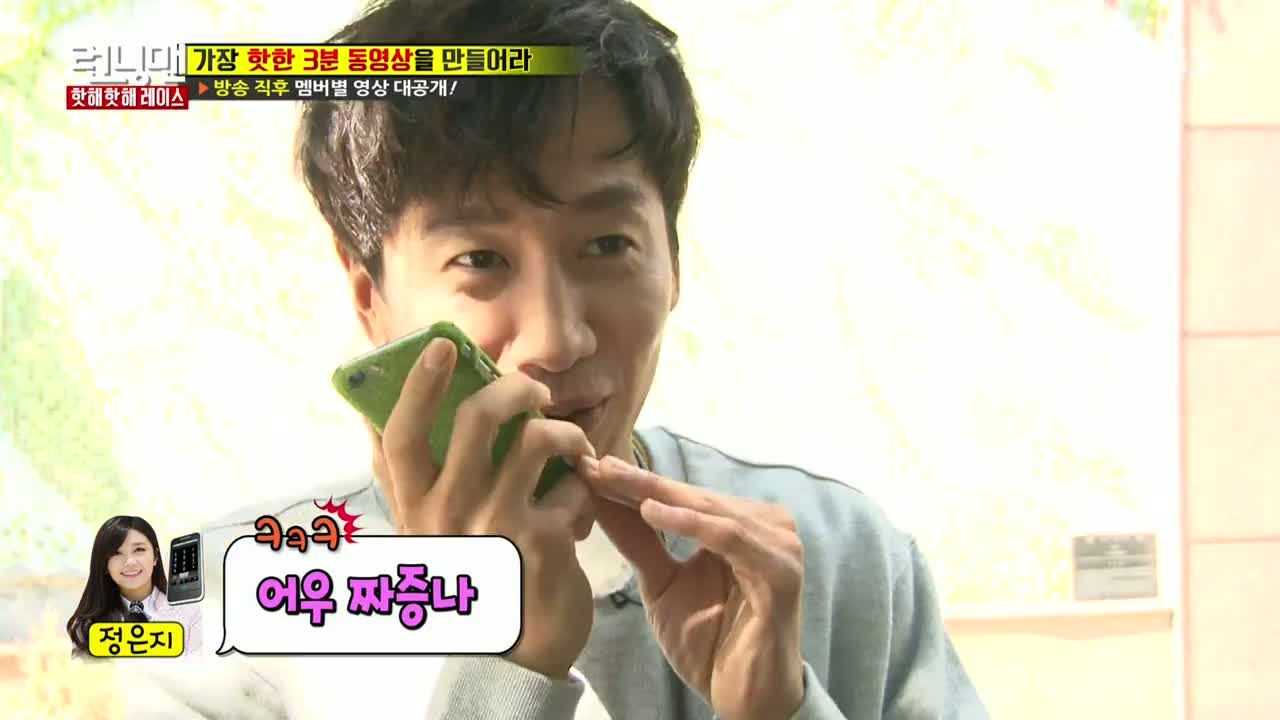 So they all set out, and Ji-hyo laughs when the taxi driver recognizes her as Mung Ji-hyo. She'll be battling the R&B and hip-hop artist Crush in a zoning-out contest of their own.
Suk-jin confesses that he really wants to meet Jeon Do-yeon, but knows that'd be a reach. A quick internet search teaches Kwang-soo that talent like model Kang Seung-hyun, actress Moon Geun-young, and girl group Cosmic Girls have all chosen him as their ideal type.
He comes across UEE's name, then remembers that she's dating actor Lee Sang-yoon. Some articles go as far back as 2014, and Kwang-soo immediately calls up Jung Eun-ji when he sees her name on the list. Her response: "Why'd I do that?"
Kwang-soo: "Do you even remember saying that?" Eun-ji: "No." LOL.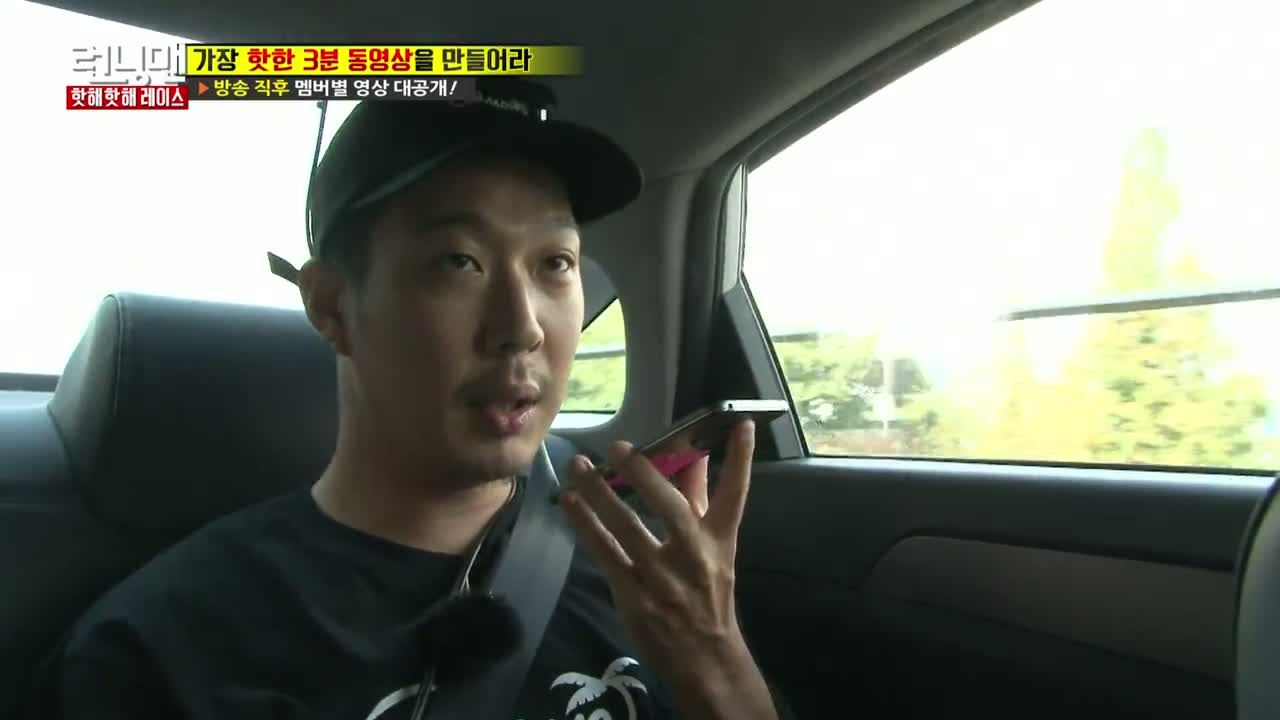 He then calls up Moon Geun-young, who politely tosses back his inquiry with "Don't ideal types always change?" She follows that up with saying that she plans to try dating around, and he has to remind her that the cameras are rolling right now. Kwang-soo: "Have you been drinking?"
Oh no, he calls model Kang Seung-hyun too, who says it was such a trivial matter. Kwang-soo: "Aren't trivial things important too?!" He jokingly says he's giving her a great opportunity by going out on a date with her ideal type (meaning him) and meets up with her (and her adorable excitable puppy) outside her place.
Haha calls just then, and when Seung-hyun asks if he has a similar mission, he reminds her that he's a dad. HA. Haha is off to create a cooking video with convenience store food, and an internet search pops up "Mark Meal" an instant ramyun recipe with cheese and sausages inspired by GOT7's Mark.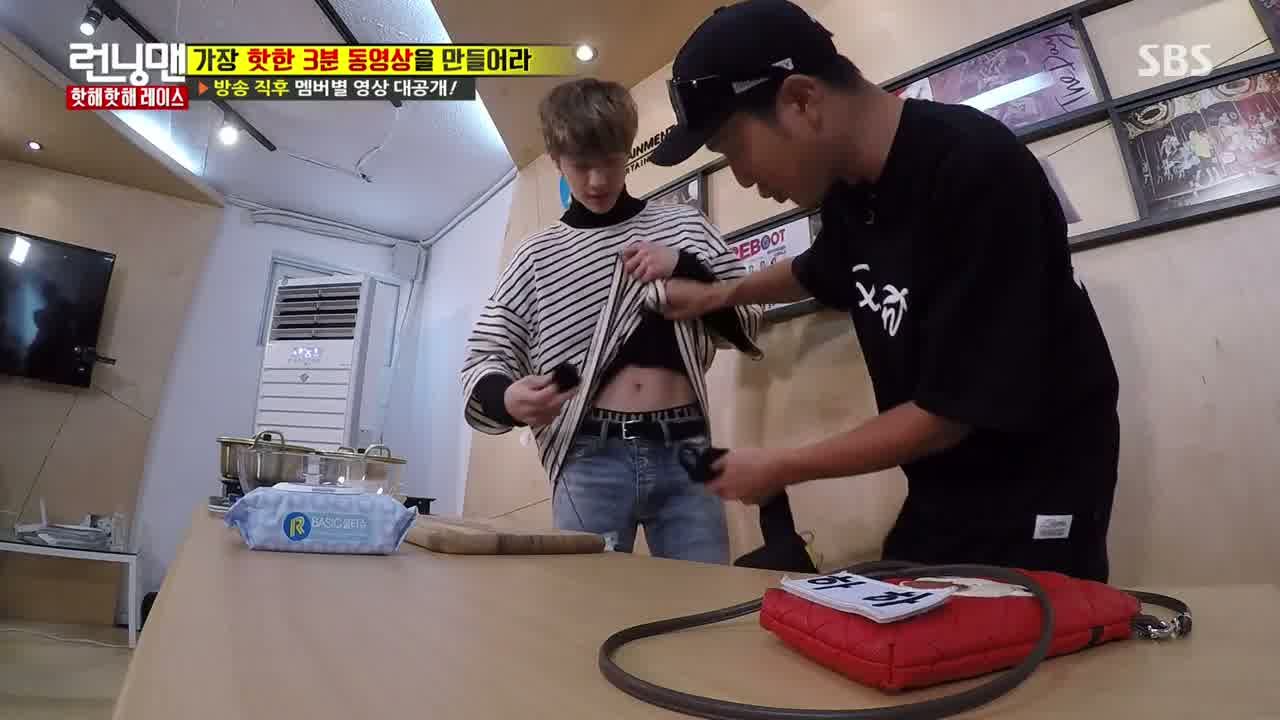 That's how Haha ends up at JYP headquarters, where Mark is waiting for him. He offers to put Mark's mic on for him, checks that the cameras are rolling… and lifts up his shirt. O hai there, abs.
While the rest of GOT7 are on vaycay thanks to Chuseok, Mark had to stay behind since he needed to go to LA. Haha gives him a comforting hug, then lifts up his shirt again. Yeah, I'd call that a hot issue.
Once Haha comes clean about how he's trying to get hits by exposing his abs, Mark goes ahead to lift up his shirt. Haha says they could head to the sauna, and Mark adds that they could cook there… shirtless.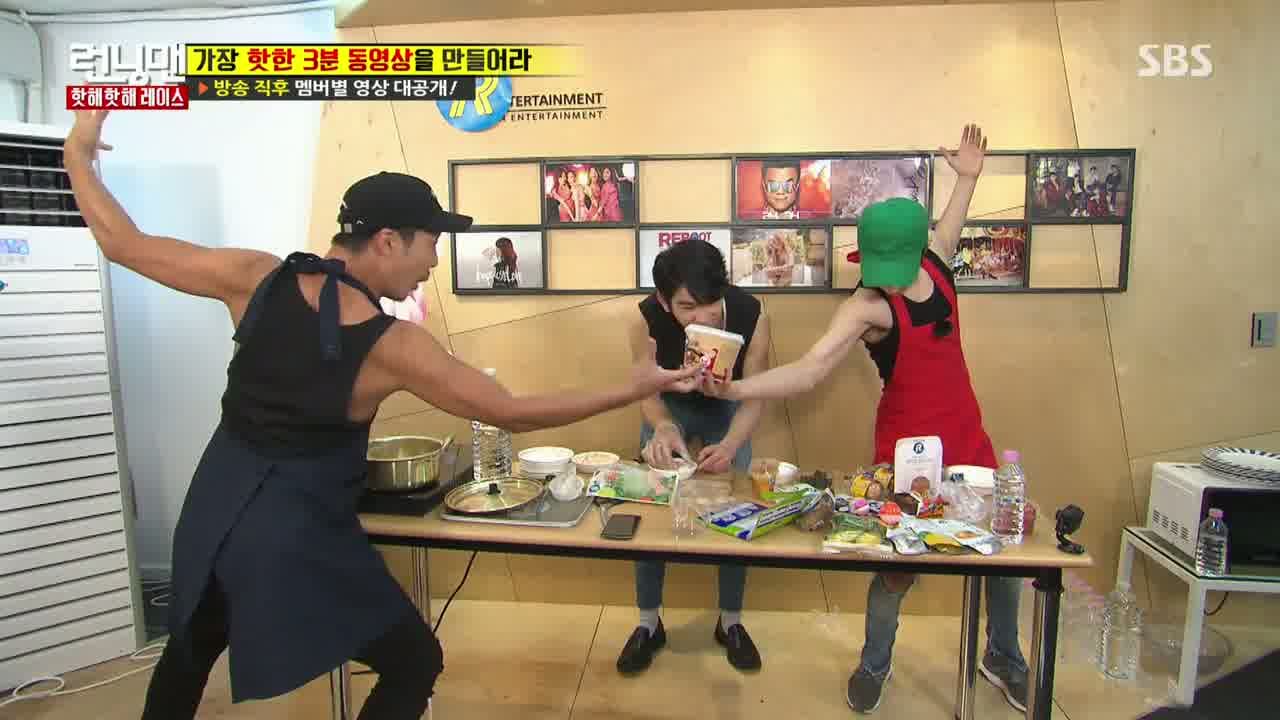 Mark says he brought help in the form of Park Jin-young, which makes Haha think JYP will be joining them. But ha, it's his fellow GOT7 member Jinyoung, and both boys come back in tanks and an apron. Haha is encouraged to do the same, but the result is slightly different.
They practice handing each other ingredients in a way that show off their physiques, and Haha sheds tears of gratitude.
Suk-jin calls Jae-suk up to see if he can call in Jeon Do-yeon (since they attended the same university). He does point out how Jae-suk keeps referring to their friendship in the past tense, and Jae-suk honestly tells him that the last time he saw her was nearly 20 years ago. Well that's a bust.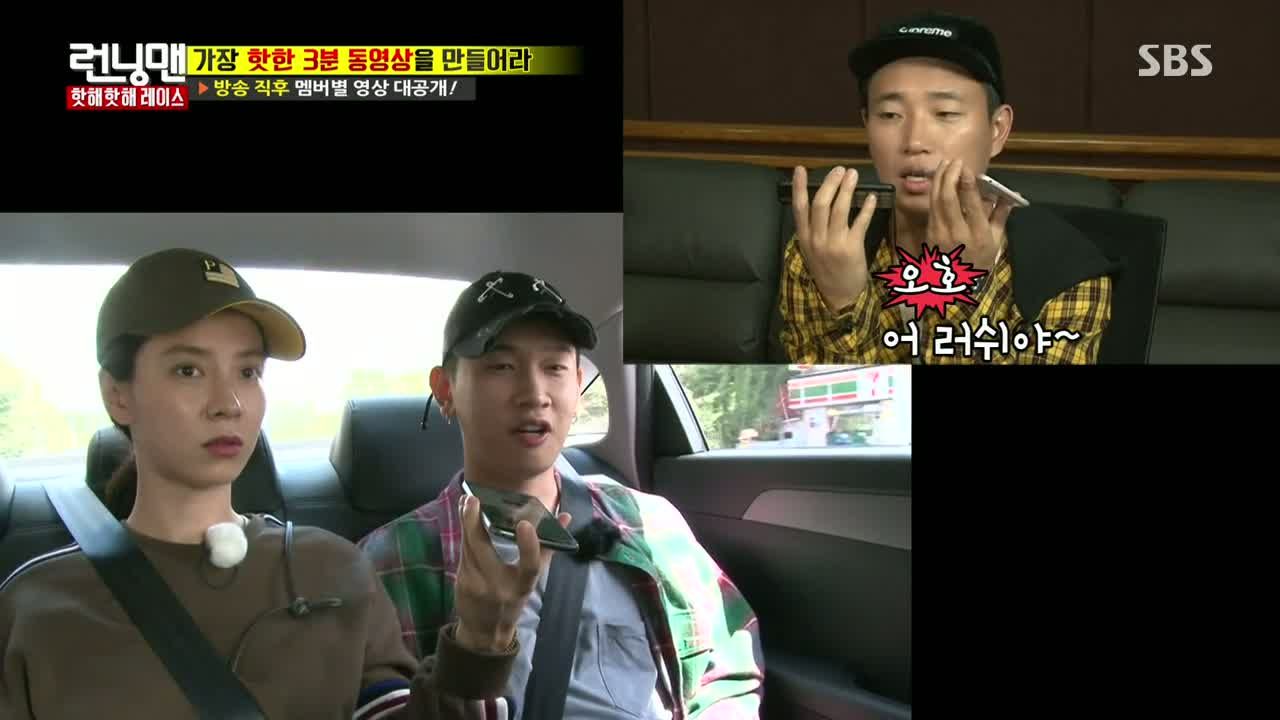 Ji-hyo meets Crush at his studio, and wow, he really did win the 2016 Space-Out Competition earlier this past May. He even has a trophy to prove it.
Gary heads to the recording studio for his one-minute jingle. He calls up Ji-hyo, though he wonders if she's spacing out right now. Heh. She picks up though, and he records their conversation while also saying hi to Crush. When the artist comments how pretty Ji-hyo is, Gary tells him: "Don't try to seduce her!"
He replays the recording to check the quality and notes how giddy she is to be with crush. Well can you blame the girl?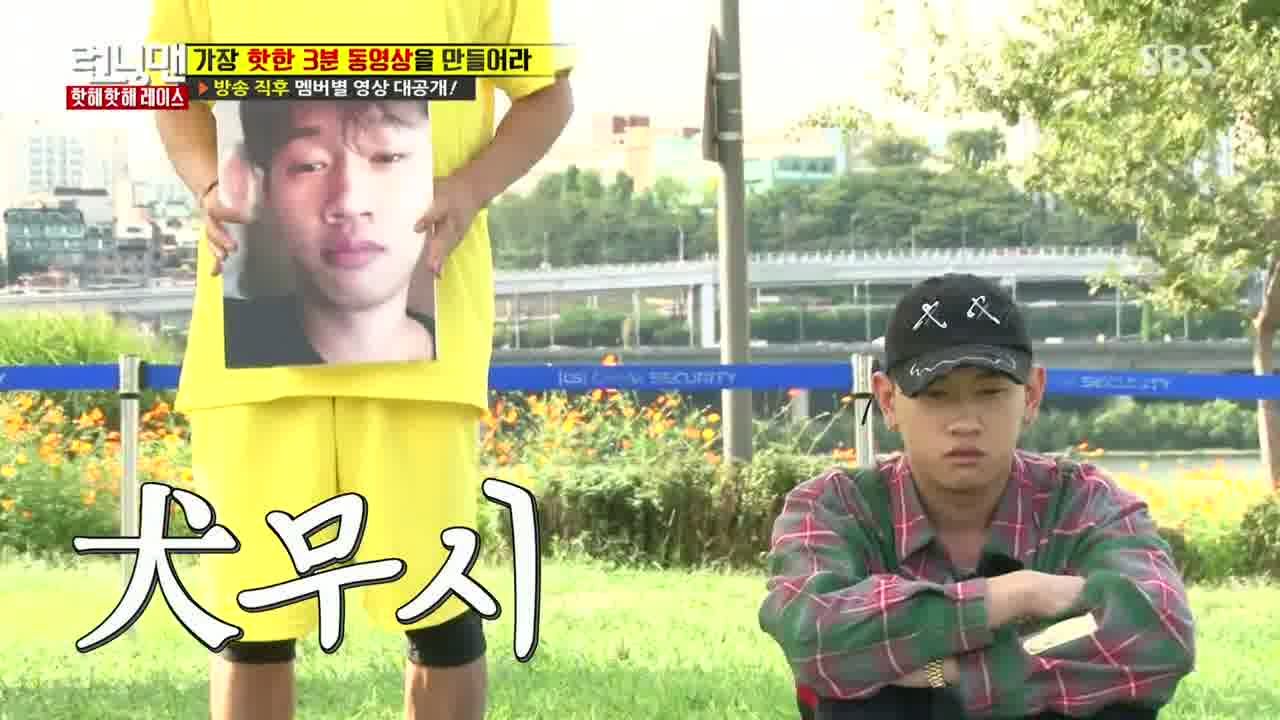 Ji-hyo and Crush head to the Han River for their Spacing-Out Competition. Here, whoever has the lowest resting heart rate in an hour's time will be declared the winner. Thus the battle begins and their first distraction is brought in a little later: a humiliating photo.
Crush ignores it at first, but then bites his lip when it's brought into view. The second photo is worse, and Ji-hyo and Crush can't help but giggle. Their pulses are read shortly afterward, and Gary arrives just in time to loudly ask if the battle is going on right now.
He's upset that she can't speak and asks her to scream "Run!" for him just once. She makes the tiniest of squeaks, which he plays back for her. Once he has what he needs, Gary moves over to Crush, who utters: "Leave."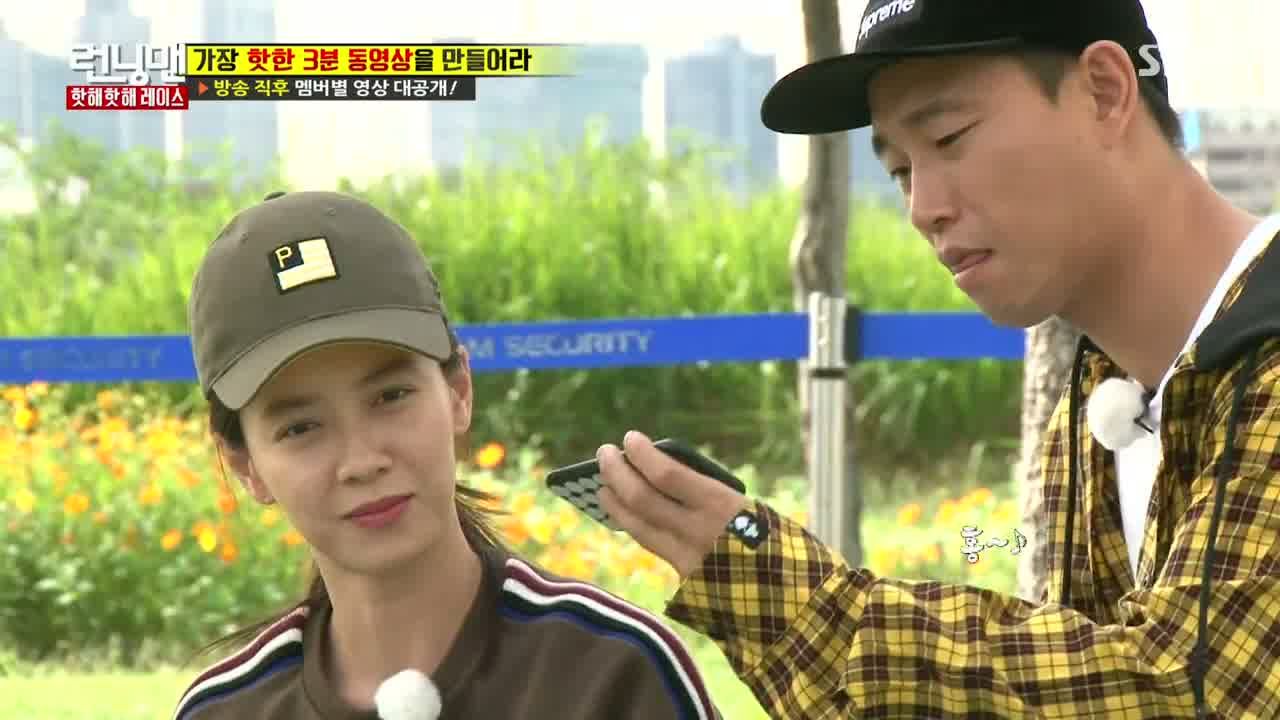 He calls up the other members to get his "Run!" and his sound engineers start working with the recordings. Time to check in with Kwang-soo, whose face falls when Seung-hyun says she chose Kwang-soo as her ideal type for his height.
Her idea of a romantic date is going for a stroll, though that quickly falls apart when her dog keeps barking at the staff, Ji-hyo calls, and then Jae-suk appears.
She explains that she doesn't remember when she named Kwang-soo as her ideal type, but he apparently found out. Jae-suk cringes when he learns that interview took place years ago, and keeps adjusting Seung-hyun's hat while she's busy explaining why that fact popped up in the first place. Hm, is this part of your scene-stealer mission?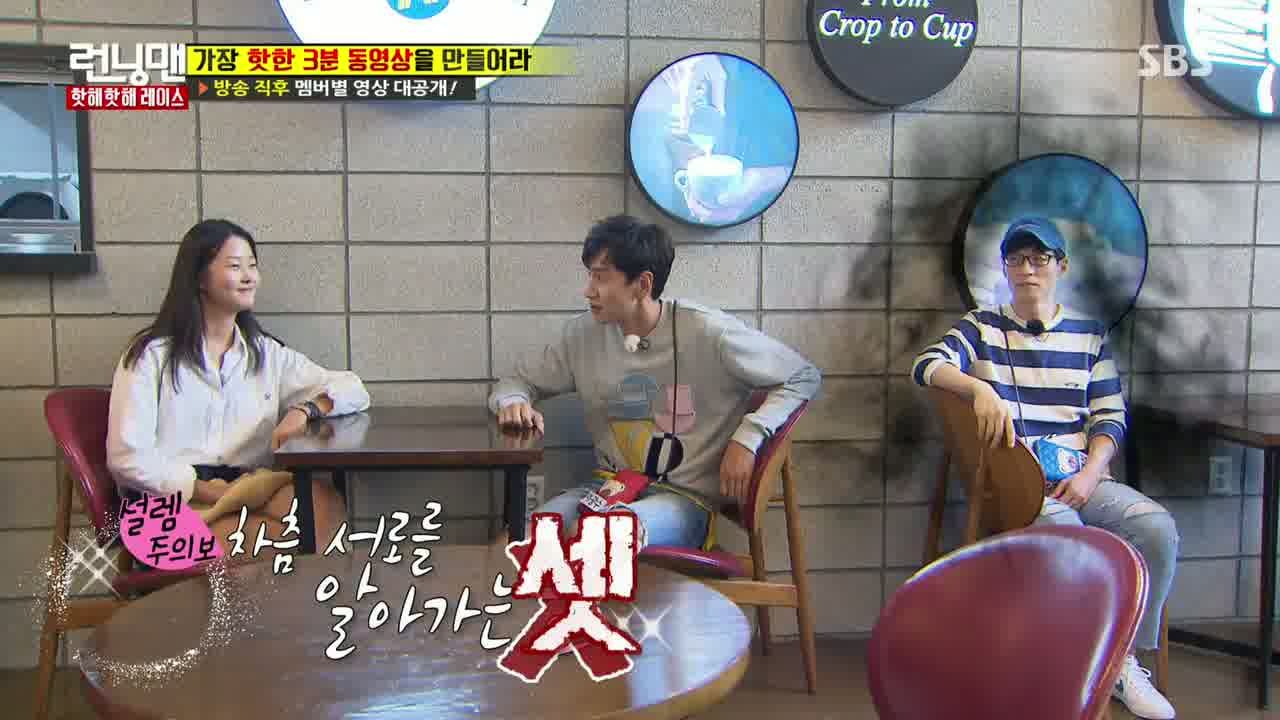 Kwang-soo is disheartened when he learns that the ideal type question was among the Running Man cast, so when Jae-suk asks who her overall ideal type is and she says Kwang-soo, he responds, "Shut up."
Jae-suk suggests that they all go out for a bite to eat, so they head to a cafe where he sits at the next table. Lol. He insists that he'll leave once his coffee arrives, though it's virtually impossible for Kwang-soo and Seung-hyun to ignore him until that time. To that, Seung-hyun says SHE feels like the third wheel here.
Then Jae-suk gets up and asks himself how he's going to get "that." Hm? He moseys his way back to the couple's table with a piece of paper and a marker. That's mighty suspicious, so Jae-suk quickly explains that he needs the outline of everyone's foot.
The food arrives just then, and Jae-suk uses that distracted moment to his advantage to make off with Kwang-soo's shoe. Kwang-soo runs after him, but it's no use—Jae-suk is home free and Kwang-soo is without a shoe.
We learn that the shoe-stealing was Yoomes Bond's true mission (as "scene" is similar to "shoe" [shin] in Korean). It's only now Kwang-soo is updated on how his number of hits is reduced by 10 percent thanks to Jae-suk.
He returns to his date with one shoe and asks if she has any money to buy him a new pair of kicks. Though the romance is long gone, Seung-hyun is hooked up to a lie detector toy. If she answers all three of Kwang-soo's questions with a truthful "yes", he'll complete this mission.
She agrees that she'd like to go out on another date with Kwang-soo, which the lie detector indicates as a lie. But since it didn't induce an electric shock, the crew agrees to accept it as truth. Kwang-soo: "You sure she isn't just withstanding the pain?"
He's hard-pressed to believe that it's broken since just half an hour ago, he had thought himself as the handsomest cast member. The lie detector had shockingly caught him in the lie.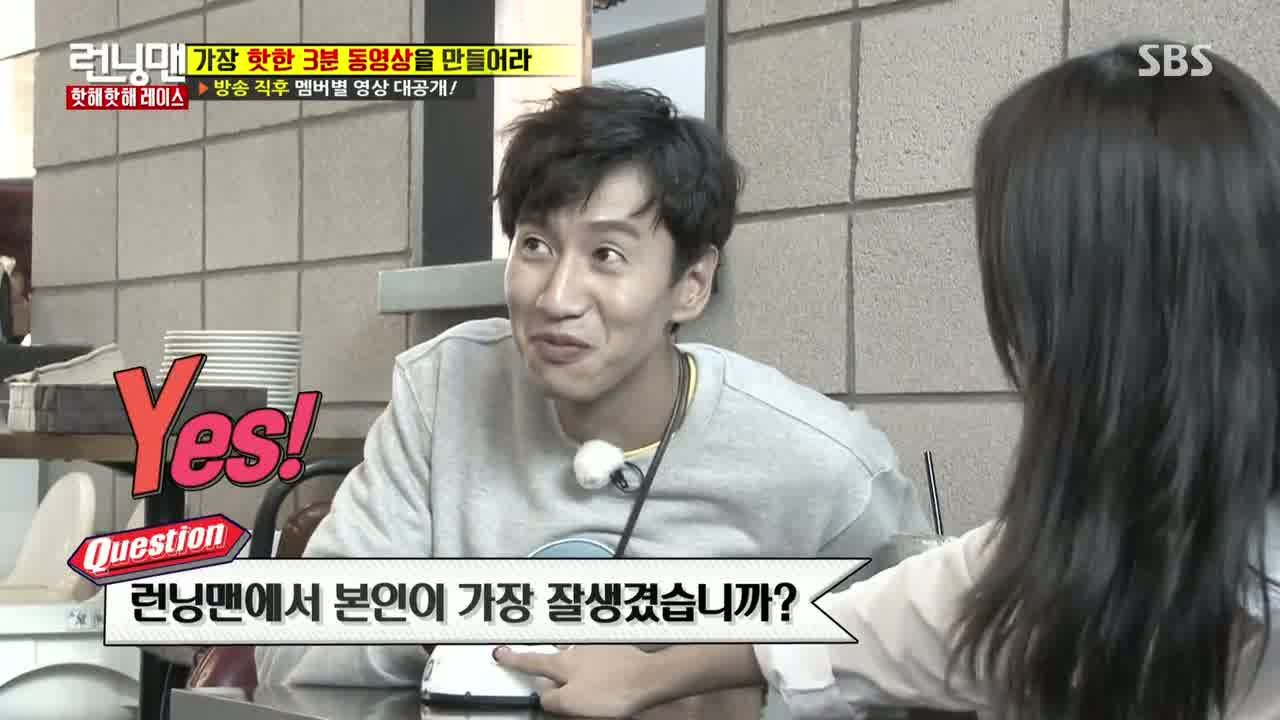 Seung-hyun answers "yes" to the question that she'd choose to go on an uninhabited island with Kwang-soo. That's another lie, but her hand remains still. Finally she says she would accept his feelings if he were to make a confession, and this time she acknowledges the pain.
Now she admits that she just endured the pain, but I'm sure it's nowhere near as painful as Kwang-soo's broken heart. She does say, however, that Kwang-soo was her ideal type… sometime in the past.
Jong-kook arrives at the gym to find Untouchable's Sleepy waiting for him. Sleepy says he's been bulking up—in weight—because he wants to look good shirtless for his wedding, er, concert next year.
So they both undergo a body composition analysis, and it's no surprise that Jong-kook's stats are in the ideal range. When his chart indicates that his body fat mass is only 6.3 kg of his total body weight of 79.2 kg, Sleepy asks: "So you have 73 kgs of muscle?"
Reviewing Sleepy's chart reveals that he has 10 kgs more body fat mass than Jong-kook. They start off with proper push-ups, and Sleepy already looks exhausted after doing five. Jong-kook assists with the dumbbell, but Sleepy yelps in pain.
He continues to groan through the other exercises, and it seems being the top-searched video isn't worth all this pain. Afterward, Jong-kook explains that he's helped a lot of other celebs, and the set Sleepy just completed was the same weights actor Park Bo-gum lifts.
That name motivates Sleepy for all of five seconds before he breaks down again.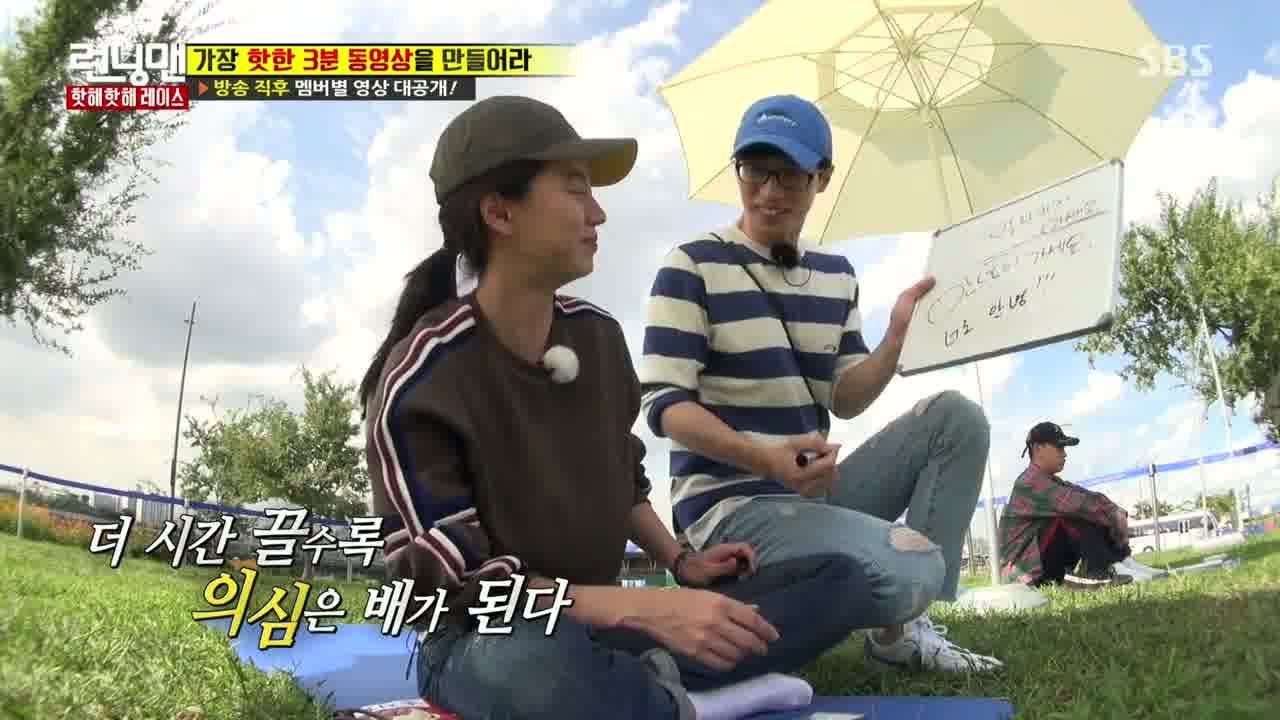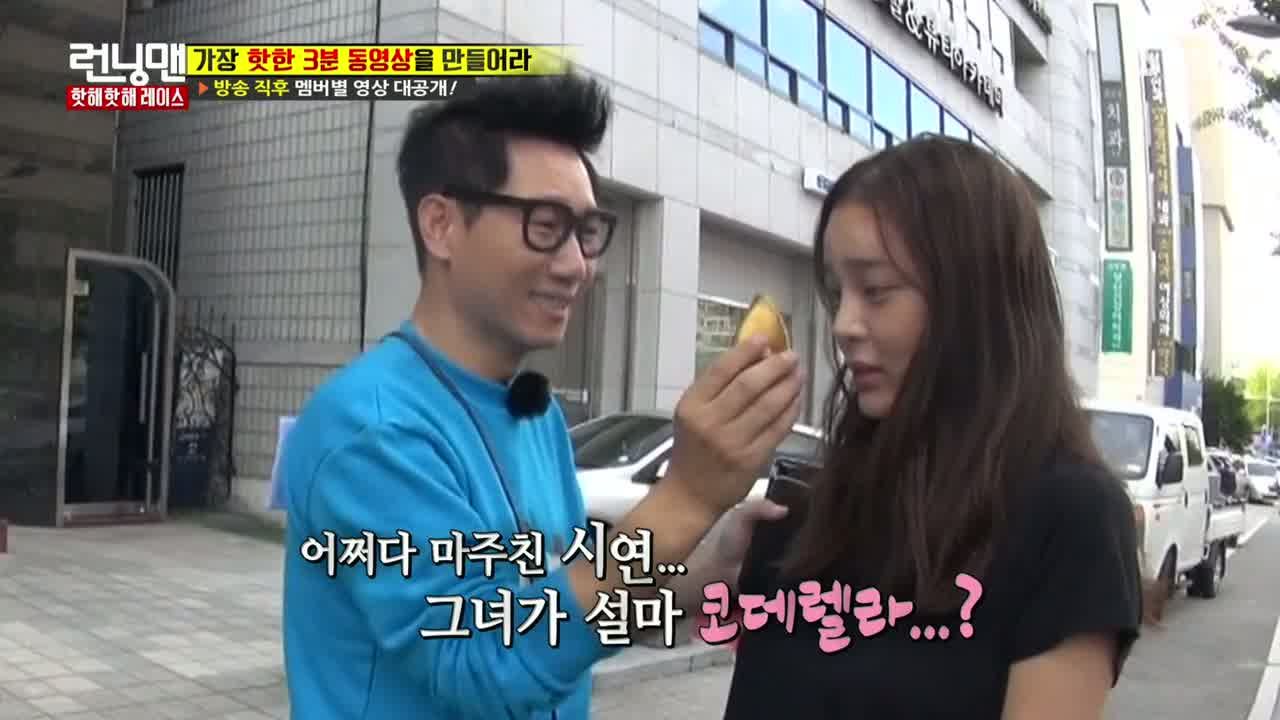 Shin-stealer Yoo's next target is Ji-hyo, who isn't happy to see him. He waits for an opportune moment to take her shoe, and she doesn't notice that it's gone.
Elsewhere, Suk-jin calls up Min Hyo-rin's manager, who apologetically lets him know that she's currently in Japan for a photoshoot. His next few calls go unanswered, but that's when he sees a van and sticks his head out.
The van just so happens to belong to actress Park Shi-yeon, who's on her way to the salon. Suk-jin can't believe his luck, but unfortunately the nose doesn't belong to her. Still, Suk-jin has learned a thing or two from this experience and resolves to stop every van he finds.
And that's exactly what he does. He meets Im Ji-yeon, then I.B.I's Kim So-hee, and hops into Han Seung-yeon's van to meet her. It becomes apparent that the nose is too big for a lady—perhaps he should be looking for a male celeb?
Jae-suk's next target is Suk-jin, who is held back long enough for him to swipe his shoe. Suk-jin runs after him with one shoe, but it's too late.
Over at the JYP Building, Haha suggests that they make a fusion "Ha-Ma Meal" (for Haha & Mark) by switching out sausages for a hamburg steak. Once everything is finished, Jinyoung brings in reinforcement in the form of 2PM's Chanyoung.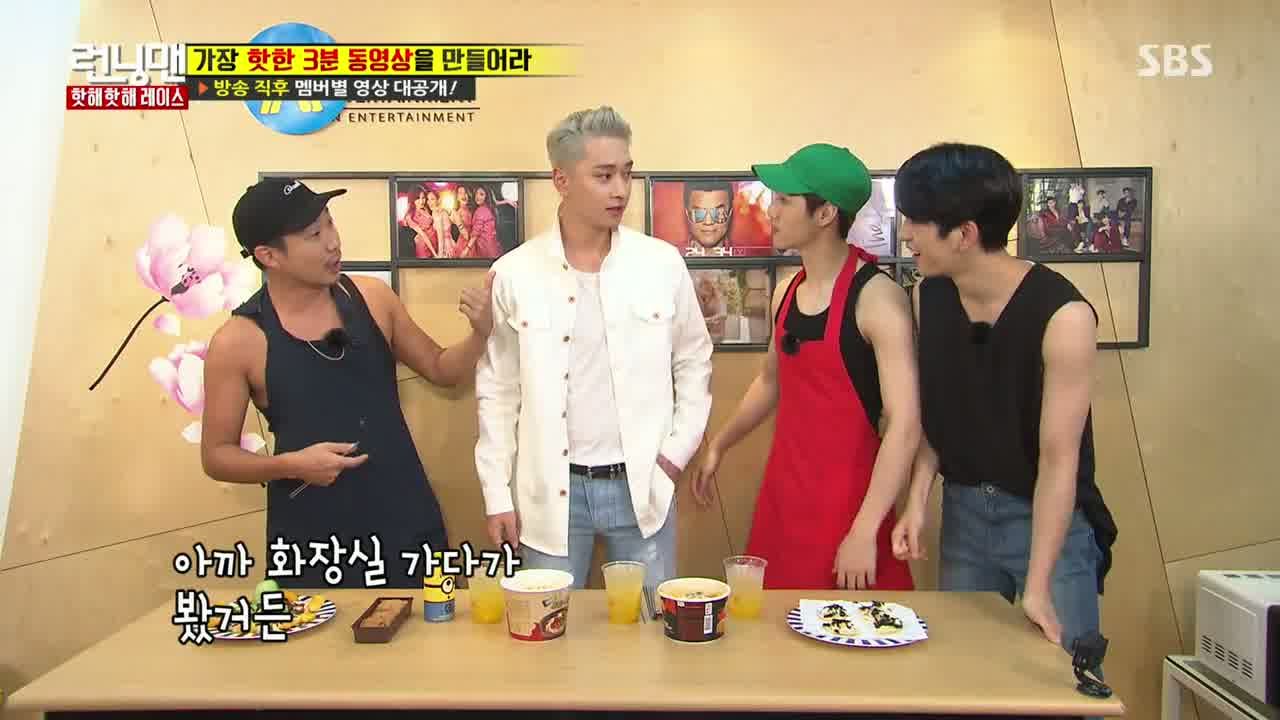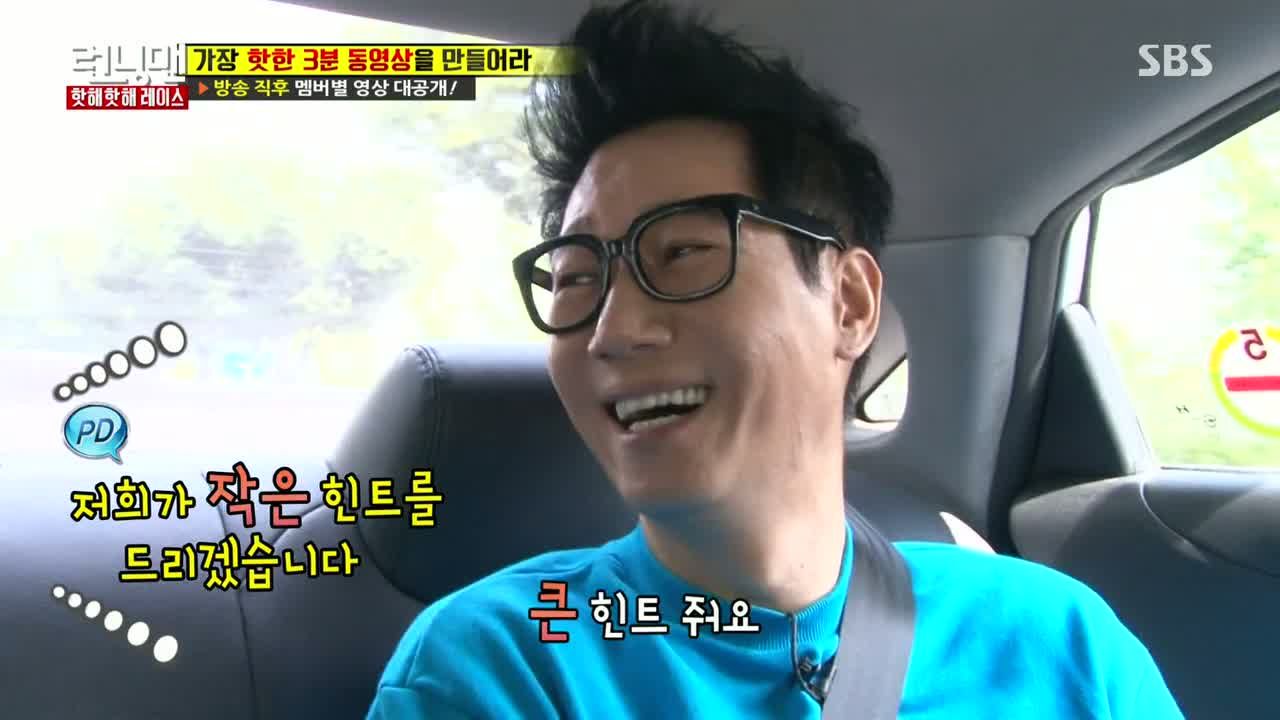 Haha immediately gets to work peeling layers off of Chansung… and what the? Suk-jin, what are you doing here? As it happens, Suk-jin had complained to the crew about how finding Nose-erella was practically impossible, so they had told him the nose belonged to an idol within the Big 3 (SM, YG, JYP).
So Suk-jin had looked up "Big Nose Idol", and aha—that was Chansung. That explains why Suk-jin is here at the JYP building and Chansung is reluctant to comply. It's a perfect fit.
Haha and Suk-jin now learn about Jae-suk's true shin-stealer mission, and it's their job to take Yoomes Bond out. Over by the river, Crush wins the zoning-out battle and offers to piggyback Ji-hyo off the grass. She borrows his foot instead.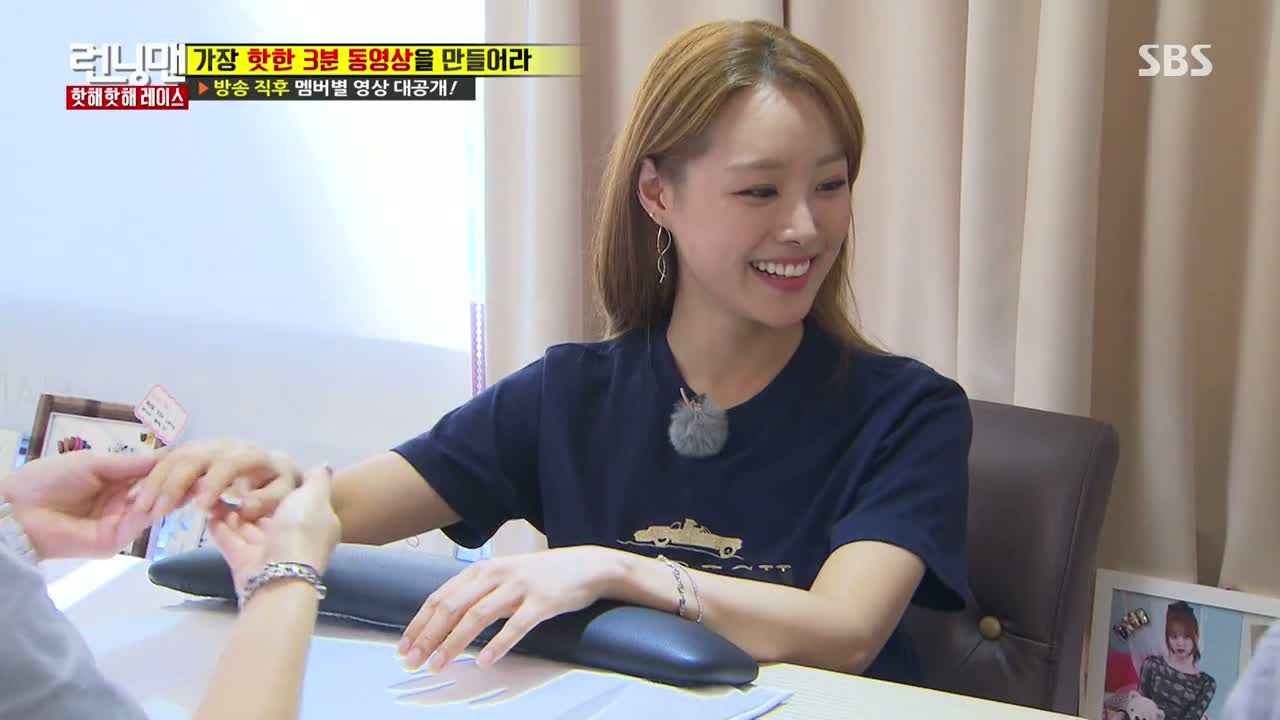 Kwang-soo travels to a salon with one shoe on to meet Secret's Song Ji-eun. Ji-eun confesses that she's admired him for seven years now, and that he's like a celebrity to her. Aw, that's sweet.
One kind of date she wanted is for her boyfriend to sit and talk to her while she got her nails done. He's happy to comply, and the both of them sit down for a nail art session. He asks how the state of his nails are, to which the technician honestly replies, "A mess."
Ji-eun tries to help by saying that his nails are cleaner than she expected, which prompts him to ask: "How dirty did you think they were?"
He asks her what qualities she doesn't like in a guy, to which Ji-eun answers "a constant meddler." She asks if it's true that Kwang-soo gets obsessive in a relationship, an idea he vehemently denies.
Ji-hyo and Crush crash in on their nail art session where Kwang-soo grins from ear to ear with his subtle nail art. Ji-eun passes all three questions with flying colors, so Ji-hyo immediately affixes Kwang-soo's hand onto the lie detector. Ji-eun: "If you get a 'lie', I'm going to go home."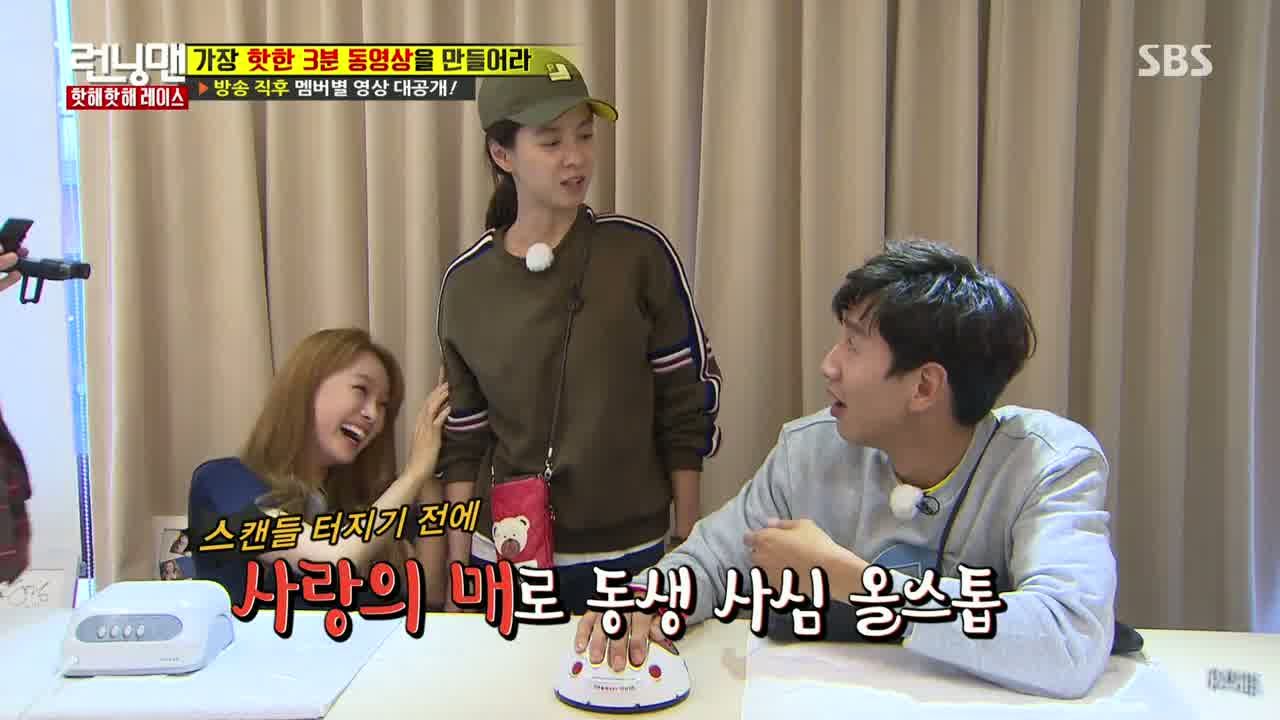 Asked if he'd like to meet up with Ji-eun after filming wraps, Kwang-soo answers "yes." The lie detector indicates it as "truth"… and Ji-hyo slaps him upside the head. He's dangerously close to messing with ardent fanboys.
So Ji-hyo tests the toy by asking if Kwang-soo would want to go out with her. The shock alone is enough of an answer.
Meanwhile, Gary is busy writing lyrics and recording the rap. Jong-kook puts Sleepy through a proper boot camp that actually puts him to sleep. While Jae-suk approaches the gym, Haha, Ji-hyo, and Suk-jin are all after him.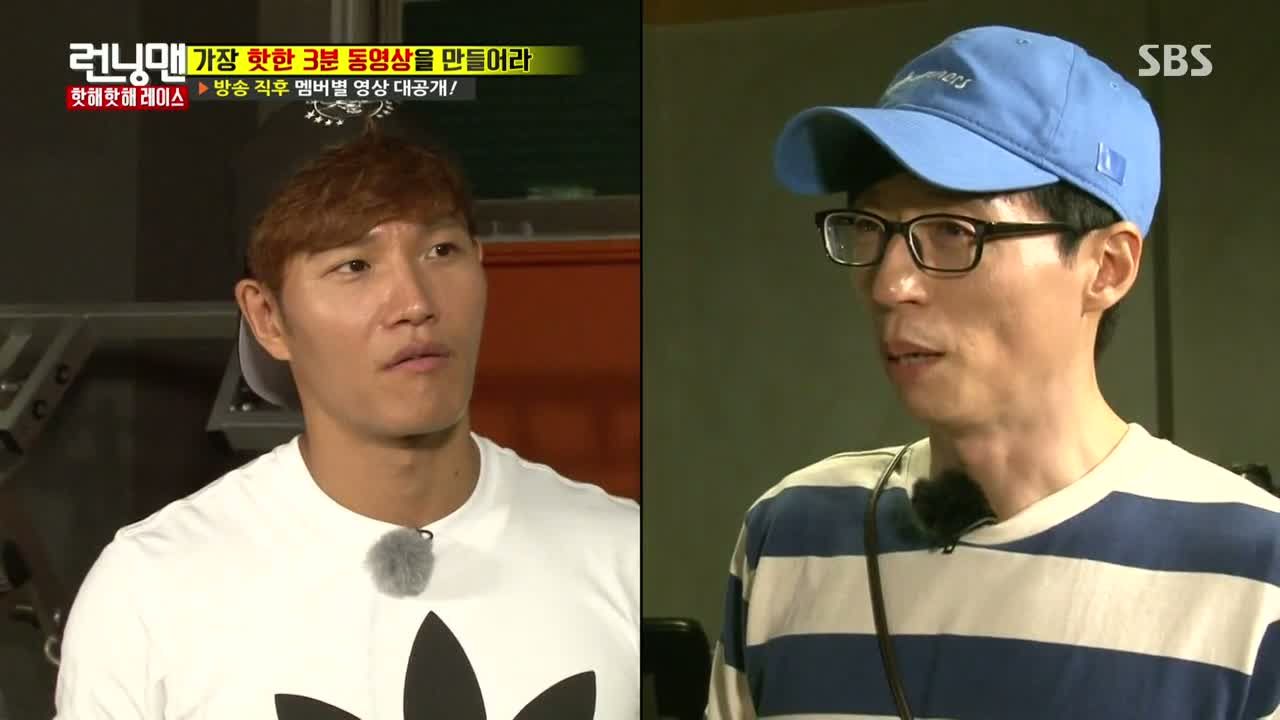 Jae-suk is about to get wrangled into participating in Jong-kook's workout video when Jong-kook remembers that he was told to be careful of the "shin-stealer." Jae-suk truthfully explains that's because it would adversely affect Jong-kook's number of hits.
But it seems we won't find out whether Jae-suk will make off with Jong-kook's shoe until next week when it's Operation Shoe-stealer Hunt.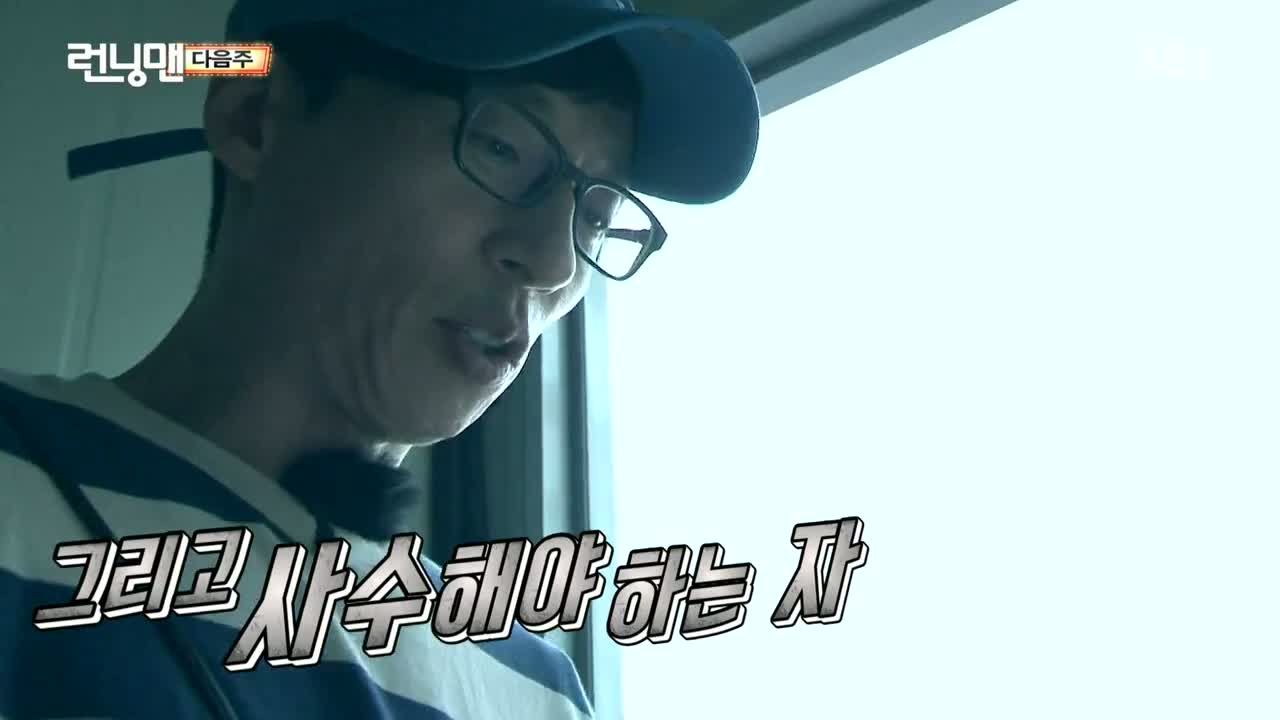 RELATED POSTS
Tags: featured, Haha, Ji Suk-jin, Kang Gary, Kim Jong-kook, Lee Kwang-soo, Running Man, Song Ji-hyo, Yoo Jae-suk