Team Dramabeans: What we're watching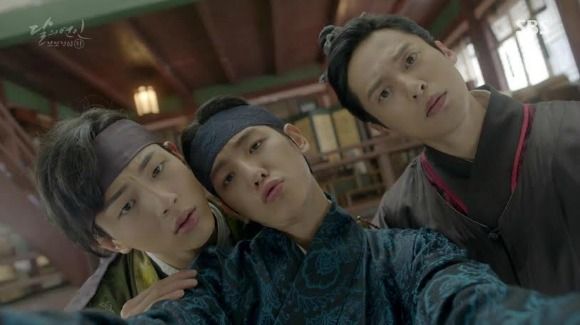 How did everyone's dramas stack up this week? Any big duds to avoid, or hidden gems you've unearthed on dusty old hard drives that you care to share? The constant turnover in dramaland is so relentless that I can't remember the last time I went back and watched something old, but I'm about to have a big W-shaped hole in my heart very soon, and I could use some recommendations to stave off the impending withdrawal. Friends help friends get over an addiction by getting them addicted to something new!* –girlfriday
[*Not actual advice to be applied to anyone in any real-life situation, ever.]
Currently recapping: Moonlight Drawn by Clouds

Fantastic: I will never not find it funny when actors act like bad actors, and Joo Sang-wook does a pretty fantastic (hur) job at playing the vain foot-actor looking for any opportunity to look pretty. The cast is solid, and I particularly like the ladies' friendships, so here's to hoping the show maintains its cheerful vibe.
Moon Lovers: Scarlet Heart Ryeo: I find IU adorable in this, and her modernisms and fish-out-of-water foibles often make me laugh out loud. But I find myself increasingly annoyed when the show spends too much time away from Lee Jun-ki. When he's front and center? I'm all eyes and ears. When he's offscreen? First of all, why would you do that, and second of all, what is this nonsense? *throws remote*
Drinking Solo: Ha Suk-jin is so good at playing these teeth-grittingly annoying jerks, but I'm counting on this show to turn him around. Hopefully sooner than later! The characters all seem quirky and interesting, and I like that while the show has those mouth-watering eating and drinking scenes characteristic of the Let's Eat franchise, the focus on the drinking at least cuts down on some of the gratuitous extended food porn. I can only take so much meokbang without breaking down into late-night drama-induced binges!
W–Two Worlds: I've been a little less engaged lately with all the twists upon twists, and anything with Dad just confuses me, but now that we're so close to the end I do find myself wildly curious to know how things will work out. I'm mostly feeling confident that I'll be satisfied with the ending, but bracing for that possibility that it may not. In which case, next week's post oughtta be interesting.
Uncontrollably Fond: I cried a bunch in the last two episodes, and actually found the finale more satisfying than the rest of the show put together. If the rest of the drama had been about this kind of angst — heart-wrenching, but with a purpose — rather than the pointless, wheels-spinning-in-place kind, I would have liked this drama a lot more. It's too bad the writer dragged out needless aggravation for so long and refused to give us hardly any time for narrative satisfaction, or couple moments, or interactions highlighting love over bitterness and anger. I'm glad for Kim Woo-bin that he acquitted himself well, and Suzy… is still really pretty.
Currently recapping: W–Two Worlds
Cinderella and the Four Knights: I had to wait SEVEN episodes to see Jung Il-woo smile? That is downright criminal.
Moonlight Drawn By Clouds: Javabeans asked me this week whether I was exaggerating about this show making me cry. My answer: "No, I really cry! When I watch this show, I become twelve and I feel EVERYTHING."
Moon Lovers: Scarlet Heart Ryeo: It still seems like Lee Jun-ki is in one drama and everyone else is in a different, less interesting drama. I would gift the king new golden earrings if he'd just ship the younger half of the princes abroad for a while, and free up some precious screentime.
Jealousy Incarnate: Only Jo Jung-seok could make a man's battle to wear a bra so real, desperate, and hilarious. The pace of this show is slow, but I'm starting to like the family drama setup where eeeverybody is related to everyone else.
Drinking Solo: There's a great low-key vibe to this show, and a focus on the everyday concerns of young people trying to figure out life. I'm especially drawn to the students' stories and the world of Noryangjin, which I've always felt was portrayed in movies as some sort of purgatory between youth and adulthood.
Infinity Challenge: Among some of my favorite recurring specials on this variety show is Muhan Company, in which the cast does sketches about everyday office workers. This year they did a thriller mini-movie penned by Signal writer Kim Eun-hee, with cameos from Lee Je-hoon and Kim Hye-soo, along with supporting actors from Misaeng, and frequent guest G-Dragon. It wasn't as good as the musical special they did last time, but Misaeng-meets-action-movie was a good meld, and the cameos were a fun treat.
Currently recapping: Running Man

The Good Wife: Mid-series update: This show continues to be solid on all counts of the drama trifecta. Yoon Kye-sang is amazing. Jeon Do-yeon knocks it out of the park. Yoo Ji-tae is such a good baddie (or is he just trying to be a good daddy?) that I question everything that comes out of his mouth.
Moon Lovers: Scarlet Heart Ryeo: Love, love, love. I'll say it now and forever—Lee Jun-ki was born for sageuk. Pair that with a driving cello track to take me away, and… you have me. Sure this show has its flaws with the in-your-face close-ups contrasted with some shaky camera moments, and I wish that Su experienced more culture shock, yunno, given the fact that she's in an entirely different era, but this scarlet heart will keep beating steadily for one prince for the rest of my days: Kang Haneul.
Jealousy Incarnate: Gong Hyo-jin is winning in virtually all of her projects, so it's no surprise that I love her here too. There's a lot of envy to go around in this show, but my eyes are laser-focused on Go Kyung-pyo, who is just all kinds of wonderful.
Moonlight Drawn By Clouds: This show has something special. Cute, breezy, and entertaining, each hour seems to zip by, and at the end of every episode, I'm left wondering: "Wait, it's over already?" This series doesn't quite have my heart, but I fully acknowledge that The Park Bo-gum Effect is a real thing. His acting is mesmerizing and poignantly subtle, and the look in his eyes commands my attention. But it seems I've caught Second Lead Syndrome real bad this cycle, because I absolutely adore Jinyoung.
W–Two Worlds: I still can't believe this show is ending next week. If there's something strange in my world, who am I gonna call? Park Su-bong! If there's something weird in my webtoon and it don't look good, who am I gonna call? Park Su-bong!
Currently recapping: Fantastic

Monster: The nice thing about this show is that even when you don't watch it for nearly two months, the plot is such that you can pick it back up no problem, without feeling like you need to refresh your memory of what has already happened in the previous thirty episodes. In the space of a week, I've managed to marathon my way to only being a few episodes behind, which might not exactly be something to be proud of, since I could have used that time to complete another entire drama. Probably the better decision would have been to abandon it back at Episode 30, but I've finally reached the point where Park Ki-woong has good hair and gets to rock his Shunji scary eyes, so I'm not backing down now.
Drinking Solo: Based on my mild disappointment of Let's Eat 2, I had no expectations about the show except that Key was going to be a delight (and he totally is). But I've surprised myself by how much I enjoyed the first two episodes. It feels more like a Japanese drama to me since it's rooted in a workplace slice-of-life ensemble rather than a quirky love triangle. I'm hooked for now and happy to cheer on Hana as she does her best to succeed.
Cinderella and the Four Knights: OMG. This is my ultimate guilty pleasure. It's hitting all of my sweet spots and favorite tropes in the simplest, breeziest, most satisfying way — the independent and willful girl setting the spoiled rich boys on a path to goodness, the silent protector oppas, the rags-to-riches storyline, etc ad infinitum. I don't need my brain for this — just my pure, little-girl heart. Some parts make me cringe in total embarrassment, and nothing that happens is surprising in the least, but the show is carried by surprisingly solid acting (Jung Il-woo and Park So-dam are wonderful, of course, but I'm surprised by Ahn Jae-hyun's chemistry!!) and just a pure fun element that covers up the awkward directing and music.
Suki na Hito ga Iru Koto: Another jdorama! Another story with piles of pretty male characters! LOL. I probably shouldn't say much about this, because (1) I'm only two episodes in, and (2) I'm actually trying to watch it in Japanese without subtitles for study purposes, so I'm sure I'm missing like 40 percent of each episode. But Kiritani Mirei is hilariously charming as always, as is the chemistry of her reunion with Yamazaki Kento. The food-centered plot is another trope fave of mine, and coupled with the sprinkled-in life observations, I'm having a lot of fun with it so far.
Fantastic: Joo Sang-wook's portrayal of an arrogant bastard never ceases to amaze me — he just gets so into it! I got a peek of that in Birth of a Beauty, but he really ups the cheese factor here. I feel like I should find him unbearably annoying like the heroine does, but he's just so freaking funny to me. I don't know how I feel about the cancer plot yet, but I'm getting good vibes from the drama so far, so I'll stick with it for now.
Moonlight Drawn By Clouds: Okay, I totally take back what I said about Moonlight being a cotton candy show, because, oh my gosh, it seriously takes my breath away. The delightful humor is still there (yay) but now the show's starting to mess with my emotions and it ain't afraid of holdin' back. It's the friendships that really get to me, and I love that with every relationship, there's this sense of rich history behind everyone's eyes. I look forward to interactions between the trio Yeong, Yoon-sung, and Byung-yeon the most, along with the main couple, of course.
W–Two Worlds: I don't think I've ever screamed this loud at a cliffhanger before (apologies to my poor neighbors). You couldn't scroll down just a little bit, Crazy Dog?! I've had enough stress with this show as is!

Moonlight Drawn By Clouds: Oh, the pretty. This show is so enjoyable to watch that even though it's got every cliche of a crossdressing romance and then some, it still keeps me engaged. True, the heroine has been nursed back to health, rescued from danger, and saved from scolding and/or discovery so many times by the male leads that I've lost count. Still, the emotional beats feel honest, and all three leads have the acting chops and chemistry to pull off their often predictable and cheesy Significant Moments. I'll admit I'm more forgiving when it's Yeong doing the hero thing rather than Yoon-sung, and not just because of my biased love for Park Bo-gum. Yoon-sung is starting to show signs of typical second-lead pushy niceness, and I'm allergic to pushiness, no matter how well-intentioned. On the other hand, I just want our prince to find his happiness, preferably with a smack-talking former eunuch at his side. (Please don't tell me history doesn't treat him kindly. I have no knowledge of this particular historical figure, and no desire to be enlightened.)
Five Kids: I was a little late starting this show, but two-thirds of the way through its 54-episode run, I'm surprisingly still watching. I started it partly because it's by the writer of the I Need Romance series and Discovery of Romance, and like those, it's refreshingly lacking in hysterics or makjang twists, which is rare for this type of family drama. I love that despite some typical mother-in-law craziness, there are no real villains in this story; the conflict is caused by human failings like selfishness, which are so much more relatable than birth secrets or evil chaebols. Plus, Yeon-tae and Sang-min are too adorkably cute for words!
Twenty Again: I finally got a chance to watch this, and it's every bit as warm, funny, and adorable as I'd heard. Choi Ji-woo and Lee Sang-yoon make an adorable second-chance couple, but what I ship the most in this show is Ha Nora and her true self, reuniting after twenty years of being estranged. Seeing her regain her confidence and her dreams feels like taking a deep breath after holding it for ages.

Jealousy Incarnate: This show was just what I was hoping for once Wanted ended — lighter material and characters that pull me into the story. Pyo Na-ri is such an underdog, but I'm looking forward to seeing her luck change. Second lead syndrome is something I usually don't experience, but I think this drama may be an exception. Add in some hilarious side characters and this show has me laughing out loud.
Cinderella and the Four Knights: This twist on a classic story, pairing a wide-eyed optimist with four impossibly stubborn men, brings new meaning to TGIF. I can't wait to see how Bodyguard Lee reacts the morning after his embarrassing vomit attack. Park So-dam is perfect as the girl the Kang cousins can't help but love. I just want to see Ha-won get her happy ending and for Hye-ji to get professional help for being a stalker.
Second to Last Love: This story of two mature, single people finding their way to one another in spite of their fears felt kind of slow-moving to me at first. What seemed to be a weakness of the show instead reinforces the cautious trajectory of the two main characters. Ji Jin-hee contrasts Go-shik's uptight public persona with an increasingly flustered private one. The drama illustrates just how messy life can get. Now that I'm used to the slow pace, I'm onboard with this show.
Laurel Tree Tailors: A 50-episode drama is a big commitment and I can't say I'll stick with this one, but the cast is hard for me to resist. Unfortunately, there have been so many characters to introduce that after four episodes, the main characters are just barely crossing paths with one another. My main concern with this drama, other than the length, is the main female character played by Jo Yoon-hee. So far, it's obvious she is not the sharpest pin in the pincushion. I fast-forward through most of her scenes and unless the character becomes more likable, I will probably drop this show.

RELATED POSTS
Tags: 1 show to rule them all, Cinderella and the Four Knights, Drinking Solo, Fantastic, Jealousy Incarnate, Monster, Moon Lovers: Scarlet Heart Ryeo, Moonlight Drawn By Clouds, Second to Last Love, The Good Wife, Twenty Again, Uncontrollably Fond, What We're Watching, W–Two Worlds