Uncontrollably Fond: Episode 19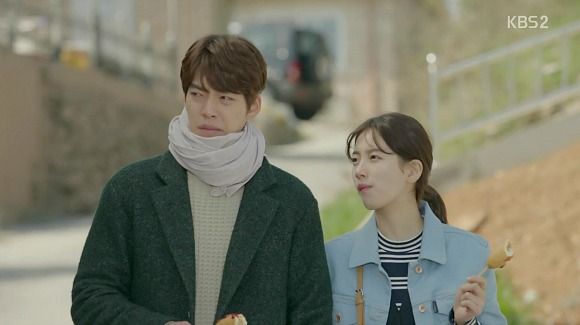 The reality of Joon-young's illness lands hard for everyone, and they all struggle to deal with their feelings in different ways. To some, that means pulling him closer while they can, while others try to distance themselves from their grief. But while his looming loss may be painful, the ripples he leaves behind could change them all in the most unexpected ways.
EPISODE 19 RECAP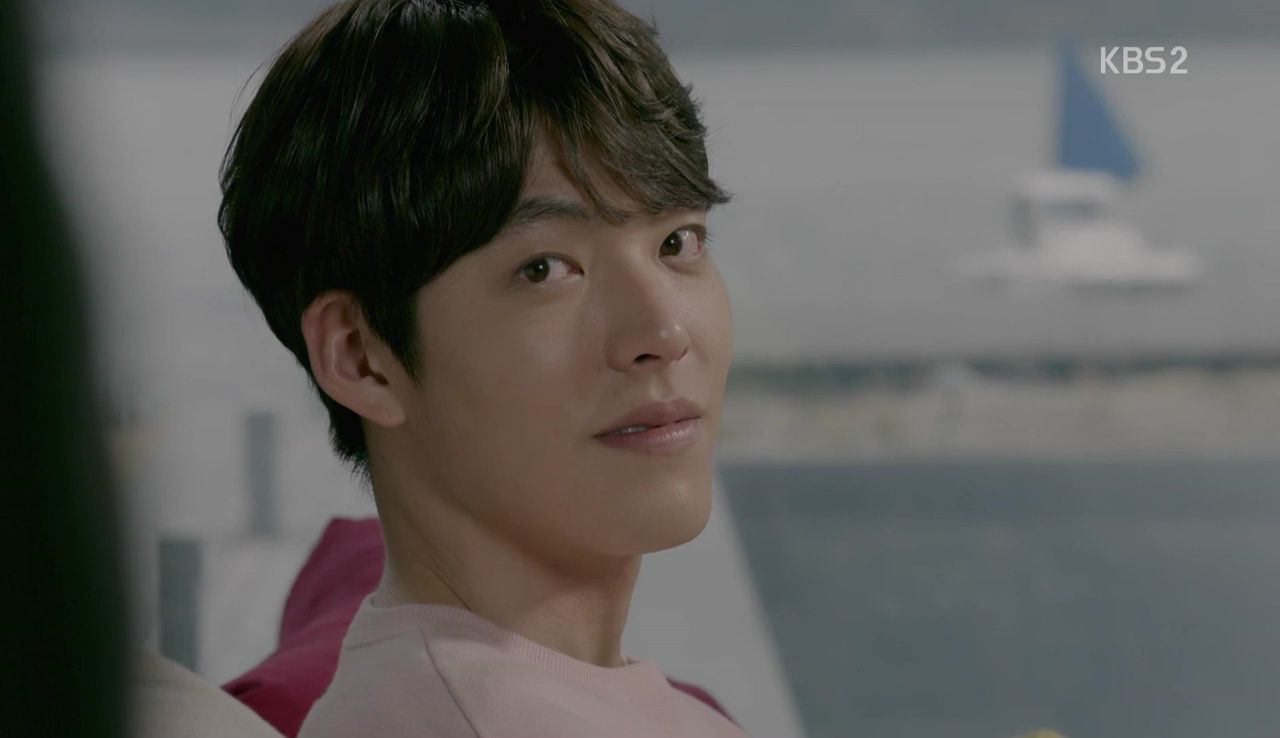 The country is buzzing with the news that Shin Joon-young is dying of an aggressive brain tumor, and Joon-young watches the news with interest, wondering if the people have always loved him this much. Gook-young says that at least he's been cleared of the drug use accusations.
He protests when Joon-young asks him to care for Pororo, saying that he sounds like he's planning on dying soon, and Joon-young reminds him, "I will die soon." Gook-young bites his lip, having used the common phrase without thinking.
Then he apologizes for calling Joon-young ugly names, explaining that he didn't know that Joon-young was sick and not in his right mind.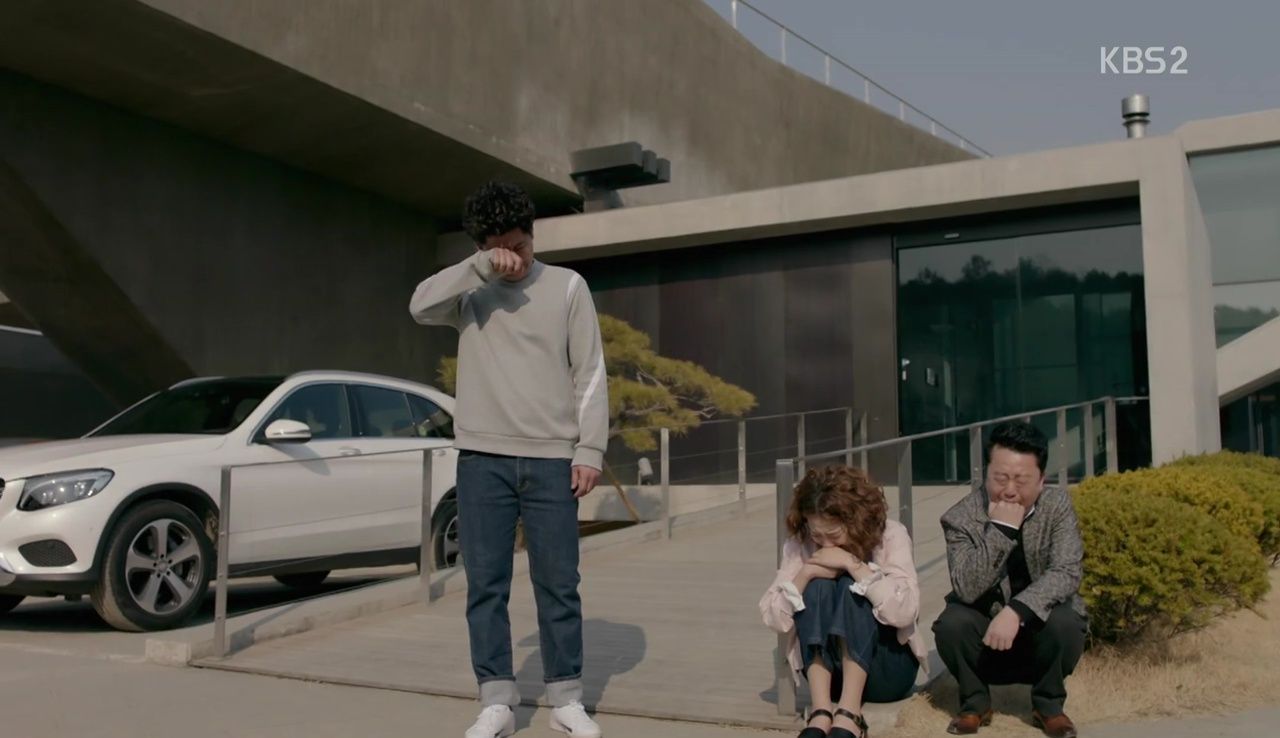 Gook-young goes outside to collect his emotions, and finds Man-ok and President Namgoong crying on Joon-young's doorstep. They accuse Gook-young of crying too, and warn him not to go cry in front of Joon-young. Gook-young wails at the unfairness of Joon-young dying so young, which sets all three of them off again.
Eul calls Joon-young and asks him to meet, and he finds her waiting for him on a bench under the cherry trees. He stops for a moment, feeling the breeze on his face, and suddenly his face goes blank as he closes his eyes. When he opens them again, there's a certain innocence in his expression that wasn't there before.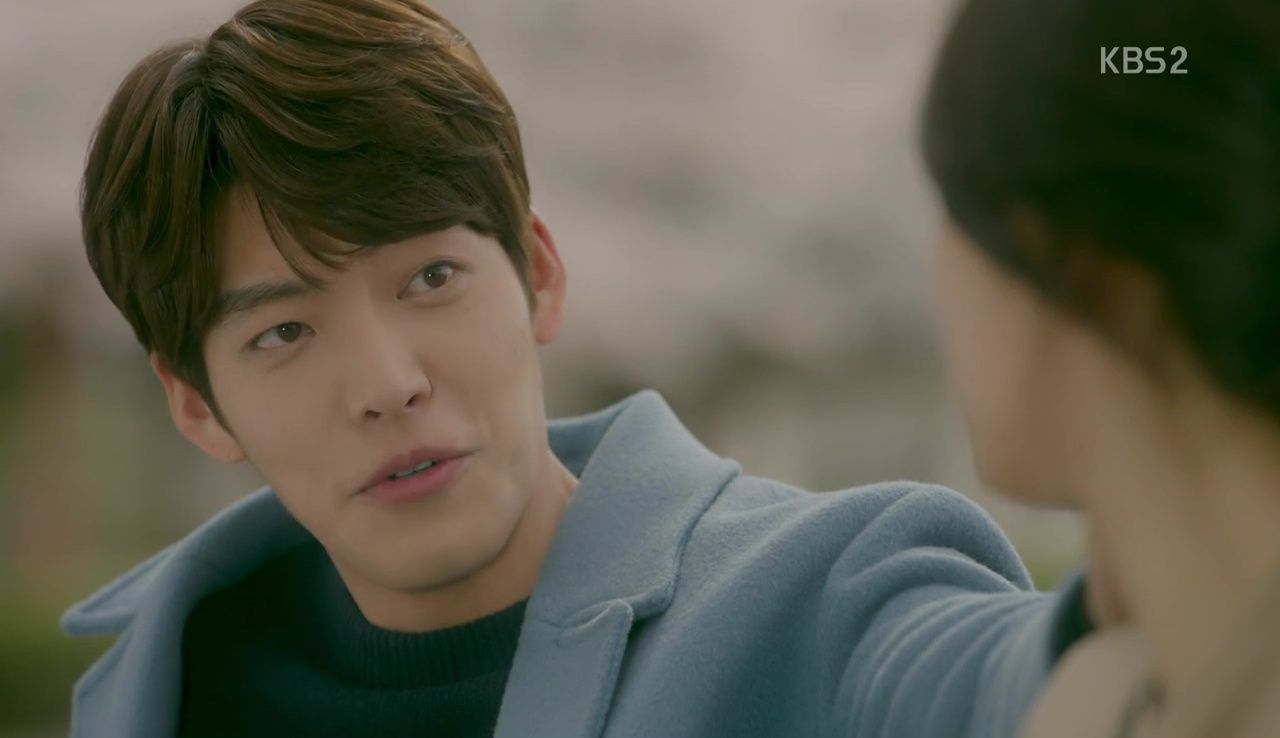 He takes off the scarf hiding his face, and a little girl approaches him to ask if he's top star Shin Joon-young. Confused, Joon-young says that he's just a student, and though he knows he's very handsome, he's no star.
He spots Eul and remembers her pretending to be his girlfriend to get rid of a clingy coed, which was just a little while ago in his mind. He does the same thing he did back in school, and approaches Eul with a mischievous grin. He says that the girl really did believe Eul was his girlfriend, and plunks his head in her lap for a short nap.
Eul watches Joon-young sleep, all the pain and worry he's been through lately gone from his face, leaving only youthful peace. The little girl brings her friend back to prove that she saw Shin Joon-young, and they tell Eul that he lied that he was just a student.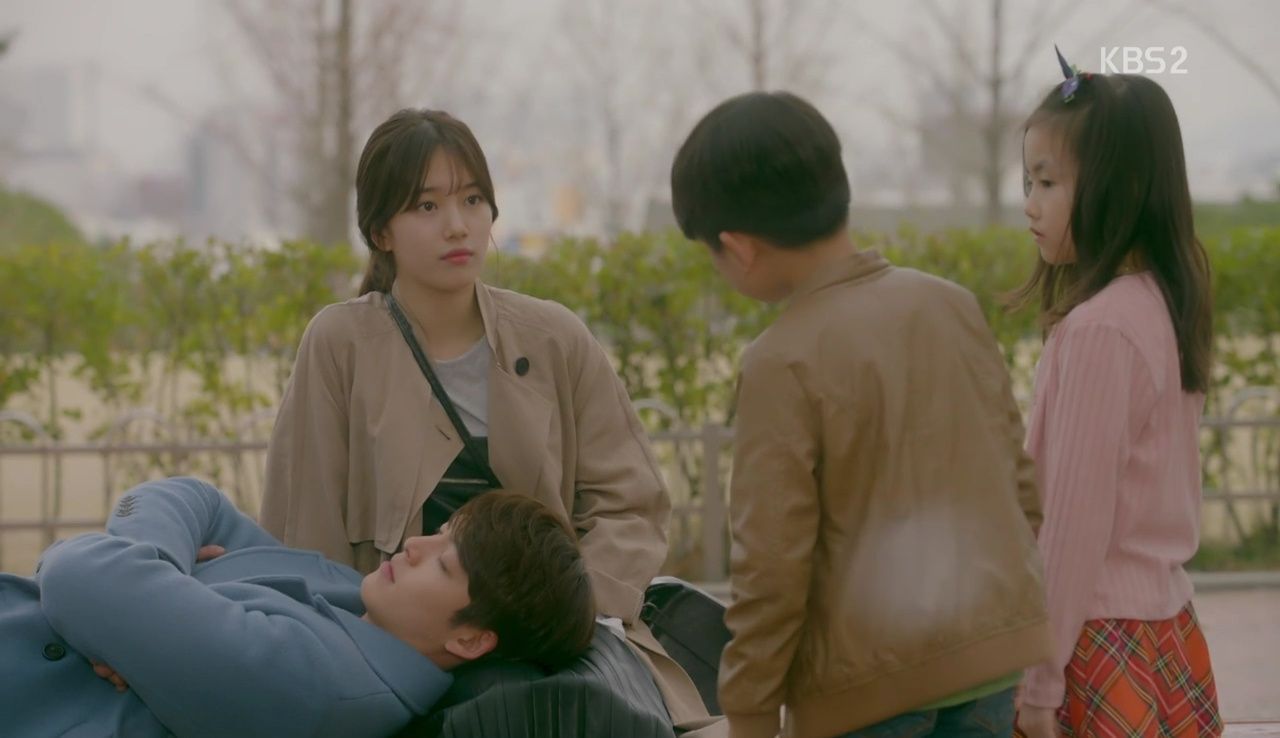 She tells the children that he's really not a star, and the kids decide it must not be him after all. A cherry blossom lands on Joon-young's cheek, and Eul softly plucks it off and shields him from the flowery spring flurry.
Assemblyman Choi is stunned by the news of Joon-young's terminal illness, not to mention Ji-tae's car accident. Ji-tae is badly injured but he's out of the woods, and his mother and Haru keep watch at his bedside. Their mother tells a weepy Haru that Ji-tae was speeding and ran a red light, but Haru argues that he's the safest driver she knows.
Assemblyman Choi arrives and asks to be alone with Ji-tae, and he stands over his unconscious son, remembering Ji-tae asking if there was no way to stop his parents' behavior. We see the rest of the conversation, when Ji-tae had told Assemblyman Choi that he'd wanted to be a good son to him even though he wasn't his biological child.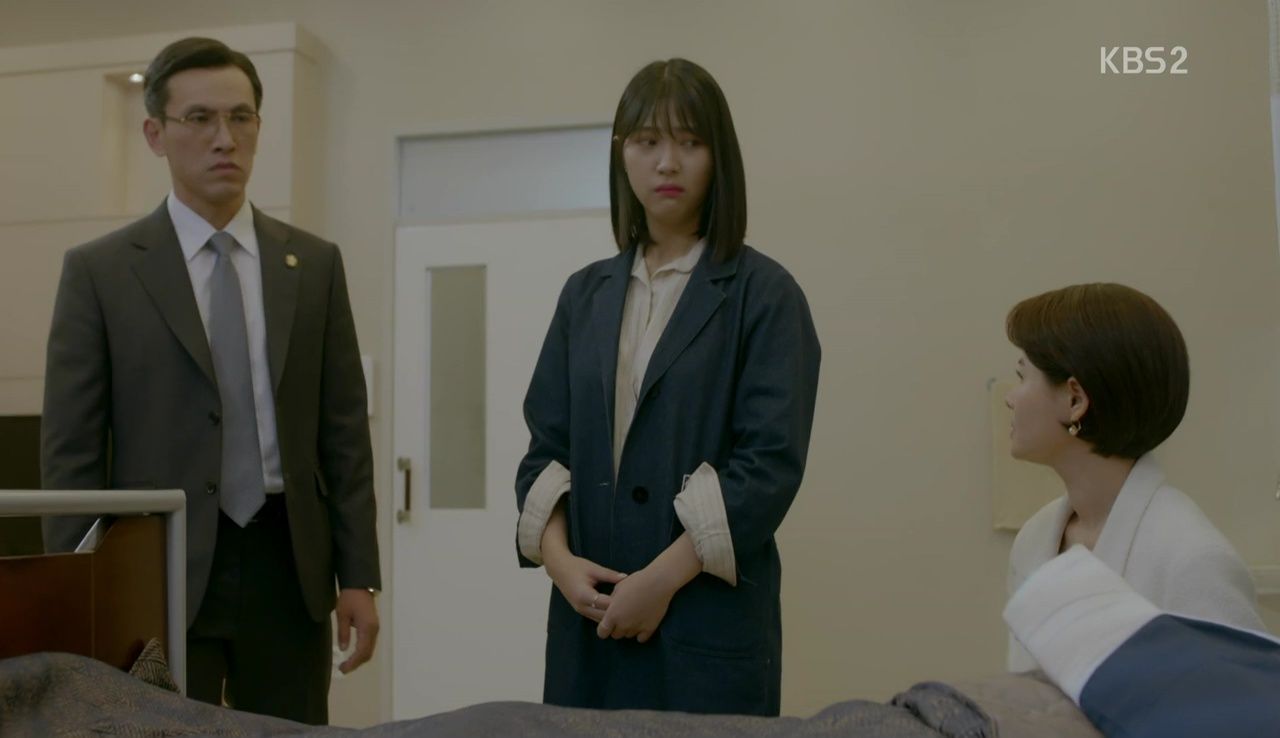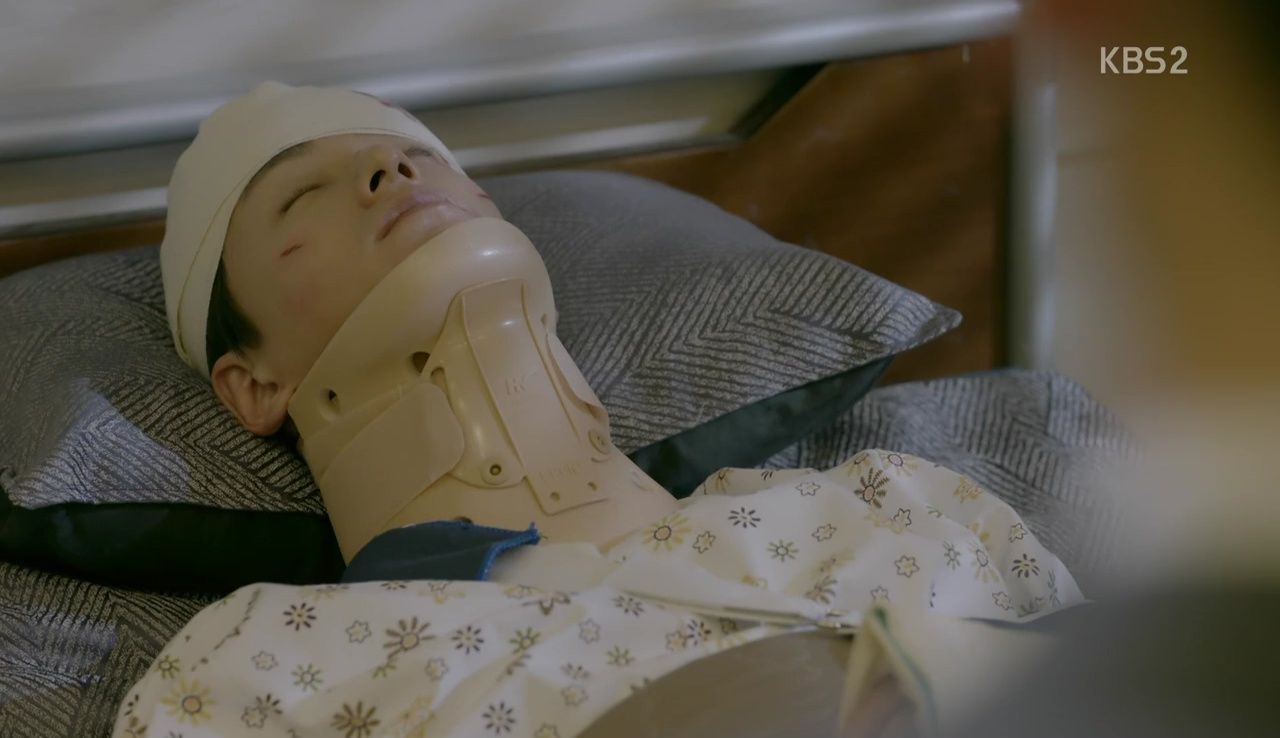 He'd said that he even did terrible things that he knew were wrong, all so his stepfather would like him. He'd thought that if he didn't, Choi would abandon him and his mother, "Just like my biological father." But he'd seen that he should have stood up and said those things were wrong, and he'd tearfully asked Choi to keep his promise not to leave his mother because of Ji-tae's rebellion.
"Because the one disobeying you isn't Mother," he said. "It's me. So throw away only me."
Back in the hospital room, Assemblyman Choi answers his wife's phone when her secretary calls. The secretary doesn't wait for a greeting and says that they've destroyed the black box in Ji-tae's car, but a black box from another car near the accident recorded everything.
Choi shakes in horror, and hands his wife the phone when she re-enters the room. He watches with narrowed eyes as she receives the message, and she knows that she's been found out. She admits that she's the one who stopped Ji-tae (by somehow ordering the accident) in order to protect her husband, and Choi looks at her like she's a monster.
As he sleeps in Eul's lap, Joon-young dreams about all of his and Eul's important and romantic moments. When he wakes, Eul plays along with his delusion of being back in school, not noticing Joon-young's wary expression. He eventually asks if the documentary will air in two days, and Eul realizes that he's back to himself.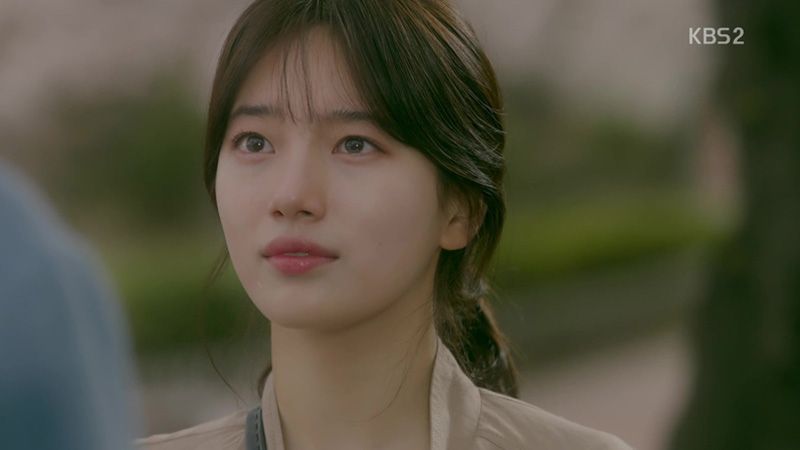 Joon-young says that Eul needs to air everything she recorded between him and Jung-eun, even if people try to stop her. He says that he'll be gone soon, but she'll need to go on living, and build a world she believes in. Joon-young tells Eul earnestly not to live in despair, or blame others, and to not make excuses.
Having said what he came to say, Joon-young stands to leave. But Eul reminds him that she called him, and she also has something to say. She looks him in the eye, and says, "It's not your fault, Joon-young-ah." She says that she's thought about it, and she thinks her accident is just something that happened, and the two of them just happened to be there. So it's not his fault.
Joon-young stares at her intently. They both cry a little, but no more words are needed.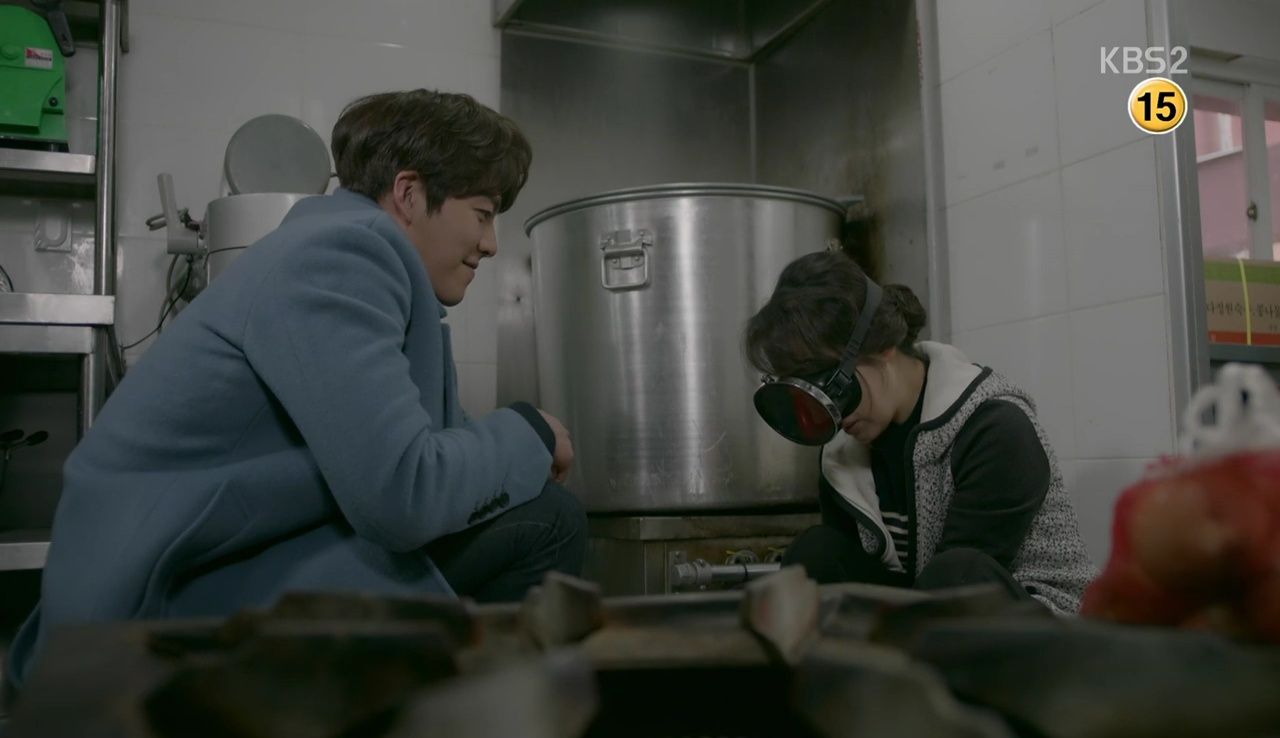 Joon-young's fans have been leaving supportive messages on the wall of his mother's restaurant, and Joon-young finds Ajusshi taping up any messages that have fallen. Joon-young makes jokes about one note that's badly misspelled, then both men get a bit choked up, so Joon-young goes looking for his mother.
Mom is in the kitchen peeling onions in a swim mask, and Joon-young sits with her and removes the mask. He tries to stay cheerful, but when he sees his mother crying, his own face falls. Mom blames the onions for her tears and goes to yell at Young-deok, but everyone knows that her wracking sobs aren't about the onions.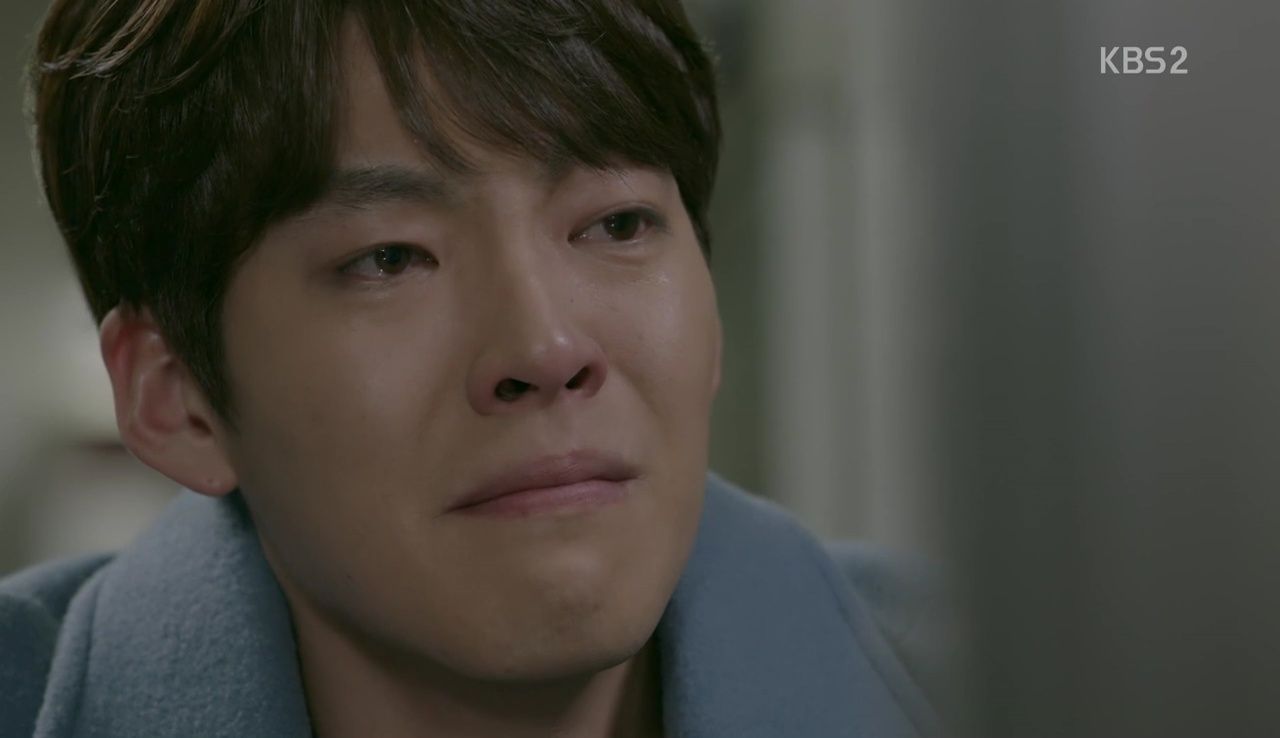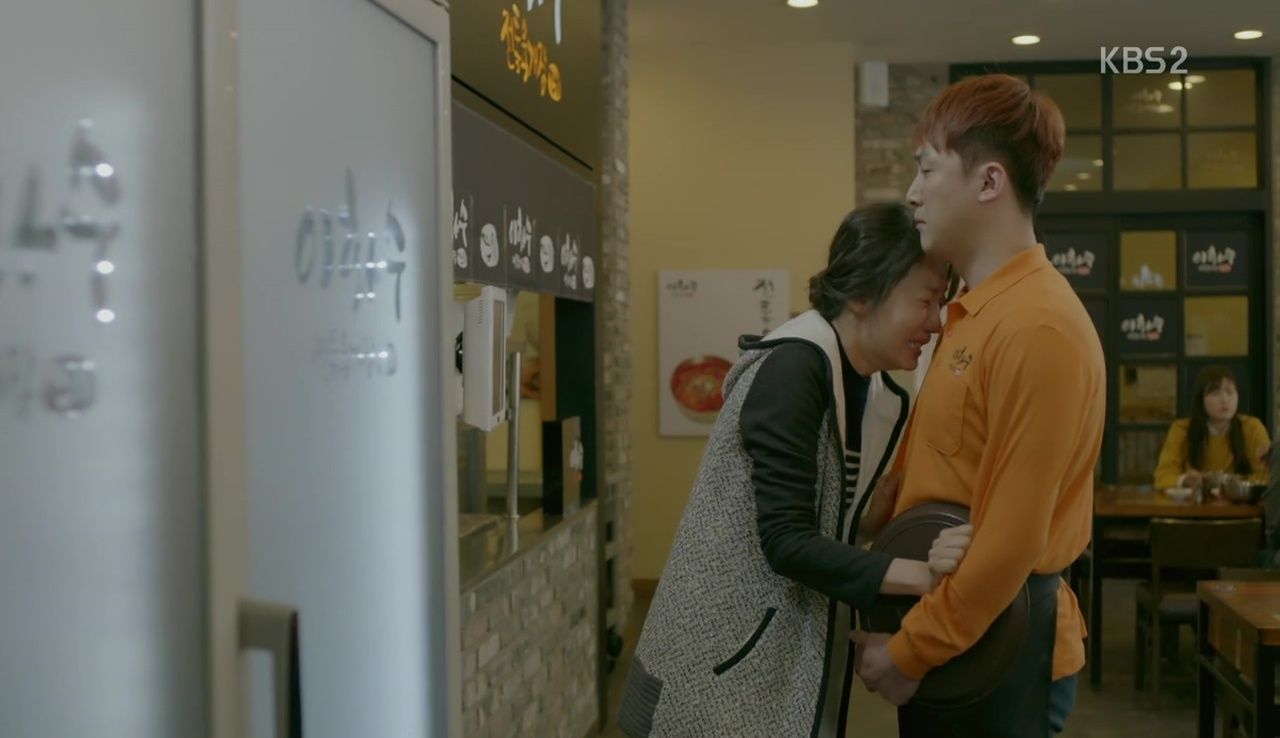 She decides to go home and asks Ajusshi to close up later, leaving Joon-young still sitting in the kitchen. He cries to himself, his mother's pain nearly unbearable for him to witness.
Eul walks home to Na-ri's place, and thinks about Joon-young's wish for her to build a world she can live in. She finds Assemblyman Yoon's driver waiting to take her to see him, and she knows that he plans to threaten her if she airs the video of Jung-eun confessing.
She's saved from having to think of an escape by Assemblyman Choi's arrival, and though she's not thrilled to see him, he's better than the alternative. She accompanies him to his office, and tells him that the video contains Jung-eun's confession for killing her father.
Eul calmly says that Jung-eun must have told her father about the video, and that she expects Assemblyman Yoon to try to block it from being aired. She gives Assemblyman Choi the USB and tells him to watch it before its broadcast, just to make sure there are no errors.
She informs Choi that the USB is the original, and that there are no other copies. She asks him to return it in time for airing, and Choi looks taken aback that she'd entrust him with it.
Ji-tae finally wakes, and although his relieved mother is at his bedside, the first thing he does is ask his assistant about Joon-young. He breathes a sigh of relief to hear that the drug charges against him were dropped, then winces when he's told that it's because his terminal illness was made public. He asks how Joon-young is doing, ignoring his mother, who deflates at his treatment.
Joon-young arrives home that night to find Eul sitting on his couch (aww, he changed his code back to 0000), and she says that she's hiding from all the people who want to talk to her. She even brought her suitcase and asks if she can stay until things die down. Joon-young just walks out of the room, then comes back and tosses his car key at her head, ha. He asks if she can drive, because he wants to make up for a broken promise.
Assemblyman Choi watches Eul's recording of Joon-young and Jung-eun, and he chokes up when Joon-young talks about how much he wanted to be a prosecutor like his father. Choi has to pause the video, on the verge of tears, and he takes out a cigarette with shaking hands.
He gets a call, and it's Joon-young's mom on the other end. They meet in a park, and Mom asks if Choi can't save Joon-young. She knows that he must know a lot of prestigious doctors, and promises to do anything if only he'll save Joon-young.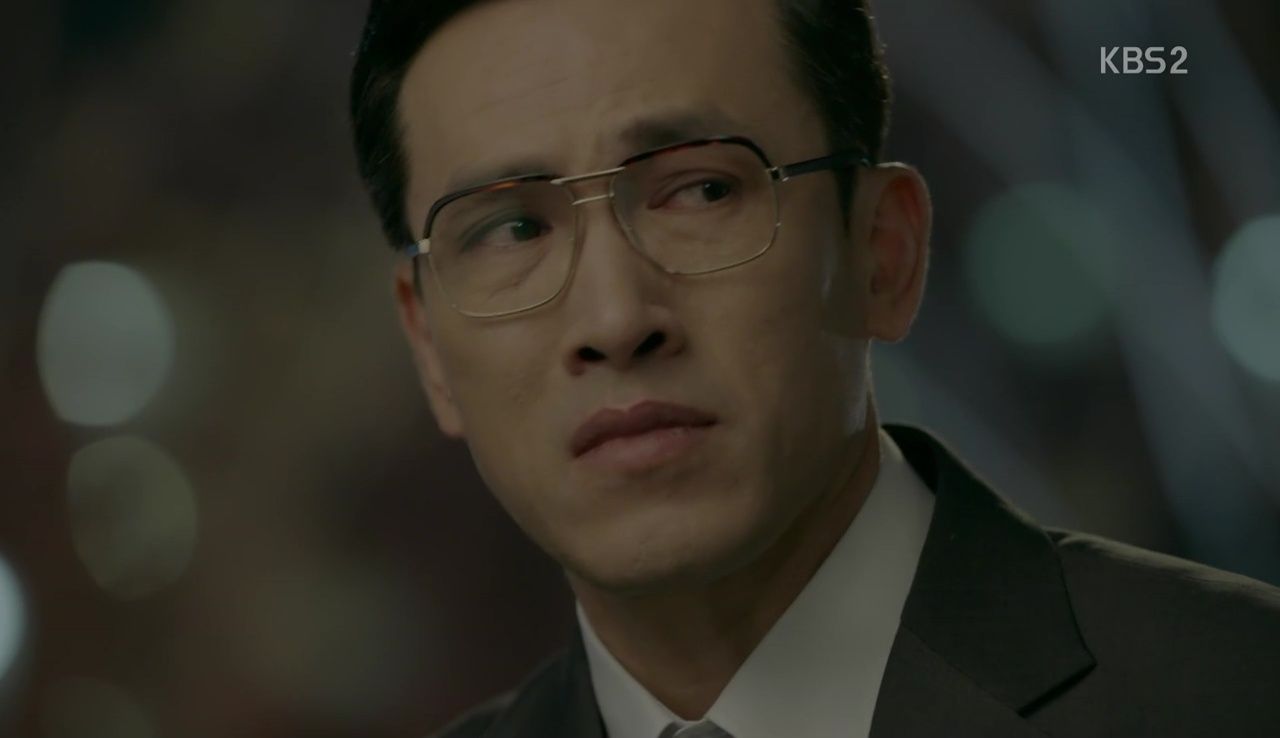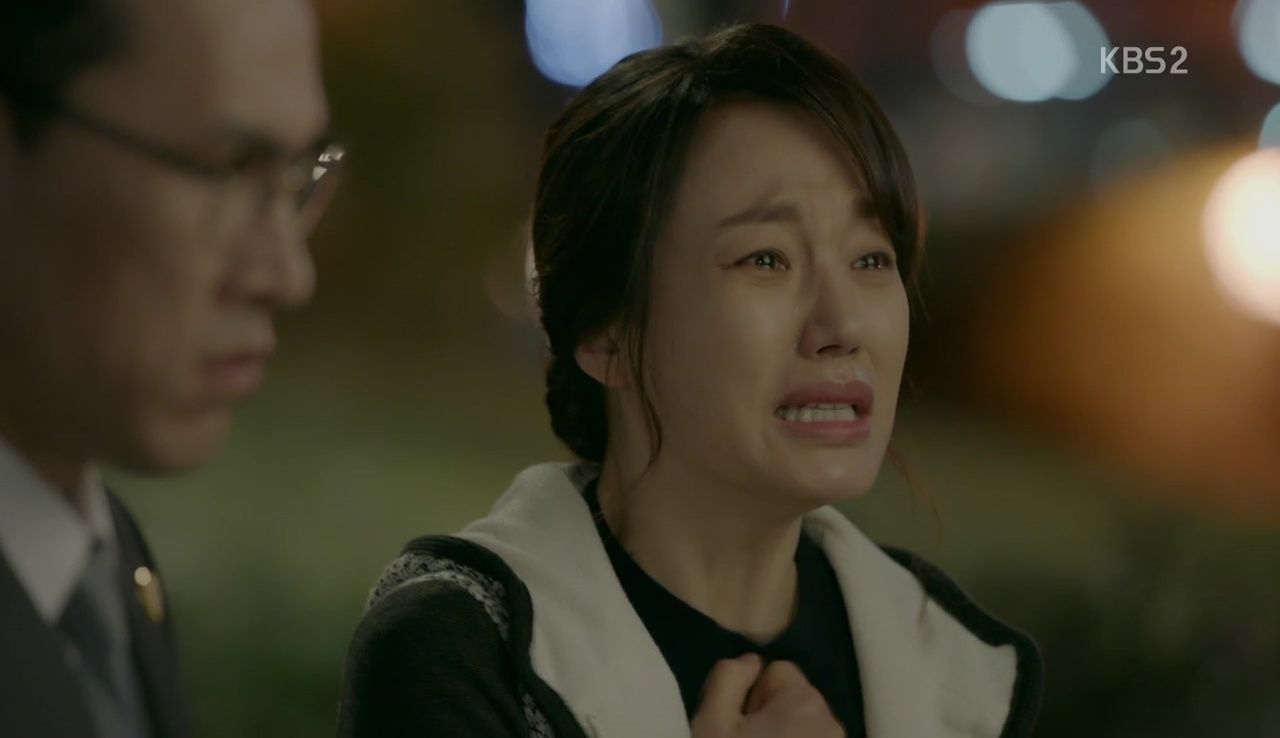 Assemblyman Choi puts a hand on her shoulder, but she pushes it off. She says that she always told their son to grow up like Choi Hyun-joon — to help people in need, people who are weak and powerless. She cries that she told Joon-young to grow up like his father, and wails that she taught him wrong.
She blames herself for raising Joon-young badly, and she believes that Joon-young is paying for his parents' sins. Her eyes plead with Assemblyman Choi to do something, but he's as helpless as she is.
Eul and Joon-young drive out to the country, to a beautiful wood and glass cabin in the trees. Joon-young says matter-of-factly that he built this house for the two of them, and Eul says with a smile that they should live here for five hundred years.
The visit a local fish market, where they spend the afternoon laughing and enjoying each other's company. Eul tries to haggle one vendor down on the price of an octopus, pulling out her terrible aegyo and embarrassing Joon-young so much that he pays more than the vendor is asking, just to get them out of there, ha.
They walk past a group of local ajummas playing Go Stop, and Eul sits down to nosily tell them that they're playing all wrong—one of them is taking advantage of the other two. Joon-young gets a call, and steps away to answer.
He goes quiet at the sound of Assemblyman Choi's voice, then he eagerly agrees to go meet with him right away. As Eul watches, Joon-young fixes his hair and jumps into a taxi, having completely forgotten about her. Oh no, he's in the past again, isn't he?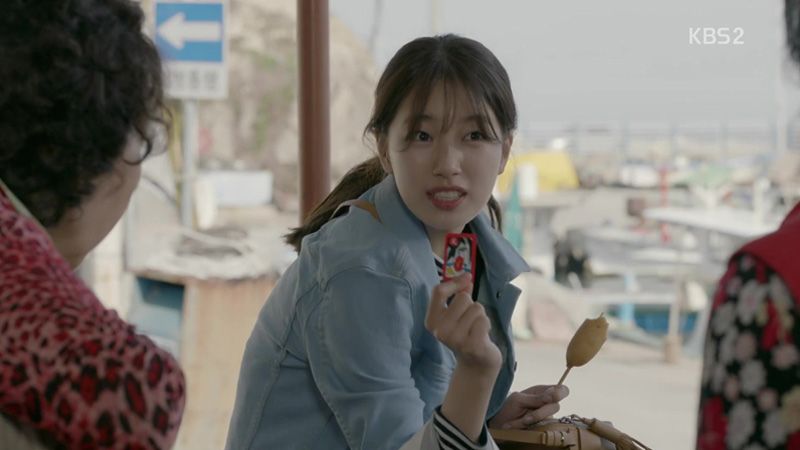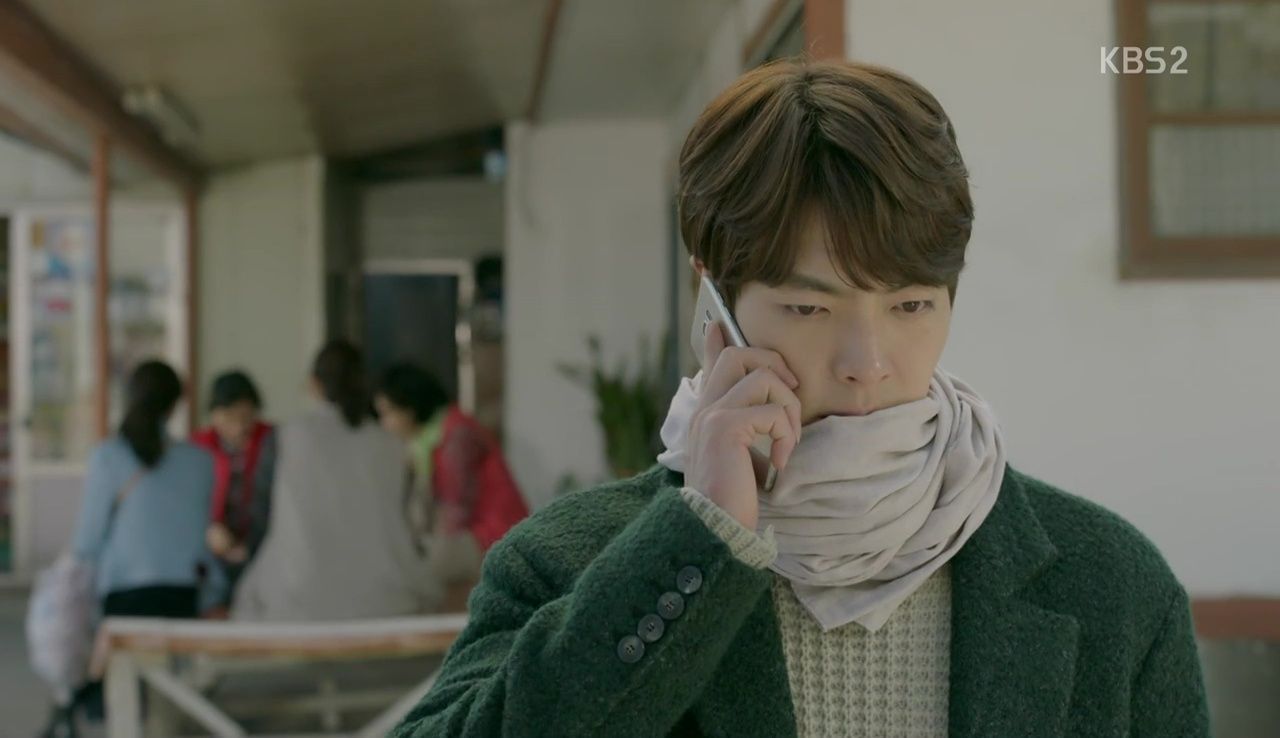 Assemblyman Choi is chilly towards his wife as he gets ready to meet with Joon-young, and she asks if he's angry with her. He asks, "Do I have that right?" He says that Ji-tae probably thinks that he caused his accident, and says stonily that they should keep it that way.
They're interrupted by an unexpected visit from Assemblyman Yoon, who brings a gift of wild ginseng for Ji-tae. He suggests that they forget about their past history, and tells Assemblyman Choi that he's recommended him again for the secretary general position.
He mentions that he has a nephew around Haru's age, and proposes that they send the two on a blind date. Ji-tae's mother is thankful, though she worries that Haru isn't very presentable, while Choi stoically ignores the entire conversation.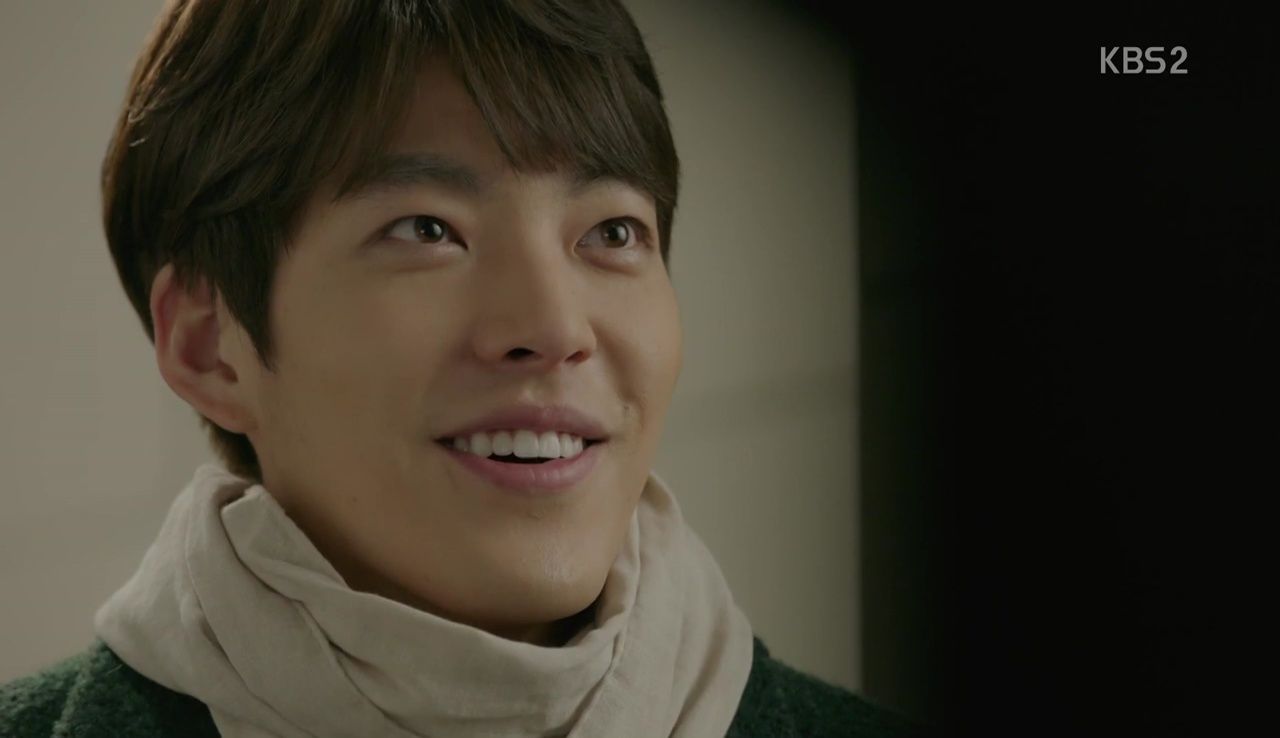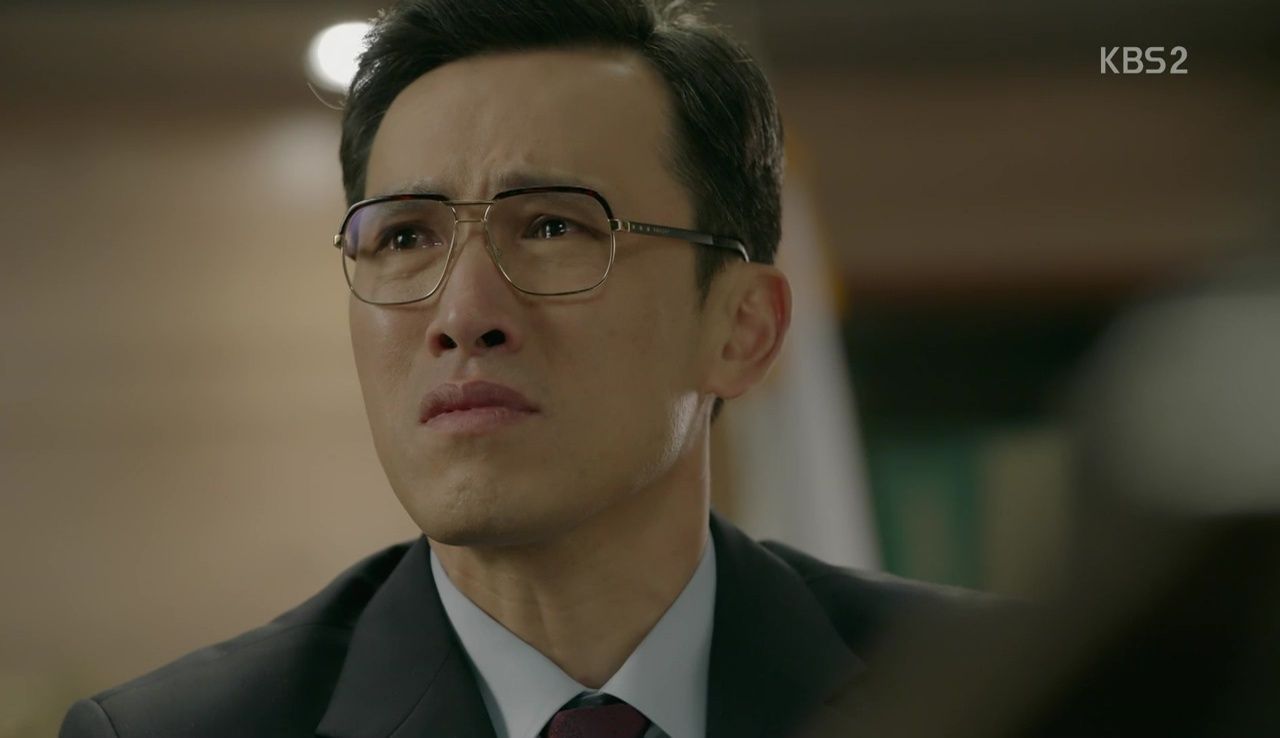 Joon-young arrives, and he looks around Assemblyman Choi's office with wide eyes, and Choi can tell that something isn't quite right. Joon-young mentions Choi's decision to run for public office, which was many years ago, and Choi asks him what today's date is.
Joon-young says that he's making good on his promise to visit again when he passes the initial bar exam, and Assemblyman Choi's eyes fill up with tears. Joon-young innocently wishes that Choi will win his election and make the country a better place, and Choi starts to cry in earnest. Joon-young is confused, but Choi says that he's just tired, so Joon-young leaves.
On his way out, Joon-young's phone alerts him that today is Ajusshi's birthday, and a passerby jostles his shoulder. It shakes Joon-young just enough that he wakes up to the correct day, though he doesn't remember that he left Eul alone at their cabin.
She's still there waiting for him that night when the local ajummas come to see her, asking her to teach them to play cards correctly. They ask where her husband went, and Eul says that he'll be back soon. For a moment she seems to be in pain and clutches her stomach, but she shakes it off and invites the ladies in.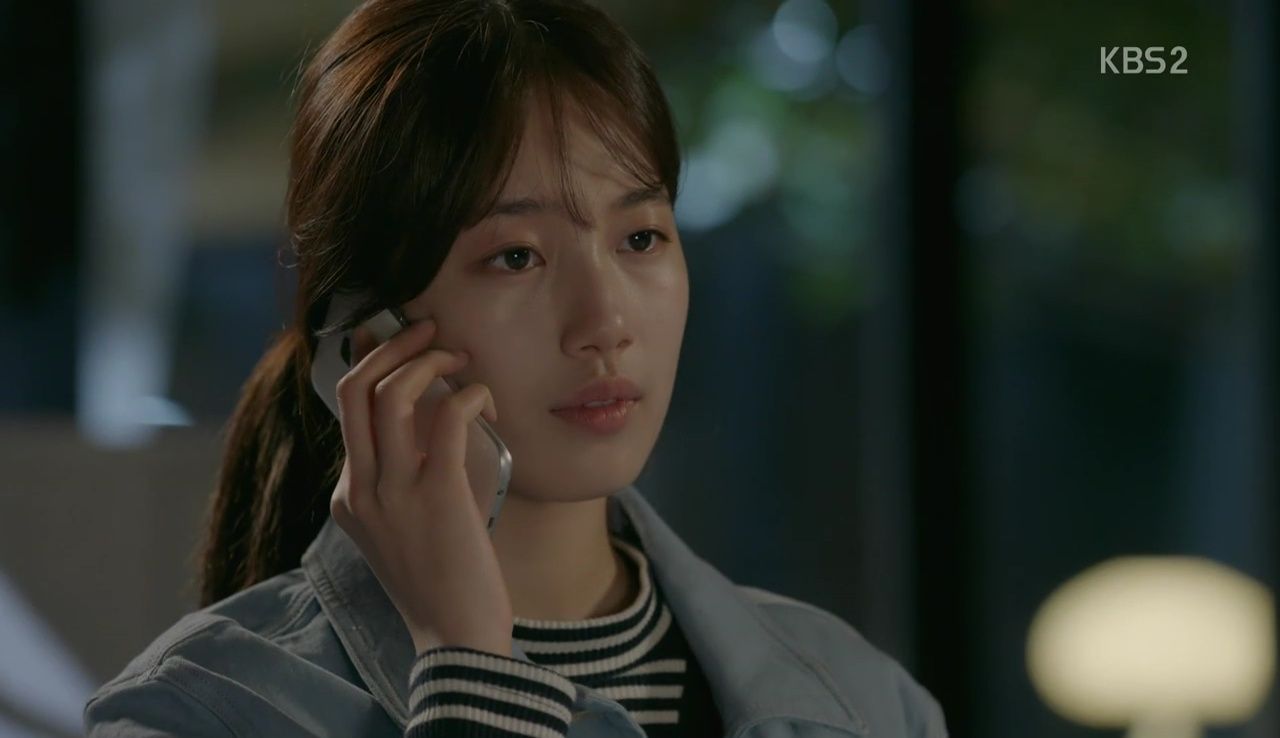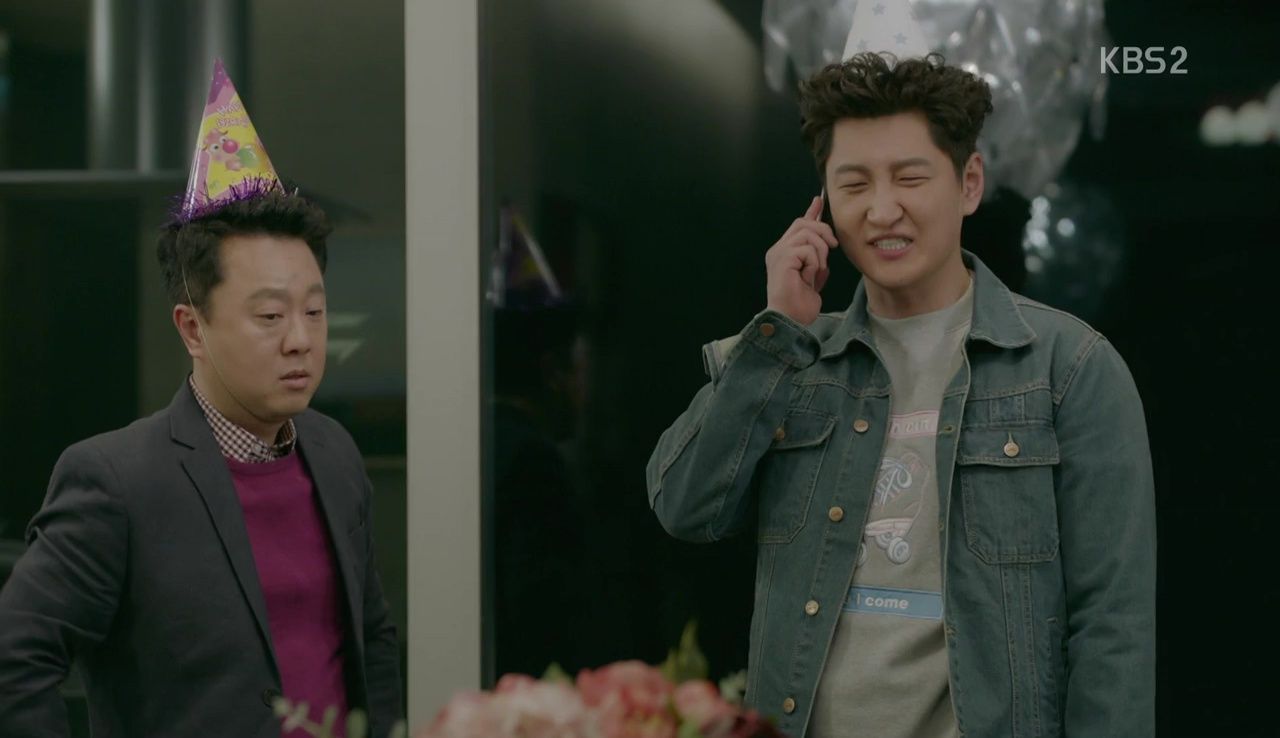 Gook-young answers Joon-young's phone when Eul calls, since he's at Joon-young's place getting ready for his father's birthday party. President Namgoong snatches the phone and yells at Eul to bring in the most recently filmed video so they can edit it, and Eul fibs that Joon-young was too sick to film anything that day.
Gook-young takes the phone back and tells Eul that Joon-young is busy throwing a party, and promises to tell Joon-young that she called. President Namgoong barks that Joon-young hasn't got time to talk to her, and hangs up the phone. Eul has another bout of stomach pain, and this time it doubles her over for a minute.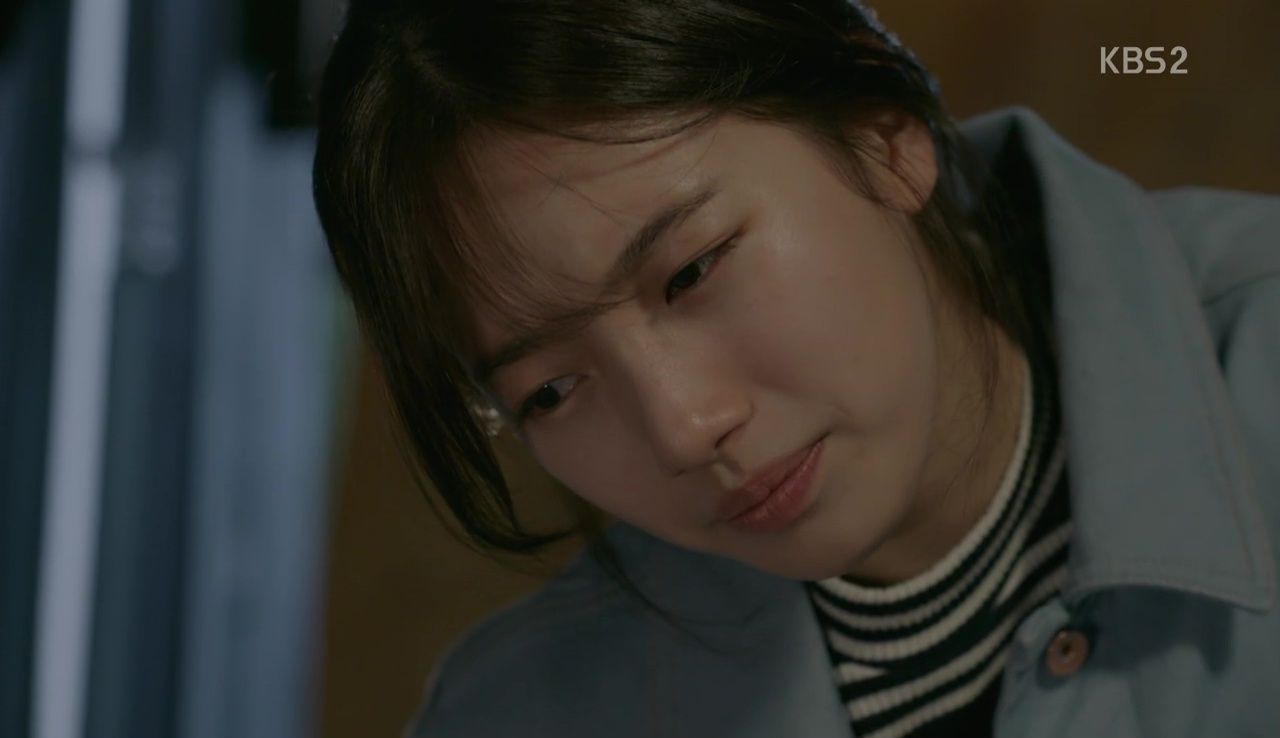 Awww, both Ajusshi and Man-ok are wearing sunglasses to hide their swollen eyes, and Joon-young pretends not to notice as he puts the candles on the birthday cake. He does say something when he sees Ajusshi pinching his leg to keep from crying, and Ajusshi is all, I'm a man, I don't cry! *chinwobble*
Gook-young and President Namgoong join them, also wearing sunglasses, so Joon-young pulls out his sunglasses as well. Joon-young falters a bit when Ajusshi says that his mother was too busy to come tonight, but he plasters on a smile.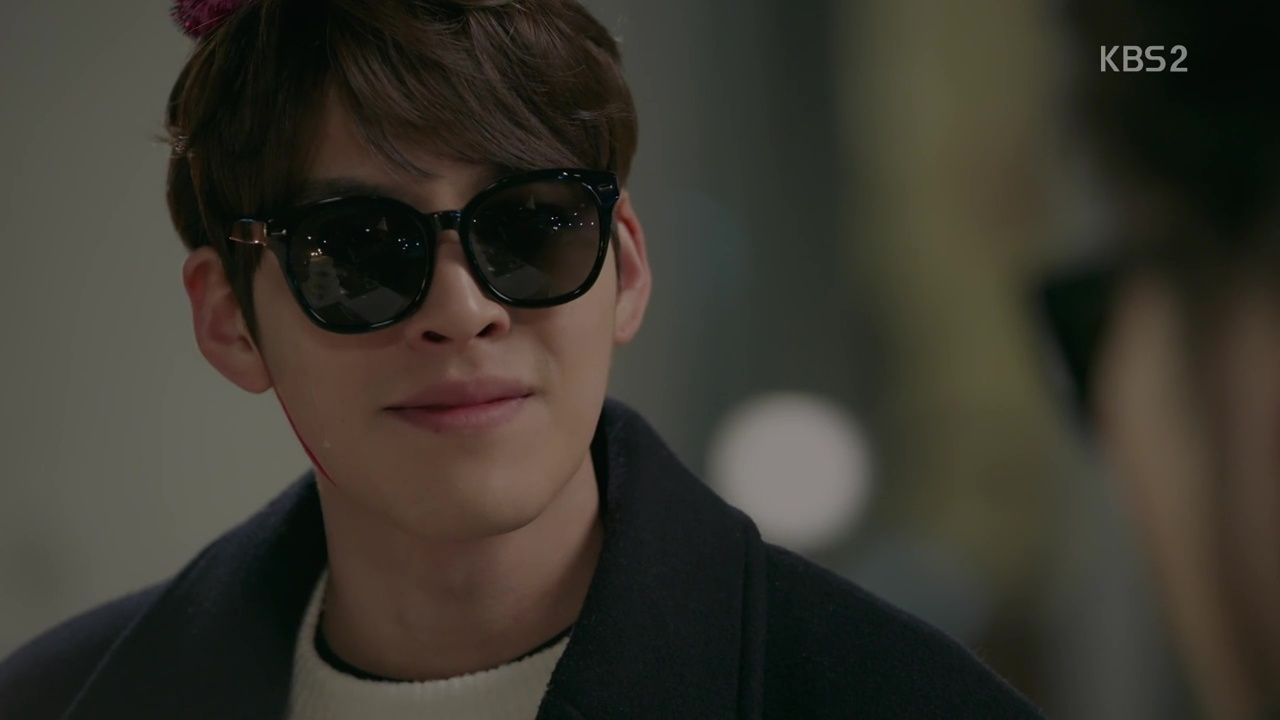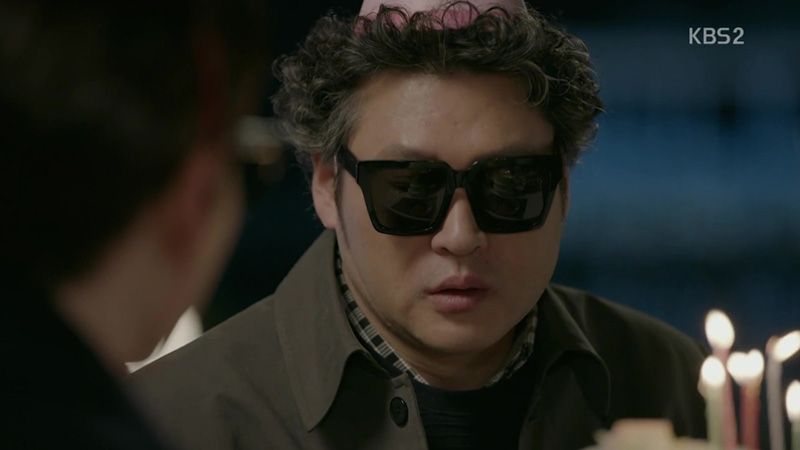 President Namgoong loudly calls her a strange mother, not showing up when her son hasn't much time left, then realizes what he just said. But Joon-young agrees that his mom is odd, and brightly gets the party started.
He lights the candles, and softly asks Ajusshi if he can make a wish, too. "Please take good care of my mom." He asks Ajusshi not to let his mother suffer or be lonely, and to stay at her side. Ajusshi promises to take care of Joon-young's mother with his life, and Joon-young says that he can leave her now without worrying. By now, the whole table is crying, even Joon-young.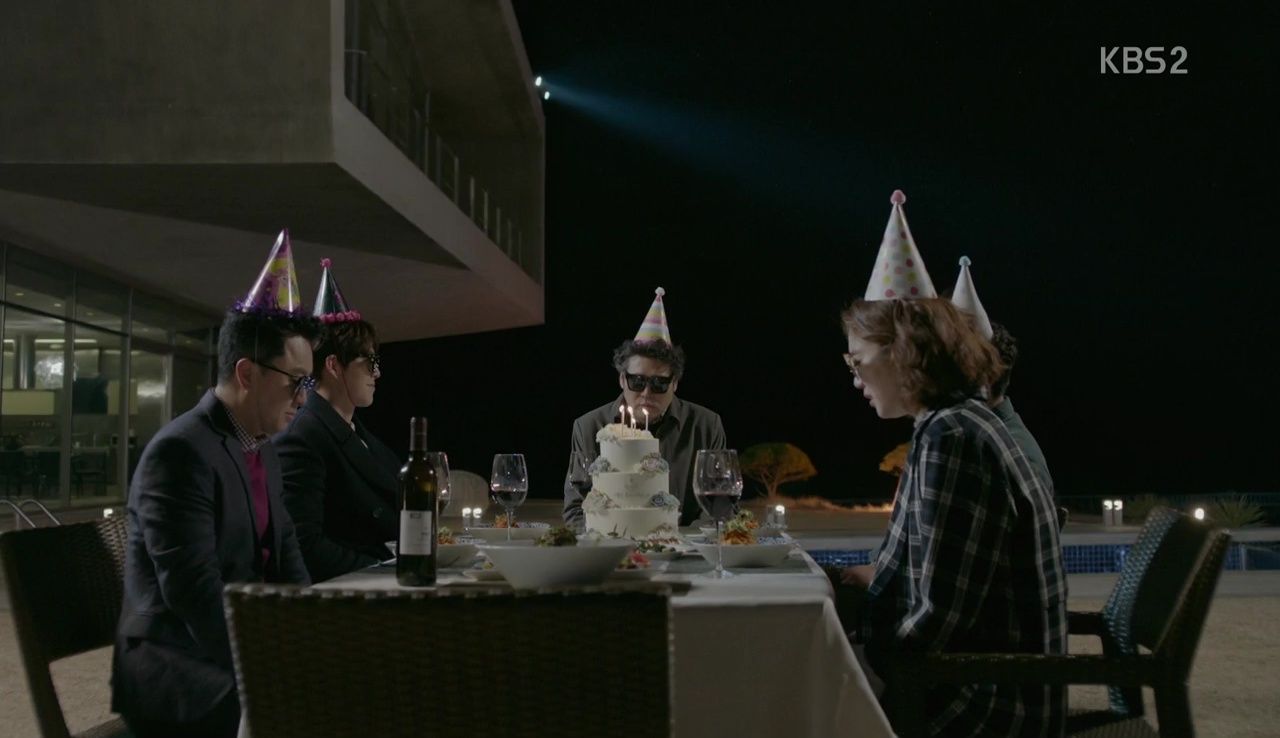 Alone in her house, Joon-young's mother sits on her bed, and sobs out her pain and grief.
Joon-young's doorbell rings and Gook-young jumps up, thinking it might be Mom. But it's Jik, here to apologize on Na-ri's behalf, though Na-ri is too sad to come inside. Jik says that Na-ri feels partly responsible for their breakup back in high school, because she cheated on Joon-young with another guy.
Jik elaborates that Na-ri was so pretty that she looked at guys like bags of chips, available whenever she wanted them. Joon-young laughs and jokes that Na-ri is so dead, but Jik grows serious.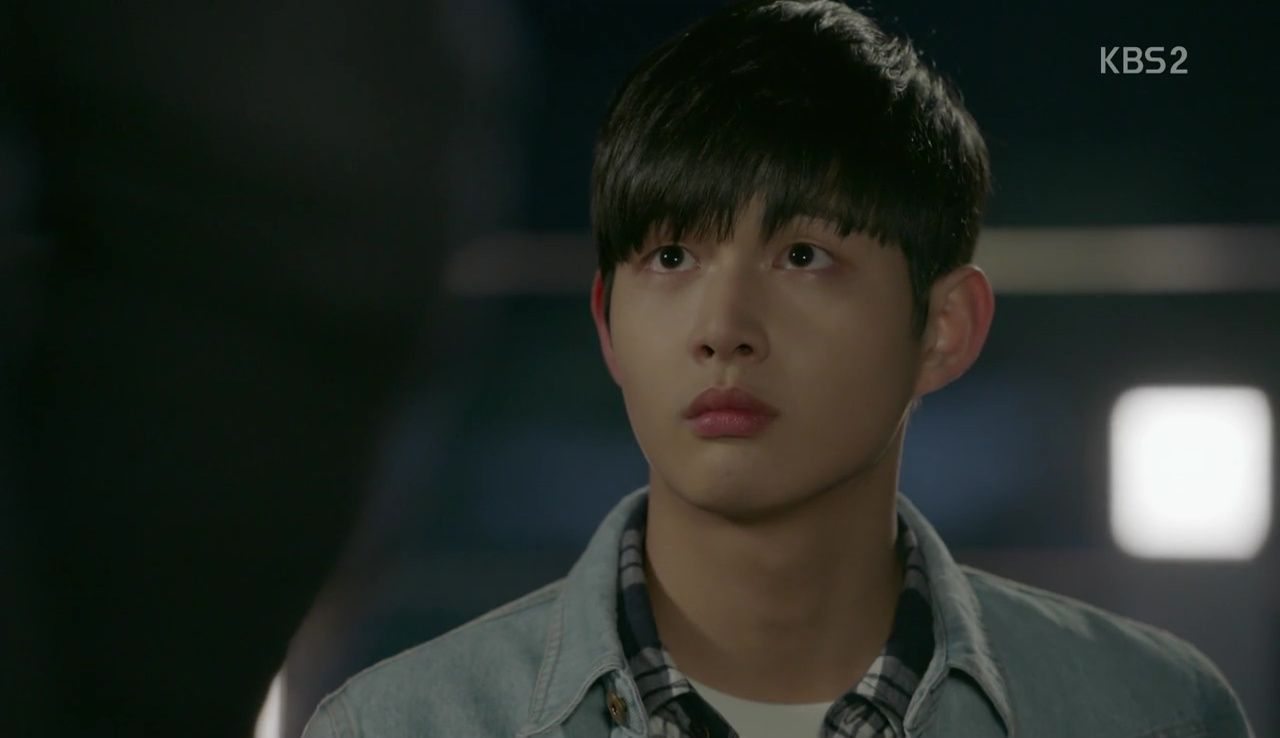 He tells Joon-young that he was once Jik's hero, "…but now you're just a jerk." He says that if Joon-young wants to be his hero again, then he'll find a way to beat this cancer and live. He says that his dad once said that people die because they're lazy, because they didn't exercise their breathing, and Joon-young promises to do his best to keep breathing.
Jik asks where his sister is, but Joon-young is confused by the question. Jik says that earlier, Eul told him she was with Joon-young, and suddenly Joon-young remembers going to the cabin with her. He jumps up, calling himself crazy.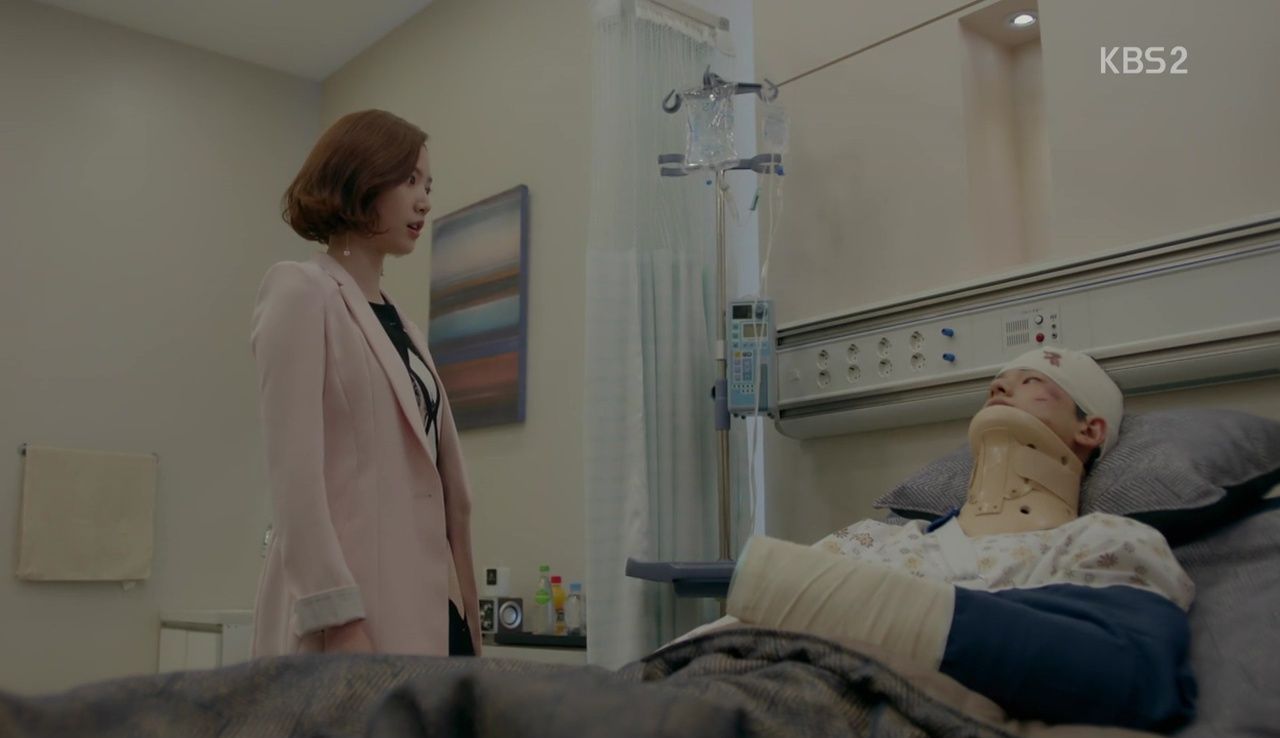 Jung-eun visits Ji-tae in the hospital, and tells him that she's going to the U.S. with the son of a politician — if things go well, she'll marry him. She says that while he was lying near death, KJ Group reported Ji-tae for embezzlement and malpractice, which he'll have to face once he's recovered. She asks why he persisted on his path when even his parents abandoned him, but Ji-tae doesn't answer.
Jung-eun turns to go, and Ji-tae apologizes to her. He says that he shouldn't have just despised her after her hit-and-run, and he shouldn't have kept silent, but persuaded her to turn herself in. He continues that she's getting away with it this time, but one day she'll realize how wrong she was, and he hopes she'll punish herself then. "You've lived your life very wrongly," he says.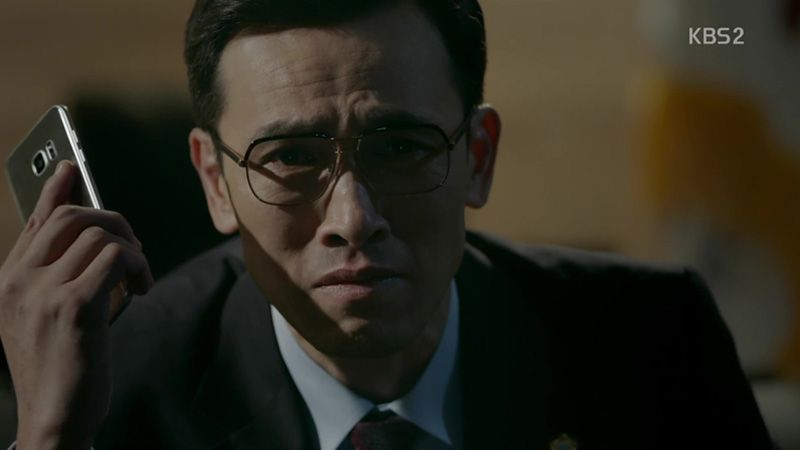 Assemblyman Choi thinks back to the one and only time that Joon-young called him "Father," and how he'd said he would be ashamed and embarrassed until the day he died. Recalling the near hero-worship on Joon-young's face earlier today, and Joon-young's confession on film that he killed his girlfriend to protect his father, he makes a call to Eul.
He asks her why she gave him the video, and Eul says that she wanted him to be the first to see it. Choi asks how she trusts him when she knows what kind of person he is, and Eul says that she just does: "You're Joon-young's father." Her simple words strike a chord, and Assemblyman Choi cries all over again. He gathers himself and calls his assistant.
Joon-young takes a cab all the way back to the cabin and searches the house for Eul. He calls her phone when he doesn't find her, and follows her ringtone to the second floor balcony. She's sitting there hunched against the wall, and she doesn't look up when Joon-young calls her name.
He assumes she's angry so he apologizes, but she still doesn't look at him. Joon-young crouches down and angles Eul's face to his, and he sees that she's pale and sweating. He's instantly worried and asks why she didn't call him, and starts to call an ambulance.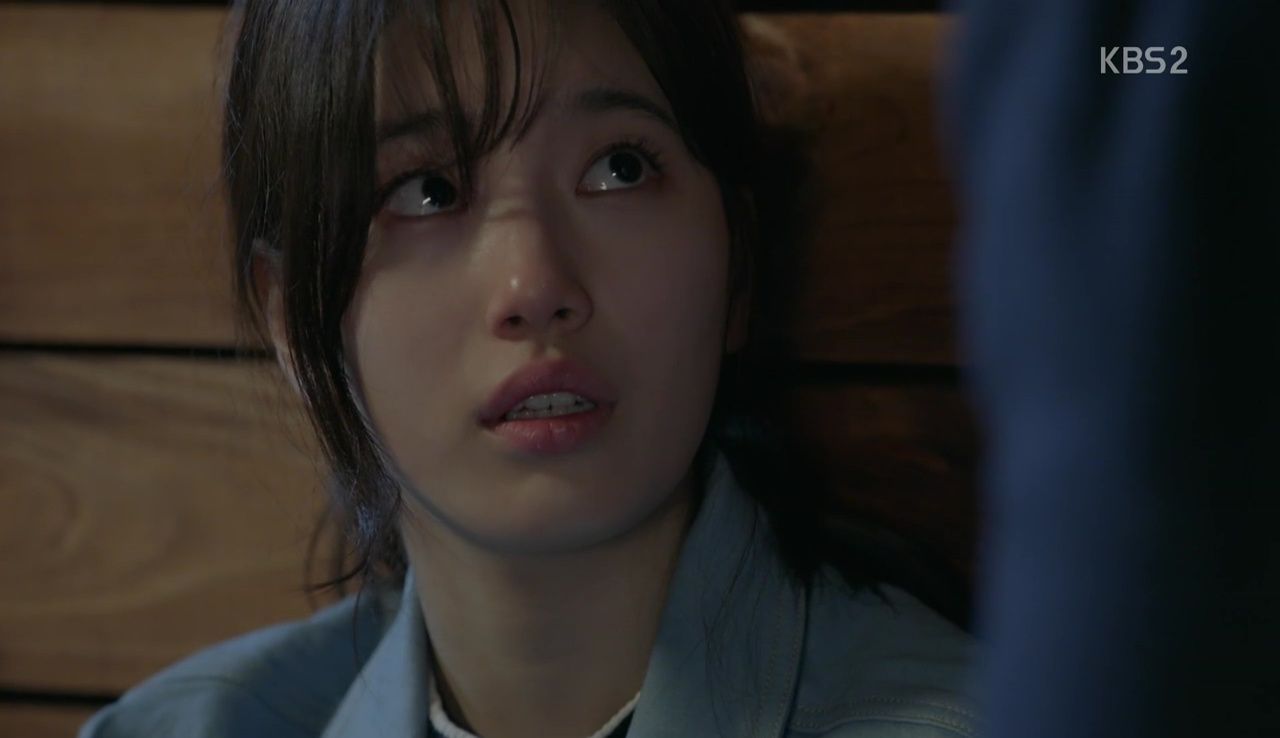 Eul takes his phone away, refusing to go to the hospital. Joon-young argues that she might die, but Eul shakes her head, saying that she doesn't care. Joon-young asks softly if she wants to die with him, and Eul finally looks at him and asks why she can't do exactly that.
Joon-young nods that yes, she can — they can die together. Then he scoops her up in his arms, and carries her inside.
COMMENTS
I'm so happy that Joon-young got to hear the one thing he needed to hear most before he dies — that Eul doesn't blame him for her accident. He's spent so many years punishing himself for almost killing her, but she's right when she tells him that it was just an accident and nothing more. Such a simple realization, but Joon-young has never been able to forgive himself, and he needed that absolution from Eul herself in order to finally believe it. It makes me wish he'd just talked to Eul sooner, and let her forgive him so they could have had more time together. But at least now they're able to move past their pain and love each other, even if it's only for a short time.
Eul has been a difficult character to understand (and yes, much of that is due to the acting), but I really like her new spine of steel. She's been through so much in her life, but she's finally learning to stand on her own and go for what she wants. Maybe, in a way, it's been a good thing for her that Joon-young didn't let her get too close, because it's forced her to find her own strength and confidence in herself. Joon-young will be gone soon and as he says, Eul will need to create a world that she can live in.
She'll have to do that alone, and Joon-young's distancing himself from her has turned her into the kind of woman who can do just that. Joon-young is going to die, and Eul will have to find her own way in a world full of people like Assemblyman Choi and his wife, who will use their money and power to keep Eul under their thumbs. While we as viewers may be disappointed that Joon-young and Eul don't have much time to love each other, Joon-young is leaving Eul with a gift of strength that will carry her as she has to go on alone, without him.
In fact, it's interesting that it's not Joon-young's anger and attempts to make everyone pay for their mistakes, but his regression into his past that's effecting the most change. It's not until Assemblyman Choi sees Joon-young living his idealistic college days again that it truly hits him that this is his son, and that he's lost him forever. Seeing that admiration in his son's eyes, I think that Choi finally understood what he lost by giving up Joon-young before he was born, and I believe that he truly regrets the decision he made back then. I think that Assemblyman Choi has been one of the more fascinating characters in this show, and I've swung back and forth between hating his guts and wanting him to suffer, and wanting him to be the man that a younger Joon-young believed him to be. I hope and I believe that it's still possible, that Joon-young's life and death can change him. He can still become a better man for the son and daughter he has left.
If I were Eul, I would envy Joon-young his fading memory, because if there's one blessing in his illness, it's that his regression is allowing him to let go of the pain and anger that he's felt for most of his life. He'll die aware only of the people surrounding him, knowing that Eul and his mother love him, and never remembering that they were ever separated. If he has to die, then at least he'll go feeling happy and secure that those he loves, love him in return. And in the end, that's more important than any guilt or revenge.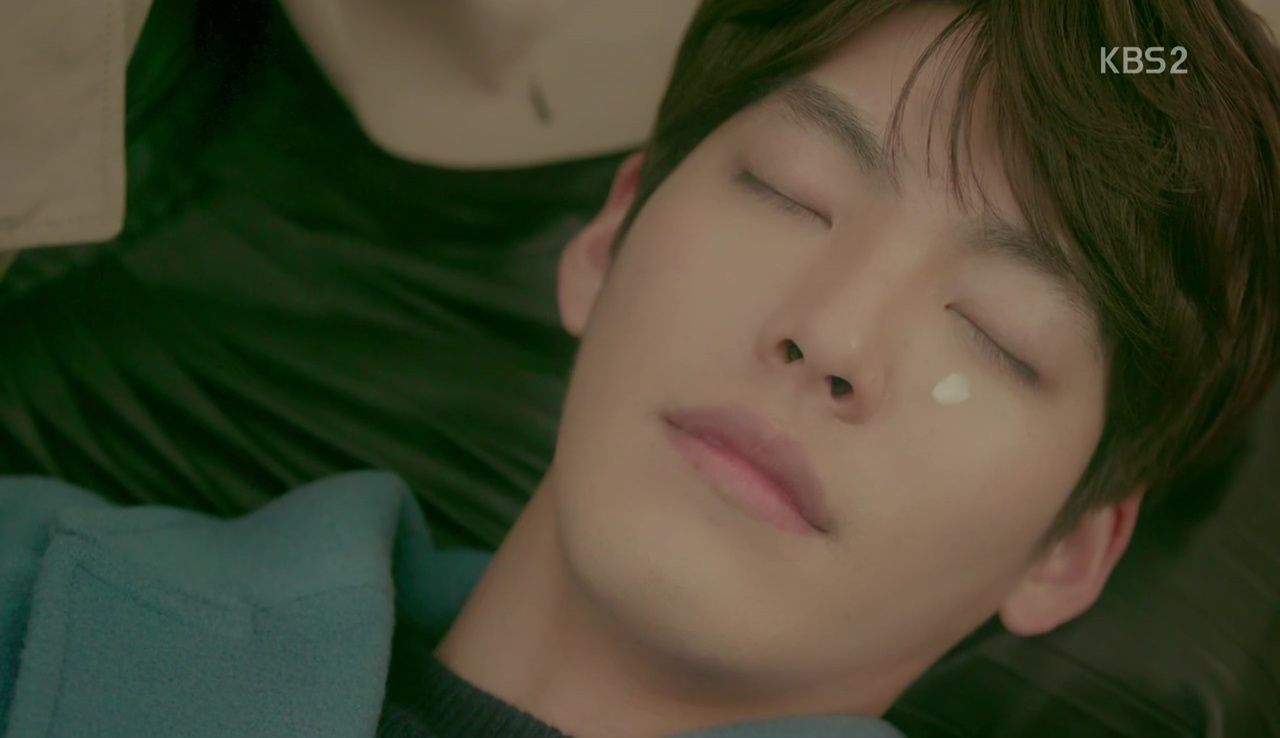 RELATED POSTS
Tags: featured, Im Joo-eun, Im Joo-hwan, Kim Woo-bin, Suzy, Uncontrollably Fond