2016 Busan International Film Festival's opening red carpet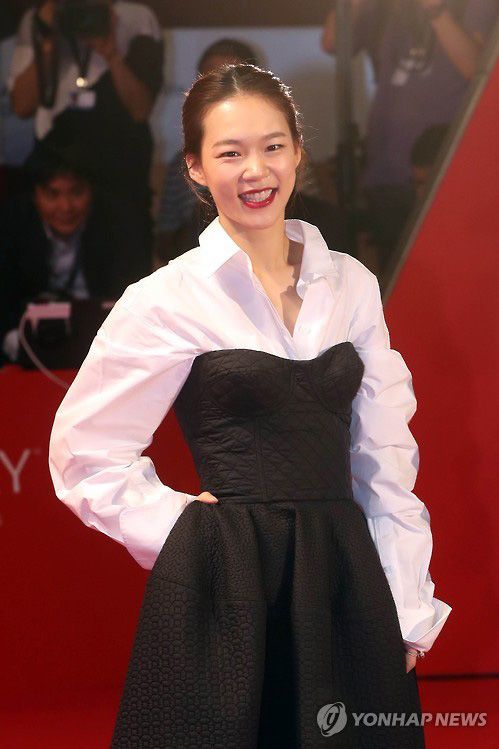 And another year of red carpets and awards is upon us. The season kicked off with the opening of the 21st Busan International Film Festival, which runs October 6-15, 2016. The big star of the night was Han Ye-ri (Age of Youth), whose new independent film Chunmong (A Quiet Dream) was the opening film of this year's festival.
The Busan Film Festival is still rebuilding and recovering in recent years, after controversy stemming from its choice to screen the documentary film Diving Bell (The Truth Shall Not Sink with Sewol) in 2014, which led to local government opposition, boycotts, and the festival's government funding getting slashed severely.
The festival has stuck to its guns in support of artistic freedom, but at the same time, many creative guilds and associations have boycotted the festival to make a statement against political interference, and the festival is still at odds with the local government. Some of Korea's larger films are still unable to screen at Busan for these reasons. Chungmuro veteran Kim Eui-sung (A Quiet Dream, W–Two Worlds, Train to Busan) chose to attend with a placard in support of independent artists: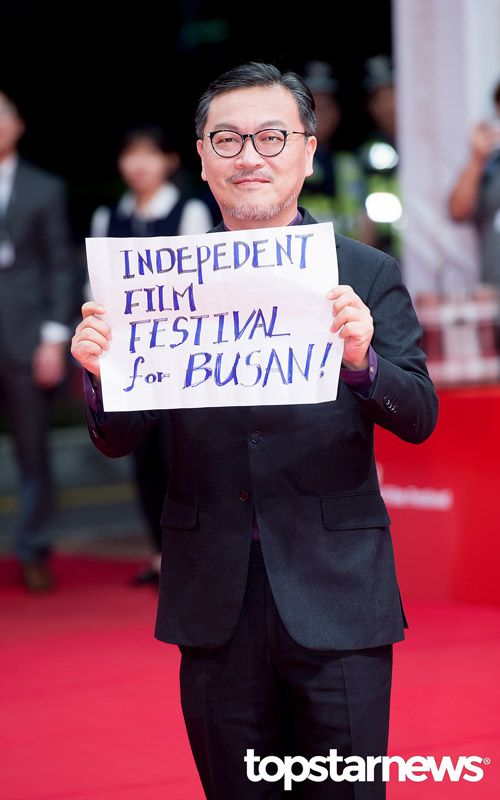 Some of the boycotts were lifted and many stars and directors were in attendance despite the ongoing controversy, and thankfully the festival seems to be recovering with a full program, of 301 films from 69 countries this year. A typhoon required a last-minute change of venue as well, but the opening event was able to go on as scheduled, with MCs Han Hyo-joo (W–Two Worlds; Love, Lies) and Sol Kyung-gu (Lucid Dream) front and center.
The Buil Film Awards will be held the following night, so today it's just red carpet entrances. As the biggest film festival in Korea and the marquee event celebrating indie filmmaking, I can only hope that the Busan International Film Festival will rebuild and continue to grow in the coming years.
Here's the cast of the night's big opening film, Chunmong (A Quiet Dream):
Chunmong's leading actress Han Ye-ri is having a great year, and we'll probably be seeing a lot of her at awards ceremonies this year. Here she is with co-star Lee Joo-young. I love this dress on Han Ye-ri, even though it looks slightly bulky for her tiny frame. But it's a really sophisticated look — the white shirt makes it effortlessly chic somehow — and I absolutely love her hair and makeup. I am heading to my closet right now to dig up a strapless dress to wear with a white shirt, and looking up the name of her lipstick.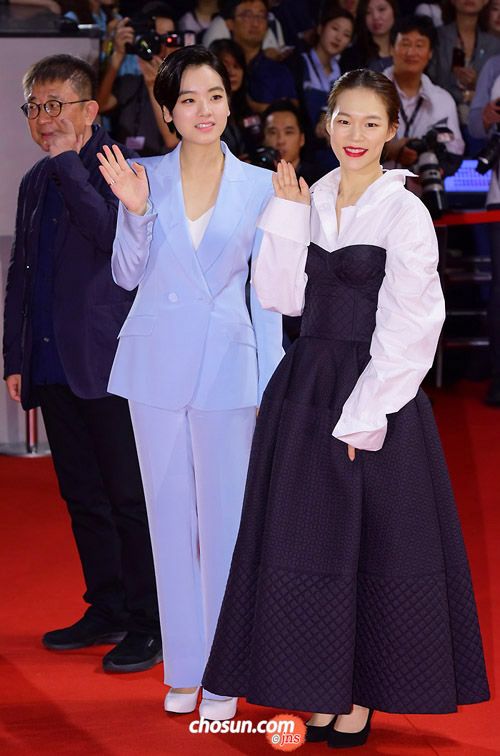 Han Hyo-joo (Love, Lies) opted for sleek black. The overall effect is modern and sexy, and I love that she's not wearing something pink or blush, though black does seem to be the theme for the night. The gold strap detailing on the back and the cut keeps it from being boring black, and she looks gorgeous and her makeup is flawless.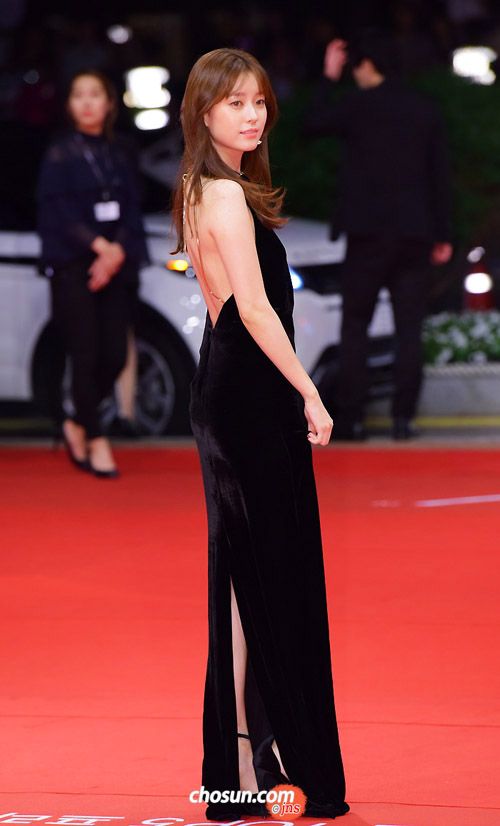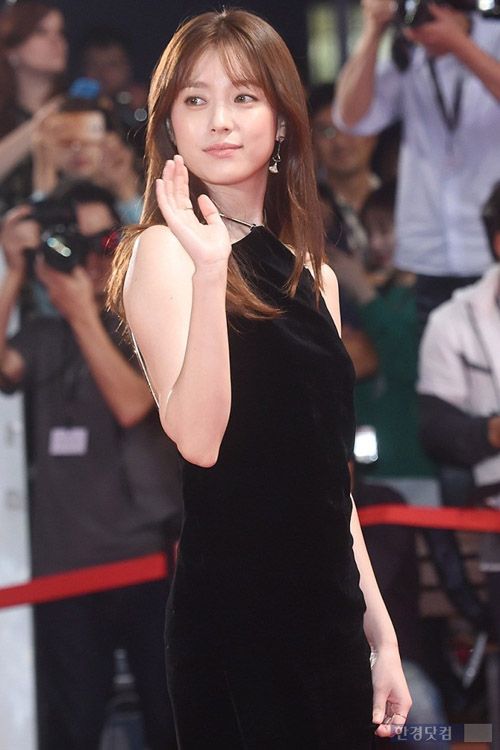 Sol Kyung-gu (Lucid Dream) was Han Hyo-joo's co-MC for the event (the two were co-stars in 2013's Cold Eyes), and he looks happy and handsome in a classic tux.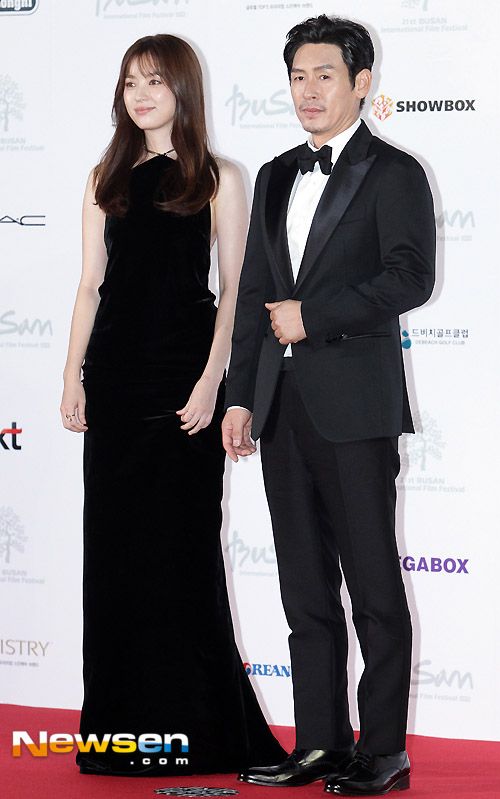 I wish Park So-dam (Snow Paths, Run-Off) had worn something edgier, because this dress seems a bit old on her. The neckline is pretty and it's an elegant dress (I do like the teal color, though it looks black in most pictures), but as a rising young starlet, I want to see her in the most fashion-forward dresses. Also, I miss her super short pixie hair. But it's nice to see Cinderella back to being the belle of the ball after two back-to-back dramas.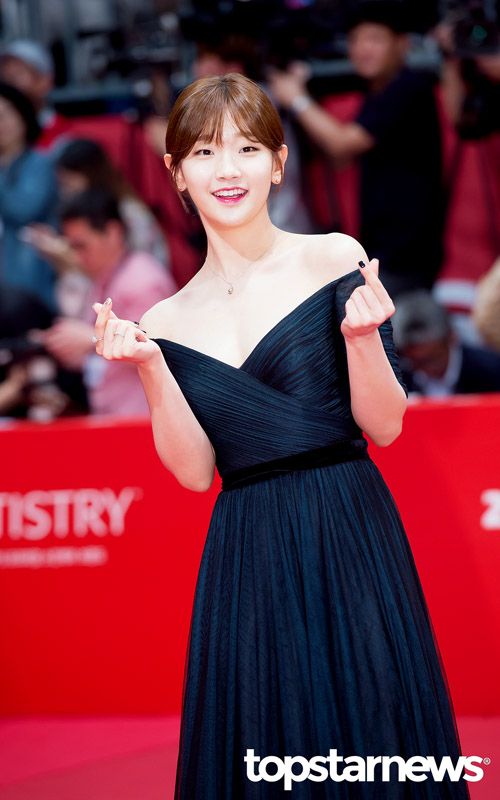 Coffee Mate co-stars Yoon Jin-seo and Oh Ji-ho arrived with director Lee Hyun-ha. Yoon Jin-seo looks amazing, like she just got back from a tropical vacation with perfectly sun-kissed skin and hair, which the dress only accentuates. The envy is real.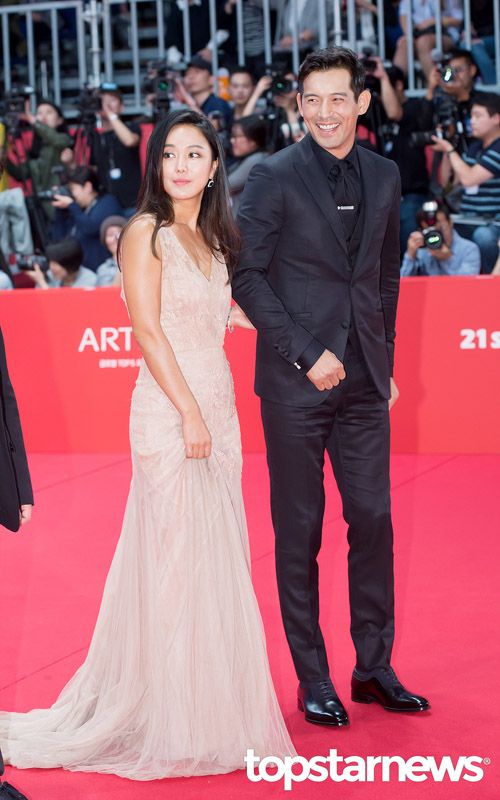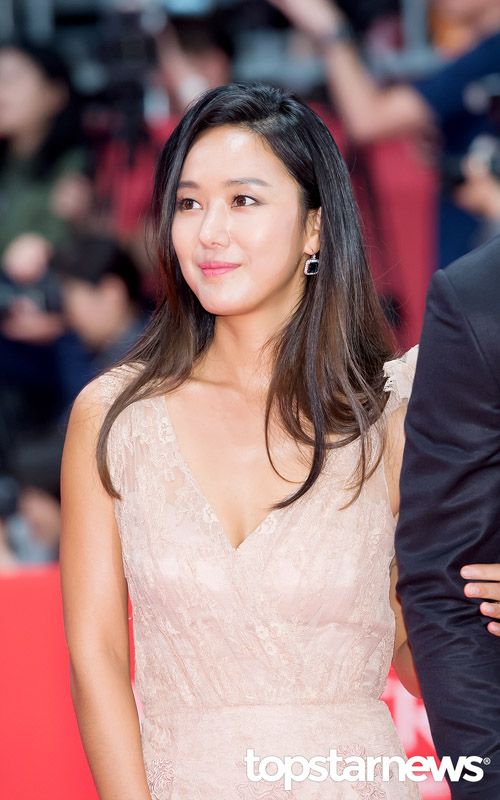 Now I can only ever see Yeh Ji-won (Revivre) as her hilarious Oh Hae-young Again character, and everything she does seems funny to me. I don't love the straitjackety bodice-collar on her dress, but it does create an interesting silhouette, and gives the dress a modern feel. She seems like someone who enjoys having fun with fashion.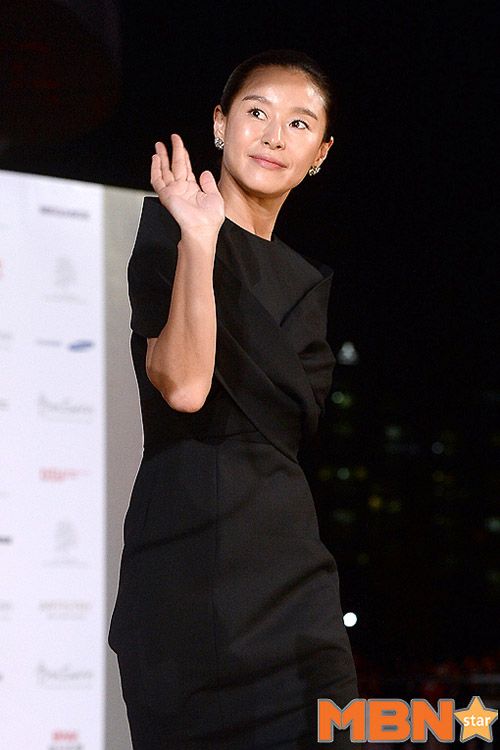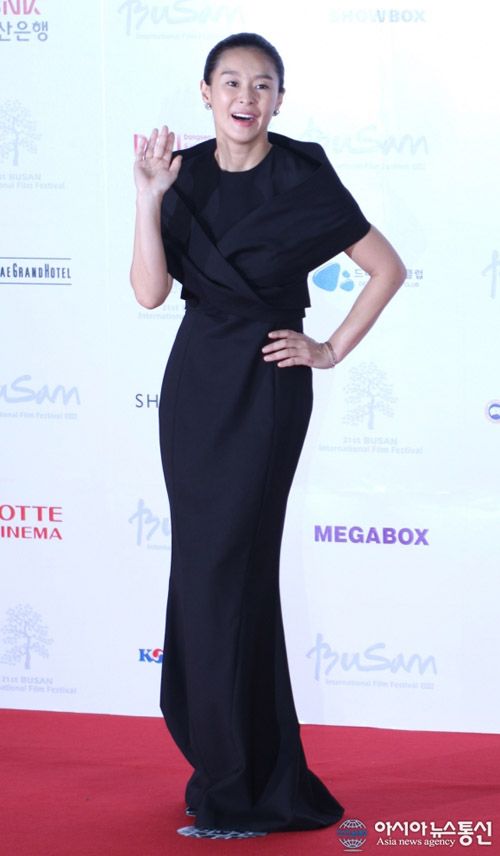 Her Revivre co-star Ahn Sung-ki is dapper, as always.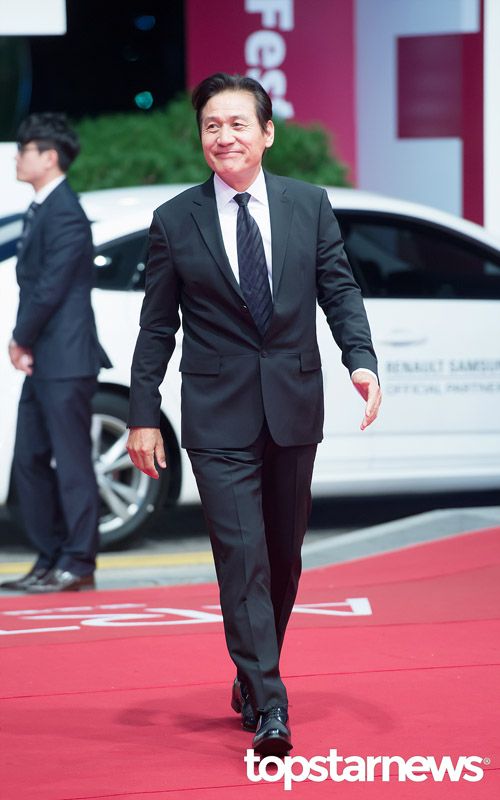 Celebrated veteran director Im Kwon-taek (Revivre), with his wife.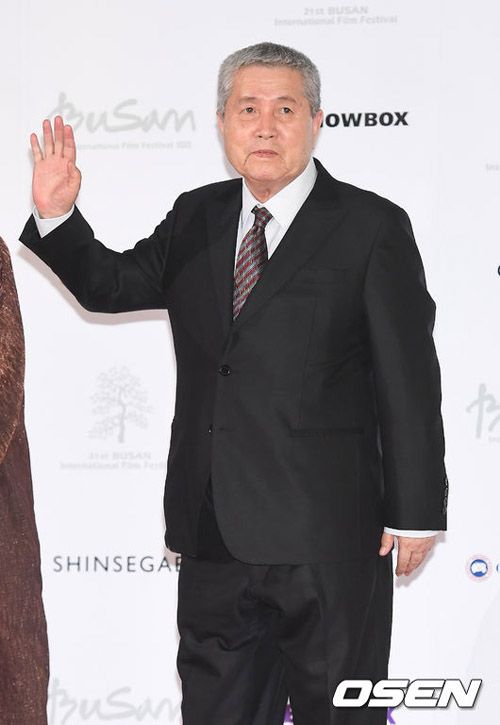 Jo Min-soo (Venus Talk, Pieta), why is your dress cut to sag on the sides of all places, and why does it look like you left your dress at home and just wore your nightgown?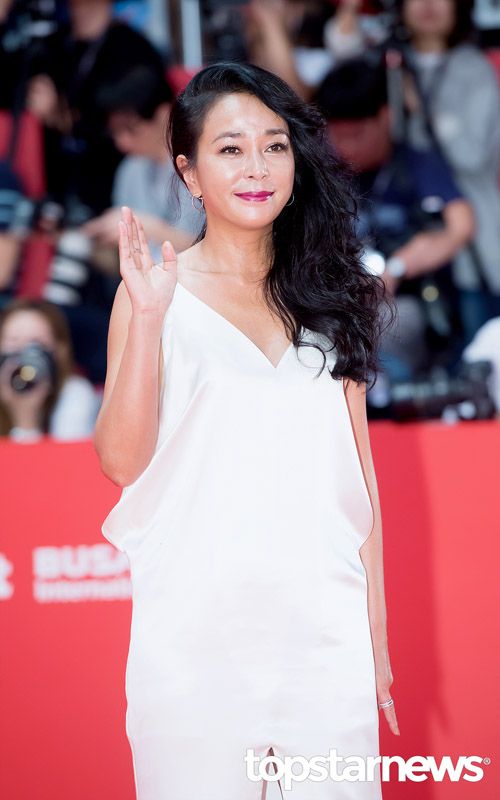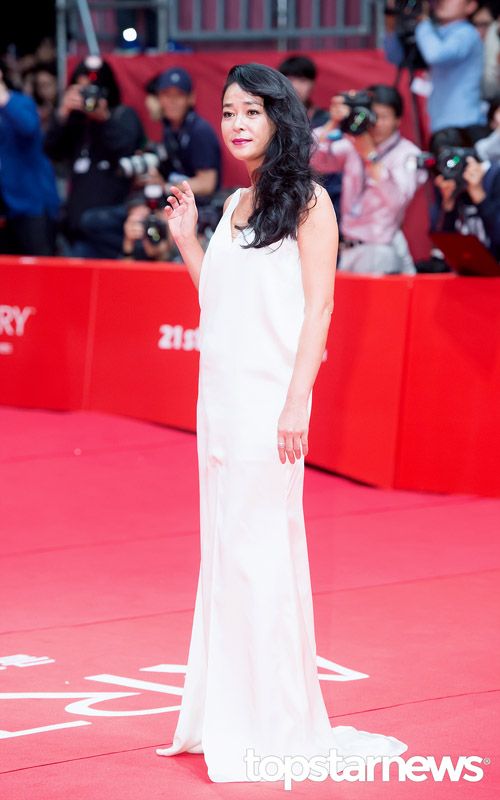 Jo Eun-hyung played the childhood counterpart to Kim Min-hee in Park Chan-wook's The Handmaiden, and she's wearing the most adorable little dress. The headband is what kills me — it's so perfect! I hope we'll be getting a whole parade of cute outfits from her this awards season.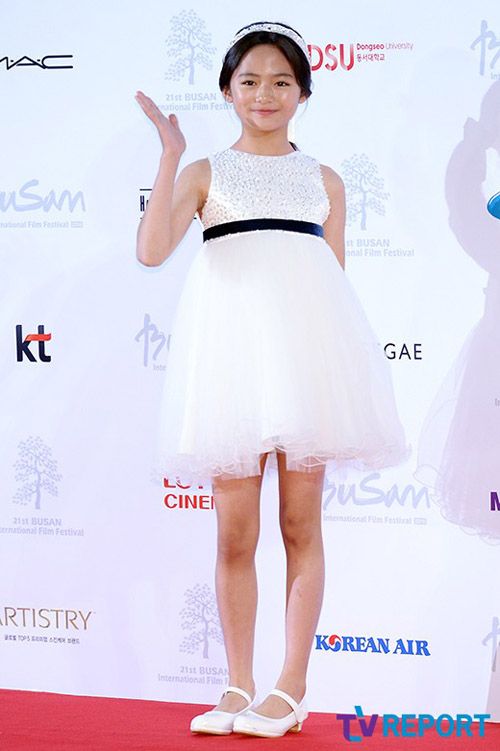 Lee Yi-kyung (Curtain Call), with Jung Yeon-joo (Goodbye Single, SNL Korea) in more head-to-toe black.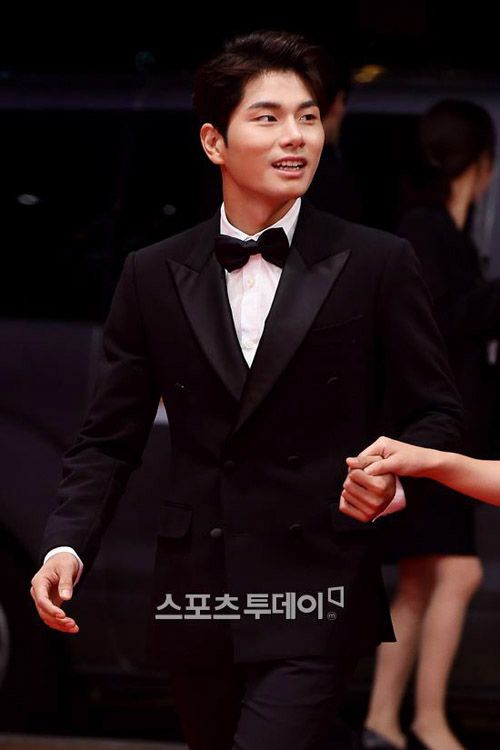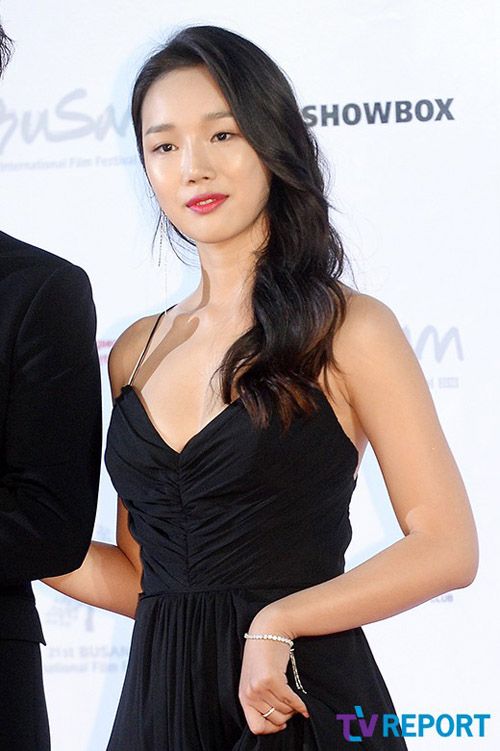 Lee El (Inside Men) looks great in what is considered a big splash of color on this red carpet, with her shimmery silver dress. It probably stands out more because everyone else is wearing black, but you can't go wrong with a blingy, form-fitting dress — it's a classic for a reason.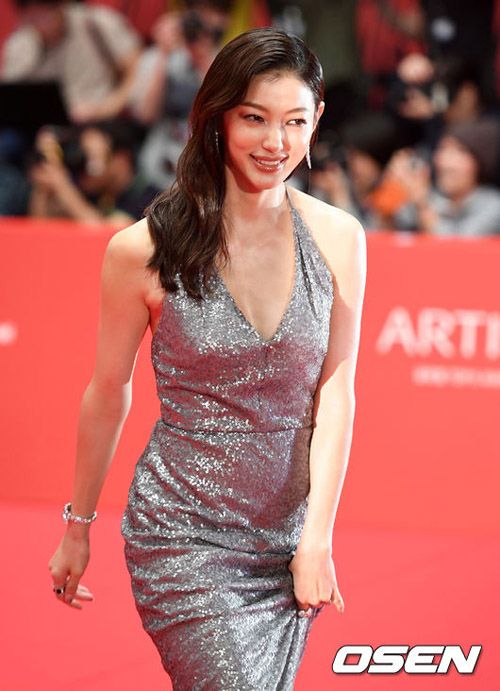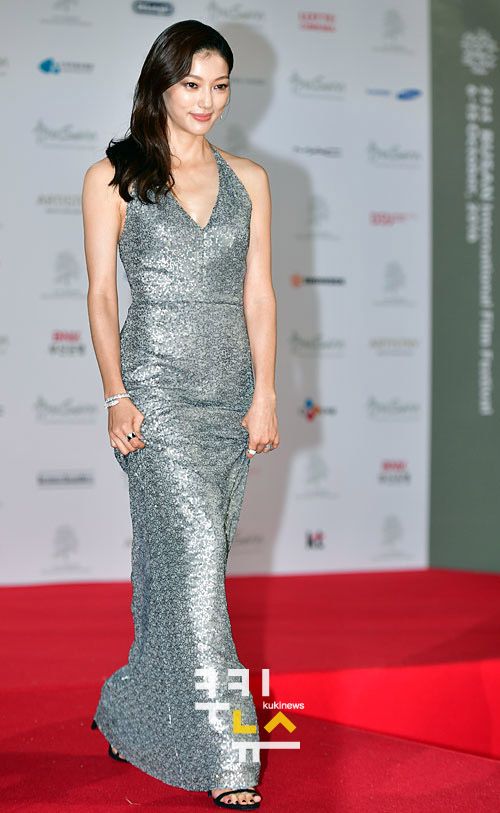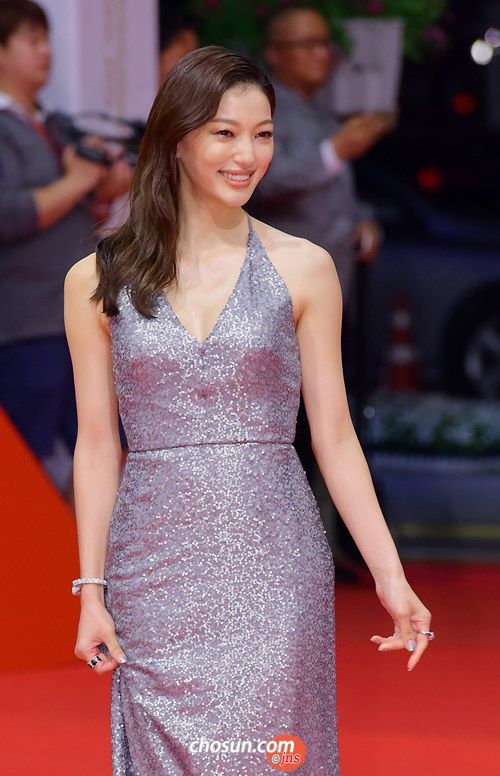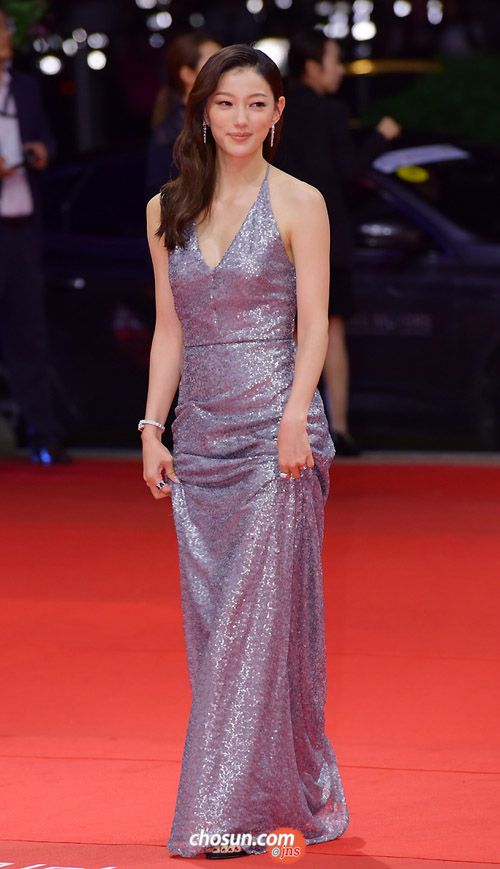 Veteran Kim Eui-sung (A Quiet Dream, Train to Busan) recently played Han Hyo-joo's dad in W–Two Worlds, which is why I still shout, "Dad!" every time I see him. After playing a drunk, disheveled manhwa artist who sometimes had no face, the red carpet look is a big step up. I love the purple shirt!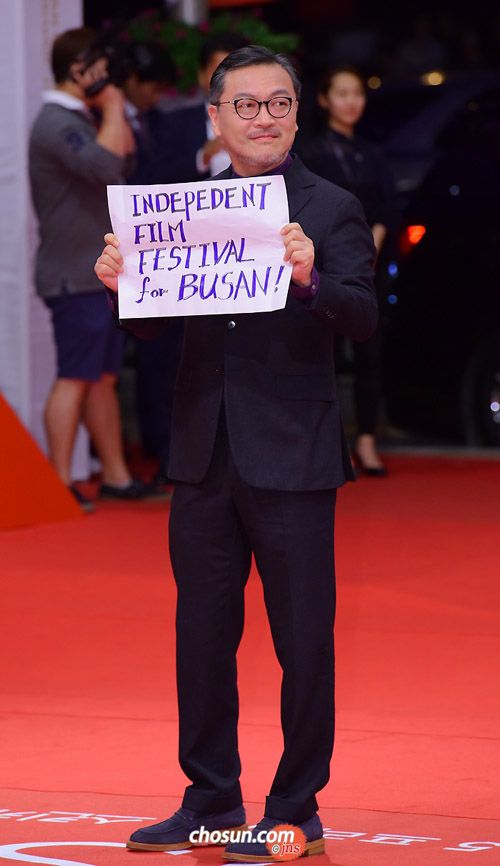 Ken Watanabe, in more burgundy/purple, was there with director Lee Sang-il for their movie Anger.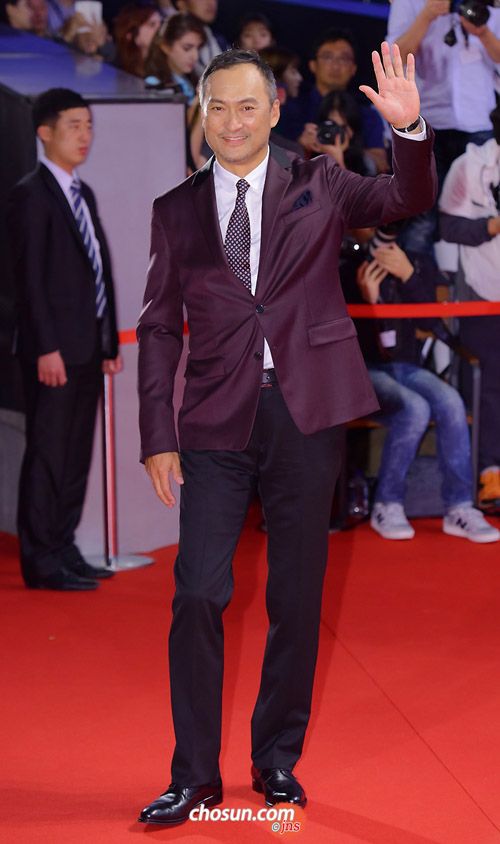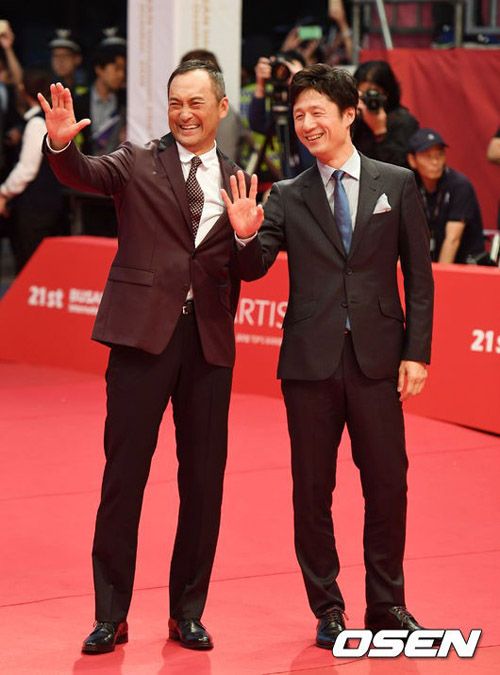 Bae Jong-ok (Bubblegum) and Seo Jung-yeon (Descended From the Sun) came together as co-stars for the movie In Between Seasons. Their dresses are better together than apart because it's clear that they coordinated (so cute), though I do love Bae Jong-ok's white gown on its own too. It has just the right amount of bling and I love the sleeves.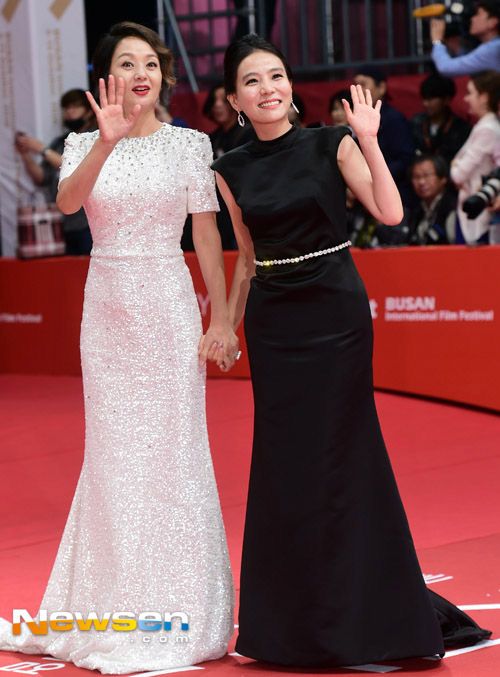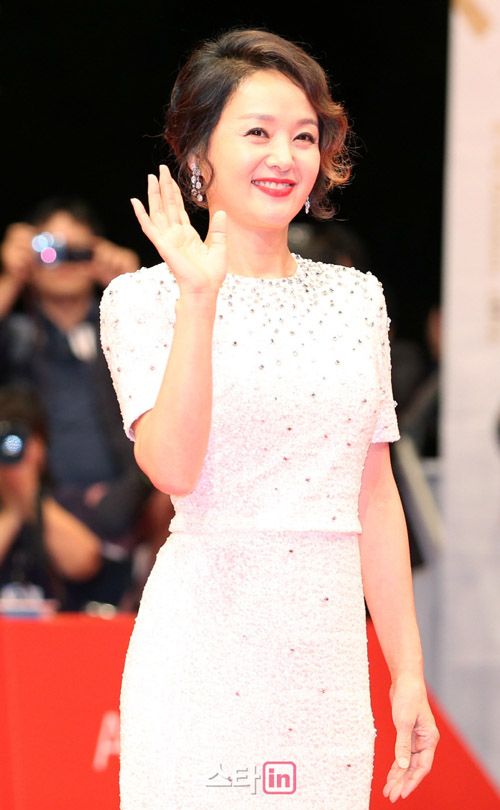 Kim Ki-duk, will you ever not look like a homeless man? The famed director was there with his new film The Net, and though lead actor Ryu Seung-beom was missing in action, co-stars Choi Gwi-hwa, Ahn Ji-hye, and Hwang Gun were there. I see what Ahn Ji-hye was going for with the white pantsuit, but a wide leg with a wide shoulder makes for a terrible outline if you ask me.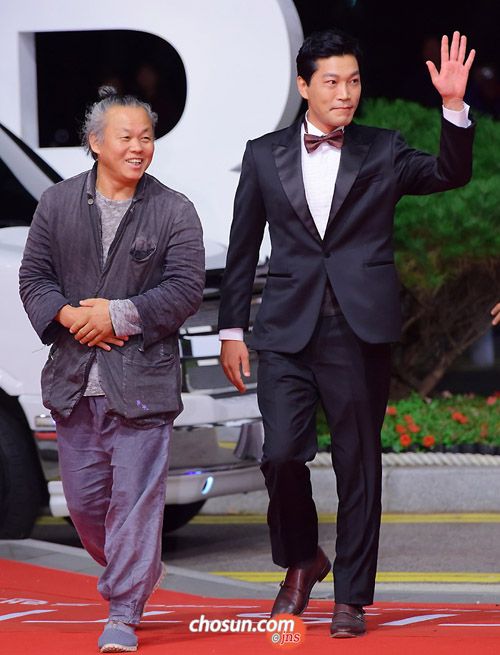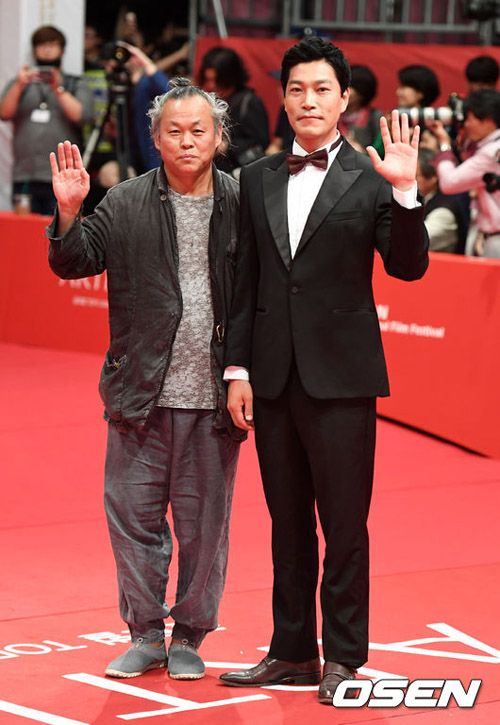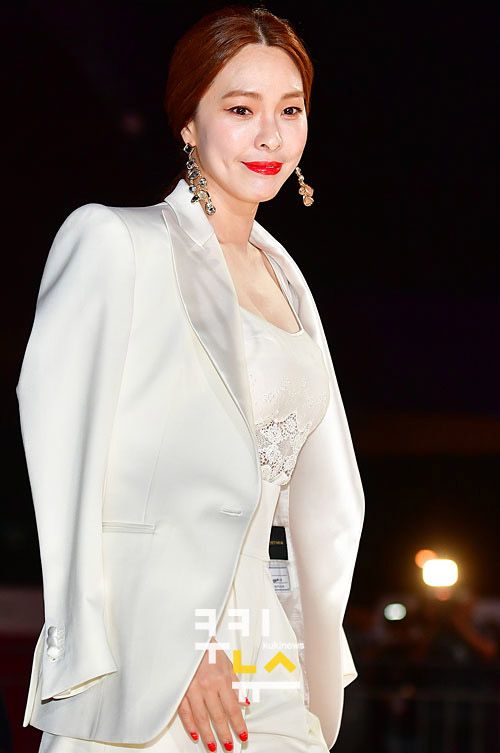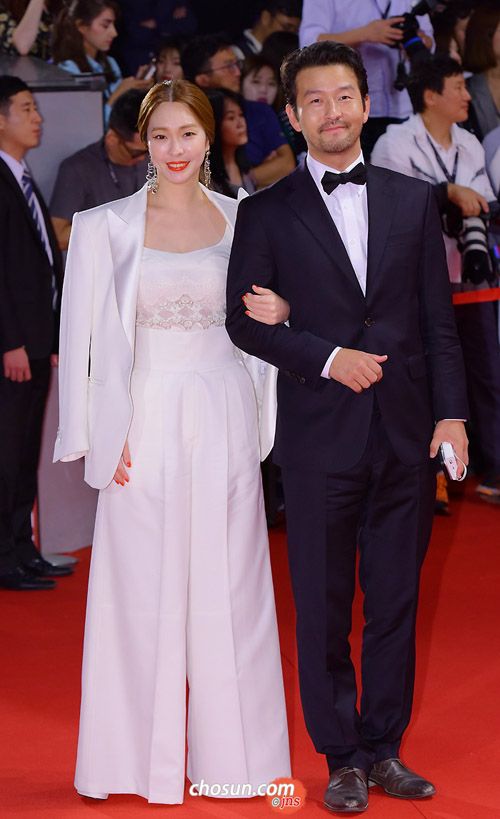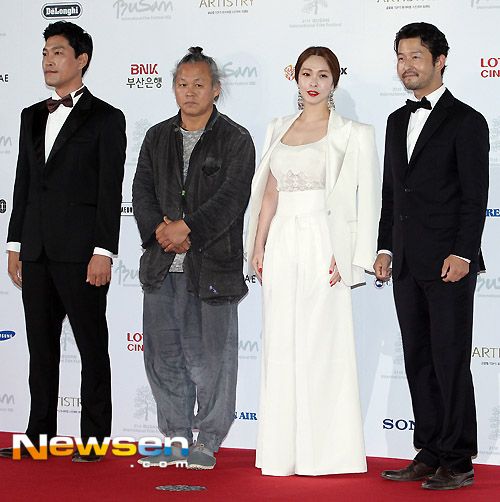 Aw, Ohn Joo-wan (Time Renegades) looks so good. Does he normally look this cute, or is he just especially adorable in his slim-fitted tux and sleek red carpet hair? It's probably the smile, but it doesn't hurt that he's well-dressed.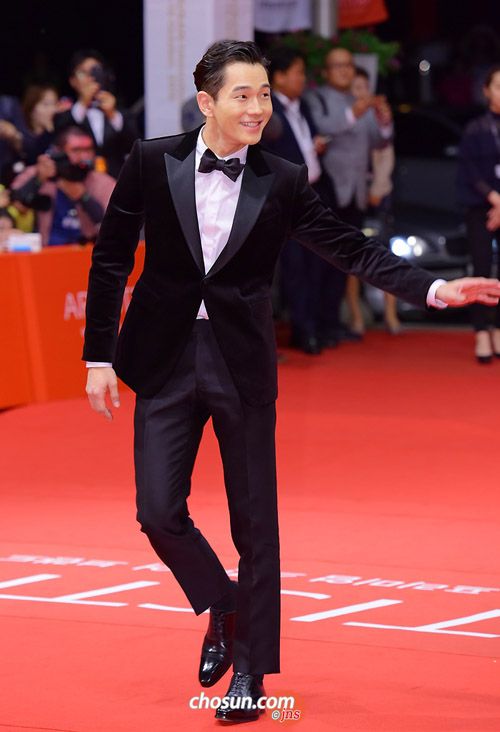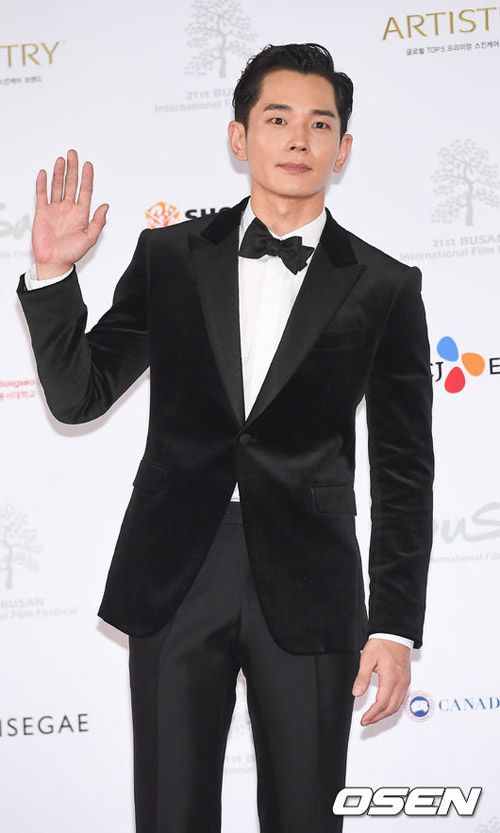 Lee Hye-eun and Chae Bin were co-stars for the new movie Come, Together and they came together (hur). Their dresses are meh, but at least Lee Hye-eun (Oh Hae-young Again) added some color to the evening.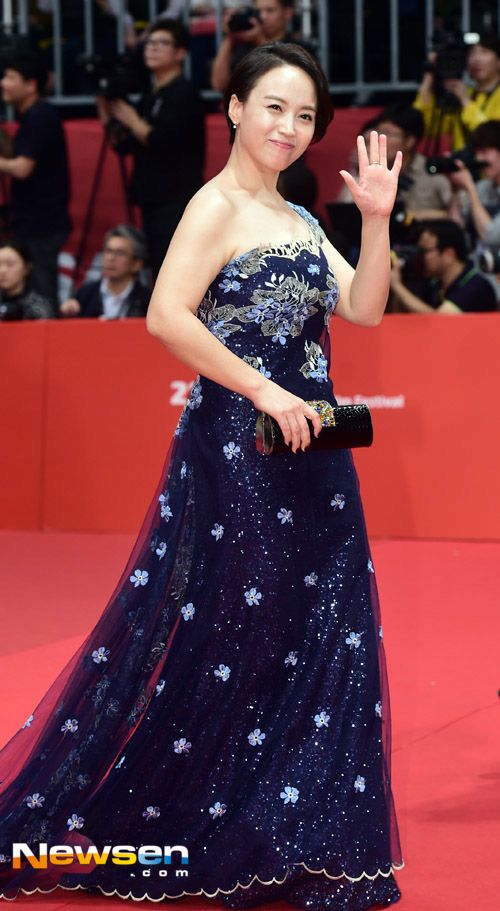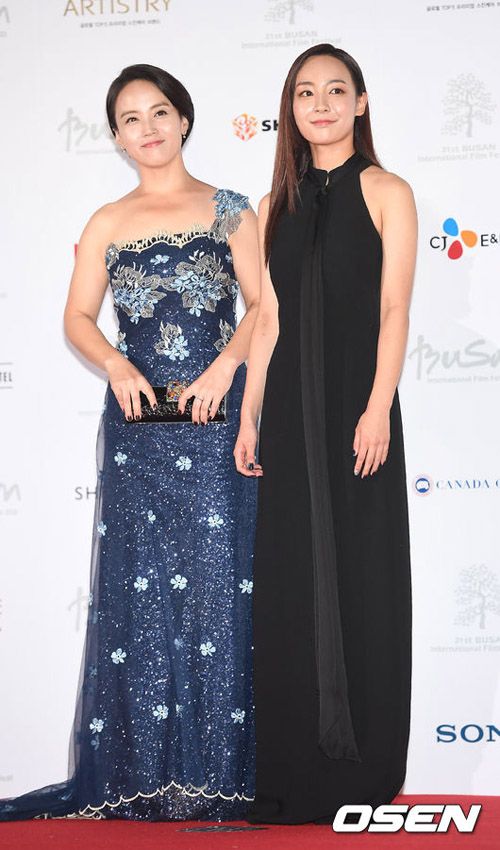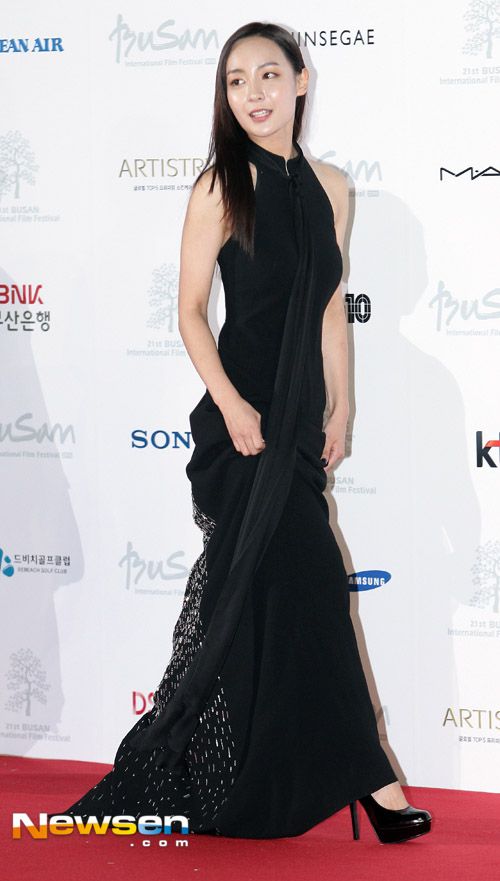 Veteran director Kwak Kyung-taek (The Classified File, Friend) was also in attendance. I don't know why jeans on the red carpet are like PD street cred, but they just are.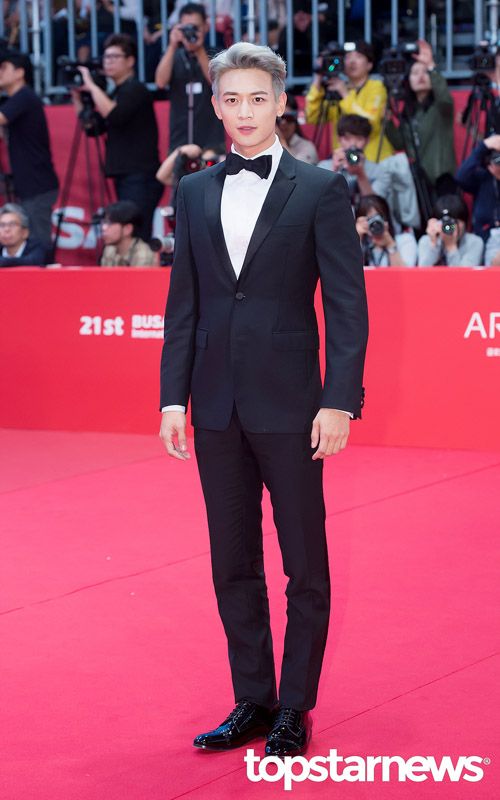 Prettyyyy. Choi Min-ho was there with his new movie Two Men (Derailed) along with his co-stars Jung Da-eun, Kim Young-jae, and Lee Yoo-jin. Min-ho looks shockingly good with silver hair, or maybe it's the whole effect with the perfectly fitted black tux and sudden splash of white, but whatever it is, he looks good.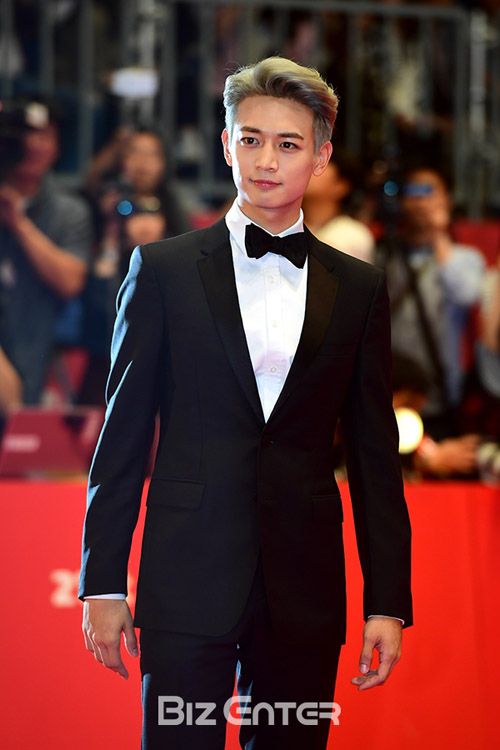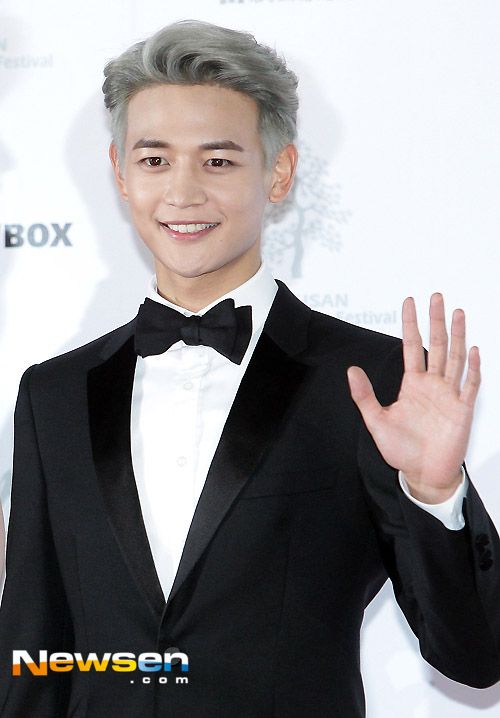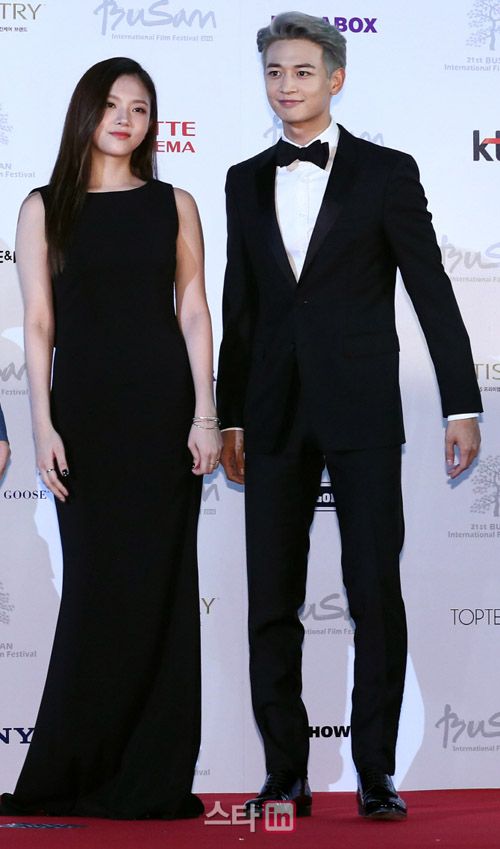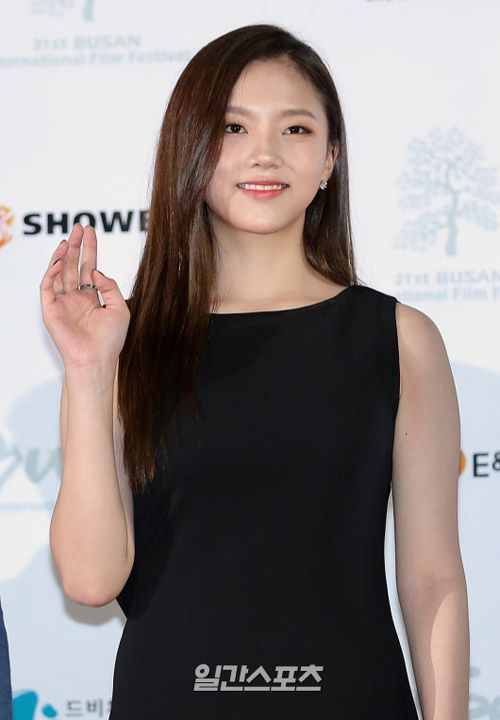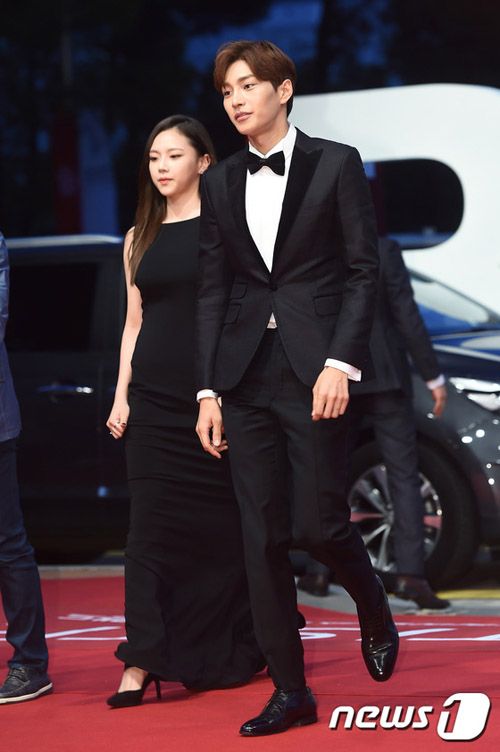 Ki Joo-bong and Oh Jung-hwan were there for the film Merry Christmas Mr. Mo.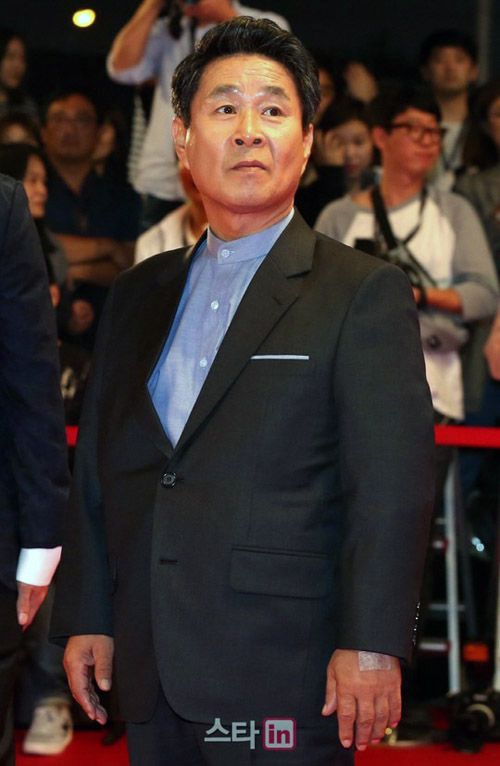 Their Merry Christmas Mr. Mo co-star Go Won-hee wears a nice bright splash of red. It's well-fitted and I love the ponytail, but most importantly I'm just happy to see someone wear color.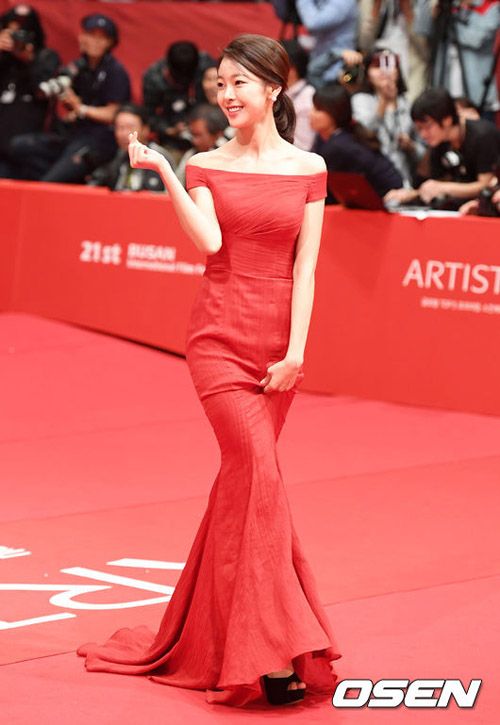 Kim Bo-sung (Analog Human) in his signature black sunglasses and pose. I almost didn't recognize him without his Elvis hair, but who else would make that pose in every photo?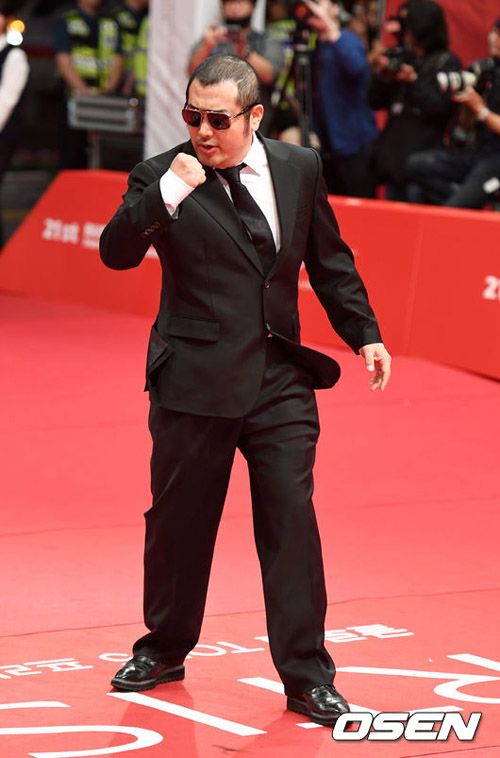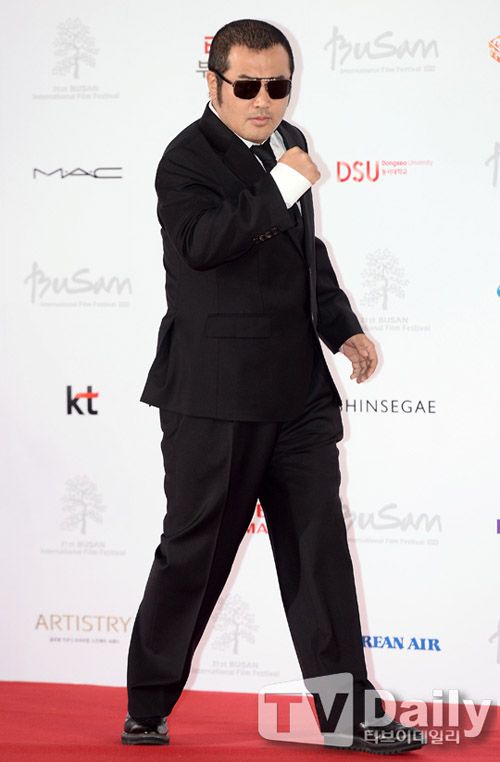 Seo Ri-seul (I Like Sexy Women) had the unfortunate combination of the night: a barely-on dress and a lot of tripping. Even with that, I think the worst part is the fact that her dress doesn't seem like it's attached to her body in any way. That can't be comfortable, though I suppose it explains her stiff, awkward posing. I would be the same if I had to concentrate that hard to hold my dress up with only the power of my mind.
Via OBS, Star Seoul TV
RELATED POSTS
Tags: Ahn Sung-ki, awards, Bae Jong-ok, film festivals, Han Hyo-joo, Han Ye-ri, Im Kwon-taek, Jo Min-soo, Kim Eui-sung, Kim Ki-duk, Lee El, Lee Yi-kyung, Min-ho, Oh Ji-ho, Ohn Joo-wan, Park So-dam, Sol Kyung-gu, Yeh Ji-won, Yoon Jin-seo