Cinderella and the Four Knights: Episode 16 (Final)
The final hour has arrived, and our Cinderella is going to need every minute of it to find her happy ending. When Ha-won's real family calls for help, it comes down to her to decide whether to stand by the family she's made, or the one she was born into. Her valiant knights must also figure out the paths their own lives should take, which means it's time to hang onto your glass slippers, folks — we're almost there.

FINAL EPISODE RECAP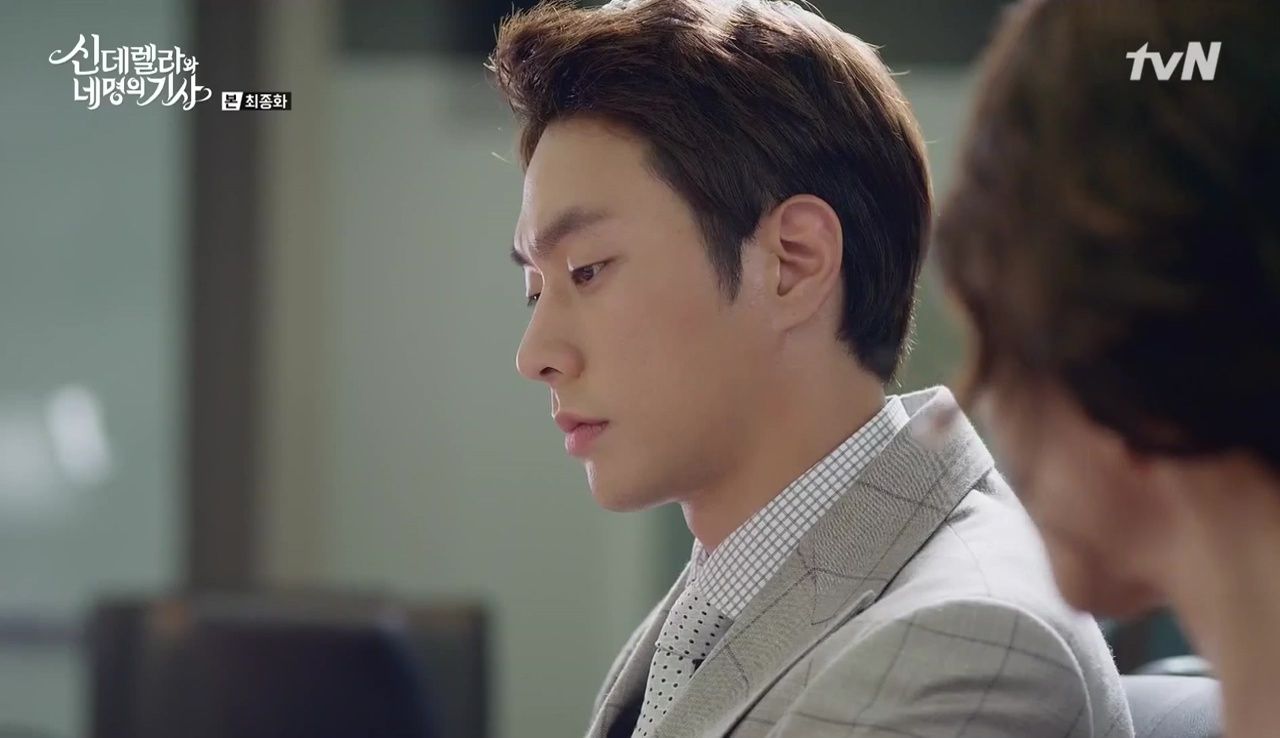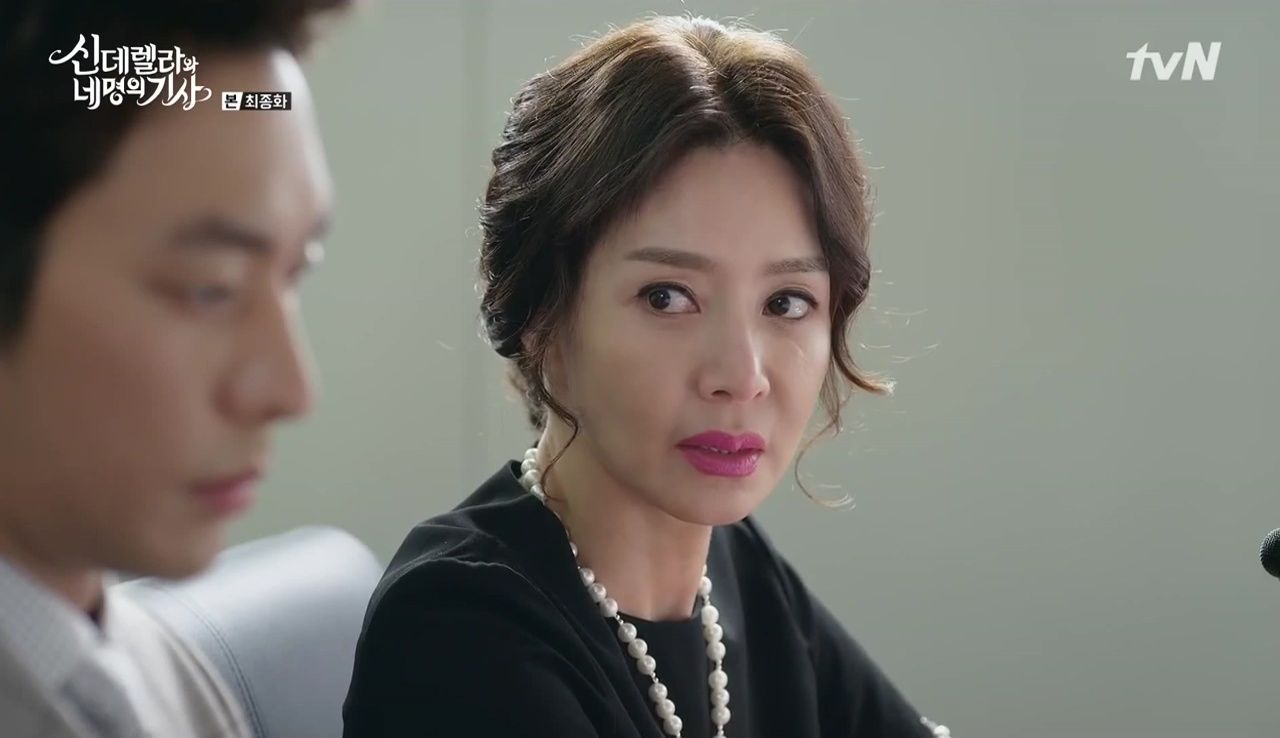 We pick up right where we left off in the Hanuel Group boardroom. The results of the vote are in: 46% for ousting Grandpa Kang, 52% against it. Hwa-ja's face freezes in shock, and Hyun-min breaks into a relieved smile. Looks like Grandpa will remain as Chairman.
Meanwhile, there's trouble in Ji-woon's surgery room, as all the doctors frantically work amidst bloody rags and the chorus of beeping machines.
Back in the boardroom, Hwa-ja and Bodyguard Lee are the only ones left. Hwa-ja angrily asks why he did it, knowing that his vote swung the results. Resigned, Lee answers, "This was the only way that I could stop you." Hwa-ja yells back that he betrayed his own mother to protect Grandpa Kang and "those brats" before storming out of the room.
Ha-won is pacing outside the surgery room when Hyun-min runs up. Just as she tells him that Ji-woon still hasn't come out of surgery, Grandpa's doctor emerges. He informs them that Grandpa Kang's surgery was a success, but sadly, Ji-woon fell into shock.
The doctor reveals Ji-woon's allergy to general anesthesia, telling them that Ji-woon was fully aware this might happen and still wanted to proceed regardless.
Hyun-min asks if Ji-woon will wake up, but the doctor can only answer that they'll have to monitor him closely. Ha-won half-collapses in shock, and Hyun-min catches her as they both reel from the news.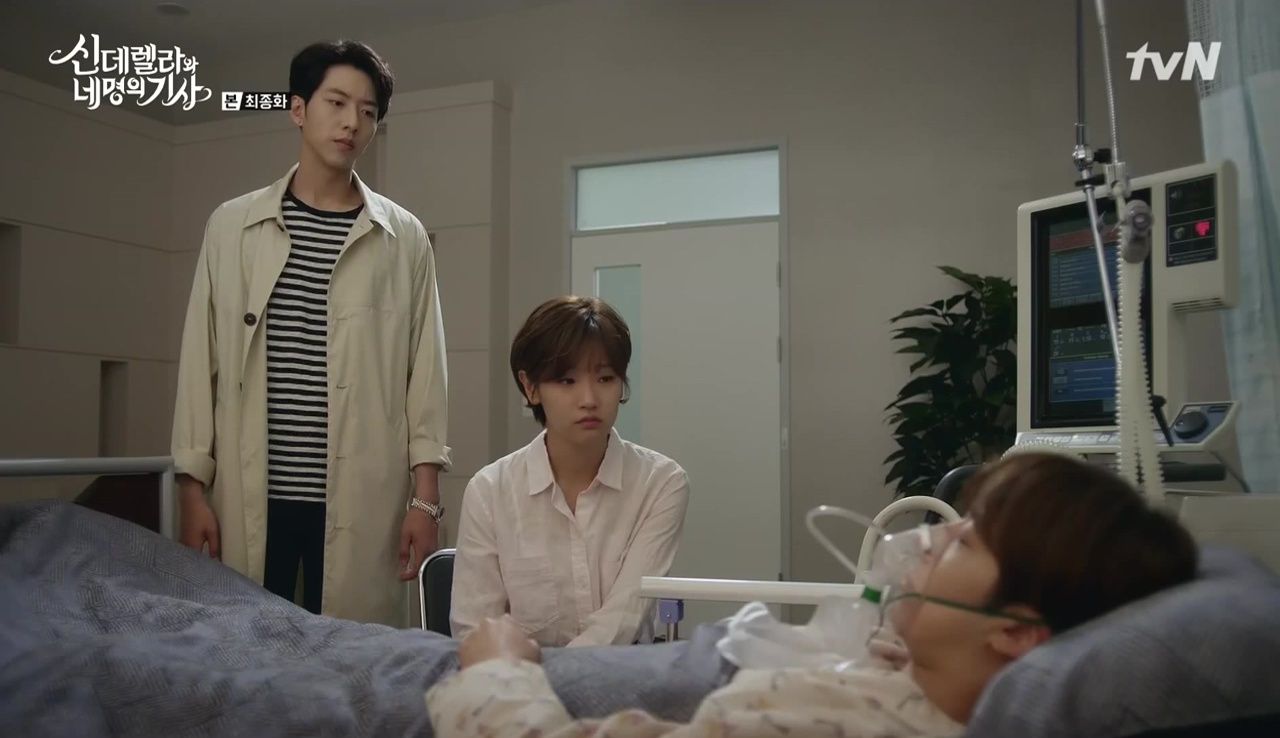 Grandpa awakens with Seo-woo and Hyun-min around him. The doctor says the transplant was a success, but Grandpa wants to know if Ji-woon is alright. At Hyun-min's head shake, the doctor lies that Ji-woon is in another room recovering.
Hooked up to a number of machines, Ji-woon lies unconscious with Ha-won by his side. Seo-woo joins her and Ha-won admits that she never once considered that Ji-woon would leave her. She was always worried about when she'd have to leave him, but now, all she can think about are all the things they never got to do together.
Ha-won says that her biggest regret is that she never even got to tell him how she truly felt, but Seo-woo reassures her that Ji-woon probably knew.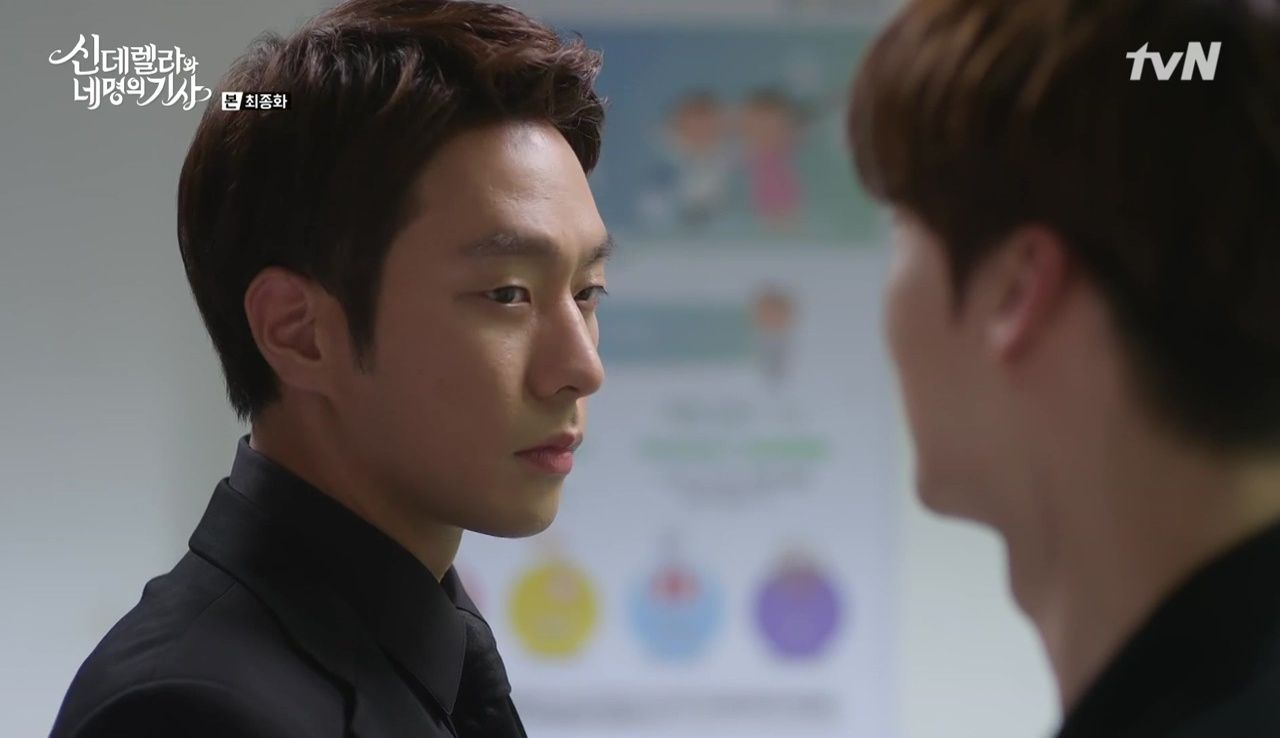 Grandpa Kang coldly accepts Bodyguard Lee's resignation, and tells him to deliver divorce papers to Hwa-ja. Lee apologizes and comes clean that Hwa-ja is his mother, shocking Grandpa. Lee takes the blame for everything, asks Grandpa not to punish his mother, and thanks him for everything. Lee bows deeply to Grandpa and leaves.
Bodyguard Lee runs into Hyun-min in the hallway, who snidely remarks that Lee doesn't have the right to face Grandpa. He enters the room and leaves Lee alone in the hallway looking like a kicked puppy.
Still by Ji-woon's side, Ha-won tells his unconscious form of how she came to like him. She chuckles that he was a real asshole in the beginning, but whenever she was in trouble, he was always there. Soon, she started looking for him whenever she needed help, and before she knew it, she only had eyes for him.
Now that he's recovered, Grandpa finds out the truth about Ji-woon's condition, and Hyun-min wheels him to Ji-woon's room. Both Hyun-min and Ha-won step back as Grandpa gazes sadly at his comatose grandson.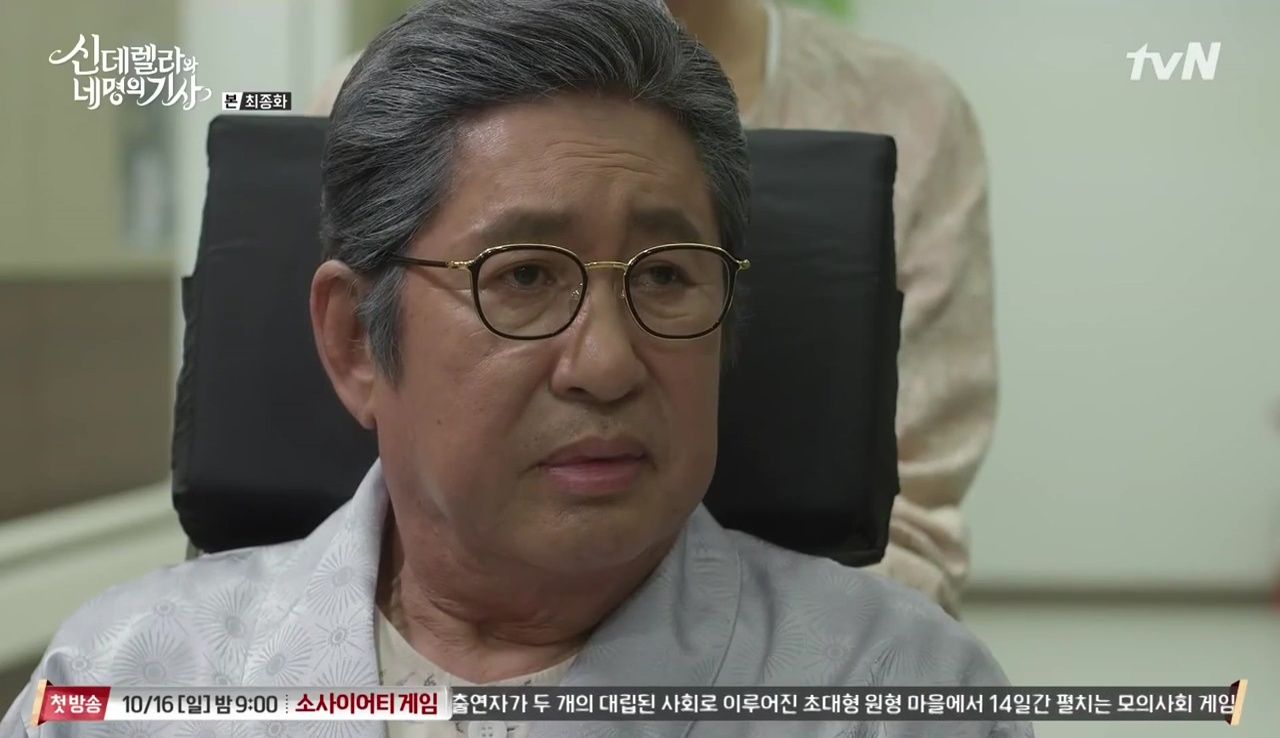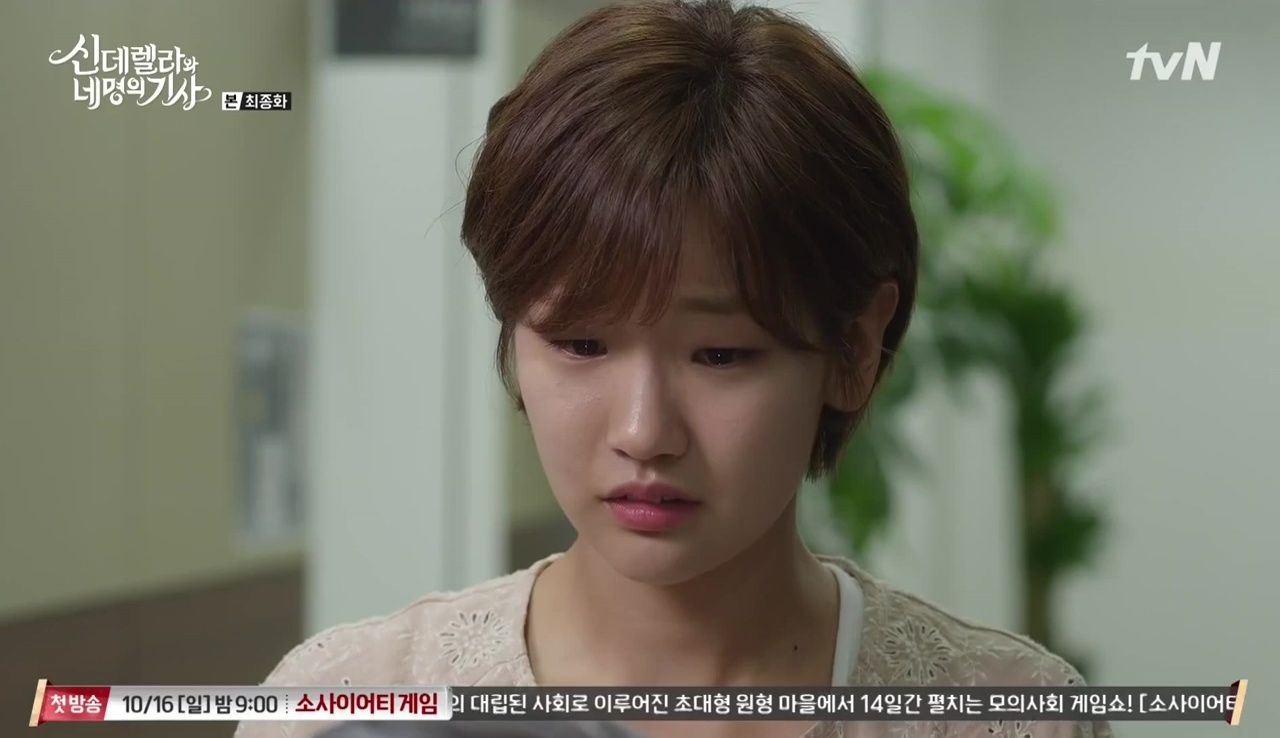 Grandpa has Ha-won wheel him back to his room, and along the way, he says that he thought she would have left by now. Ha-won apologizes, saying that she was going to leave right after the surgery, but now she asks to stay. She tells Grandpa that she doesn't care about her future, or money, she just wants to stay by Ji-woon's side.
Turning serious, Grandpa asks, "Even if you find yourself in a position where you really need money, even if you get a chance to escape your dreary reality, do you think you'll still be able to give up on everything and choose Ji-woon?" He says that if she can't take responsibility for her feelings till the end, then she should stop now.
Over the next few days, Grandpa watches from afar as Ha-won stays by Ji-woon's side, taking care of him.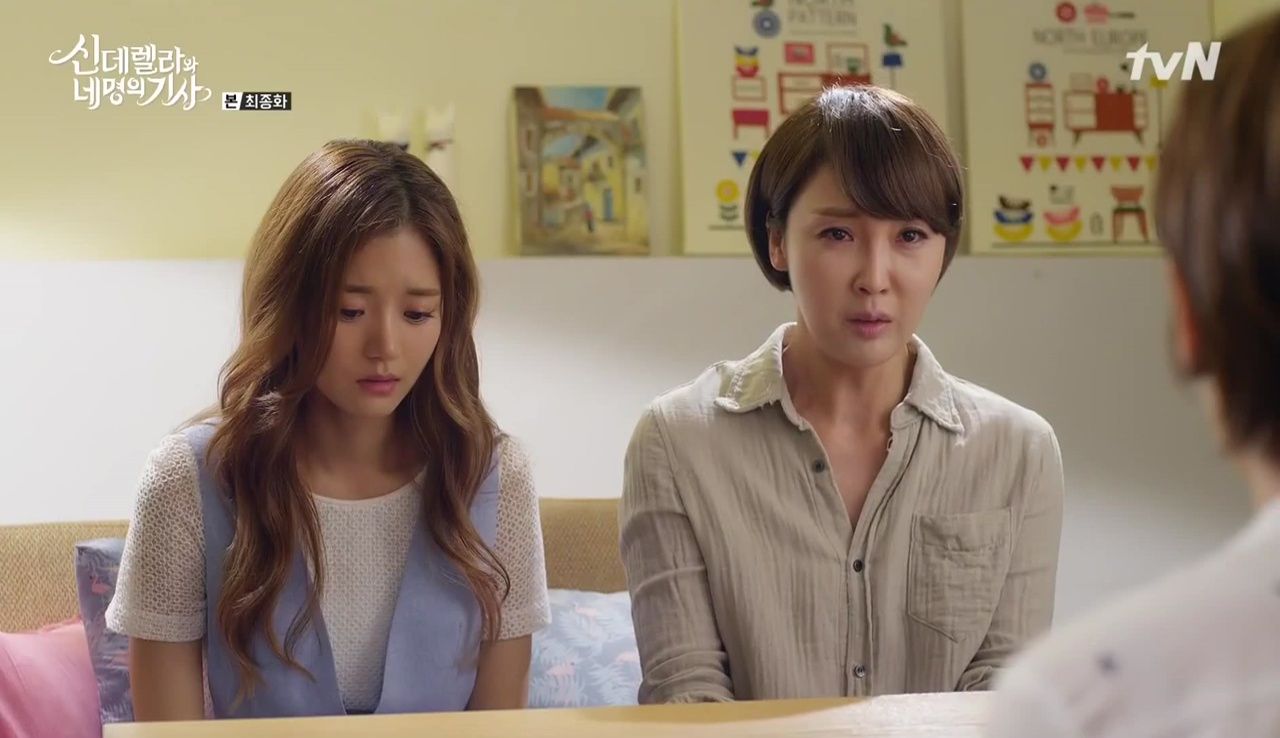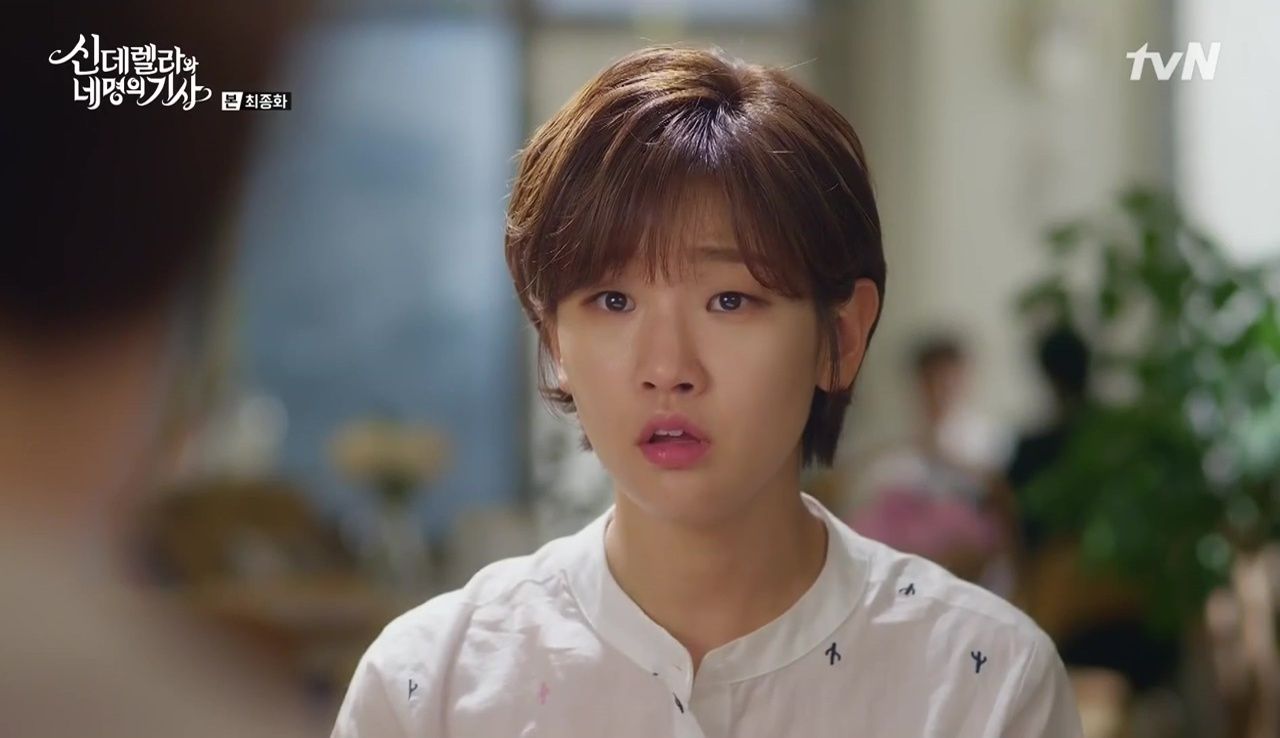 Ha-won meets with Stepmom and Stepsis who tell her that Dad fell asleep at the wheel and caused an accident. He's unhurt, but the other driver was badly injured, and the victim's family is threatening to put Dad in jail unless they settle, demanding six million won (roughly $6,000).
Stepmom whimpers that they don't have that kind of money, and begs Ha-won to use her Hanuel Group connections to get it. When Ha-won hesitates, Stepsis yells at her for worrying about someone else's grandfather when her own family is in trouble.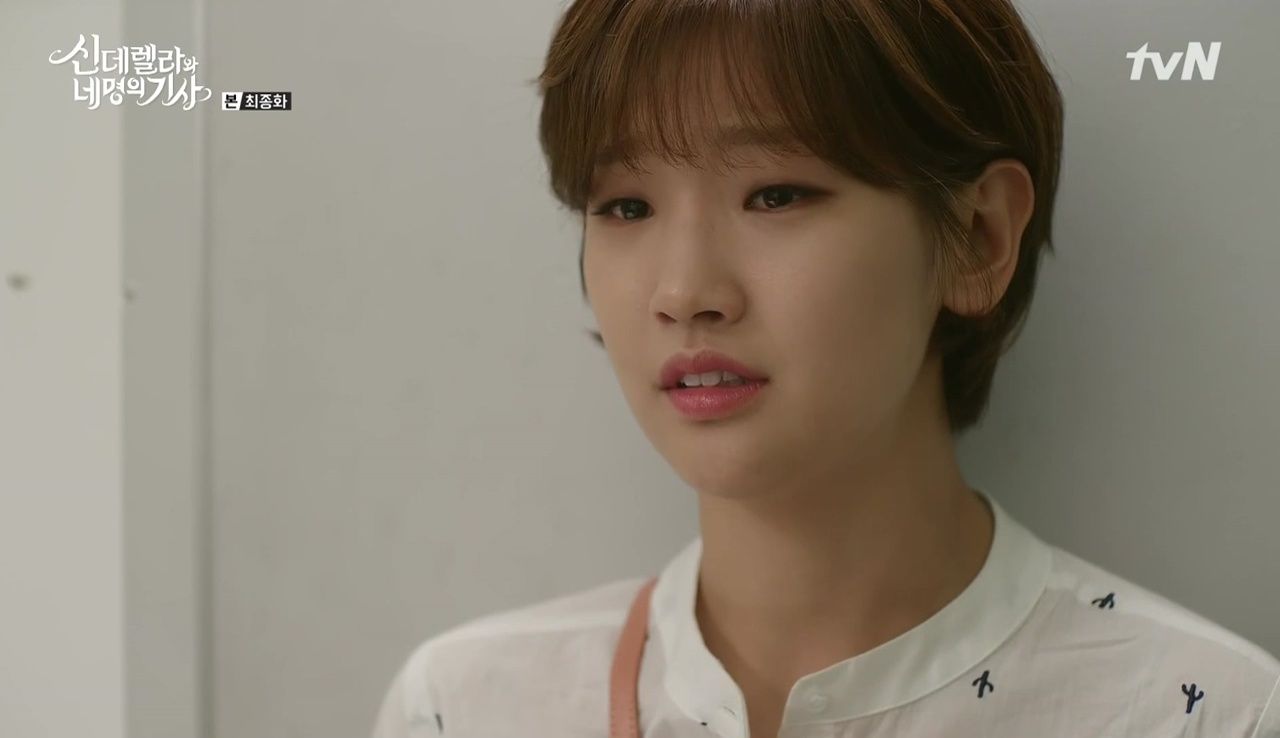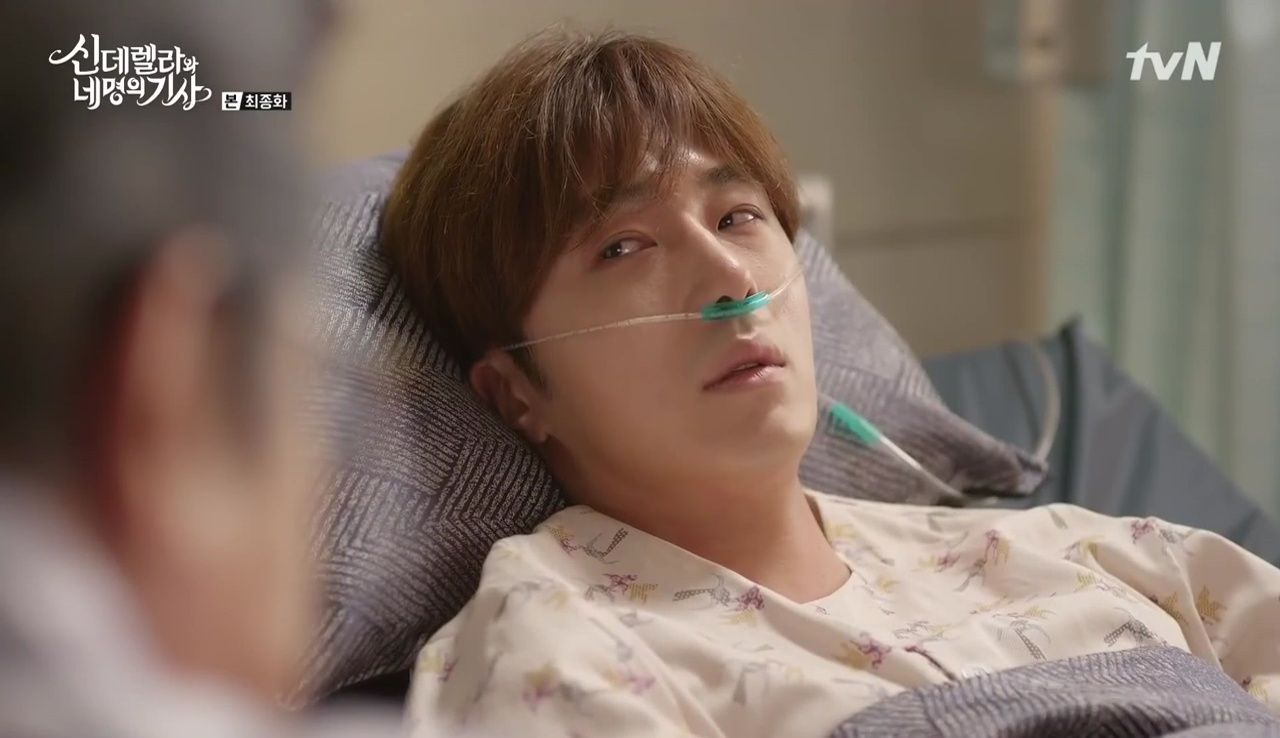 As she walks back to the hospital, Ha-won gets the call that Ji-woon woke up. Smiling, she runs back to the hospital, but stops when she sees Hyun-min wheeling Grandpa into Ji-woon's room. She remembers Grandpa's words about choosing Ji-woon over money and realizes that, with her family in financial trouble, she can't choose Ji-woon.
In the room, Grandpa apologizes to the semi-conscious Ji-woon. Looking around, Ji-woon asks after Ha-won… who's standing out of sight, just outside the door. She cries as she softly thanks him for waking up.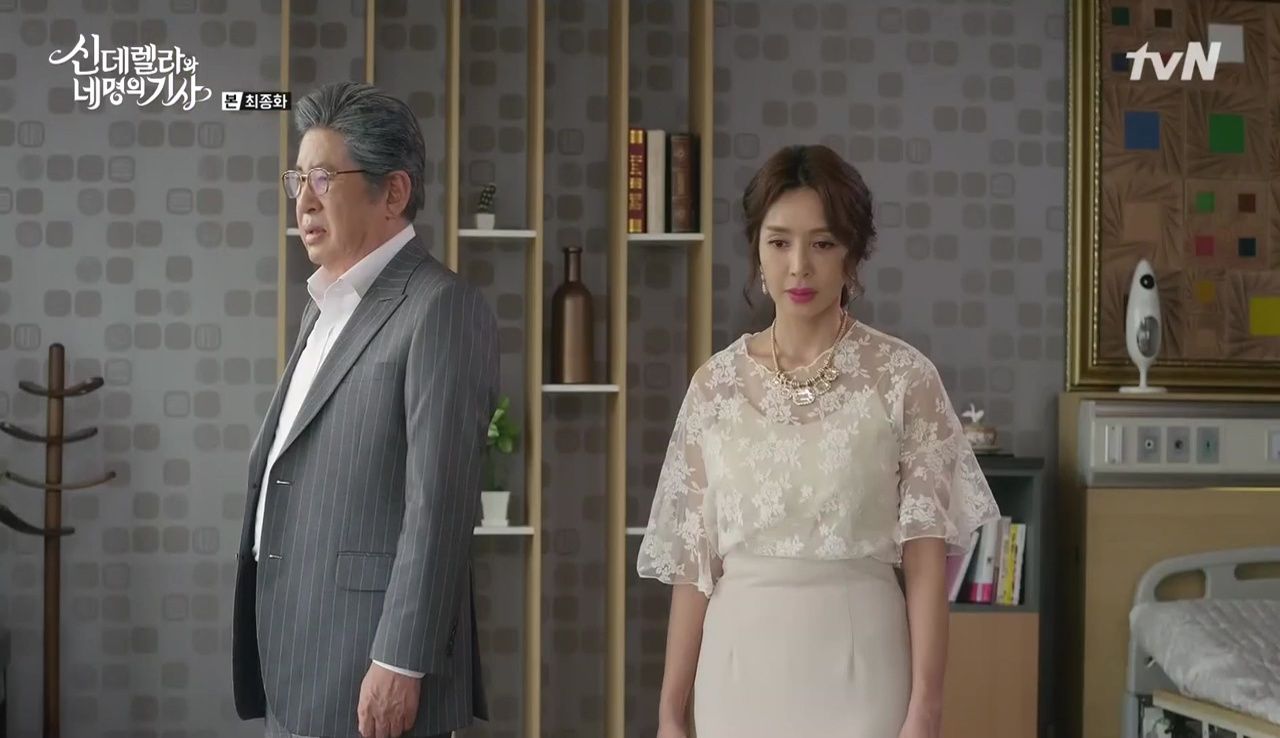 Hwa-ja visits Grandpa and asks him to just hear her out. She's signed the divorce papers and apologizes for causing trouble while he was sleeping, leaving the papers and ring on the table. Grandpa gruffly asks if she ever felt any love for him. She answers that she did, and this all started because she loved him. But when she saw Bodyguard Lee, her maternal instincts kicked in.
Hwa-ja says this was just her way of loving her son and that she has no regrets, though she feels sorry towards Grandpa Kang. Grandpa snaps that she can just spend the rest of her life feeling sorry then. Hwa-ja agrees, but asks him to keep hating just her, and not blame her son for her wrongdoings. She says that Lee protected Grandpa and his company, to the point of betraying his own mother.
As she walks out of the room, Hyun-min stands in the hallway, having heard everything.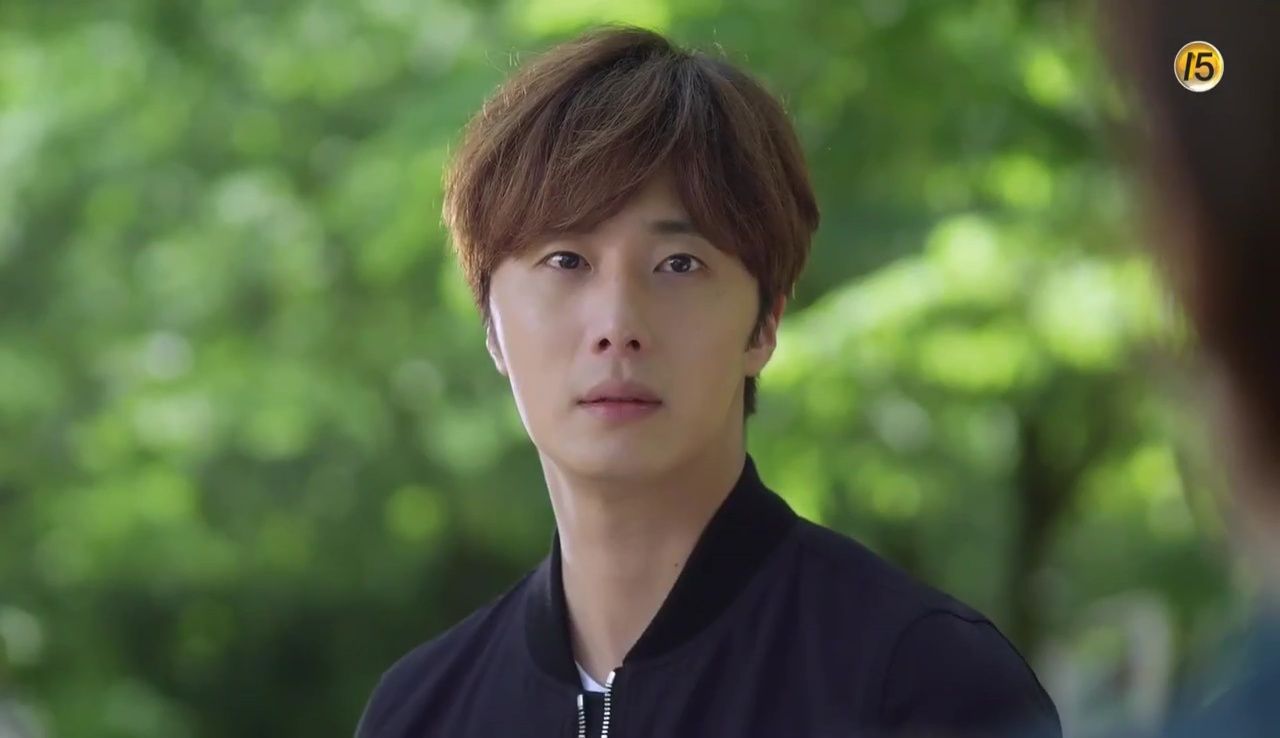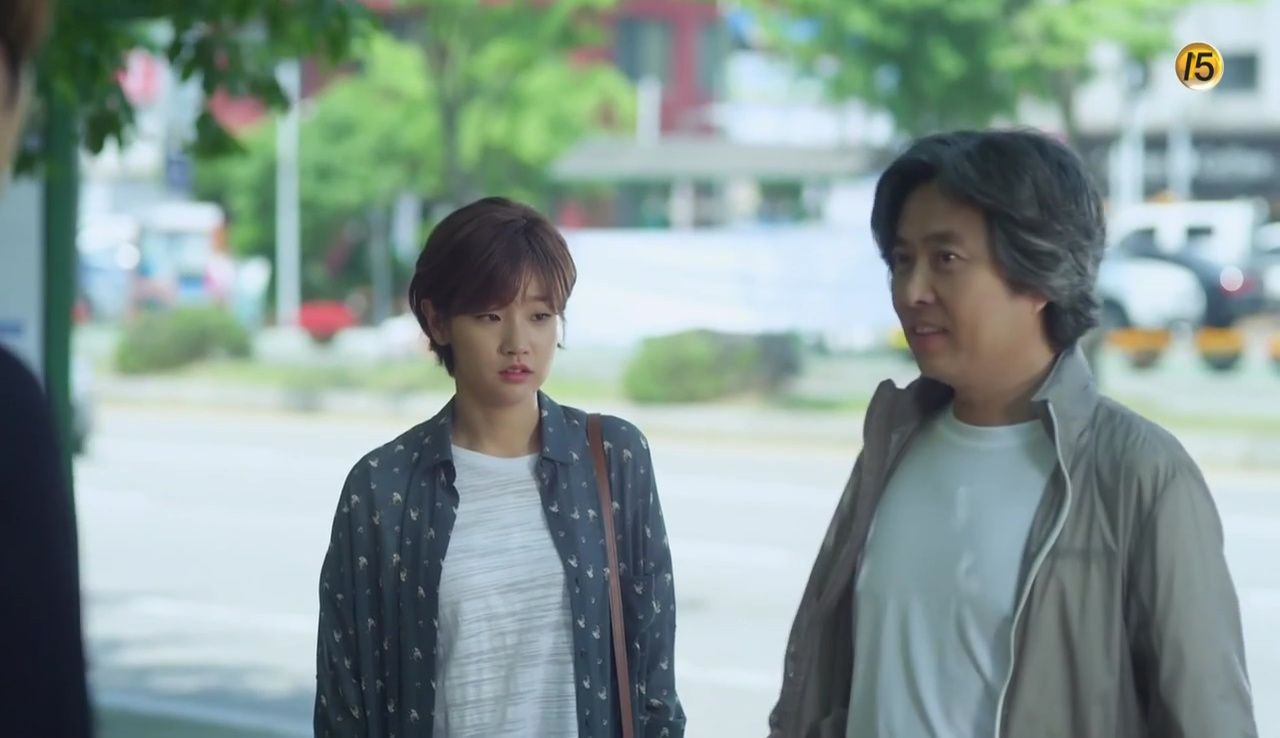 After sending in the settlement money, Ha-won picks her father up at the police station. She promises that she got the money honestly from her Sky House part-time gig, and her relieved father holds her hand, telling her to come home.
Ji-woon returns to Sky House and goes straight to Ha-won's empty room. He asks Ms. Beolgyo where Ha-won went, but she's just as surprised to hear the Ha-won wasn't at the hospital with him.
Ha-won and her dad get off the bus together, right where Ji-woon is waiting for his wayward Cinderella. Dad notes the tense stares and awkwardly departs, leaving his daughter to her boy problems.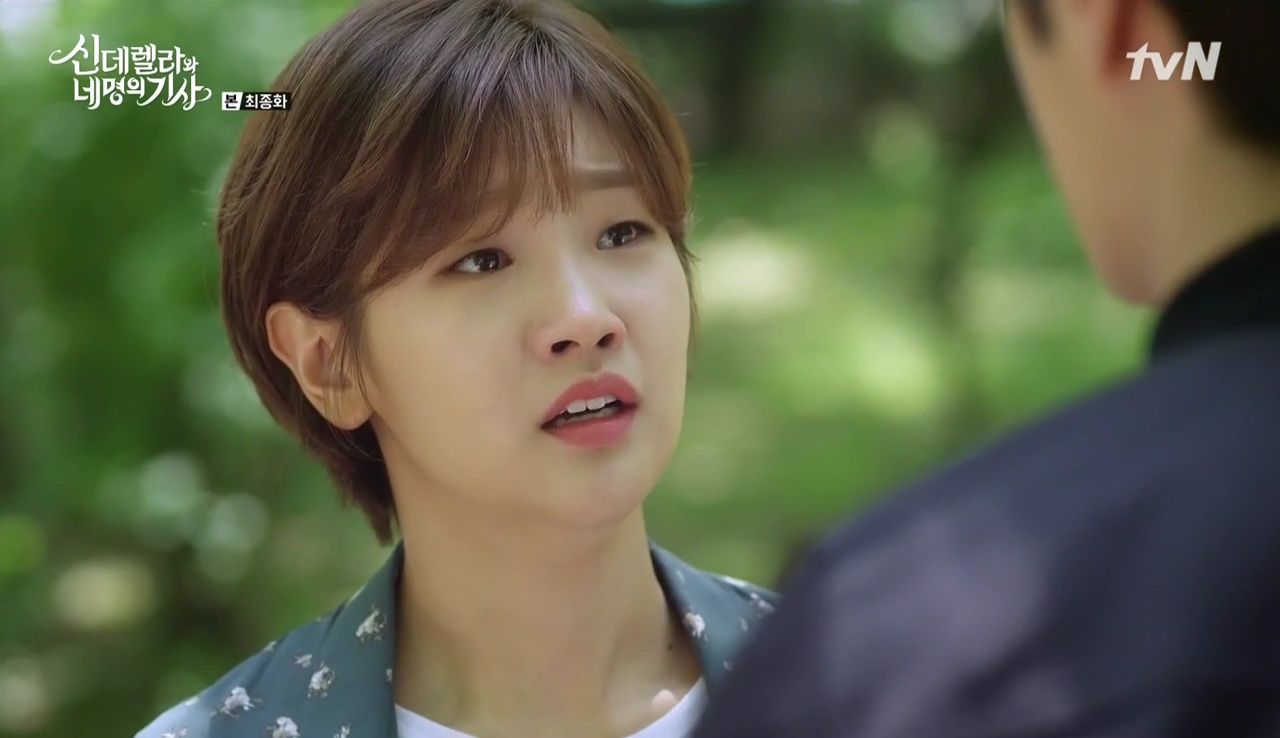 Alone together, Ji-woon confronts Ha-won. He says that he waited for her and missed her like crazy. Ha-won firmly responds that she told him before: This surgery was her final mission, and she stayed with him the night before since he was so nervous. But Ji-woon isn't buying it, "When you were with me, the look in your eyes, your smile, and your actions, they were all genuine."
Fumbling for another reason, Ha-won tries to say that she just stayed with him for money, but Ji-woon retorts that he already told her he doesn't care what her reasons are, just as long as she stays by his side. Ha-won argues that it matters to her, and that she doesn't fit into his world, which is why she chose her future over him.
As Ha-won turns away, Ji-woon grabs her, promising that he'll leave Hanuel group. Ha-won snaps that he just reconciled with his grandfather, and now he wants to throw that away? She yells, "You live in a resplendent world that others dream of living in, but all you do is throw fits and get angry!" Word.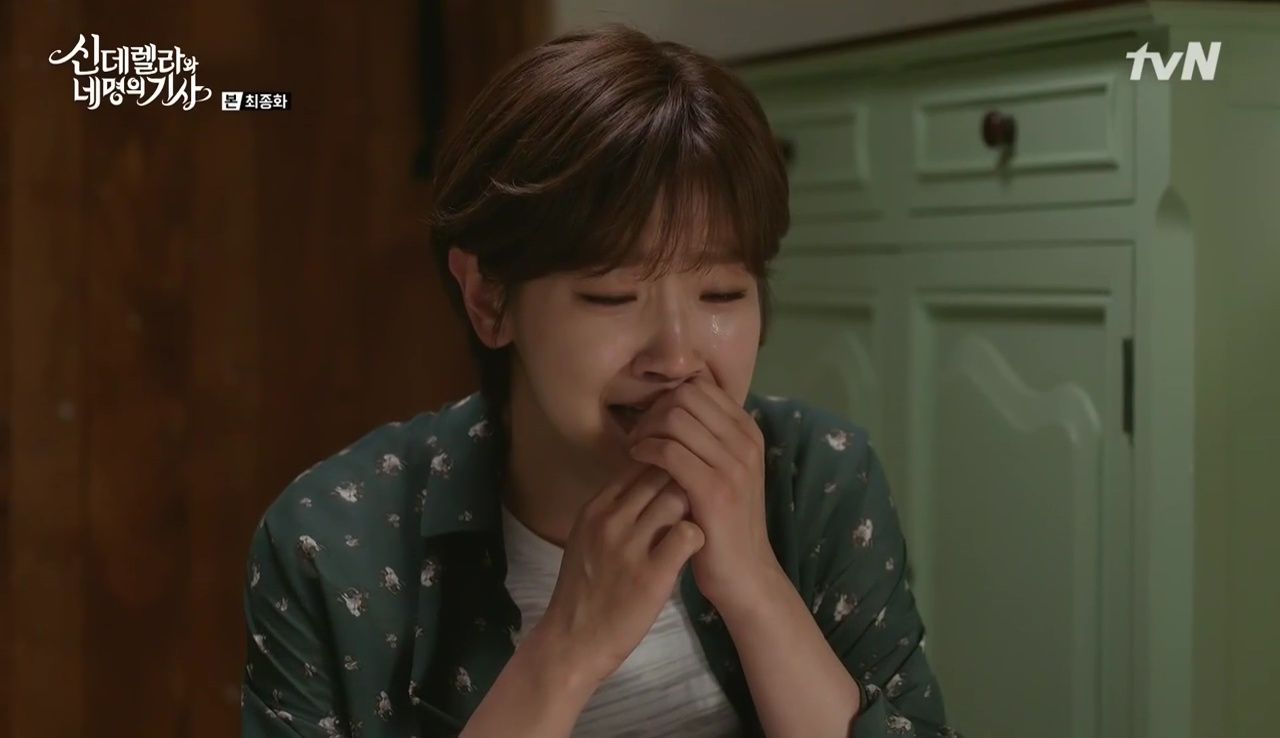 Ha-won starts to walk way again, but Ji-woon calls out her name, nearly begging her as he says that he can't live without her. With tears in his eyes, he says that losing her is the same as losing everything. Ha-won is barely holding in her own tears, but she still walks away without looking back, leaving Ji-woon devastated.
Arriving home, Ha-won collapses in the entryway. Sobbing her heart out as she remembers all their times together, she thinks, "I'm sorry that I keep running away. You've always approached me first, and yet…"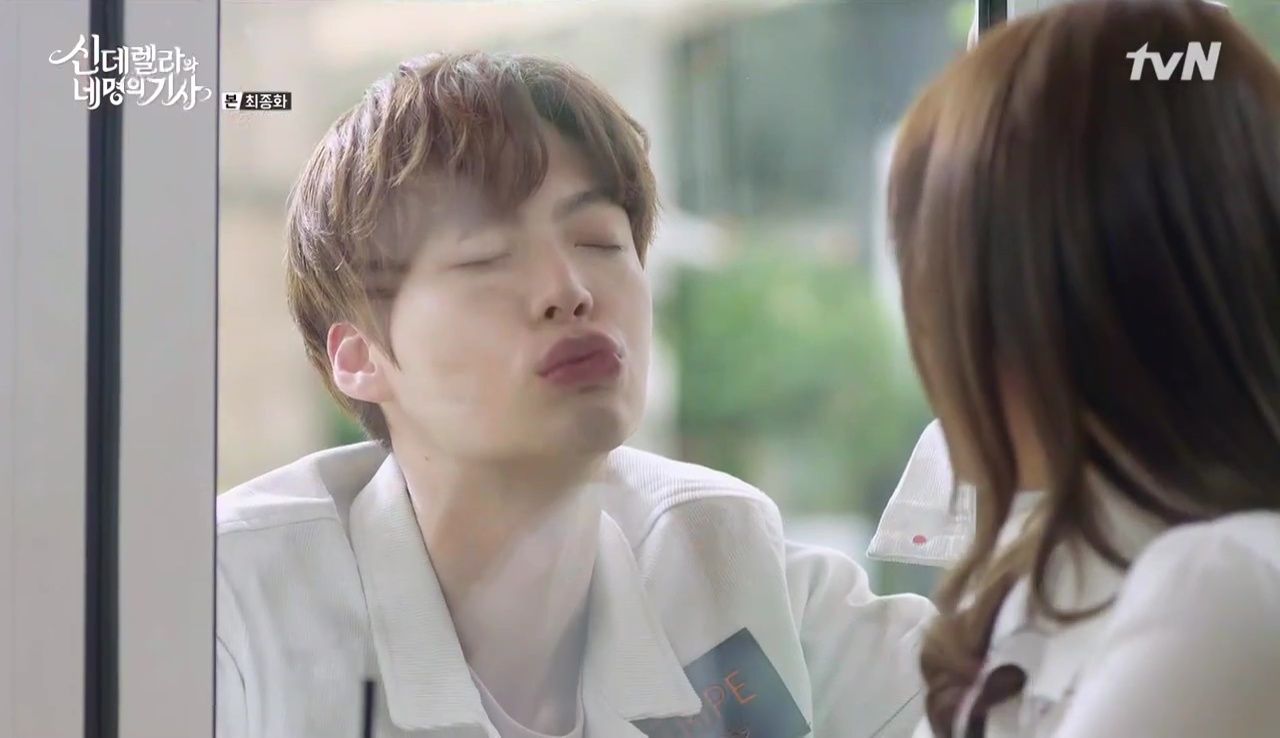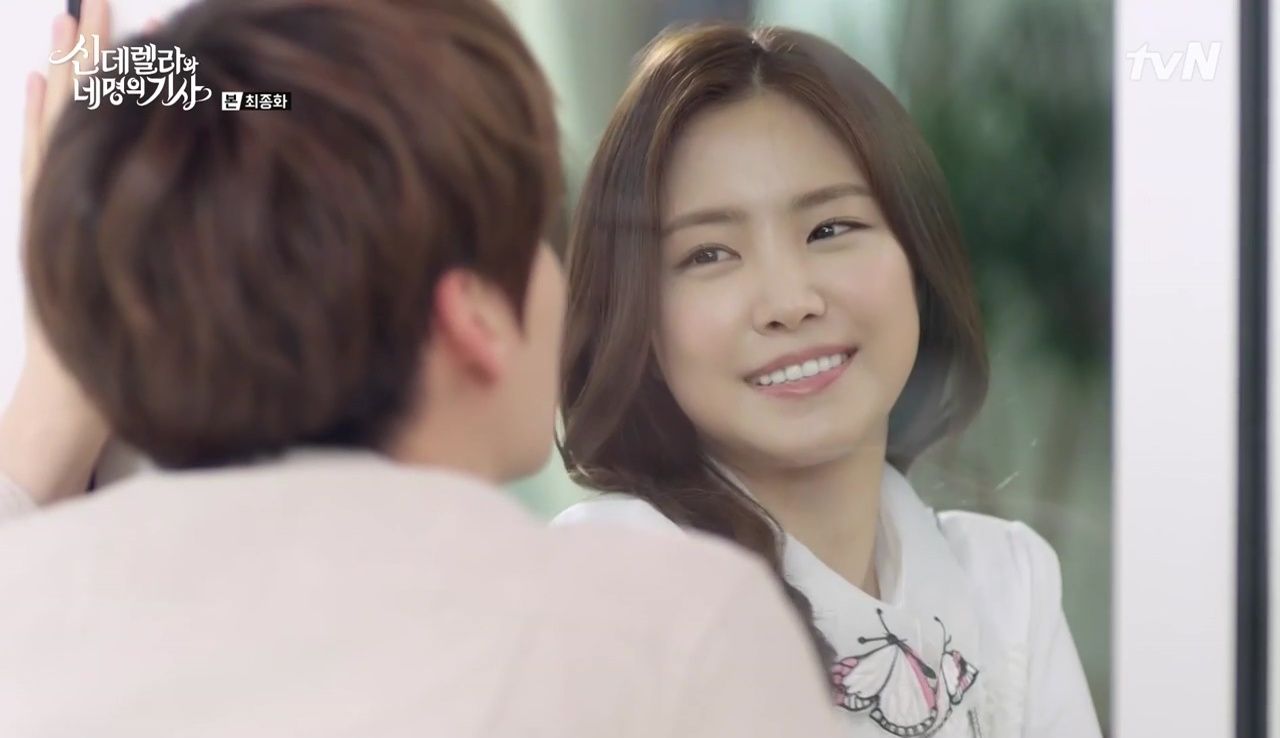 Now that Grandpa Kang is back to full health, Seo-woo has returned to work. His manager gives him a hefty schedule, warning him not to plan on sleeping for the next few weeks. Seo-woo chooses that moment to tell him that he's planning to return to his early days of traveling on foot and performing on the streets. Heh, the poor manager looks like he's about to have a heart attack.
Hyun-min meets Hye-ji at a café, but instead of joining her inside, he sits just outside and smooches the window between them.
Hye-ji runs out to him, and Hyun-min says that from now on, he's going to kiss her, hug her, and hold her hand whenever he wants. He says he'll never let her go, and she promises to never leave as well. They share a real kiss (with actual lip movement this time!).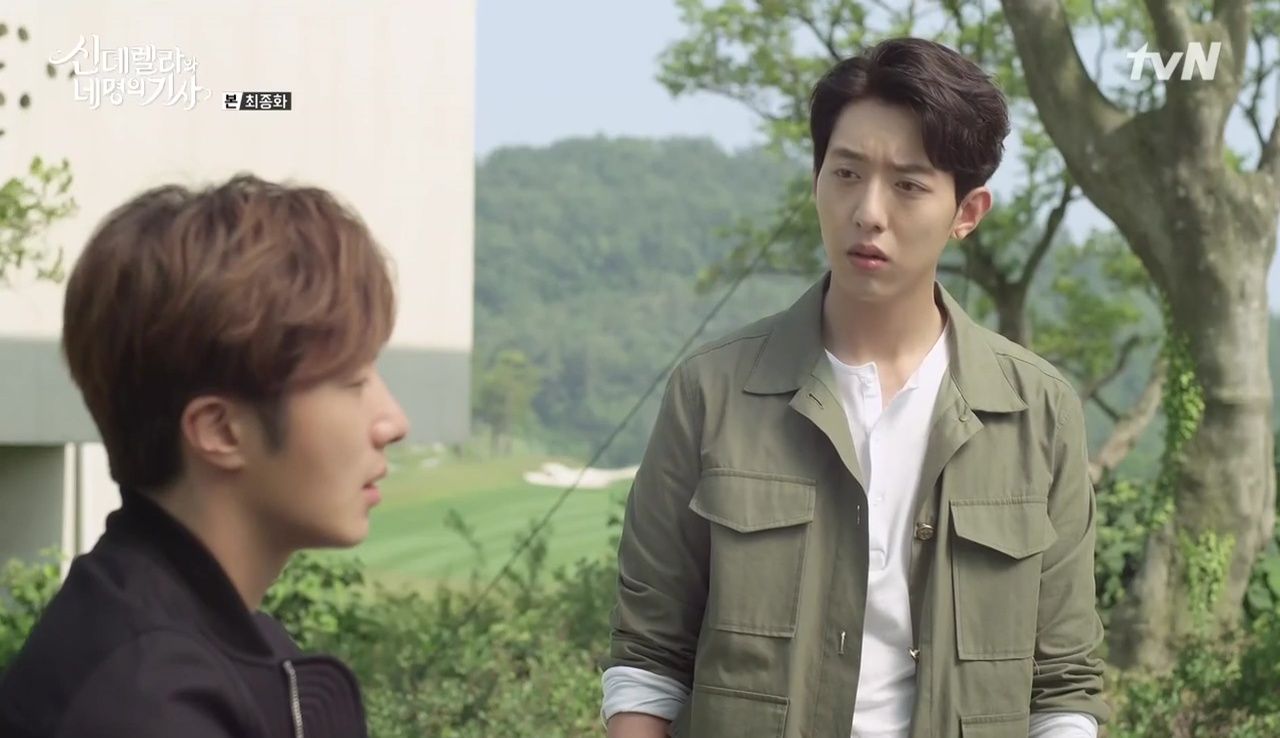 Out on the Sky House grounds, Ji-woon broods. Seo-woo joins him and is aghast to hear that Ha-won left him. Ji-woon blames himself for giving her such a hard time, and says that if being with him was really so difficult for her, then he should let her go.
Seo-woo points out that Ha-won probably feels the same, and relates how Ha-won had said she that she'd always thought she'd have to leave Ji-woon someday for his own sake. Seo-woo says that Ha-won must like Ji-woon a lot, and warns him not to let her get away.
His words penetrate the brooding, and Ji-woon thanks his cousin before striding away with purpose. Seo-woo watches him go, and murmurs sadly, "You stole my first love away from me, so be good to her." Oh, sweetie.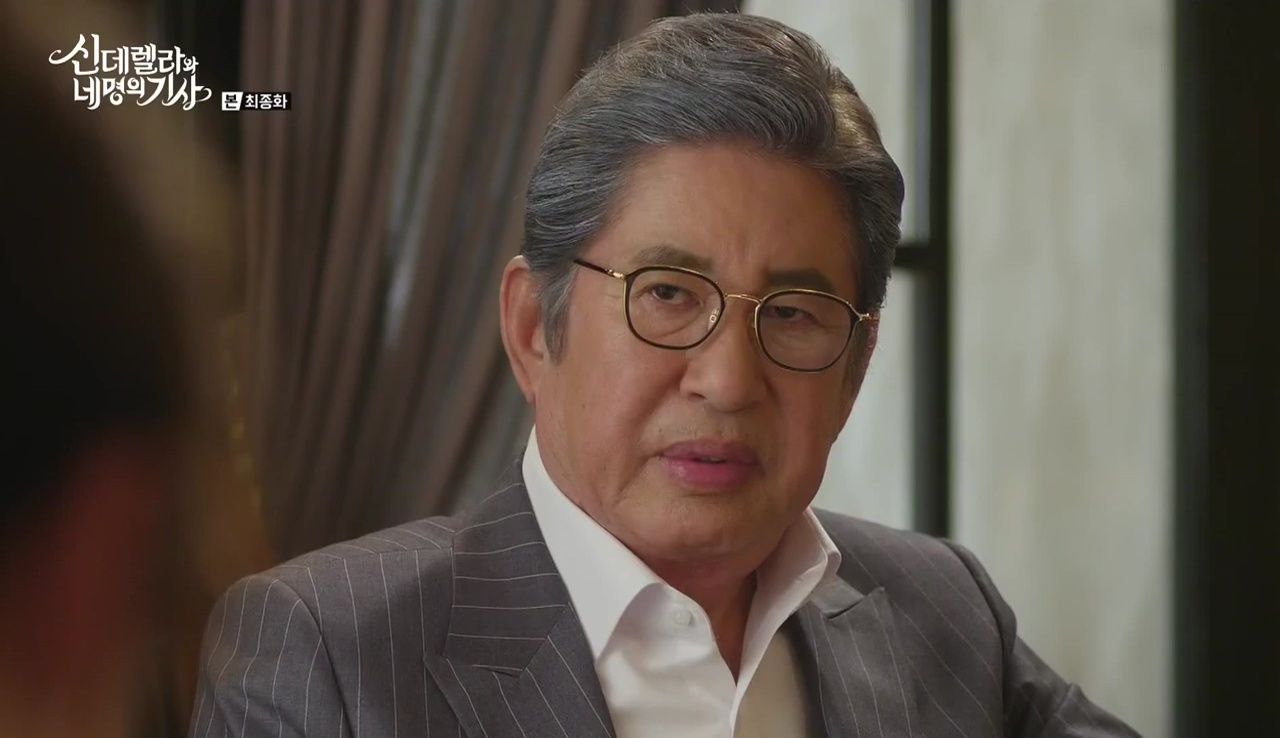 Ji-woon barges into Grandpa Kang's office and demands to know what Grandpa said to Ha-won to make her leave. Grandpa responds that he did it for Ji-woon's future, but Ji-woon argues that Grandpa's doing the same thing to Ha-won that he did to his mother.
In a softer voice, Ji-woon says he knows that Grandpa regrets losing his own son (Ji-woon's father), and asks if he wants to add to that regret by losing Ji-woon as well. Dropping to his knees, Ji-woon begs for Grandpa's blessing, saying he can't breathe without Ha-won.
That night, Grandpa thinks back on how Ha-won cared for Ji-woon in the hospital.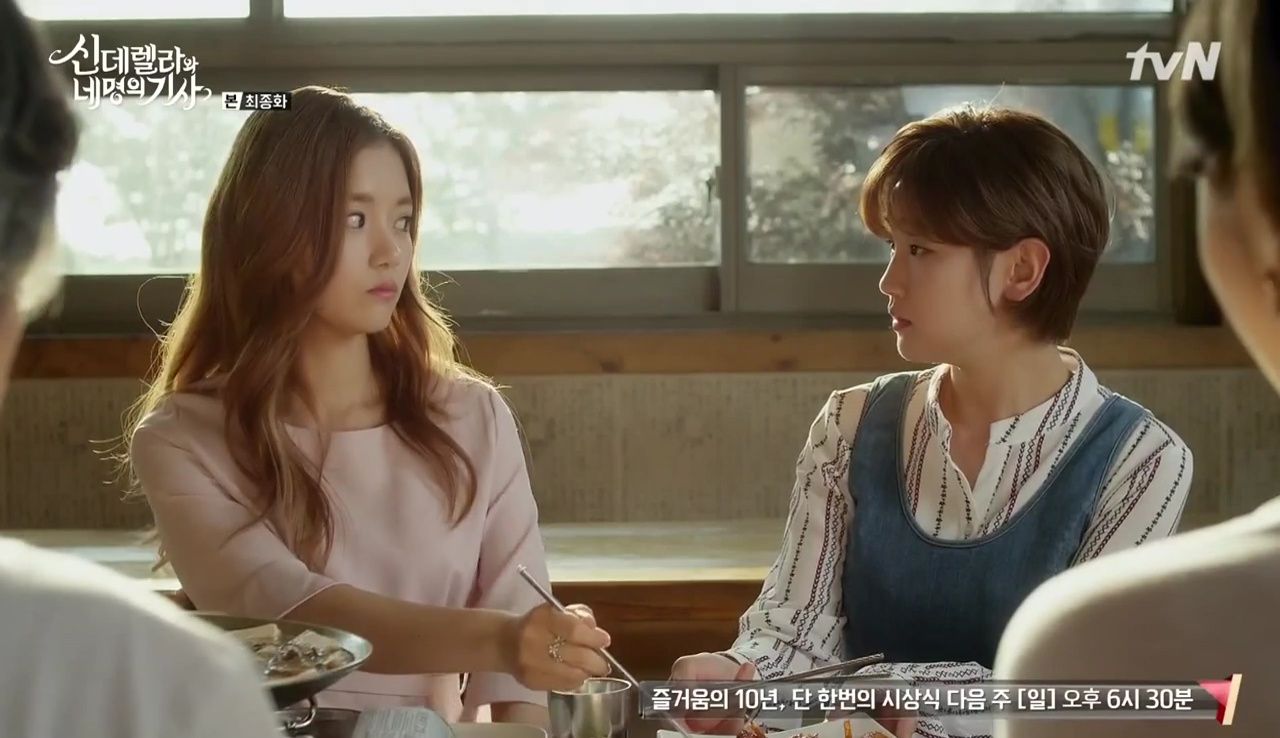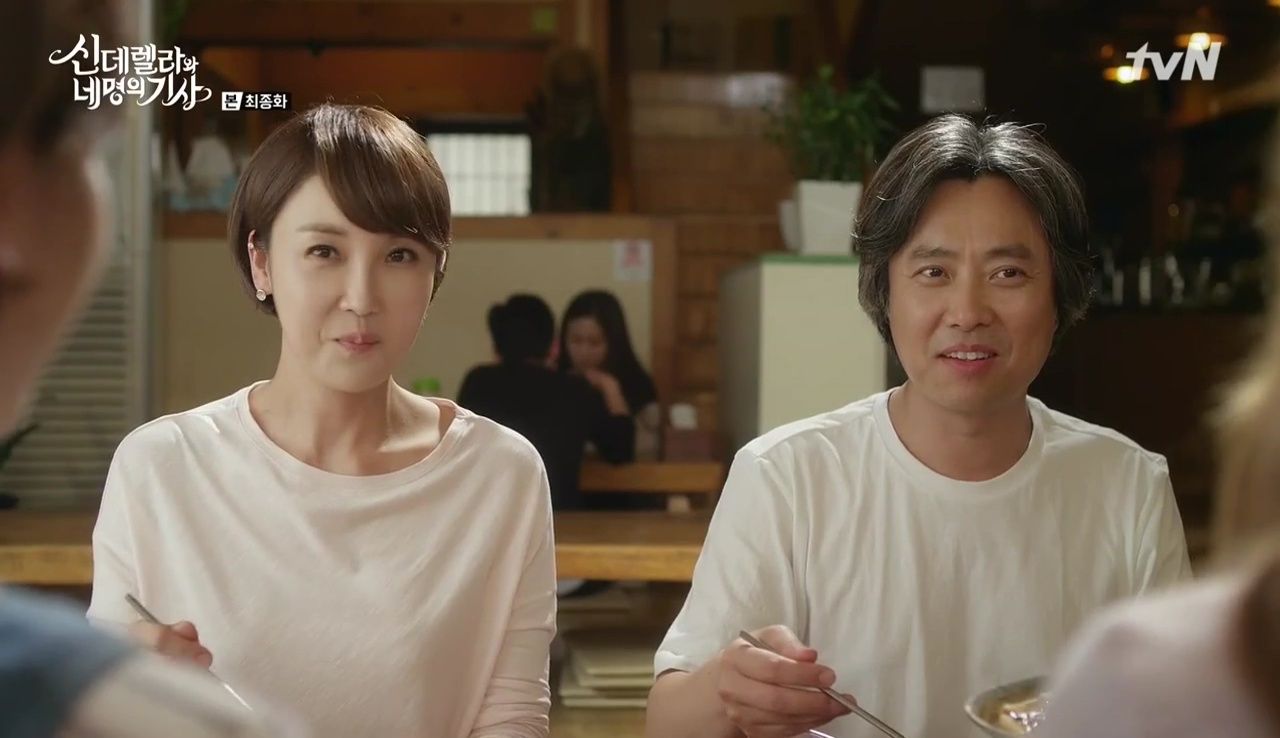 With Dad freshly sprung from the police station, Ha-won, Stepmom, and Stepsis treat him out to a tofu dinner. Ha-won looks nervously at the food and cautiously reaches towards a dish, when Stepmom actually pushes the plate closer to Ha-won.
Even Stepsis seems determined to be nice, pushing the same dish towards Ha-won and telling her to eat up. Ha-won sweetly puts a piece of food on Stepsis' rice, and the former mean girl looks touched. And all it took was six million won.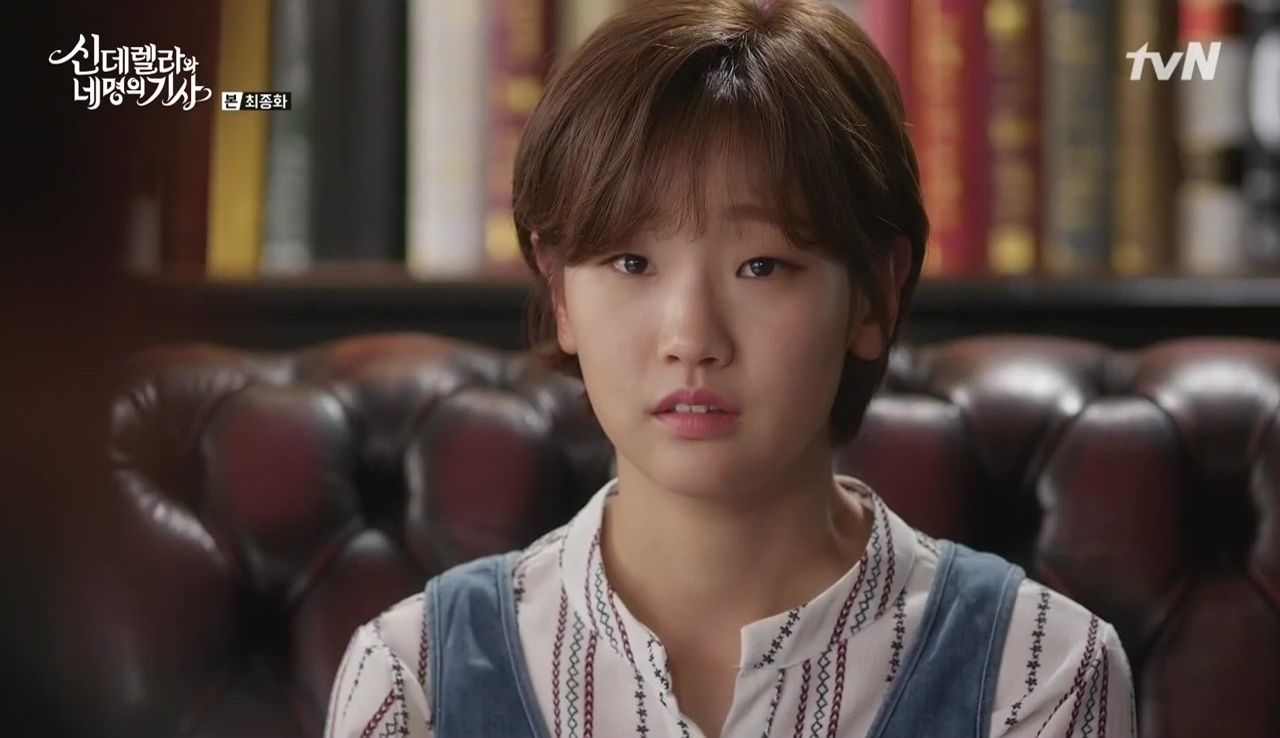 Grandpa Kang calls Ha-won to meet, saying that everyone at Sky House is worried that she left without saying a word. He asks what Ha-won's impressions are of his grandsons after living with them for several months, and Ha-won is happy to report that Hyun-min and Seo-woo are not the player and good-for-nothing that Grandpa believed them to be.
When Grandpa asks for her impression of Ji-woon, Ha-won's face falls. Smiling gently, Grandpa says that it's all up to the two of them now: He gives them his blessing. He tells her that Ji-woon seems to miss her very much, but Ha-won hesitates. She says she realized that when it really came down to it that Grandpa was right, and she chose money over Ji-woon. Because of that, she's the one who ran from Ji-woon, and it isn't anyone's fault but her own. Noble idiot to the end, I see.
Grandpa doesn't push, but he does say that Ha-won is welcome to come back to Sky House whenever she wants.
Seo-woo heads out, guitar in hand, to return to his roots as a street performer. Before he can go five steps, he's joined by his ever-faithful manager. Determined to protect his artist (from the hordes of fans that will assault him for his pretty face), his manager plans to accompany him. Also joining them is none other than Ja-young, who bounds up happily. With a shared "Fighting!" Ja-young and the manager grab Seo-woo's guitar and backpack and march forth, a smiling Seo-woo following behind.
Grandpa gives Ji-woon his father's ring, telling him that Ji-woon's parents exchanged rings before Grandpa split them apart, and Ji-woon's mother should have had a similar ring. Ji-woon starts to say that she never wore one, but stops when he sees his father's ring. Recognizing the design, he recalls Ha-won's mother's ring, and how their moms died on the same day.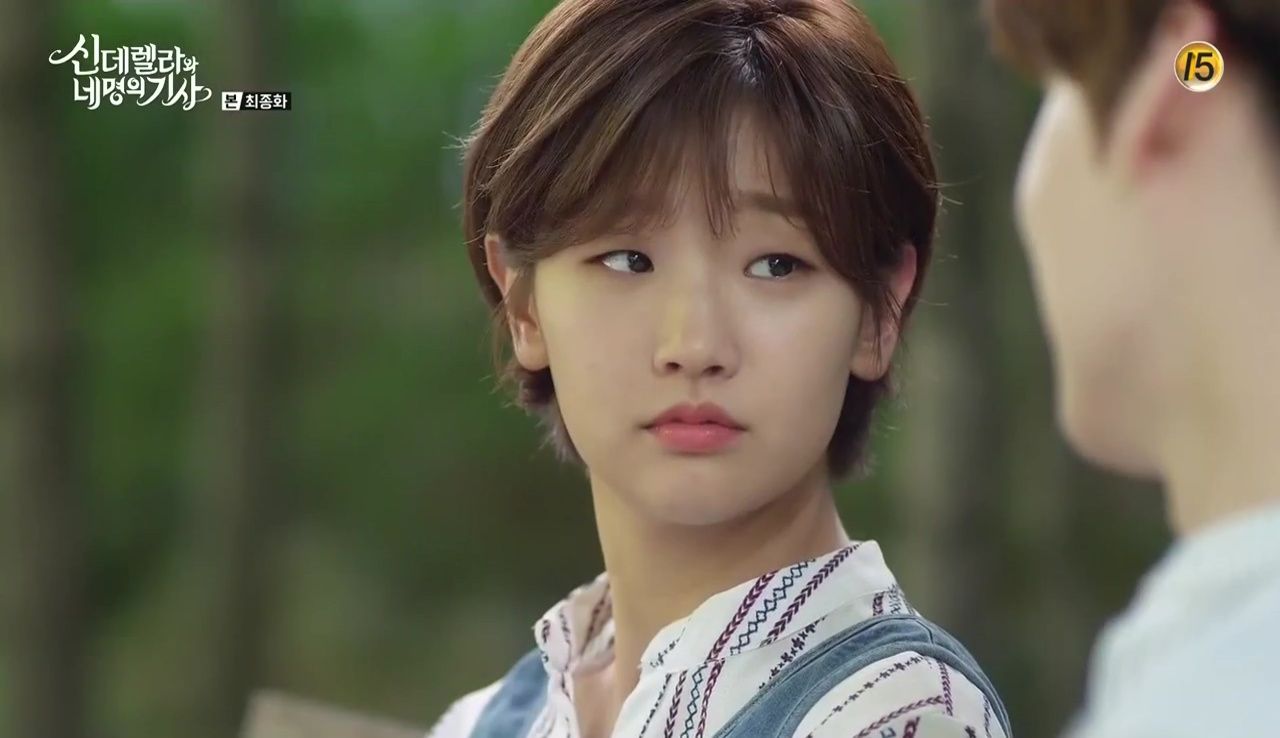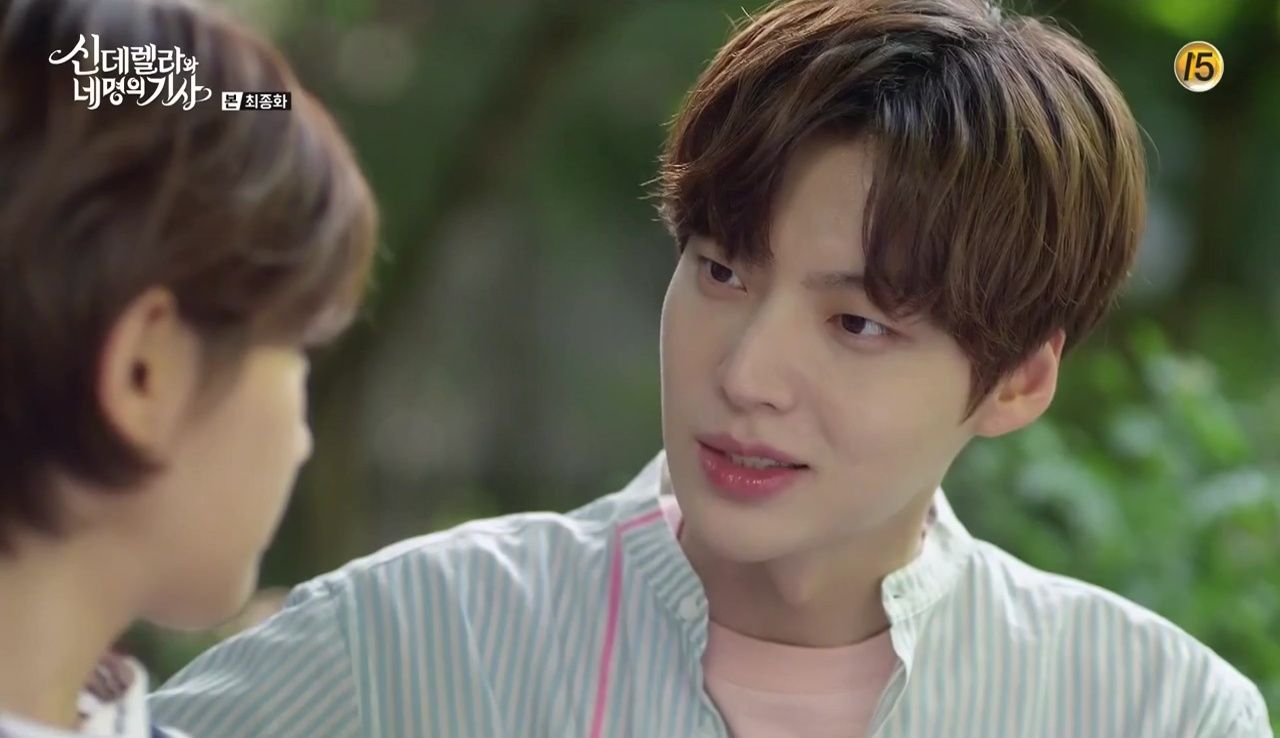 Hyun-min meets Ha-won, bringing the rest of her things from Sky House. He playfully snarks at her that it isn't like she committed some grave sin, yet she left her room empty and made him bring her belongings. Their exchange is friendly and easy, as Ha-won tells him that he and Hye-ji suit each other. Hyun-min asks, "What about you two, then? This is about Kang Ji-woon, right? You nursed the hell out of him, so why did you run away when he woke up?"
Hyun-min plops a shoebox on Ha-won's lap, telling her they're the shoes that she dropped (or rather, chucked at Hyun-min's head) when she ran from Grandpa's wedding. He scoffs, "Who do you think you are? Cinderella? Leaving behind shoes like that." Ha-won gives the shoes back, saying they aren't hers, but Hyun-min just passes the shoes/hot potato right back, asserting that they are.
In all seriousness, Hyun-min tells Ha-won that whenever she's ready, she should wear these shoes when she's going to the person she likes. He says her feelings for Ji-woon are obvious, and advises her not to run from them.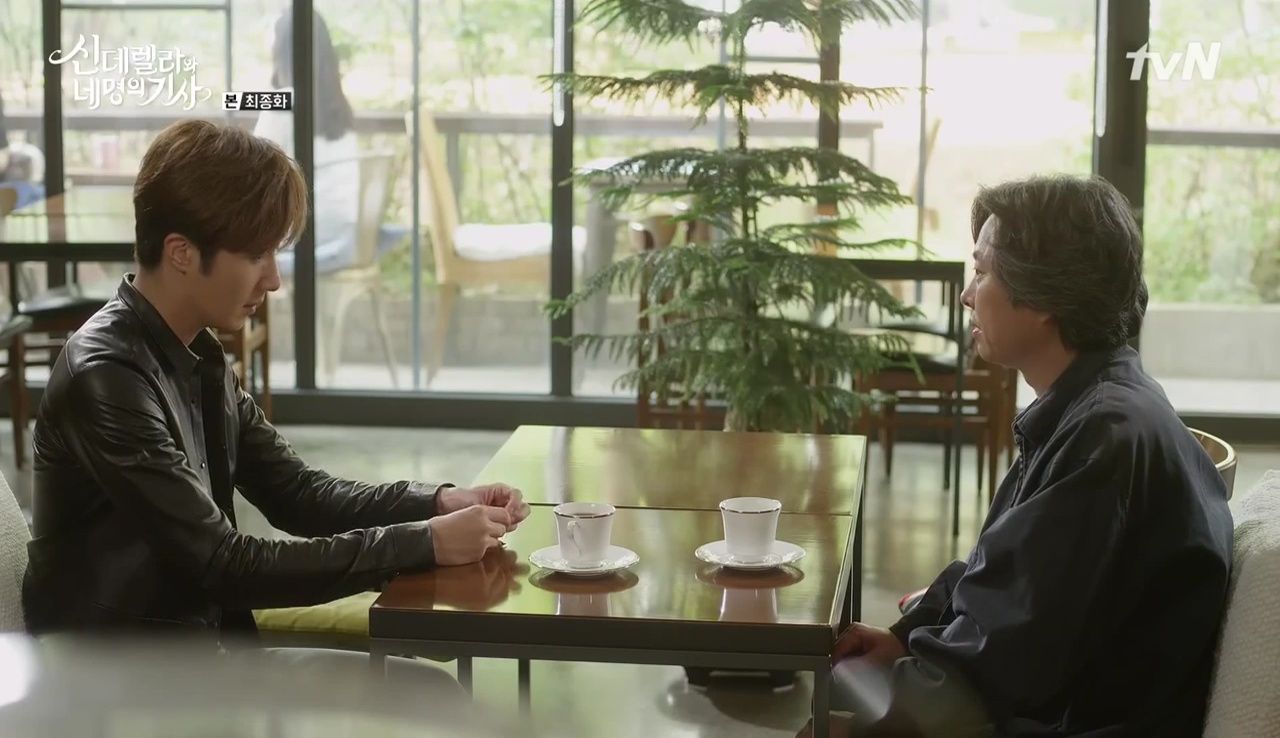 Ji-woon does some digging to find out about his mother's death, and finds out that someone has been looking for him. Ji-woon waits nervously at a café to meet the person, but it's Ha-won's dad who walks in. The two recognize each other from the bus stop the other day.
Dad tells Ji-woon that Ha-won had thought the ring/necklace belonged to her mother, when it actually belonged to the woman that she died trying to save. The woman had begged Ha-won's mother to give the ring to her son, and Ha-won's mom had died while clutching it.
Realizing that both their mothers died together, Dad remarks that Ji-woon and Ha-won's relationship must run deep, especially since they used the same funeral home for both woman. This grabs Ji-woon's attention.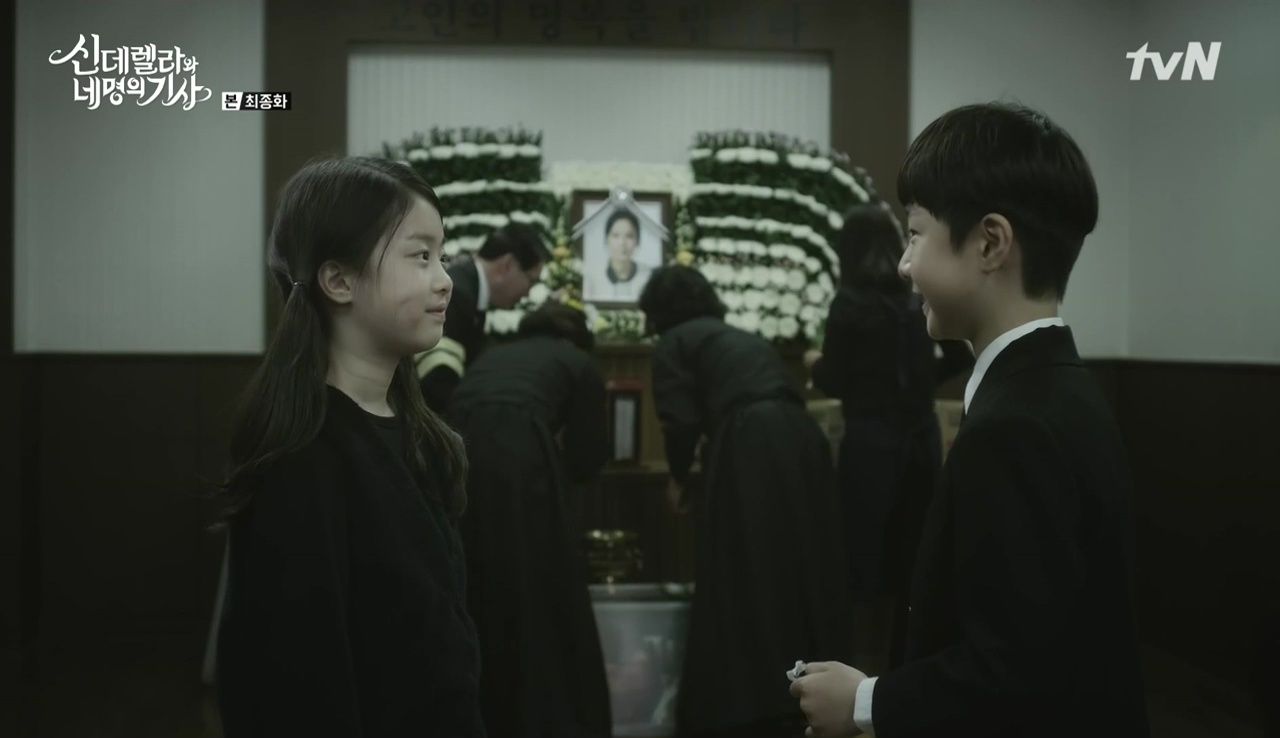 As Ji-woon drives away from the café, he smiles at the memory of when he returned Ha-won's white roses to her (from when she dropped them in the Sky House stream). It turns out that this was not the first time that Ji-woon gave flowers to Ha-won.
Going into an even earlier flashback, Ji-woon remembers his mother's funeral and how, as a child, he'd given a white rose to a crying girl his own age who had also lost her mother: Ha-won. Little Ji-woon had sat with the Little Ha-won and told her that if she looked up through her hands at the stars, then she could see her mother's face.
After the funeral was over, Little Ji-woon had given Little Ha-won his mourning arm band, and she had gifted him with her own mourning hair ribbon. Both children had promised to return the items one day, smiling at each other. Back in the present, Ji-woon grins and speeds off.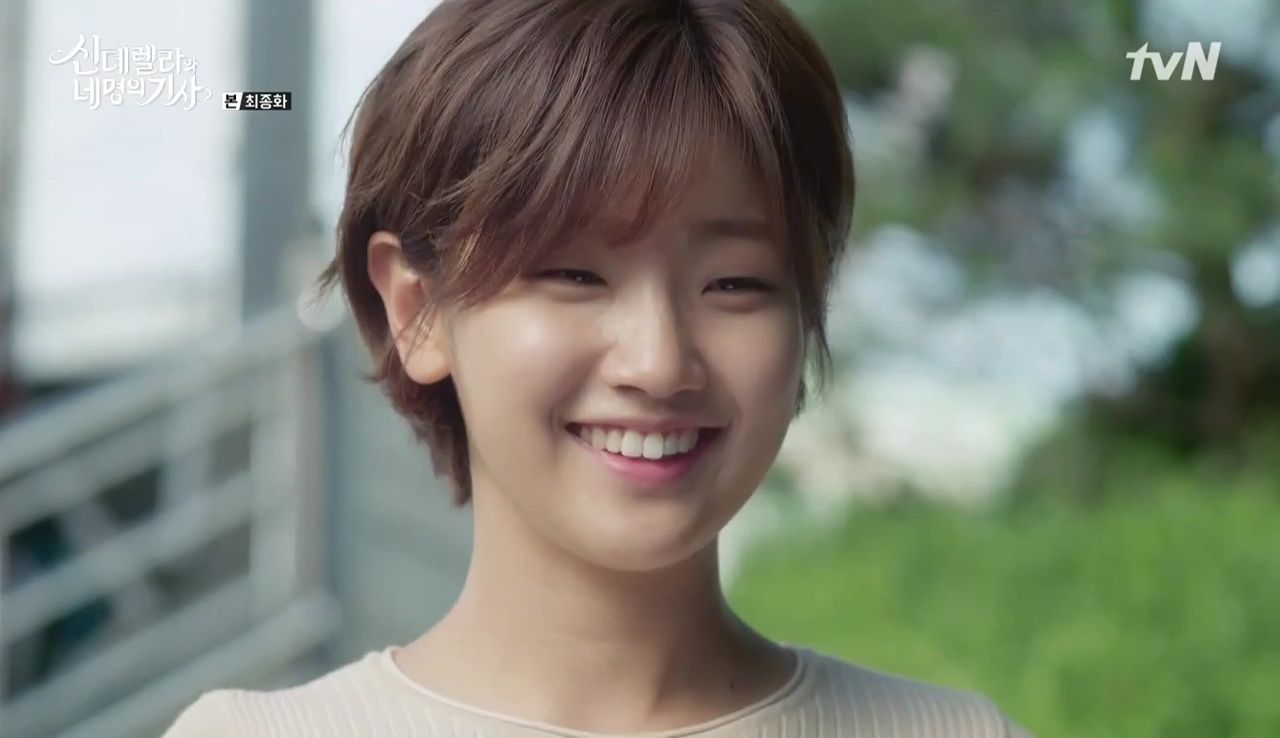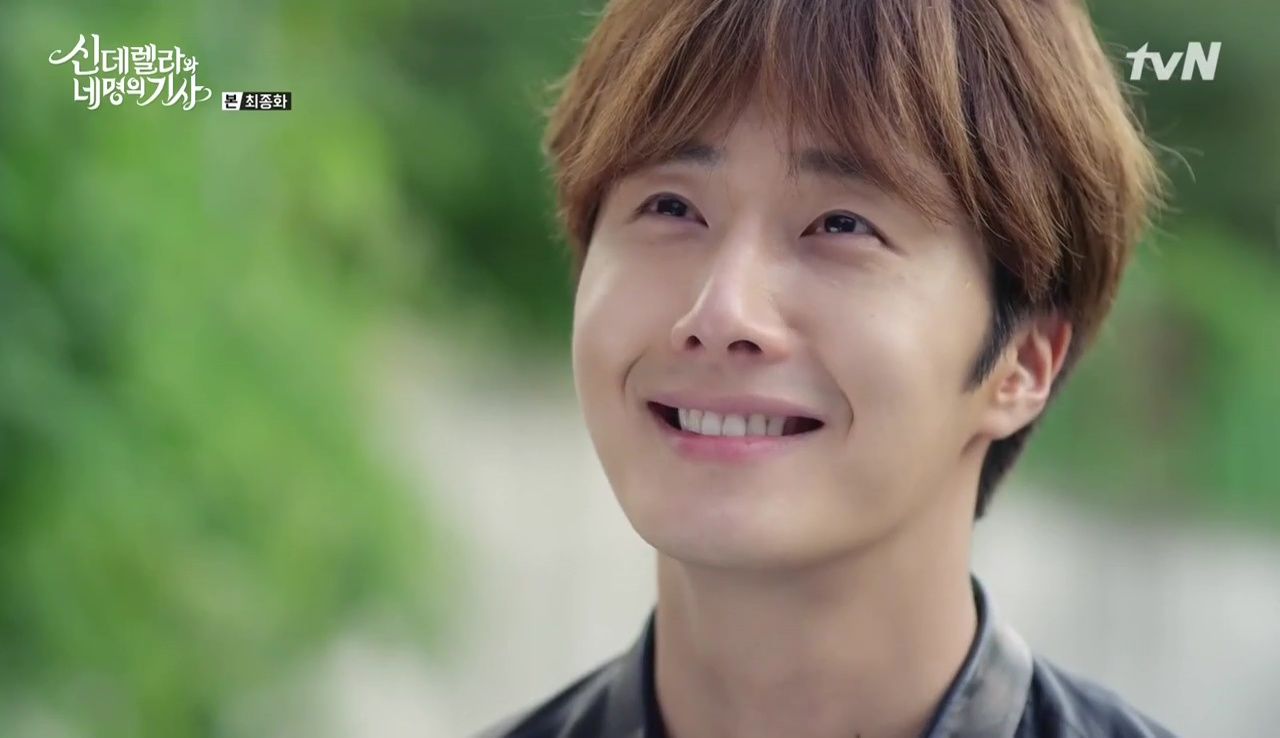 In her room, Ha-won considers the Cinderella shoes and Hyun-min's words about wearing them when she goes to the person she likes.
Ha-won's dad calls to tell her that he returned her mother's ring to its rightful owner, who turned out to be Ji-woon. Ha-won is dumbfounded, and her dad asks if she likes this boy.
We cut to a car screeching to a halt and a pair of sneaker-clad feet emerging, while at the top of a stair case, the red Cinderella shoes adorn a young woman's feet. Panning up, we see that it's Ji-woon at the base of a staircase, and Ha-won standing up at the top, wearing her Cinderella shoes as she goes to the boy she likes.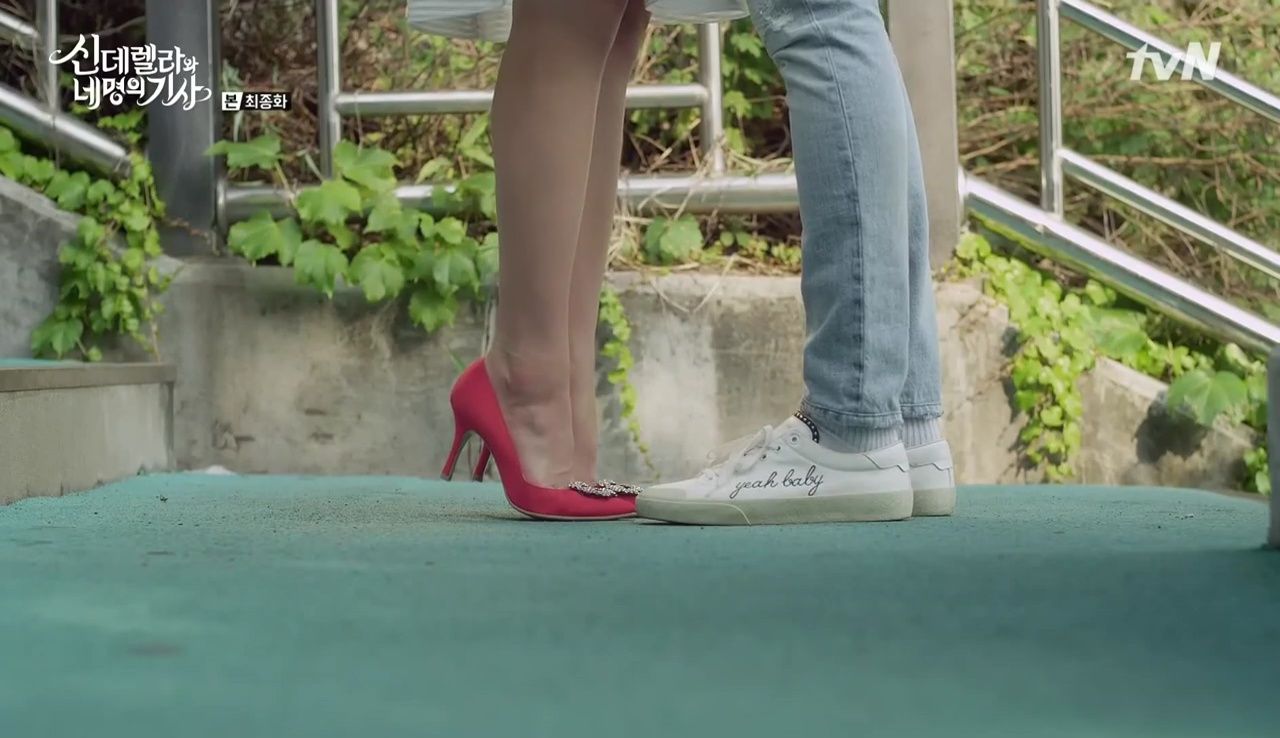 Ha-won and Ji-woon smile at each other, and begin to descend/ascend the stairs, as Dad's voice continues, "I don't know if it was a good or bad twist of fate, but your mother had that ring in her hand when she died. And you kept that on you for ten years after that. And there's the fact that we held our funerals at the same place too. I don't think that this was all just mere coincidence."
The two meet in the middle, and Ji-woon opens his hand to reveal Little Ha-won's mourning hair ribbon, and Ha-won holds out Little Ji-woon's mourning band. Ji-woon slides his mother's ring on Ha-won's finger, and tells her to think of him when she looks at it from now on. Ha-won slips Ji-woon's father's ring on his hand in return.
They smile at each other, then Ji-woon reaches out and pulls Ha-won in for a deep kiss. Ha-won kisses him back, and right below, the two pairs of shoes meet. (Wow, okay, I vote this couple does all the kissing from now on – Hyun-min and Hye-ji can just smile at each other.)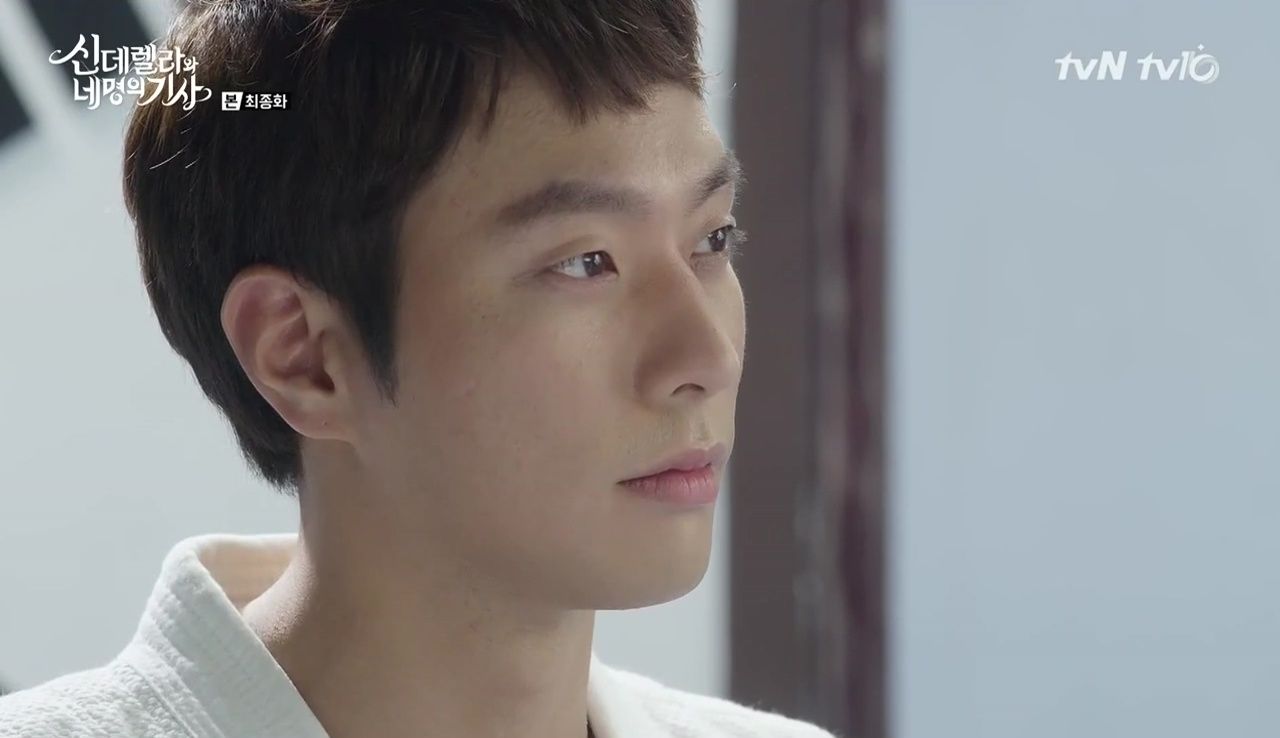 Seo-woo seems to have found his happiness, singing his heart out to a crowd of fans while Ja-young dances cutely beside him.
Bodyguard Lee has also found another road to walk, teaching at a taekwondo dojo. Hyun-min tracks him down and asks if Lee really isn't coming back. When Lee says he doesn't have the right to go back, Hyun-min apologizes for not believing in him until the end.
Hyun-min cajoles Lee to come home, saying that Grandpa is waiting for him. Aww, even the stoic bodyguard smiles a bit at that.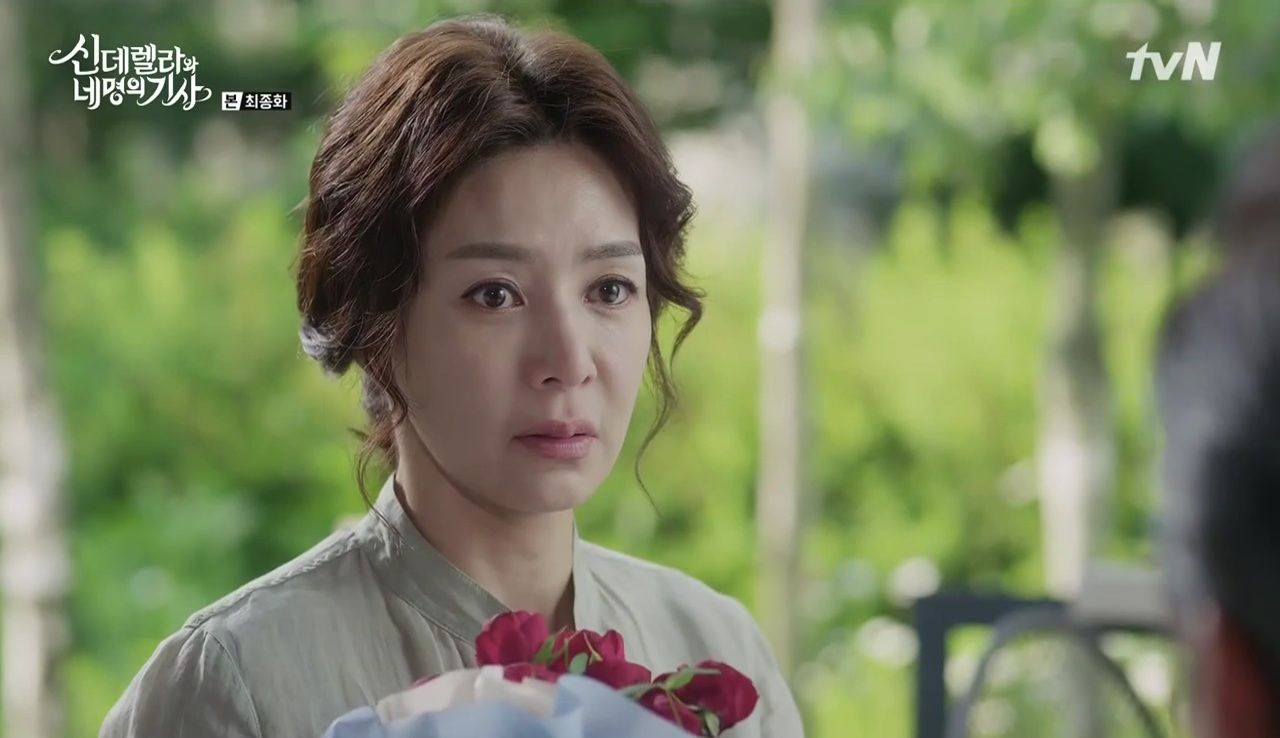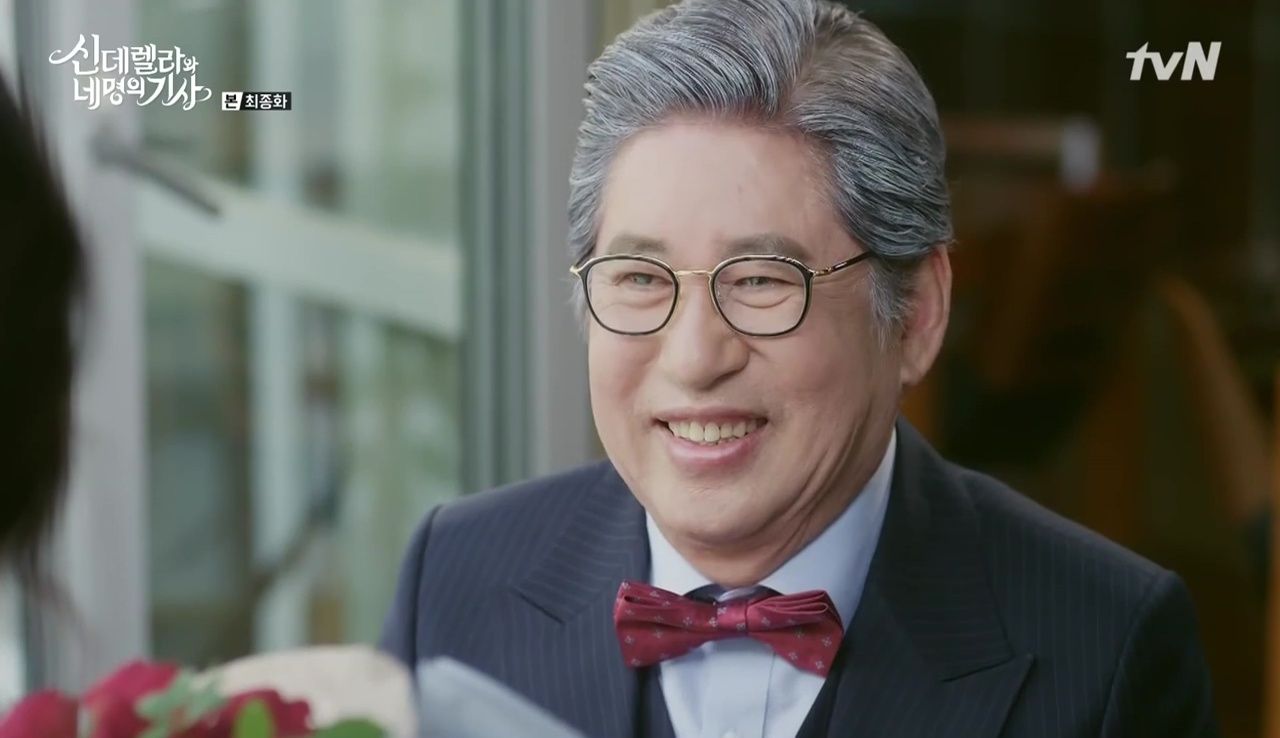 Hwa-ja has fallen a long way from being Hanuel Group's madam, and we find her trying to sell insurance plans at a local café. Just as a potential clients runs off, Hwa-ja is surprised by a bouquet of flowers, presented to her on bended knee by Grandpa Kang. Ugh, really? You're taking her back?
Grandpa tells Hwa-ja that he made a mistake with his own children, believing that he always knew best, and almost made the same mistake with his grandchildren. He says he doesn't want to live with regrets for the rest of his life.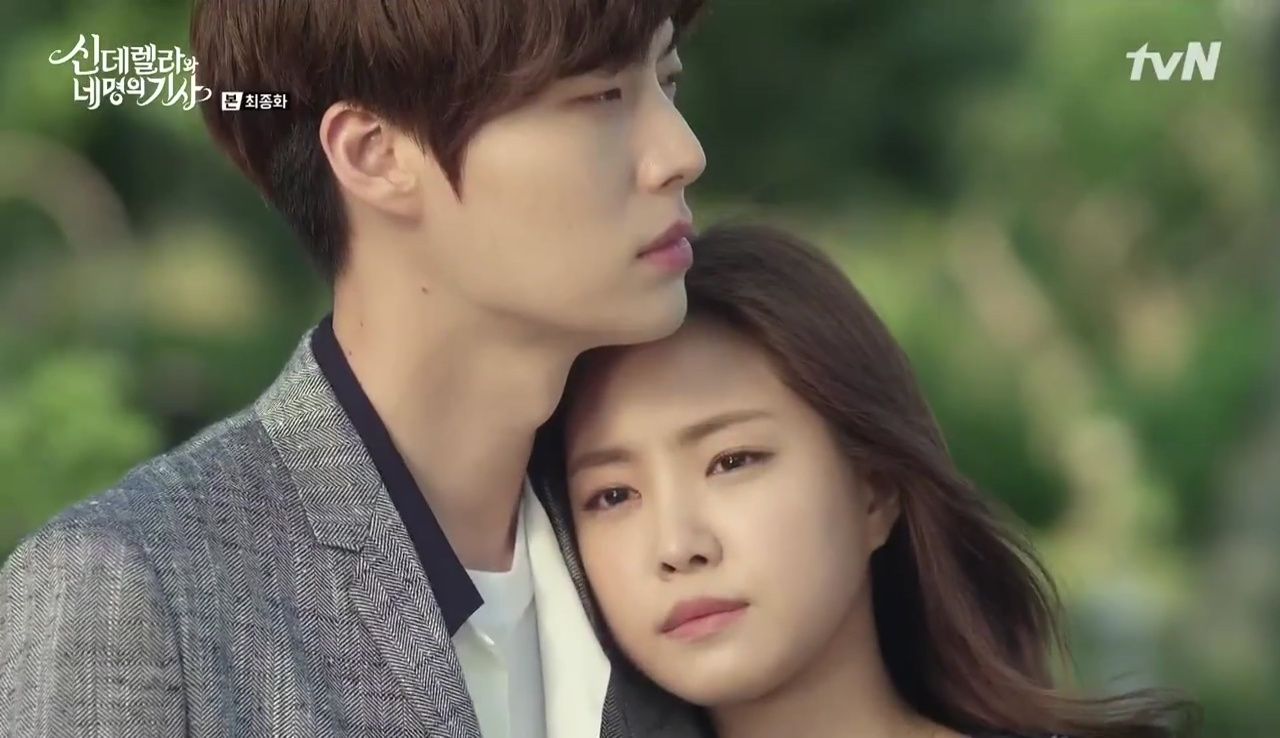 Hyun-min and Hye-ji go together to visit the tree where her brother is buried. Hyun-min tells Hye-ji's brother that he's been thinking about him a lot these last ten years, but now he's only going to think about Hye-ji, and promises to love Hye-ji in her brother's stead.
Afterwards, Hyun-min and Hye-ji walk back, sharing some smiles and cute kisses.
Ji-woon and Ha-won have fun taking adorable pictures of each other. Ha-won is just about to take Ji-woon's picture when he notices that her ring in gone. Ha-won remembers that she took it off to help Ms. Beolgyo and retrieves it from her pocket, but Ji-woon pouts that he never takes his off.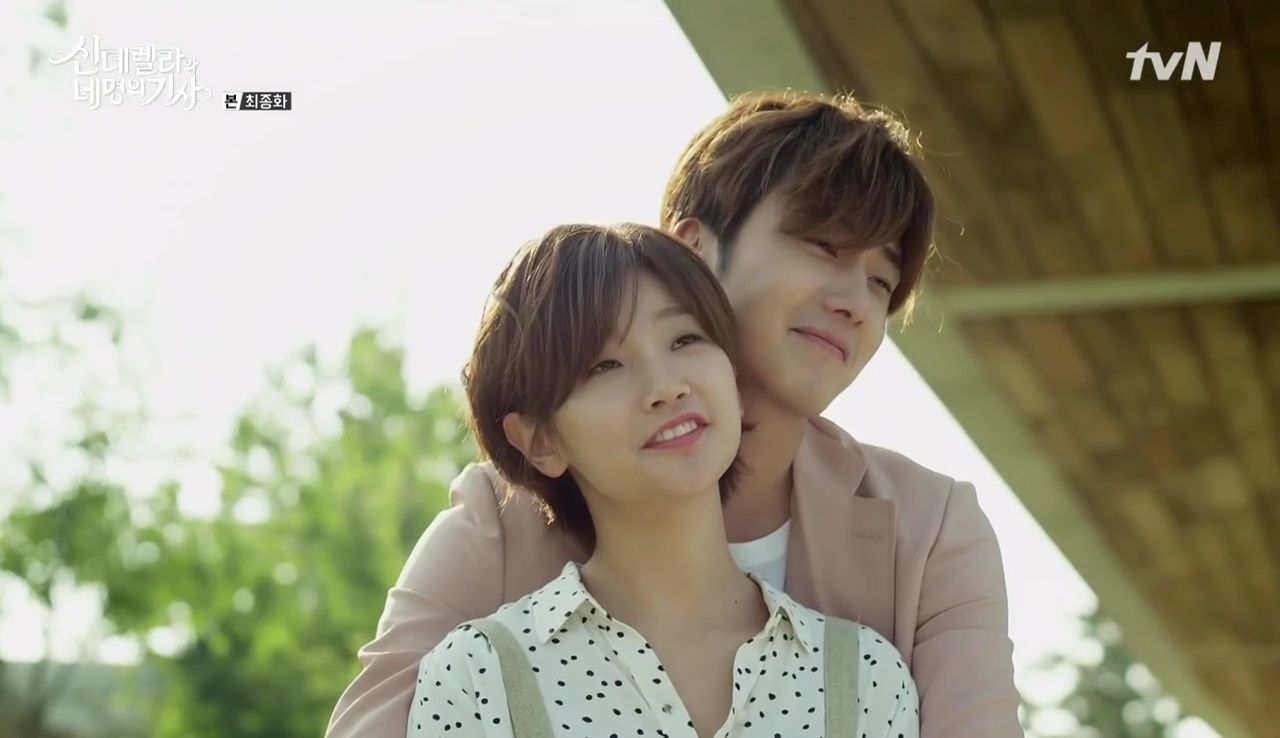 Ha-won assures him that she's putting it on right now and will never take it off again, but Ji-woon goes into full drama queen mode. Ha-won just sighs as he rants that she can just throw the ring away if she wants; furthermore, he's forbidding physical contact for an entire month, so she better not get close to him. Ha-won just scoffs and asks if he's being grumpy again, muttering that it's like dating a little kid.
Getting close to him, she says, "No touching? Let's just see who suffers more from that," then strides away. (PFFT.) Ji-woon figures out pretty quickly who would suffer more and darts after his lady love. Wrapping her in his arms, Ji-woon slides her ring back on her finger and whispers, "I love you, Eun Ha-won."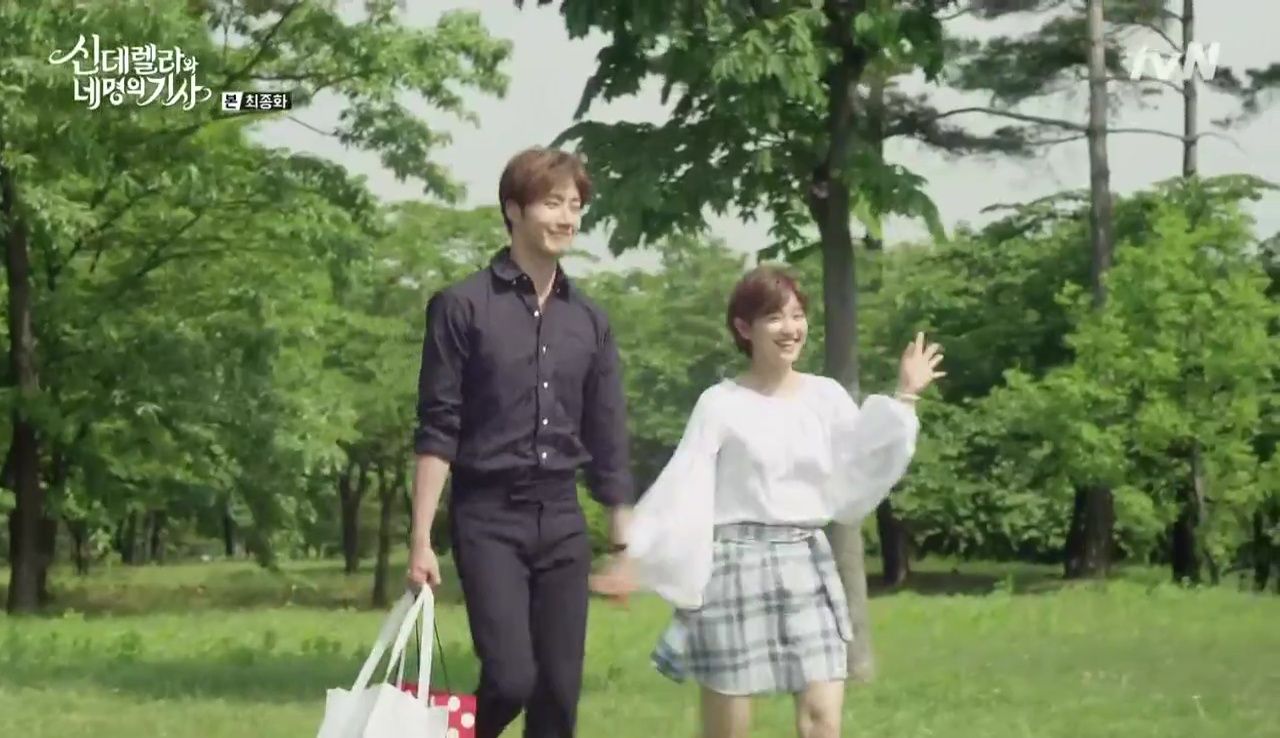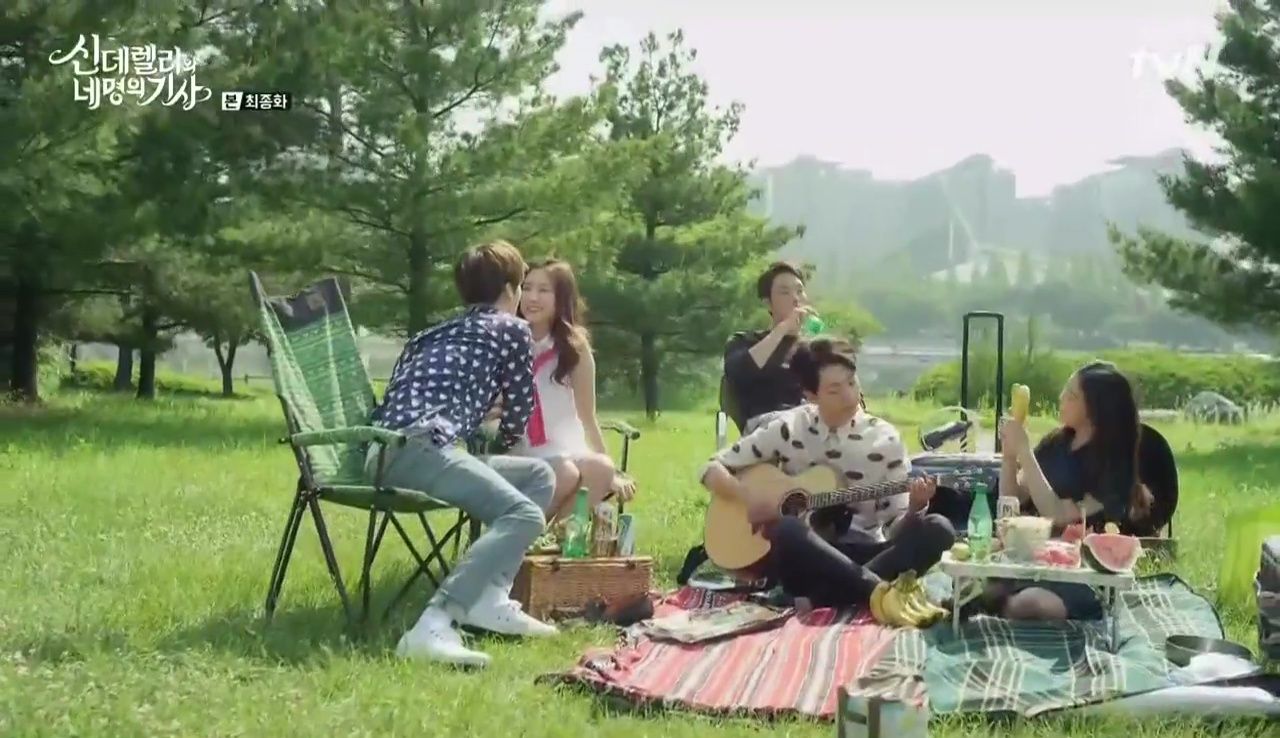 Sometime later, Hyun-min, Hye-ji, Seo-woo, Bodyguard Lee, and even Ja-young enjoy a picnic together. Seo-woo plays his guitar with Ja-young admiring close by, and Hyun-min and Hye-ji are busy being lovey-dovey while Lee smiles contentedly.
The group is joined by Ha-won and Ji-woon, who plop down and show off their matching rings. As everyone jokes and laughs with one another, we slowly pan out to see the happy family that our knights have become, and the Cinderella who brought them all together.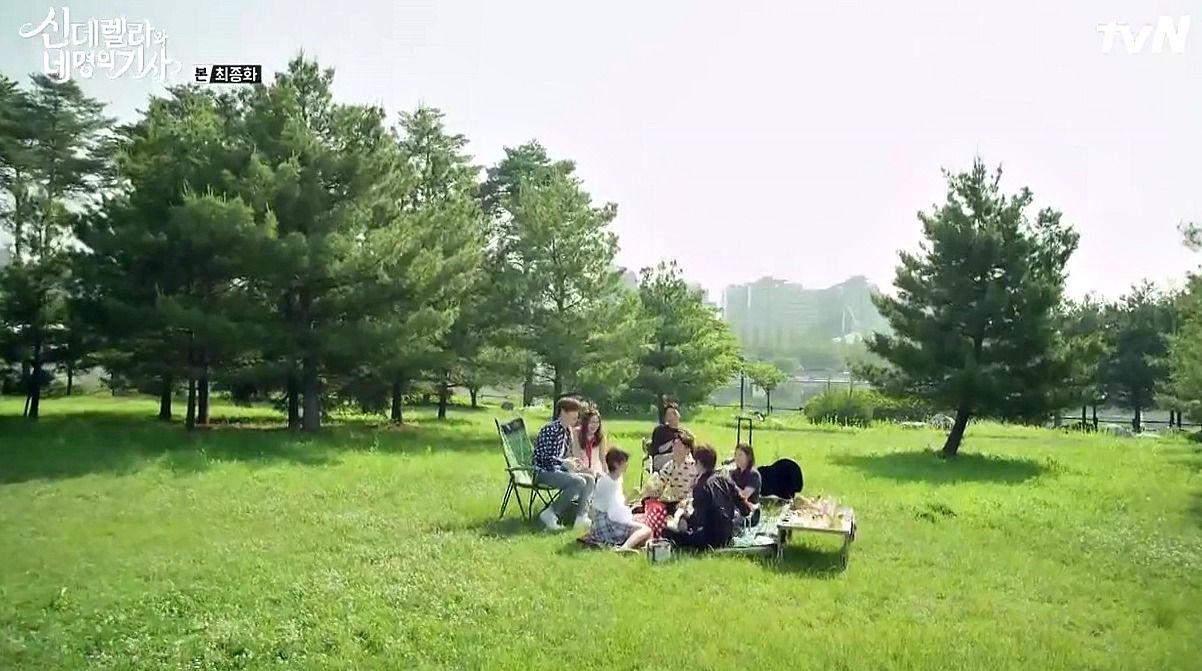 COMMENTS
So, that's that. Kudos to the ones who made it through to the end, and to those who stopped midway, well, you may have had the right idea.
All right, so the positive thoughts first: I loved our main characters for this drama, and the amazing chemistry they all shared. Or rather, the amazing chemistry that Ha-won seemed to have with everybody. In the beginning, most of us were gushing about Ha-won an Hyun-min's connection to the point that I thought some casting directors should put serious thought into making these two actors the main leads in another drama. Then, Seo-woo's plot stepped up a bit and we all got our hearts broken on his behalf as he slowly fell into a one-sided love with Cinderella. It was painful but moving, and Lee Jung-shin did a great job portraying Seo-woo. However, my favorite parts of the drama were the scenes with Ha-won and Ji-woon. I might be in the minority on this, but I could feel the chemistry between the characters right from the beginning. Granted, it didn't really get interesting until Ji-woon loosened up a bit, but their easy banter and sideways glares were always entertaining. Because it was the characters that mainly drew me in, I'm glad that we ended with our main group all together, laughing and happy. At the end of the day, this show was about creating a family out of strangers (even those related by blood), and it succeeded.
That being said, while the characters themselves were great, their resolutions left a lot to be desired. Hyun-min ended up with Hye-ji after all. None of us wanted it, but I suppose it was inevitable. At least he looks happy, but I wish he had done a lot more to protect his grandfather's position than just hold a meeting (especially since the show took pains to point out his genius intellect), but at least he stepped up. Poor Bodyguard Lee spent the second half of this drama being forced to lie for the sake of the woman who birthed and abandoned him, only to have everyone he fought to protect turn him into the villain. Thank goodness he was laughing in that last scene or I might have to recommend his room be checked for sharp objects. Seo-woo had the strangest ending of all, since it seemed like he went backwards in his character progression. He went back to street performing, though I'm really not sure why. Yes he had a busy schedule, but it seemed like he really enjoyed his work. Was he unhappy with fame? Did I miss something? Plus, Grandpa called him a good-for-nothing when he was a top star, what happens now that he's gone back to singing on the street for chump change?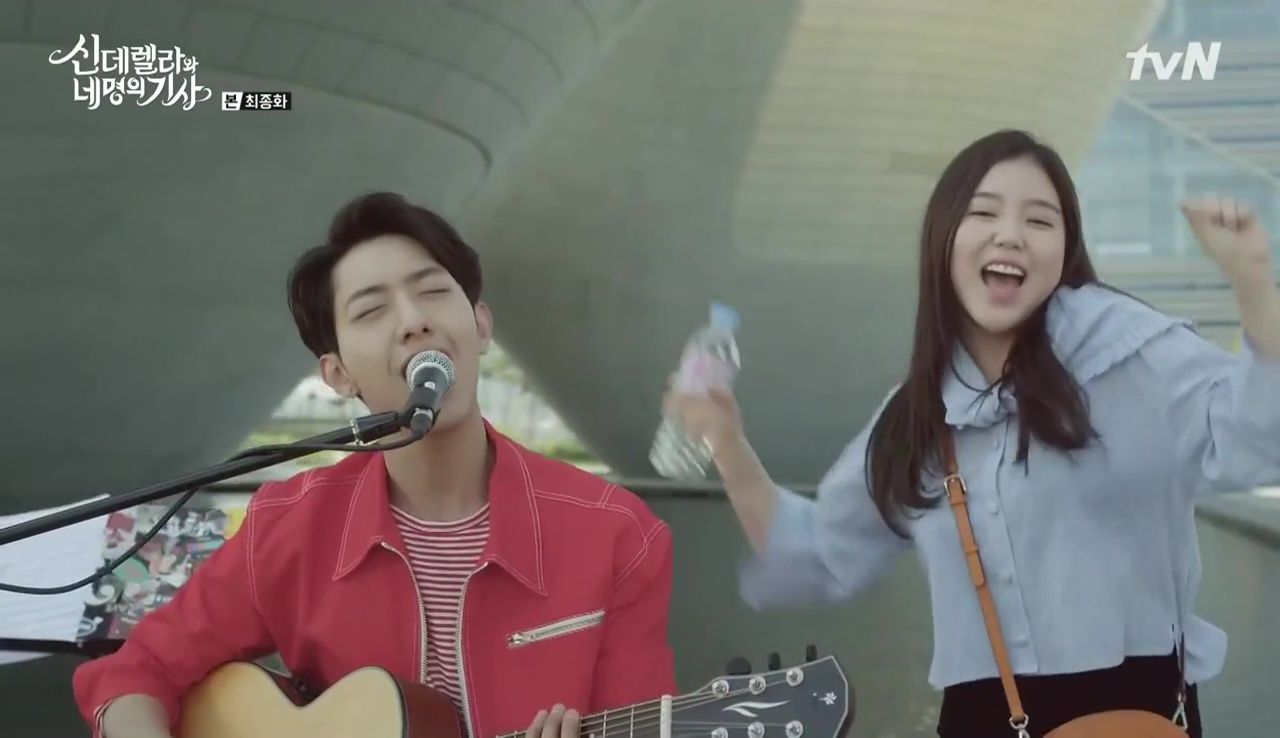 I admit to being very disappointed in how the storylines for Stepmom and Stepsis ended. The two of them may have been adorably diabolical, but if you strip away all the cuteness, they were lazy, self-centered, and downright cruel. Aside from them sleeping on the porch and trying to sell their bags for spending money, the two of them never repented for the hardships that they put Ha-won through. I could maybe accept some kind of turnaround for them if they'd been working towards forgiveness for at least a few episodes, but they were sly and sneaky right up until the end. When Dad got into the accident, they went straight to Ha-won for money, and Stepsis even yelled at her when she hesitated. What happened to that college fund that Stepmom had saved up for Stepsis? The one that she's never going to use since she's been so busy try to get an MRS degree? Instead, they took the easy way out by taking advantage of Ha-won, again. Because of this, the "big happy family dinner" not only wasn't believable, but it was almost offensive to see Ha-won smiling with these two women after everything they put her through.
I'm not even sure what was going through Grandpa Kang's head when he decided to take Hwa-ja back – can a liver transplant affect your reasoning skills? I mean, the woman actually looked disappointed when Hyun-min said that Ji-woon was a donor match — did she actually want her husband to die? It was just another case of redemption that was haphazardly put together as a closing afterthought.
One last complaint has got to be that hastily patched together childhood story of Ha-won and Ji-woon. I almost want to ignore that it even happened, since it made me feel like I was watching an entirely different drama for the latter half of the finale. We'd been going along with the typical boy meets girl story, and then suddenly switched to "fated since childhood" in the last hour. Sure, we knew that their mothers had a connection, but to introduce a childhood meeting where they promised to find each other one day in the last episode was just distracting. It wasn't a twist, it was a hard left into oncoming traffic. Maybe if they had hinted at the armband or hair ribbon in earlier episodes, then it would've been easier to accept, but this was too much, too late. The only thing I can figure is the writers were trying to squeeze just one more drama trope in there.
It seems like there were so many things that this show could have done, but didn't. It could have played more with the Cinderella theme. It could have explored more into the side characters (like Seo-woo and his manager, or what really happened with Ji-woon's parents). It could have given Ha-won more than two missions! Also, who was named Grandpa's heir? Wasn't that what started Ha-won's introduction to Sky House to begin with, to find a suitable heir amongst Grandpa's grandsons? There were so many plot lines that were started in this drama, but they either fizzled out or just went unanswered. Maybe instead of all the flashbacks, we could have had a few more answers.
Still, focusing on the good aspects and ignoring a rather patched ending, this show was an altogether heart-warming piece of fluff. Much as I wish I could change a few things, I can't deny that I will be going back to rewatching a number of favorite scenes (like a certain bodyguard upchucking all over the place). It wasn't a classic Cinderella tale – or even really a Cinderella tale at all – but it was fun. And sometimes, that's all you can ask for.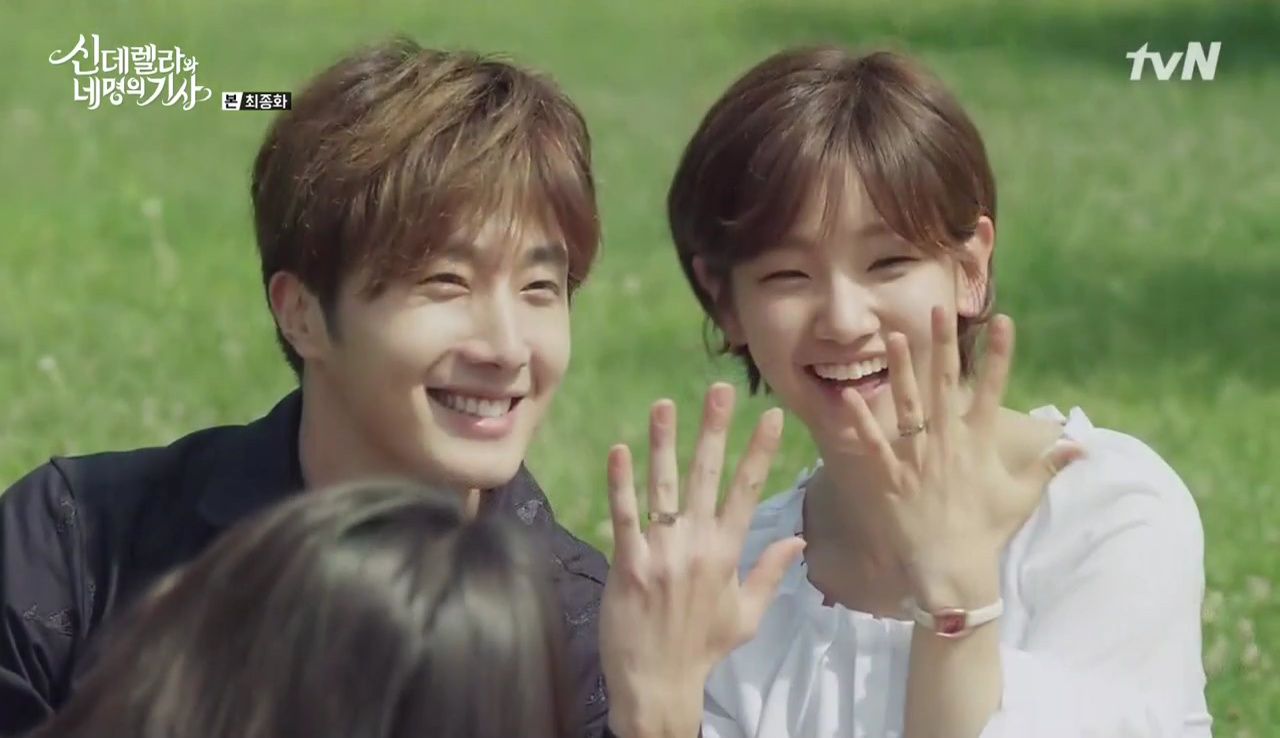 RELATED POSTS
Tags: Ahn Jae-hyun, Cinderella and the Four Knights, featured, Jung Il-woo, Lee Jung-shin, Park So-dam