Colorful tears and devil horns for This Week, My Wife Will Have an Affair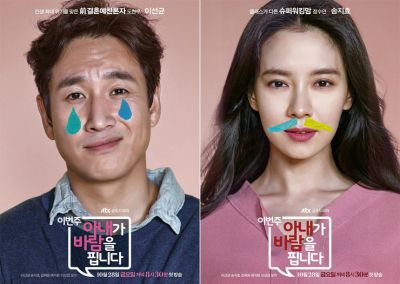 New colorful character posters are out for This Week, My Wife Will Have an Affair. It looks like they're going for a fun, comedic tone, which is an interesting way to approach such a touchy subject matter. This upcoming JTBC drama is based on a 2007 Japanese drama by the same name (Konshu Tsuma ga Uwaki Shimasu). Like in the original, the drama starts out with an ordinary man who begins to suspect his wife of cheating. Instead of directly confronting her, he decides to pour his feelings out on the internet like any not-so-well-adjusted 21st-century individual. And of course, the internet responds.
The recently released character posters show Lee Seon-kyun (A Hard Day, Miss Korea) as the husband plagued by unwelcome doubts, with a half-smile, half-grimace and cartoon teardrops rolling down his face. His description reads: "The devoted married Do Hyun-woo reaches a critical point in this life." His potentially unfaithful wife, played by Song Ji-hyo (Ex-Girlfriend Club), looks chic and flawless even with her mismatched mustache. Above her head, it says, "Super working mom Jung Soo-yeon is from an altogether different class."
Then we see cutie Lee Sang-yub (Master–God of Noodle) with tape over his lips. Apparently, he will be the "married PD Ahn Joon-young with no curfew but a complicated past." And BoA (Anticipating Romance) will be playing "divorced workaholic" Kwon Bo-young who is the "cool girl and head screenwriter."
But perhaps the best expressions are made by Kim Hee-won (Awl) and Yeh Ji-won (Oh Hae-young Again), who play Lee Seon-kyun and Song Ji-hyo's characters' best couple friends. For This Week, My Wife Will Have an Affair, Kim Hee-won makes a complete transformation into devil-horned Choi Yoon-ki, "an expert on cheating and a divorce lawyer." His wife Yeh Ji-won, she with the no-nonsense eyebrows, is not having it. Her poster says, "Naive full-time housewife? More like a tigress hiding her claws, Eun Ah-ra."
Marriage rom-com This Week, My Wife Will Have an Affair premieres on JTBC at the end of this month on October 28. It will be the next Friday-Saturday drama to air after Fantastic ends its run.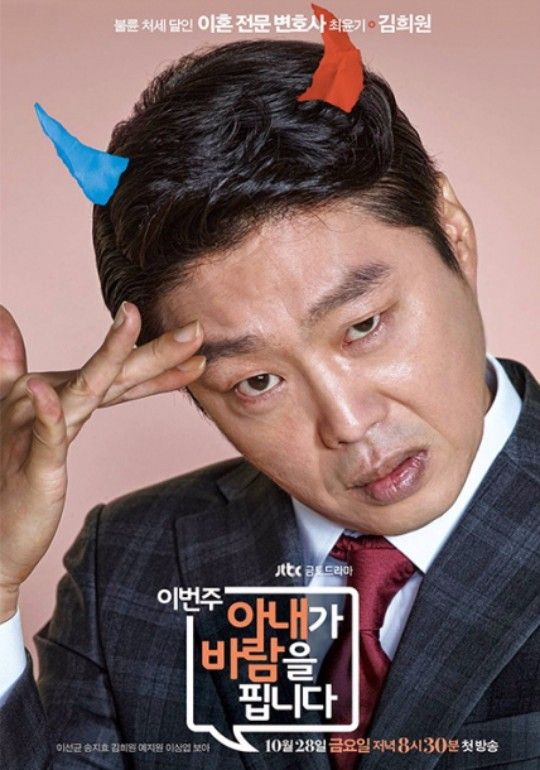 Via TopStarNews
RELATED POSTS
Tags: BoA, Lee Sang-yub, Lee Seon-kyun, Song Ji-hyo, This Week My Wife Will Have an Affair, Yeh Ji-won