Drinking interview with Cinderella Park So-dam
Park So-dam (Cinderella and the Four Knights) has made her stamp as a rising Chungmuro star at the young age of 25. Nicknamed "The Jewel of Indie Films," she has been praised by critics for showing a talent beyond her years. Recently, she gave a drinking interview where she talked about carving a path for herself in the Korean entertainment business.
Her first commercial film debut was in last year's The Silenced, where she played a student at an all-girls sanatorium. But her official breakout performance was in Black Priests with Kim Yoon-seok and Kang Dong-won, where she was a deeply troubled schoolgirl possessed by an evil demon. With more than 5.5 million viewers, she left a strong impression on the audience, and at the 52nd Baeksang Arts Awards, she received the newcomer prize for her performance.
However, it hasn't been all rainbows and butterflies for the rising actress. After starting off with small cable drama Because It's the First Time, KBS's Beautiful Mind was her first foray into Big 3 prime time dramas as a main lead. But the production had its share of trouble behind the scenes, the drama was cut by two episodes, and her acting was criticized as well.
Her follow-up drama (which she technically shot first), Cinderella and the Four Knights, just ended its run on tvN. The rom-com was 100 percent pre-produced, so it's been a while since she finished filming. She reminisced with a smile and said that it was one of the most cheerful sets she's been on: "People were envious of me for receiving the love of four men. And yes, receiving all that love, all at once, made me very happy. When else would I get this opportunity?" (Laughs.)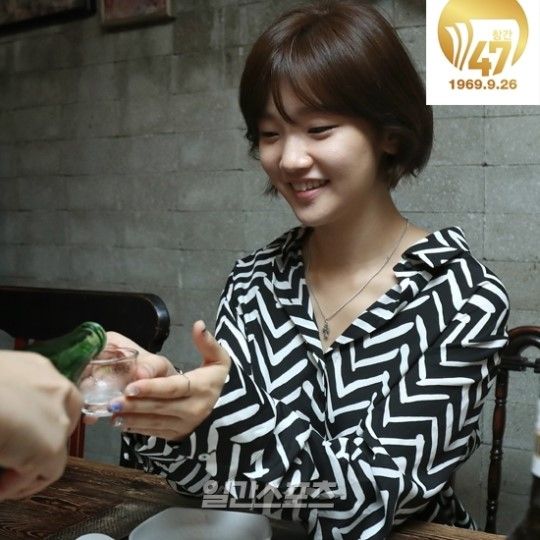 Q: This is an official interview question. How much can you drink?
A: Nowadays, there's not much opportunity to go out. I can probably drink a bottle of soju. Truthfully, I haven't drunk that much recently. Usually, I just have a can of beer.
Q: Do you have any drinking habits?
A: Drinking habits? My friends say my speech slows down. I think it's because even in the haze of alcohol, I try to convey my point as accurately as possible.
Q: Whom do you consider your closest drinking buddies?
A: I usually meet up with my high school friends. The actor friends I've made through work, we can't meet often because of conflicting schedules. If there's an event, maybe we'll meet up. It's easier to meet up with neighborhood friends. I don't like to venture out too far from my house.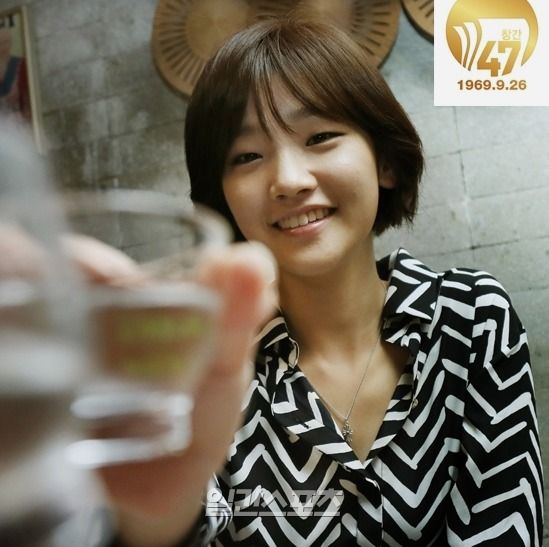 Q: At the 52nd Baeksang Arts Awards, you took home the newcomer's award.
A: Those around me complimented me for Black Priests, so I thought "It would be nice to receive [an award]." However, I didn't think I'd get it. Even more than going up to get the award, I was nervous about going to the ceremony itself. I wore a dress for the first time in a long while, and I was anxious. I wasn't very relaxed at that time because I had just finished filming for Cinderella the day before, and the next day I was supposed to go down to start filming for Beautiful Mind. But because the Baeksang Arts Awards encompasses both the film and television industries, I was grateful to meet many diverse people. It was like being on MBC's Radio Star all over again.
Q: What was your first thought, when they announced your name for the award?
A: "How am I supposed to get up there?" The stage was really long. After my name was called, actress Eom Ji-won, director Lee Jun-ik, and a couple of comedian sunbaenims kept on congratulating me. And Black Priests's director, Jang Jae-hyun, came to mind. He was really brave for trying out that type of film. If it wasn't for him having faith in me until the end, I would have lived out my twenties without cutting my hair this short. I'm thankful to him for all of his direction.
Q: Did you get a lot of congratulatory messages from people around you?
A: I got a lot of calls, but I had to get ready to start filming Beautiful Mind right after the awards ceremony. I had to memorize lines. It was a couple days later when I finally got to return all the messages.
Q: Who was the one person you remember who made an impression while congratulating you?
A: Right after receiving the award, I called Director Jang Jae-hyun and Kim Yoon-seok sunbaenim. I wanted to call them right away because I was so thankful to them. Yoon-seok sunbaenim especially gave me good advice. I should be the one to reach out, but he always takes care of me, and even a couple days ago, he called me first. Even though he made me cry a couple times when we were acting together, he is someone that I admire as both an actor and a person. If I had to film all by myself in that attic room, I think I would have gone crazy. However, with the support of all the experienced actors, we were able to finish filming while having fun.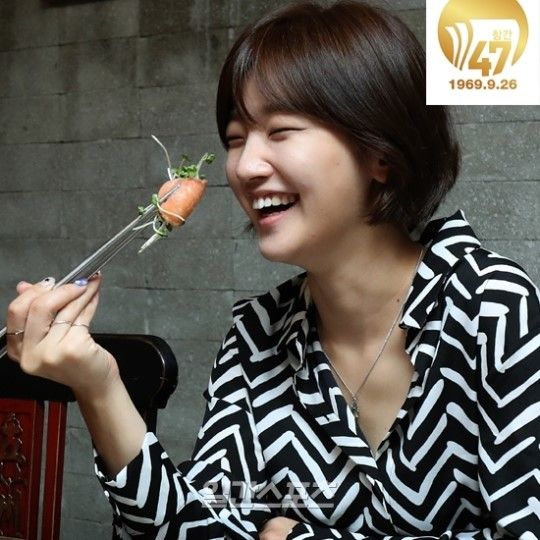 Q: At the awards ceremony, you made this comment: "Through Black Priests, I met Young-shin, and it gave me both headache and happiness."
A: I met Young-shin, my [Black Priests] character, at the audition. From the first time, my head hurt. As soon as I got there, I was told to wear a wig, shout out foreign words, roar like a lion, and bark like a dog… From that moment, I thought this role was not like any others. Also, I was afraid to shave my head. This was a genre I had never tried, and acting the part of a 5000-year-old evil spirit was difficult. I didn't have confidence in my acting, so I did whatever the director told me to try. I used all the different skills I learned in school for this role. So when we finished filming, I had no regrets. It was cathartic.
Q: You won out an audition process of 2000:1 for the role of Young-shin.
A: I went through four rounds of the audition process. I didn't know there were 2000 people trying out. At the time, Black Priests had made headlines for auditioning newbie actresses who were willing to shave their heads. "They're not really going to shave my head. Are they?" was my thought process, but at the second round, they told us to put on the wig, and I realized they were actually going to make us do it. When I put on the wig, the people there complimented me, "It looks really good on you," and I was in a daze. I'm not someone with striking looks, and with long hair, I could have easily blended in with the crowd. But the director who saw me at the second round of auditions said, "This girl has a unique aura." I think the short-hair wig changed my fate in the audition process.
Q: How many times have you seen the movie?
A: I saw it in theaters after it was released. My friend said she couldn't see my eyes properly in the film at the movie premiere, and said she wanted to see it again. Even then, I didn't quite see it as an audience member. However, when my relatives came over recently, I saw it on DVD, and I was able to see it from a different perspective. Since it's been almost a year since it was filmed, I felt more distanced from my character.
Q: If you were to compare The Silenced and Black Priests?
A: In The Silenced, I had a different type of nervousness than in Black Priests. My character Young-deok in The Silenced was very important to the plot. Depending on what she did, the mood of the film and the characters would change. Since it was my first time in a main role, I was understandably anxious. Two to three weeks before going into filming, I was cast. So I really didn't have any time to prepare, but the director cheered me on by saying, "You can do it!" The atmosphere of the set wasn't too different from the short films that I was used to, but as my character's part grew bigger, I became more nervous. However, acting with other girls my age helped me get over my anxiety.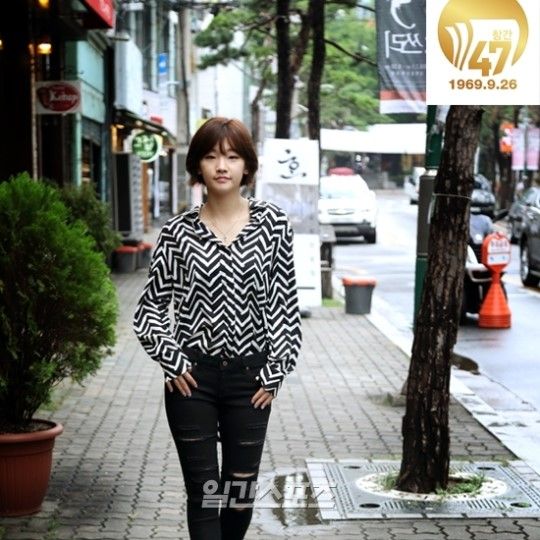 Q: You started acting in dramas in 2015.
A: My first television project was a short drama special called Red Moon. It was right after filming Black Priests, and my hair was only 1 centimeter long. I heard KBS's CP Bae Kyung-soo had asked to see me, and so I went to meet him. I heard he was making a sageuk, but because my hair was so short, I didn't have any hopes. After the script reading, the CP said, "I want you to play Princess Hwa-won." The makeup director took care of my short hair, and miraculously, I looked like I had long flowing hair naturally.
Q: In Because It's the First Time, you showed us your unique fresh charms.
A: Before Because It's the First Time, I had taken on mostly unusual roles. Finally, I had the chance to act my own age, and work with a bright, optimistic character. Even though [my character's] situation was unfortunate, I felt very happy to play her.
Q: In Beautiful Mind, you experienced growing pains.
A: I was drawn to Gae Jin-sung [my character in Beautiful Mind] because she was the only person who could change the leading man. But moving the heart with only sincerity is incredibly difficult. I don't think I was able to emote 100-percent from the beginning, and thinking that doing just this much would be enough to move the heart was my mistake. But I think the pain I felt was a good learning experience. Being an actor is an occupation where you're constantly judged. Not everyone will always like what you do. I believe you should own up to your mistakes and learn from them. However, the drama set had a very warm atmosphere. No matter what the audience response was, I had fun filming it. I am thankful that I had the opportunity to act in a drama like this one.
Q: It must have been hard for you as the main actor to hear the show would be cut.
A: Amongst the actors, we said that the people who would be hit the hardest were the PD and the writer. We hoped to do better for them, but unfortunately we weren't able to do so. It was sad to leave the good people I worked with a week earlier than expected. So there were lots of tears at the filming of the last episode.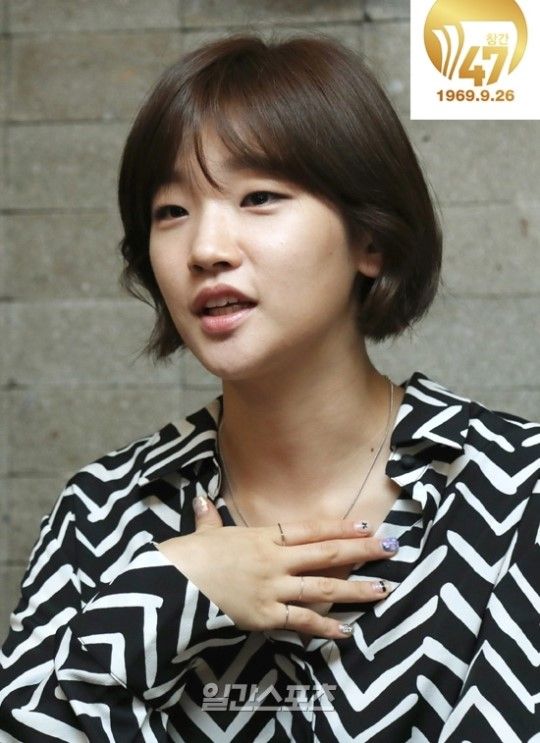 Q: Soon afterwards, Cinderella started airing.
A: Cinderella is not your typical simple rags-to-riches story. We tried hard to create a rich, complex story. We took advantage of it being a pre-produced drama by trying different things. We had fun while filming. And it feels good to have received such a positive response.
Q: A working environment where four men love you must have been great.
A: Lots of people were envious. But there was a lot of filming to do separately with each of the four men. The PD joked, "If there's no Ha-won, we don't have any scenes to film." The filming atmosphere was really cheerful, and I think I fit the character well… During the four months of filming, I became more like my character. First, I needed time to adjust, but after 2-3 weeks, I was able to take on my role naturally and film enjoyably. Ahn Jae-hyun in real life is quite a bit different from his character. In real life, he's quiet and gentle, very different from his playboy character. At the beginning he worried, "I've never done this before. How am I supposed to do this?" But eventually, he did so well that we thought, "Maybe he's actually hidden his real character from us all along?"
Q: What were the key points you thought of when you were acting as Eun Ha-won [your character in Cinderella]?
A: Ha-won is someone who speaks and acts exactly how she feels. More than any other role, I was ready to be accepting. I tried to be very open and natural in my acting. She's not the type to be coy. And having good chemistry with my male co-stars was important, so I tried to be conscious of that as well.
Q: What charm do you think made the Four Knights fall in love with you?
A: She [Ha-won] is a girl with a warm heart. Despite not receiving much love in her childhood, she's a cool person who knows how to love and give to others.
Q: As the representative of actresses without double-eyelids, do you have any complexes about your appearance?
A: I think having a different appearance than other people is part of my charm. I've never thought of getting plastic surgery. I'm not 100-percent satisfied with my face, but I like that it's the type of face that is hard to replicate with surgery. I think it's important for actors to have their unique charms. Because other people can't easily copy it, it can be an advantage to me. If there are actresses who look like dolls, shouldn't there also be actresses who look like me? Especially since there are so many different roles to play out there. It's more interesting to watch if there are different types of charms on display. Of course, at first I thought that people with sharp facial features would stand out better on camera. I started acting because I wanted to perform, but I didn't think I'd actually be able to stand in front of a camera one day. When I graduated, I didn't think I'd be able to shoot even one film, but when I turned 21, I kept being contacted by acting productions. From then on, I started gaining confidence in my looks.
Q: You're at that youthful age when people start falling in love.
A: Do people fall in love because of their age? (Laughs.) I'm not dating right now. How long has it been since my vacation? I don't remember.
Q: From the time you were in your second year at the Korean National University of Arts to your third year, you filmed 15 indie films.
A: I realized work doesn't come to you if you stay still. So I decided to actively pursue it. I made my profile with an ordinary photo, and sent it everywhere. I was able to start working that way. Afterwards when the film staff I had worked with called me back, I was able to work on more films.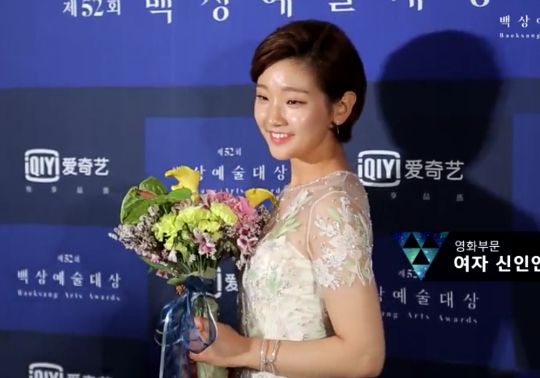 Q: What's the reason you started on your path to acting?
A: I saw the musical Grease as a freshman in high school. The actors looked so happy. That's when I started thinking that maybe I would like to become a musical actor. My parents were fervently against it. They wanted me to live an ordinary life. I didn't really have a dream before acting. I think I just lived without meaning. So I counseled my younger siblings to think carefully about what they want to do, and study hard to go to a college that will support their dreams. Sometimes I wonder what I would have done if I had not found acting.
Q: You have two younger siblings. Is that correct?
A: I'm the eldest, and I have a younger sister and a younger brother. My parents had children until they got the boy they wanted. My sister encourages me and my acting more than anyone else. When I get a script, she gives me advice, and as she grows older, she's become more like a friend that I can rely on.
Q: You're often mentioned in the same sentence as your college classmates Kim Go-eun and Lee Yoo-young. Do you feel any rivalry toward them?
A: We don't engage in that type of psychological battle. Even during school, we were classmates and competitors. But the moment I start thinking of them as rivals, I will fall. I don't think it's a good line of thought. We should be friends that support each other. People say there aren't many actresses in their twenties, so it's nice that we are mentioned together. Even now in the school internet chatroom, we still exchange encouragements for each other. If someone is holding a concert or play, we all go, and if someone is being featured in a drama or movie, we watch and give our constructive criticisms.
Q: You are busy acting in the play Closer, right?
A: I've liked the theater play Closer for a while now, and I wanted to try being Alice. I think amongst the four men and women in Closer, Alice is the one who has the most conviction about life and love. If the movie Closer focused on the melodrama and love aspect [of the story], I think the play focuses more on showing the human relationships. It was that point that appealed to me, and made me choose it as my comeback project.
Q: So I guess you are jumping right into theater without really having a break.
A: Even in the future, I'd like to continue doing plays. If it's possible, I'd like to try movies, dramas, and plays of every type of genre.
Q: Don't you feel tired physically?
A: If I feel tired, I should rest. (Laughs.) Without relaxing, it's easy to become fatigued, but being able to experience different things is my driving force in life. I could have rested this time, but Closer actually healed my little tiredness by making my heart burn hotter with passion. I wouldn't be satisfied if I stopped now. So I think I'll keep going until my fire runs out.
Q: If you were given some time off…
A: I want to travel. It doesn't matter where, but I would like to go on a two-week journey.
Q: What's your main worry right now?
A: How should I act in this complex play so that people will be able to understand it most easily?
Q: What type of actress do you want to become?
A: It's related to my worry now, but I don't want to burn out. If I didn't have fun doing what I do, I wouldn't be able to do it. If I become completely exhausted, I don't think I'd be able to stand up again. I hope that I'll continue to love my work. Even if I become tired, I'd like to have the strength to still enjoy my work.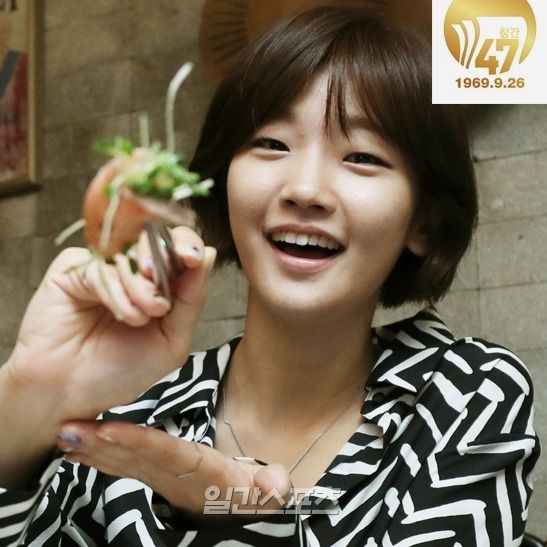 Via IS Plus 1, IS Plus 2, IS Plus 3
RELATED POSTS
Tags: interviews, Park So-dam